Proud Of Wife Quotes & Sayings
Enjoy reading and share 47 famous quotes about Proud Of Wife with everyone.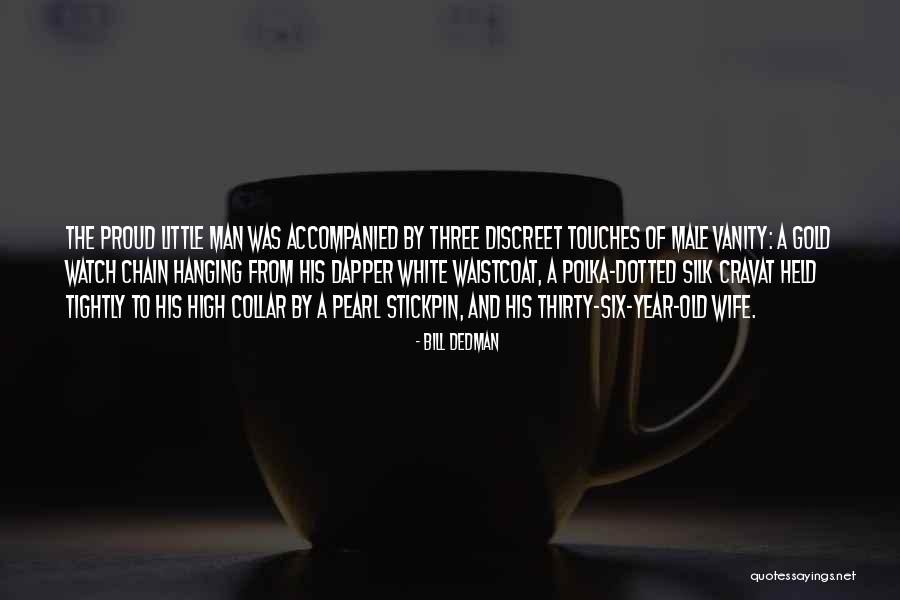 The proud little man was accompanied by three discreet touches of male vanity: a gold watch chain hanging from his dapper white waistcoat, a polka-dotted silk cravat held tightly to his high collar by a pearl stickpin, and his thirty-six-year-old wife. — Bill Dedman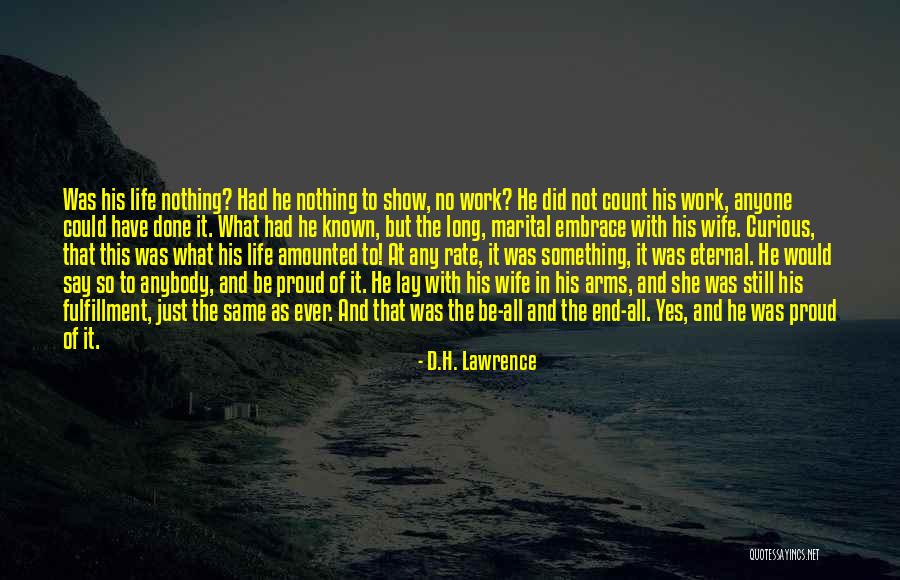 Was his life nothing? Had he nothing to show, no work? He did not count his work, anyone could have done it. What had he known, but the long, marital embrace with his wife. Curious, that this was what his life amounted to! At any rate, it was something, it was eternal. He would say so to anybody, and be proud of it. He lay with his wife in his arms, and she was still his fulfillment, just the same as ever. And that was the be-all and the end-all. Yes, and he was proud of it. — D.H. Lawrence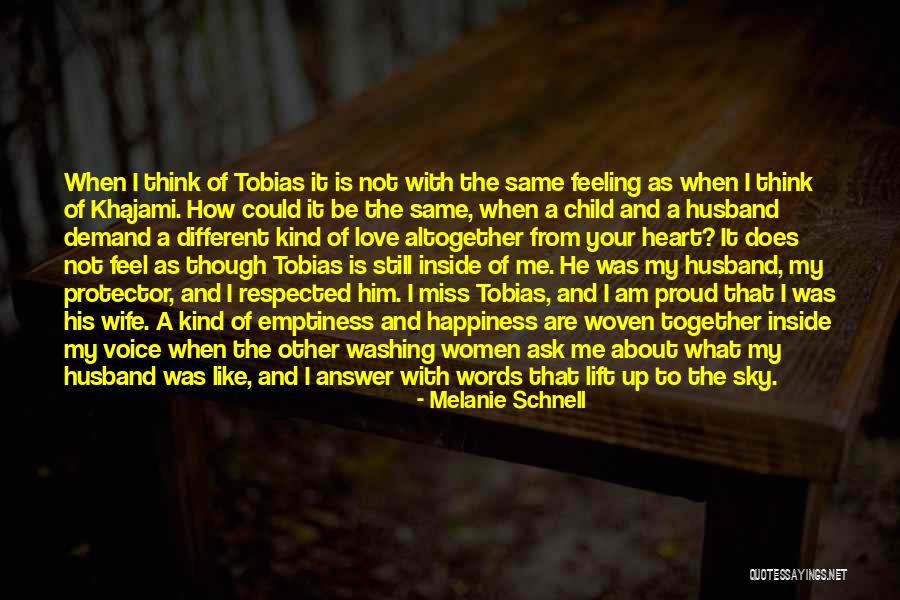 When I think of Tobias it is not with the same feeling as when I think of Khajami. How could it be the same, when a child and a husband demand a different kind of love altogether from your heart? It does not feel as though Tobias is still inside of me. He was my husband, my protector, and I respected him. I miss Tobias, and I am proud that I was his wife. A kind of emptiness and happiness are woven together inside my voice when the other washing women ask me about what my husband was like, and I answer with words that lift up to the sky. — Melanie Schnell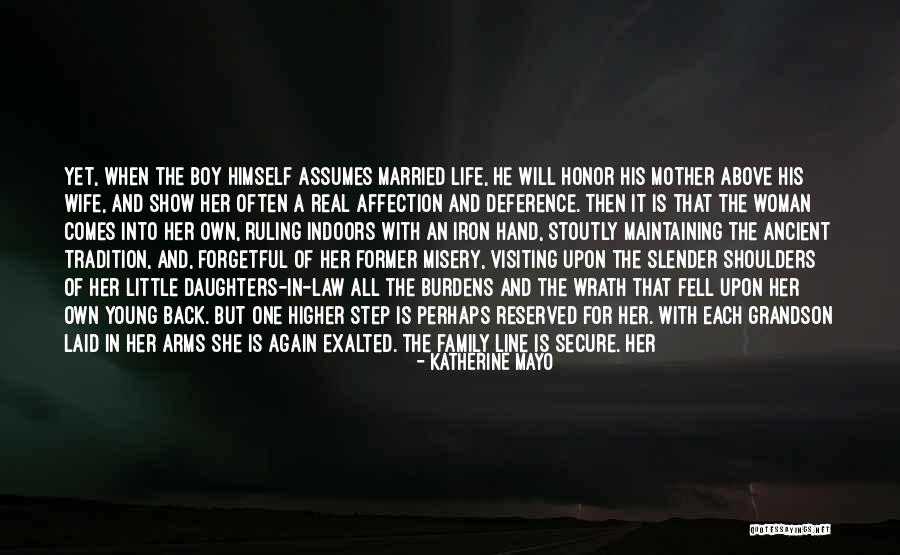 Yet, when the boy himself assumes married life, he will honor his mother above his wife, and show her often a real affection and deference. Then it is that the woman comes into her own, ruling indoors with an iron hand, stoutly maintaining the ancient tradition, and, forgetful of her former misery, visiting upon the slender shoulders of her little daughters-in-law all the burdens and the wrath that fell upon her own young back. But one higher step is perhaps reserved for her. With each grandson laid in her arms she is again exalted. The family line is secure. Her husband's soul is protected. Proud is she among women. Blessed be the gods! — Katherine Mayo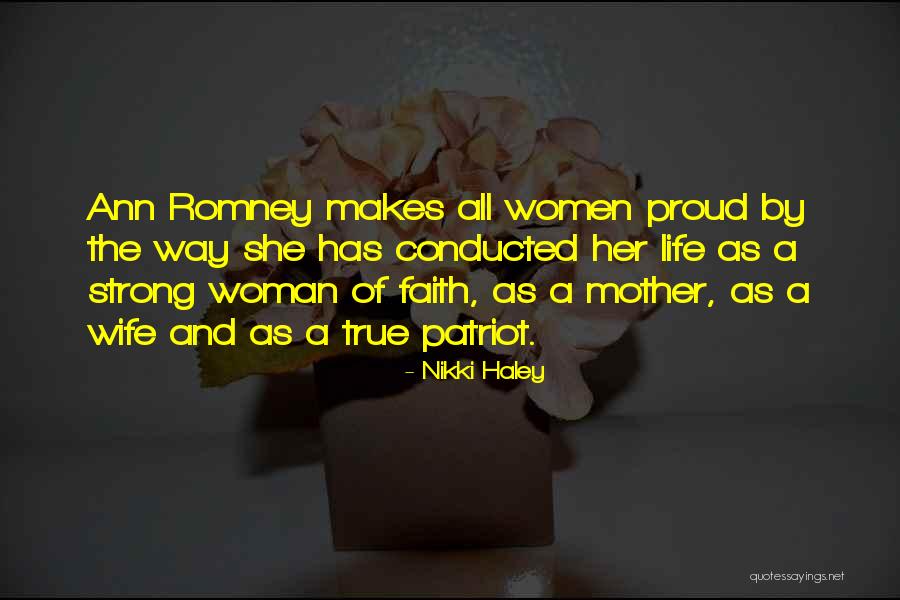 Ann Romney makes all women proud by the way she has conducted her life as a strong woman of faith, as a mother, as a wife and as a true patriot. — Nikki Haley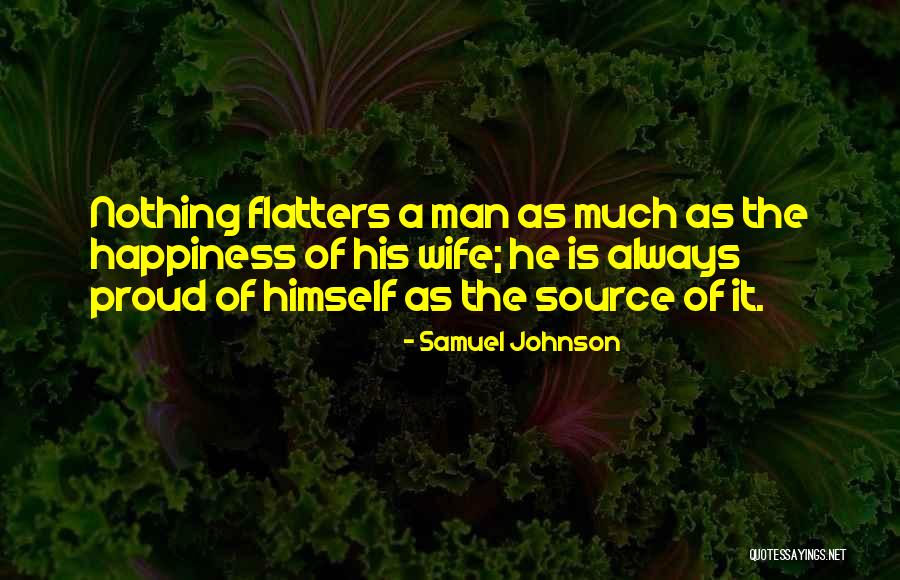 Nothing flatters a man as much as the happiness of his wife; he is always proud of himself as the source of it. — Samuel Johnson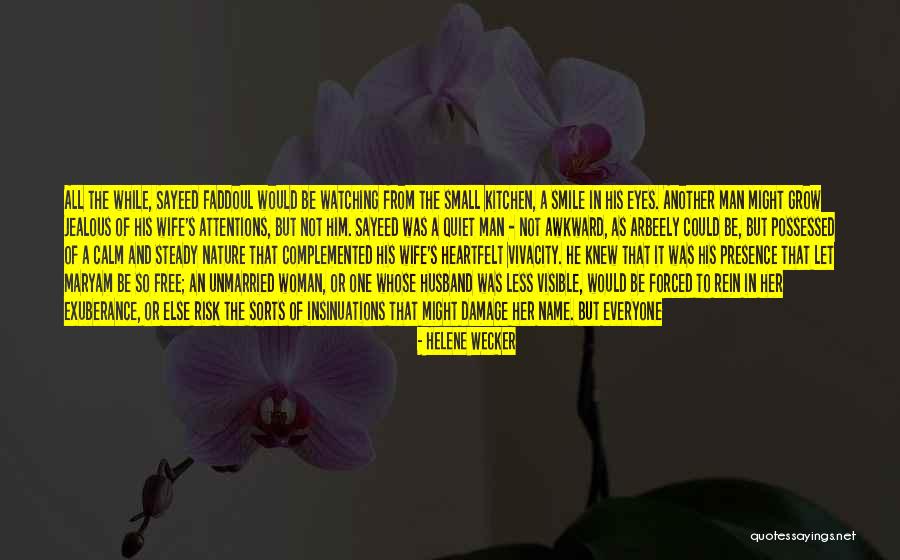 All the while, Sayeed Faddoul would be watching from the small kitchen, a smile in his eyes. Another man might grow jealous of his wife's attentions, but not him. Sayeed was a quiet man - not awkward, as Arbeely could be, but possessed of a calm and steady nature that complemented his wife's heartfelt vivacity. He knew that it was his presence that let Maryam be so free; an unmarried woman, or one whose husband was less visible, would be forced to rein in her exuberance, or else risk the sorts of insinuations that might damage her name. But everyone could see that Sayeed was proud of his wife and was more than content to remain the unobtrusive partner, allowing her to shine. — Helene Wecker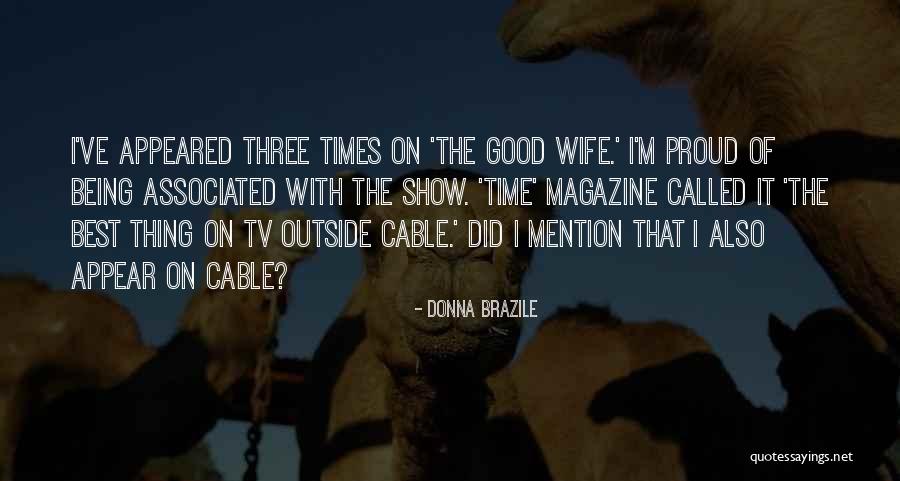 I've appeared three times on 'The Good Wife.' I'm proud of being associated with the show. 'Time' magazine called it 'the best thing on TV outside cable.' Did I mention that I also appear on cable? — Donna Brazile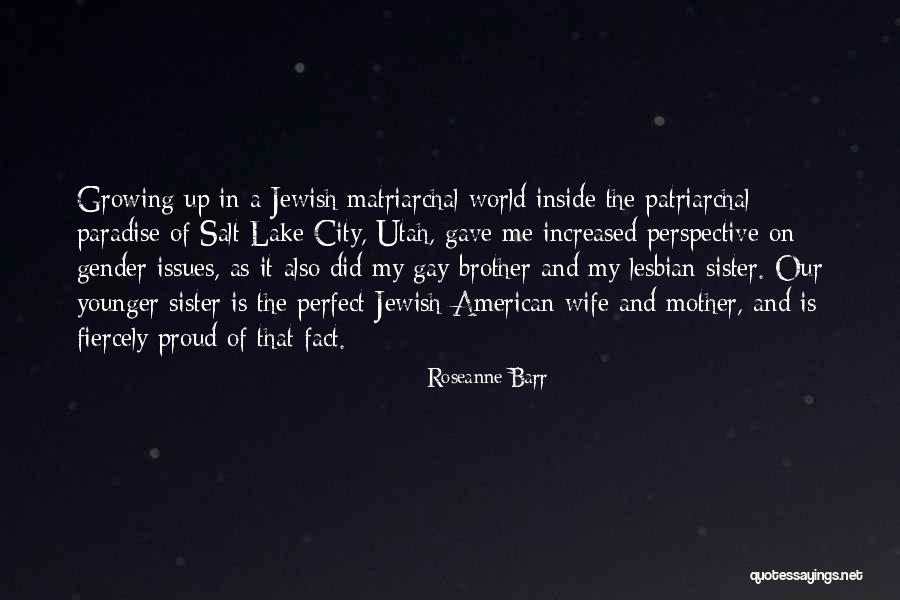 Growing up in a Jewish matriarchal world inside the patriarchal paradise of Salt Lake City, Utah, gave me increased perspective on gender issues, as it also did my gay brother and my lesbian sister. Our younger sister is the perfect Jewish-American wife and mother, and is fiercely proud of that fact. — Roseanne Barr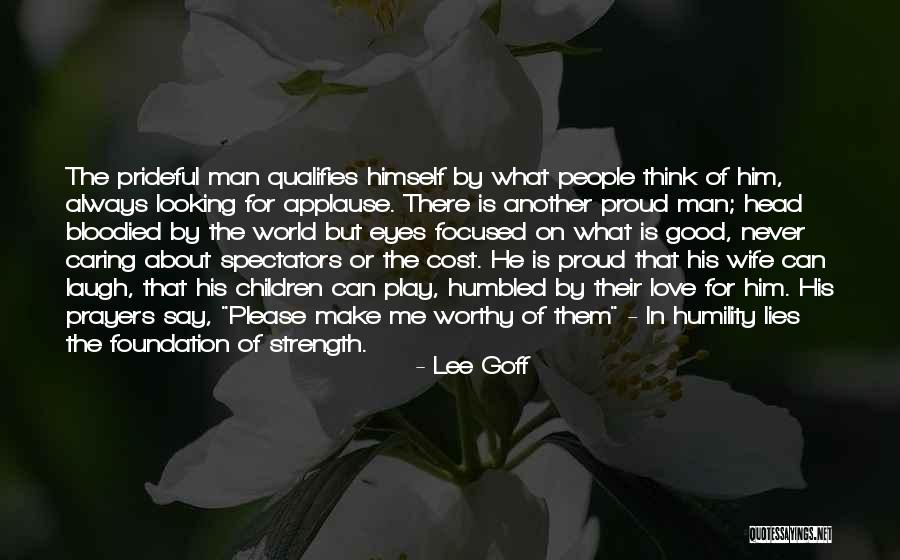 The prideful man qualifies himself by what people think of him, always looking for applause. There is another proud man; head bloodied by the world but eyes focused on what is good, never caring about spectators or the cost. He is proud that his wife can laugh, that his children can play, humbled by their love for him. His prayers say, "Please make me worthy of them" - In humility lies the foundation of strength. — Lee Goff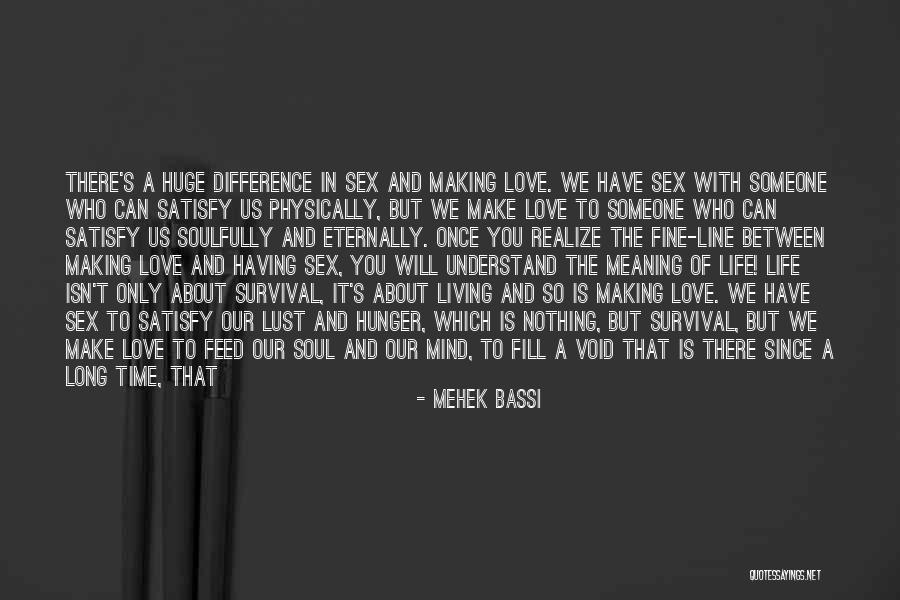 There's a huge difference in sex and making love. We have sex with someone who can satisfy us physically, but we make love to someone who can satisfy us soulfully and eternally. Once you realize the fine-line between making love and having sex, you will understand the meaning of life! Life isn't only about survival, it's about living and so is making love. We have sex to satisfy our lust and hunger, which is nothing, but survival, but we make love to feed our soul and our mind, to fill a void that is there since a long time, that longs for a partner and that needs someone whom we want to spend the next morning with!
When you have sex just for physical pleasure, you are ashamed and guilty at one point of life or another, but when you make love to someone who means everything to you, you are always proud of it. Never in life, not even a single time, you regret that time and the moments spent with that person. You will always rejoice it and remember it with equal passion and joy. — Mehek Bassi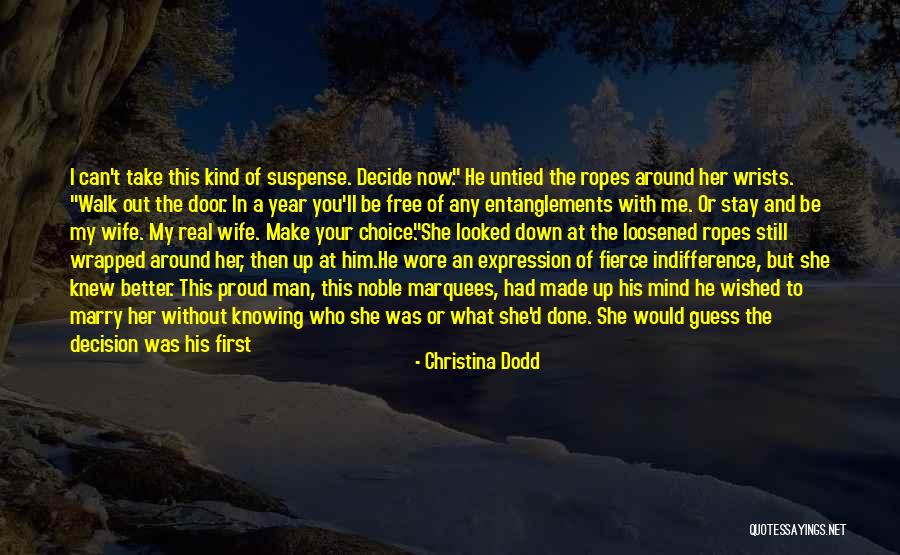 I can't take this kind of suspense. Decide now." He untied the ropes around her wrists. "Walk out the door. In a year you'll be free of any entanglements with me. Or stay and be my wife. My real wife. Make your choice."
She looked down at the loosened ropes still wrapped around her, then up at him.
He wore an expression of fierce indifference, but she knew better. This proud man, this noble marquees, had made up his mind he wished to marry her without knowing who she was or what she'd done. She would guess the decision was his first impetuous gesture since the day his mother had disappeared.
Amy couldn't fool herself. For him to go so contrary to his own nature, he must feel an overwhelming emotion for her. — Christina Dodd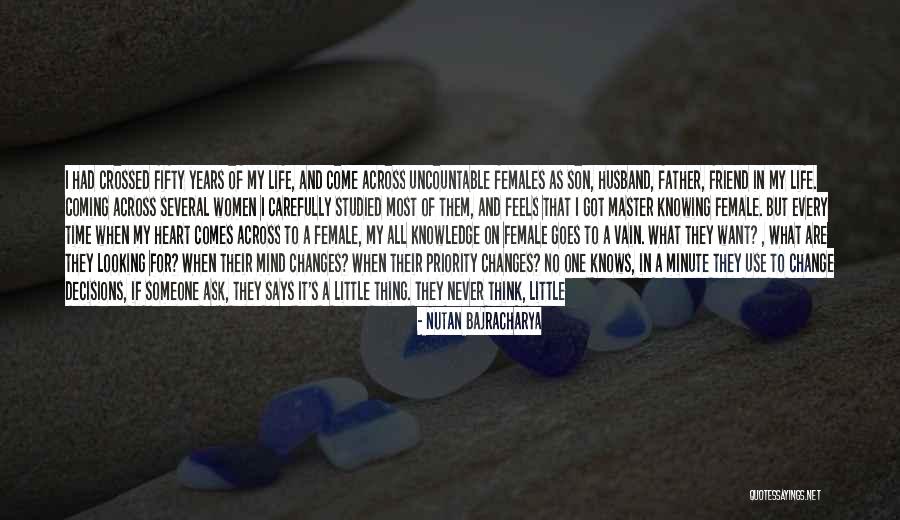 I had crossed fifty years of my life, and come across uncountable females as son, husband, father, friend in my life. Coming across several women I carefully studied most of them, and feels that I got master knowing female. But every time when my heart comes across to a female, my all knowledge on female goes to a vain. What they want? , What are they looking for? When their mind changes? When their priority changes? No one knows, in a minute they use to change decisions, if someone ask, they says it's a little thing. They never think, little things makes big or if they can't stick on little things how they can stand in important decisions. They never show they are weak, but every time they are compromising themselves. It's their big heart but impacting every around. They always think they can do anything by doing nothing. — Nutan Bajracharya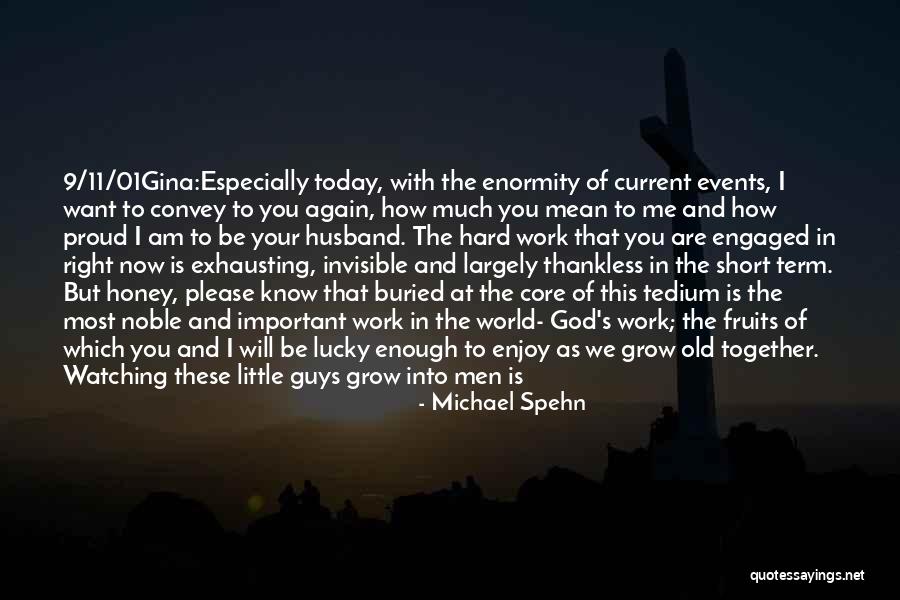 9/11/01
Gina:
Especially today, with the enormity of current events, I want to convey to you again, how much you mean to me and how proud I am to be your husband. The hard work that you are engaged in right now is exhausting, invisible and largely thankless in the short term.
But honey, please know that buried at the core of this tedium is the most noble and important work in the world- God's work; the fruits of which you and I will be lucky enough to enjoy as we grow old together. Watching these little guys grow into men is a privilege that I am proud to share with you, and the perfect fulfillment of our marriage bonds.
You are a great mom.
You are a great wife.
You are my best friend.
You are very pretty.
Happy Birthday.

-Matt — Michael Spehn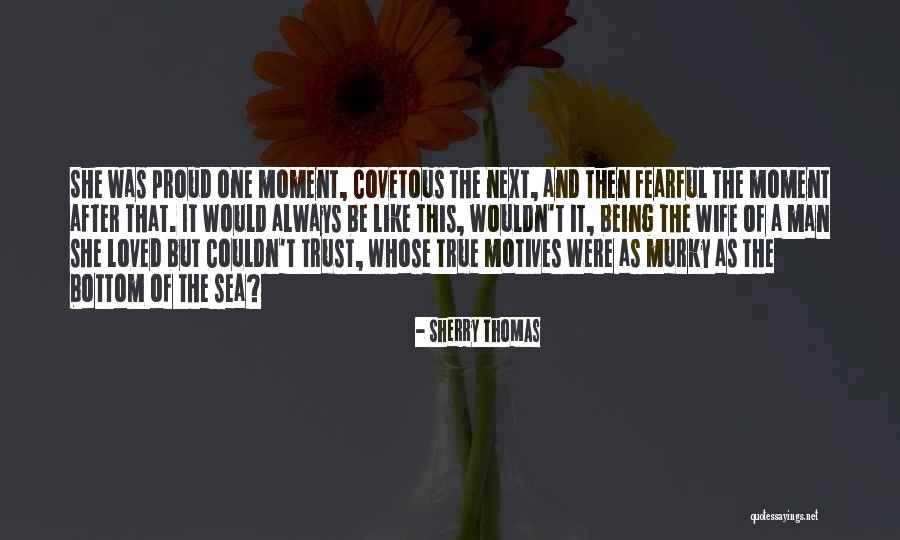 She was proud one moment, covetous the next, and then fearful the moment after that. It would always be like this, wouldn't it, being the wife of a man she loved but couldn't trust, whose true motives were as murky as the bottom of the sea? — Sherry Thomas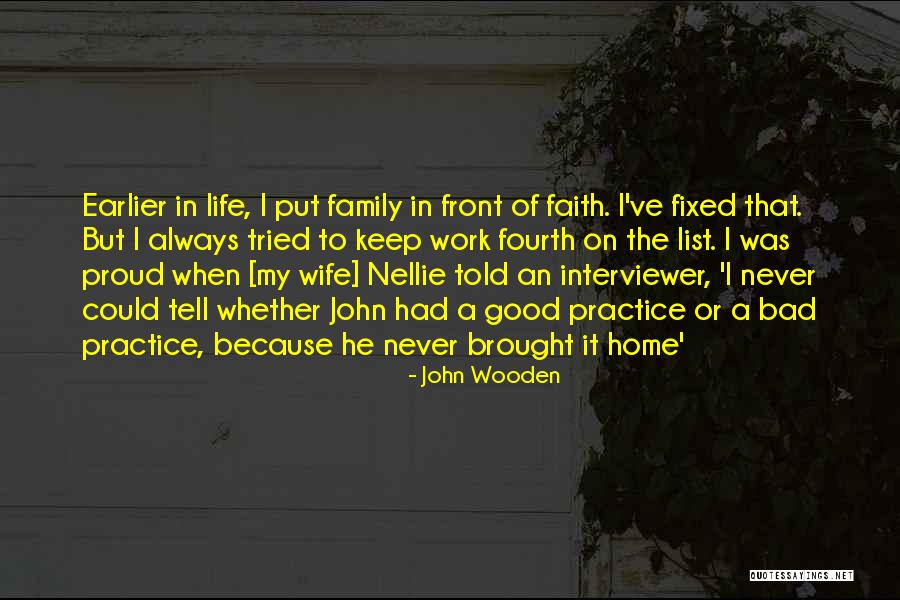 Earlier in life, I put family in front of faith. I've fixed that. But I always tried to keep work fourth on the list. I was proud when [my wife] Nellie told an interviewer, 'I never could tell whether John had a good practice or a bad practice, because he never brought it home' — John Wooden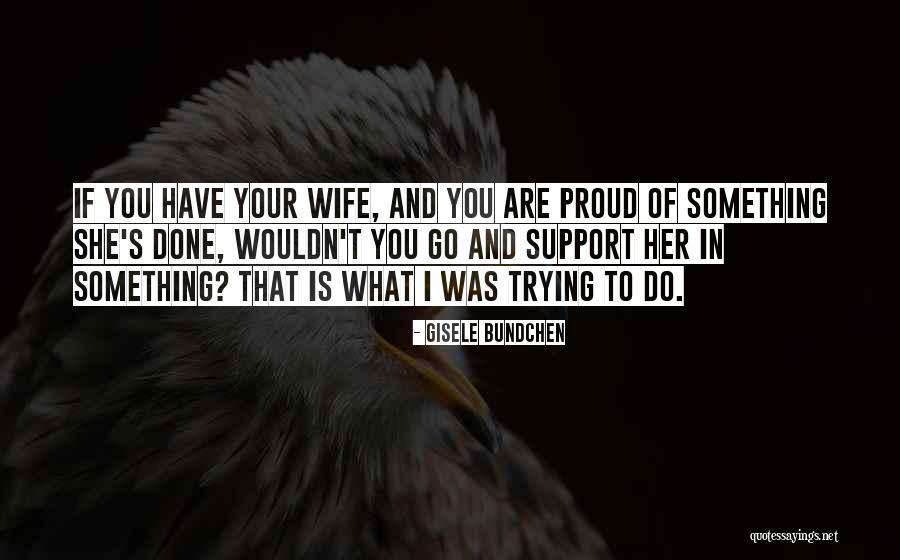 If you have your wife, and you are proud of something she's done, wouldn't you go and support her in something? That is what I was trying to do. — Gisele Bundchen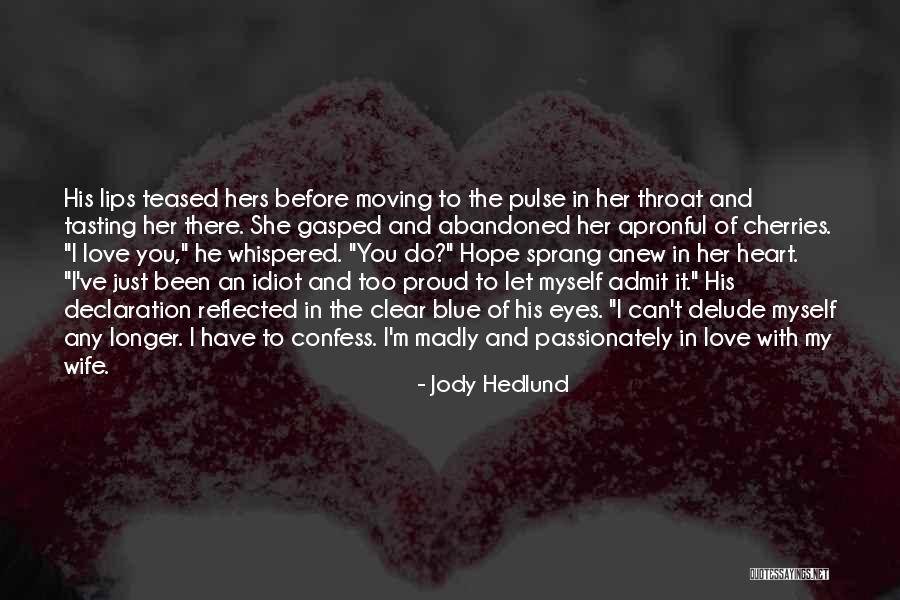 His lips teased hers before moving to the pulse in her throat and tasting her there. She gasped and abandoned her apronful of cherries. "I love you," he whispered. "You do?" Hope sprang anew in her heart. "I've just been an idiot and too proud to let myself admit it." His declaration reflected in the clear blue of his eyes. "I can't delude myself any longer. I have to confess. I'm madly and passionately in love with my wife. — Jody Hedlund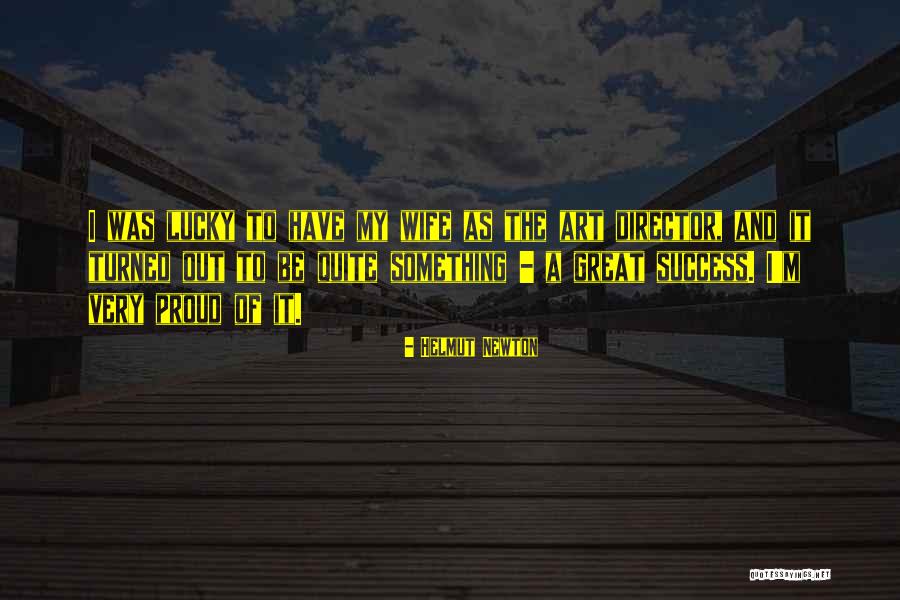 I was lucky to have my wife as the art director, and it turned out to be quite something - a great success. I'm very proud of it. — Helmut Newton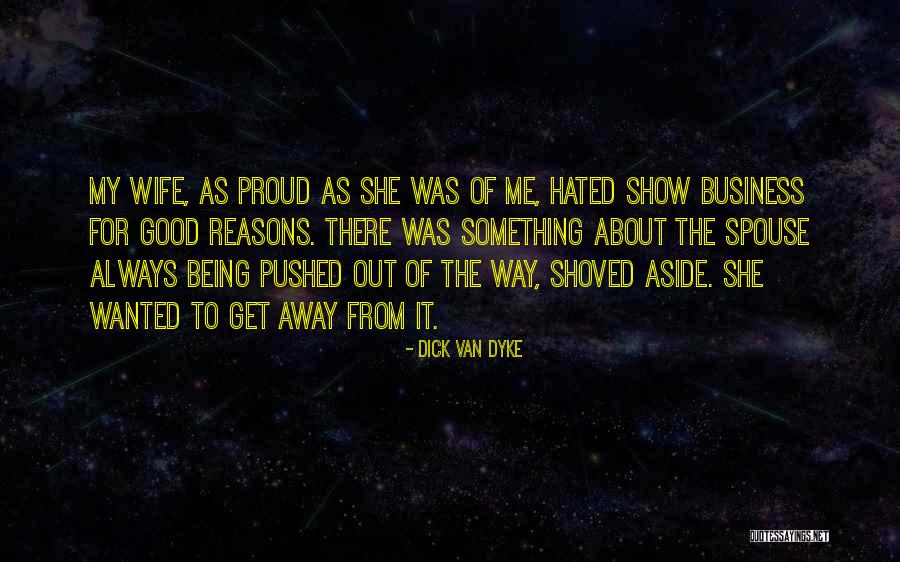 My wife, as proud as she was of me, hated show business for good reasons. There was something about the spouse always being pushed out of the way, shoved aside. She wanted to get away from it. — Dick Van Dyke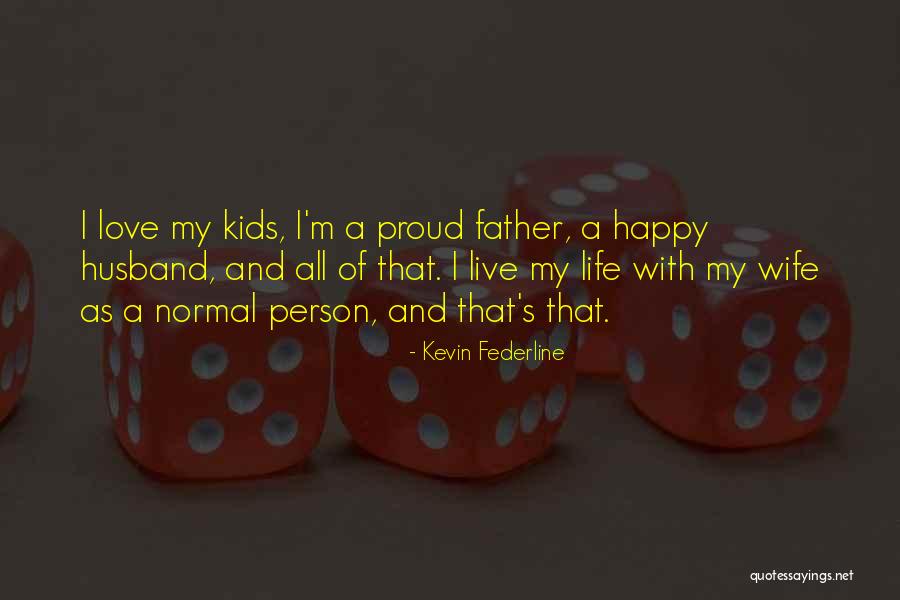 I love my kids, I'm a proud father, a happy husband, and all of that. I live my life with my wife as a normal person, and that's that. — Kevin Federline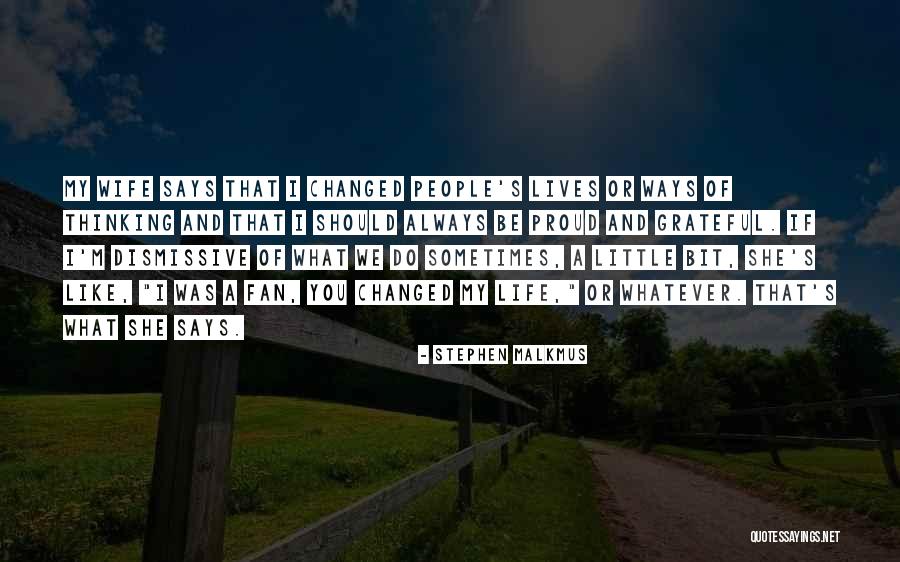 My wife says that I changed people's lives or ways of thinking and that I should always be proud and grateful. If I'm dismissive of what we do sometimes, a little bit, she's like, "I was a fan, you changed my life," or whatever. That's what she says. — Stephen Malkmus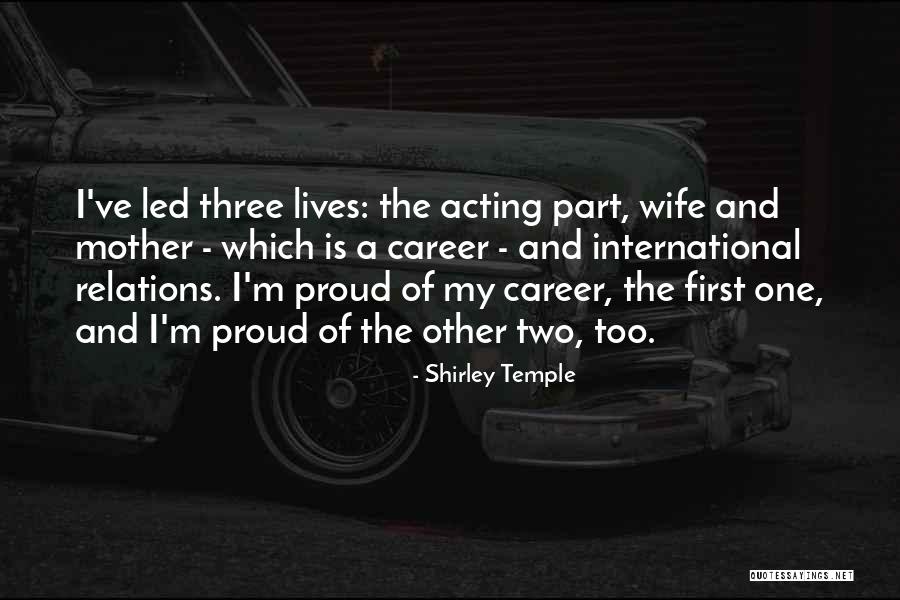 I've led three lives: the acting part, wife and mother - which is a career - and international relations. I'm proud of my career, the first one, and I'm proud of the other two, too. — Shirley Temple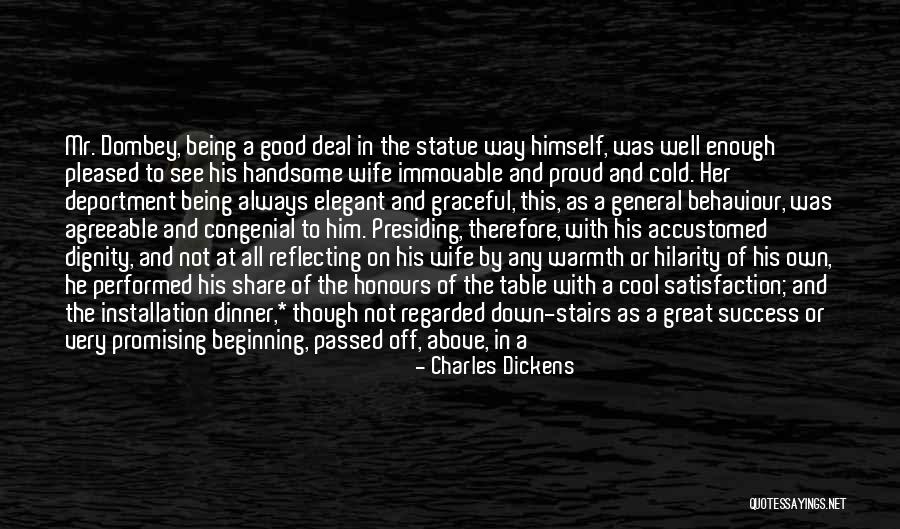 Mr. Dombey, being a good deal in the statue way himself, was well enough pleased to see his handsome wife immovable and proud and cold. Her deportment being always elegant and graceful, this, as a general behaviour, was agreeable and congenial to him. Presiding, therefore, with his accustomed dignity, and not at all reflecting on his wife by any warmth or hilarity of his own, he performed his share of the honours of the table with a cool satisfaction; and the installation dinner,* though not regarded down-stairs as a great success or very promising beginning, passed off, above, in a sufficiently polite, genteel, and frosty manner. — Charles Dickens
The Gods on the death of his wife Yang Kai-hui I lost my proud poplar and you your willow As poplar and willow they soar straight up into the ninth heaven and ask the prisoner of the moon, Wu Kang' what is there. He offers them wine from the cassia tree. The lonely lady on the moon, Chang 0, spreads her vast sleeves and dances for these good souls in the unending sky. Down on earth a sudden report of the tiger's defeat. Tears fly down from a great upturned bowl of rain. — Mao Zedong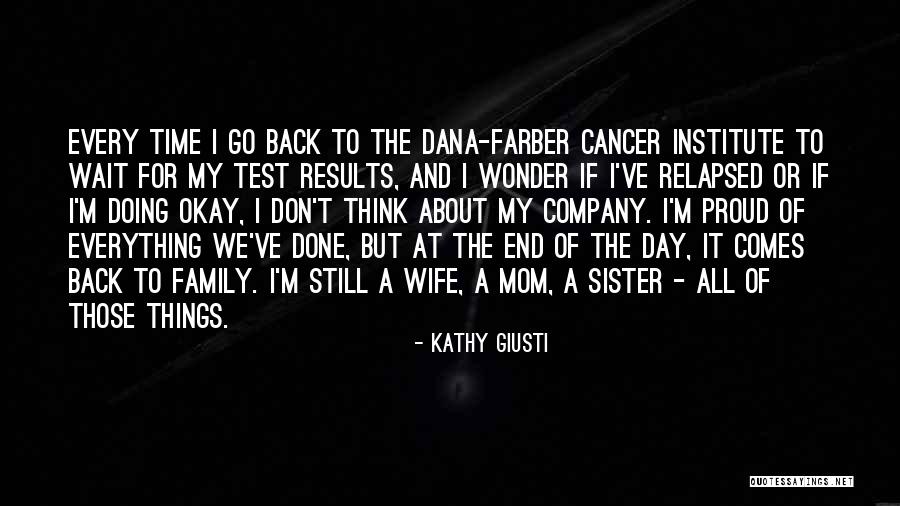 Every time I go back to the Dana-Farber Cancer Institute to wait for my test results, and I wonder if I've relapsed or if I'm doing okay, I don't think about my company. I'm proud of everything we've done, but at the end of the day, it comes back to family. I'm still a wife, a mom, a sister - all of those things. — Kathy Giusti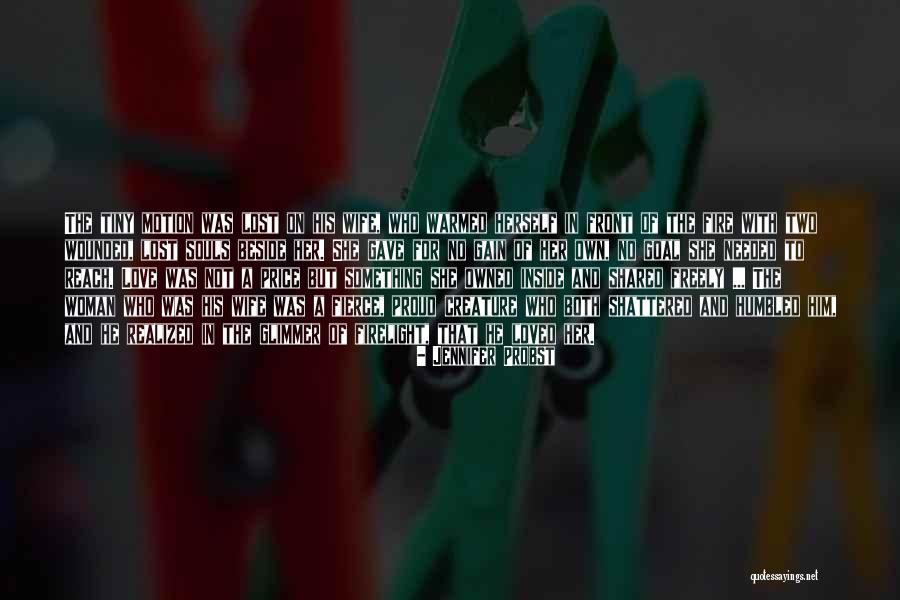 The tiny motion was lost on his wife, who warmed herself in front of the fire with two wounded, lost souls beside her. She gave for no gain of her own, no goal she needed to reach. Love was not a price but something she owned inside and shared freely ... The woman who was his wife was a fierce, proud creature who both shattered and humbled him, and he realized in the glimmer of firelight, that he loved her. — Jennifer Probst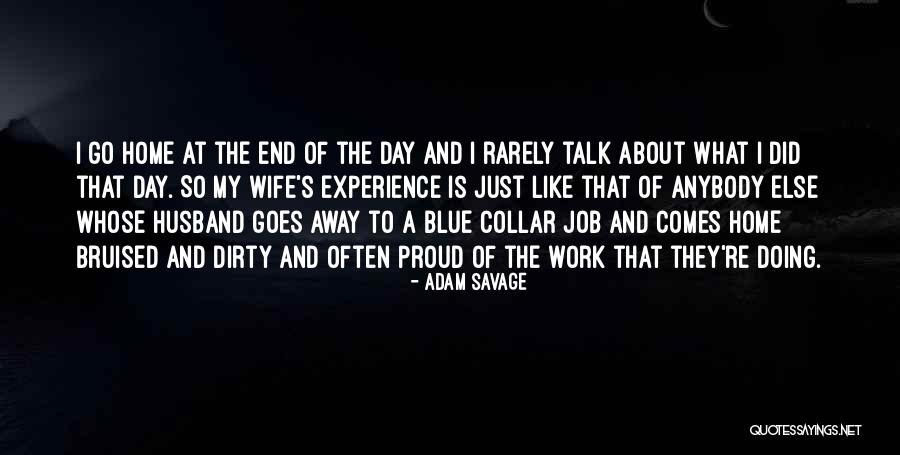 I go home at the end of the day and I rarely talk about what I did that day. So my wife's experience is just like that of anybody else whose husband goes away to a blue collar job and comes home bruised and dirty and often proud of the work that they're doing. — Adam Savage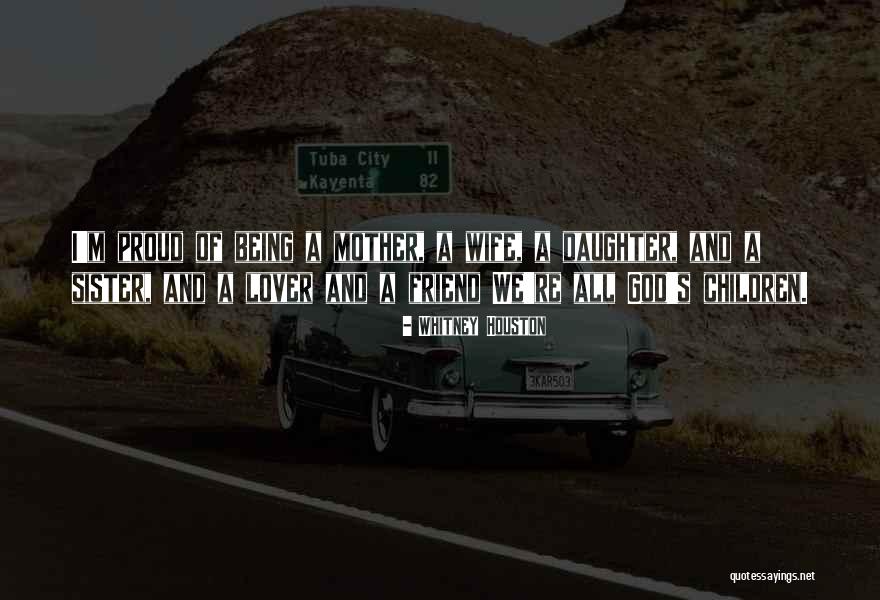 I'm proud of being a mother, a wife, a daughter, and a sister, and a lover and a friend We're all God's children. — Whitney Houston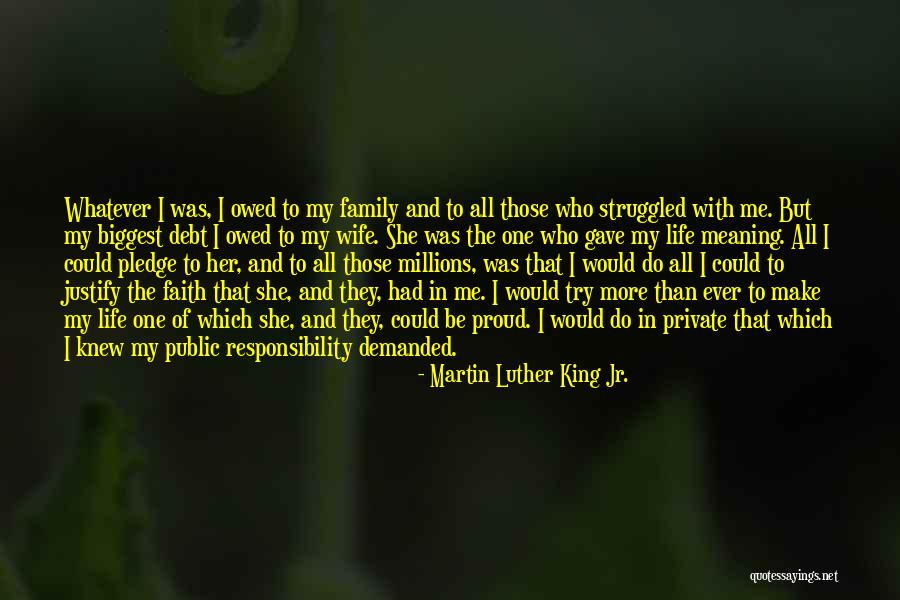 Whatever I was, I owed to my family and to all those who struggled with me. But my biggest debt I owed to my wife. She was the one who gave my life meaning. All I could pledge to her, and to all those millions, was that I would do all I could to justify the faith that she, and they, had in me. I would try more than ever to make my life one of which she, and they, could be proud. I would do in private that which I knew my public responsibility demanded. — Martin Luther King Jr.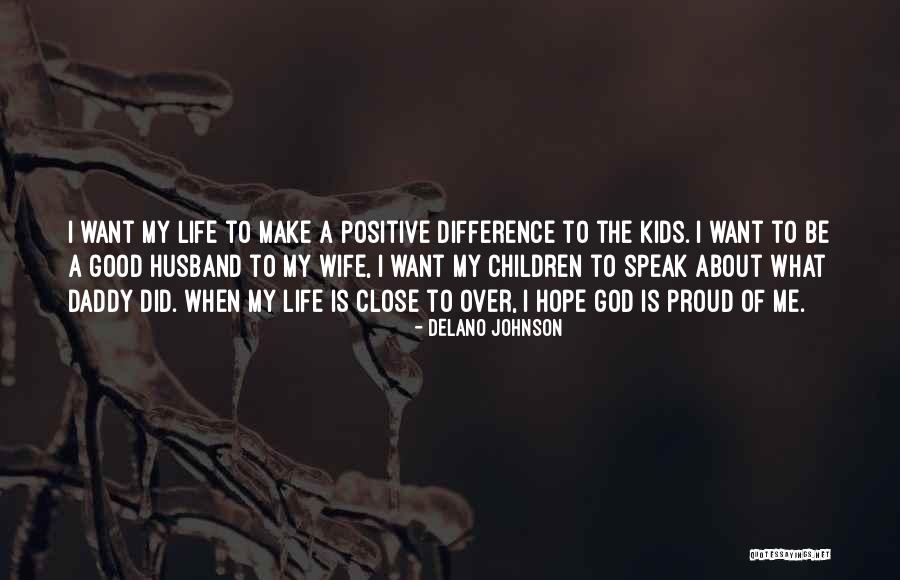 I want my life to make a positive difference to the kids.
I want to be a good husband to my wife,
I want my children to speak about what daddy did.
When my life is close to over, I hope God is proud of me. — Delano Johnson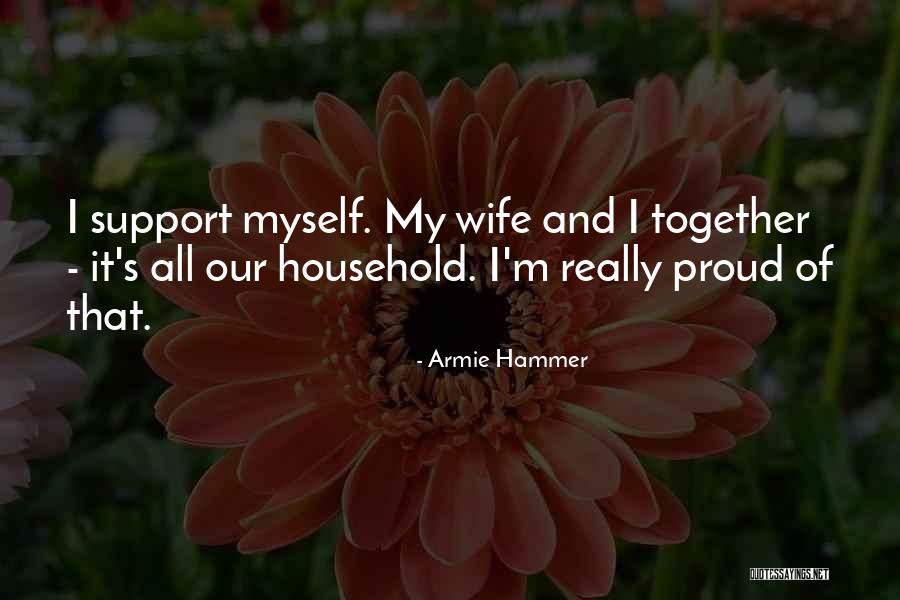 I support myself. My wife and I together - it's all our household. I'm really proud of that. — Armie Hammer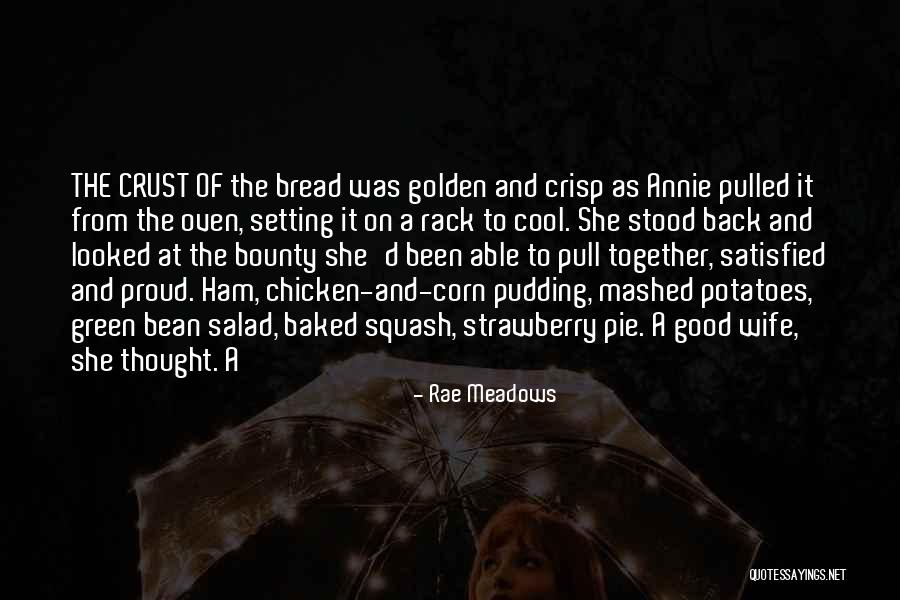 THE CRUST OF the bread was golden and crisp as Annie pulled it from the oven, setting it on a rack to cool. She stood back and looked at the bounty she'd been able to pull together, satisfied and proud. Ham, chicken-and-corn pudding, mashed potatoes, green bean salad, baked squash, strawberry pie. A good wife, she thought. A — Rae Meadows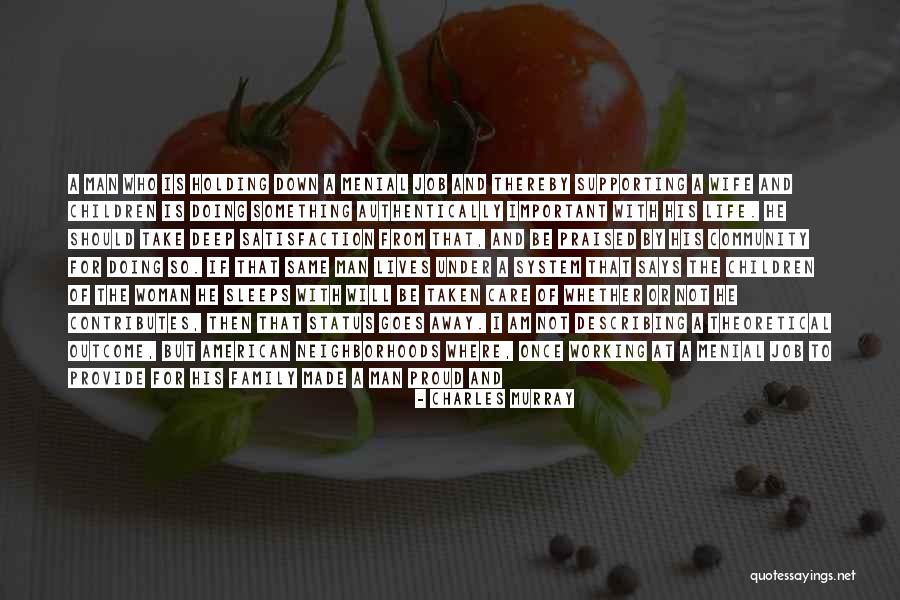 A man who is holding down a menial job and thereby supporting a wife and children is doing something authentically important with his life. He should take deep satisfaction from that, and be praised by his community for doing so. If that same man lives under a system that says the children of the woman he sleeps with will be taken care of whether or not he contributes, then that status goes away. I am not describing a theoretical outcome, but American neighborhoods where, once working at a menial job to provide for his family made a man proud and gave him status in his community, and where now it doesn't. Taking the trouble out of life strips people in major ways which human beings look back on their lives and say, 'I made a difference. — Charles Murray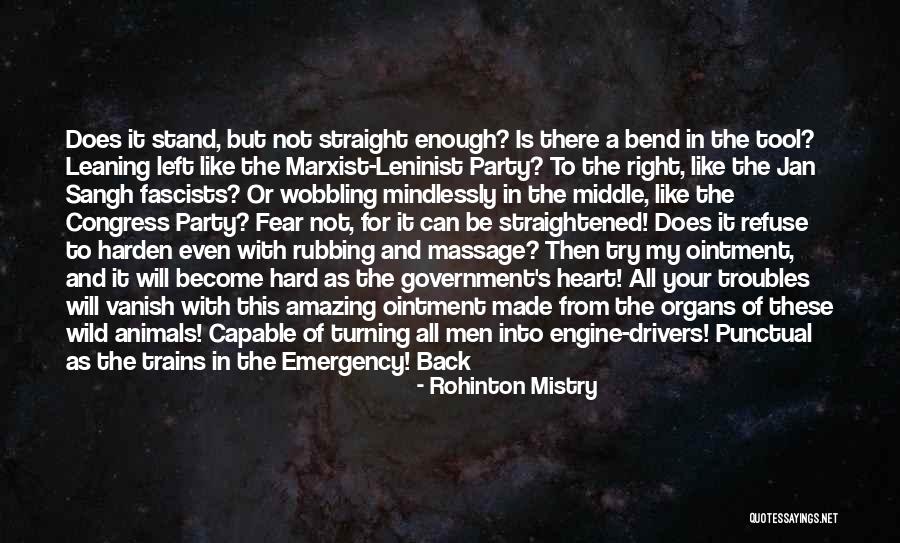 Does it stand, but not straight enough? Is there a bend in the tool? Leaning left like the Marxist-Leninist Party? To the right, like the Jan Sangh fascists? Or wobbling mindlessly in the middle, like the Congress Party? Fear not, for it can be straightened! Does it refuse to harden even with rubbing and massage? Then try my ointment, and it will become hard as the government's heart! All your troubles will vanish with this amazing ointment made from the organs of these wild animals! Capable of turning all men into engine-drivers! Punctual as the trains in the Emergency! Back and forth you will shunt with piston power every night! The railways will want to harness your energy! Apply this ointment once a day, and your wife will be proud of you! Apply it twice a day, and she will have to share you with the whole block! — Rohinton Mistry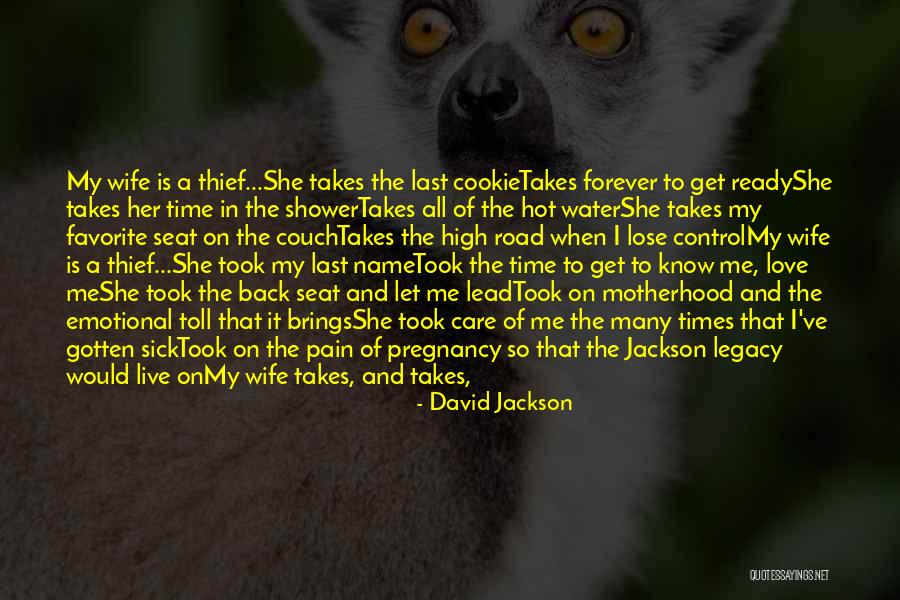 My wife is a thief...
She takes the last cookie
Takes forever to get ready
She takes her time in the shower
Takes all of the hot water
She takes my favorite seat on the couch
Takes the high road when I lose control
My wife is a thief...
She took my last name
Took the time to get to know me, love me
She took the back seat and let me lead
Took on motherhood and the emotional toll that it brings
She took care of me the many times that I've gotten sick
Took on the pain of pregnancy so that the Jackson legacy would live on
My wife takes, and takes, and takes...
I'm so proud of my perpetual thief who stole my heart and won't give it back. — David Jackson
I'm proud of my family, very proud - I have ten grandchildren, four children, and one wife. — Dan Shechtman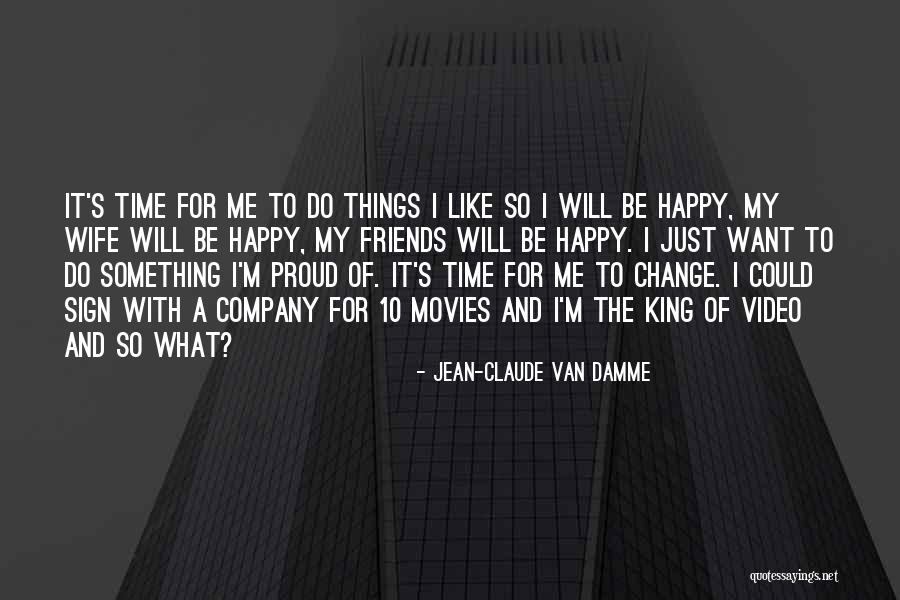 It's time for me to do things I like so I will be happy, my wife will be happy, my friends will be happy. I just want to do something I'm proud of. It's time for me to change. I could sign with a company for 10 movies and I'm the king of video and so what? — Jean-Claude Van Damme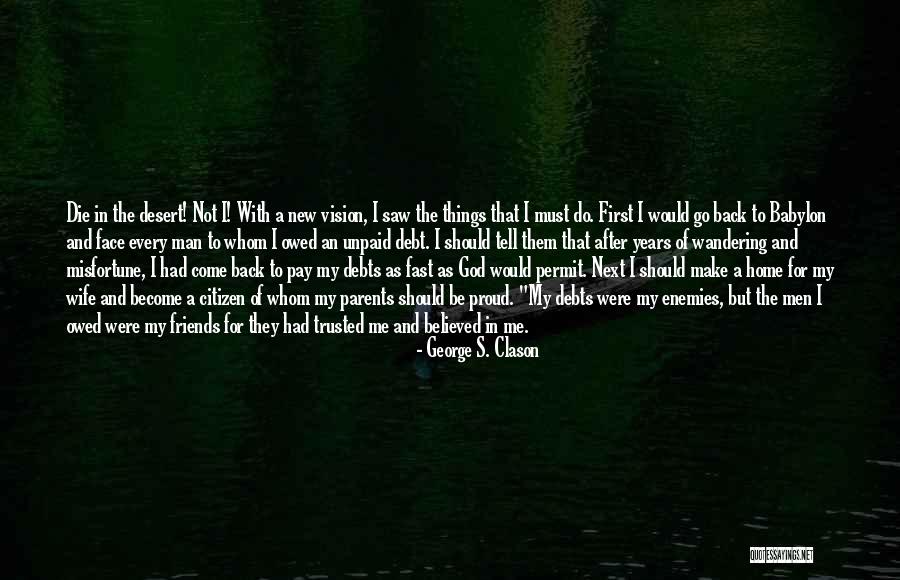 Die in the desert! Not I! With a new vision, I saw the things that I must do. First I would go back to Babylon and face every man to whom I owed an unpaid debt. I should tell them that after years of wandering and misfortune, I had come back to pay my debts as fast as God would permit. Next I should make a home for my wife and become a citizen of whom my parents should be proud. "My debts were my enemies, but the men I owed were my friends for they had trusted me and believed in me. — George S. Clason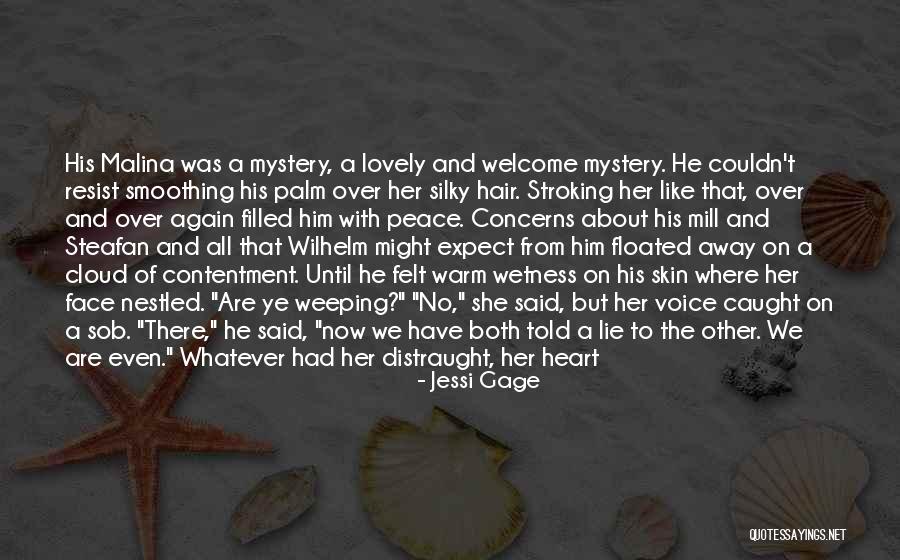 His Malina was a mystery, a lovely and welcome mystery. He couldn't resist smoothing his palm over her silky hair. Stroking her like that, over and over again filled him with peace. Concerns about his mill and Steafan and all that Wilhelm might expect from him floated away on a cloud of contentment. Until he felt warm wetness on his skin where her face nestled. "Are ye weeping?" "No," she said, but her voice caught on a sob. "There," he said, "now we have both told a lie to the other. We are even." Whatever had her distraught, her heart wasn't so heavy that she couldn't give a small chuckle. "Maybe I'm crying just a little," she said. "It's fine, though. Don't worry. Get some sleep." "I canna. My da told me a good husband doesna lay his head down for the night if his household isna in order and his wife isna content." "He sounds like a very responsible man. Like father, like son." No one had given him as much to feel proud over as this woman. — Jessi Gage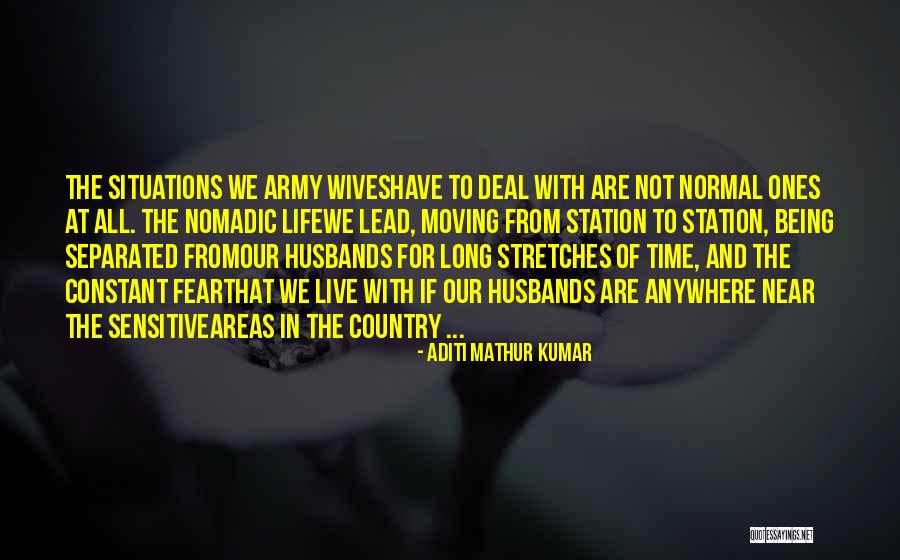 The situations we Army wives
have to deal with are not normal ones at all. The nomadic life
we lead, moving from station to station, being separated from
our husbands for long stretches of time, and the constant fear
that we live with if our husbands are anywhere near the sensitive
areas in the country ... — Aditi Mathur Kumar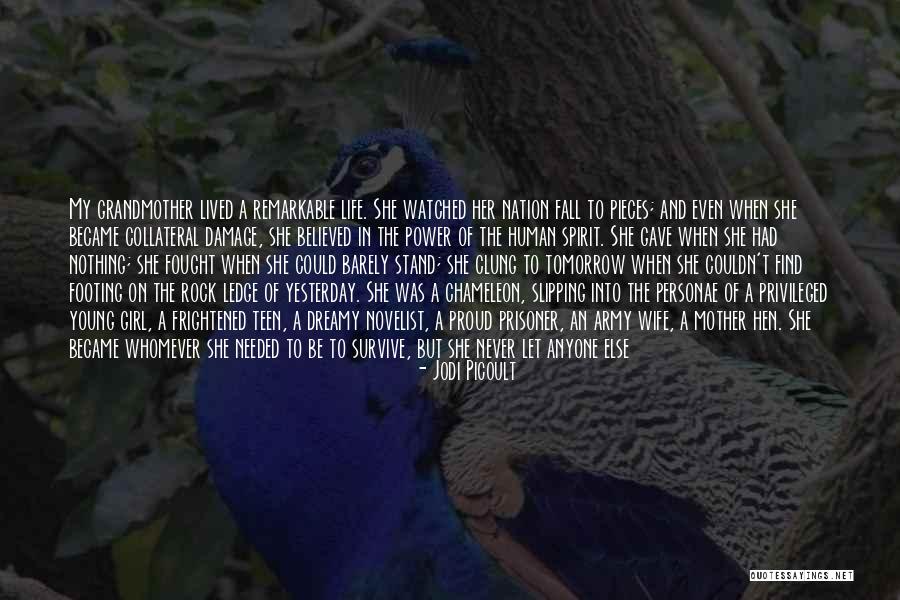 My grandmother lived a remarkable life. She watched her nation fall to pieces; and even when she became collateral damage, she believed in the power of the human spirit. She gave when she had nothing; she fought when she could barely stand; she clung to tomorrow when she couldn't find footing on the rock ledge of yesterday. She was a chameleon, slipping into the personae of a privileged young girl, a frightened teen, a dreamy novelist, a proud prisoner, an army wife, a mother hen. She became whomever she needed to be to survive, but she never let anyone else define her.
By anyone's account, her existence had been full, rich, important - even if she chose not to shout about her past, but rather to keep it hidden. It had been nobody's business but her own; it was still nobody's business. — Jodi Picoult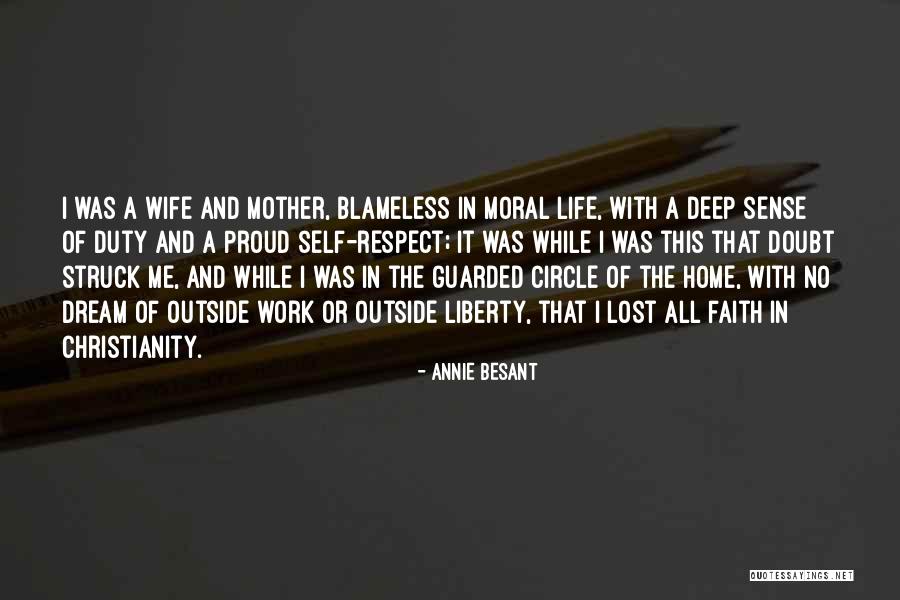 I was a wife and mother, blameless in moral life, with a deep sense of duty and a proud self-respect; it was while I was this that doubt struck me, and while I was in the guarded circle of the home, with no dream of outside work or outside liberty, that I lost all faith in Christianity. — Annie Besant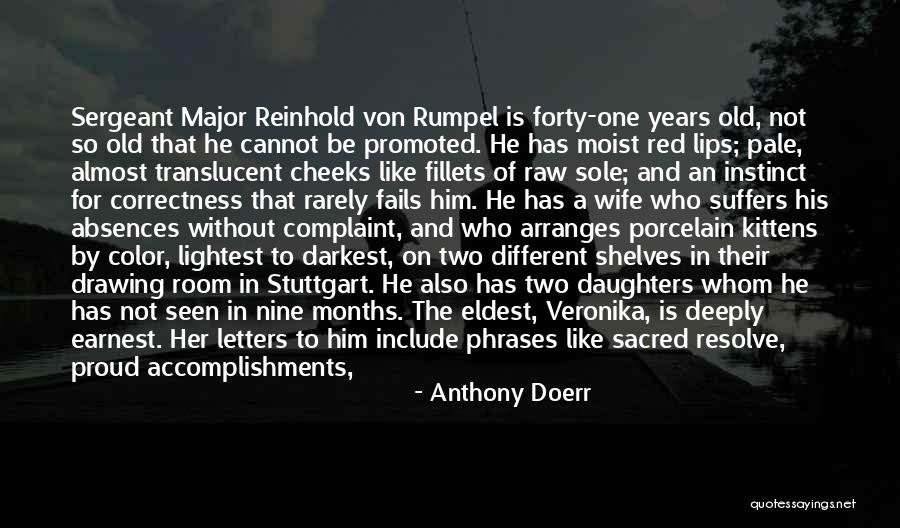 Sergeant Major Reinhold von Rumpel is forty-one years old, not so old that he cannot be promoted. He has moist red lips; pale, almost translucent cheeks like fillets of raw sole; and an instinct for correctness that rarely fails him. He has a wife who suffers his absences without complaint, and who arranges porcelain kittens by color, lightest to darkest, on two different shelves in their drawing room in Stuttgart. He also has two daughters whom he has not seen in nine months. The eldest, Veronika, is deeply earnest. Her letters to him include phrases like sacred resolve, proud accomplishments, and unparalleled in history. — Anthony Doerr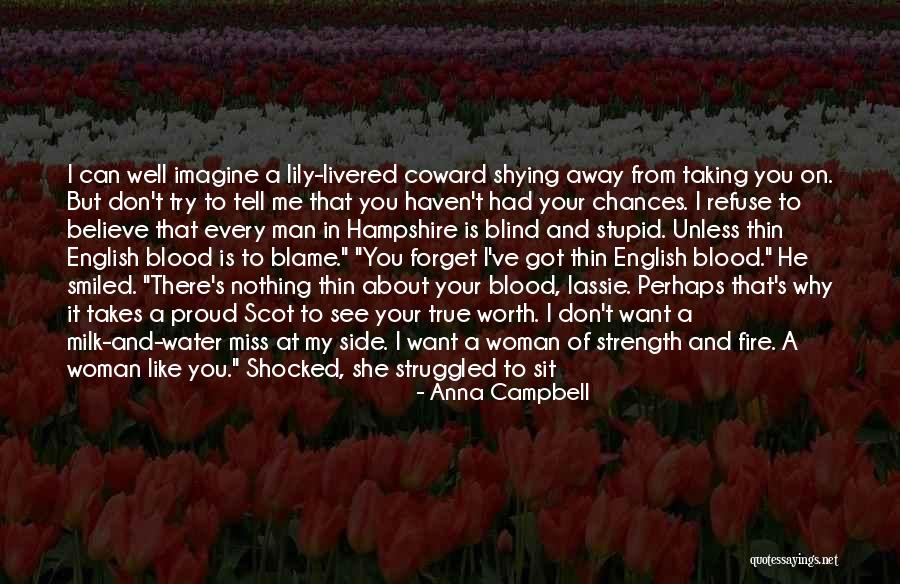 I can well imagine a lily-livered coward shying away from taking you on. But don't try to tell me that you haven't had your chances. I refuse to believe that every man in Hampshire is blind and stupid. Unless thin English blood is to blame." "You forget I've got thin English blood." He smiled. "There's nothing thin about your blood, lassie. Perhaps that's why it takes a proud Scot to see your true worth. I don't want a milk-and-water miss at my side. I want a woman of strength and fire. A woman like you." Shocked, she struggled to sit up. He'd started out with the familiar teasing, but purpose had resonated through that declaration. "Nobody's ever said anything like that to me before." "I want a wife to share my joys and troubles." His Scottish burr deepened with every word. "I want a wife who meets a challenge with a sparkle in her eyes. I want a wife who gives me a run for my money." Inside — Anna Campbell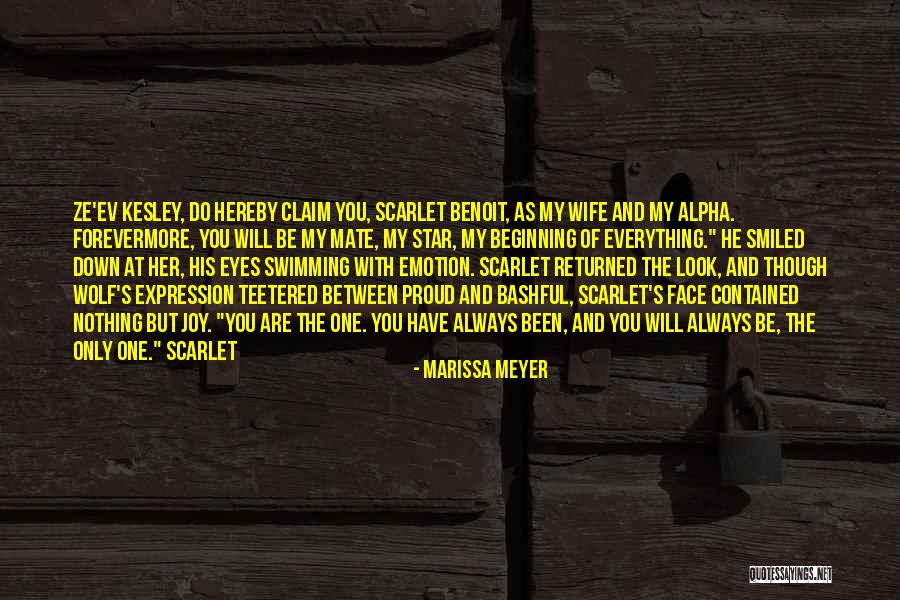 Ze'ev Kesley, do hereby claim you, Scarlet Benoit, as my wife and my Alpha. Forevermore, you will be my mate, my star, my beginning of everything." He smiled down at her, his eyes swimming with emotion. Scarlet returned the look, and though Wolf's expression teetered between proud and bashful, Scarlet's face contained nothing but joy. "You are the one. You have always been, and you will always be, the only one." Scarlet — Marissa Meyer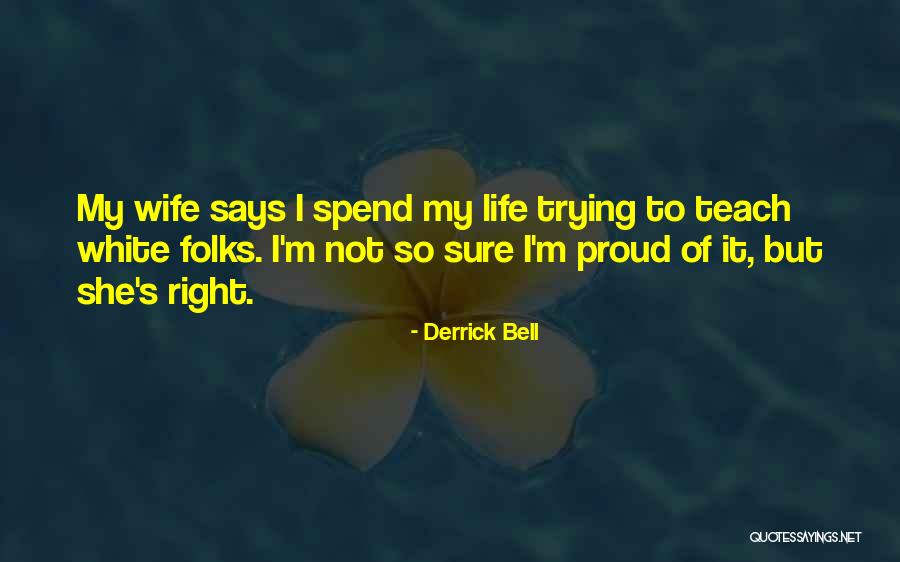 My wife says I spend my life trying to teach white folks. I'm not so sure I'm proud of it, but she's right. — Derrick Bell