Quotes & Sayings About Polio Vaccine
Enjoy reading and share 23 famous quotes about Polio Vaccine with everyone.
Top Polio Vaccine Quotes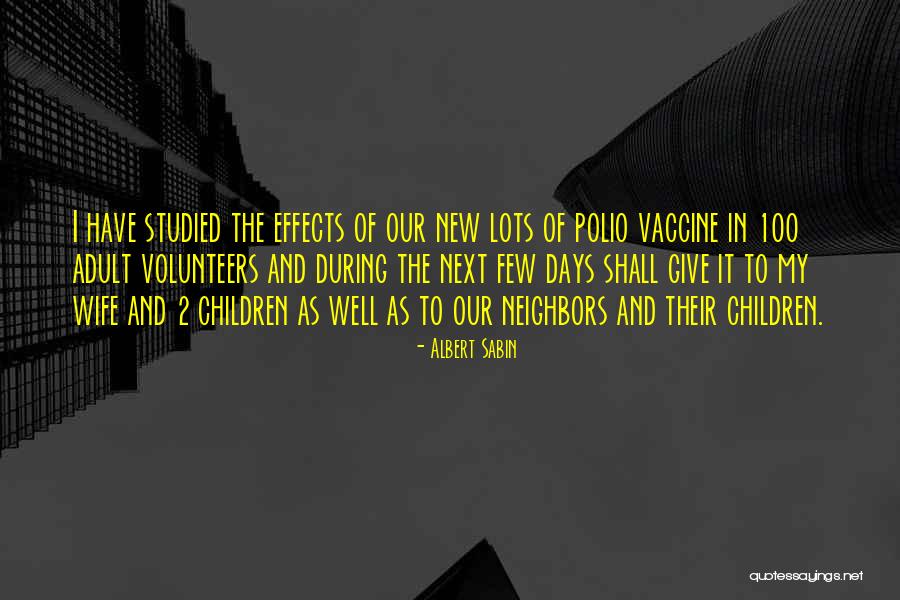 I have studied the effects of our new lots of polio vaccine in 100 adult volunteers and during the next few days shall give it to my wife and 2 children as well as to our neighbors and their children. — Albert Sabin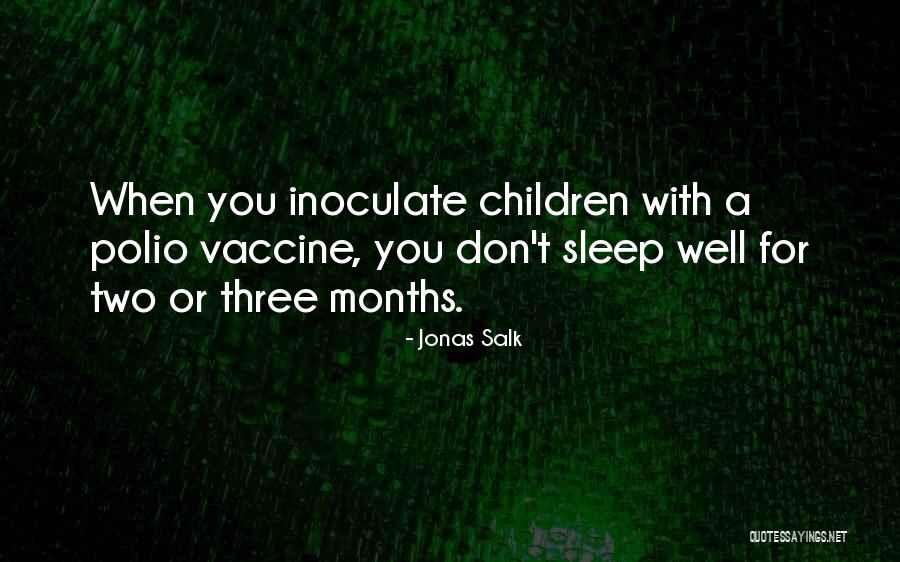 When you inoculate children with a polio vaccine, you don't sleep well for two or three months. — Jonas Salk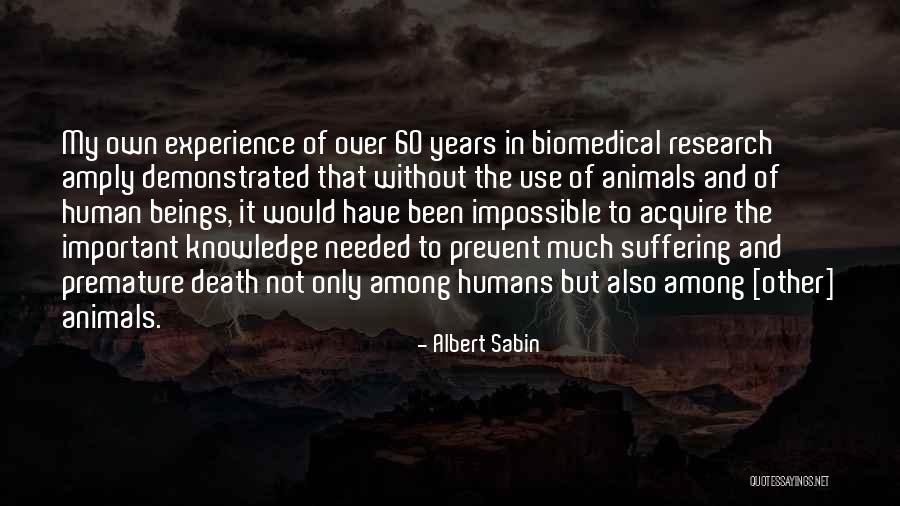 My own experience of over 60 years in biomedical research amply demonstrated that without the use of animals and of human beings, it would have been impossible to acquire the important knowledge needed to prevent much suffering and premature death not only among humans but also among [other] animals. — Albert Sabin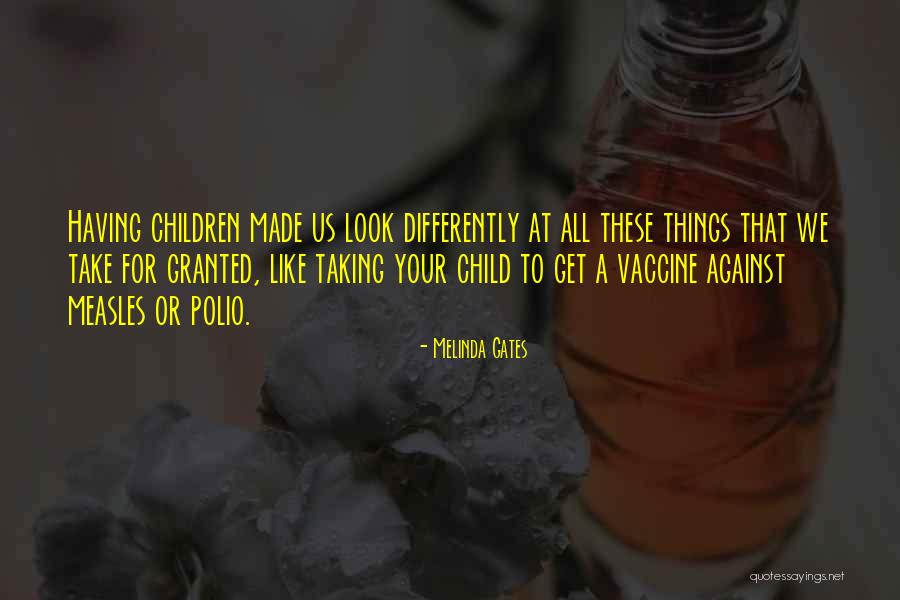 Having children made us look differently at all these things that we take for granted, like taking your child to get a vaccine against measles or polio. — Melinda Gates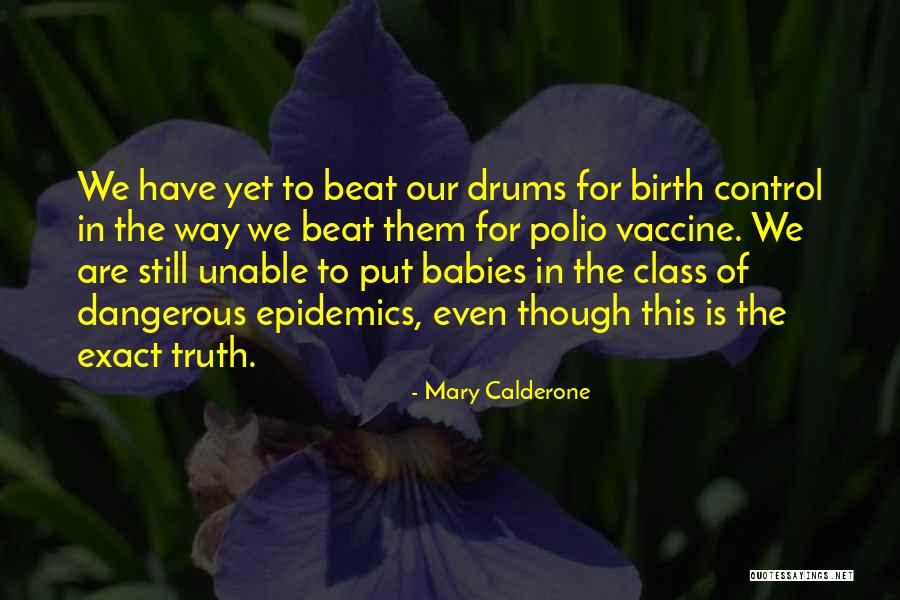 We have yet to beat our drums for birth control in the way we beat them for polio vaccine. We are still unable to put babies in the class of dangerous epidemics, even though this is the exact truth. — Mary Calderone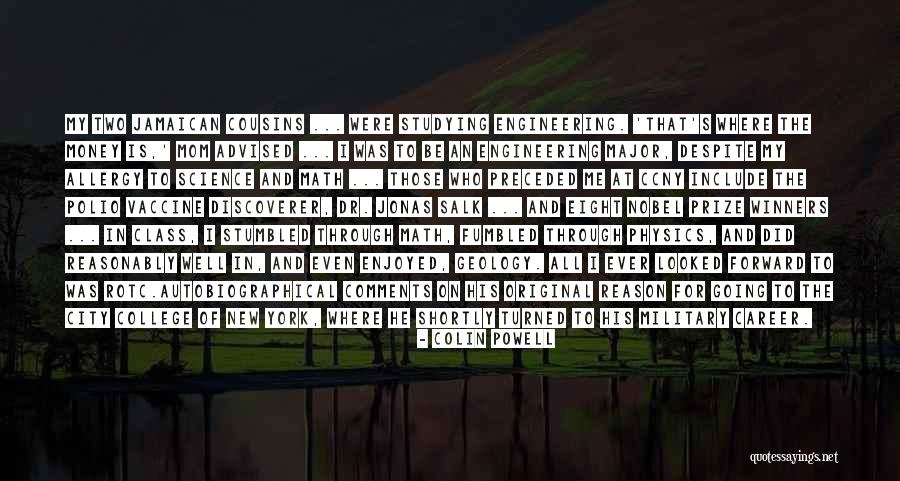 My two Jamaican cousins ... were studying engineering. 'That's where the money is,' Mom advised ... I was to be an engineering major, despite my allergy to science and math ... Those who preceded me at CCNY include the polio vaccine discoverer, Dr. Jonas Salk ... and eight Nobel Prize winners ... In class, I stumbled through math, fumbled through physics, and did reasonably well in, and even enjoyed, geology. All I ever looked forward to was ROTC.
Autobiographical comments on his original reason for going to the City College of New York, where he shortly turned to his military career. — Colin Powell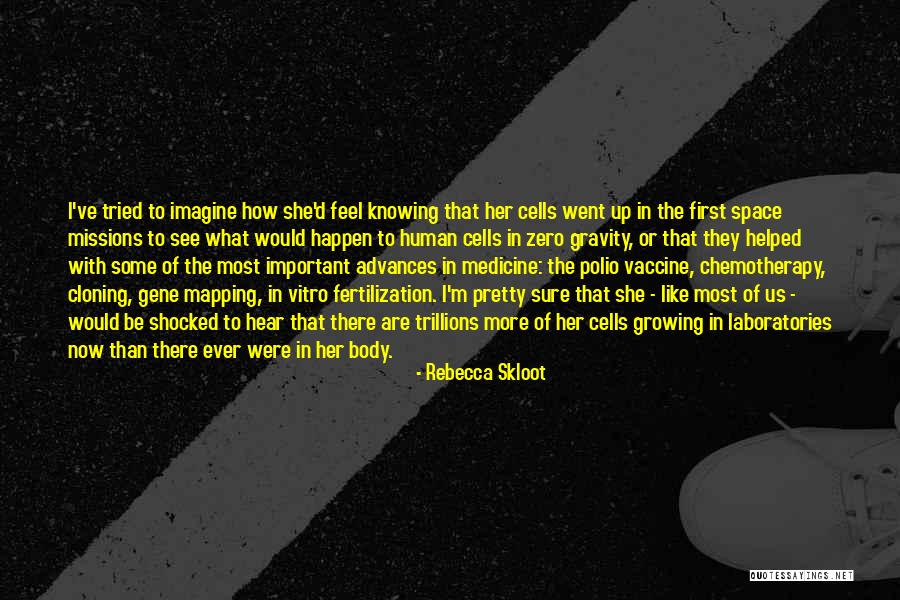 I've tried to imagine how she'd feel knowing that her cells went up in the first space missions to see what would happen to human cells in zero gravity, or that they helped with some of the most important advances in medicine: the polio vaccine, chemotherapy, cloning, gene mapping, in vitro fertilization. I'm pretty sure that she - like most of us - would be shocked to hear that there are trillions more of her cells growing in laboratories now than there ever were in her body. — Rebecca Skloot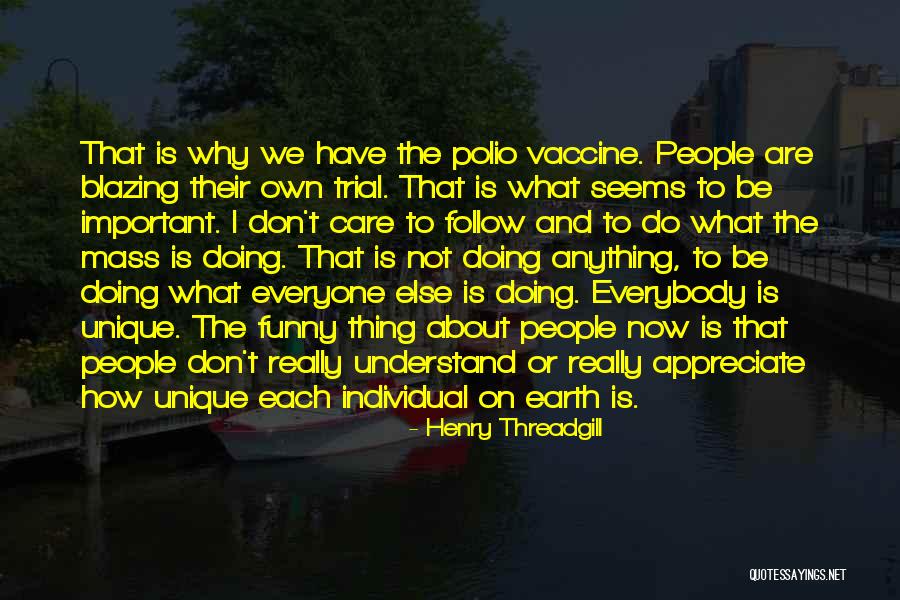 That is why we have the polio vaccine. People are blazing their own trial. That is what seems to be important. I don't care to follow and to do what the mass is doing. That is not doing anything, to be doing what everyone else is doing. Everybody is unique. The funny thing about people now is that people don't really understand or really appreciate how unique each individual on earth is. — Henry Threadgill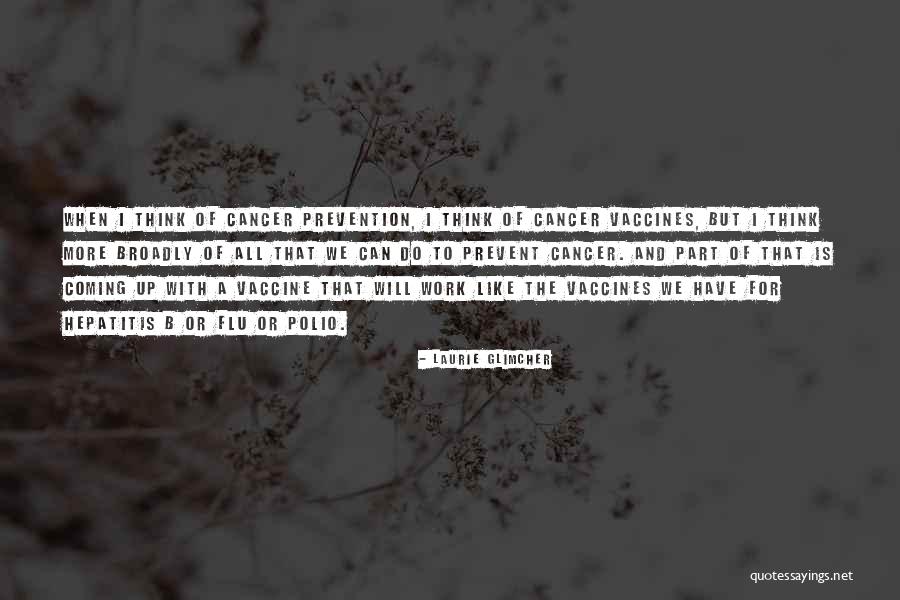 When I think of cancer prevention, I think of cancer vaccines, but I think more broadly of all that we can do to prevent cancer. And part of that is coming up with a vaccine that will work like the vaccines we have for hepatitis B or flu or polio. — Laurie Glimcher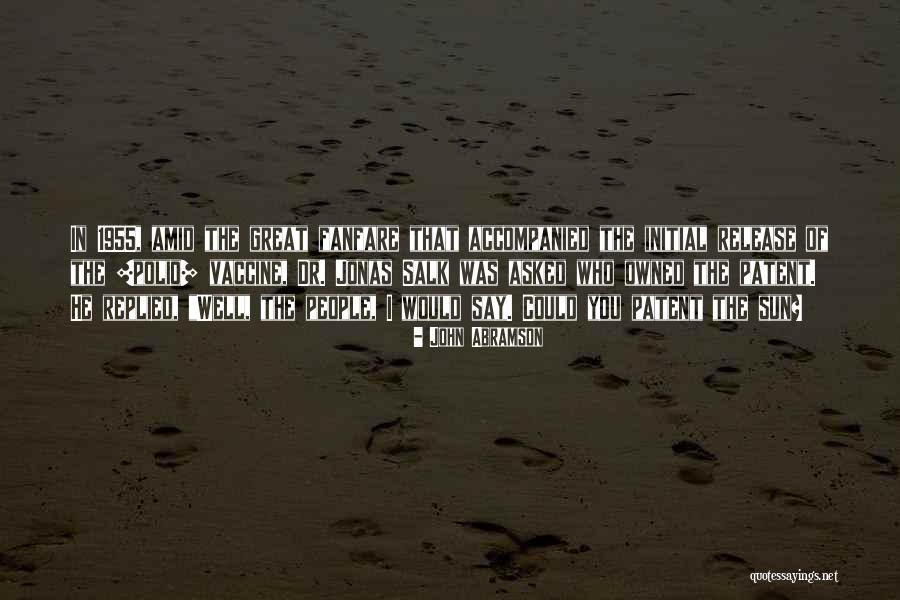 In 1955, amid the great fanfare that accompanied the initial release of the [polio] vaccine, Dr. Jonas Salk was asked who owned the patent. He replied, "Well, the people, I would say. Could you patent the sun? — John Abramson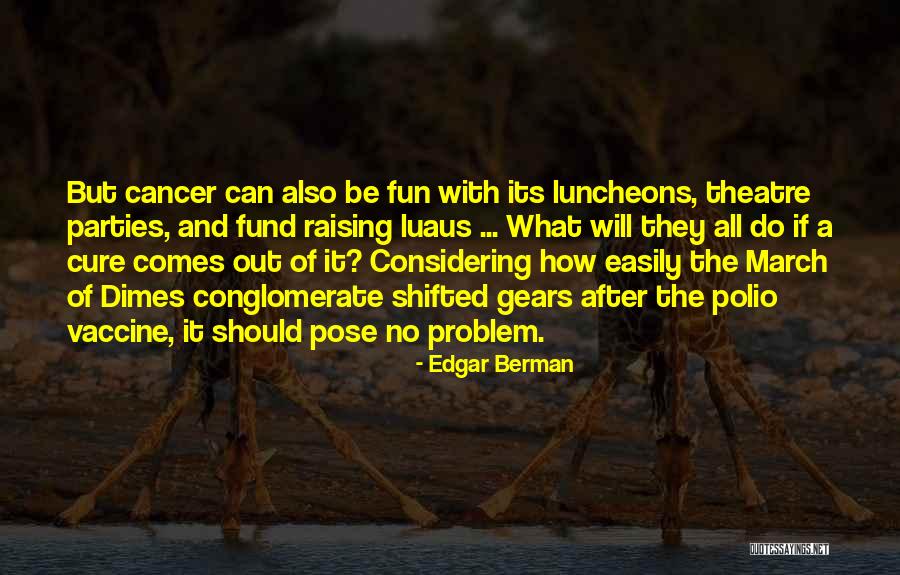 But cancer can also be fun with its luncheons, theatre parties, and fund raising luaus ... What will they all do if a cure comes out of it? Considering how easily the March of Dimes conglomerate shifted gears after the polio vaccine, it should pose no problem. — Edgar Berman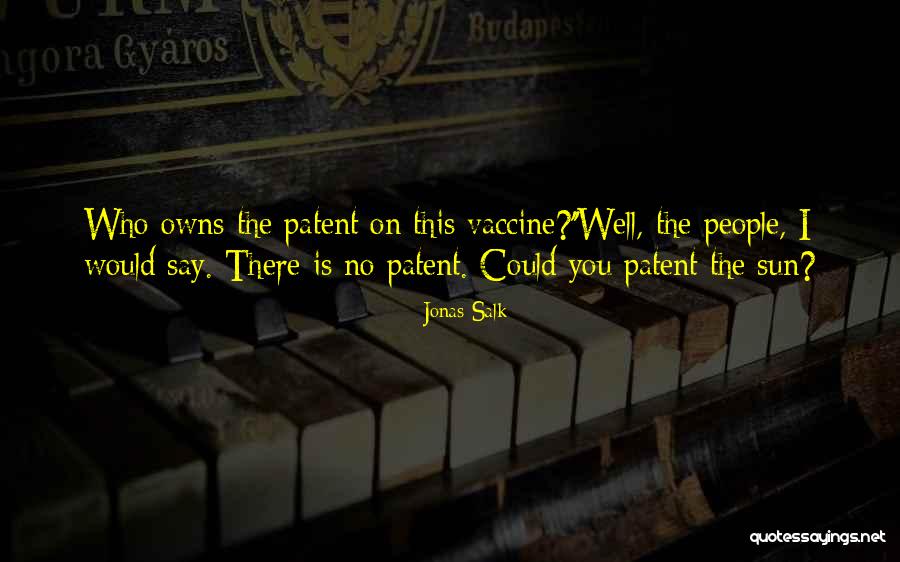 Who owns the patent on this vaccine?'
'Well, the people, I would say. There is no patent. Could you patent the sun? — Jonas Salk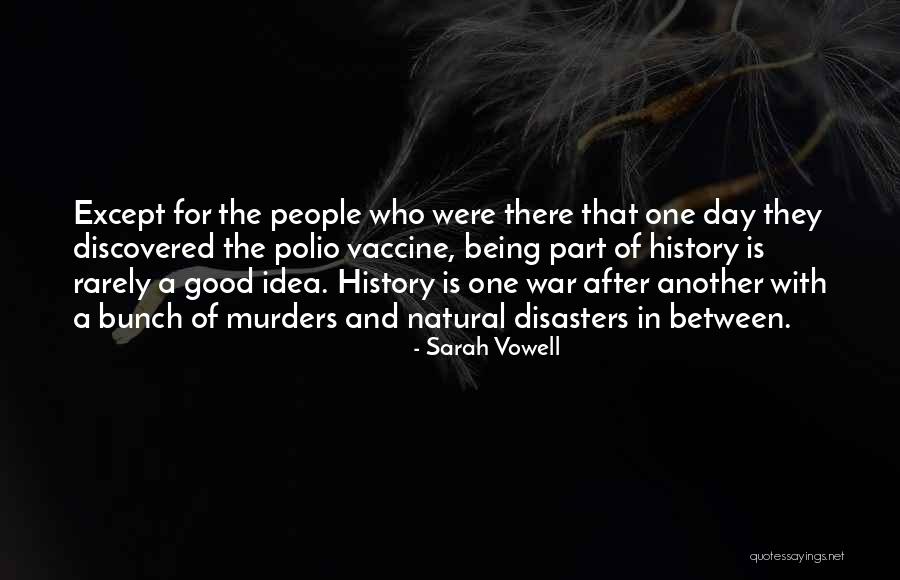 Except for the people who were there that one day they discovered the polio vaccine, being part of history is rarely a good idea. History is one war after another with a bunch of murders and natural disasters in between. — Sarah Vowell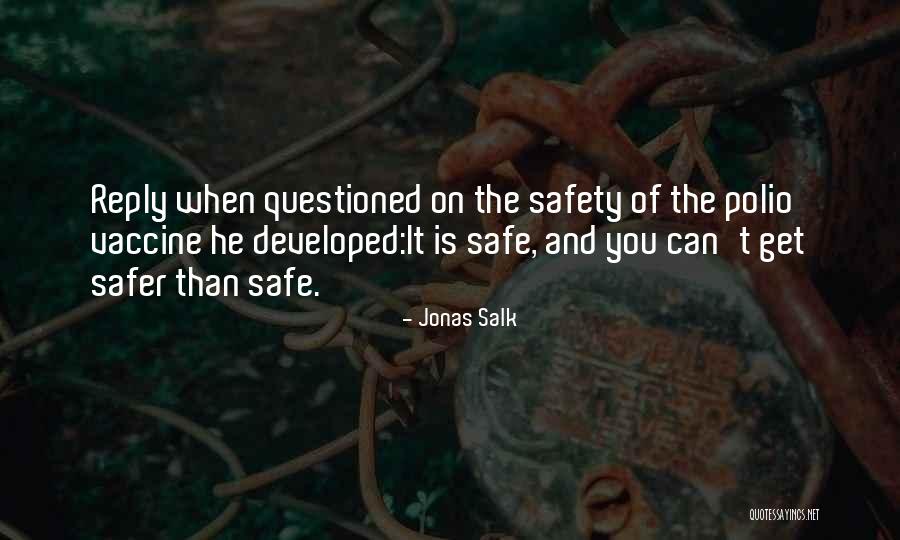 Reply when questioned on the safety of the polio vaccine he developed:
It is safe, and you can't get safer than safe. — Jonas Salk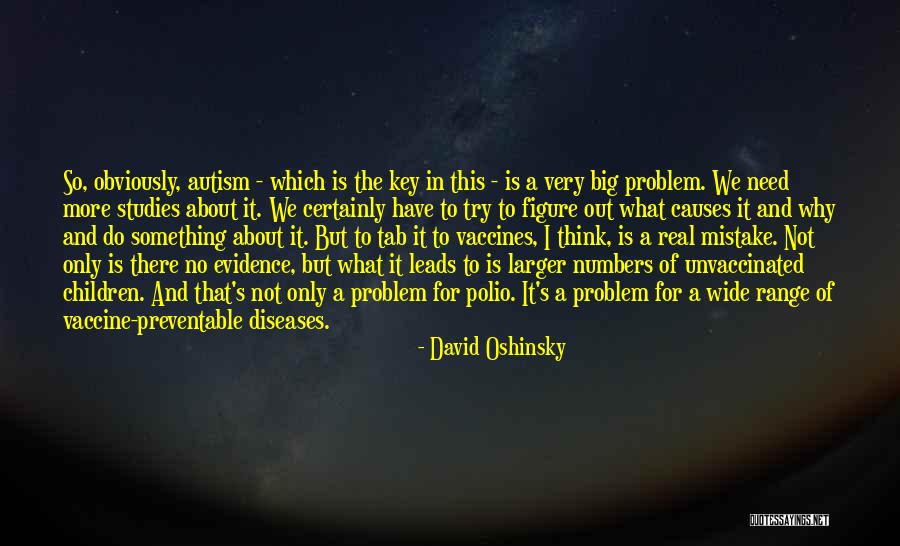 So, obviously, autism - which is the key in this - is a very big problem. We need more studies about it. We certainly have to try to figure out what causes it and why and do something about it. But to tab it to vaccines, I think, is a real mistake. Not only is there no evidence, but what it leads to is larger numbers of unvaccinated children. And that's not only a problem for polio. It's a problem for a wide range of vaccine-preventable diseases. — David Oshinsky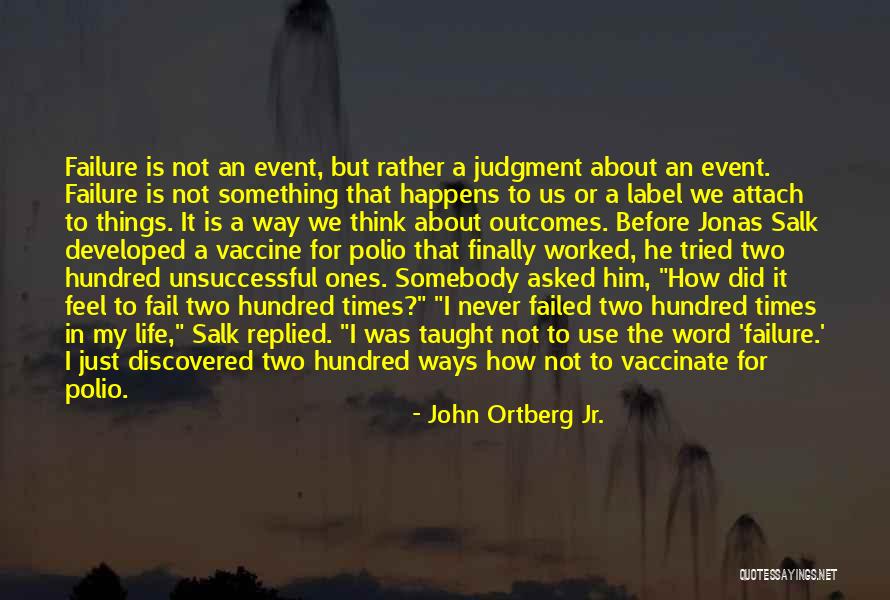 Failure is not an event, but rather a judgment about an event. Failure is not something that happens to us or a label we attach to things. It is a way we think about outcomes. Before Jonas Salk developed a vaccine for polio that finally worked, he tried two hundred unsuccessful ones. Somebody asked him, "How did it feel to fail two hundred times?" "I never failed two hundred times in my life," Salk replied. "I was taught not to use the word 'failure.' I just discovered two hundred ways how not to vaccinate for polio. — John Ortberg Jr.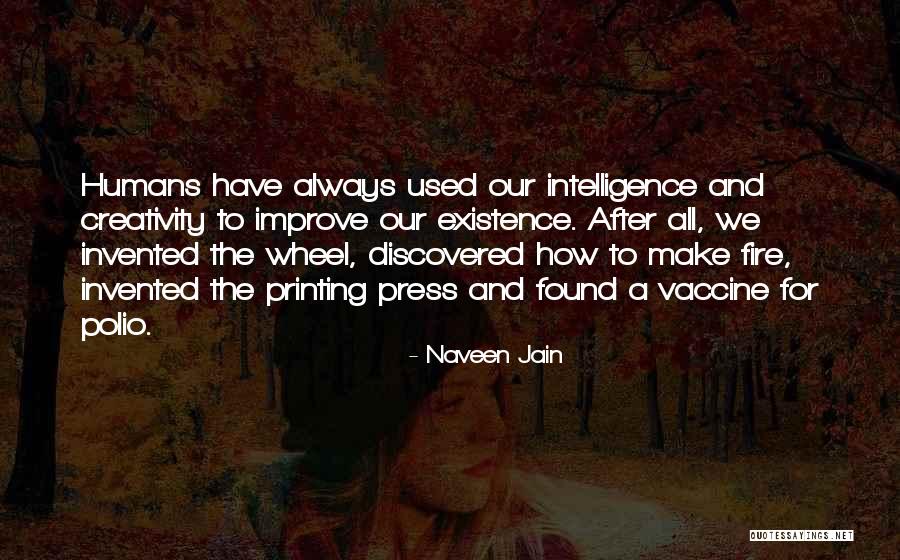 Humans have always used our intelligence and creativity to improve our existence. After all, we invented the wheel, discovered how to make fire, invented the printing press and found a vaccine for polio. — Naveen Jain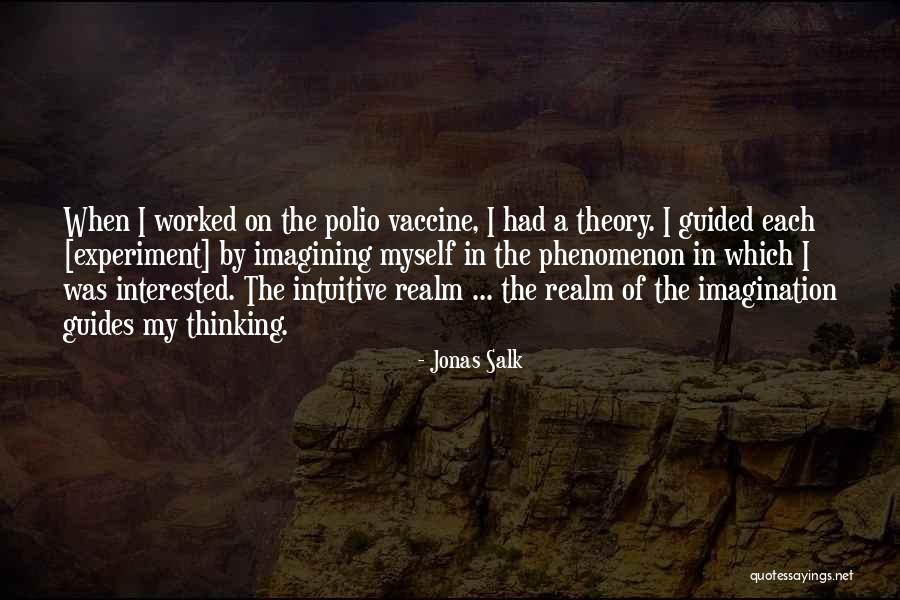 When I worked on the polio vaccine, I had a theory. I guided each [experiment] by imagining myself in the phenomenon in which I was interested. The intuitive realm ... the realm of the imagination guides my thinking. — Jonas Salk
The main problem, certainly, for the people who will not get vaccinated with Thimerosal, which was put into polio vaccine. And the belief was that it may cause autism. And there's been an awful lot done in terms of studies in Western Europe, Canada, the United States, and no correlation was found between Thimerosal and autism from those children who took vaccines. Indeed, when Thimerosal was taken out of many of these vaccines, the autism rate in the United States still rose. — David Oshinsky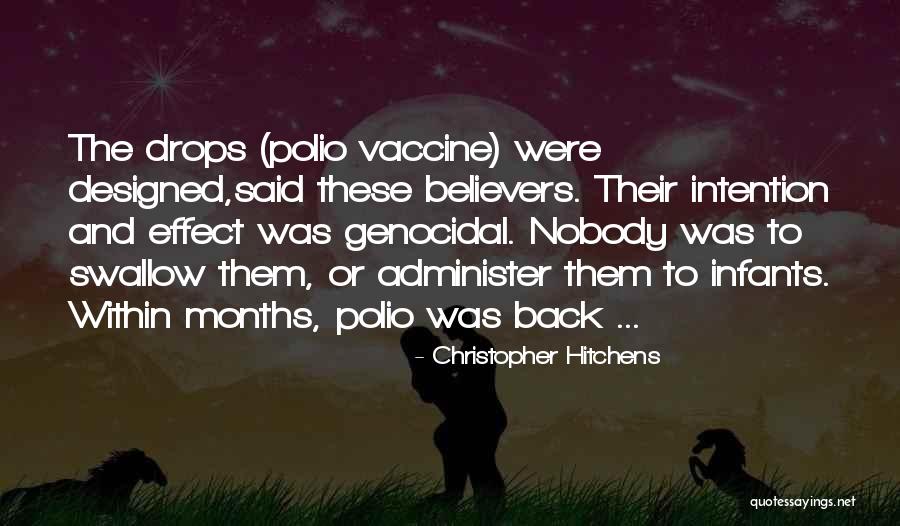 The drops (polio vaccine) were designed,said these believers. Their intention and effect was genocidal. Nobody was to swallow them, or administer them to infants. Within months, polio was back ... — Christopher Hitchens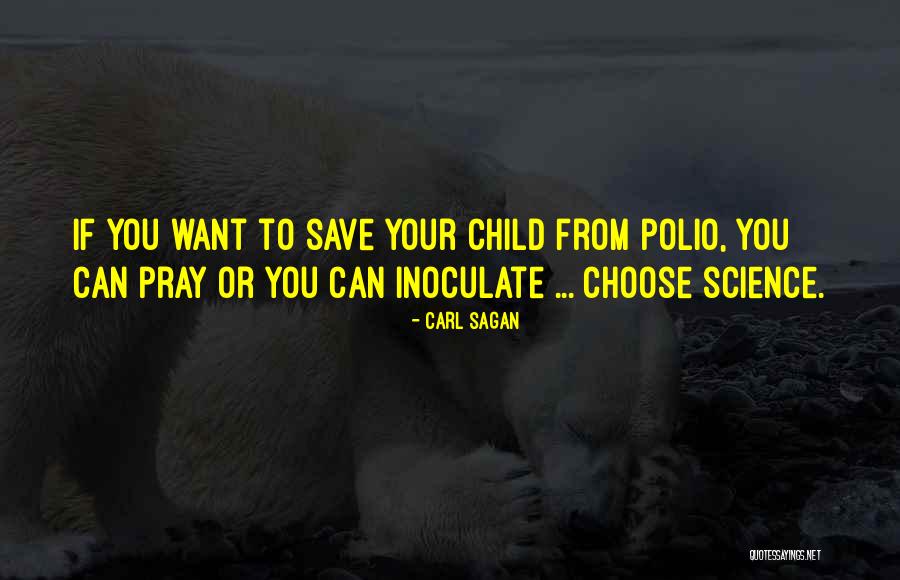 If you want to save your child from polio, you can pray or you can inoculate ... Choose science. — Carl Sagan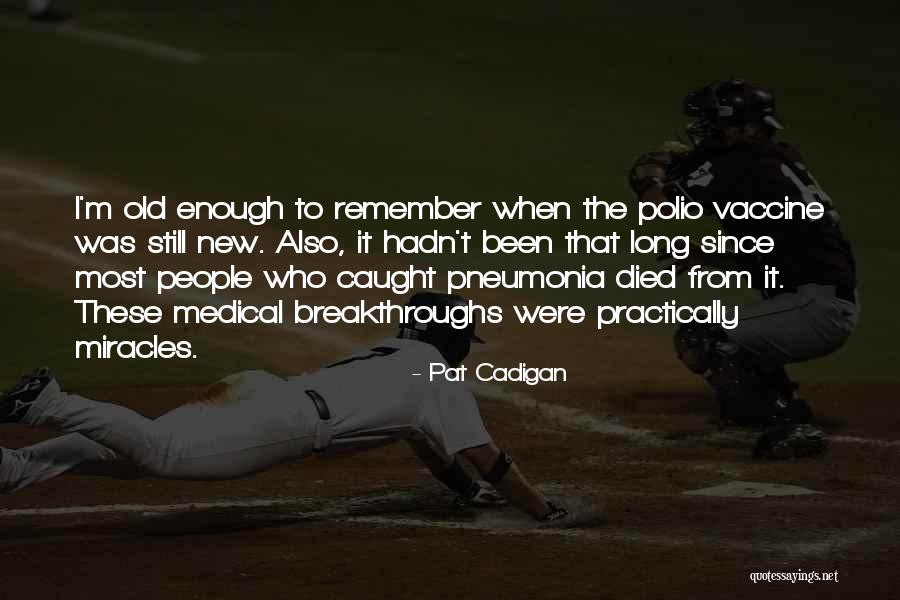 I'm old enough to remember when the polio vaccine was still new. Also, it hadn't been that long since most people who caught pneumonia died from it. These medical breakthroughs were practically miracles. — Pat Cadigan