Working Behind The Scenes Quotes & Sayings
Enjoy reading and share 23 famous quotes about Working Behind The Scenes with everyone.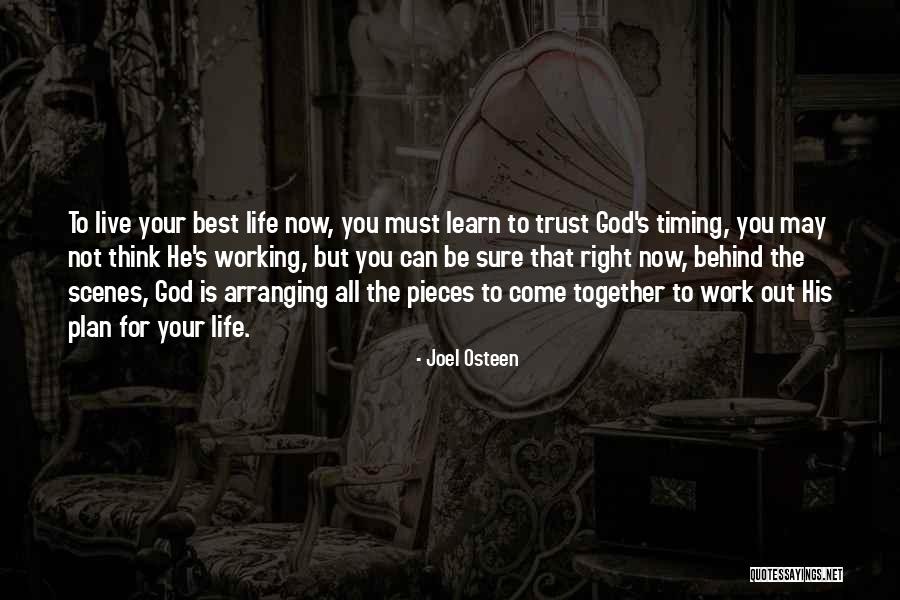 To live your best life now, you must learn to trust God's timing, you may not think He's working, but you can be sure that right now, behind the scenes, God is arranging all the pieces to come together to work out His plan for your life. — Joel Osteen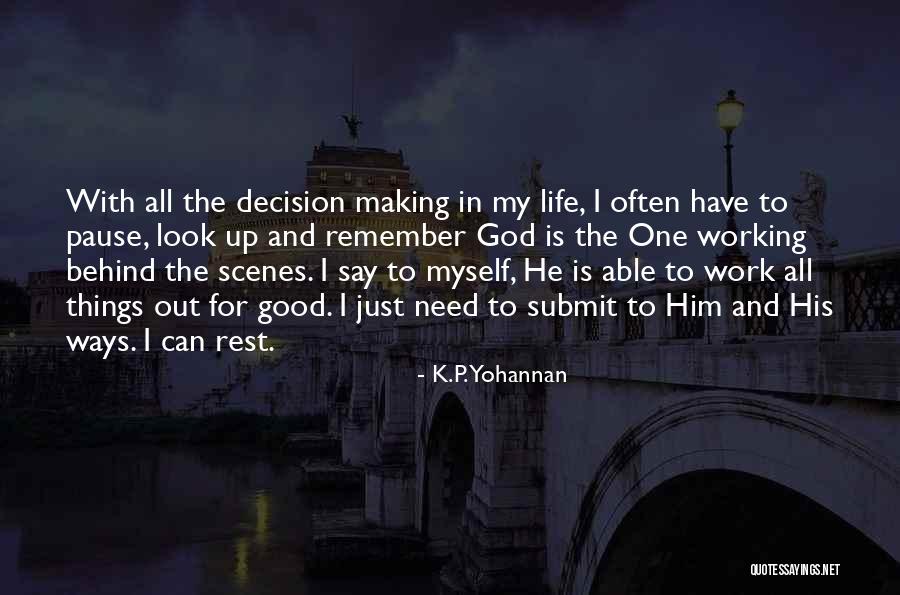 With all the decision making in my life, I often have to pause, look up and remember God is the One working behind the scenes. I say to myself, He is able to work all things out for good. I just need to submit to Him and His ways. I can rest. — K.P. Yohannan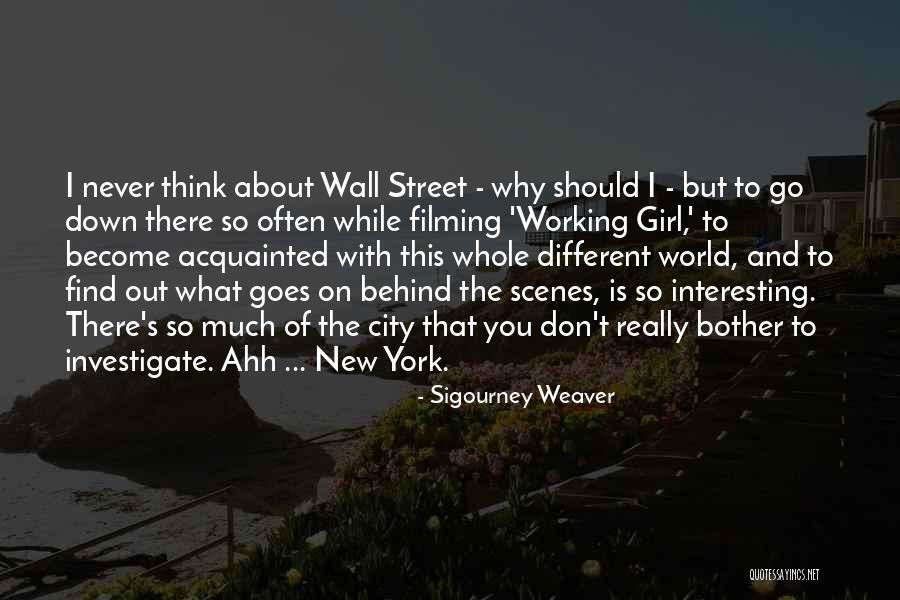 I never think about Wall Street - why should I - but to go down there so often while filming 'Working Girl,' to become acquainted with this whole different world, and to find out what goes on behind the scenes, is so interesting. There's so much of the city that you don't really bother to investigate. Ahh ... New York. — Sigourney Weaver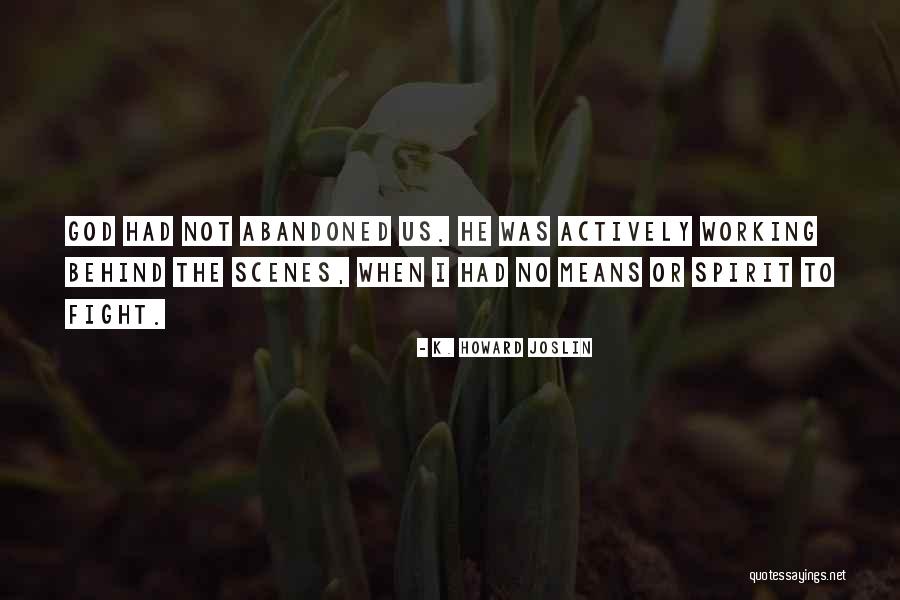 God had not abandoned us. He was actively working behind the scenes, when I had no means or spirit to fight. — K. Howard Joslin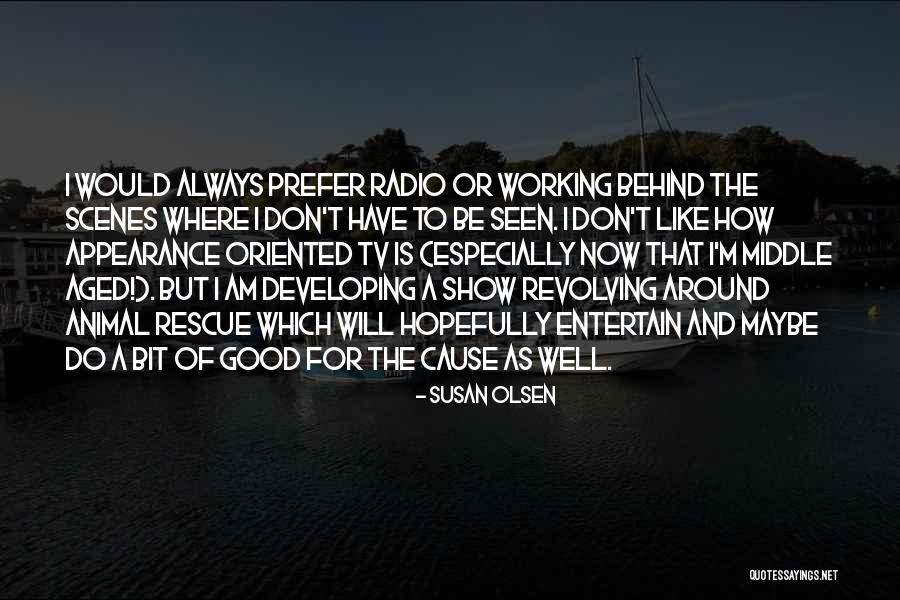 I would always prefer radio or working behind the scenes where I don't have to be seen. I don't like how appearance oriented TV is (especially now that I'm middle aged!). But I am developing a show revolving around animal rescue which will hopefully entertain and maybe do a bit of good for the cause as well. — Susan Olsen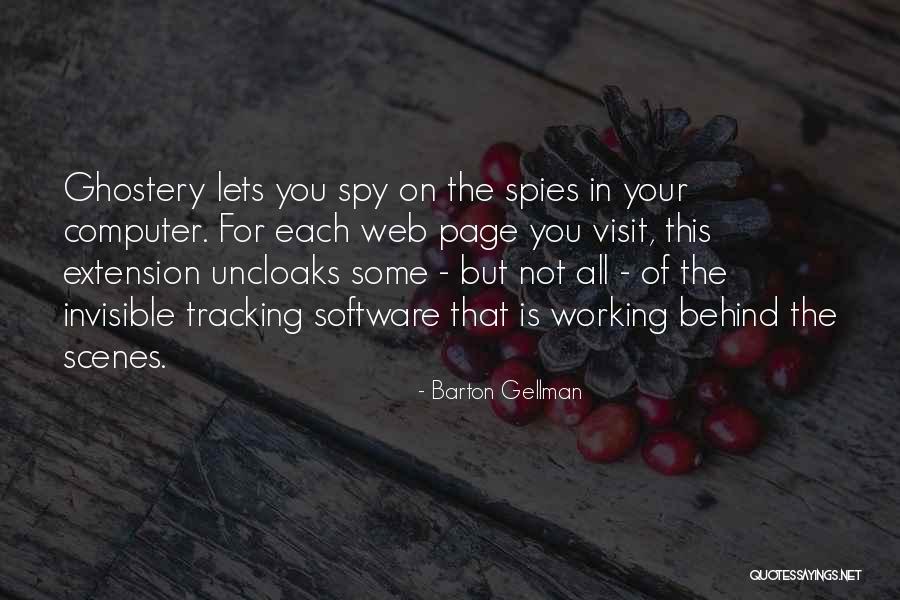 Ghostery lets you spy on the spies in your computer. For each web page you visit, this extension uncloaks some - but not all - of the invisible tracking software that is working behind the scenes. — Barton Gellman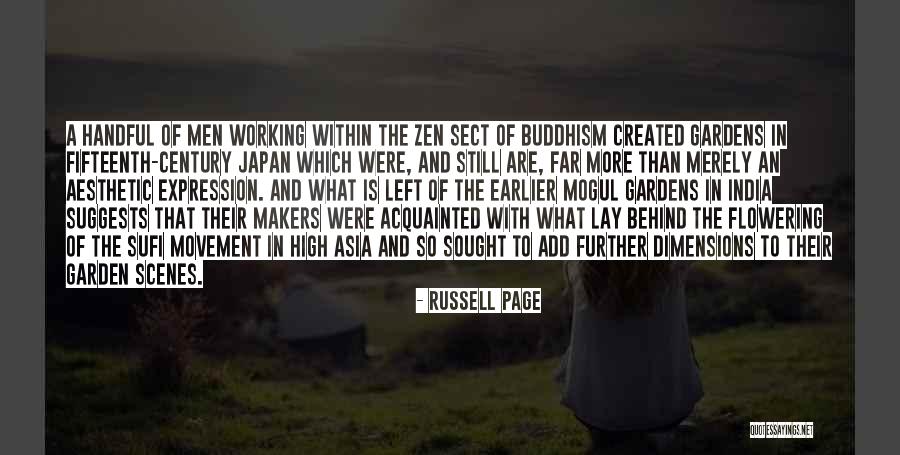 A handful of men working within the Zen sect of Buddhism created gardens in fifteenth-century Japan which were, and still are, far more than merely an aesthetic expression. And what is left of the earlier Mogul gardens in India suggests that their makers were acquainted with what lay behind the flowering of the Sufi movement in High Asia and so sought to add further dimensions to their garden scenes. — Russell Page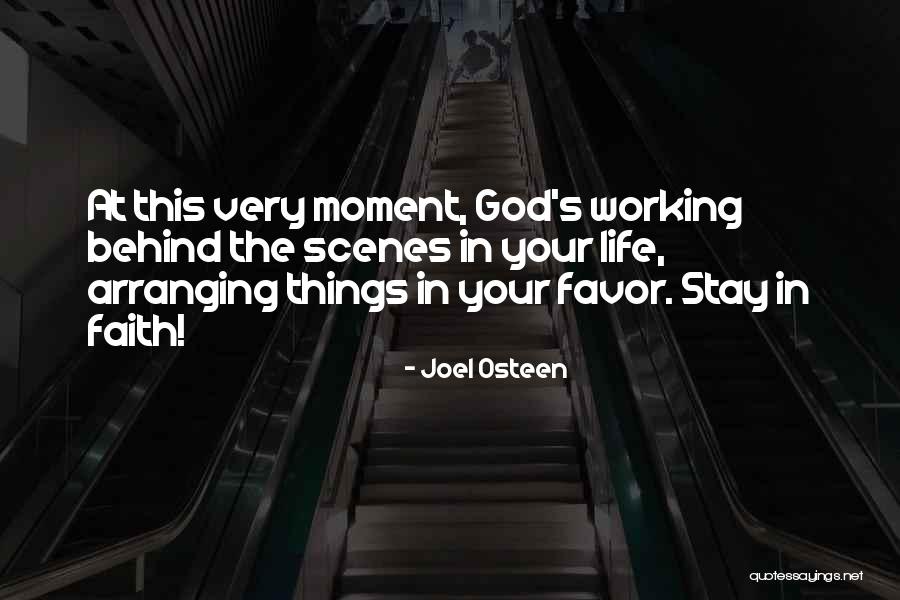 At this very moment, God's working behind the scenes in your life, arranging things in your favor. Stay in faith! — Joel Osteen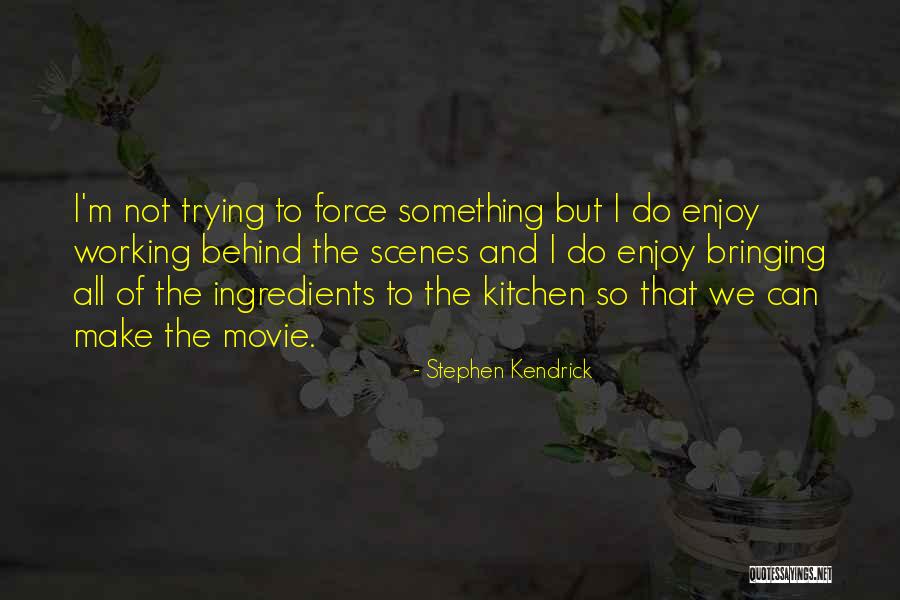 I'm not trying to force something but I do enjoy working behind the scenes and I do enjoy bringing all of the ingredients to the kitchen so that we can make the movie. — Stephen Kendrick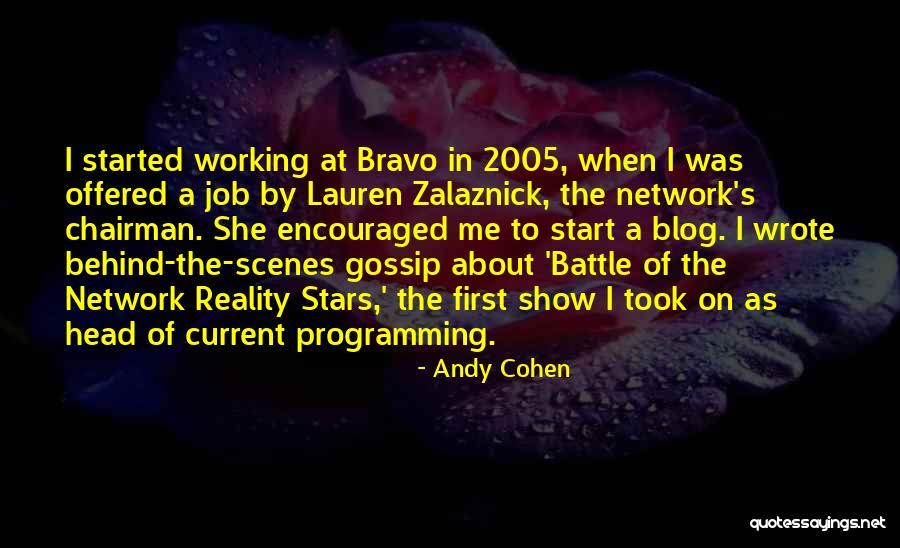 I started working at Bravo in 2005, when I was offered a job by Lauren Zalaznick, the network's chairman. She encouraged me to start a blog. I wrote behind-the-scenes gossip about 'Battle of the Network Reality Stars,' the first show I took on as head of current programming. — Andy Cohen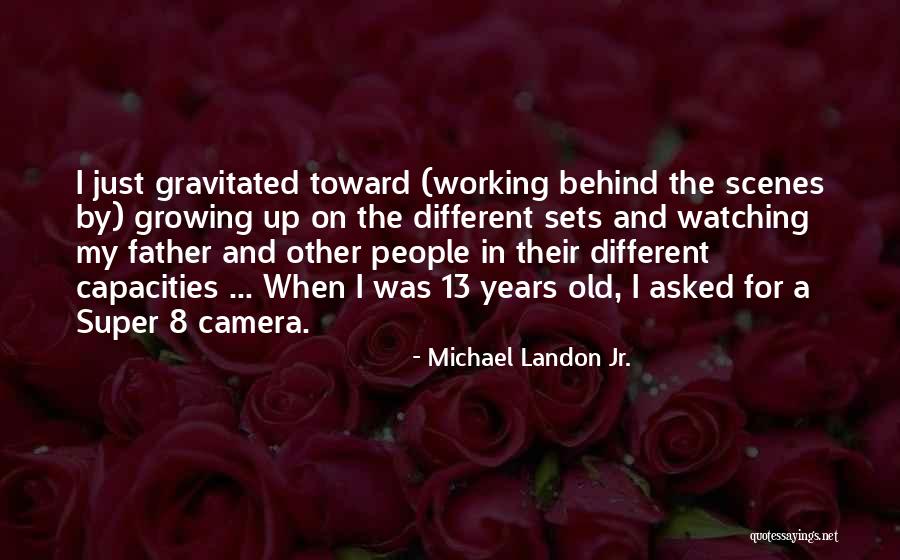 I just gravitated toward (working behind the scenes by) growing up on the different sets and watching my father and other people in their different capacities ... When I was 13 years old, I asked for a Super 8 camera. — Michael Landon Jr.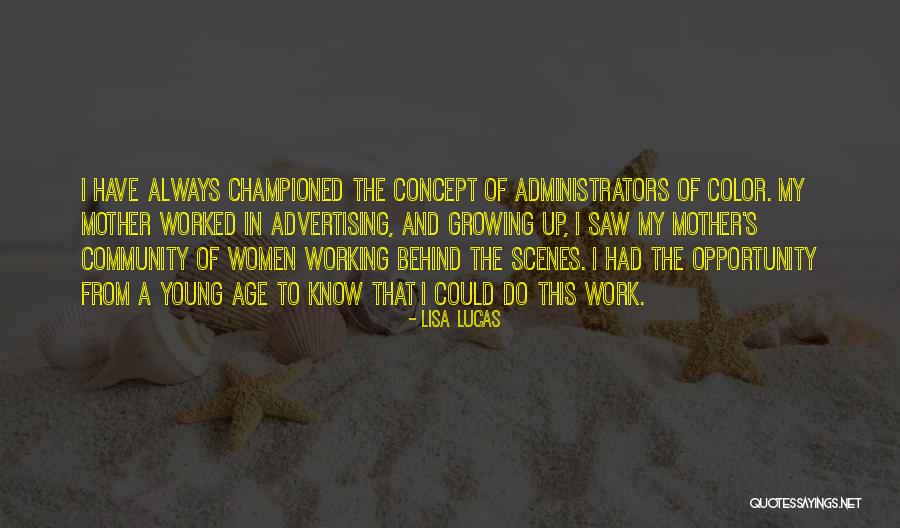 I have always championed the concept of administrators of color. My mother worked in advertising, and growing up, I saw my mother's community of women working behind the scenes. I had the opportunity from a young age to know that I could do this work. — Lisa Lucas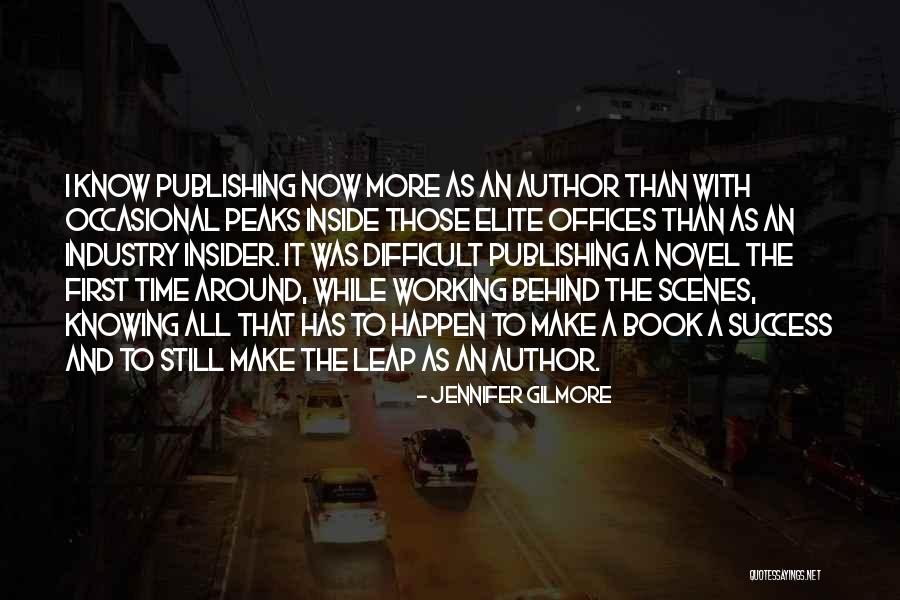 I know publishing now more as an author than with occasional peaks inside those elite offices than as an industry insider. It was difficult publishing a novel the first time around, while working behind the scenes, knowing all that has to happen to make a book a success and to still make the leap as an author. — Jennifer Gilmore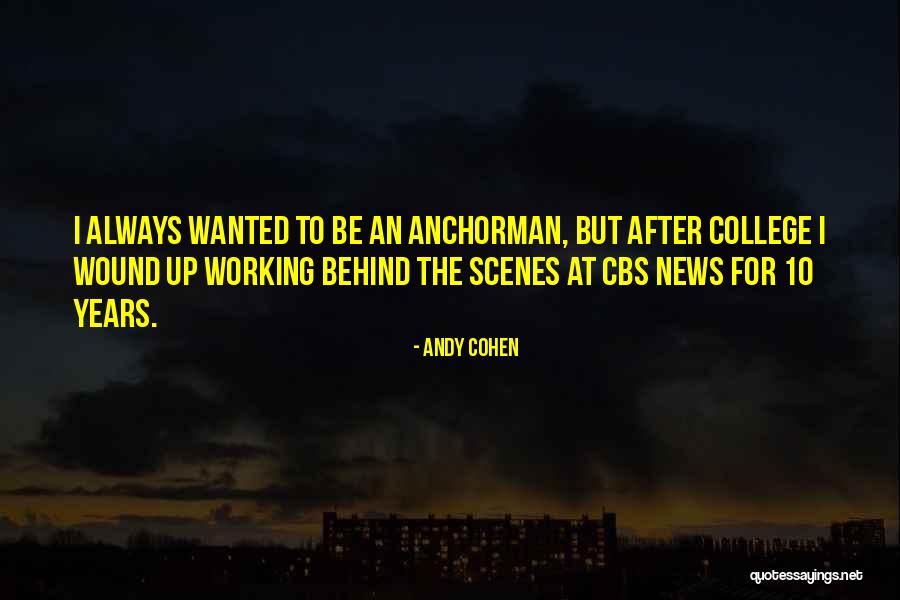 I always wanted to be an anchorman, but after college I wound up working behind the scenes at CBS News for 10 years. — Andy Cohen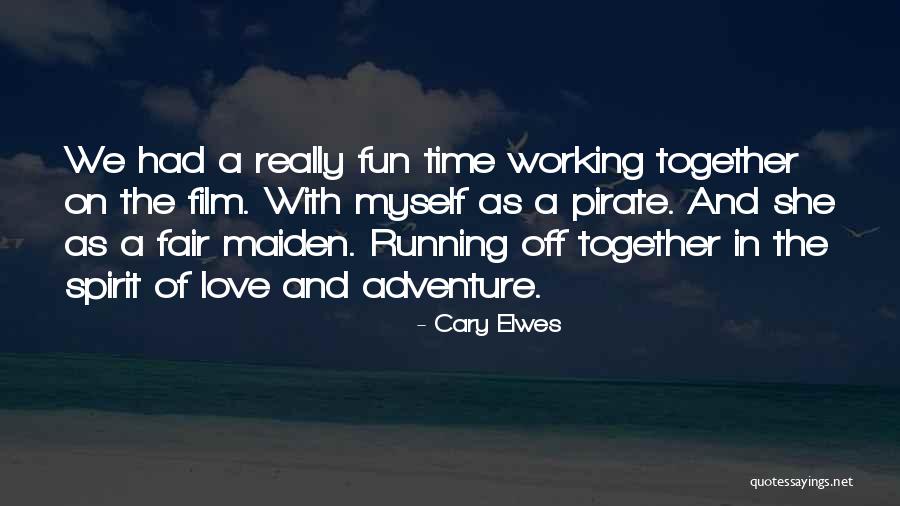 We had a really fun time working together on the film. With myself as a pirate. And she as a fair maiden. Running off together in the spirit of love and adventure. — Cary Elwes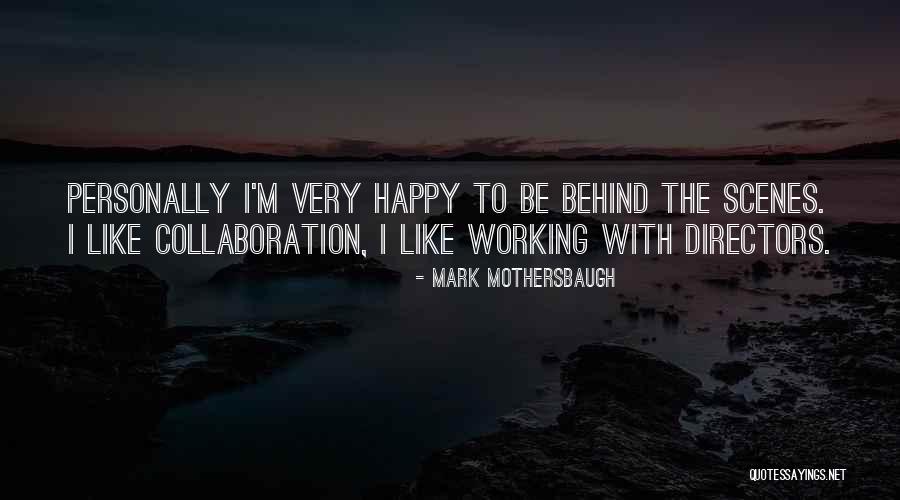 Personally I'm very happy to be behind the scenes. I like collaboration, I like working with directors. — Mark Mothersbaugh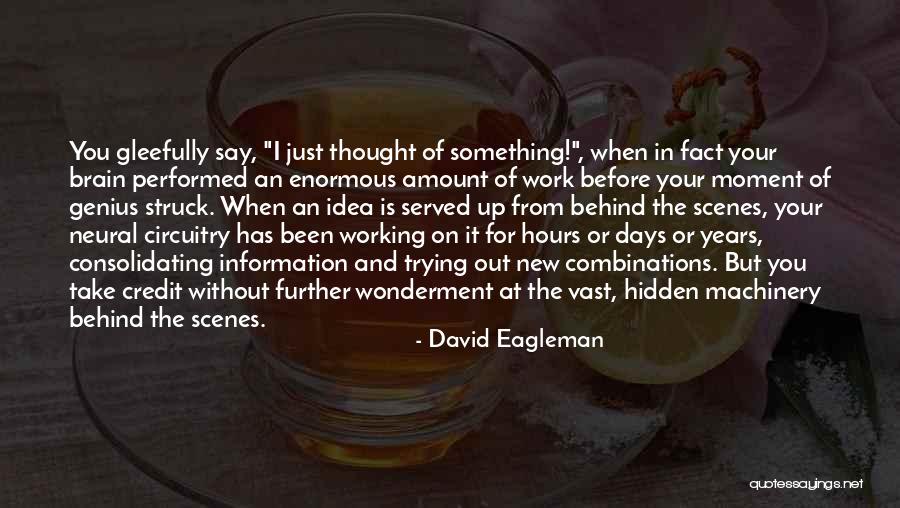 You gleefully say, "I just thought of something!", when in fact your brain performed an enormous amount of work before your moment of genius struck. When an idea is served up from behind the scenes, your neural circuitry has been working on it for hours or days or years, consolidating information and trying out new combinations. But you take credit without further wonderment at the vast, hidden machinery behind the scenes. — David Eagleman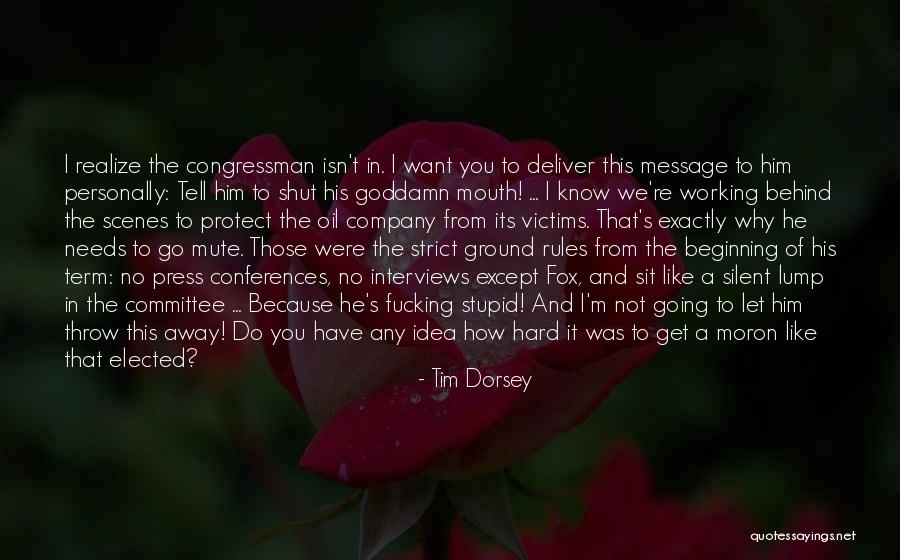 I realize the congressman isn't in. I want you to deliver this message to him personally: Tell him to shut his goddamn mouth! ... I know we're working behind the scenes to protect the oil company from its victims. That's exactly why he needs to go mute. Those were the strict ground rules from the beginning of his term: no press conferences, no interviews except Fox, and sit like a silent lump in the committee ... Because he's fucking stupid! And I'm not going to let him throw this away! Do you have any idea how hard it was to get a moron like that elected? — Tim Dorsey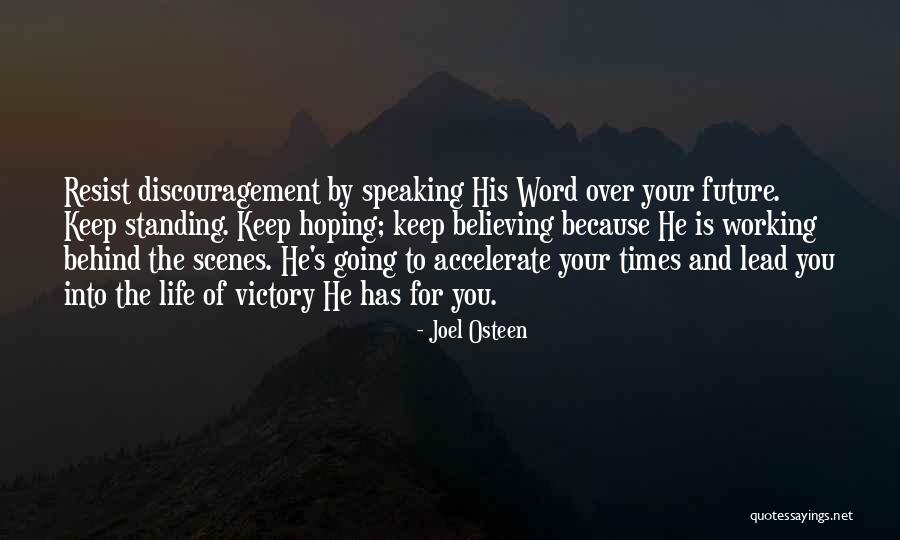 Resist discouragement by speaking His Word over your future. Keep standing. Keep hoping; keep believing because He is working behind the scenes. He's going to accelerate your times and lead you into the life of victory He has for you. — Joel Osteen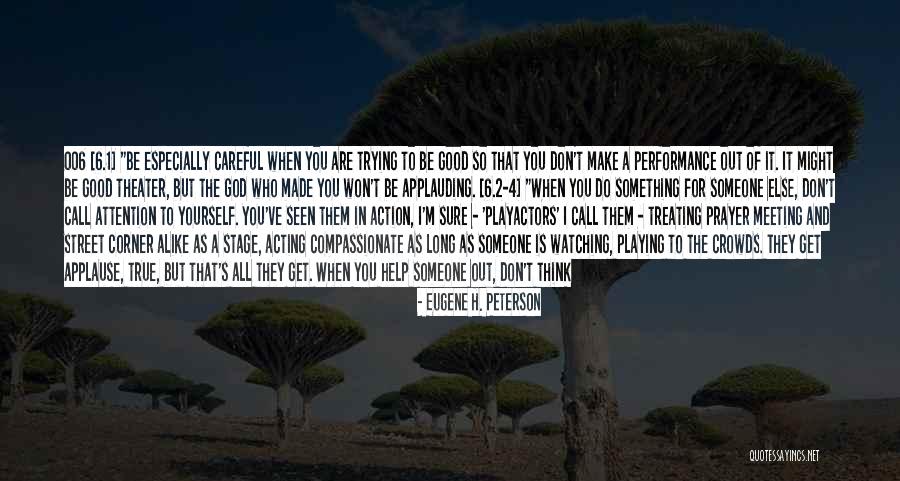 006 [6.1] "Be especially careful when you are trying to be good so that you don't make a performance out of it. It might be good theater, but the God who made you won't be applauding. [6.2-4] "When you do something for someone else, don't call attention to yourself. You've seen them in action, I'm sure - 'playactors' I call them - treating prayer meeting and street corner alike as a stage, acting compassionate as long as someone is watching, playing to the crowds. They get applause, true, but that's all they get. When you help someone out, don't think about how it looks. Just do it - quietly and unobtrusively. That is the way your God, who conceived you in love, working behind the scenes, helps you out. — Eugene H. Peterson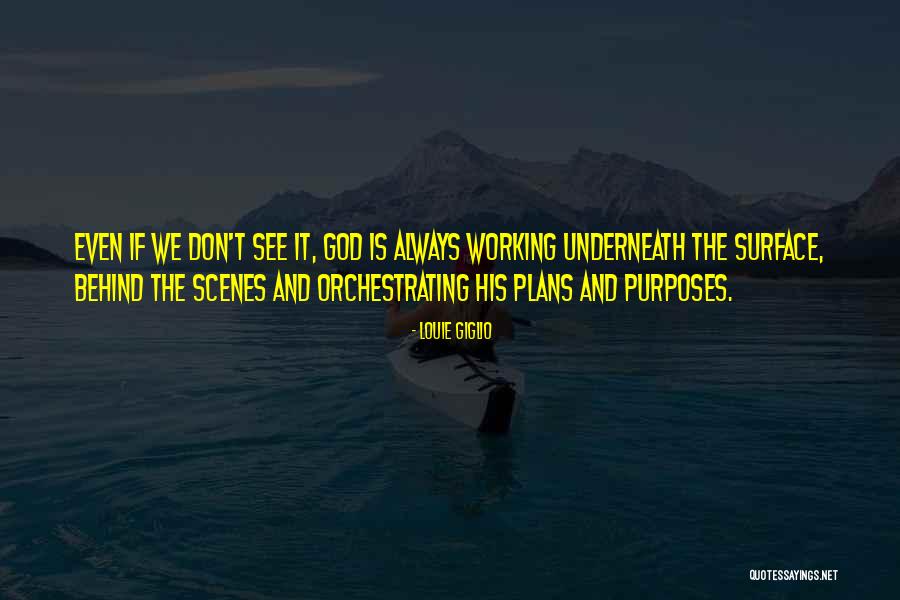 Even if we don't see it, God is always working underneath the surface, behind the scenes and orchestrating His plans and purposes. — Louie Giglio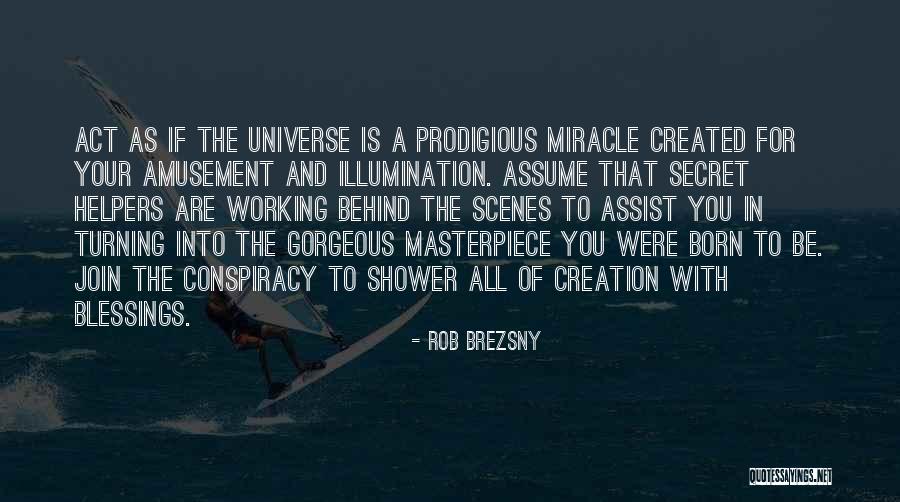 Act as if the universe is a prodigious miracle created for your amusement and illumination. Assume that secret helpers are working behind the scenes to assist you in turning into the gorgeous masterpiece you were born to be. Join the conspiracy to shower all of creation with blessings. — Rob Brezsny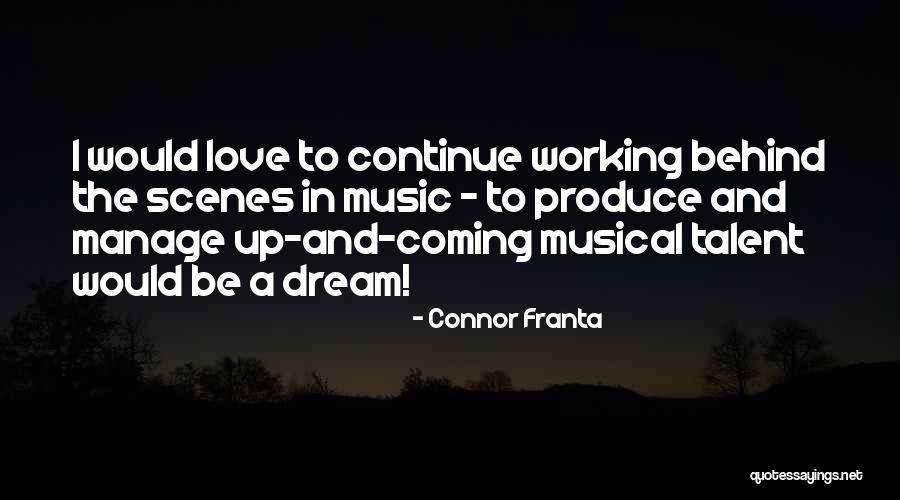 I would love to continue working behind the scenes in music - to produce and manage up-and-coming musical talent would be a dream! — Connor Franta