Quotes & Sayings About Waiting To Say I Love You
Enjoy reading and share 39 famous quotes about Waiting To Say I Love You with everyone.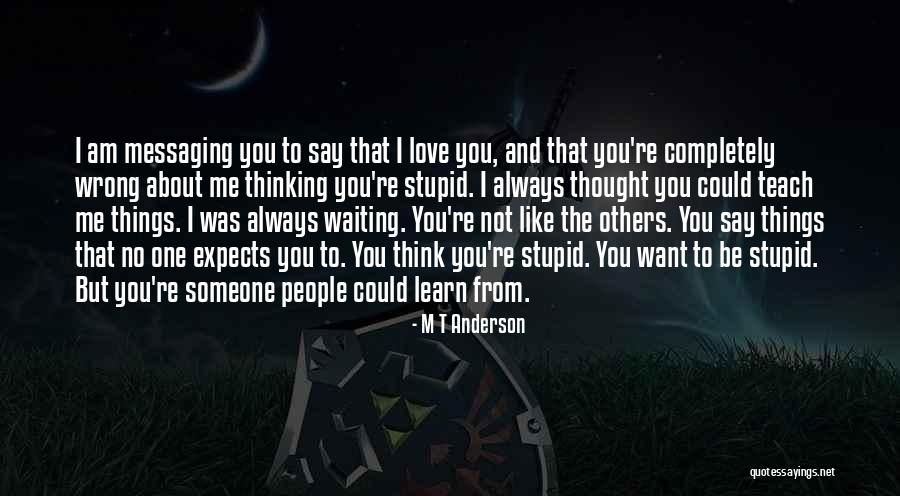 I am messaging you to say that I love you, and that you're completely wrong about me thinking you're stupid. I always thought you could teach me things. I was always waiting. You're not like the others. You say things that no one expects you to. You think you're stupid. You want to be stupid. But you're someone people could learn from. — M T Anderson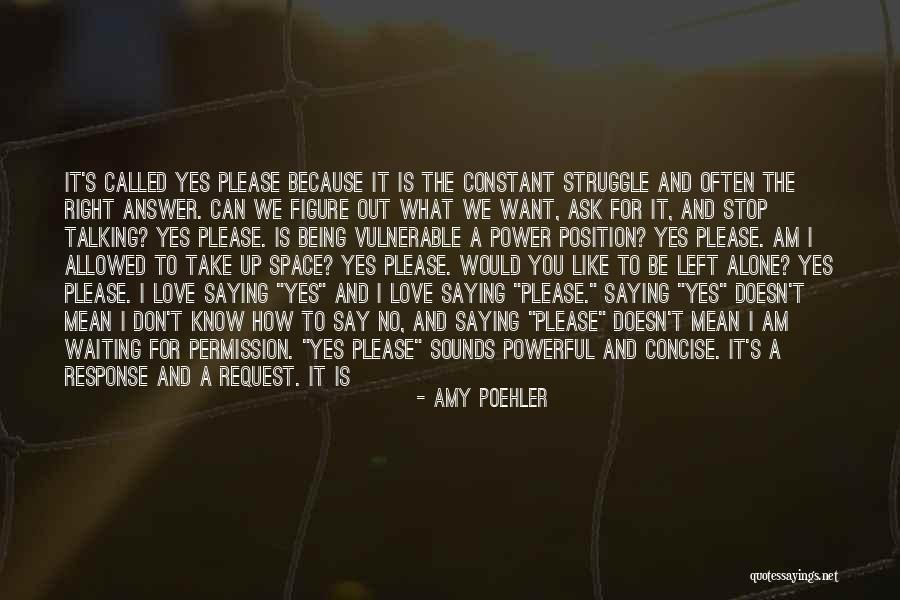 It's called Yes Please because it is the constant struggle and often the right answer. Can we figure out what we want, ask for it, and stop talking? Yes please. Is being vulnerable a power position? Yes please. Am I allowed to take up space? Yes please. Would you like to be left alone? Yes please. I love saying "yes" and I love saying "please." Saying "yes" doesn't mean I don't know how to say no, and saying "please" doesn't mean I am waiting for permission. "Yes please" sounds powerful and concise. It's a response and a request. It is not about being a good girl; it is about being a real woman. It's also a title I can tell my kids. I like when they say "Yes please" because most people are rude and nice manners are the secret keys to the universe. — Amy Poehler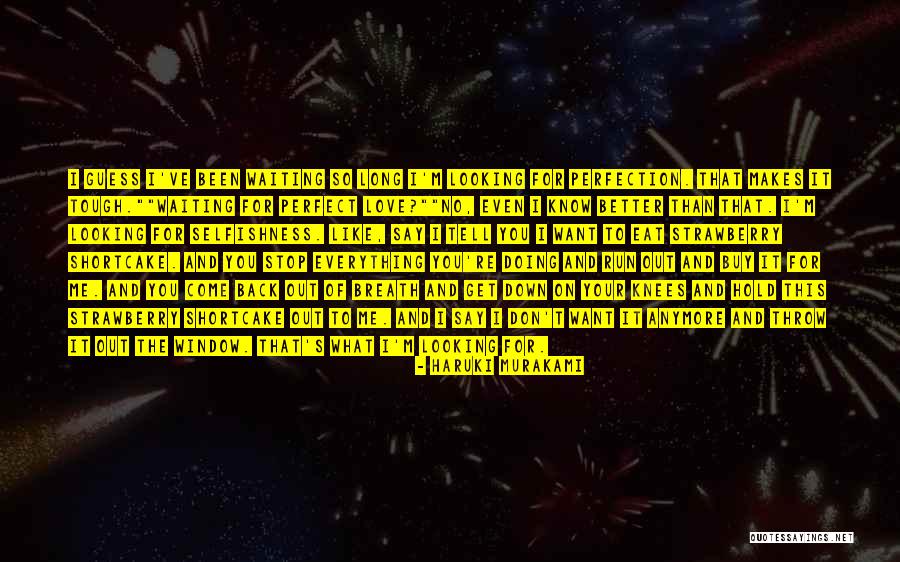 I guess I've been waiting so long I'm looking for perfection. That makes it tough."
"Waiting for perfect love?"
"No, even I know better than that. I'm looking for selfishness. Like, say I tell you I want to eat strawberry shortcake. And you stop everything you're doing and run out and buy it for me. And you come back out of breath and get down on your knees and hold this strawberry shortcake out to me. And I say I don't want it anymore and throw it out the window. That's what I'm looking for. — Haruki Murakami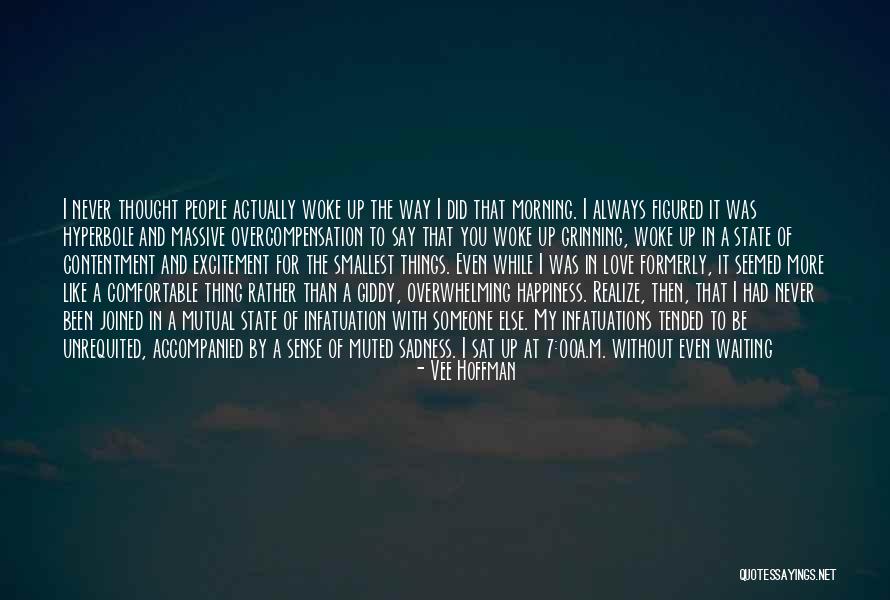 I never thought people actually woke up the way I did that morning. I always figured it was hyperbole and massive overcompensation to say that you woke up grinning, woke up in a state of contentment and excitement for the smallest things. Even while I was in love formerly, it seemed more like a comfortable thing rather than a giddy, overwhelming happiness. Realize, then, that I had never been joined in a mutual state of infatuation with someone else. My infatuations tended to be unrequited, accompanied by a sense of muted sadness. I sat up at 7:00a.m. without even waiting for the alarm, and kept still there, smiling, looking at nothing and going over yesterday's conversations, the fevered symphony of emotion ringing forever in my ears.
I fell back and actually laughed to myself, reaching for my glasses to slide them on as I stretched out my back comfortably in a lazy, half-waking state.
You are in love. — Vee Hoffman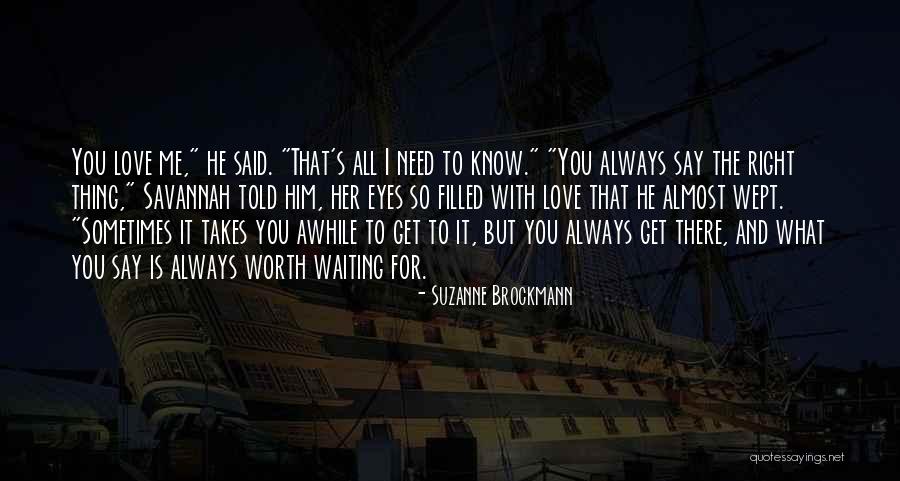 You love me," he said. "That's all I need to know."
"You always say the right thing," Savannah told him, her eyes so filled with love that he almost wept. "Sometimes it takes you awhile to get to it, but you always get there, and what you say is always worth waiting for. — Suzanne Brockmann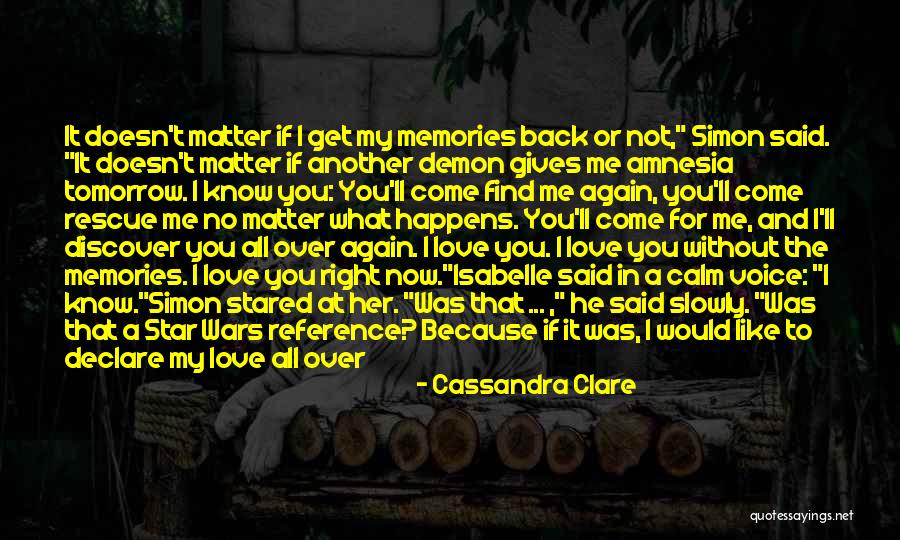 It doesn't matter if I get my memories back or not," Simon said. "It doesn't matter if another demon gives me amnesia tomorrow. I know you: You'll come find me again, you'll come rescue me no matter what happens. You'll come for me, and I'll discover you all over again. I love you. I love you without the memories. I love you right now."
Isabelle said in a calm voice: "I know."
Simon stared at her. "Was that ... ," he said slowly. "Was that a Star Wars reference? Because if it was, I would like to declare my love all over again."
"Go on, then," said Isabelle. "I mean it. Say it again. I've been waiting awhile."
"I love you," said Simon. — Cassandra Clare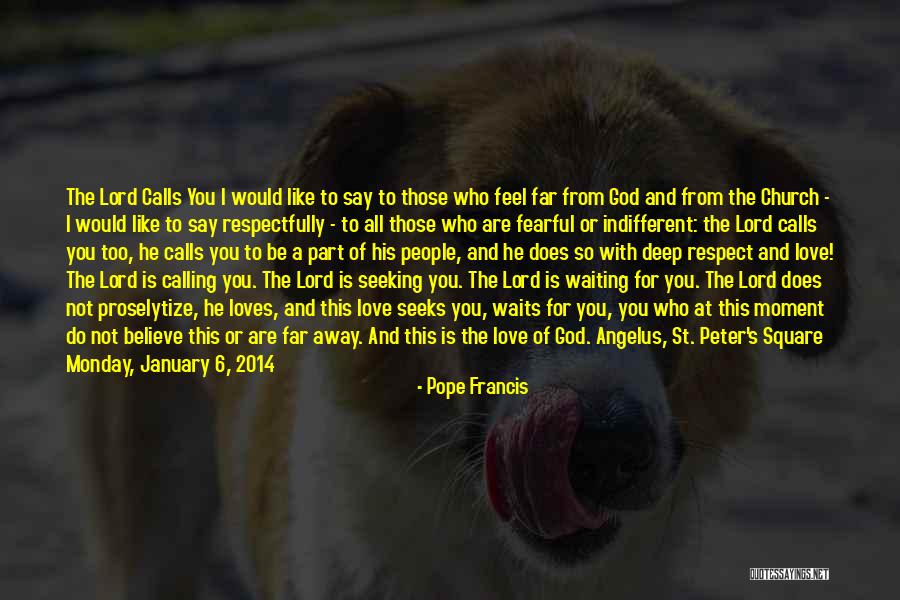 The Lord Calls You I would like to say to those who feel far from God and from the Church - I would like to say respectfully - to all those who are fearful or indifferent: the Lord calls you too, he calls you to be a part of his people, and he does so with deep respect and love! The Lord is calling you. The Lord is seeking you. The Lord is waiting for you. The Lord does not proselytize, he loves, and this love seeks you, waits for you, you who at this moment do not believe this or are far away. And this is the love of God. Angelus, St. Peter's Square Monday, January 6, 2014 — Pope Francis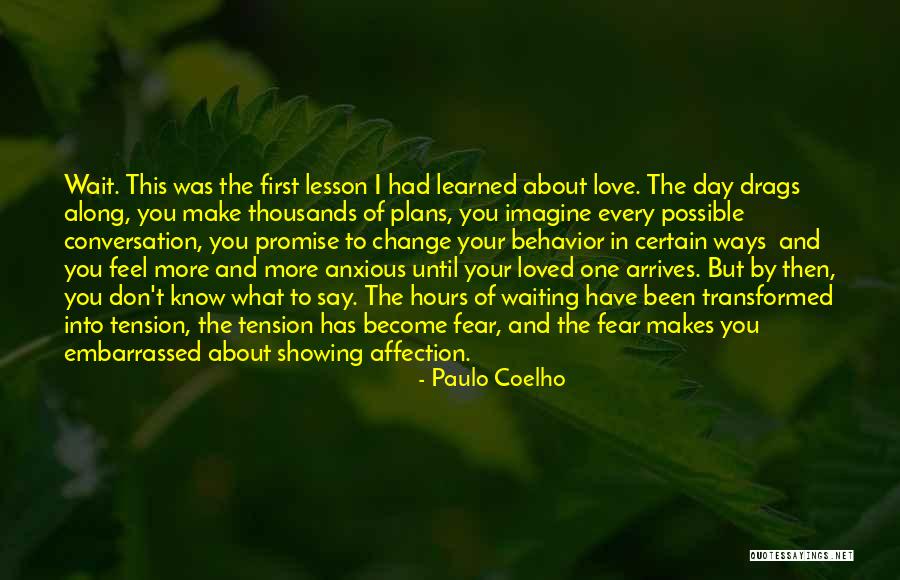 Wait. This was the first lesson I had learned about love. The day drags along, you make thousands of plans, you imagine every possible conversation, you promise to change your behavior in certain ways
and you feel more and more anxious until your loved one arrives. But by then, you don't know what to say. The hours of waiting have been transformed into tension, the tension has become fear, and the fear makes you embarrassed about showing affection. — Paulo Coelho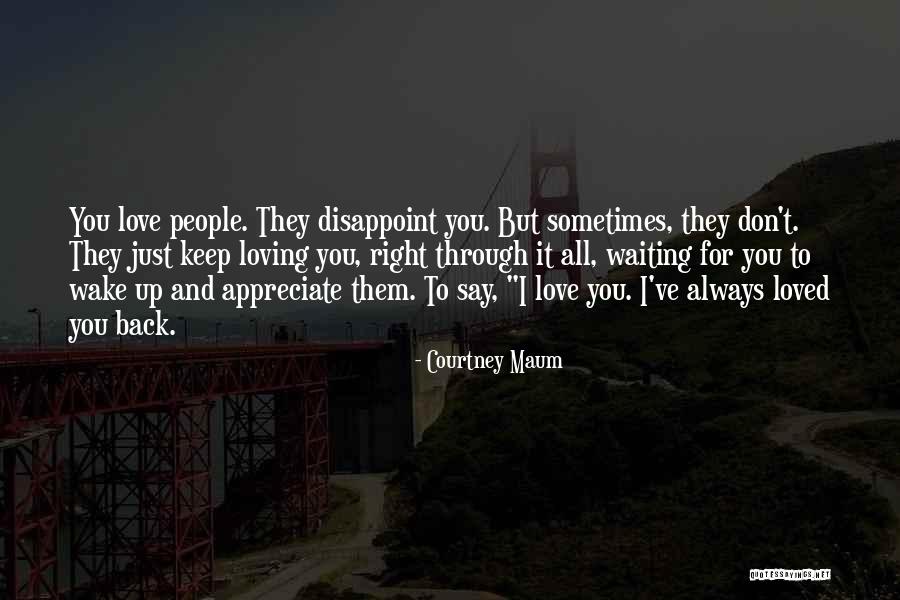 You love people. They disappoint you. But sometimes, they don't. They just keep loving you, right through it all, waiting for you to wake up and appreciate them. To say, "I love you. I've always loved you back. — Courtney Maum
I mean honestly, who just sits around in a house with a bunch of short guys waiting for their prince to come? So your mom is a bitch and wants to kill you because her mirror told her to? Cry me a river why don't you? Your big plan is sitting around cleaning house waiting for the other shoe to drop? And speaking of shoes, everyone has been picked on by mean girls. You do not wait for some old lady to pop in and transmogrify some innocent rodents just so you can sneak in to a dance under false pretenses. And let's say you do sneak in. For the love of all that is holy take your mask off and look the guy in the face and say. "Hi, I'm Cindy from down the street, I have this thing at midnight. Can we do coffee later?" This nonsense with a shoe and searching the entire village for one girl, it's crap. — John Goode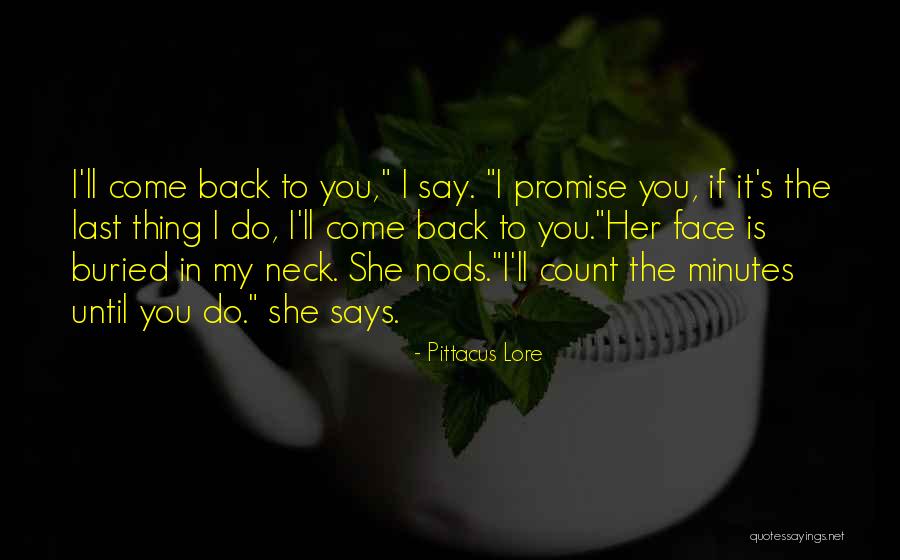 I'll come back to you," I say. "I promise you, if it's the last thing I do, I'll come back to you."
Her face is buried in my neck. She nods.
"I'll count the minutes until you do." she says. — Pittacus Lore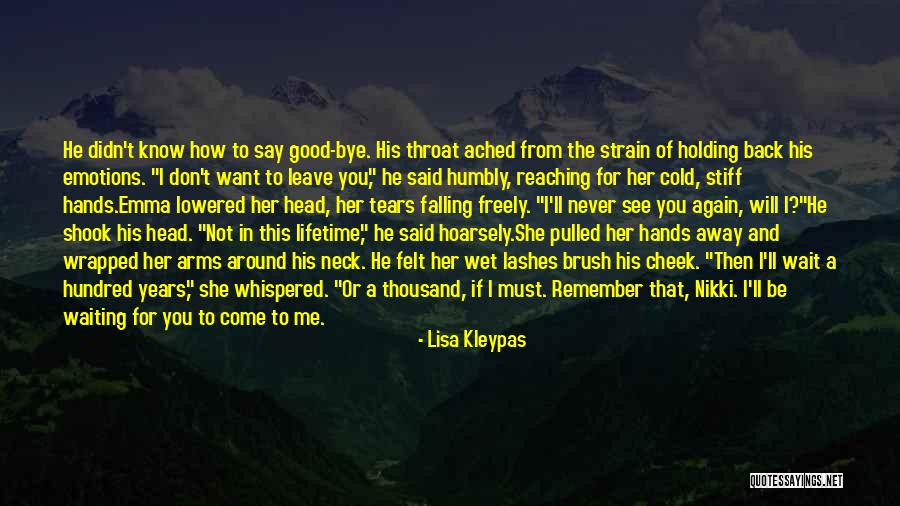 He didn't know how to say good-bye. His throat ached from the strain of holding back his emotions. "I don't want to leave you," he said humbly, reaching for her cold, stiff hands.
Emma lowered her head, her tears falling freely. "I'll never see you again, will I?"
He shook his head. "Not in this lifetime," he said hoarsely.
She pulled her hands away and wrapped her arms around his neck. He felt her wet lashes brush his cheek. "Then I'll wait a hundred years," she whispered. "Or a thousand, if I must. Remember that, Nikki. I'll be waiting for you to come to me. — Lisa Kleypas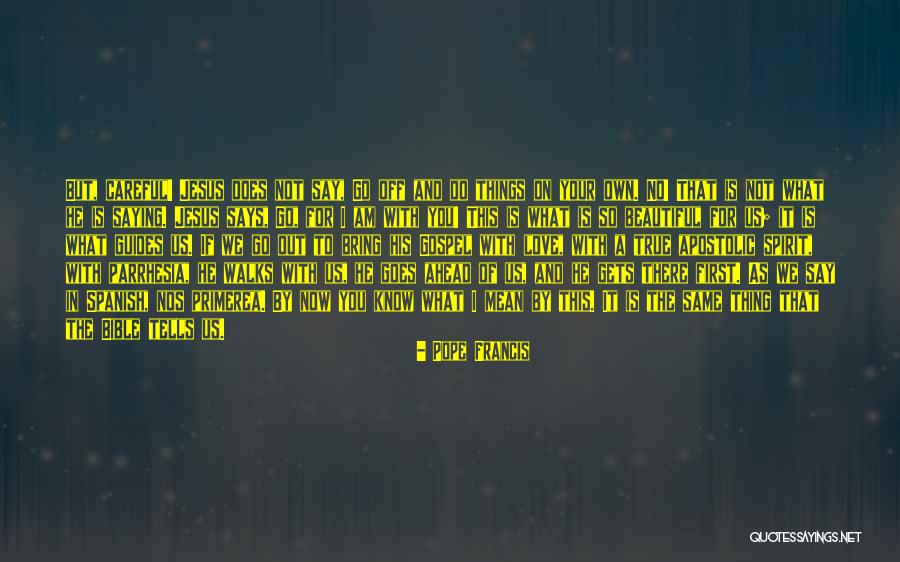 But, careful! Jesus does not say, Go off and do things on your own. No! That is not what he is saying. Jesus says, Go, for I am with you! This is what is so beautiful for us; it is what guides us. If we go out to bring his Gospel with love, with a true apostolic spirit, with parrhesia, he walks with us, he goes ahead of us, and he gets there first. As we say in Spanish, nos primerea. By now you know what I mean by this. It is the same thing that the Bible tells us. In the Bible, the Lord says: I am like the flower of the almond. Why? Because that is the first flower to blossom in the spring. He is always the first! This is fundamental for us: God is always ahead of us! When we think about going far away, to an extreme outskirt, we may be a bit afraid, but in fact God is already there. Jesus is waiting for us in the hearts of our brothers and sisters, in their wounded bodies, in their hardships, in their lack of faith. — Pope Francis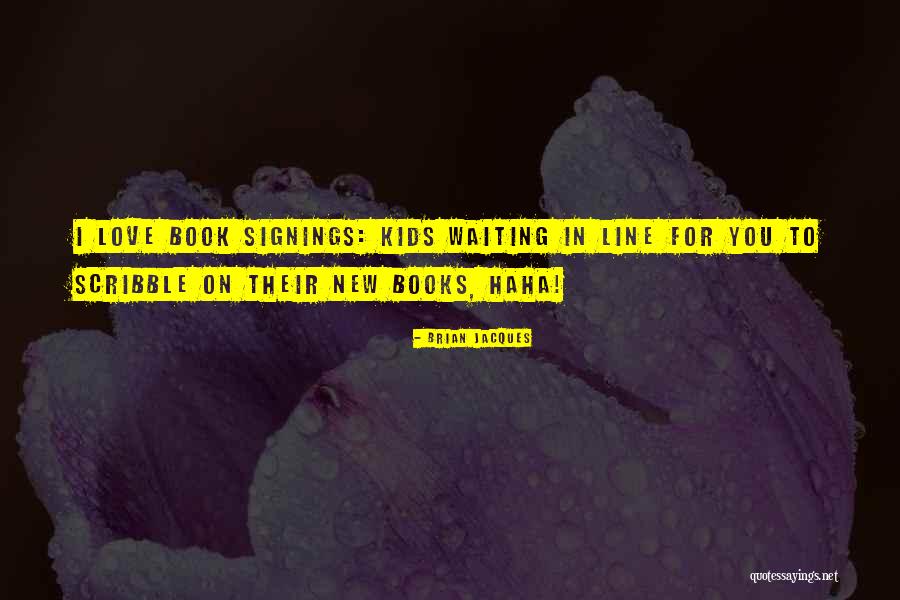 I love book signings: kids waiting in line for you to scribble on their new books, haha! — Brian Jacques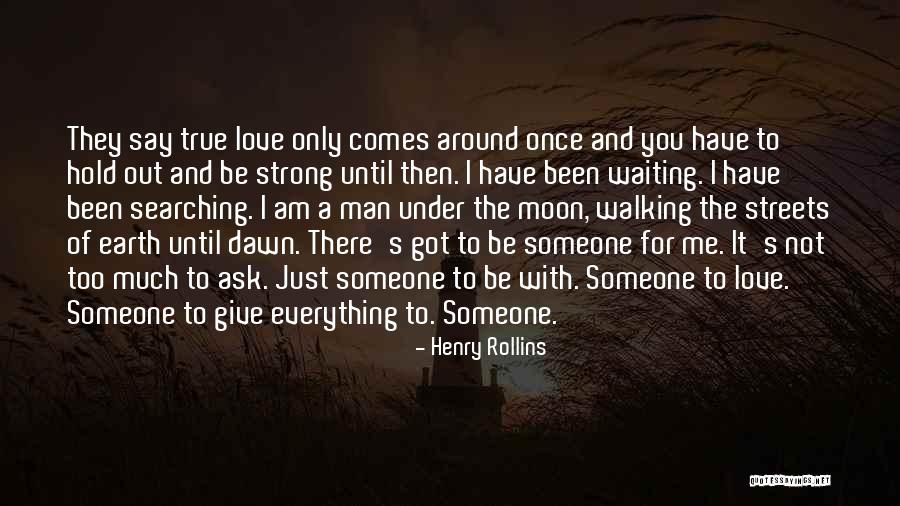 They say true love only comes around once and you have to hold out and be strong until then. I have been waiting. I have been searching. I am a man under the moon, walking the streets of earth until dawn. There's got to be someone for me. It's not too much to ask. Just someone to be with. Someone to love. Someone to give everything to. Someone. — Henry Rollins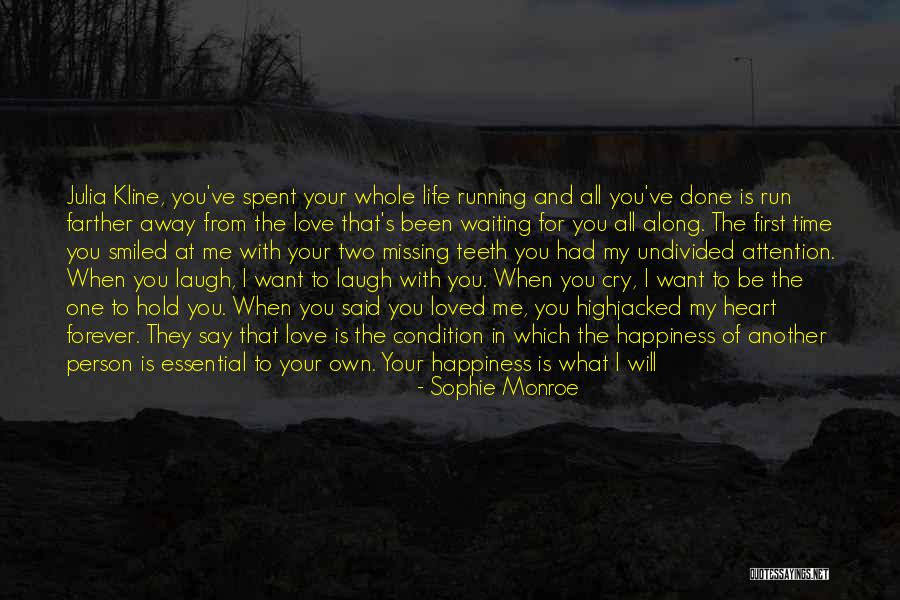 Julia Kline, you've spent your whole life running and all you've done is run farther away from the love that's been waiting for you all along. The first time you smiled at me with your two missing teeth you had my undivided attention. When you laugh, I want to laugh with you. When you cry, I want to be the one to hold you. When you said you loved me, you highjacked my heart forever. They say that love is the condition in which the happiness of another person is essential to your own. Your happiness is what I will spend the rest of my life striving to give you. I love you so much. Will you do the honor of marrying me? — Sophie Monroe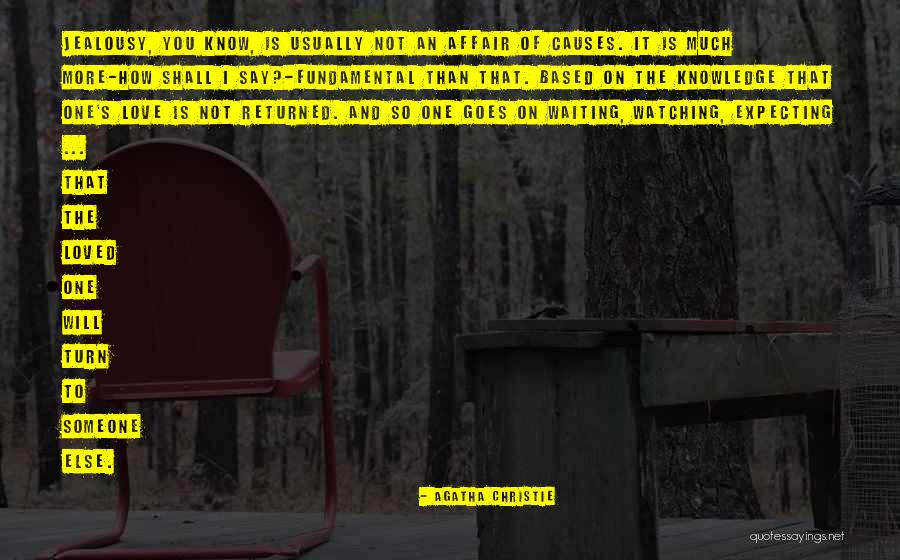 Jealousy, you know, is usually not an affair of causes. It is much more-how shall I say?-fundamental than that. Based on the knowledge that one's love is not returned. And so one goes on waiting, watching, expecting ... that the loved one will turn to someone else. — Agatha Christie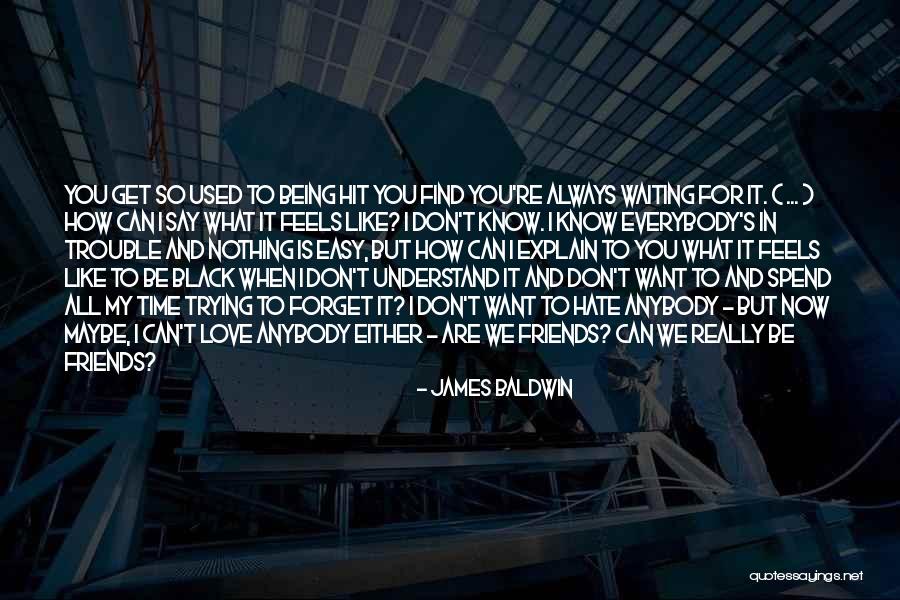 You get so used to being hit you find you're always waiting for it. ( ... ) How can I say what it feels like? I don't know. I know everybody's in trouble and nothing is easy, but how can I explain to you what it feels like to be black when I don't understand it and don't want to and spend all my time trying to forget it? I don't want to hate anybody - but now maybe, I can't love anybody either - are we friends? Can we really be friends? — James Baldwin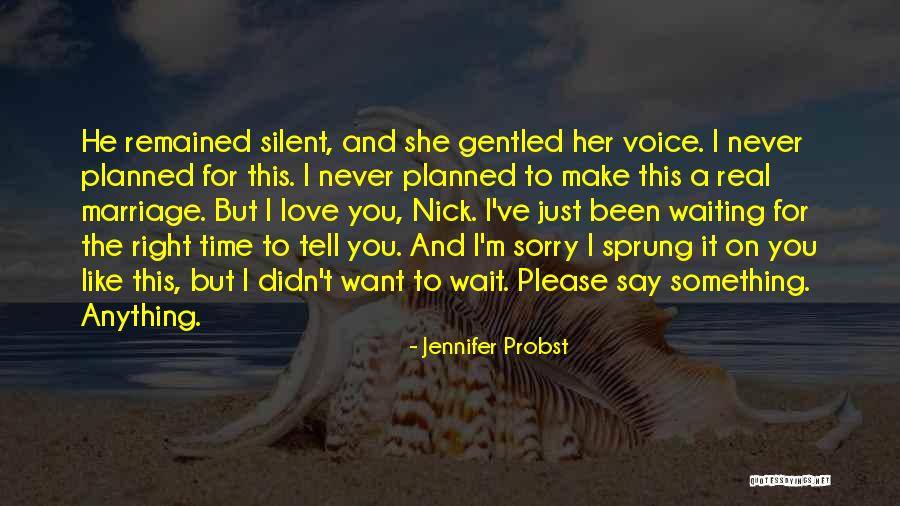 He remained silent, and she gentled her voice. I never planned for this. I never planned to make this a real marriage. But I love you, Nick. I've just been waiting for the right time to tell you. And I'm sorry I sprung it on you like this, but I didn't want to wait. Please say something. Anything. — Jennifer Probst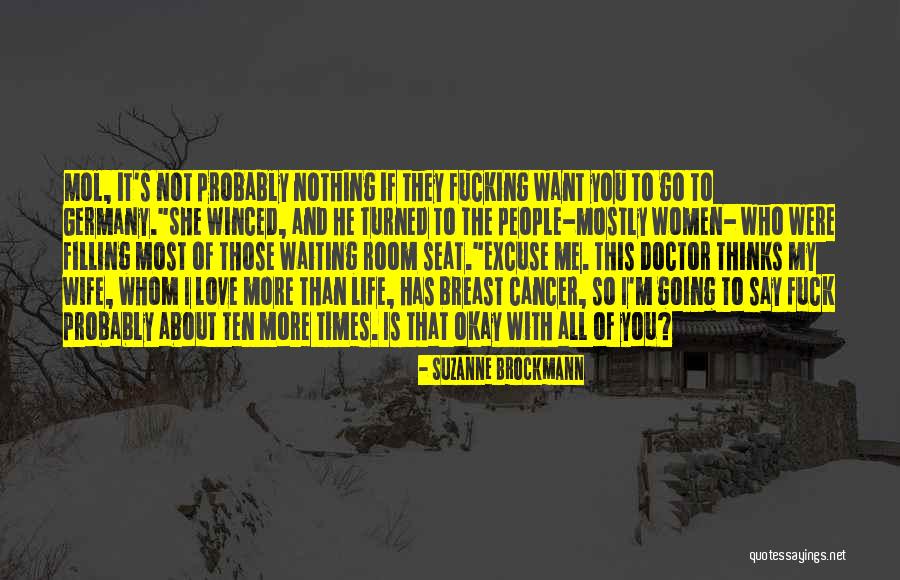 Mol, it's not probably nothing if they fucking want you to go to Germany."
She winced, and he turned to the people-mostly women- who were filling most of those waiting room seat.
"Excuse me. This doctor thinks my wife, whom I love more than life, has breast cancer, so I'm going to say fuck probably about ten more times. Is that okay with all of you? — Suzanne Brockmann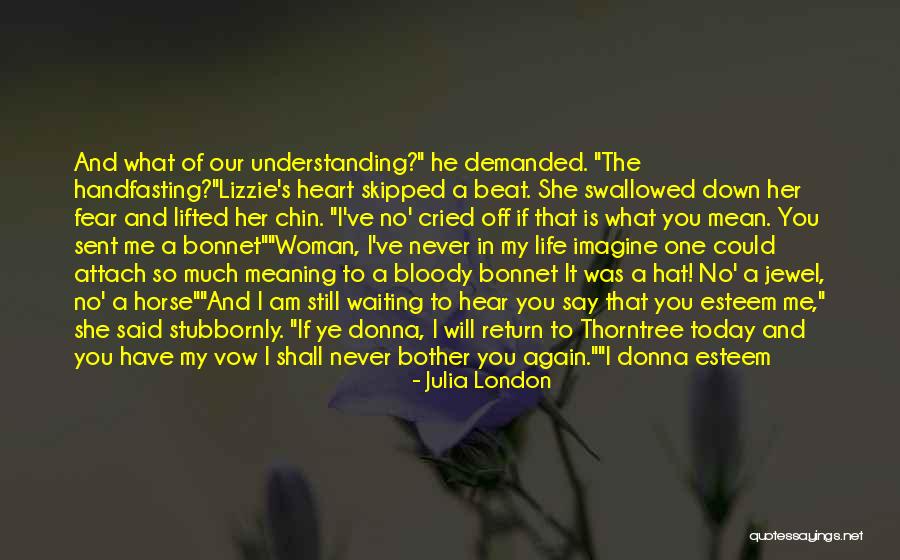 And what of our understanding?" he demanded. "The handfasting?"
Lizzie's heart skipped a beat. She swallowed down her fear and lifted her chin. "I've no' cried off if that is what you mean. You sent me a bonnet
"
"Woman, I've never in my life imagine one could attach so much meaning to a bloody bonnet It was a hat! No' a jewel, no' a horse
"
"And I am still waiting to hear you say that you esteem me," she said stubbornly. "If ye donna, I will return to Thorntree today and you have my vow I shall never bother you again."
"I donna esteem you! he cried heavenward, and Lizzie's heart lurched. "What is in that head of yours, lass? I love you! — Julia London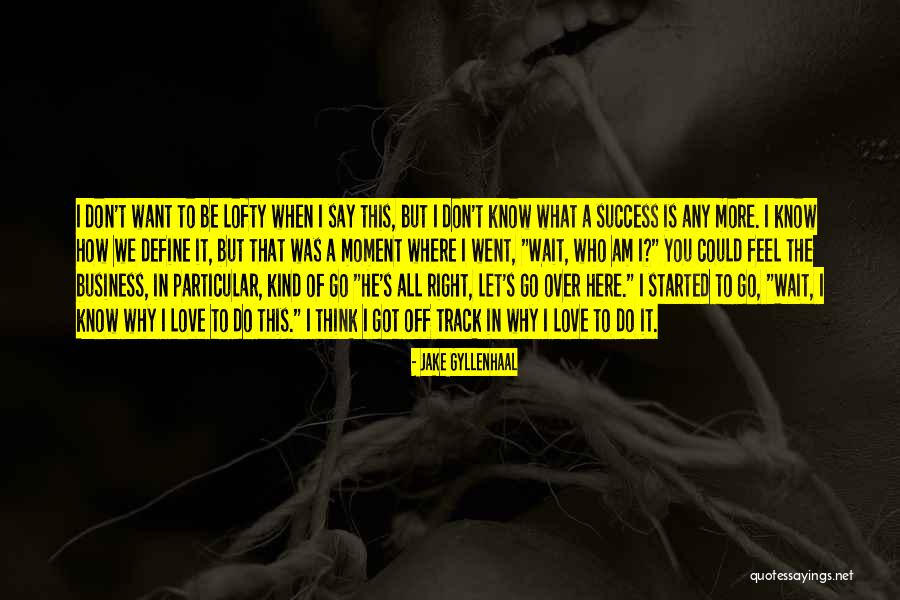 I don't want to be lofty when I say this, but I don't know what a success is any more. I know how we define it, but that was a moment where I went, "Wait, who am I?" You could feel the business, in particular, kind of go "He's all right, let's go over here." I started to go, "Wait, I know why I love to do this." I think I got off track in why I love to do it. — Jake Gyllenhaal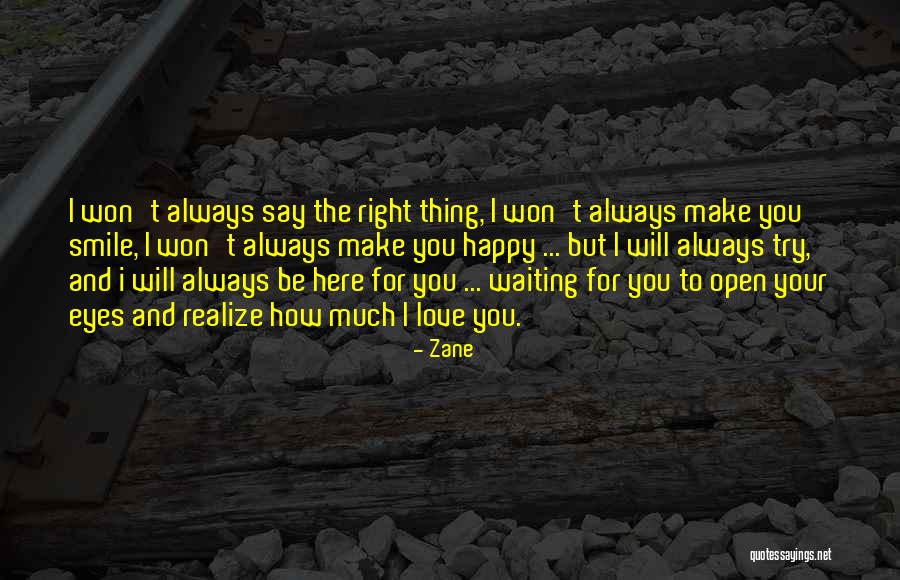 I won't always say the right thing, I won't always make you smile, I won't always make you happy ... but I will always try, and i will always be here for you ... waiting for you to open your eyes and realize how much I love you. — Zane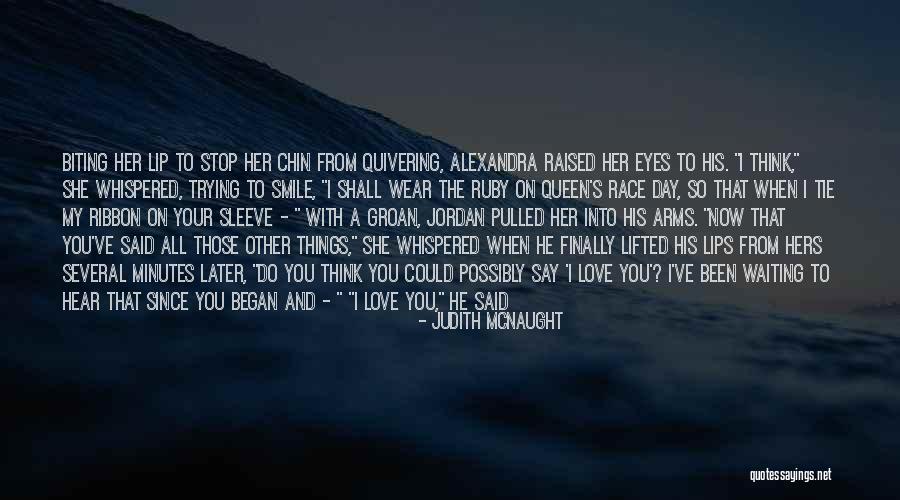 Biting her lip to stop her chin from quivering, Alexandra raised her eyes to his. "I think," she whispered, trying to smile, "I shall wear the ruby on Queen's Race day, so that when I tie my ribbon on your sleeve - "
With a groan, Jordan pulled her into his arms.
"Now that you've said all those other things," she whispered when he finally lifted his lips from hers several minutes later, "do you think you could possibly say 'I love you'? I've been waiting to hear that since you began and - "
"I love you," he said fiercely. "I love you," he whispered softly, burying his face in her hair. "I love you," he groaned, kissing her lips. "I love you, I love you, I love you ... — Judith McNaught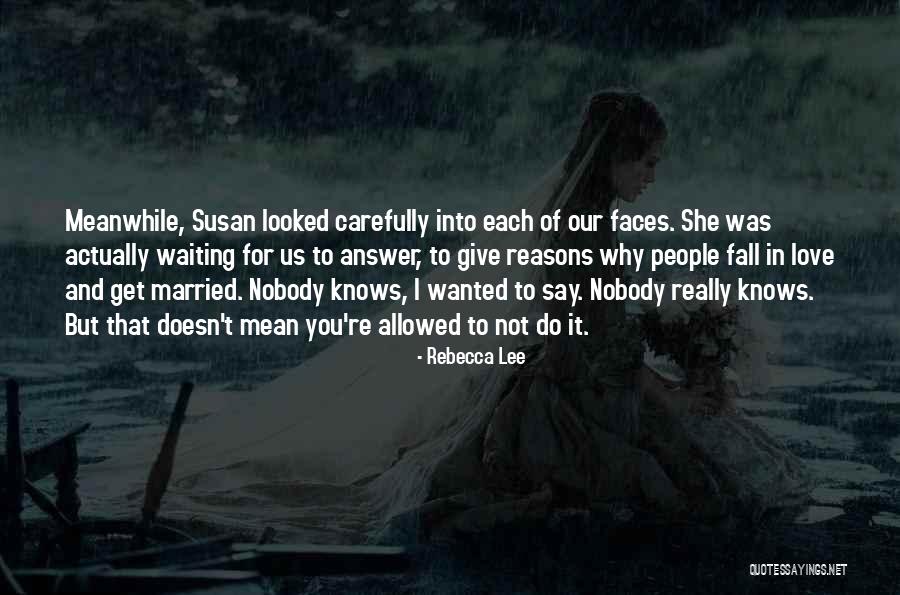 Meanwhile, Susan looked carefully into each of our faces. She was actually waiting for us to answer, to give reasons why people fall in love and get married. Nobody knows, I wanted to say. Nobody really knows. But that doesn't mean you're allowed to not do it. — Rebecca Lee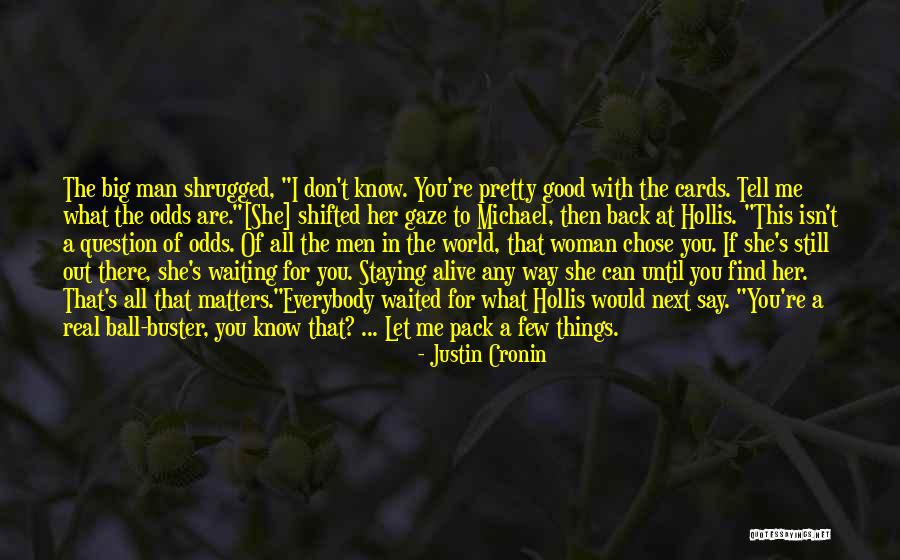 The big man shrugged, "I don't know. You're pretty good with the cards. Tell me what the odds are."
[She] shifted her gaze to Michael, then back at Hollis. "This isn't a question of odds. Of all the men in the world, that woman chose you. If she's still out there, she's waiting for you. Staying alive any way she can until you find her. That's all that matters."
Everybody waited for what Hollis would next say. "You're a real ball-buster, you know that? ... Let me pack a few things. — Justin Cronin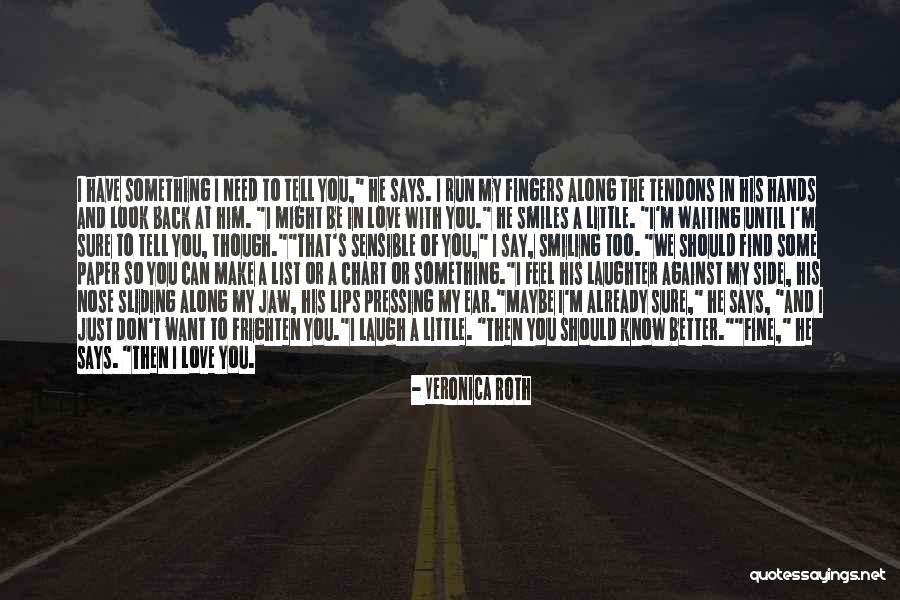 I have something I need to tell you," he says. I run my fingers along the tendons in his hands and look back at him. "I might be in love with you." He smiles a little. "I'm waiting until I'm sure to tell you, though."
"That's sensible of you," I say, smiling too. "We should find some paper so you can make a list or a chart or something."
I feel his laughter against my side, his nose sliding along my jaw, his lips pressing my ear.
"Maybe I'm already sure," he says, "and I just don't want to frighten you."
I laugh a little. "Then you should know better."
"Fine," he says. "Then I love you. — Veronica Roth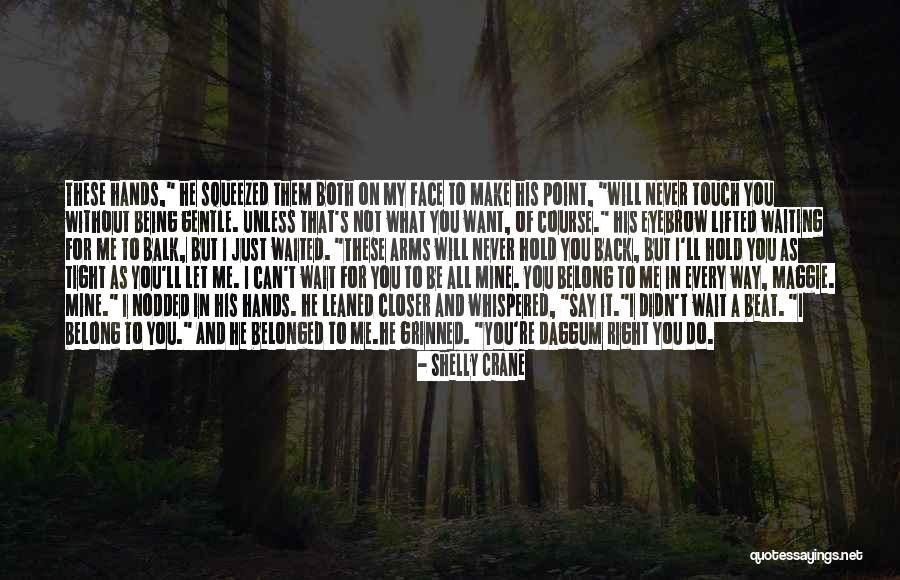 These hands," he squeezed them both on my face to make his point, "will never touch you without being gentle. Unless that's not what you want, of course." His eyebrow lifted waiting for me to balk, but I just waited. "These arms will never hold you back, but I'll hold you as tight as you'll let me. I can't wait for you to be all mine. You belong to me in every way, Maggie. Mine." I nodded in his hands. He leaned closer and whispered, "Say it."
I didn't wait a beat. "I belong to you." And he belonged to me.
He grinned. "You're daggum right you do. — Shelly Crane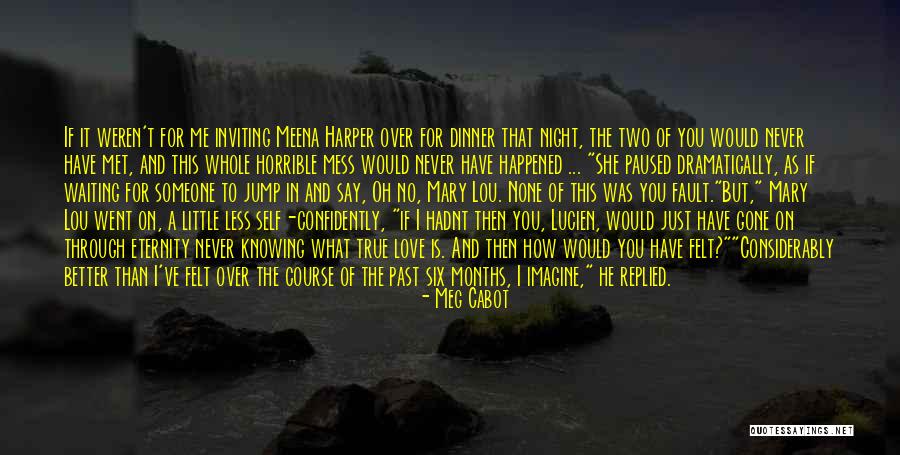 If it weren't for me inviting Meena Harper over for dinner that night, the two of you would never have met, and this whole horrible mess would never have happened ... "
She paused dramatically, as if waiting for someone to jump in and say, Oh no, Mary Lou. None of this was you fault.
"But," Mary Lou went on, a little less self-confidently, "if I hadnt then you, Lucien, would just have gone on through eternity never knowing what true love is. And then how would you have felt?"
"Considerably better than I've felt over the course of the past six months, I imagine," he replied. — Meg Cabot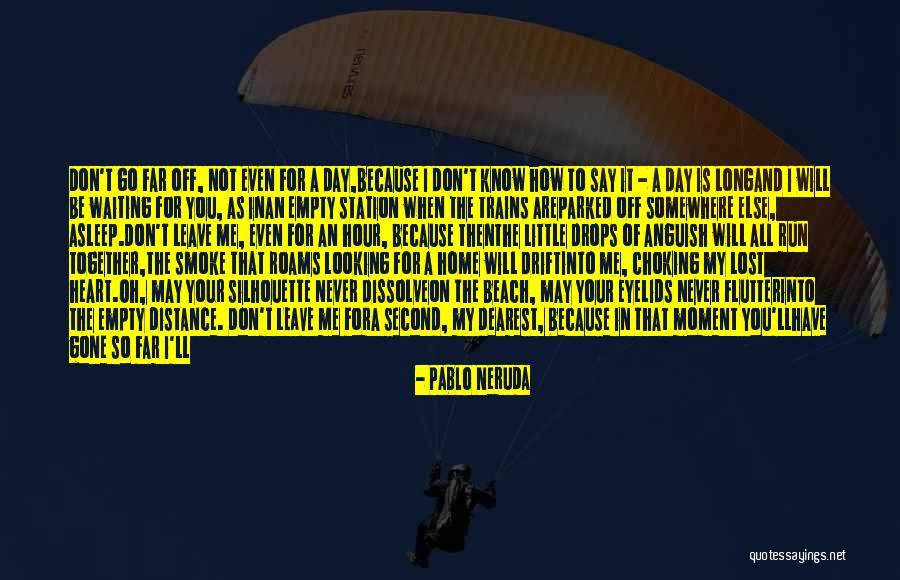 Don't go far off, not even for a day,
because I don't know how to say it - a day is long
and I will be waiting for you, as in
an empty station when the trains are
parked off somewhere else, asleep.
Don't leave me, even for an hour, because then
the little drops of anguish will all run together,
the smoke that roams looking for a home will drift
into me, choking my lost heart.
Oh, may your silhouette never dissolve
on the beach, may your eyelids never flutter
into the empty distance. Don't LEAVE me for
a second, my dearest, because in that moment you'll
have gone so far I'll wander mazily
over all the earth, asking, will you
come back? Will you leave me here, dying? — Pablo Neruda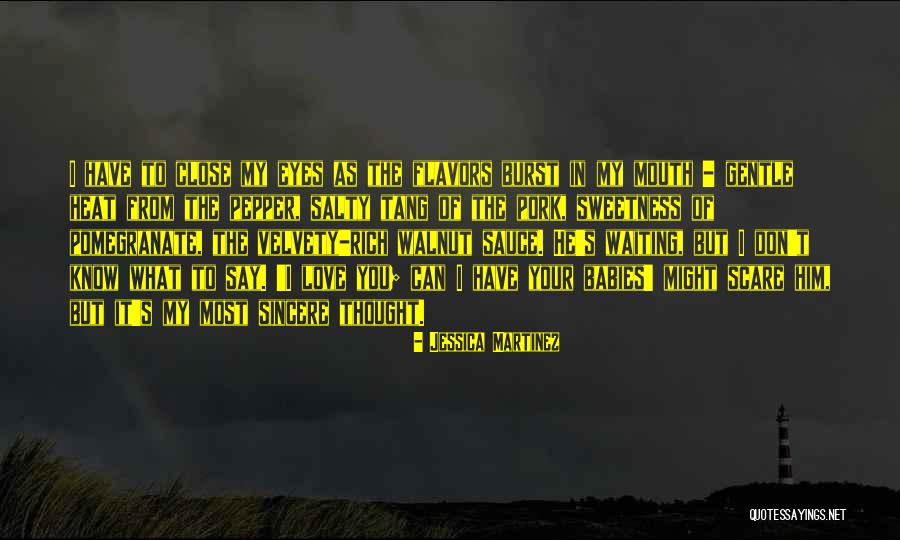 I have to close my eyes as the flavors burst in my mouth - gentle heat from the pepper, salty tang of the pork, sweetness of pomegranate, the velvety-rich walnut sauce. He's waiting, but I don't know what to say. 'I love you; can I have your babies' might scare him, but it's my most sincere thought. — Jessica Martinez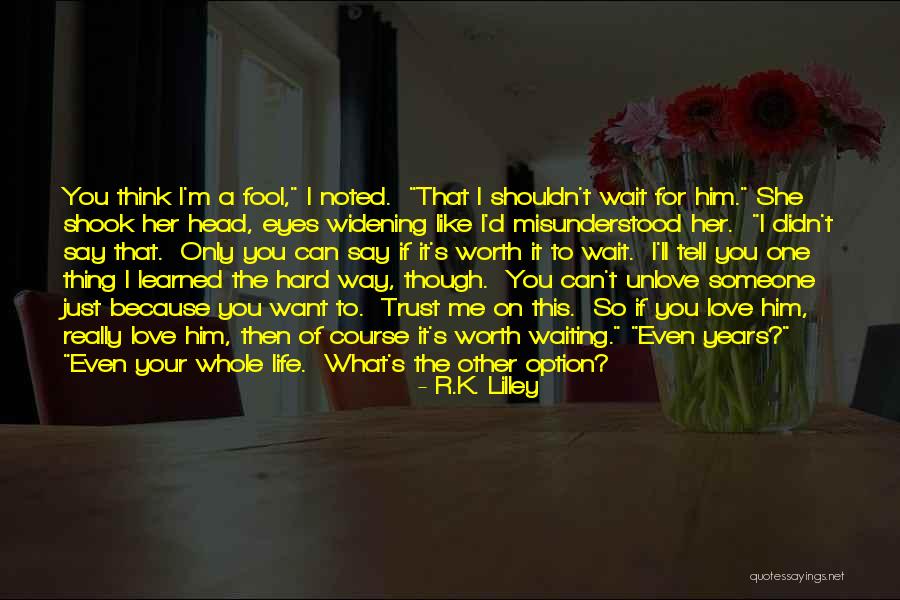 You think I'm a fool," I noted. "That I shouldn't wait for him." She shook her head, eyes widening like I'd misunderstood her. "I didn't say that. Only you can say if it's worth it to wait. I'll tell you one thing I learned the hard way, though. You can't unlove someone just because you want to. Trust me on this. So if you love him, really love him, then of course it's worth waiting." "Even years?" "Even your whole life. What's the other option? — R.K. Lilley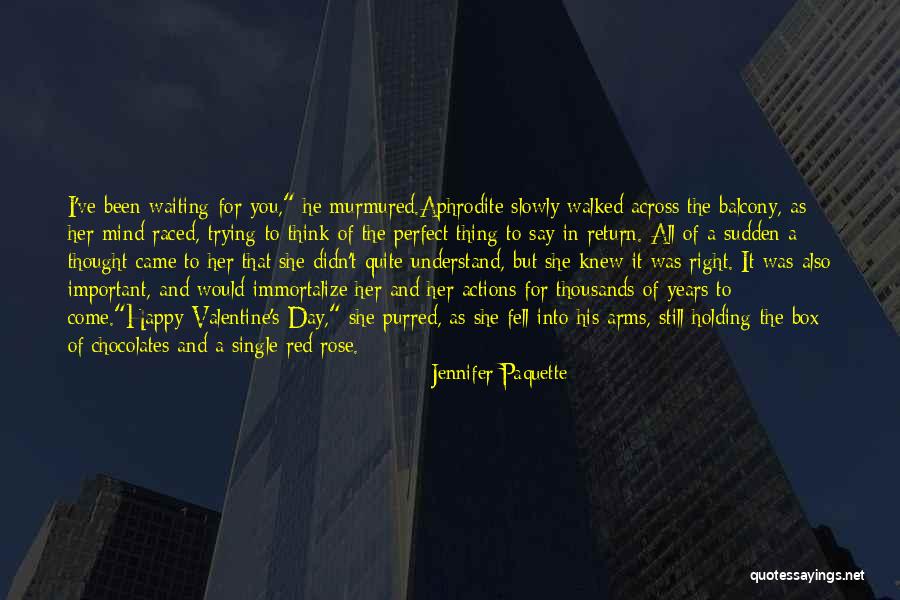 I've been waiting for you," he murmured.
Aphrodite slowly walked across the balcony, as her mind raced, trying to think of the perfect thing to say in return. All of a sudden a thought came to her that she didn't quite understand, but she knew it was right. It was also important, and would immortalize her and her actions for thousands of years to come.
"Happy Valentine's Day," she purred, as she fell into his arms, still holding the box of chocolates and a single red rose. — Jennifer Paquette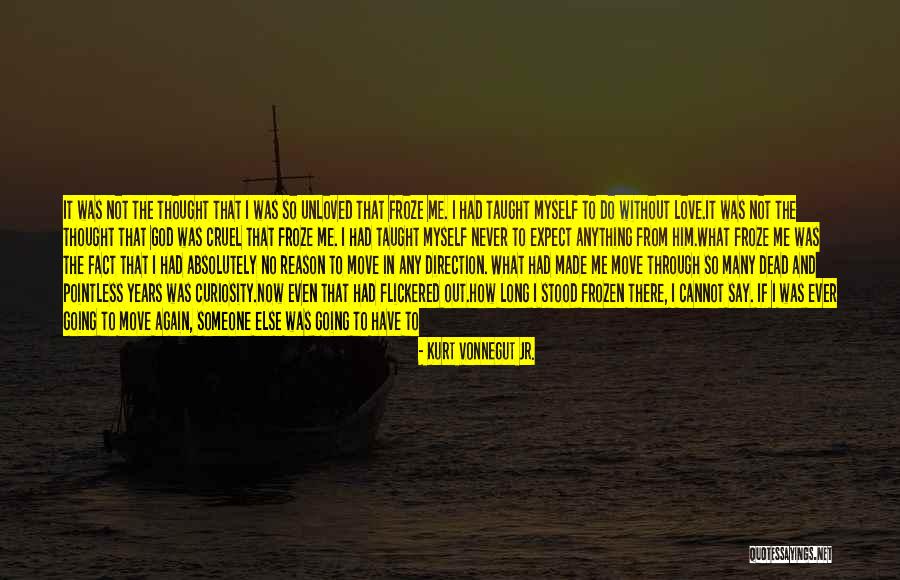 It was not the thought that I was so unloved that froze me. I had taught myself to do without love.
It was not the thought that God was cruel that froze me. I had taught myself never to expect anything from Him.
What froze me was the fact that I had absolutely no reason to move in any direction. What had made me move through so many dead and pointless years was curiosity.
Now even that had flickered out.
How long I stood frozen there, I cannot say. If I was ever going to move again, someone else was going to have to furnish the reason for moving.
Somebody did.
A policeman watched me for a while, and then he came over to me, and he said, "You alright?"
Yes," I said.
You've been standing here a long time," he said.
I know," I said.
You waiting for somebody?" he said.
No," I said.
Better move on, don't you think?" he said.
Yes, sir," I said.
And I moved on. — Kurt Vonnegut Jr.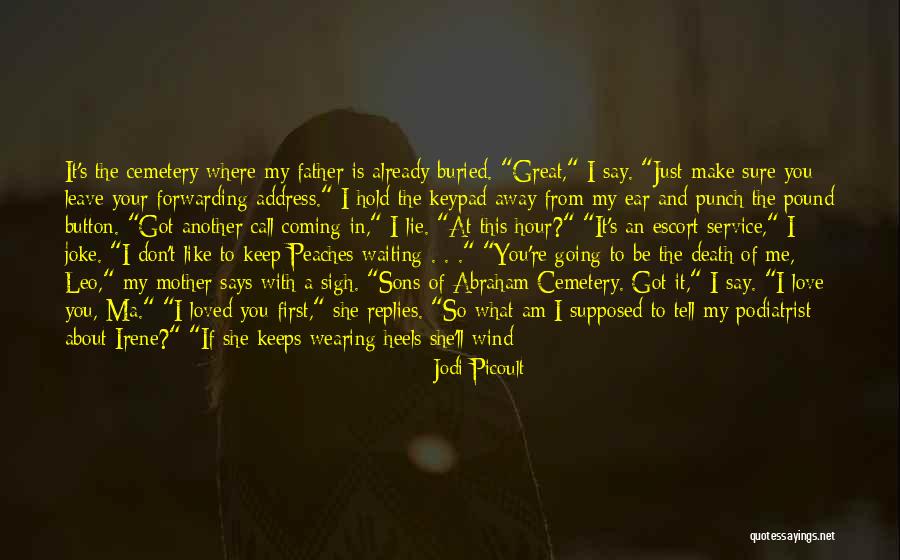 It's the cemetery where my father is already buried. "Great," I say. "Just make sure you leave your forwarding address." I hold the keypad away from my ear and punch the pound button. "Got another call coming in," I lie. "At this hour?" "It's an escort service," I joke. "I don't like to keep Peaches waiting . . ." "You're going to be the death of me, Leo," my mother says with a sigh. "Sons of Abraham Cemetery. Got it," I say. "I love you, Ma." "I loved you first," she replies. "So what am I supposed to tell my podiatrist about Irene?" "If she keeps wearing heels she'll wind — Jodi Picoult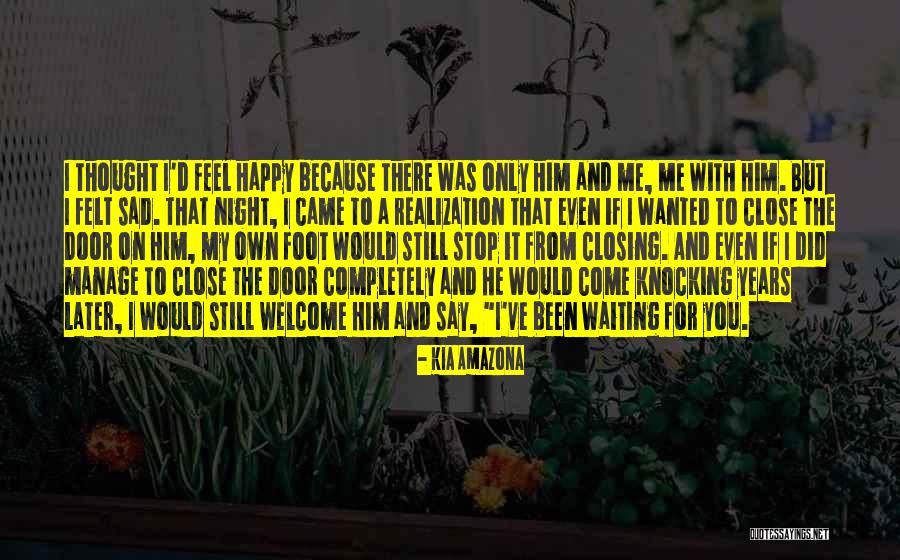 I thought I'd feel happy because there was only him and me, me with him. But I felt sad. That night, I came to a realization that even if I wanted to close the door on him, my own foot would still stop it from closing. And even if I did manage to close the door completely and he would come knocking years later, I would still welcome him and say, "I've been waiting for you. — Kia Amazona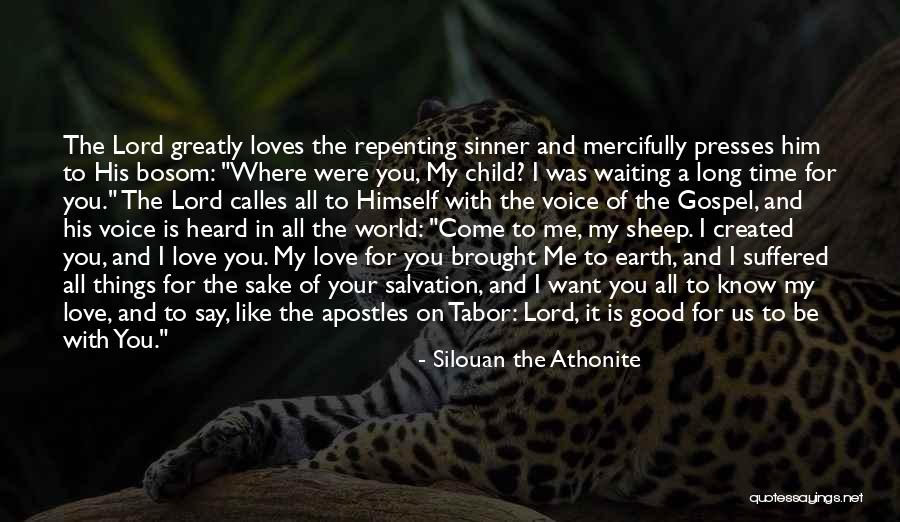 The Lord greatly loves the repenting sinner and mercifully presses him to His bosom: "Where were you, My child? I was waiting a long time for you." The Lord calles all to Himself with the voice of the Gospel, and his voice is heard in all the world: "Come to me, my sheep. I created you, and I love you. My love for you brought Me to earth, and I suffered all things for the sake of your salvation, and I want you all to know my love, and to say, like the apostles on Tabor: Lord, it is good for us to be with You." — Silouan The Athonite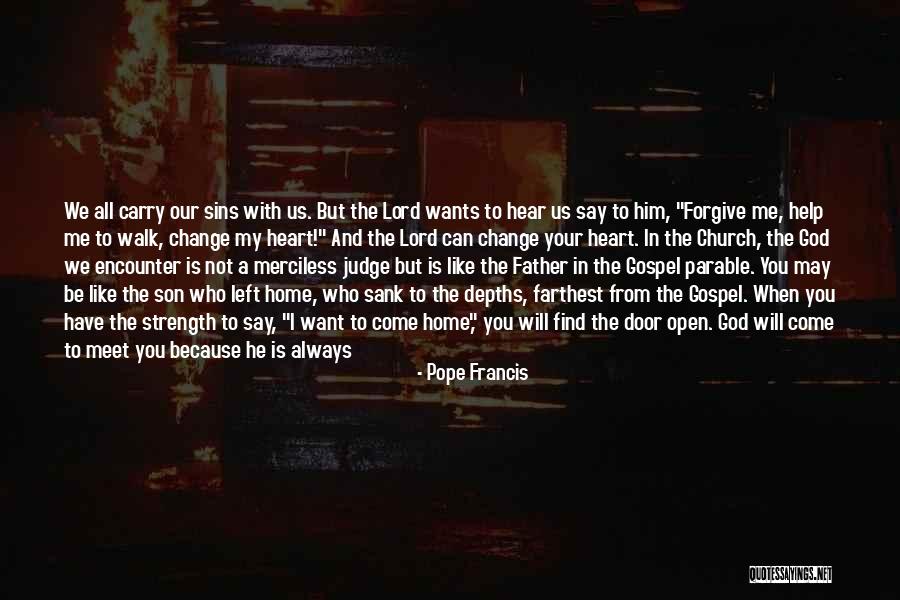 We all carry our sins with us. But the Lord wants to hear us say to him, "Forgive me, help me to walk, change my heart!" And the Lord can change your heart. In the Church, the God we encounter is not a merciless judge but is like the Father in the Gospel parable. You may be like the son who left home, who sank to the depths, farthest from the Gospel. When you have the strength to say, "I want to come home," you will find the door open. God will come to meet you because he is always waiting for you - God is always waiting for you. God embraces you, kisses you, and celebrates. That is how the Lord is, that is how the tenderness of our heavenly Father is. The Lord wants us to belong to a Church that knows how to open her arms and welcome everyone, that is not a house for the few, but a house for everyone, where all can be renewed, transformed, sanctified by his love - the strongest and the weakest, sinners, the indifferent, those who feel discouraged or lost. — Pope Francis