Quotes & Sayings About Unanswerable Questions
Enjoy reading and share 41 famous quotes about Unanswerable Questions with everyone.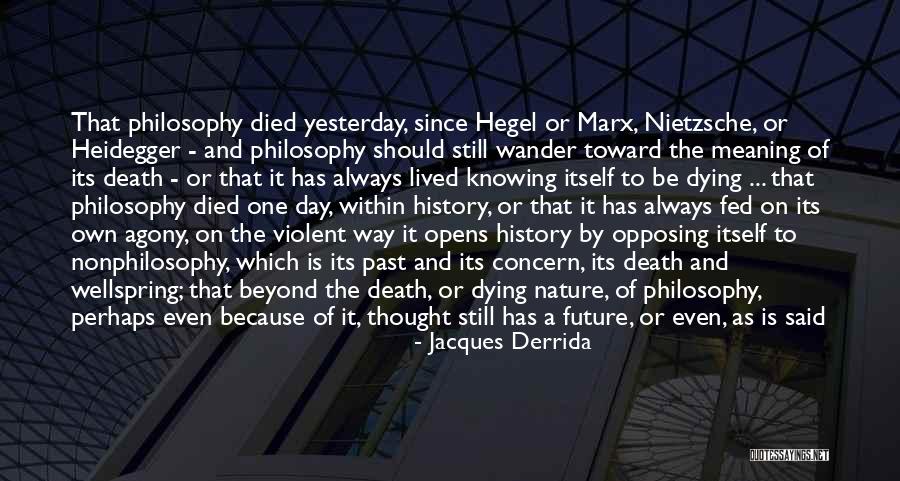 That philosophy died yesterday, since Hegel or Marx, Nietzsche, or Heidegger - and philosophy should still wander toward the meaning of its death - or that it has always lived knowing itself to be dying ... that philosophy died one day, within history, or that it has always fed on its own agony, on the violent way it opens history by opposing itself to nonphilosophy, which is its past and its concern, its death and wellspring; that beyond the death, or dying nature, of philosophy, perhaps even because of it, thought still has a future, or even, as is said today, is still entirely to come because of what philosophy has held in store; or, more strangely still, that the future itself has a future - all these are unanswerable questions. By right of birth, and for one time at least, these are problems put to philosophy as problems philosophy cannot resolve. — Jacques Derrida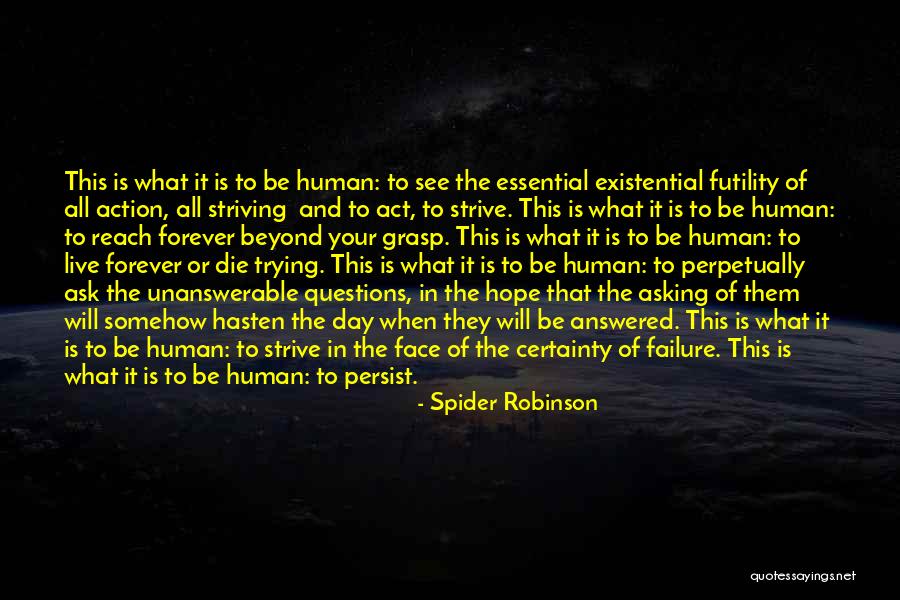 This is what it is to be human: to see the essential existential futility of all action, all striving
and to act, to strive. This is what it is to be human: to reach forever beyond your grasp. This is what it is to be human: to live forever or die trying. This is what it is to be human: to perpetually ask the unanswerable questions, in the hope that the asking of them will somehow hasten the day when they will be answered. This is what it is to be human: to strive in the face of the certainty of failure. This is what it is to be human: to persist. — Spider Robinson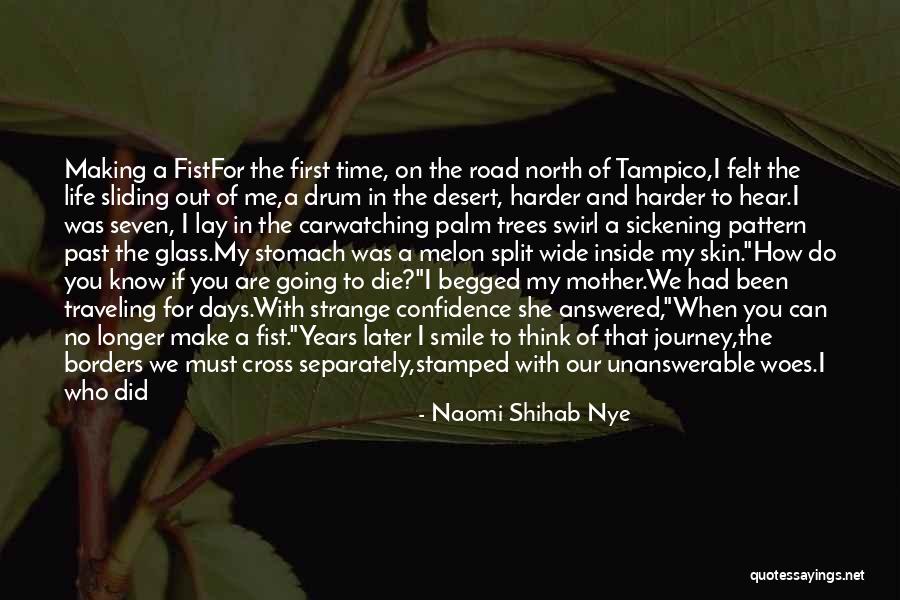 Making a Fist
For the first time, on the road north of Tampico,
I felt the life sliding out of me,
a drum in the desert, harder and harder to hear.
I was seven, I lay in the car
watching palm trees swirl a sickening pattern
past the glass.
My stomach was a melon split wide inside my skin.
"How do you know if you are going to die?"
I begged my mother.
We had been traveling for days.
With strange confidence she answered,
"When you can no longer make a fist."
Years later I smile to think of that journey,
the borders we must cross separately,
stamped with our unanswerable woes.
I who did not die, who am still living,
still lying in the backseat behind all my questions,
clenching and opening one small hand. — Naomi Shihab Nye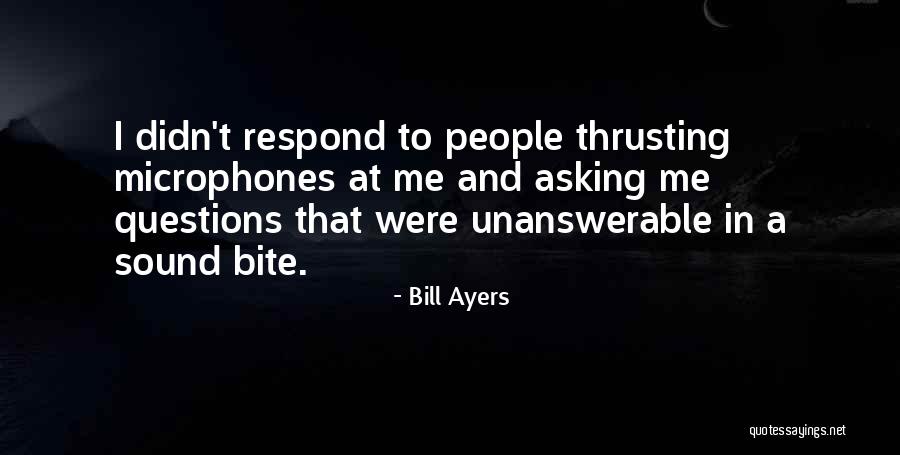 I didn't respond to people thrusting microphones at me and asking me questions that were unanswerable in a sound bite. — Bill Ayers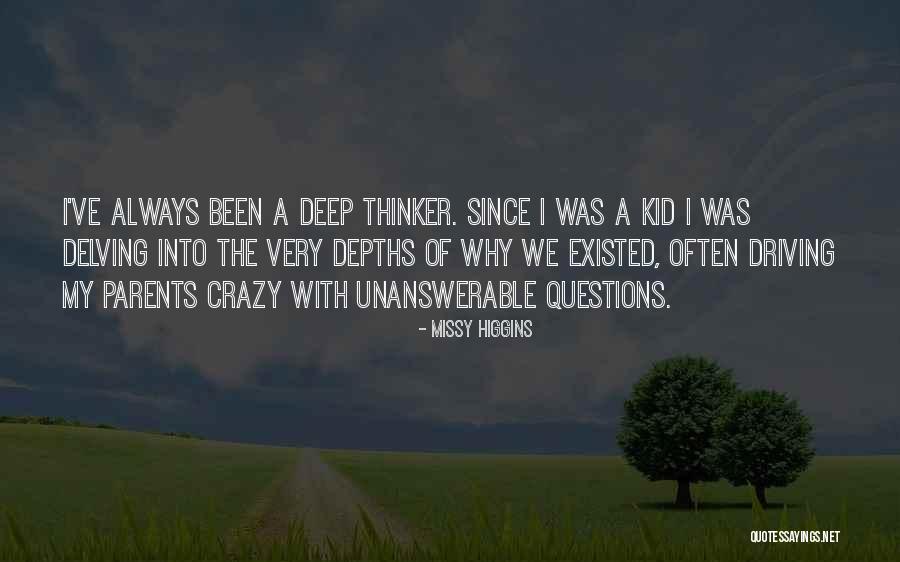 I've always been a deep thinker. Since I was a kid I was delving into the very depths of why we existed, often driving my parents crazy with unanswerable questions. — Missy Higgins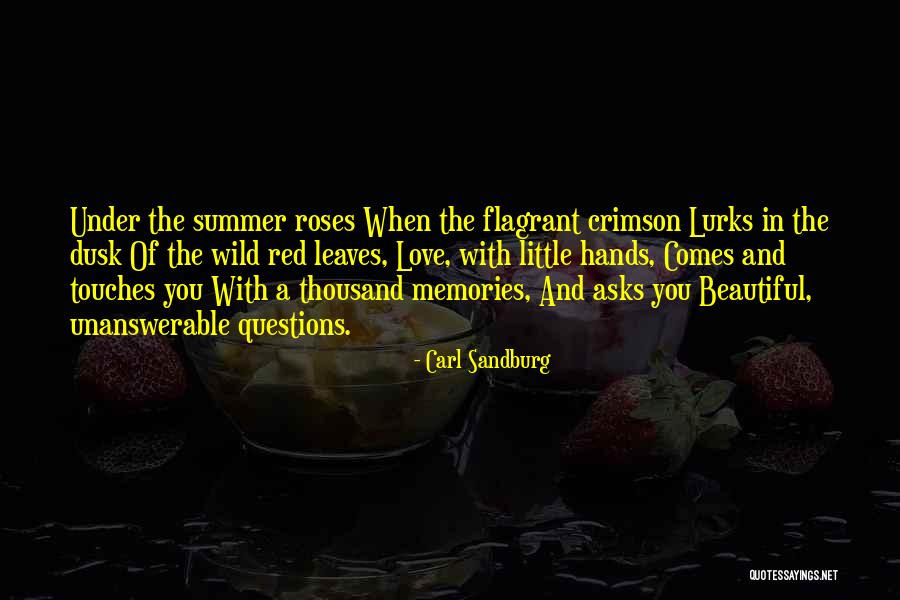 Under the summer roses When the flagrant crimson Lurks in the dusk Of the wild red leaves, Love, with little hands, Comes and touches you With a thousand memories, And asks you Beautiful, unanswerable questions. — Carl Sandburg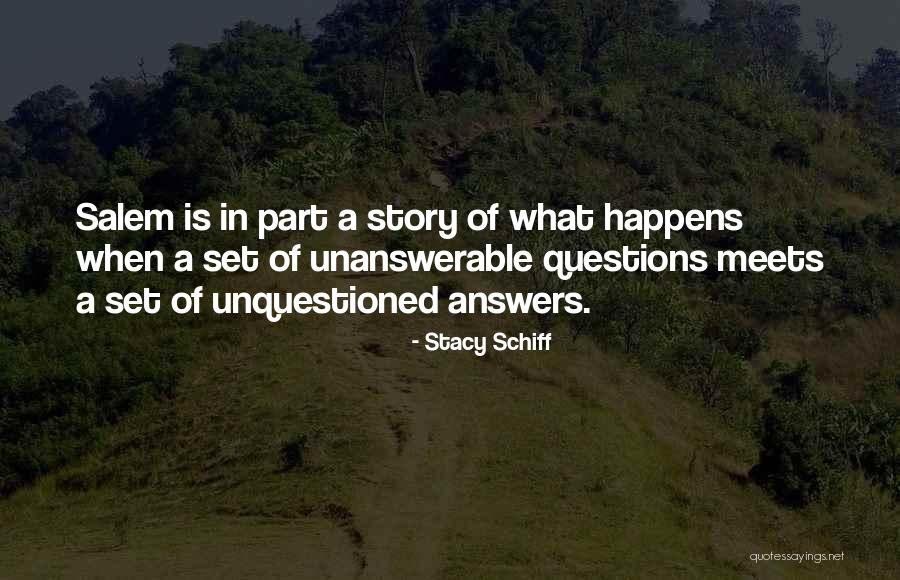 Salem is in part a story of what happens when a set of unanswerable questions meets a set of unquestioned answers. — Stacy Schiff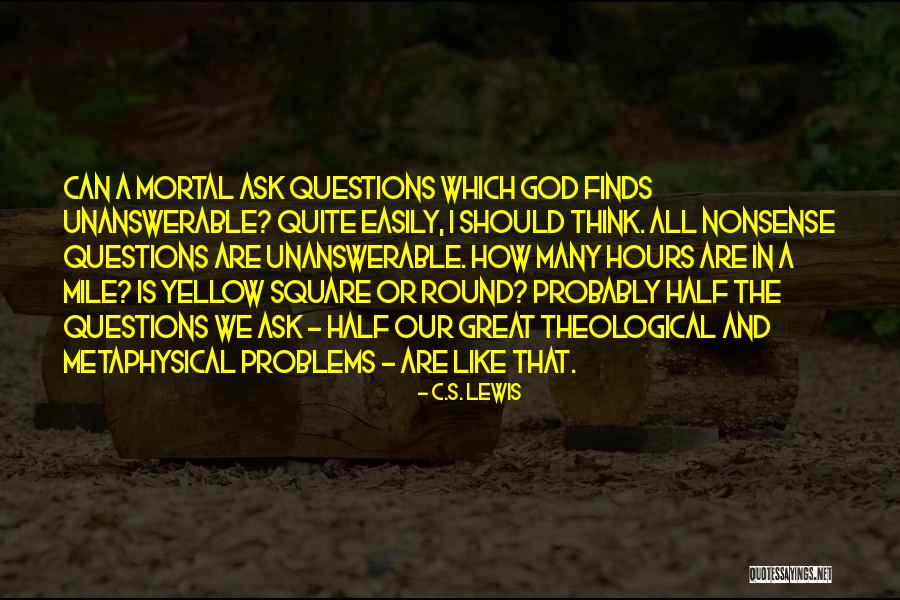 Can a mortal ask questions which God finds unanswerable? Quite easily, I should think. All nonsense questions are unanswerable. How many hours are in a mile? Is yellow square or round? Probably half the questions we ask - half our great theological and metaphysical problems - are like that. — C.S. Lewis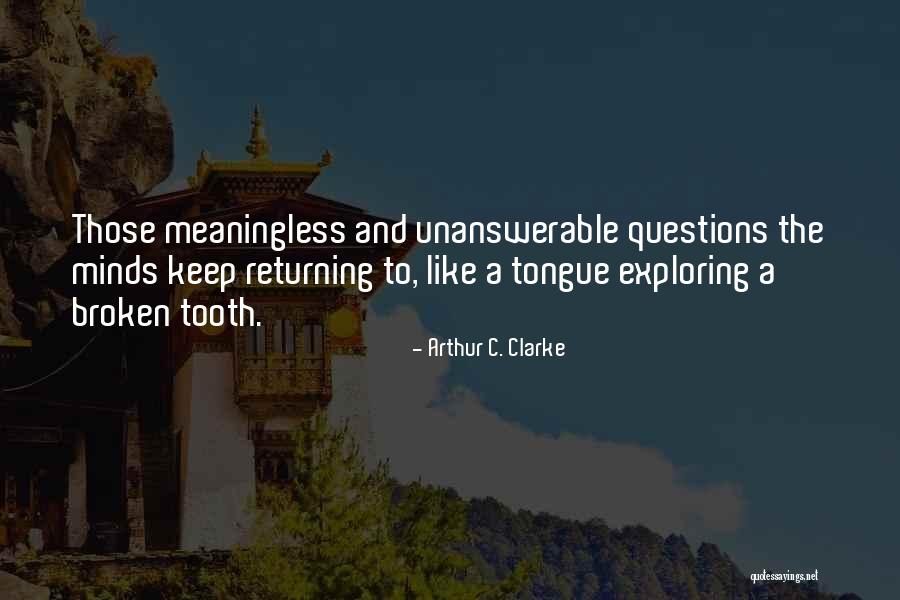 Those meaningless and unanswerable questions the minds keep returning to, like a tongue exploring a broken tooth. — Arthur C. Clarke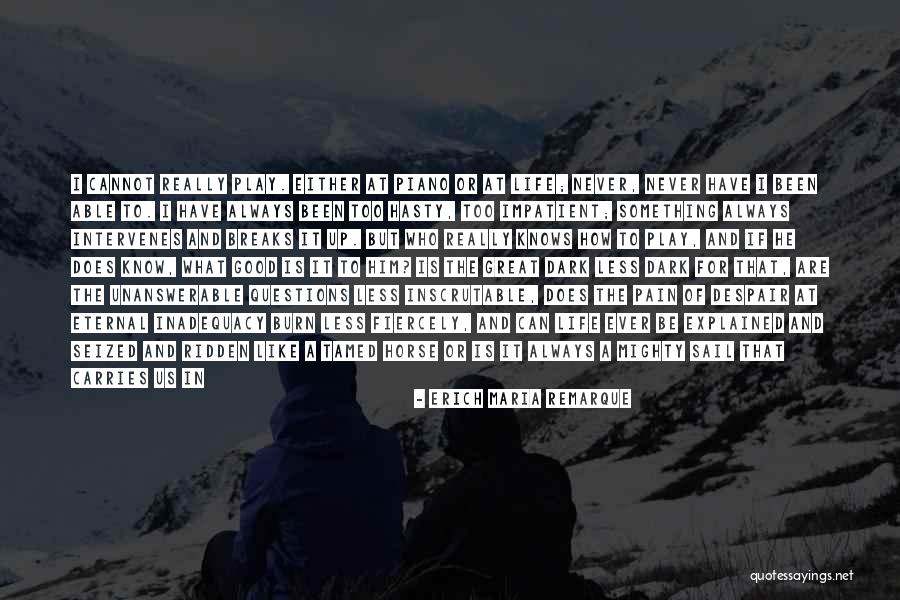 I cannot really play. Either at piano or at life; never, never have I been able to. I have always been too hasty, too impatient; something always intervenes and breaks it up. But who really knows how to play, and if he does know, what good is it to him? Is the great dark less dark for that, are the unanswerable questions less inscrutable, does the pain of despair at eternal inadequacy burn less fiercely, and can life ever be explained and seized and ridden like a tamed horse or is it always a mighty sail that carries us in the storm and, when we try to seize it, sweep us into the deep? Sometimes there is a hole in me that seems to extend to the center of the earth. What could fill it? Yearning? Dispair? Happiness? What happiness? Fatigue? Resignation? Death? What am I alive for? Yes, for what am I alive? — Erich Maria Remarque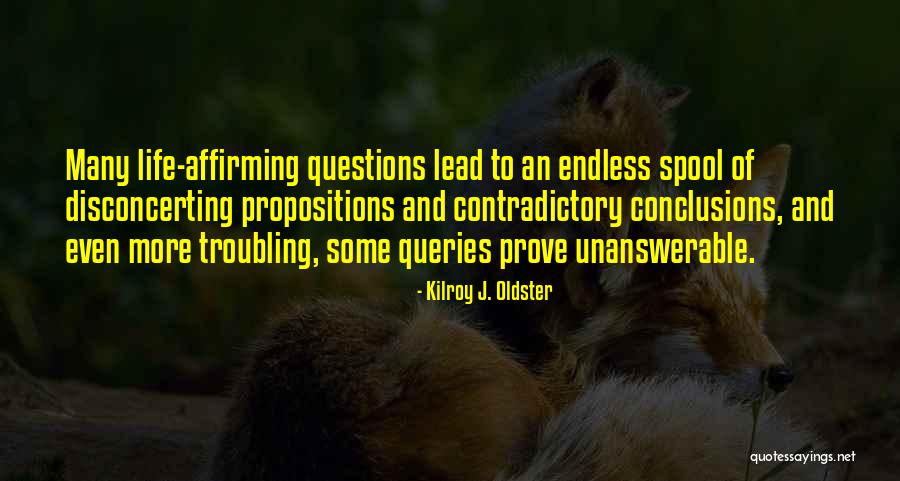 Many life-affirming questions lead to an endless spool of disconcerting propositions and contradictory conclusions, and even more troubling, some queries prove unanswerable. — Kilroy J. Oldster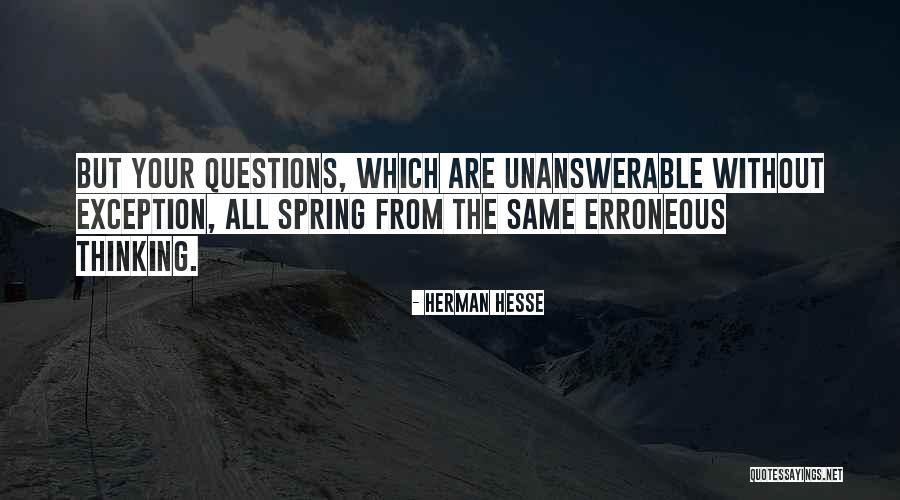 But your questions, which are unanswerable without exception, all spring from the same erroneous thinking. — Herman Hesse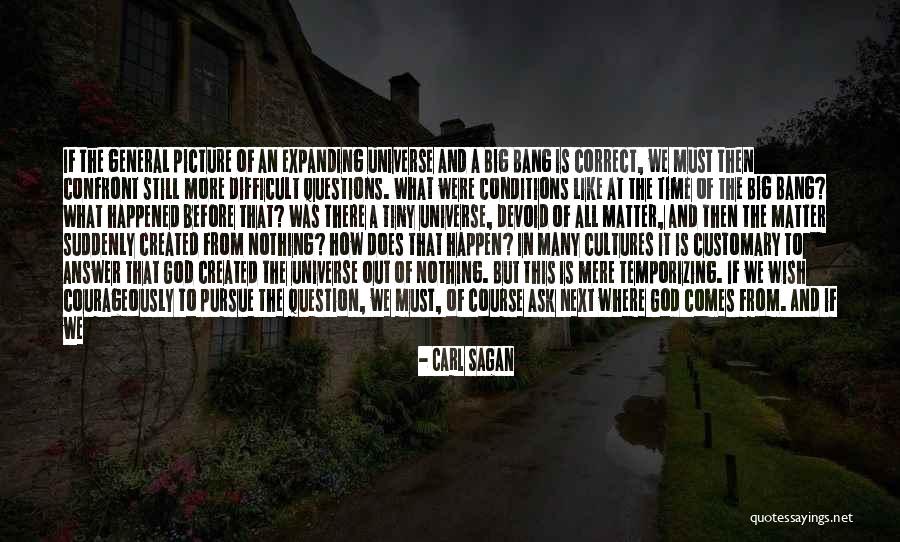 If the general picture of an expanding universe and a Big Bang is correct, we must then confront still more difficult questions. What were conditions like at the time of the Big Bang? What happened before that? Was there a tiny universe, devoid of all matter, and then the matter suddenly created from nothing? How does that happen? In many cultures it is customary to answer that God created the universe out of nothing. But this is mere temporizing. If we wish courageously to pursue the question, we must, of course ask next where God comes from. And if we decide this to be unanswerable, why not save a step and decide that the origin of the universe is an unanswerable question? Or, if we say that God has always existed, why not save a step and conclude that the universe has always existed? — Carl Sagan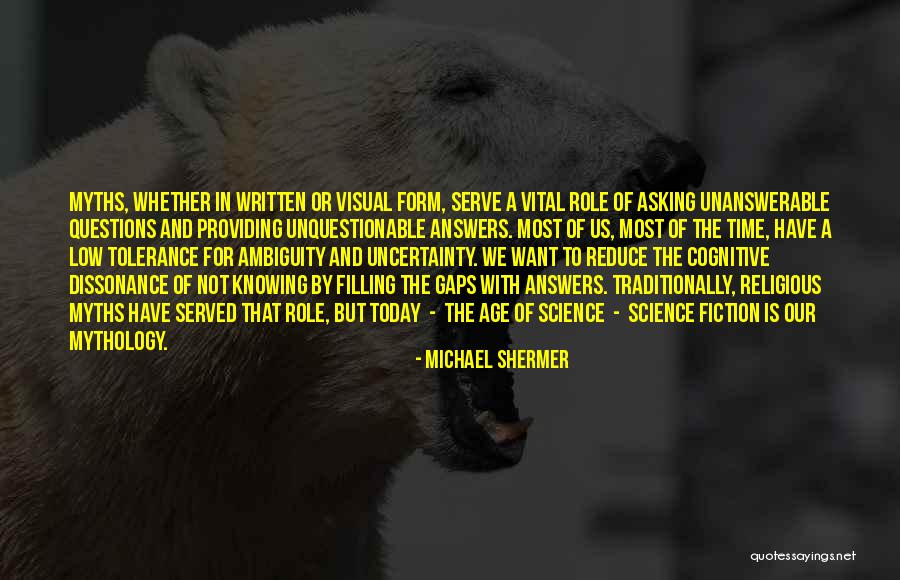 Myths, whether in written or visual form, serve a vital role of asking unanswerable questions and providing unquestionable answers. Most of us, most of the time, have a low tolerance for ambiguity and uncertainty. We want to reduce the cognitive dissonance of not knowing by filling the gaps with answers. Traditionally, religious myths have served that role, but today - the age of science - science fiction is our mythology. — Michael Shermer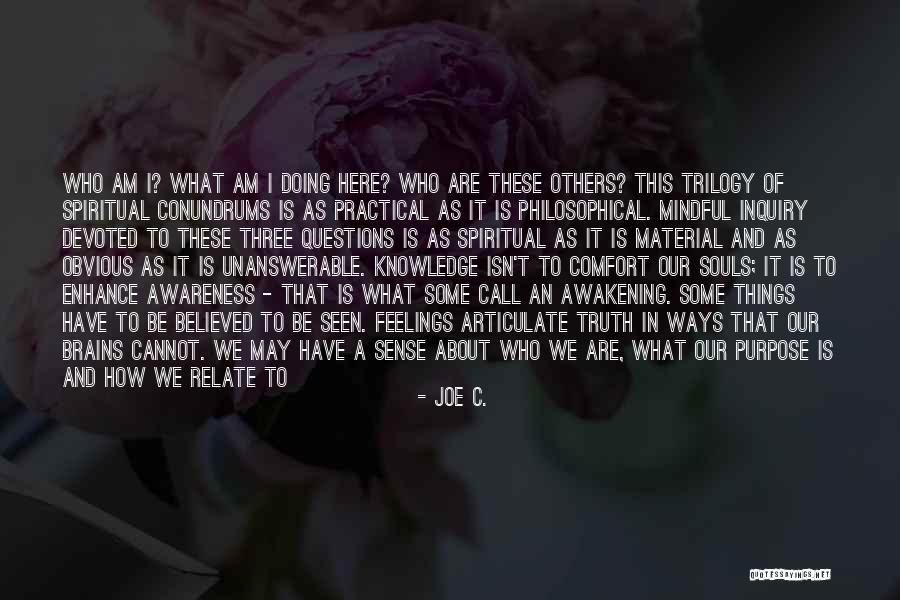 Who am I? What am I doing here? Who are these others? This trilogy of spiritual conundrums is as practical as it is philosophical. Mindful inquiry devoted to these three questions is as spiritual as it is material and as obvious as it is unanswerable. Knowledge isn't to comfort our souls; it is to enhance awareness - that is what some call an awakening. Some things have to be believed to be seen. Feelings articulate truth in ways that our brains cannot. We may have a sense about who we are, what our purpose is and how we relate to the rest of the world even without the vocabulary to articulate it. Recovery is visceral as much as it is intellectual. The Eleventh Step is our spiritual barometer, feeding back sensations, feelings and thoughts as we observe our life. — Joe C.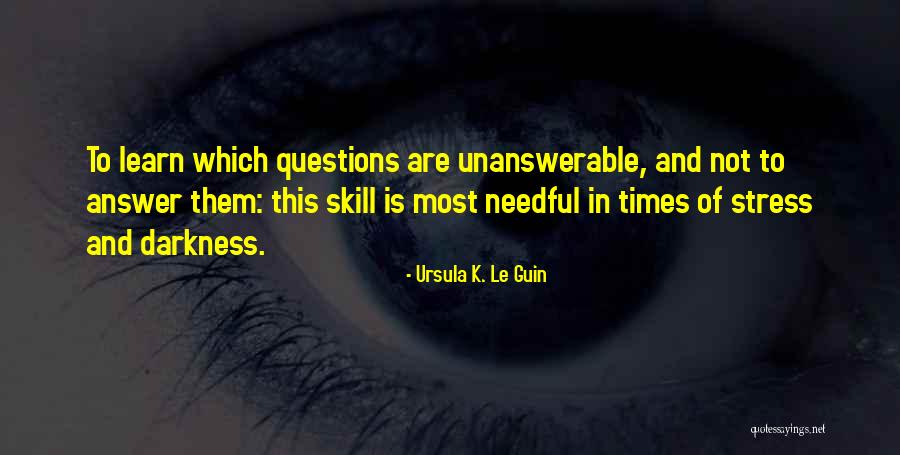 To learn which questions are unanswerable, and not to answer them: this skill is most needful in times of stress and darkness. — Ursula K. Le Guin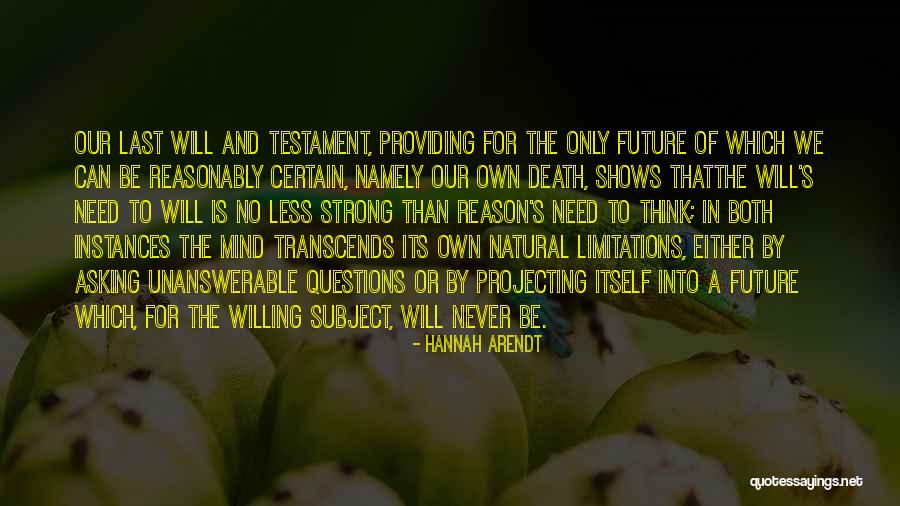 Our Last Will and Testament, providing for the only future of which we can be reasonably certain, namely our own death, shows thatthe Will's need to will is no less strong than Reason's need to think; in both instances the mind transcends its own natural limitations, either by asking unanswerable questions or by projecting itself into a future which, for the willing subject, will never be. — Hannah Arendt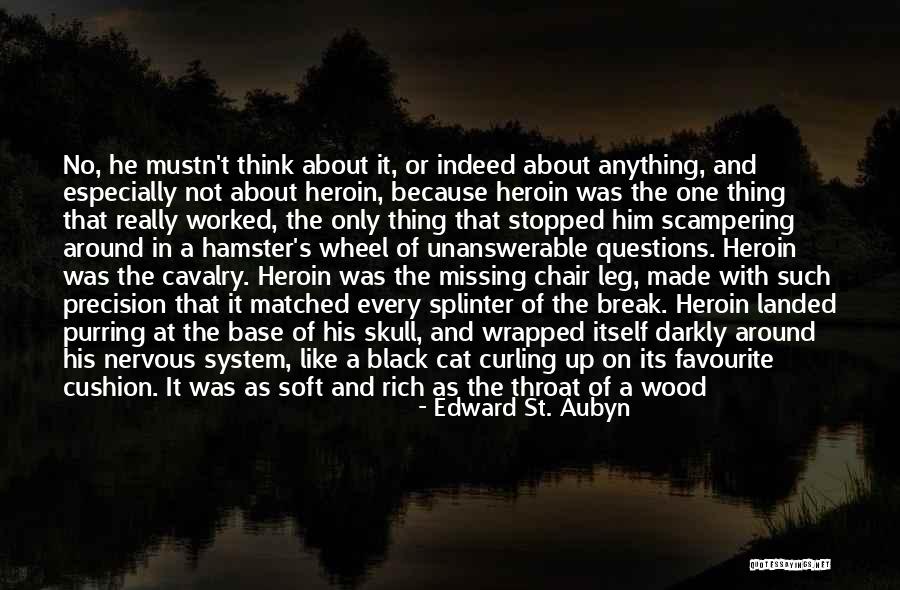 No, he mustn't think about it, or indeed about anything, and especially not about heroin, because heroin was the one thing that really worked, the only thing that stopped him scampering around in a hamster's wheel of unanswerable questions. Heroin was the cavalry. Heroin was the missing chair leg, made with such precision that it matched every splinter of the break. Heroin landed purring at the base of his skull, and wrapped itself darkly around his nervous system, like a black cat curling up on its favourite cushion. It was as soft and rich as the throat of a wood pigeon, or the splash of sealing wax onto a page, or a handful of gems slipping from palm to palm. — Edward St. Aubyn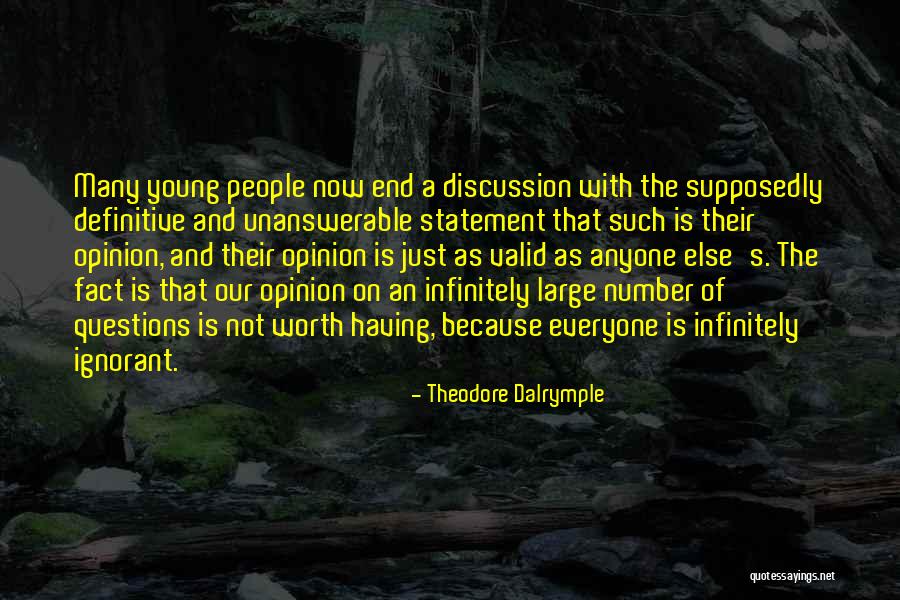 Many young people now end a discussion with the supposedly definitive and unanswerable statement that such is their opinion, and their opinion is just as valid as anyone else's. The fact is that our opinion on an infinitely large number of questions is not worth having, because everyone is infinitely ignorant. — Theodore Dalrymple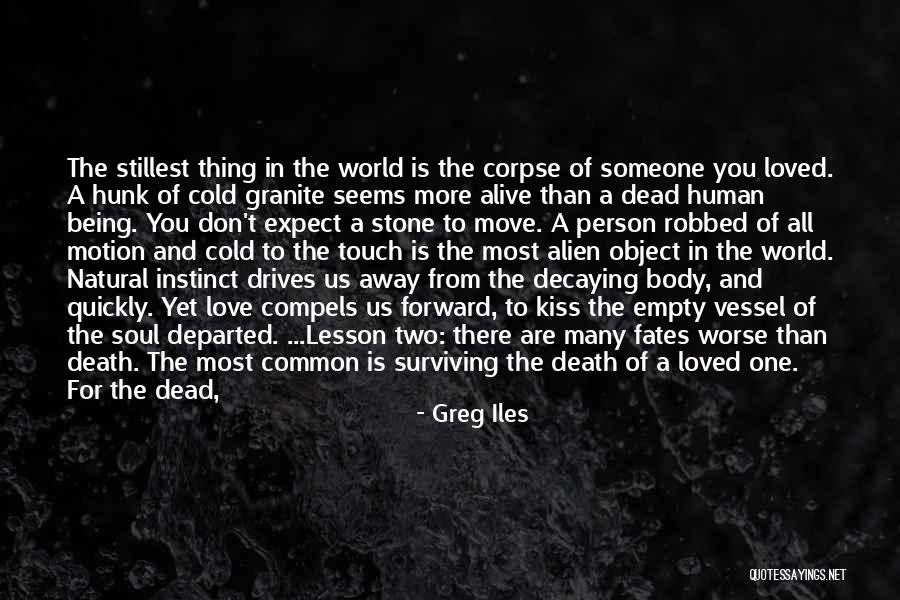 The stillest thing in the world is the corpse of someone you loved. A hunk of cold granite seems more alive than a dead human being. You don't expect a stone to move. A person robbed of all motion and cold to the touch is the most alien object in the world. Natural instinct drives us away from the decaying body, and quickly. Yet love compels us forward, to kiss the empty vessel of the soul departed. ...Lesson two: there are many fates worse than death. The most common is surviving the death of a loved one. For the dead, all questions have been answered or made irrelevant. For the survivor, some questions have been rendered unanswerable. — Greg Iles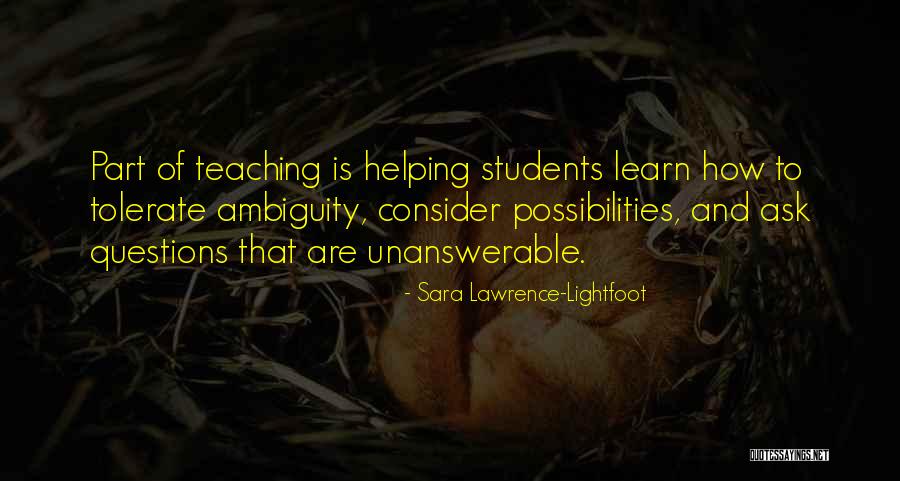 Part of teaching is helping students learn how to tolerate ambiguity, consider possibilities, and ask questions that are unanswerable. — Sara Lawrence-Lightfoot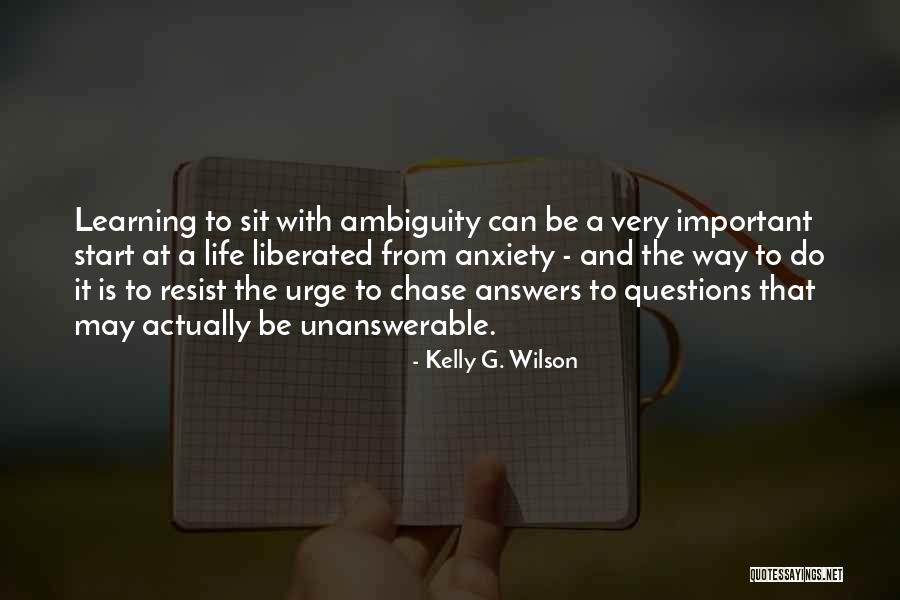 Learning to sit with ambiguity can be a very important start at a life liberated from anxiety - and the way to do it is to resist the urge to chase answers to questions that may actually be unanswerable. — Kelly G. Wilson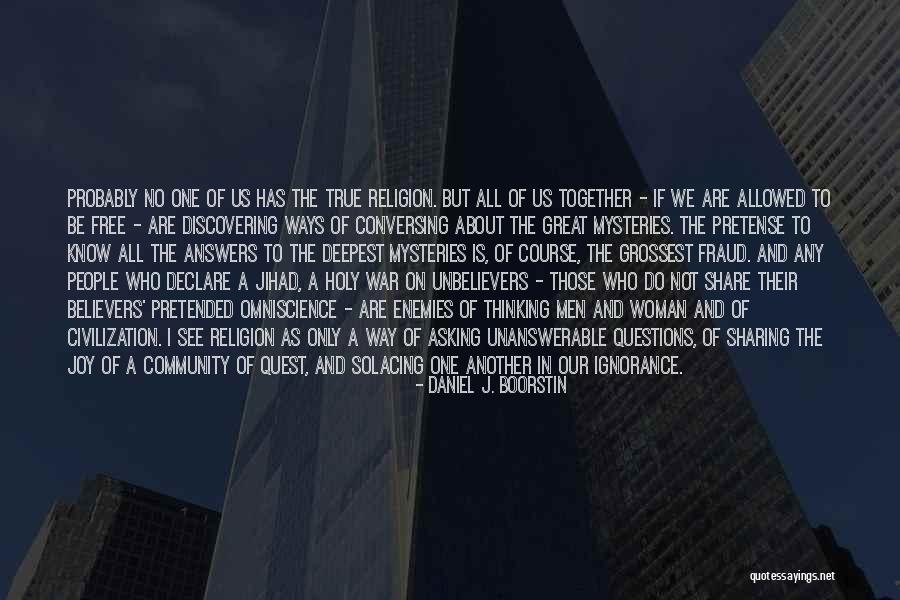 Probably no one of us has the True Religion. But all of us together - if we are allowed to be free - are discovering ways of conversing about the great mysteries. The pretense to know all the answers to the deepest mysteries is, of course, the grossest fraud. And any people who declare a Jihad, a holy war on unbelievers - those who do not share their believers' pretended omniscience - are enemies of thinking men and woman and of civilization. I see religion as only a way of asking unanswerable questions, of sharing the joy of a community of quest, and solacing one another in our ignorance. — Daniel J. Boorstin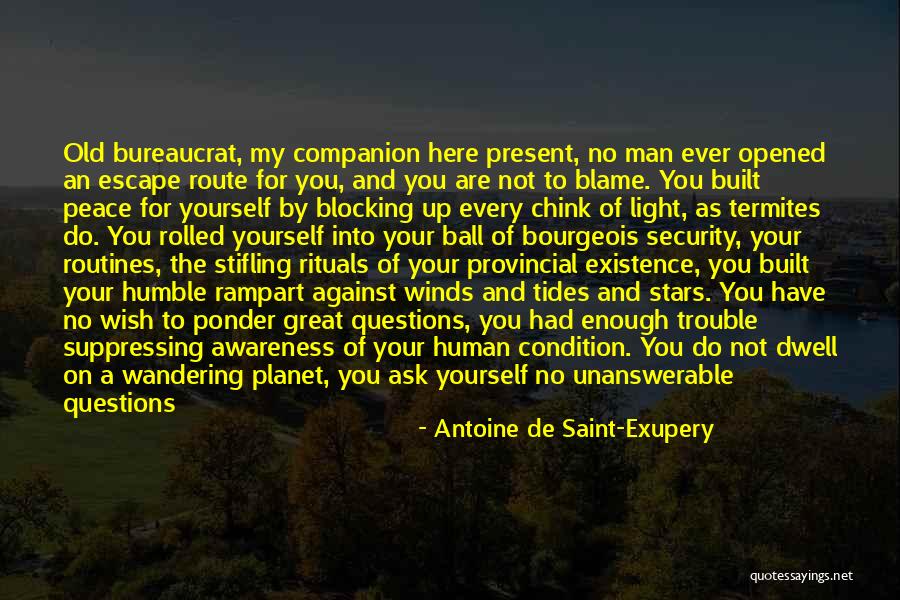 Old bureaucrat, my companion here present, no man ever opened an escape route for you, and you are not to blame. You built peace for yourself by blocking up every chink of light, as termites do. You rolled yourself into your ball of bourgeois security, your routines, the stifling rituals of your provincial existence, you built your humble rampart against winds and tides and stars. You have no wish to ponder great questions, you had enough trouble suppressing awareness of your human condition. You do not dwell on a wandering planet, you ask yourself no unanswerable questions — Antoine De Saint-Exupery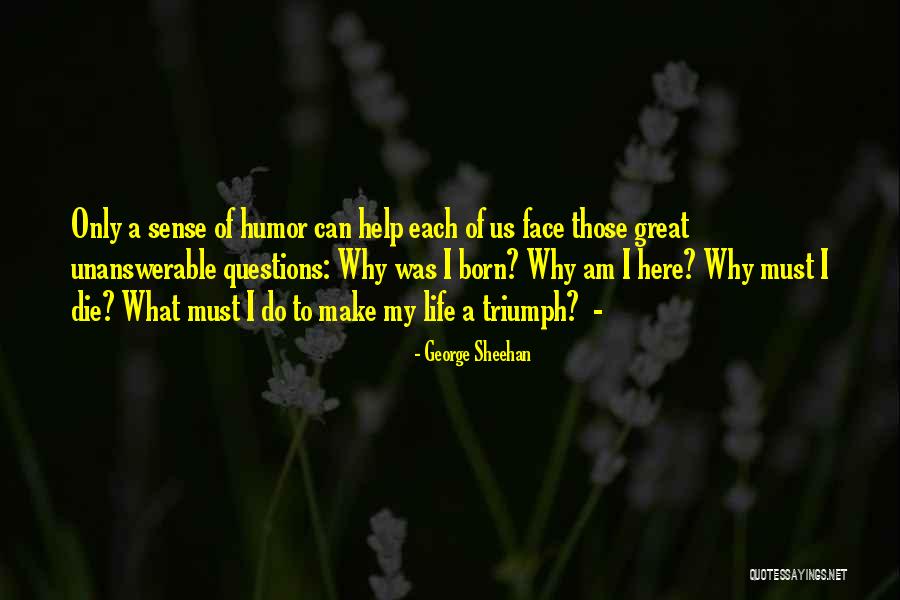 Only a sense of humor can help each of us face those great unanswerable questions: Why was I born? Why am I here? Why must I die? What must I do to make my life a triumph? - — George Sheehan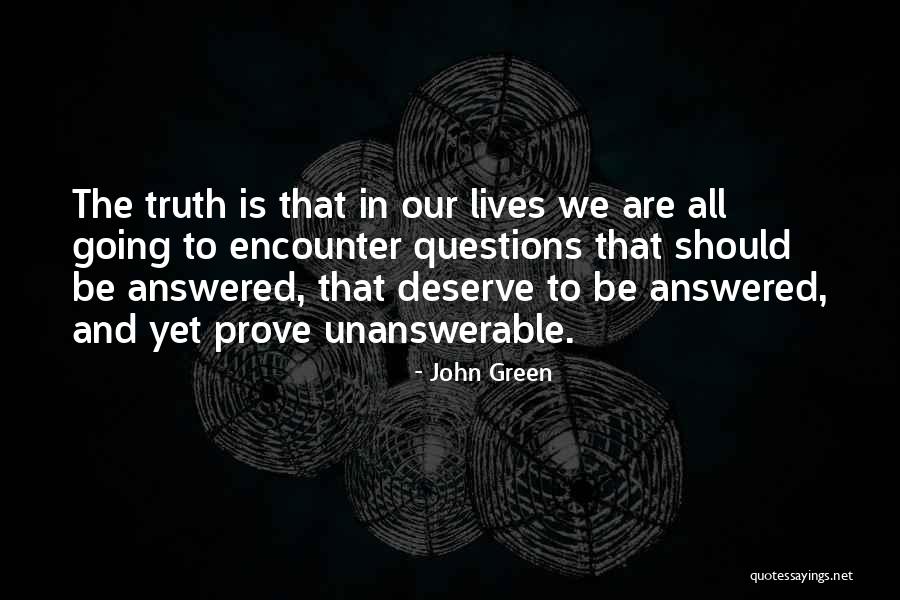 The truth is that in our lives we are all going to encounter questions that should be answered, that deserve to be answered, and yet prove unanswerable. — John Green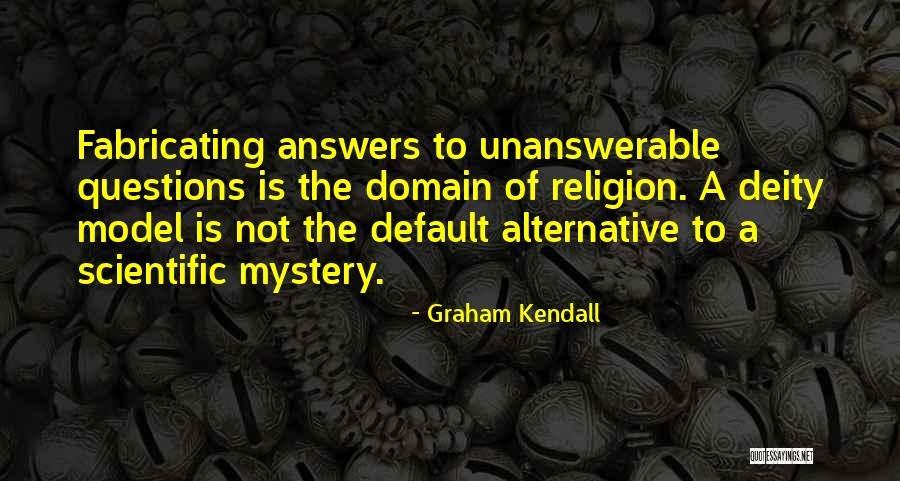 Fabricating answers to unanswerable questions is the domain of religion. A deity model is not the default alternative to a scientific mystery. — Graham Kendall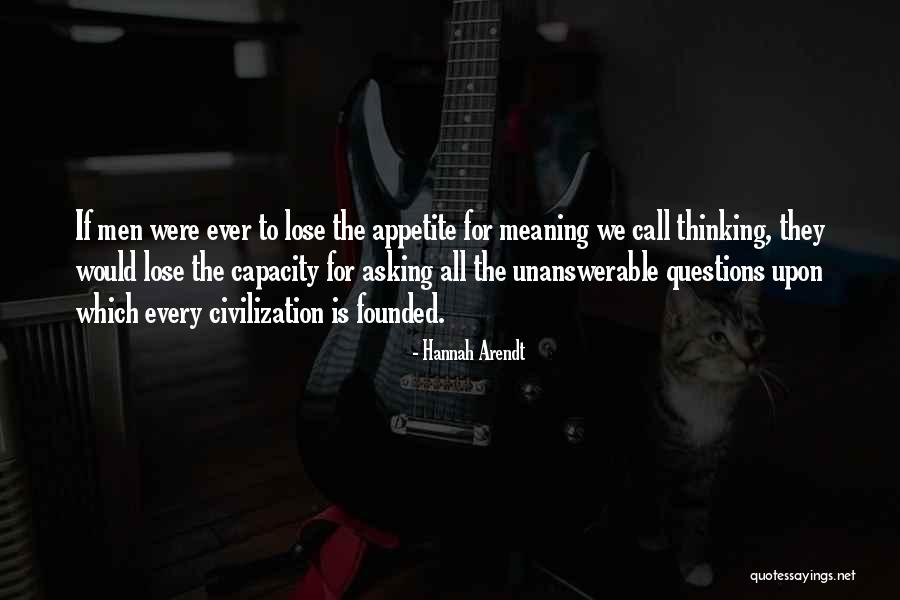 If men were ever to lose the appetite for meaning we call thinking, they would lose the capacity for asking all the unanswerable questions upon which every civilization is founded. — Hannah Arendt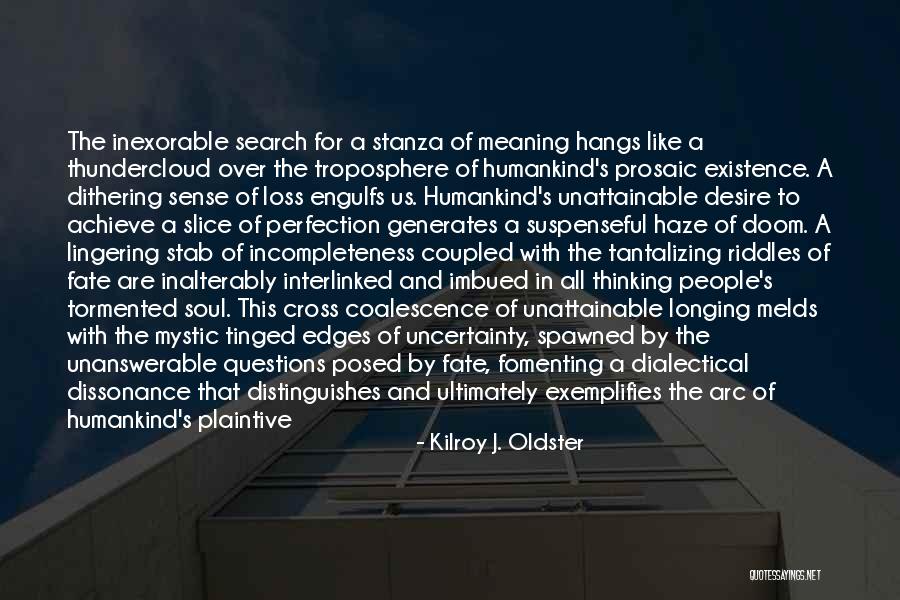 The inexorable search for a stanza of meaning hangs like a thundercloud over the troposphere of humankind's prosaic existence. A dithering sense of loss engulfs us. Humankind's unattainable desire to achieve a slice of perfection generates a suspenseful haze of doom. A lingering stab of incompleteness coupled with the tantalizing riddles of fate are inalterably interlinked and imbued in all thinking people's tormented soul. This cross coalescence of unattainable longing melds with the mystic tinged edges of uncertainty, spawned by the unanswerable questions posed by fate, fomenting a dialectical dissonance that distinguishes and ultimately exemplifies the arc of humankind's plaintive subsistence. — Kilroy J. Oldster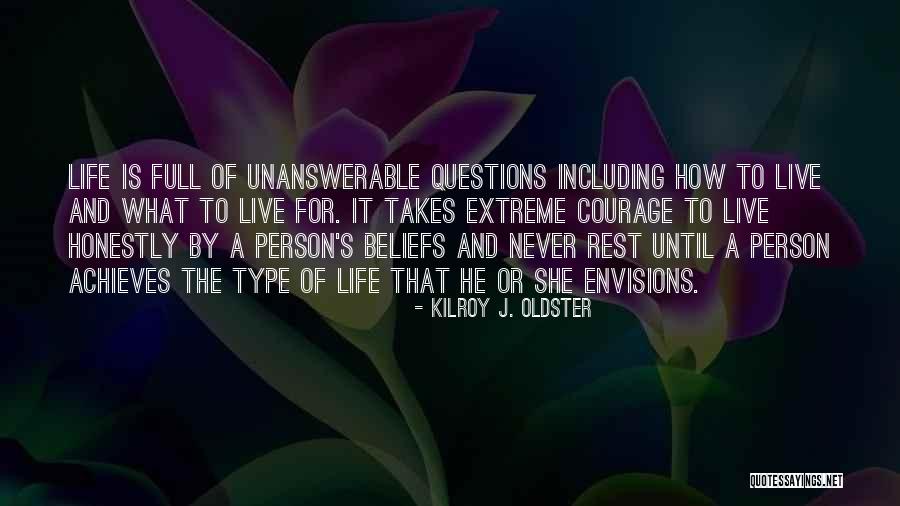 Life is full of unanswerable questions including how to live and what to live for. It takes extreme courage to live honestly by a person's beliefs and never rest until a person achieves the type of life that he or she envisions. — Kilroy J. Oldster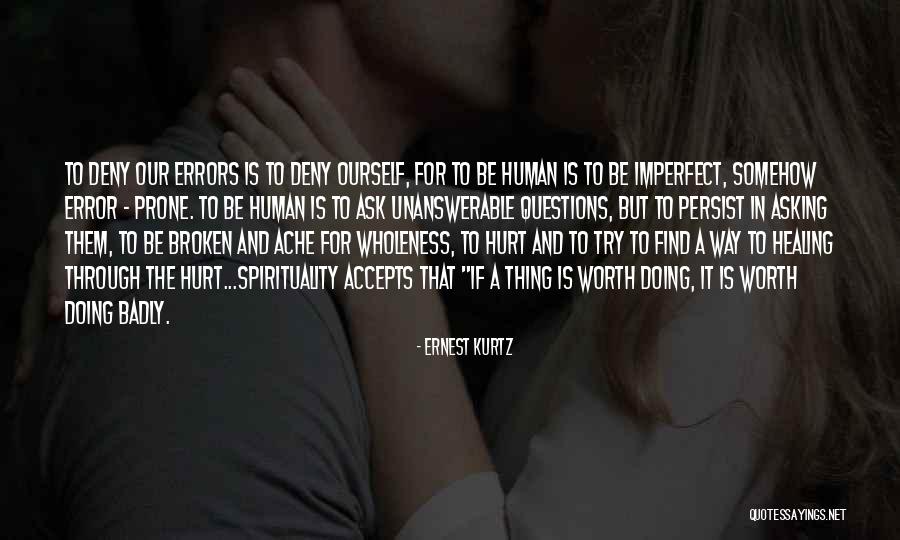 To deny our errors is to deny ourself, for to be human is to be imperfect, somehow error - prone. To be human is to ask unanswerable questions, but to persist in asking them, to be broken and ache for wholeness, to hurt and to try to find a way to healing through the hurt...Spirituality accepts that "If a thing is worth doing, it is worth doing badly. — Ernest Kurtz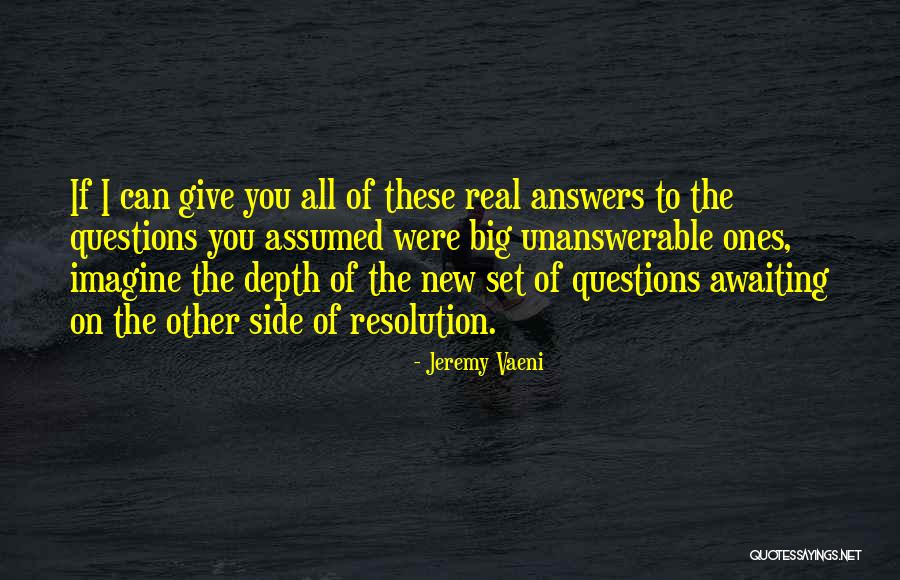 If I can give you all of these real answers to the questions you assumed were big unanswerable ones, imagine the depth of the new set of questions awaiting on the other side of resolution. — Jeremy Vaeni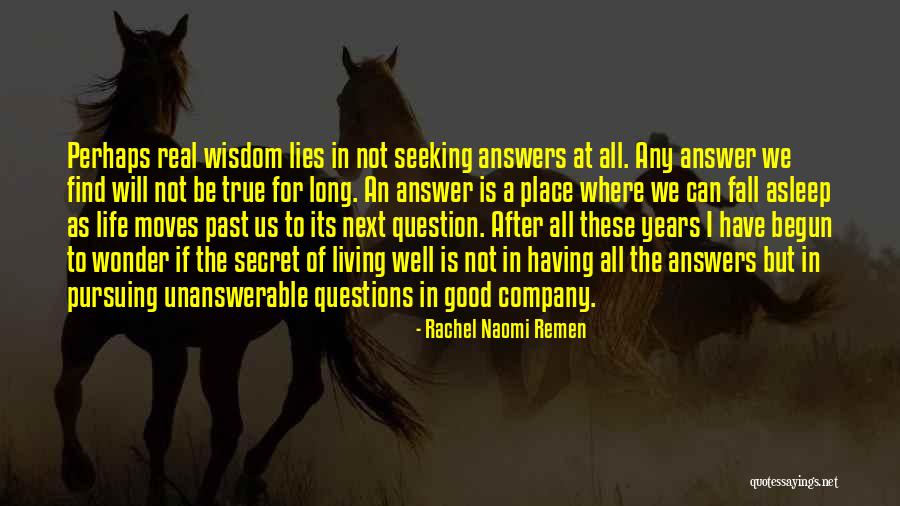 Perhaps real wisdom lies in not seeking answers at all. Any answer we find will not be true for long. An answer is a place where we can fall asleep as life moves past us to its next question. After all these years I have begun to wonder if the secret of living well is not in having all the answers but in pursuing unanswerable questions in good company. — Rachel Naomi Remen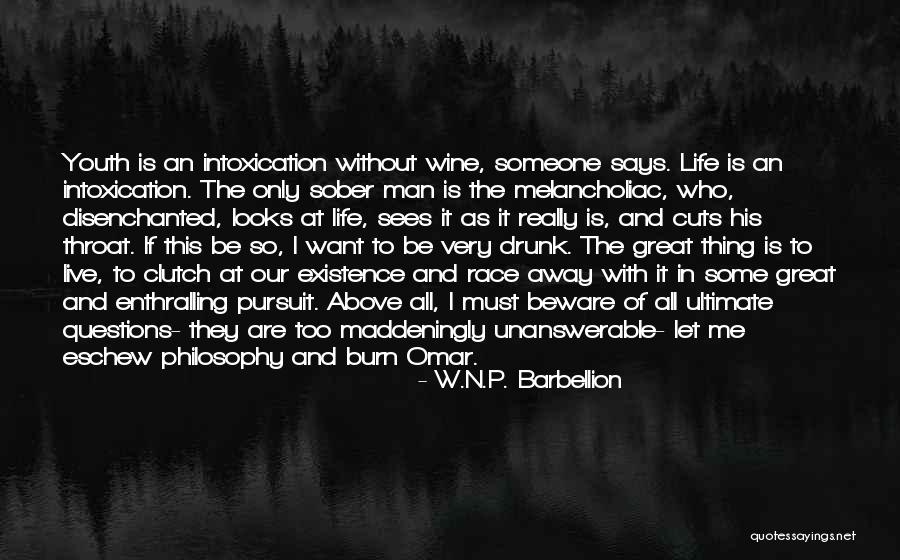 Youth is an intoxication without wine, someone says. Life is an intoxication. The only sober man is the melancholiac, who, disenchanted, looks at life, sees it as it really is, and cuts his throat. If this be so, I want to be very drunk. The great thing is to live, to clutch at our existence and race away with it in some great and enthralling pursuit. Above all, I must beware of all ultimate questions- they are too maddeningly unanswerable- let me eschew philosophy and burn Omar. — W.N.P. Barbellion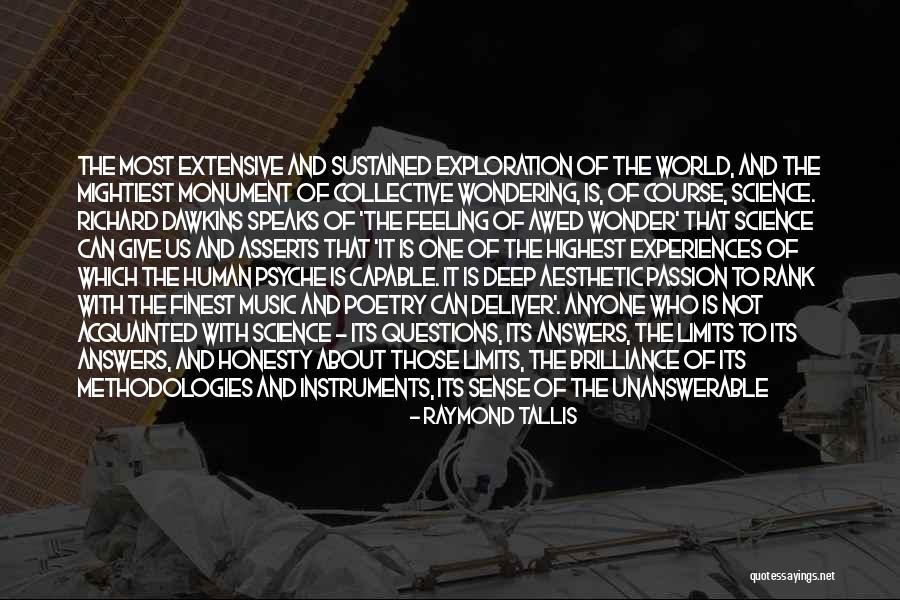 The most extensive and sustained exploration of the world, and the mightiest monument of collective wondering, is, of course, science. Richard Dawkins speaks of 'the feeling of awed wonder' that science can give us and asserts that 'it is one of the highest experiences of which the human psyche is capable. It is deep aesthetic passion to rank with the finest music and poetry can deliver'. Anyone who is not acquainted with science - its questions, its answers, the limits to its answers, and honesty about those limits, the brilliance of its methodologies and instruments, its sense of the unanswerable - is denying herself a great opening, a dormer window, in conciousness. — Raymond Tallis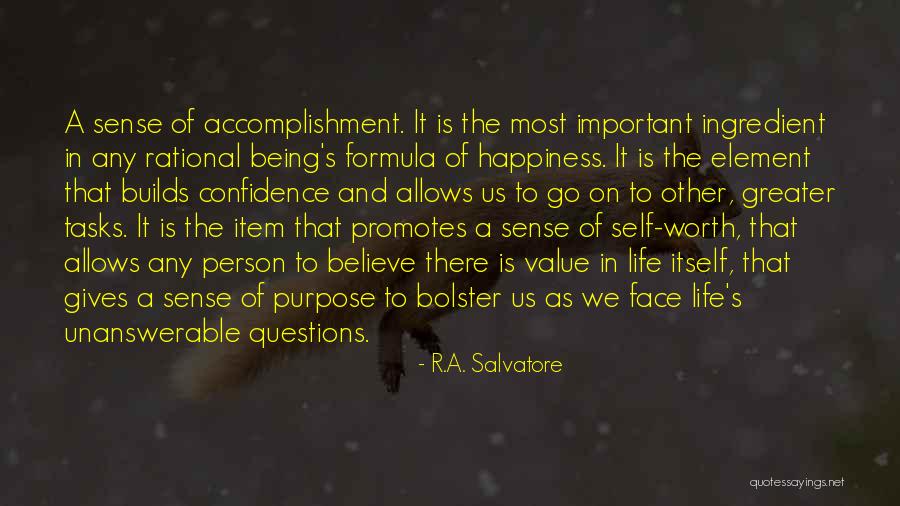 A sense of accomplishment. It is the most important ingredient in any rational being's formula of happiness. It is the element that builds confidence and allows us to go on to other, greater tasks. It is the item that promotes a sense of self-worth, that allows any person to believe there is value in life itself, that gives a sense of purpose to bolster us as we face life's unanswerable questions. — R.A. Salvatore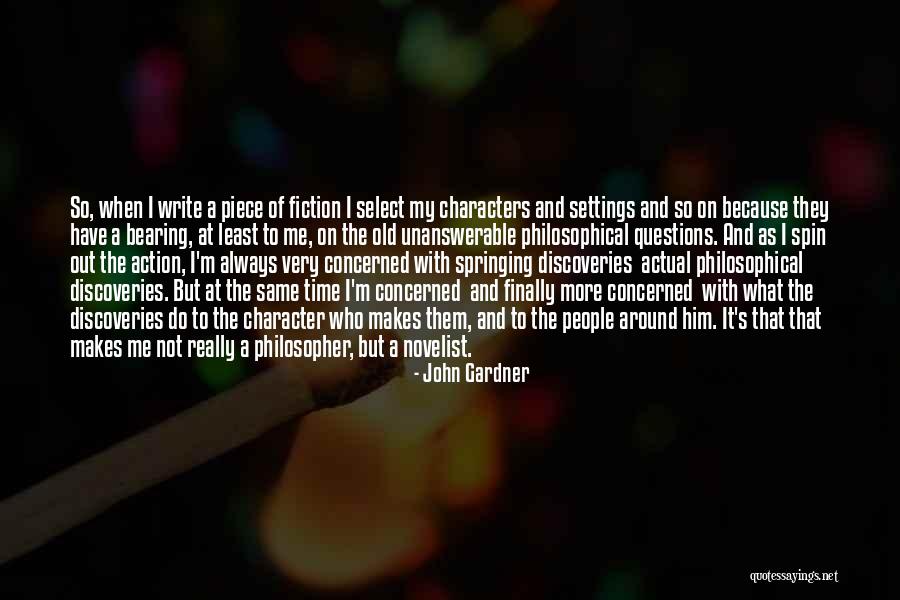 So, when I write a piece of fiction I select my characters and settings and so on because they have a bearing, at least to me, on the old unanswerable philosophical questions. And as I spin out the action, I'm always very concerned with springing discoveries
actual philosophical discoveries. But at the same time I'm concerned
and finally more concerned
with what the discoveries do to the character who makes them, and to the people around him. It's that that makes me not really a philosopher, but a novelist. — John Gardner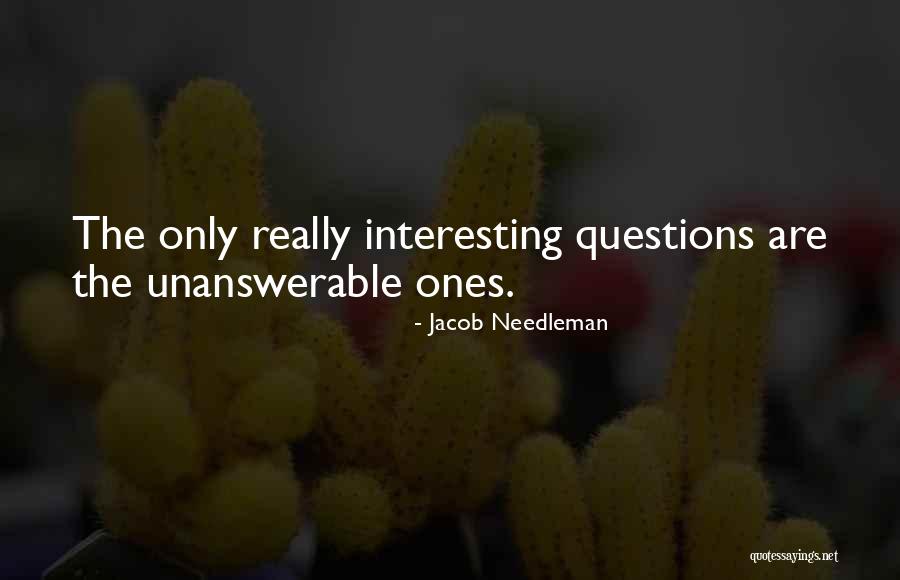 The only really interesting questions are the unanswerable ones. — Jacob Needleman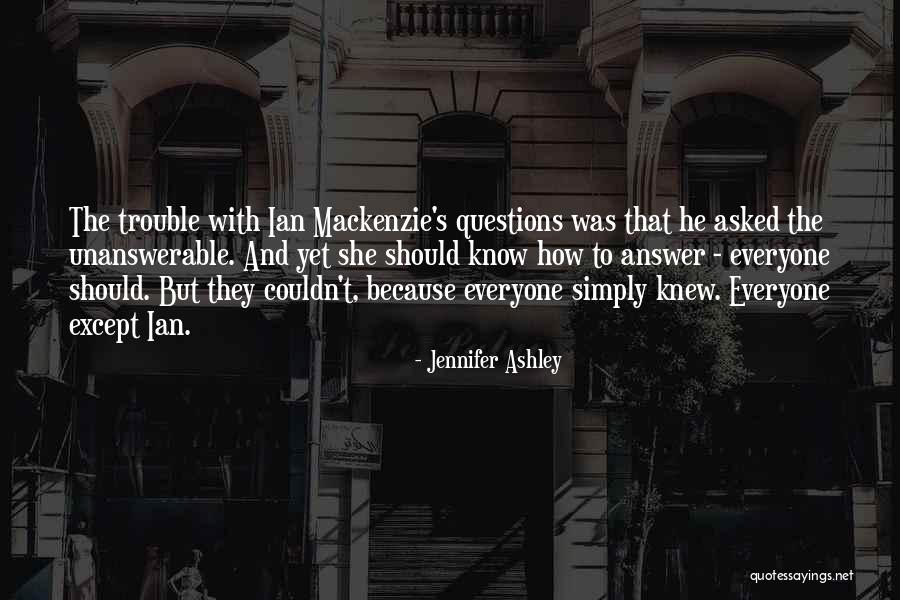 The trouble with Ian Mackenzie's questions was that he asked the unanswerable. And yet she should know how to answer - everyone should. But they couldn't, because everyone simply knew. Everyone except Ian. — Jennifer Ashley