Quotes & Sayings About Time Moving Fast
Enjoy reading and share 44 famous quotes about Time Moving Fast with everyone.
Top Time Moving Fast Quotes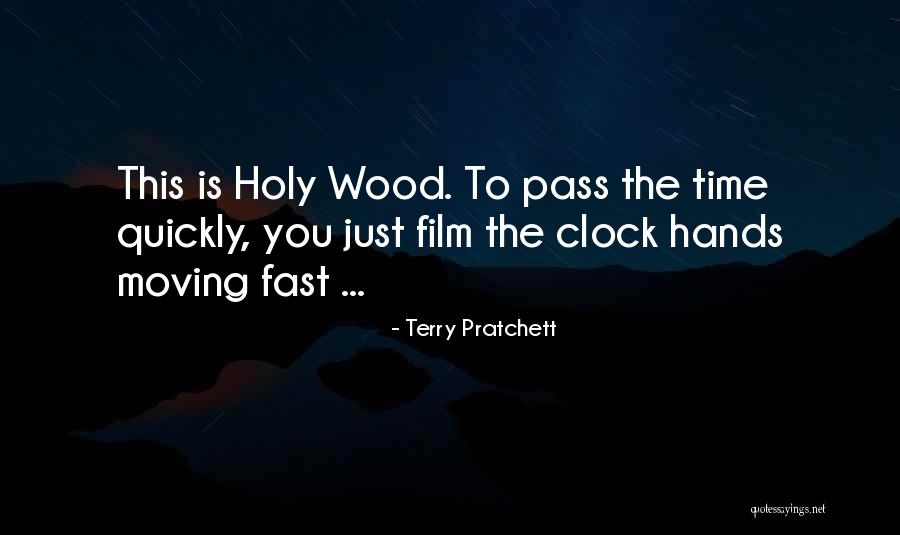 This is Holy Wood. To pass the time quickly, you just film the clock hands moving fast ... — Terry Pratchett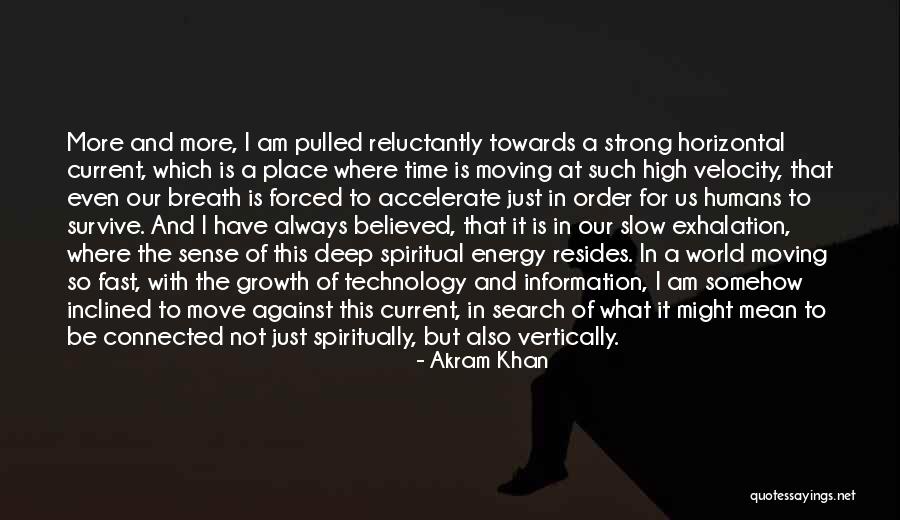 More and more, I am pulled reluctantly towards a strong horizontal current, which is a place where time is moving at such high velocity, that even our breath is forced to accelerate just in order for us humans to survive. And I have always believed, that it is in our slow exhalation, where the sense of this deep spiritual energy resides. In a world moving so fast, with the growth of technology and information, I am somehow inclined to move against this current, in search of what it might mean to be connected not just spiritually, but also vertically. — Akram Khan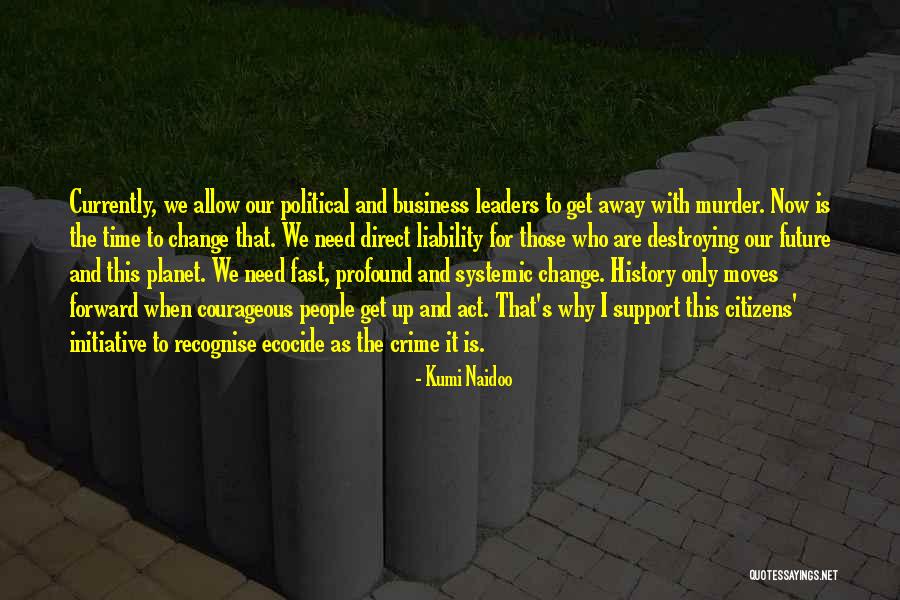 Currently, we allow our political and business leaders to get away with murder. Now is the time to change that. We need direct liability for those who are destroying our future and this planet. We need fast, profound and systemic change. History only moves forward when courageous people get up and act. That's why I support this citizens' initiative to recognise ecocide as the crime it is. — Kumi Naidoo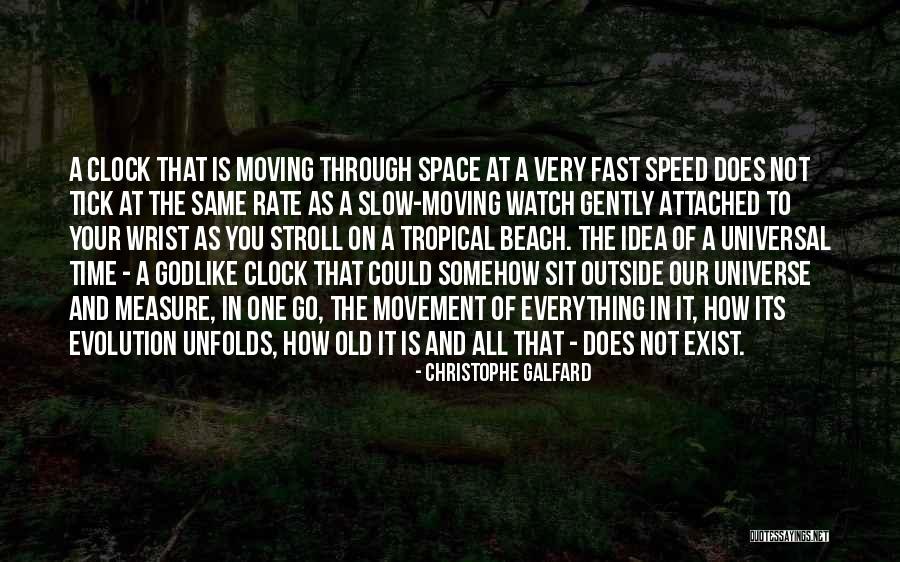 A clock that is moving through space at a very fast speed does not tick at the same rate as a slow-moving watch gently attached to your wrist as you stroll on a tropical beach. The idea of a universal time - a godlike clock that could somehow sit outside our universe and measure, in one go, the movement of everything in it, how its evolution unfolds, how old it is and all that - does not exist. — Christophe Galfard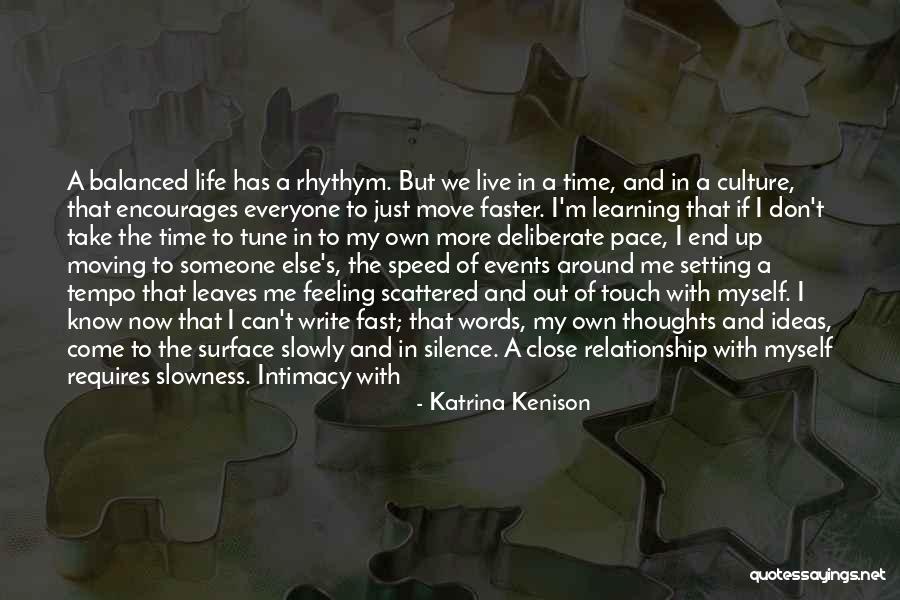 A balanced life has a rhythym. But we live in a time, and in a culture, that encourages everyone to just move faster. I'm learning that if I don't take the time to tune in to my own more deliberate pace, I end up moving to someone else's, the speed of events around me setting a tempo that leaves me feeling scattered and out of touch with myself. I know now that I can't write fast; that words, my own thoughts and ideas, come to the surface slowly and in silence. A close relationship with myself requires slowness. Intimacy with my husband and guarded teenage sons requires slowness. A good conversation can't be hurried, it needs time in which to meander its way to revelation and insight. Even cooking dinner with care and attention is slow work. A thoughtful life is not rushed. — Katrina Kenison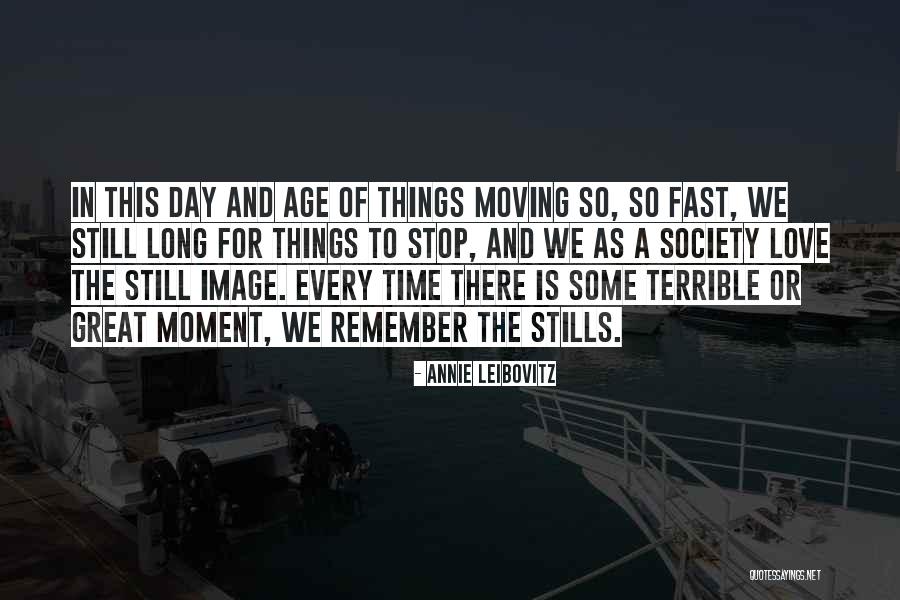 In this day and age of things moving so, so fast, we still long for things to stop, and we as a society love the still image. Every time there is some terrible or great moment, we remember the stills. — Annie Leibovitz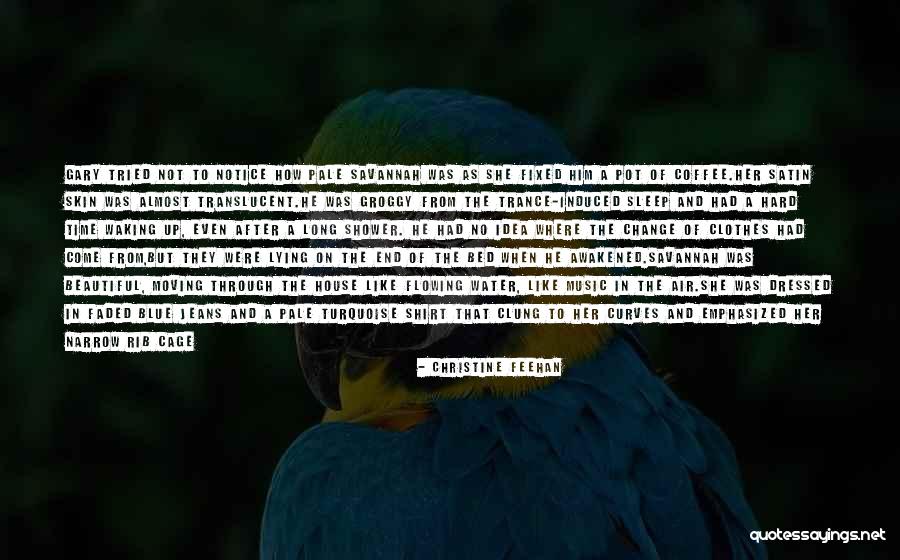 Gary tried not to notice how pale Savannah was as she fixed him a pot of coffee.Her satin skin was almost translucent.He was groggy from the trance-induced sleep and had a hard time waking up, even after a long shower. He had no idea where the change of clothes had come from,but they were lying on the end of the bed when he awakened.
Savannah was beautiful, moving through the house like flowing water, like music in the air.She was dressed in faded blue jeans and a pale turquoise shirt that clung to her curves and emphasized her narrow rib cage and small waist.Her long hair was pulled back in a thick braid that hung below her bottom.Gary tried to keep his eyes to himself.He hadn't seen any evidence of Gregori this evening,but he didn't want to take any chances.He had a feeling the one thing that could change that remote expression fast was to have another man ogling Savannah. — Christine Feehan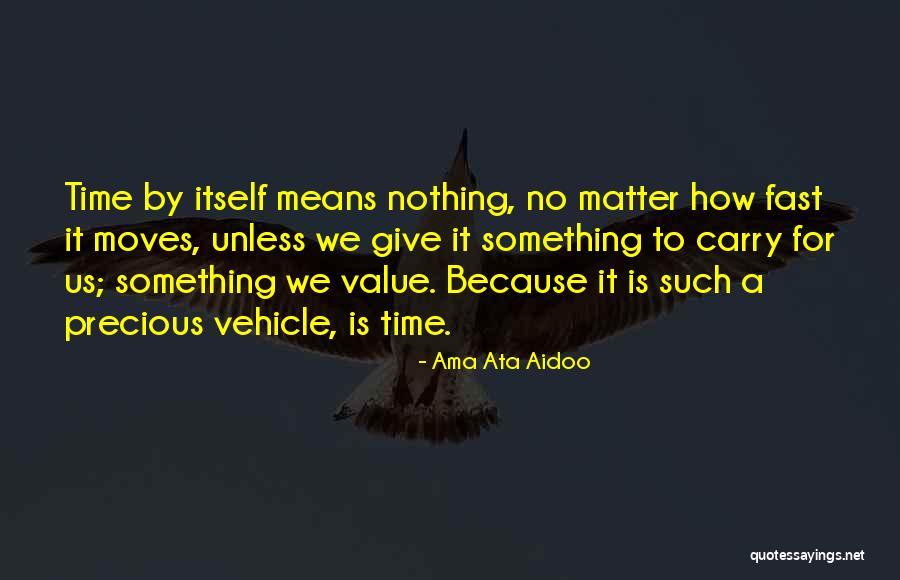 Time by itself means nothing, no matter how fast it moves, unless we give it something to carry for us; something we value. Because it is such a precious vehicle, is time. — Ama Ata Aidoo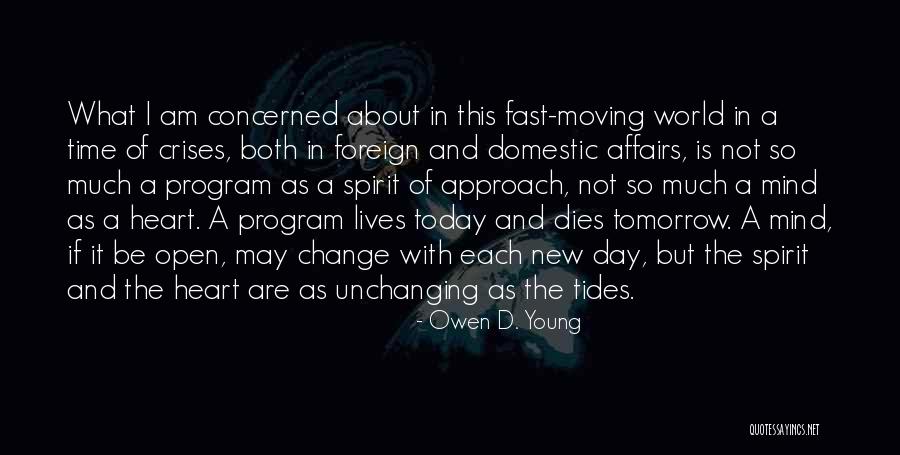 What I am concerned about in this fast-moving world in a time of crises, both in foreign and domestic affairs, is not so much a program as a spirit of approach, not so much a mind as a heart. A program lives today and dies tomorrow. A mind, if it be open, may change with each new day, but the spirit and the heart are as unchanging as the tides. — Owen D. Young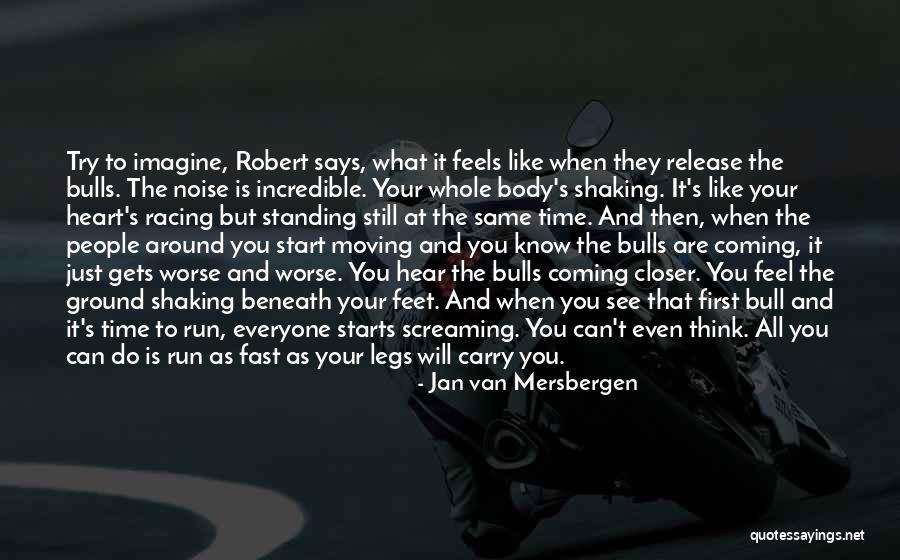 Try to imagine, Robert says, what it feels like when they release the bulls. The noise is incredible. Your whole body's shaking. It's like your heart's racing but standing still at the same time. And then, when the people around you start moving and you know the bulls are coming, it just gets worse and worse. You hear the bulls coming closer. You feel the ground shaking beneath your feet. And when you see that first bull and it's time to run, everyone starts screaming. You can't even think. All you can do is run as fast as your legs will carry you. — Jan Van Mersbergen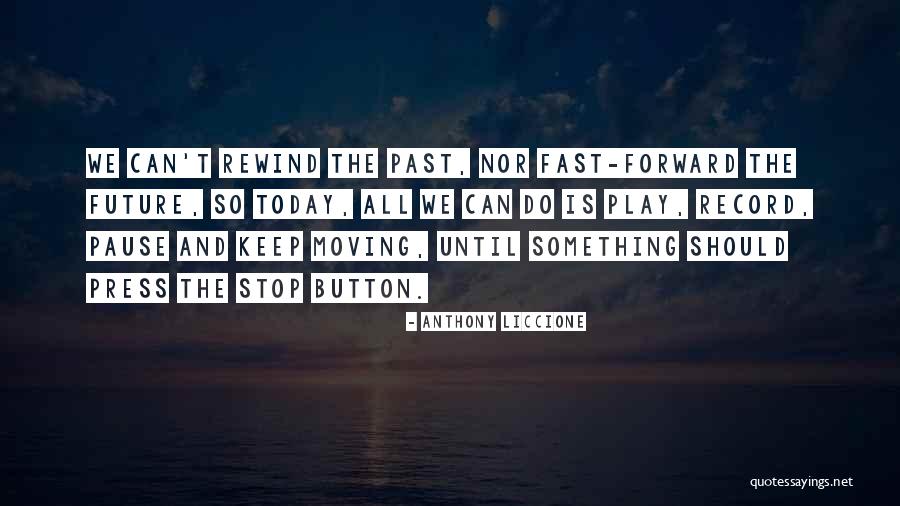 We can't rewind the past, nor fast-forward the future, so today, all we can do is play, record, pause and keep moving, until something should press the stop button. — Anthony Liccione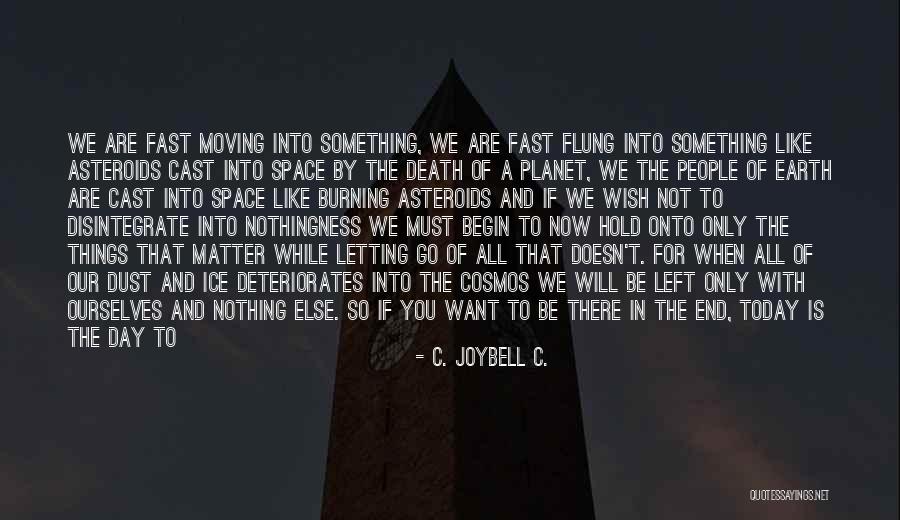 We are fast moving into something, we are fast flung into something like asteroids cast into space by the death of a planet, we the people of earth are cast into space like burning asteroids and if we wish not to disintegrate into nothingness we must begin to now hold onto only the things that matter while letting go of all that doesn't. For when all of our dust and ice deteriorates into the cosmos we will be left only with ourselves and nothing else. So if you want to be there in the end, today is the day to start holding onto your children, holding onto your loved ones; onto those who share your soul. Harbor and anchor into your heart justice, truth, courage, bravery, belief, a firm vision, a steadfast and sound mind. Be the person of meaningful and valuable thoughts. Don't look to the left, don't look to the right; we simply don't have the time. Never be afraid of fear. — C. JoyBell C.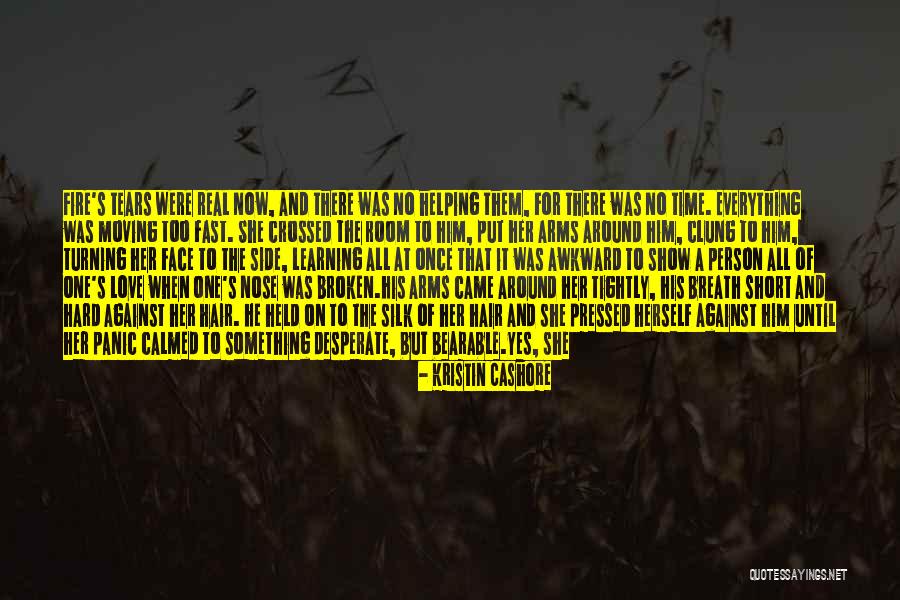 Fire's tears were real now, and there was no helping them, for there was no time. Everything was moving too fast. She crossed the room to him, put her arms around him, clung to him, turning her face to the side, learning all at once that it was awkward to show a person all of one's love when one's nose was broken.
His arms came around her tightly, his breath short and hard against her hair. He held on to the silk of her hair and she pressed herself against him until her panic calmed to something desperate, but bearable.
Yes, she thought to him, understanding now what he'd been about to ask. If you die in the war, I'll keep Hanna in my heart. I promise I won't leave her. — Kristin Cashore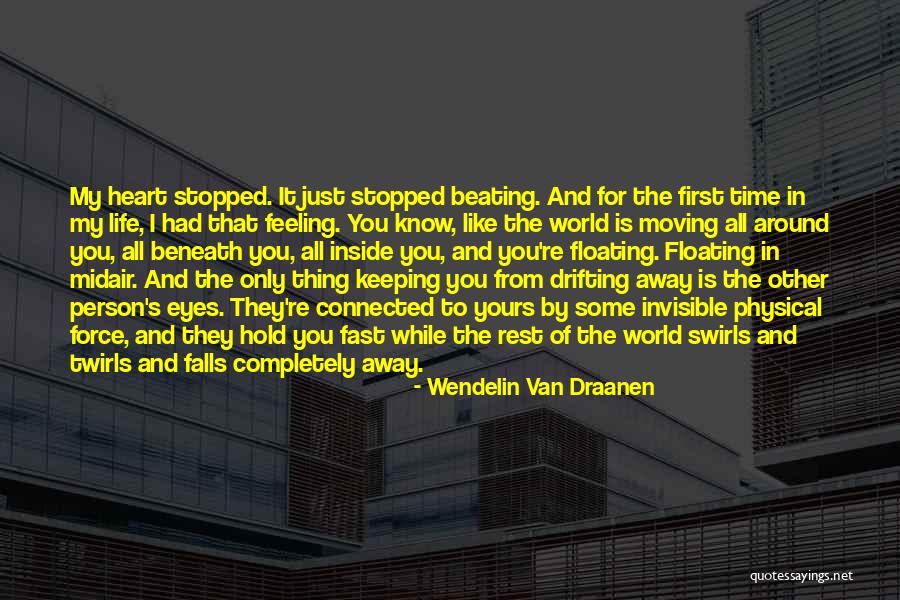 My heart stopped. It just stopped beating. And for the first time in my life, I had that feeling. You know, like the world is moving all around you, all beneath you, all inside you, and you're floating. Floating in midair. And the only thing keeping you from drifting away is the other person's eyes. They're connected to yours by some invisible physical force, and they hold you fast while the rest of the world swirls and twirls and falls completely away. — Wendelin Van Draanen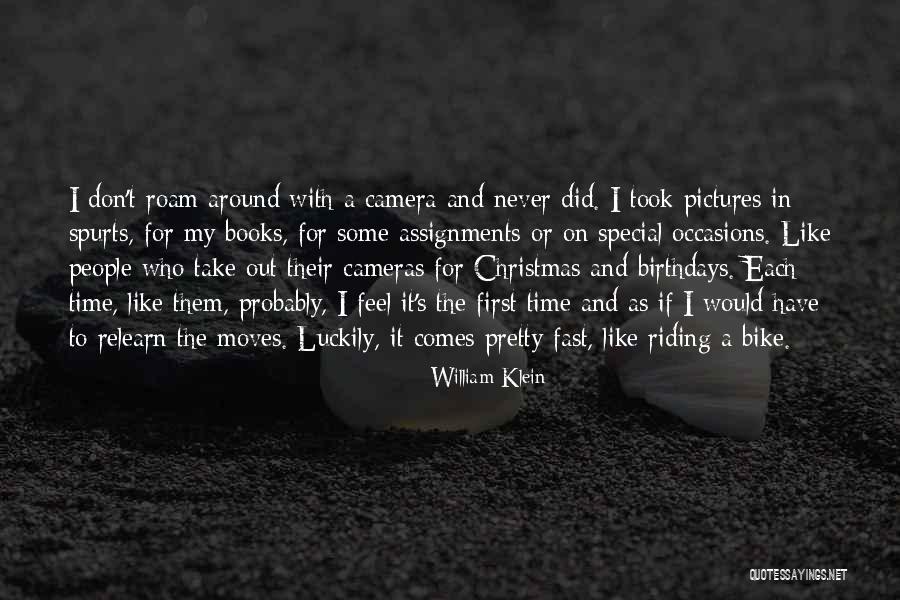 I don't roam around with a camera and never did. I took pictures in spurts, for my books, for some assignments or on special occasions. Like people who take out their cameras for Christmas and birthdays. Each time, like them, probably, I feel it's the first time and as if I would have to relearn the moves. Luckily, it comes pretty fast, like riding a bike. — William Klein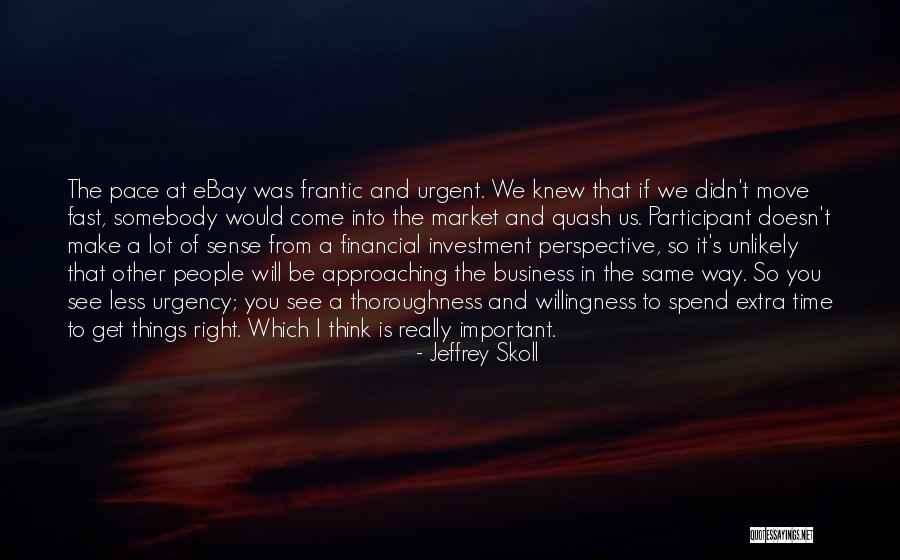 The pace at eBay was frantic and urgent. We knew that if we didn't move fast, somebody would come into the market and quash us. Participant doesn't make a lot of sense from a financial investment perspective, so it's unlikely that other people will be approaching the business in the same way. So you see less urgency; you see a thoroughness and willingness to spend extra time to get things right. Which I think is really important. — Jeffrey Skoll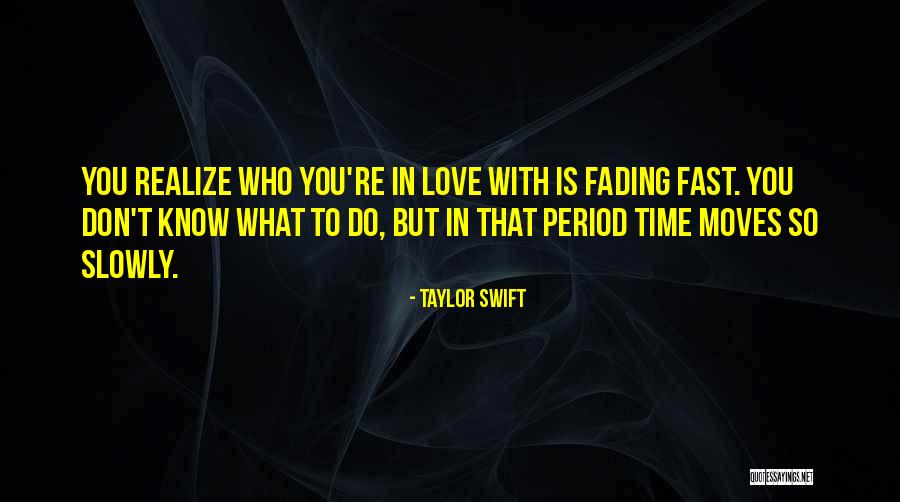 You realize who you're in love with is fading fast. You don't know what to do, but in that period time moves so slowly. — Taylor Swift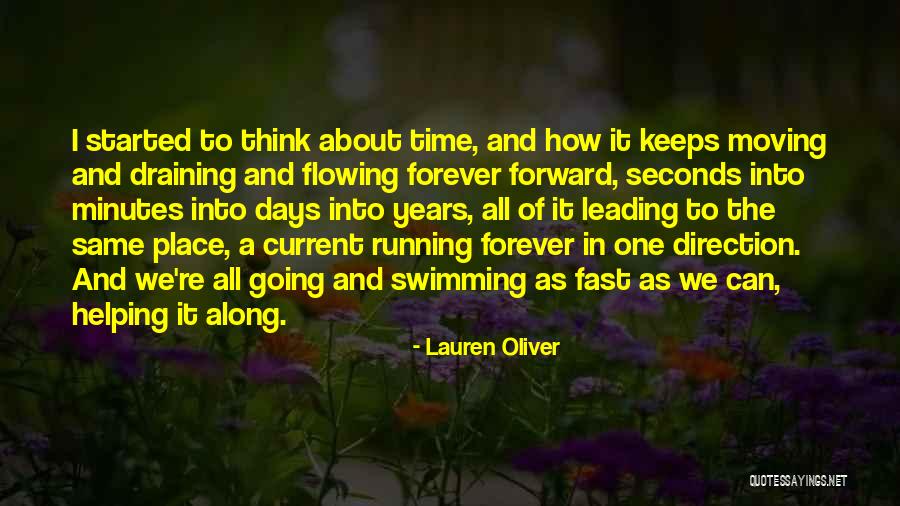 I started to think about time, and how it keeps moving and draining and flowing forever forward, seconds into minutes into days into years, all of it leading to the same place, a current running forever in one direction. And we're all going and swimming as fast as we can, helping it along. — Lauren Oliver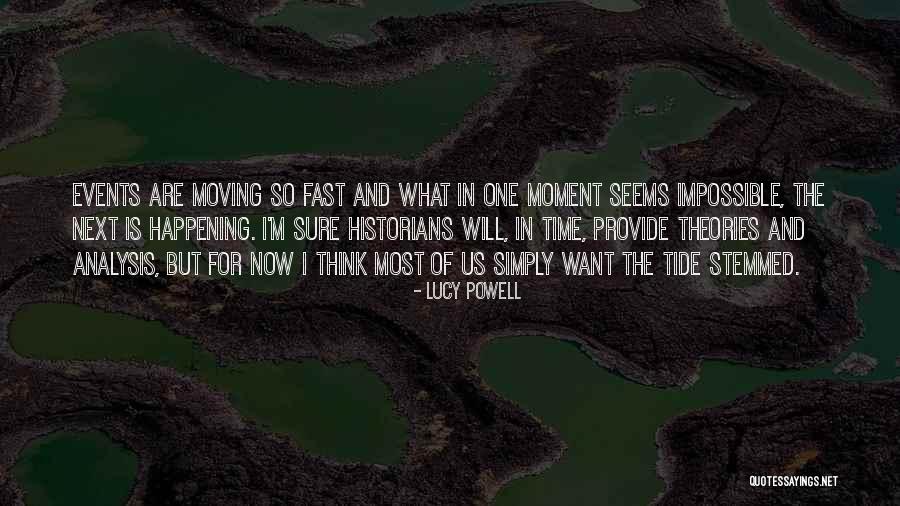 Events are moving so fast and what in one moment seems impossible, the next is happening. I'm sure historians will, in time, provide theories and analysis, but for now I think most of us simply want the tide stemmed. — Lucy Powell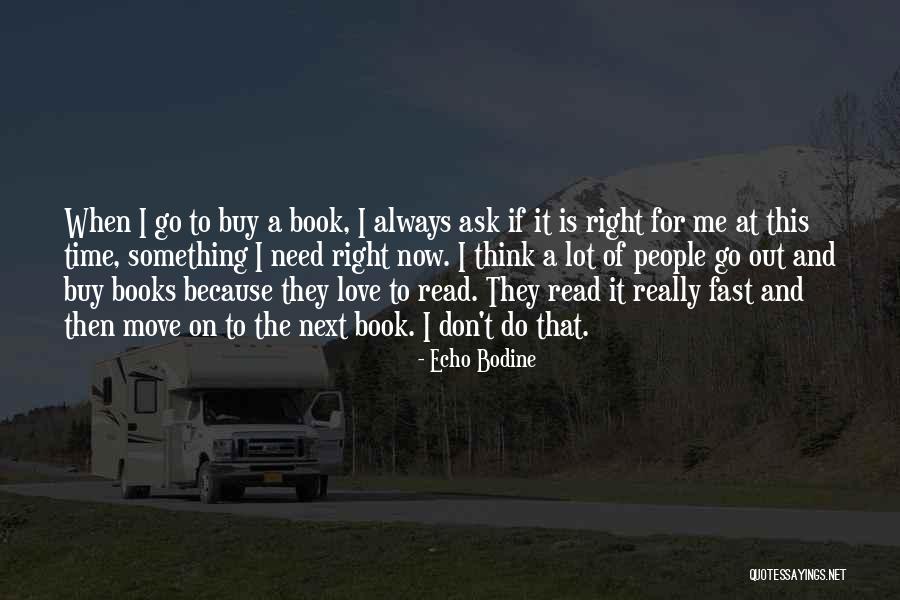 When I go to buy a book, I always ask if it is right for me at this time, something I need right now. I think a lot of people go out and buy books because they love to read. They read it really fast and then move on to the next book. I don't do that. — Echo Bodine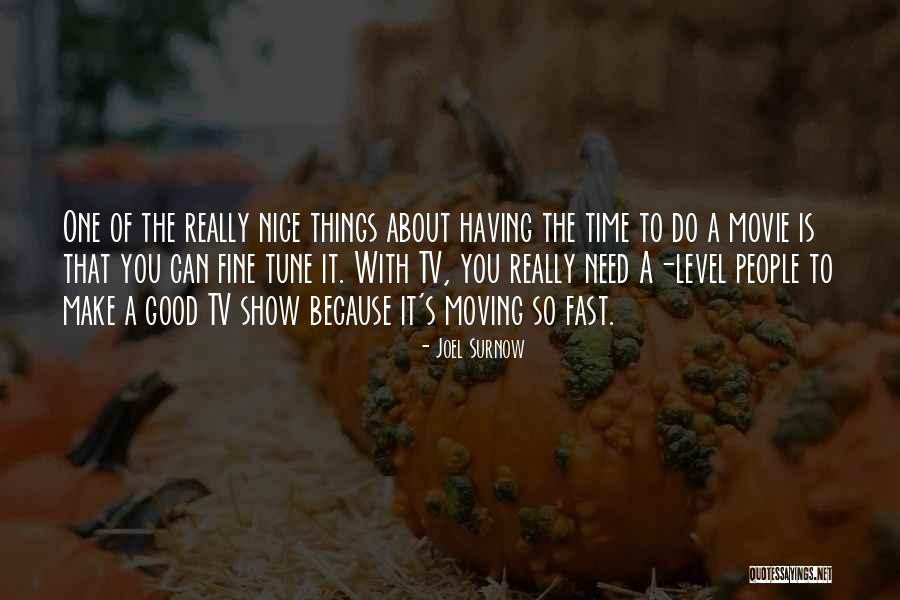 One of the really nice things about having the time to do a movie is that you can fine tune it. With TV, you really need A-level people to make a good TV show because it's moving so fast. — Joel Surnow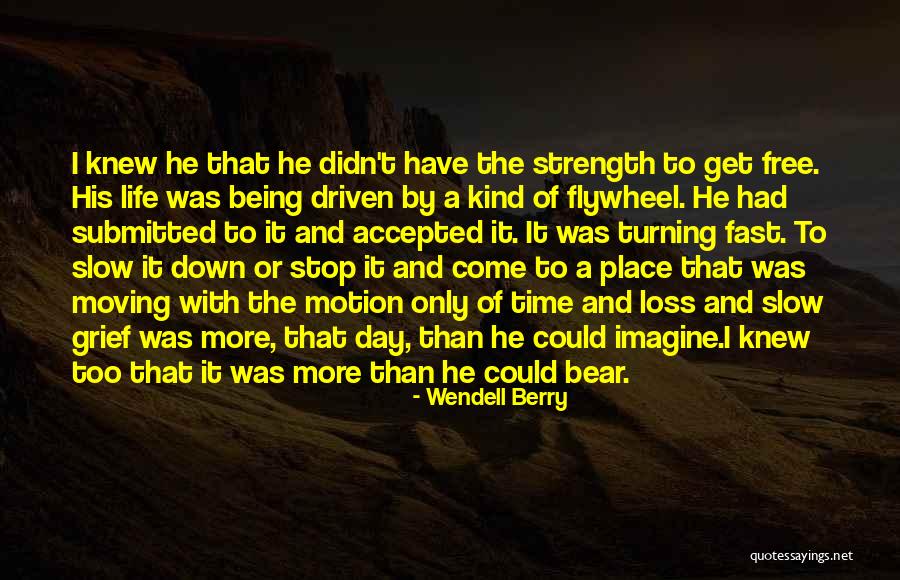 I knew he that he didn't have the strength to get free. His life was being driven by a kind of flywheel. He had submitted to it and accepted it. It was turning fast. To slow it down or stop it and come to a place that was moving with the motion only of time and loss and slow grief was more, that day, than he could imagine.

I knew too that it was more than he could bear. — Wendell Berry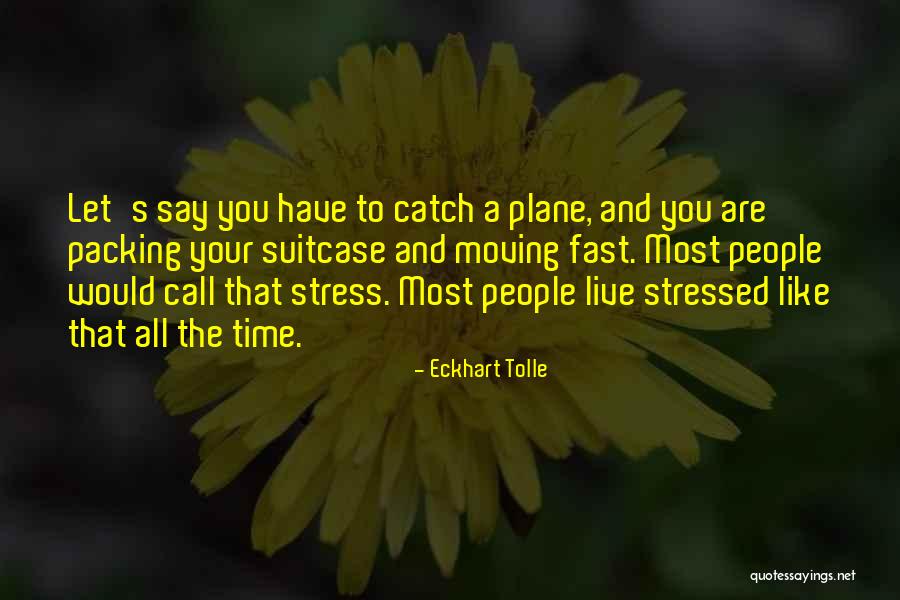 Let's say you have to catch a plane, and you are packing your suitcase and moving fast. Most people would call that stress. Most people live stressed like that all the time. — Eckhart Tolle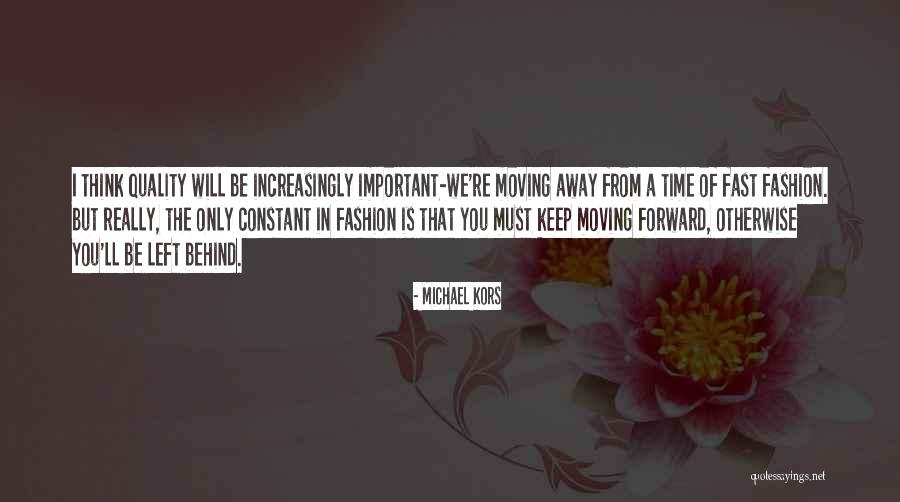 I think quality will be increasingly important-we're moving away from a time of fast fashion. But really, the only constant in fashion is that you must keep moving forward, otherwise you'll be left behind. — Michael Kors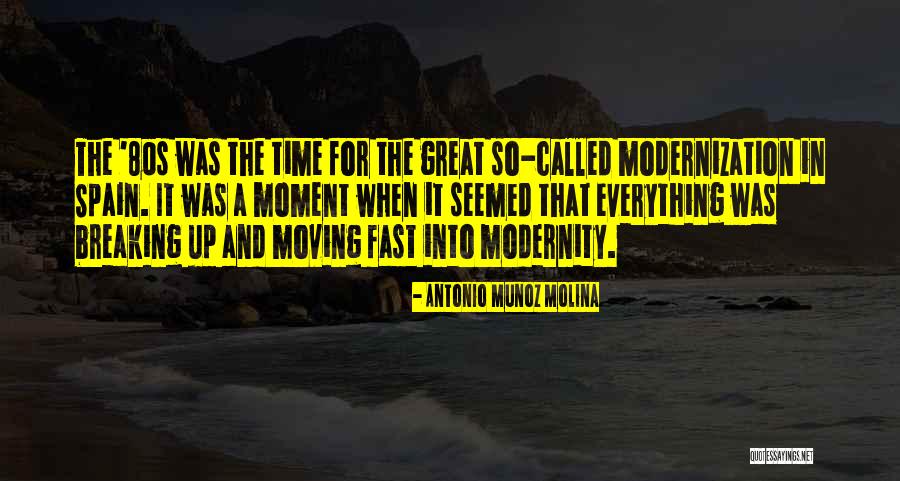 The '80s was the time for the great so-called modernization in Spain. It was a moment when it seemed that everything was breaking up and moving fast into modernity. — Antonio Munoz Molina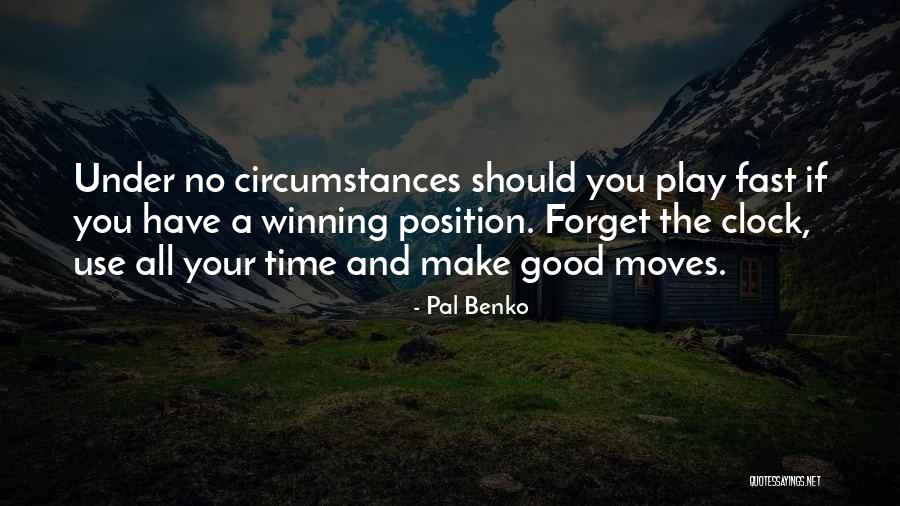 Under no circumstances should you play fast if you have a winning position. Forget the clock, use all your time and make good moves. — Pal Benko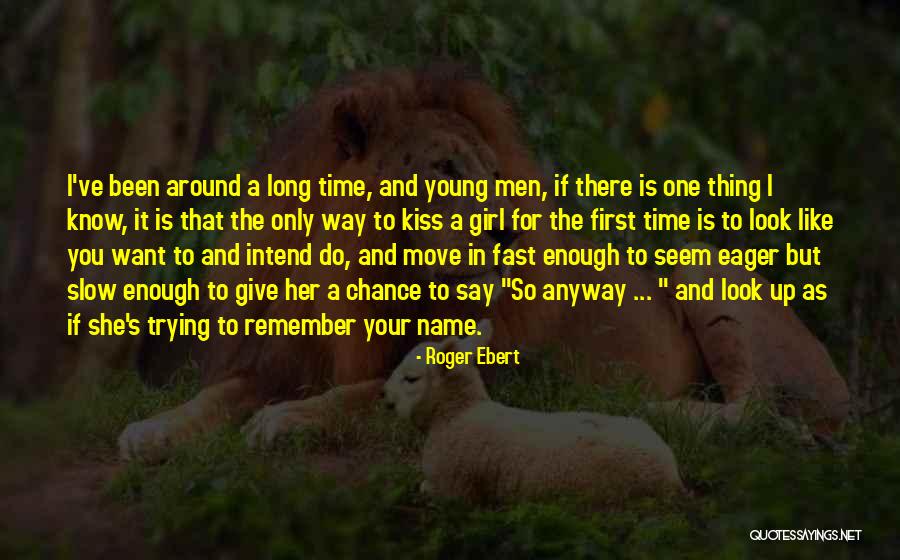 I've been around a long time, and young men, if there is one thing I know, it is that the only way to kiss a girl for the first time is to look like you want to and intend do, and move in fast enough to seem eager but slow enough to give her a chance to say "So anyway ... " and look up as if she's trying to remember your name. — Roger Ebert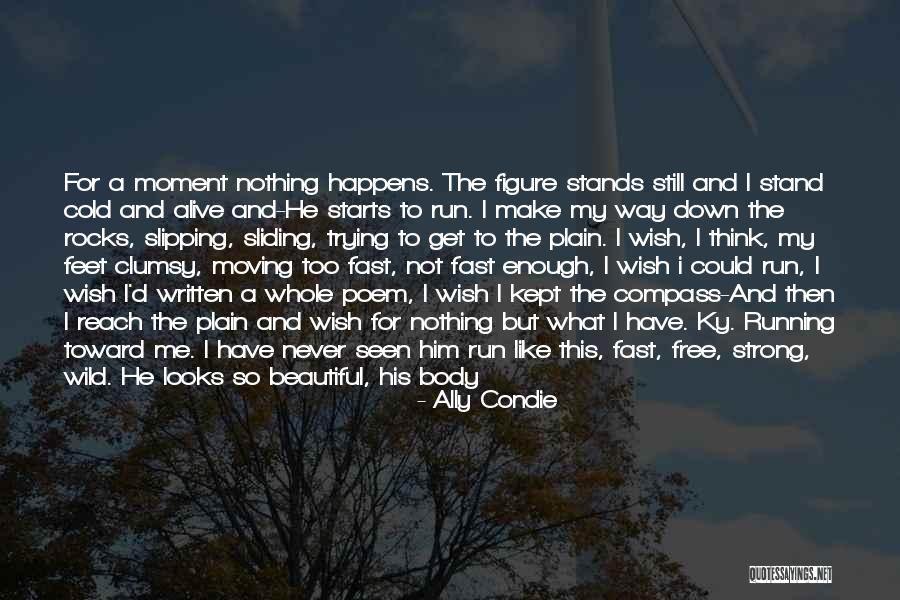 For a moment nothing happens. The figure stands still and I stand cold and alive and-
He starts to run. I make my way down the rocks, slipping, sliding, trying to get to the plain. I wish, I think, my feet clumsy, moving too fast, not fast enough, I wish i could run, I wish I'd written a whole poem, I wish I kept the compass-
And then I reach the plain and wish for nothing but what I have. Ky. Running toward me. I have never seen him run like this, fast, free, strong, wild. He looks so beautiful, his body moves so right. He stops just close enough for me to see the blue of his eyes and forget the red on my hands and the green I wish I wore. "You're here," he says, breathing hard and hungry. sweat and dirt cover his face, and he looks at me as though I'm the only thing he ever needed to see. I open my mouth to say yes. But I only have time to breathe in before he closes the last of the distance. All I know is the kiss. — Ally Condie
It seemed like the world is moving too fast and I wanted it to stop, or at least slow down, so that I could keep up. I wanted the time to wait for me. Then I realized, life goes on, and I have to live with it. — Kcat Yarza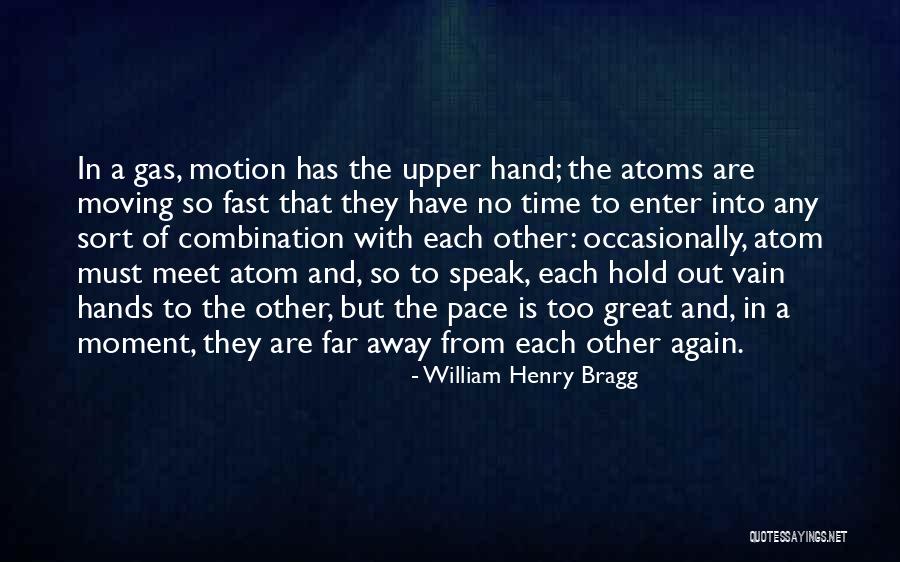 In a gas, motion has the upper hand; the atoms are moving so fast that they have no time to enter into any sort of combination with each other: occasionally, atom must meet atom and, so to speak, each hold out vain hands to the other, but the pace is too great and, in a moment, they are far away from each other again. — William Henry Bragg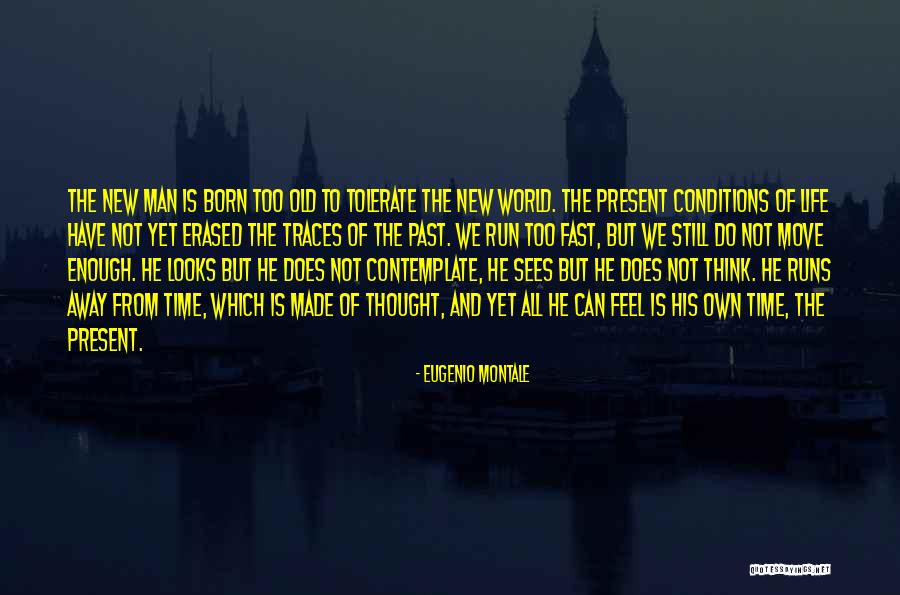 The new man is born too old to tolerate the new world. The present conditions of life have not yet erased the traces of the past. We run too fast, but we still do not move enough. He looks but he does not contemplate, he sees but he does not think. He runs away from time, which is made of thought, and yet all he can feel is his own time, the present. — Eugenio Montale
We're face-to-face with images all the time in a way that we never have been before. Young people need to understand that not all images are out there to be consumed like, you know, fast food and then forgotten. We need to educate them to understand the difference between moving images that engage their humanity and their intelligence, and moving images that are just selling them something. — Martin Scorsese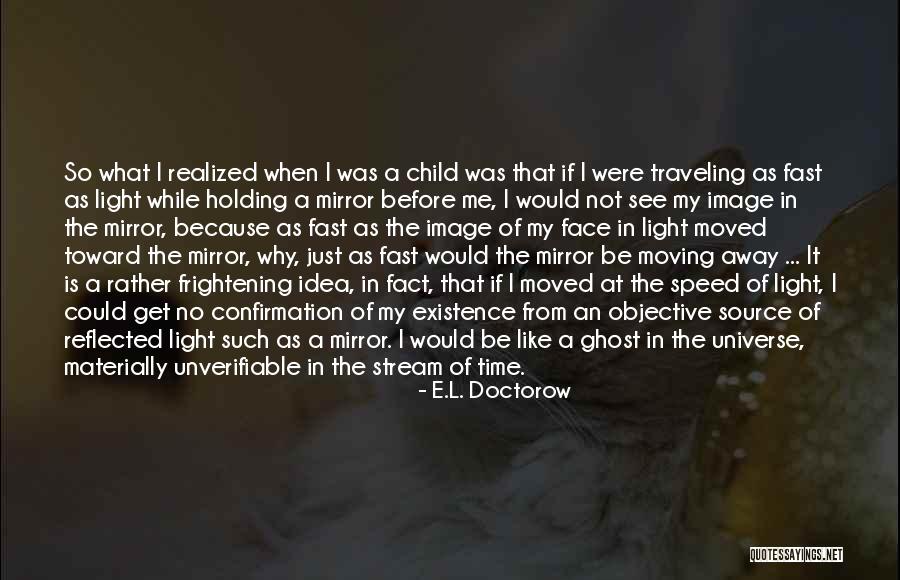 So what I realized when I was a child was that if I were traveling as fast as light while holding a mirror before me, I would not see my image in the mirror, because as fast as the image of my face in light moved toward the mirror, why, just as fast would the mirror be moving away ... It is a rather frightening idea, in fact, that if I moved at the speed of light, I could get no confirmation of my existence from an objective source of reflected light such as a mirror. I would be like a ghost in the universe, materially unverifiable in the stream of time. — E.L. Doctorow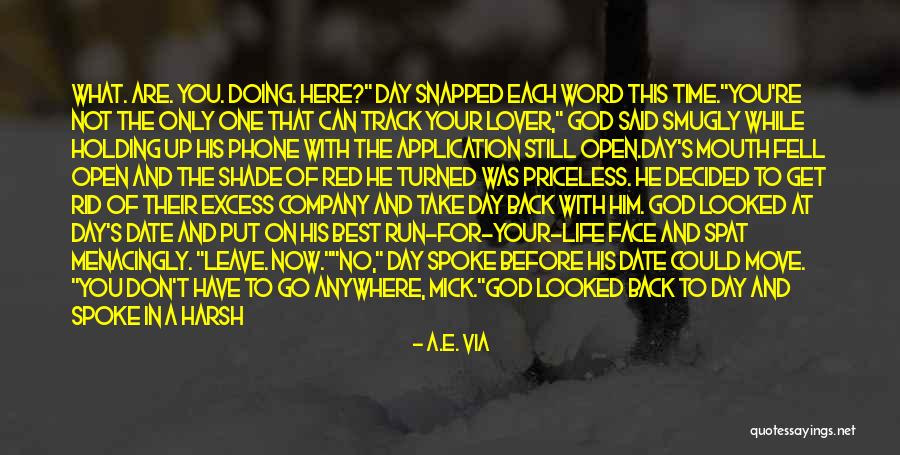 What. Are. You. Doing. Here?" Day snapped each word this time.

"You're not the only one that can track your lover," God said smugly while holding up his phone with the application still open.

Day's mouth fell open and the shade of red he turned was priceless. He decided to get rid of their excess company and take Day back with him. God looked at Day's date and put on his best run-for-your-life face and spat menacingly. "Leave. Now."

"No," Day spoke before his date could move. "You don't have to go anywhere, Mick."

God looked back to Day and spoke in a harsh growl without moving his eyes from his partner's. "Mick, I say leave now. He says to stay. Whatever will you do?"

Mick turned and ran so fast his image turned into a blur.
"That takes care of that," God said.

Day pushed God out of his space and turned to walk away without another word. — A.E. Via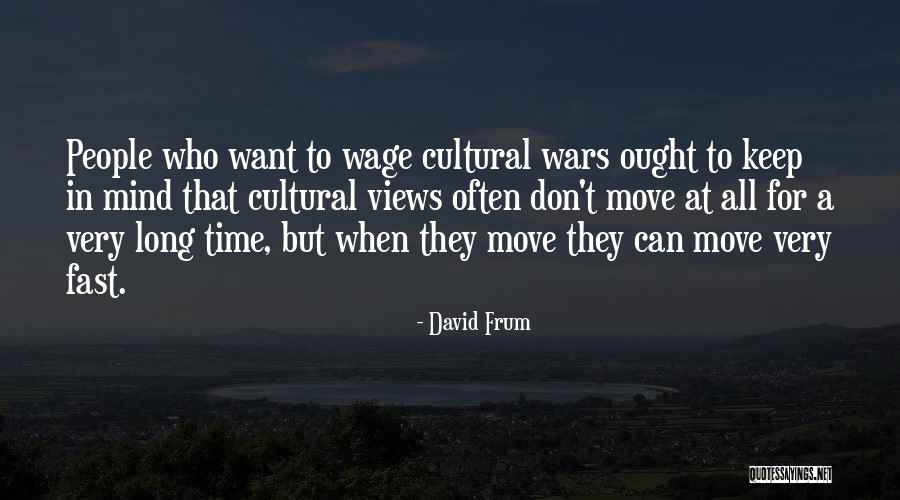 People who want to wage cultural wars ought to keep in mind that cultural views often don't move at all for a very long time, but when they move they can move very fast. — David Frum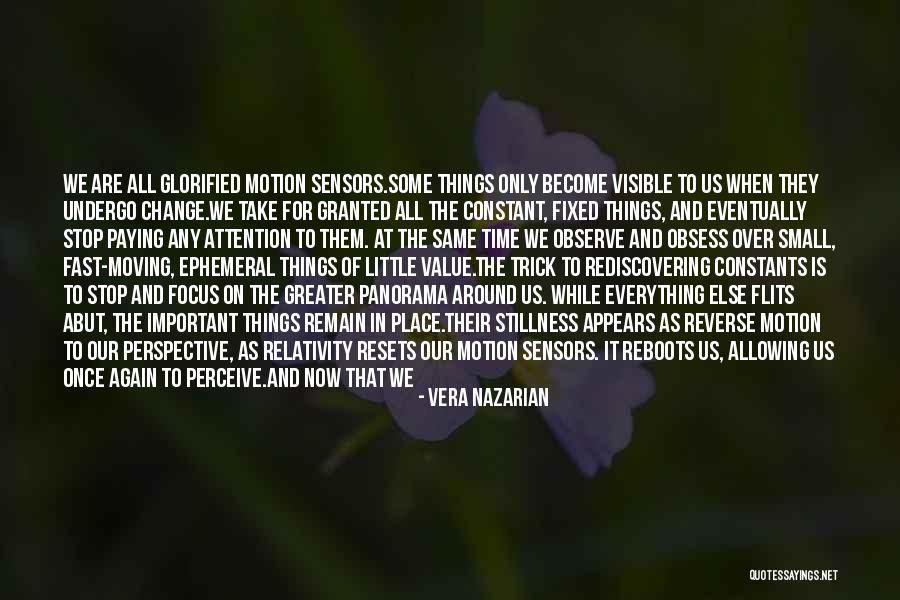 We are all glorified motion sensors.
Some things only become visible to us when they undergo change.
We take for granted all the constant, fixed things, and eventually stop paying any attention to them. At the same time we observe and obsess over small, fast-moving, ephemeral things of little value.
The trick to rediscovering constants is to stop and focus on the greater panorama around us. While everything else flits abut, the important things remain in place.
Their stillness appears as reverse motion to our perspective, as relativity resets our motion sensors. It reboots us, allowing us once again to perceive.
And now that we do see, suddenly we realize that those still things are not so motionless after all. They are simply gliding with slow individualistic grace against the backdrop of the immense universe.
And it takes a more sensitive motion instrument to track this. — Vera Nazarian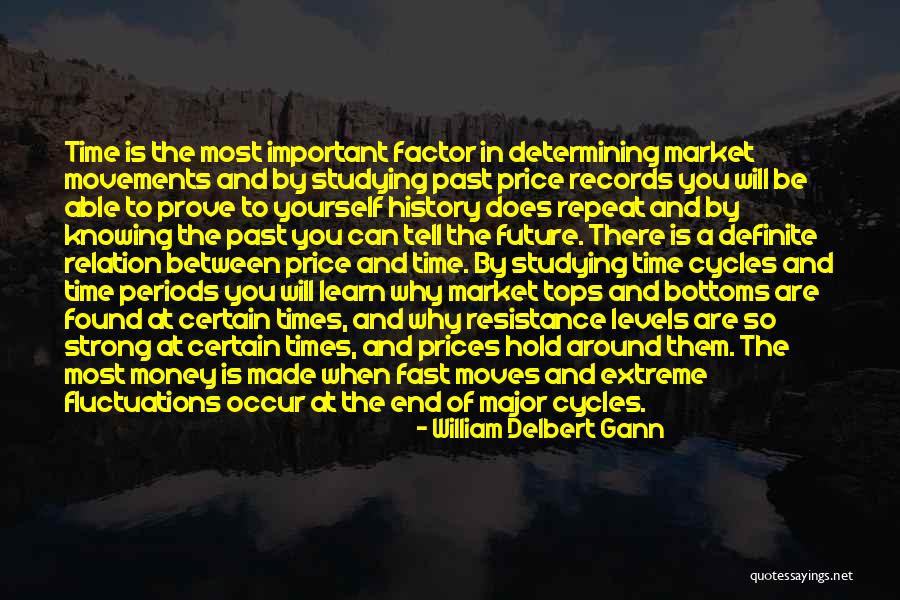 Time is the most important factor in determining market movements and by studying past price records you will be able to prove to yourself history does repeat and by knowing the past you can tell the future. There is a definite relation between price and time. By studying time cycles and time periods you will learn why market tops and bottoms are found at certain times, and why resistance levels are so strong at certain times, and prices hold around them. The most money is made when fast moves and extreme fluctuations occur at the end of major cycles. — William Delbert Gann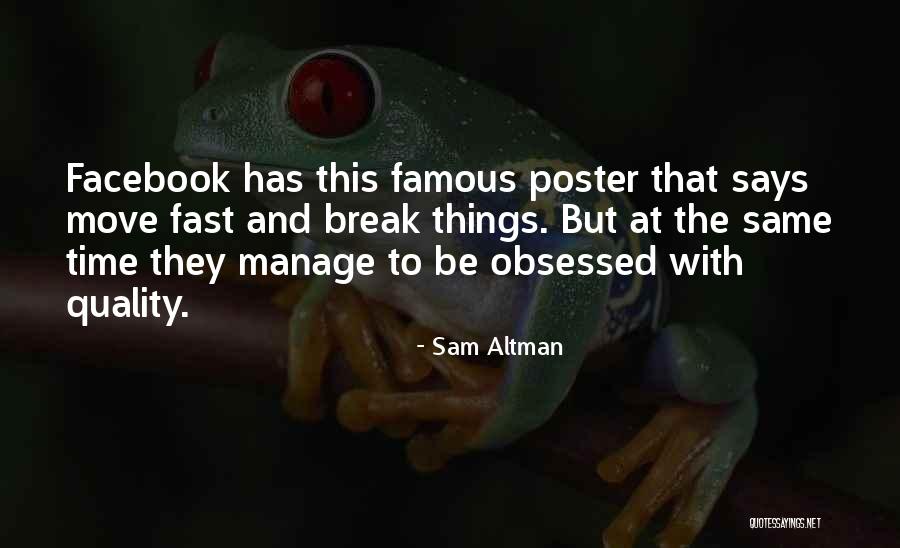 Facebook has this famous poster that says move fast and break things. But at the same time they manage to be obsessed with quality. — Sam Altman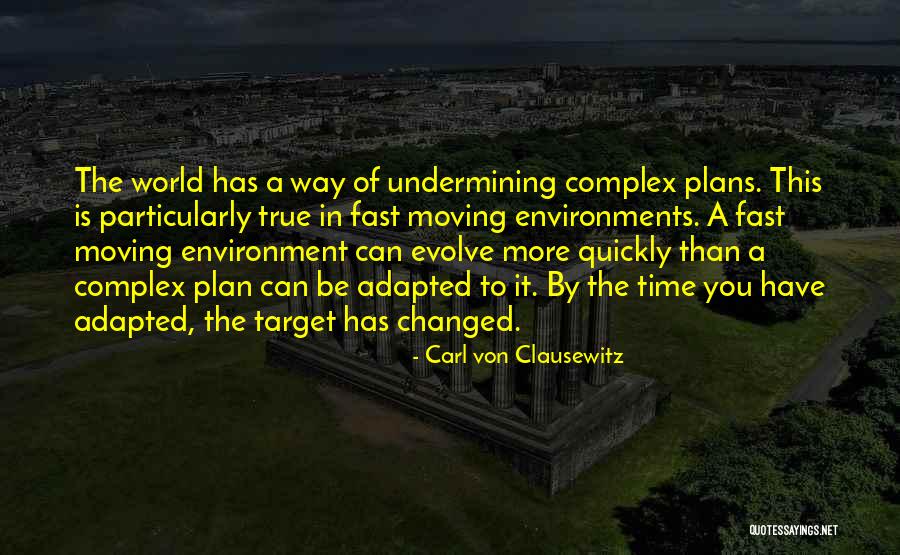 The world has a way of undermining complex plans. This is particularly true in fast moving environments. A fast moving environment can evolve more quickly than a complex plan can be adapted to it. By the time you have adapted, the target has changed. — Carl Von Clausewitz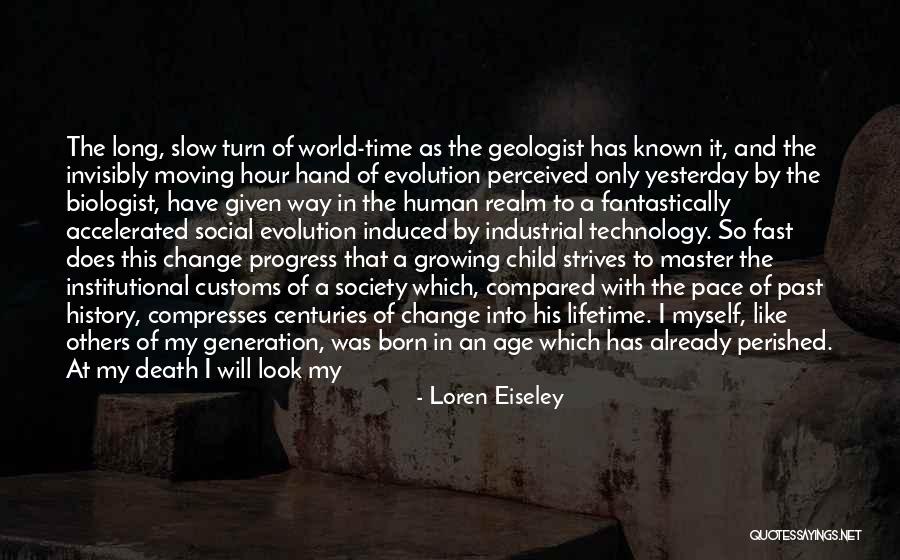 The long, slow turn of world-time as the geologist has known it, and the invisibly moving hour hand of evolution perceived only yesterday by the biologist, have given way in the human realm to a fantastically accelerated social evolution induced by industrial technology. So fast does this change progress that a growing child strives to master the institutional customs of a society which, compared with the pace of past history, compresses centuries of change into his lifetime. I myself, like others of my generation, was born in an age which has already perished. At my death I will look my last upon a nation which, save for some linguistic continuity, will seem increasingly alien and remote. It will be as though I peered upon my youth through misty centuries. I will not be merely old; I will be a genuine fossil embedded in onrushing man-made time before my actual death. — Loren Eiseley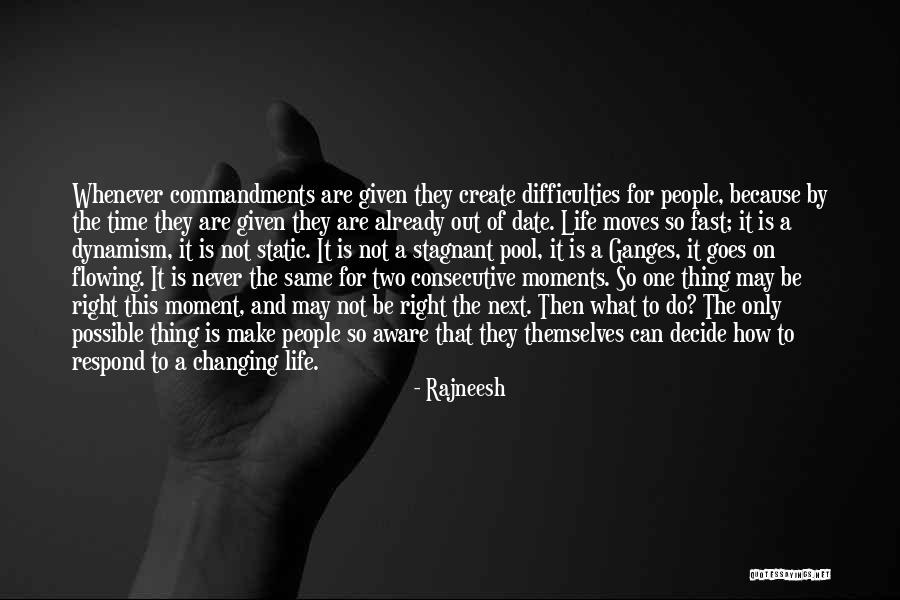 Whenever commandments are given they create difficulties for people, because by the time they are given they are already out of date. Life moves so fast; it is a dynamism, it is not static. It is not a stagnant pool, it is a Ganges, it goes on flowing. It is never the same for two consecutive moments. So one thing may be right this moment, and may not be right the next. Then what to do? The only possible thing is make people so aware that they themselves can decide how to respond to a changing life. — Rajneesh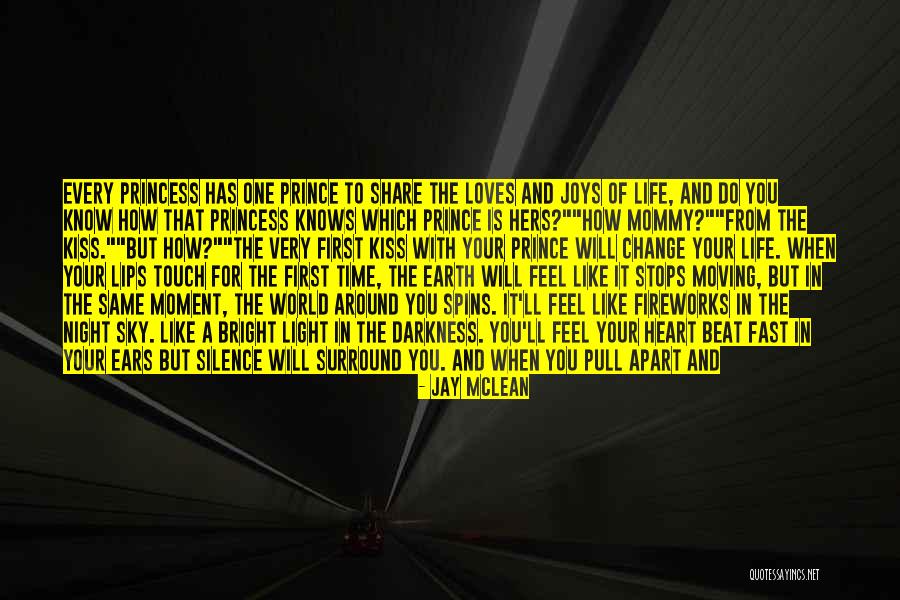 Every Princess has one Prince to share the loves and joys of life, and do you know how that Princess knows which Prince is hers?"
"How Mommy?"
"From the kiss."
"But how?"
"The very first kiss with your Prince will change your life. When your lips touch for the first time, the earth will feel like it stops moving, but in the same moment, the world around you spins. It'll feel like fireworks in the night sky. Like a bright light in the darkness. You'll feel your heart beat fast in your ears but silence will surround you. And when you pull apart and open your eyes and look at each other, and really see each other. You'll know it in that moment, through that kiss, that you've just let someone own a piece of your heart, and you'll live happily ever after. — Jay McLean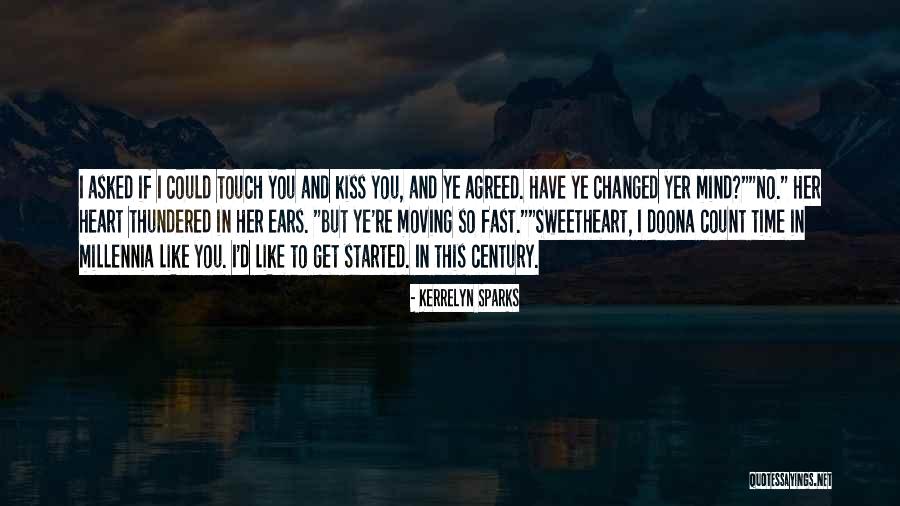 I asked if I could touch you and kiss you, and ye agreed. Have ye changed yer mind?"
"No." Her heart thundered in her ears. "But ye're moving so fast."
"Sweetheart, I doona count time in millennia like you. I'd like to get started. In this century. — Kerrelyn Sparks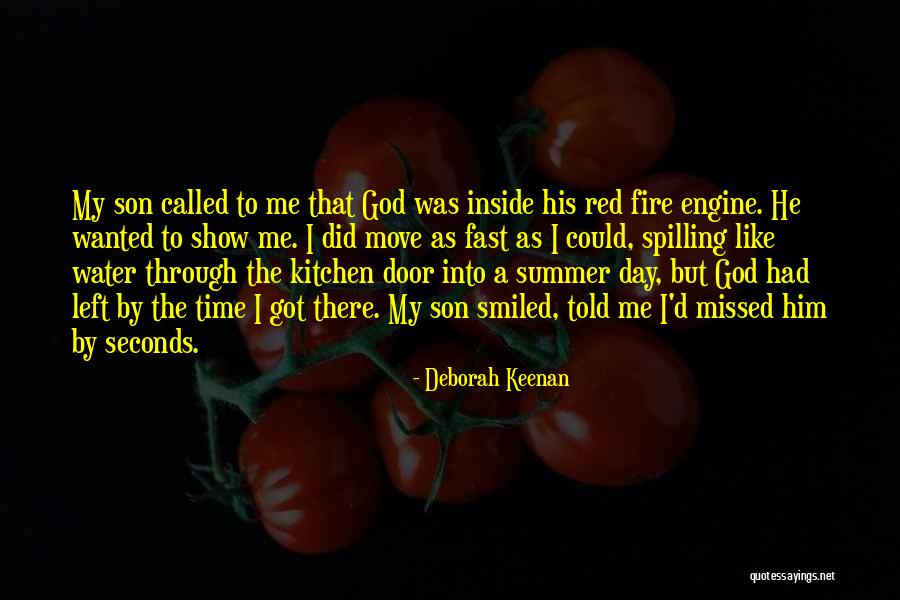 My son called to me that God was inside his red fire engine. He wanted to show me. I did move as fast as I could, spilling like water through the kitchen door into a summer day, but God had left by the time I got there. My son smiled, told me I'd missed him by seconds. — Deborah Keenan