Quotes & Sayings About Signs From God
Enjoy reading and share 42 famous quotes about Signs From God with everyone.
Top Signs From God Quotes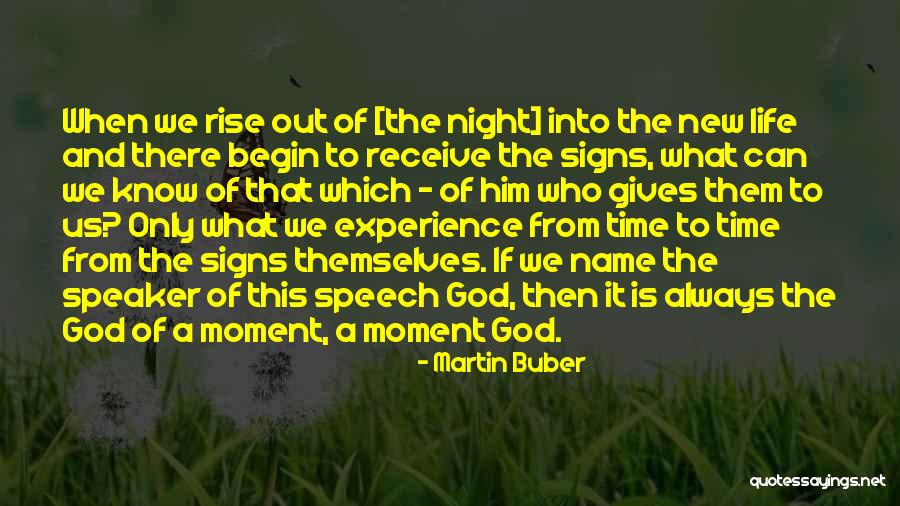 When we rise out of [the night] into the new life and there begin to receive the signs, what can we know of that which - of him who gives them to us? Only what we experience from time to time from the signs themselves. If we name the speaker of this speech God, then it is always the God of a moment, a moment God. — Martin Buber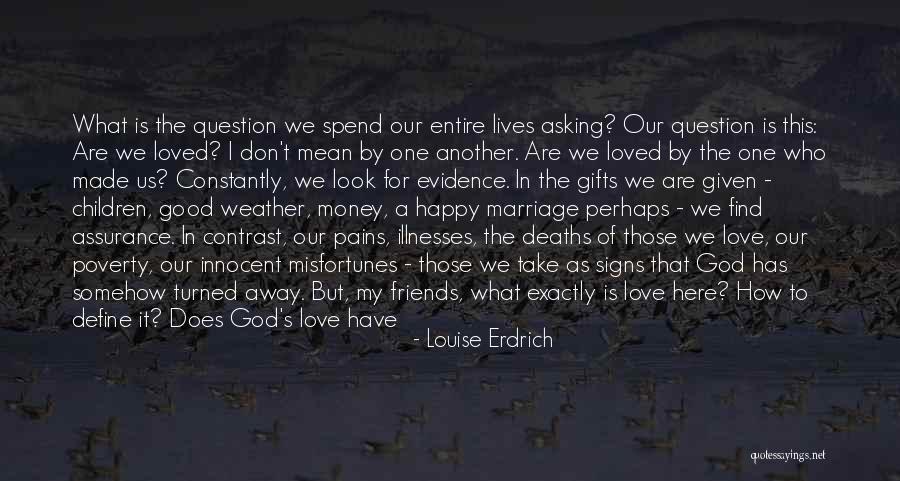 What is the question we spend our entire lives asking? Our question is this: Are we loved? I don't mean by one another. Are we loved by the one who made us? Constantly, we look for evidence. In the gifts we are given - children, good weather, money, a happy marriage perhaps - we find assurance. In contrast, our pains, illnesses, the deaths of those we love, our poverty, our innocent misfortunes - those we take as signs that God has somehow turned away. But, my friends, what exactly is love here? How to define it? Does God's love have anything at all to do with the lack or plethora of good fortune at work in our lives? Or is God's love, perhaps, something very different from what we think we know? — Louise Erdrich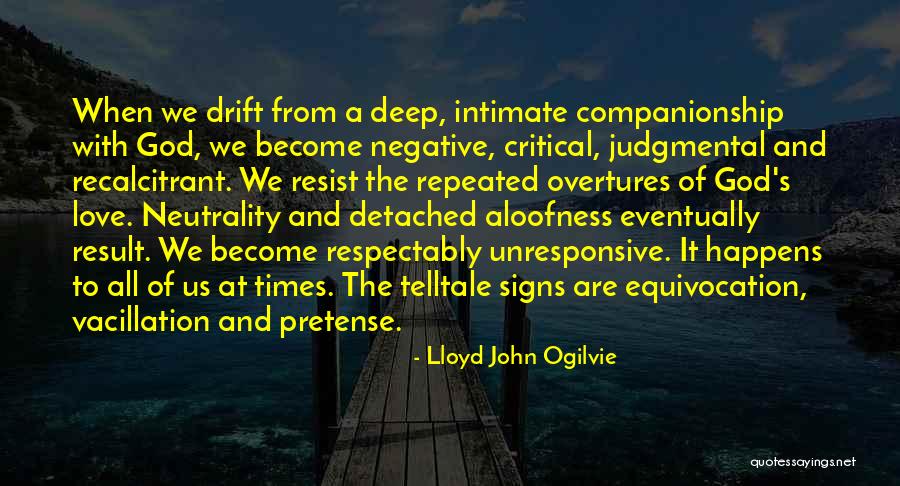 When we drift from a deep, intimate companionship with God, we become negative, critical, judgmental and recalcitrant. We resist the repeated overtures of God's love. Neutrality and detached aloofness eventually result. We become respectably unresponsive. It happens to all of us at times. The telltale signs are equivocation, vacillation and pretense. — Lloyd John Ogilvie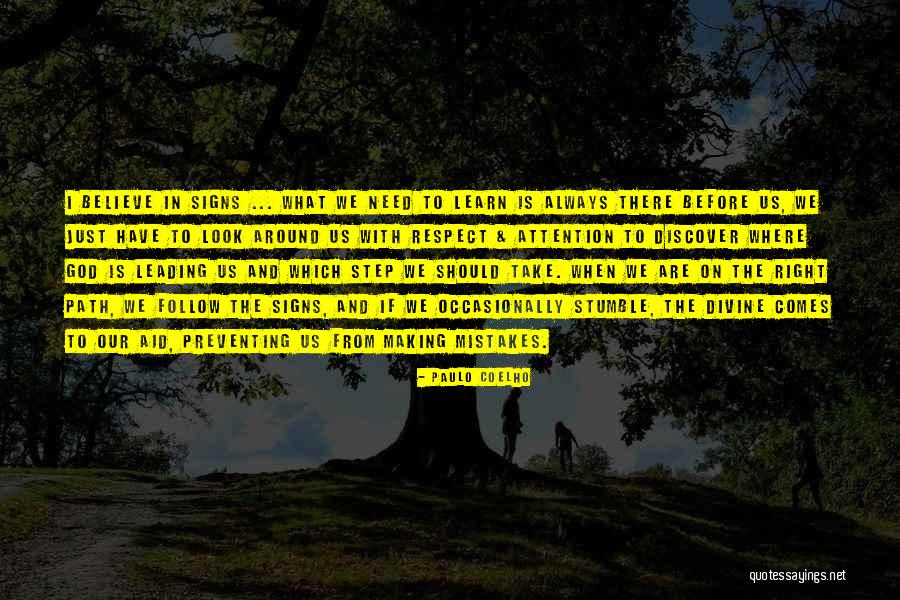 I believe in signs ... what we need to learn is always there before us, we just have to look around us with respect & attention to discover where God is leading us and which step we should take. When we are on the right path, we follow the signs, and if we occasionally stumble, the Divine comes to our aid, preventing us from making mistakes. — Paulo Coelho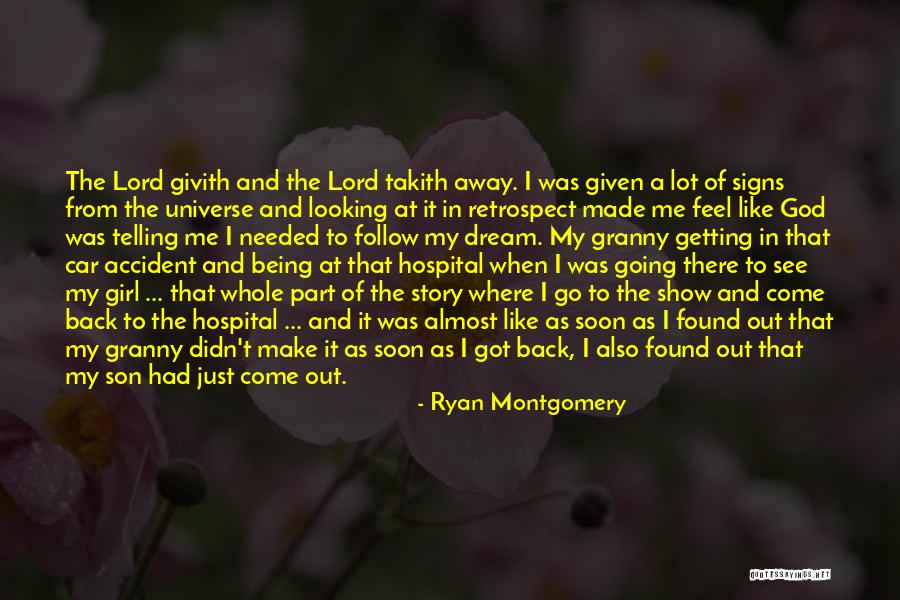 The Lord givith and the Lord takith away. I was given a lot of signs from the universe and looking at it in retrospect made me feel like God was telling me I needed to follow my dream. My granny getting in that car accident and being at that hospital when I was going there to see my girl ... that whole part of the story where I go to the show and come back to the hospital ... and it was almost like as soon as I found out that my granny didn't make it as soon as I got back, I also found out that my son had just come out. — Ryan Montgomery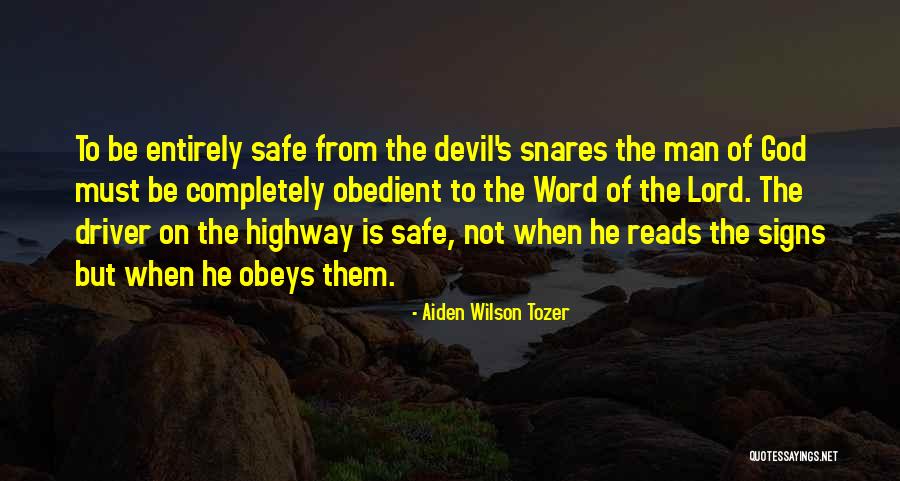 To be entirely safe from the devil's snares the man of God must be completely obedient to the Word of the Lord. The driver on the highway is safe, not when he reads the signs but when he obeys them. — Aiden Wilson Tozer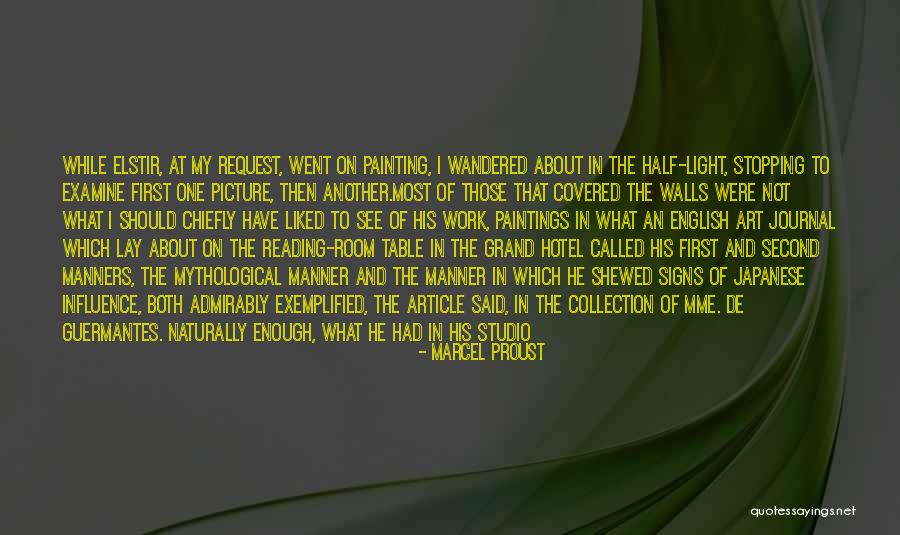 While Elstir, at my request, went on painting, I wandered about in the half-light, stopping to examine first one picture, then another.
Most of those that covered the walls were not what I should chiefly have liked to see of his work, paintings in what an English art journal which lay about on the reading-room table in the Grand Hotel called his first and second manners, the mythological manner and the manner in which he shewed signs of Japanese influence, both admirably exemplified, the article said, in the collection of Mme. de Guermantes. Naturally enough, what he had in his studio were almost all seascapes done here, at Balbec. But I was able to discern from these that the charm of each of them lay in a sort of metamorphosis of the things represented in it, analogous to what in poetry we call metaphor, and that, if God the Father had created things by naming them, it was by taking away their names or giving them other names that Elstir created them anew. — Marcel Proust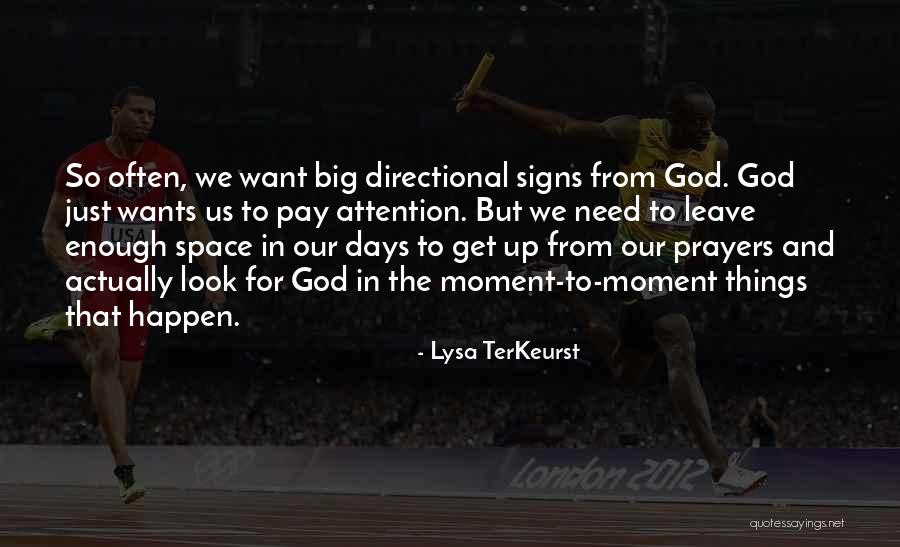 So often, we want big directional signs from God. God just wants us to pay attention. But we need to leave enough space in our days to get up from our prayers and actually look for God in the moment-to-moment things that happen. — Lysa TerKeurst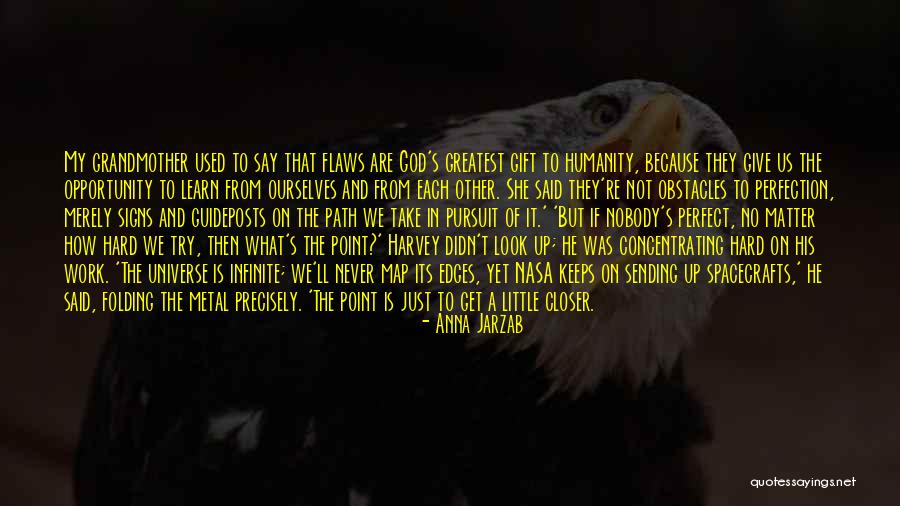 My grandmother used to say that flaws are God's greatest gift to humanity, because they give us the opportunity to learn from ourselves and from each other. She said they're not obstacles to perfection, merely signs and guideposts on the path we take in pursuit of it.'
'But if nobody's perfect, no matter how hard we try, then what's the point?'
Harvey didn't look up; he was concentrating hard on his work. 'The universe is infinite; we'll never map its edges, yet NASA keeps on sending up spacecrafts,' he said, folding the metal precisely. 'The point is just to get a little closer. — Anna Jarzab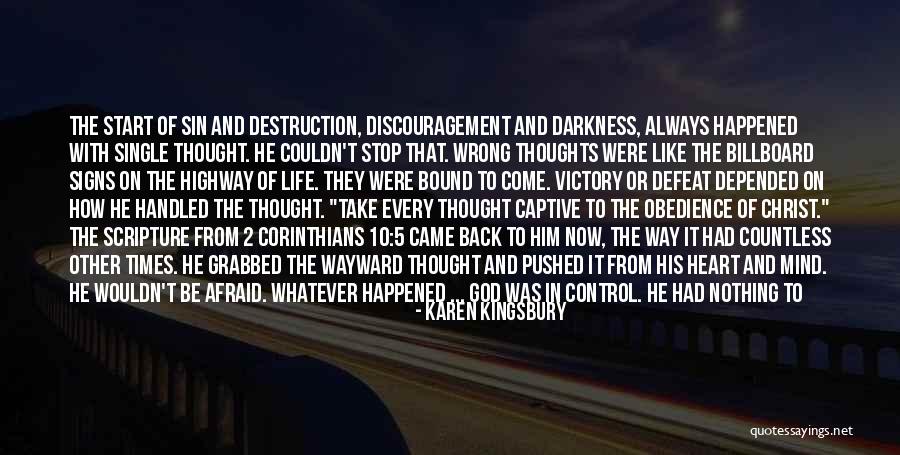 The start of sin and destruction, discouragement and darkness, always happened with single thought. He couldn't stop that. Wrong thoughts were like the billboard signs on the highway of life. They were bound to come. Victory or defeat depended on how he handled the thought. "Take every thought captive to the obedience of Christ." The scripture from 2 Corinthians 10:5 came back to him now, the way it had countless other times. He grabbed the wayward thought and pushed it from his heart and mind. He wouldn't be afraid. Whatever happened ... God was in control. He had nothing to fear. The Lord had worked a miracle to this point. He wasn't finished yet. — Karen Kingsbury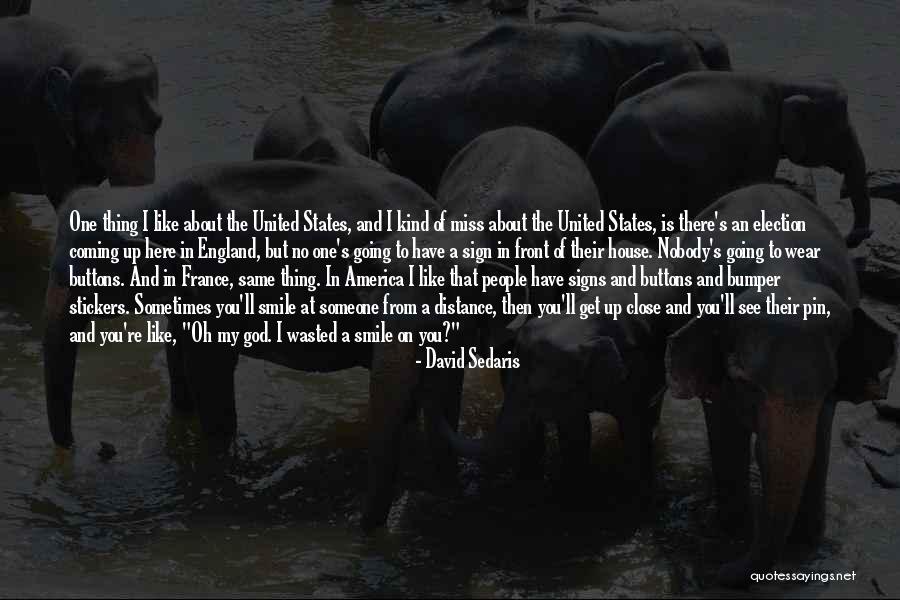 One thing I like about the United States, and I kind of miss about the United States, is there's an election coming up here in England, but no one's going to have a sign in front of their house. Nobody's going to wear buttons. And in France, same thing. In America I like that people have signs and buttons and bumper stickers. Sometimes you'll smile at someone from a distance, then you'll get up close and you'll see their pin, and you're like, "Oh my god. I wasted a smile on you?" — David Sedaris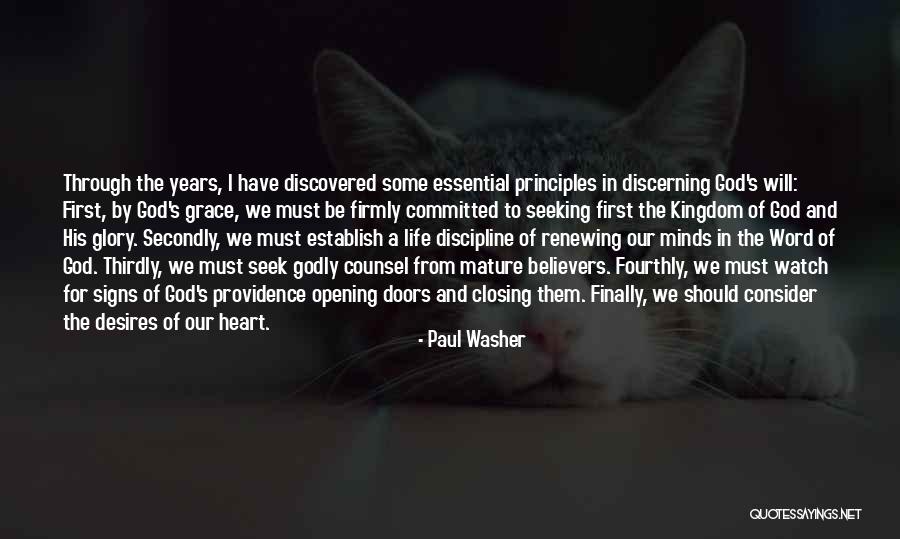 Through the years, I have discovered some essential principles in discerning God's will: First, by God's grace, we must be firmly committed to seeking first the Kingdom of God and His glory. Secondly, we must establish a life discipline of renewing our minds in the Word of God. Thirdly, we must seek godly counsel from mature believers. Fourthly, we must watch for signs of God's providence opening doors and closing them. Finally, we should consider the desires of our heart. — Paul Washer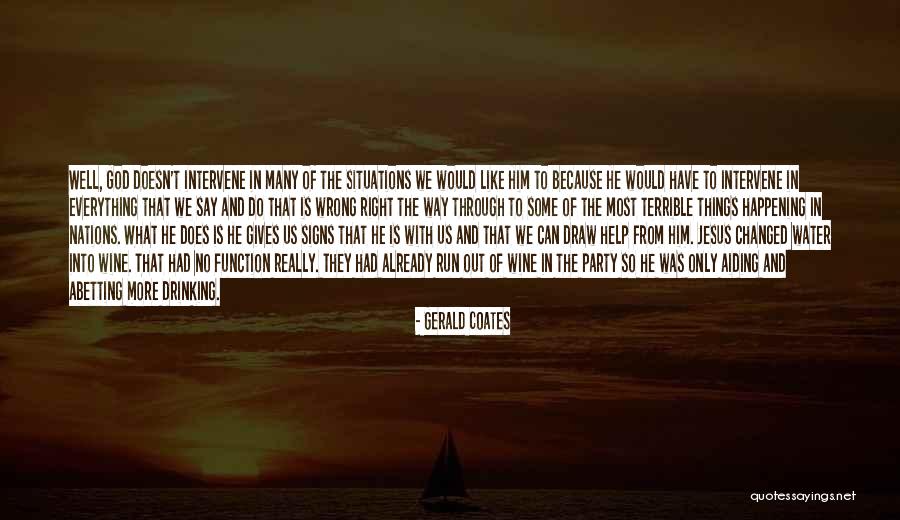 Well, God doesn't intervene in many of the situations we would like Him to because He would have to intervene in everything that we say and do that is wrong right the way through to some of the most terrible things happening in nations. What He does is He gives us signs that He is with us and that we can draw help from Him. Jesus changed water into wine. That had no function really. They had already run out of wine in the party so he was only aiding and abetting more drinking. — Gerald Coates
God causes grains and seeds to split and sprout, for He brings life from death and death from life. That's how God is to you, so how is it that you're so deceived (about His nature)? [95] He splits the dawn (from the night) and made the night for rejuvenation and rest, while the sun and the moon are for counting the passage of time. That's how He's arranged (for your world to work, for He's) the Powerful and the Knowing. [96] He's the One Who made the stars (as reference points) to guide you on your way through the unknown regions of land and sea, and this is how We explain Our signs for people who know. [97] He's the One Who produced you all from a single soul. (So understand that this world that you inhabit) is a place to linger, and it's also a point of departure. This is how We explain Our verses for people who understand. He's the One Who sends down water from the sky and uses it to produce plants of every kind. — Anonymous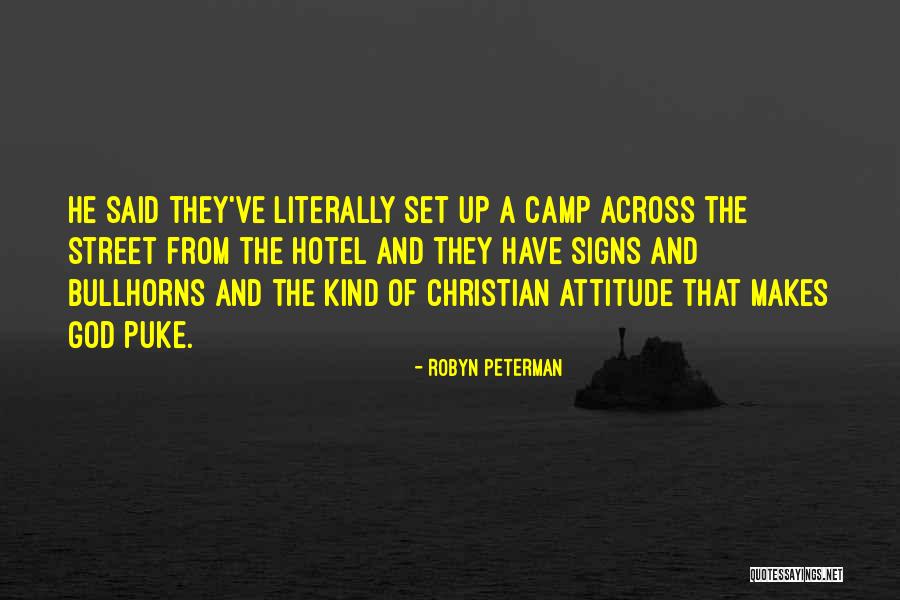 He said they've literally set up a camp across the street from the hotel and they have signs and bullhorns and the kind of Christian attitude that makes God puke. — Robyn Peterman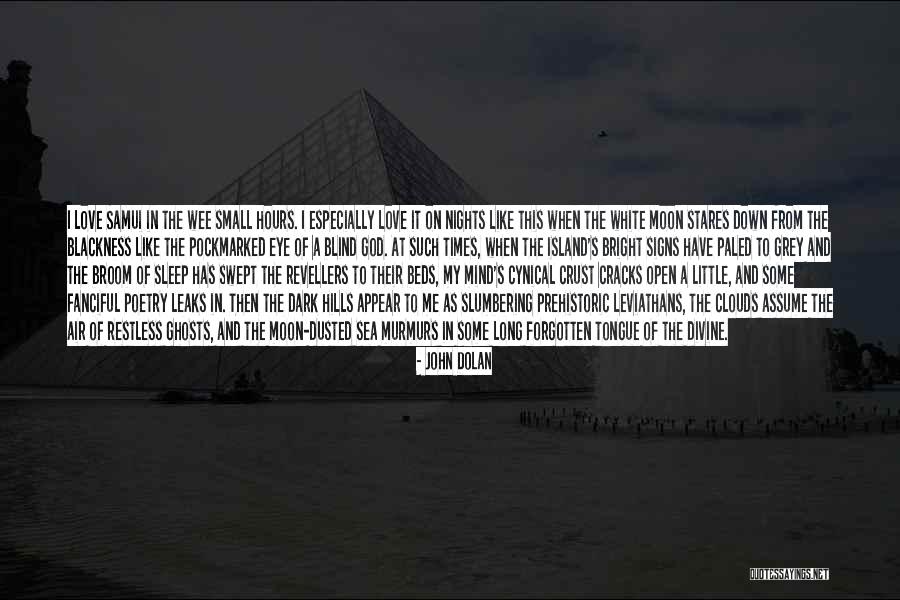 I love Samui in the wee small hours. I especially love it on nights like this when the white moon stares down from the blackness like the pockmarked eye of a blind god. At such times, when the island's bright signs have paled to grey and the broom of sleep has swept the revellers to their beds, my mind's cynical crust cracks open a little, and some fanciful poetry leaks in. Then the dark hills appear to me as slumbering prehistoric leviathans, the clouds assume the air of restless ghosts, and the moon-dusted sea murmurs in some long forgotten tongue of the divine. — John Dolan
people should be careful of only looking for signs from God." Remember the Devil can put up billboards too. — Stephan Labossiere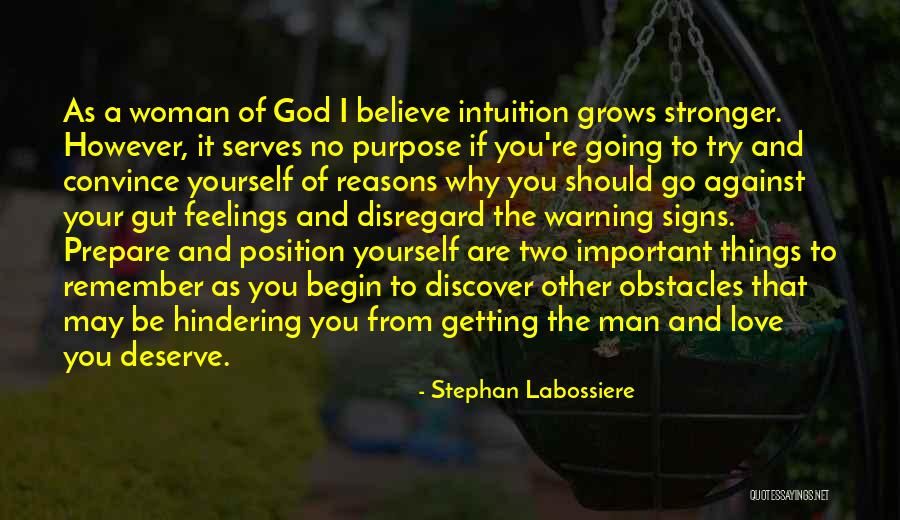 As a woman of God I believe intuition grows stronger. However, it serves no purpose if you're going to try and convince yourself of reasons why you should go against your gut feelings and disregard the warning signs. Prepare and position yourself are two important things to remember as you begin to discover other obstacles that may be hindering you from getting the man and love you deserve. — Stephan Labossiere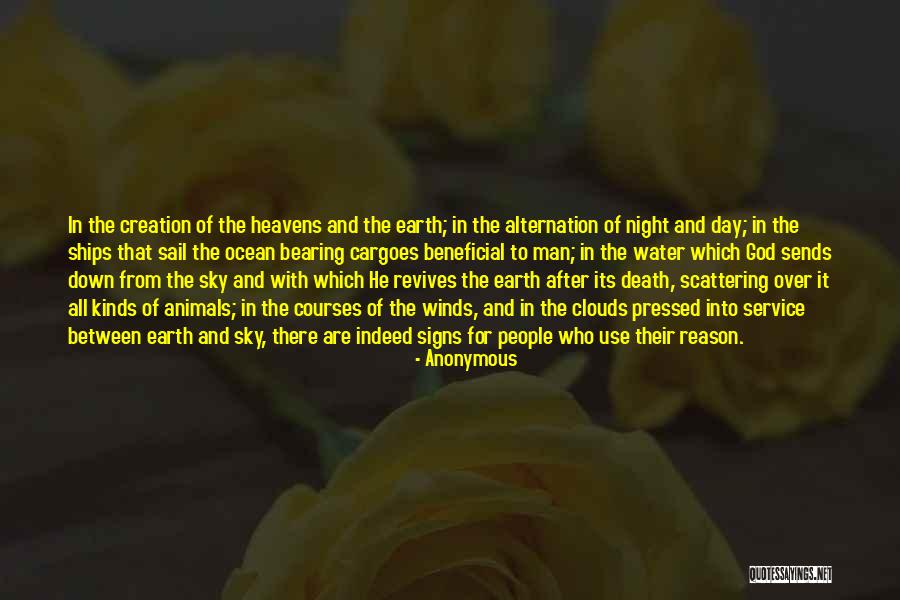 In the creation of the heavens and the earth; in the alternation of night and day; in the ships that sail the ocean bearing cargoes beneficial to man; in the water which God sends down from the sky and with which He revives the earth after its death, scattering over it all kinds of animals; in the courses of the winds, and in the clouds pressed into service between earth and sky, there are indeed signs for people who use their reason. — Anonymous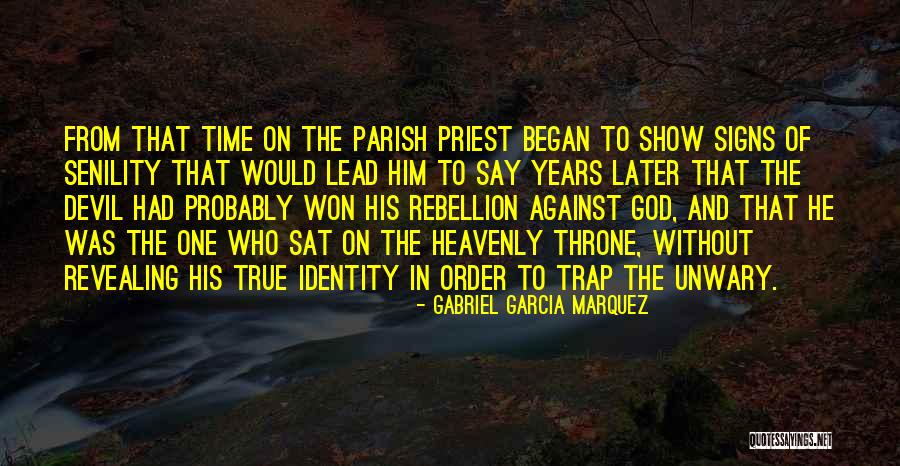 From that time on the parish priest began to show signs of senility that would lead him to say years later that the devil had probably won his rebellion against God, and that he was the one who sat on the heavenly throne, without revealing his true identity in order to trap the unwary. — Gabriel Garcia Marquez
Miracles occur all around us, signs from God show us the way, angels plead to be heard, but we pay little attention to them. — Paulo Coelho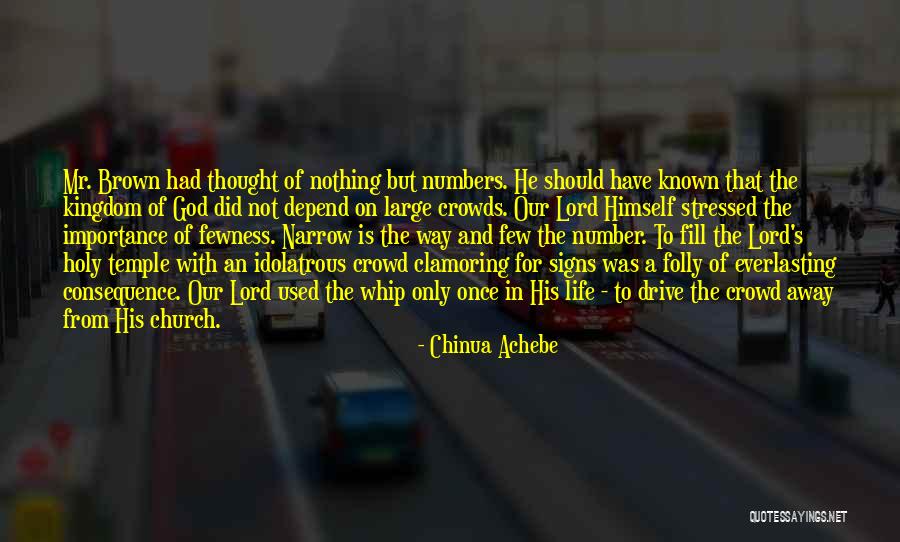 Mr. Brown had thought of nothing but numbers. He should have known that the kingdom of God did not depend on large crowds. Our Lord Himself stressed the importance of fewness. Narrow is the way and few the number. To fill the Lord's holy temple with an idolatrous crowd clamoring for signs was a folly of everlasting consequence. Our Lord used the whip only once in His life - to drive the crowd away from His church. — Chinua Achebe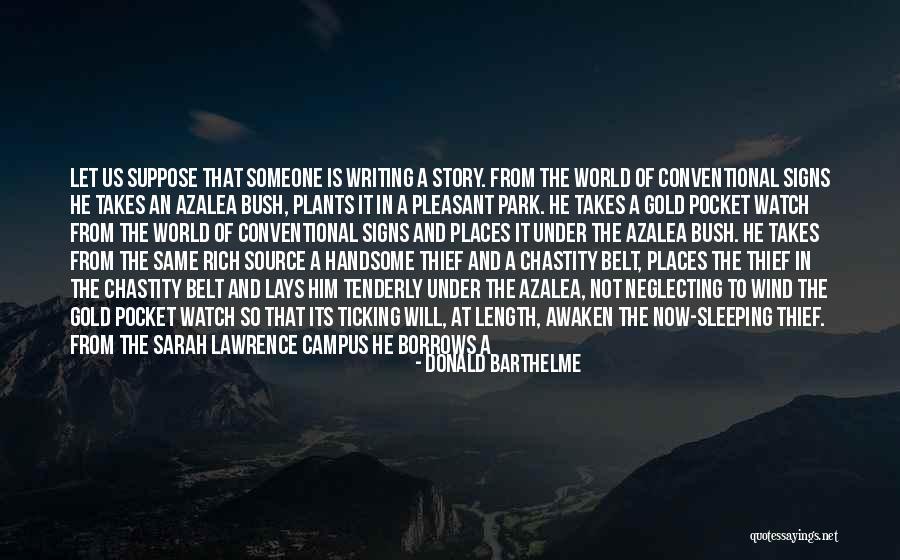 Let us suppose that someone is writing a story. From the world of conventional signs he takes an azalea bush, plants it in a pleasant park. He takes a gold pocket watch from the world of conventional signs and places it under the azalea bush. He takes from the same rich source a handsome thief and a chastity belt, places the thief in the chastity belt and lays him tenderly under the azalea, not neglecting to wind the gold pocket watch so that its ticking will, at length, awaken the now-sleeping thief. From the Sarah Lawrence campus he borrows a pair of seniors, Jacqueline and Jemima, and sets them to walking in the vicinity of the azalea bush and the handsome, chaste thief. Jacqueline and Jemima have just failed the Graduate Record Examination and are cursing God in colorful Sarah Lawrence language. What happens next? Of course, I don't know. — Donald Barthelme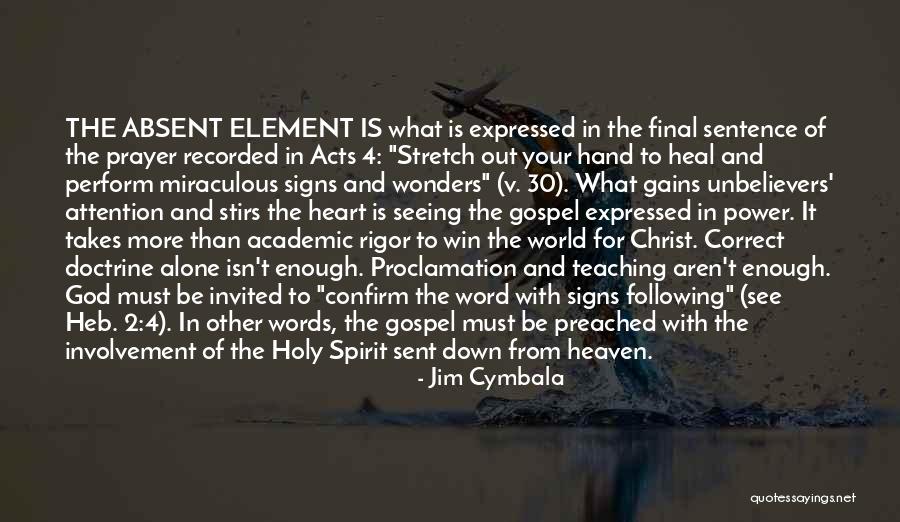 THE ABSENT ELEMENT IS what is expressed in the final sentence of the prayer recorded in Acts 4: "Stretch out your hand to heal and perform miraculous signs and wonders" (v. 30). What gains unbelievers' attention and stirs the heart is seeing the gospel expressed in power. It takes more than academic rigor to win the world for Christ. Correct doctrine alone isn't enough. Proclamation and teaching aren't enough. God must be invited to "confirm the word with signs following" (see Heb. 2:4). In other words, the gospel must be preached with the involvement of the Holy Spirit sent down from heaven. — Jim Cymbala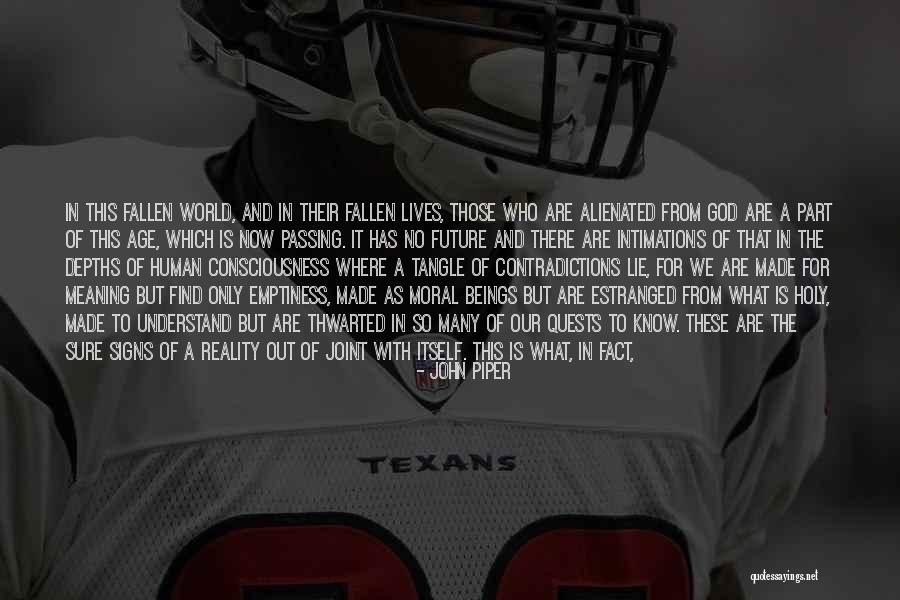 In this fallen world, and in their fallen lives, those who are alienated from God are a part of this age, which is now passing. It has no future and there are intimations of that in the depths of human consciousness where a tangle of contradictions lie, for we are made for meaning but find only emptiness, made as moral beings but are estranged from what is holy, made to understand but are thwarted in so many of our quests to know. These are the sure signs of a reality out of joint with itself. This is what, in fact, points to something else. These contradictions are unresolved in the absence of that age to come which is rooted in the triune God of whom Scripture speaks. He it is who not only sustains all of life, directing it all to its appointed end, but who also is the measure of what is enduringly true and right, and the fountain of all meaning, purpose, and hope. — John Piper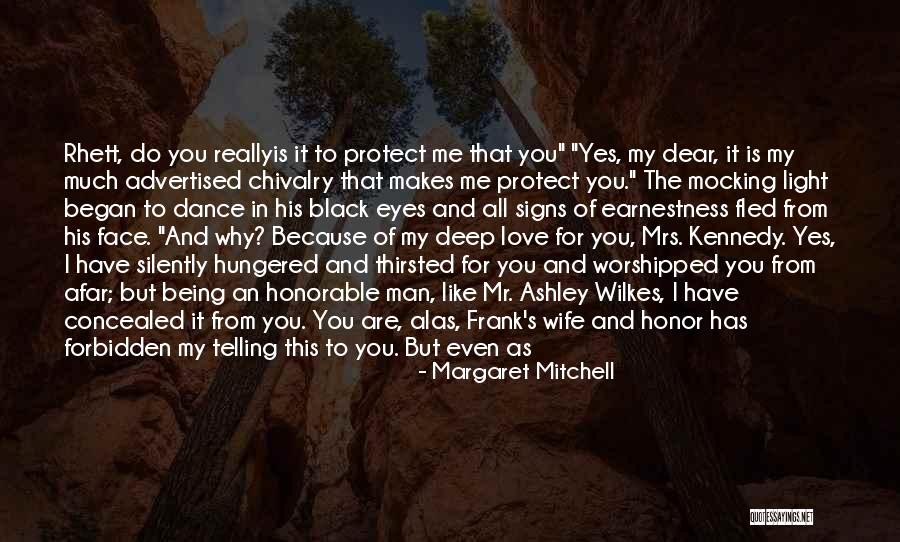 Rhett, do you really
is it to protect me that you
"
"Yes, my dear, it is my much advertised chivalry that makes me protect you." The mocking light began to dance in his black eyes and all signs of earnestness fled from his face. "And why? Because of my deep love for you, Mrs. Kennedy. Yes, I have silently hungered and thirsted for you and worshipped you from afar; but being an honorable man, like Mr. Ashley Wilkes, I have concealed it from you. You are, alas, Frank's wife and honor has forbidden my telling this to you. But even as Mr. Wilkes' honor cracks occasionally, so mine is cracking now and I reveal my secret passion and my
"
"Oh, for God's sake, hush!" interrupted Scarlett, annoyed as usual when he made her look like a conceited fool, and not caring to have Ashley and his honor become the subject of further conversation. "What was the other thing you wanted to tell me?"
"What! You change the subject when I am baring a loving but lacerated heart? — Margaret Mitchell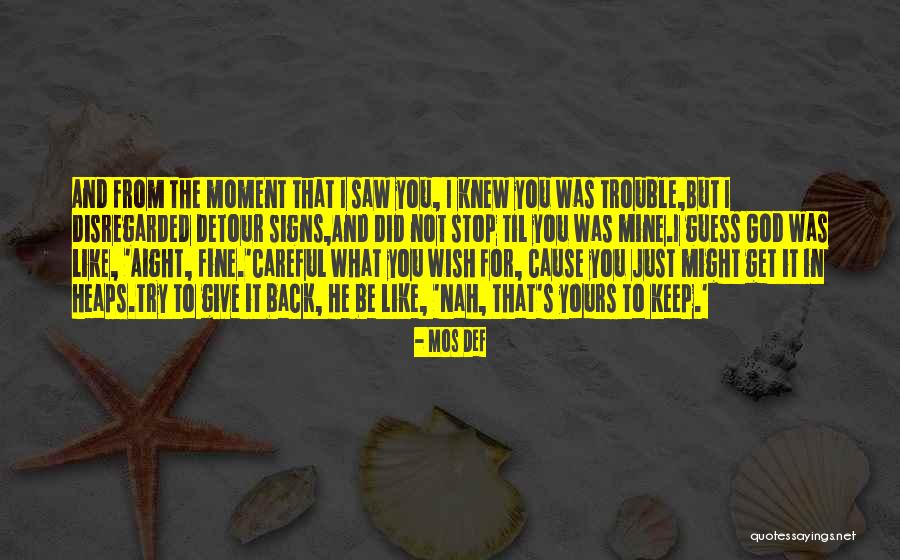 And from the moment that I saw you, I knew you was trouble,
But I disregarded detour signs,
And did not stop til you was mine.
I guess God was like, 'Aight, fine.'
Careful what you wish for, cause you just might get it in heaps.
Try to give it back, He be like, 'Nah, that's yours to keep.' — Mos Def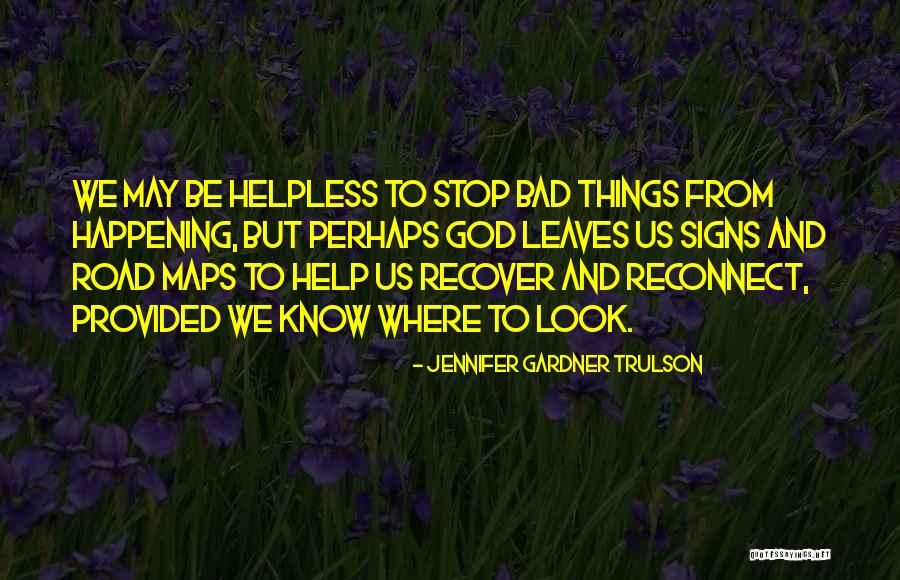 We may be helpless to stop bad things from happening, but perhaps God leaves us signs and road maps to help us recover and reconnect, provided we know where to look. — Jennifer Gardner Trulson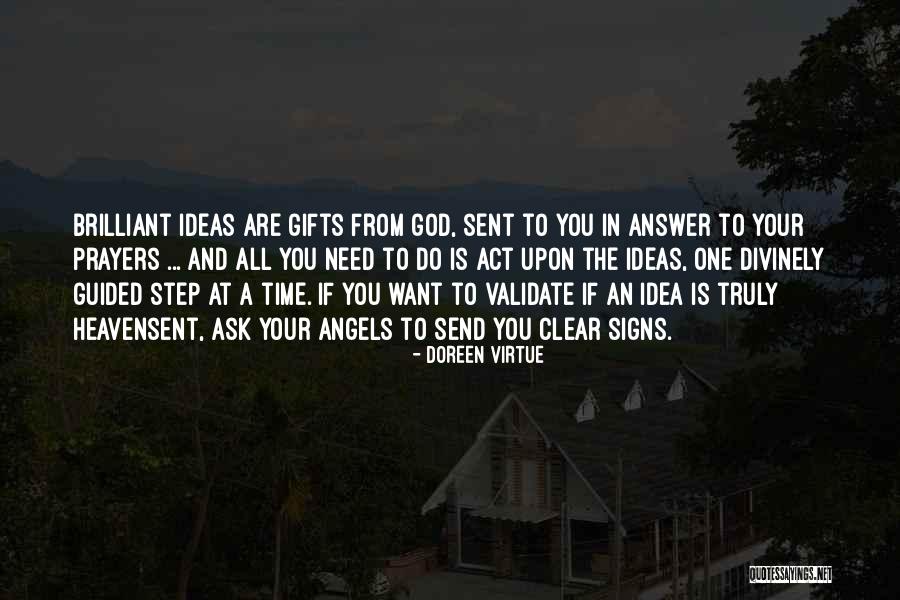 Brilliant ideas are gifts from God, sent to you in answer to your prayers ... and all you need to do is act upon the ideas, one divinely guided step at a time. If you want to validate if an idea is truly heavensent, ask your angels to send you clear signs. — Doreen Virtue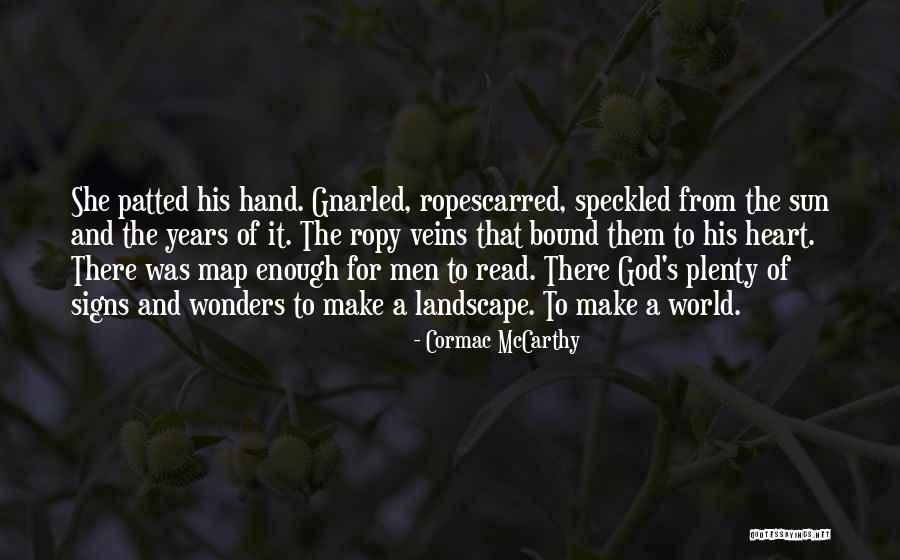 She patted his hand. Gnarled, ropescarred, speckled from the sun and the years of it. The ropy veins that bound them to his heart. There was map enough for men to read. There God's plenty of signs and wonders to make a landscape. To make a world. — Cormac McCarthy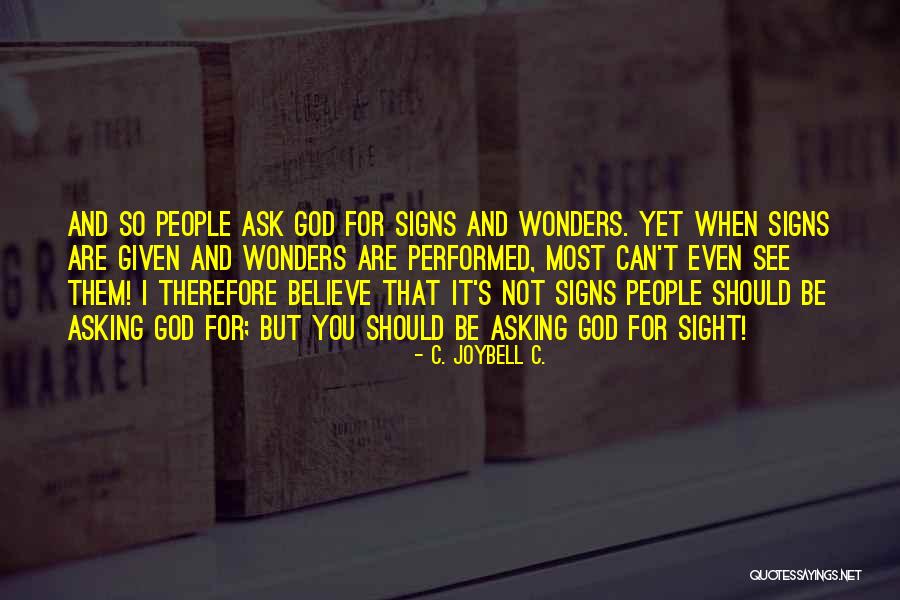 And so people ask God for signs and wonders. Yet when signs are given and wonders are performed, most can't even see them! I therefore believe that it's not signs people should be asking God for; but you should be asking God for Sight! — C. JoyBell C.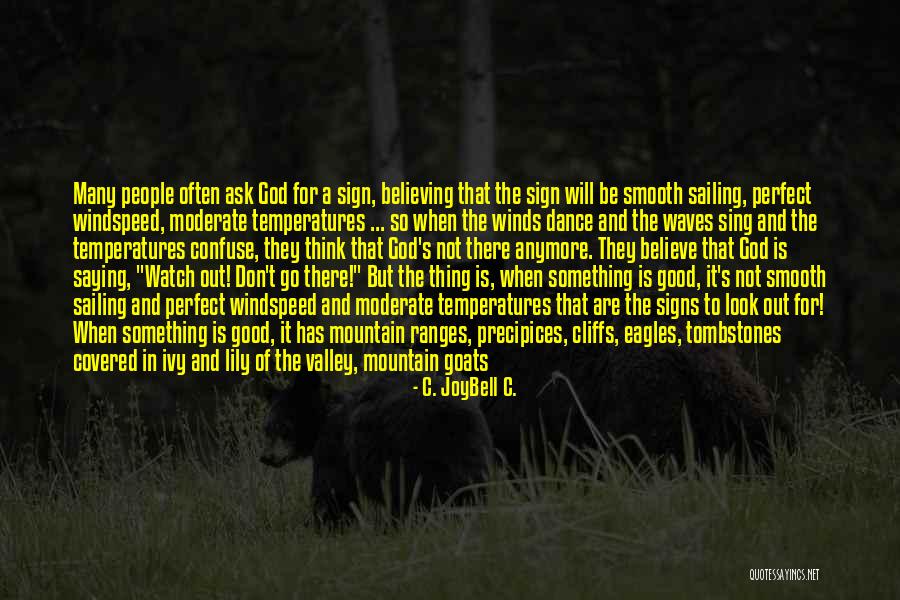 Many people often ask God for a sign, believing that the sign will be smooth sailing, perfect windspeed, moderate temperatures ... so when the winds dance and the waves sing and the temperatures confuse, they think that God's not there anymore. They believe that God is saying, "Watch out! Don't go there!" But the thing is, when something is good, it's not smooth sailing and perfect windspeed and moderate temperatures that are the signs to look out for! When something is good, it has mountain ranges, precipices, cliffs, eagles, tombstones covered in ivy and lily of the valley, mountain goats and a wind so close to the mouth of God that it shakes your flesh to its very core! So when they begin to hop on the precipices and hear the eagles' call - they think God isn't there! They think God is saying "Watch out!" They too often fail to traverse the ivy-encrusted tombstones, to tremble and quiver in beauty under God's breath. Don't run away. — C. JoyBell C.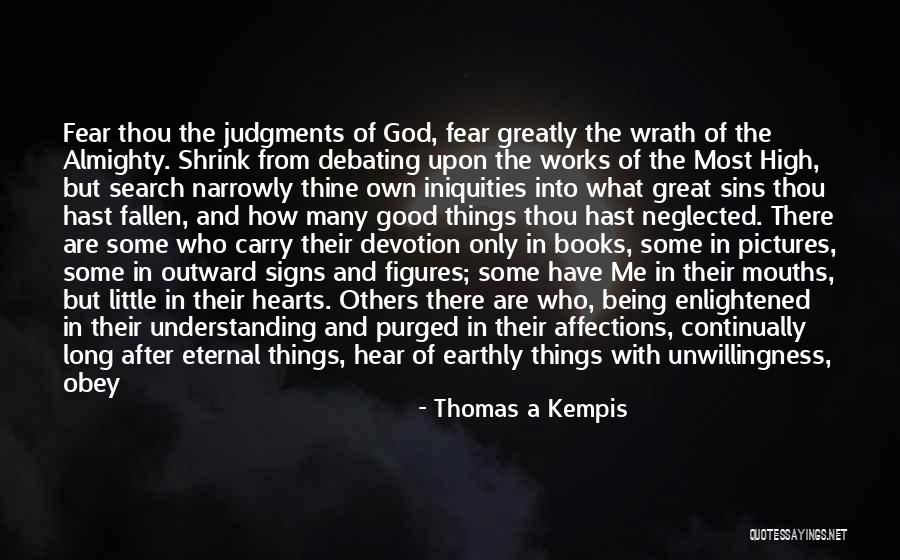 Fear thou the judgments of God, fear greatly the wrath of the Almighty. Shrink from debating upon the works of the Most High, but search narrowly thine own iniquities into what great sins thou hast fallen, and how many good things thou hast neglected. There are some who carry their devotion only in books, some in pictures, some in outward signs and figures; some have Me in their mouths, but little in their hearts. Others there are who, being enlightened in their understanding and purged in their affections, continually long after eternal things, hear of earthly things with unwillingness, obey the necessities of nature with sorrow. And these understand what the Spirit of truth speaketh in them; for He teacheth them to despise earthly things and to love heavenly; to neglect the world and to desire heaven all the day and night. — Thomas A Kempis
Sometimes I was too tired,
other times just lazy. Now and then, I was frustrated because nothing seemed to be happening - no
signs from God, no enlightenment, nothing. But that wasn't the point, the Shaykh explained. What
mattered was the inner connection with God, which builds slowly and only transforms us gradually.
Another obstacle, however, was that I often found it hard to concentrate during the dhikr. — Kristiane Backer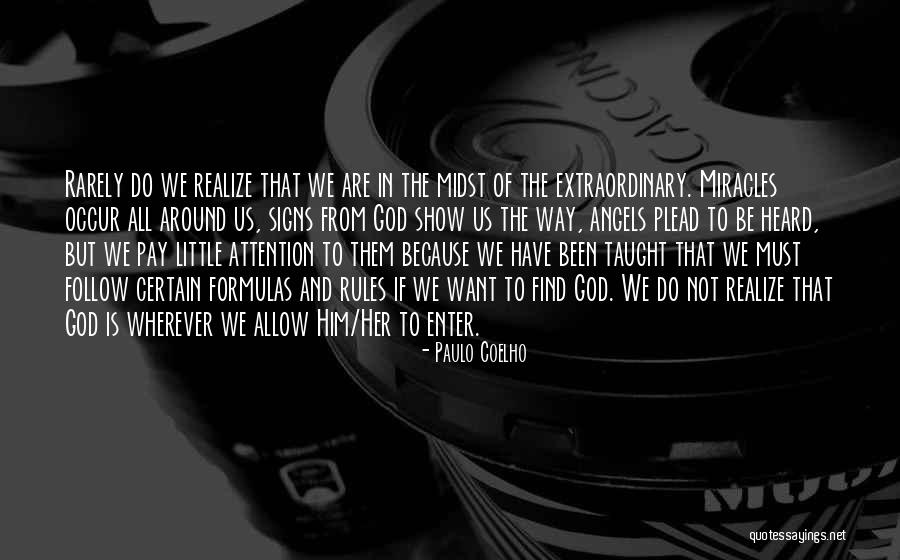 Rarely do we realize that we are in the midst of the extraordinary. Miracles occur all around us, signs from God show us the way, angels plead to be heard, but we pay little attention to them because we have been taught that we must follow certain formulas and rules if we want to find God. We do not realize that God is wherever we allow Him/Her to enter. — Paulo Coelho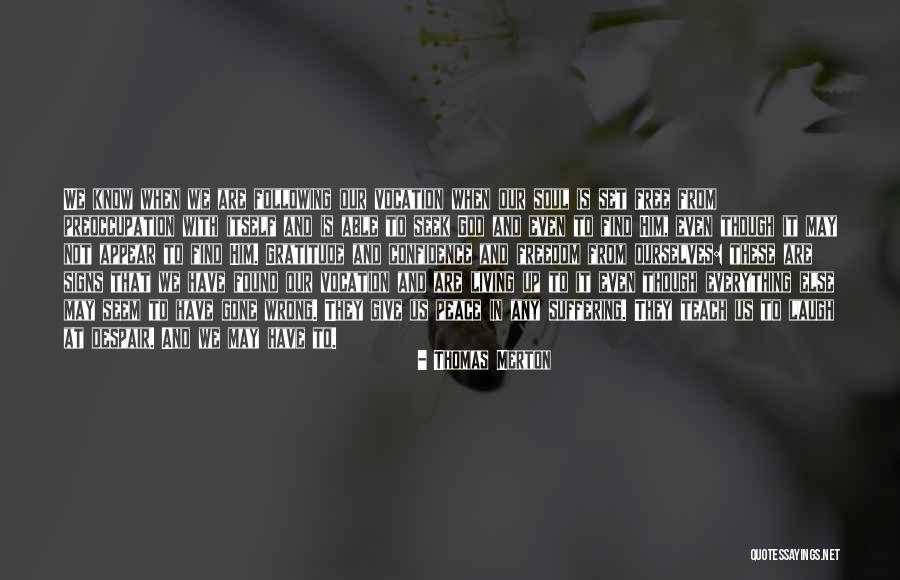 We know when we are following our vocation when our soul is set free from preoccupation with itself and is able to seek God and even to find Him, even though it may not appear to find Him. Gratitude and confidence and freedom from ourselves: these are signs that we have found our vocation and are living up to it even though everything else may seem to have gone wrong. They give us peace in any suffering. They teach us to laugh at despair. And we may have to. — Thomas Merton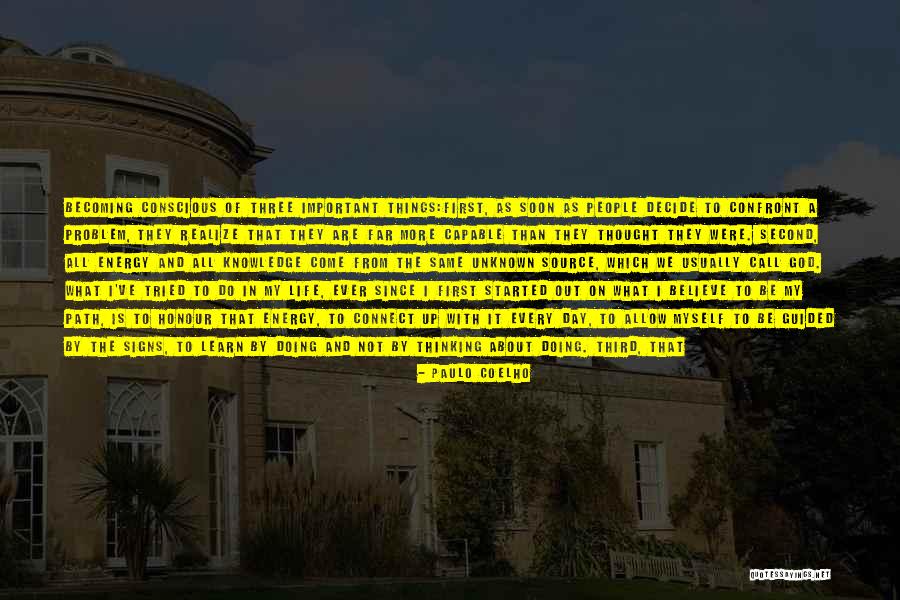 Becoming conscious of three important things:
First, as soon as people decide to confront a problem, they realize that they are far more capable than they thought they were.
Second, all energy and all knowledge come from the same unknown source, which we usually call God. What I've tried to do in my life, ever since I first started out on what I believe to be my path, is to honour that energy, to connect up with it every day, to allow myself to be guided by the signs, to learn by doing and not by thinking about doing.
Third, that no one is alone in their troubles; there is always someone else thinking, rejoicing, or suffering in the same way, and that gives us the strength to confront the challenge before us. — Paulo Coelho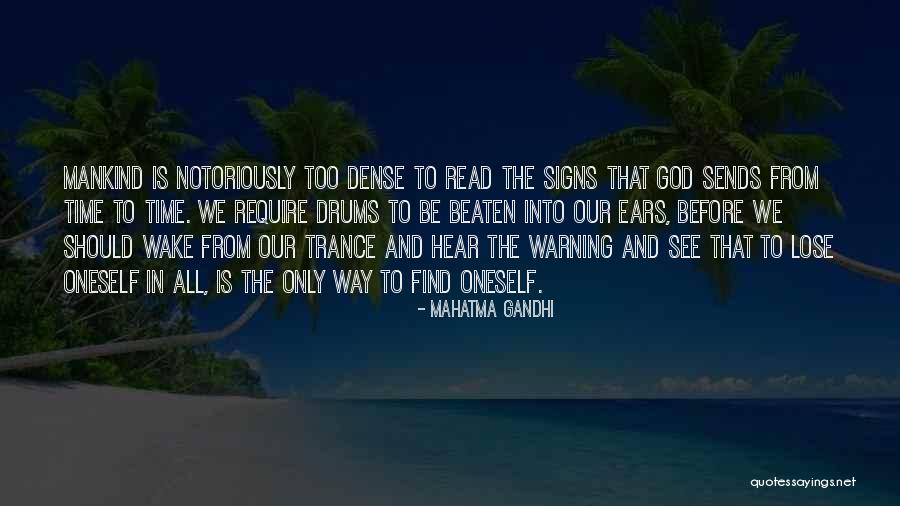 Mankind is notoriously too dense to read the signs that God sends from time to time. We require drums to be beaten into our ears, before we should wake from our trance and hear the warning and see that to lose oneself in all, is the only way to find oneself. — Mahatma Gandhi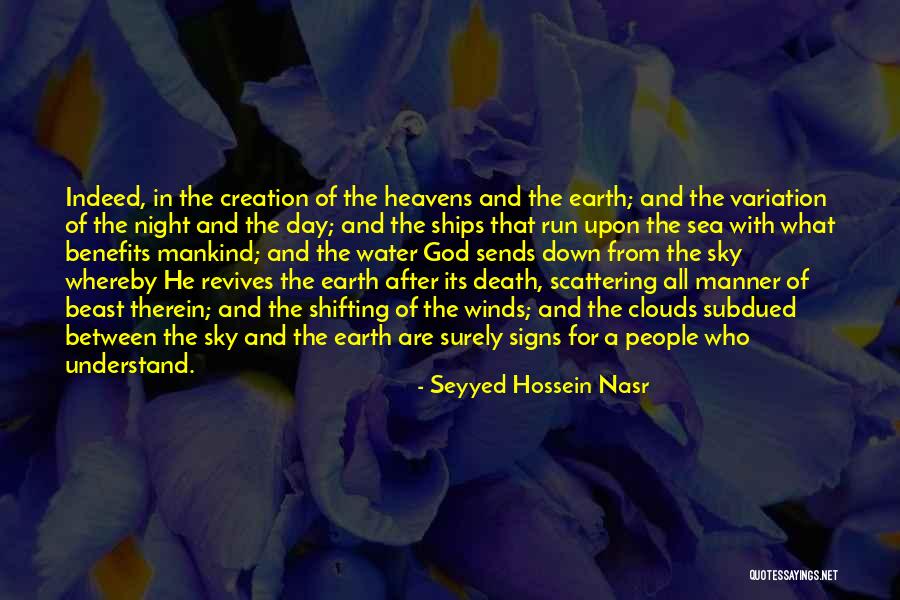 Indeed, in the creation of the heavens and the earth; and the variation of the night and the day; and the ships that run upon the sea with what benefits mankind; and the water God sends down from the sky whereby He revives the earth after its death, scattering all manner of beast therein; and the shifting of the winds; and the clouds subdued between the sky and the earth are surely signs for a people who understand. — Seyyed Hossein Nasr
Azazel is also listed as one of the Watchers, angelic creatures from the Book of Enoch, a text no longer canonical under any large Christian faith. These Watchers were not expelled from Paradise, but were punished by god for having children with humans, and teaching them science, technology, and other crafts. Azazel in particular taught humans how to make weapons, as well as ornaments and cosmetics. Other Watchers taught them how to write and make paper, how to read signs and predict the weather, and how to study the heavens with astrology. — Anonymous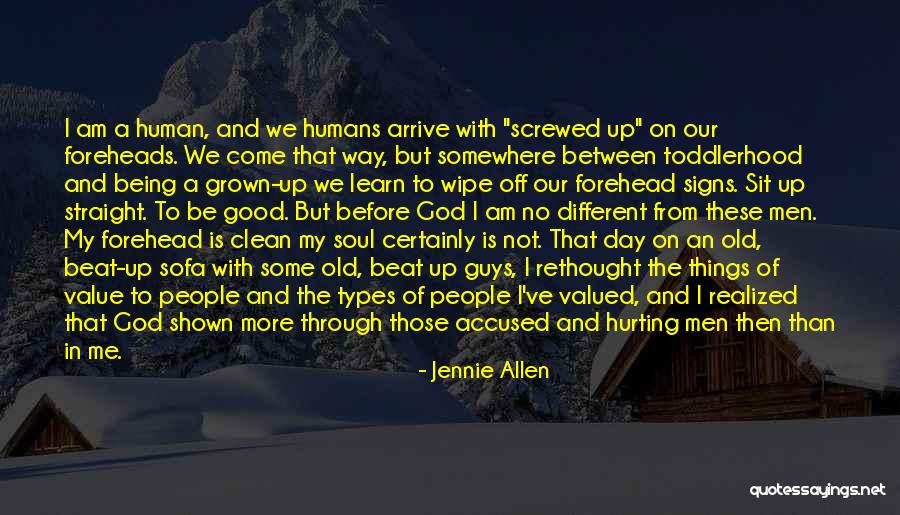 I am a human, and we humans arrive with "screwed up" on our foreheads. We come that way, but somewhere between toddlerhood and being a grown-up we learn to wipe off our forehead signs. Sit up straight. To be good. But before God I am no different from these men. My forehead is clean my soul certainly is not. That day on an old, beat-up sofa with some old, beat up guys, I rethought the things of value to people and the types of people I've valued, and I realized that God shown more through those accused and hurting men then than in me. — Jennie Allen