Quotes & Sayings About Practicing Scales
Enjoy reading and share 11 famous quotes about Practicing Scales with everyone.
Top Practicing Scales Quotes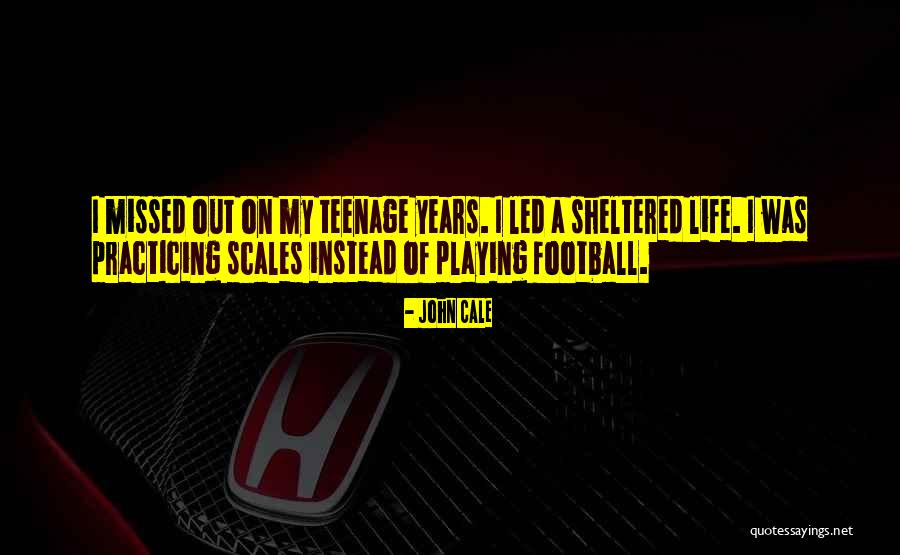 I missed out on my teenage years. I led a sheltered life. I was practicing scales instead of playing football. — John Cale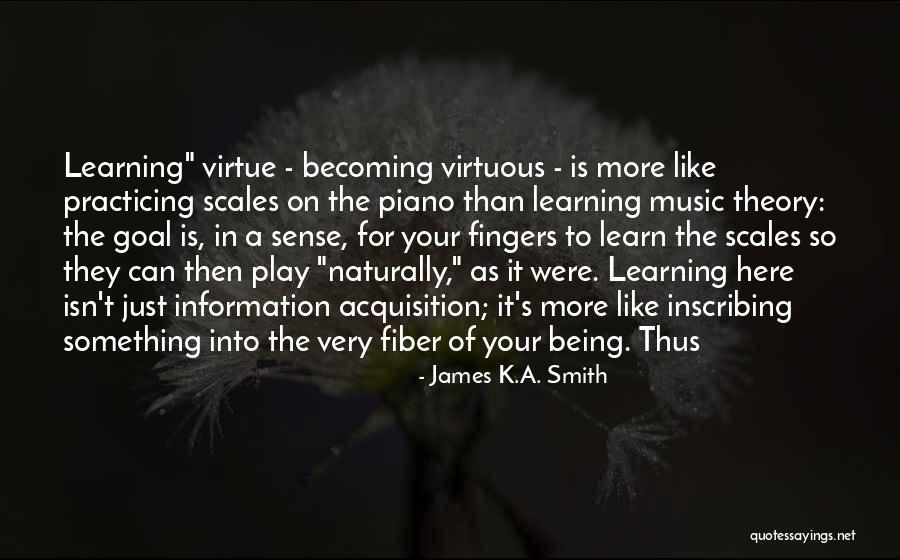 Learning" virtue - becoming virtuous - is more like practicing scales on the piano than learning music theory: the goal is, in a sense, for your fingers to learn the scales so they can then play "naturally," as it were. Learning here isn't just information acquisition; it's more like inscribing something into the very fiber of your being. Thus — James K.A. Smith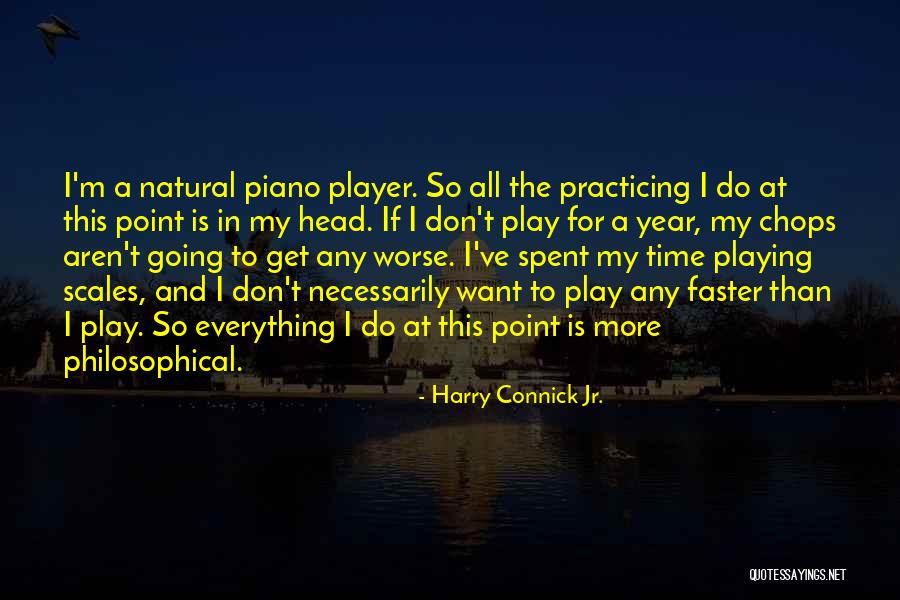 I'm a natural piano player. So all the practicing I do at this point is in my head. If I don't play for a year, my chops aren't going to get any worse. I've spent my time playing scales, and I don't necessarily want to play any faster than I play. So everything I do at this point is more philosophical. — Harry Connick Jr.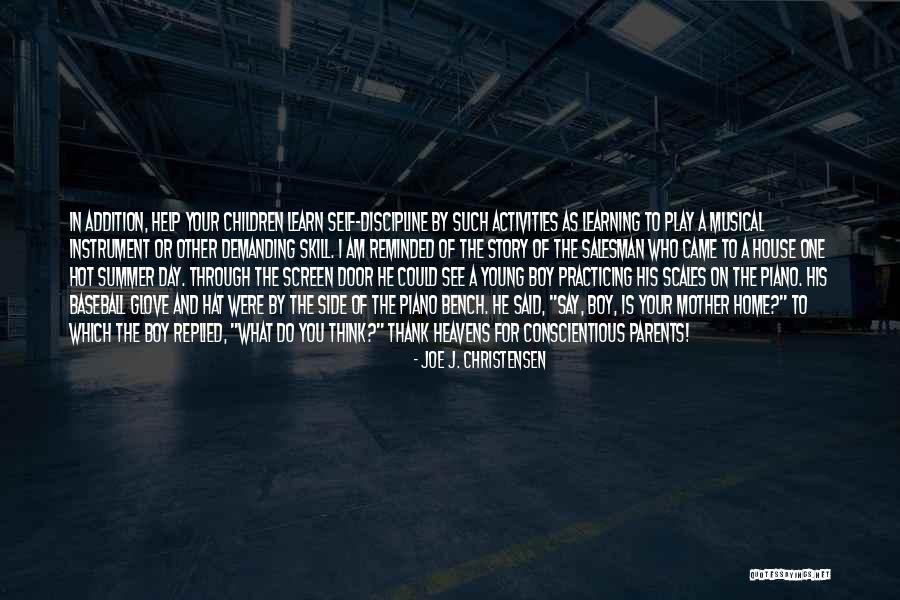 In addition, help your children learn self-discipline by such activities as learning to play a musical instrument or other demanding skill. I am reminded of the story of the salesman who came to a house one hot summer day. Through the screen door he could see a young boy practicing his scales on the piano. His baseball glove and hat were by the side of the piano bench. He said, "Say, boy, is your mother home?" To which the boy replied, "What do you think?" Thank heavens for conscientious parents! — Joe J. Christensen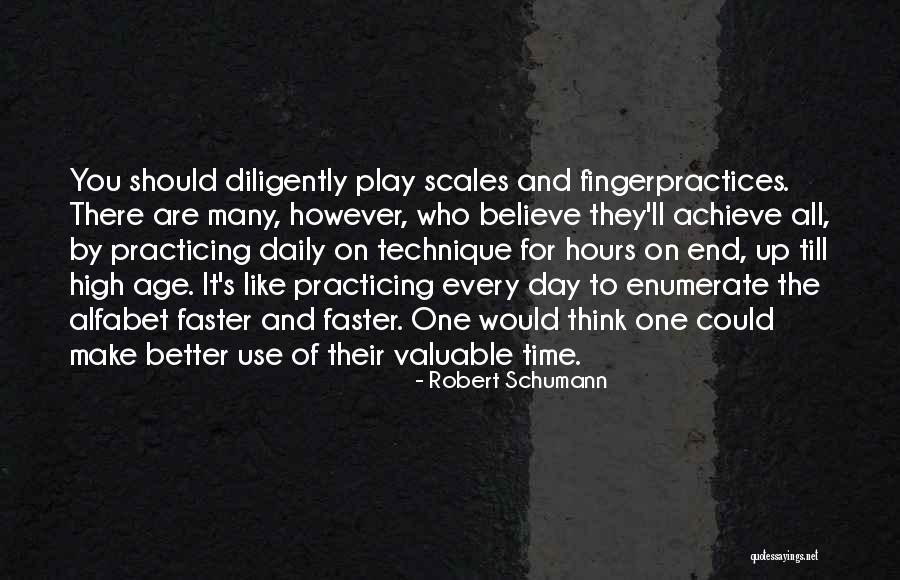 You should diligently play scales and fingerpractices. There are many, however, who believe they'll achieve all, by practicing daily on technique for hours on end, up till high age. It's like practicing every day to enumerate the alfabet faster and faster. One would think one could make better use of their valuable time. — Robert Schumann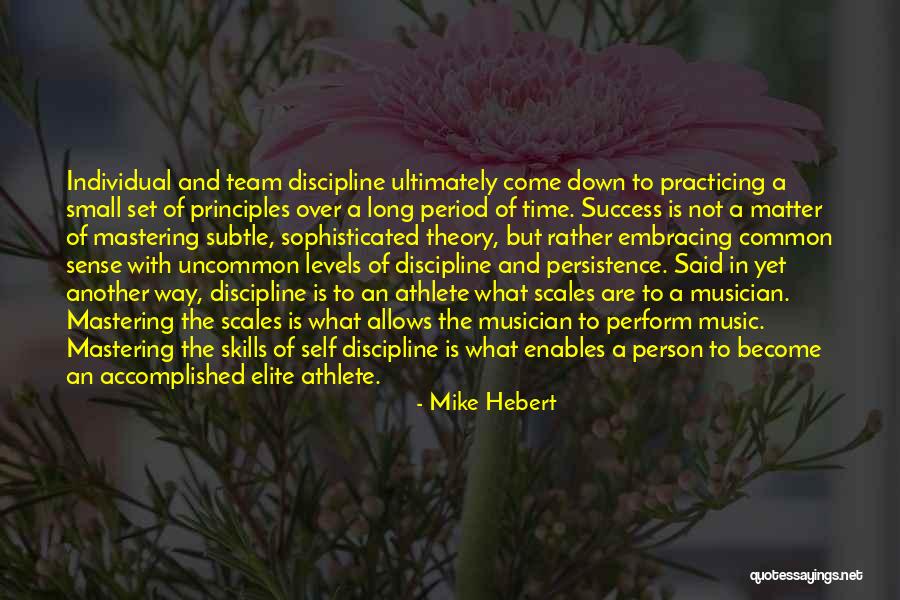 Individual and team discipline ultimately come down to practicing a small set of principles over a long period of time. Success is not a matter of mastering subtle, sophisticated theory, but rather embracing common sense with uncommon levels of discipline and persistence. Said in yet another way, discipline is to an athlete what scales are to a musician. Mastering the scales is what allows the musician to perform music. Mastering the skills of self discipline is what enables a person to become an accomplished elite athlete. — Mike Hebert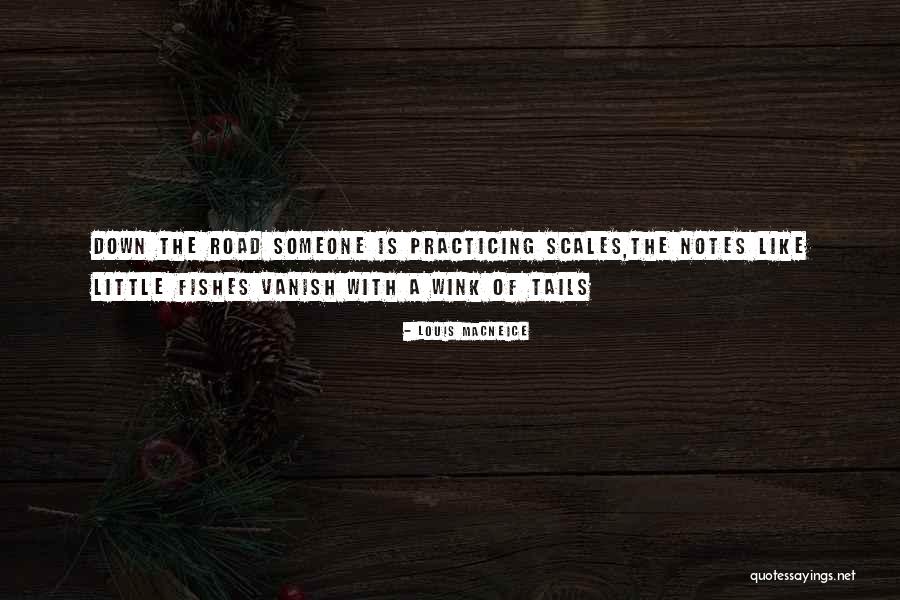 Down the road someone is practicing scales,
The notes like little fishes vanish with a wink of tails — Louis MacNeice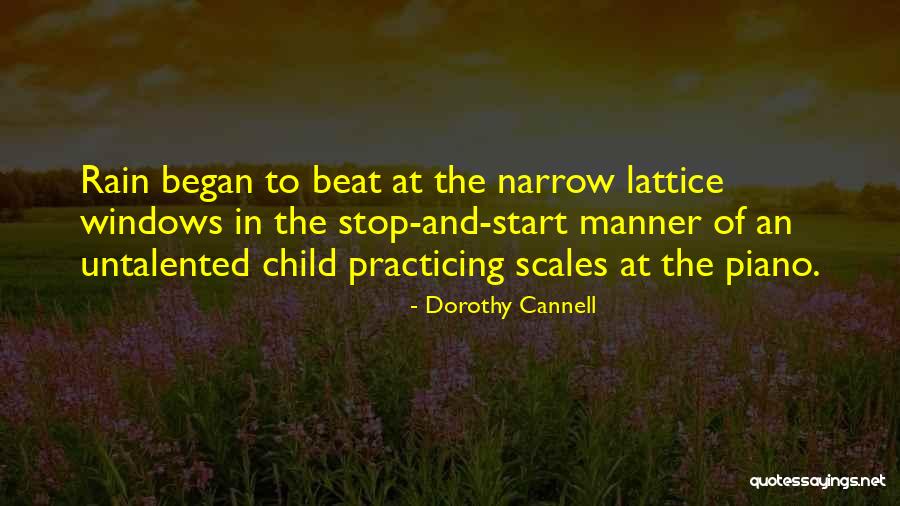 Rain began to beat at the narrow lattice windows in the stop-and-start manner of an untalented child practicing scales at the piano. — Dorothy Cannell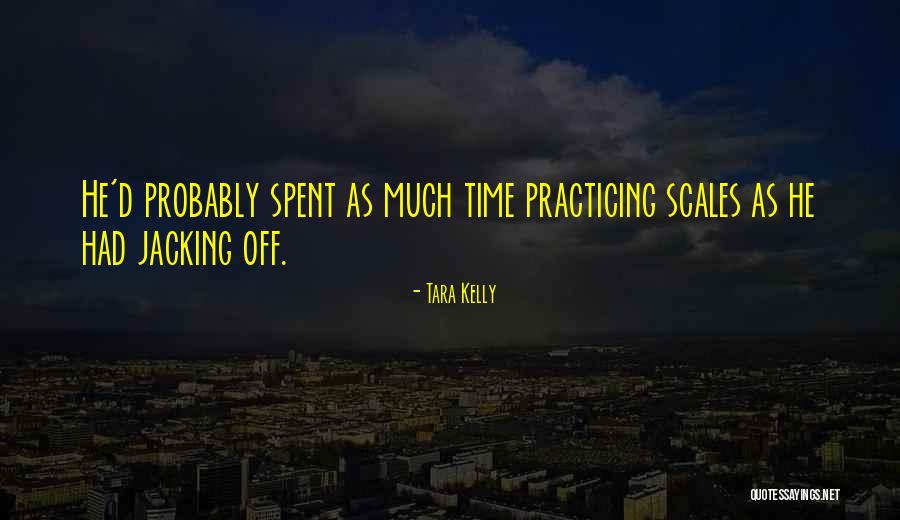 He'd probably spent as much time practicing scales as he had jacking off. — Tara Kelly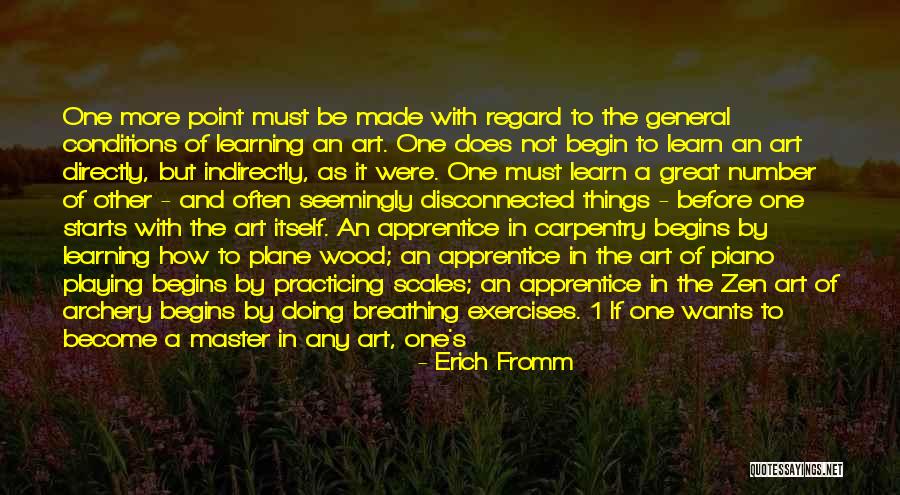 One more point must be made with regard to the general conditions of learning an art. One does not begin to learn an art directly, but indirectly, as it were. One must learn a great number of other - and often seemingly disconnected things - before one starts with the art itself. An apprentice in carpentry begins by learning how to plane wood; an apprentice in the art of piano playing begins by practicing scales; an apprentice in the Zen art of archery begins by doing breathing exercises. 1 If one wants to become a master in any art, one's whole life must be devoted to it, or at least related to it. One's own person becomes an instrument in the practice of the art, and must be kept fit, according to the specific functions it has to fulfill. With regard to the art of loving, this means that anyone who aspires to become a master in this art must begin by practicing discipline, concentration and patience throughout every phase of his life. — Erich Fromm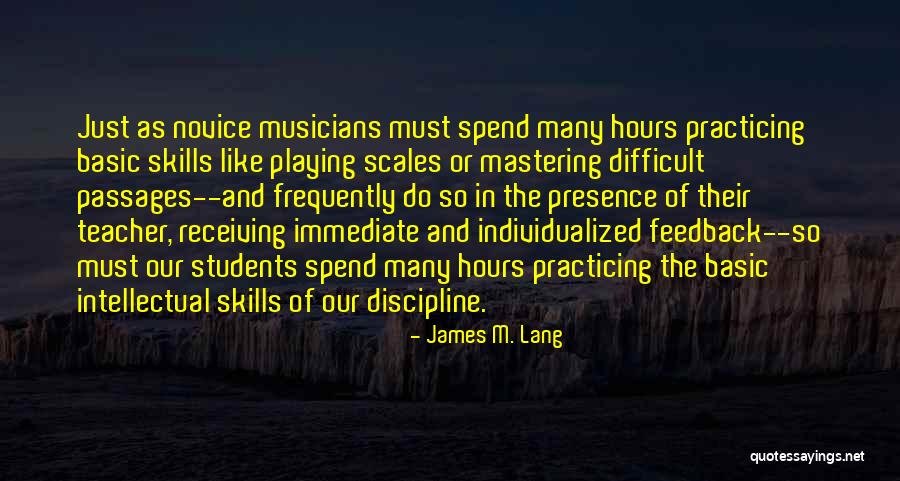 Just as novice musicians must spend many hours practicing basic skills like playing scales or mastering difficult passages--and frequently do so in the presence of their teacher, receiving immediate and individualized feedback--so must our students spend many hours practicing the basic intellectual skills of our discipline. — James M. Lang