Loving Too Many Quotes & Sayings
Enjoy reading and share 31 famous quotes about Loving Too Many with everyone.
Top Loving Too Many Quotes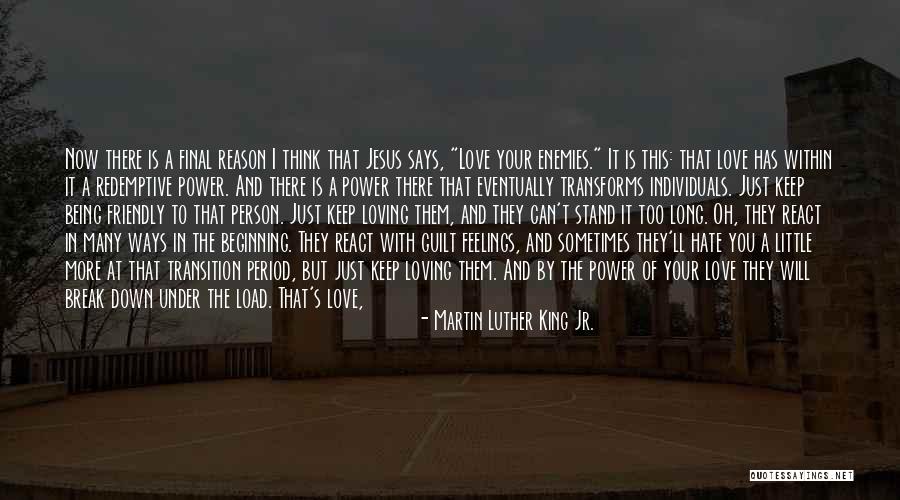 Now there is a final reason I think that Jesus says, "Love your enemies." It is this: that love has within it a redemptive power. And there is a power there that eventually transforms individuals. Just keep being friendly to that person. Just keep loving them, and they can't stand it too long. Oh, they react in many ways in the beginning. They react with guilt feelings, and sometimes they'll hate you a little more at that transition period, but just keep loving them. And by the power of your love they will break down under the load. That's love, you see. It is redemptive, and this is why Jesus says love. There's something about love that builds up and is creative. There is something about hate that tears down and is destructive. So love your enemies. (from "Loving Your Enemies") — Martin Luther King Jr.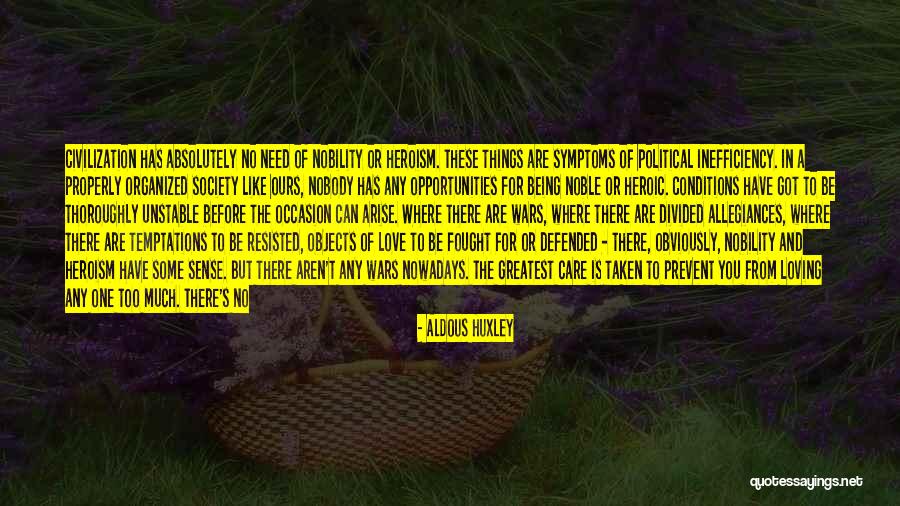 Civilization has absolutely no need of nobility or heroism. These things are symptoms of political inefficiency. In a properly organized society like ours, nobody has any opportunities for being noble or heroic. Conditions have got to be thoroughly unstable before the occasion can arise. Where there are wars, where there are divided allegiances, where there are temptations to be resisted, objects of love to be fought for or defended - there, obviously, nobility and heroism have some sense. But there aren't any wars nowadays. The greatest care is taken to prevent you from loving any one too much. There's no such thing as a divided allegiance; you're so conditioned that you can't help doing what you ought to do. And what you ought to do is on the whole so pleasant, so many of the natural impulses are allowed free play, that there really aren't any temptations to resist. — Aldous Huxley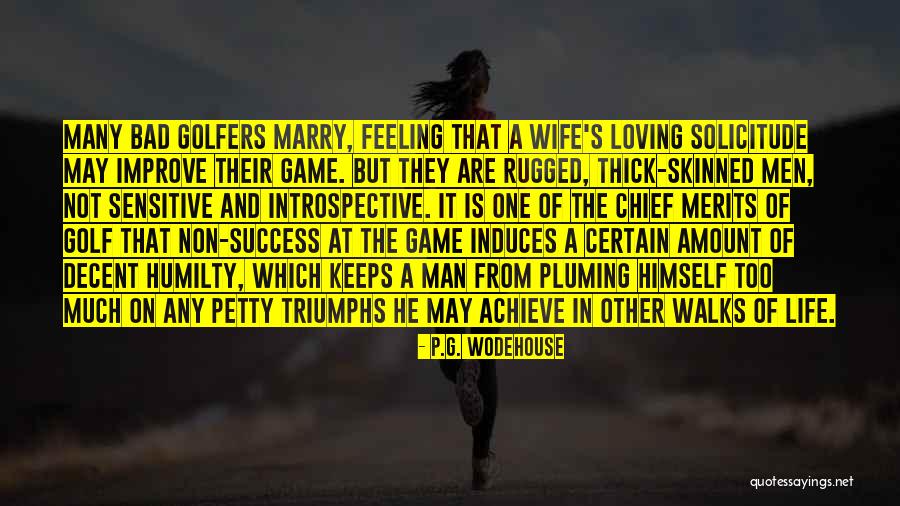 Many bad golfers marry, feeling that a wife's loving solicitude may improve their game. But they are rugged, thick-skinned men, not sensitive and introspective. It is one of the chief merits of golf that non-success at the game induces a certain amount of decent humilty, which keeps a man from pluming himself too much on any petty triumphs he may achieve in other walks of life. — P.G. Wodehouse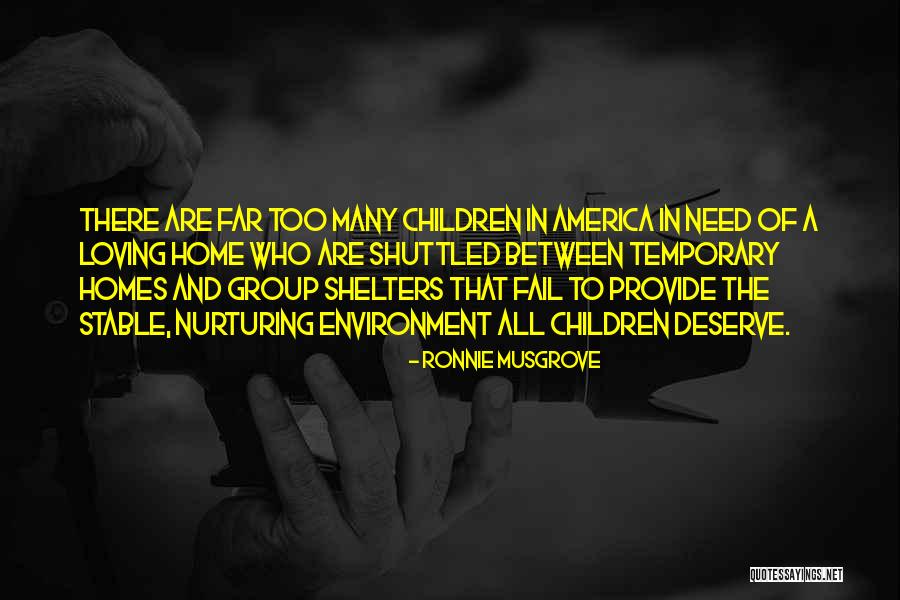 There are far too many children in America in need of a loving home who are shuttled between temporary homes and group shelters that fail to provide the stable, nurturing environment all children deserve. — Ronnie Musgrove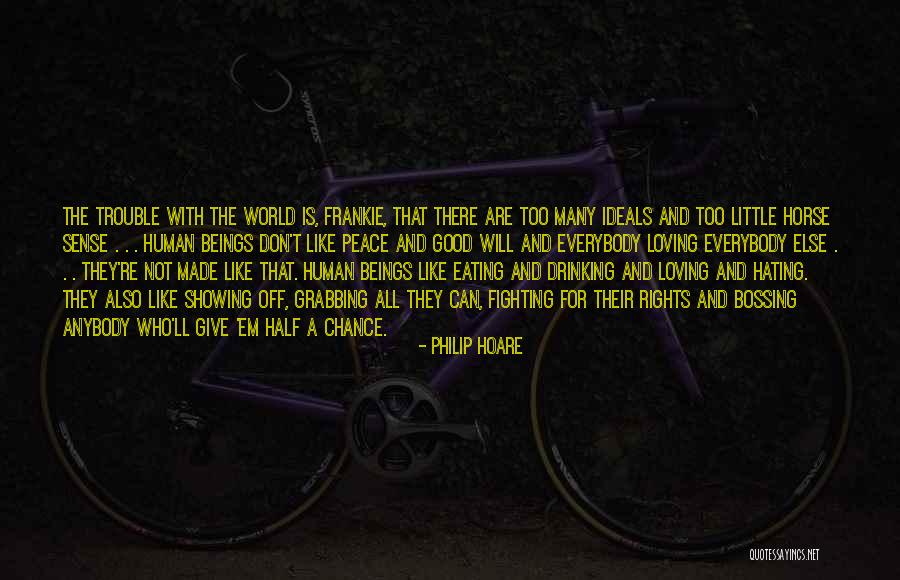 The trouble with the world is, Frankie, that there are too many ideals and too little horse sense . . . Human beings don't like peace and good will and everybody loving everybody else . . . they're not made like that. Human beings like eating and drinking and loving and hating. They also like showing off, grabbing all they can, fighting for their rights and bossing anybody who'll give 'em half a chance. — Philip Hoare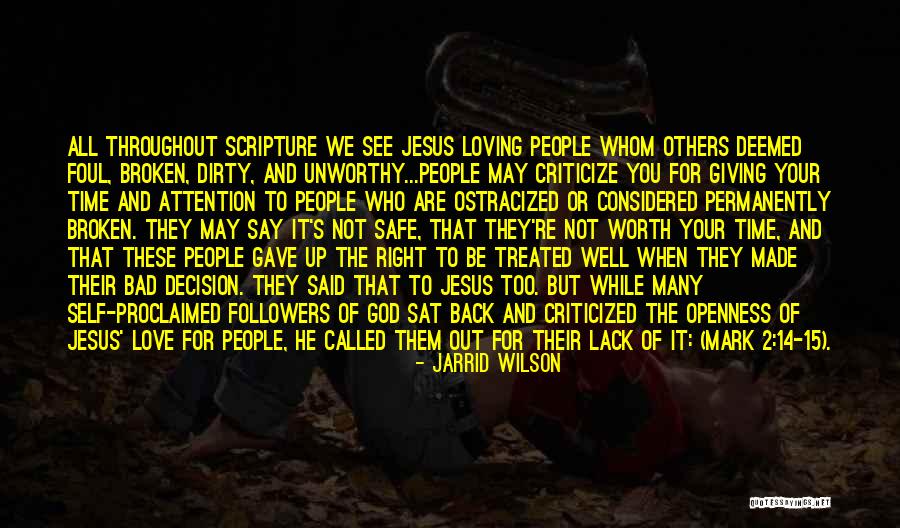 All throughout Scripture we see Jesus loving people whom others deemed foul, broken, dirty, and unworthy...People may criticize you for giving your time and attention to people who are ostracized or considered permanently broken. They may say it's not safe, that they're not worth your time, and that these people gave up the right to be treated well when they made their bad decision. They said that to Jesus too. But while many self-proclaimed followers of God sat back and criticized the openness of Jesus' love for people, he called them out for their lack of it: (Mark 2:14-15). — Jarrid Wilson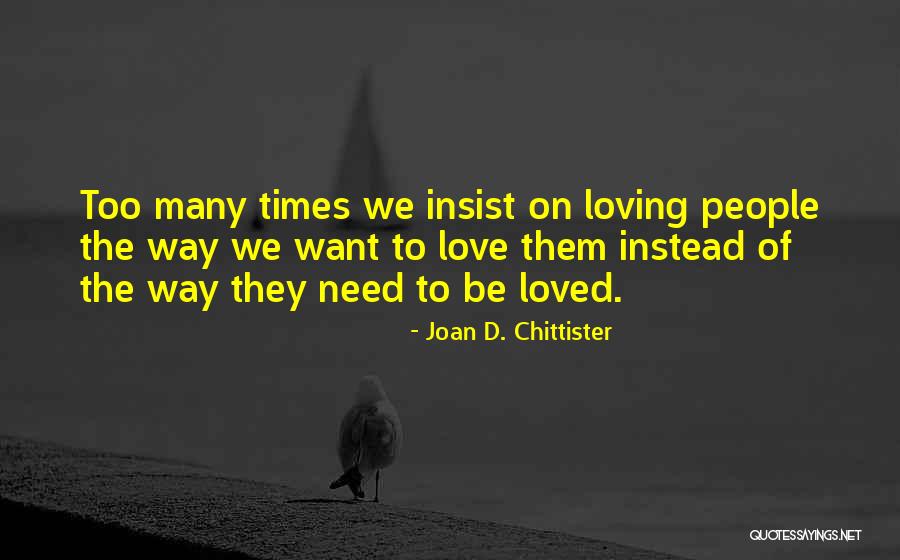 Too many times we insist on loving people the way we want to love them instead of the way they need to be loved. — Joan D. Chittister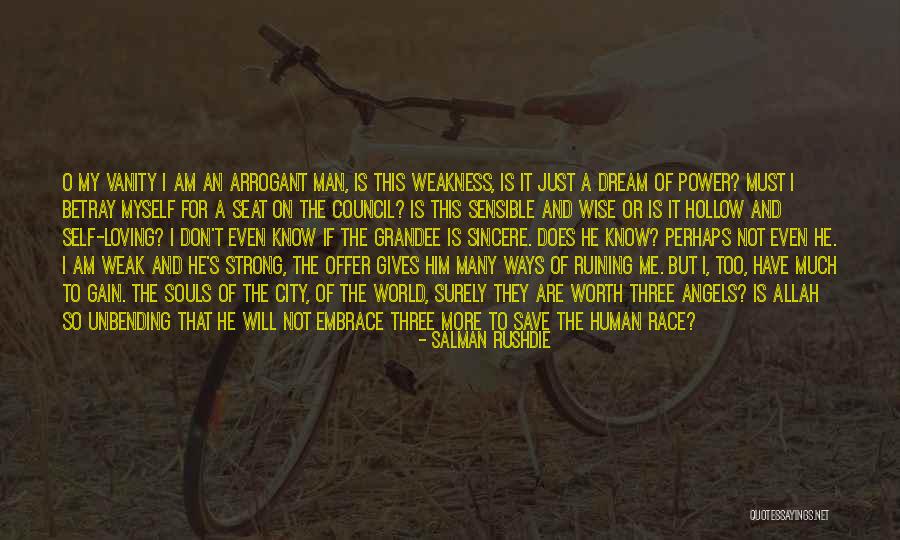 O my vanity I am an arrogant man, is this weakness, is it just a dream of power? Must I betray myself for a seat on the council? Is this sensible and wise or is it hollow and self-loving? I don't even know if the Grandee is sincere. Does he know? Perhaps not even he. I am weak and he's strong, the offer gives him many ways of ruining me. But I, too, have much to gain. The souls of the city, of the world, surely they are worth three angels? Is Allah so unbending that he will not embrace three more to save the human race? — Salman Rushdie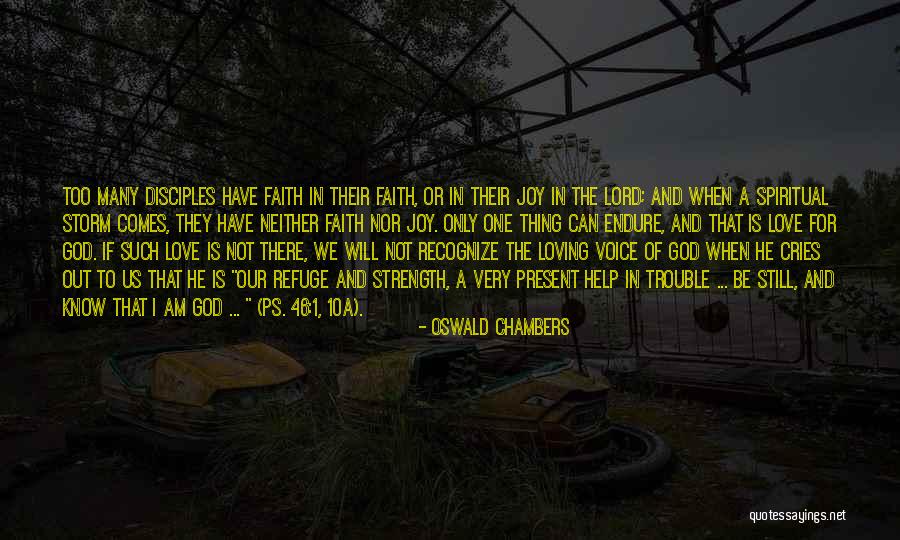 Too many disciples have faith in their faith, or in their joy in the Lord; and when a spiritual storm comes, they have neither faith nor joy. Only one thing can endure, and that is love for God. If such love is not there, we will not recognize the loving voice of God when He cries out to us that He is "our refuge and strength, a very present help in trouble ... be still, and know that I am God ... " (Ps. 46:1, 10a). — Oswald Chambers
A man of God has many brothers. He is a wounded soldier - he is familiar with the pain one feels in his heart, as a close and loving brother, when a brother falls victim of evil men or turns to evil desires (the latter sometimes even betrayal). Because of this, too, he is and must be well-acquainted with and trained in the strengths of hope and the gentleness of forgiveness and mercy. — Criss Jami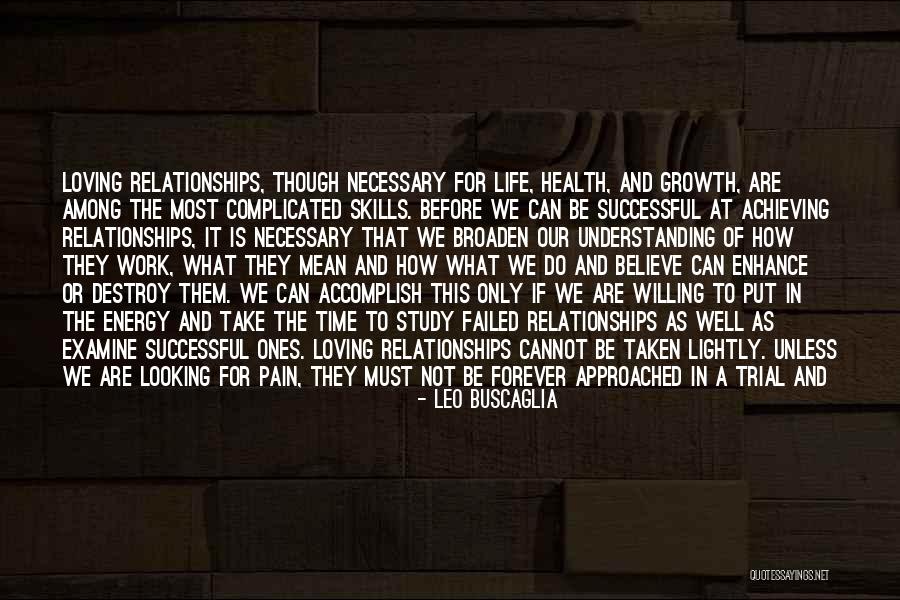 Loving relationships, though necessary for life, health, and growth, are among the most complicated skills. Before we can be successful at achieving relationships, it is necessary that we broaden our understanding of how they work, what they mean and how what we do and believe can enhance or destroy them. We can accomplish this only if we are willing to put in the energy and take the time to study failed relationships as well as examine successful ones. Loving relationships cannot be taken lightly. Unless we are looking for pain, they must not be forever approached in a trial and error fashion. Too many of us have experienced the cost of these lackadaisical approaches in terms of tears, confusion and guilt. — Leo Buscaglia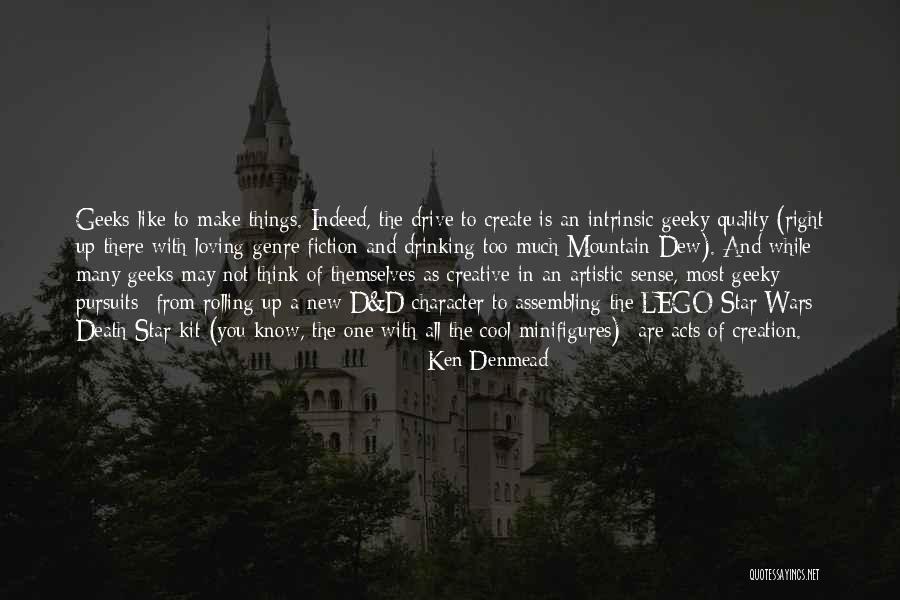 Geeks like to make things. Indeed, the drive to create is an intrinsic geeky quality (right up there with loving genre fiction and drinking too much Mountain Dew). And while many geeks may not think of themselves as creative in an artistic sense, most geeky pursuits--from rolling up a new D&D character to assembling the LEGO Star Wars Death Star kit (you know, the one with all the cool minifigures)--are acts of creation. — Ken Denmead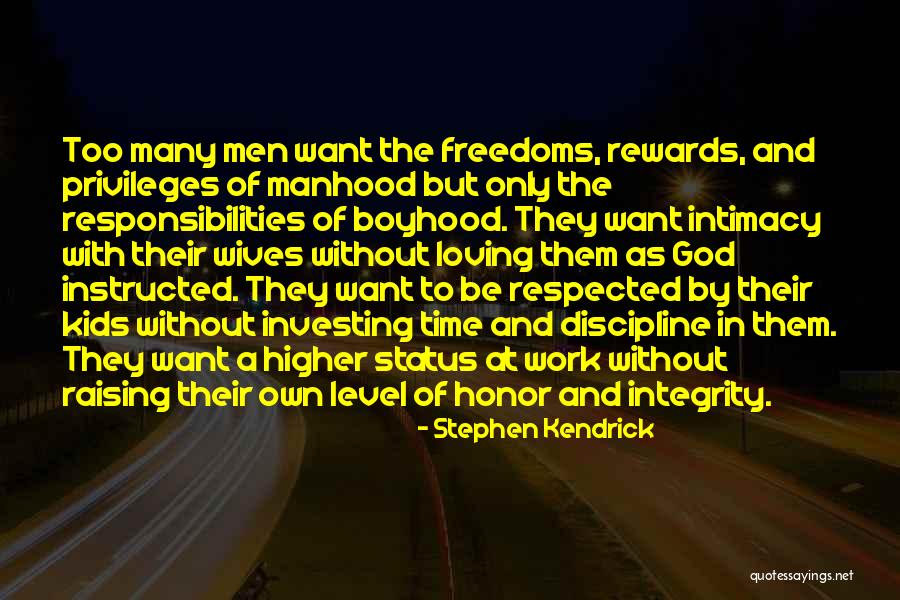 Too many men want the freedoms, rewards, and privileges of manhood but only the responsibilities of boyhood. They want intimacy with their wives without loving them as God instructed. They want to be respected by their kids without investing time and discipline in them. They want a higher status at work without raising their own level of honor and integrity. — Stephen Kendrick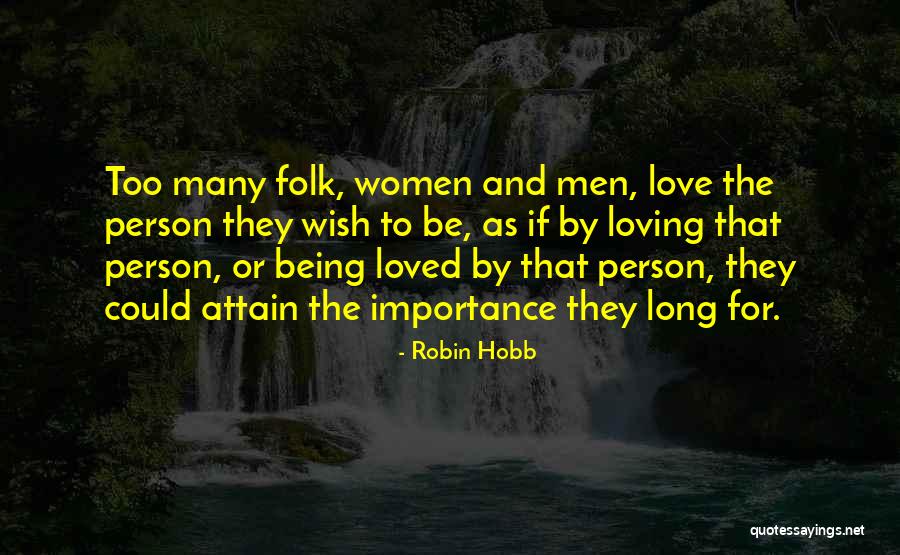 Too many folk, women and men, love the person they wish to be, as if by loving that person, or being loved by that person, they could attain the importance they long for. — Robin Hobb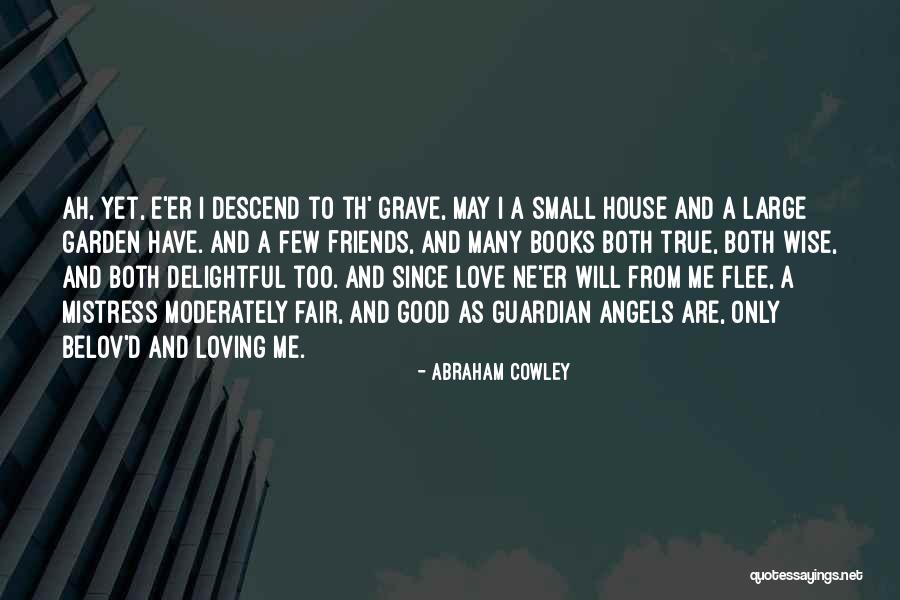 Ah, yet, e'er I descend to th' grave, May I a small House and a large Garden have. And a few Friends, and many Books both true, Both wise, and both delightful too. And since Love ne'er will from me flee, A mistress moderately fair, And good as Guardian angels are, Only belov'd and loving me. — Abraham Cowley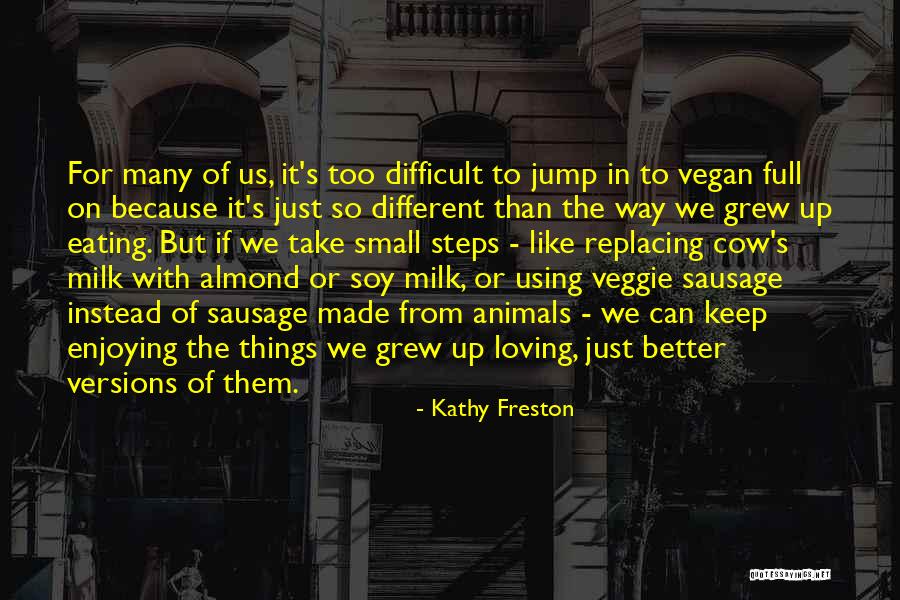 For many of us, it's too difficult to jump in to vegan full on because it's just so different than the way we grew up eating. But if we take small steps - like replacing cow's milk with almond or soy milk, or using veggie sausage instead of sausage made from animals - we can keep enjoying the things we grew up loving, just better versions of them. — Kathy Freston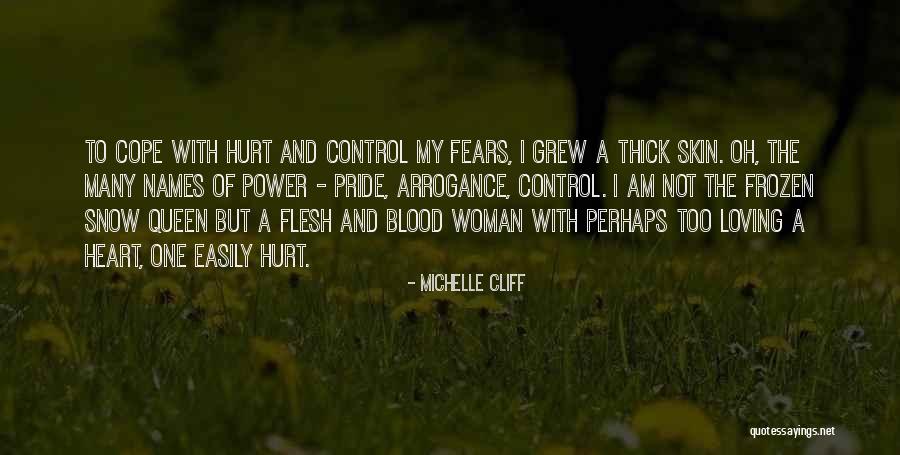 To cope with hurt and control my fears, I grew a thick skin. Oh, the many names of power - pride, arrogance, control. I am not the frozen snow queen but a flesh and blood woman with perhaps too loving a heart, one easily hurt. — Michelle Cliff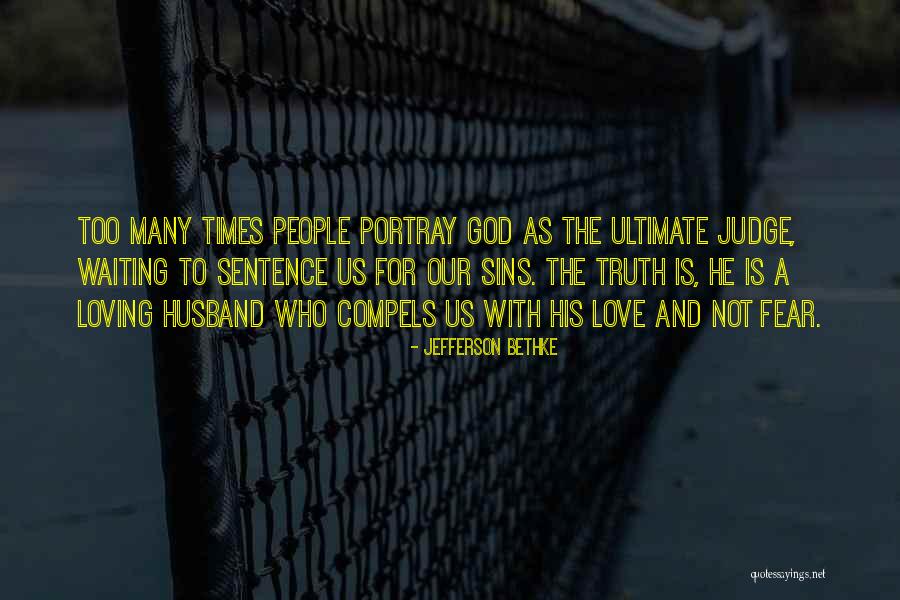 Too many times people portray God as the ultimate judge, waiting to sentence us for our sins. The truth is, he is a loving husband who compels us with his love and not fear. — Jefferson Bethke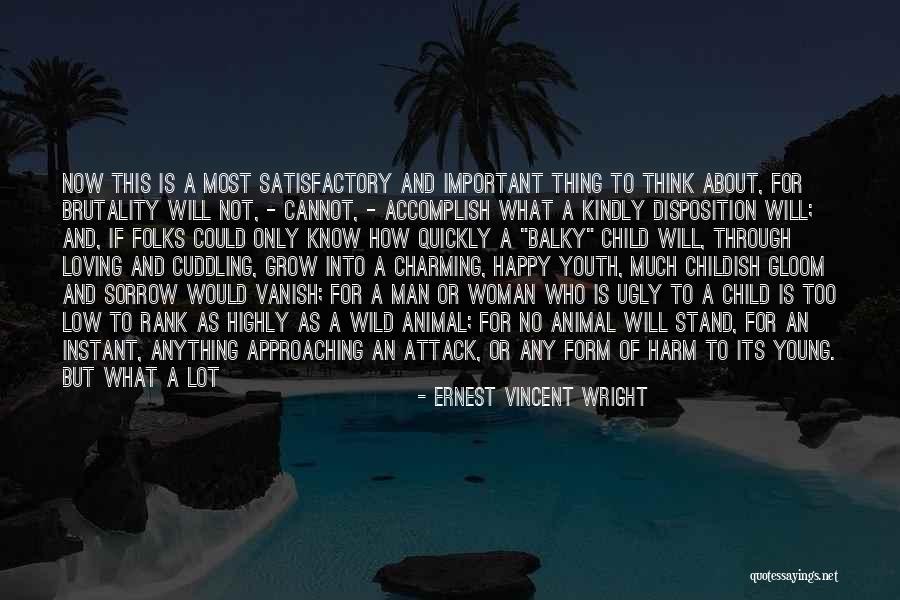 Now this is a most satisfactory and important thing to think about, for brutality will not, - cannot, - accomplish what a kindly disposition will; and, if folks could only know how quickly a "balky" child will, through loving and cuddling, grow into a charming, happy youth, much childish gloom and sorrow would vanish; for a man or woman who is ugly to a child is too low to rank as highly as a wild animal; for no animal will stand, for an instant, anything approaching an attack, or any form of harm to its young. But what a lot of tots find slaps, yanks and hard words for conditions which do not call for such harsh tactics! No child is naturally ugly or "cranky." And big, gulping sobs, or sad, unhappy young minds, in a tiny body should not occur in any community of civilization. Adulthood holds many an opportunity for such conditions. Childhood should not. — Ernest Vincent Wright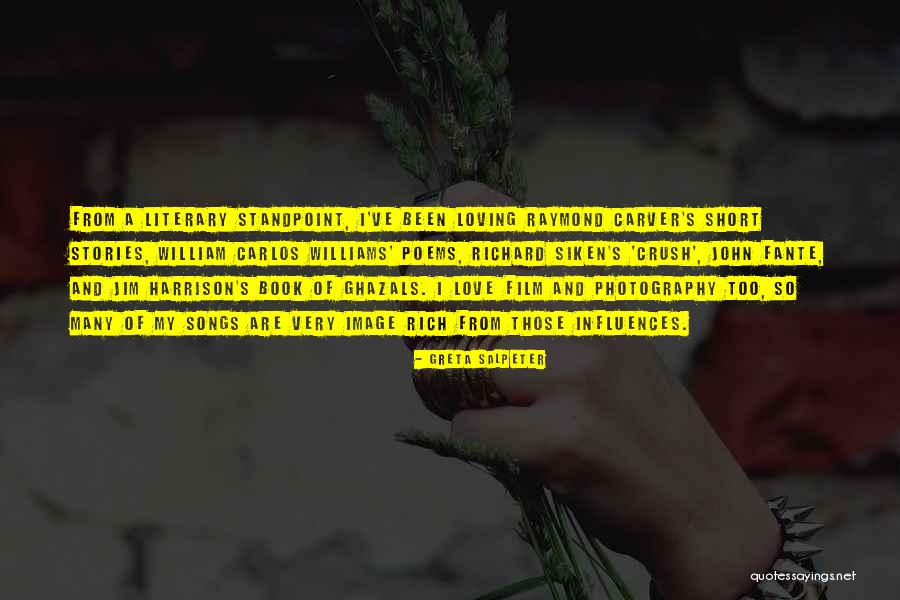 From a literary standpoint, I've been loving Raymond Carver's short stories, William Carlos Williams' poems, Richard Siken's 'Crush', John Fante, and Jim Harrison's book of ghazals. I love film and photography too, so many of my songs are very image rich from those influences. — Greta Salpeter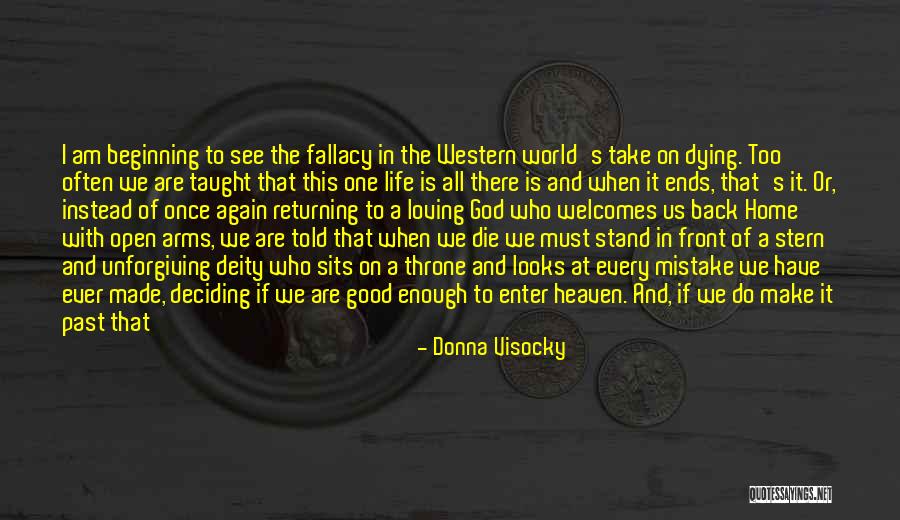 I am beginning to see the fallacy in the Western world's take on dying. Too often we are taught that this one life is all there is and when it ends, that's it. Or, instead of once again returning to a loving God who welcomes us back Home with open arms, we are told that when we die we must stand in front of a stern and unforgiving deity who sits on a throne and looks at every mistake we have ever made, deciding if we are good enough to enter heaven. And, if we do make it past that stringent test, we certainly aren't able to visit our friends and family still living. No wonder so many of us are afraid of death. I also find it fascinating that most religions believe in angels or wise ascended souls who brought messages to certain people on earth (Moses and Noah, for example) thousands of years ago, but deny that such an occurrence can happen now. What, did God just decide not to talk to us anymore? — Donna Visocky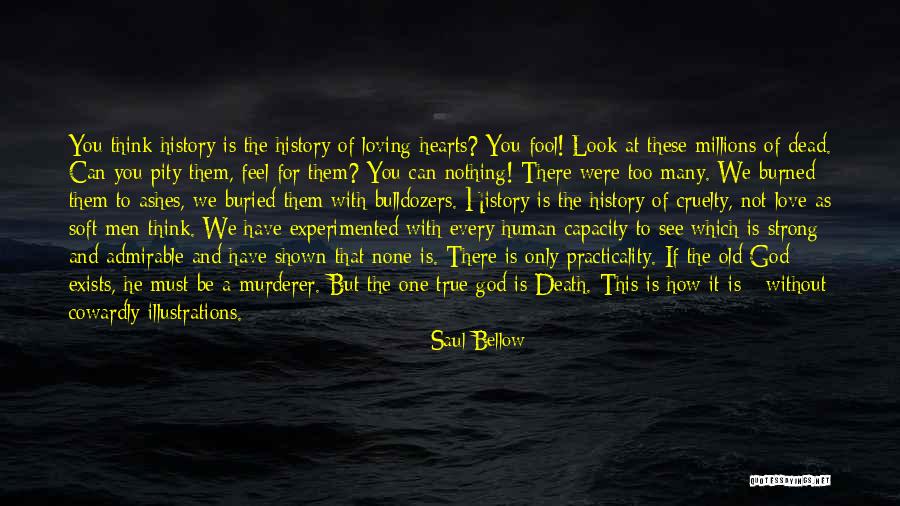 You think history is the history of loving hearts? You fool! Look at these millions of dead. Can you pity them, feel for them? You can nothing! There were too many. We burned them to ashes, we buried them with bulldozers. History is the history of cruelty, not love as soft men think. We have experimented with every human capacity to see which is strong and admirable and have shown that none is. There is only practicality. If the old God exists, he must be a murderer. But the one true god is Death. This is how it is - without cowardly illustrations. — Saul Bellow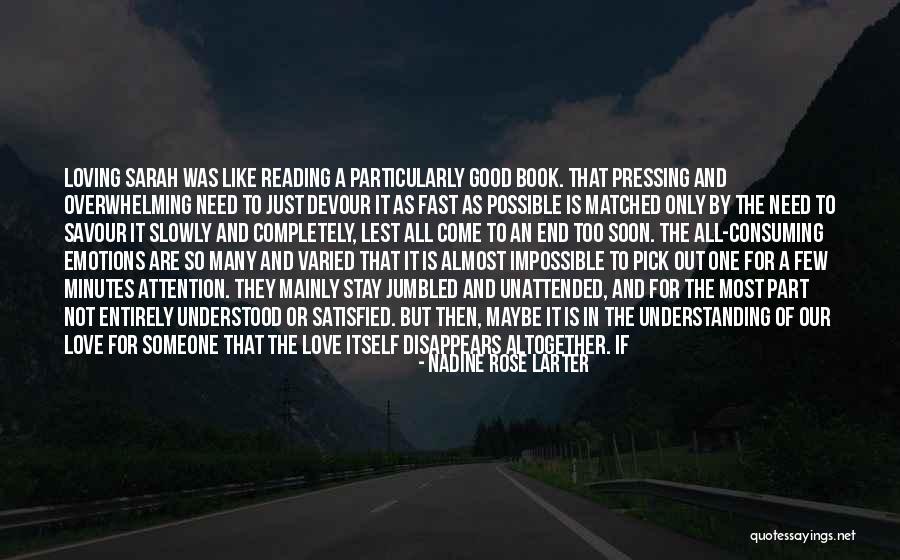 Loving Sarah was like reading a particularly good book. That pressing and overwhelming need to just devour it as fast as possible is matched only by the need to savour it slowly and completely, lest all come to an end too soon. The all-consuming emotions are so many and varied that it is almost impossible to pick out one for a few minutes attention. They mainly stay jumbled and unattended, and for the most part not entirely understood or satisfied. But then, maybe it is in the understanding of our love for someone that the love itself disappears altogether. If so, then I don't want to understand, and I remain content to simply experience her. Somehow, the more I learn about Sarah, the better I understand myself.
And the more I fall in love. — Nadine Rose Larter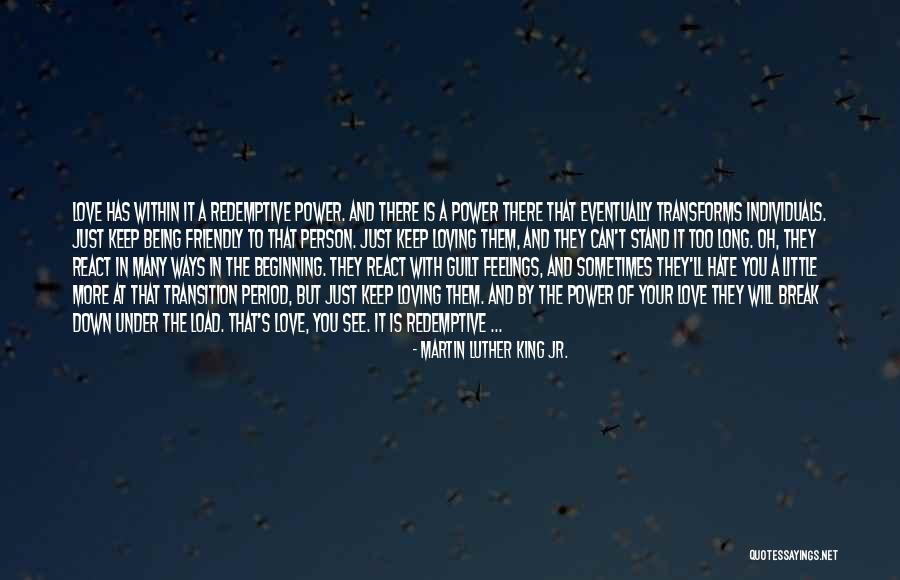 Love has within it a redemptive power. And there is a power there that eventually transforms individuals. Just keep being friendly to that person. Just keep loving them, and they can't stand it too long. Oh, they react in many ways in the beginning. They react with guilt feelings, and sometimes they'll hate you a little more at that transition period, but just keep loving them. And by the power of your love they will break down under the load. That's love, you see. It is redemptive ... — Martin Luther King Jr.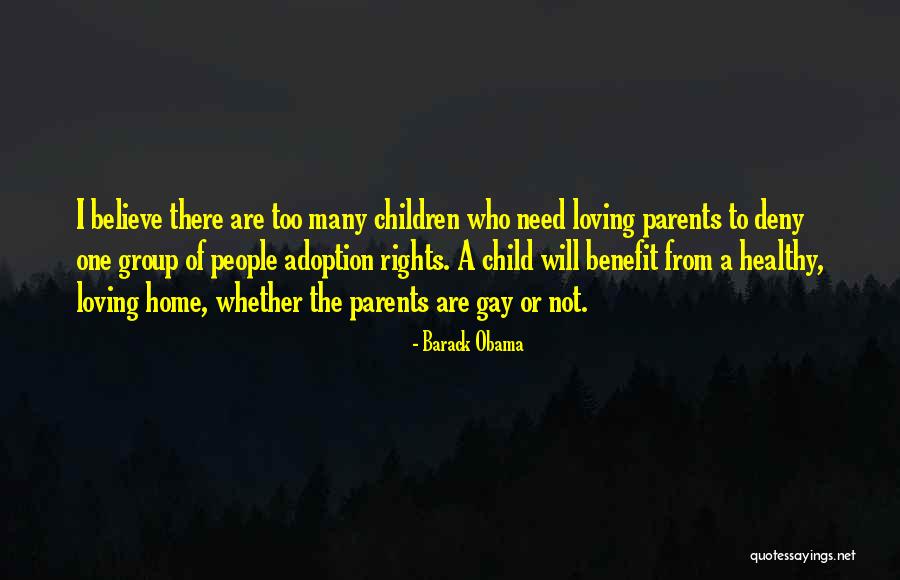 I believe there are too many children who need loving parents to deny one group of people adoption rights. A child will benefit from a healthy, loving home, whether the parents are gay or not. — Barack Obama
A very special case. A few years more, and that pretty creature who you love too much, I think, will, without ever loving them, have known as many men as there are beads on her aunt's rosary. No happy medium! Either a nun or a monster! God's bosom or sensual passions! It would, perhaps, be better to put her in a convent, since we put hysterical women in the Saltpetriere! She does not know vice, she invents it!
That was ten years ago before the day our story begins and ... Raoule was not a nun. — Rachilde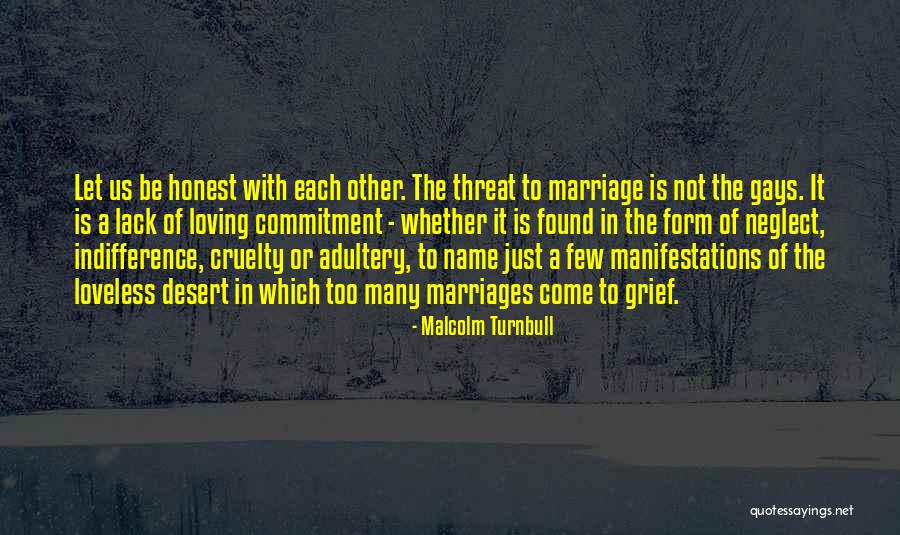 Let us be honest with each other. The threat to marriage is not the gays. It is a lack of loving commitment - whether it is found in the form of neglect, indifference, cruelty or adultery, to name just a few manifestations of the loveless desert in which too many marriages come to grief. — Malcolm Turnbull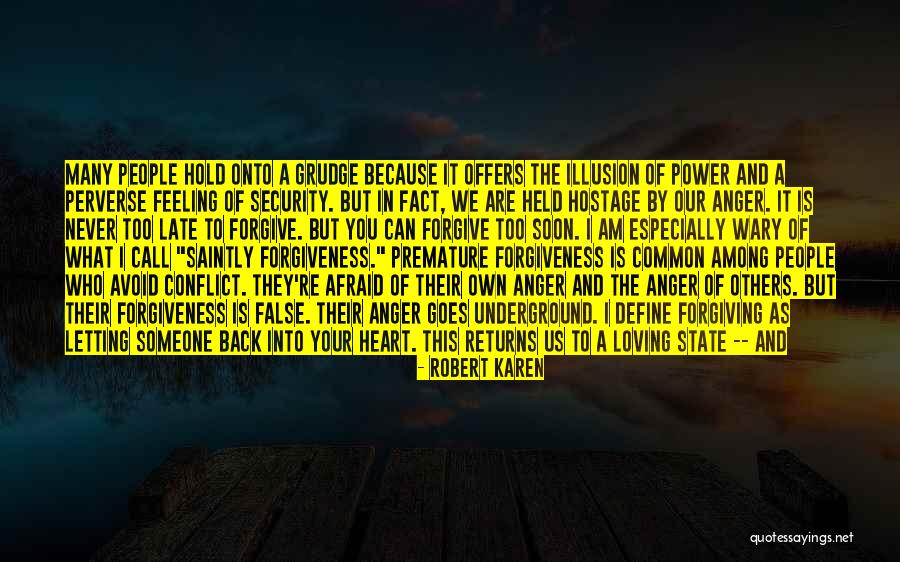 Many people hold onto a grudge because it offers the illusion of power and a perverse feeling of security. But in fact, we are held hostage by our anger. It is never too late to forgive. But you can forgive too soon. I am especially wary of what I call "saintly forgiveness." Premature forgiveness is common among people who avoid conflict. They're afraid of their own anger and the anger of others. But their forgiveness is false. Their anger goes underground. I define forgiving as letting someone back into your heart. This returns us to a loving state -- and not merely within the relationship -- we feel good about ourselves and the world. True forgiveness isn't easy, but it transforms us significantly. To forgive is to love and to feel worthy of love. In that sense, it is always worthwhile. — Robert Karen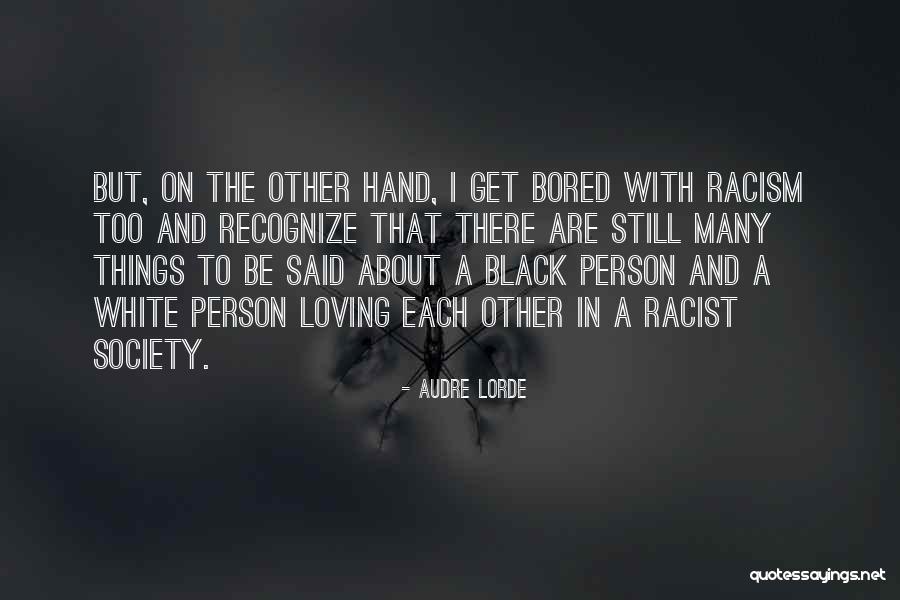 But, on the other hand, I get bored with racism too and recognize that there are still many things to be said about a Black person and a White person loving each other in a racist society. — Audre Lorde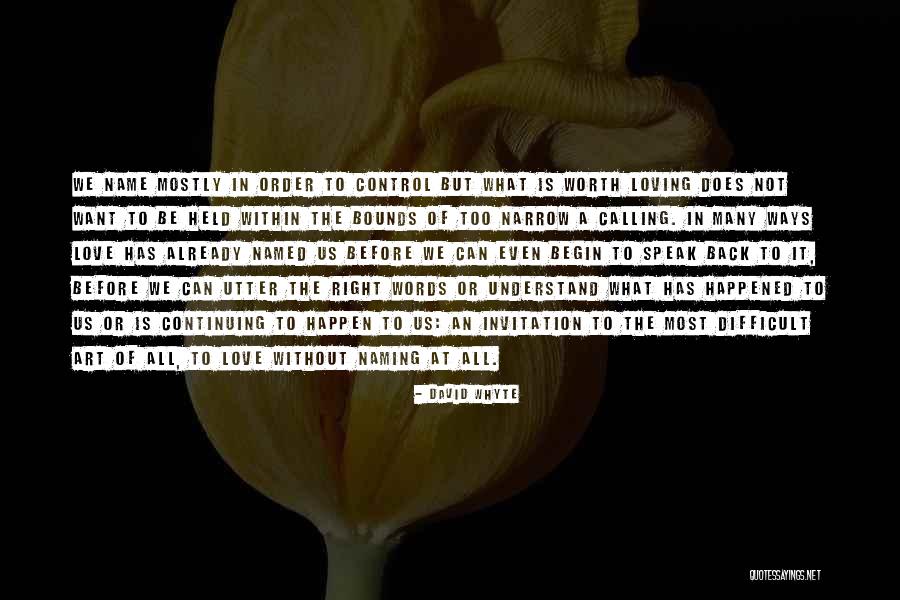 We name mostly in order to control but what is worth loving does not want to be held within the bounds of too narrow a calling. In many ways love has already named us before we can even begin to speak back to it, before we can utter the right words or understand what has happened to us or is continuing to happen to us: an invitation to the most difficult art of all, to love without naming at all. — David Whyte
If we have too many worries, fears, and doubts, we have no room for living and loving. We need to practice letting go. — Thich Nhat Hanh