Something To Think About Christian Quotes & Sayings
Enjoy reading and share 54 famous quotes about Something To Think About Christian with everyone.
Top Something To Think About Christian Quotes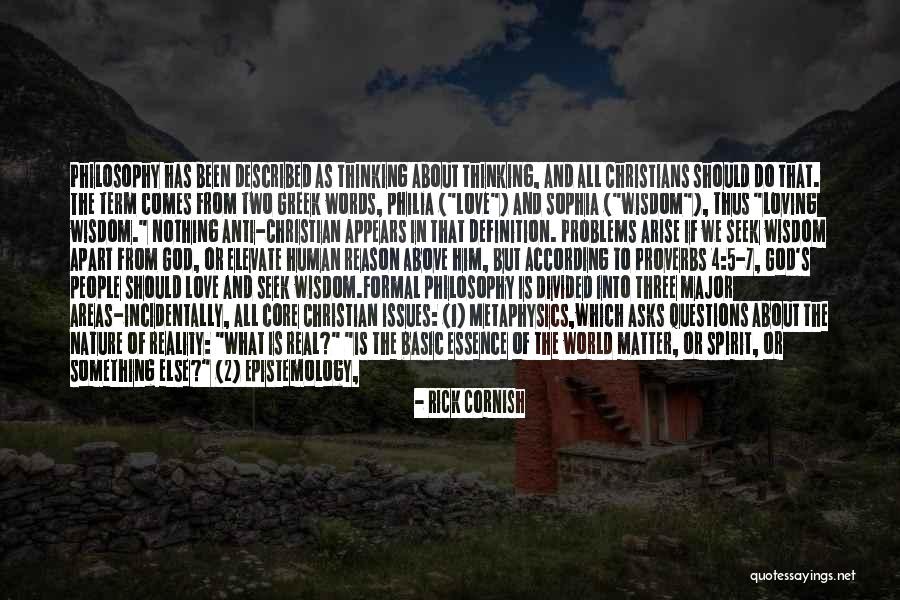 Philosophy has been described as thinking about thinking, and all Christians should do that. The term comes from two Greek words, philia ("love") and sophia ("wisdom"), thus "loving wisdom." Nothing anti-Christian appears in that definition. Problems arise if we seek wisdom apart from God, or elevate human reason above Him, but according to Proverbs 4:5-7, God's people should love and seek wisdom.
Formal philosophy is divided into three major areas-incidentally, all core Christian issues: (1) Metaphysics,
which asks questions about the nature of reality: "What is real?" "Is the basic essence of the world matter, or spirit, or something else?" (2) Epistemology, which addresses issues concerning truth and knowledge: "What do we know?" "How do we know it?" "Why do we think it's true?" (3) Ethics, which considers moral problems: "What is right and wrong?" "Are moral values absolute or relative?" "What is the good life, and how do we achieve it? — Rick Cornish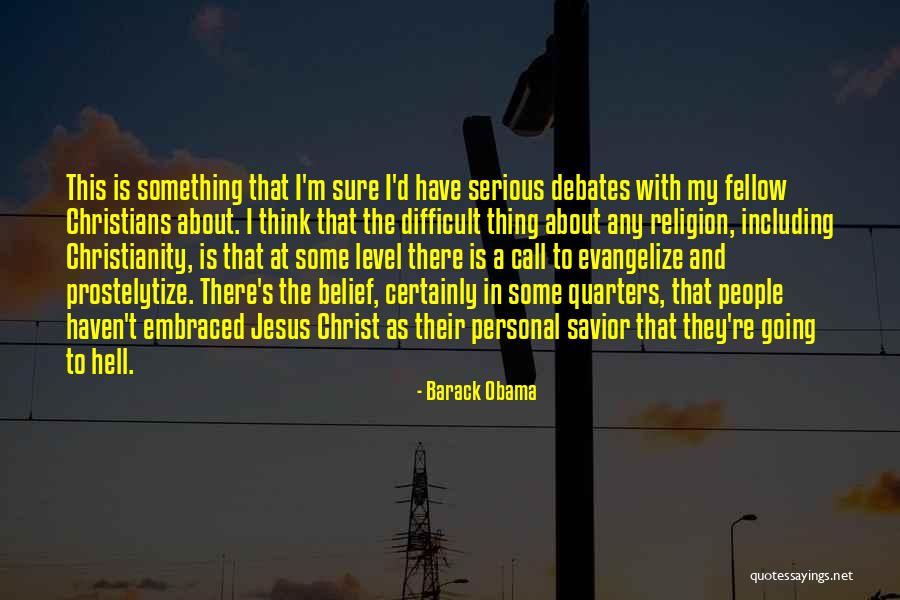 This is something that I'm sure I'd have serious debates with my fellow Christians about. I think that the difficult thing about any religion, including Christianity, is that at some level there is a call to evangelize and prostelytize. There's the belief, certainly in some quarters, that people haven't embraced Jesus Christ as their personal savior that they're going to hell. — Barack Obama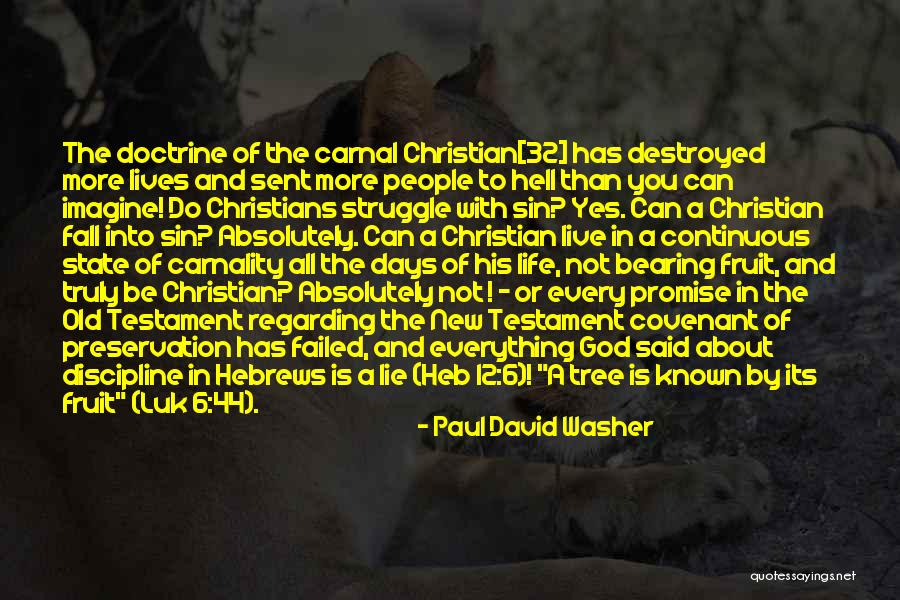 The doctrine of the carnal Christian[32] has destroyed more lives and sent more people to hell than you can imagine! Do Christians struggle with sin? Yes. Can a Christian fall into sin? Absolutely. Can a Christian live in a continuous state of carnality all the days of his life, not bearing fruit, and truly be Christian? Absolutely not ! - or every promise in the Old Testament regarding the New Testament covenant of preservation has failed, and everything God said about discipline in Hebrews is a lie (Heb 12:6)! "A tree is known by its fruit" (Luk 6:44). — Paul David Washer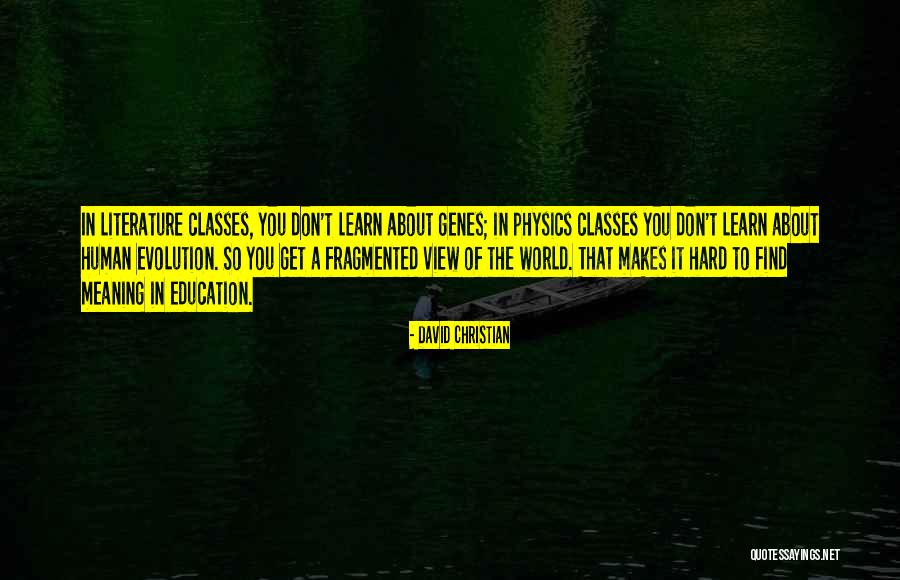 In literature classes, you don't learn about genes; in physics classes you don't learn about human evolution. So you get a fragmented view of the world. That makes it hard to find meaning in education. — David Christian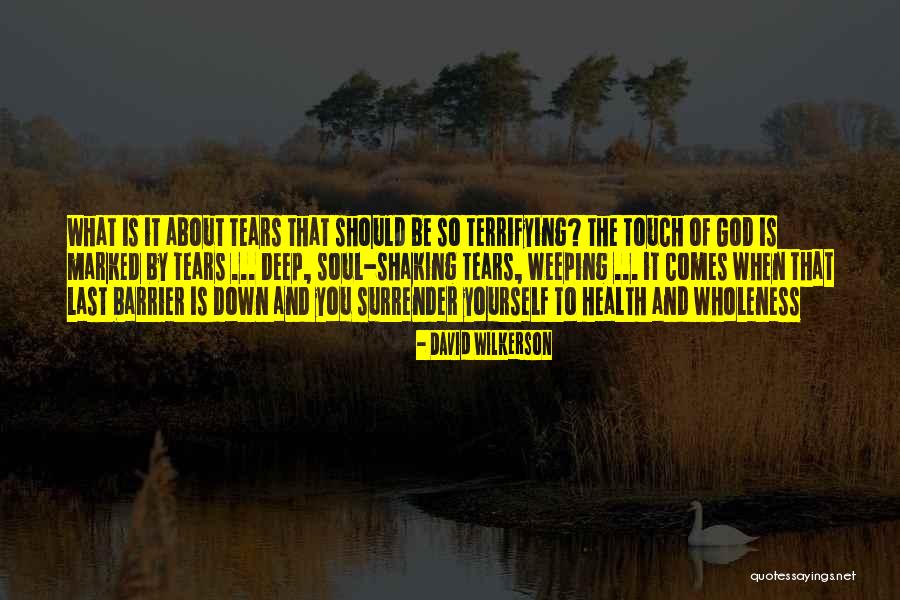 What is it about tears that should be so terrifying? the touch of God is marked by tears ... deep, soul-shaking tears, weeping ... it comes when that last barrier is down and you surrender yourself to health and wholeness — David Wilkerson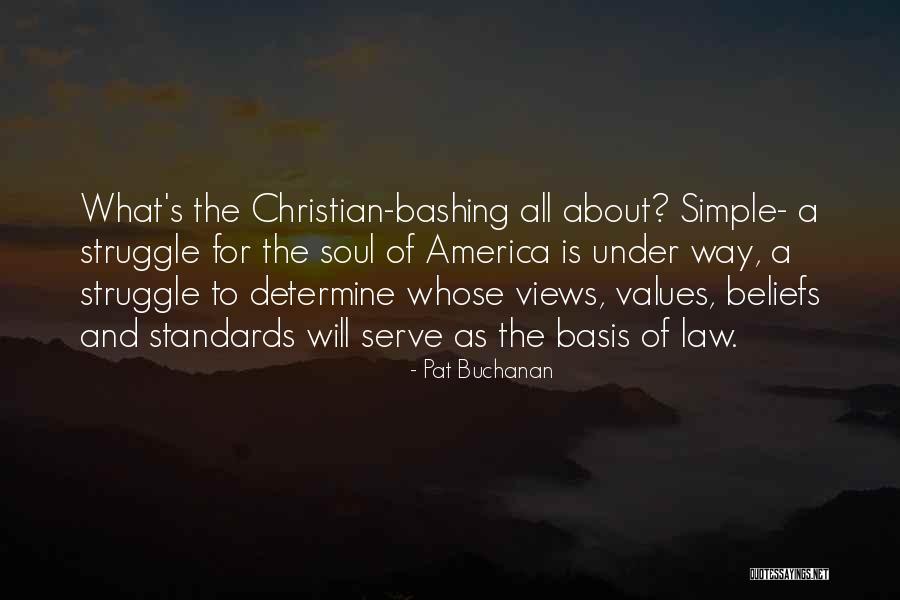 What's the Christian-bashing all about? Simple- a struggle for the soul of America is under way, a struggle to determine whose views, values, beliefs and standards will serve as the basis of law. — Pat Buchanan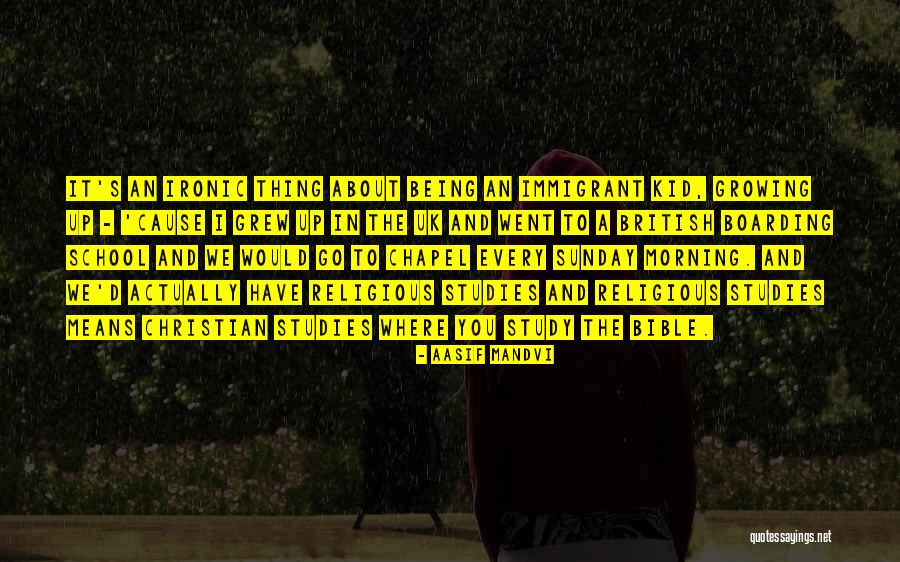 It's an ironic thing about being an immigrant kid, growing up - 'cause I grew up in the UK and went to a British boarding school and we would go to chapel every Sunday morning. And we'd actually have religious studies and religious studies means Christian studies where you study the Bible. — Aasif Mandvi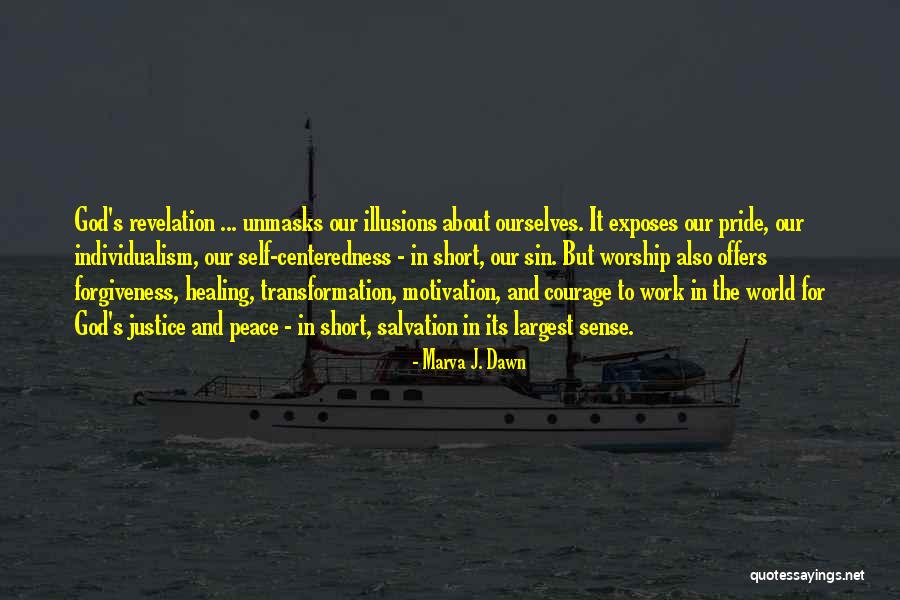 God's revelation ... unmasks our illusions about ourselves. It exposes our pride, our individualism, our self-centeredness - in short, our sin. But worship also offers forgiveness, healing, transformation, motivation, and courage to work in the world for God's justice and peace - in short, salvation in its largest sense. — Marva J. Dawn
If my brothers and sisters in Christ continue to tell me something about myself that I do not see as true and accurate, I must come to a place where I trust the body, looking at me objectively, more than I trust myself, looking at me subjectively. This is especially true when we are dealing with people who know and love us, those who live and serve in close proximity. Praise God for loving Christian spouses, siblings, and even children in whom both the Spirit of God and a willingness to be lovingly honest abide. — Voddie T. Baucham Jr.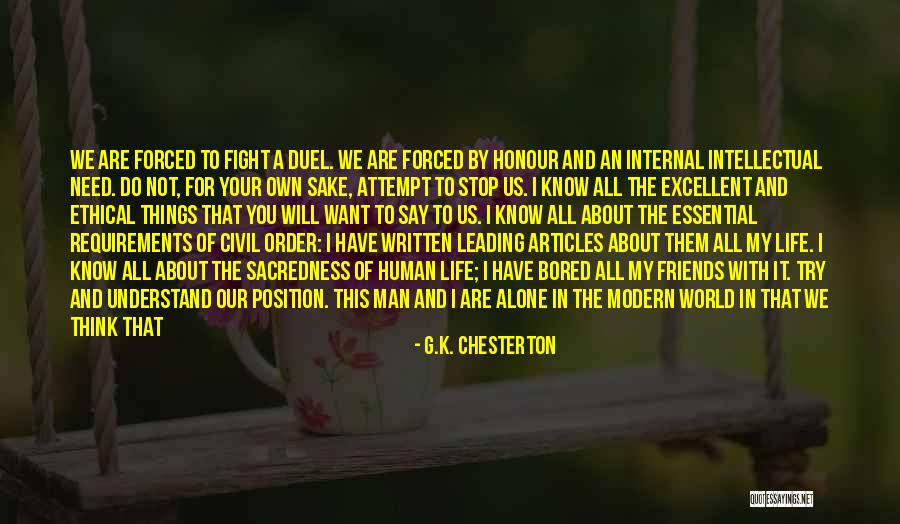 We are forced to fight a duel. We are forced by honour and an internal intellectual need. Do not, for your own sake, attempt to stop us. I know all the excellent and ethical things that you will want to say to us. I know all about the essential requirements of civil order: I have written leading articles about them all my life. I know all about the sacredness of human life; I have bored all my friends with it. Try and understand our position. This man and I are alone in the modern world in that we think that God is essentially important. I think He does not exist; that is where the importance comes in for me. But this man thinks that He does exist, and thinking that very properly thinks Him more important than anything else. Now we wish to make a great demonstration and assertion - something that will set the world on fire like the first Christian persecutions. If — G.K. Chesterton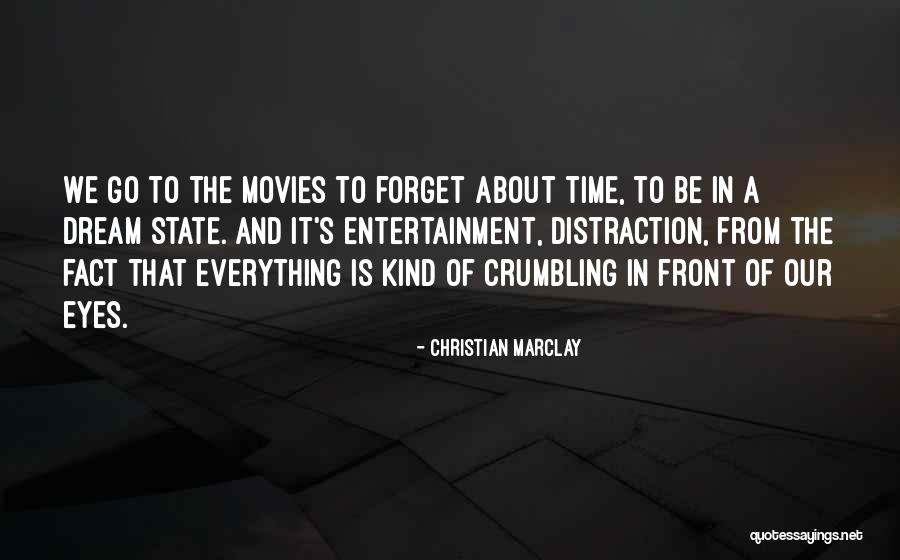 We go to the movies to forget about time, to be in a dream state. And it's entertainment, distraction, from the fact that everything is kind of crumbling in front of our eyes. — Christian Marclay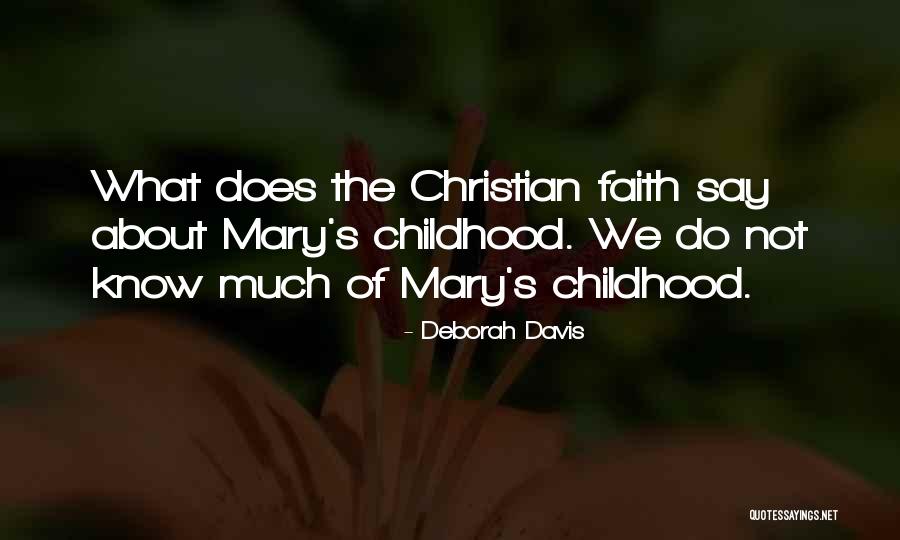 What does the Christian faith say about Mary's childhood. We do not know much of Mary's childhood. — Deborah Davis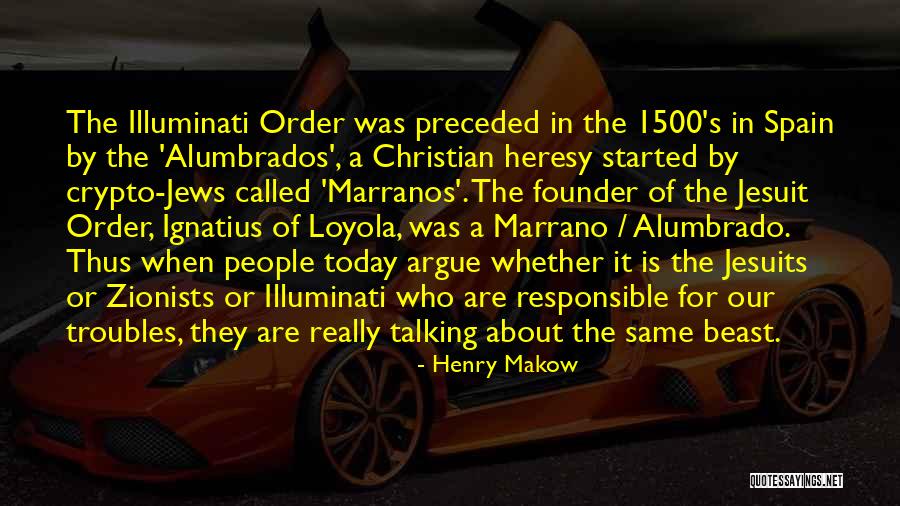 The Illuminati Order was preceded in the 1500's in Spain by the 'Alumbrados', a Christian heresy started by crypto-Jews called 'Marranos'. The founder of the Jesuit Order, Ignatius of Loyola, was a Marrano / Alumbrado. Thus when people today argue whether it is the Jesuits or Zionists or Illuminati who are responsible for our troubles, they are really talking about the same beast. — Henry Makow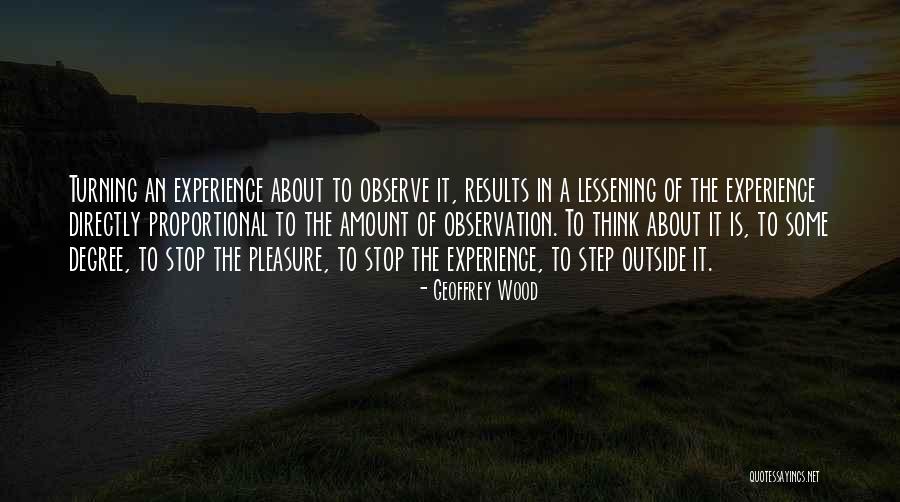 Turning an experience about to observe it, results in a lessening of the experience directly proportional to the amount of observation. To think about it is, to some degree, to stop the pleasure, to stop the experience, to step outside it. — Geoffrey Wood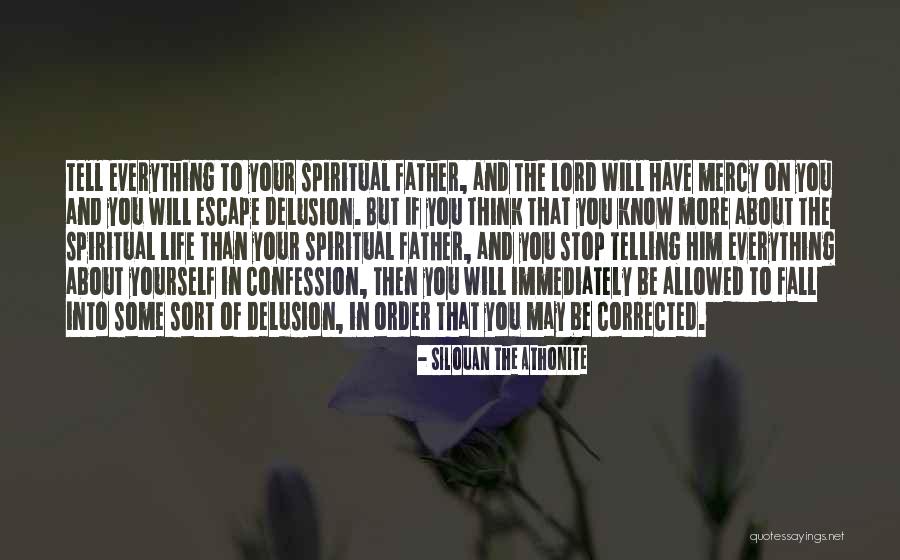 Tell everything to your spiritual father, and the Lord will have mercy on you and you will escape delusion. But if you think that you know more about the spiritual life than your spiritual father, and you stop telling him everything about yourself in confession, then you will immediately be allowed to fall into some sort of delusion, in order that you may be corrected. — Silouan The Athonite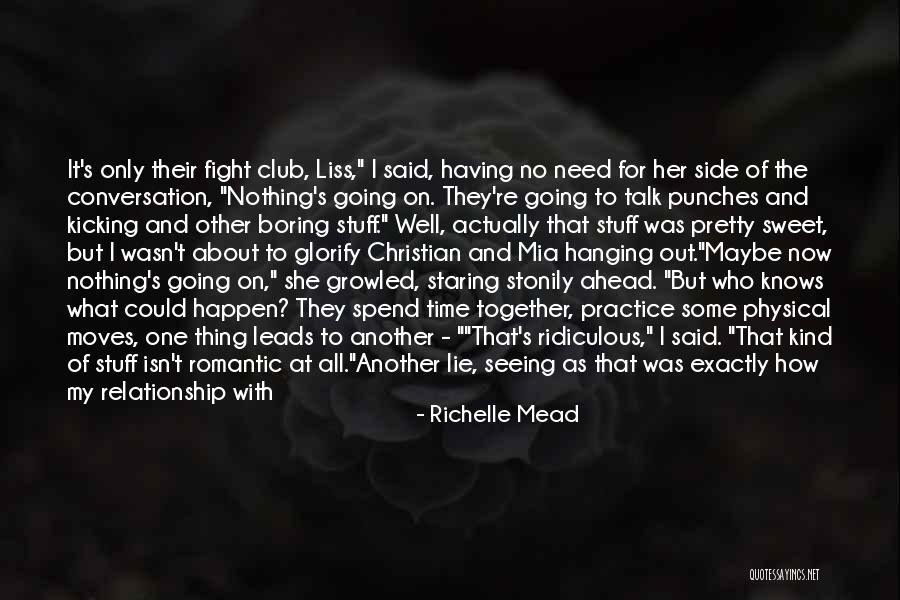 It's only their fight club, Liss," I said, having no need for her side of the conversation, "Nothing's going on. They're going to talk punches and kicking and other boring stuff."
Well, actually that stuff was pretty sweet, but I wasn't about to glorify Christian and Mia hanging out.
"Maybe now nothing's going on," she growled, staring stonily ahead. "But who knows what could happen? They spend time together, practice some physical moves, one thing leads to another - "
"That's ridiculous," I said. "That kind of stuff isn't romantic at all."
Another lie, seeing as that was exactly how my relationship with Dimitri had begun. Again, best not to mention that. — Richelle Mead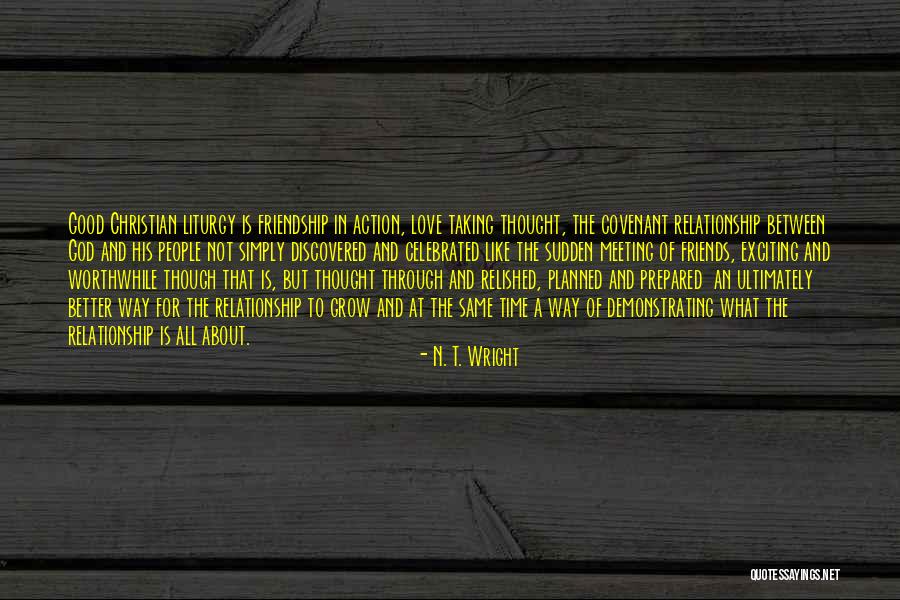 Good Christian liturgy is friendship in action, love taking thought, the covenant relationship between God and his people not simply discovered and celebrated like the sudden meeting of friends, exciting and worthwhile though that is, but thought through and relished, planned and prepared
an ultimately better way for the relationship to grow and at the same time a way of demonstrating what the relationship is all about. — N. T. Wright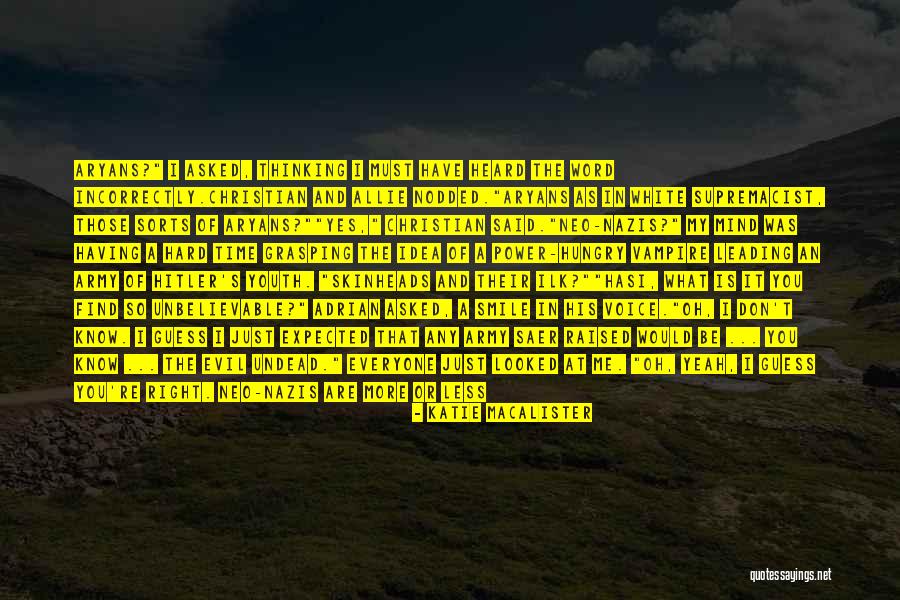 Aryans?" I asked, thinking I must have heard the word incorrectly.
Christian and Allie nodded.
"Aryans as in white supremacist, those sorts of Aryans?"
"Yes," Christian said.
"Neo-Nazis?" My mind was having a hard time grasping the idea of a power-hungry vampire leading an army of Hitler's Youth. "Skinheads and their ilk?"
"Hasi, what is it you find so unbelievable?" Adrian asked, a smile in his voice.
"Oh, I don't know. I guess I just expected that any army Saer raised would be ... you know ... the evil undead." Everyone just looked at me. "Oh, yeah, I guess you're right. Neo-Nazis are more or less the evil undead. Right. So we have Saer about to attack at any moment with a bunch of goose-stepping Nazis. Great. Anyone here do a really good Winston Churchill impression? — Katie MacAlister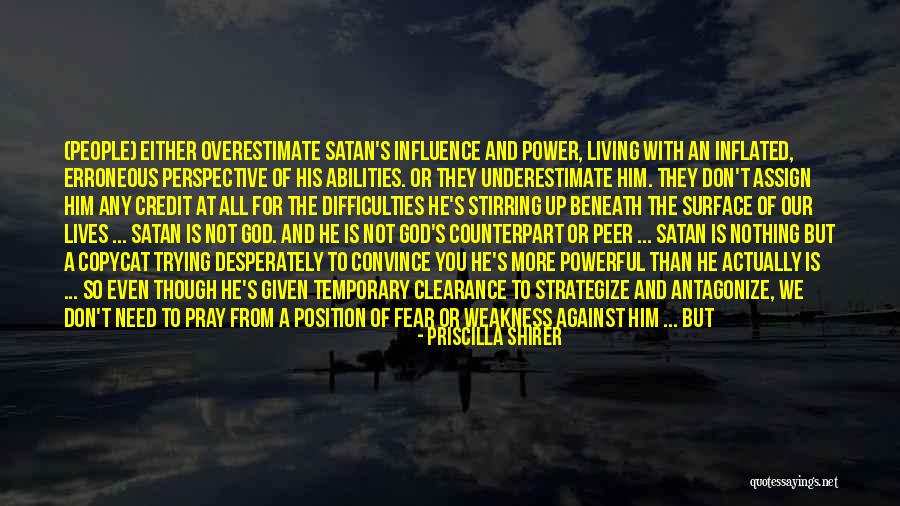 (People) either overestimate Satan's influence and power, living with an inflated, erroneous perspective of his abilities. Or they underestimate him. They don't assign him any credit at all for the difficulties he's stirring up beneath the surface of our lives ... Satan is not God. And he is not God's counterpart or peer ... Satan is nothing but a copycat trying desperately to convince you he's more powerful than he actually is ... So even though he's given temporary clearance to strategize and antagonize, we don't need to pray from a position of fear or weakness against him ... But we can't expect to experience this power unless we're serious about joining the battle in prayer. — Priscilla Shirer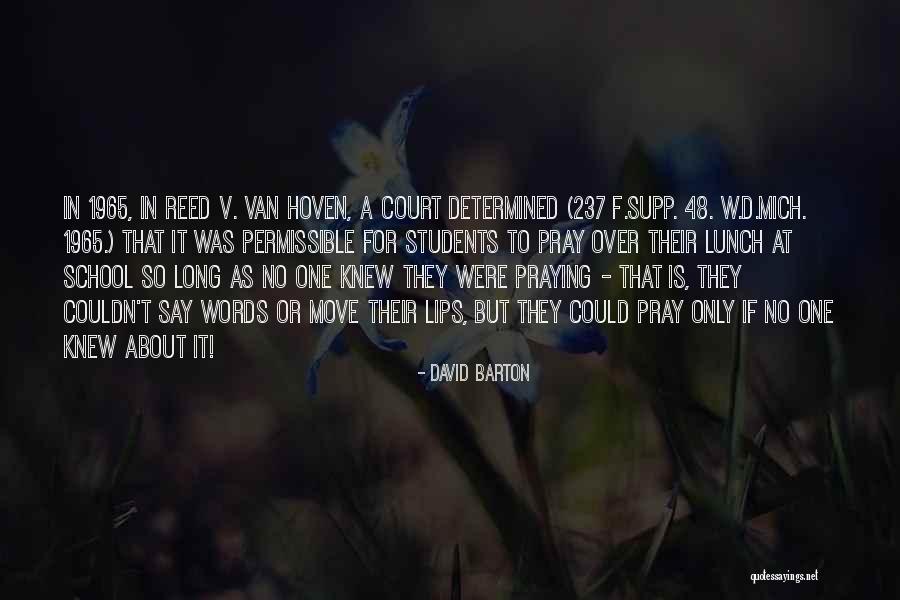 In 1965, in Reed v. Van Hoven, a court determined (237 F.Supp. 48. W.D.Mich. 1965.) that it was permissible for students to pray over their lunch at school so long as no one knew they were praying - that is, they couldn't say words or move their lips, but they could pray only if no one knew about it! — David Barton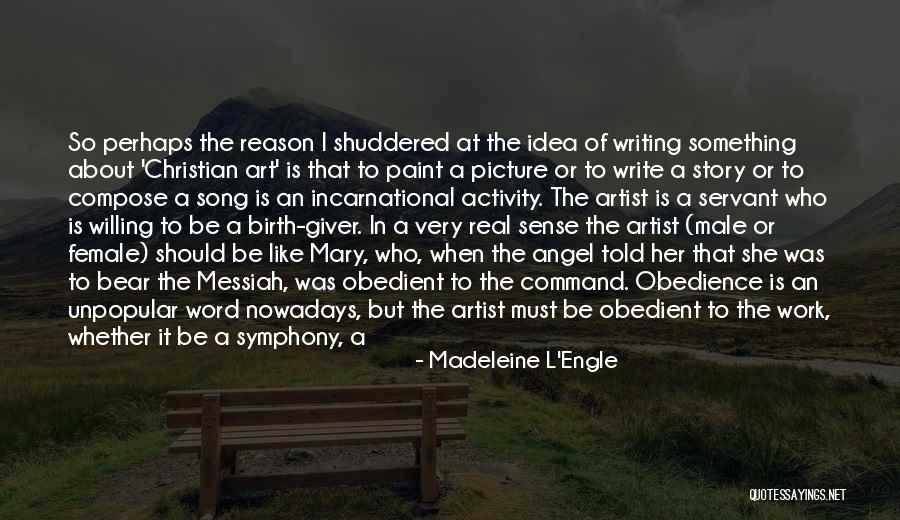 So perhaps the reason I shuddered at the idea of writing something about 'Christian art' is that to paint a picture or to write a story or to compose a song is an incarnational activity. The artist is a servant who is willing to be a birth-giver. In a very real sense the artist (male or female) should be like Mary, who, when the angel told her that she was to bear the Messiah, was obedient to the command. Obedience is an unpopular word nowadays, but the artist must be obedient to the work, whether it be a symphony, a painting, or a story for a small child. I believe that each work of art, whether it is a work of great genius or something very small, comes to the artist and says 'Here I am. Enflesh me. Give birth to me.' And the artist either says 'My soul doth magnify the Lord' and willingly becomes the bearer of the work, or refuses; but the obedient response is not necessicarily a conscious one, and not everyone has the humble, courageous obedience of Mary. — Madeleine L'Engle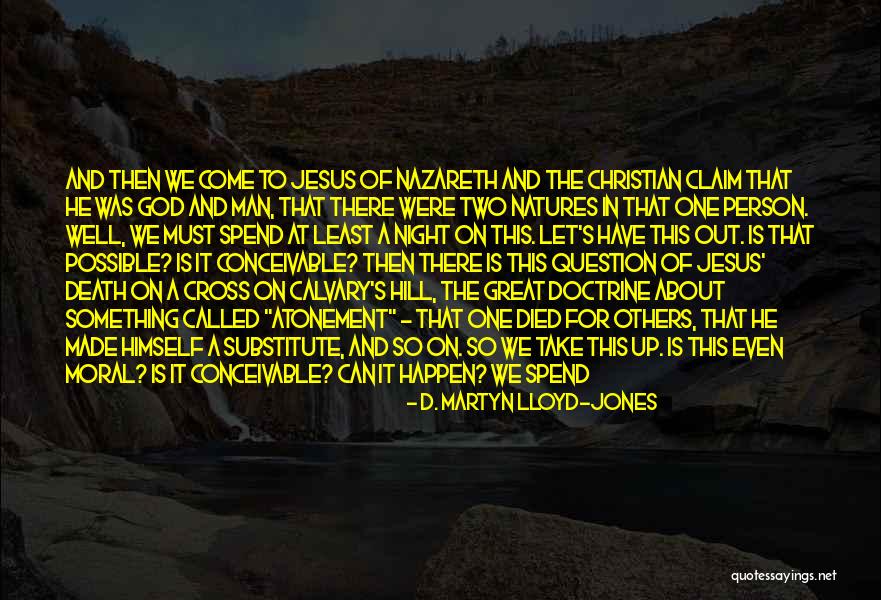 And then we come to Jesus of Nazareth and the Christian claim that he was God and man, that there were two natures in that one Person. Well, we must spend at least a night on this. Let's have this out. Is that possible? Is it conceivable? Then there is this question of Jesus' death on a cross on Calvary's hill, the great doctrine about something called "atonement" - that one died for others, that he made himself a substitute, and so on. So we take this up. Is this even moral? Is it conceivable? Can it happen? We spend a whole night arguing about that. And the whole time we think we have been discussing Christianity. There is a sense, of course, in which we have, but there is another sense in which we have not, because, my friend, you can not only go to your grave but you can even go to hell just doing that. Christianity, primarily, is not a discussion about ideas. It is a discussion about you. — D. Martyn Lloyd-Jones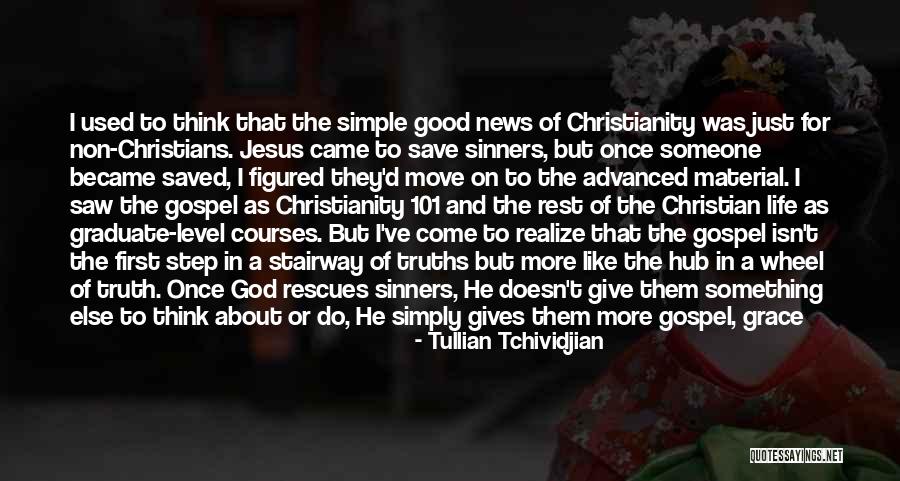 I used to think that the simple good news of Christianity was just for non-Christians. Jesus came to save sinners, but once someone became saved, I figured they'd move on to the advanced material. I saw the gospel as Christianity 101 and the rest of the Christian life as graduate-level courses. But I've come to realize that the gospel isn't the first step in a stairway of truths but more like the hub in a wheel of truth. Once God rescues sinners, He doesn't give them something else to think about or do, He simply gives them more gospel, grace upon grace. All good theology is an exposition of the gospel. — Tullian Tchividjian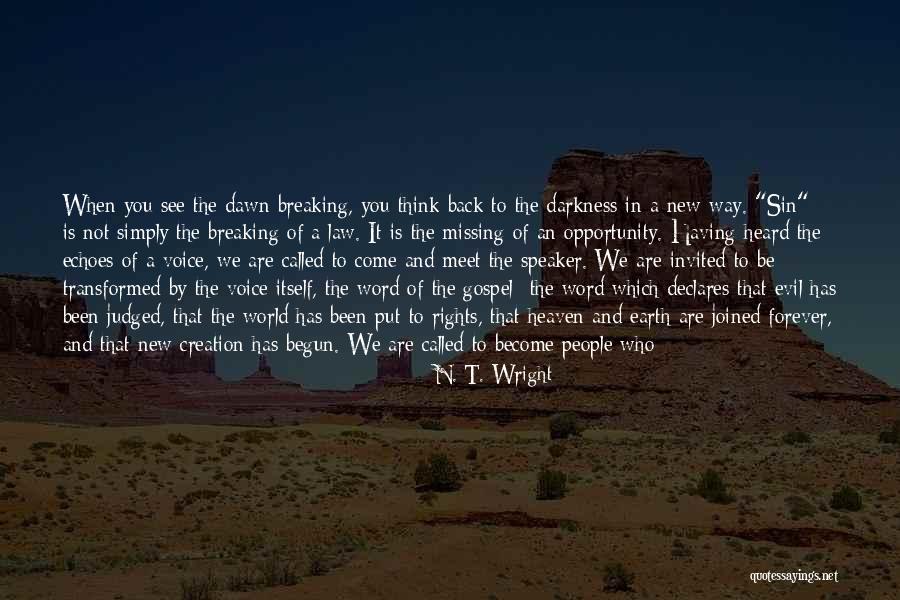 When you see the dawn breaking, you think back to the darkness in a new way. "Sin" is not simply the breaking of a law. It is the missing of an opportunity. Having heard the echoes of a voice, we are called to come and meet the speaker. We are invited to be transformed by the voice itself, the word of the gospel- the word which declares that evil has been judged, that the world has been put to rights, that heaven and earth are joined forever, and that new creation has begun. We are called to become people who can speak and live and paint and sing that word so that those who have heard it's echoes can come and lend a hand in the larger project. That is the opportunity that stands before us, as a gift and a possibility. Christian holiness is not (as people often imagine) a matter of denying something good. It is about growing up and grasping something even better. — N. T. Wright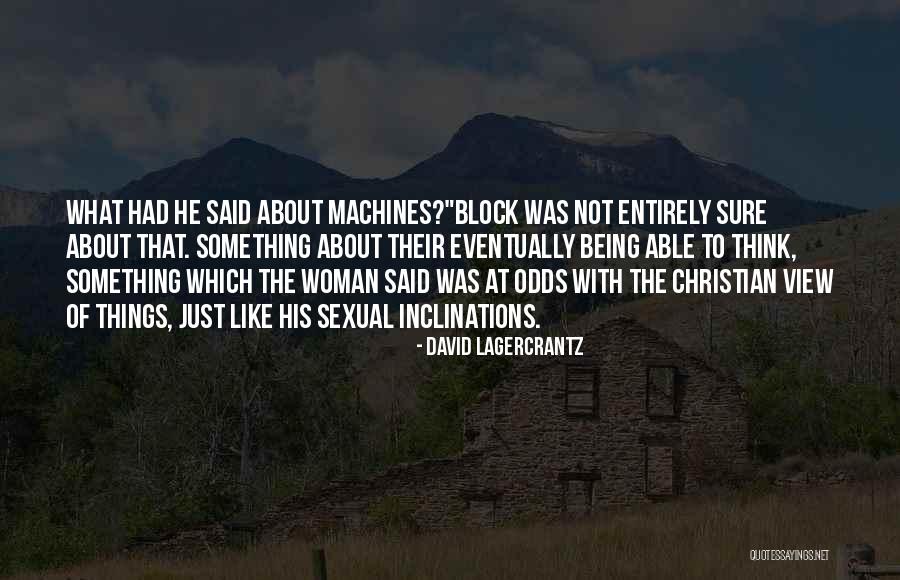 What had he said about machines?"
Block was not entirely sure about that. Something about their eventually being able to think, something which the woman said was at odds with the Christian view of things, just like his sexual inclinations. — David Lagercrantz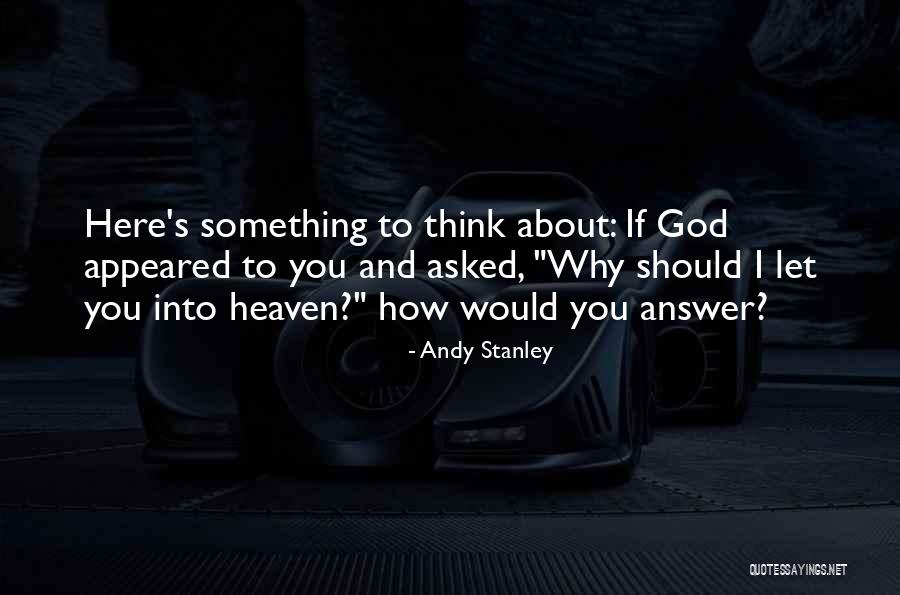 Here's something to think about: If God appeared to you and asked, "Why should I let you into heaven?" how would you answer? — Andy Stanley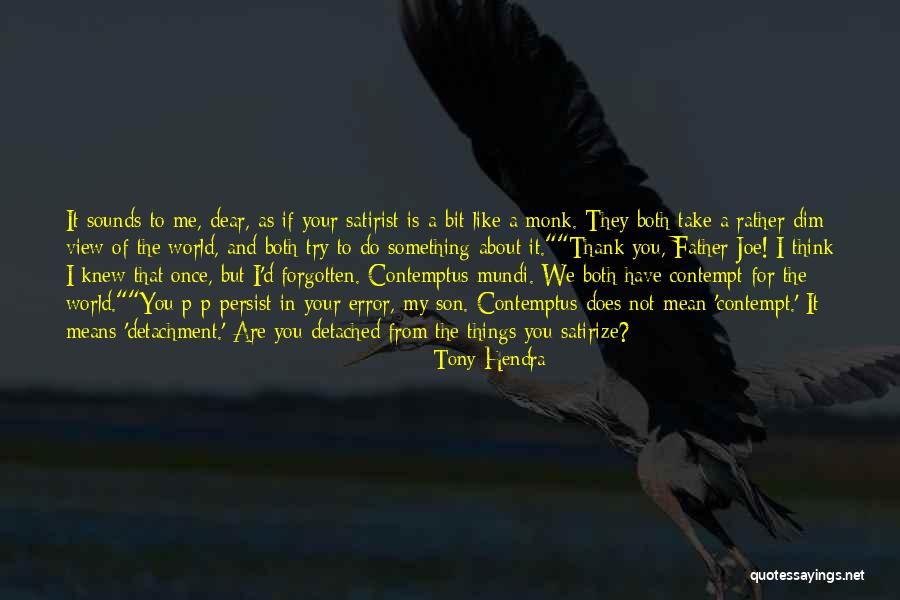 It sounds to me, dear, as if your satirist is a bit like a monk. They both take a rather dim view of the world, and both try to do something about it."

"Thank you, Father Joe! I think I knew that once, but I'd forgotten. Contemptus mundi. We both have contempt for the world."

"You p-p-persist in your error, my son. Contemptus does not mean 'contempt.' It means 'detachment.' Are you detached from the things you satirize? — Tony Hendra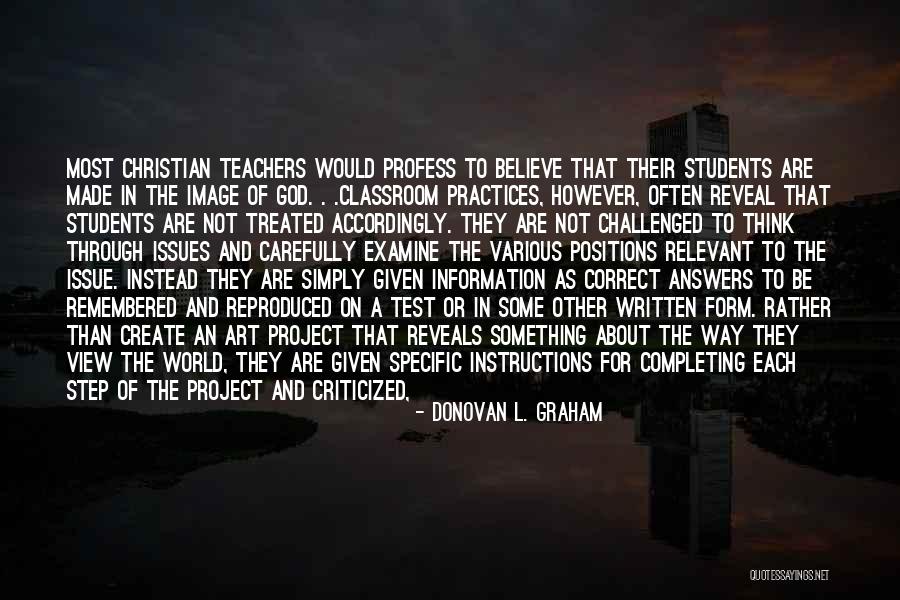 Most Christian teachers would profess to believe that their students are made in the image of God. . .Classroom practices, however, often reveal that students are not treated accordingly. They are not challenged to think through issues and carefully examine the various positions relevant to the issue. Instead they are simply given information as correct answers to be remembered and reproduced on a test or in some other written form. Rather than create an art project that reveals something about the way they view the world, they are given specific instructions for completing each step of the project and criticized, for example, if the trees are not green. While verbally teaching Johnny that he is an important person, a teacher may employ a learning model or classroom discipline system that clearly treats him as on object to be shaped and controlled by a system. . . (p18) — Donovan L. Graham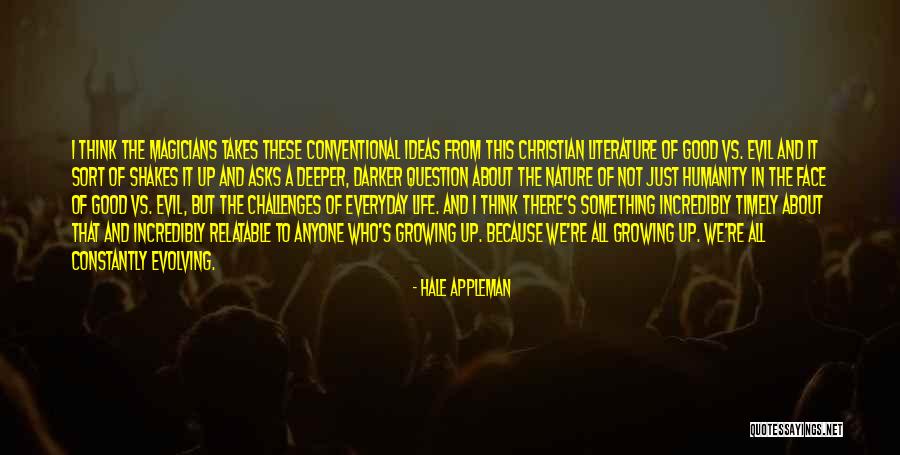 I think The Magicians takes these conventional ideas from this Christian literature of good vs. evil and it sort of shakes it up and asks a deeper, darker question about the nature of not just humanity in the face of good vs. evil, but the challenges of everyday life. And I think there's something incredibly timely about that and incredibly relatable to anyone who's growing up. Because we're all growing up. We're all constantly evolving. — Hale Appleman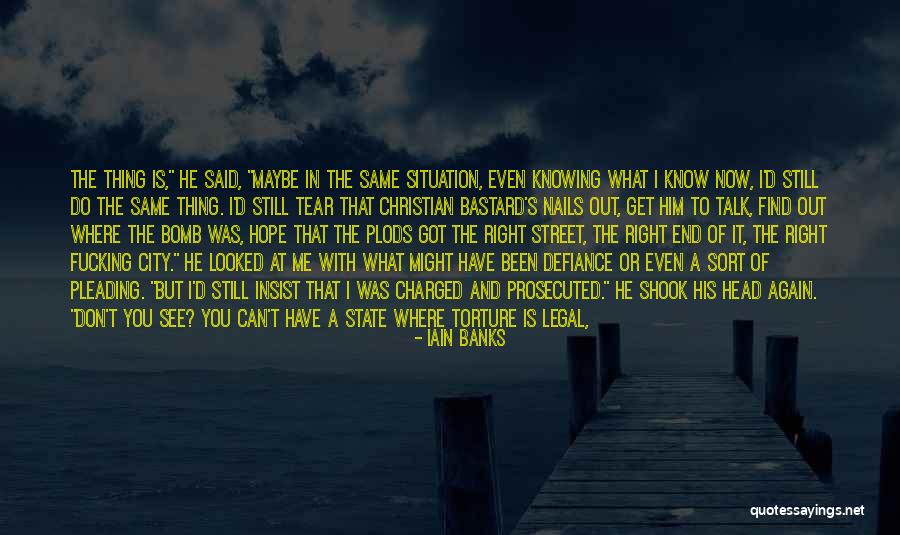 The thing is," he said, "maybe in the same situation, even knowing what I know now, I'd still do the same thing. I'd still tear that Christian bastard's nails out, get him to talk, find out where the bomb was, hope that the plods got the right street, the right end of it, the right fucking city." He looked at me with what might have been defiance or even a sort of pleading. "But I'd still insist that I was charged and prosecuted." He shook his head again. "Don't you see? You can't have a state where torture is legal, not for anything. You start saying it's only for the most serious cases, but that never lasts. It should always be illegal, for everybody, for everything. You might not stop it. Laws against murder don't stop all murders, do they? But you make sure people don't even think about it unless it's a desperate situation, something immediate. And you have to make the torturer pay. In full. There has to be that disincentive, or they'll all be at it. — Iain Banks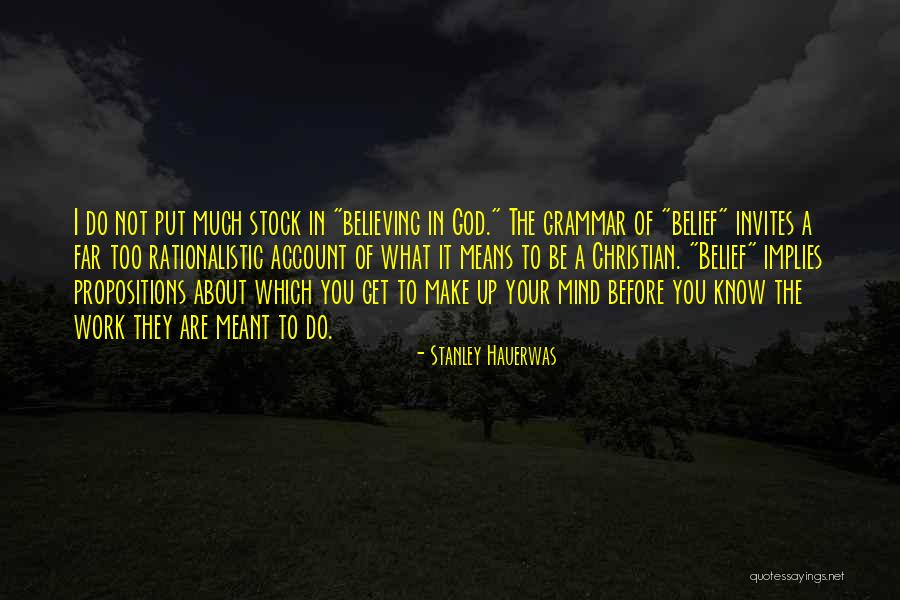 I do not put much stock in "believing in God." The grammar of "belief" invites a far too rationalistic account of what it means to be a Christian. "Belief" implies propositions about which you get to make up your mind before you know the work they are meant to do. — Stanley Hauerwas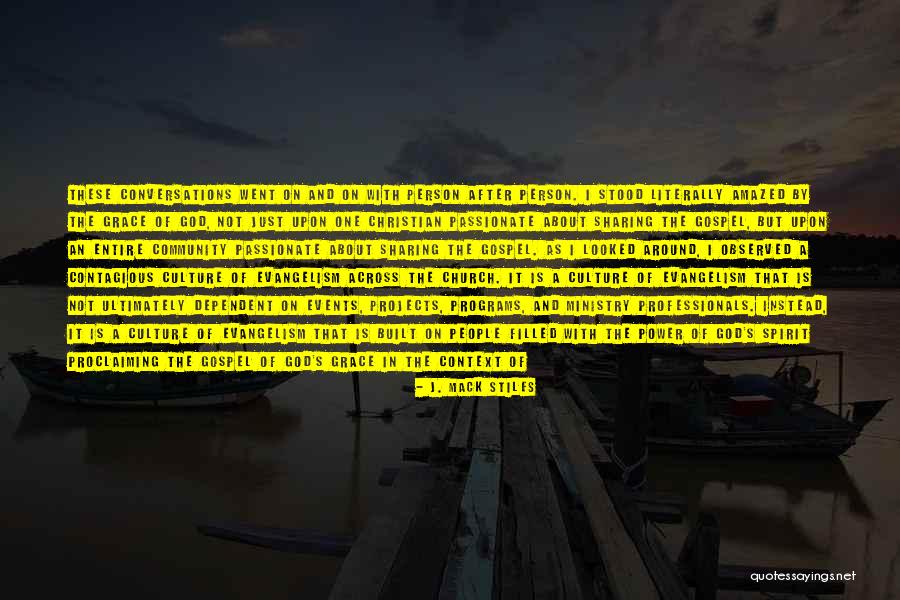 These conversations went on and on with person after person. I stood literally amazed by the grace of God, not just upon one Christian passionate about sharing the gospel, but upon an entire community passionate about sharing the gospel. As I looked around, I observed a contagious culture of evangelism across the church. It is a culture of evangelism that is not ultimately dependent on events, projects, programs, and ministry professionals. Instead, it is a culture of evangelism that is built on people filled with the power of God's Spirit proclaiming the gospel of God's grace in the context of their everyday lives and relationships. — J. Mack Stiles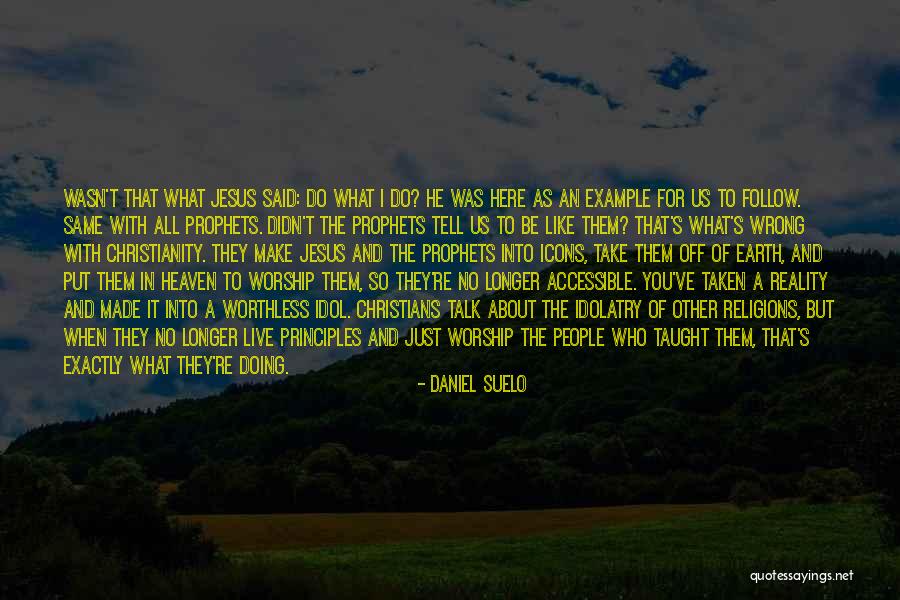 Wasn't that what Jesus said: do what I do? He was here as an example for us to follow. Same with all prophets. Didn't the prophets tell us to be like them? That's what's wrong with Christianity. They make Jesus and the prophets into icons, take them off of earth, and put them in heaven to worship them, so they're no longer accessible. You've taken a reality and made it into a worthless idol. Christians talk about the idolatry of other religions, but when they no longer live principles and just worship the people who taught them, that's exactly what they're doing. — Daniel Suelo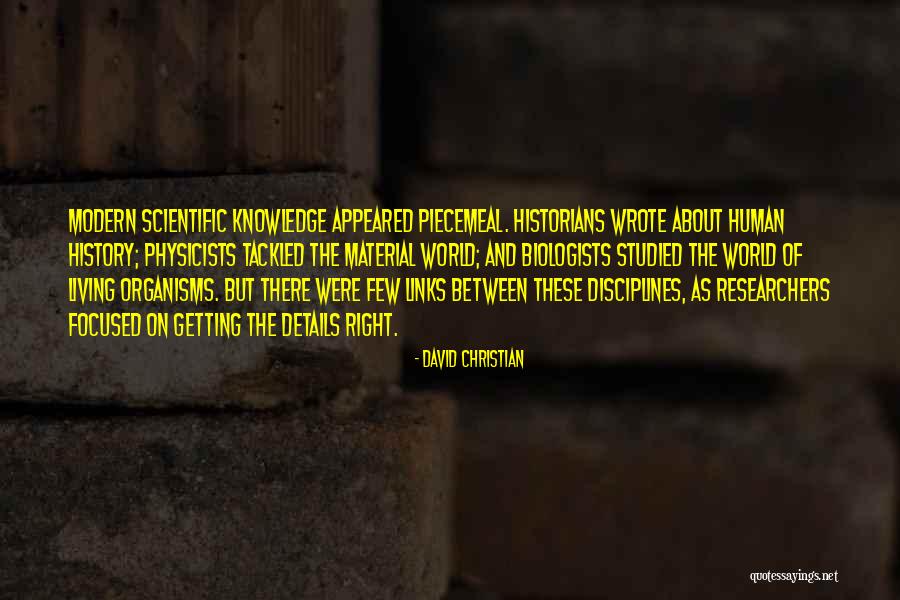 Modern scientific knowledge appeared piecemeal. Historians wrote about human history; physicists tackled the material world; and biologists studied the world of living organisms. But there were few links between these disciplines, as researchers focused on getting the details right. — David Christian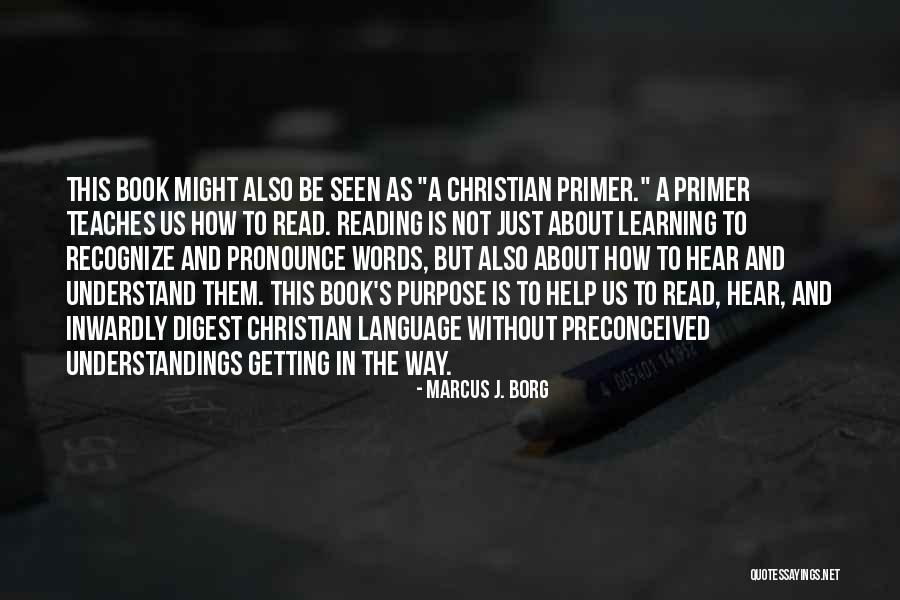 This book might also be seen as "a Christian primer." A primer teaches us how to read. Reading is not just about learning to recognize and pronounce words, but also about how to hear and understand them. This book's purpose is to help us to read, hear, and inwardly digest Christian language without preconceived understandings getting in the way. — Marcus J. Borg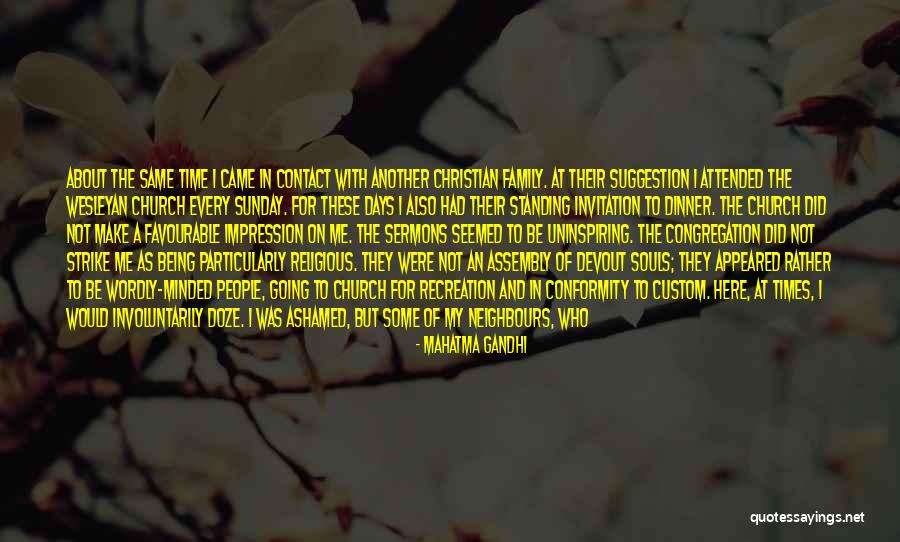 About the same time I came in contact with another Christian family. At their suggestion I attended the Wesleyan church every Sunday. For these days I also had their standing invitation to dinner. The church did not make a favourable impression on me. The sermons seemed to be uninspiring. The congregation did not strike me as being particularly religious. They were not an assembly of devout souls; they appeared rather to be wordly-minded people, going to church for recreation and in conformity to custom. Here, at times, I would involuntarily doze. I was ashamed, but some of my neighbours, who were in no better case, lightened the shame. I could not go on long like this, and soon gave up attending the service. — Mahatma Gandhi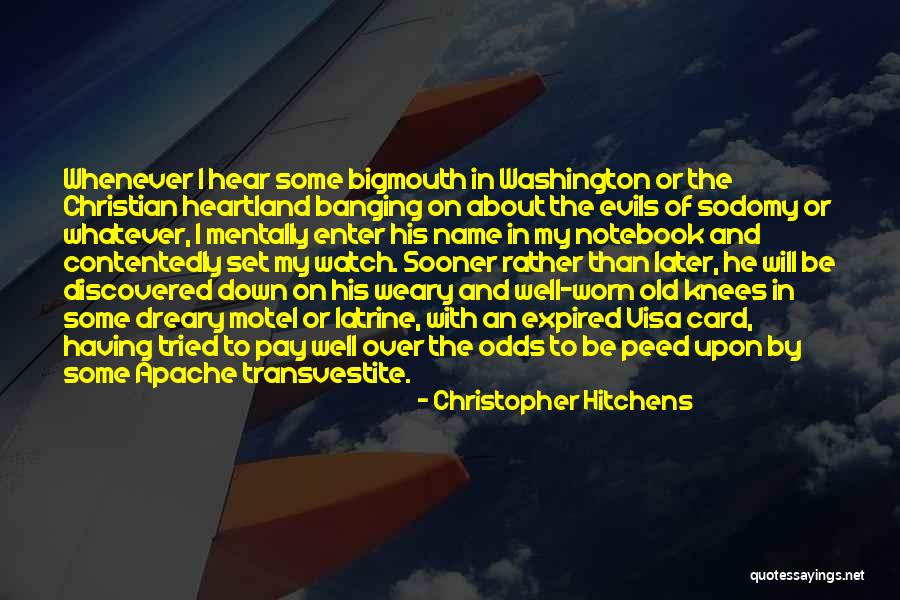 Whenever I hear some bigmouth in Washington or the Christian heartland banging on about the evils of sodomy or whatever, I mentally enter his name in my notebook and contentedly set my watch. Sooner rather than later, he will be discovered down on his weary and well-worn old knees in some dreary motel or latrine, with an expired Visa card, having tried to pay well over the odds to be peed upon by some Apache transvestite. — Christopher Hitchens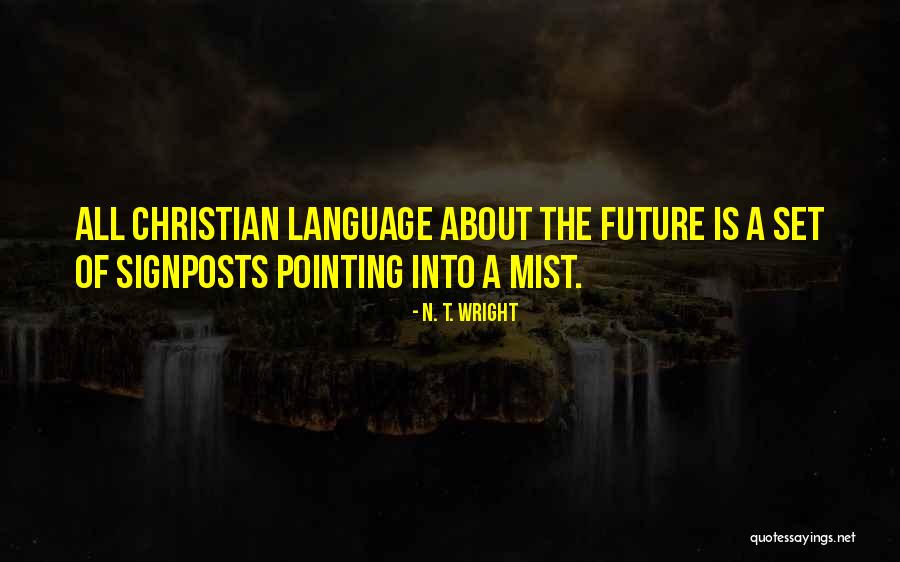 All Christian language about the future is a set of signposts pointing into a mist. — N. T. Wright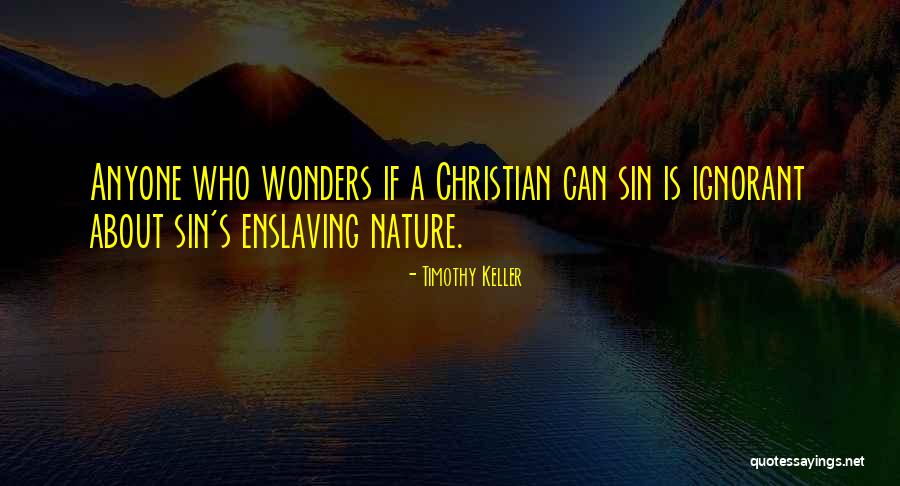 Anyone who wonders if a Christian can sin is ignorant about sin's enslaving nature. — Timothy Keller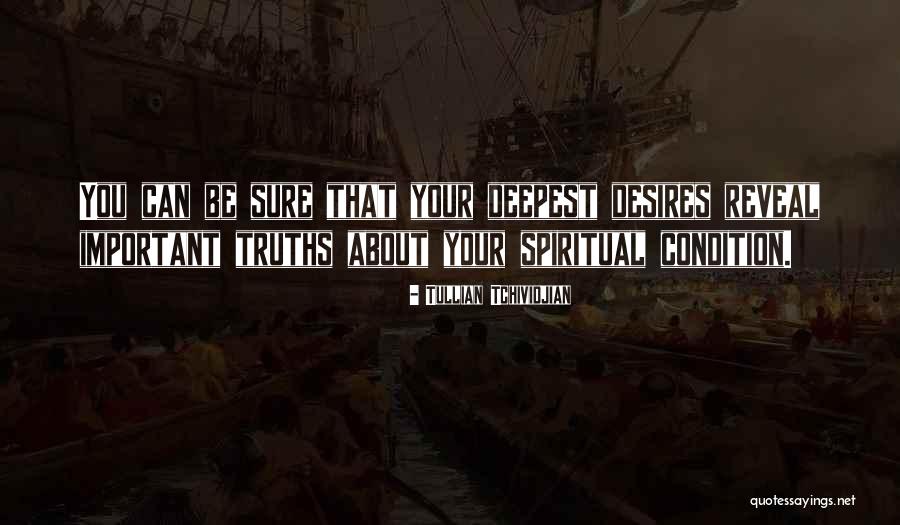 You can be sure that your deepest desires reveal important truths about your spiritual condition. — Tullian Tchividjian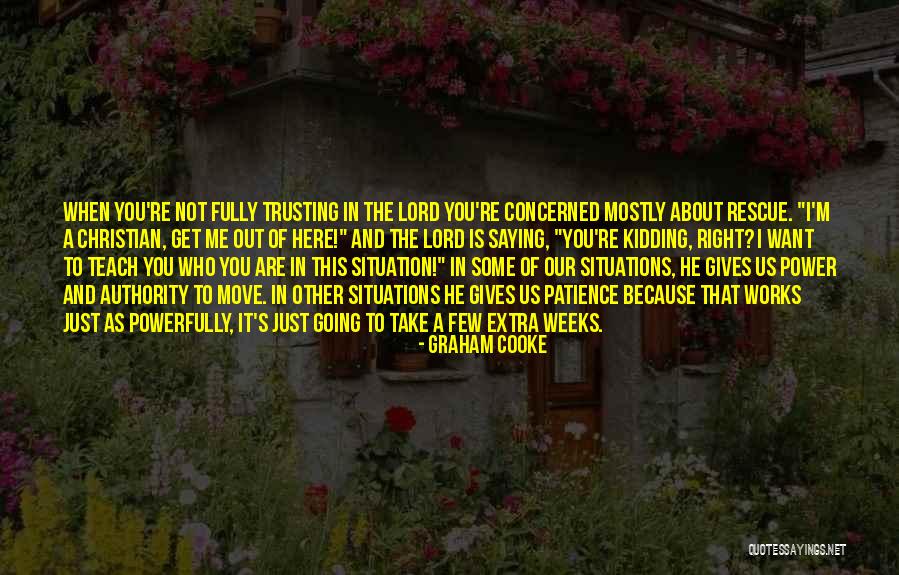 When you're not fully trusting in the Lord you're concerned mostly about rescue. "I'm a Christian, get me out of here!" And the Lord is saying, "You're kidding, right? I want to teach you who you are in this situation!" In some of our situations, He gives us power and authority to move. In other situations He gives us patience because that works just as powerfully, it's just going to take a few extra weeks. — Graham Cooke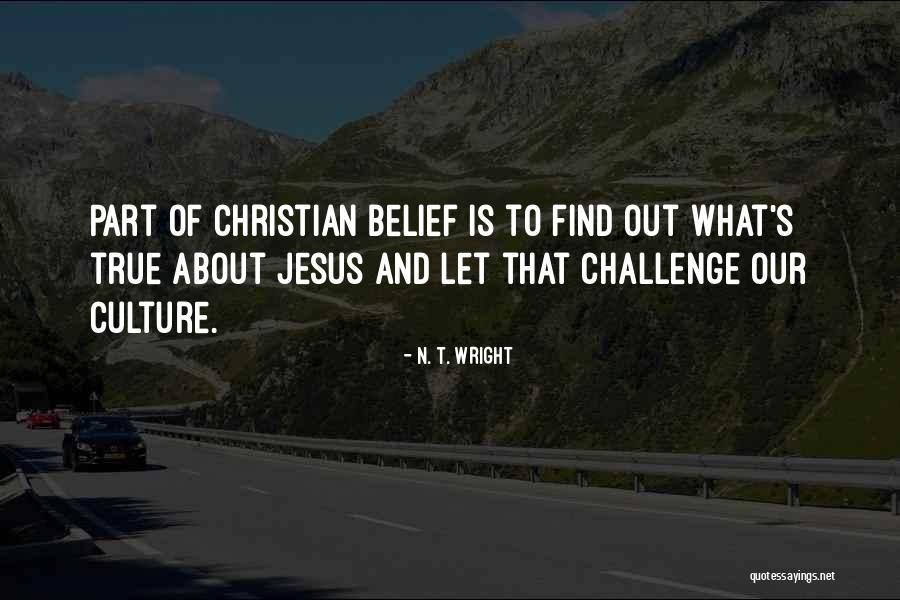 Part of Christian belief is to find out what's true about Jesus and let that challenge our culture. — N. T. Wright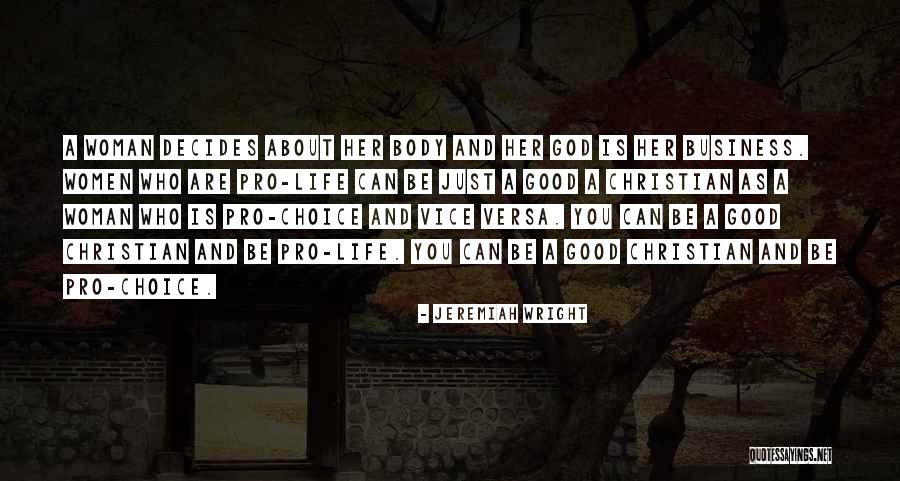 A woman decides about her body and her God is her business. Women who are pro-life can be just a good a Christian as a woman who is pro-choice and vice versa. You can be a good Christian and be pro-life. You can be a good Christian and be pro-choice. — Jeremiah Wright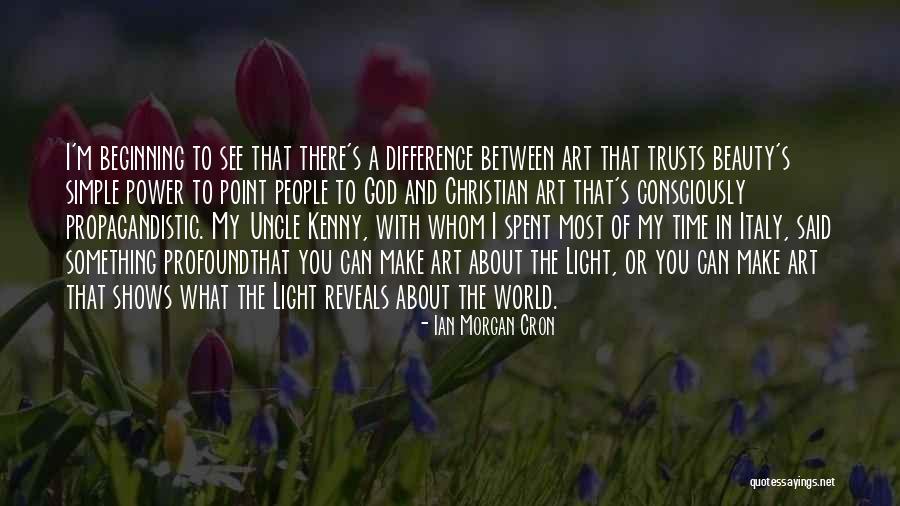 I'm beginning to see that there's a difference between art that trusts beauty's simple power to point people to God and Christian art that's consciously propagandistic. My Uncle Kenny, with whom I spent most of my time in Italy, said something profound
that you can make art about the Light, or you can make art that shows what the Light reveals about the world. — Ian Morgan Cron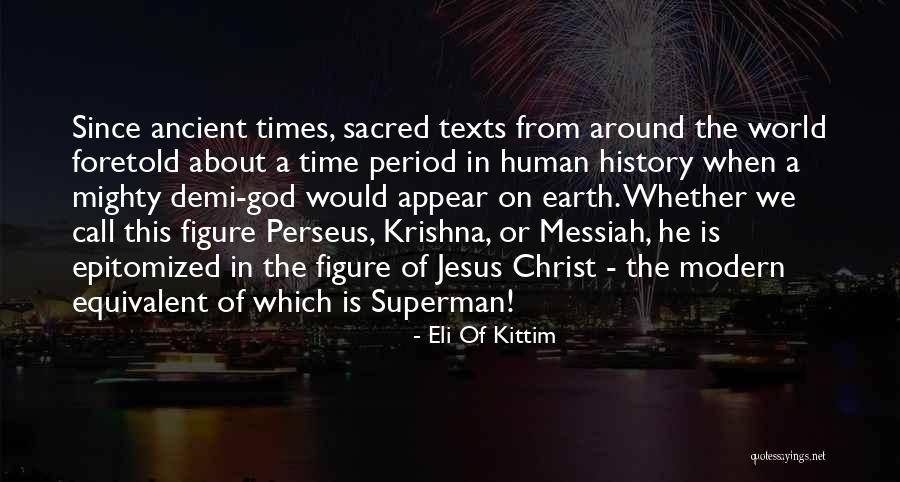 Since ancient times, sacred texts from around the world foretold about a time period in human history when a mighty demi-god would appear on earth. Whether we call this figure Perseus, Krishna, or Messiah, he is epitomized in the figure of Jesus Christ - the modern equivalent of which is Superman! — Eli Of Kittim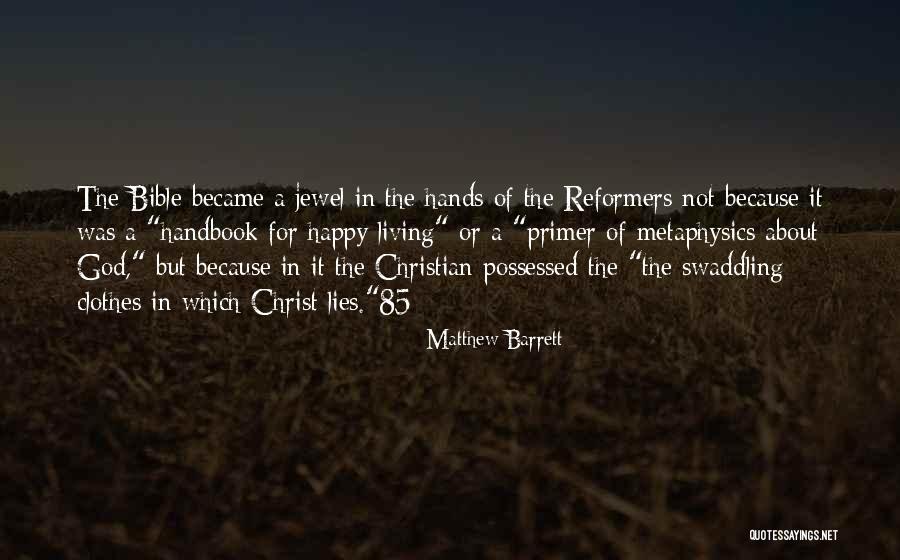 The Bible became a jewel in the hands of the Reformers not because it was a "handbook for happy living" or a "primer of metaphysics about God," but because in it the Christian possessed the "the swaddling clothes in which Christ lies."85 — Matthew Barrett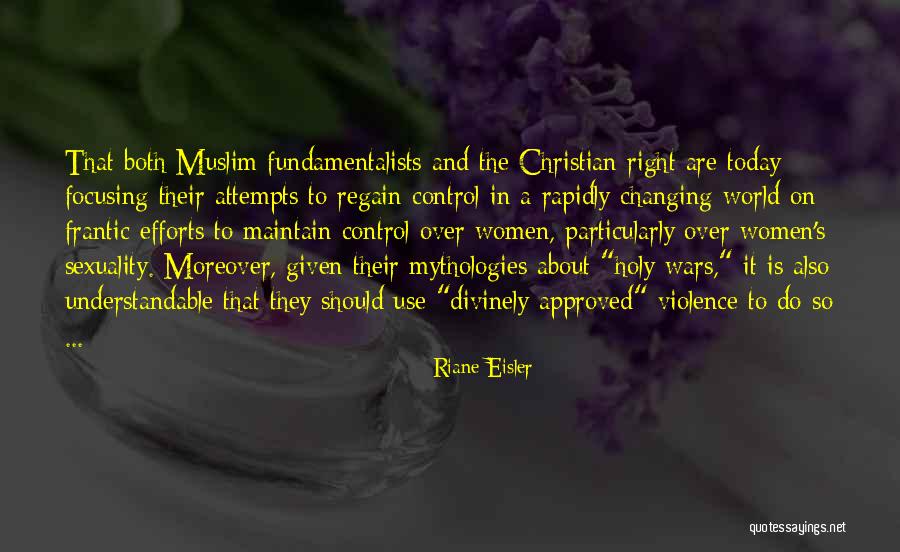 That both Muslim fundamentalists and the Christian right are today focusing their attempts to regain control in a rapidly changing world on frantic efforts to maintain control over women, particularly over women's sexuality. Moreover, given their mythologies about "holy wars," it is also understandable that they should use "divinely approved" violence to do so ... — Riane Eisler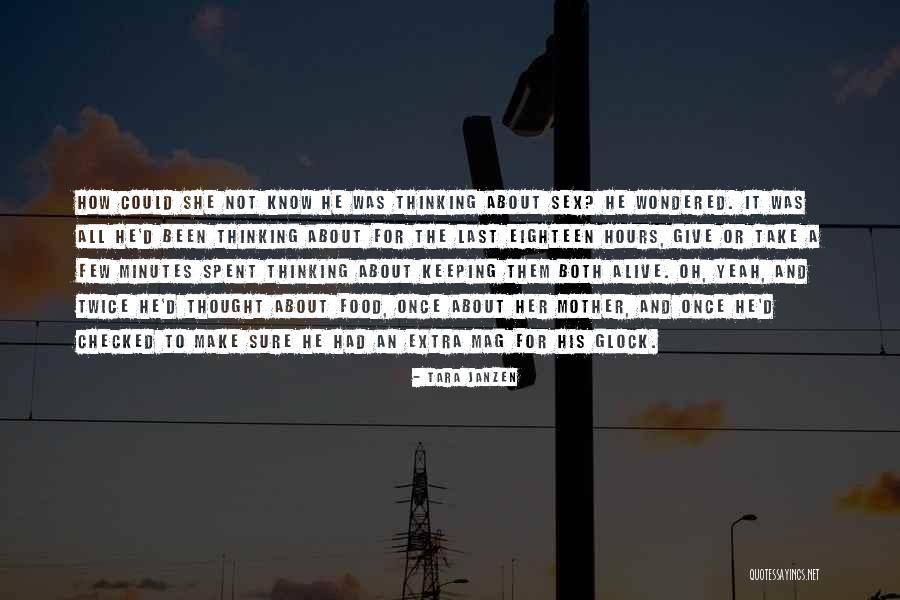 How could she not know he was thinking about sex? he wondered. It was all he'd been thinking about for the last eighteen hours, give or take a few minutes spent thinking about keeping them both alive. Oh, yeah, and twice he'd thought about food, once about her mother, and once he'd checked to make sure he had an extra mag for his Glock. — Tara Janzen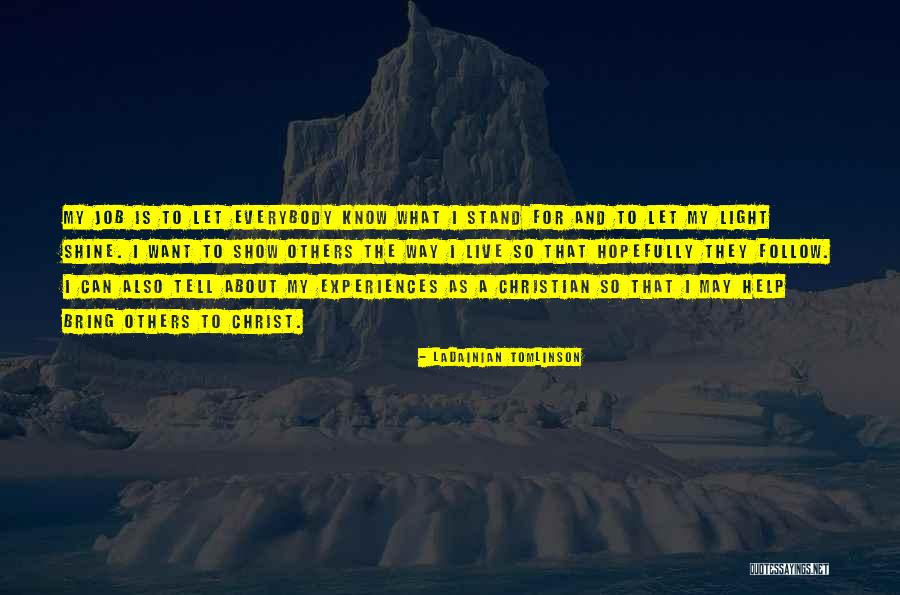 My job is to let everybody know what I stand for and to let my light shine. I want to show others the way I live so that hopefully they follow. I can also tell about my experiences as a Christian so that I may help bring others to Christ. — LaDainian Tomlinson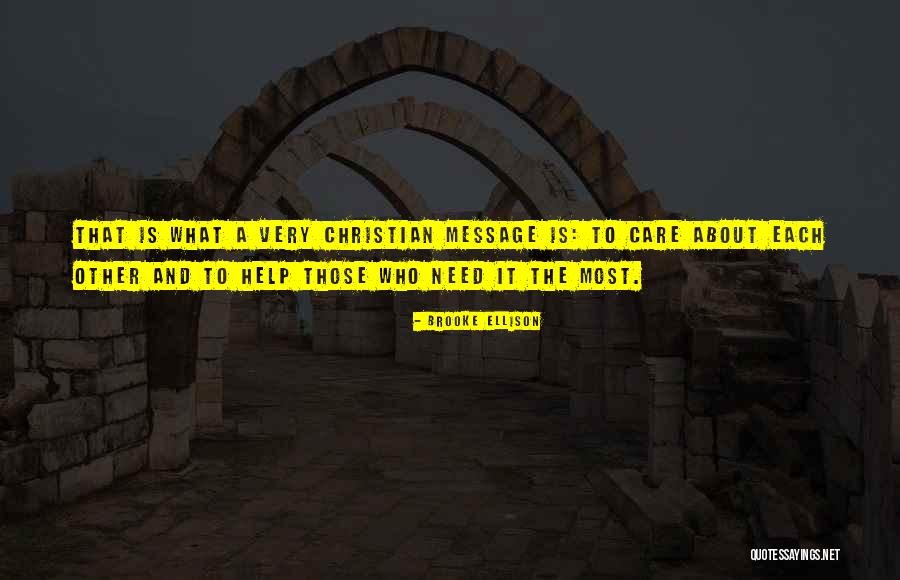 That is what a very Christian message is: to care about each other and to help those who need it the most. — Brooke Ellison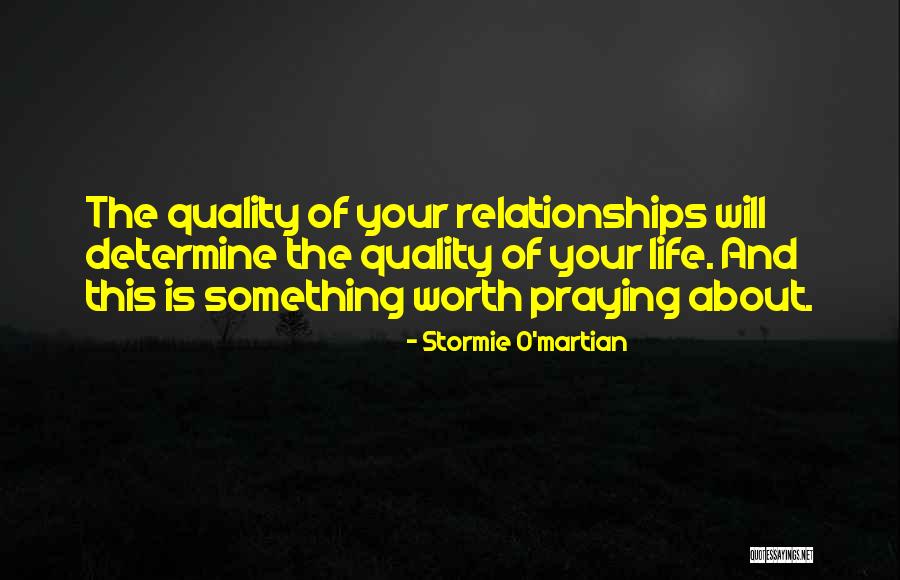 The quality of your relationships will determine the quality of your life. And this is something worth praying about. — Stormie O'martian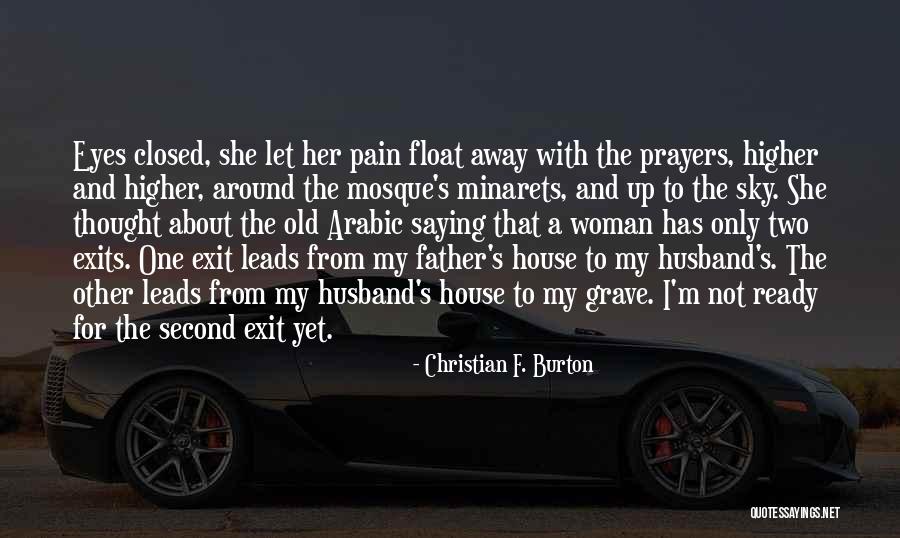 Eyes closed, she let her pain float away with the prayers, higher and higher, around the mosque's minarets, and up to the sky. She thought about the old Arabic saying that a woman has only two exits. One exit leads from my father's house to my husband's. The other leads from my husband's house to my grave. I'm not ready for the second exit yet. — Christian F. Burton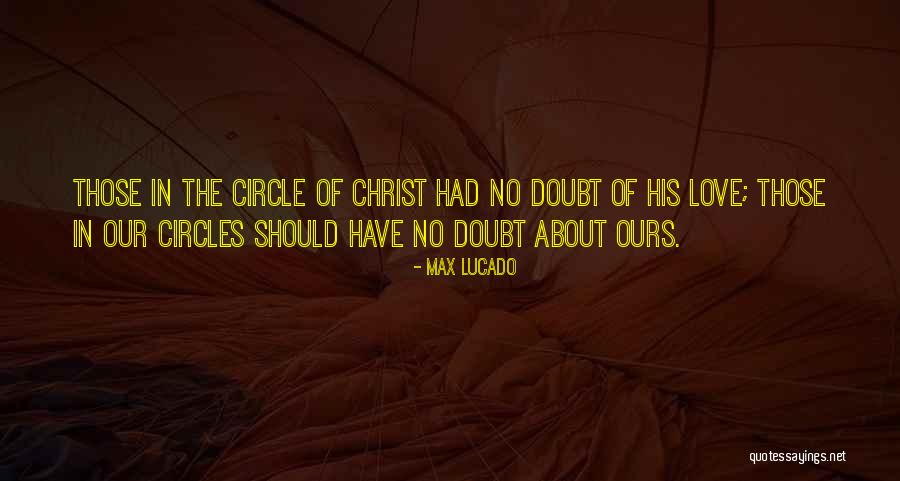 Those in the circle of Christ had no doubt of his love; those in our circles should have no doubt about ours. — Max Lucado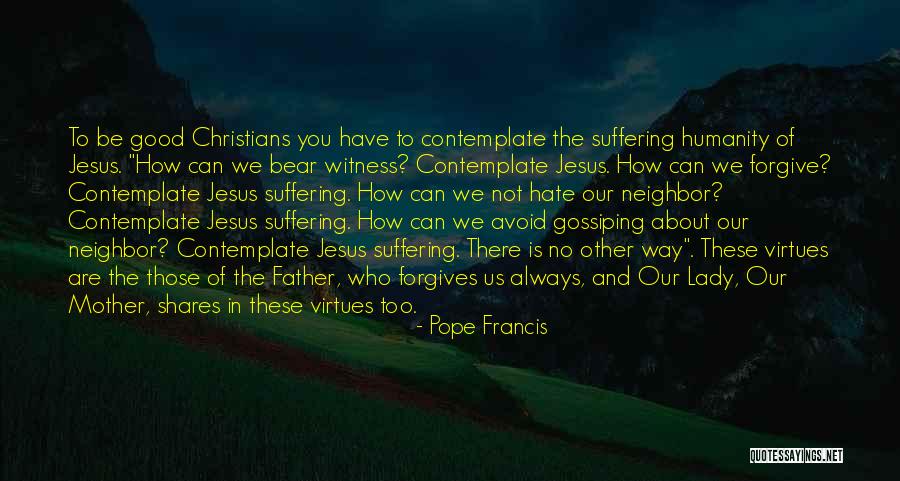 To be good Christians you have to contemplate the suffering humanity of Jesus. "How can we bear witness? Contemplate Jesus. How can we forgive? Contemplate Jesus suffering. How can we not hate our neighbor? Contemplate Jesus suffering. How can we avoid gossiping about our neighbor? Contemplate Jesus suffering. There is no other way". These virtues are the those of the Father, who forgives us always, and Our Lady, Our Mother, shares in these virtues too. — Pope Francis