Live Laugh And Learn Quotes & Sayings
Enjoy reading and share 38 famous quotes about Live Laugh And Learn with everyone.
Top Live Laugh And Learn Quotes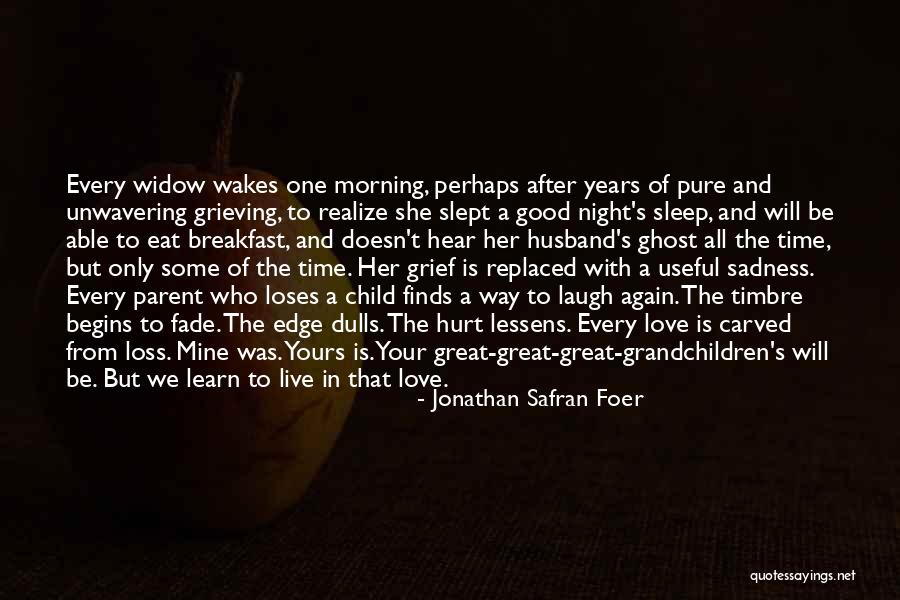 Every widow wakes one morning, perhaps after years of pure and unwavering grieving, to realize she slept a good night's sleep, and will be able to eat breakfast, and doesn't hear her husband's ghost all the time, but only some of the time. Her grief is replaced with a useful sadness. Every parent who loses a child finds a way to laugh again. The timbre begins to fade. The edge dulls. The hurt lessens. Every love is carved from loss. Mine was. Yours is. Your great-great-great-grandchildren's will be. But we learn to live in that love. — Jonathan Safran Foer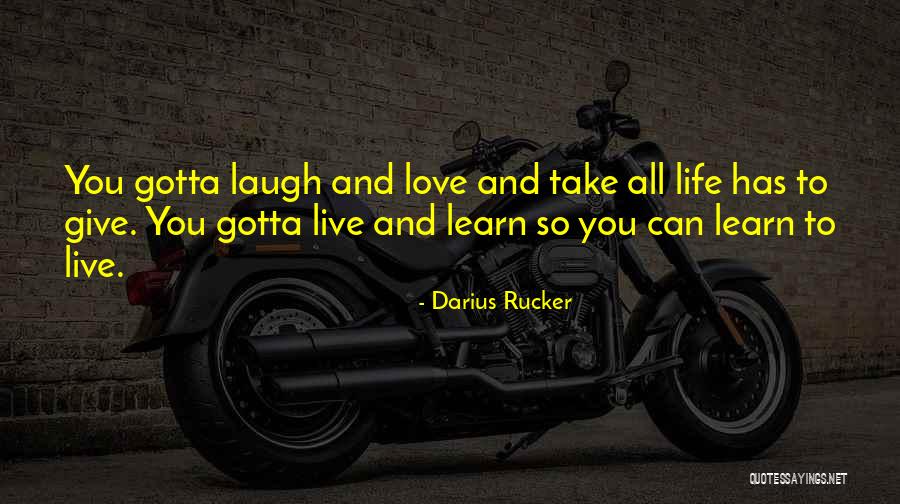 You gotta laugh and love and take all life has to give. You gotta live and learn so you can learn to live. — Darius Rucker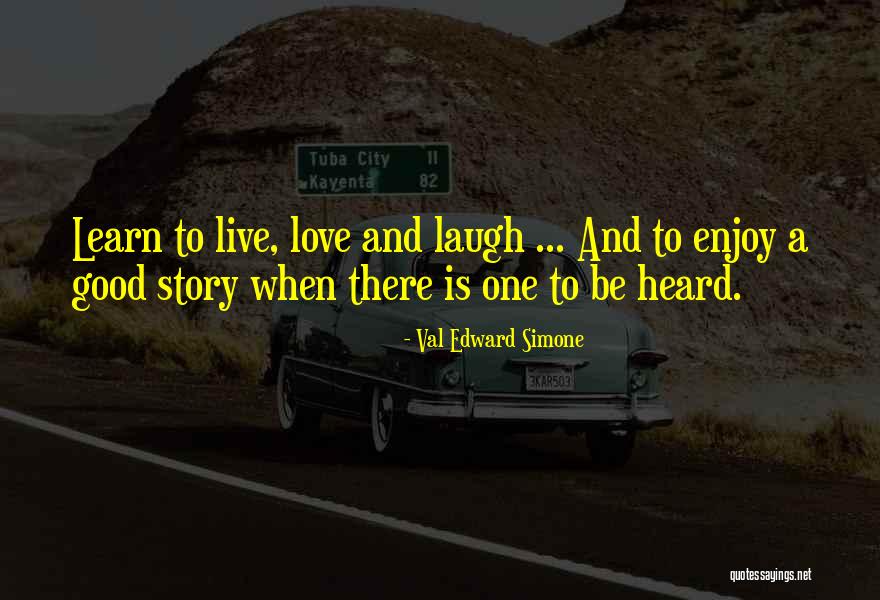 Learn to live, love and laugh ... And to enjoy a good story when there is one to be heard. — Val Edward Simone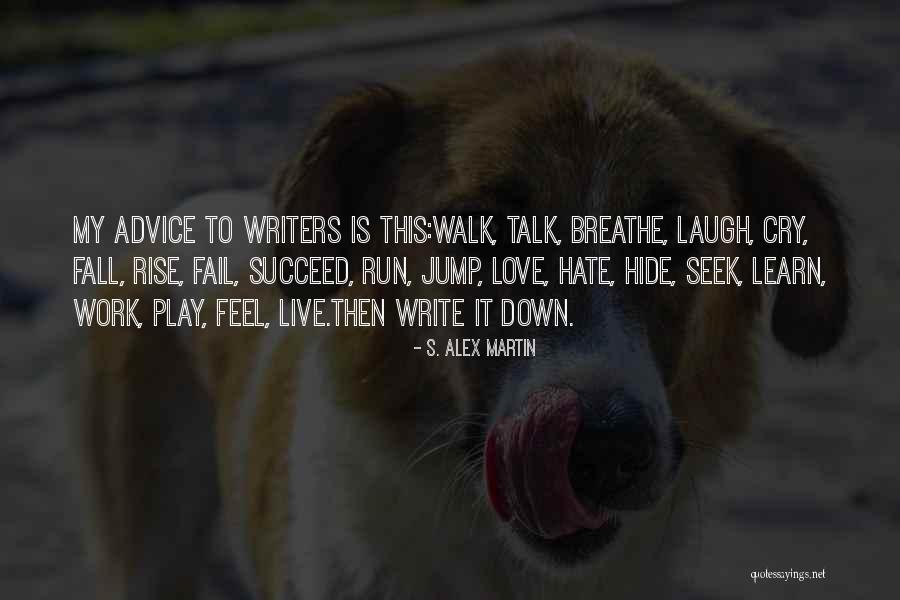 My advice to writers is this:
Walk, talk, breathe, laugh, cry, fall, rise, fail, succeed, run, jump, love, hate, hide, seek, learn, work, play, feel, LIVE.
Then write it down. — S. Alex Martin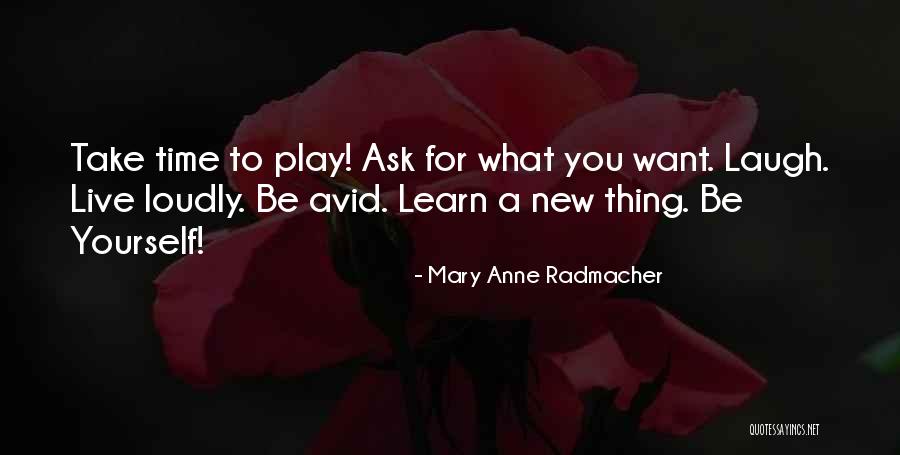 Take time to play! Ask for what you want. Laugh. Live loudly. Be avid. Learn a new thing. Be Yourself! — Mary Anne Radmacher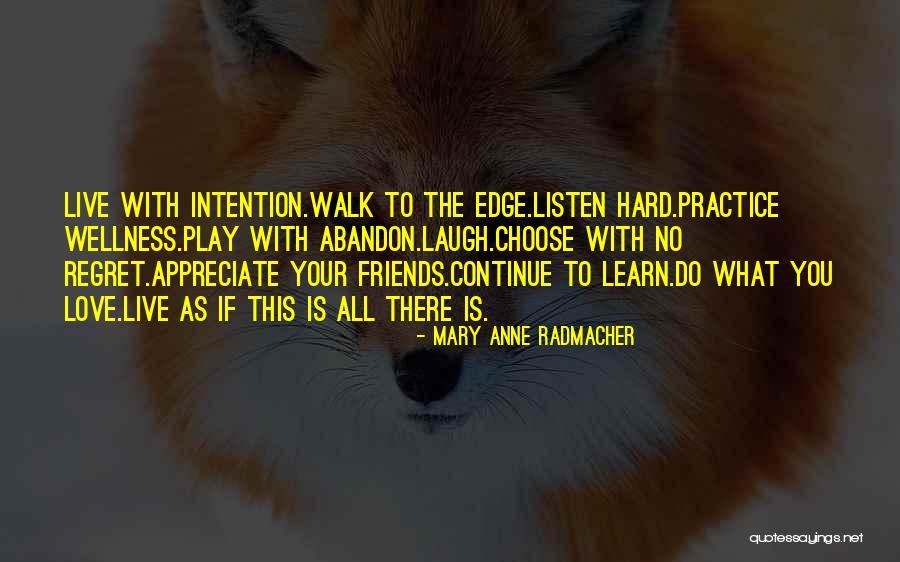 Live with intention.
Walk to the edge.
Listen Hard.
Practice wellness.
Play with abandon.
Laugh.
Choose with no regret.
Appreciate your friends.
Continue to learn.
Do what you love.
Live as if this is all there is. — Mary Anne Radmacher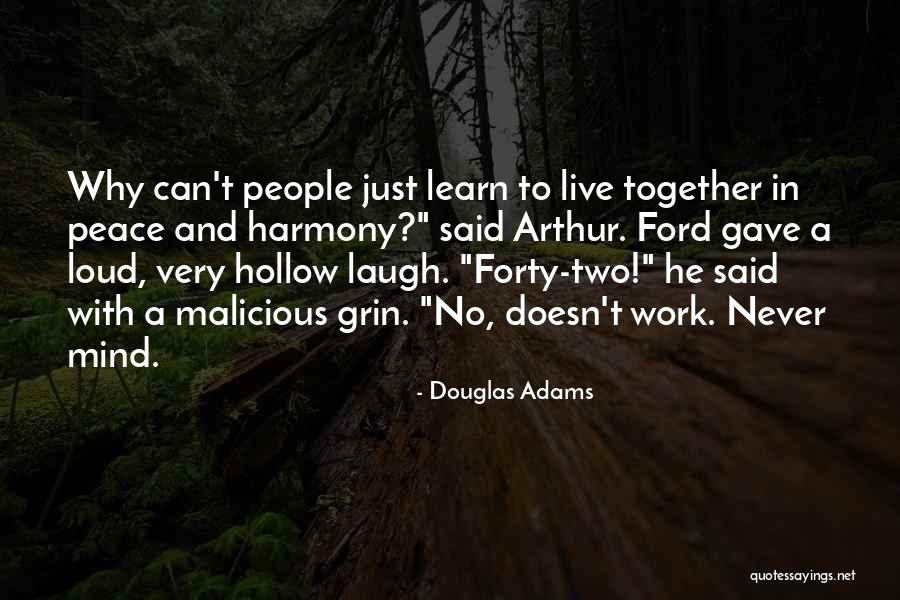 Why can't people just learn to live together in peace and harmony?" said Arthur. Ford gave a loud, very hollow laugh. "Forty-two!" he said with a malicious grin. "No, doesn't work. Never mind. — Douglas Adams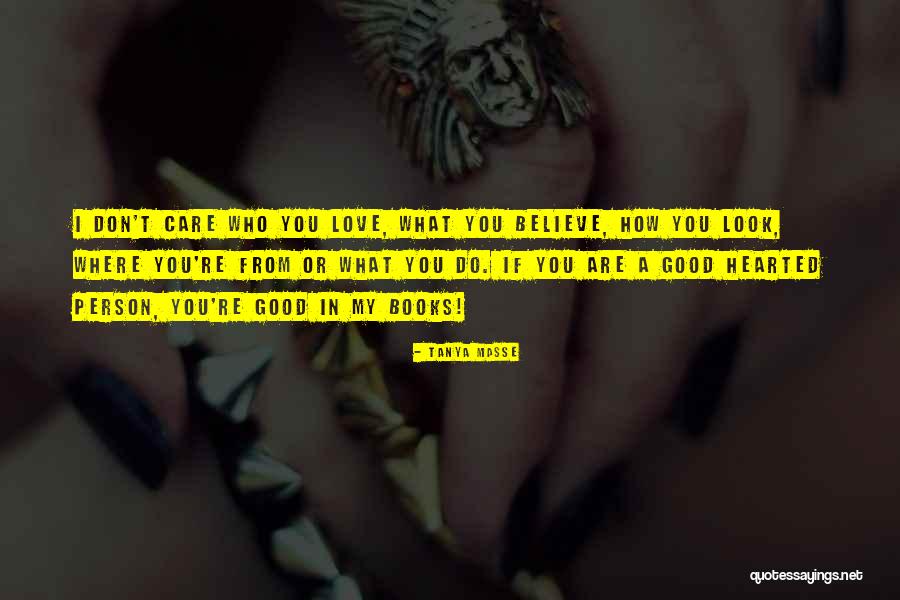 I don't care who you love,
what you believe, how you look, where you're from or what you do. If you are a good hearted person, you're good in my books! — Tanya Masse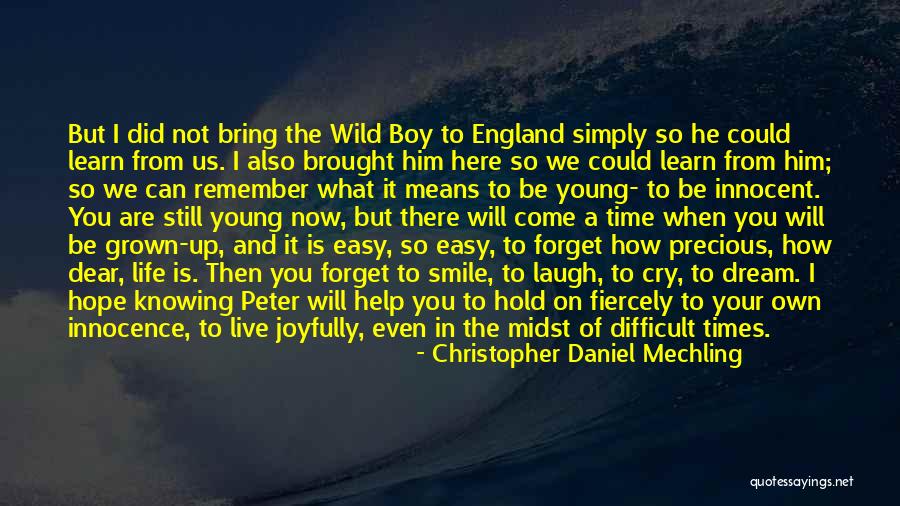 But I did not bring the Wild Boy to England simply so he could learn from us. I also brought him here so we could learn from him; so we can remember what it means to be young- to be innocent. You are still young now, but there will come a time when you will be grown-up, and it is easy, so easy, to forget how precious, how dear, life is. Then you forget to smile, to laugh, to cry, to dream. I hope knowing Peter will help you to hold on fiercely to your own innocence, to live joyfully, even in the midst of difficult times. — Christopher Daniel Mechling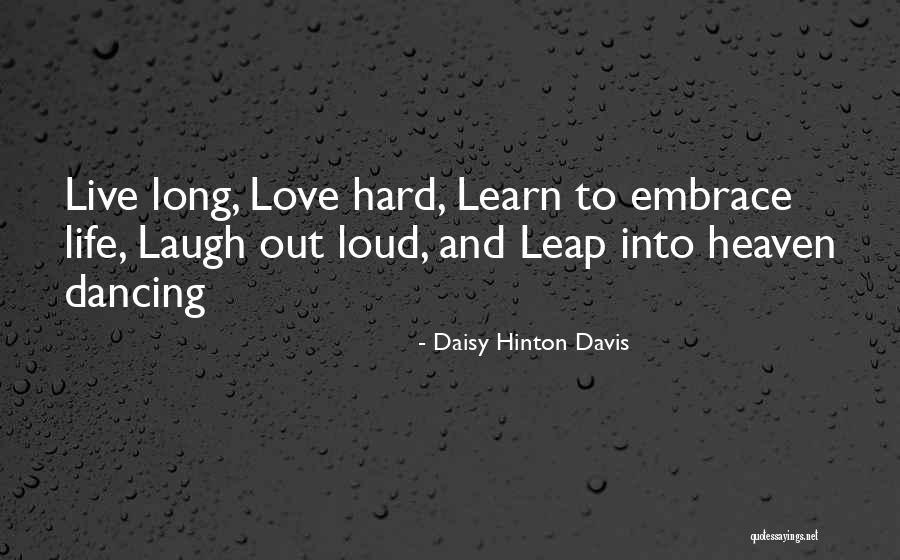 Live long, Love hard, Learn to embrace life, Laugh out loud, and Leap into heaven dancing — Daisy Hinton Davis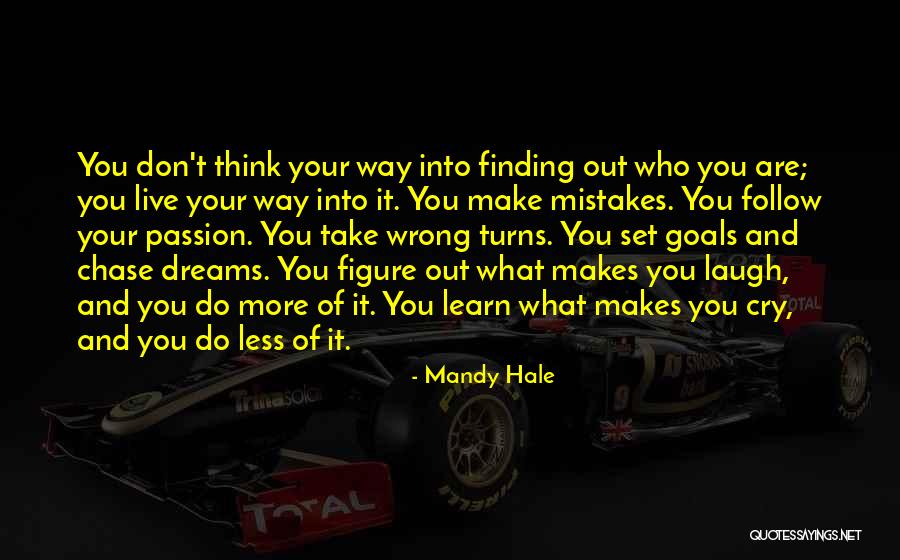 You don't think your way into finding out who you are; you live your way into it. You make mistakes. You follow your passion. You take wrong turns. You set goals and chase dreams. You figure out what makes you laugh, and you do more of it. You learn what makes you cry, and you do less of it. — Mandy Hale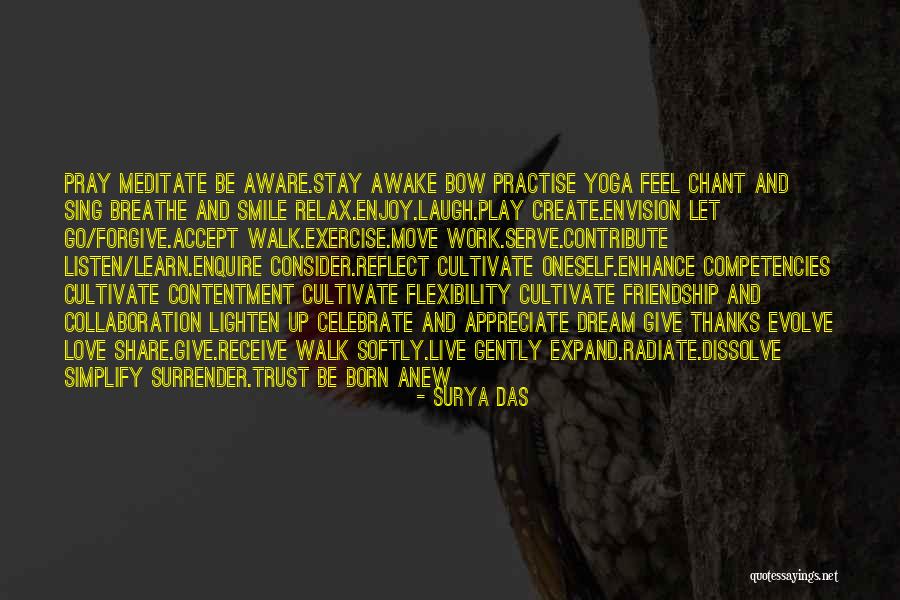 Pray Meditate Be aware.Stay awake Bow Practise yoga Feel Chant and sing Breathe and smile Relax.Enjoy.Laugh.Play Create.Envision Let Go/Forgive.Accept Walk.Exercise.Move Work.Serve.Contribute Listen/Learn.Enquire Consider.Reflect Cultivate oneself.Enhance competencies Cultivate contentment Cultivate flexibility Cultivate friendship and collaboration Lighten up Celebrate and appreciate Dream Give thanks Evolve Love Share.Give.Receive Walk softly.Live gently Expand.Radiate.Dissolve Simplify Surrender.Trust Be born anew — Surya Das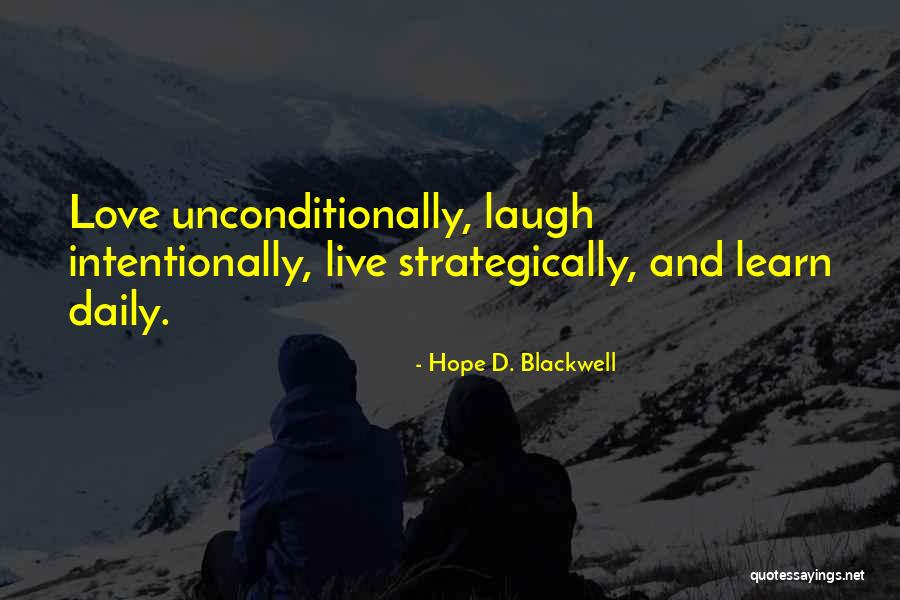 Love unconditionally, laugh intentionally, live strategically, and learn daily. — Hope D. Blackwell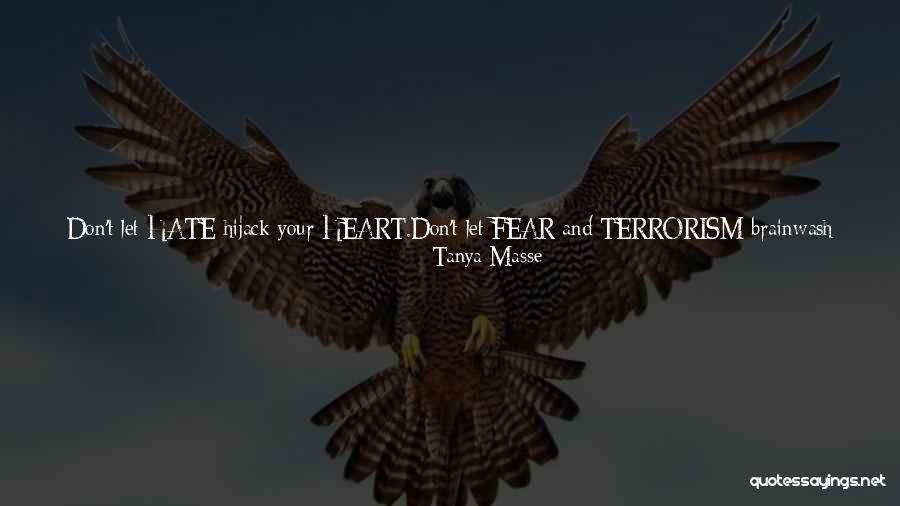 Don't let HATE hijack your HEART.
Don't let FEAR and TERRORISM brainwash your MIND.
Don't let EVIL and WAR conquer your SOUL.
Don't let NEGATIVITY and ANGER poison your SPIRIT.
Focus on the GOOD and the POSITIVE.
Be HAPPY and KIND.
LEARN from the negative.
Recognize your BLESSINGS.
Find the HUMOR when possible.
Do unto others as you'd have KARMA do unto you.
Instead of asking yourself, "what's in it for me?", ask yourself, "what's in it for the GREATER GOOD?".
Stay VIGILANT, but don't let fear and worry consume you.
RESPECT and ACCEPT differences.
Continue to LIVE, LOVE and LAUGH and encourage and inspire others to be AWESOME. — Tanya Masse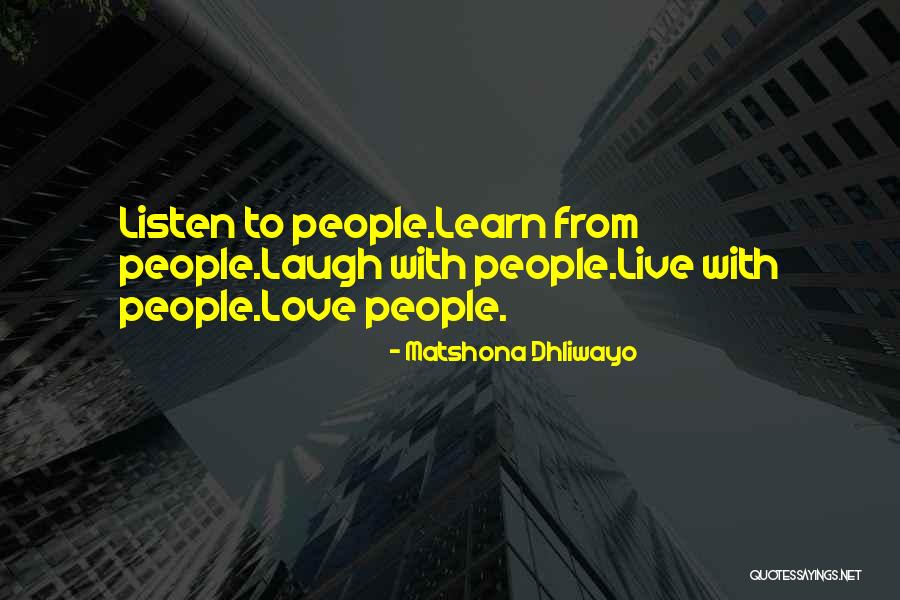 Listen to people.
Learn from people.
Laugh with people.
Live with people.
Love people. — Matshona Dhliwayo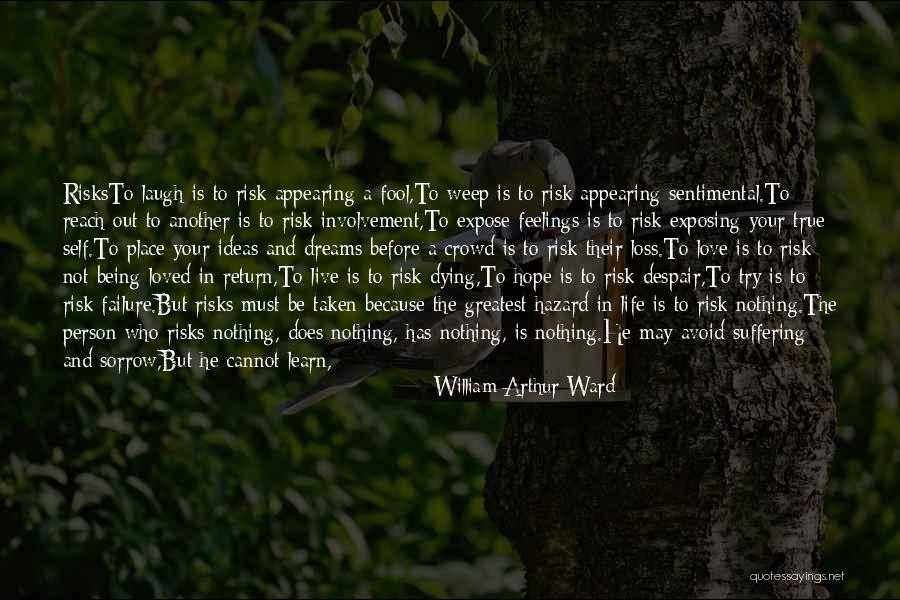 Risks
To laugh is to risk appearing a fool,
To weep is to risk appearing sentimental.
To reach out to another is to risk involvement,
To expose feelings is to risk exposing your true self.
To place your ideas and dreams before a crowd is to risk their loss.
To love is to risk not being loved in return,
To live is to risk dying,
To hope is to risk despair,
To try is to risk failure.
But risks must be taken because the greatest hazard in life is to risk nothing.
The person who risks nothing, does nothing, has nothing, is nothing.
He may avoid suffering and sorrow,
But he cannot learn, feel, change, grow or live.
Chained by his servitude he is a slave who has forfeited all freedom.
Only a person who risks is free. — William Arthur Ward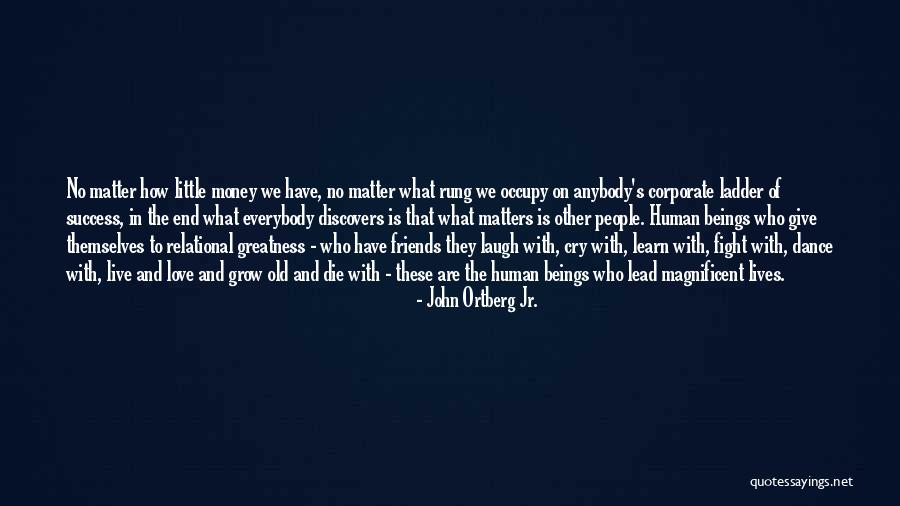 No matter how little money we have, no matter what rung we occupy on anybody's corporate ladder of success, in the end what everybody discovers is that what matters is other people. Human beings who give themselves to relational greatness - who have friends they laugh with, cry with, learn with, fight with, dance with, live and love and grow old and die with - these are the human beings who lead magnificent lives. — John Ortberg Jr.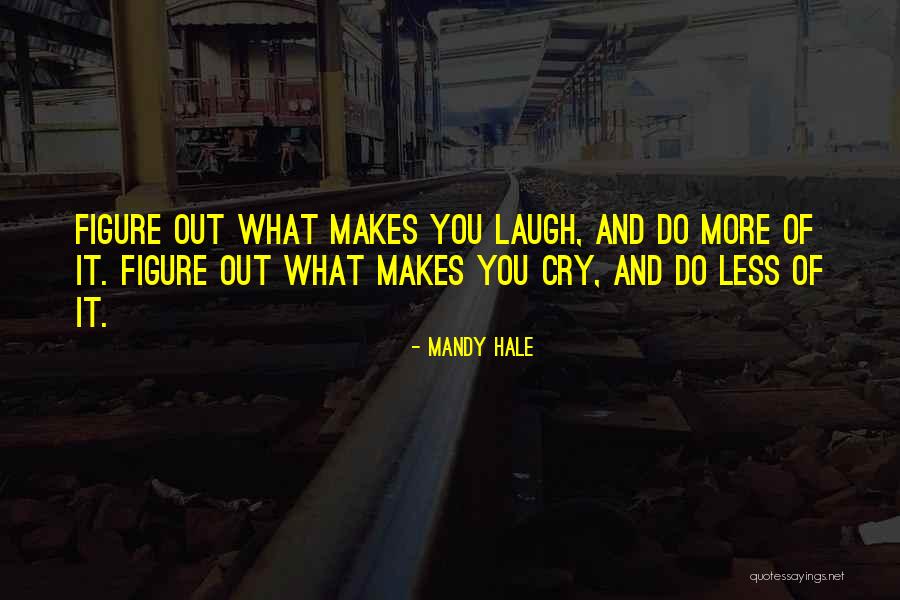 Figure out what makes you laugh, and do more of it. Figure out what makes you cry, and do less of it. — Mandy Hale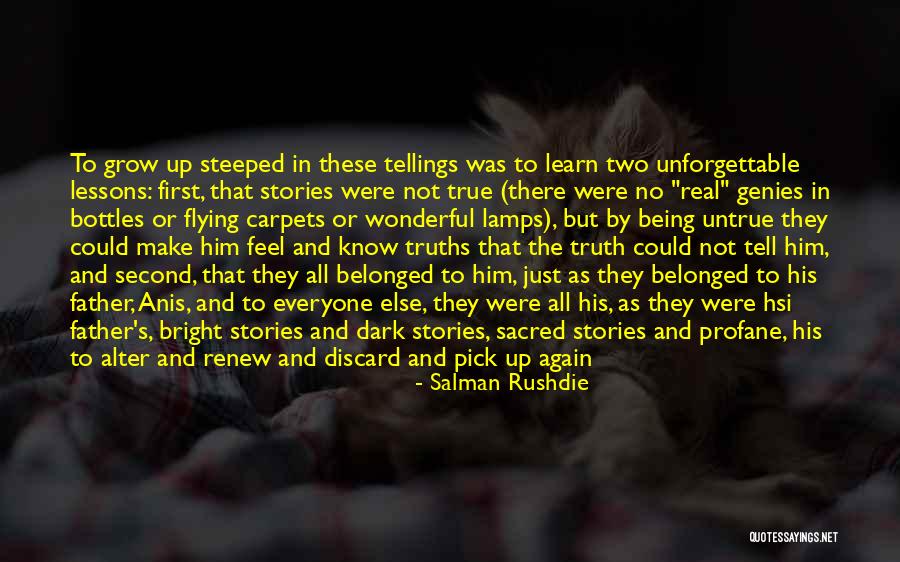 To grow up steeped in these tellings was to learn two unforgettable lessons: first, that stories were not true (there were no "real" genies in bottles or flying carpets or wonderful lamps), but by being untrue they could make him feel and know truths that the truth could not tell him, and second, that they all belonged to him, just as they belonged to his father, Anis, and to everyone else, they were all his, as they were hsi father's, bright stories and dark stories, sacred stories and profane, his to alter and renew and discard and pick up again as and when he pleased, his to laugh at and rejoice in and live in and with and by, to give the stories life by loving them and to be given life in return. Man was the storytelling animal, the only creature on earth that told itself stories to understand what kind of creature it was. The story was his birthright, and nobody could take it away. — Salman Rushdie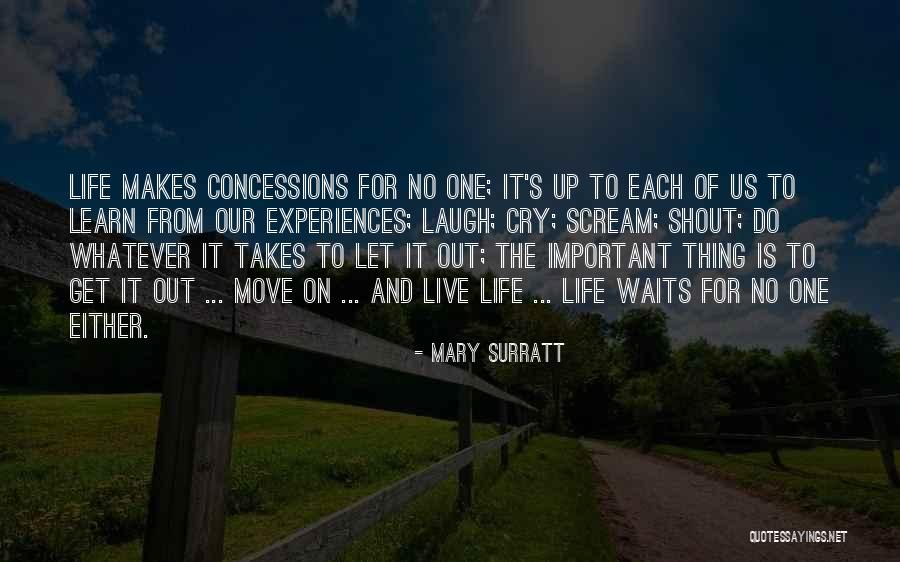 Life makes concessions for no one; it's up to each of us to learn from our experiences; laugh; cry; scream; shout; do whatever it takes to let it out; the important thing is to get it out ... move on ... and live life ... life waits for no one either. — Mary Surratt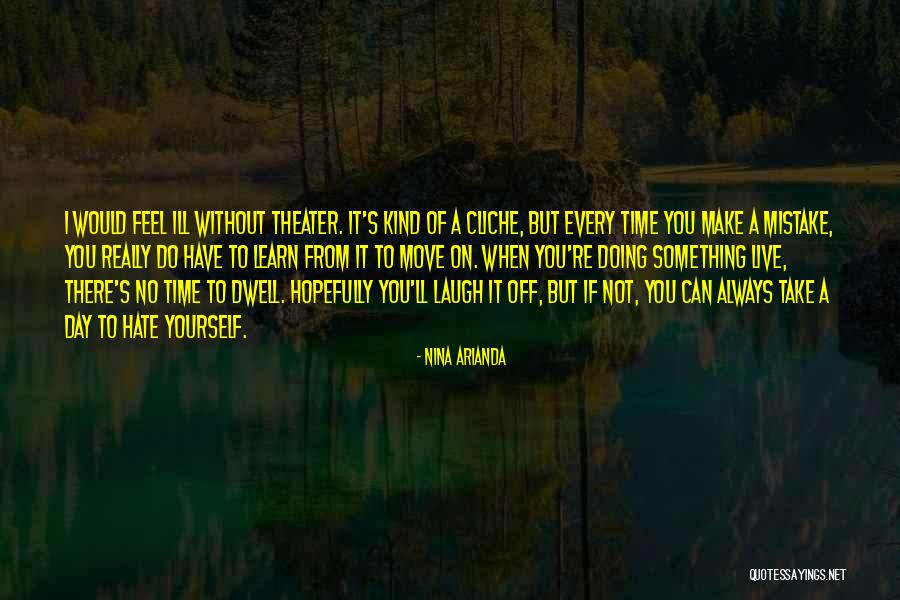 I would feel ill without theater. It's kind of a cliche, but every time you make a mistake, you really do have to learn from it to move on. When you're doing something live, there's no time to dwell. Hopefully you'll laugh it off, but if not, you can always take a day to hate yourself. — Nina Arianda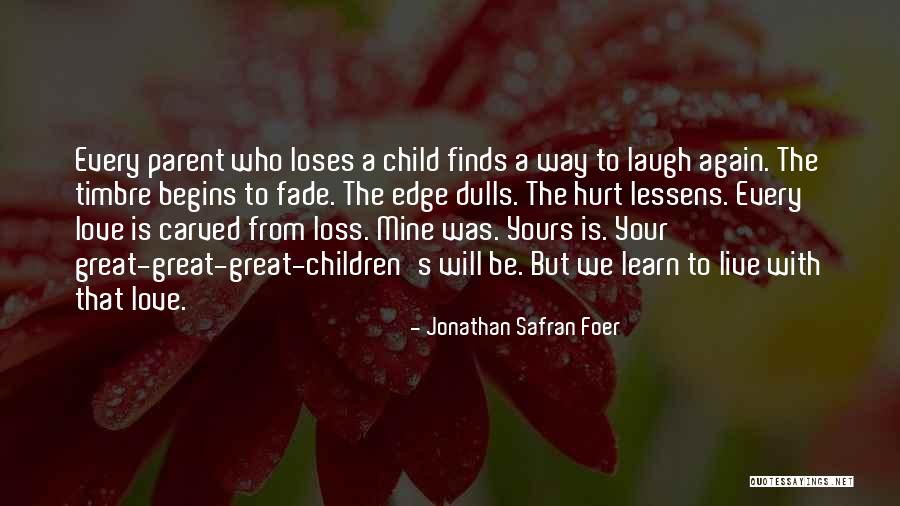 Every parent who loses a child finds a way to laugh again. The timbre begins to fade. The edge dulls. The hurt lessens. Every love is carved from loss. Mine was. Yours is. Your great-great-
great-children's will be. But we learn to live with that love. — Jonathan Safran Foer
Learning to remain nonreactive is the name of the game. Does this mean living without passion? Absolutely not. Live, love, laugh, and learn - just don't be a sucker for drama. Live your life with enthusiasm and purpose, and don't be a pawn in someone else's vision for you. You drive. Better yet, let your Higher Self drive, and you relax. — Pedram Shojai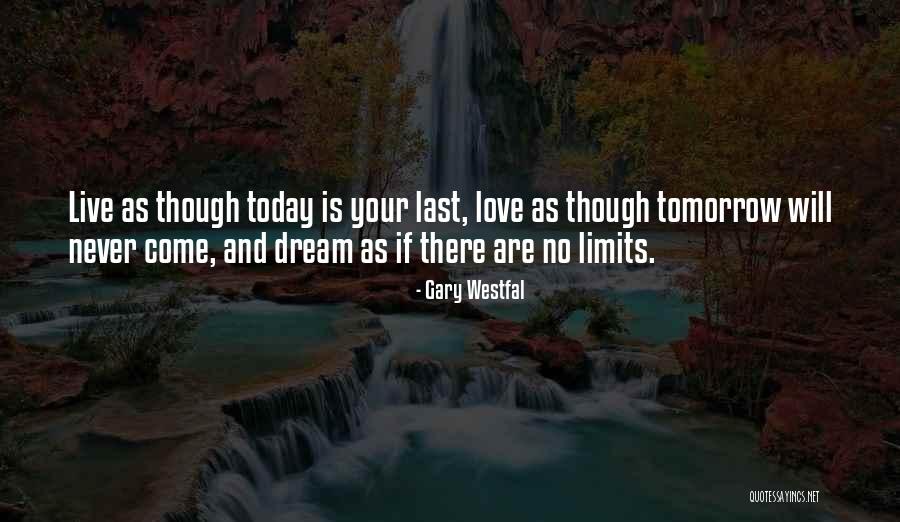 Live as though today is your last, love as though tomorrow will never come, and dream as if there are no limits. — Gary Westfal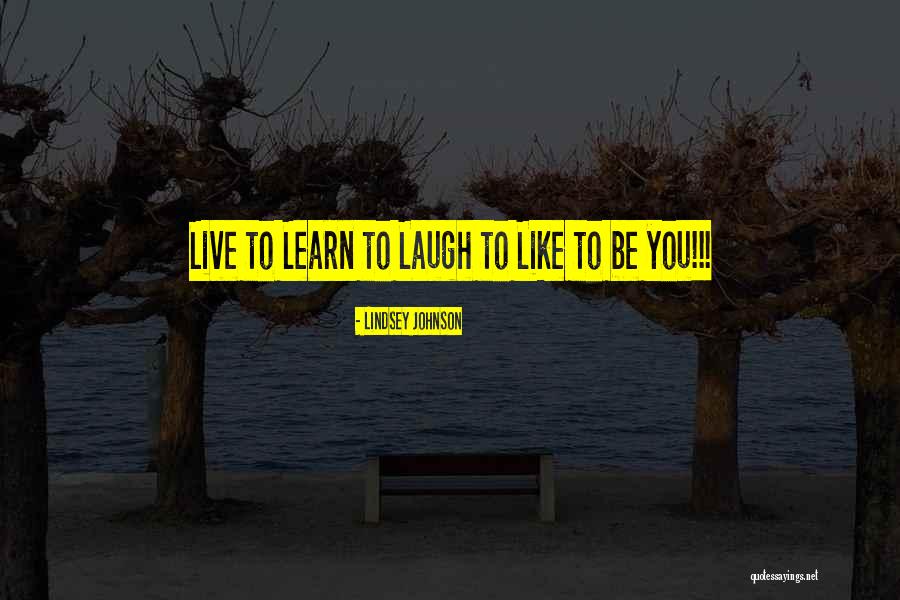 Live to Learn to Laugh to Like to be you!!! — Lindsey Johnson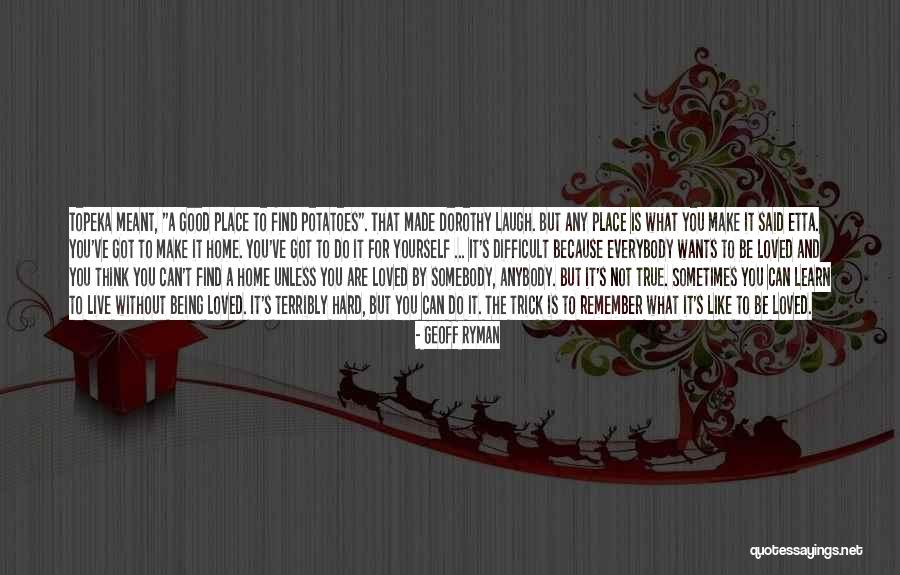 Topeka meant, "a good place to find potatoes". That made Dorothy laugh. But any place is what you make it said etta. You've got to make it home. You've got to do it for yourself ... It's difficult because everybody wants to be loved and you think you can't find a home unless you are loved by somebody, anybody. But it's not true. Sometimes you can learn to live without being loved. It's terribly hard, but you can do it. The trick is to remember what it's like to be loved. — Geoff Ryman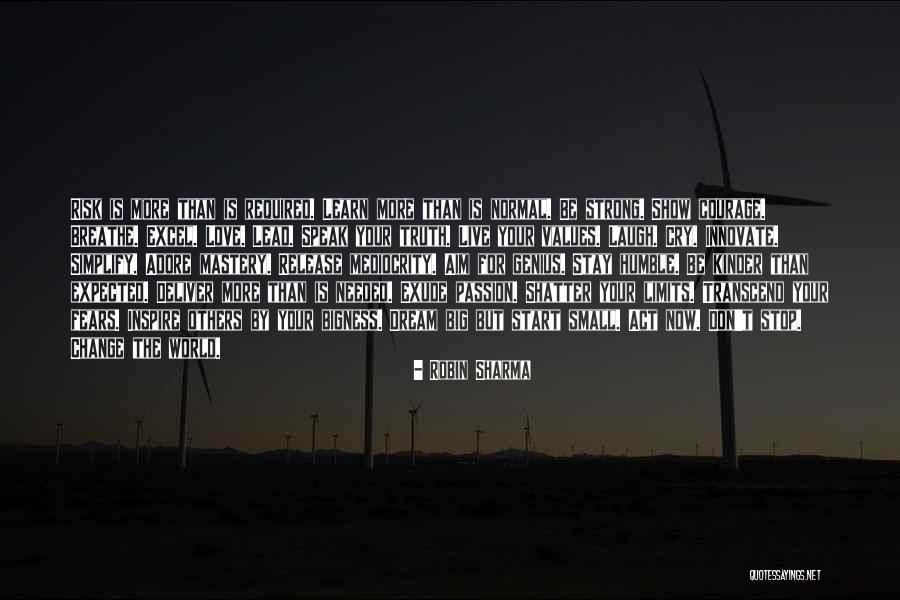 Risk is more than is required. Learn more than is normal. Be strong. Show courage. Breathe. Excel. Love. Lead. Speak your truth. Live your values. Laugh. Cry. Innovate. Simplify. Adore mastery. Release mediocrity. Aim for genius. Stay humble. Be kinder than expected. Deliver more than is needed. Exude passion. Shatter your limits. Transcend your fears. Inspire others by your bigness. Dream big but start small. Act now. Don't stop. Change the world. — Robin Sharma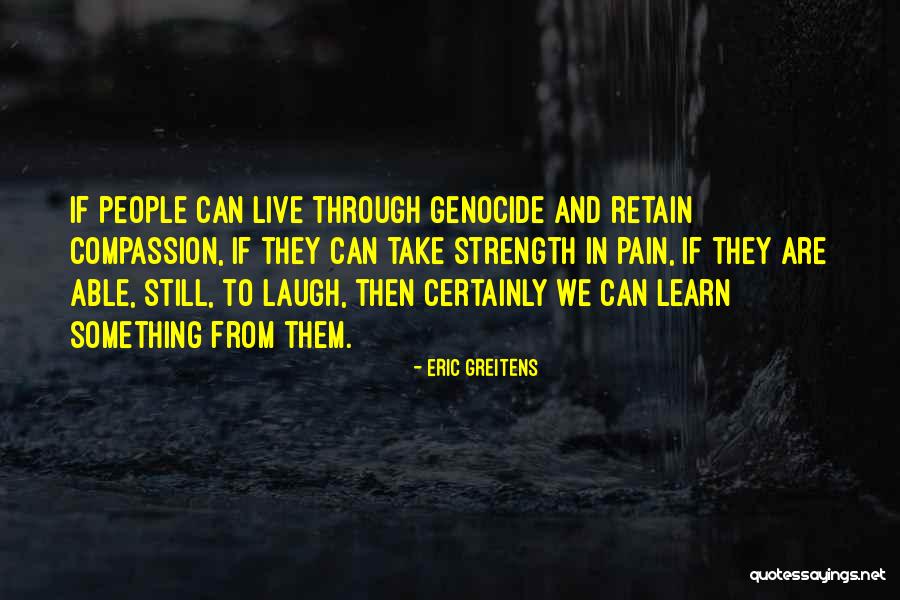 If people can live through genocide and retain compassion, if they can take strength in pain, if they are able, still, to laugh, then certainly we can learn something from them. — Eric Greitens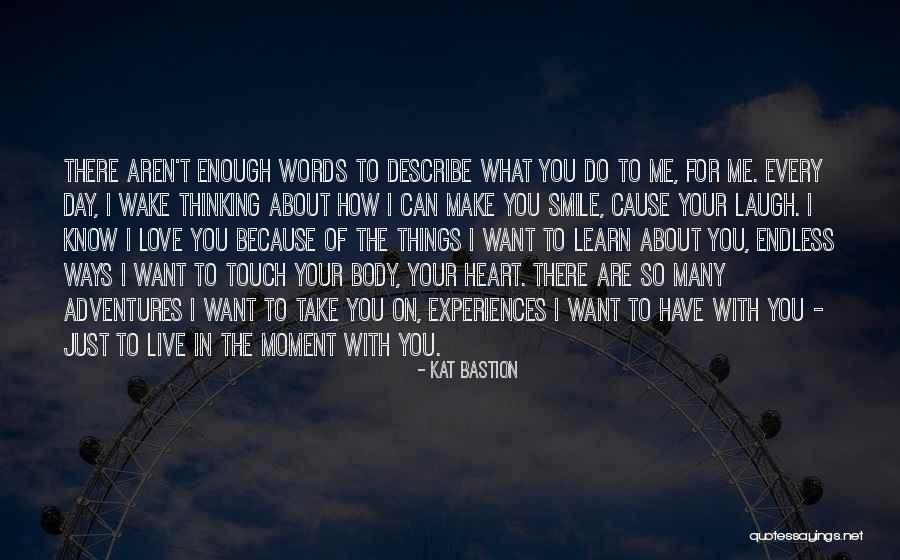 There aren't enough words to describe what you do to me, for me. Every day, I wake thinking about how I can make you smile, cause your laugh. I know I love you because of the things I want to learn about you, endless ways I want to touch your body, your heart. There are so many adventures I want to take you on, experiences I want to have with you - just to live in the moment with you. — Kat Bastion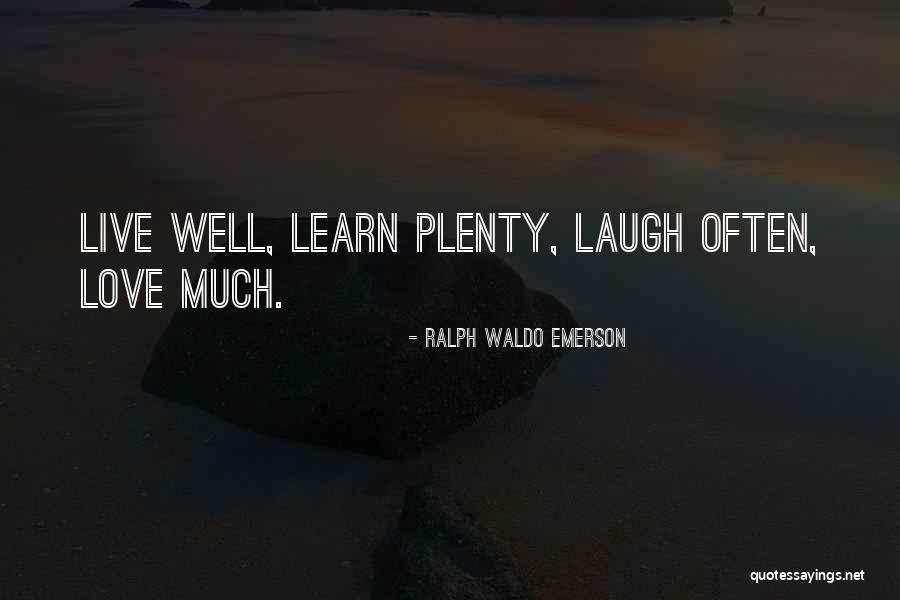 Live well, learn plenty, laugh often, love much. — Ralph Waldo Emerson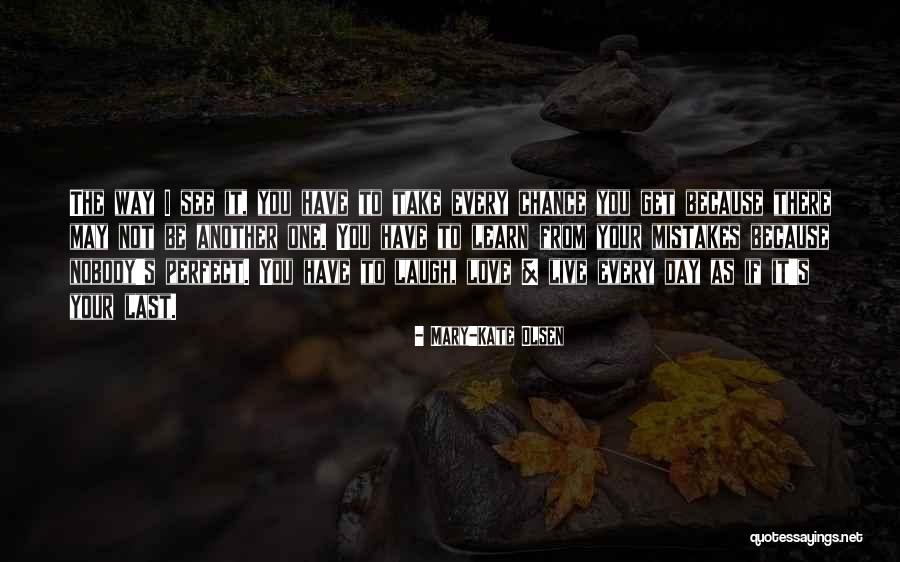 The way I see it, you have to take every chance you get because there may not be another one. You have to learn from your mistakes because nobody's perfect. You have to laugh, love & live every day as if it's your last. — Mary-Kate Olsen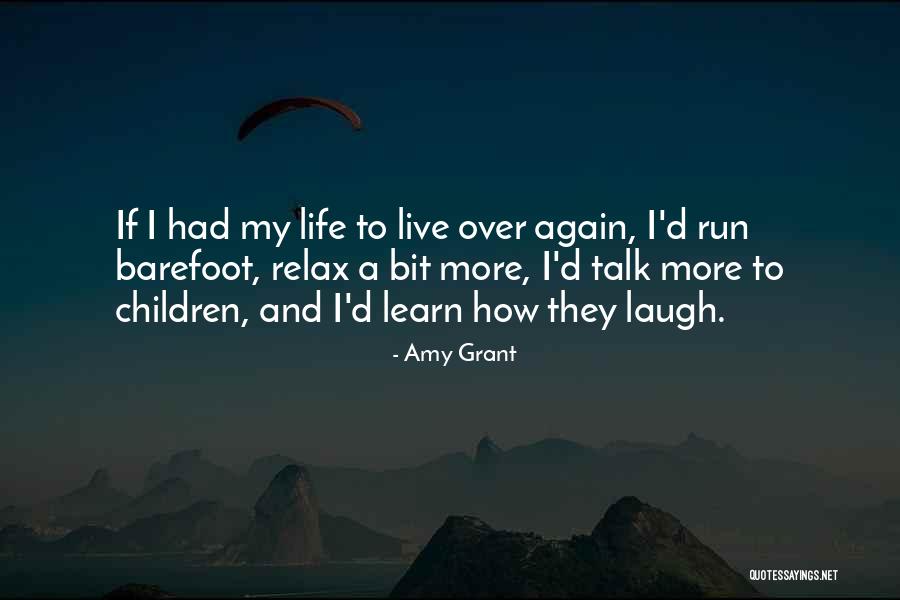 If I had my life to live over again, I'd run barefoot, relax a bit more, I'd talk more to children, and I'd learn how they laugh. — Amy Grant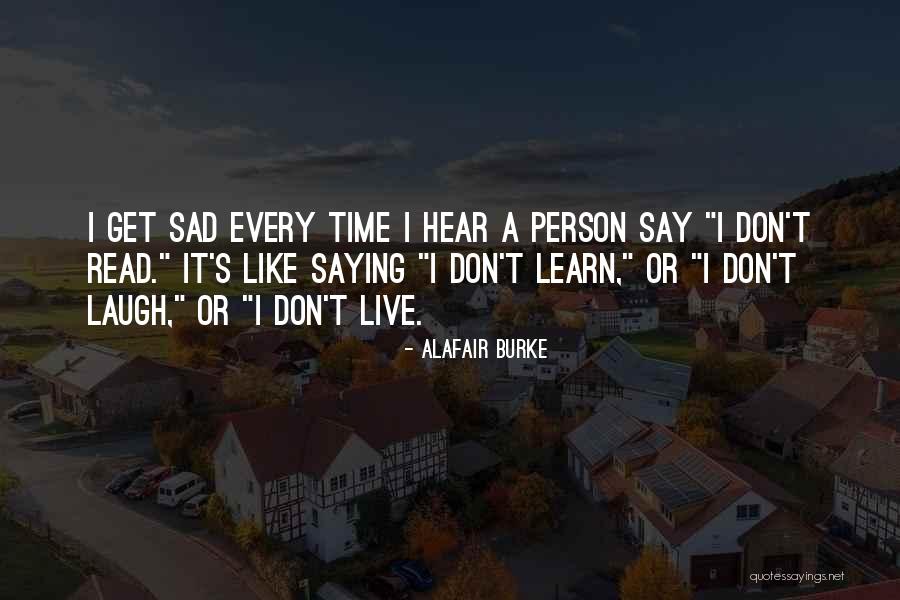 I get sad every time I hear a person say "I don't read." It's like saying "I don't learn," or "I don't laugh," or "I don't live. — Alafair Burke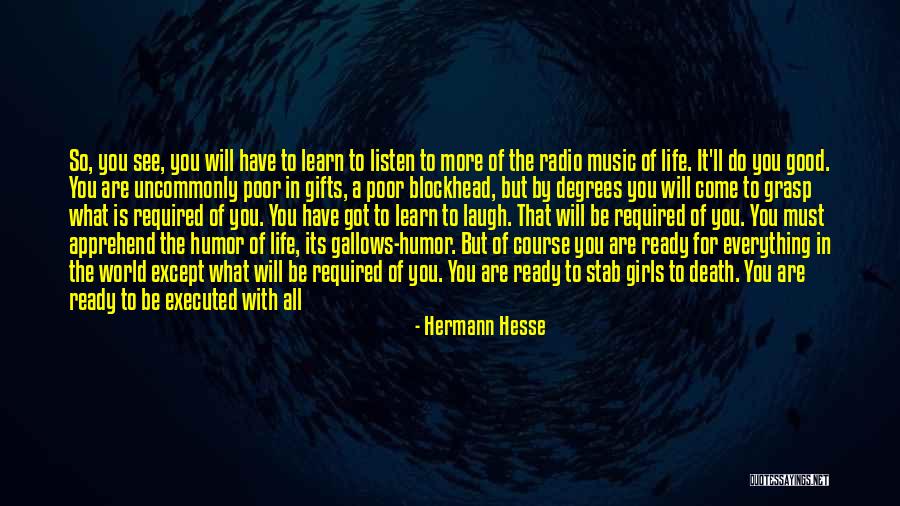 So, you see, you will have to learn to listen to more of the radio music of life. It'll do you good. You are uncommonly poor in gifts, a poor blockhead, but by degrees you will come to grasp what is required of you. You have got to learn to laugh. That will be required of you. You must apprehend the humor of life, its gallows-humor. But of course you are ready for everything in the world except what will be required of you. You are ready to stab girls to death. You are ready to be executed with all solemnity. You would be ready, no doubt, to mortify and scourge yourself for centuries together. Wouldn't you? It is time to come to your senses...You are to live and to learn to laugh. You are to learn to listen to the cursed radio music of life and to reverence the spirit behind it and to laugh at its distortions. So there you are. More will not be asked of you — Hermann Hesse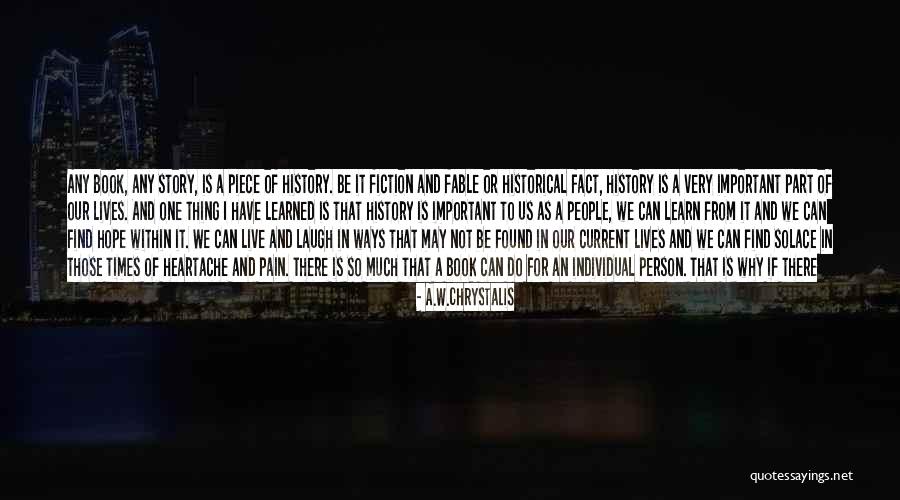 Any book, any story, is a piece of history. Be it fiction and fable or historical fact, history is a very important part of our lives. And one thing I have learned is that history is important to us as a people, we can learn from it and we can find hope within it. We can live and laugh in ways that may not be found in our current lives and we can find solace in those times of heartache and pain. There is so much that a book can do for an individual person. That is why if there is but a single person willing to lose themselves to that history that we hold in our own hearts, than it is up to us as authors to make it available to them. — A.W.Chrystalis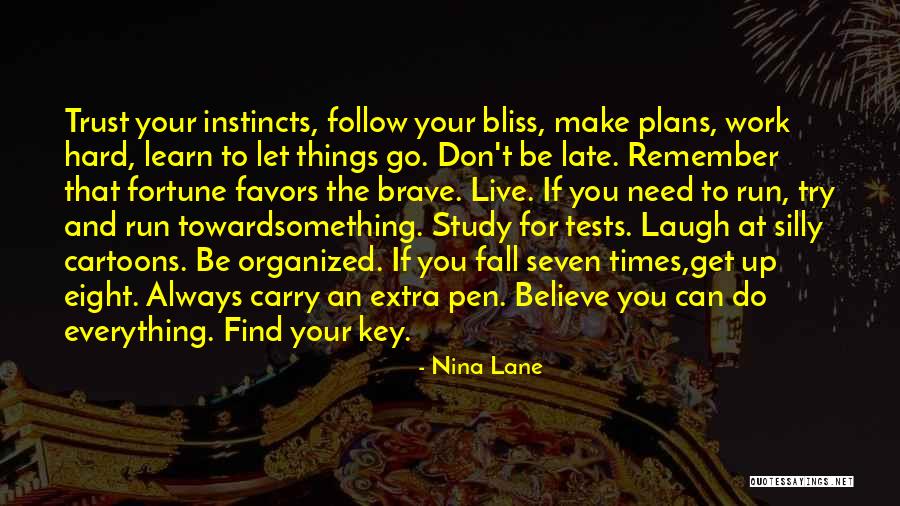 Trust your instincts, follow your bliss, make plans, work hard, learn to let things go. Don't be late. Remember that fortune favors the brave. Live. If you need to run, try and run toward
something. Study for tests. Laugh at silly cartoons. Be organized. If you fall seven times,
get up eight. Always carry an extra pen. Believe you can do everything. Find your key. — Nina Lane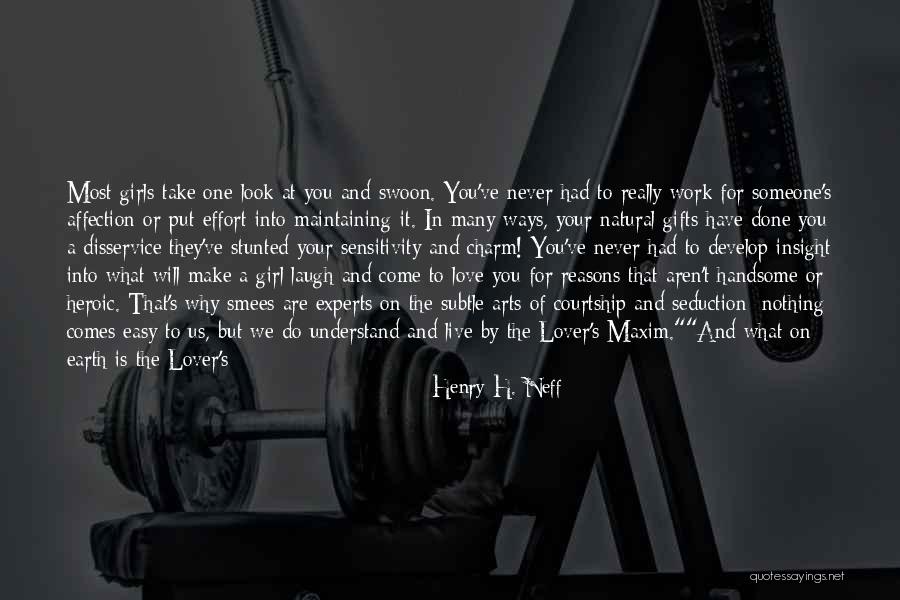 Most girls take one look at you and swoon. You've never had to really work for someone's affection or put effort into maintaining it. In many ways, your natural gifts have done you a disservice
they've stunted your sensitivity and charm! You've never had to develop insight into what will make a girl laugh and come to love you for reasons that aren't handsome or heroic. That's why smees are experts on the subtle arts of courtship and seduction; nothing comes easy to us, but we do understand and live by the Lover's Maxim."
"And what on earth is the Lover's Maxim?" asked Maz, feeling very uninformed.
The smee cleared his throat. "If you can't be handsome, be rich. If you can't be rich, be strong. If you cant be strong, be witty."
"But what if you can't be witty?" Max wondered.
"Learn the guitar. — Henry H. Neff