Lavish Love Quotes & Sayings
Enjoy reading and share 46 famous quotes about Lavish Love with everyone.
Top Lavish Love Quotes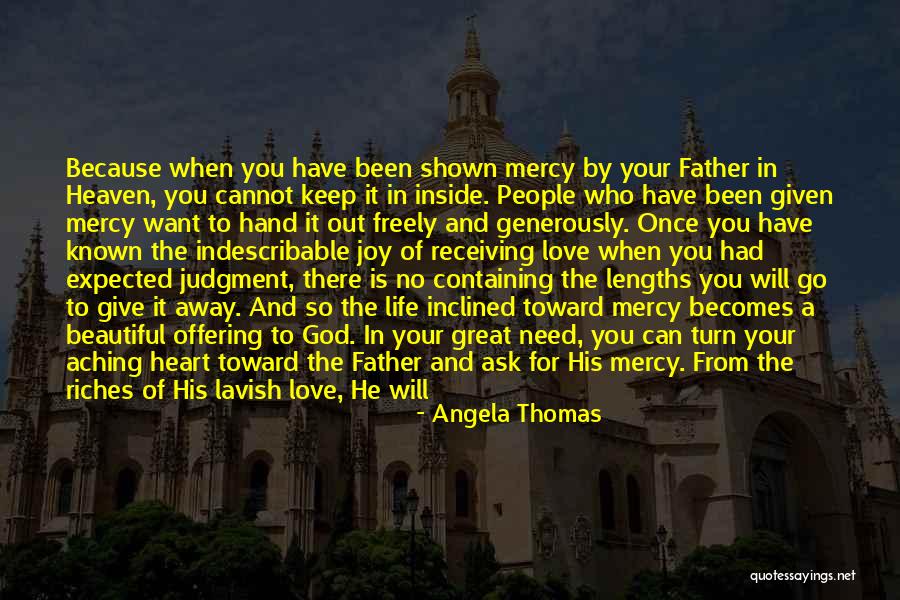 Because when you have been shown mercy by your Father in Heaven, you cannot keep it in inside. People who have been given mercy want to hand it out freely and generously. Once you have known the indescribable joy of receiving love when you had expected judgment, there is no containing the lengths you will go to give it away. And so the life inclined toward mercy becomes a beautiful offering to God. In your great need, you can turn your aching heart toward the Father and ask for His mercy. From the riches of His lavish love, He will tenderly give all that you need. Humbled by such a gracious gift, your heart will long to share with others who need mercy too. And when the one who gives mercy remains in the presence of God, all the mercy required is continually being provided. — Angela Thomas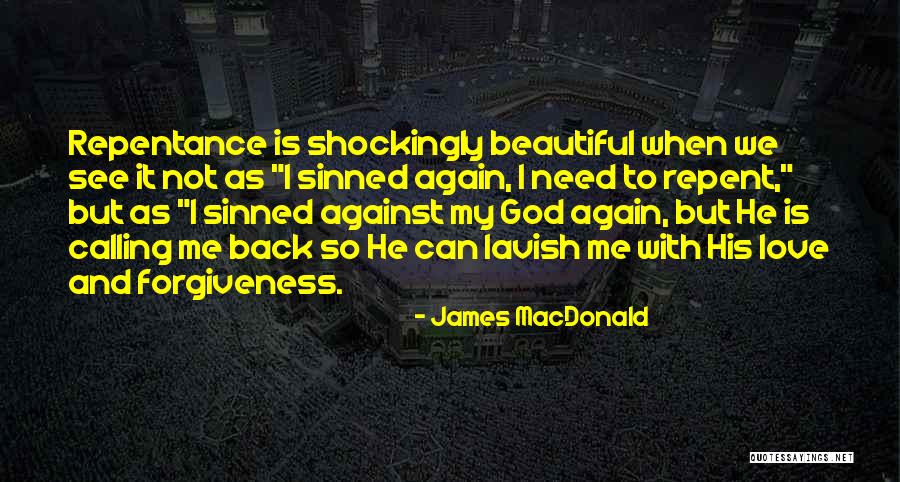 Repentance is shockingly beautiful when we see it not as "I sinned again, I need to repent," but as "I sinned against my God again, but He is calling me back so He can lavish me with His love and forgiveness. — James MacDonald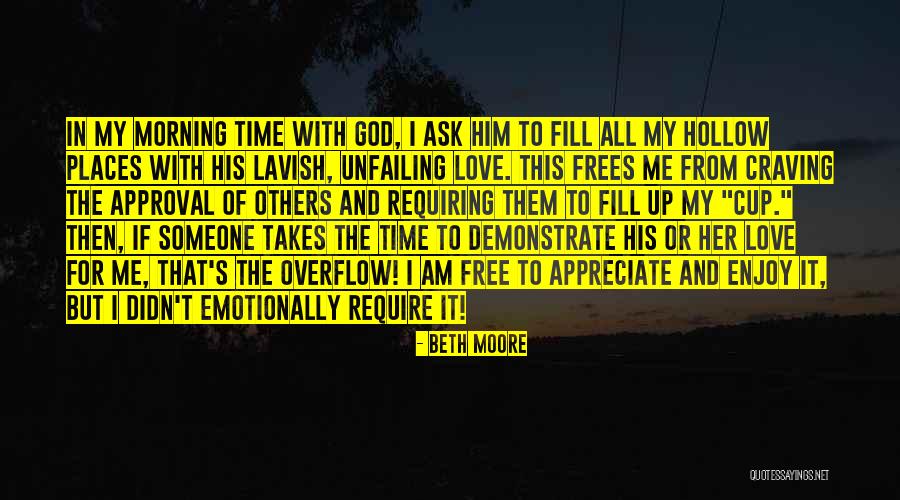 In my morning time with God, I ask Him to fill all my hollow places with His lavish, unfailing love. This frees me from craving the approval of others and requiring them to fill up my "cup." Then, if someone takes the time to demonstrate his or her love for me, that's the overflow! I am free to appreciate and enjoy it, but I didn't emotionally require it! — Beth Moore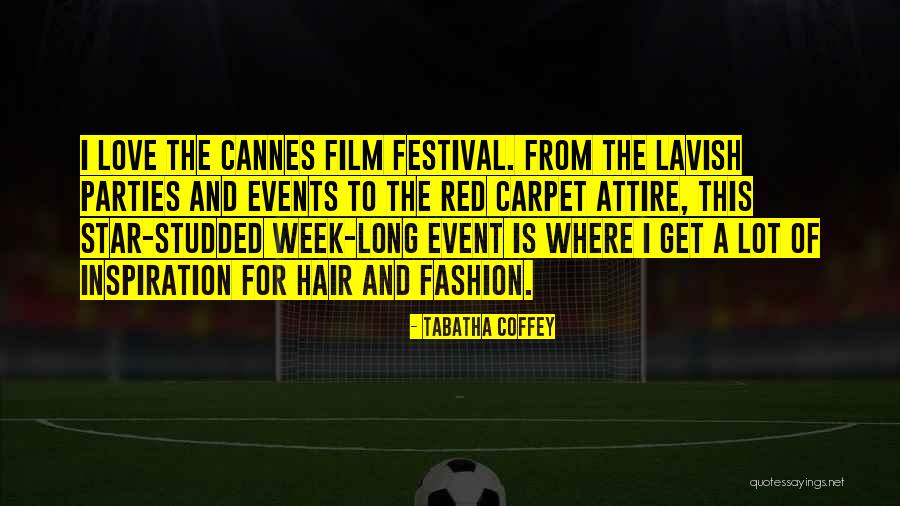 I love the Cannes Film Festival. From the lavish parties and events to the red carpet attire, this star-studded week-long event is where I get a lot of inspiration for hair and fashion. — Tabatha Coffey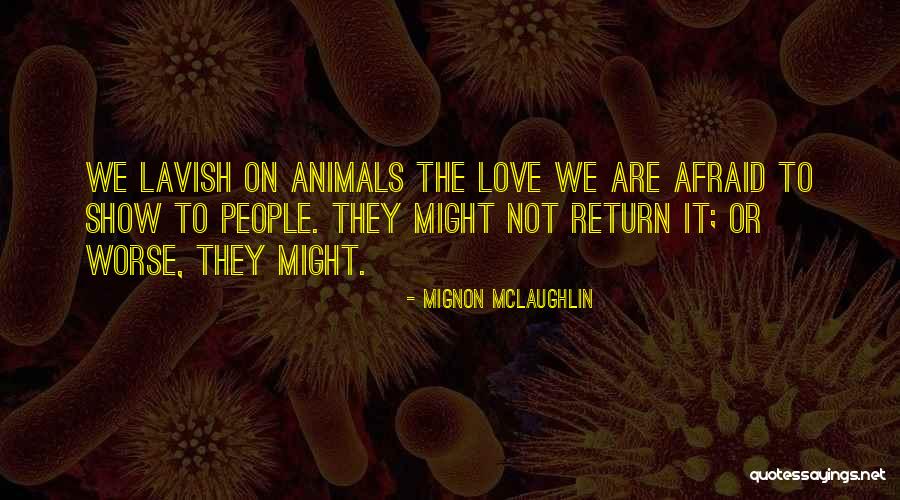 We lavish on animals the love we are afraid to show to people. They might not return it; or worse, they might. — Mignon McLaughlin
I think human self-hatred may be the great untold story of the millennium. It's the common thread linking deep ecology and animal rights, the love and money we lavish on pets, the uneasy longing for extraterrestrials to be meddling with us. — Annie Gottlieb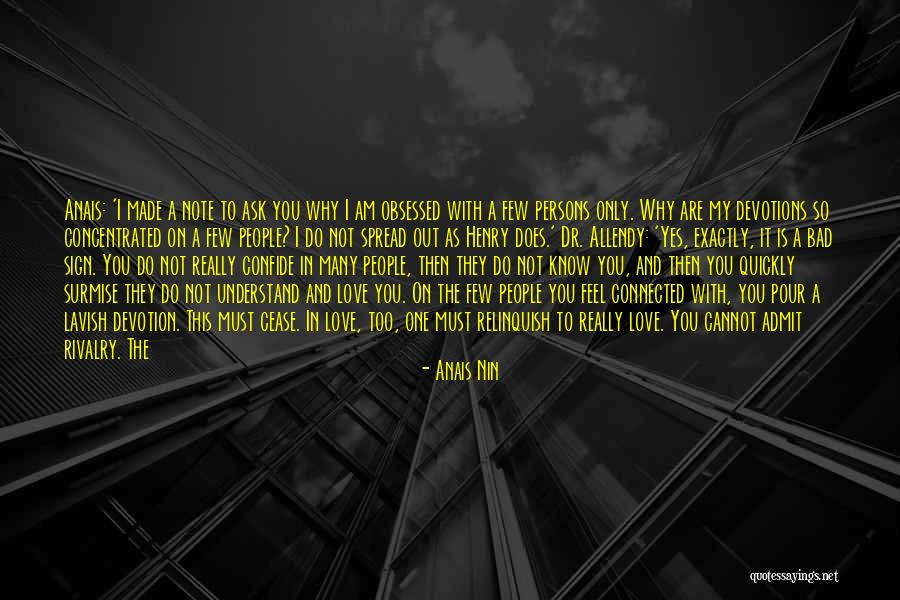 Anais: 'I made a note to ask you why I am obsessed with a few persons only. Why are my devotions so concentrated on a few people? I do not spread out as Henry does.' Dr. Allendy: 'Yes, exactly, it is a bad sign. You do not really confide in many people, then they do not know you, and then you quickly surmise they do not understand and love you. On the few people you feel connected with, you pour a lavish devotion. This must cease. In love, too, one must relinquish to really love. You cannot admit rivalry. The more broadly and expansively you love, without exclusiveness, the more you reach the mystic whole, the larger sense of love, the less individualistic, the more universal love. — Anais Nin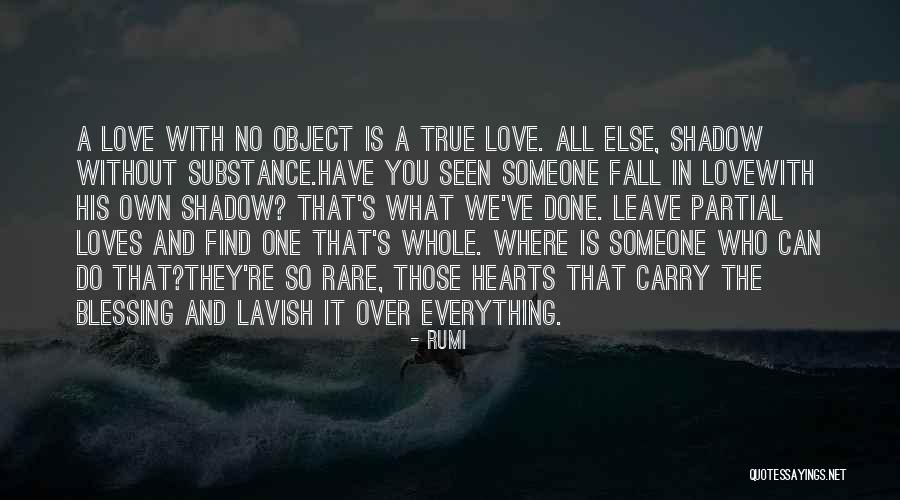 A love with no object is a true love.
All else, shadow without substance.
Have you seen someone fall in love
with his own shadow? That's what we've done. Leave partial loves and find one that's whole.
Where is someone who can do that?
They're so rare, those hearts that carry the blessing and lavish it over everything. — Rumi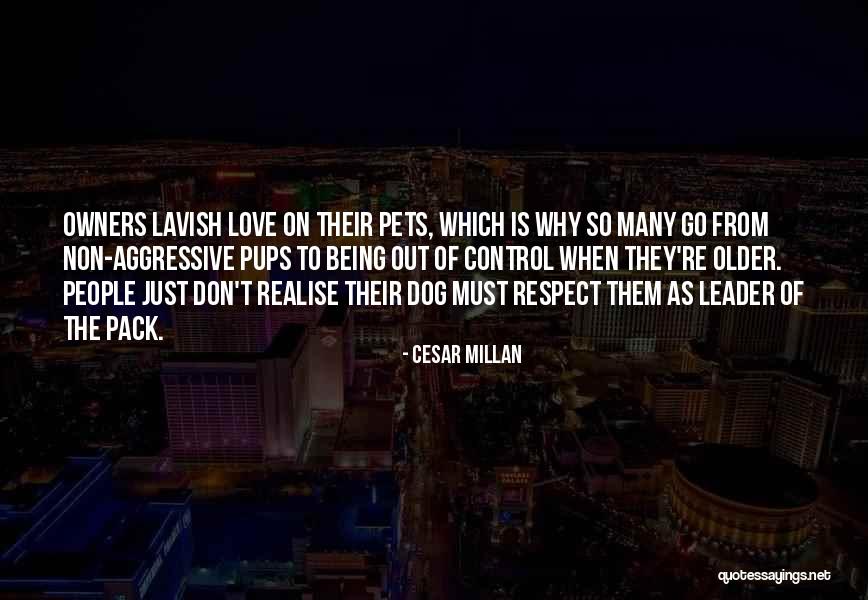 Owners lavish love on their pets, which is why so many go from non-aggressive pups to being out of control when they're older. People just don't realise their dog must respect them as leader of the pack. — Cesar Millan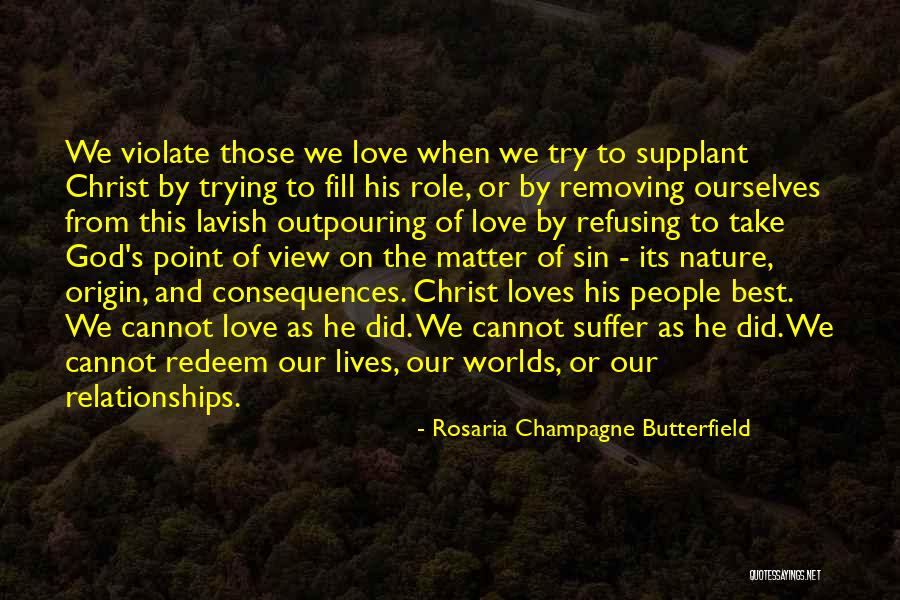 We violate those we love when we try to supplant Christ by trying to fill his role, or by removing ourselves from this lavish outpouring of love by refusing to take God's point of view on the matter of sin - its nature, origin, and consequences. Christ loves his people best. We cannot love as he did. We cannot suffer as he did. We cannot redeem our lives, our worlds, or our relationships. — Rosaria Champagne Butterfield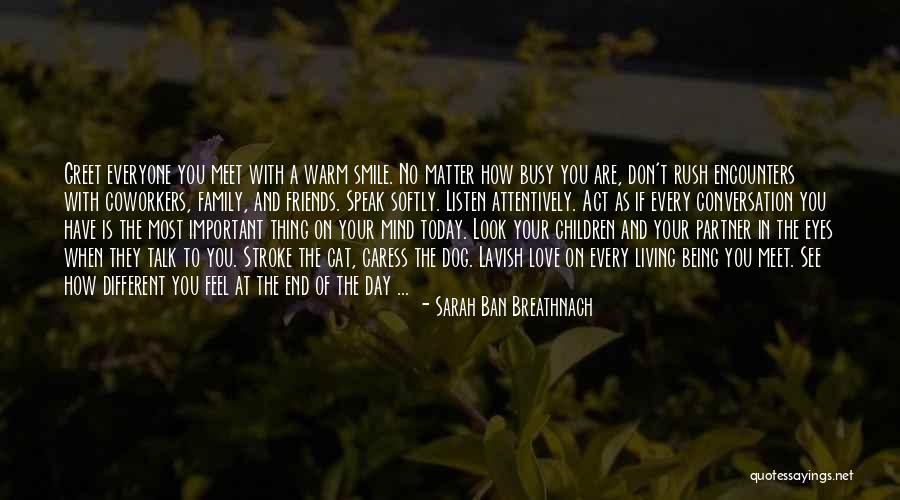 Greet everyone you meet with a warm smile. No matter how busy you are, don't rush encounters with coworkers, family, and friends. Speak softly. Listen attentively. Act as if every conversation you have is the most important thing on your mind today. Look your children and your partner in the eyes when they talk to you. Stroke the cat, caress the dog. Lavish love on every living being you meet. See how different you feel at the end of the day ... — Sarah Ban Breathnach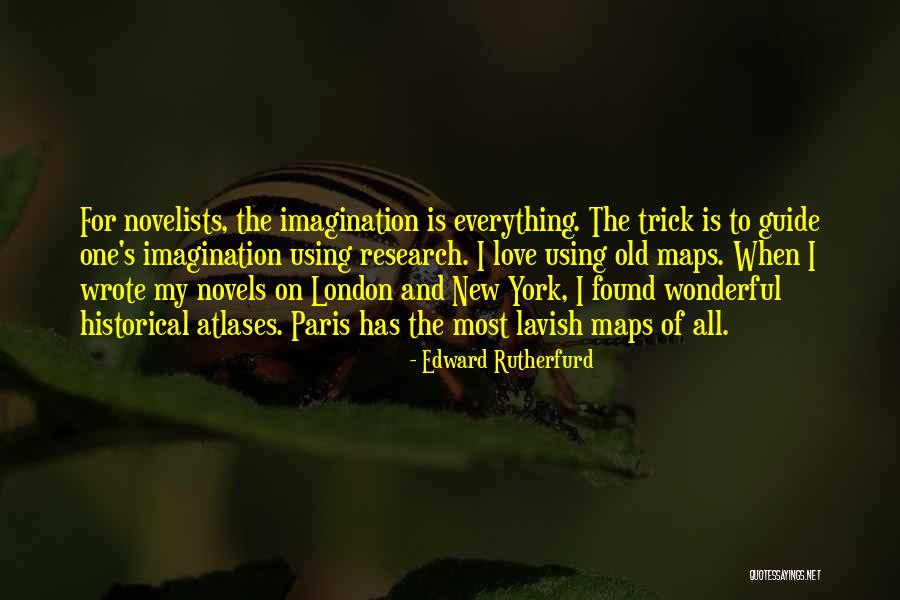 For novelists, the imagination is everything. The trick is to guide one's imagination using research. I love using old maps. When I wrote my novels on London and New York, I found wonderful historical atlases. Paris has the most lavish maps of all. — Edward Rutherfurd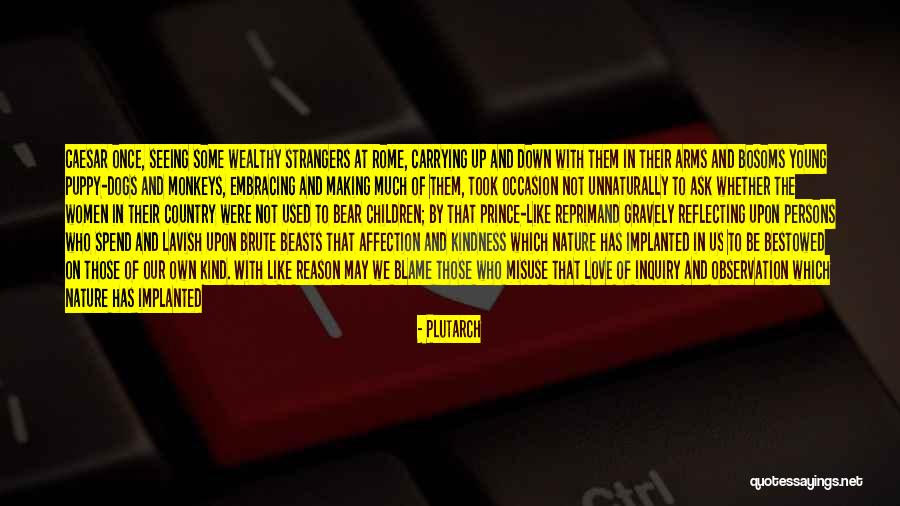 Caesar once, seeing some wealthy strangers at Rome, carrying up and down with them in their arms and bosoms young puppy-dogs and monkeys, embracing and making much of them, took occasion not unnaturally to ask whether the women in their country were not used to bear children; by that prince-like reprimand gravely reflecting upon persons who spend and lavish upon brute beasts that affection and kindness which nature has implanted in us to be bestowed on those of our own kind. With like reason may we blame those who misuse that love of inquiry and observation which nature has implanted in our souls, by expending it on objects unworthy of the attention either of their eyes or their ears, while they disregard such as are excellent in themselves, and would do them good. — Plutarch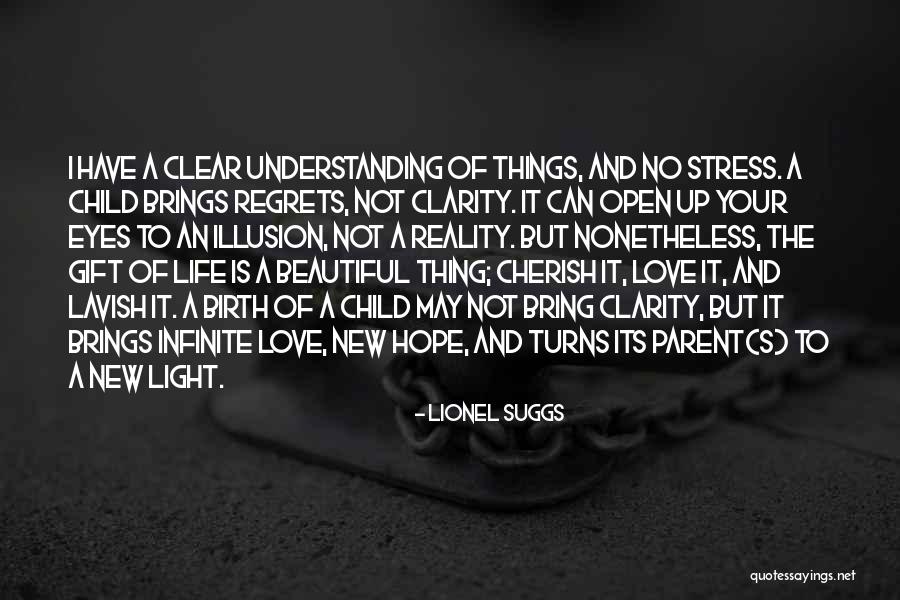 I have a clear understanding of things, and no stress. A child brings regrets, not clarity. It can open up your eyes to an illusion, not a reality. But nonetheless, the gift of life is a beautiful thing; cherish it, love it, and lavish it. A birth of a child may not bring clarity, but it brings infinite love, new hope, and turns its parent(s) to a new light. — Lionel Suggs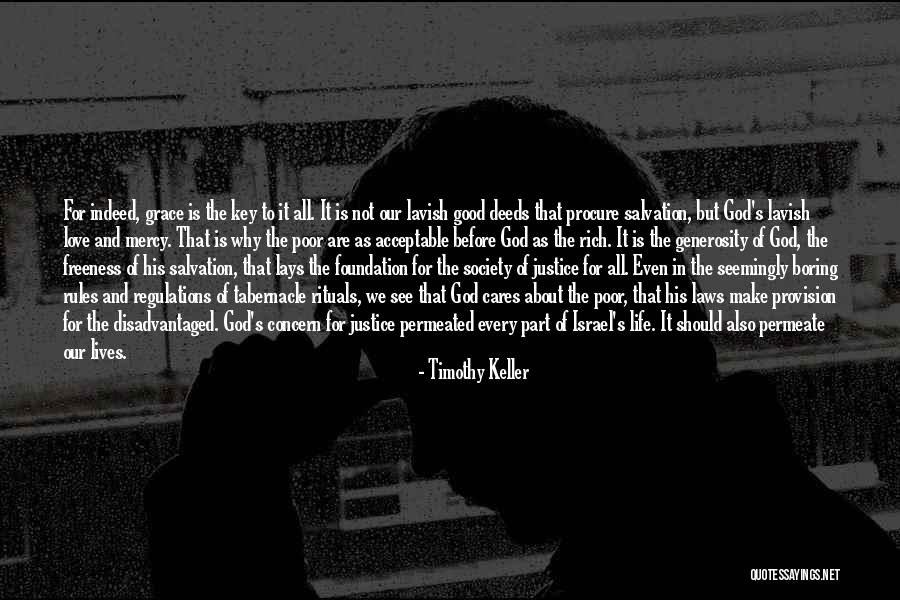 For indeed, grace is the key to it all. It is not our lavish good deeds that procure salvation, but God's lavish love and mercy. That is why the poor are as acceptable before God as the rich. It is the generosity of God, the freeness of his salvation, that lays the foundation for the society of justice for all. Even in the seemingly boring rules and regulations of tabernacle rituals, we see that God cares about the poor, that his laws make provision for the disadvantaged. God's concern for justice permeated every part of Israel's life. It should also permeate our lives. — Timothy Keller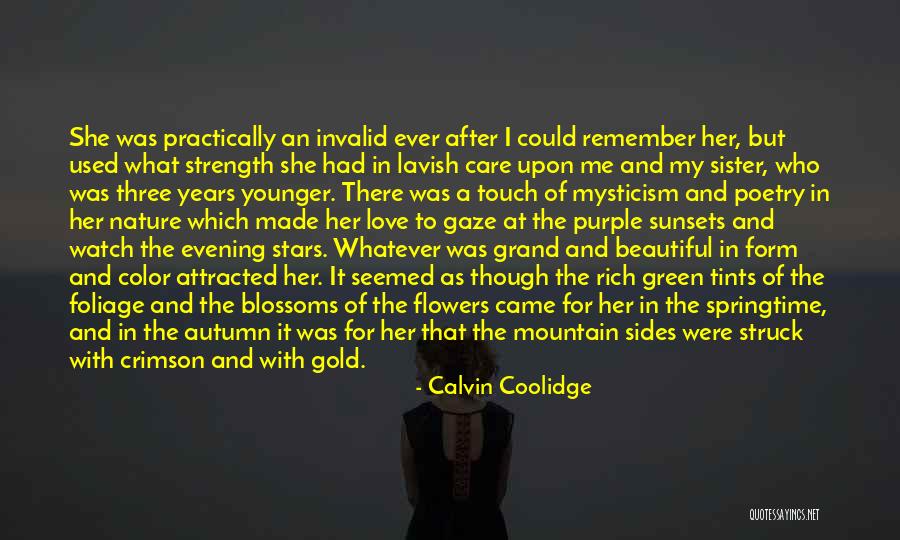 She was practically an invalid ever after I could remember her, but used what strength she had in lavish care upon me and my sister, who was three years younger. There was a touch of mysticism and poetry in her nature which made her love to gaze at the purple sunsets and watch the evening stars. Whatever was grand and beautiful in form and color attracted her. It seemed as though the rich green tints of the foliage and the blossoms of the flowers came for her in the springtime, and in the autumn it was for her that the mountain sides were struck with crimson and with gold. — Calvin Coolidge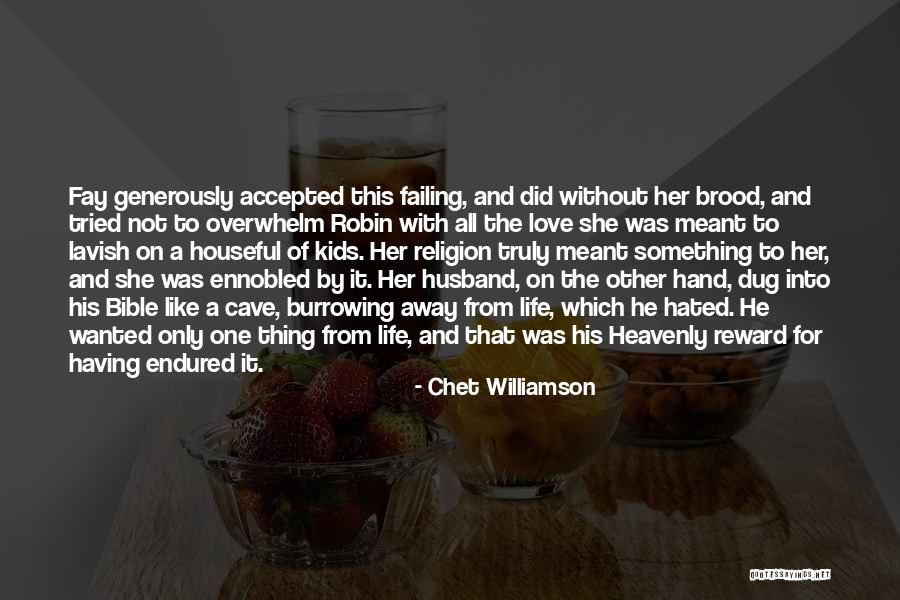 Fay generously accepted this failing, and did without her brood, and tried not to overwhelm Robin with all the love she was meant to lavish on a houseful of kids. Her religion truly meant something to her, and she was ennobled by it. Her husband, on the other hand, dug into his Bible like a cave, burrowing away from life, which he hated. He wanted only one thing from life, and that was his Heavenly reward for having endured it. — Chet Williamson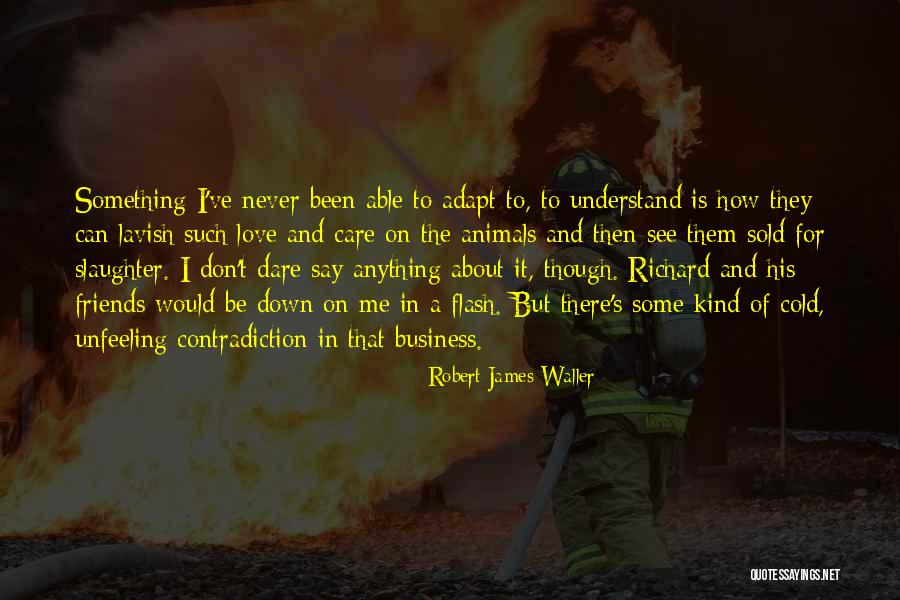 Something I've never been able to adapt to, to understand is how they can lavish such love and care on the animals and then see them sold for slaughter. I don't dare say anything about it, though. Richard and his friends would be down on me in a flash. But there's some kind of cold, unfeeling contradiction in that business. — Robert James Waller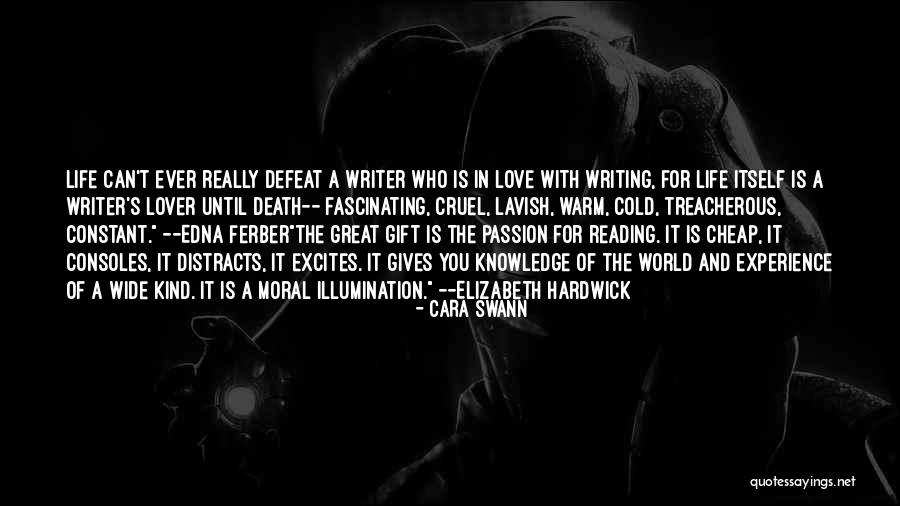 Life can't ever really defeat a writer who is in love with writing, for life itself is a writer's lover until death-- fascinating, cruel, lavish, warm, cold, treacherous, constant." --Edna Ferber

"The great gift is the passion for reading. It is cheap, it consoles, it distracts, it excites. It gives you knowledge of the world and experience of a wide kind. It is a moral illumination." --Elizabeth Hardwick — Cara Swann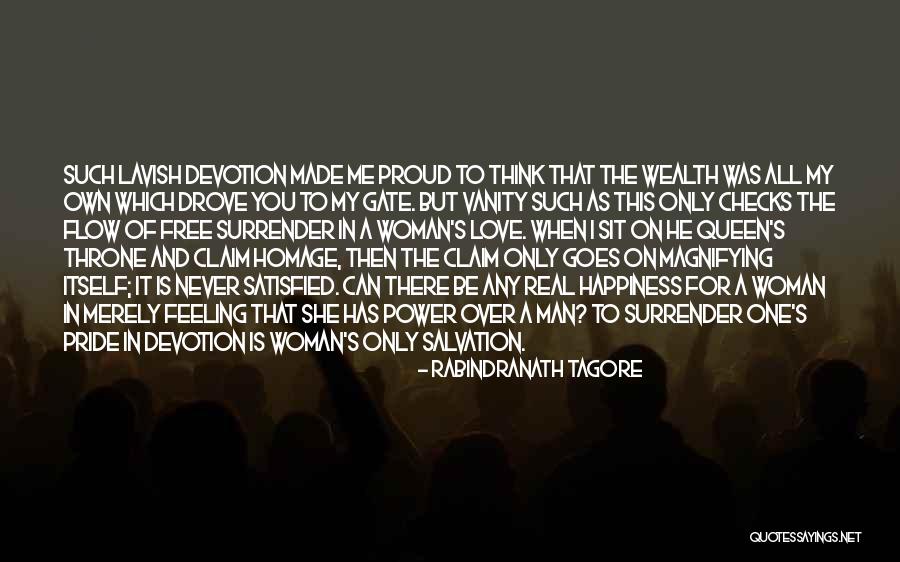 Such lavish devotion made me proud to think that the wealth was all my own which drove you to my gate. But vanity such as this only checks the flow of free surrender in a woman's love. When I sit on he queen's throne and claim homage, then the claim only goes on magnifying itself; it is never satisfied. Can there be any real happiness for a woman in merely feeling that she has power over a man? To surrender one's pride in devotion is woman's only salvation. — Rabindranath Tagore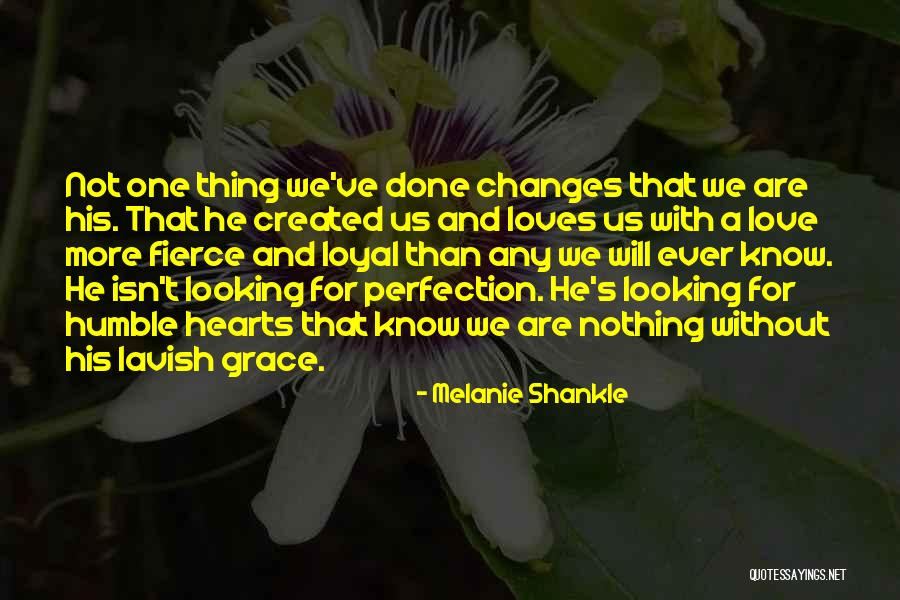 Not one thing we've done changes that we are his. That he created us and loves us with a love more fierce and loyal than any we will ever know. He isn't looking for perfection. He's looking for humble hearts that know we are nothing without his lavish grace. — Melanie Shankle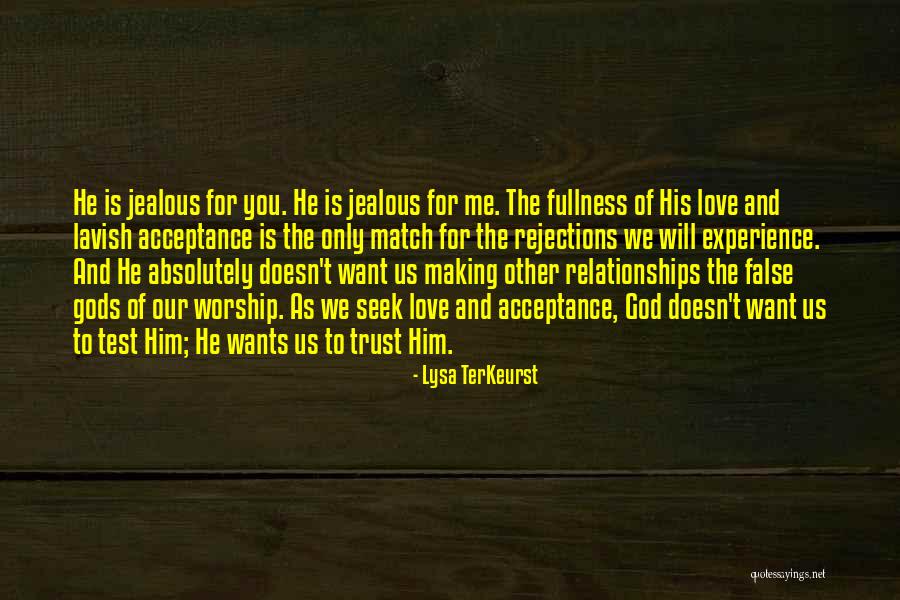 He is jealous for you. He is jealous for me. The fullness of His love and lavish acceptance is the only match for the rejections we will experience. And He absolutely doesn't want us making other relationships the false gods of our worship. As we seek love and acceptance, God doesn't want us to test Him; He wants us to trust Him. — Lysa TerKeurst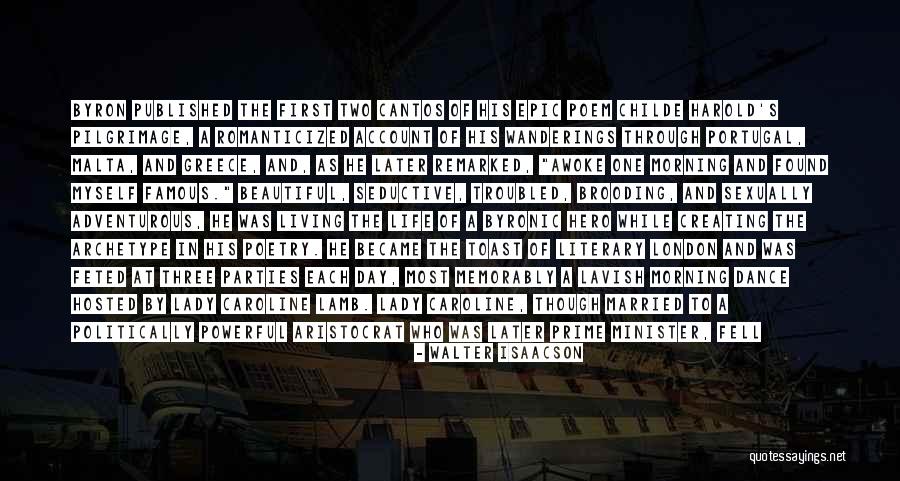 Byron published the first two cantos of his epic poem Childe Harold's Pilgrimage, a romanticized account of his wanderings through Portugal, Malta, and Greece, and, as he later remarked, "awoke one morning and found myself famous." Beautiful, seductive, troubled, brooding, and sexually adventurous, he was living the life of a Byronic hero while creating the archetype in his poetry. He became the toast of literary London and was feted at three parties each day, most memorably a lavish morning dance hosted by Lady Caroline Lamb. Lady Caroline, though married to a politically powerful aristocrat who was later prime minister, fell madly in love with Byron. He thought she was "too thin," yet she had an unconventional sexual ambiguity (she liked to dress as a page boy) that he found enticing. They had a turbulent affair, and after it ended she stalked him obsessively. She famously declared him to be "mad, bad, and dangerous to know," which he was. So was she. — Walter Isaacson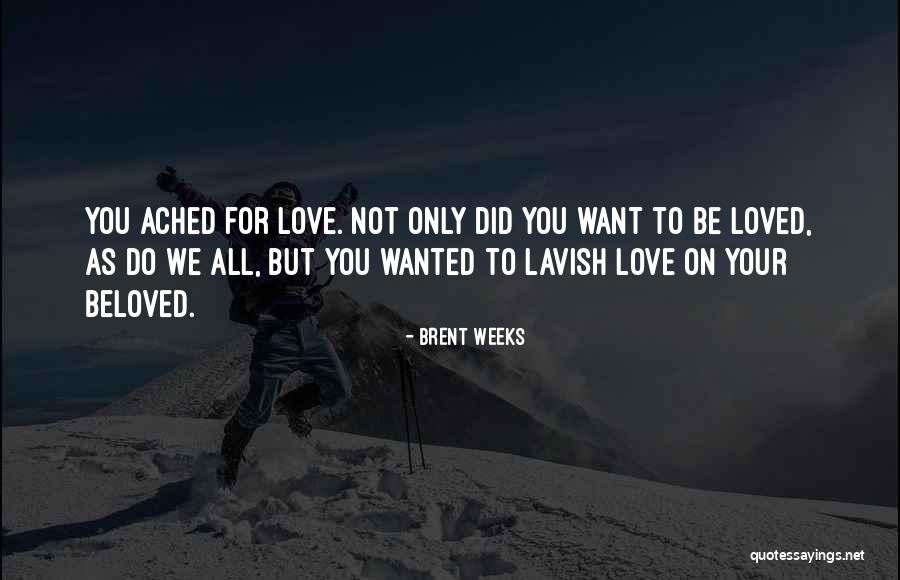 You ached for love. Not only did you want to be loved, as do we all, but you wanted to lavish love on your beloved. — Brent Weeks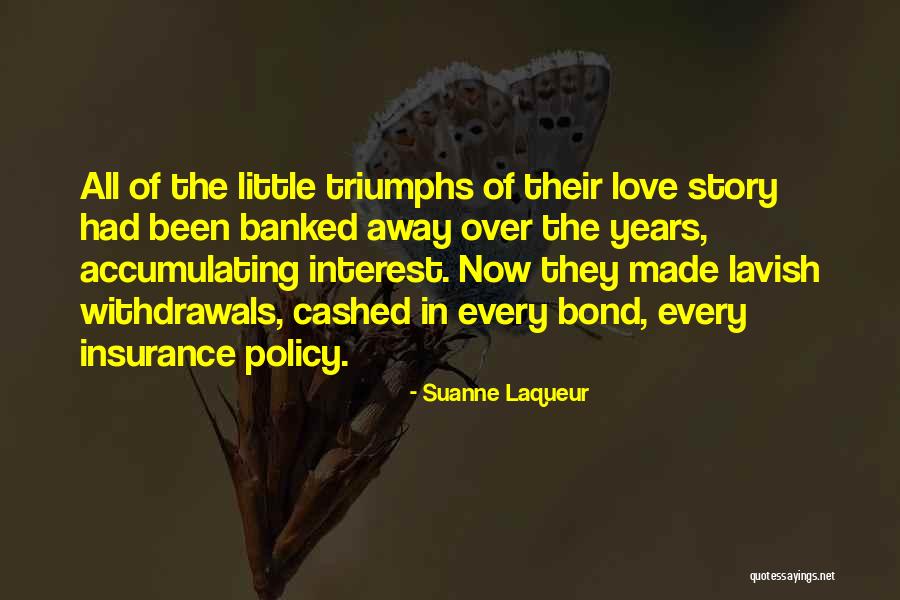 All of the little triumphs of their love story had been banked away over the years, accumulating interest. Now they made lavish withdrawals, cashed in every bond, every insurance policy. — Suanne Laqueur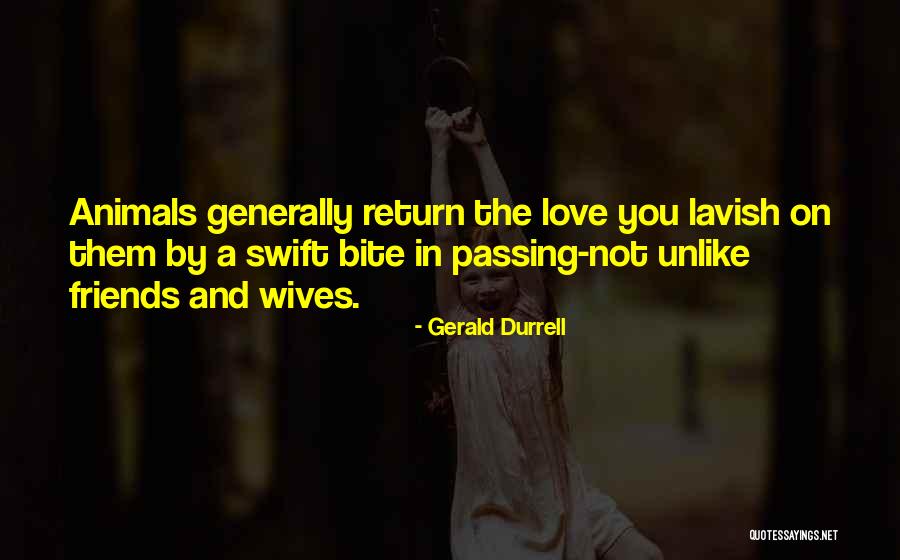 Animals generally return the love you lavish on them by a swift bite in passing-not unlike friends and wives. — Gerald Durrell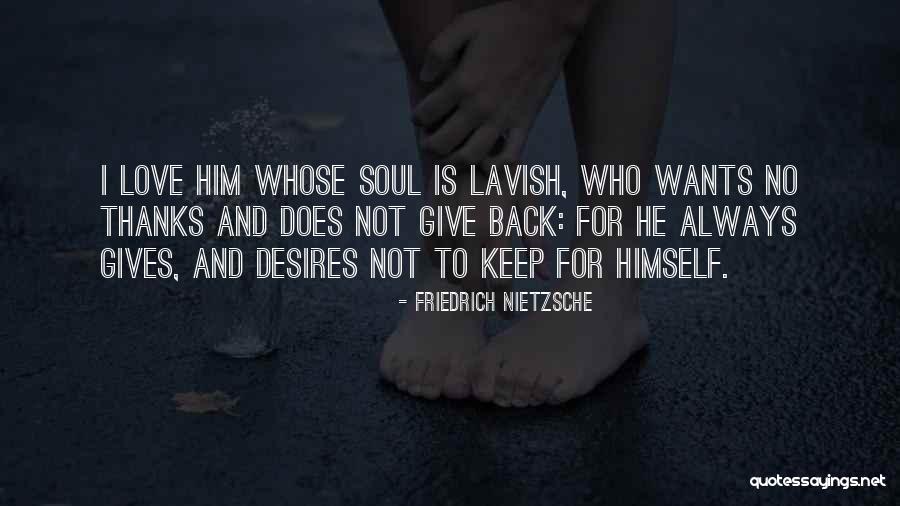 I love him whose soul is lavish, who wants no thanks and does not give back: for he always gives, and desires not to keep for himself. — Friedrich Nietzsche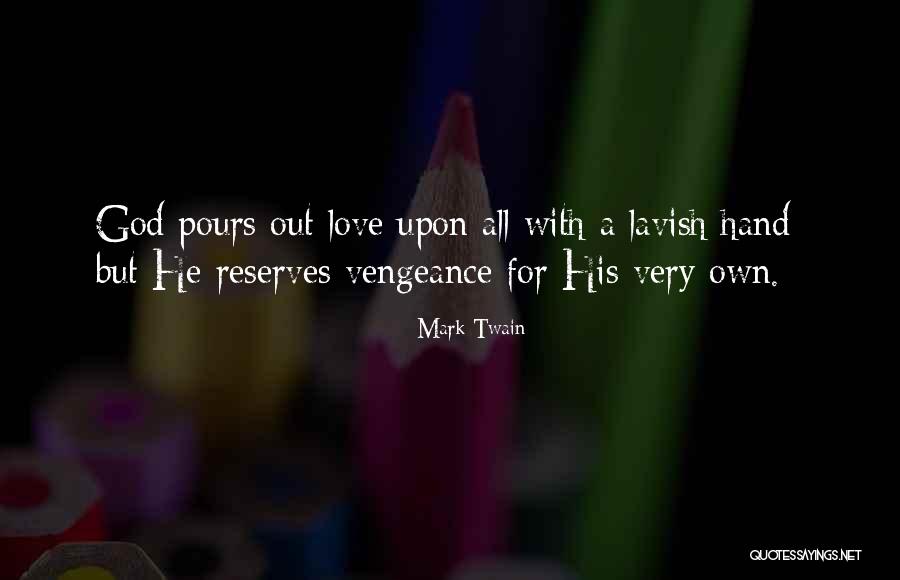 God pours out love upon all with a lavish hand
but He reserves vengeance for His very own. — Mark Twain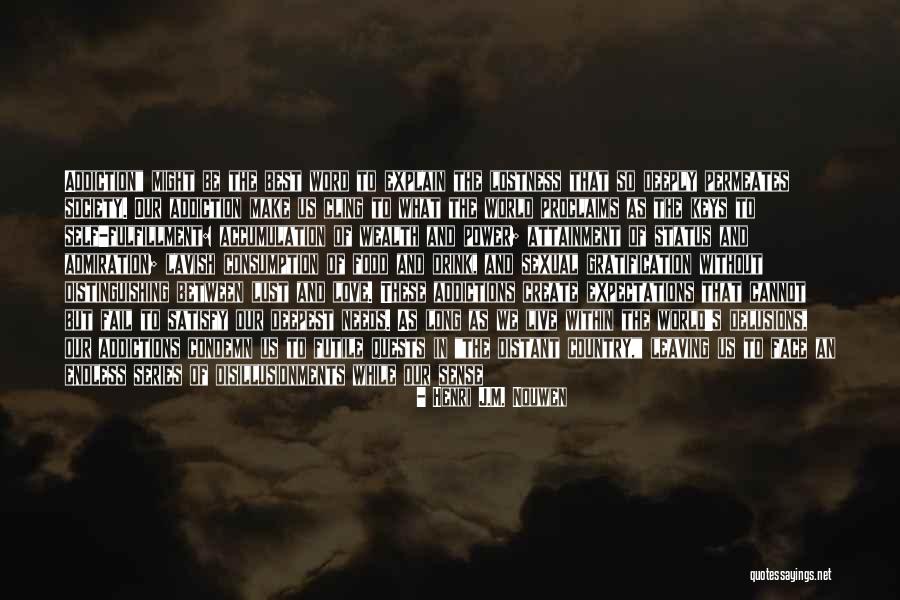 Addiction" might be the best word to explain the lostness that so deeply permeates society. Our addiction make us cling to what the world proclaims as the keys to self-fulfillment: accumulation of wealth and power; attainment of status and admiration; lavish consumption of food and drink, and sexual gratification without distinguishing between lust and love. These addictions create expectations that cannot but fail to satisfy our deepest needs. As long as we live within the world's delusions, our addictions condemn us to futile quests in "the distant country," leaving us to face an endless series of disillusionments while our sense of self remains unfulfilled. In these days of increasing addictions, we have wandered far away from our Father's home. The addicted life can aptly be designated a life lived in "a distant country." It is from there that our cry for deliverance rises up. — Henri J.M. Nouwen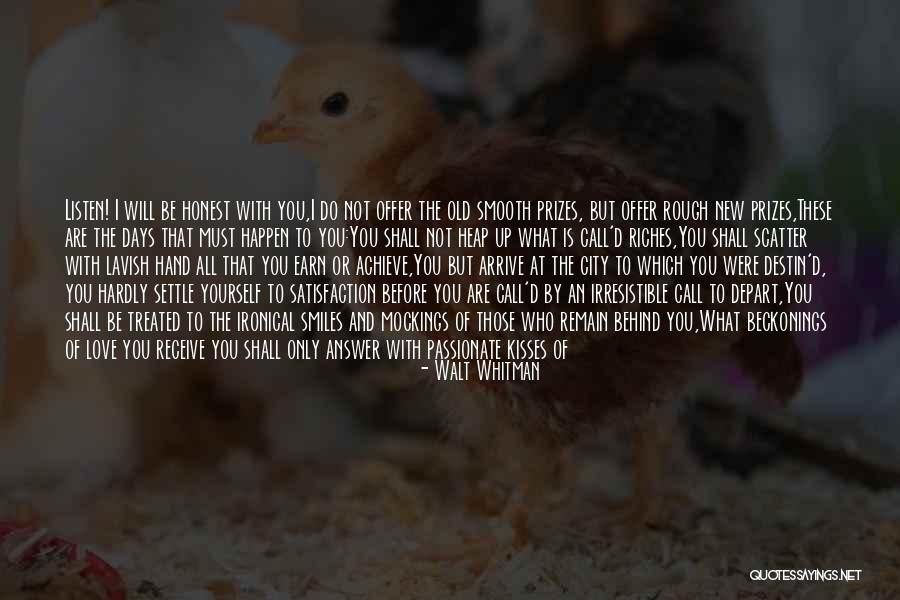 Listen! I will be honest with you,
I do not offer the old smooth prizes, but offer rough new prizes,
These are the days that must happen to you:
You shall not heap up what is call'd riches,
You shall scatter with lavish hand all that you earn or achieve,
You but arrive at the city to which you were destin'd, you hardly settle yourself to satisfaction before you are call'd by an irresistible call to depart,
You shall be treated to the ironical smiles and mockings of those who remain behind you,
What beckonings of love you receive you shall only answer with passionate kisses of parting,
You shall not allow the hold of those who spread their reach'd hands toward you."
-from "Song of the Open Road — Walt Whitman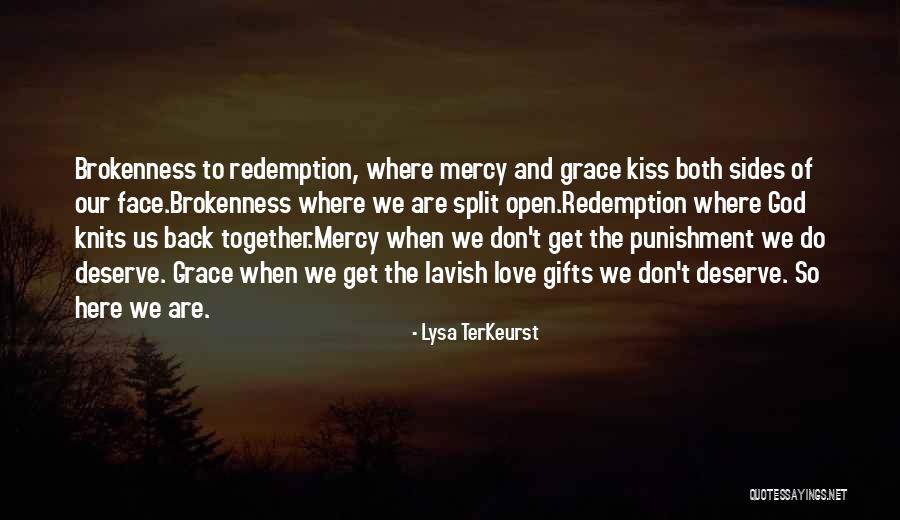 Brokenness to redemption, where mercy and grace kiss both sides of our face.
Brokenness where we are split open.
Redemption where God knits us back together.
Mercy when we don't get the punishment we do deserve.
Grace when we get the lavish love gifts we don't deserve.
So here we are. — Lysa TerKeurst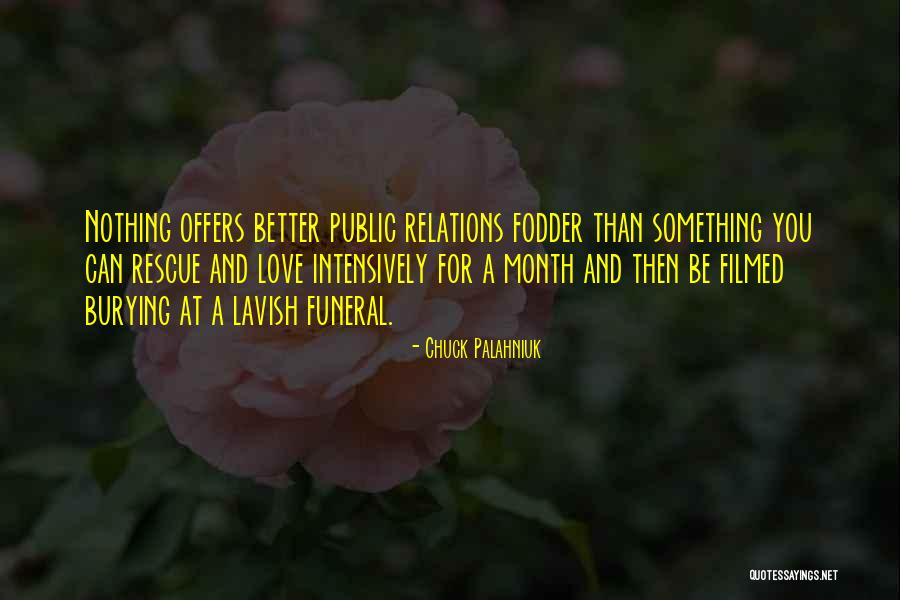 Nothing offers better public relations fodder than something you can rescue and love intensively for a month and then be filmed burying at a lavish funeral. — Chuck Palahniuk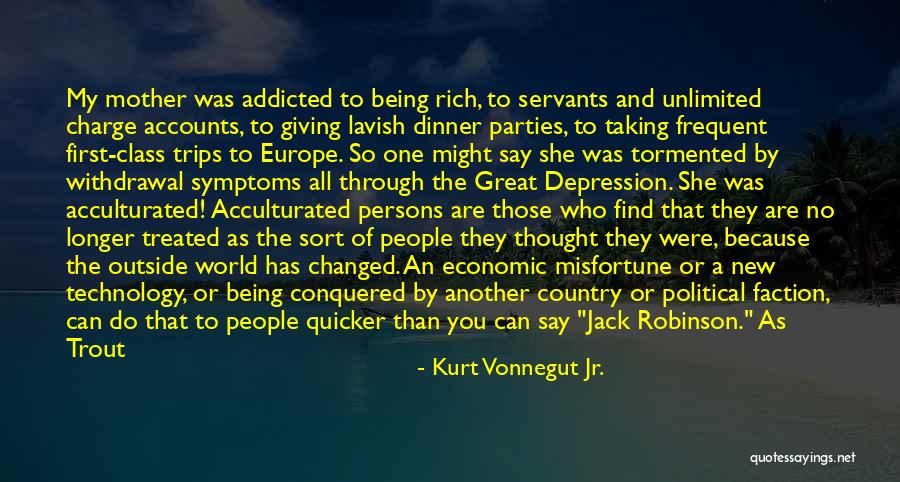 My mother was addicted to being rich, to servants and unlimited charge accounts, to giving lavish dinner parties, to taking frequent first-class trips to Europe. So one might say she was tormented by withdrawal symptoms all through the Great Depression. She was acculturated! Acculturated persons are those who find that they are no longer treated as the sort of people they thought they were, because the outside world has changed. An economic misfortune or a new technology, or being conquered by another country or political faction, can do that to people quicker than you can say "Jack Robinson." As Trout wrote in his "An American Family Marooned on the Planet Pluto": "Nothing wrecks any kind of love more effectively than the discovery that your previously acceptable behavior has become ridiculous." He said in conversation at the 2001 clambake: "If I hadn't learned how to live without a culture and a society, acculturation would have broken my heart a thousand times." *** — Kurt Vonnegut Jr.
The older I get, the more I seem to be able to appreciate my "neighbor" (whomever I happen to be with at the moment). Oh, sure, I've always tried to love my neighbor as myself; however, the more experiences I've had, the more chances I've had to see the uniqueness of each person... as well as each tree, and plant, and shell, and cloud... the more I find myself delighting every day in the lavish gifts of God, whom I've come to believe is the greatest appreciator of all. — Fred Rogers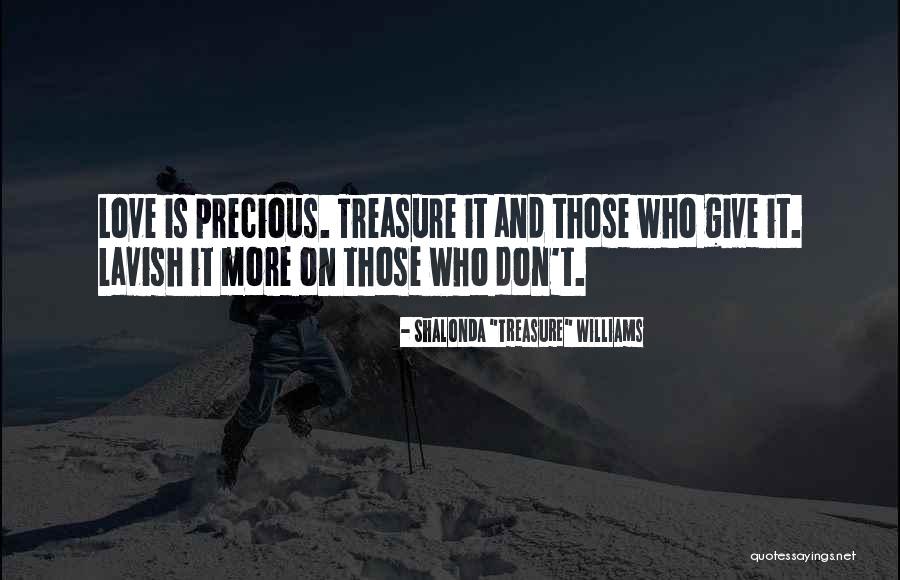 Love is precious. Treasure it and those who give it. Lavish it more on those who don't. — Shalonda "Treasure" Williams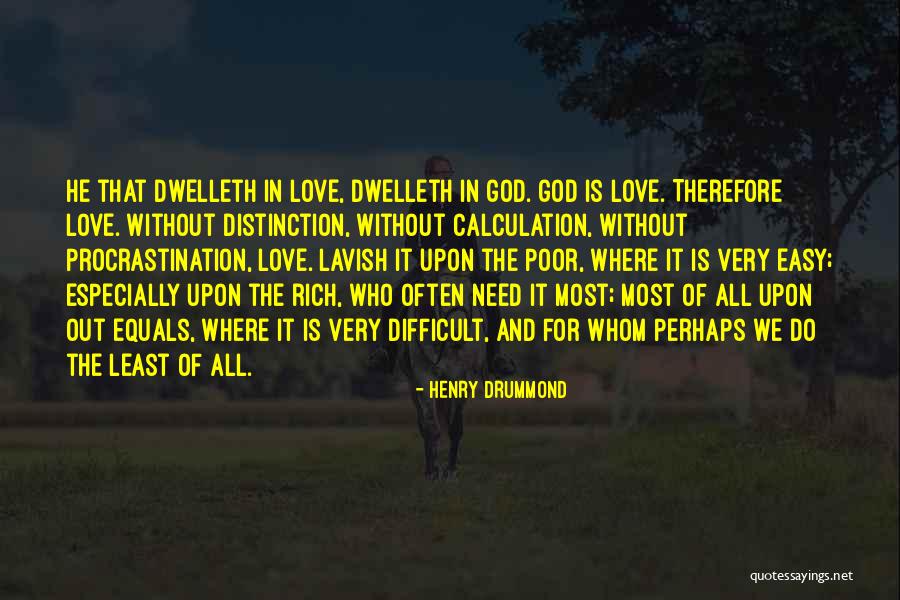 He that dwelleth in love, dwelleth in God. God is love. Therefore love. Without distinction, without calculation, without procrastination, love. Lavish it upon the poor, where it is very easy; especially upon the rich, who often need it most; most of all upon out equals, where it is very difficult, and for whom perhaps we do the least of all. — Henry Drummond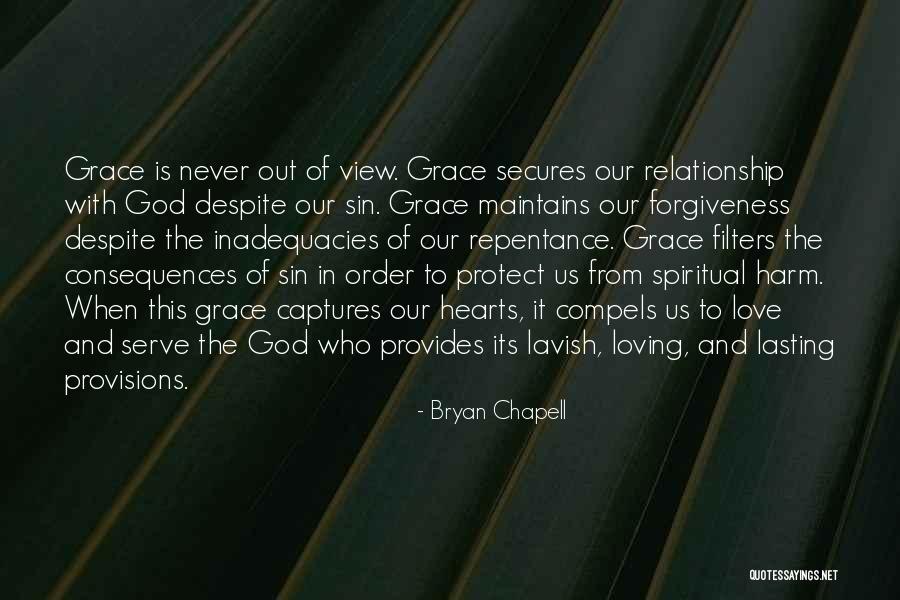 Grace is never out of view. Grace secures our relationship with God despite our sin. Grace maintains our forgiveness despite the inadequacies of our repentance. Grace filters the consequences of sin in order to protect us from spiritual harm. When this grace captures our hearts, it compels us to love and serve the God who provides its lavish, loving, and lasting provisions. — Bryan Chapell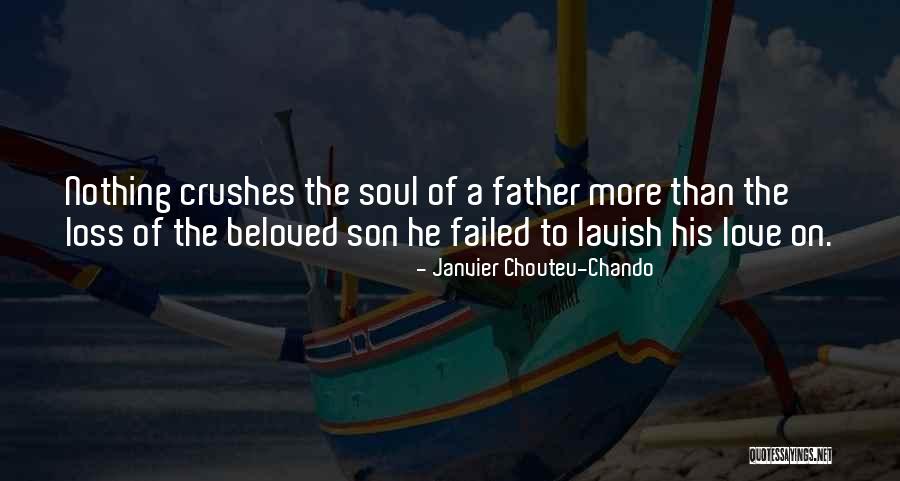 Nothing crushes the soul of a father more than the loss of the beloved son he failed to lavish his love on. — Janvier Chouteu-Chando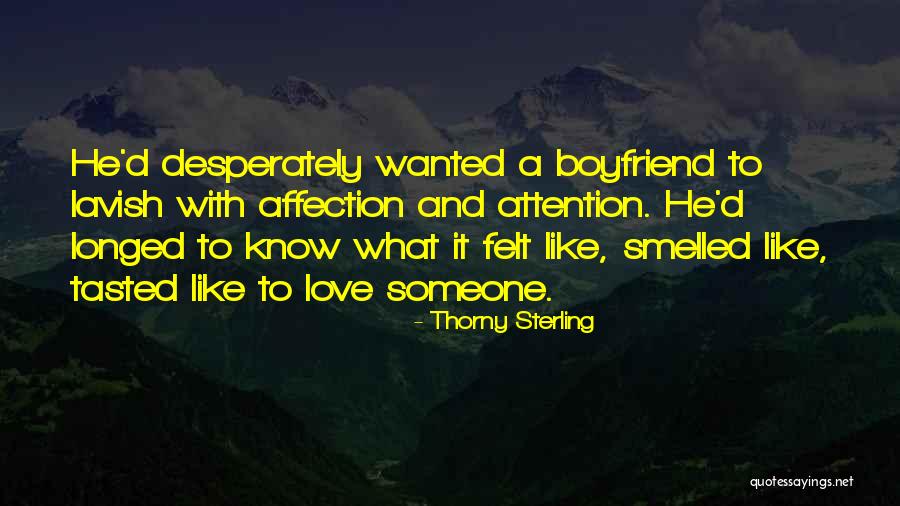 He'd desperately wanted a boyfriend to lavish with affection and attention. He'd longed to know what it felt like, smelled like, tasted like to love someone. — Thorny Sterling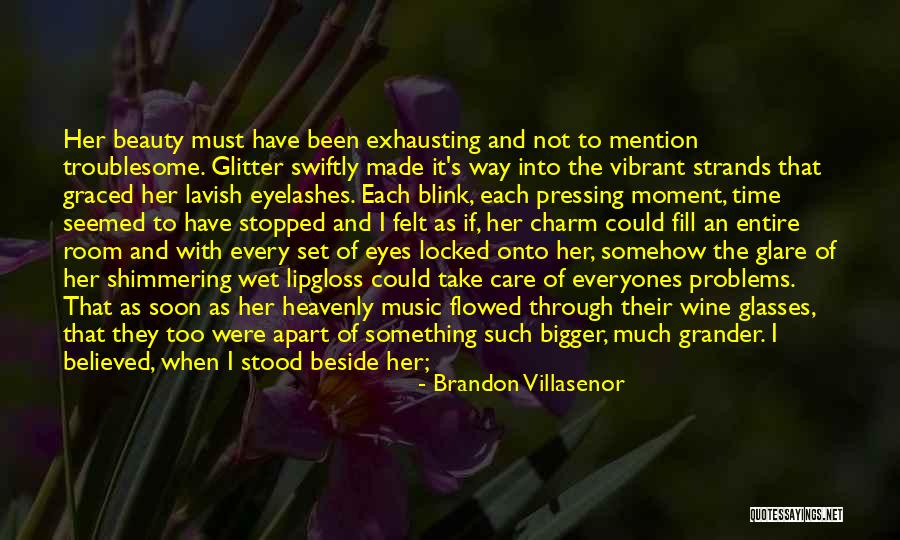 Her beauty must have been exhausting and not to mention troublesome. Glitter swiftly made it's way into the vibrant strands that graced her lavish eyelashes. Each blink, each pressing moment, time seemed to have stopped and I felt as if, her charm could fill an entire room and with every set of eyes locked onto her, somehow the glare of her shimmering wet lipgloss could take care of everyones problems. That as soon as her heavenly music flowed through their wine glasses, that they too were apart of something such bigger, much grander. I believed, when I stood beside her; I became more handsome. — Brandon Villasenor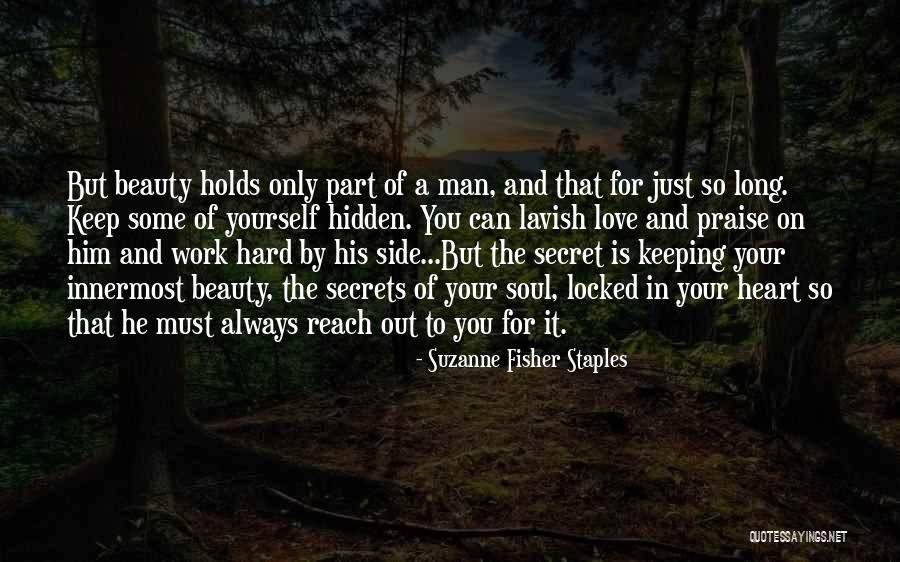 But beauty holds only part of a man, and that for just so long. Keep some of yourself hidden. You can lavish love and praise on him and work hard by his side...But the secret is keeping your innermost beauty, the secrets of your soul, locked in your heart so that he must always reach out to you for it. — Suzanne Fisher Staples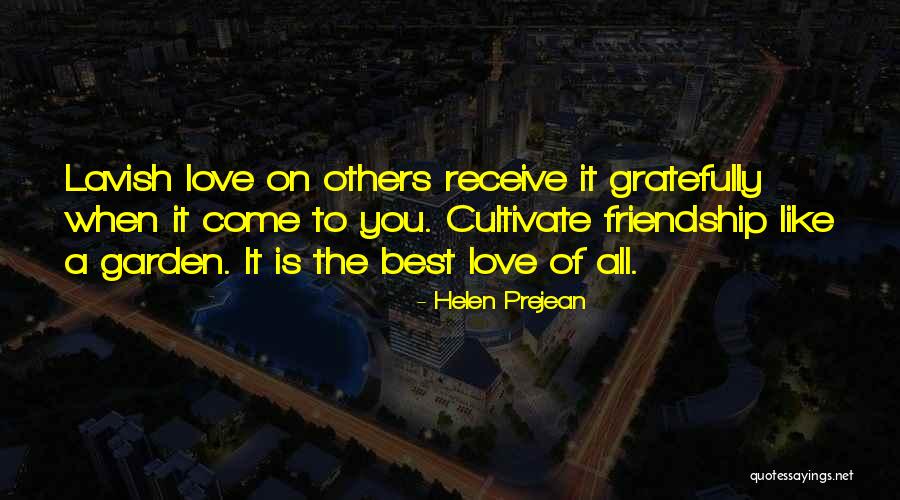 Lavish love on others receive it gratefully when it come to you. Cultivate friendship like a garden. It is the best love of all. — Helen Prejean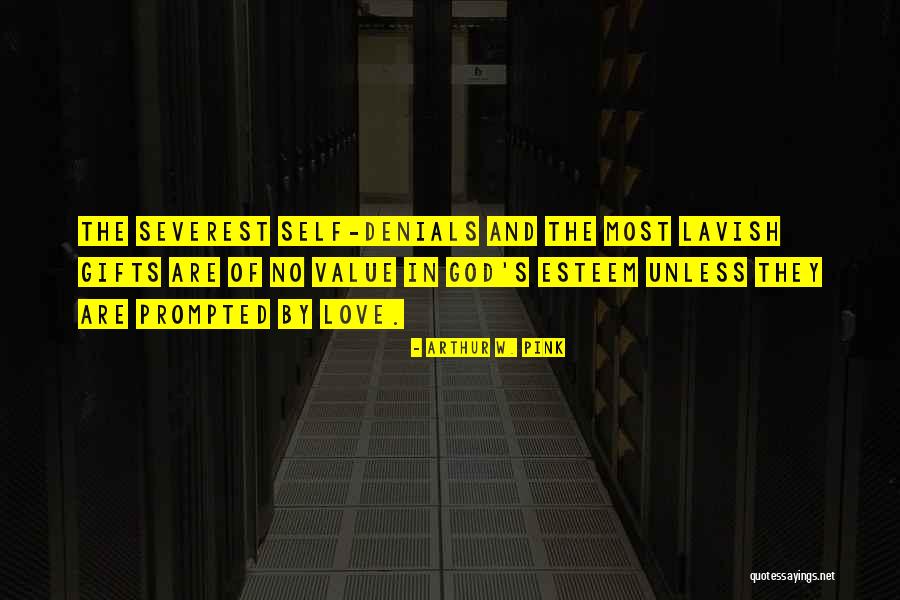 The severest self-denials and the most lavish gifts are of no value in God's esteem unless they are prompted by love. — Arthur W. Pink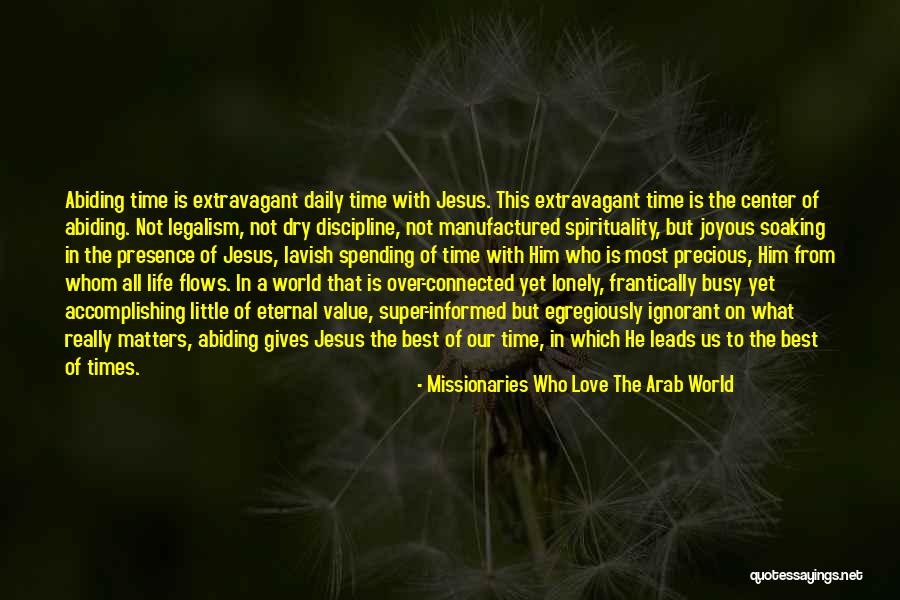 Abiding time is extravagant daily time with Jesus. This extravagant time is the center of abiding. Not legalism, not dry discipline, not manufactured spirituality, but joyous soaking in the presence of Jesus, lavish spending of time with Him who is most precious, Him from whom all life flows. In a world that is over-connected yet lonely, frantically busy yet accomplishing little of eternal value, super-informed but egregiously ignorant on what really matters, abiding gives Jesus the best of our time, in which He leads us to the best of times. — Missionaries Who Love The Arab World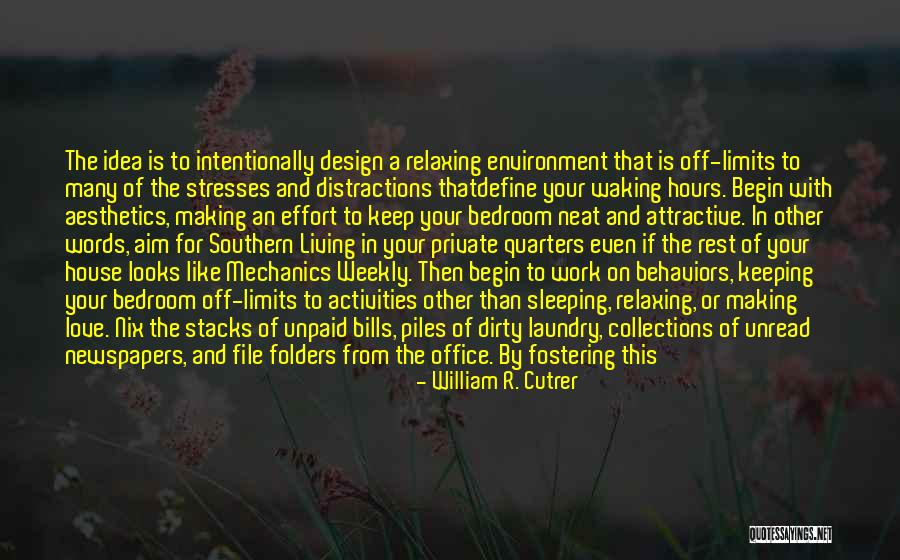 The idea is to intentionally design a relaxing environment that is off-limits to many of the stresses and distractions that
define your waking hours. Begin with aesthetics, making an effort to keep your bedroom neat and attractive. In other words, aim for Southern Living in your private quarters even if the rest of your house looks like Mechanics Weekly. Then begin to work on behaviors, keeping your bedroom off-limits to activities other than sleeping, relaxing, or making love. Nix the stacks of unpaid bills, piles of dirty laundry, collections of unread newspapers, and file folders from the office. By fostering this kind of space, seemingly untouched by the nitty gritty of daily life, you will have created a quiet haven where-by simply stepping inside and closing the door behind you-you can take a mini-vacation from stress. This time can then be used to pray, to relax, or to lavish your undivided romantic attentions on your husband. — William R. Cutrer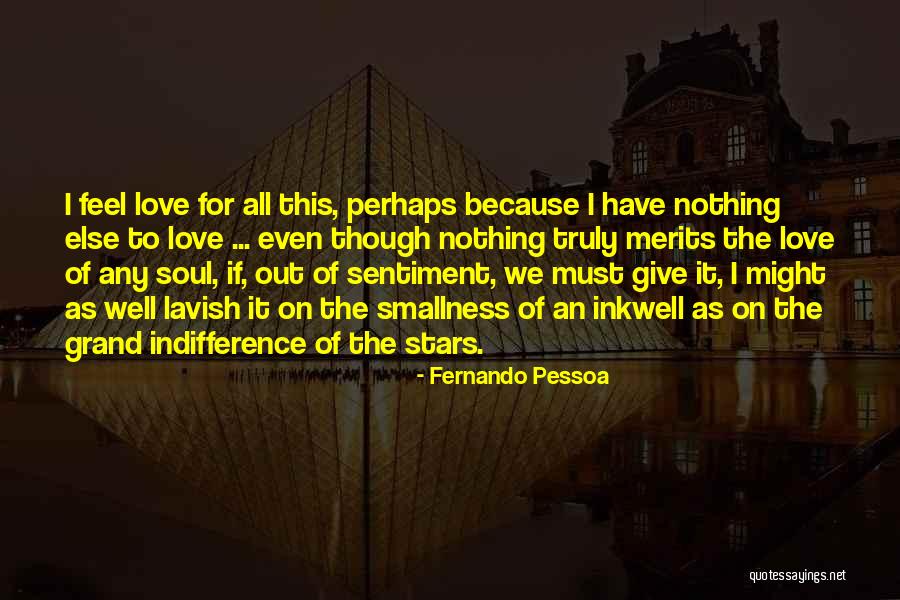 I feel love for all this, perhaps because I have nothing else to love ... even though nothing truly merits the love of any soul, if, out of sentiment, we must give it, I might as well lavish it on the smallness of an inkwell as on the grand indifference of the stars. — Fernando Pessoa