Quotes & Sayings About Being Happy Quotes
Enjoy reading and share 48 famous quotes about Being Happy Quotes with everyone.
Top Being Happy Quotes Quotes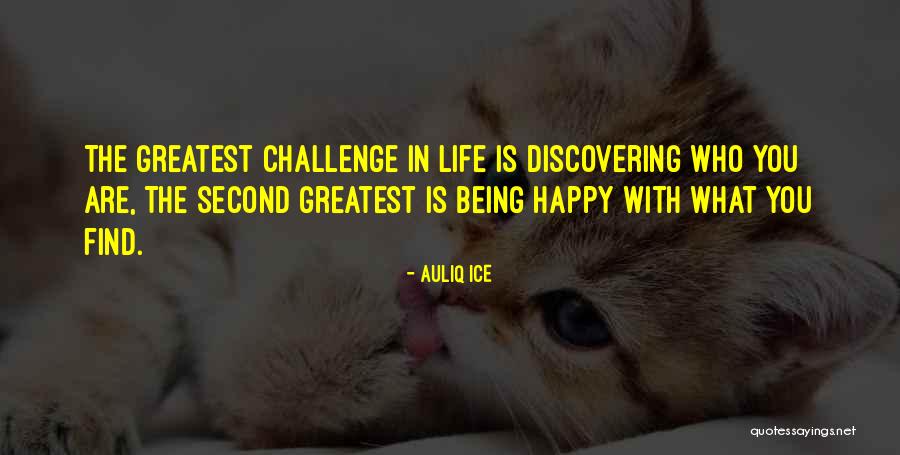 The greatest challenge in life is discovering who you are, The second greatest is being happy with what you find. — Auliq Ice
I envied many for being happy, successful and content. I wondered how a sick friend managed to look resplendent in her profile picture?
How someone with a dark past post hilarious Facebook status? Until one day ... I realised that while they all were making a conscious effort to grow in life, I simply sat and worshipped the grave of my sufferings.
I sat at one place and did nothing but moan. So, I stopped. I don't dig graves anymore as I am too busy building my empire. — Saru Singhal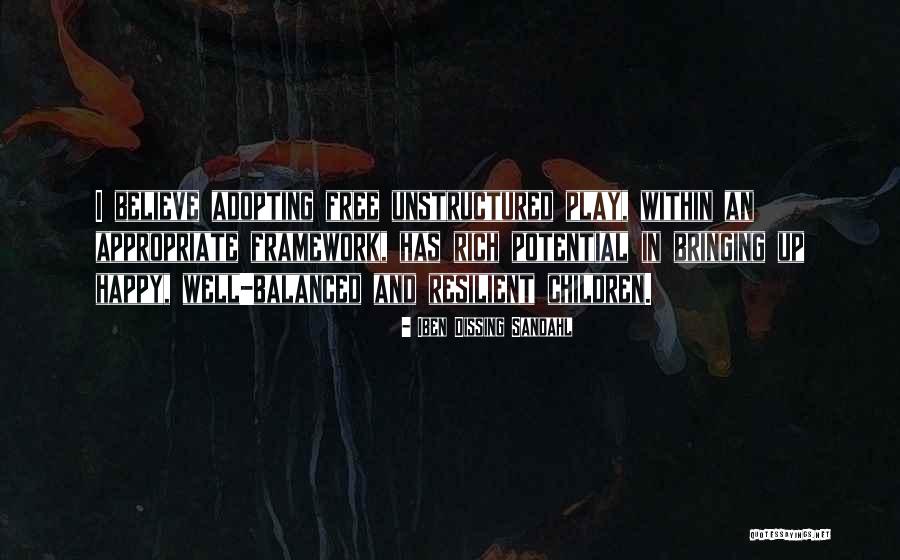 I believe adopting free unstructured play, within an appropriate framework, has rich potential in bringing up happy, well-balanced and resilient children. — Iben Dissing Sandahl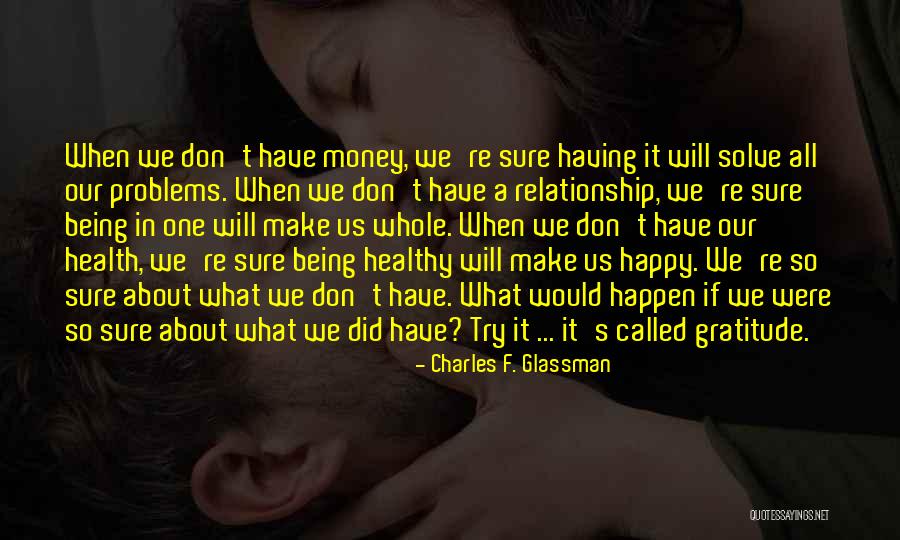 When we don't have money, we're sure having it will solve all our problems. When we don't have a relationship, we're sure being in one will make us whole. When we don't have our health, we're sure being healthy will make us happy. We're so sure about what we don't have. What would happen if we were so sure about what we did have? Try it ... it's called gratitude. — Charles F. Glassman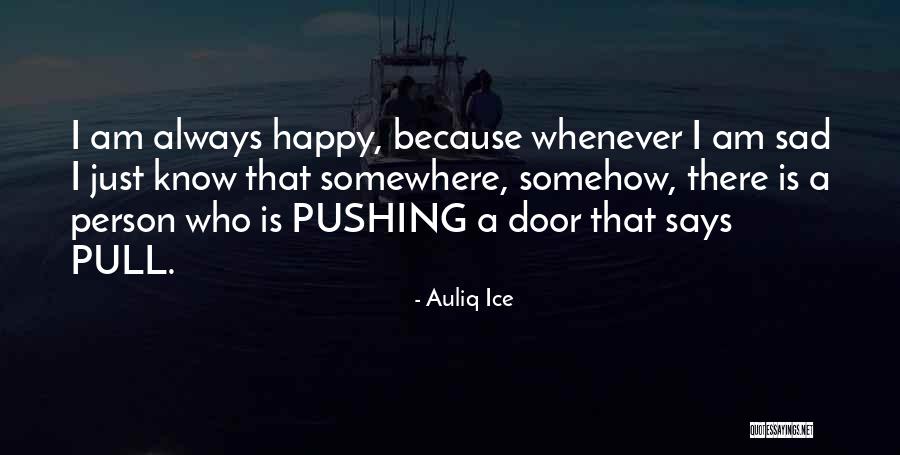 I am always happy, because whenever I am sad I just know that somewhere, somehow, there is a person who is PUSHING a door that says PULL. — Auliq Ice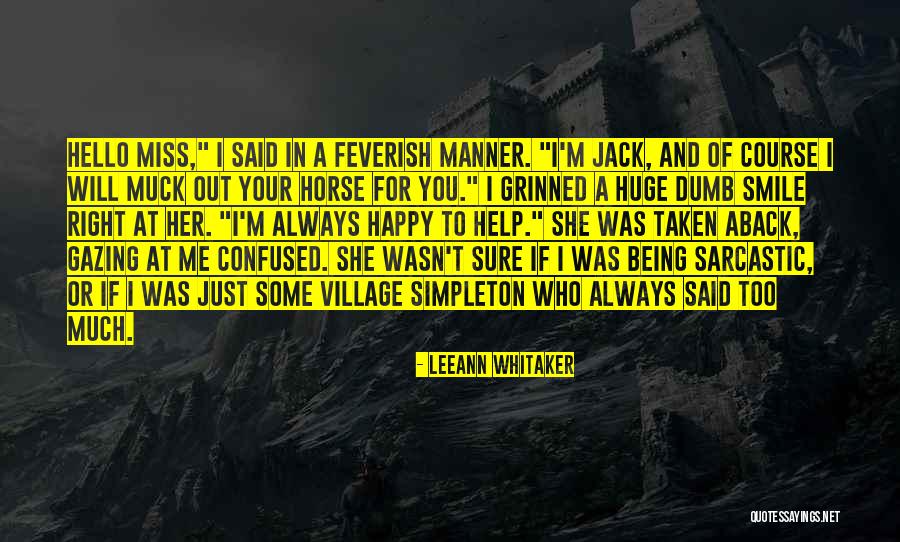 Hello Miss," I said in a feverish manner. "I'm Jack, and of course I will muck out your horse for you." I grinned a huge dumb smile right at her. "I'm always happy to help."

She was taken aback, gazing at me confused. She wasn't sure if I was being sarcastic, or if I was just some village simpleton who always said too much. — LeeAnn Whitaker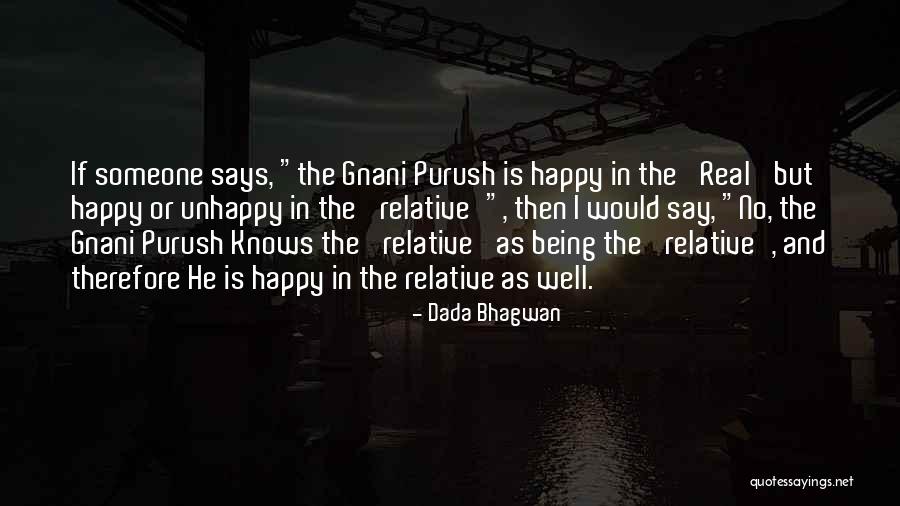 If someone says, "the Gnani Purush is happy in the 'Real' but happy or unhappy in the 'relative'", then I would say, "No, the Gnani Purush Knows the 'relative' as being the 'relative', and therefore He is happy in the relative as well. — Dada Bhagwan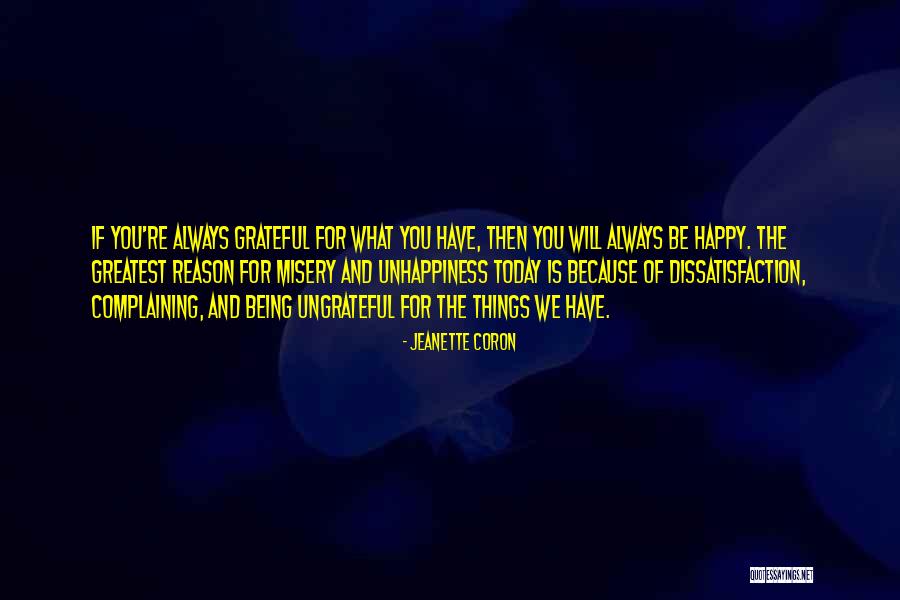 If you're always grateful for what you have, then you will always be happy. The greatest reason for misery and unhappiness today is because of dissatisfaction, complaining, and being ungrateful for the things we have. — Jeanette Coron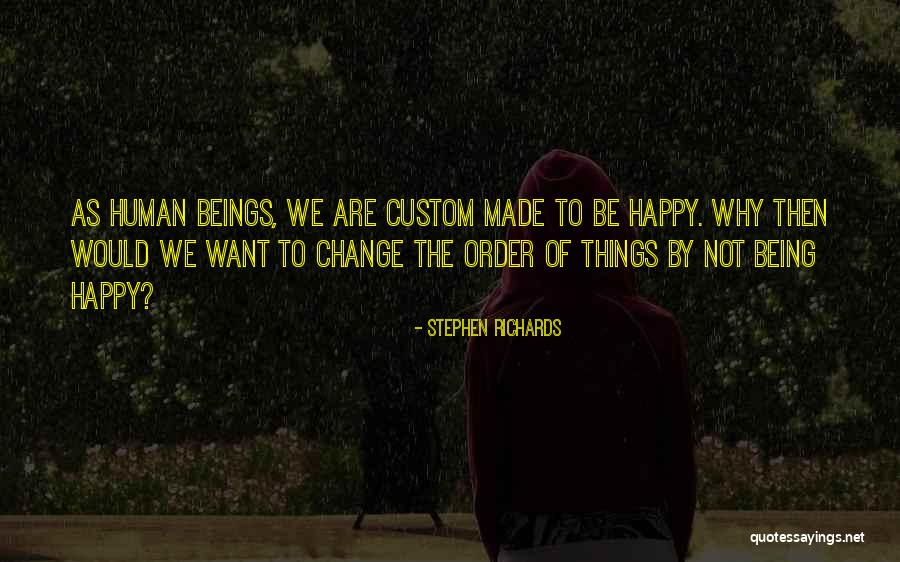 As human beings, we are custom made to be happy. Why then would we want to change the order of things by not being happy? — Stephen Richards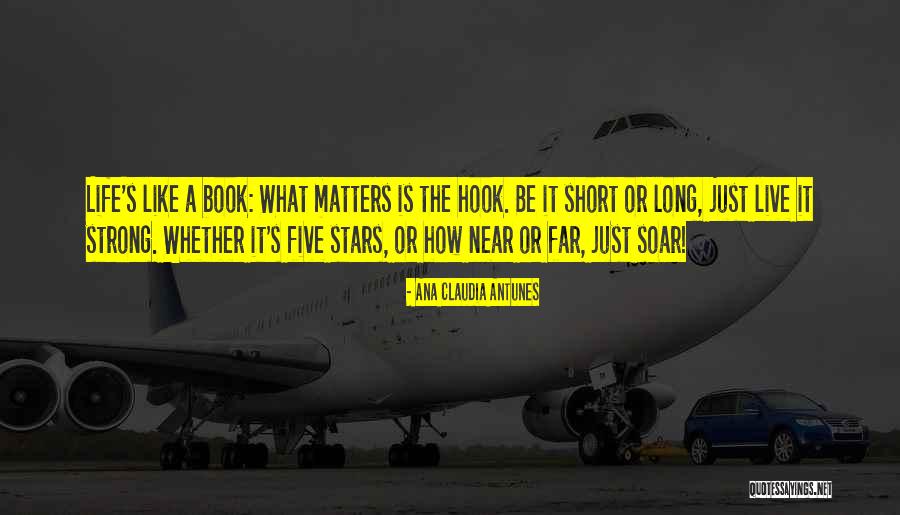 Life's like a book: What matters is the hook.
Be it short or long, just live it strong.
Whether it's five stars, or how near or far, just soar! — Ana Claudia Antunes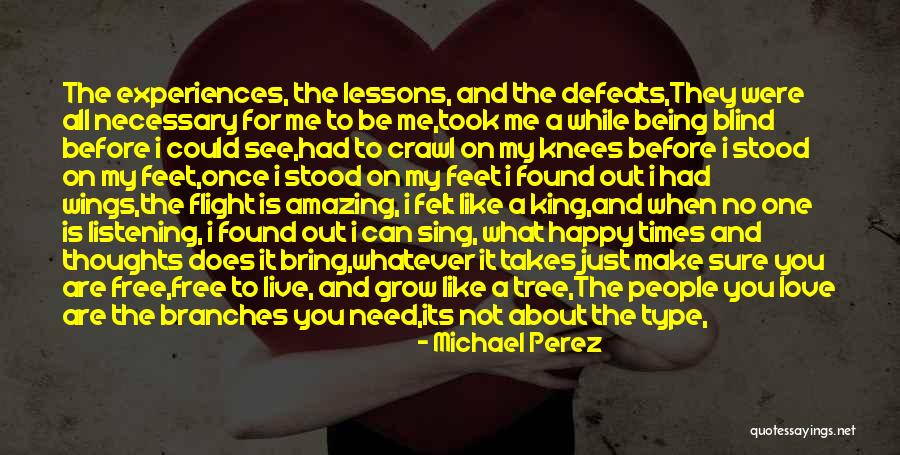 The experiences, the lessons, and the defeats,
They were all necessary for me to be me,
took me a while being blind before i could see,
had to crawl on my knees before i stood on my feet,
once i stood on my feet i found out i had wings,
the flight is amazing, i felt like a king,
and when no one is listening, i found out i can sing,
what happy times and thoughts does it bring,
whatever it takes just make sure you are free,
free to live, and grow like a tree,
The people you love are the branches you need,
its not about the type, the color, or breed,
Live life with ambition, ambition indeed,
Thats what it took, and thats what i need. — Michael Perez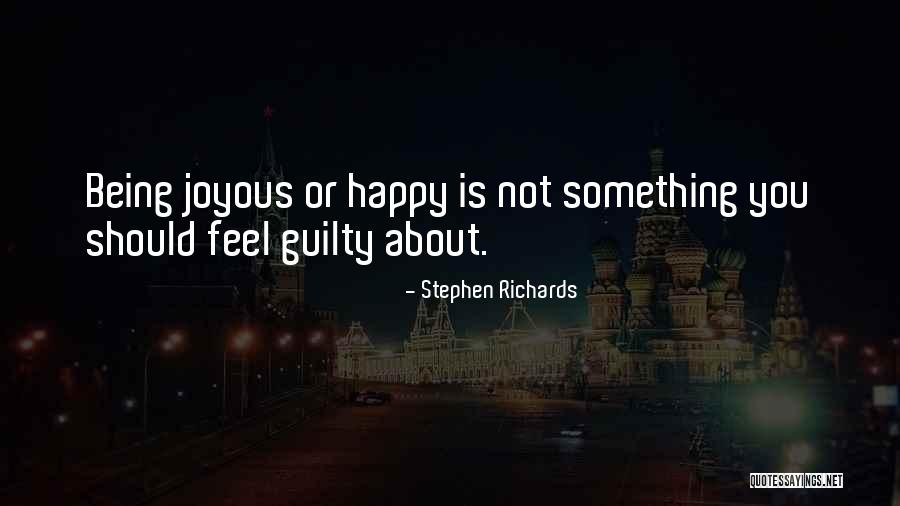 Being joyous or happy is not something you should feel guilty about. — Stephen Richards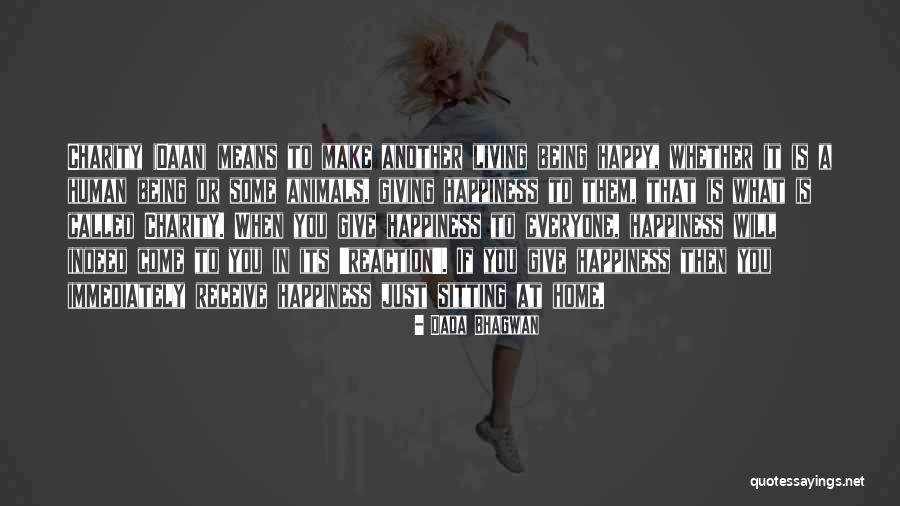 Charity (Daan) means to make another living being happy, whether it is a human being or some animals, giving happiness to them, that is what is called Charity. When you give happiness to everyone, happiness will indeed come to you in its 'reaction'. If you give happiness then you immediately receive happiness just sitting at home. — Dada Bhagwan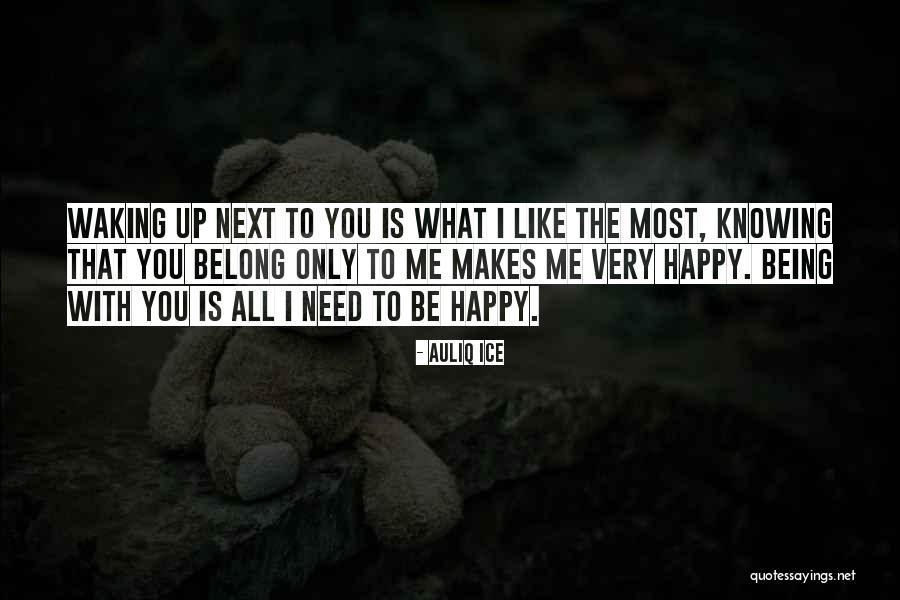 Waking up next to you is what I like the most, knowing that you belong only to me makes me very happy. Being with you is all I need to be happy. — Auliq Ice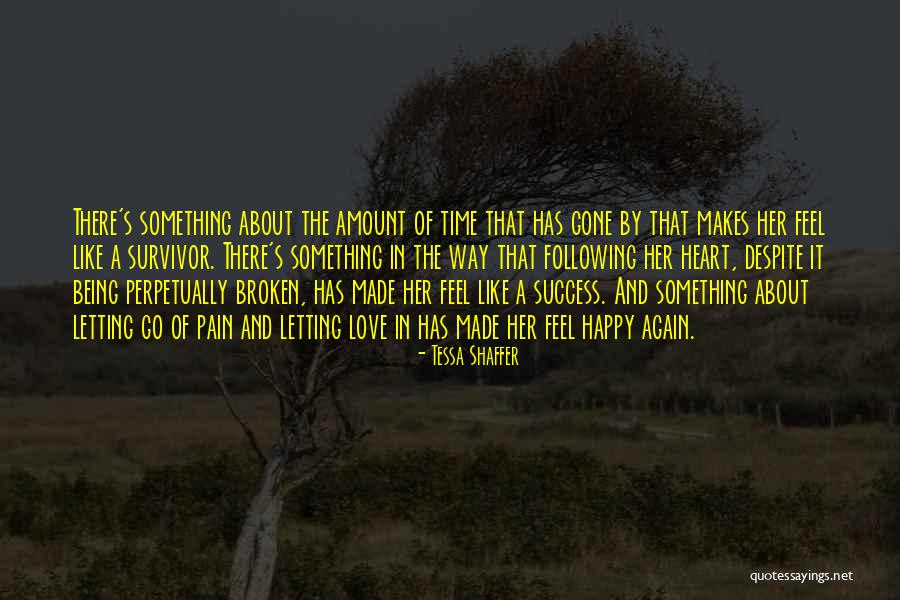 There's something about the amount of time that has gone by that makes her feel like a survivor. There's something in the way that following her heart, despite it being perpetually broken, has made her feel like a success. And something about letting go of pain and letting love in has made her feel happy again. — Tessa Shaffer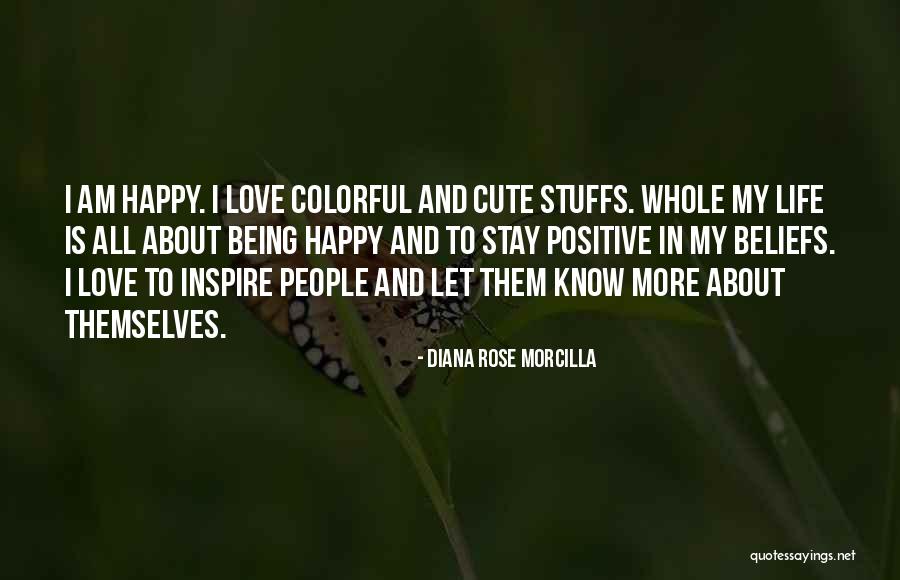 I am Happy. I love colorful and cute stuffs. Whole my life is all about being happy and to stay positive in my beliefs. I love to inspire people and let them know more about themselves. — Diana Rose Morcilla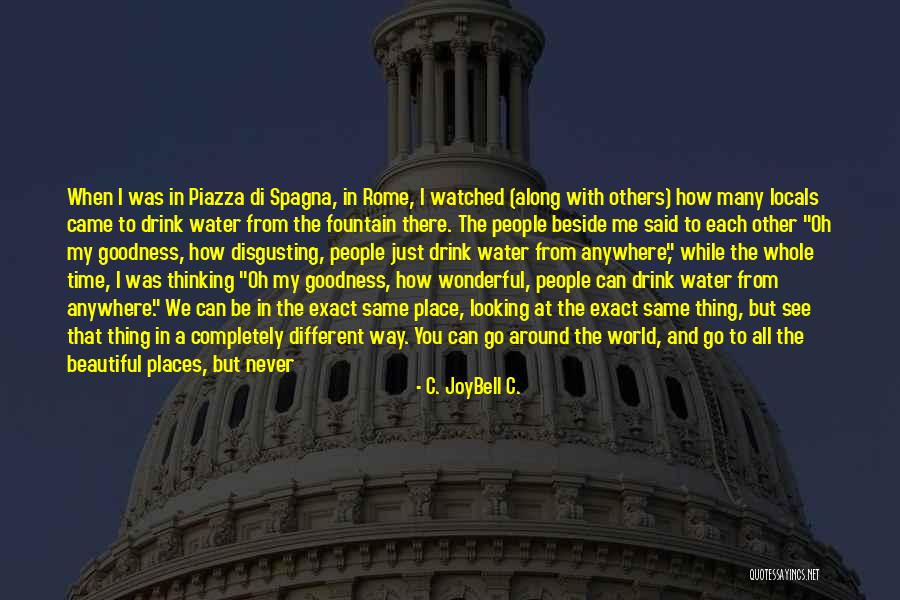 When I was in Piazza di Spagna, in Rome, I watched (along with others) how many locals came to drink water from the fountain there. The people beside me said to each other "Oh my goodness, how disgusting, people just drink water from anywhere," while the whole time, I was thinking "Oh my goodness, how wonderful, people can drink water from anywhere." We can be in the exact same place, looking at the exact same thing, but see that thing in a completely different way. You can go around the world, and go to all the beautiful places, but never be happy, because happiness is something that you bring inside of you, it is not where you are or what you are looking at, but it is how you are and how you look at. — C. JoyBell C.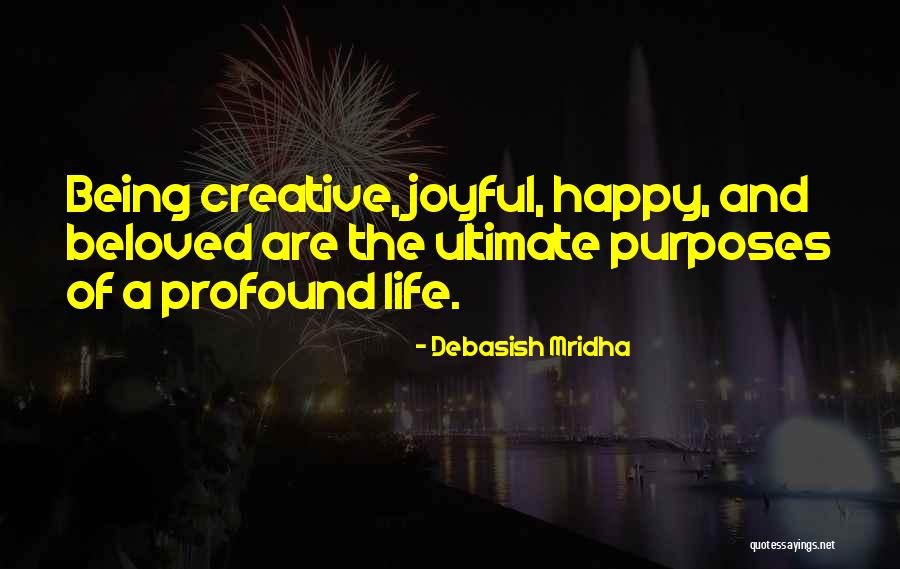 Being creative, joyful, happy, and beloved are the ultimate purposes of a profound life. — Debasish Mridha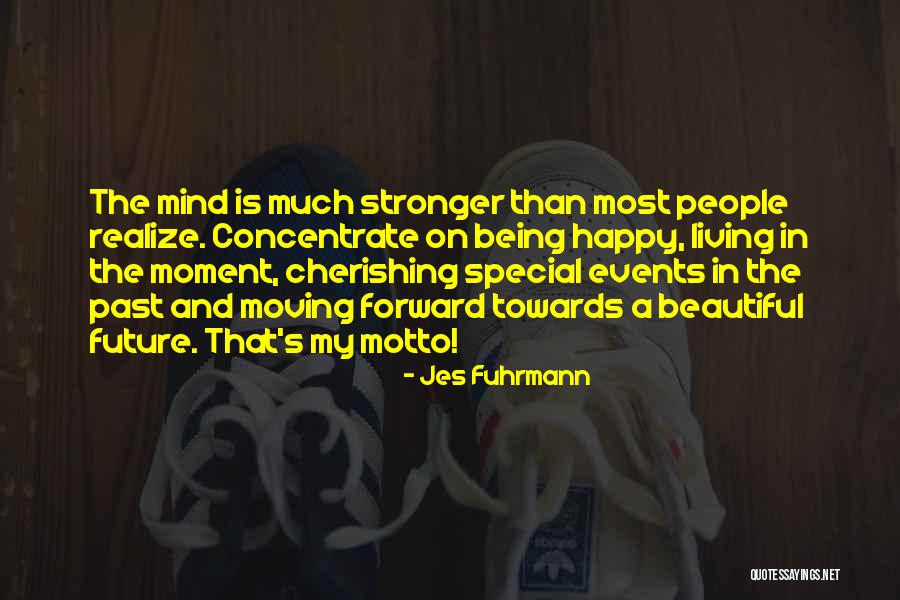 The mind is much stronger than most people realize. Concentrate on being happy, living in the moment, cherishing special events in the past and moving forward towards a beautiful future. That's my motto! — Jes Fuhrmann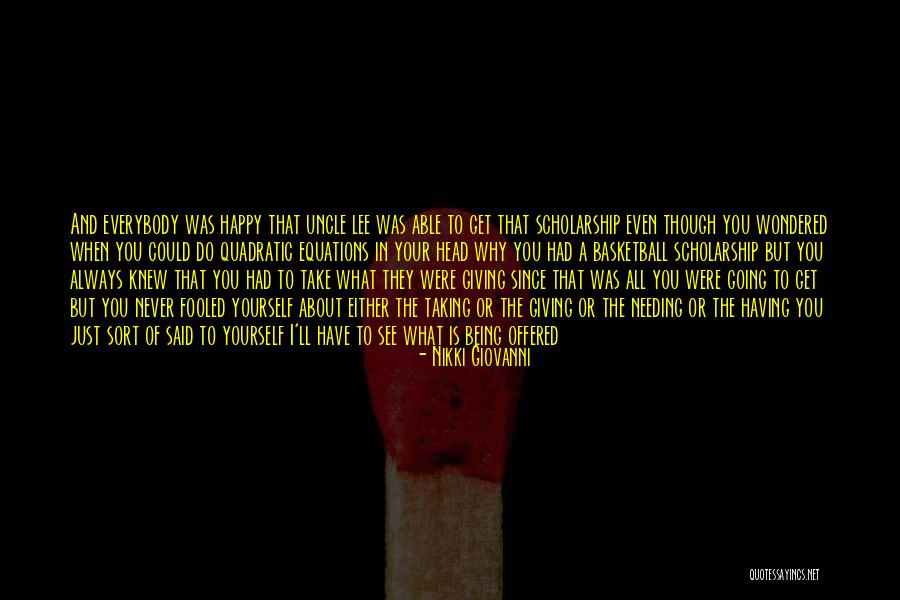 And everybody was happy that uncle lee was able to get that scholarship even though you wondered when you could do quadratic equations in your head why you had a basketball scholarship but you always knew that you had to take what they were giving since that was all you were going to get but you never fooled yourself about either the taking or the giving or the needing or the having you just sort of said to yourself I'll have to see what is being offered — Nikki Giovanni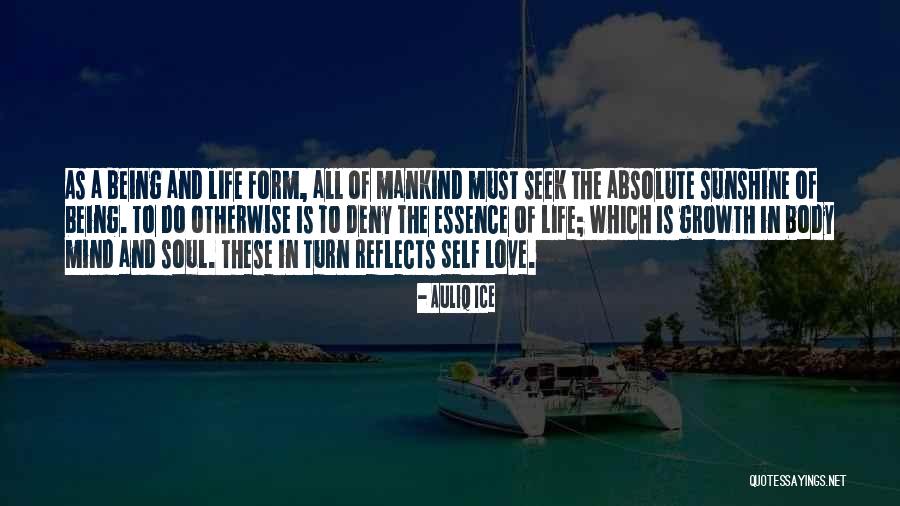 As a being and life form, all of mankind must seek the absolute sunshine of being. To do otherwise is to deny the essence of life; which is growth in body mind and soul. These in turn reflects Self love. — Auliq Ice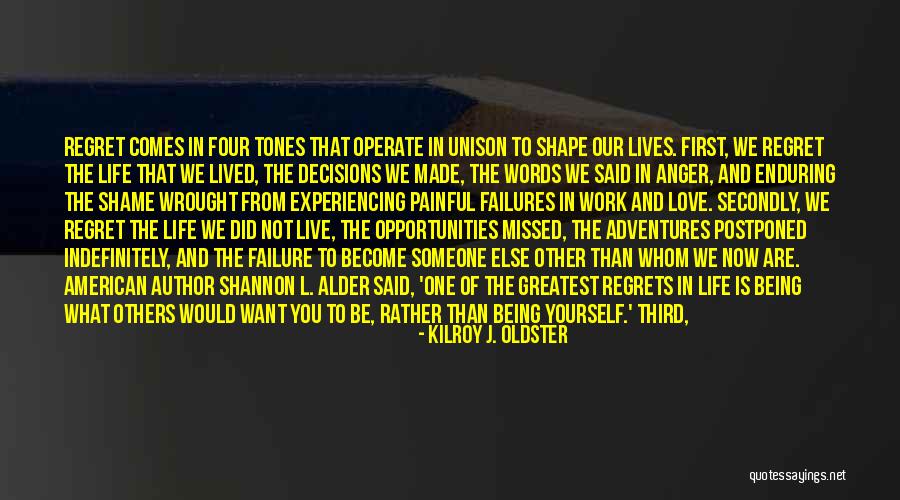 Regret comes in four tones that operate in unison to shape our lives. First, we regret the life that we lived, the decisions we made, the words we said in anger, and enduring the shame wrought from experiencing painful failures in work and love. Secondly, we regret the life we did not live, the opportunities missed, the adventures postponed indefinitely, and the failure to become someone else other than whom we now are. American author Shannon L. Alder said, 'One of the greatest regrets in life is being what others would want you to be, rather than being yourself.' Third, we regret that parts of our life are over; we hang onto nostalgic feelings for the past. When we were young and happy, everything was new, and we had not yet encountered hardship. As we age and encounter painful setbacks, we experience disillusionment and can no longer envision a joyous future. Fourth, we experience bitterness because the world did not prove to be what we hoped or expected it would be. — Kilroy J. Oldster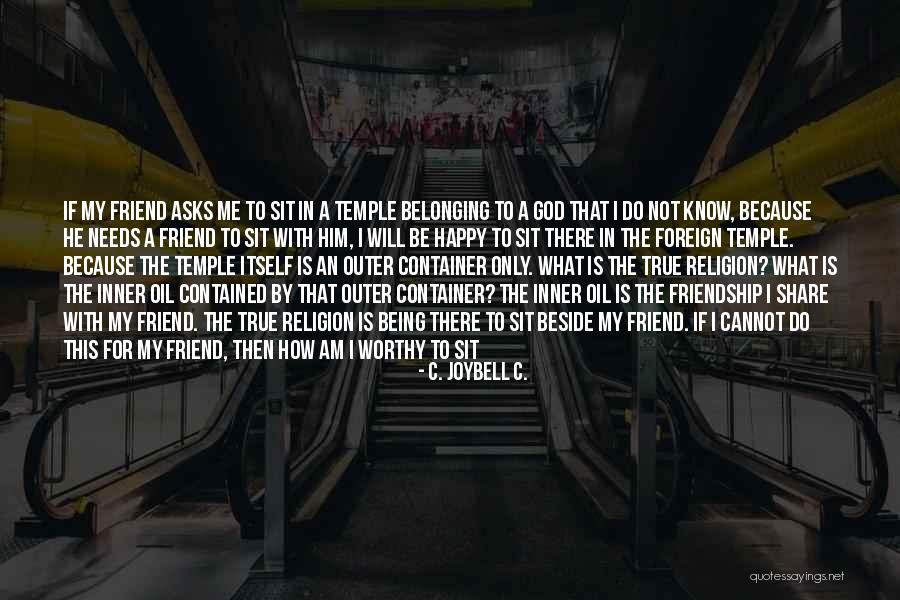 If my friend asks me to sit in a temple belonging to a God that I do not know, because he needs a friend to sit with him, I will be happy to sit there in the foreign temple. Because the temple itself is an outer container only. What is the true religion? What is the inner oil contained by that outer container? The inner oil is the friendship I share with my friend. The true religion is being there to sit beside my friend. If I cannot do this for my friend, then how am I worthy to sit in any temple, whether belonging to a God that I know or to a God that I don't know? If there is no inner oil within my soul, I do not deserve to sit in any temple. Religion is the friendship within the heart, not the place where we sit on a holy day. Religion is the oil within the lamp, not the metal container we see as the lamp. — C. JoyBell C.
Perhaps... Perhaps he could make her happy. Not with the Granville money or his social cachet, but just by being the man he was, at his core. Sometimes, when he looked deep into those blue eyes, it felt like anything was possible. — Tessa Dare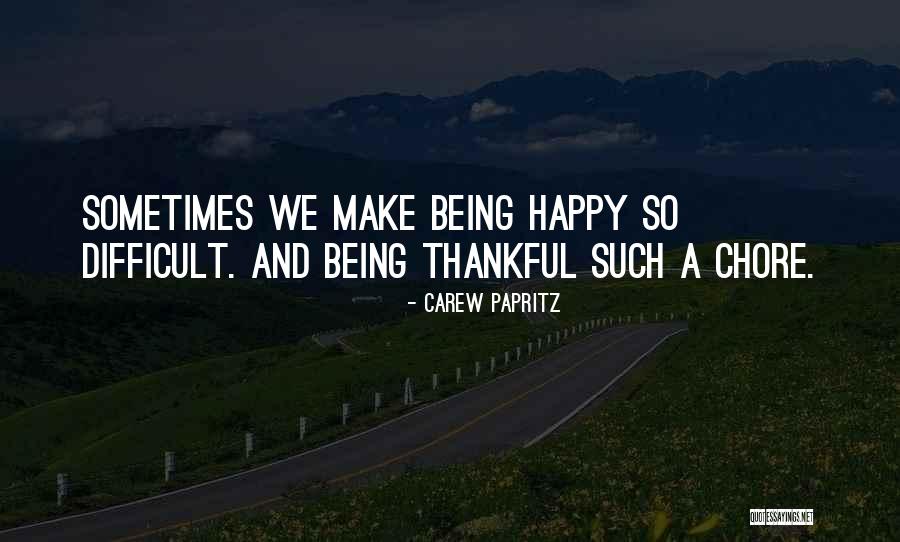 Sometimes we make being happy so difficult. And being thankful such a chore. — Carew Papritz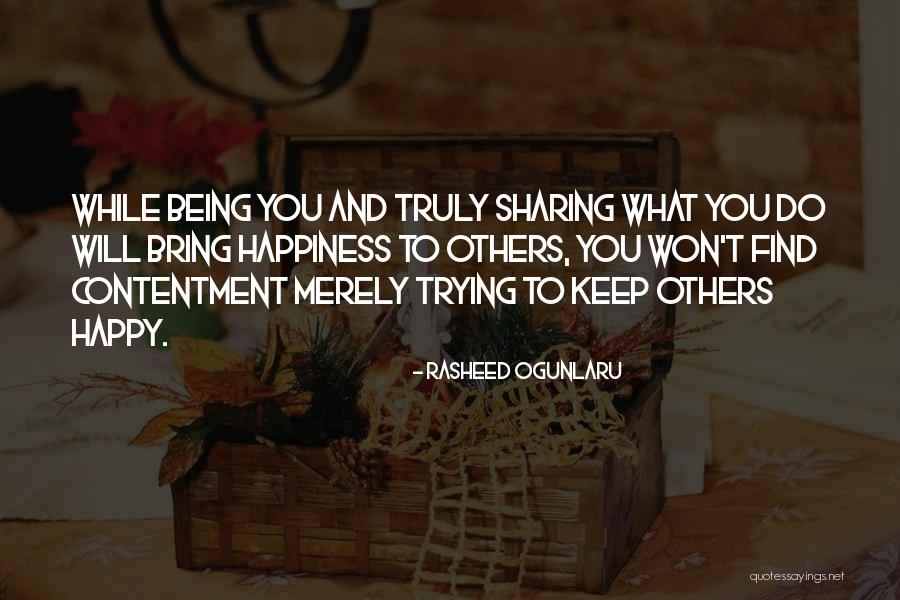 While being you and truly sharing what you do will bring happiness to others, you won't find contentment merely trying to keep others happy. — Rasheed Ogunlaru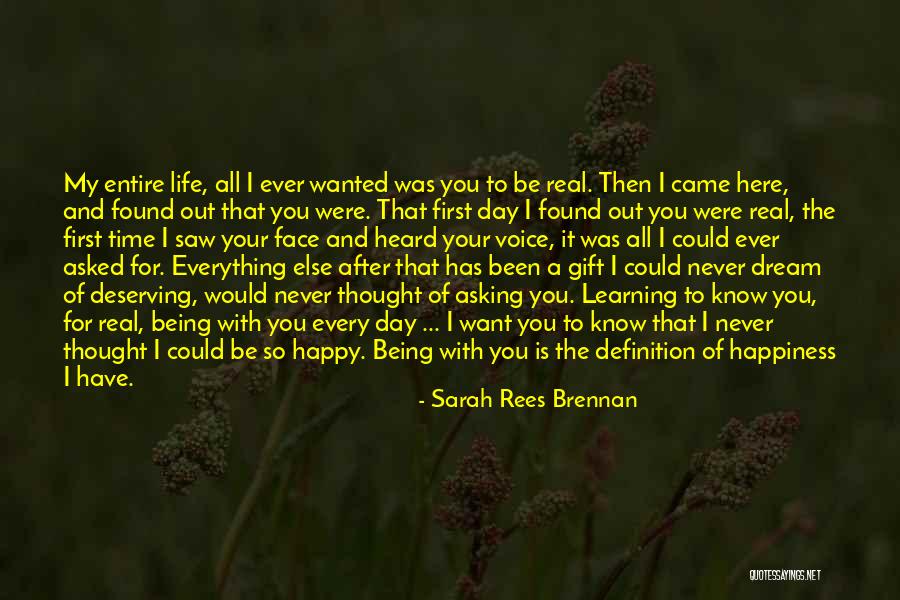 My entire life, all I ever wanted was you to be real. Then I came here, and found out that you were. That first day I found out you were real, the first time I saw your face and heard your voice, it was all I could ever asked for. Everything else after that has been a gift I could never dream of deserving, would never thought of asking you. Learning to know you, for real, being with you every day ... I want you to know that I never thought I could be so happy. Being with you is the definition of happiness I have. — Sarah Rees Brennan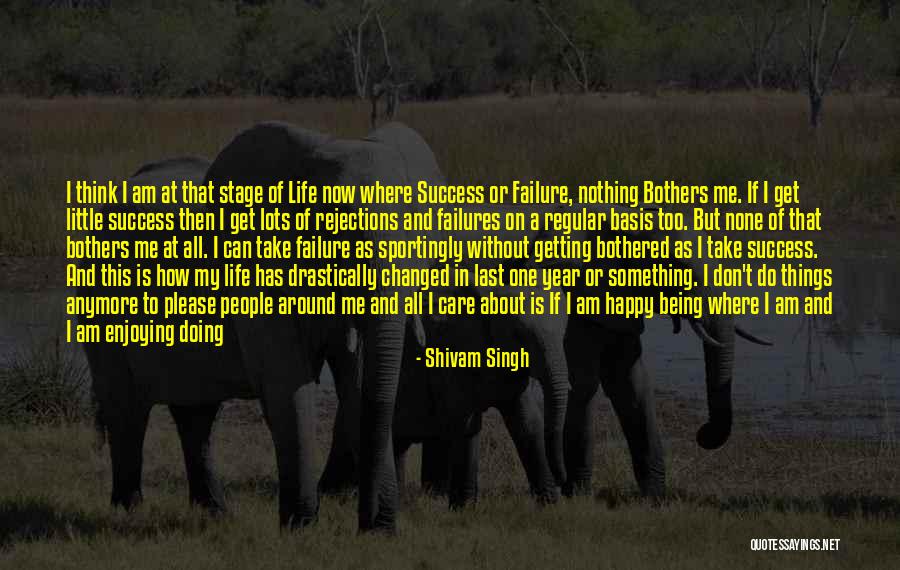 I think I am at that stage of Life now where Success or Failure, nothing Bothers me. If I get little success then I get lots of rejections and failures on a regular basis too. But none of that bothers me at all. I can take failure as sportingly without getting bothered as I take success. And this is how my life has drastically changed in last one year or something. I don't do things anymore to please people around me and all I care about is If I am happy being where I am and I am enjoying doing what I am doing or not. I may not be where I want to be yet but I am Happy.This is what matters in Life. Isn't it? Find what you love. Sooner or Later but you need to find one day, and once you find, give your everything to it. There may be many failures and rejections on the way but you will reach where you want to be some day and most importantly, you will be happy and in Peace with where you are. — Shivam Singh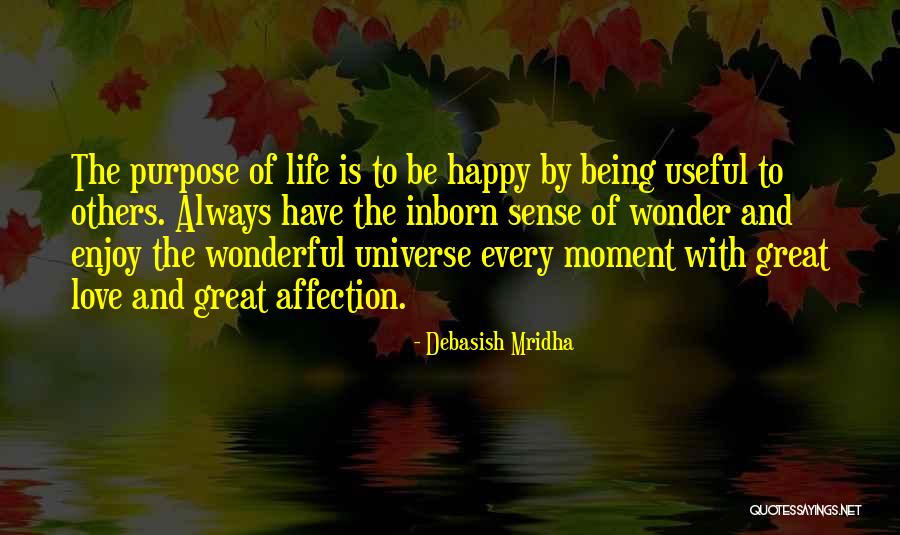 The purpose of life is to be happy by being useful to others. Always have the inborn sense of wonder and enjoy the wonderful universe every moment with great love and great affection. — Debasish Mridha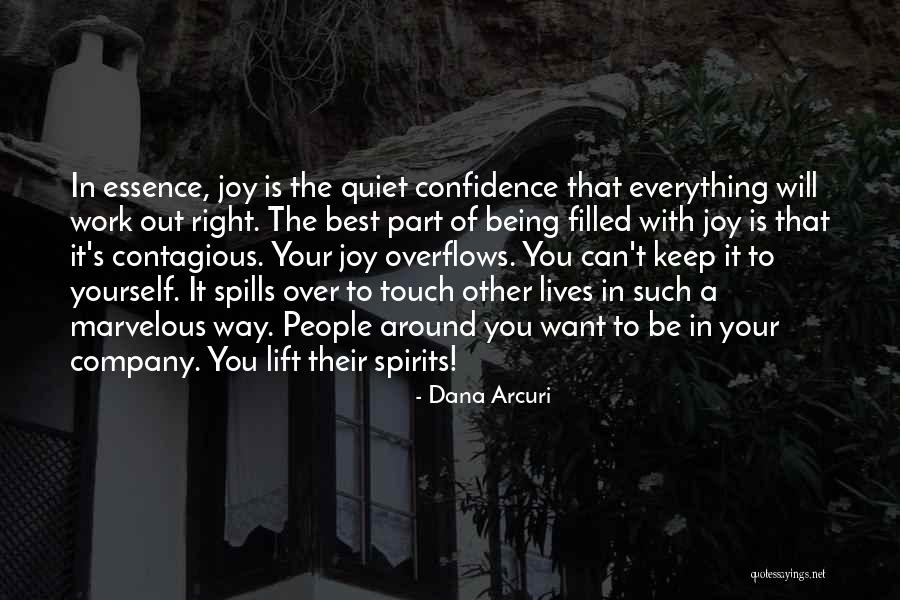 In essence, joy is the quiet confidence that everything will work out right. The best part of being filled with joy is that it's contagious. Your joy overflows. You can't keep it to yourself. It spills over to touch other lives in such a marvelous way. People around you want to be in your company. You lift their spirits! — Dana Arcuri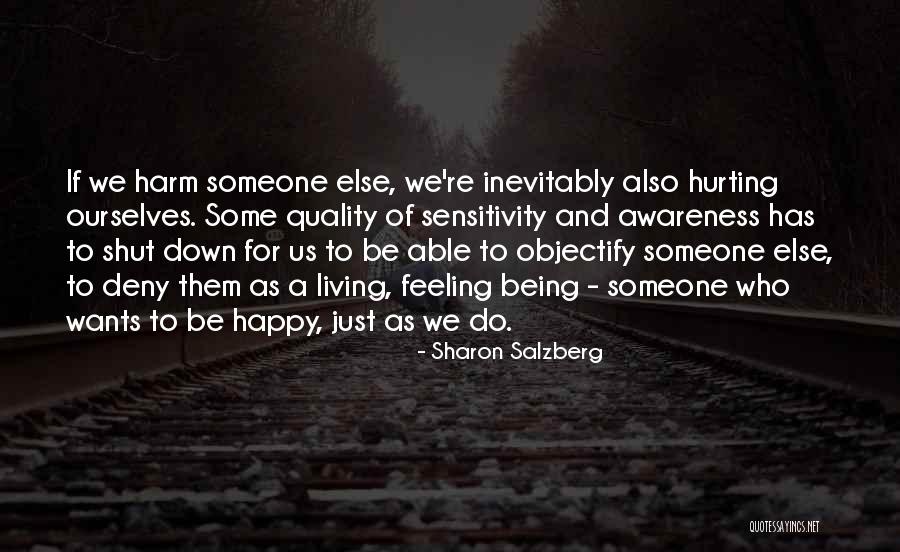 If we harm someone else, we're inevitably also hurting ourselves. Some quality of sensitivity and awareness has to shut down for us to be able to objectify someone else, to deny them as a living, feeling being - someone who wants to be happy, just as we do. — Sharon Salzberg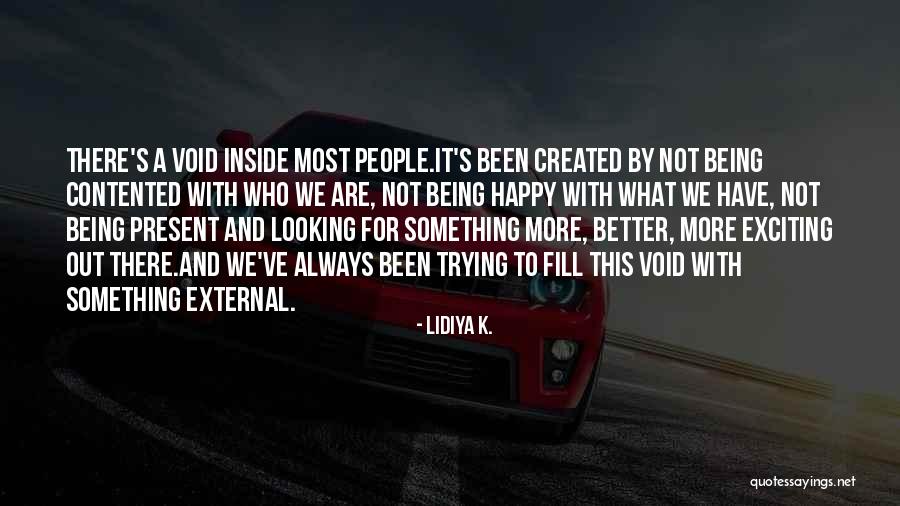 There's a void inside most people.
It's been created by not being contented with who we are, not being happy with what we have, not being present and looking for something more, better, more exciting out there.
And we've always been trying to fill this void with something external. — Lidiya K.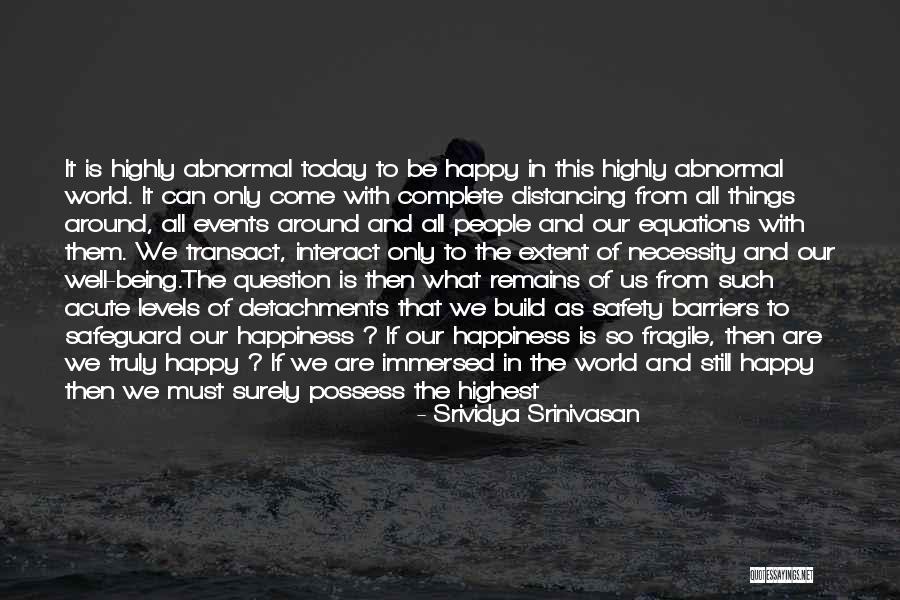 It is highly abnormal today to be happy in this highly abnormal world. It can only come with complete distancing from all things around, all events around and all people and our equations with them. We transact, interact only to the extent of necessity and our well-being.The question is then what remains of us from such acute levels of detachments that we build as safety barriers to safeguard our happiness ? If our happiness is so fragile, then are we truly happy ? If we are immersed in the world and still happy then we must surely possess the highest degree of tolerance for the vilest of things. The picture that emerges of a happy individual is not a happy one. — Srividya Srinivasan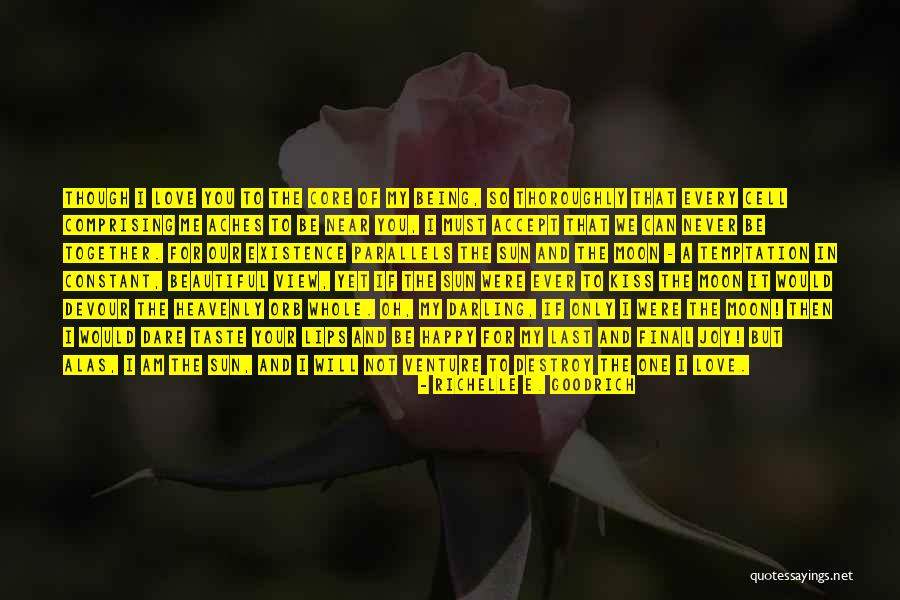 Though I love you to the core of my being, so thoroughly that every cell comprising me aches to be near you, I must accept that we can never be together. For our existence parallels the sun and the moon - a temptation in constant, beautiful view, yet if the sun were ever to kiss the moon it would devour the heavenly orb whole. Oh, my darling, if only I were the moon! Then I would dare taste your lips and be happy for my last and final joy! But alas, I am the sun, and I will not venture to destroy the one I love. — Richelle E. Goodrich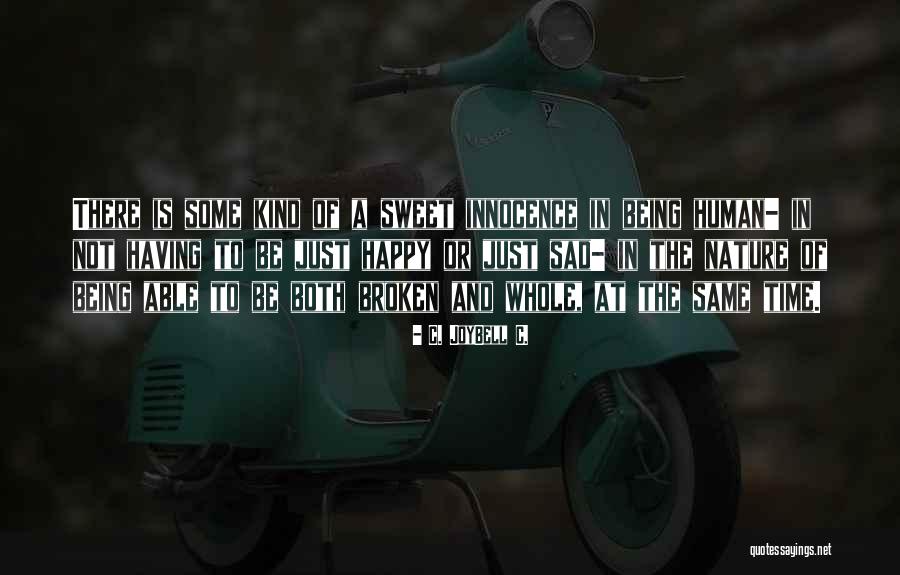 There is some kind of a sweet innocence in being human- in not having to be just happy or just sad- in the nature of being able to be both broken and whole, at the same time. — C. JoyBell C.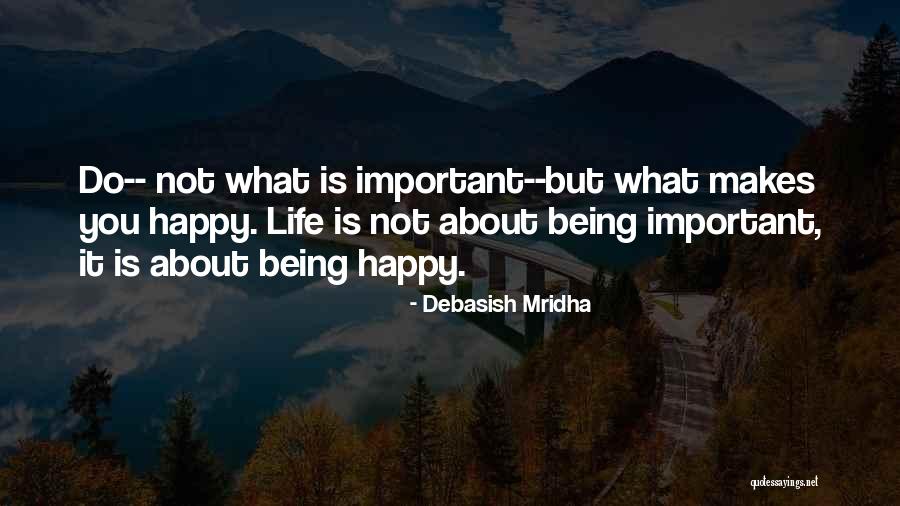 Do-- not what is important--but what makes you happy. Life is not about being important, it is about being happy. — Debasish Mridha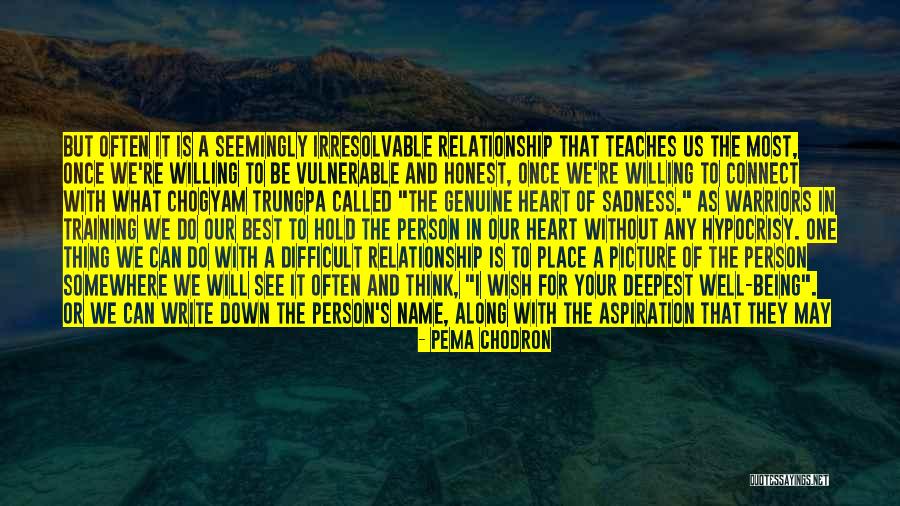 But often it is a seemingly irresolvable relationship that teaches us the most, once we're willing to be vulnerable and honest, once we're willing to connect with what Chogyam Trungpa called "the genuine heart of sadness." As warriors in training we do our best to hold the person in our heart without any hypocrisy. One thing we can do with a difficult relationship is to place a picture of the person somewhere we will see it often and think, "I wish for your deepest well-being". Or we can write down the person's name, along with the aspiration that they may be safe, may be happy, may live in peace.
Regardless of what specific action we take, our aspiration is to benefit the other person and wish them well. — Pema Chodron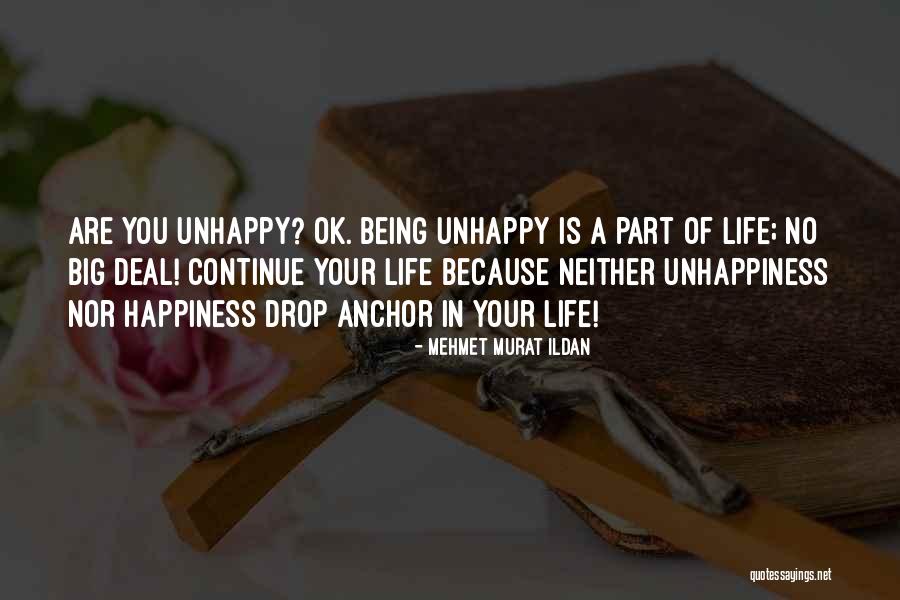 Are you unhappy? Ok. Being unhappy is a part of life; no big deal! Continue your life because neither unhappiness nor happiness drop anchor in your life! — Mehmet Murat Ildan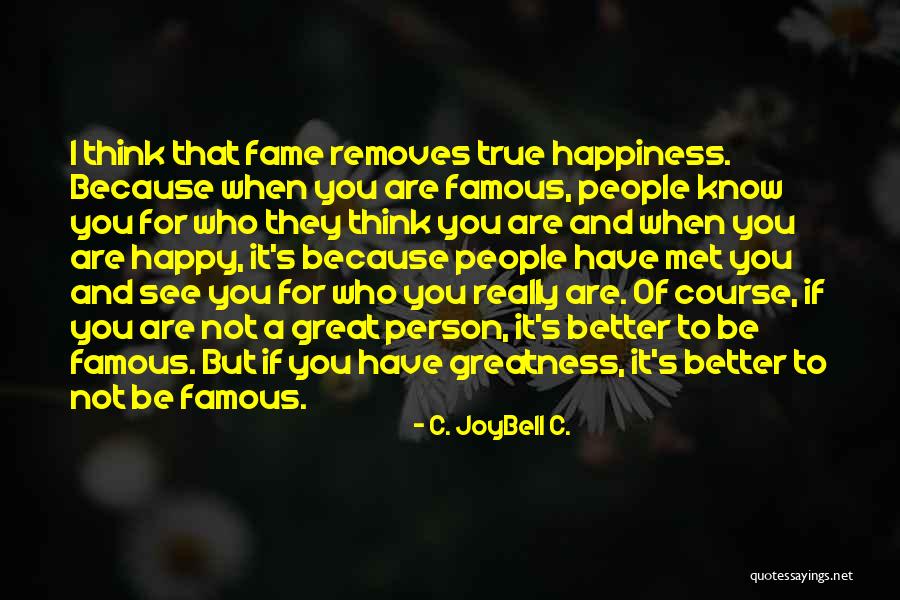 I think that fame removes true happiness. Because when you are famous, people know you for who they think you are and when you are happy, it's because people have met you and see you for who you really are. Of course, if you are not a great person, it's better to be famous. But if you have greatness, it's better to not be famous. — C. JoyBell C.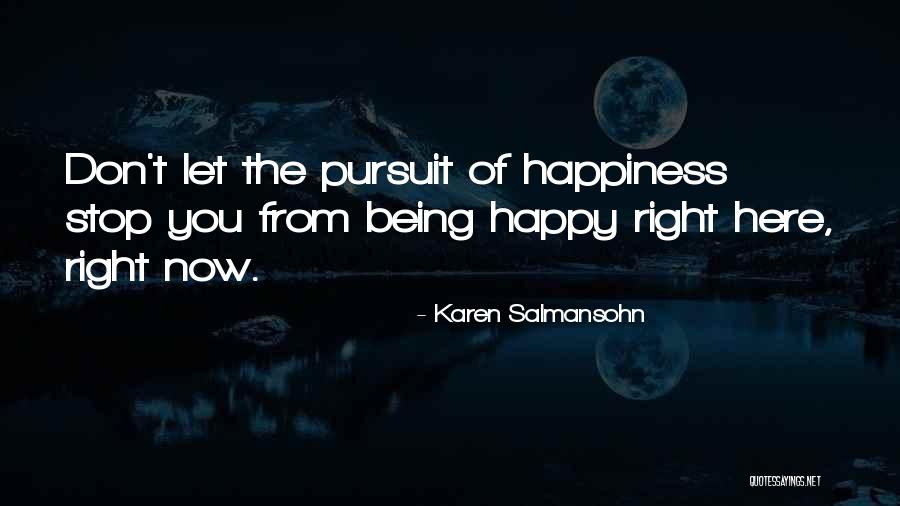 Don't let the pursuit of happiness stop you from being happy right here, right now. — Karen Salmansohn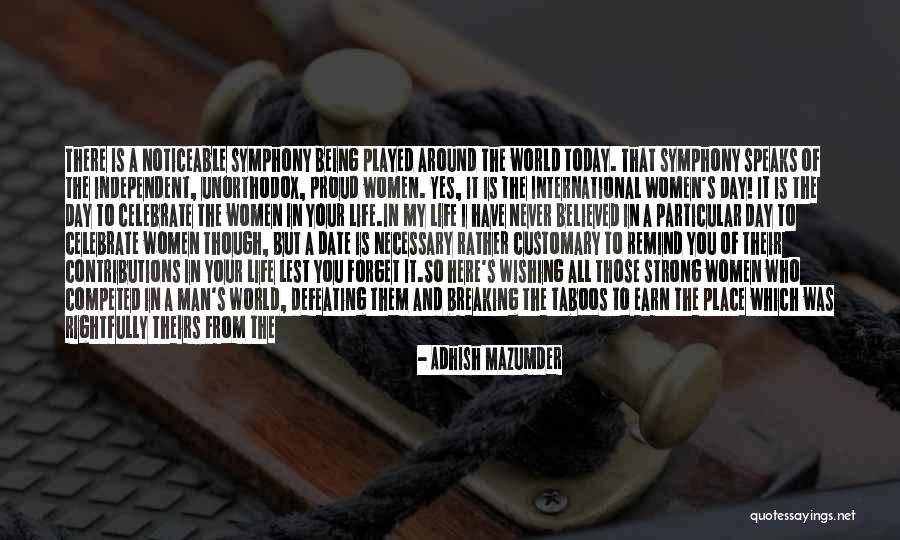 There is a noticeable symphony being played around the world today. That symphony speaks of the independent, unorthodox, proud women. Yes, it is the International Women's Day! It is the day to celebrate the women in your life.

In my life I have never believed in a particular day to celebrate women though, but a date is necessary rather customary to remind you of their contributions in your life lest you forget it.

So here's wishing all those strong women who competed in a man's world, defeating them and breaking the taboos to earn the place which was rightfully theirs from the start but usurped in the past by manly morals and ego, a very- HAPPY INTERNATIONAL WOMEN'S DAY! — Adhish Mazumder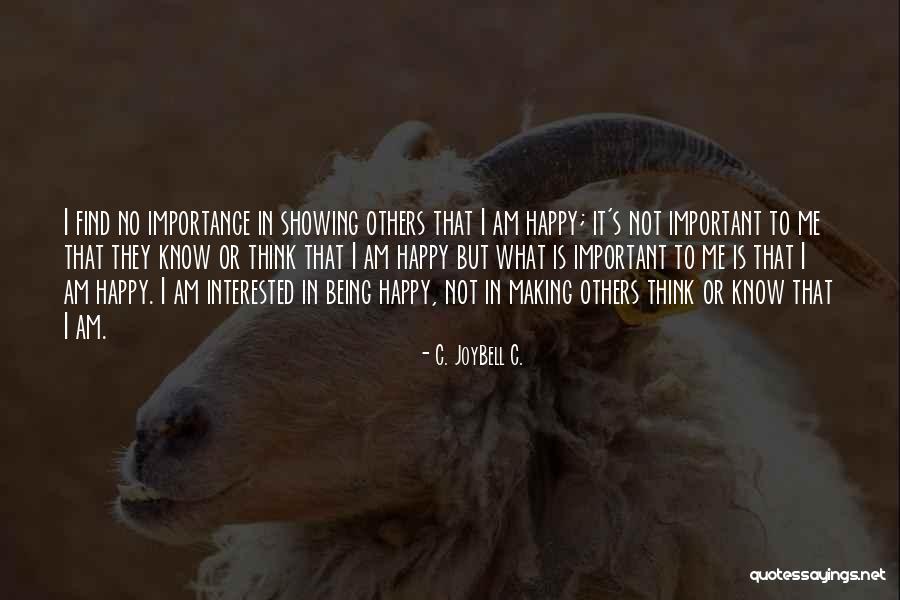 I find no importance in showing others that I am happy; it's not important to me that they know or think that I am happy but what is important to me is that I am happy. I am interested in being happy, not in making others think or know that I am. — C. JoyBell C.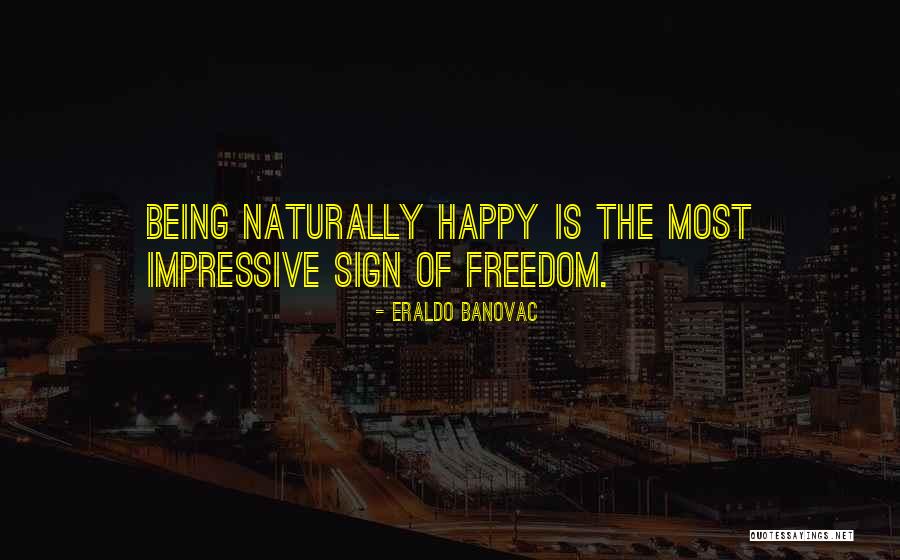 Being naturally happy is the most impressive sign of freedom. — Eraldo Banovac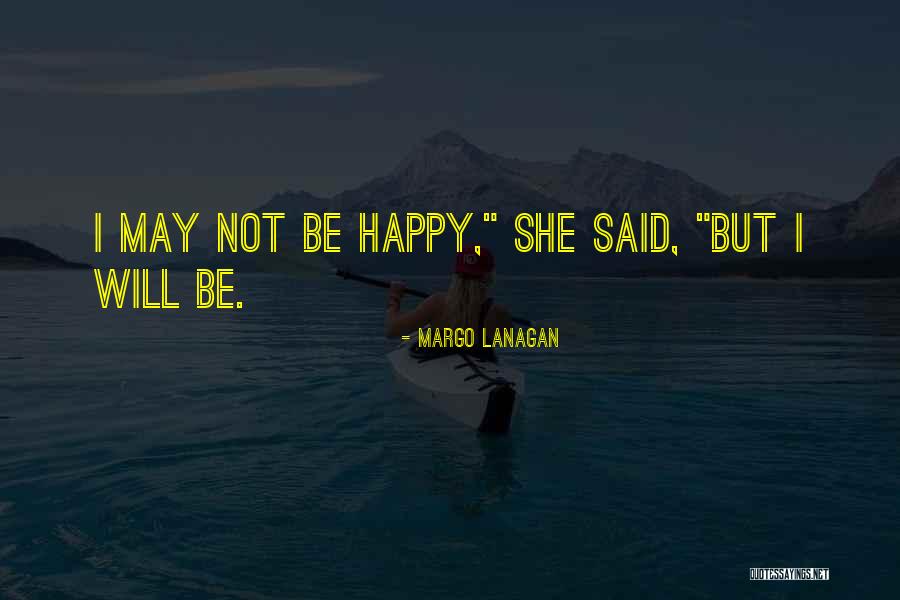 I may not be happy," she said, "but I will be. — Margo Lanagan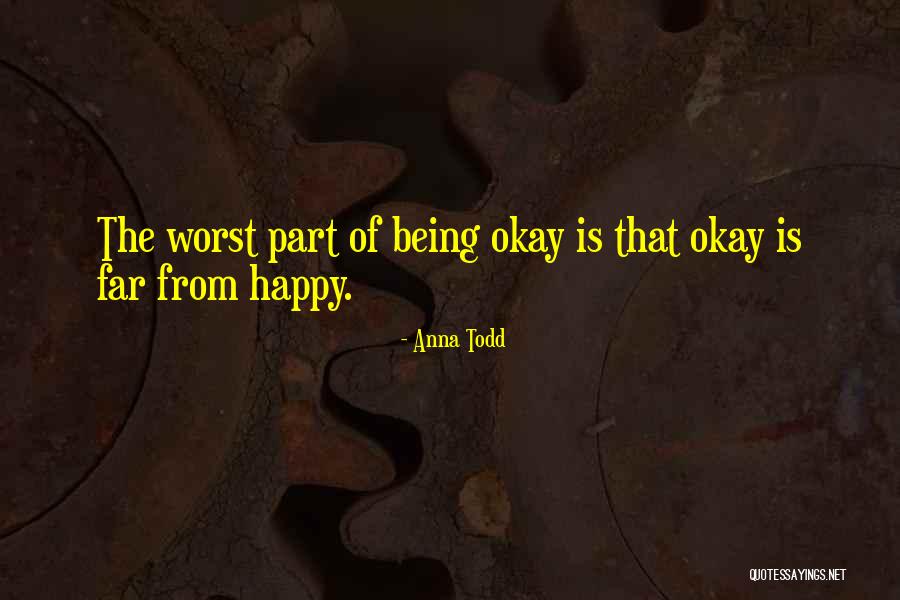 The worst part of being okay is that okay is far from happy. — Anna Todd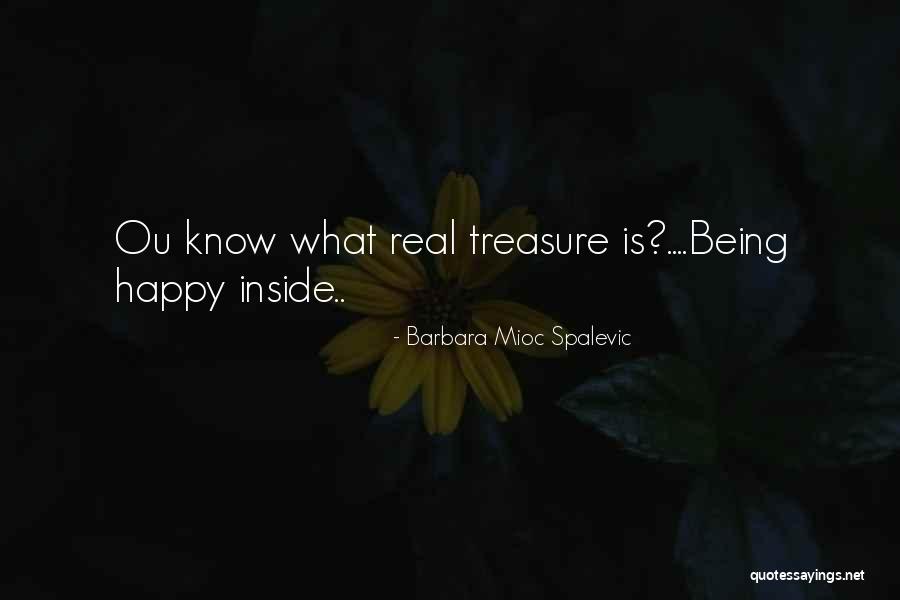 Ou know what real treasure is?..
..Being happy inside.. — Barbara Mioc Spalevic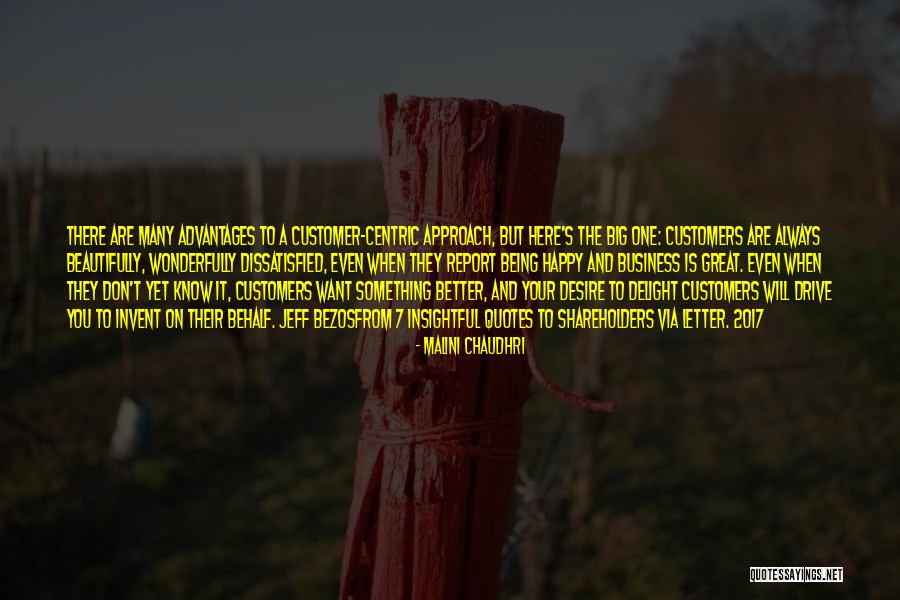 There are many advantages to a customer-centric approach, but here's the big one: customers are always beautifully, wonderfully dissatisfied, even when they report being happy and business is great. Even when they don't yet know it, customers want something better, and your desire to delight customers will drive you to invent on their behalf.
Jeff Bezos
From 7 insightful quotes to shareholders via letter. 2017 — Malini Chaudhri