Journey Down The Road Quotes & Sayings
Enjoy reading and share 24 famous quotes about Journey Down The Road with everyone.
Top Journey Down The Road Quotes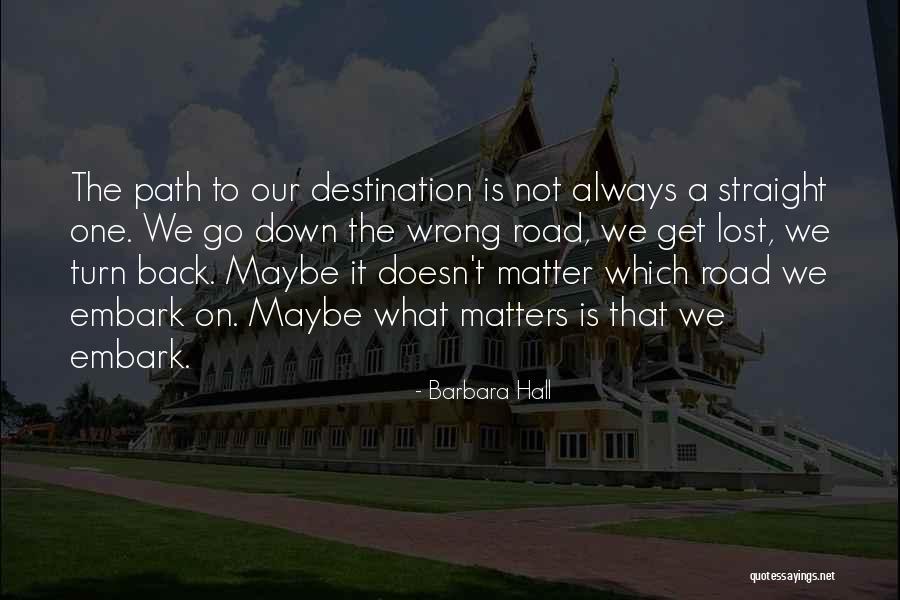 The path to our destination is not always a straight one. We go down the wrong road, we get lost, we turn back. Maybe it doesn't matter which road we embark on. Maybe what matters is that we embark. — Barbara Hall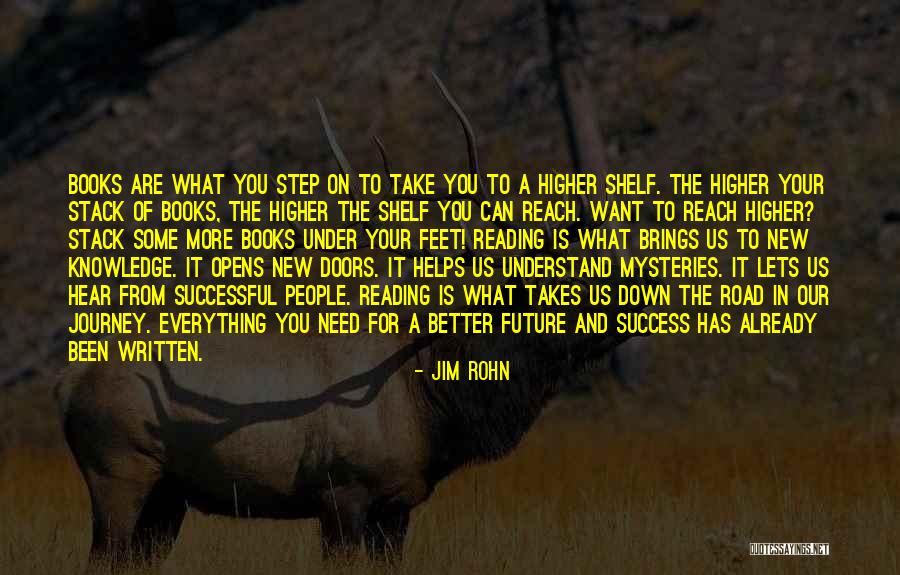 Books are what you step on to take you to a higher shelf. The higher your stack of books, the higher the shelf you can reach. Want to reach higher? Stack some more books under your feet! Reading is what brings us to new knowledge. It opens new doors. It helps us understand mysteries. It lets us hear from successful people. Reading is what takes us down the road in our journey. Everything you need for a better future and success has already been written. — Jim Rohn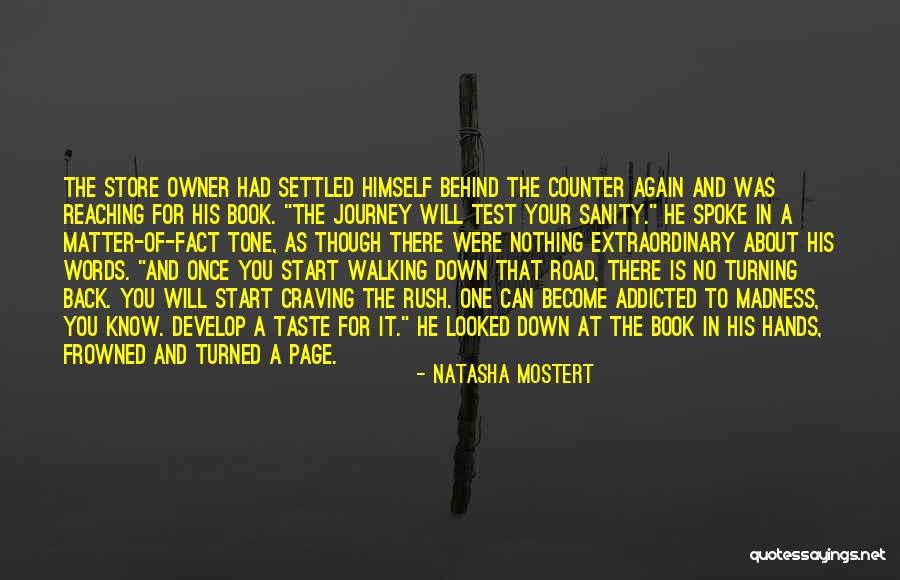 The store owner had settled himself behind the counter again and was reaching for his
book. "The journey will test your sanity." He spoke in a matter-of-fact tone, as though
there were nothing extraordinary about his words. "And once you start walking down
that road, there is no turning back. You will start craving the rush. One can become
addicted to madness, you know. Develop a taste for it." He looked down at the book
in his hands, frowned and turned a page. — Natasha Mostert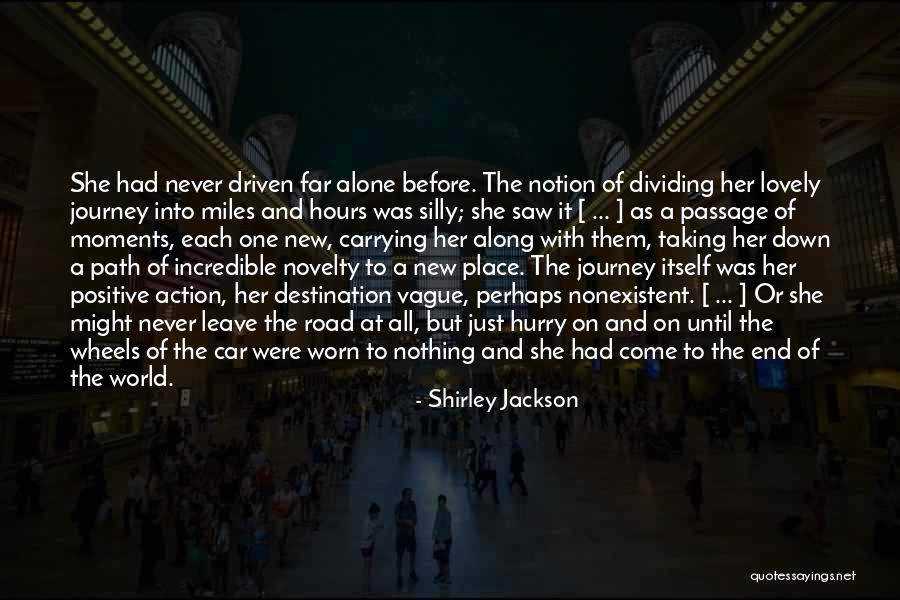 She had never driven far alone before. The notion of dividing her lovely journey into miles and hours was silly; she saw it [ ... ] as a passage of moments, each one new, carrying her along with them, taking her down a path of incredible novelty to a new place. The journey itself was her positive action, her destination vague, perhaps nonexistent. [ ... ] Or she might never leave the road at all, but just hurry on and on until the wheels of the car were worn to nothing and she had come to the end of the world. — Shirley Jackson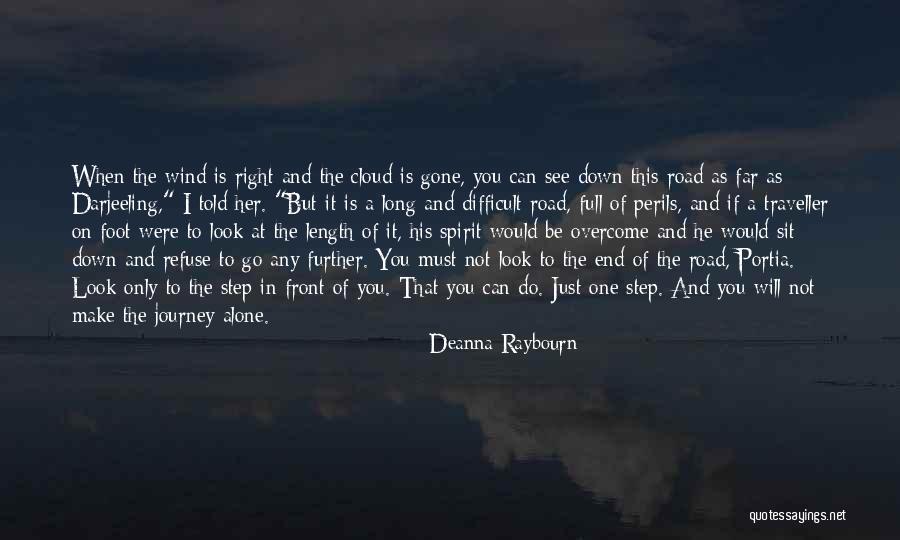 When the wind is right and the cloud is gone, you can see down this road as far as Darjeeling," I told her. "But it is a long and difficult road, full of perils, and if a traveller on foot were to look at the length of it, his spirit would be overcome and he would sit down and refuse to go any further. You must not look to the end of the road, Portia. Look only to the step in front of you. That you can do. Just one step. And you will not make the journey alone. — Deanna Raybourn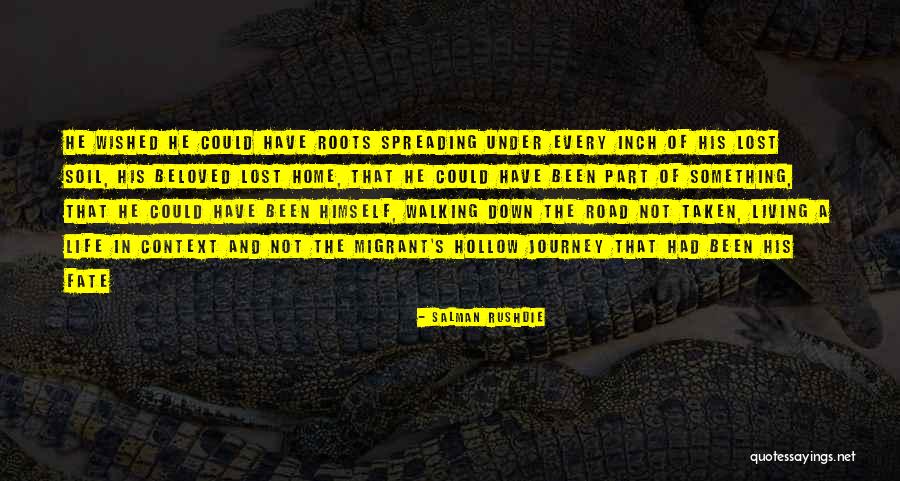 He wished he could have roots spreading under every inch of his lost soil, his beloved lost home, that he could have been part of something, that he could have been himself, walking down the road not taken, living a life in context and not the migrant's hollow journey that had been his fate — Salman Rushdie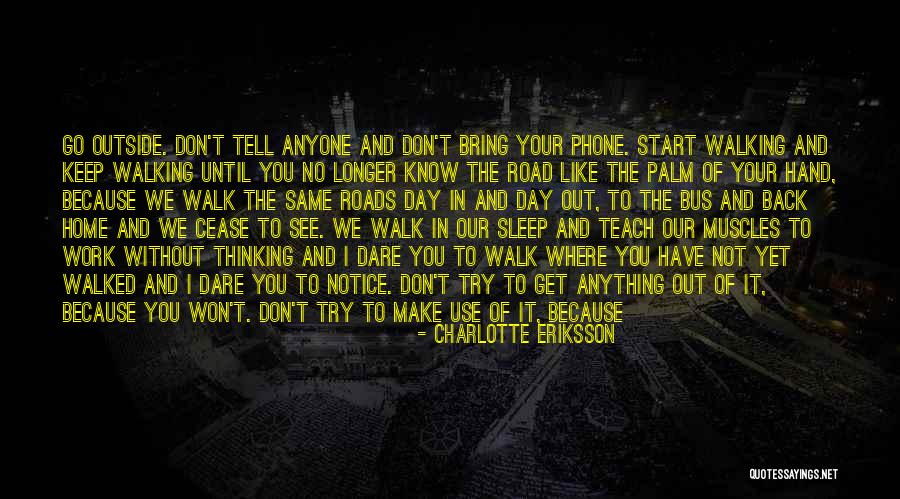 Go outside. Don't tell anyone and don't bring your phone. Start walking and keep walking until you no longer know the road like the palm of your hand, because we walk the same roads day in and day out, to the bus and back home and we cease to see. We walk in our sleep and teach our muscles to work without thinking and I dare you to walk where you have not yet walked and I dare you to notice. Don't try to get anything out of it, because you won't. Don't try to make use of it, because you can't. And that's the point. Just walk, see, sit down if you like. And be. Just be, whatever you are with whatever you have, and realise that that is enough to be happy.
There's a whole world out there, right outside your window. You'd be a fool to miss it. — Charlotte Eriksson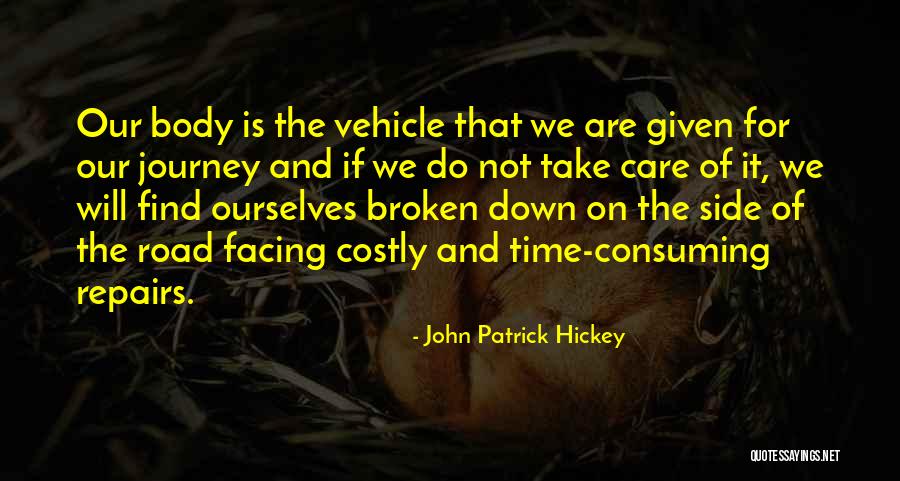 Our body is the vehicle that we are given for our journey and if we do not take care of it, we will find ourselves broken down on the side of the road facing costly and time-consuming repairs. — John Patrick Hickey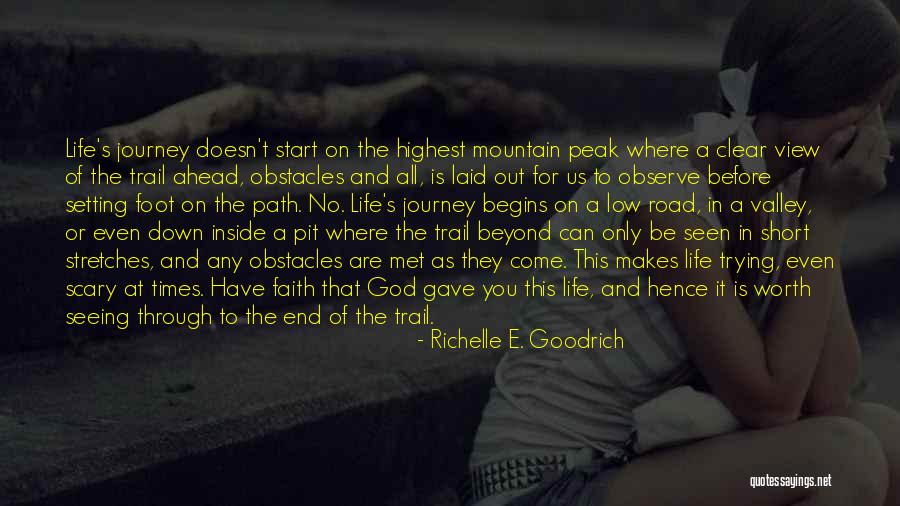 Life's journey doesn't start on the highest mountain peak where a clear view of the trail ahead, obstacles and all, is laid out for us to observe before setting foot on the path. No. Life's journey begins on a low road, in a valley, or even down inside a pit where the trail beyond can only be seen in short stretches, and any obstacles are met as they come. This makes life trying, even scary at times. Have faith that God gave you this life, and hence it is worth seeing through to the end of the trail. — Richelle E. Goodrich
I can never kind of fathom a character's journey beyond the moment when you go to black, any more than when people ask me what Jason Patric did with the tape recorder at the end of 'Narc,' you know what I mean? Even in 'Blood, Guts,' like, what happens down the road with these characters? — Joe Carnahan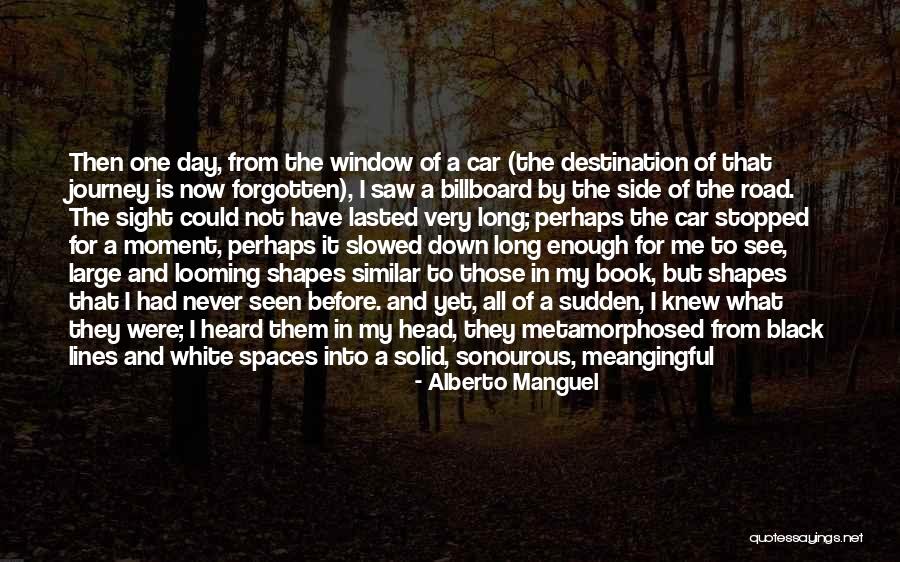 Then one day, from the window of a car (the destination of that journey is now forgotten), I saw a billboard by the side of the road. The sight could not have lasted very long; perhaps the car stopped for a moment, perhaps it slowed down long enough for me to see, large and looming shapes similar to those in my book, but shapes that I had never seen before. and yet, all of a sudden, I knew what they were; I heard them in my head, they metamorphosed from black lines and white spaces into a solid, sonourous, meangingful reality. I had done this all by myself. No one had performed the magic for me. I and the shapes were alone together, revealing ourselves in a silently respectful dialogue. Since I could turn bare lines into a living reality, I was all-poweful. i could read. — Alberto Manguel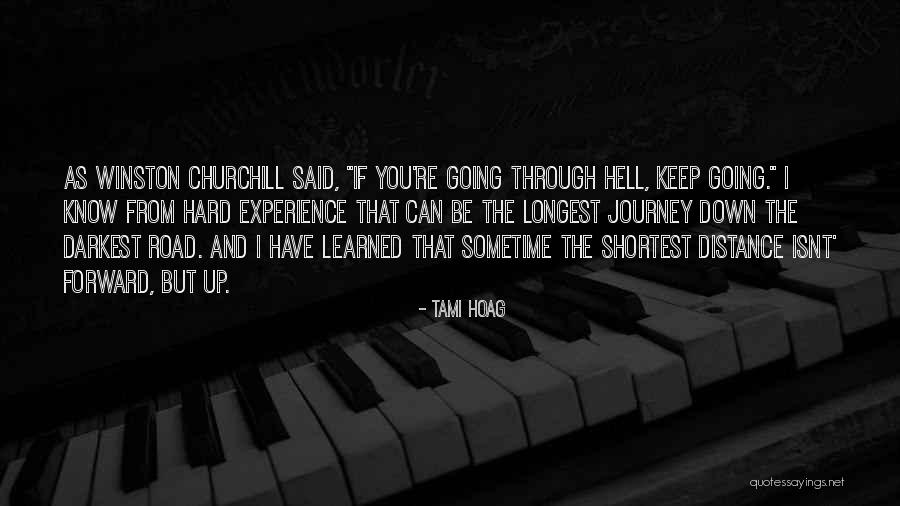 As Winston Churchill said, "If you're going through hell, keep going." I know from hard experience that can be the longest journey down the darkest road. And I have learned that sometime the shortest distance isnt' forward, but up. — Tami Hoag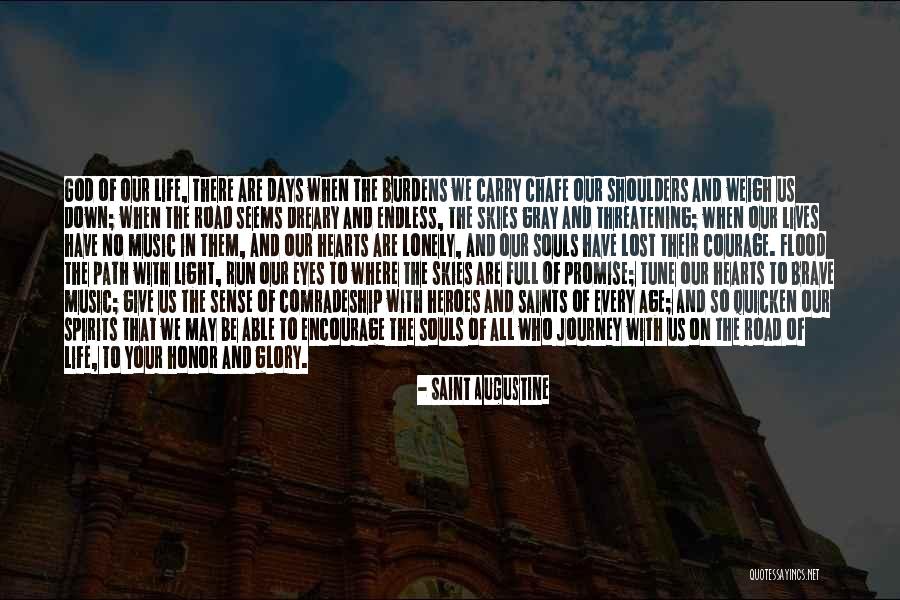 God of our life, there are days when the burdens we carry chafe our shoulders and weigh us down; when the road seems dreary and endless, the skies gray and threatening; when our lives have no music in them, and our hearts are lonely, and our souls have lost their courage. Flood the path with light, run our eyes to where the skies are full of promise; tune our hearts to brave music; give us the sense of comradeship with heroes and saints of every age; and so quicken our spirits that we may be able to encourage the souls of all who journey with us on the road of life, to your honor and glory. — Saint Augustine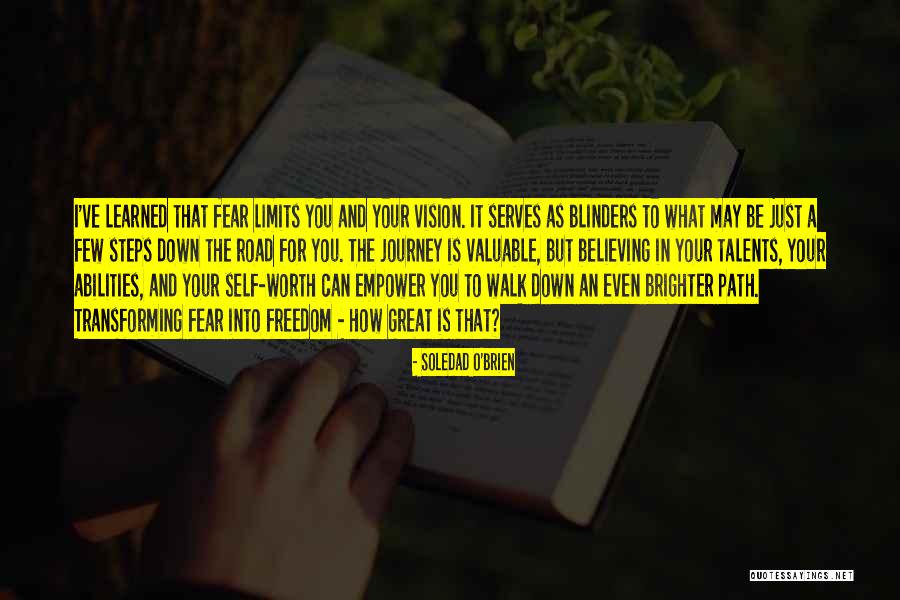 I've learned that fear limits you and your vision. It serves as blinders to what may be just a few steps down the road for you. The journey is valuable, but believing in your talents, your abilities, and your self-worth can empower you to walk down an even brighter path. Transforming fear into freedom - how great is that? — Soledad O'Brien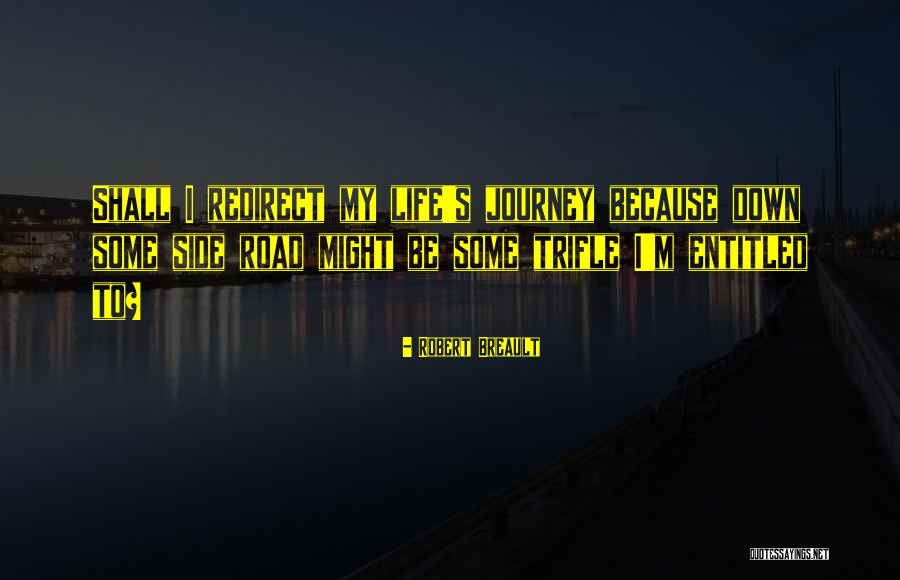 Shall I redirect my life's journey because down some side road might be some trifle I'm entitled to? — Robert Breault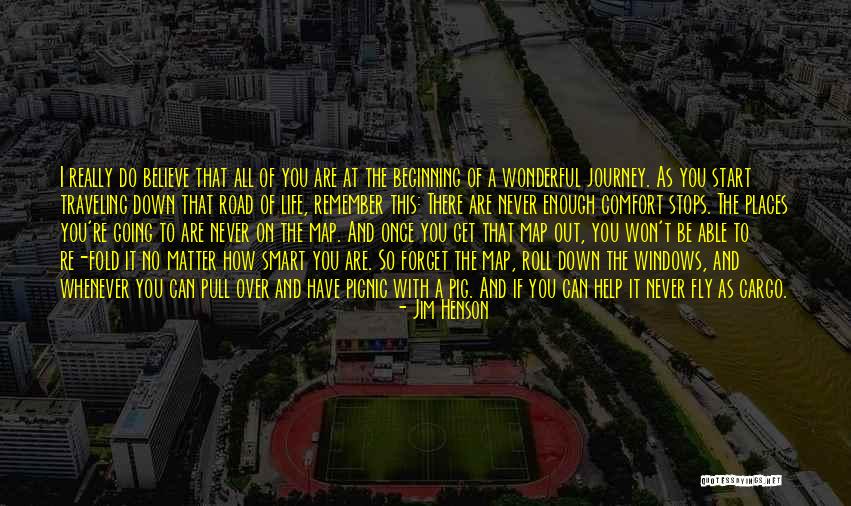 I really do believe that all of you are at the beginning of a wonderful journey. As you start traveling down that road of life, remember this: There are never enough comfort stops. The places you're going to are never on the map. And once you get that map out, you won't be able to re-fold it no matter how smart you are.
So forget the map, roll down the windows, and whenever you can pull over and have picnic with a pig. And if you can help it never fly as cargo. — Jim Henson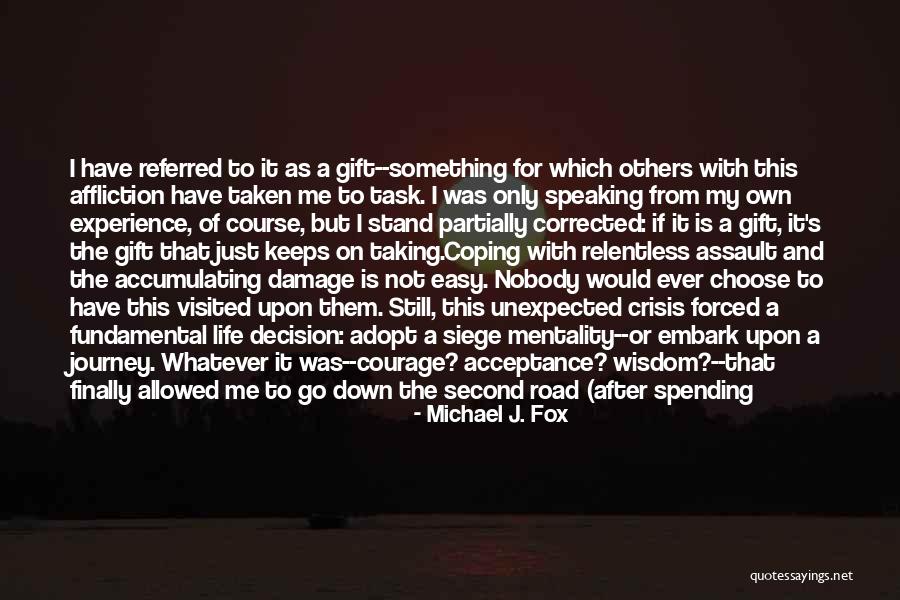 I have referred to it as a gift--something for which others with this affliction have taken me to task. I was only speaking from my own experience, of course, but I stand partially corrected: if it is a gift, it's the gift that just keeps on taking.

Coping with relentless assault and the accumulating damage is not easy. Nobody would ever choose to have this visited upon them. Still, this unexpected crisis forced a fundamental life decision: adopt a siege mentality--or embark upon a journey. Whatever it was--courage? acceptance? wisdom?--that finally allowed me to go down the second road (after spending a few disastrous years on the first) was unquestionably a gift--and absent this neurophysiological catastrophe, I would never have opened it, or been so profoundly enriched. That's why I consider myself a lucky man. — Michael J. Fox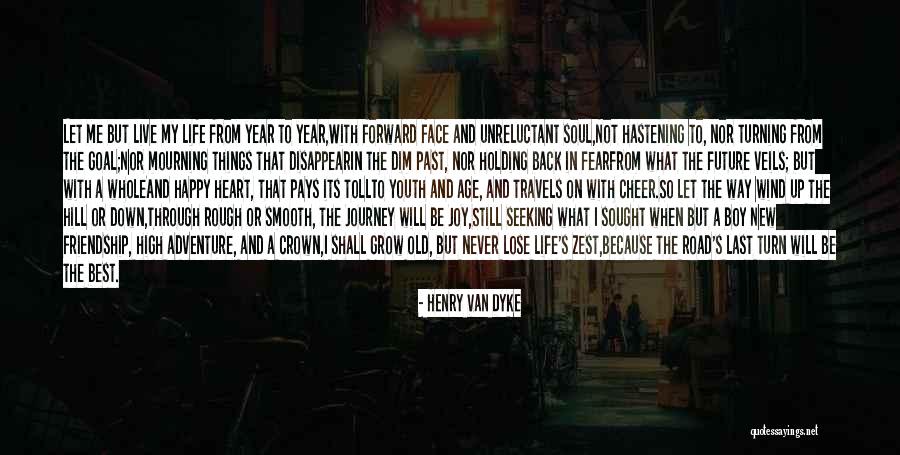 Let me but live my life from year to year,
With forward face and unreluctant soul,
Not hastening to, nor turning from the goal;
Nor mourning things that disappear
In the dim past, nor holding back in fear
From what the future veils; but with a whole
And happy heart, that pays its toll
To youth and age, and travels on with cheer.
So let the way wind up the hill or down,
Through rough or smooth, the journey will be joy,
Still seeking what I sought when but a boy
New friendship, high adventure, and a crown,
I shall grow old, but never lose life's zest,
Because the road's last turn will be the best. — Henry Van Dyke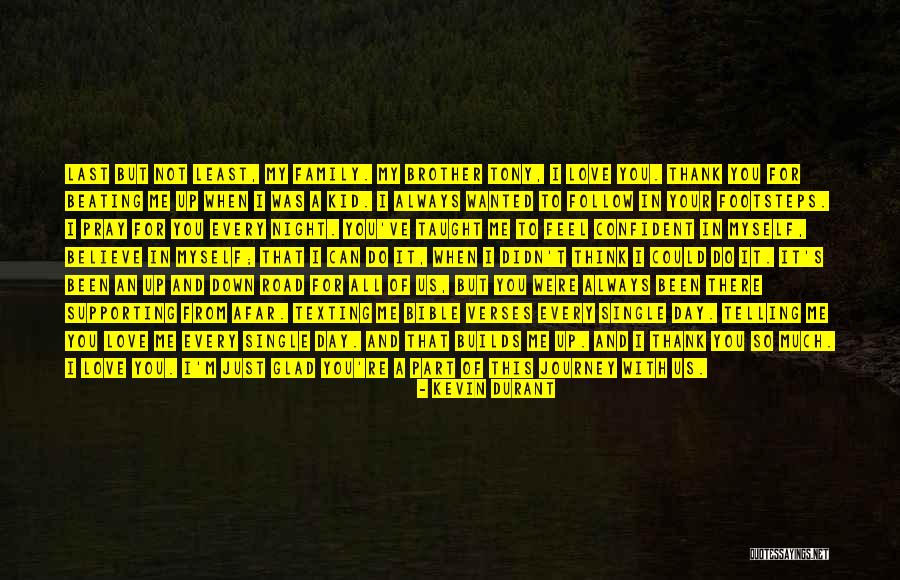 Last but not least, My family. My brother Tony, I love you. Thank you for beating me up when I was a kid. I always wanted to follow in your footsteps. I pray for you every night. You've taught me to feel confident in myself, Believe in myself; That I can do it, When I didn't think I could do it. It's been an up and down road for all of us, But you were always been there supporting from afar. Texting me Bible verses every single day. Telling me you love me every single day. And that builds me up. And I thank you so much. I love you. I'm just glad you're a part of this journey with us. — Kevin Durant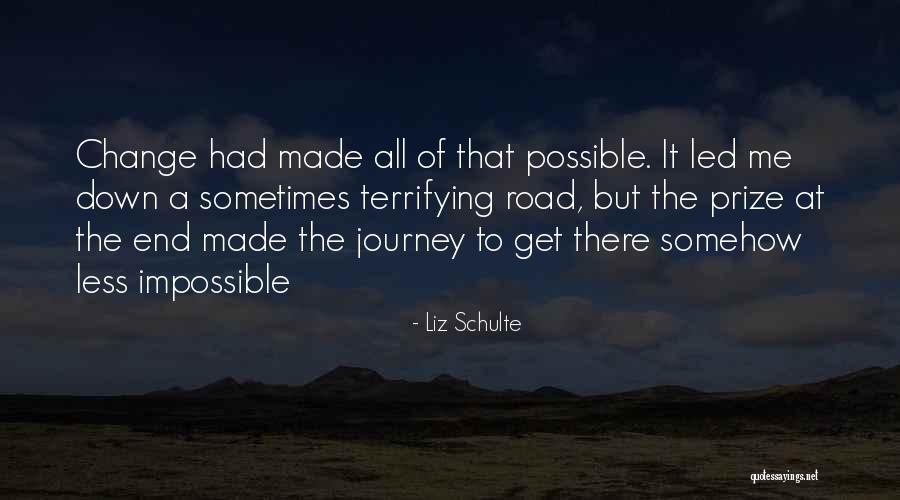 Change had made all of that possible. It led me down a sometimes terrifying road, but the prize at the end made the journey to get there somehow less impossible — Liz Schulte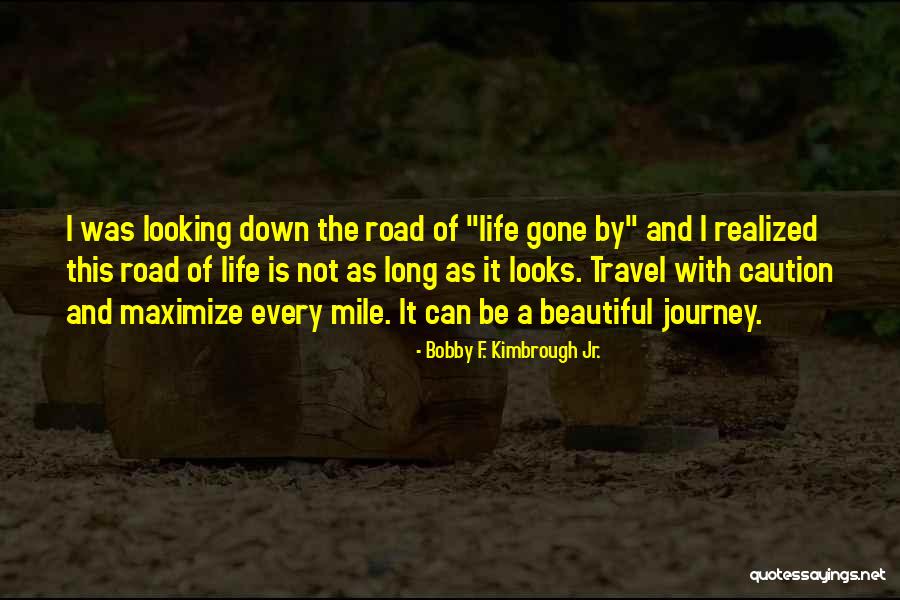 I was looking down the road of "life gone by" and I realized this road of life is not as long as it looks. Travel with caution and maximize every mile. It can be a beautiful journey. — Bobby F. Kimbrough Jr.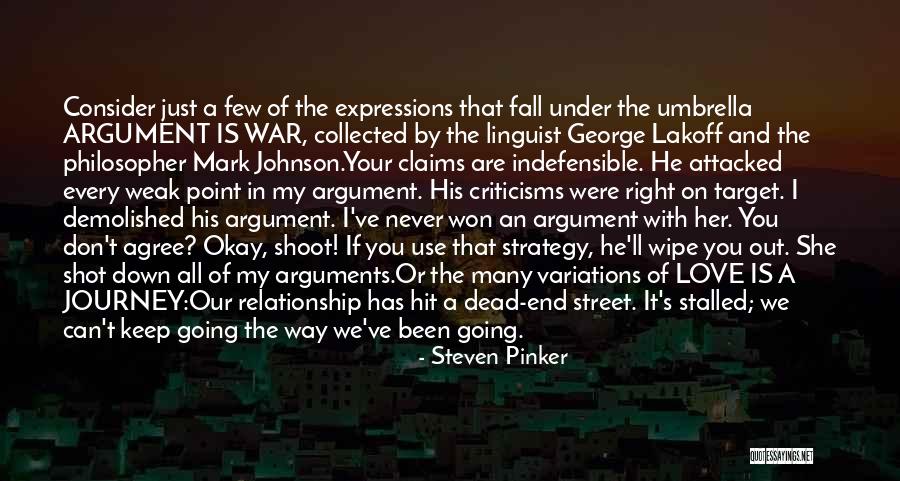 Consider just a few of the expressions that fall under the umbrella ARGUMENT IS WAR, collected by the linguist George Lakoff and the philosopher Mark Johnson.
Your claims are indefensible. He attacked every weak point in my argument. His criticisms were right on target. I demolished his argument. I've never won an argument with her. You don't agree? Okay, shoot! If you use that strategy, he'll wipe you out. She shot down all of my arguments.
Or the many variations of LOVE IS A JOURNEY:
Our relationship has hit a dead-end street. It's stalled; we can't keep going the way we've been going. Look how far we've come. It's been a long, bumpy road. We can't turn back now. We're at a crossroads. We may have to go our separate ways. The relationship isn't going anywhere. We're spinning our wheels. Our relationship is off the track. Our marriage is on the rocks. I'm thinking of bailing out. — Steven Pinker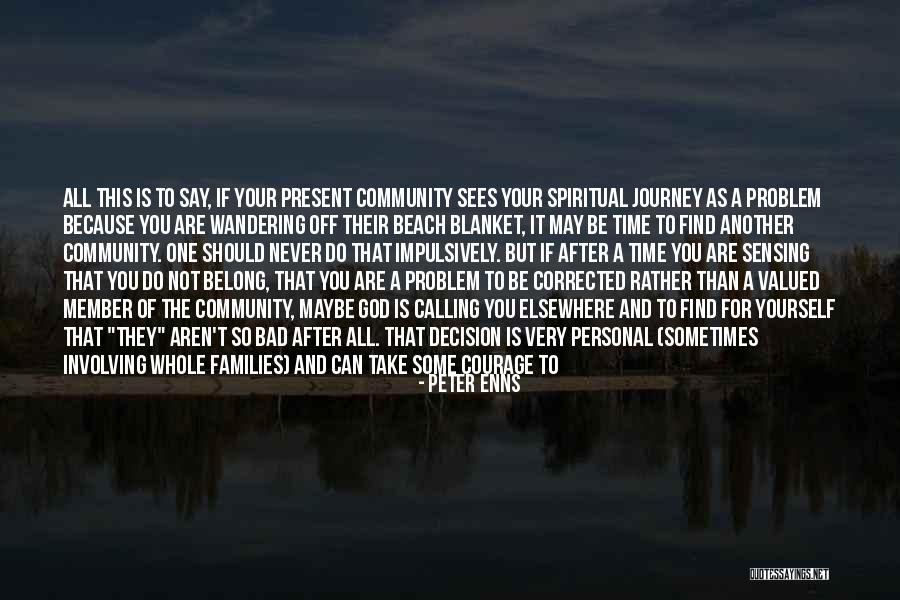 All this is to say, if your present community sees your spiritual journey as a problem because you are wandering off their beach blanket, it may be time to find another community. One should never do that impulsively. But if after a time you are sensing that you do not belong, that you are a problem to be corrected rather than a valued member of the community, maybe God is calling you elsewhere and to find for yourself that "they" aren't so bad after all. That decision is very personal (sometimes involving whole families) and can take some courage to make, but it is worth the risk. One thing is certain: if you stay where you are without any change at all, the pressure to either conform or keep quiet will work in you like a slow-acting poison. And if you go too far down that road, it can be a tough haul coming back from bitterness and resentment - especially for children. — Peter Enns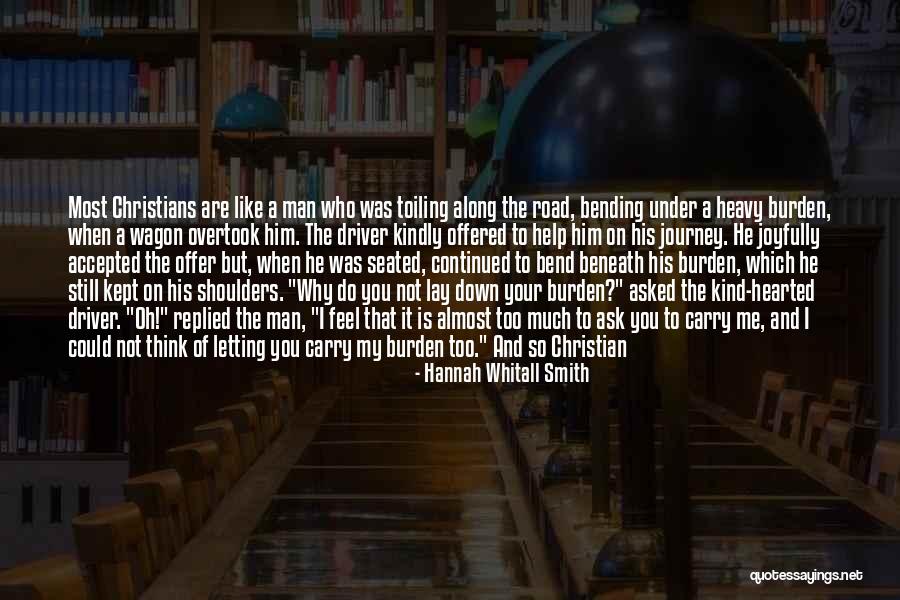 Most Christians are like a man who was toiling along the road, bending under a heavy burden, when a wagon overtook him. The driver kindly offered to help him on his journey. He joyfully accepted the offer but, when he was seated, continued to bend beneath his burden, which he still kept on his shoulders. "Why do you not lay down your burden?" asked the kind-hearted driver. "Oh!" replied the man, "I feel that it is almost too much to ask you to carry me, and I could not think of letting you carry my burden too." And so Christian who have given themselves into the care and keeping of the Lord Jesus still continue to bend beneath the weight of their burdens and often go weary and heavy-laden throughout the whole length of their journey. — Hannah Whitall Smith