Miracles Never Happen Quotes & Sayings
Enjoy reading and share 10 famous quotes about Miracles Never Happen with everyone.
Top Miracles Never Happen Quotes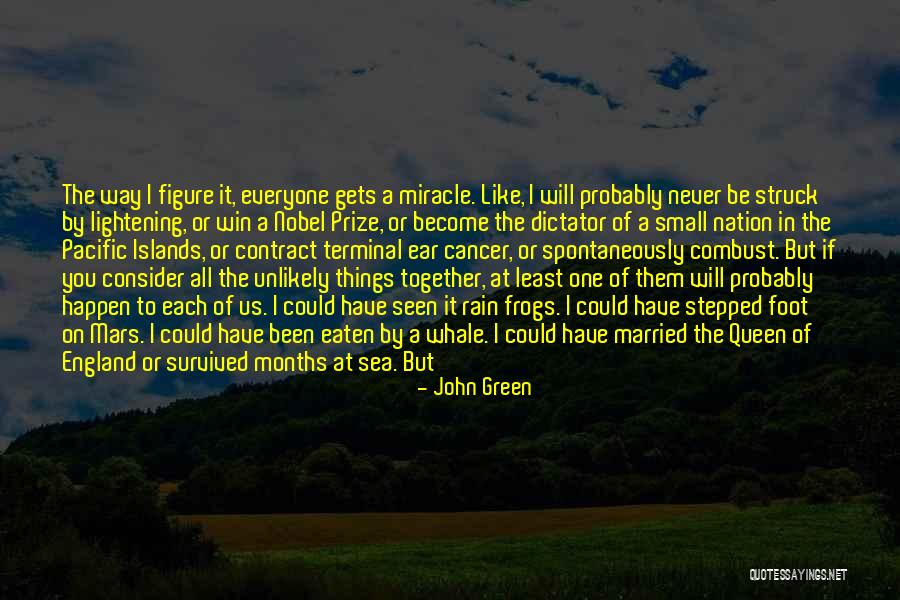 The way I figure it, everyone gets a miracle. Like, I will probably never be struck by lightening, or win a Nobel Prize, or become the dictator of a small nation in the Pacific Islands, or contract terminal ear cancer, or spontaneously combust. But if you consider all the unlikely things together, at least one of them will probably happen to each of us. I could have seen it rain frogs. I could have stepped foot on Mars. I could have been eaten by a whale. I could have married the Queen of England or survived months at sea. But my miracle was different. My miracle was this: out of all the houses in all the subdivisions in all of Florida, I ended up living next door to Margo Roth Spiegelman. — John Green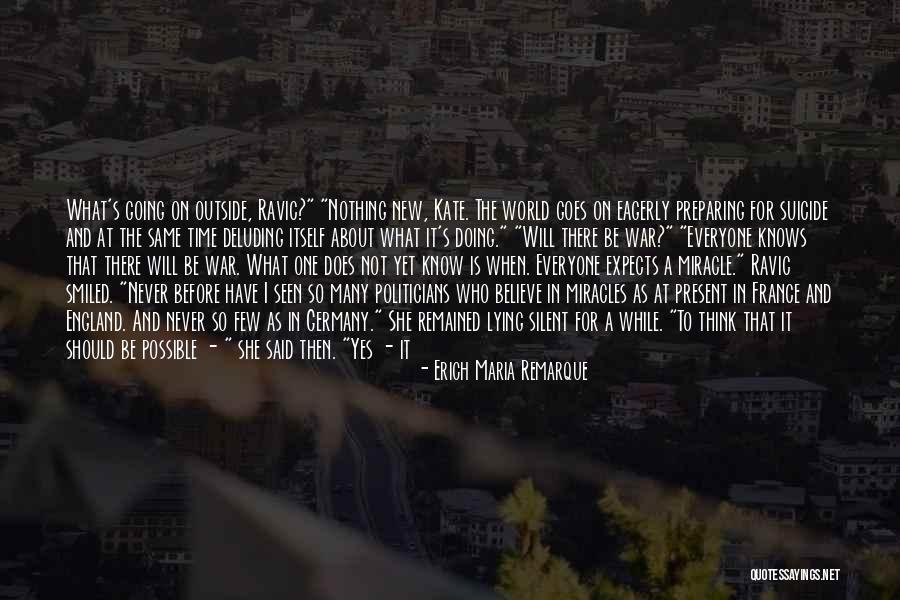 What's going on outside, Ravic?" "Nothing new, Kate. The world goes on eagerly preparing for suicide and at the same time deluding itself about what it's doing." "Will there be war?" "Everyone knows that there will be war. What one does not yet know is when. Everyone expects a miracle." Ravic smiled. "Never before have I seen so many politicians who believe in miracles as at present in France and England. And never so few as in Germany." She remained lying silent for a while. "To think that it should be possible - " she said then. "Yes - it seems so impossible that it will happen some day. Just because one considers it so impossible and doesn't protect oneself against it. — Erich Maria Remarque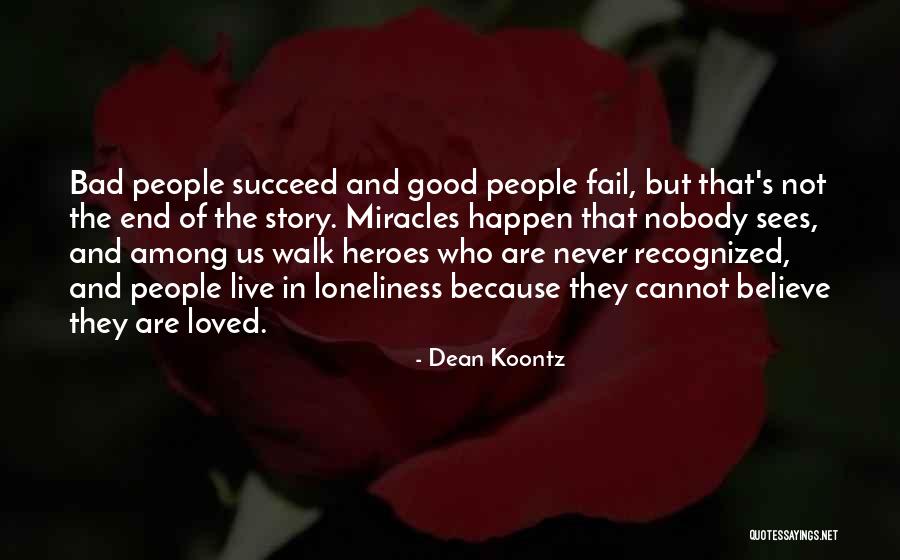 Bad people succeed and good people fail, but that's not the end of the story. Miracles happen that nobody sees, and among us walk heroes who are never recognized, and people live in loneliness because they cannot believe they are loved. — Dean Koontz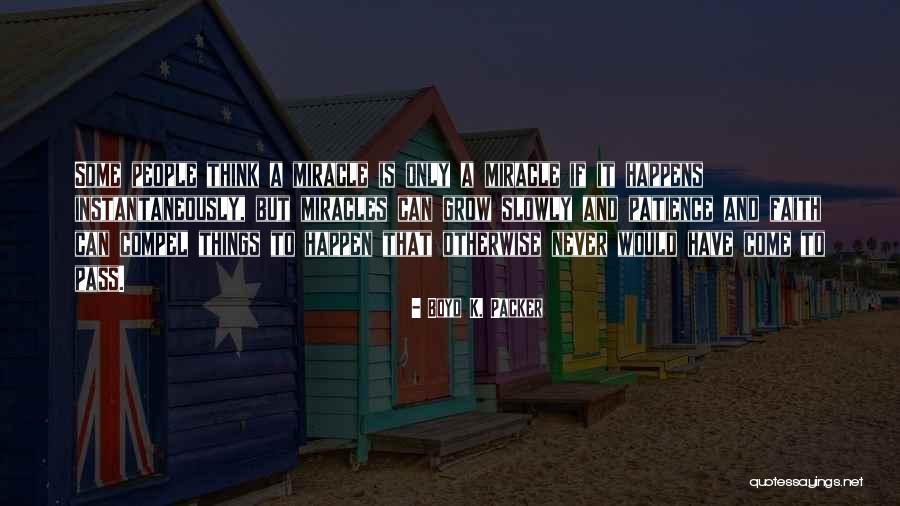 Some people think a miracle is only a miracle if it happens instantaneously, but miracles can grow slowly and patience and faith can compel things to happen that otherwise never would have come to pass. — Boyd K. Packer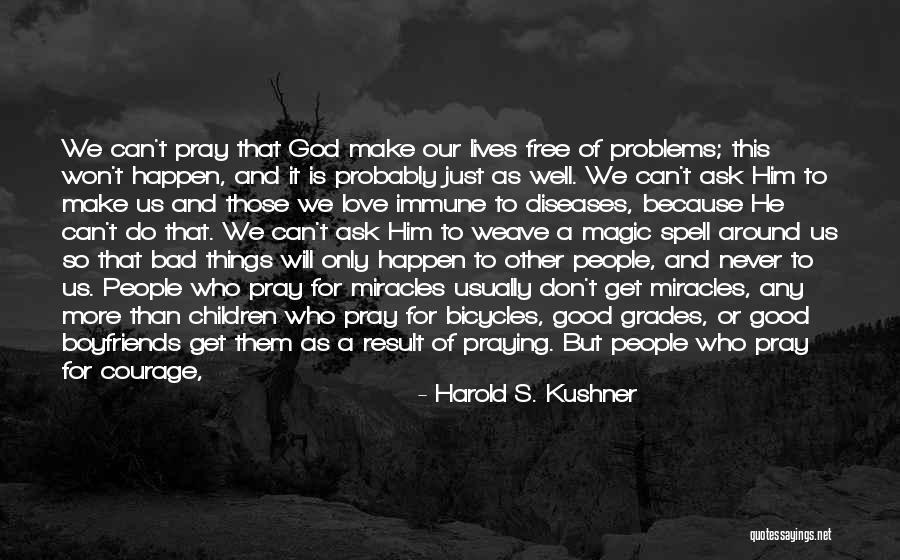 We can't pray that God make our lives free of problems; this won't happen, and it is probably just as well. We can't ask Him to make us and those we love immune to diseases, because He can't do that. We can't ask Him to weave a magic spell around us so that bad things will only happen to other people, and never to us.
People who pray for miracles usually don't get miracles, any more than children who pray for bicycles, good grades, or good boyfriends get them as a result of praying. But people who pray for courage, for strength to bear the unbearable, for the grace to remember what they have left instead of they have lost, very often find their prayer answered. — Harold S. Kushner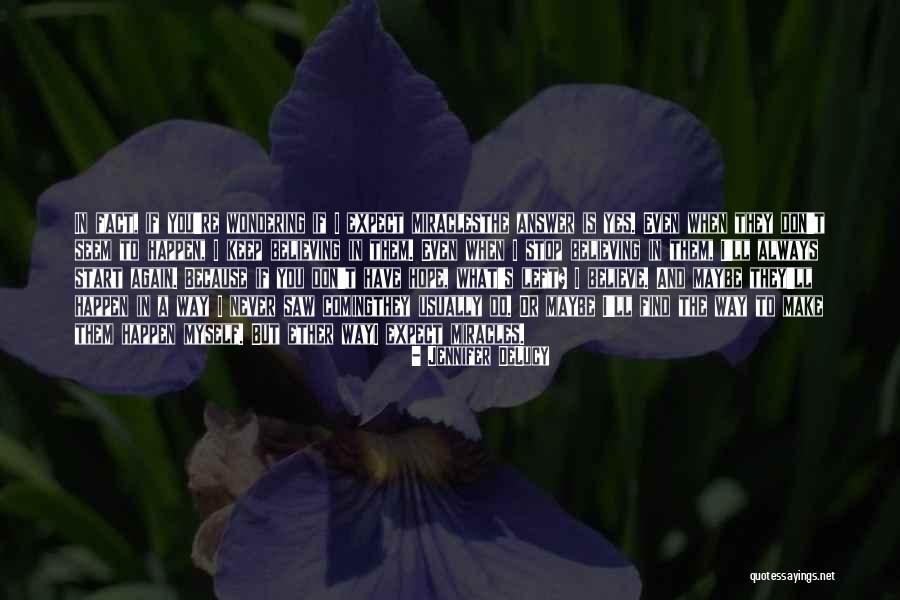 In fact, if you're wondering if I expect miracles
the answer is yes. Even when they don't seem to happen, I keep believing in them. Even when I stop believing in them, I'll always start again. Because if you don't have hope, what's left? I believe. And maybe they'll happen in a way I never saw coming
they usually do. Or maybe I'll find the way to make them happen myself. But ether way
I expect miracles. — Jennifer DeLucy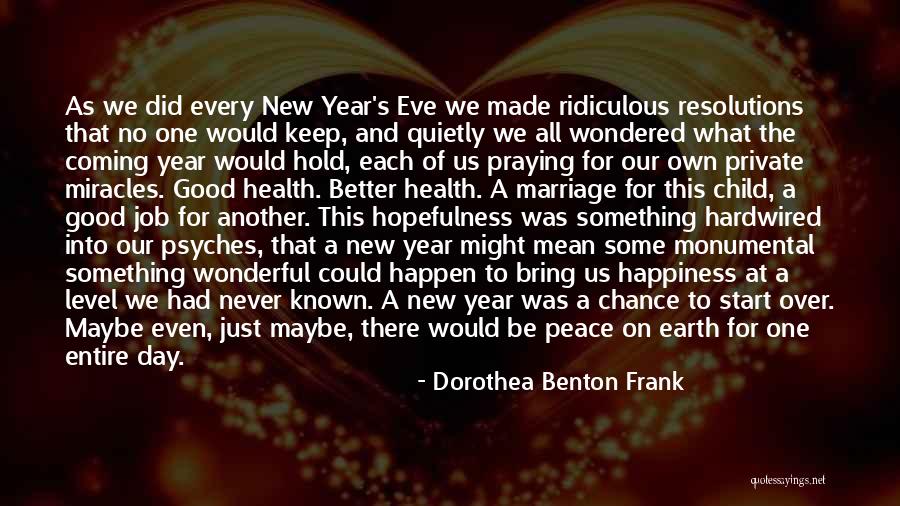 As we did every New Year's Eve we made ridiculous resolutions that no one would keep, and quietly we all wondered what the coming year would hold, each of us praying for our own private miracles. Good health. Better health. A marriage for this child, a good job for another. This hopefulness was something hardwired into our psyches, that a new year might mean some monumental something wonderful could happen to bring us happiness at a level we had never known. A new year was a chance to start over. Maybe even, just maybe, there would be peace on earth for one entire day. — Dorothea Benton Frank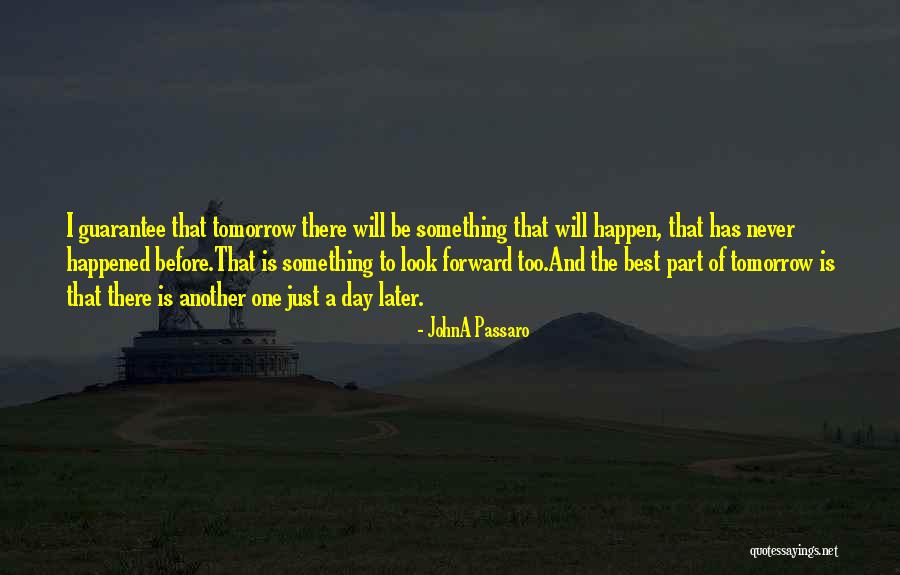 I guarantee that tomorrow there will be something that will happen, that has never happened before.
That is something to look forward too.
And the best part of tomorrow is that there is another one just a day later. — JohnA Passaro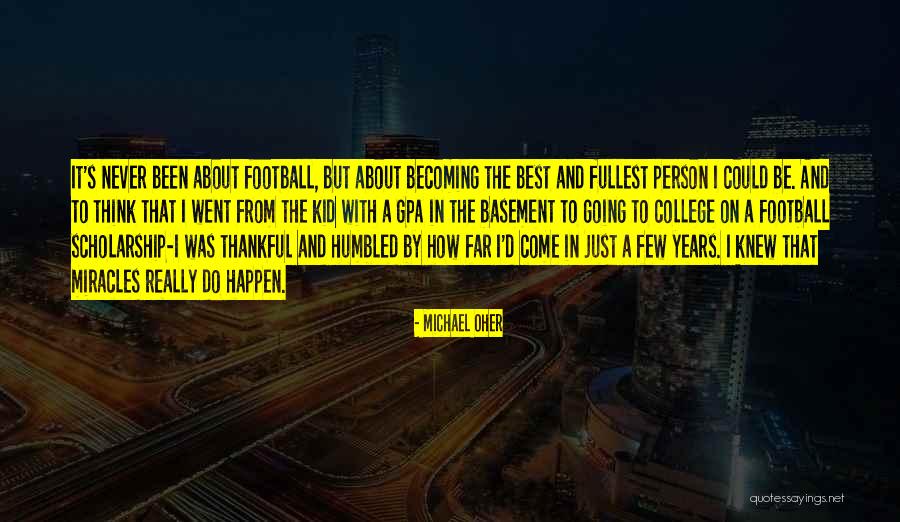 It's never been about football, but about becoming the best and fullest person I could be. And to think that I went from the kid with a GPA in the basement to going to college on a football scholarship-I was thankful and humbled by how far I'd come in just a few years. I knew that miracles really do happen. — Michael Oher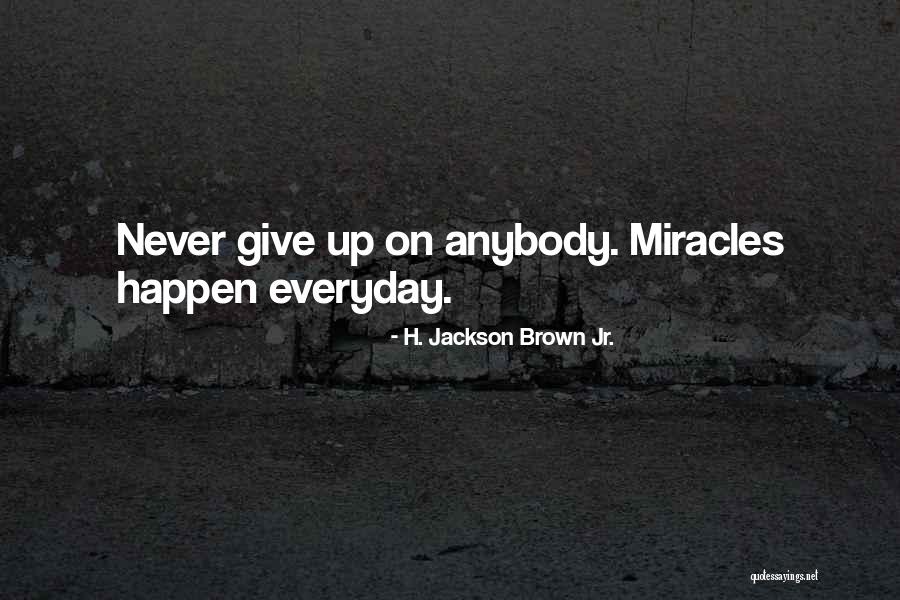 Never give up on anybody. Miracles happen everyday. — H. Jackson Brown Jr.