I'm A Prude Quotes & Sayings
Enjoy reading and share 32 famous quotes about I'm A Prude with everyone.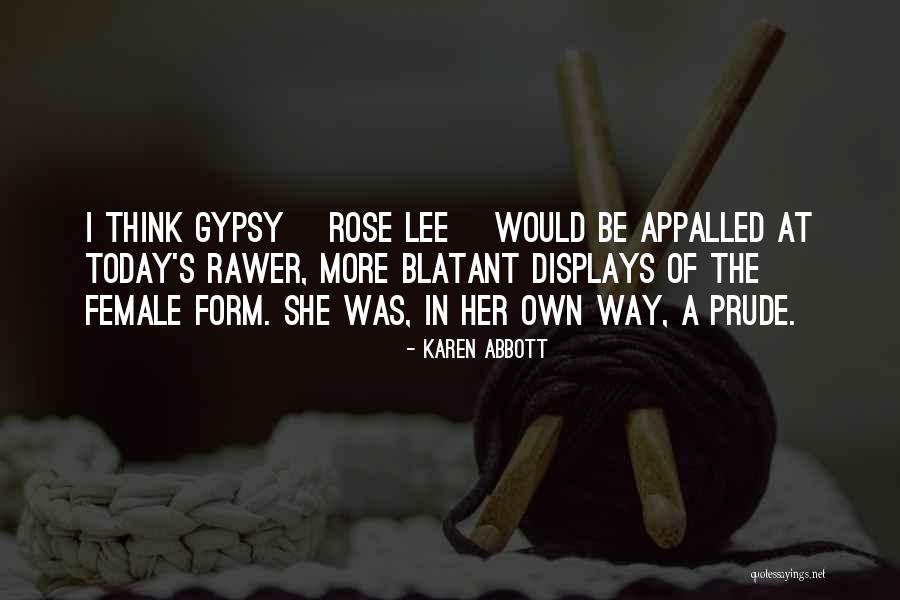 I think Gypsy [Rose Lee] would be appalled at today's rawer, more blatant displays of the female form. She was, in her own way, a prude. — Karen Abbott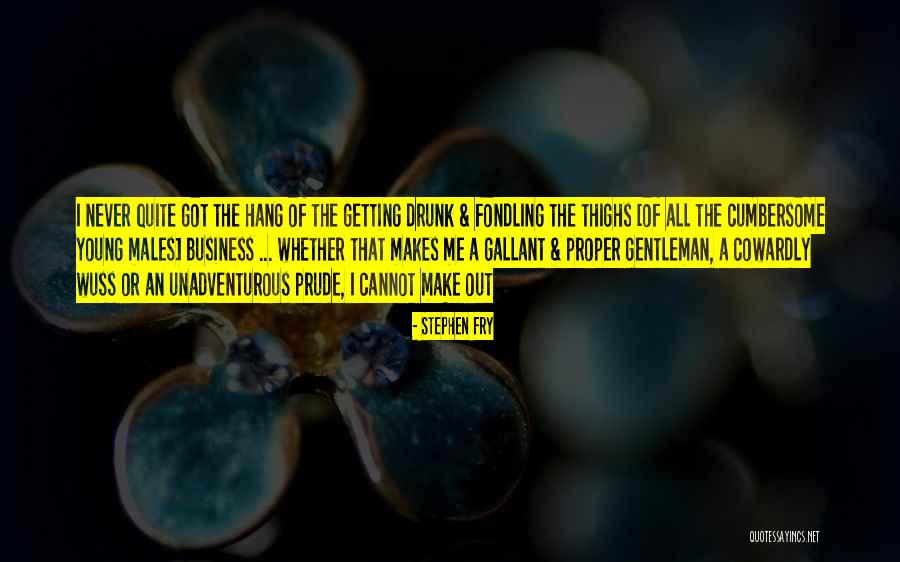 I never quite got the hang of the getting drunk & fondling the thighs [of all the cumbersome young males] business ... whether that makes me a gallant & proper gentleman, a cowardly wuss or an unadventurous prude, I cannot make out — Stephen Fry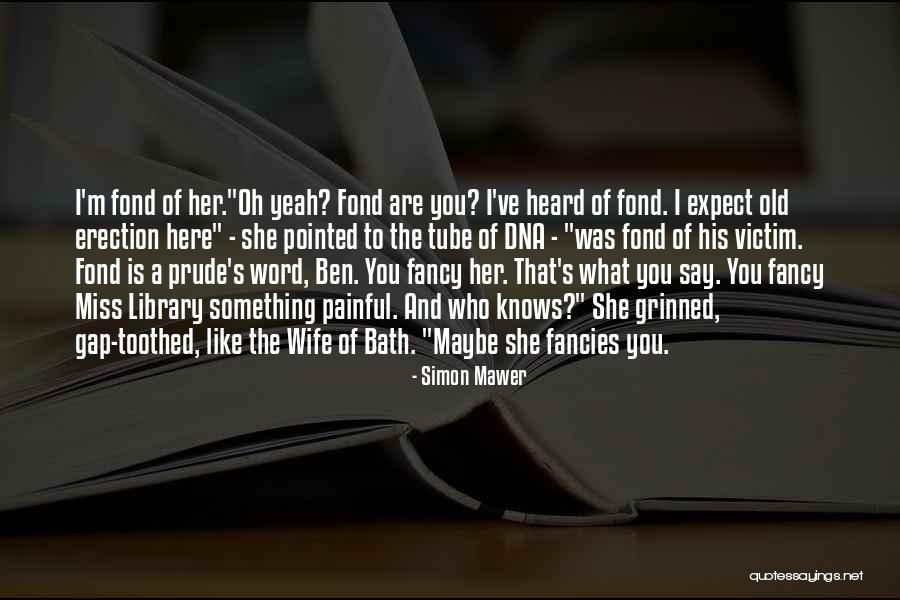 I'm fond of her."
Oh yeah? Fond are you? I've heard of fond. I expect old erection here" - she pointed to the tube of DNA - "was fond of his victim. Fond is a prude's word, Ben. You fancy her. That's what you say. You fancy Miss Library something painful. And who knows?" She grinned, gap-toothed, like the Wife of Bath. "Maybe she fancies you. — Simon Mawer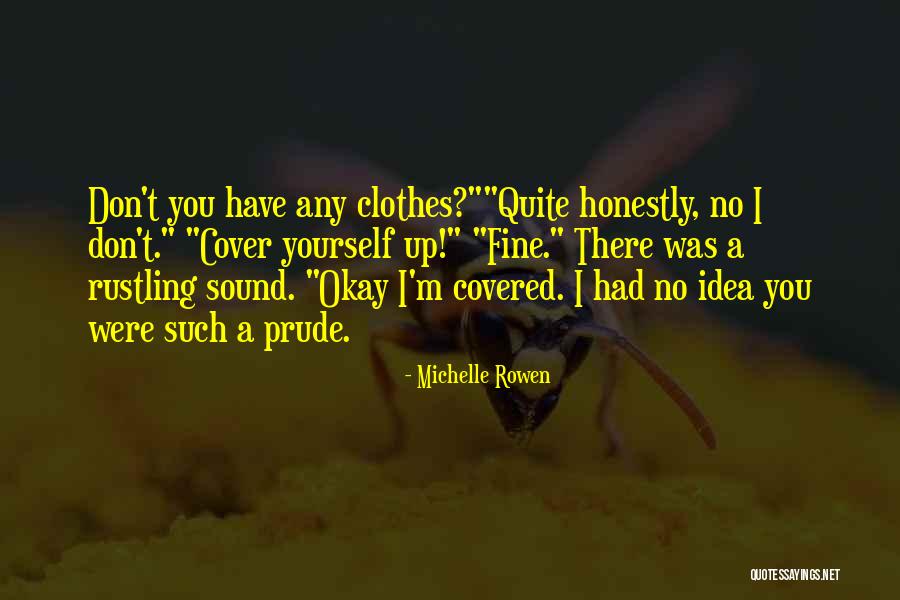 Don't you have any clothes?"
"Quite honestly, no I don't."
"Cover yourself up!"
"Fine." There was a rustling sound. "Okay I'm covered. I had no idea you were such a prude. — Michelle Rowen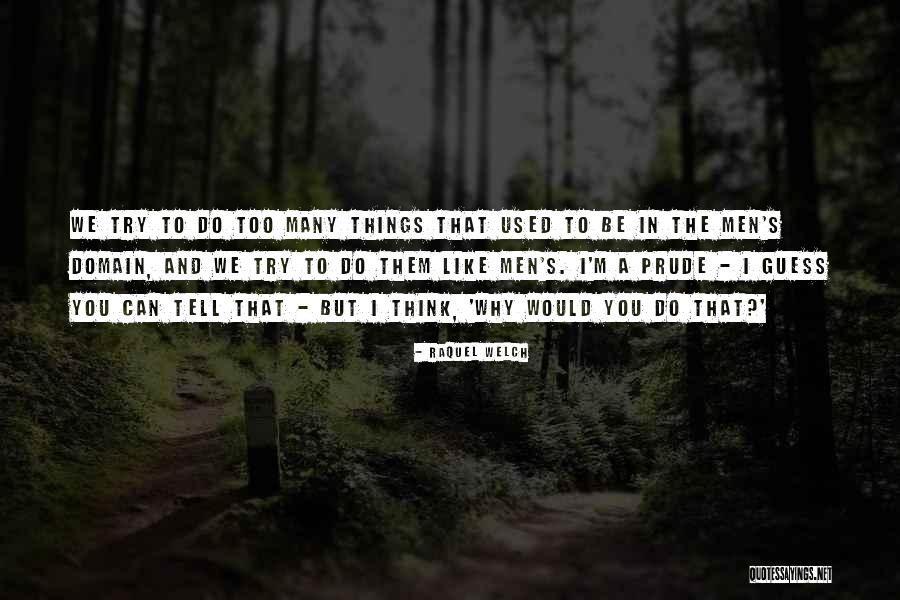 We try to do too many things that used to be in the men's domain, and we try to do them like men's. I'm a prude - I guess you can tell that - but I think, 'Why would you do that?' — Raquel Welch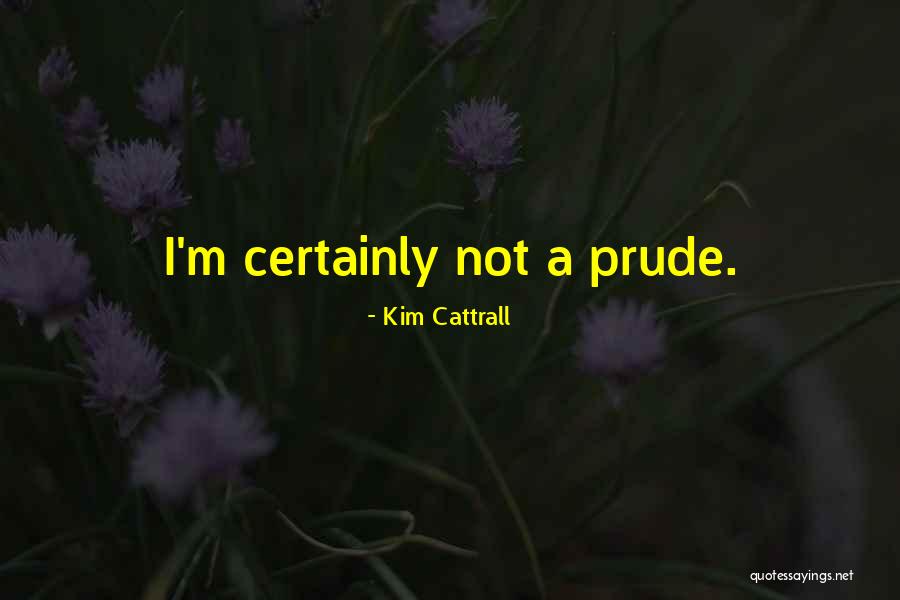 I'm certainly not a prude. — Kim Cattrall
I'm not a prude. On the set, they called me 'Butt Naked.' — Cuba Gooding Jr.
Are you a prude?' He seemed genuinely curious.
'No!' But after a second, I said, 'But may be compared to you, yes! I like my privacy. I get to decide who sees me naked. Do you get my point?'
'Yes. Objectively speaking, you have beautiful points.'
I thought the top of my head would pop off ...
(Sookie Stackhouse & Claude, Dead in the Family) — Charlaine Harris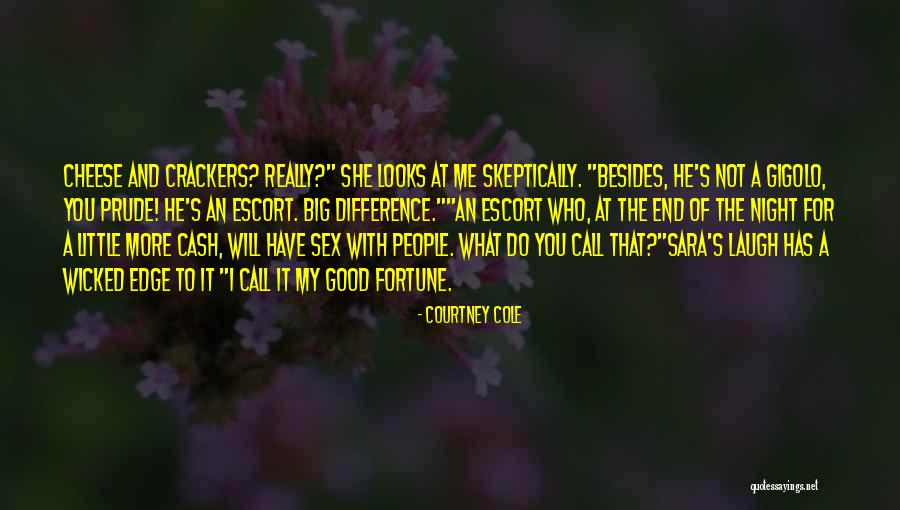 Cheese and crackers? Really?" She looks at me skeptically. "Besides, he's not a gigolo, you prude! He's an escort. Big difference."
"An escort who, at the end of the night for a little more cash, will have sex with people. What do you call that?"
Sara's laugh has a wicked edge to it "I call it my good fortune. — Courtney Cole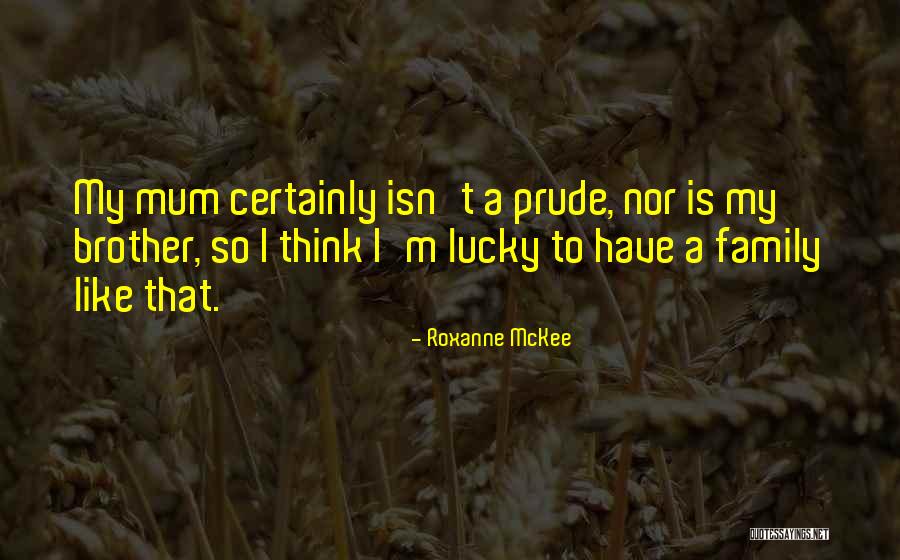 My mum certainly isn't a prude, nor is my brother, so I think I'm lucky to have a family like that. — Roxanne McKee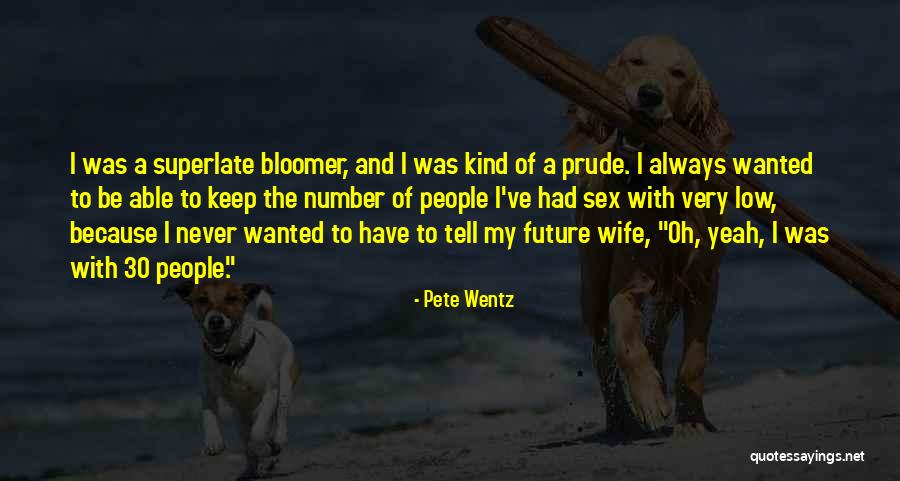 I was a superlate bloomer, and I was kind of a prude. I always wanted to be able to keep the number of people I've had sex with very low, because I never wanted to have to tell my future wife, "Oh, yeah, I was with 30 people." — Pete Wentz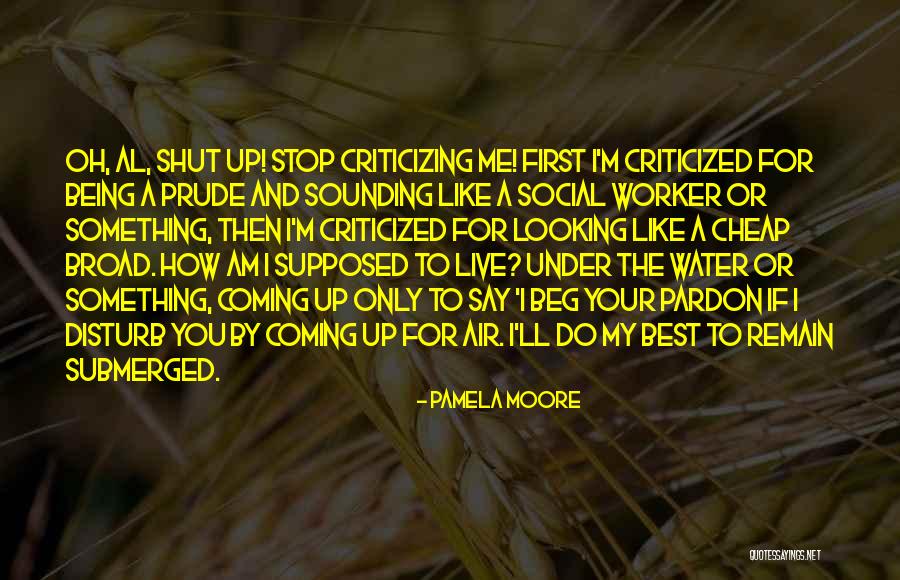 Oh, Al, shut up! Stop criticizing me! First I'm criticized for being a prude and sounding like a social worker or something, then I'm criticized for looking like a cheap broad. How am I supposed to live? Under the water or something, coming up only to say 'I beg your pardon if I disturb you by coming up for air. I'll do my best to remain submerged. — Pamela Moore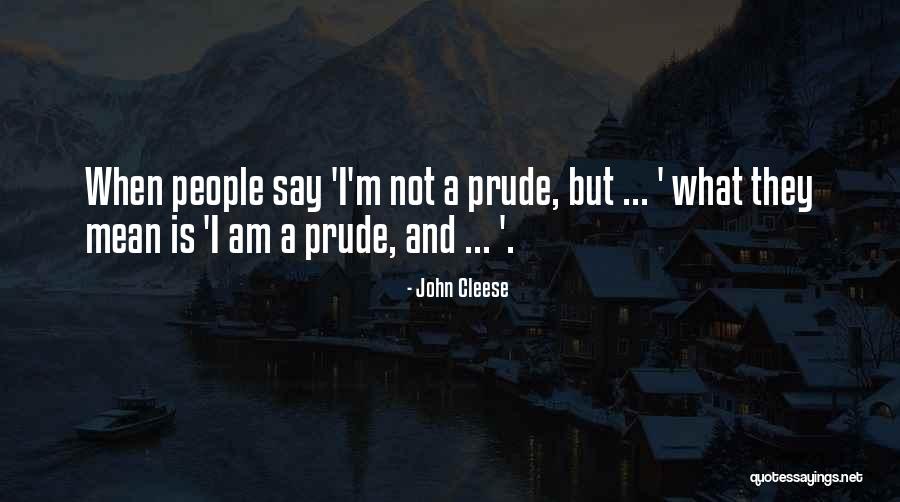 When people say 'I'm not a prude, but ... ' what they mean is 'I am a prude, and ... '. — John Cleese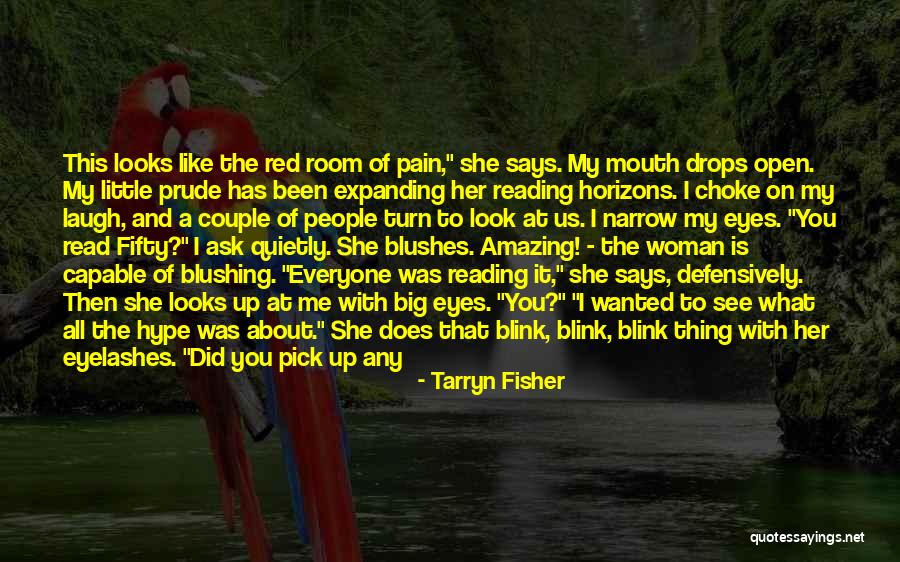 This looks like the red room of pain," she says. My mouth drops open. My little prude has been expanding her reading horizons. I choke on my laugh, and a couple of people turn to look at us. I narrow my eyes. "You read Fifty?" I ask quietly. She blushes. Amazing! - the woman is capable of blushing. "Everyone was reading it," she says, defensively. Then she looks up at me with big eyes.
"You?" "I wanted to see what all the hype was about." She does that blink, blink, blink thing with her eyelashes. "Did you pick up any new techniques?" she says, without looking at me. I squeeze her hand. "Would you like to try me out and see?" She turns her face away, pressing her lips together - horribly embarrassed. — Tarryn Fisher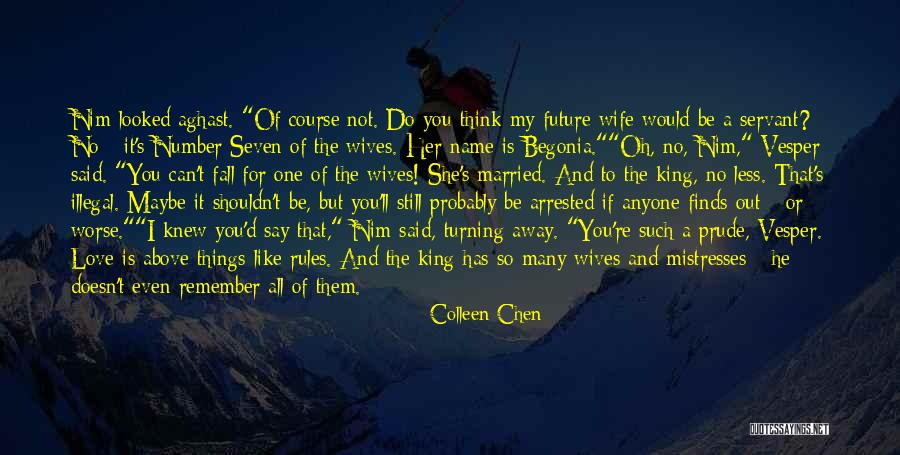 Nim looked aghast. "Of course not. Do you think my future wife would be a servant? No - it's Number Seven of the wives. Her name is Begonia."
"Oh, no, Nim," Vesper said. "You can't fall for one of the wives! She's married. And to the king, no less. That's illegal. Maybe it shouldn't be, but you'll still probably be arrested if anyone finds out - or worse."
"I knew you'd say that," Nim said, turning away. "You're such a prude, Vesper. Love is above things like rules. And the king has so many wives and mistresses - he doesn't even remember all of them. — Colleen Chen
Holmes, I'm a 24 year old prude. — Laurie R. King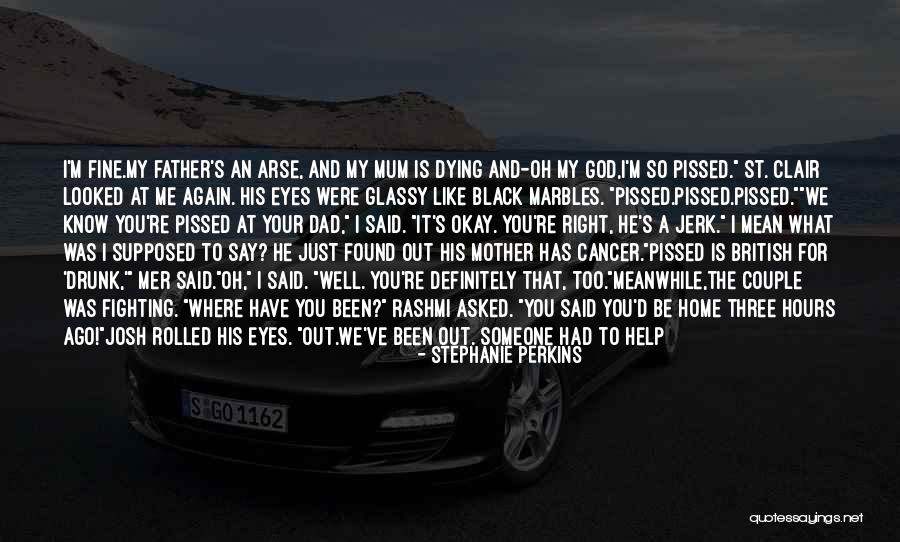 I'm fine.My father's an arse, and my mum is dying and-oh my God,I'm so pissed." St. Clair looked at me again. His eyes were glassy like black marbles. "Pissed.Pissed.Pissed."
"We know you're pissed at your dad," I said. "It's okay. You're right, he's a jerk." I mean what was I supposed to say? He just found out his mother has cancer.
"Pissed is British for 'drunk,'" Mer said.
"Oh," I said. "Well. You're definitely that, too."
Meanwhile,The Couple was fighting. "Where have you been?" Rashmi asked. "You said you'd be home three hours ago!"
Josh rolled his eyes. "Out.We've been out. Someone had to help him-"
"And you call that helping? He's completely wasted. Catatonic. And you! God,you smell like car exhaust and armpits-"
"He couldn't drink alone."
"You were supposed to be watching out for him! What if something happened?"
"Beer. Liquor. Thatsswhat happened. Don't be such a prude,Rash. — Stephanie Perkins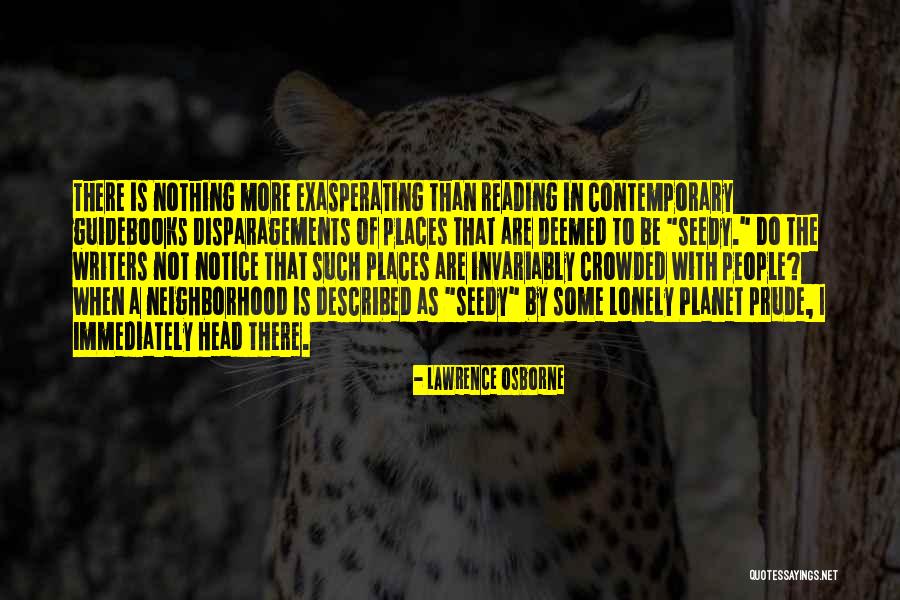 There is nothing more exasperating than reading in contemporary guidebooks disparagements of places that are deemed to be "seedy." Do the writers not notice that such places are invariably crowded with people? When a neighborhood is described as "seedy" by some Lonely Planet prude, I immediately head there. — Lawrence Osborne
Before High School Musical, I wanted to be a nitty-gritty actress. And High School Musical came along, and, I was like, "Oh my God, fun!" But the more we did it, the more prude I became ... When I am around kids and they come up to me, of course I am going to act a certain way, but at the end of the day, I'm doing this for myself. I'm going to be doing movies kids can't watch. — Vanessa Hudgens
I have always been kind of a prude. But kissing is harmless to me, and sometimes a kiss can tell if it's even worth seeing that person again! — Whitney Port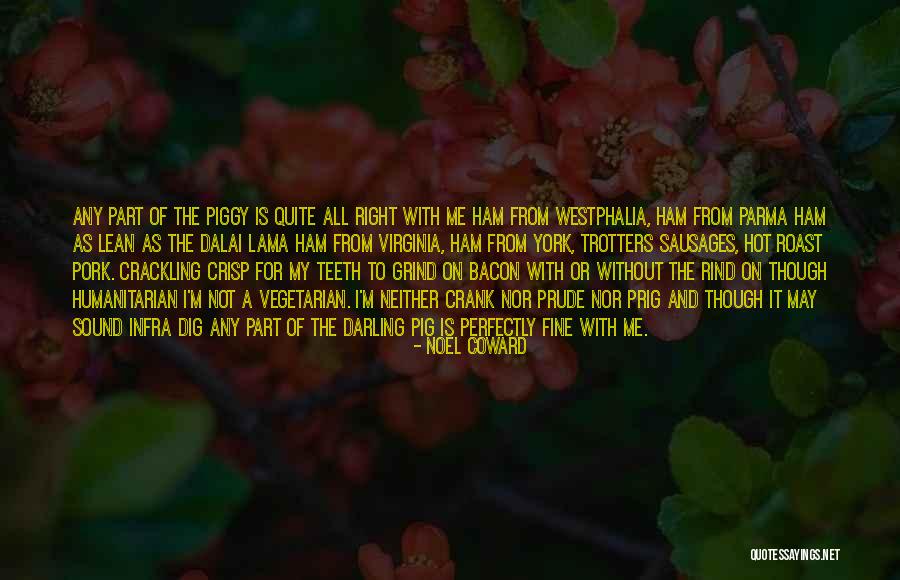 Any part of the piggy Is quite all right with me Ham from Westphalia, ham from Parma Ham as lean as the Dalai Lama Ham from Virginia, ham from York, Trotters Sausages, hot roast pork. Crackling crisp for my teeth to grind on Bacon with or without the rind on Though humanitarian I'm not a vegetarian. I'm neither crank nor prude nor prig And though it may sound infra dig Any part of the darling pig Is perfectly fine with me. — Noel Coward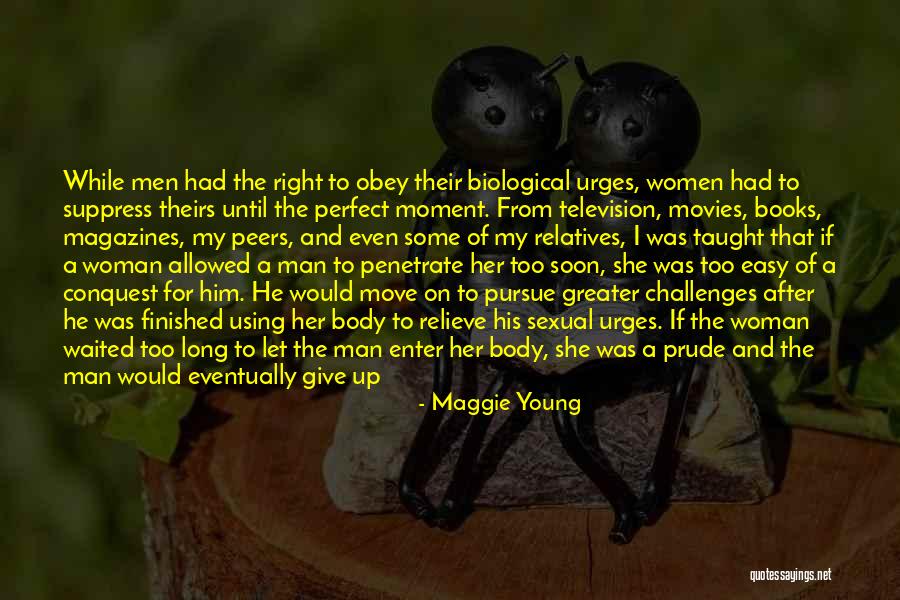 While men had the right to obey their biological urges, women had to suppress theirs until the perfect moment. From television, movies, books, magazines, my peers, and even some of my relatives, I was taught that if a woman allowed a man to penetrate her too soon, she was too easy of a conquest for him. He would move on to pursue greater challenges after he was finished using her body to relieve his sexual urges. If the woman waited too long to let the man enter her body, she was a prude and the man would eventually give up on her. Women needed to time this process perfectly so that she could "keep" a man in her life at all times.
It was the man's goal to catch the woman and the woman's goal to keep the man. — Maggie Young
OK, I'm not what you'd call 'wild.' But I'm no prude, either - I love to party, and I play a mean game of pool. — Shilpa Shetty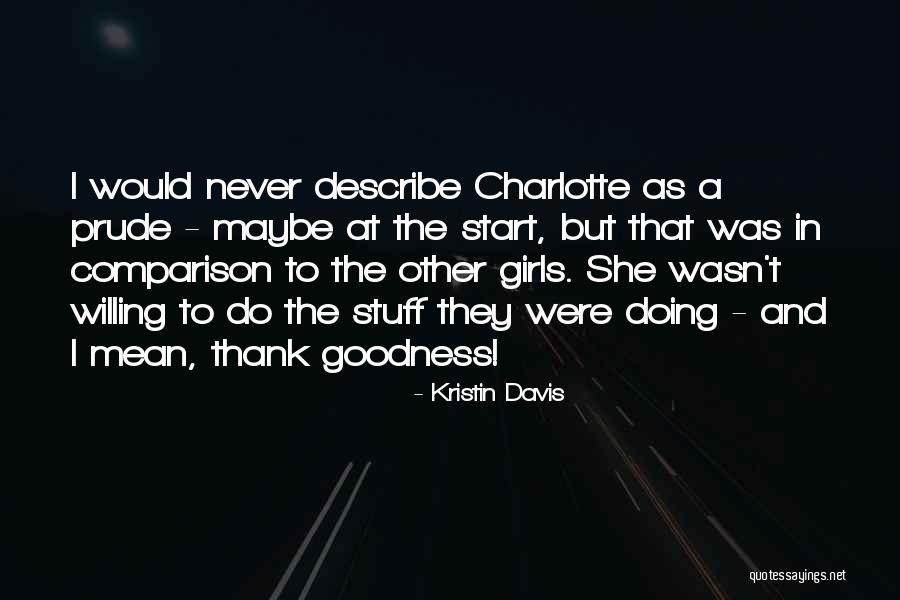 I would never describe Charlotte as a prude - maybe at the start, but that was in comparison to the other girls. She wasn't willing to do the stuff they were doing - and I mean, thank goodness! — Kristin Davis
You could be a gambler. A thief, for all I know. Besides - " He captured her hand and stopped
her from walking on, holding her in place.
"Besides what, you insufferable prude?"
"Prude, eh? Do you need another kiss to remind you what a prude I am?"
"Don't you dare."
"Then don't call me names."
"You started it. — Gaelen Foley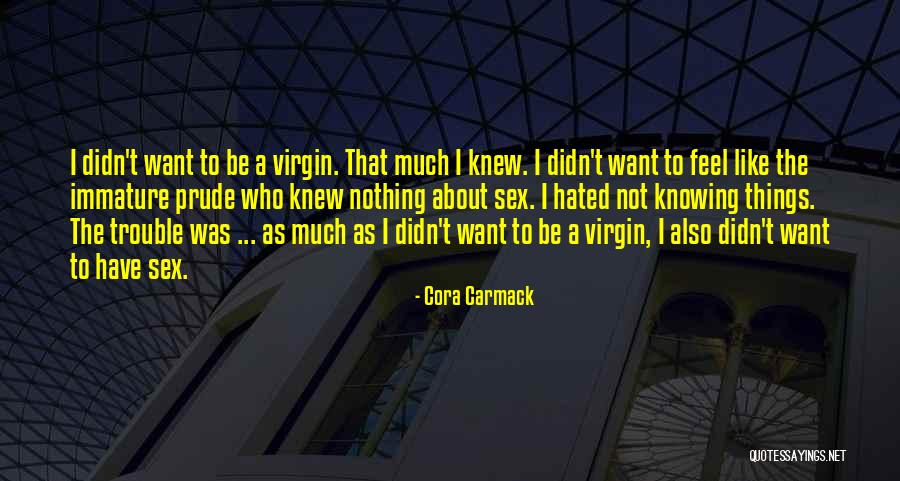 I didn't want to be a virgin. That much I knew. I didn't want to feel like the immature prude who knew nothing about sex. I hated not knowing things. The trouble was ... as much as I didn't want to be a virgin, I also didn't want to have sex. — Cora Carmack
I don't like swearing on the air. As a matter of fact, I'm not a prude, but ... I watch HBO and some of the comedy stuff, and I'm constantly asking myself, 'Why have we gone there?' It seems like it's unfortunate. It's so cheap. It's so easy. — Brian Lamb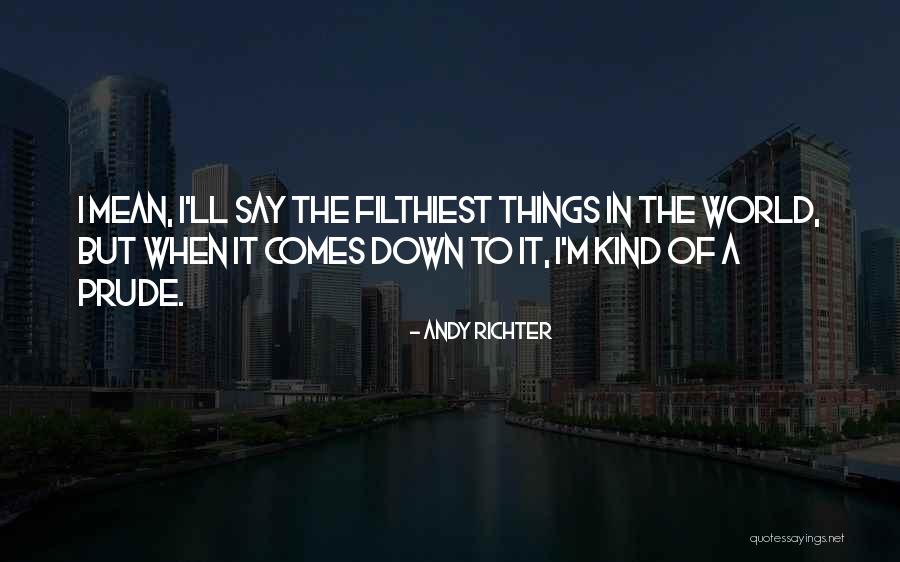 I mean, I'll say the filthiest things in the world, but when it comes down to it, I'm kind of a prude. — Andy Richter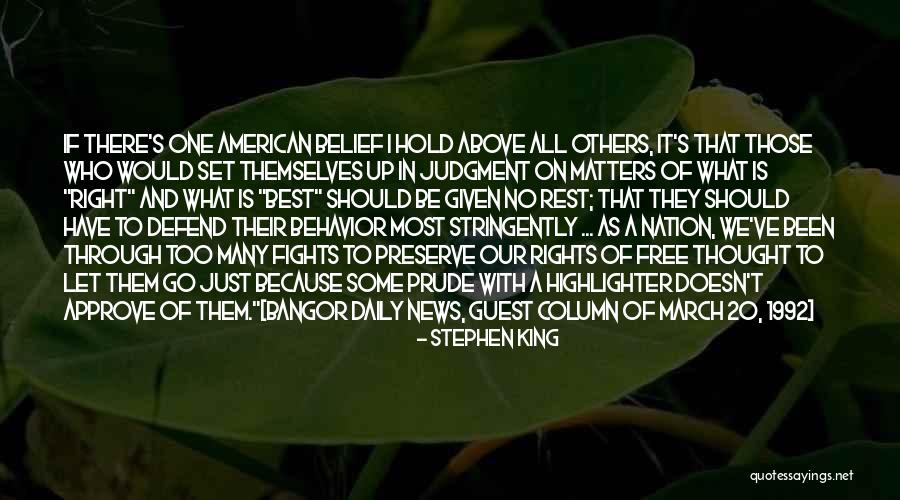 If there's one American belief I hold above all others, it's that those who would set themselves up in judgment on matters of what is "right" and what is "best" should be given no rest; that they should have to defend their behavior most stringently ... As a nation, we've been through too many fights to preserve our rights of free thought to let them go just because some prude with a highlighter doesn't approve of them."
[Bangor Daily News, Guest Column of March 20, 1992] — Stephen King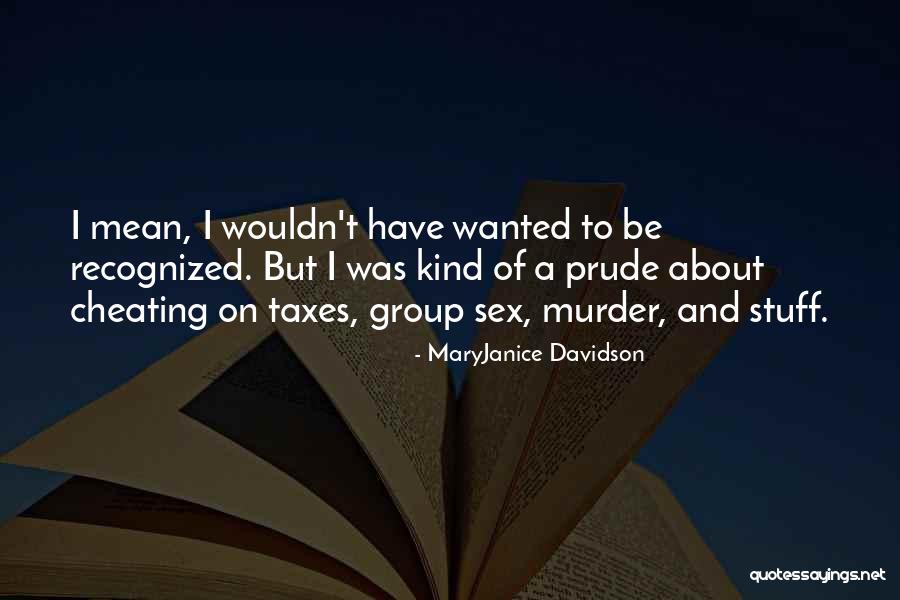 I mean, I wouldn't have wanted to be recognized. But I was kind of a prude about cheating on taxes, group sex, murder, and stuff. — MaryJanice Davidson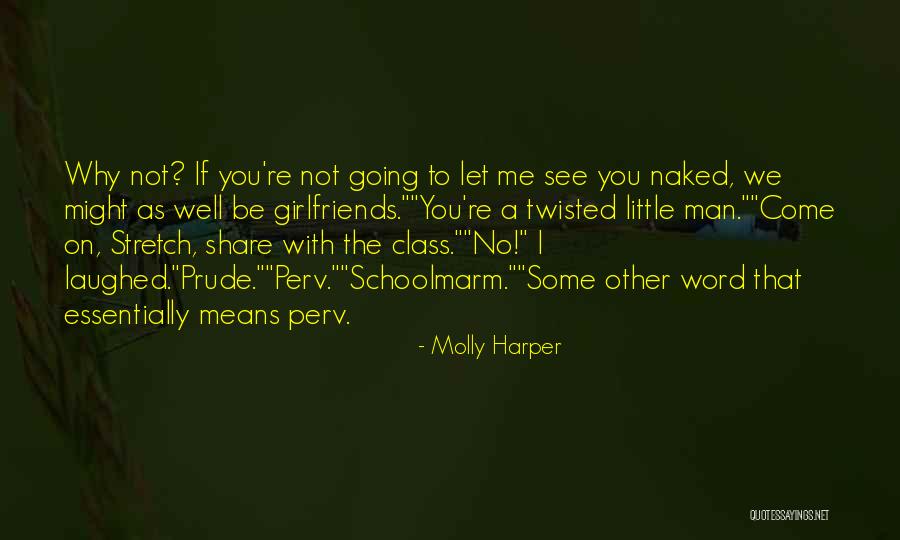 Why not? If you're not going to let me see you naked, we might as well be girlfriends."
"You're a twisted little man."
"Come on, Stretch, share with the class."
"No!" I laughed.
"Prude."
"Perv."
"Schoolmarm."
"Some other word that essentially means perv. — Molly Harper