Hurt Offended Quotes & Sayings
Enjoy reading and share 35 famous quotes about Hurt Offended with everyone.
Top Hurt Offended Quotes
When I showed her my well-worn copy of Stormy Weather she reacted in a way I hadn't anticipated, she was offended by it - hurt, even. Why was everybody black? It was unkind, she said, to have only black people in a film, it wasn't fair. Maybe in America you could do that, but not here, in England, where everybody was equal anyway and there was no need to "go on about it." And — Zadie Smith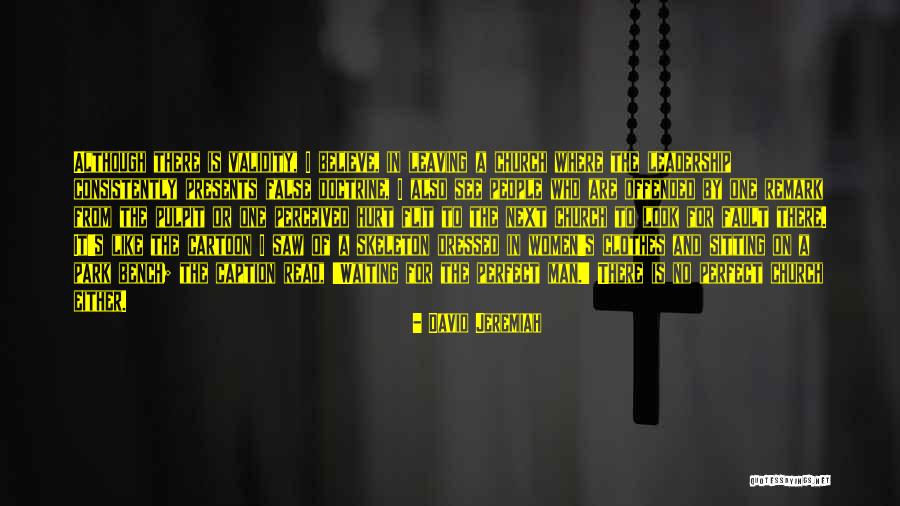 Although there is validity, I believe, in leaving a church where the leadership consistently presents false doctrine, I also see people who are offended by one remark from the pulpit or one perceived hurt flit to the next church to look for fault there. It's like the cartoon I saw of a skeleton dressed in women's clothes and sitting on a park bench; the caption read, 'Waiting for the perfect man.' There is no perfect church either. — David Jeremiah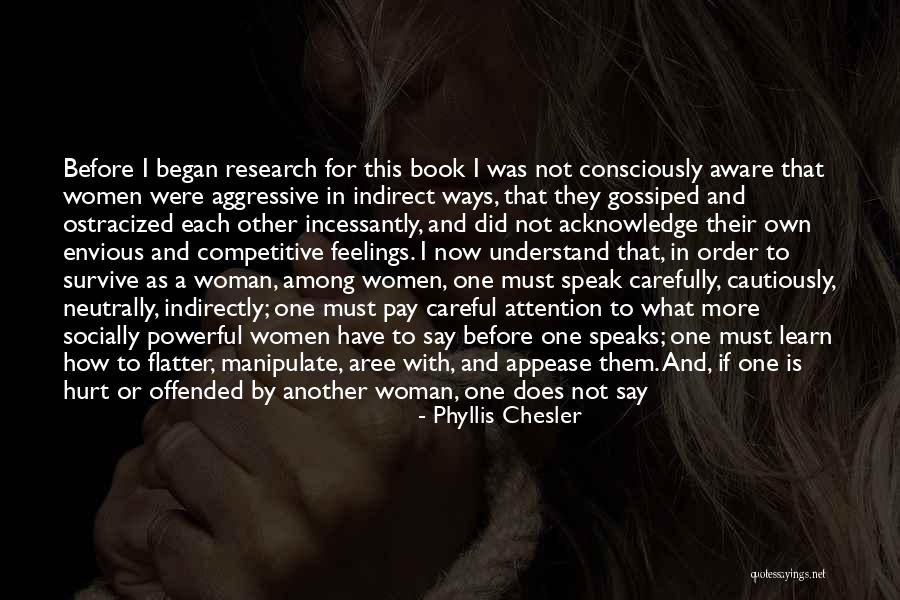 Before I began research for this book I was not consciously aware that women were aggressive in indirect ways, that they gossiped and ostracized each other incessantly, and did not acknowledge their own envious and competitive feelings. I now understand that, in order to survive as a woman, among women, one must speak carefully, cautiously, neutrally, indirectly; one must pay careful attention to what more socially powerful women have to say before one speaks; one must learn how to flatter, manipulate, aree with, and appease them. And, if one is hurt or offended by another woman, one does not say so outright; one expresses it indirectly, by turning others against her.
Of course, I refuse to learn these "girlish" lessons. — Phyllis Chesler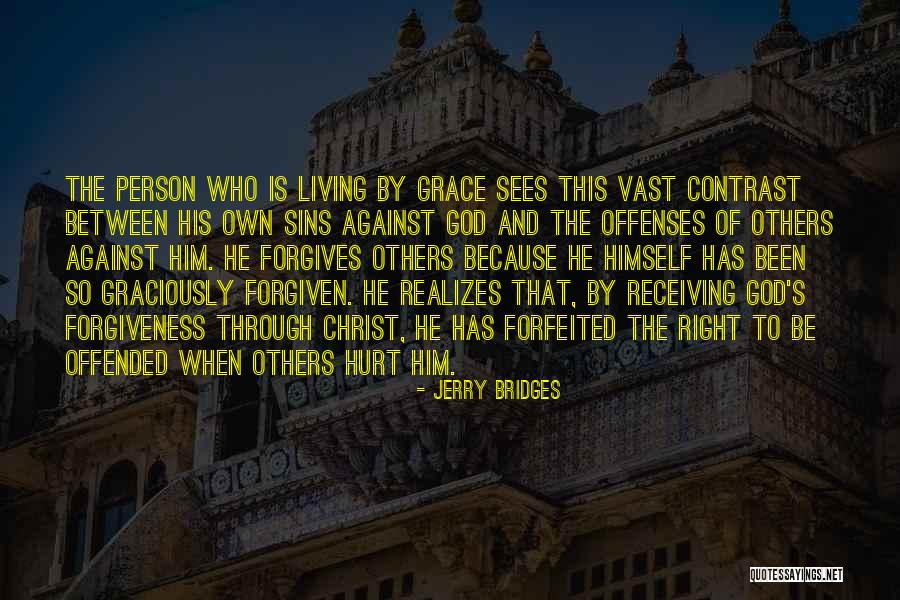 The person who is living by grace sees this vast contrast between his own sins against God and the offenses of others against him. He forgives others because he himself has been so graciously forgiven. He realizes that, by receiving God's forgiveness through Christ, he has forfeited the right to be offended when others hurt him. — Jerry Bridges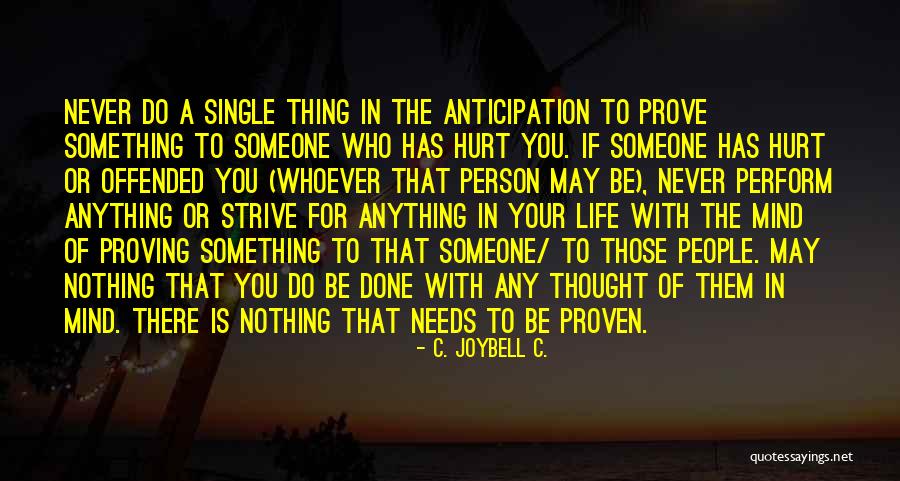 Never do a single thing in the anticipation to prove something to someone who has hurt you. If someone has hurt or offended you (whoever that person may be), never perform anything or strive for anything in your life with the mind of proving something to that someone/ to those people. May nothing that you do be done with any thought of them in mind. There is nothing that needs to be proven. — C. JoyBell C.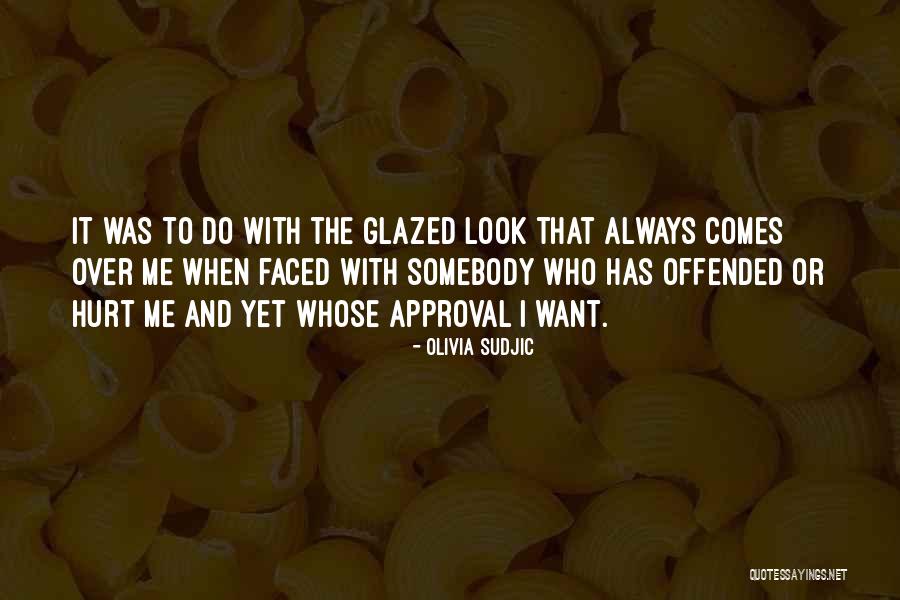 It was to do with the glazed look that always comes over me when faced with somebody who has offended or hurt me and yet whose approval I want. — Olivia Sudjic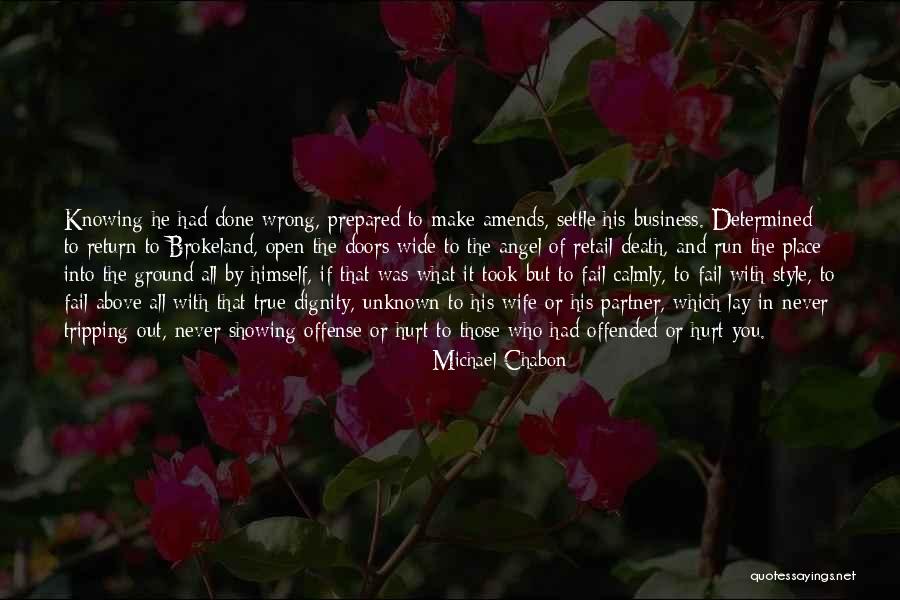 Knowing he had done wrong, prepared to make amends, settle his business. Determined to return to Brokeland, open the doors wide to the angel of retail death, and run the place into the ground all by himself, if that was what it took-but to fail calmly, to fail with style, to fail above all with that true dignity, unknown to his wife or his partner, which lay in never tripping out, never showing offense or hurt to those who had offended or hurt you. — Michael Chabon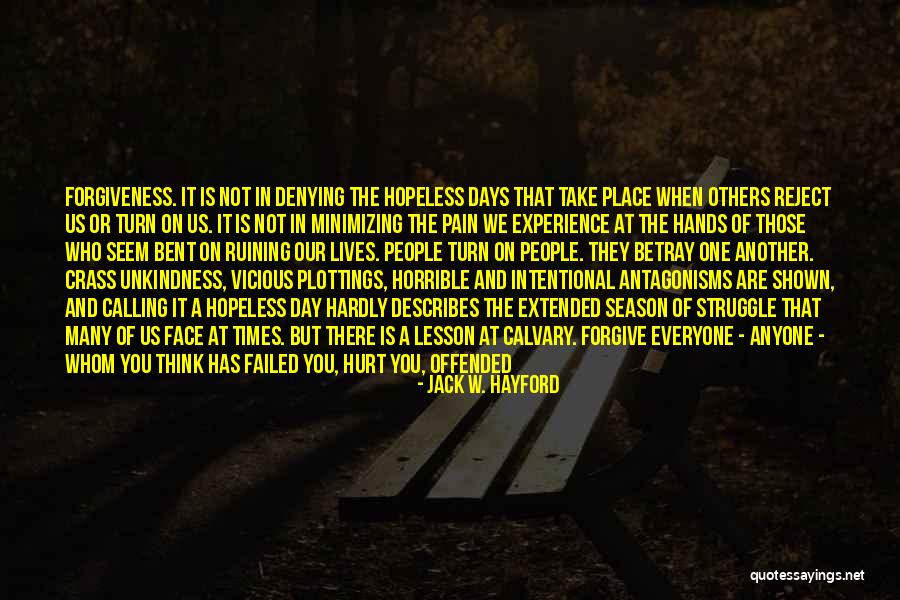 forgiveness. It is not in denying the hopeless days that take place when others reject us or turn on us. It is not in minimizing the pain we experience at the hands of those who seem bent on ruining our lives. People turn on people. They betray one another. Crass unkindness, vicious plottings, horrible and intentional antagonisms are shown, and calling it a hopeless day hardly describes the extended season of struggle that many of us face at times. But there is a lesson at Calvary. Forgive everyone - anyone - whom you think has failed you, hurt you, offended you. If you think they've done anything to ruin your day, ruin your life, ruin your opportunities, ruin your dreams, or block your goals - forgive them. Forgiving others is the key to living in the liberty of the freeing forgiveness Jesus has given us, and it's the first step toward finding hope for a hopeless day, not to mention opening the door to new days unimagined. — Jack W. Hayford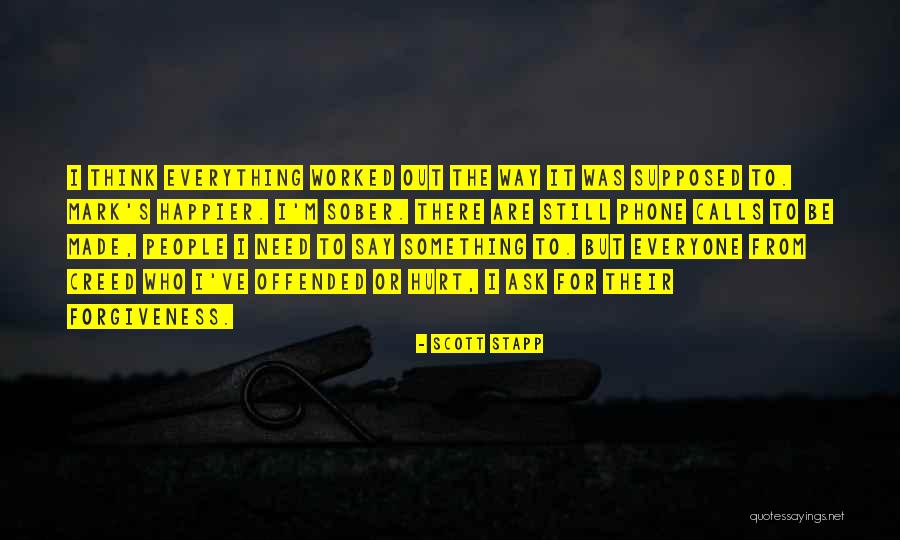 I think everything worked out the way it was supposed to. Mark's happier. I'm sober. There are still phone calls to be made, people I need to say something to. But everyone from Creed who I've offended or hurt, I ask for their forgiveness. — Scott Stapp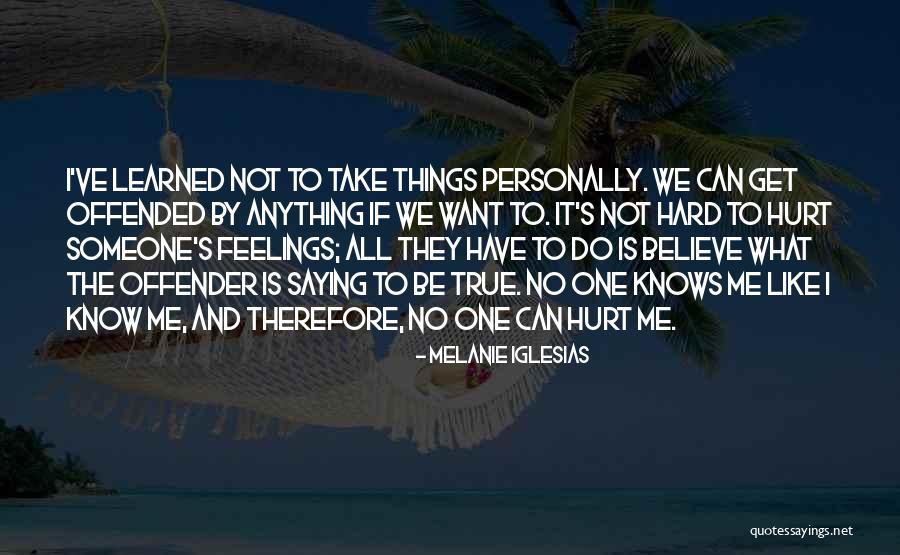 I've learned not to take things personally. We can get offended by anything if we want to. It's not hard to hurt someone's feelings; all they have to do is believe what the offender is saying to be true. No one knows me like I know me, and therefore, no one can hurt me. — Melanie Iglesias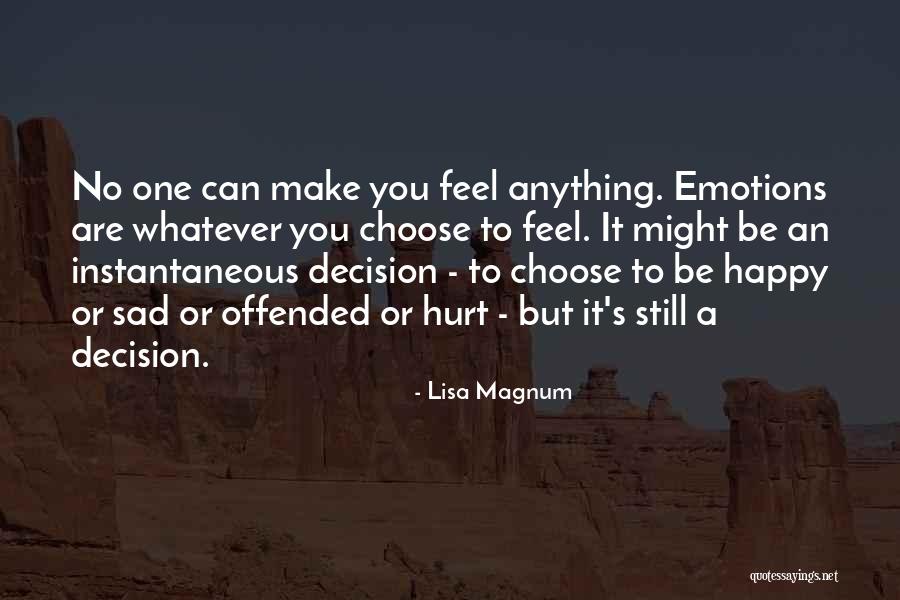 No one can make you feel anything. Emotions are whatever you choose to feel. It might be an instantaneous decision - to choose to be happy or sad or offended or hurt - but it's still a decision. — Lisa Magnum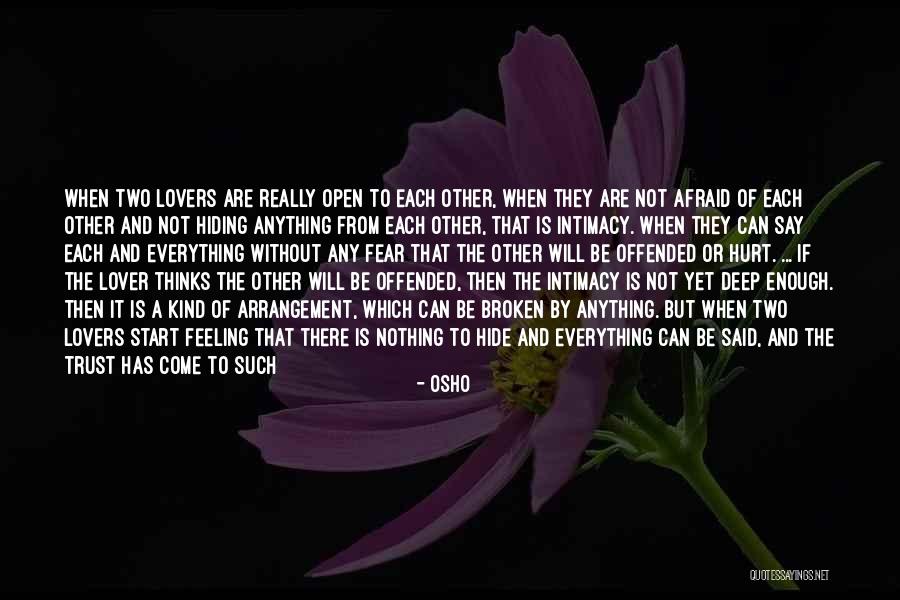 When two lovers are really open to each other, when they are not afraid of each other and not hiding anything from each other, that is intimacy. When they can say each and everything without any fear that the other will be offended or hurt. ... If the lover thinks the other will be offended, then the intimacy is not yet deep enough. Then it is a kind of arrangement, which can be broken by anything. But when two lovers start feeling that there is nothing to hide and everything can be said, and the trust has come to such a depth where even if you don't say it the other is going to know, then they start becoming one. — Osho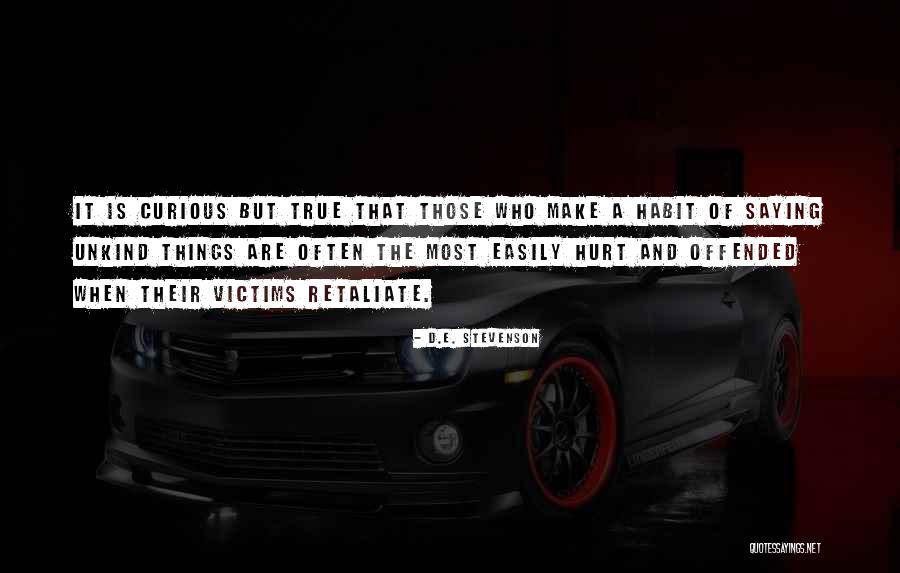 It is curious but true that those who make a habit of saying unkind things are often the most easily hurt and offended when their victims retaliate. — D.E. Stevenson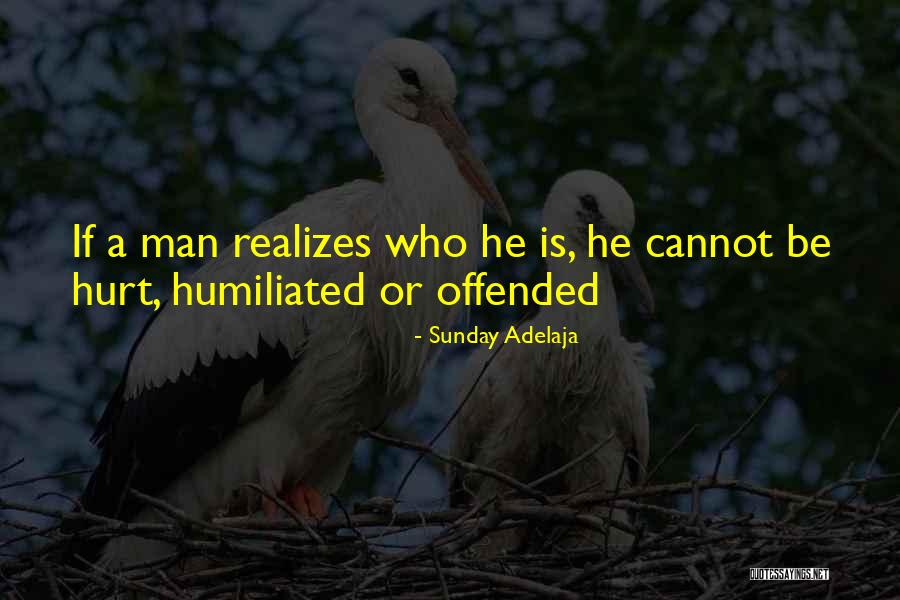 If a man realizes who he is, he cannot be hurt, humiliated or offended — Sunday Adelaja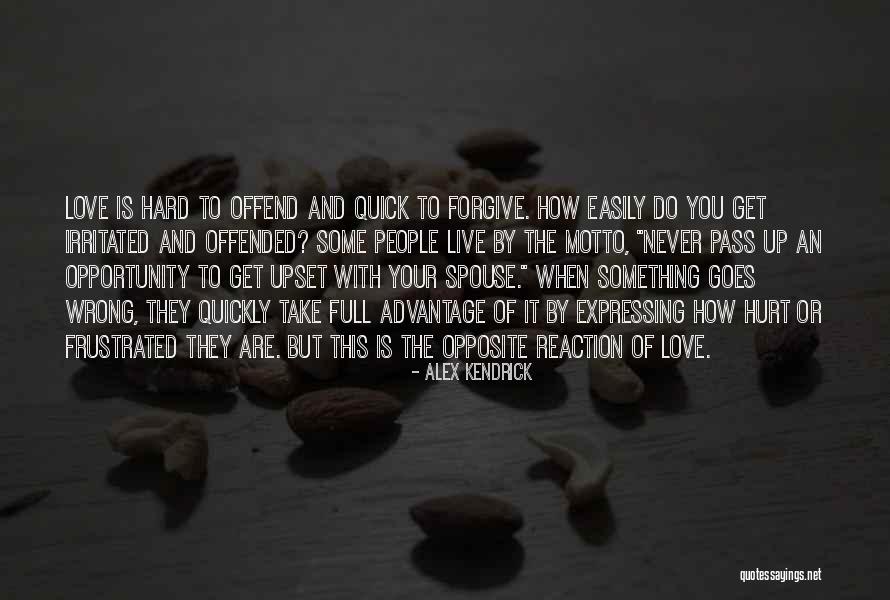 Love is hard to offend and quick to forgive. How easily do you get irritated and offended? Some people live by the motto, "Never pass up an opportunity to get upset with your spouse." When something goes wrong, they quickly take full advantage of it by expressing how hurt or frustrated they are. But this is the opposite reaction of love. — Alex Kendrick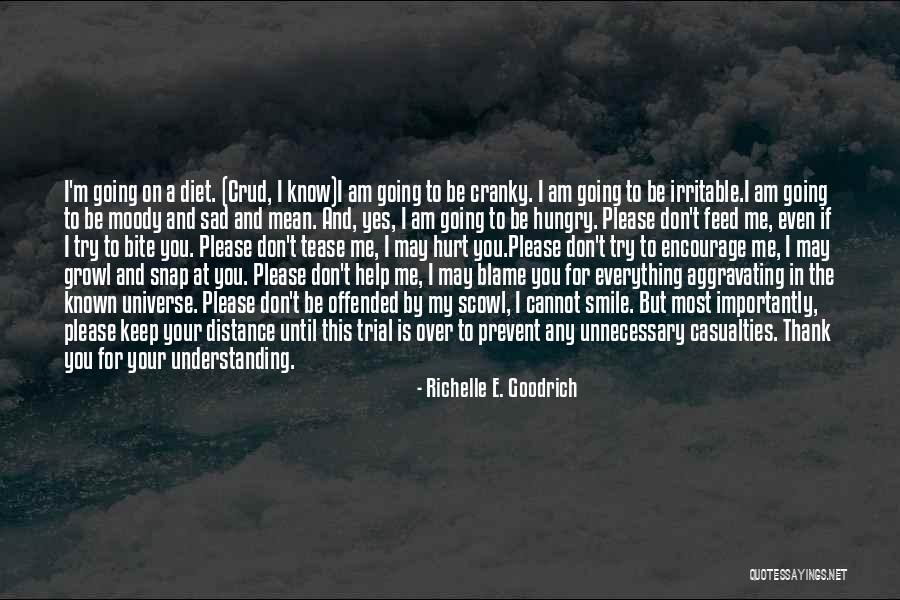 I'm going on a diet. (Crud, I know)
I am going to be cranky.
I am going to be irritable.
I am going to be moody and sad and mean.
And, yes, I am going to be hungry.
Please don't feed me, even if I try to bite you.
Please don't tease me, I may hurt you.
Please don't try to encourage me, I may growl and snap at you.
Please don't help me, I may blame you for everything aggravating in the known universe.
Please don't be offended by my scowl, I cannot smile.
But most importantly, please keep your distance until this trial is over to prevent any unnecessary casualties.
Thank you for your understanding. — Richelle E. Goodrich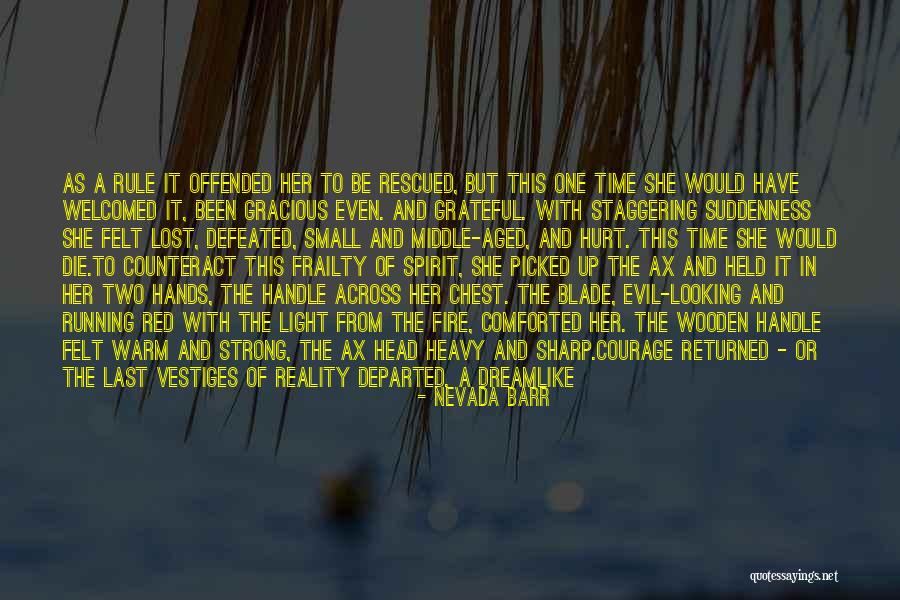 As a rule it offended her to be rescued, but this one time she would have welcomed it, been gracious even. And grateful. With staggering suddenness she felt lost, defeated, small and middle-aged, and hurt. This time she would die.

To counteract this frailty of spirit, she picked up the ax and held it in her two hands, the handle across her chest. The blade, evil-looking and running red with the light from the fire, comforted her. The wooden handle felt warm and strong, the ax head heavy and sharp.

Courage returned - or the last vestiges of reality departed. A dreamlike quality took over; a nightmare, but one experienced from the point of view of the monster. Anna was not afraid. She felt very little either internally or externally. — Nevada Barr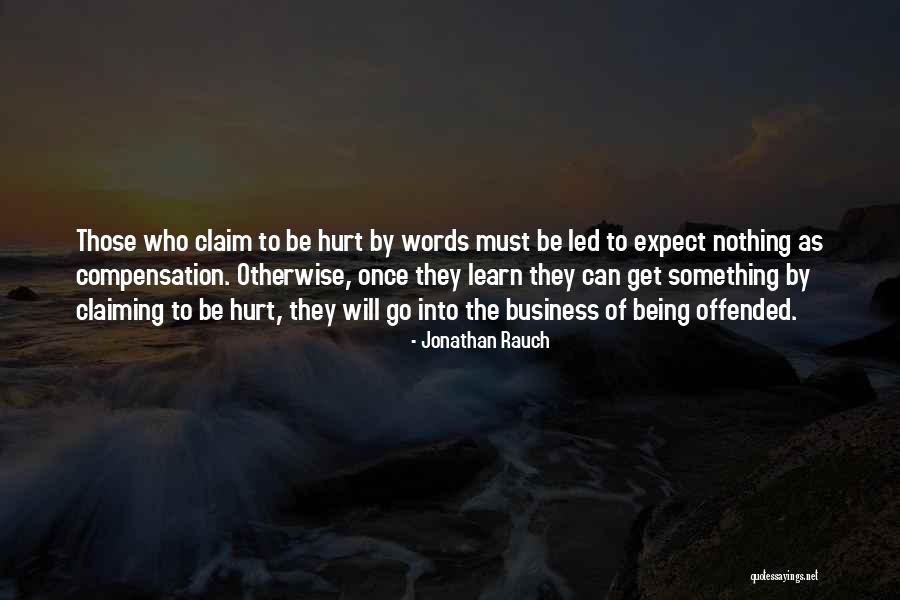 Those who claim to be hurt by words must be led to expect nothing as compensation. Otherwise, once they learn they can get something by claiming to be hurt, they will go into the business of being offended. — Jonathan Rauch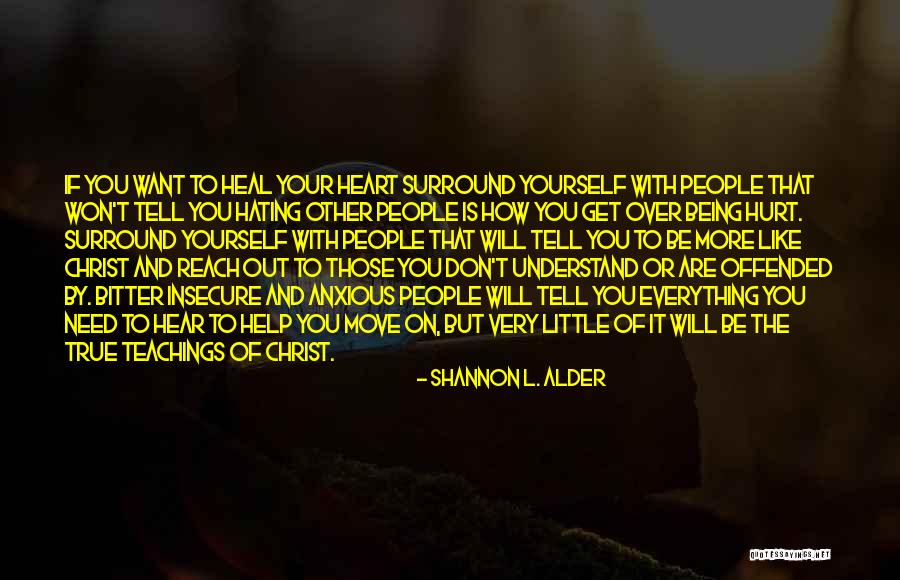 If you want to heal your heart surround yourself with people that won't tell you hating other people is how you get over being hurt. Surround yourself with people that will tell you to be more like Christ and reach out to those you don't understand or are offended by. Bitter insecure and anxious people will tell you everything you need to hear to help you move on, but very little of it will be the true teachings of Christ. — Shannon L. Alder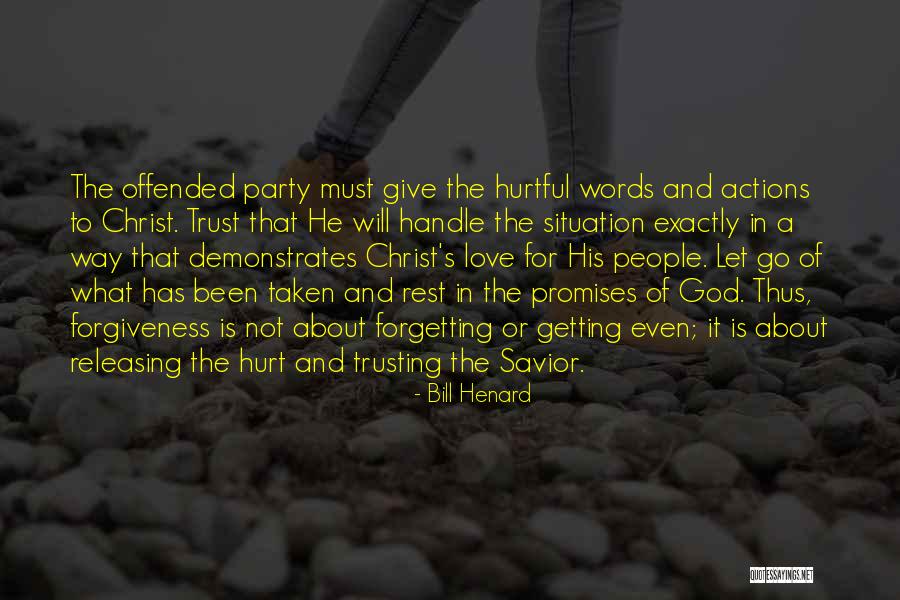 The offended party must give the hurtful words and actions to Christ. Trust that He will handle the situation exactly in a way that demonstrates Christ's love for His people. Let go of what has been taken and rest in the promises of God. Thus, forgiveness is not about forgetting or getting even; it is about releasing the hurt and trusting the Savior. — Bill Henard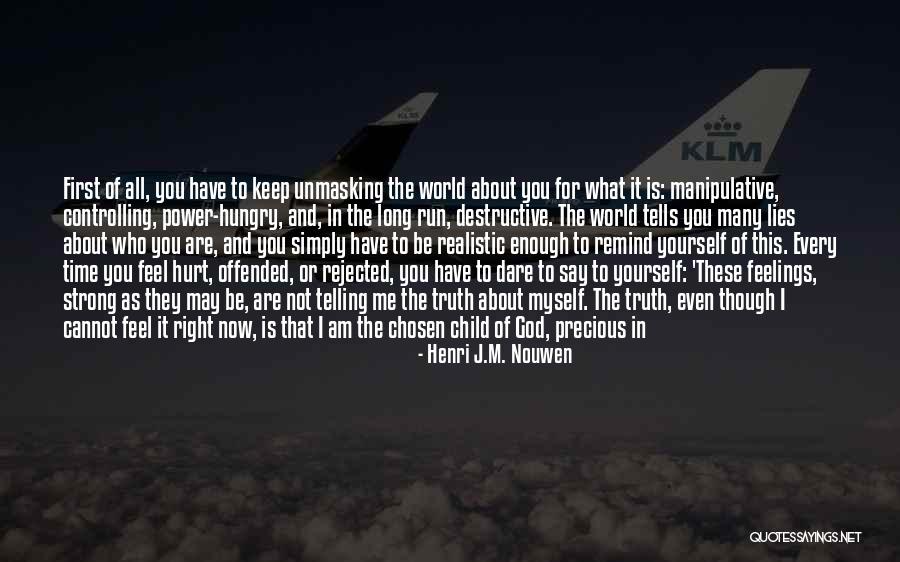 First of all, you have to keep unmasking the world about you for what it is: manipulative, controlling, power-hungry, and, in the long run, destructive. The world tells you many lies about who you are, and you simply have to be realistic enough to remind yourself of this. Every time you feel hurt, offended, or rejected, you have to dare to say to yourself: 'These feelings, strong as they may be, are not telling me the truth about myself. The truth, even though I cannot feel it right now, is that I am the chosen child of God, precious in God's eyes, called the Beloved from all eternity, and held safe in an everlasting belief. — Henri J.M. Nouwen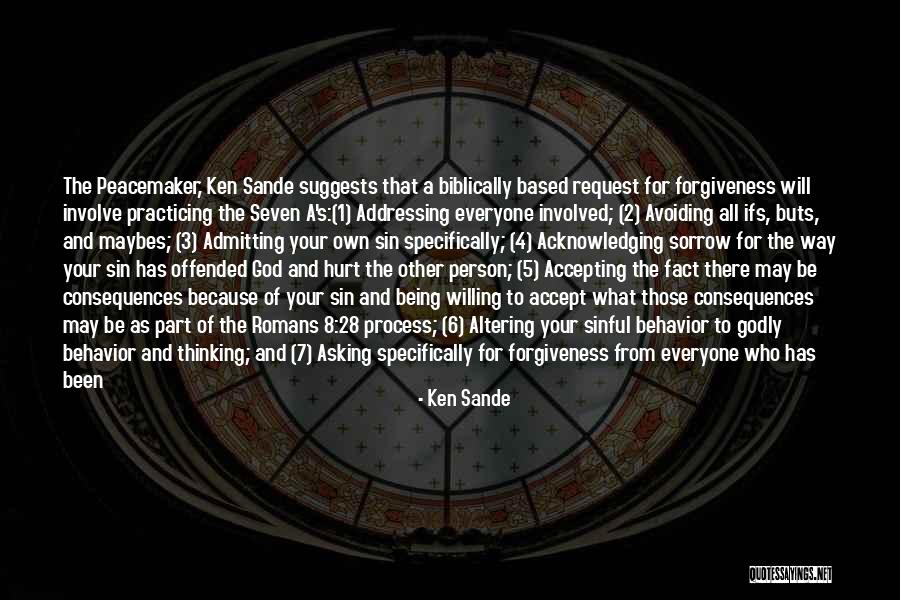 The Peacemaker, Ken Sande suggests that a biblically based request for forgiveness will involve practicing the Seven A's:
(1) Addressing everyone involved;
(2) Avoiding all ifs, buts, and maybes;
(3) Admitting your own sin specifically;
(4) Acknowledging sorrow for the way your sin has offended God and hurt the other person;
(5) Accepting the fact there may be consequences because of your sin and being willing to accept what those consequences may be as part of the Romans 8:28 process;
(6) Altering your sinful behavior to godly behavior and thinking; and
(7) Asking specifically for forgiveness from everyone who has been hurt by your sin; — Ken Sande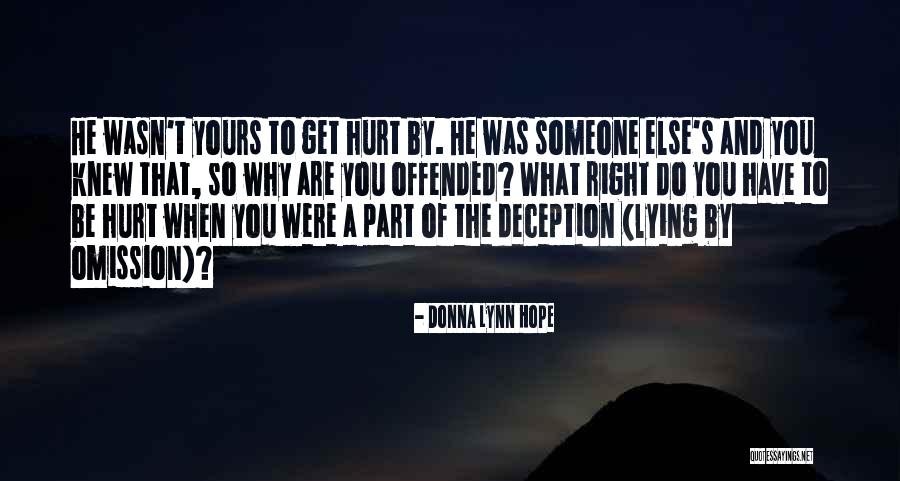 He wasn't yours to get hurt by. He was someone else's and you knew that, so why are you offended? What right do you have to be hurt when you were a part of the deception (lying by omission)? — Donna Lynn Hope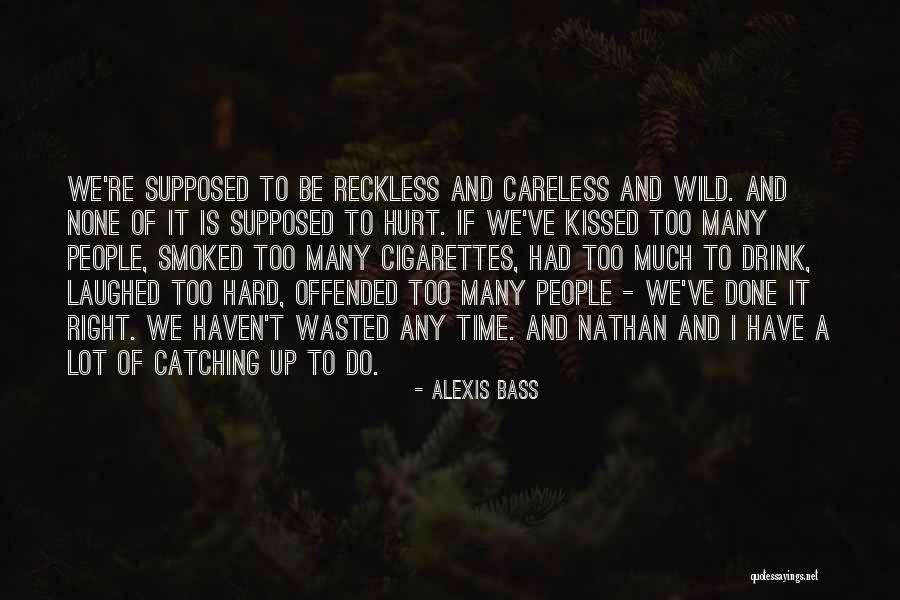 We're supposed to be reckless and careless and wild. And none of it is supposed to hurt. If we've kissed too many people, smoked too many cigarettes, had too much to drink, laughed too hard, offended too many people - we've done it right. We haven't wasted any time. And Nathan and I have a lot of catching up to do. — Alexis Bass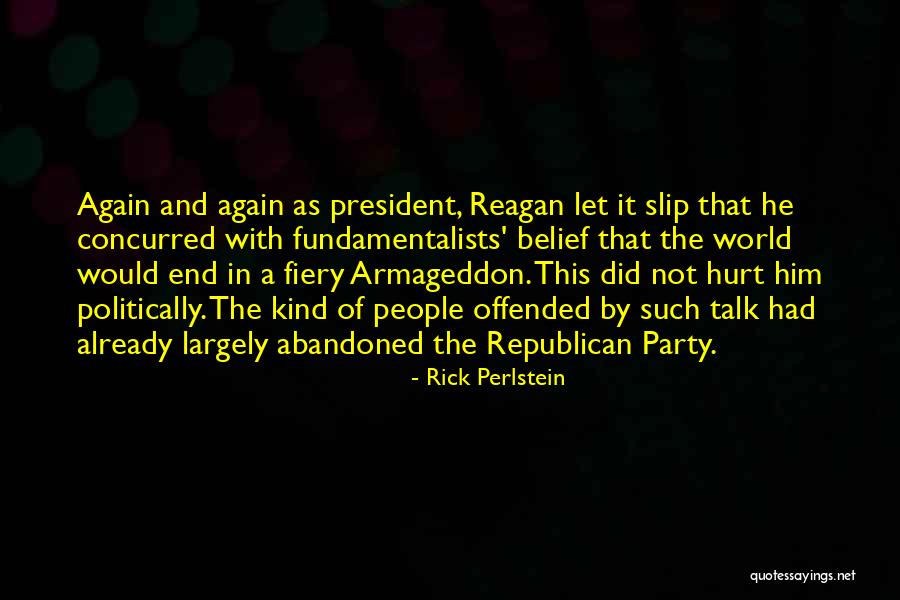 Again and again as president, Reagan let it slip that he concurred with fundamentalists' belief that the world would end in a fiery Armageddon. This did not hurt him politically. The kind of people offended by such talk had already largely abandoned the Republican Party. — Rick Perlstein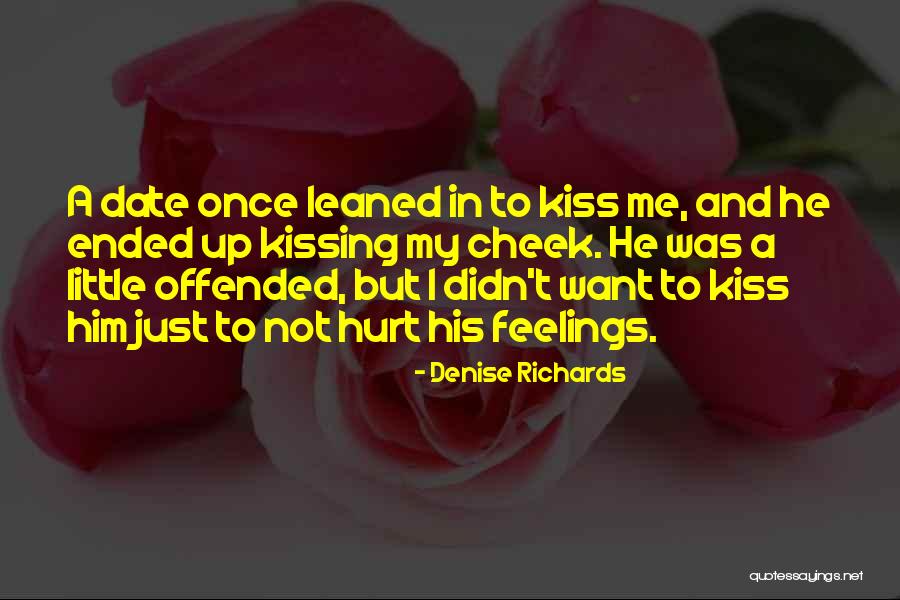 A date once leaned in to kiss me, and he ended up kissing my cheek. He was a little offended, but I didn't want to kiss him just to not hurt his feelings. — Denise Richards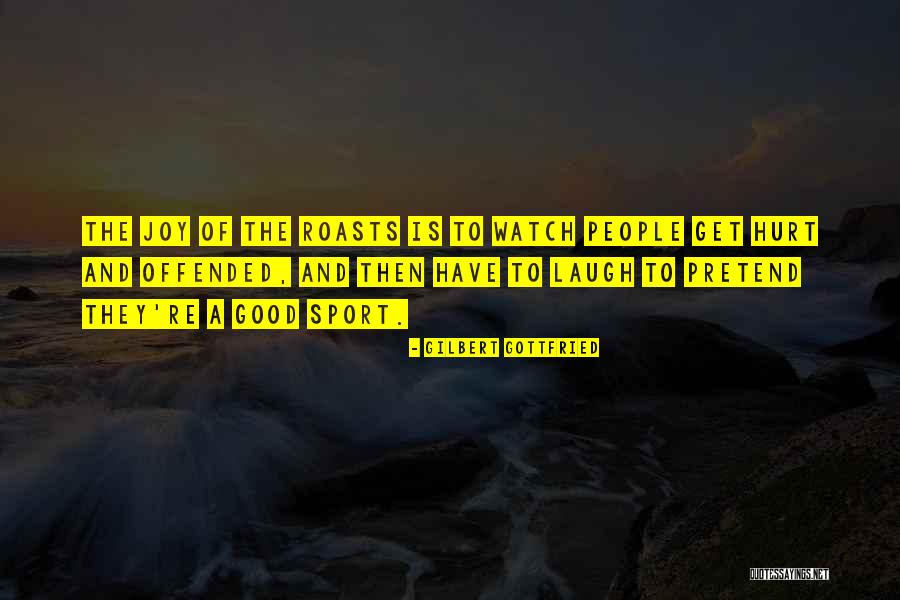 The joy of the roasts is to watch people get hurt and offended, and then have to laugh to pretend they're a good sport. — Gilbert Gottfried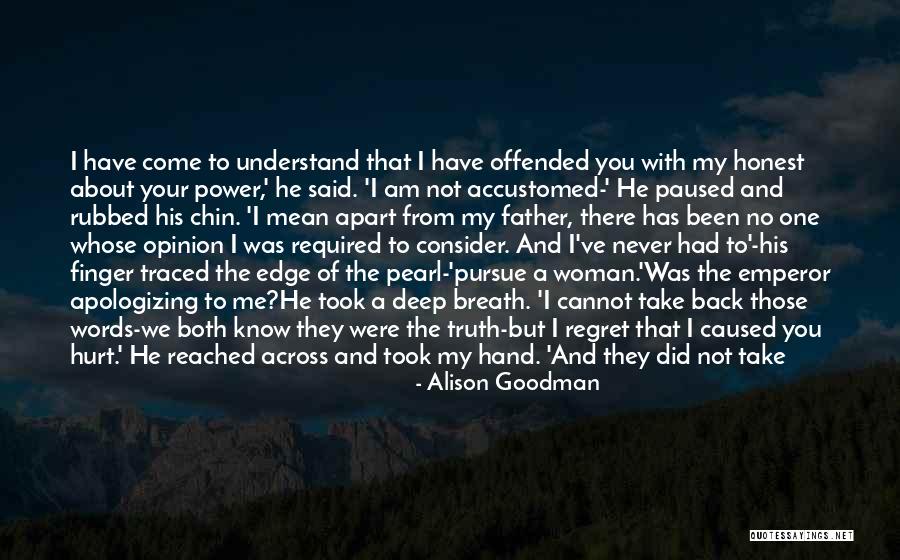 I have come to understand that I have offended you with my honest about your power,' he said. 'I am not accustomed-' He paused and rubbed his chin. 'I mean apart from my father, there has been no one whose opinion I was required to consider. And I've never had to'-his finger traced the edge of the pearl-'pursue a woman.'
Was the emperor apologizing to me?
He took a deep breath. 'I cannot take back those words-we both know they were the truth-but I regret that I caused you hurt.' He reached across and took my hand. 'And they did not take into account the importance I place upon your role as Niaso. Eona, you are the moon balance to my sun. — Alison Goodman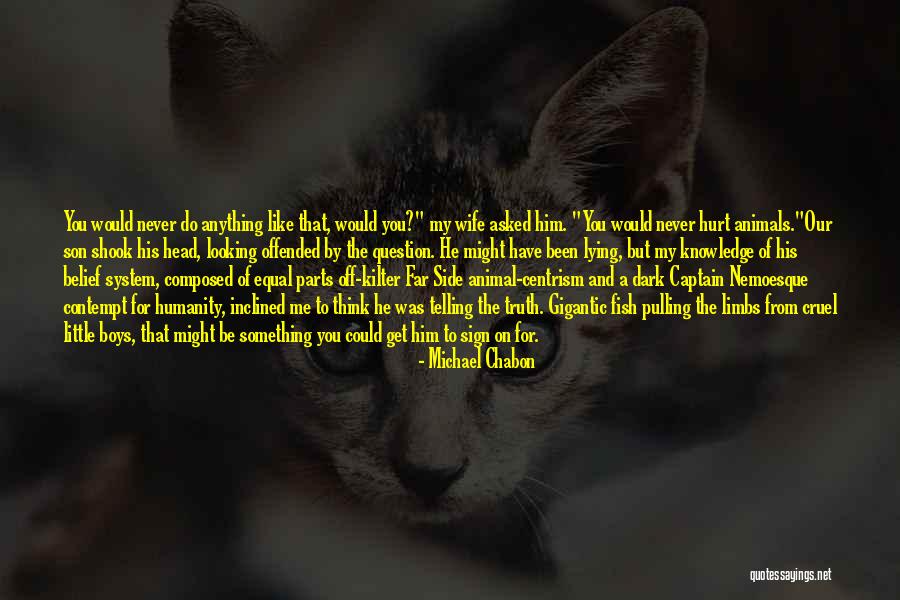 You would never do anything like that, would you?" my wife asked him. "You would never hurt animals."
Our son shook his head, looking offended by the question. He might have been lying, but my knowledge of his belief system, composed of equal parts off-kilter Far Side animal-centrism and a dark Captain Nemoesque contempt for humanity, inclined me to think he was telling the truth. Gigantic fish pulling the limbs from cruel little boys, that might be something you could get him to sign on for. — Michael Chabon
I was so humiliated, hurt, spurned, offended, angry, sorry
I cannot hit upon the right name for the smart
God knows what its name was
that tears started to my eyes. — Charles Dickens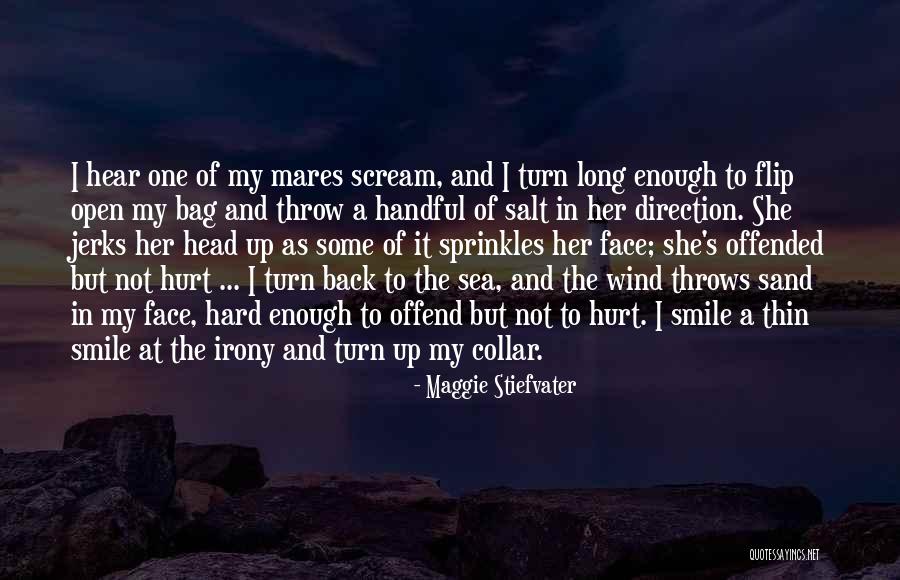 I hear one of my mares scream, and I turn long enough to flip open my bag and throw a handful of salt in her direction. She jerks her head up as some of it sprinkles her face; she's offended but not hurt ... I turn back to the sea, and the wind throws sand in my face, hard enough to offend but not to hurt. I smile a thin smile at the irony and turn up my collar. — Maggie Stiefvater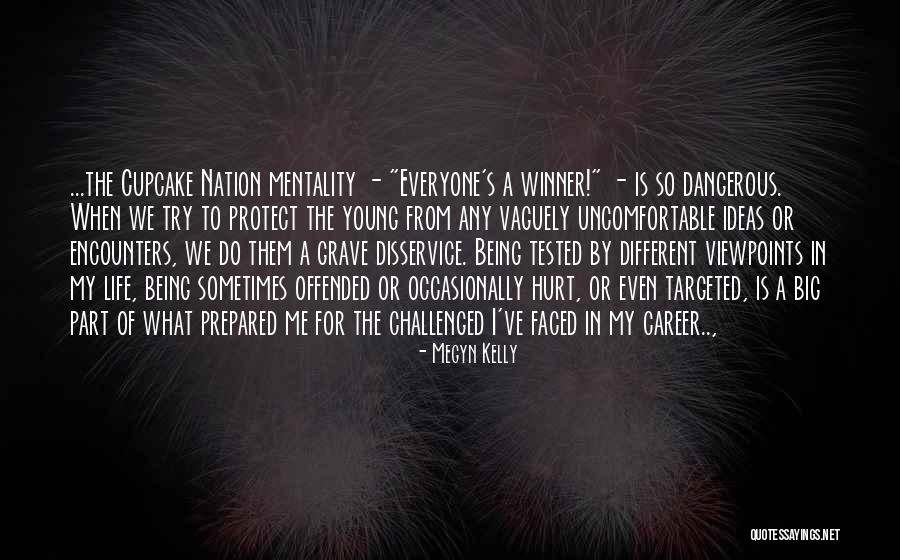 ...the Cupcake Nation mentality - "Everyone's a winner!" - is so dangerous. When we try to protect the young from any vaguely uncomfortable ideas or encounters, we do them a grave disservice. Being tested by different viewpoints in my life, being sometimes offended or occasionally hurt, or even targeted, is a big part of what prepared me for the challenged I've faced in my career.., — Megyn Kelly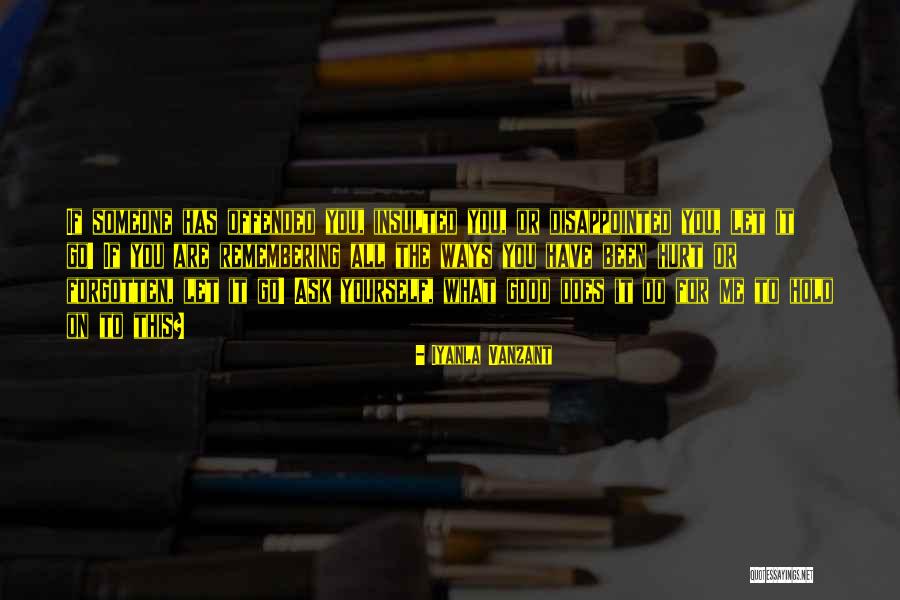 If someone has offended you, insulted you, or disappointed you, let it go! If you are remembering all the ways you have been hurt or forgotten, let it go! Ask yourself, what good does it do for me to hold on to this? — Iyanla Vanzant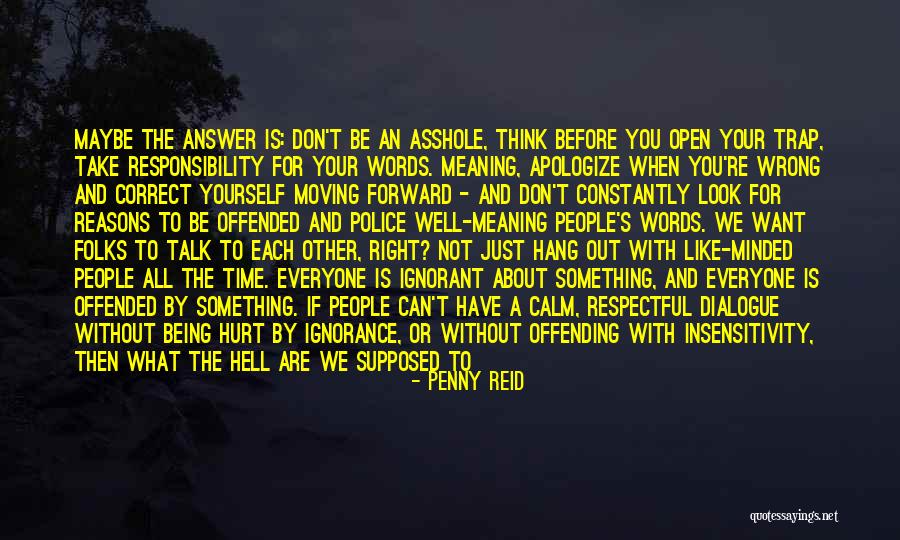 Maybe the answer is: Don't be an asshole, think before you open your trap, take responsibility for your words. Meaning, apologize when you're wrong and correct yourself moving forward - and don't constantly look for reasons to be offended and police well-meaning people's words. We want folks to talk to each other, right? Not just hang out with like-minded people all the time. Everyone is ignorant about something, and everyone is offended by something. If people can't have a calm, respectful dialogue without being hurt by ignorance, or without offending with insensitivity, then what the hell are we supposed to do? Surround ourselves with robots who don't challenge our ideas?" I — Penny Reid