Quotes & Sayings About Hanging Out With Best Friends
Enjoy reading and share 42 famous quotes about Hanging Out With Best Friends with everyone.
Top Hanging Out With Best Friends Quotes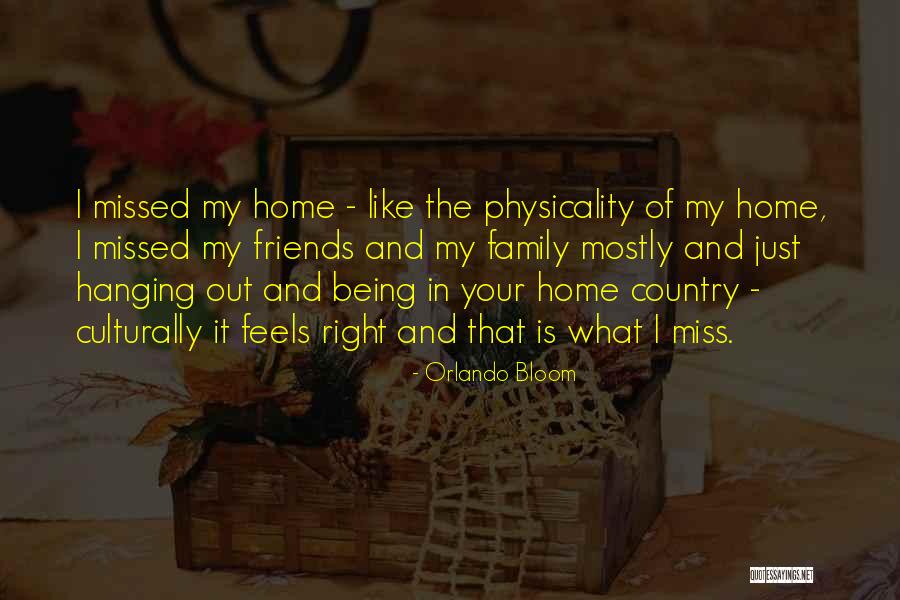 I missed my home - like the physicality of my home, I missed my friends and my family mostly and just hanging out and being in your home country - culturally it feels right and that is what I miss. — Orlando Bloom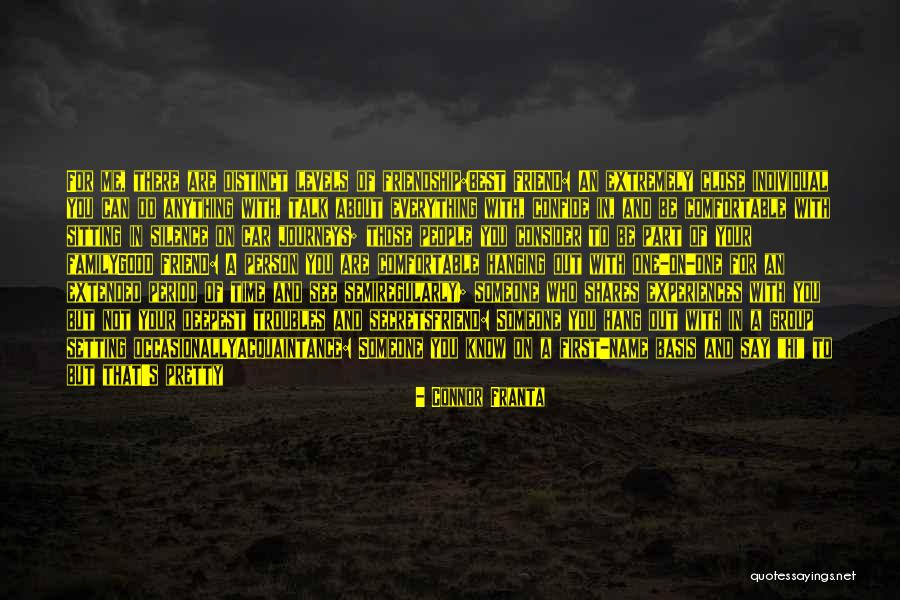 For me, there are distinct levels of friendship:
BEST FRIEND: An extremely close individual you can do anything with, talk about everything with, confide in, and be comfortable with sitting in silence on car journeys; those people you consider to be part of your family
GOOD FRIEND: A person you are comfortable hanging out with one-on-one for an extended period of time and see semiregularly; someone who shares experiences with you but not your deepest troubles and secrets
FRIEND: Someone you hang out with in a group setting occasionally
Acquaintance: Someone you know on a first-name basis and say "hi" to but that's pretty much the extent of it
STRANGERS: The rest of the world (and all your potential best friends in the future) — Connor Franta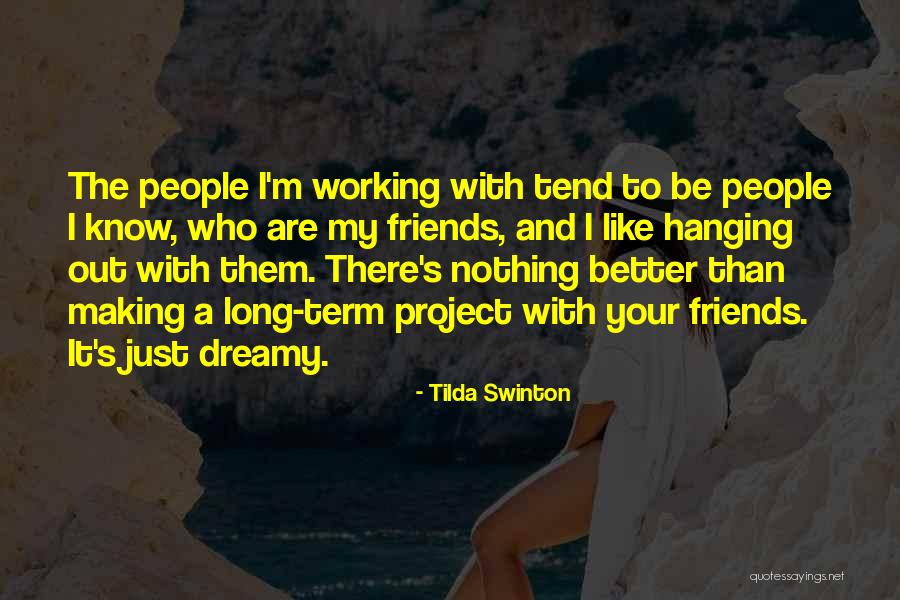 The people I'm working with tend to be people I know, who are my friends, and I like hanging out with them. There's nothing better than making a long-term project with your friends. It's just dreamy. — Tilda Swinton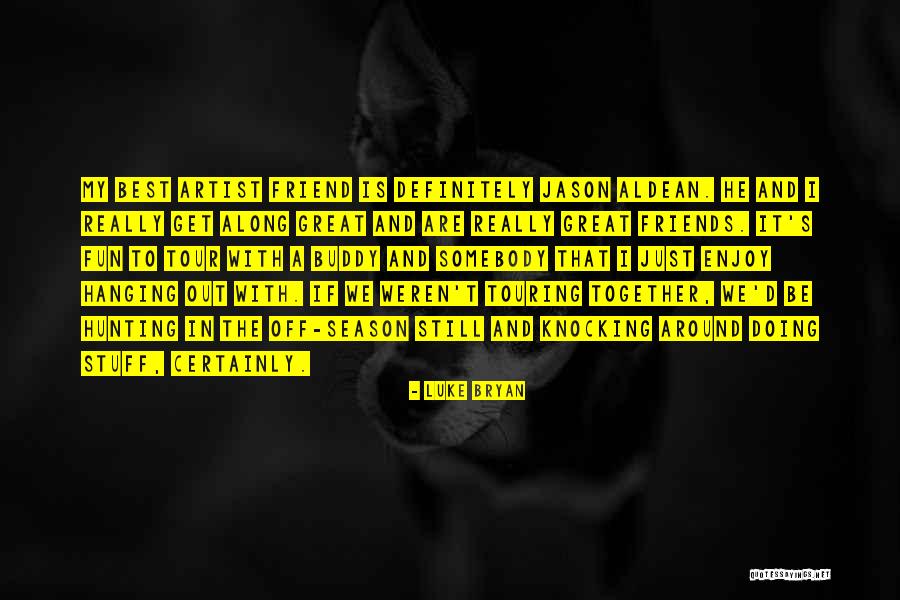 My best artist friend is definitely Jason Aldean. He and I really get along great and are really great friends. It's fun to tour with a buddy and somebody that I just enjoy hanging out with. If we weren't touring together, we'd be hunting in the off-season still and knocking around doing stuff, certainly. — Luke Bryan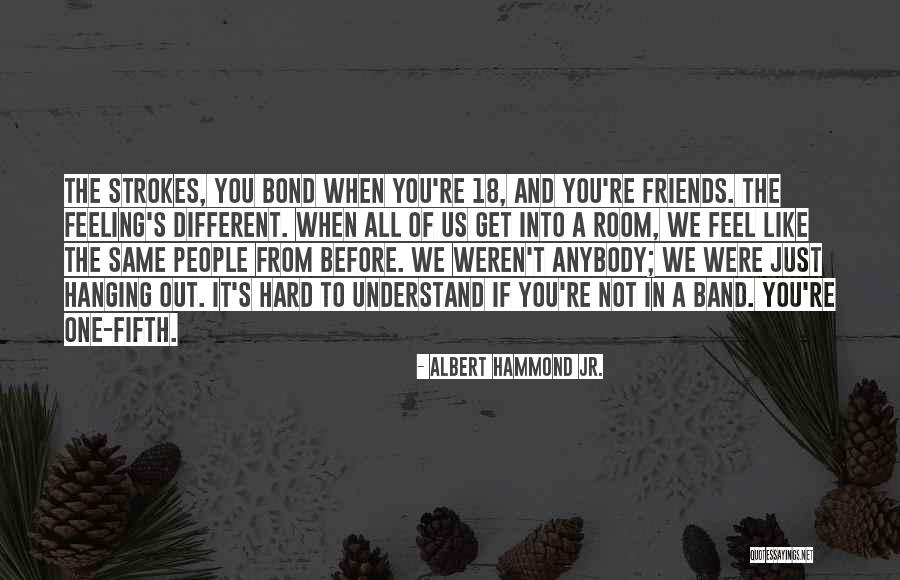 The Strokes, you bond when you're 18, and you're friends. The feeling's different. When all of us get into a room, we feel like the same people from before. We weren't anybody; we were just hanging out. It's hard to understand if you're not in a band. You're one-fifth. — Albert Hammond Jr.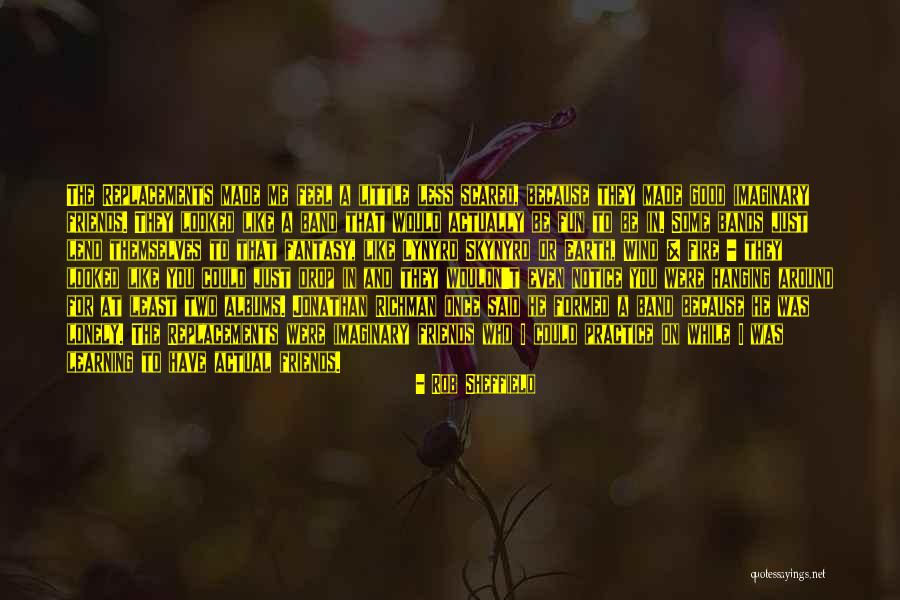 The Replacements made me feel a little less scared, because they made good imaginary friends. They looked like a band that would actually be fun to be in. Some bands just lend themselves to that fantasy, like Lynyrd Skynyrd or Earth, Wind & Fire - they looked like you could just drop in and they wouldn't even notice you were hanging around for at least two albums. Jonathan Richman once said he formed a band because he was lonely. The Replacements were imaginary friends who I could practice on while I was learning to have actual friends. — Rob Sheffield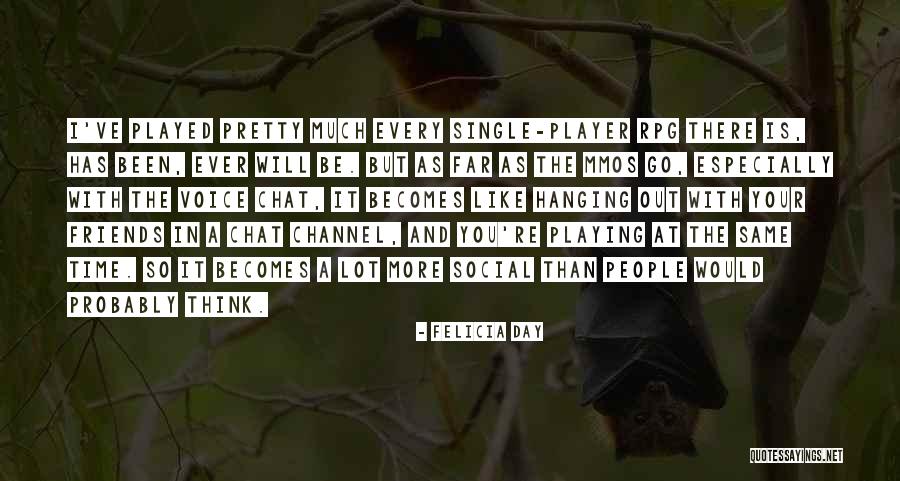 I've played pretty much every single-player RPG there is, has been, ever will be. But as far as the MMOs go, especially with the voice chat, it becomes like hanging out with your friends in a chat channel, and you're playing at the same time. So it becomes a lot more social than people would probably think. — Felicia Day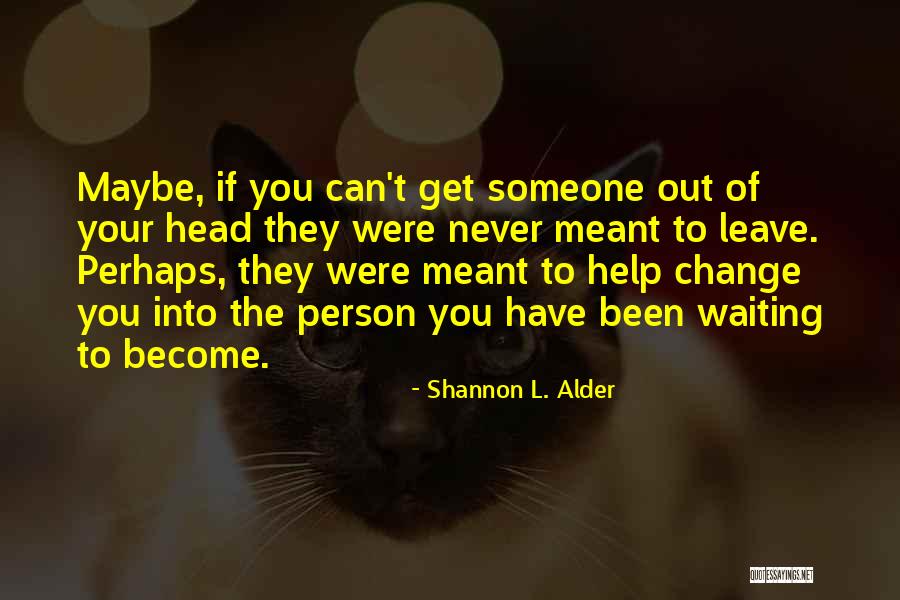 Maybe, if you can't get someone out of your head they were never meant to leave. Perhaps, they were meant to help change you into the person you have been waiting to become. — Shannon L. Alder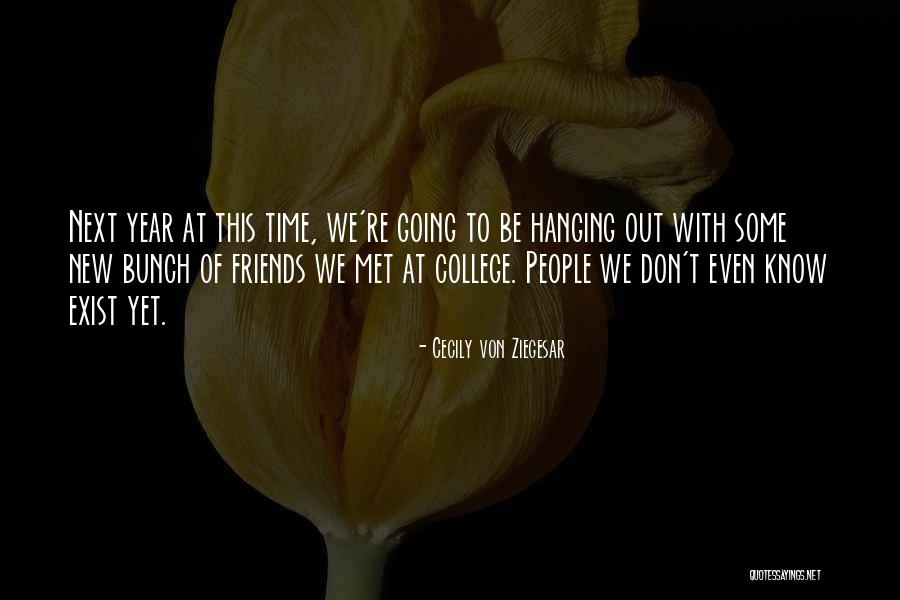 Next year at this time, we're going to be hanging out with some new bunch of friends we met at college. People we don't even know exist yet. — Cecily Von Ziegesar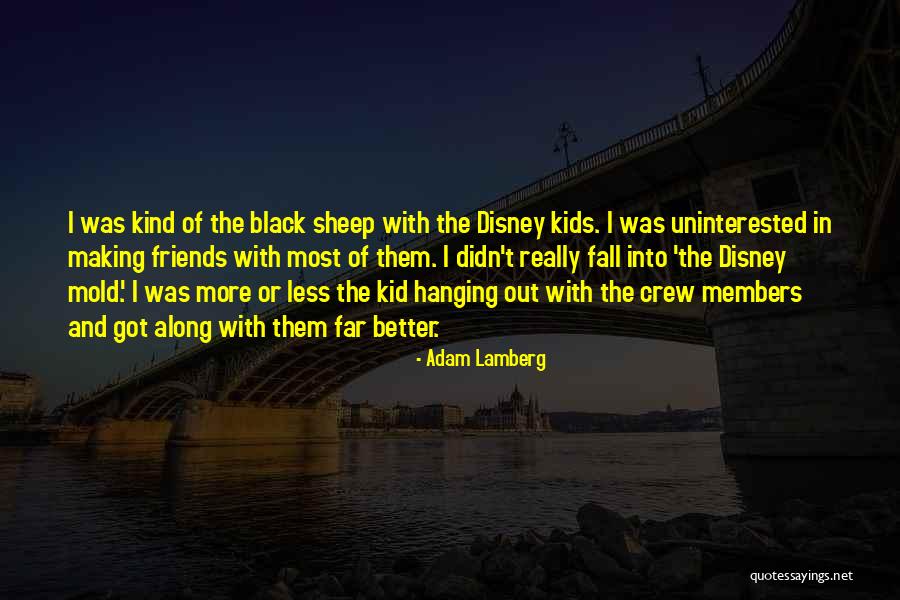 I was kind of the black sheep with the Disney kids. I was uninterested in making friends with most of them. I didn't really fall into 'the Disney mold.' I was more or less the kid hanging out with the crew members and got along with them far better. — Adam Lamberg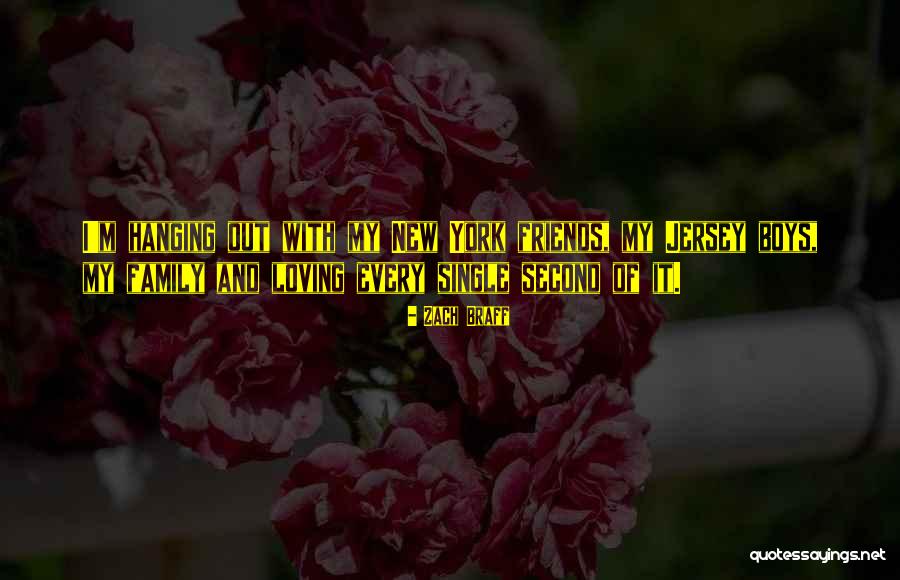 I'm hanging out with my New York friends, my Jersey boys, my family and loving every single second of it. — Zach Braff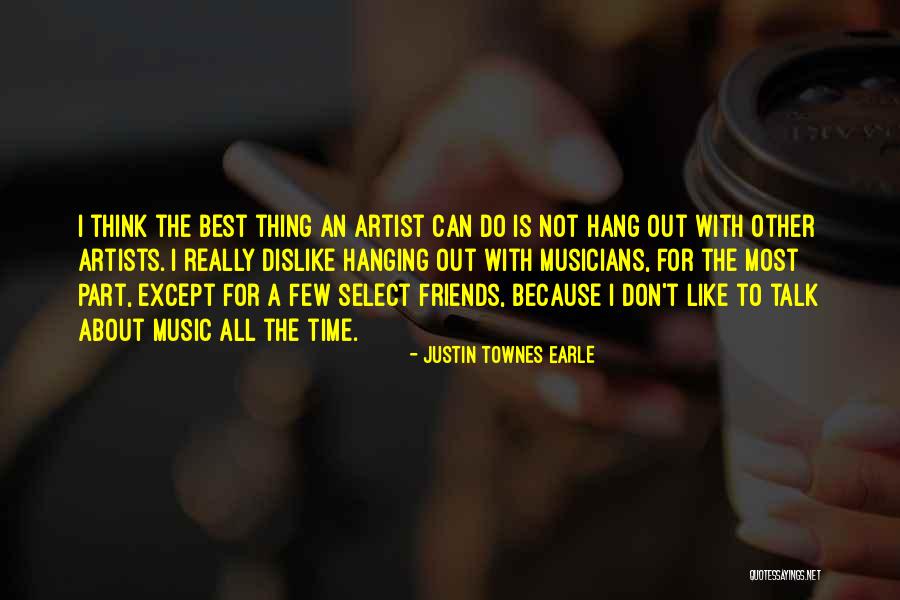 I think the best thing an artist can do is not hang out with other artists. I really dislike hanging out with musicians, for the most part, except for a few select friends, because I don't like to talk about music all the time. — Justin Townes Earle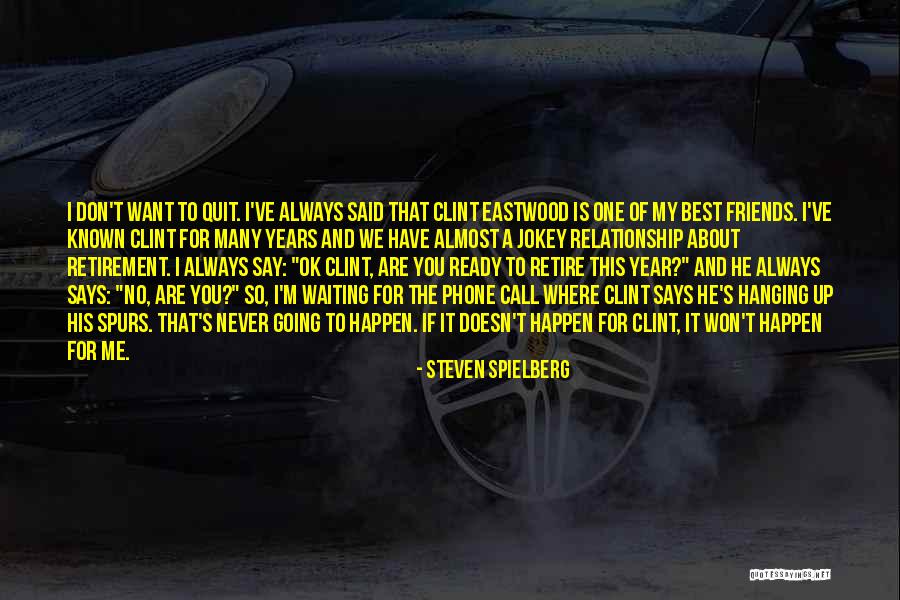 I don't want to quit. I've always said that Clint Eastwood is one of my best friends. I've known Clint for many years and we have almost a jokey relationship about retirement. I always say: "OK Clint, are you ready to retire this year?" And he always says: "No, are you?" So, I'm waiting for the phone call where Clint says he's hanging up his spurs. That's never going to happen. If it doesn't happen for Clint, it won't happen for me. — Steven Spielberg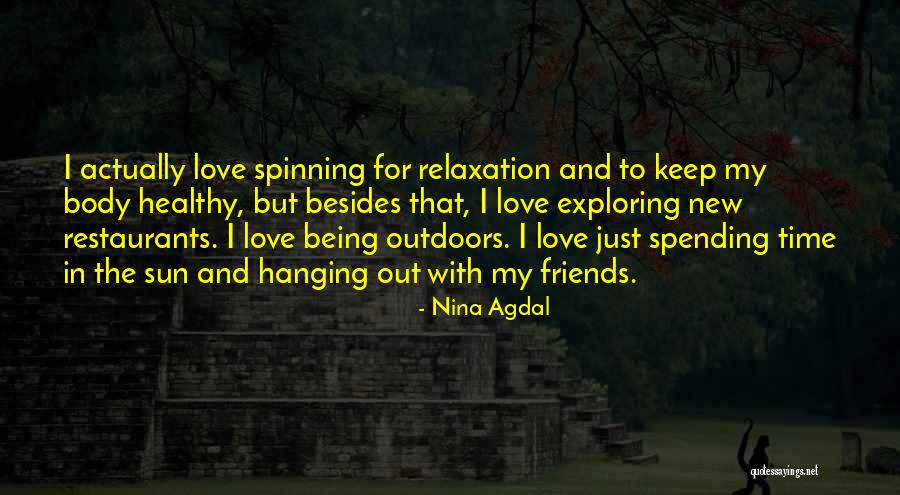 I actually love spinning for relaxation and to keep my body healthy, but besides that, I love exploring new restaurants. I love being outdoors. I love just spending time in the sun and hanging out with my friends. — Nina Agdal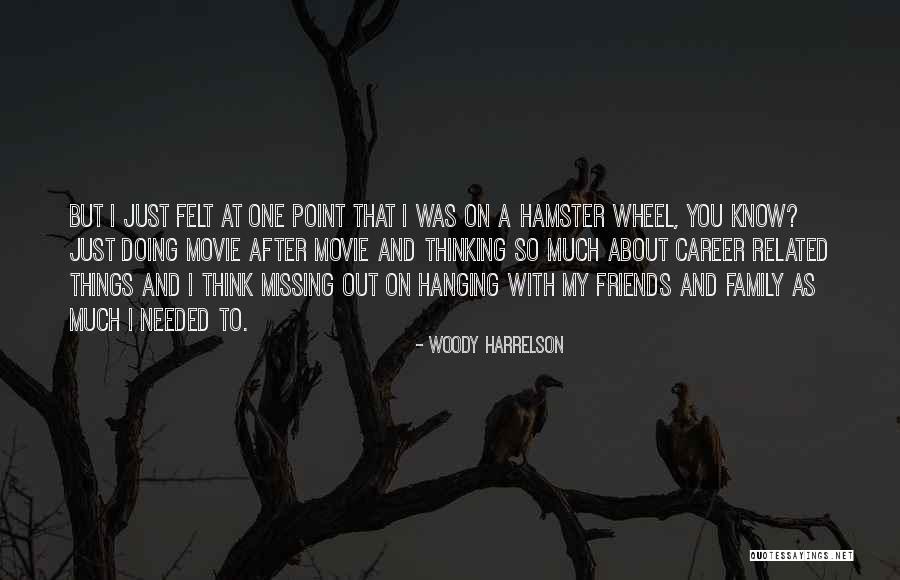 But I just felt at one point that I was on a hamster wheel, you know? Just doing movie after movie and thinking so much about career related things and I think missing out on hanging with my friends and family as much I needed to. — Woody Harrelson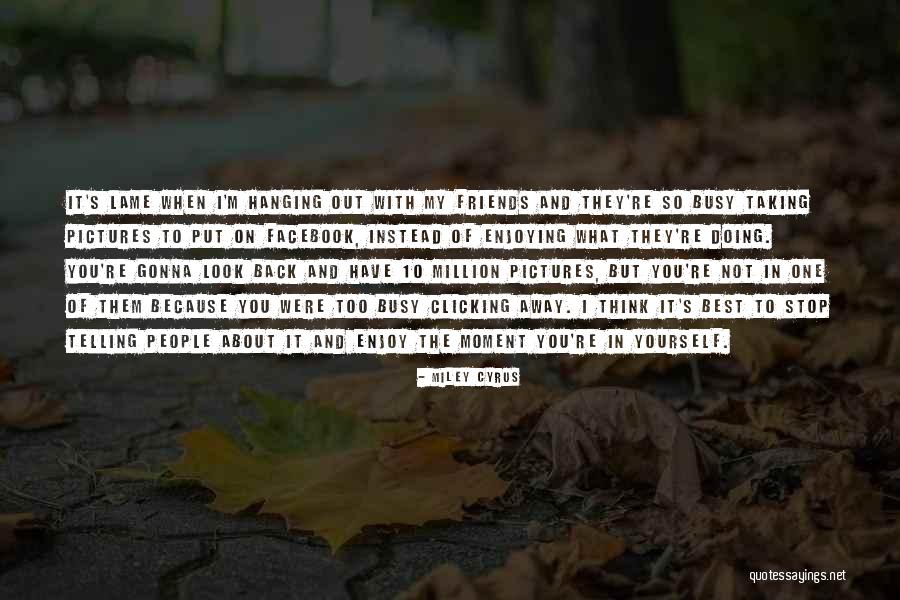 It's lame when I'm hanging out with my friends and they're so busy taking pictures to put on Facebook, instead of enjoying what they're doing. You're gonna look back and have 10 million pictures, but you're not in one of them because you were too busy clicking away. I think it's best to stop telling people about it and enjoy the moment you're in yourself. — Miley Cyrus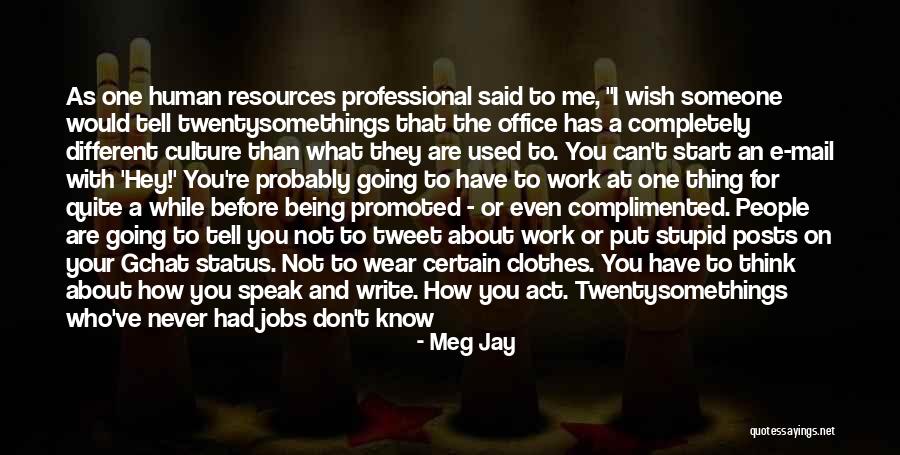 As one human resources professional said to me, "I wish someone would tell twentysomethings that the office has a completely different culture than what they are used to. You can't start an e-mail with 'Hey!' You're probably going to have to work at one thing for quite a while before being promoted - or even complimented. People are going to tell you not to tweet about work or put stupid posts on your Gchat status. Not to wear certain clothes. You have to think about how you speak and write. How you act. Twentysomethings who've never had jobs don't know this. Neither do the scanners and baristas who've been hanging out at work chatting with their friends. — Meg Jay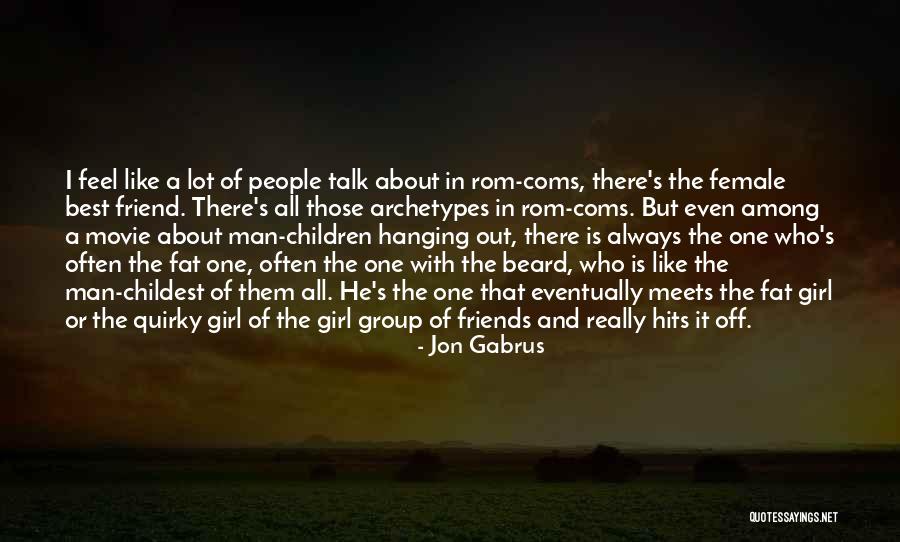 I feel like a lot of people talk about in rom-coms, there's the female best friend. There's all those archetypes in rom-coms. But even among a movie about man-children hanging out, there is always the one who's often the fat one, often the one with the beard, who is like the man-childest of them all. He's the one that eventually meets the fat girl or the quirky girl of the girl group of friends and really hits it off. — Jon Gabrus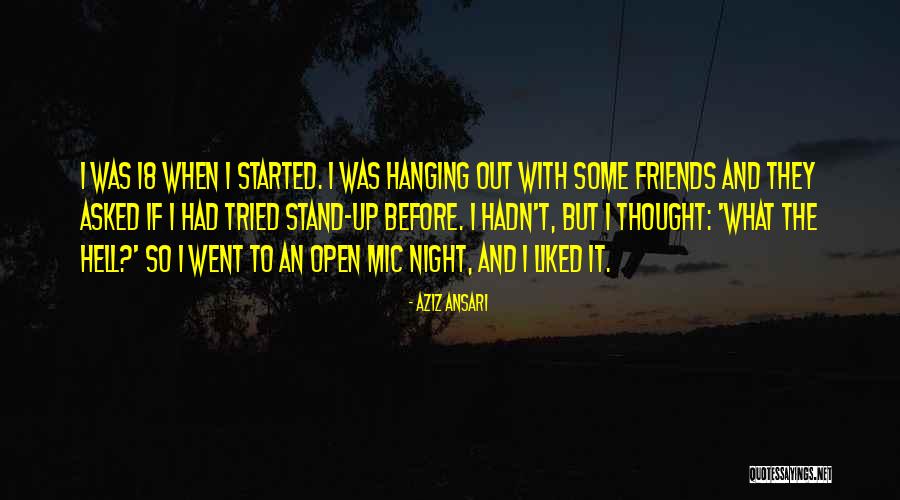 I was 18 when I started. I was hanging out with some friends and they asked if I had tried stand-up before. I hadn't, but I thought: 'What the hell?' So I went to an open mic night, and I liked it. — Aziz Ansari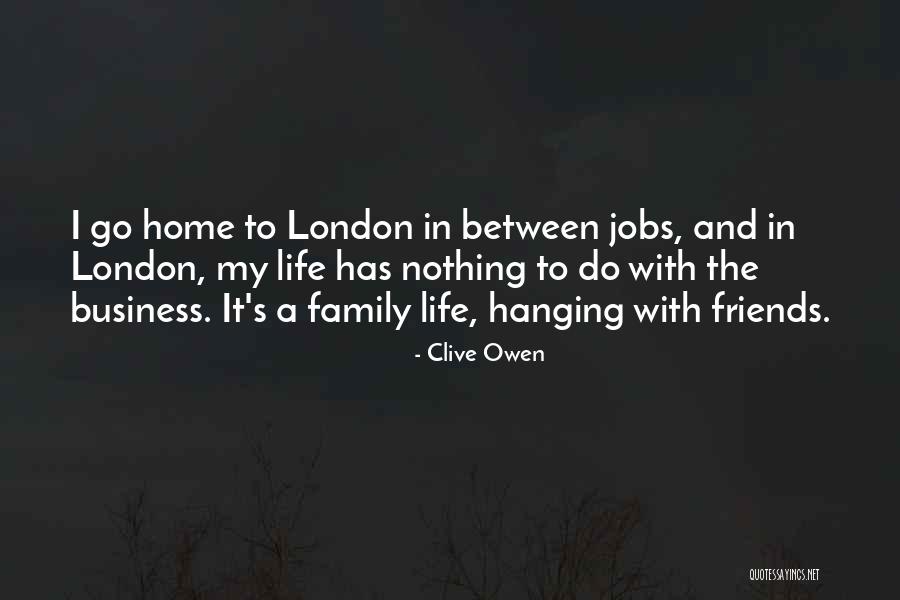 I go home to London in between jobs, and in London, my life has nothing to do with the business. It's a family life, hanging with friends. — Clive Owen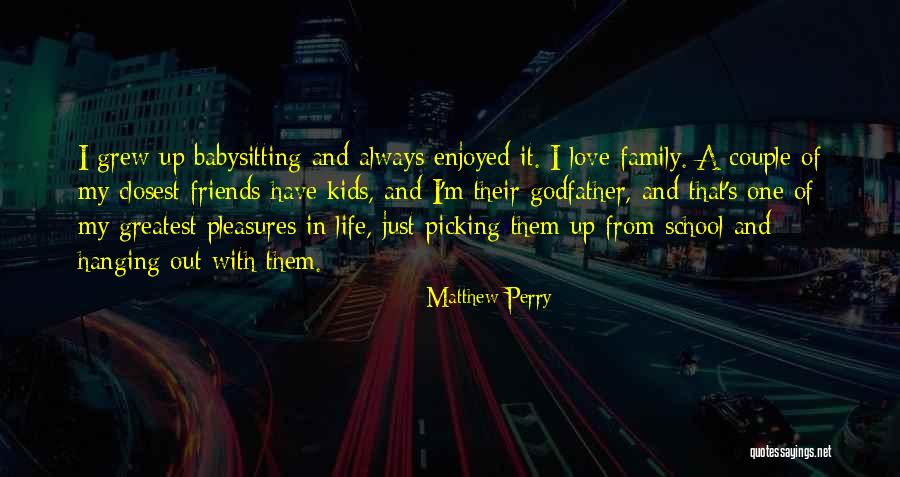 I grew up babysitting and always enjoyed it. I love family. A couple of my closest friends have kids, and I'm their godfather, and that's one of my greatest pleasures in life, just picking them up from school and hanging out with them. — Matthew Perry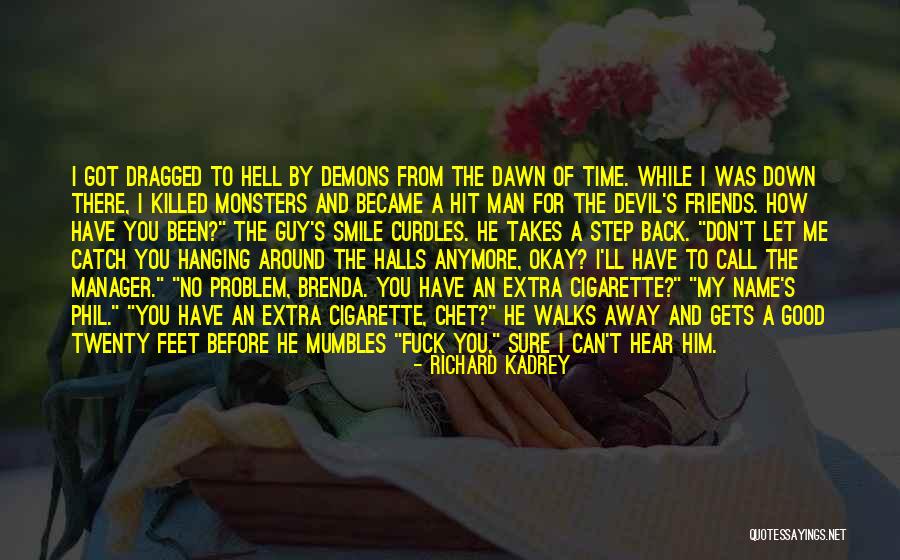 I got dragged to Hell by demons from the dawn of time. While I was down there, I killed monsters and became a hit man for the devil's friends. How have you been?" The guy's smile curdles. He takes a step back. "Don't let me catch you hanging around the halls anymore, okay? I'll have to call the manager." "No problem, Brenda. You have an extra cigarette?" "My name's Phil." "You have an extra cigarette, Chet?" He walks away and gets a good twenty feet before he mumbles "Fuck you," sure I can't hear him. — Richard Kadrey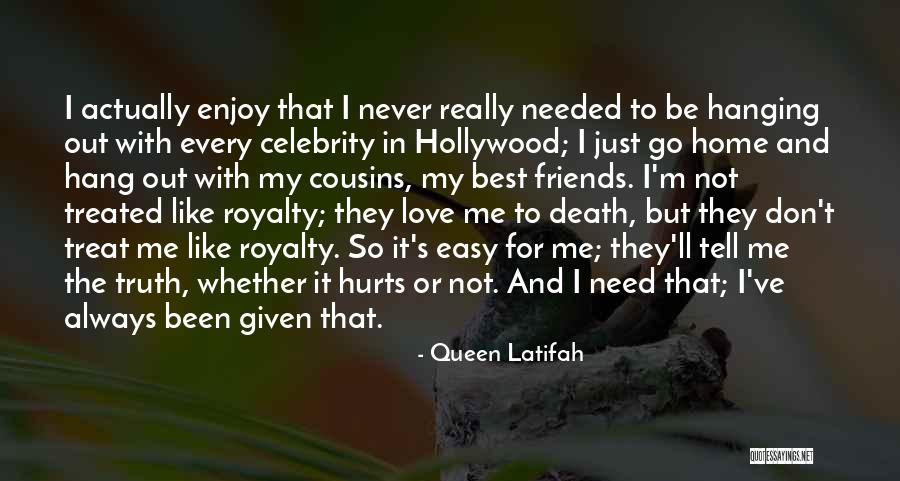 I actually enjoy that I never really needed to be hanging out with every celebrity in Hollywood; I just go home and hang out with my cousins, my best friends. I'm not treated like royalty; they love me to death, but they don't treat me like royalty. So it's easy for me; they'll tell me the truth, whether it hurts or not. And I need that; I've always been given that. — Queen Latifah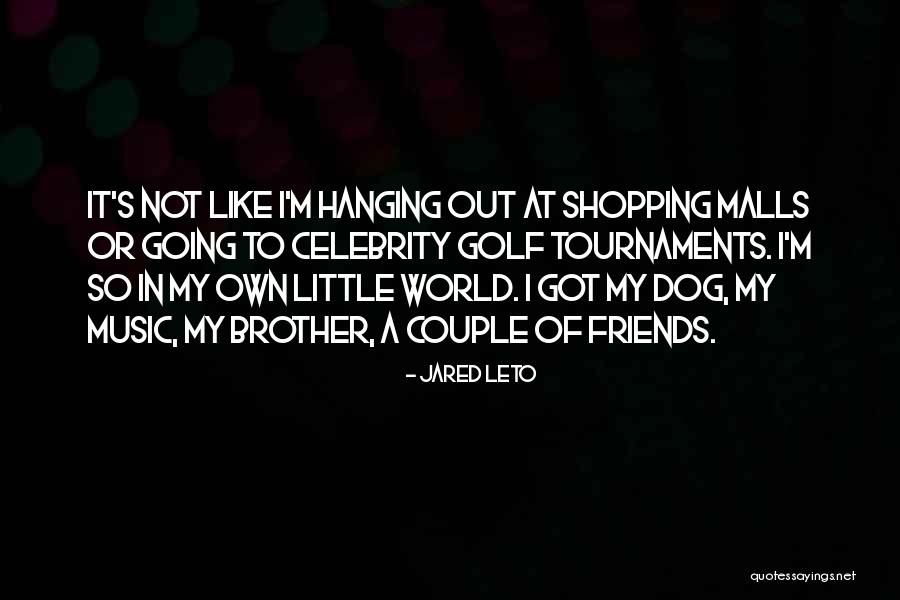 It's not like I'm hanging out at shopping malls or going to celebrity golf tournaments. I'm so in my own little world. I got my dog, my music, my brother, a couple of friends. — Jared Leto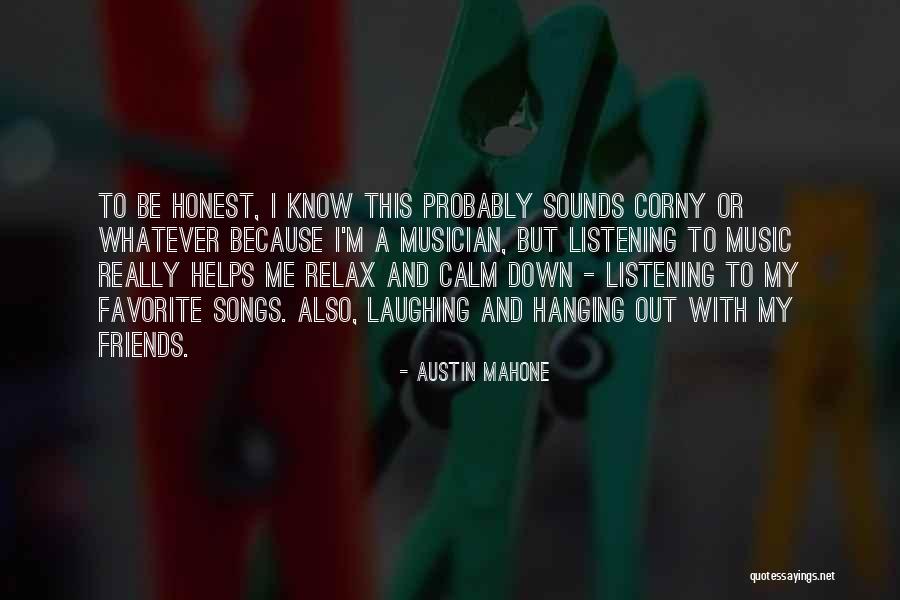 To be honest, I know this probably sounds corny or whatever because I'm a musician, but listening to music really helps me relax and calm down - listening to my favorite songs. Also, laughing and hanging out with my friends. — Austin Mahone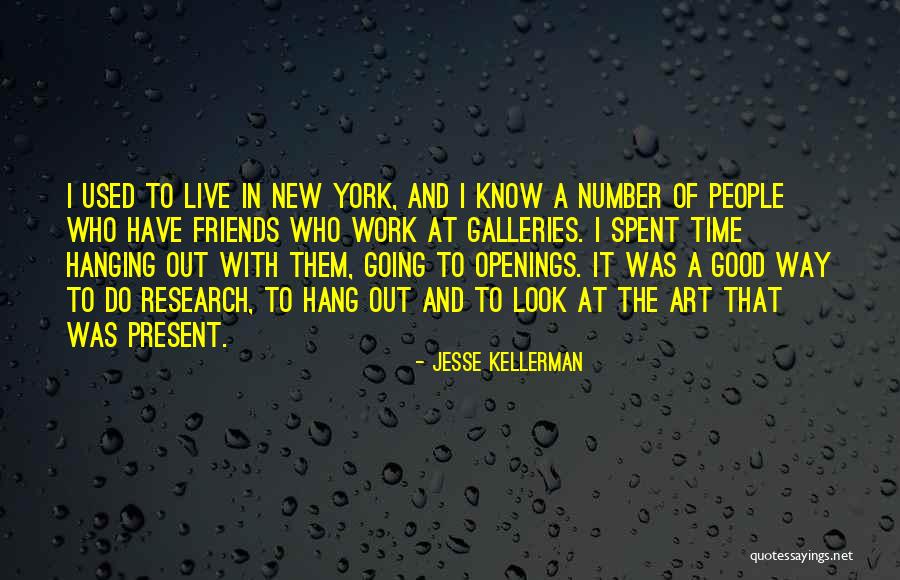 I used to live in New York, and I know a number of people who have friends who work at galleries. I spent time hanging out with them, going to openings. It was a good way to do research, to hang out and to look at the art that was present. — Jesse Kellerman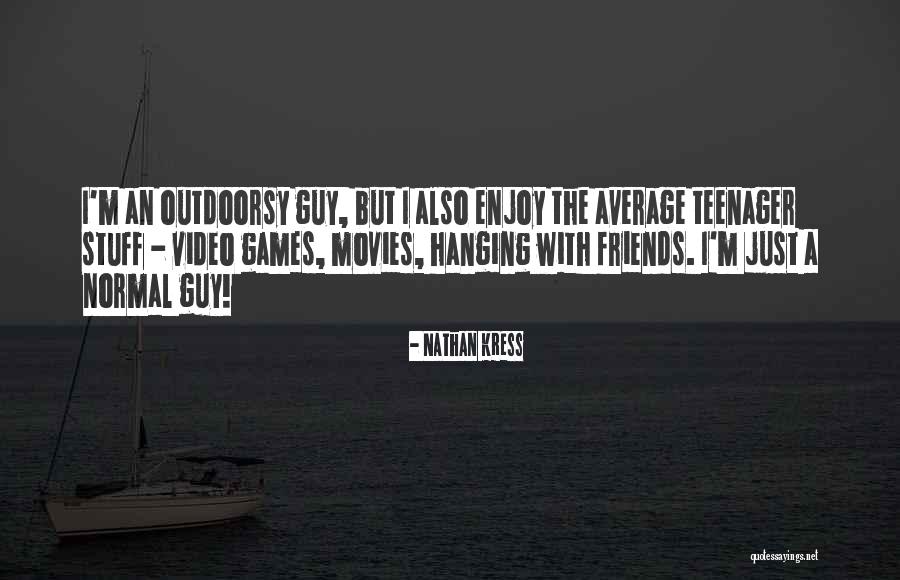 I'm an outdoorsy guy, but I also enjoy the average teenager stuff - video games, movies, hanging with friends. I'm just a normal guy! — Nathan Kress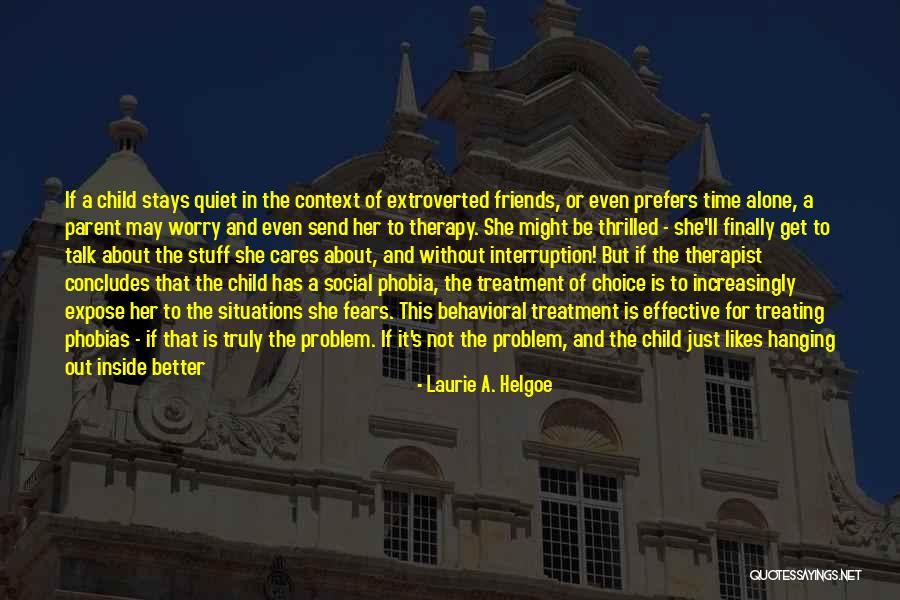 If a child stays quiet in the context of extroverted friends, or even prefers time alone, a parent may worry and even send her to therapy. She might be thrilled - she'll finally get to talk about the stuff she cares about, and without interruption! But if the therapist concludes that the child has a social phobia, the treatment of choice is to increasingly expose her to the situations she fears. This behavioral treatment is effective for treating phobias - if that is truly the problem. If it's not the problem, and the child just likes hanging out inside better than chatting, she'll have a problem soon. Her "illness" now will be an internalized self-reproach: "Why don't I enjoy this like everyone else?" The otherwise carefree child learns that something is wrong with her. She not only is pulled away from her home, she is supposed to like it. Now she is anxious and unhappy, confirming the suspicion that she has a problem. — Laurie A. Helgoe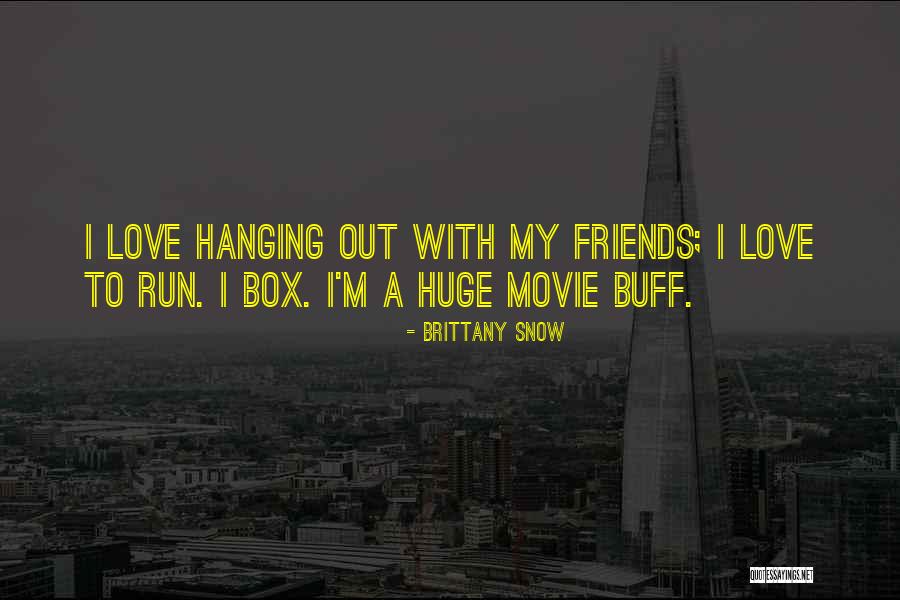 I love hanging out with my friends; I love to run. I box. I'm a huge movie buff. — Brittany Snow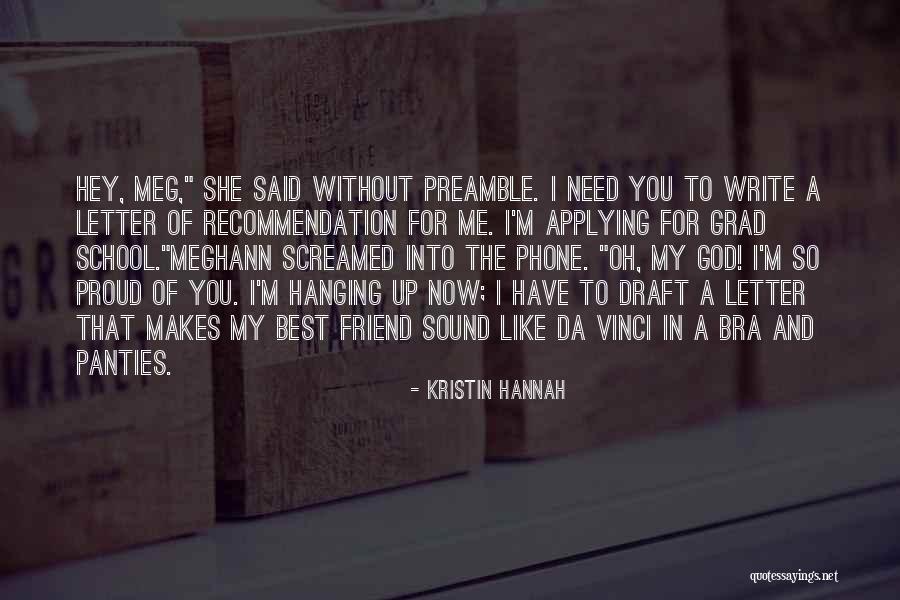 Hey, Meg," she said without preamble. I need you to write a letter of recommendation for me. I'm applying for grad school."
Meghann screamed into the phone. "Oh, my God! I'm so proud of you. I'm hanging up now; I have to draft a letter that makes my best friend sound like da Vinci in a bra and panties. — Kristin Hannah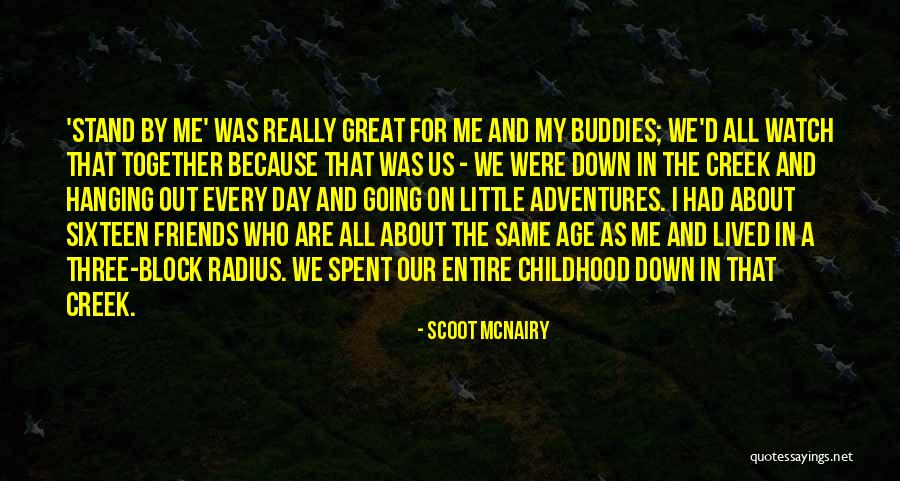 'Stand By Me' was really great for me and my buddies; we'd all watch that together because that was us - we were down in the creek and hanging out every day and going on little adventures. I had about sixteen friends who are all about the same age as me and lived in a three-block radius. We spent our entire childhood down in that creek. — Scoot McNairy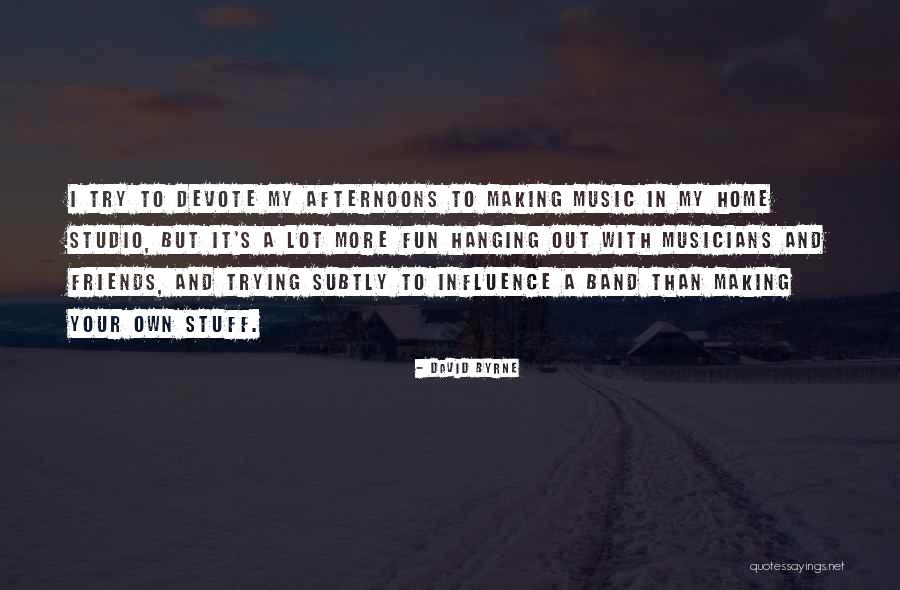 I try to devote my afternoons to making music in my home studio, but it's a lot more fun hanging out with musicians and friends, and trying subtly to influence a band than making your own stuff. — David Byrne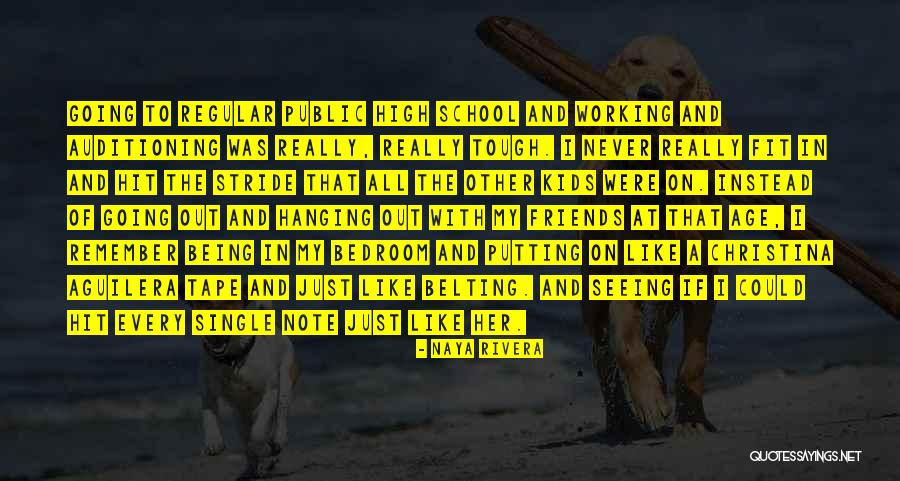 Going to regular public high school and working and auditioning was really, really tough. I never really fit in and hit the stride that all the other kids were on. Instead of going out and hanging out with my friends at that age, I remember being in my bedroom and putting on like a Christina Aguilera tape and just like belting. And seeing if I could hit every single note just like her. — Naya Rivera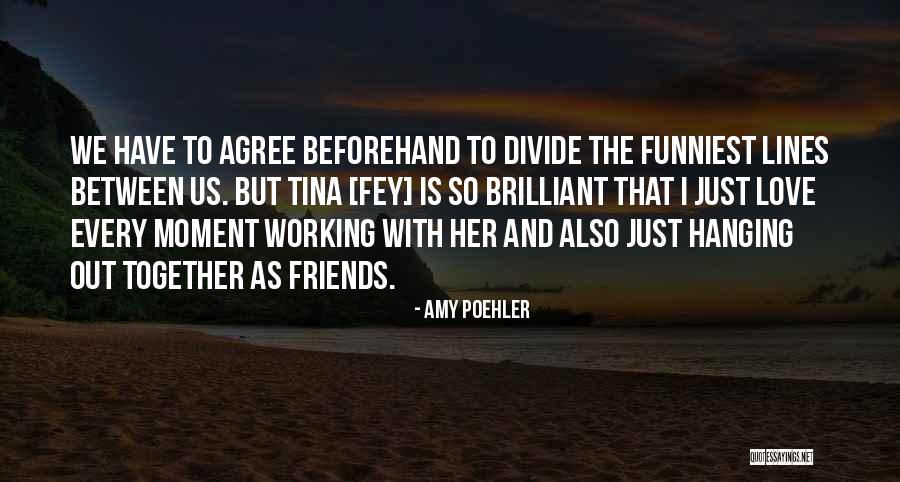 We have to agree beforehand to divide the funniest lines between us. But Tina [Fey] is so brilliant that I just love every moment working with her and also just hanging out together as friends. — Amy Poehler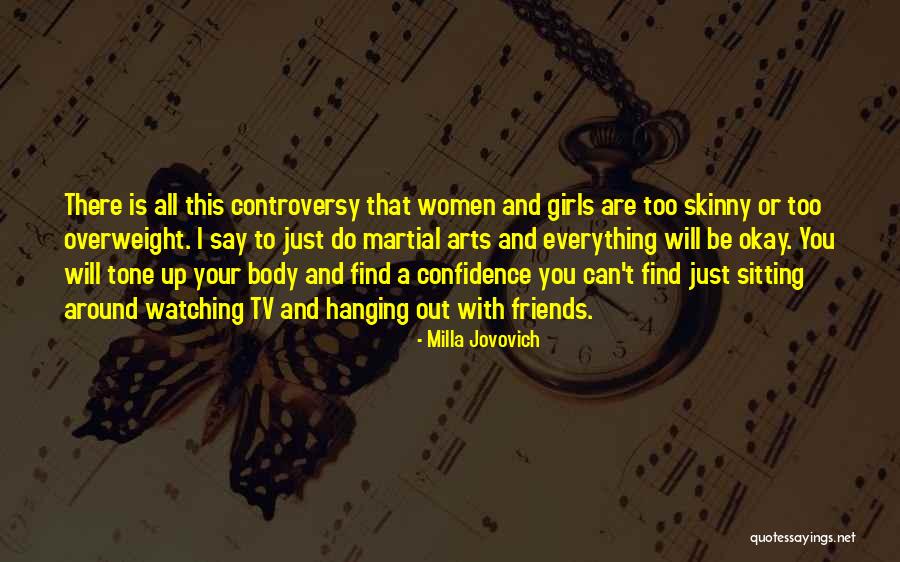 There is all this controversy that women and girls are too skinny or too overweight. I say to just do martial arts and everything will be okay. You will tone up your body and find a confidence you can't find just sitting around watching TV and hanging out with friends. — Milla Jovovich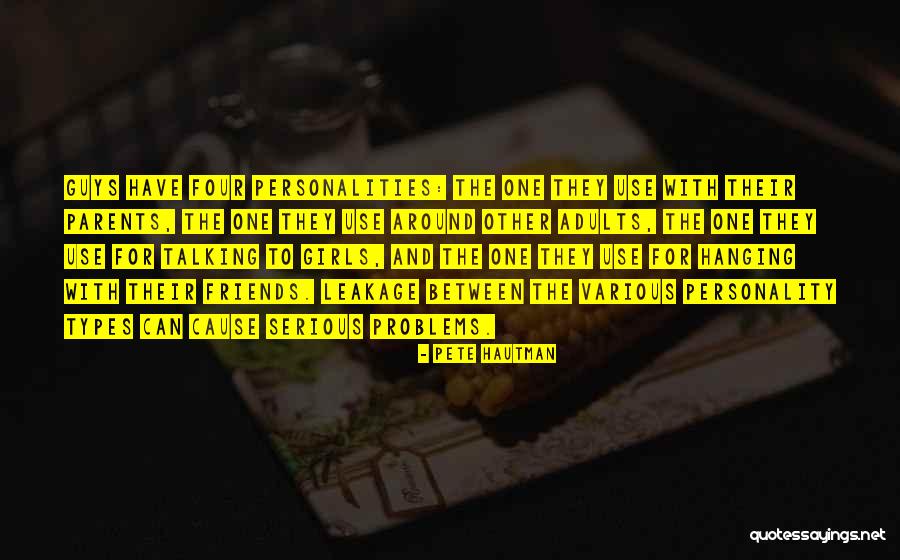 Guys have four personalities: the one they use with their parents, the one they use around other adults, the one they use for talking to girls, and the one they use for hanging with their friends. Leakage between the various personality types can cause serious problems. — Pete Hautman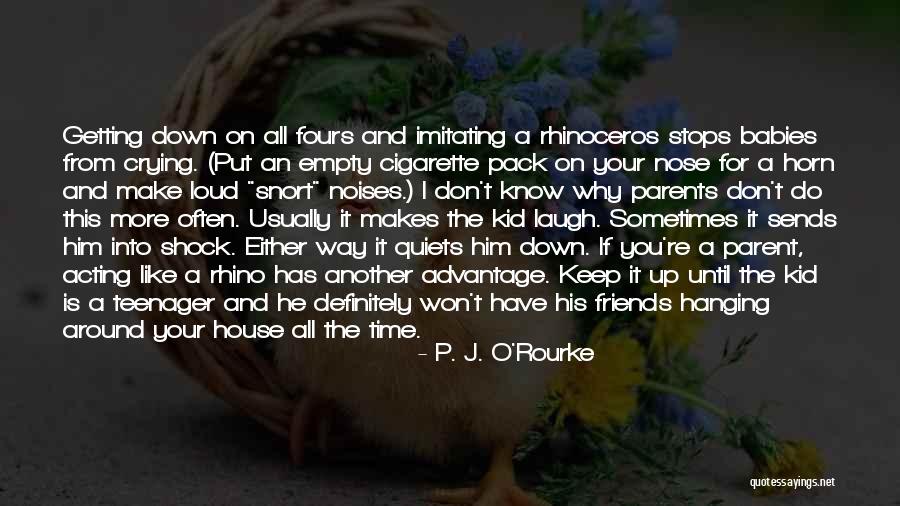 Getting down on all fours and imitating a rhinoceros stops babies from crying. (Put an empty cigarette pack on your nose for a horn and make loud "snort" noises.) I don't know why parents don't do this more often. Usually it makes the kid laugh. Sometimes it sends him into shock. Either way it quiets him down. If you're a parent, acting like a rhino has another advantage. Keep it up until the kid is a teenager and he definitely won't have his friends hanging around your house all the time. — P. J. O'Rourke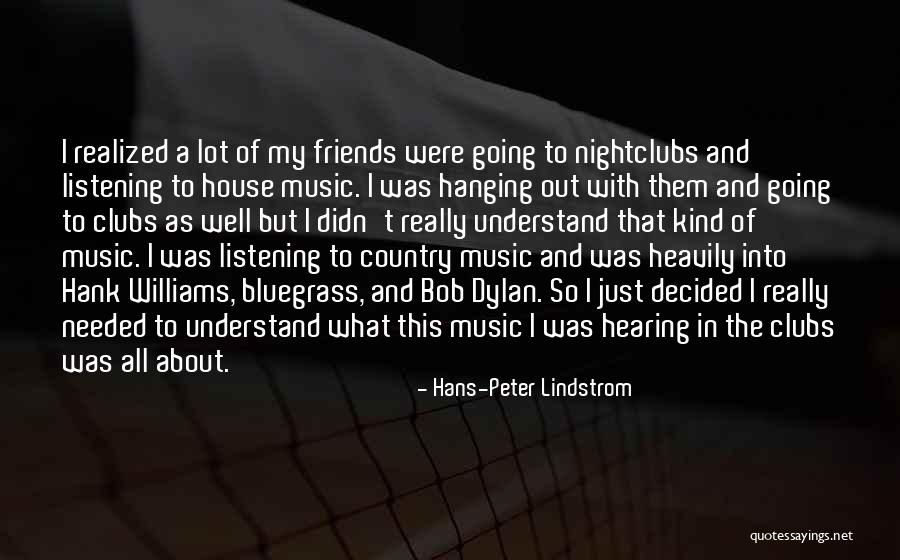 I realized a lot of my friends were going to nightclubs and listening to house music. I was hanging out with them and going to clubs as well but I didn't really understand that kind of music. I was listening to country music and was heavily into Hank Williams, bluegrass, and Bob Dylan. So I just decided I really needed to understand what this music I was hearing in the clubs was all about. — Hans-Peter Lindstrom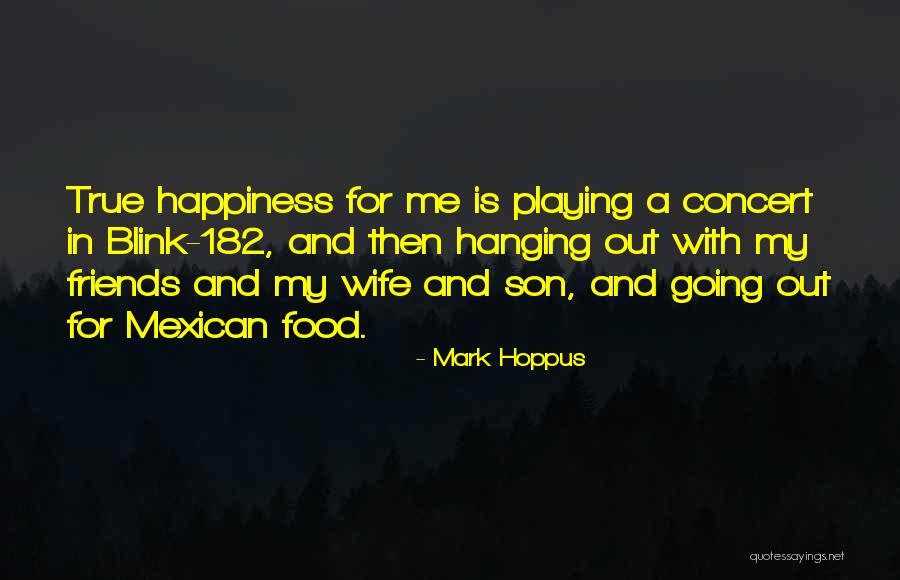 True happiness for me is playing a concert in Blink-182, and then hanging out with my friends and my wife and son, and going out for Mexican food. — Mark Hoppus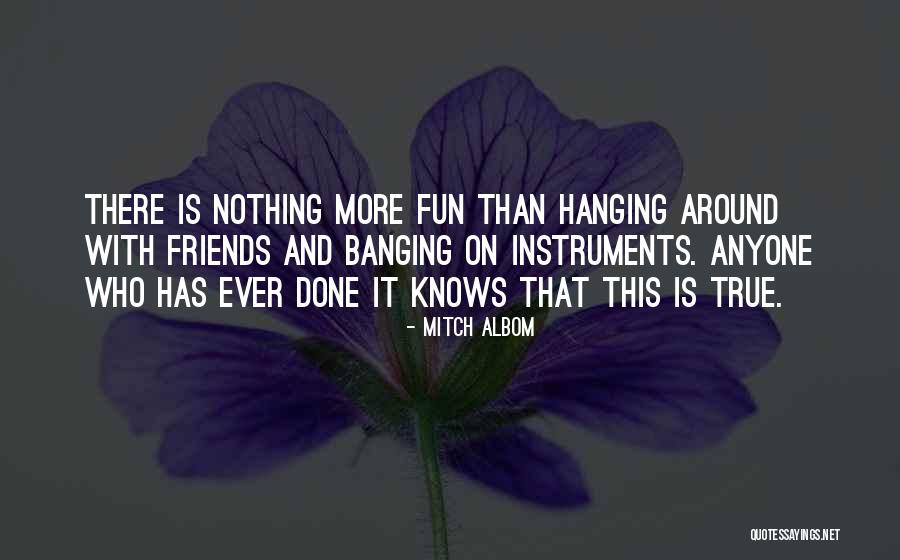 There is nothing more fun than hanging around with friends and banging on instruments. Anyone who has ever done it knows that this is true. — Mitch Albom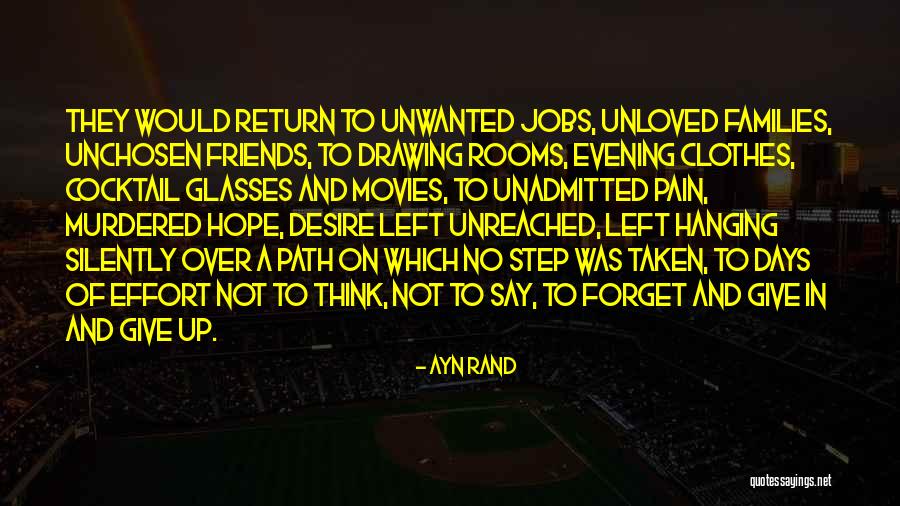 They would return to unwanted jobs, unloved families, unchosen friends, to drawing rooms, evening clothes, cocktail glasses and movies, to unadmitted pain, murdered hope, desire left unreached, left hanging silently over a path on which no step was taken, to days of effort not to think, not to say, to forget and give in and give up. — Ayn Rand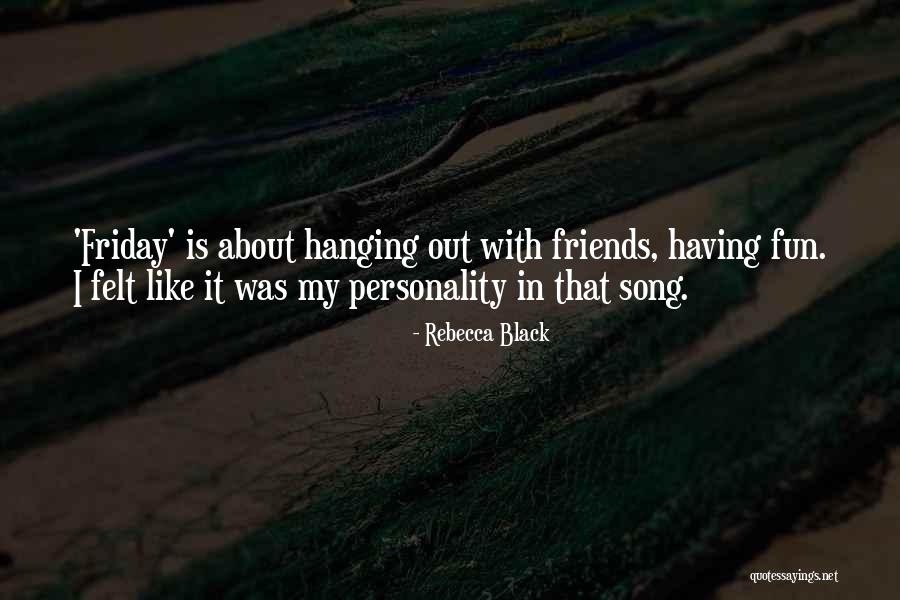 'Friday' is about hanging out with friends, having fun. I felt like it was my personality in that song. — Rebecca Black