Friendship Is Difficult Quotes & Sayings
Enjoy reading and share 40 famous quotes about Friendship Is Difficult with everyone.
Top Friendship Is Difficult Quotes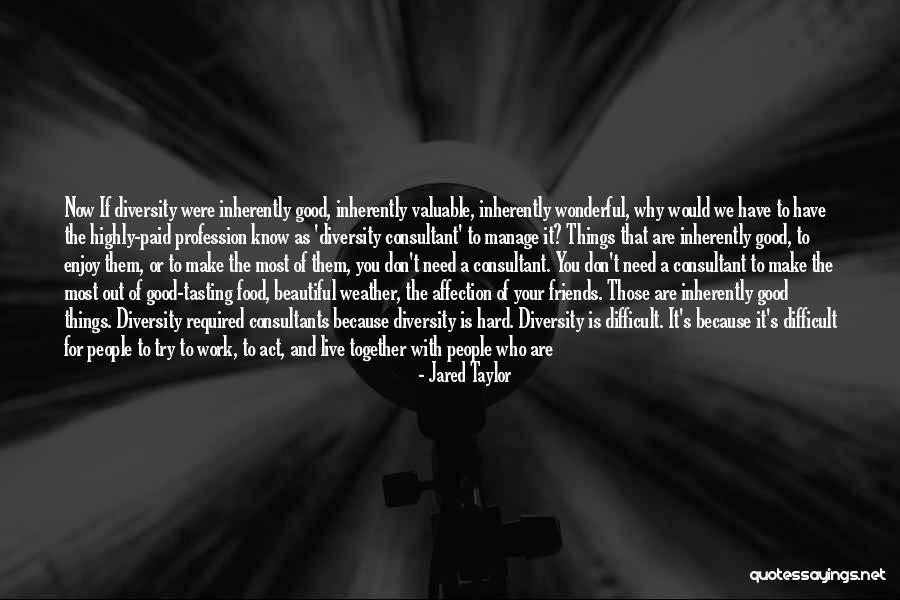 Now If diversity were inherently good, inherently valuable, inherently wonderful, why would we have to have the highly-paid profession know as 'diversity consultant' to manage it? Things that are inherently good, to enjoy them, or to make the most of them, you don't need a consultant. You don't need a consultant to make the most out of good-tasting food, beautiful weather, the affection of your friends. Those are inherently good things. Diversity required consultants because diversity is hard. Diversity is difficult. It's because it's difficult for people to try to work, to act, and live together with people who are unlike themselves. — Jared Taylor
It is more fun to talk with someone who doesn't use long, difficult words but rather short, easy words like What about lunch? — A.A. Milne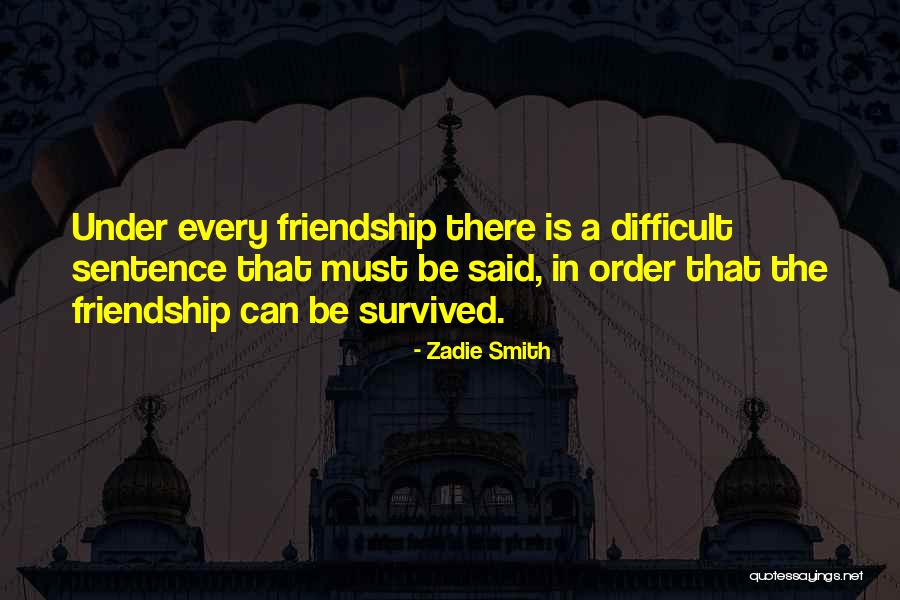 Under every friendship there is a difficult sentence that must be said, in order that the friendship can be survived. — Zadie Smith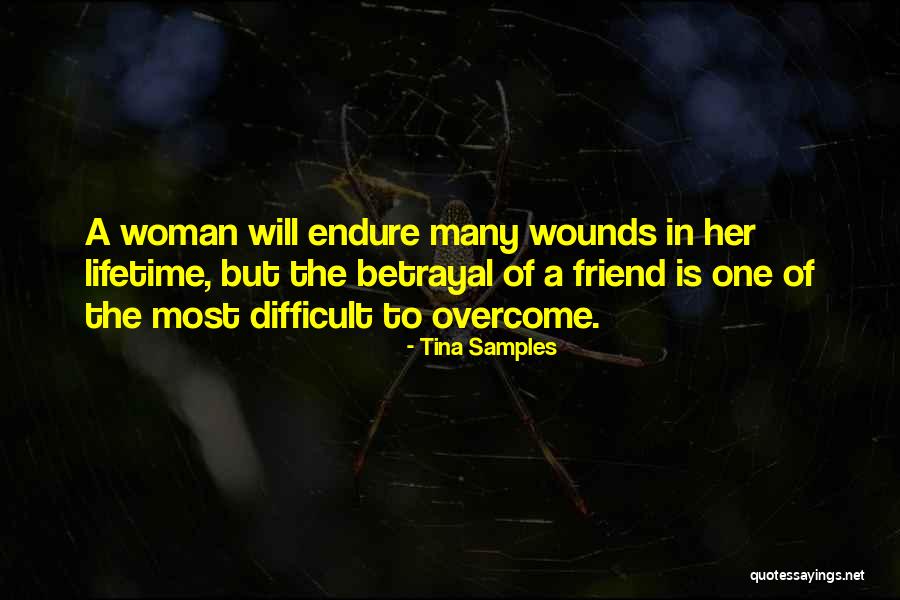 A woman will endure many wounds in her lifetime, but the betrayal of a friend is one of the most difficult to overcome. — Tina Samples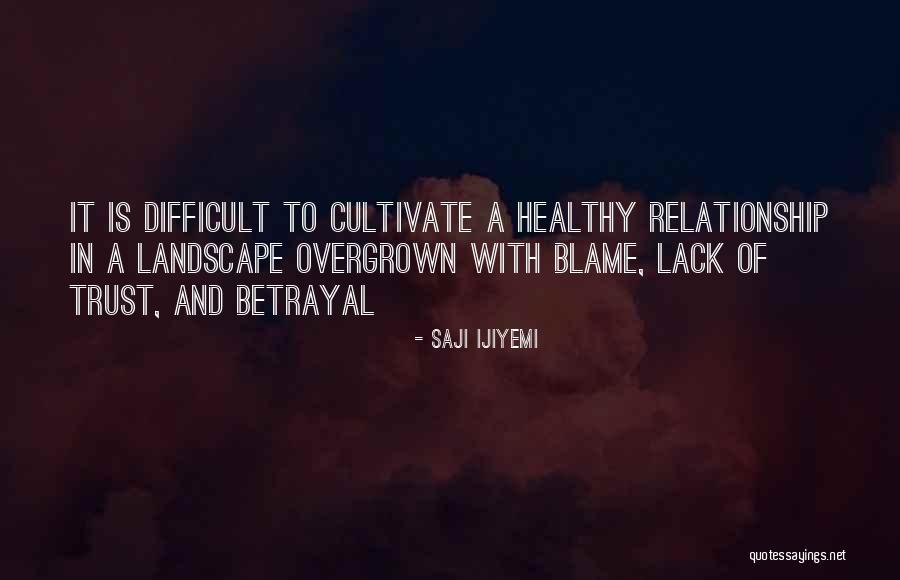 It is difficult to cultivate a healthy relationship in a landscape overgrown with blame, lack of trust, and betrayal — Saji Ijiyemi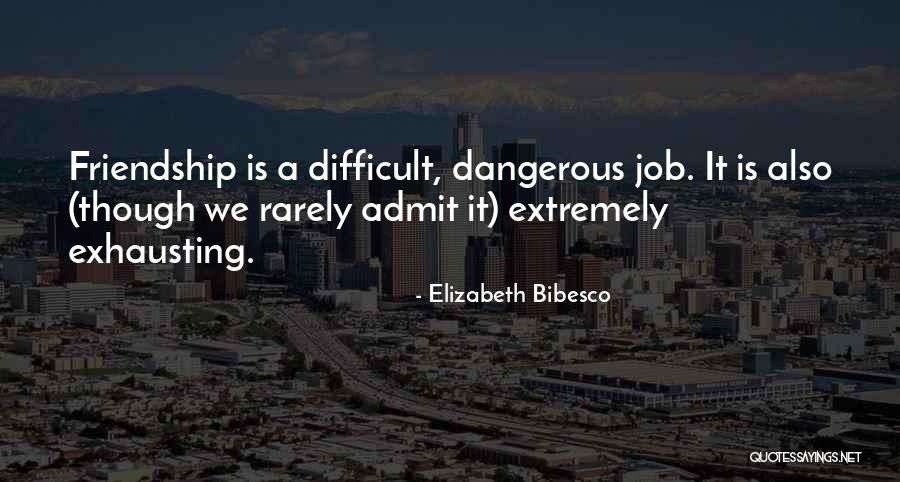 Friendship is a difficult, dangerous job. It is also (though we rarely admit it) extremely exhausting. — Elizabeth Bibesco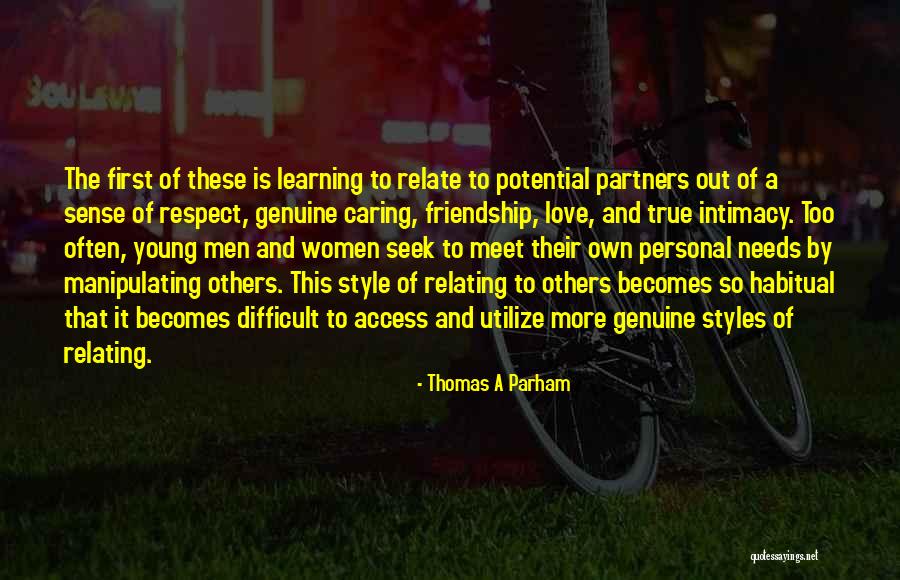 The first of these is learning to relate to potential partners out of a sense of respect, genuine caring, friendship, love, and true intimacy. Too often, young men and women seek to meet their own personal needs by manipulating others. This style of relating to others becomes so habitual that it becomes difficult to access and utilize more genuine styles of relating. — Thomas A Parham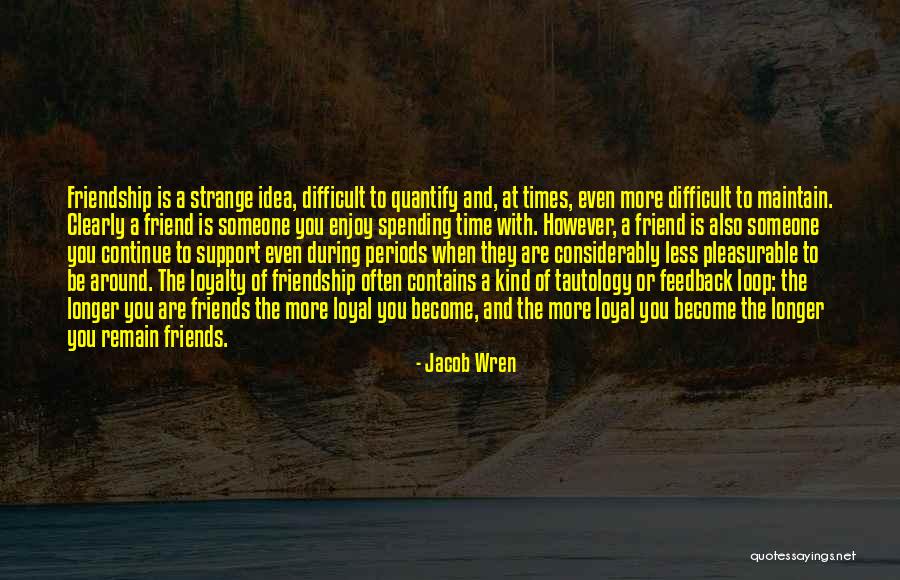 Friendship is a strange idea, difficult to quantify and, at times, even more difficult to maintain. Clearly a friend is someone you enjoy spending time with. However, a friend is also someone you continue to support even during periods when they are considerably less pleasurable to be around. The loyalty of friendship often contains a kind of tautology or feedback loop: the longer you are friends the more loyal you become, and the more loyal you become the longer you remain friends. — Jacob Wren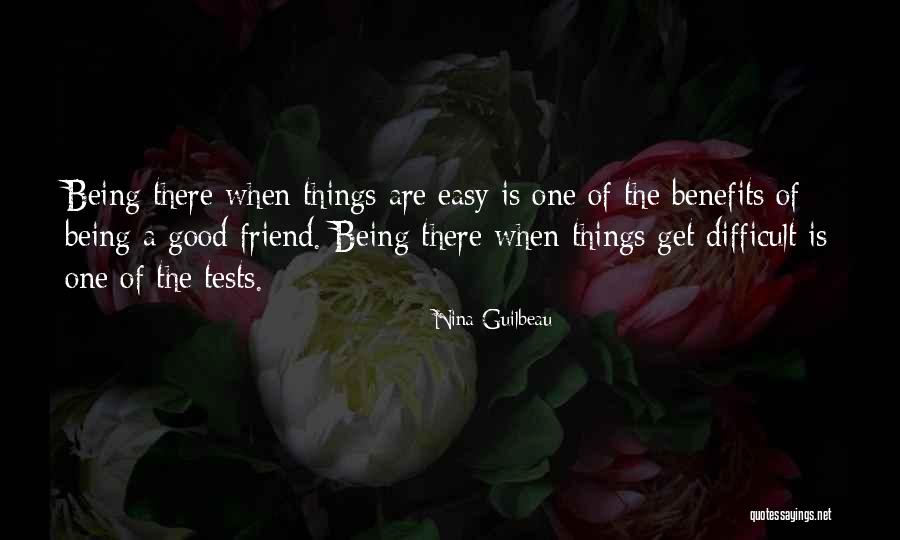 Being there when things are easy is one of the benefits of being a good friend. Being there when things get difficult is one of the tests. — Nina Guilbeau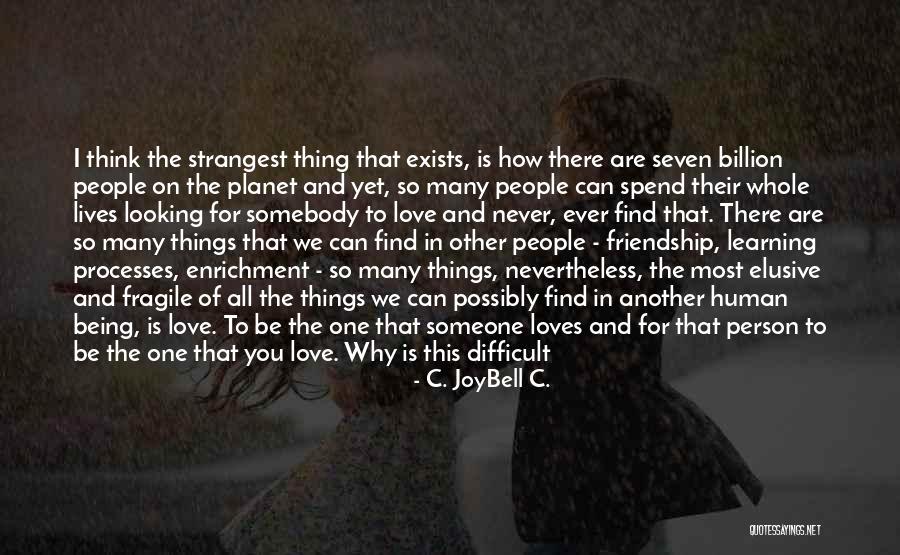 I think the strangest thing that exists, is how there are seven billion people on the planet and yet, so many people can spend their whole lives looking for somebody to love and never, ever find that. There are so many things that we can find in other people - friendship, learning processes, enrichment - so many things, nevertheless, the most elusive and fragile of all the things we can possibly find in another human being, is love. To be the one that someone loves and for that person to be the one that you love. Why is this difficult to find? My answer is that, because out of the seven billion, there really is only one. You don't find something and make it work; you find the one and when you do, you work until it works. The problem is finding the one. Many, many people are born and die never finding that. — C. JoyBell C.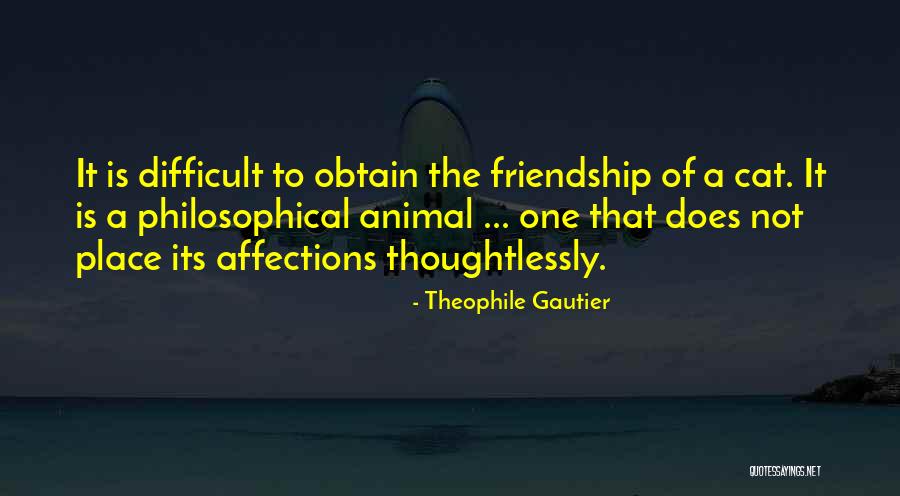 It is difficult to obtain the friendship of a cat. It is a philosophical animal ... one that does not place its affections thoughtlessly. — Theophile Gautier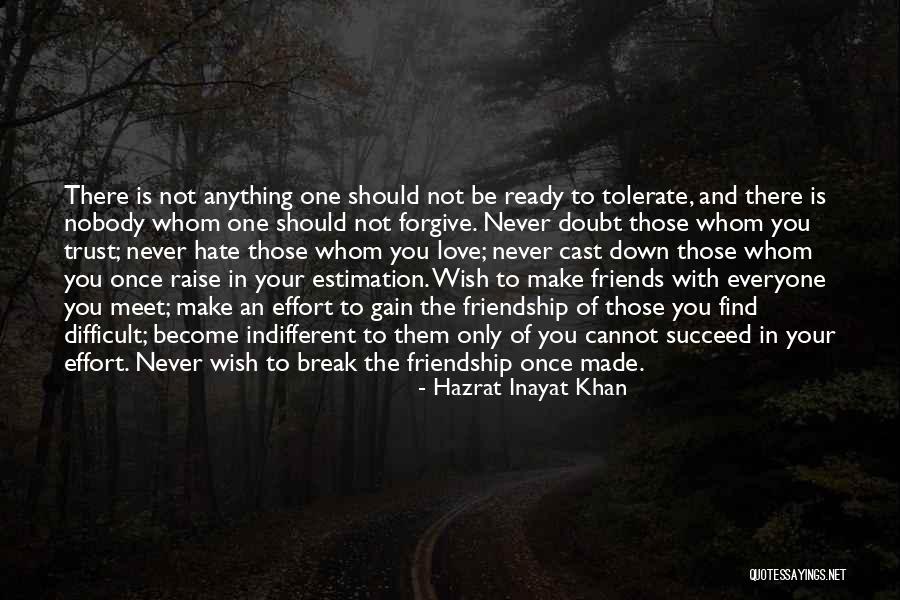 There is not anything one should not be ready to tolerate, and there is nobody whom one should not forgive. Never doubt those whom you trust; never hate those whom you love; never cast down those whom you once raise in your estimation. Wish to make friends with everyone you meet; make an effort to gain the friendship of those you find difficult; become indifferent to them only of you cannot succeed in your effort. Never wish to break the friendship once made. — Hazrat Inayat Khan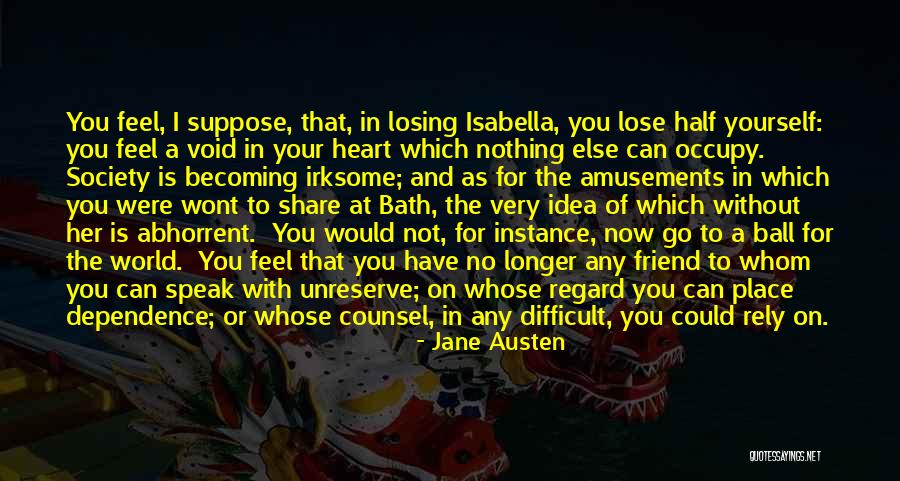 You feel, I suppose, that, in losing Isabella, you lose half yourself: you feel a void in your heart which nothing else can occupy. Society is becoming irksome; and as for the amusements in which you were wont to share at Bath, the very idea of which without her is abhorrent. You would not, for instance, now go to a ball for the world. You feel that you have no longer any friend to whom you can speak with unreserve; on whose regard you can place dependence; or whose counsel, in any difficult, you could rely on. — Jane Austen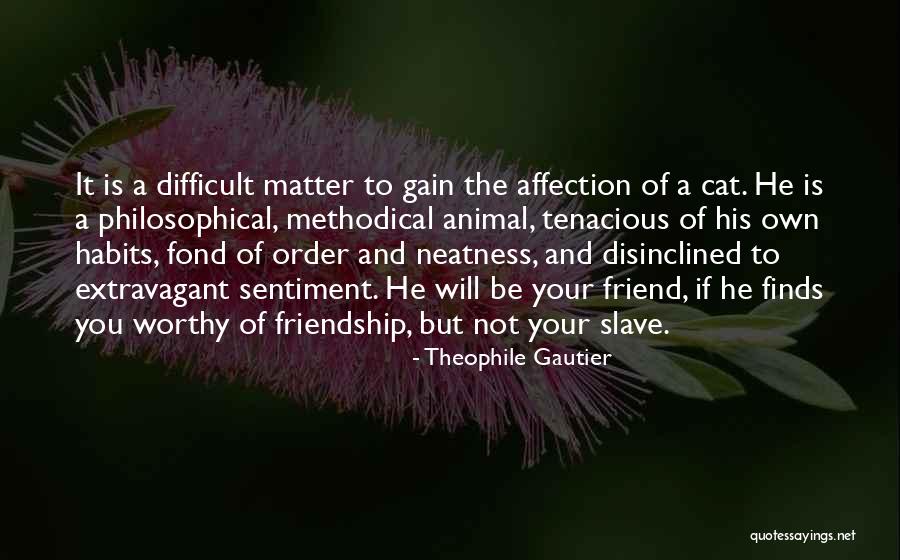 It is a difficult matter to gain the affection of a cat. He is a philosophical, methodical animal, tenacious of his own habits, fond of order and neatness, and disinclined to extravagant sentiment. He will be your friend, if he finds you worthy of friendship, but not your slave. — Theophile Gautier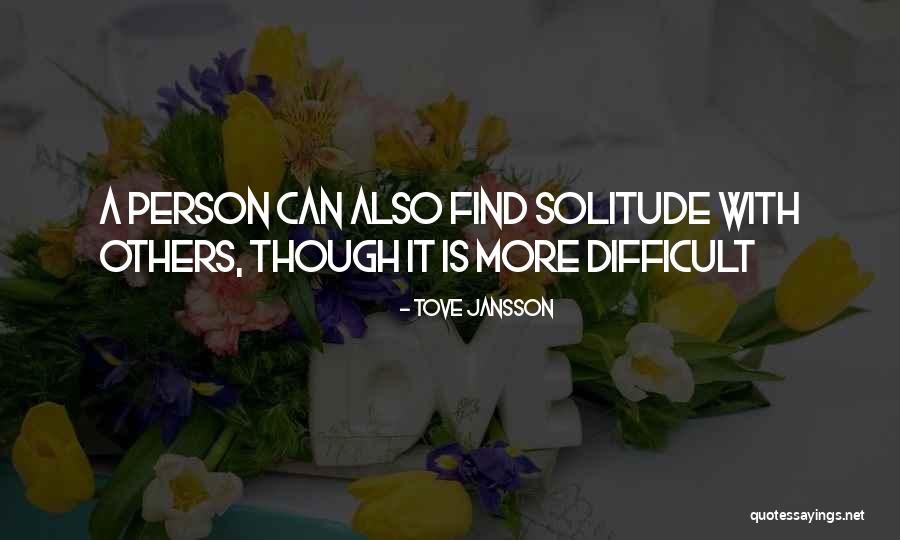 A person can also find solitude with others, though it is more difficult — Tove Jansson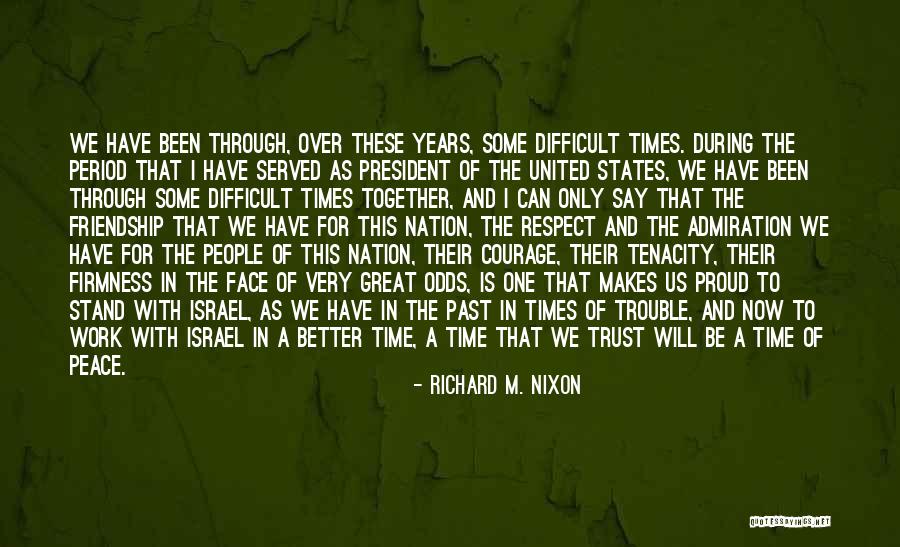 We have been through, over these years, some difficult times. During the period that I have served as President of the United States, we have been through some difficult times together, and I can only say that the friendship that we have for this nation, the respect and the admiration we have for the people of this nation, their courage, their tenacity, their firmness in the face of very great odds, is one that makes us proud to stand with Israel, as we have in the past in times of trouble, and now to work with Israel in a better time, a time that we trust will be a time of peace. — Richard M. Nixon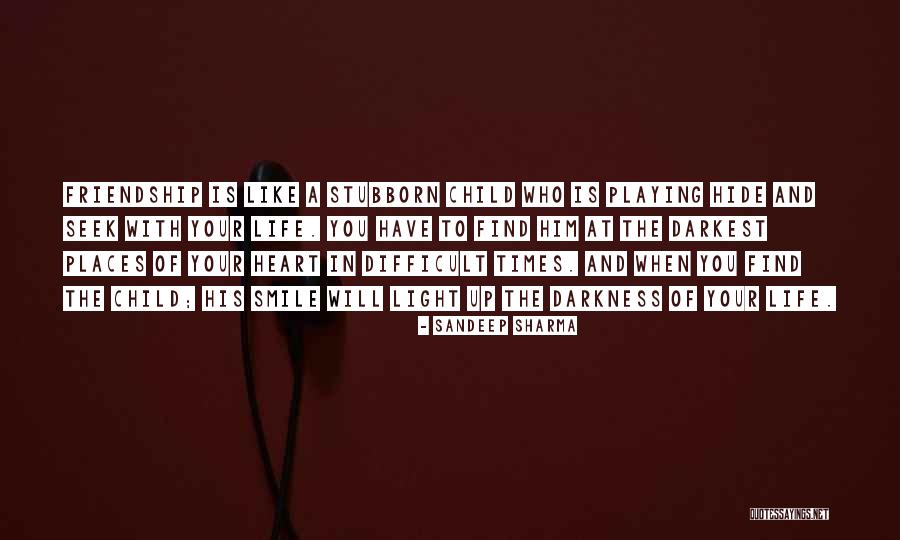 Friendship is like a stubborn child who is playing hide and seek with your life. You have to find him at the darkest places of your heart in difficult times. And when you find the child; his smile will light up the darkness of your life. — Sandeep Sharma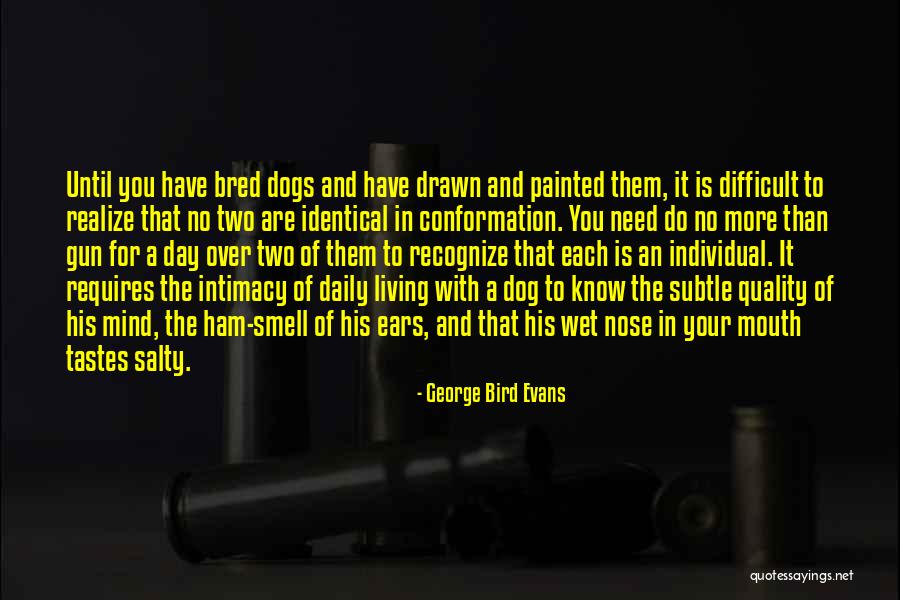 Until you have bred dogs and have drawn and painted them, it is difficult to realize that no two are identical in conformation. You need do no more than gun for a day over two of them to recognize that each is an individual. It requires the intimacy of daily living with a dog to know the subtle quality of his mind, the ham-smell of his ears, and that his wet nose in your mouth tastes salty. — George Bird Evans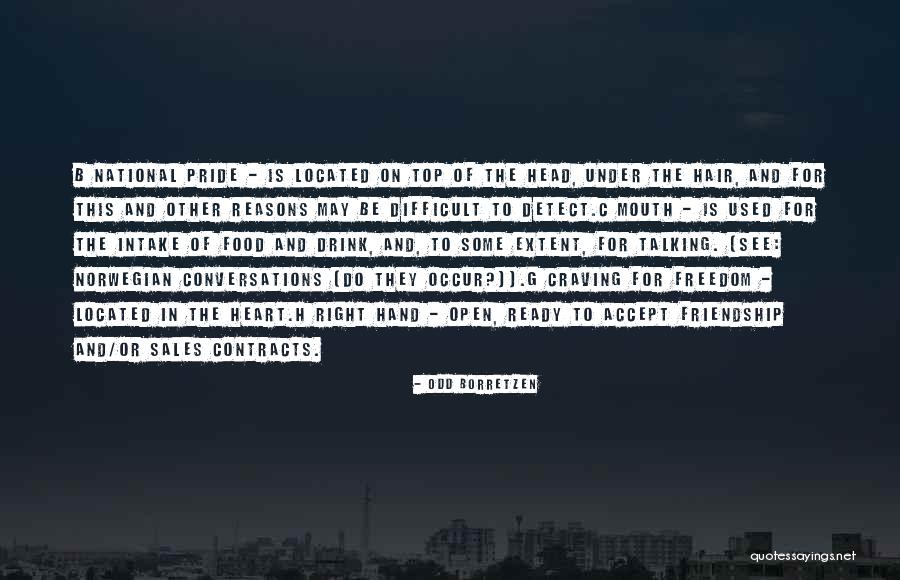 B National Pride - Is located on top of the head, under the hair, and for this and other reasons may be difficult to detect.
C Mouth - Is used for the intake of food and drink, and, to some extent, for talking. (See: Norwegian Conversations (Do they occur?)).
G Craving for Freedom - Located in the heart.
H Right Hand - Open, ready to accept friendship and/or sales contracts. — Odd Borretzen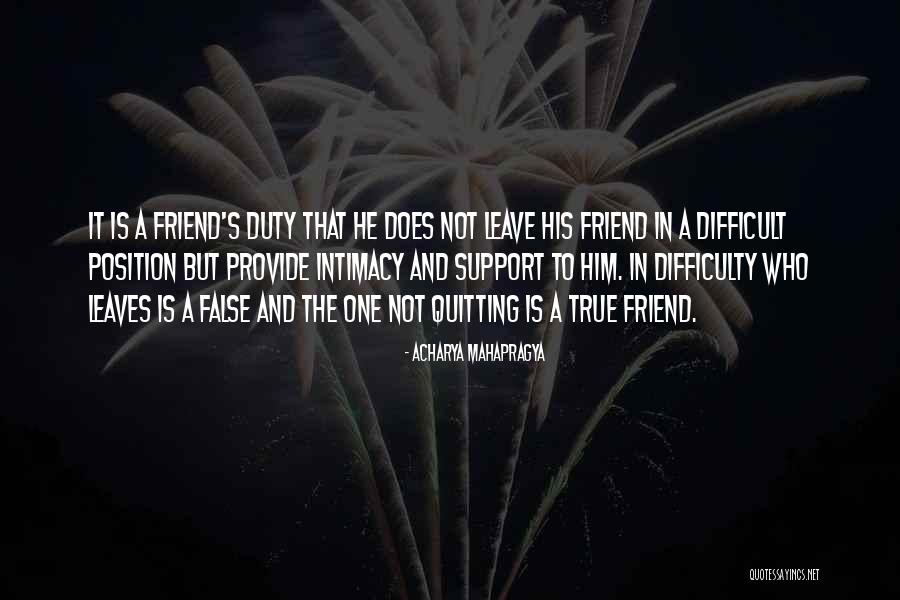 It is a friend's duty that he does not leave his friend in a difficult position but provide intimacy and support to him. In difficulty who leaves is a false and the one not quitting is a true friend. — Acharya Mahapragya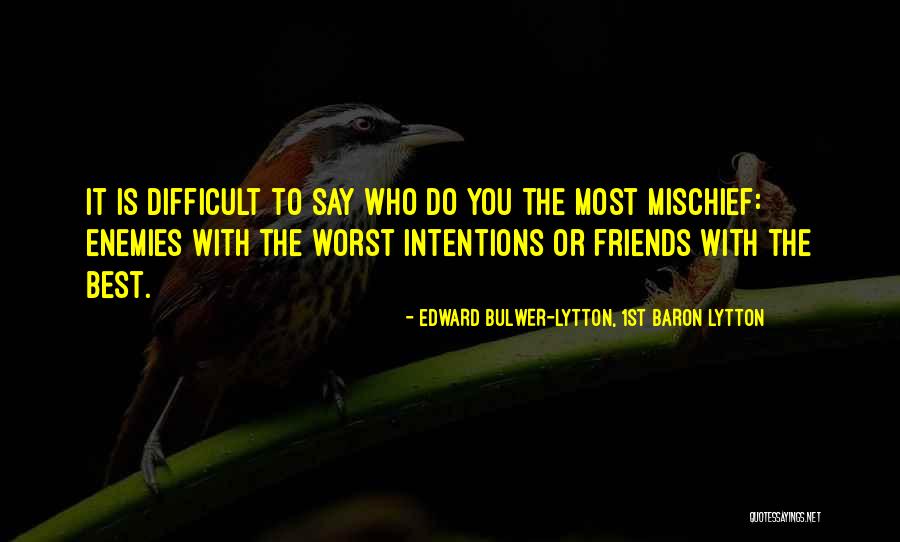 It is difficult to say who do you the most mischief: enemies with the worst intentions or friends with the best. — Edward Bulwer-Lytton, 1st Baron Lytton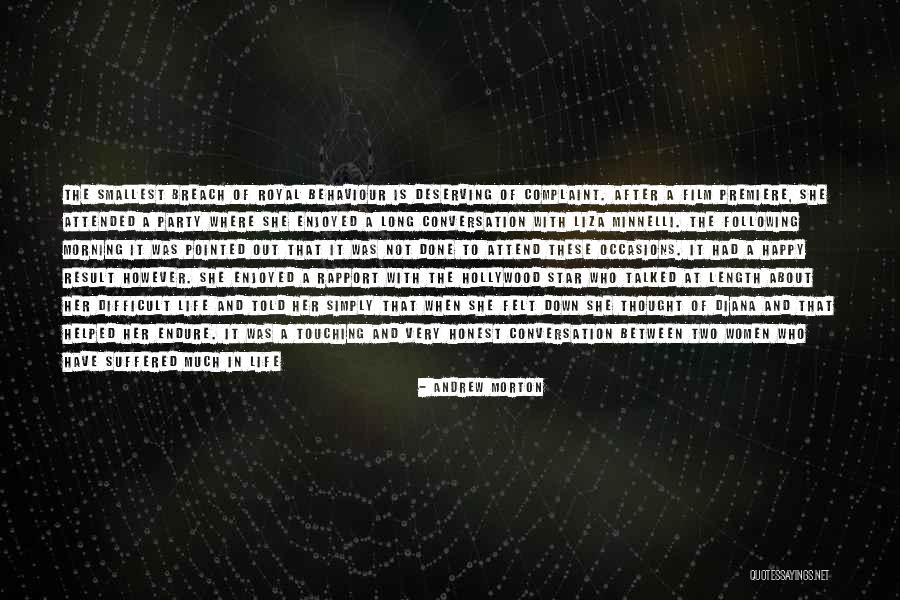 The smallest breach of royal behaviour is deserving of complaint. After a film premiere, she attended a party where she enjoyed a long conversation with Liza Minnelli. The following morning it was pointed out that it was not done to attend these occasions. It had a happy result however. She enjoyed a rapport with the Hollywood star who talked at length about her difficult life and told her simply that when she felt down she thought of Diana and that helped her endure. It was a touching and very honest conversation between two women who have suffered much in life and has since formed the basis of a long-distance friendship. — Andrew Morton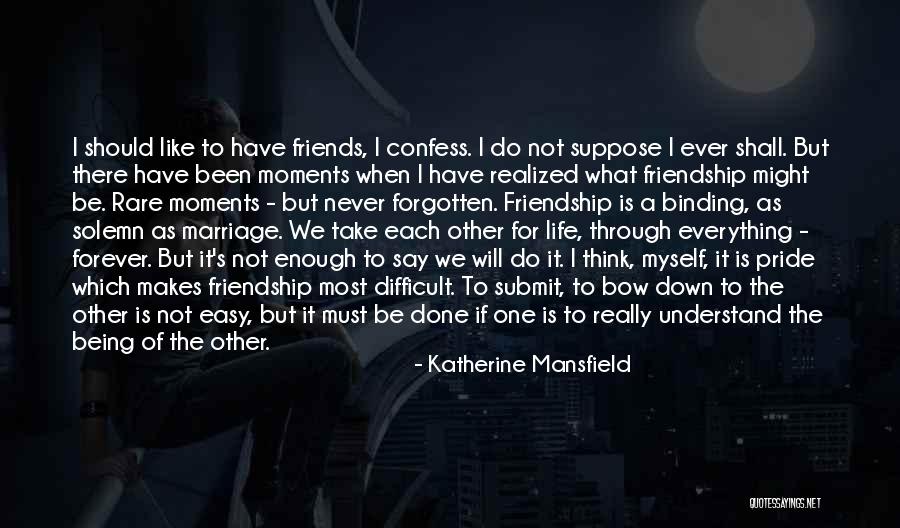 I should like to have friends, I confess. I do not suppose I ever shall. But there have been moments when I have realized what friendship might be. Rare moments - but never forgotten. Friendship is a binding, as solemn as marriage. We take each other for life, through everything - forever. But it's not enough to say we will do it. I think, myself, it is pride which makes friendship most difficult. To submit, to bow down to the other is not easy, but it must be done if one is to really understand the being of the other. Friendship isn't merging. One doesn't thereupon become a shadow and one remain a substance. Yet, it is terribly solemn - frightening, even. — Katherine Mansfield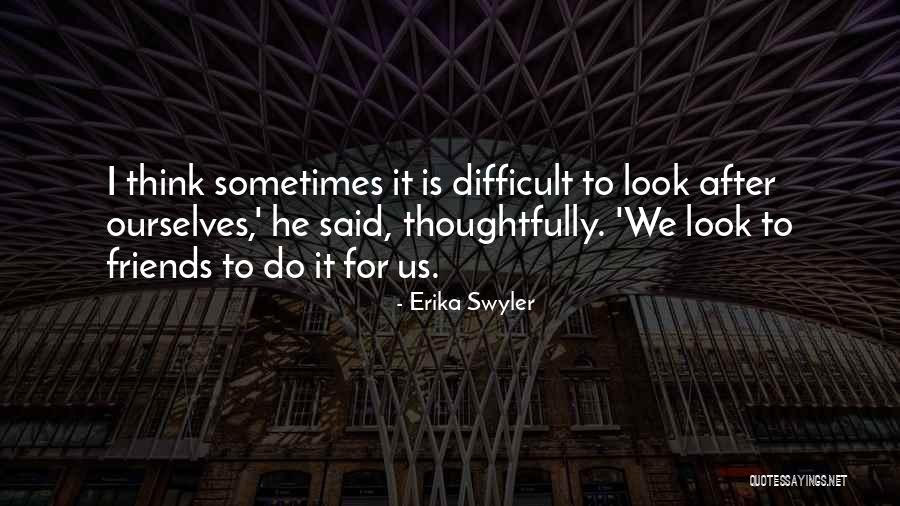 I think sometimes it is difficult to look after ourselves,' he said, thoughtfully. 'We look to friends to do it for us. — Erika Swyler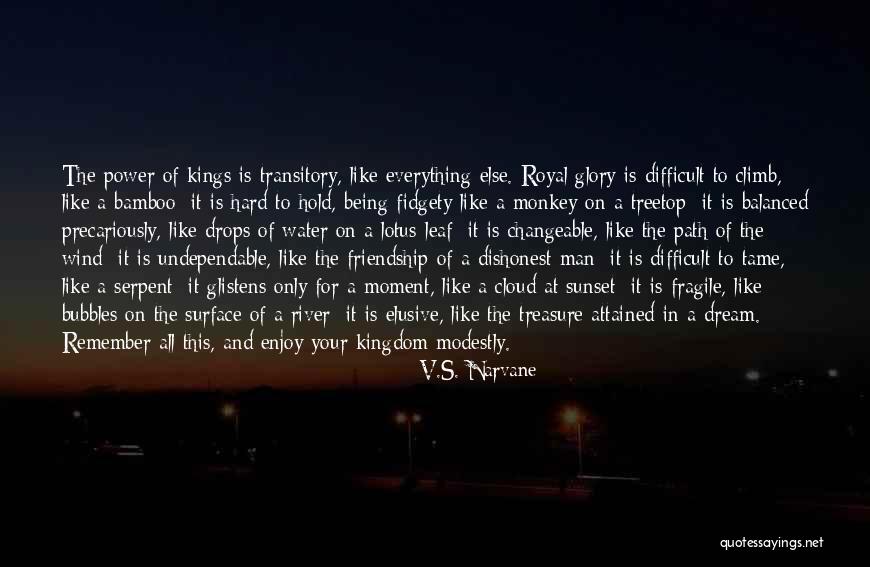 The power of kings is transitory, like everything else. Royal glory is difficult to climb, like a bamboo; it is hard to hold, being fidgety like a monkey on a treetop; it is balanced precariously, like drops of water on a lotus-leaf; it is changeable, like the path of the wind; it is undependable, like the friendship of a dishonest man; it is difficult to tame, like a serpent; it glistens only for a moment, like a cloud at sunset; it is fragile, like bubbles on the surface of a river; it is elusive, like the treasure attained in a dream. Remember all this, and enjoy your kingdom modestly. — V.S. Narvane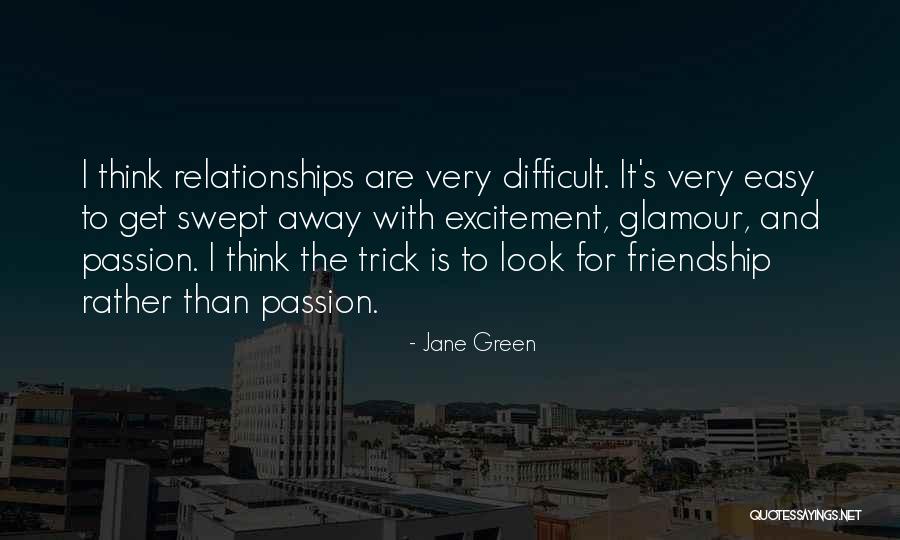 I think relationships are very difficult. It's very easy to get swept away with excitement, glamour, and passion. I think the trick is to look for friendship rather than passion. — Jane Green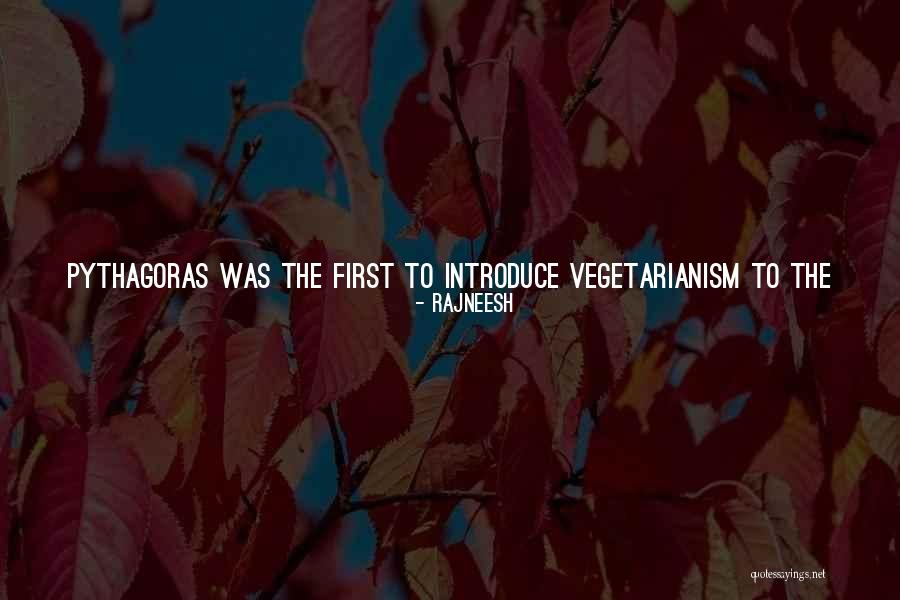 Pythagoras was the first to introduce vegetarianism to the West. It is of profound depth for man to learn how to live in friendship with nature, in friendship with creatures. That becomes the foundation. And only on that foundation can you base your prayer, your meditativeness. You can watch it in yourself: when you eat meat, meditation will be found to be more and more difficult. — Rajneesh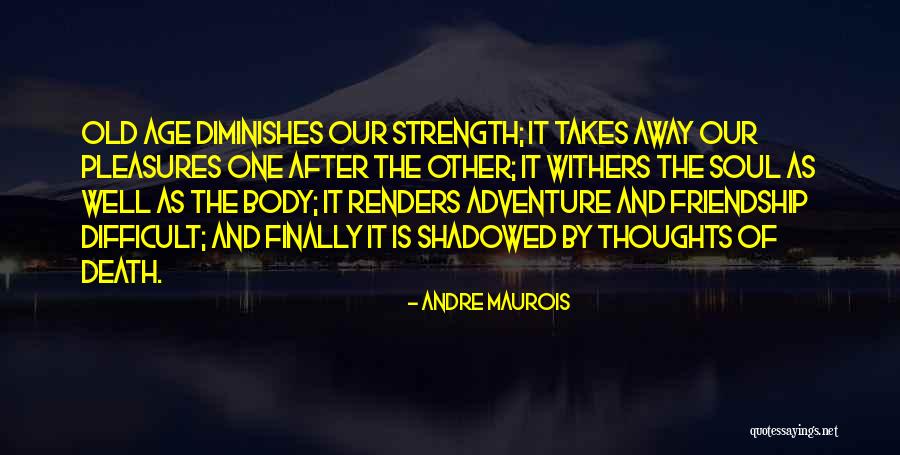 Old age diminishes our strength; it takes away our pleasures one after the other; it withers the soul as well as the body; it renders adventure and friendship difficult; and finally it is shadowed by thoughts of death. — Andre Maurois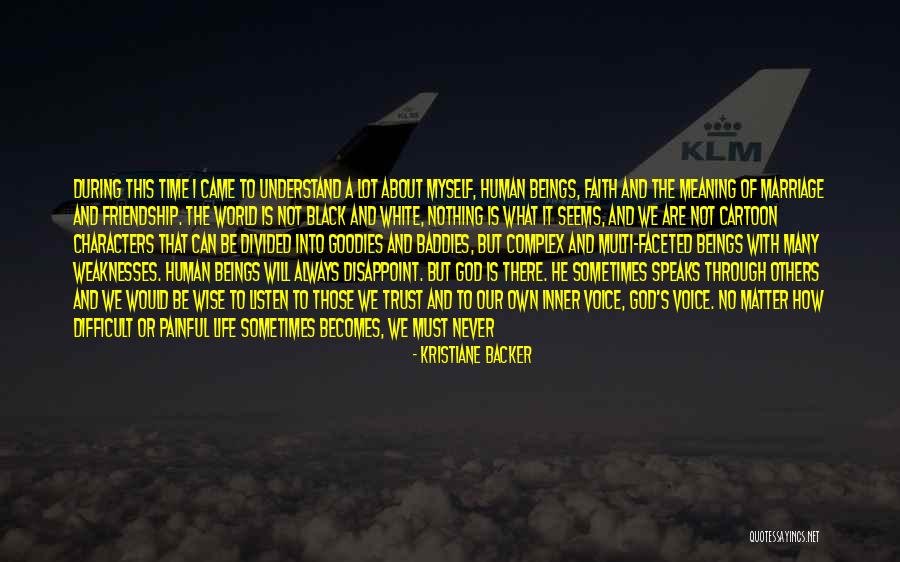 During this time I came to understand a lot about myself, human beings, faith and the meaning of marriage and friendship. The world is not black and white, nothing is what it seems, and we are not cartoon characters that can be divided into goodies and baddies, but complex and multi-faceted beings with many weaknesses. Human beings will always disappoint. But God is there. He sometimes speaks through others and we would be wise to listen to those we trust and to our own inner voice, God's voice. No matter how difficult or painful life sometimes becomes, we must never lose faith.

We may not always find justice in this world, but compassion and forgiveness are such important qualities. They help us to dissolve so much of the negativity that we hold. Practising them mostly benefits ourselves. — Kristiane Backer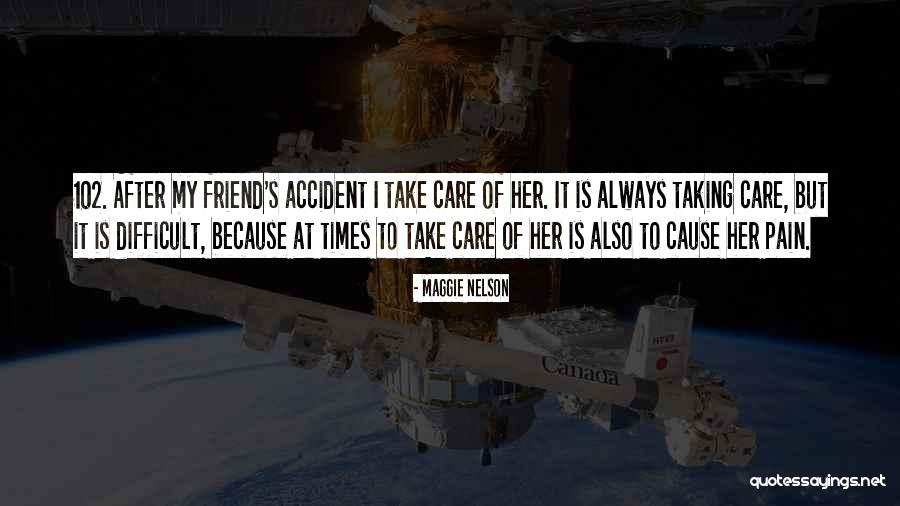 102. After my friend's accident I take care of her. It is always taking care, but it is difficult, because at times to take care of her is also to cause her pain. — Maggie Nelson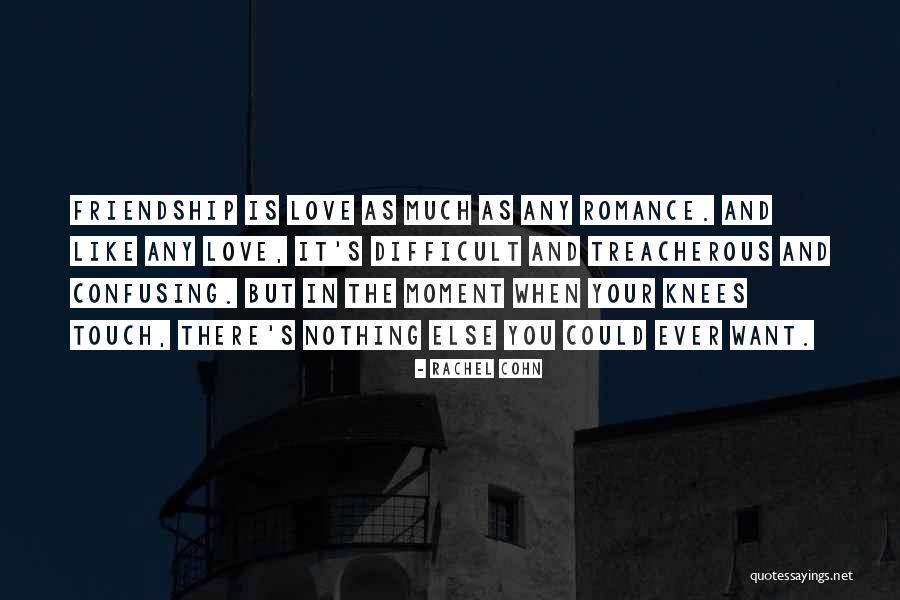 Friendship is love as much as any romance. And like any love, it's difficult and treacherous and confusing. But in the moment when your knees touch, there's nothing else you could ever want. — Rachel Cohn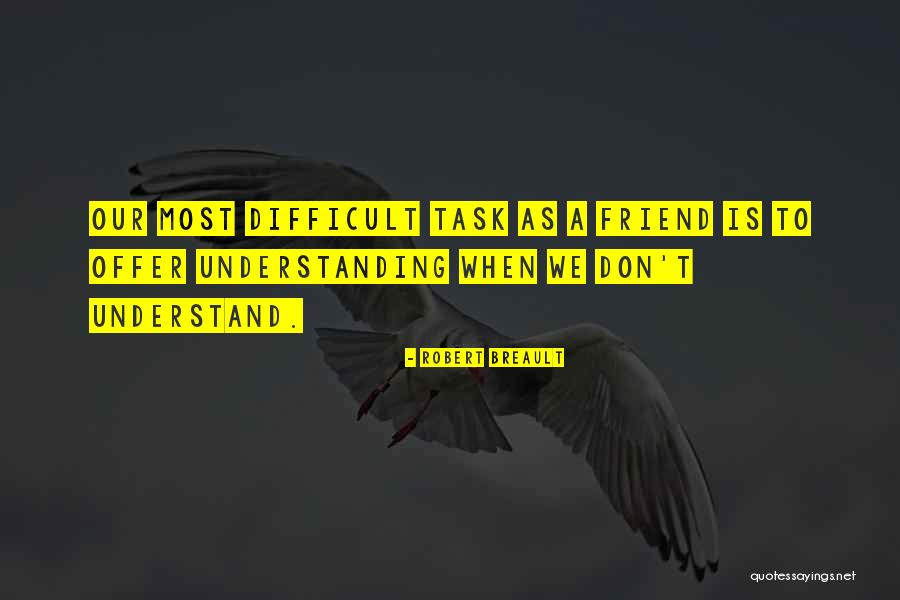 Our most difficult task as a friend is to offer understanding when we don't understand. — Robert Breault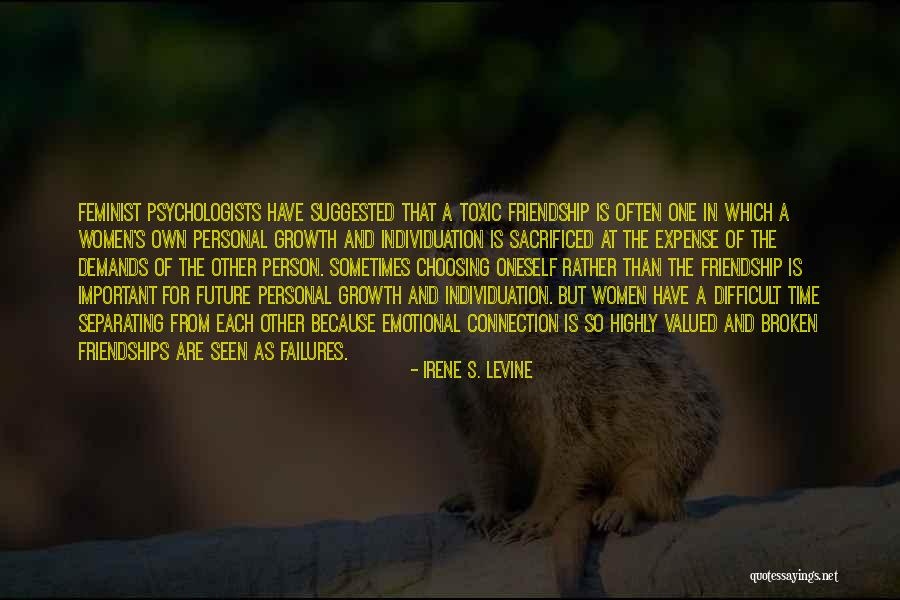 Feminist psychologists have suggested that a toxic friendship is often one in which a women's own personal growth and individuation is sacrificed at the expense of the demands of the other person. Sometimes choosing oneself rather than the friendship is important for future personal growth and individuation. But women have a difficult time separating from each other because emotional connection is so highly valued and broken friendships are seen as failures. — Irene S. Levine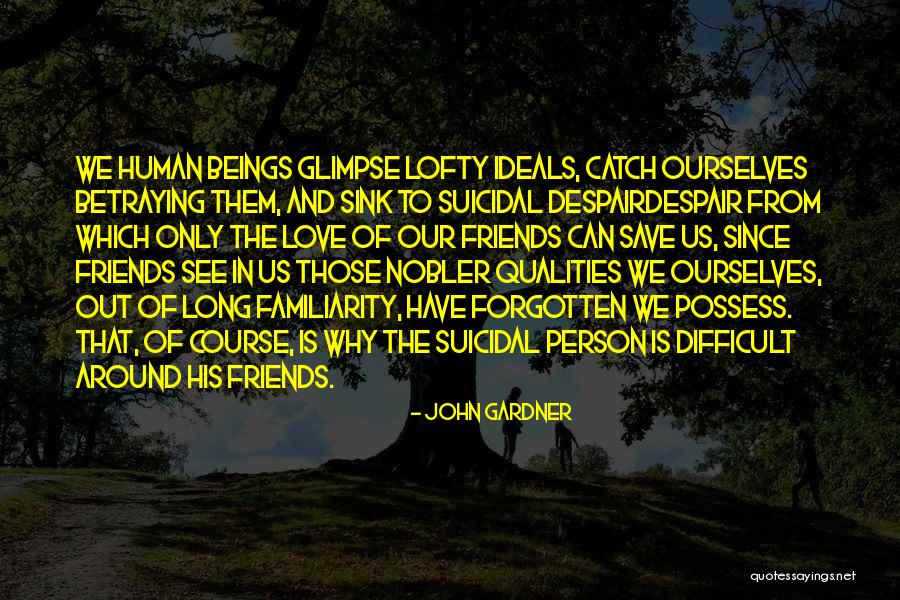 We human beings glimpse lofty ideals, catch ourselves betraying them, and sink to suicidal despair
despair from which only the love of our friends can save us, since friends see in us those nobler qualities we ourselves, out of long familiarity, have forgotten we possess. That, of course, is why the suicidal person is difficult around his friends. — John Gardner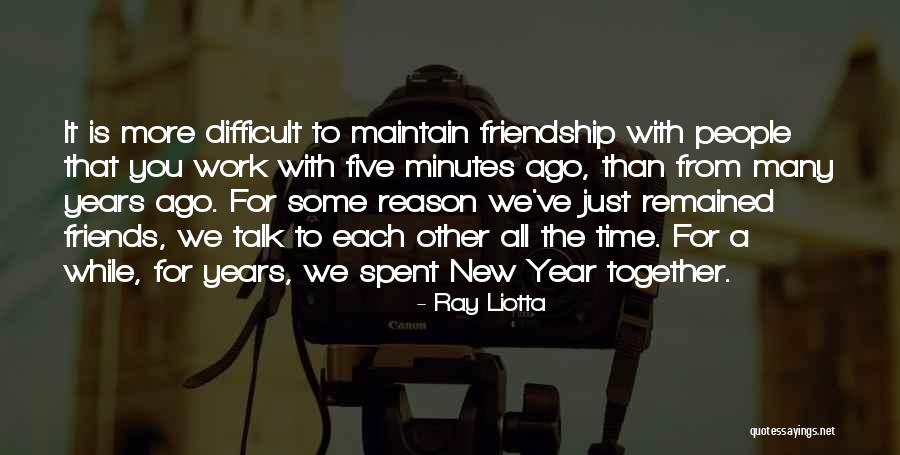 It is more difficult to maintain friendship with people that you work with five minutes ago, than from many years ago. For some reason we've just remained friends, we talk to each other all the time. For a while, for years, we spent New Year together. — Ray Liotta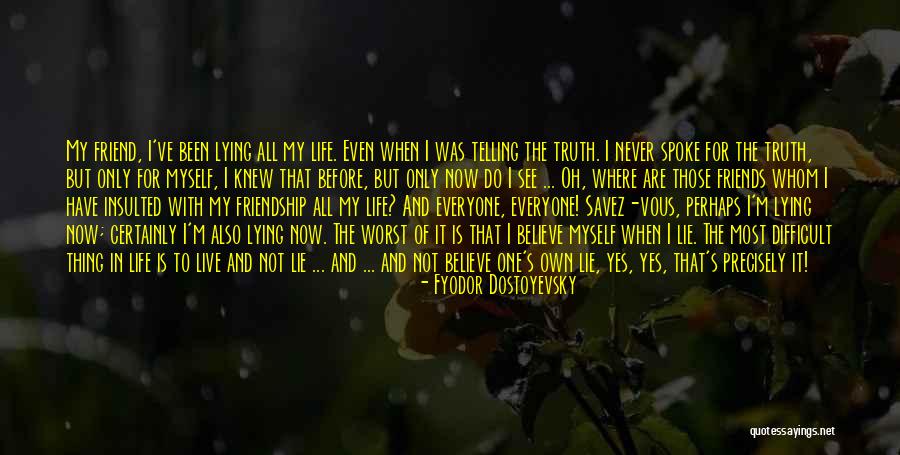 My friend, I've been lying all my life. Even when I was telling the truth. I never spoke for the truth, but only for myself, I knew that before, but only now do I see ... Oh, where are those friends whom I have insulted with my friendship all my life? And everyone, everyone! Savez-vous, perhaps I'm lying now; certainly I'm also lying now. The worst of it is that I believe myself when I lie. The most difficult thing in life is to live and not lie ... and ... and not believe one's own lie, yes, yes, that's precisely it! — Fyodor Dostoyevsky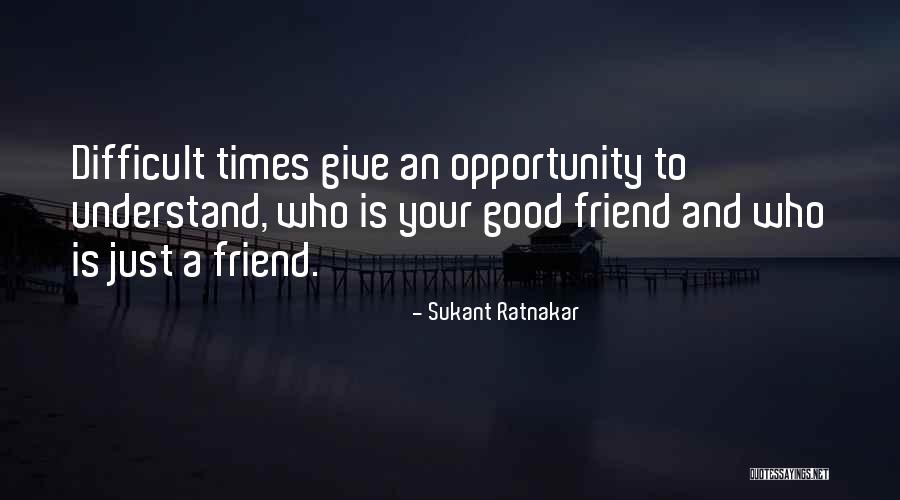 Difficult times give an opportunity to understand, who is your good friend and who is just a friend. — Sukant Ratnakar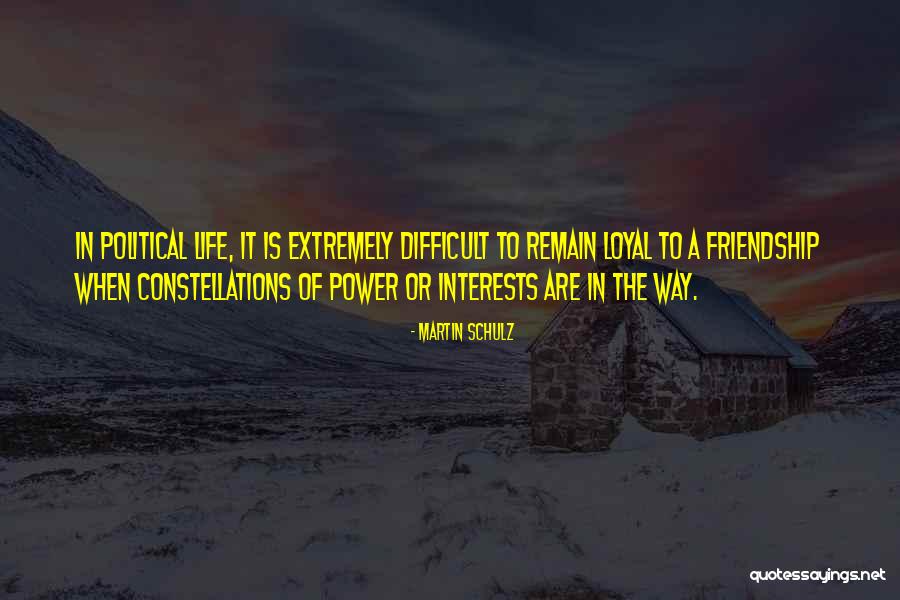 In political life, it is extremely difficult to remain loyal to a friendship when constellations of power or interests are in the way. — Martin Schulz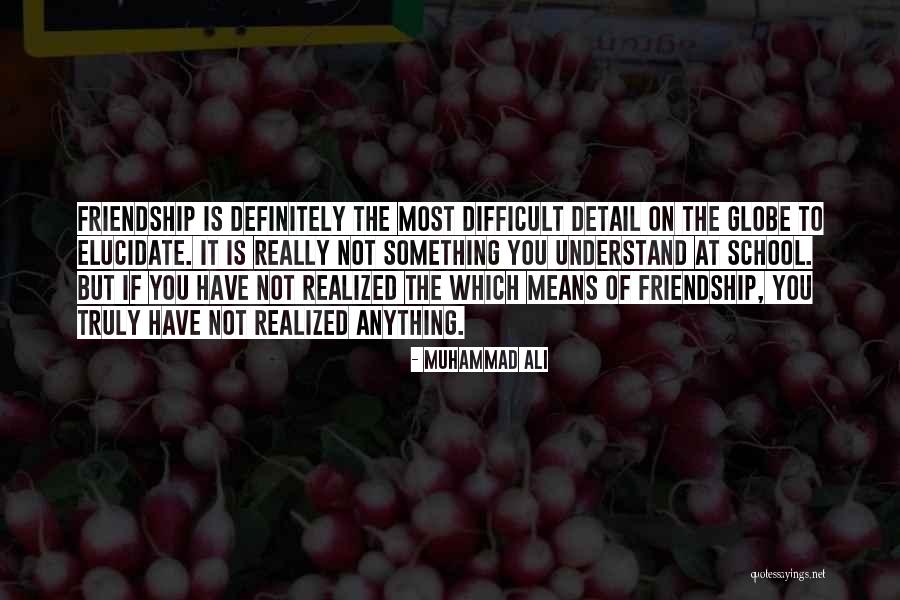 Friendship is definitely the most difficult detail on the globe to elucidate. It is really not something you understand at school. But if you have not realized the which means of friendship, you truly have not realized anything. — Muhammad Ali