Eye Pupil Quotes & Sayings
Enjoy reading and share 24 famous quotes about Eye Pupil with everyone.
Top Eye Pupil Quotes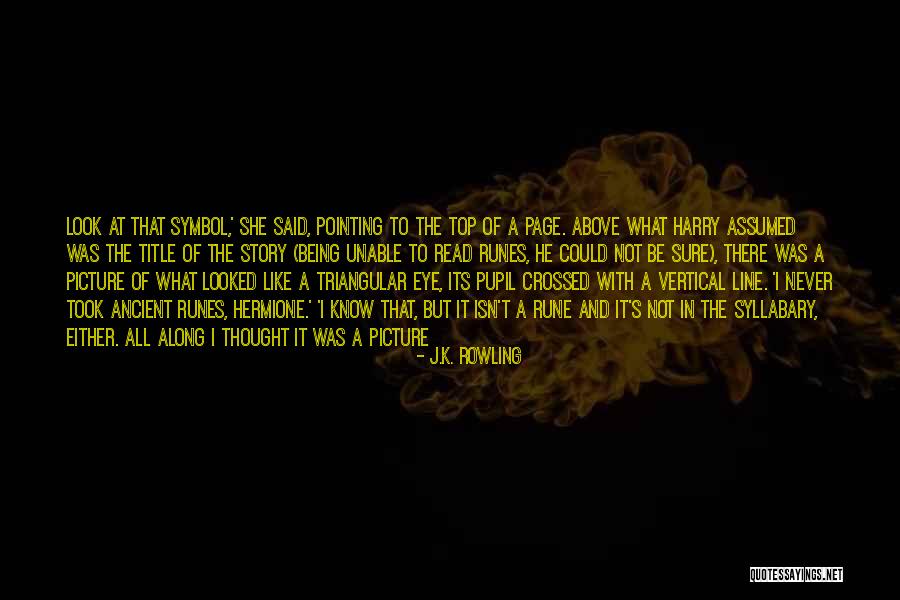 Look at that symbol,' she said, pointing to the top of a page. Above what Harry assumed was the title of the story (being unable to read runes, he could not be sure), there was a picture of what looked like a triangular eye, its pupil crossed with a vertical line. 'I never took Ancient Runes, Hermione.' 'I know that, but it isn't a rune and it's not in the syllabary, either. All along I thought it was a picture — J.K. Rowling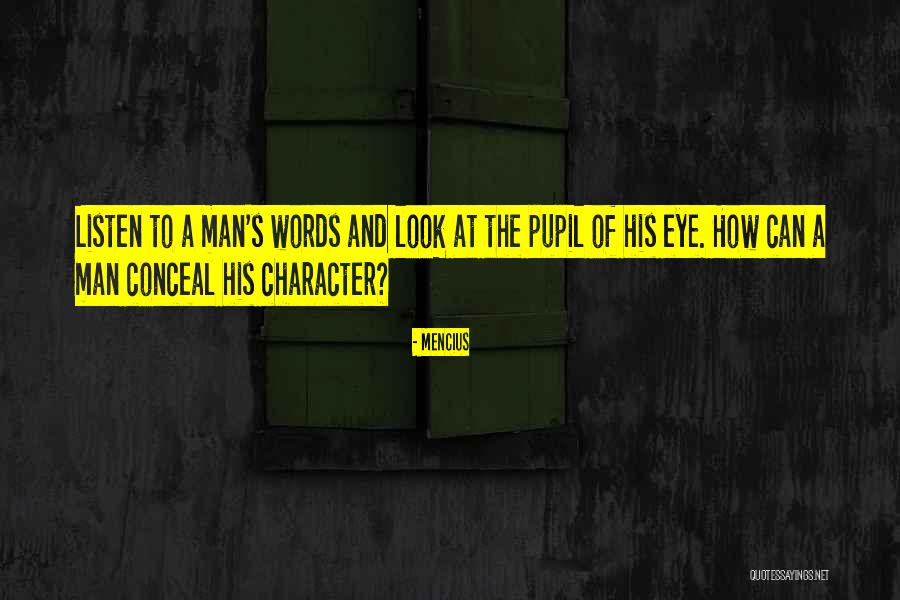 Listen to a man's words and look at the pupil of his eye. How can a man conceal his character? — Mencius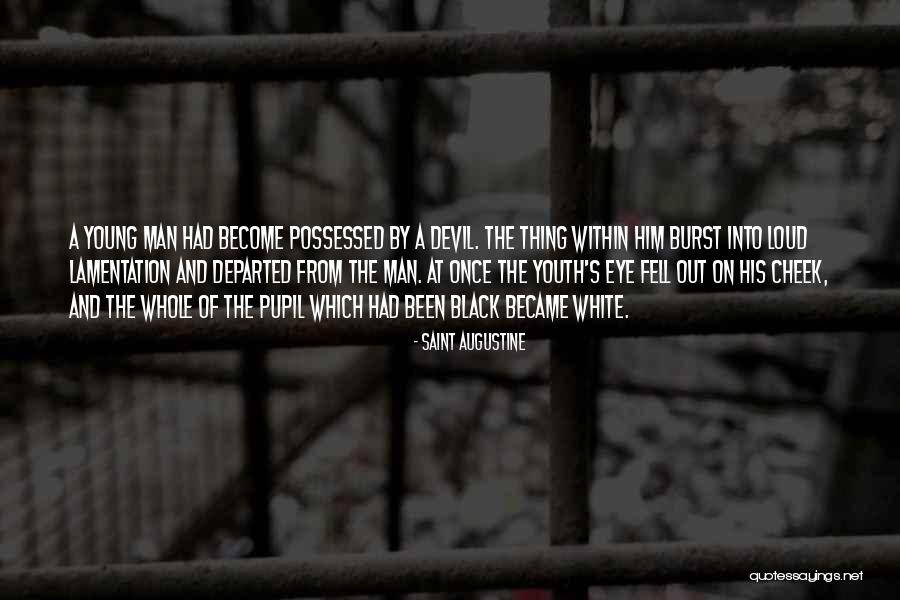 A young man had become possessed by a devil. The thing within him burst into loud lamentation and departed from the man. At once the youth's eye fell out on his cheek, and the whole of the pupil which had been black became white. — Saint Augustine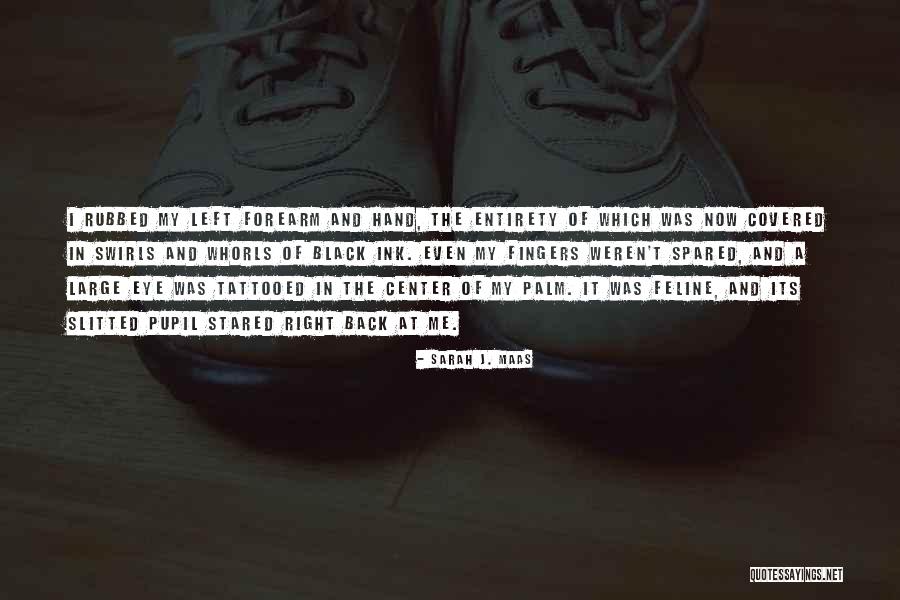 I rubbed my left forearm and hand, the entirety of which was now covered in swirls and whorls of black ink. Even my fingers weren't spared, and a large eye was tattooed in the center of my palm. It was feline, and its slitted pupil stared right back at me. — Sarah J. Maas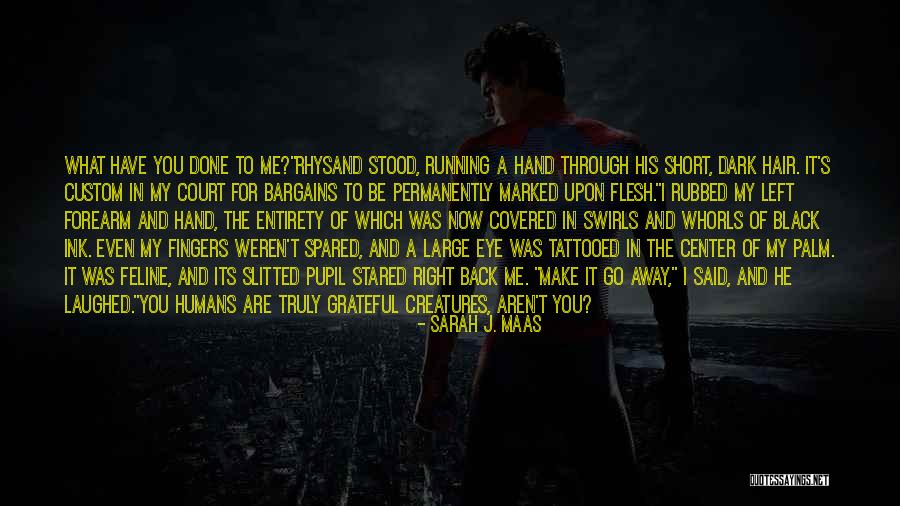 What have you done to me?"
Rhysand stood, running a hand through his short, dark hair. It's custom in my court for bargains to be permanently marked upon flesh."
I rubbed my left forearm and hand, the entirety of which was now covered in swirls and whorls of black ink. Even my fingers weren't spared, and a large eye was tattooed in the center of my palm. It was feline, and its slitted pupil stared right back me.
"Make it go away," I said, and he laughed.
"You humans are truly grateful creatures, aren't you? — Sarah J. Maas
Know the world from end to end is a mirror;
in each atom a hundred suns are concealed.
If you pierce the heart of a single drop of water,
from it will flow a hundred clear oceans;
if you look intently at each speck of dust,
in it you will see a thousand beings.
A gnat in its limbs is like an elephant;
in name a drop of water resembles the Nile.
In the heart of a barleycorn is stored a hundred harvests.
Within a millet-seed a world exists.
In an insects wing is an ocean of life.
A heaven is concealed in the pupil of an eye.
The core at the center of the heart is small,
yet the Lord of both worlds will enter there. — Mahmud Shabistari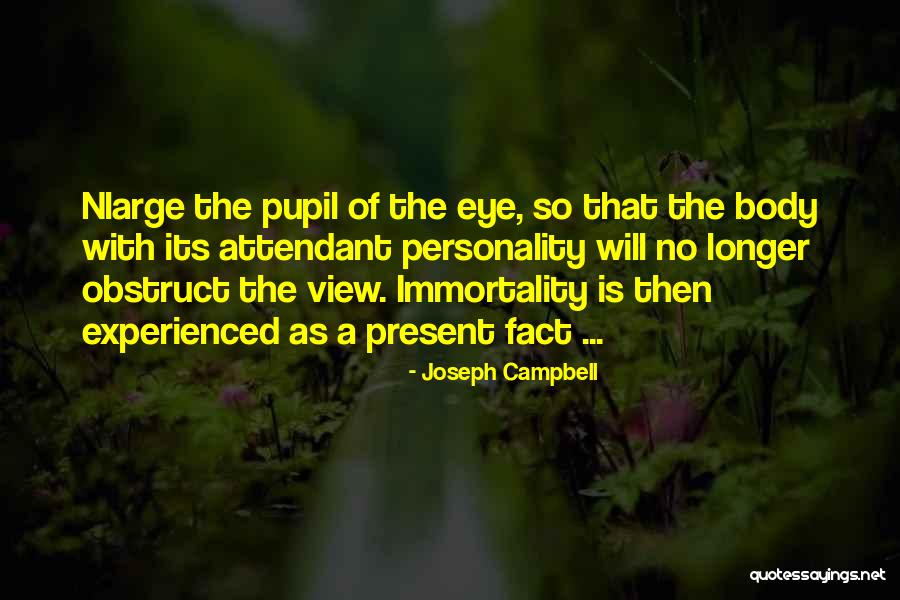 Nlarge the pupil of the eye, so that the body with its attendant personality will no longer obstruct the view. Immortality is then experienced as a present fact ... — Joseph Campbell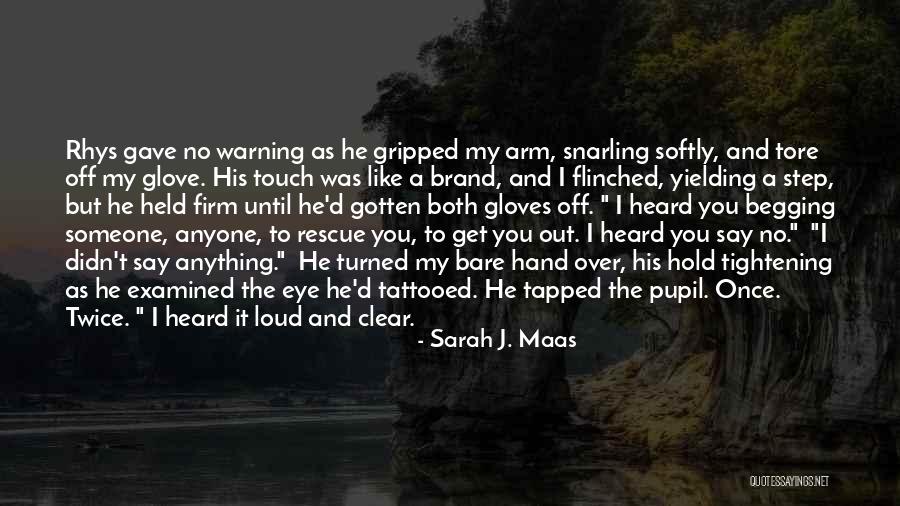 Rhys gave no warning as he gripped my arm, snarling softly, and tore off my glove. His touch was like a brand, and I flinched, yielding a step, but he held firm until he'd gotten both gloves off. " I heard you begging someone, anyone, to rescue you, to get you out. I heard you say no."
"I didn't say anything."
He turned my bare hand over, his hold tightening as he examined the eye he'd tattooed. He tapped the pupil. Once. Twice. " I heard it loud and clear. — Sarah J. Maas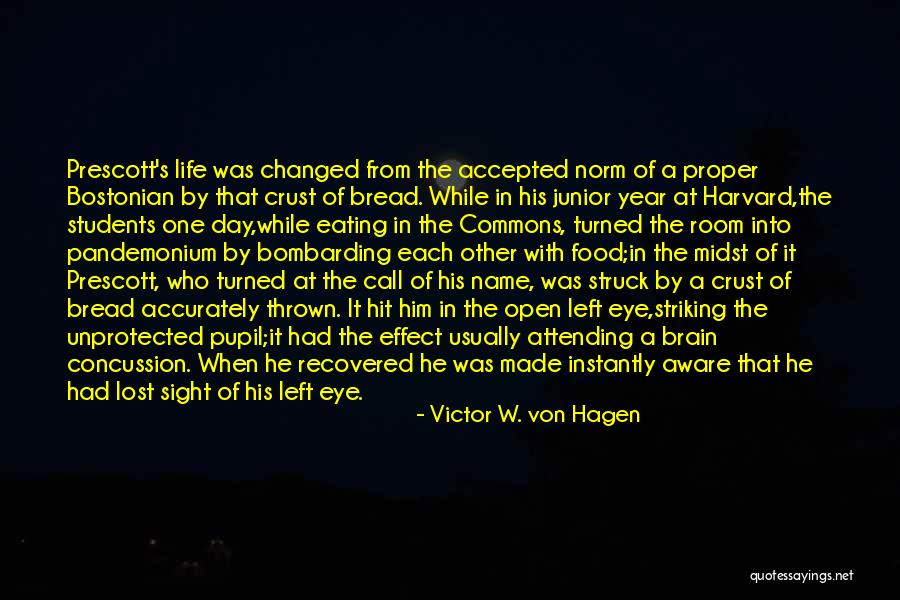 Prescott's life was changed from the accepted norm of a proper Bostonian by that crust of bread. While in his junior year at Harvard,the students one day,while eating in the Commons, turned the room into pandemonium by bombarding each other with food;in the midst of it Prescott, who turned at the call of his name, was struck by a crust of bread accurately thrown. It hit him in the open left eye,striking the unprotected pupil;it had the effect usually attending a brain concussion. When he recovered he was made instantly aware that he had lost sight of his left eye. — Victor W. Von Hagen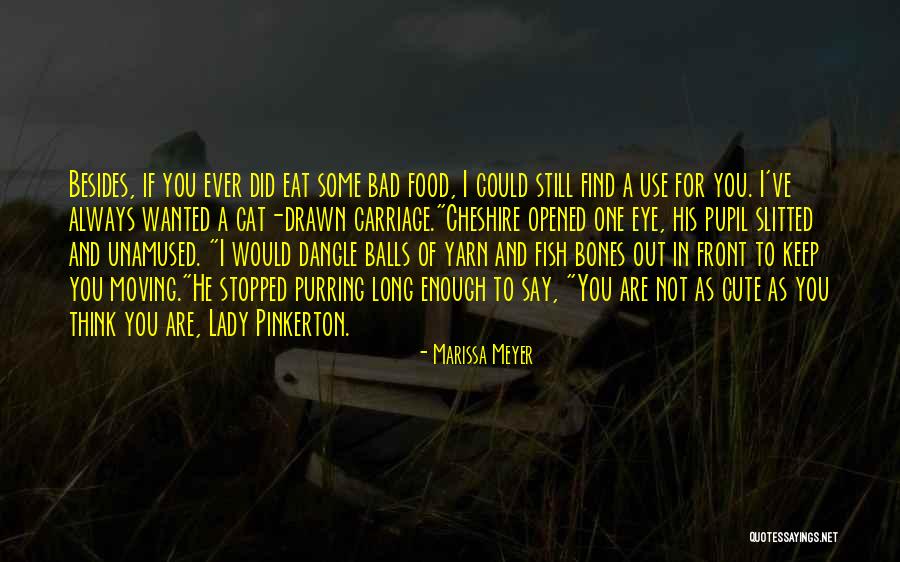 Besides, if you ever did eat some bad food, I could still find a use for you. I've always wanted a cat-drawn carriage."
Cheshire opened one eye, his pupil slitted and unamused.
"I would dangle balls of yarn and fish bones out in front to keep you moving."
He stopped purring long enough to say, "You are not as cute as you think you are, Lady Pinkerton. — Marissa Meyer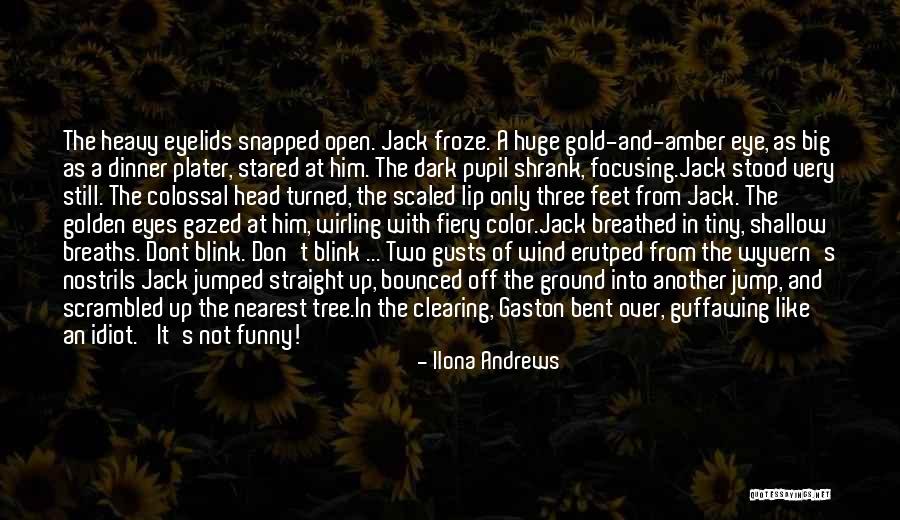 The heavy eyelids snapped open. Jack froze.
A huge gold-and-amber eye, as big as a dinner plater, stared at him. The dark pupil shrank, focusing.
Jack stood very still.
The colossal head turned, the scaled lip only three feet from Jack. The golden eyes gazed at him, wirling with fiery color.
Jack breathed in tiny, shallow breaths.
Dont blink. Don't blink ...
Two gusts of wind erutped from the wyvern's nostrils Jack jumped straight up, bounced off the ground into another jump, and scrambled up the nearest tree.
In the clearing, Gaston bent over, guffawing like an idiot.
'It's not funny! — Ilona Andrews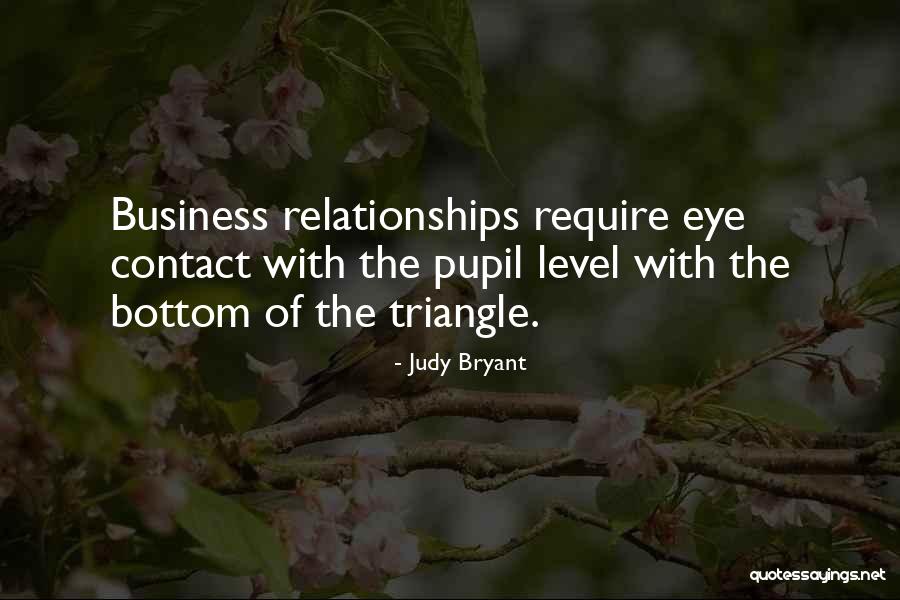 Business relationships require eye contact with the pupil level with the bottom of the triangle. — Judy Bryant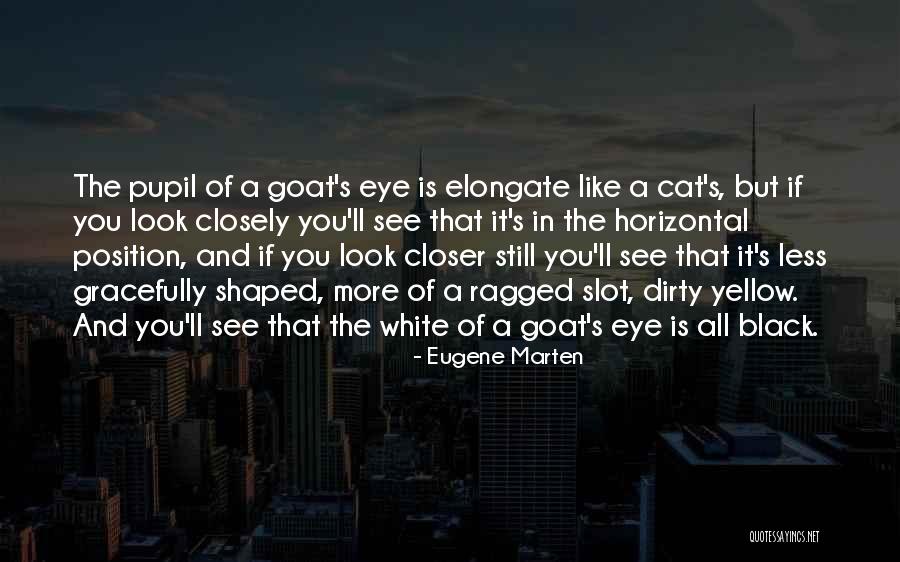 The pupil of a goat's eye is elongate like a cat's, but if you look closely you'll see that it's in the horizontal position, and if you look closer still you'll see that it's less gracefully shaped, more of a ragged slot, dirty yellow. And you'll see that the white of a goat's eye is all black. — Eugene Marten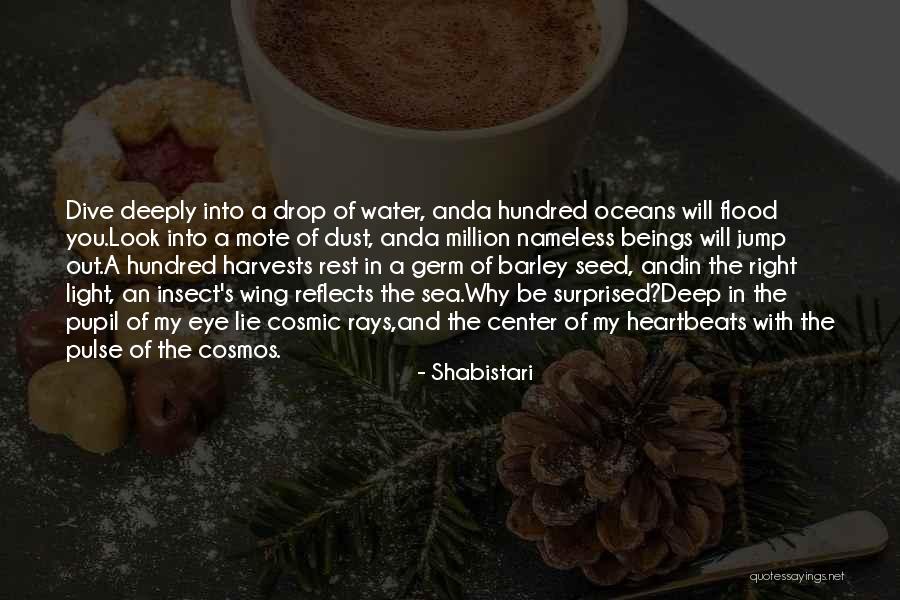 Dive deeply into a drop of water, and
a hundred oceans will flood you.
Look into a mote of dust, and
a million nameless beings will jump out.
A hundred harvests rest in a germ of barley seed, and
in the right light, an insect's wing reflects the sea.
Why be surprised?
Deep in the pupil of my eye lie cosmic rays,
and the center of my heart
beats with the pulse of the cosmos. — Shabistari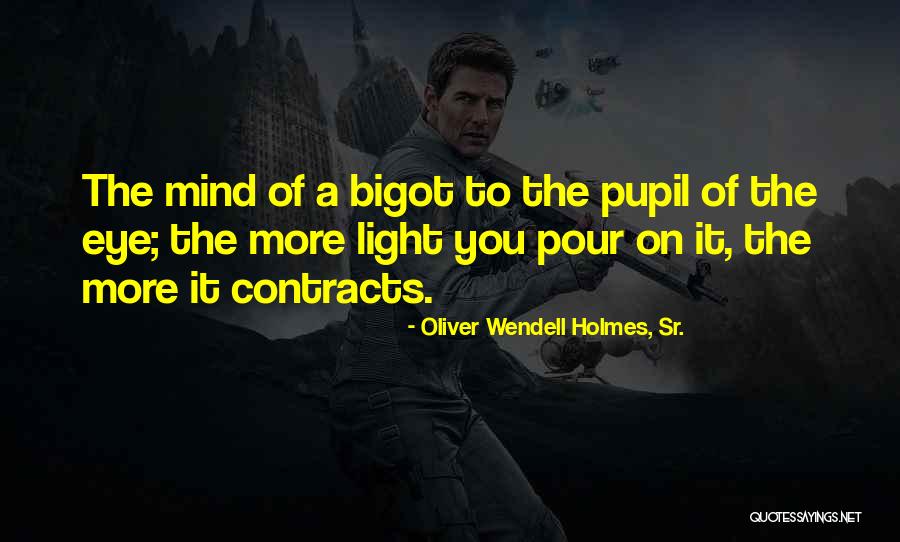 The mind of a bigot to the pupil of the eye; the more light you pour on it, the more it contracts. — Oliver Wendell Holmes, Sr.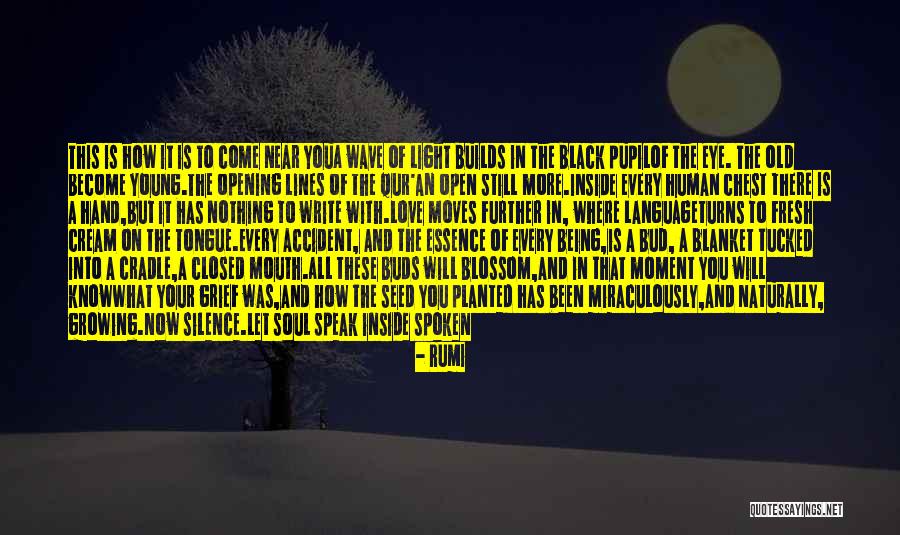 This is how it is to come near you
A wave of light builds in the black pupil
of the eye. The old become young.
The opening lines of the Qur'an open still more.
Inside every human chest there is a hand,
but it has nothing to write with.
Love moves further in, where language
turns to fresh cream on the tongue.
Every accident, and the essence of every being,
is a bud, a blanket tucked into a cradle,
a closed mouth.
All these buds will blossom,
and in that moment you will know
what your grief was,
and how the seed you planted has been miraculously,
and naturally, growing.
Now silence.
Let soul speak inside spoken things. — Rumi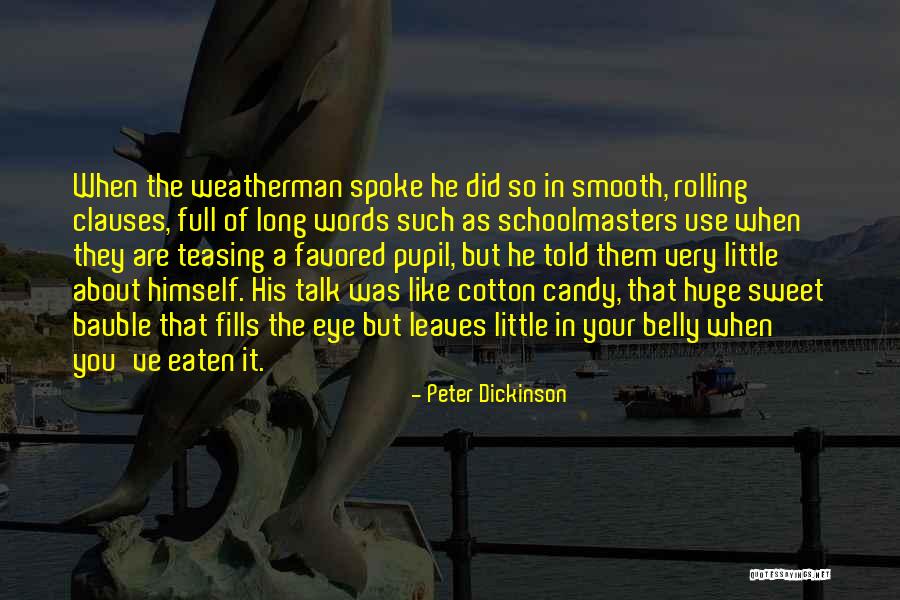 When the weatherman spoke he did so in smooth, rolling clauses, full of long words such as schoolmasters use when they are teasing a favored pupil, but he told them very little about himself. His talk was like cotton candy, that huge sweet bauble that fills the eye but leaves little in your belly when you've eaten it. — Peter Dickinson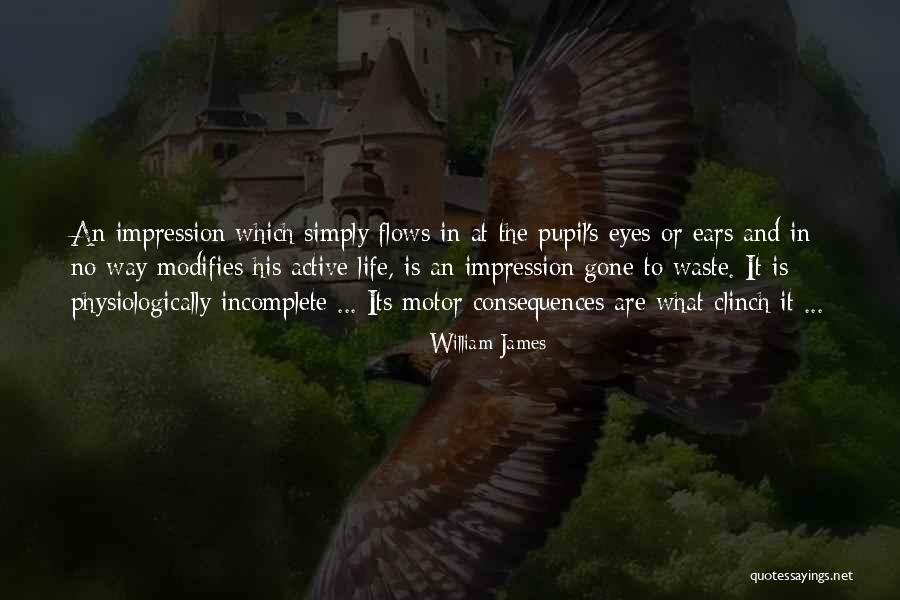 An impression which simply flows in at the pupil's eyes or ears and in no way modifies his active life, is an impression gone to waste. It is physiologically incomplete ... Its motor consequences are what clinch it ... — William James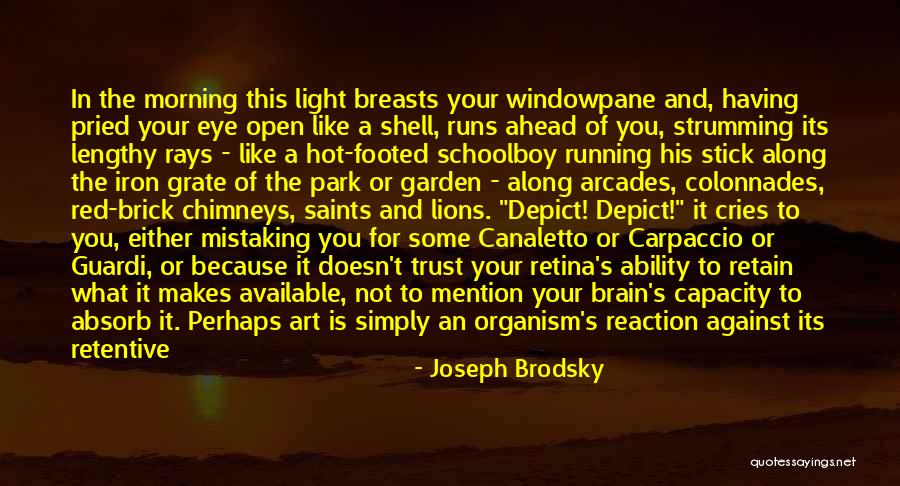 In the morning this light breasts your windowpane and, having pried your eye open like a shell, runs ahead of you, strumming its lengthy rays - like a hot-footed schoolboy running his stick along the iron grate of the park or garden - along arcades, colonnades, red-brick chimneys, saints and lions. "Depict! Depict!" it cries to you, either mistaking you for some Canaletto or Carpaccio or Guardi, or because it doesn't trust your retina's ability to retain what it makes available, not to mention your brain's capacity to absorb it. Perhaps art is simply an organism's reaction against its retentive limitations. At any rate, you obey the command and grab your camera, supplementing both your brain cells and your pupil. Should this city ever be short of cash, it can go straight to Kodak for assistance - or else tax its products savagely. By the same token, as long as this place exists, as long as winter light shines upon it, Kodak shares are the best investment. — Joseph Brodsky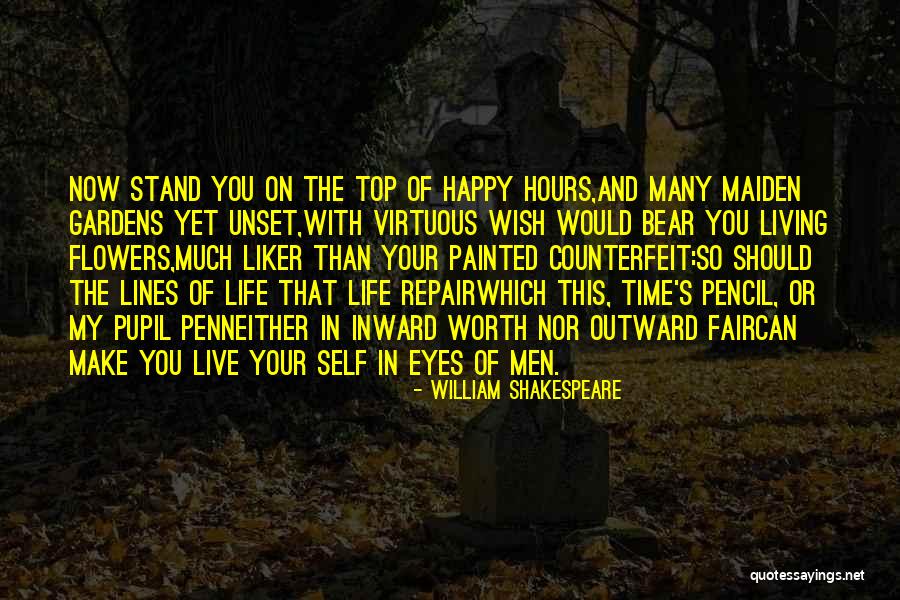 Now stand you on the top of happy hours,
And many maiden gardens yet unset,
With virtuous wish would bear you living flowers,
Much liker than your painted counterfeit:
So should the lines of life that life repair
Which this, Time's pencil, or my pupil pen
Neither in inward worth nor outward fair
Can make you live your self in eyes of men. — William Shakespeare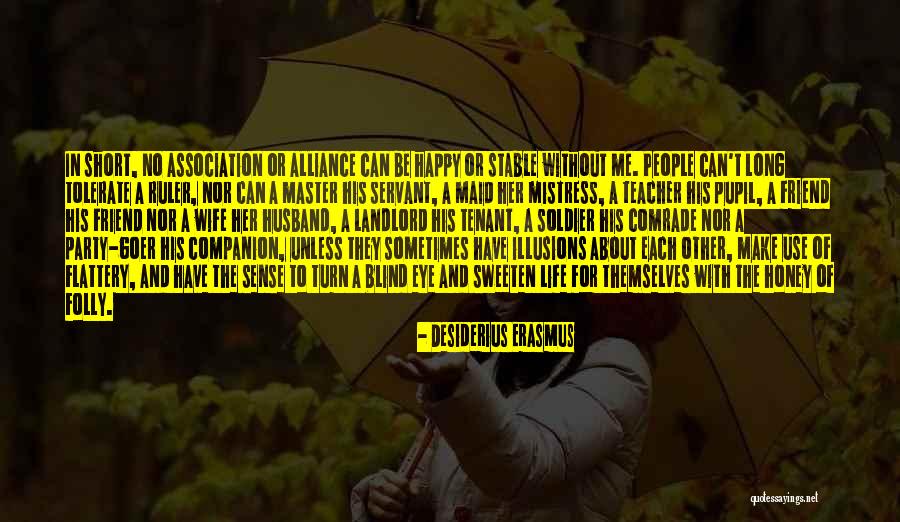 In short, no association or alliance can be happy or stable without me. People can't long tolerate a ruler, nor can a master his servant, a maid her mistress, a teacher his pupil, a friend his friend nor a wife her husband, a landlord his tenant, a soldier his comrade nor a party-goer his companion, unless they sometimes have illusions about each other, make use of flattery, and have the sense to turn a blind eye and sweeten life for themselves with the honey of folly. — Desiderius Erasmus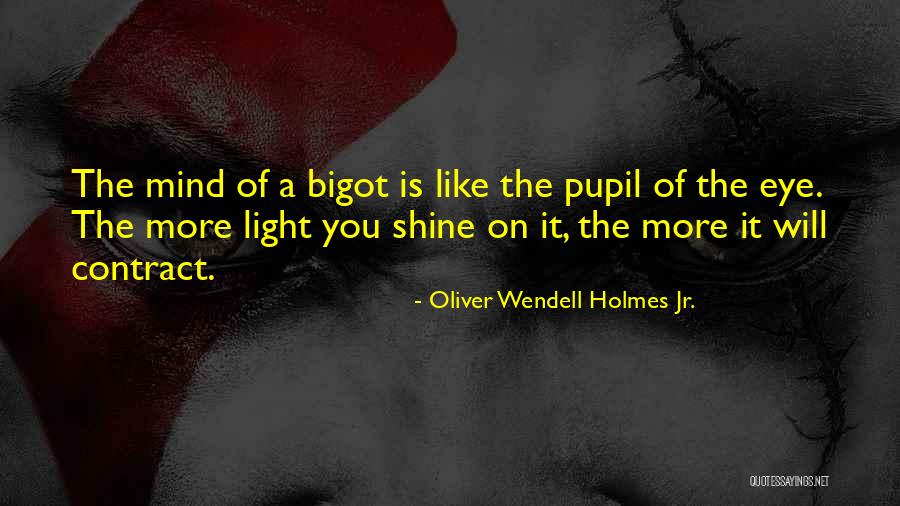 The mind of a bigot is like the pupil of the eye. The more light you shine on it, the more it will contract. — Oliver Wendell Holmes Jr.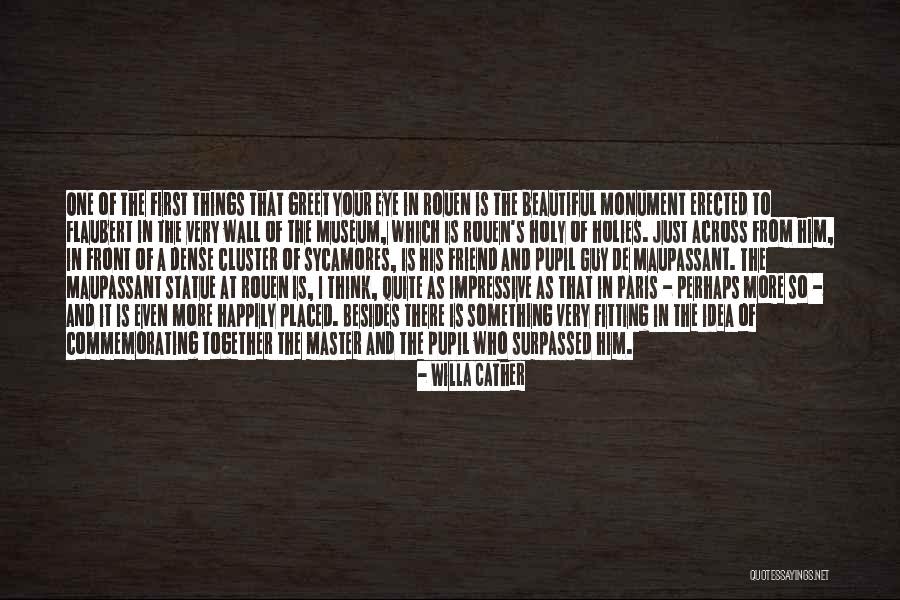 One of the first things that greet your eye in Rouen is the beautiful monument erected to Flaubert in the very wall of the Museum, which is Rouen's holy of holies. Just across from him, in front of a dense cluster of sycamores, is his friend and pupil Guy de Maupassant. The Maupassant statue at rouen is, I think, quite as impressive as that in Paris - perhaps more so - and it is even more happily placed. Besides there is something very fitting in the idea of commemorating together the master and the pupil who surpassed him. — Willa Cather