Quotes & Sayings About Constant Prayer
Enjoy reading and share 57 famous quotes about Constant Prayer with everyone.
Top Constant Prayer Quotes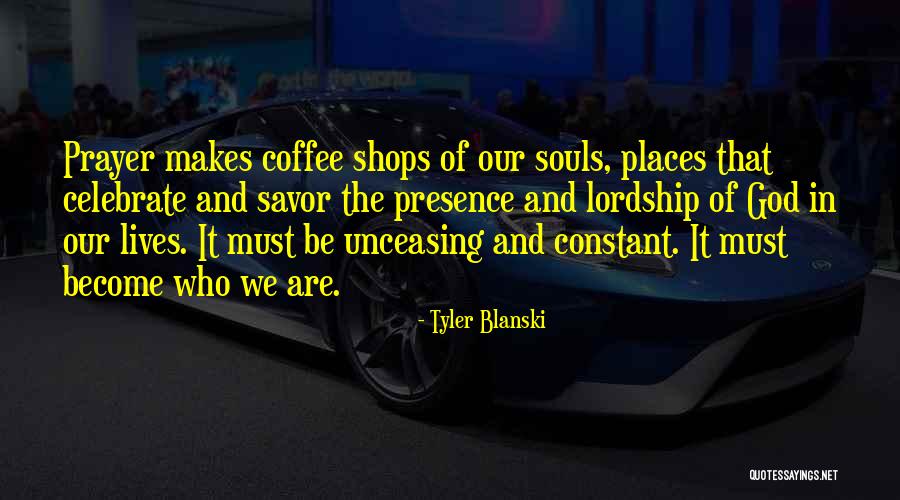 Prayer makes coffee shops of our souls, places that celebrate and savor the presence and lordship of God in our lives. It must be unceasing and constant. It must become who we are. — Tyler Blanski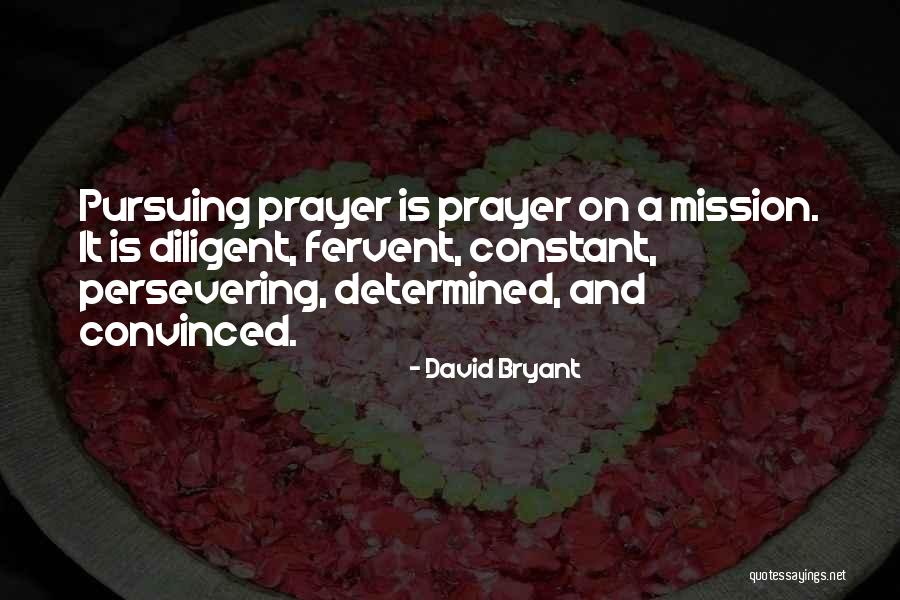 Pursuing prayer is prayer on a mission. It is diligent, fervent, constant, persevering, determined, and convinced. — David Bryant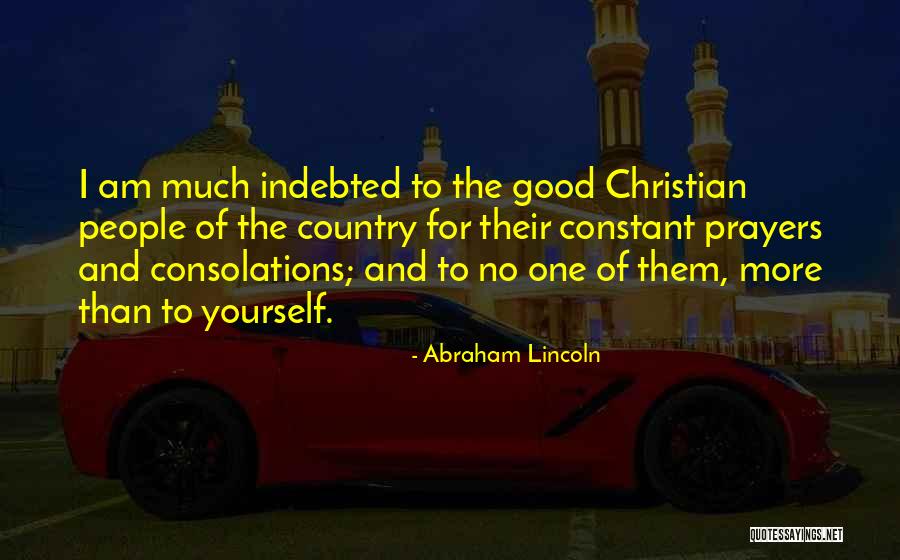 I am much indebted to the good Christian people of the country for their constant prayers and consolations; and to no one of them, more than to yourself. — Abraham Lincoln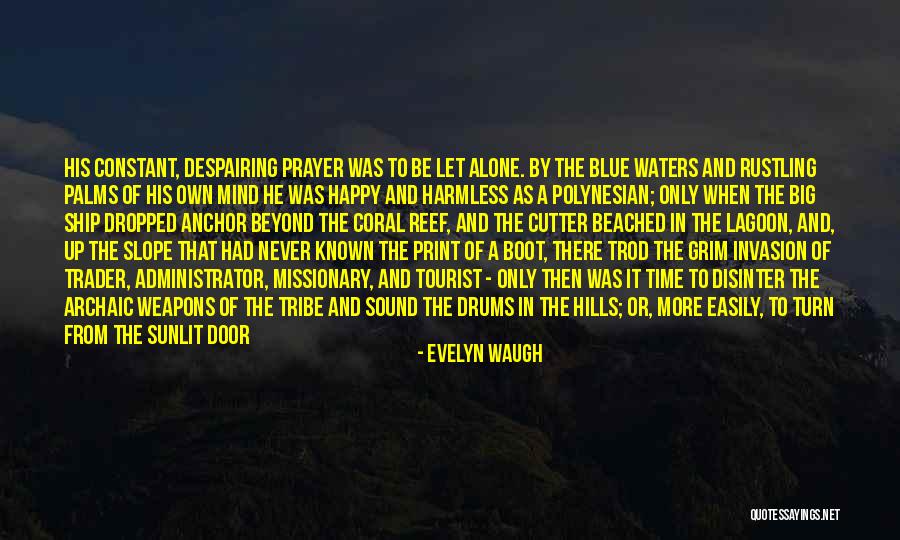 His constant, despairing prayer was to be let alone. By the blue waters and rustling palms of his own mind he was happy and harmless as a Polynesian; only when the big ship dropped anchor beyond the coral reef, and the cutter beached in the lagoon, and, up the slope that had never known the print of a boot, there trod the grim invasion of trader, administrator, missionary, and tourist - only then was it time to disinter the archaic weapons of the tribe and sound the drums in the hills; or, more easily, to turn from the sunlit door and lie alone in the darkness, where the impotent, painted deities paraded the walls in vain, and cough his heart out among the rum bottles. And — Evelyn Waugh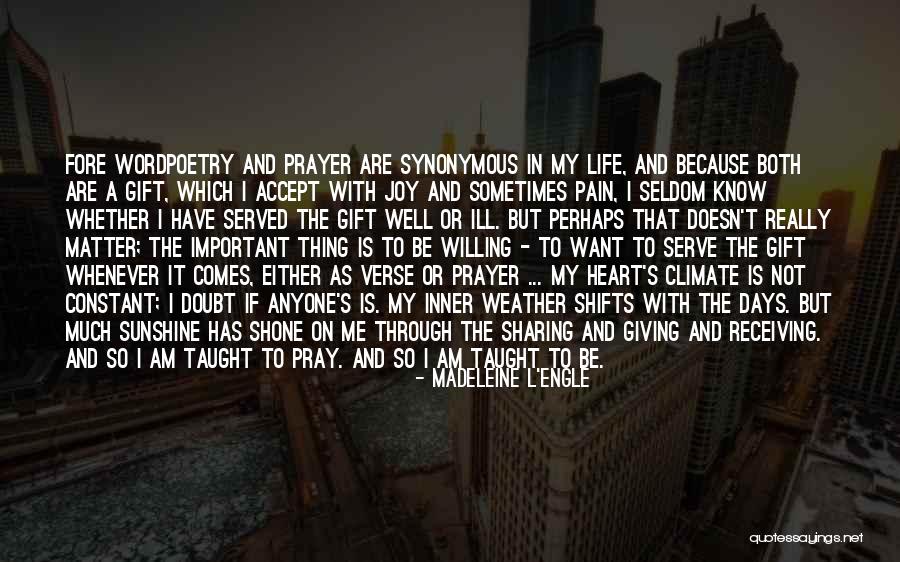 Fore Word
Poetry and prayer are synonymous in my life, and because both are a gift, which I accept with joy and sometimes pain, I seldom know whether I have served the gift well or ill. But perhaps that doesn't really matter; the important thing is to be willing - to want to serve the gift whenever it comes, either as verse or prayer ...
My heart's climate is not constant; I doubt if anyone's is. My inner weather shifts with the days. But much sunshine has shone on me through the sharing and giving and receiving.
And so I am taught to pray. And so I am taught to be. — Madeleine L'Engle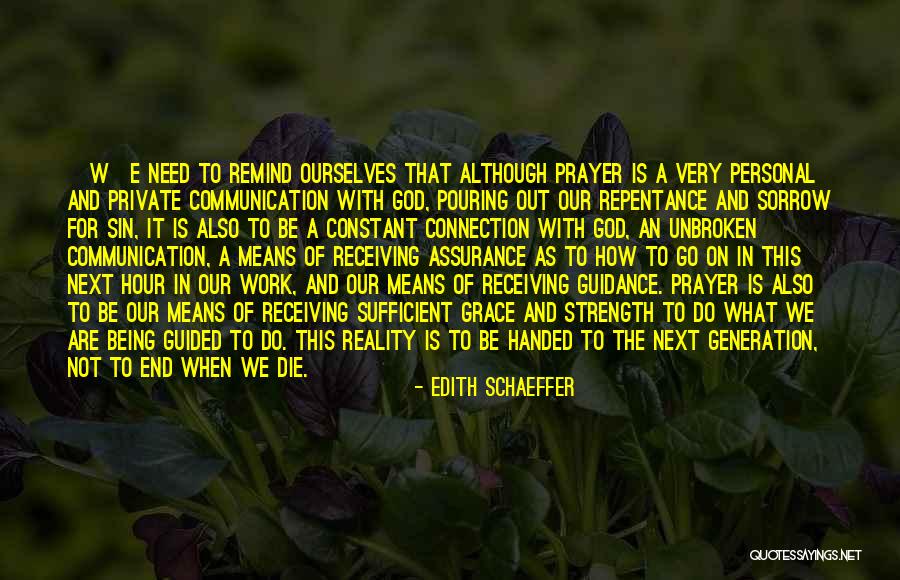 [W]e need to remind ourselves that although prayer is a very personal and private communication with God, pouring out our repentance and sorrow for sin, it is also to be a constant connection with God, an unbroken communication, a means of receiving assurance as to how to go on in this next hour in our work, and our means of receiving guidance. Prayer is also to be our means of receiving sufficient grace and strength to do what we are being guided to do. This reality is to be handed to the next generation, not to end when we die. — Edith Schaeffer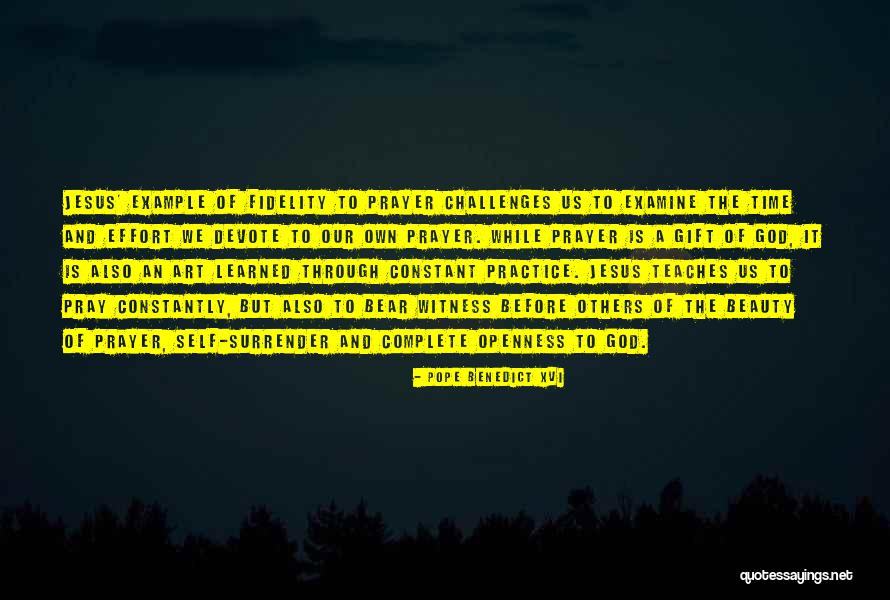 Jesus' example of fidelity to prayer challenges us to examine the time and effort we devote to our own prayer. While prayer is a gift of God, it is also an art learned through constant practice. Jesus teaches us to pray constantly, but also to bear witness before others of the beauty of prayer, self-surrender and complete openness to God. — Pope Benedict XVI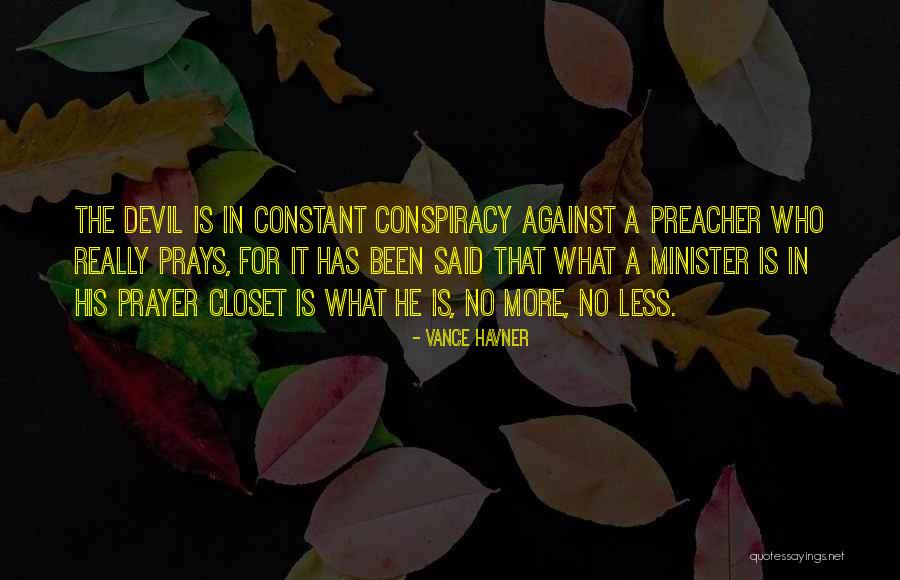 The devil is in constant conspiracy against a preacher who really prays, for it has been said that what a minister is in his prayer closet is what he is, no more, no less. — Vance Havner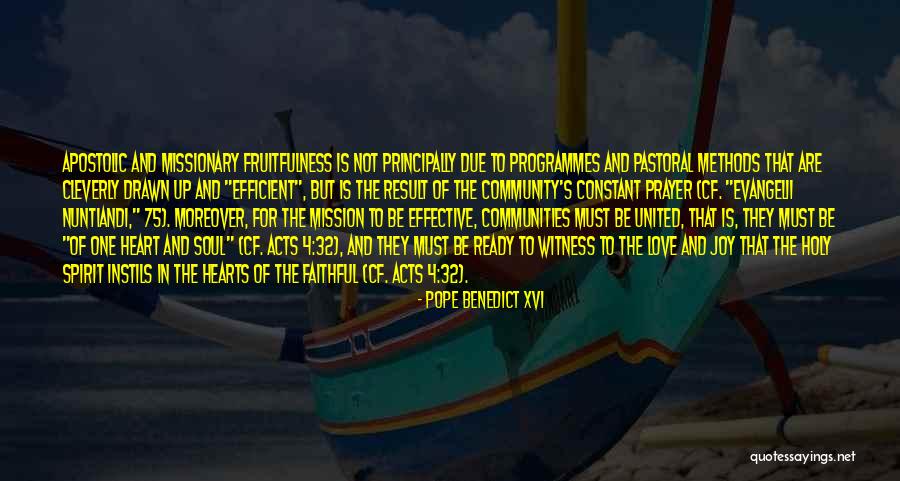 Apostolic and missionary fruitfulness is not principally due to programmes and pastoral methods that are cleverly drawn up and "efficient", but is the result of the community's constant prayer (cf. "Evangelii Nuntiandi," 75). Moreover, for the mission to be effective, communities must be united, that is, they must be "of one heart and soul" (cf. Acts 4:32), and they must be ready to witness to the love and joy that the Holy Spirit instils in the hearts of the faithful (cf. Acts 4:32). — Pope Benedict XVI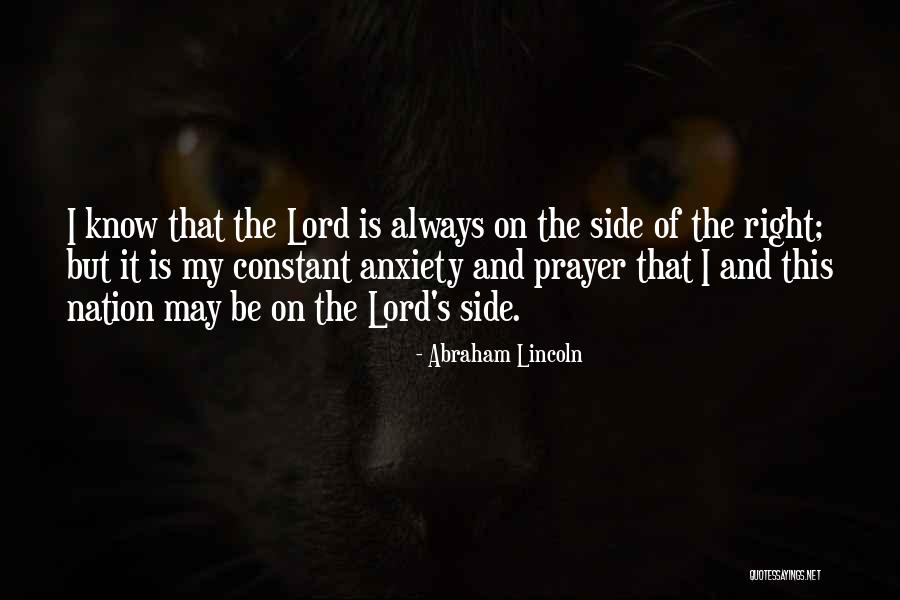 I know that the Lord is always on the side of the right; but it is my constant anxiety and prayer that I and this nation may be on the Lord's side. — Abraham Lincoln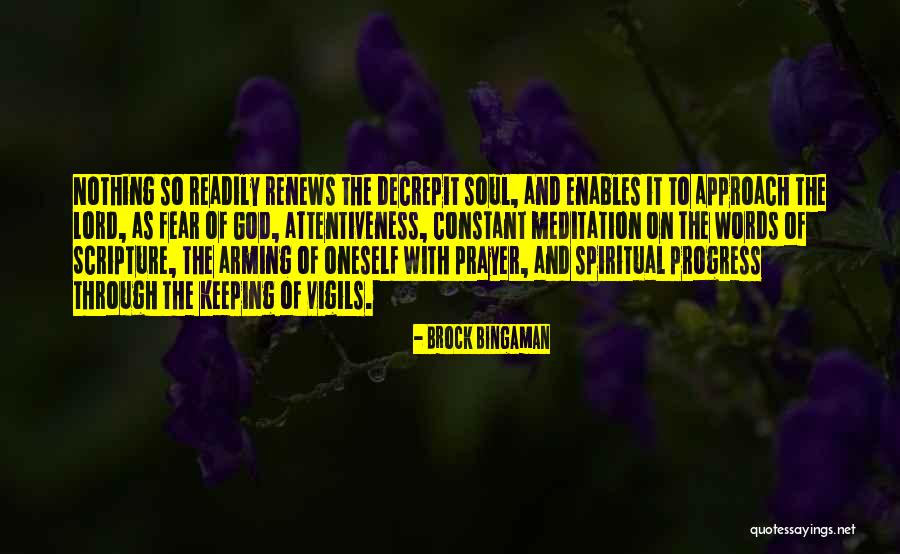 Nothing so readily renews the decrepit soul, and enables it to approach the Lord, as fear of God, attentiveness, constant meditation on the words of Scripture, the arming of oneself with prayer, and spiritual progress through the keeping of vigils. — Brock Bingaman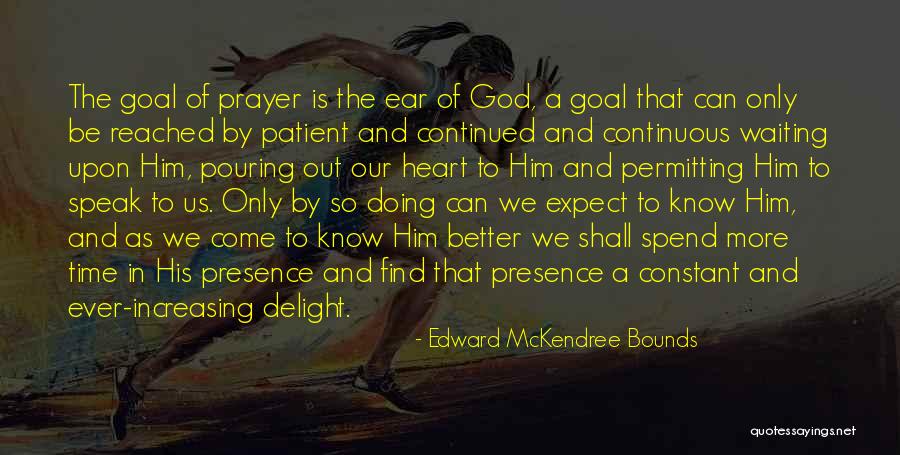 The goal of prayer is the ear of God, a goal that can only be reached by patient and continued and continuous waiting upon Him, pouring out our heart to Him and permitting Him to speak to us. Only by so doing can we expect to know Him, and as we come to know Him better we shall spend more time in His presence and find that presence a constant and ever-increasing delight. — Edward McKendree Bounds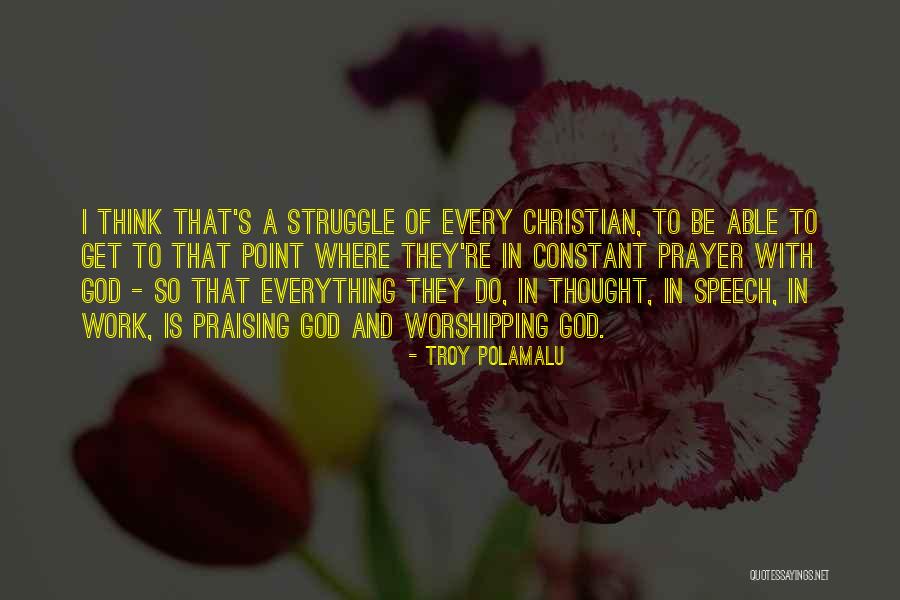 I think that's a struggle of every Christian, to be able to get to that point where they're in constant prayer with God - so that everything they do, in thought, in speech, in work, is praising God and worshipping God. — Troy Polamalu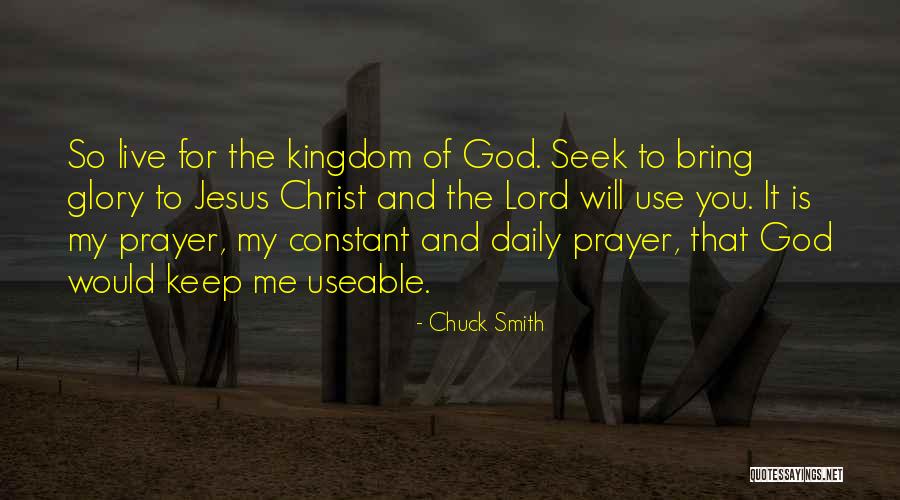 So live for the kingdom of God. Seek to bring glory to Jesus Christ and the Lord will use you. It is my prayer, my constant and daily prayer, that God would keep me useable. — Chuck Smith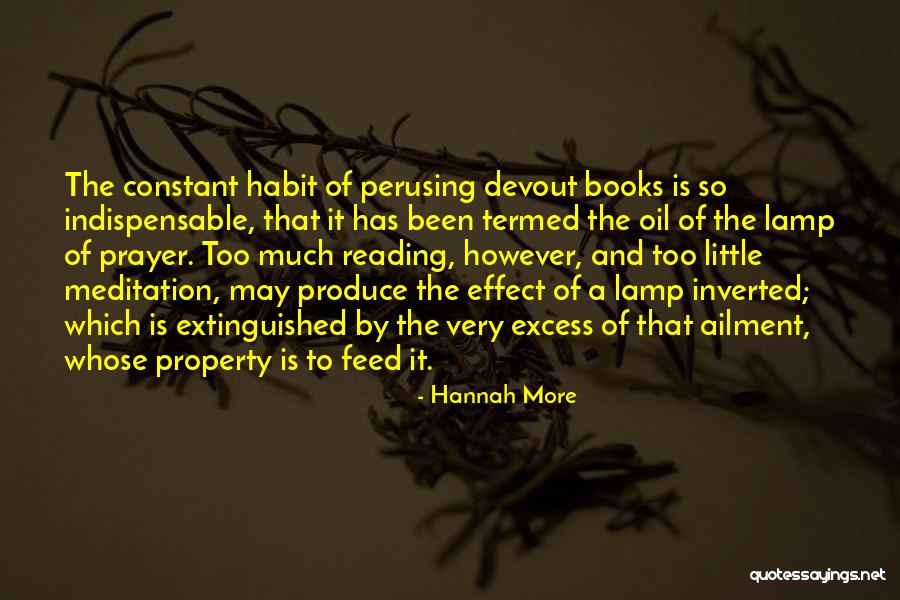 The constant habit of perusing devout books is so indispensable, that it has been termed the oil of the lamp of prayer. Too much reading, however, and too little meditation, may produce the effect of a lamp inverted; which is extinguished by the very excess of that ailment, whose property is to feed it. — Hannah More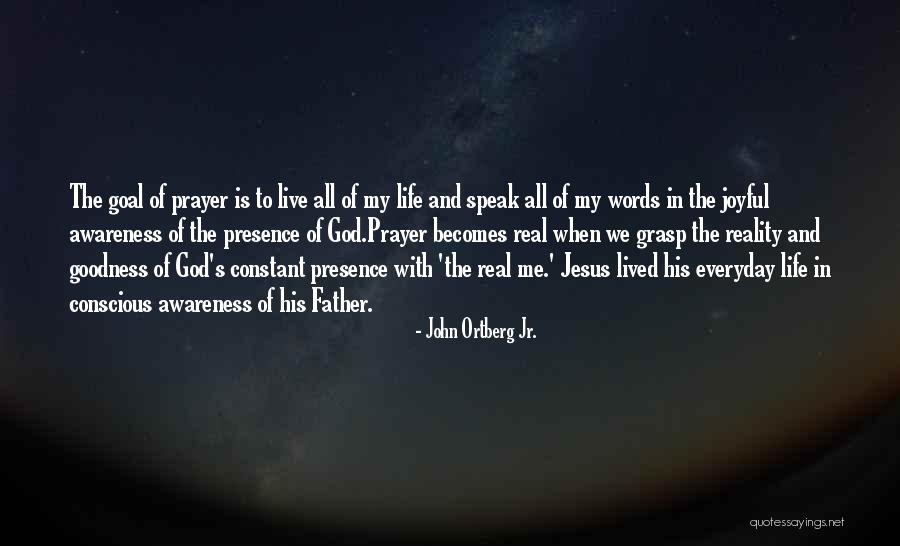 The goal of prayer is to live all of my life and speak all of my words in the joyful awareness of the presence of God.
Prayer becomes real when we grasp the reality and goodness of God's constant presence with 'the real me.' Jesus lived his everyday life in conscious awareness of his Father. — John Ortberg Jr.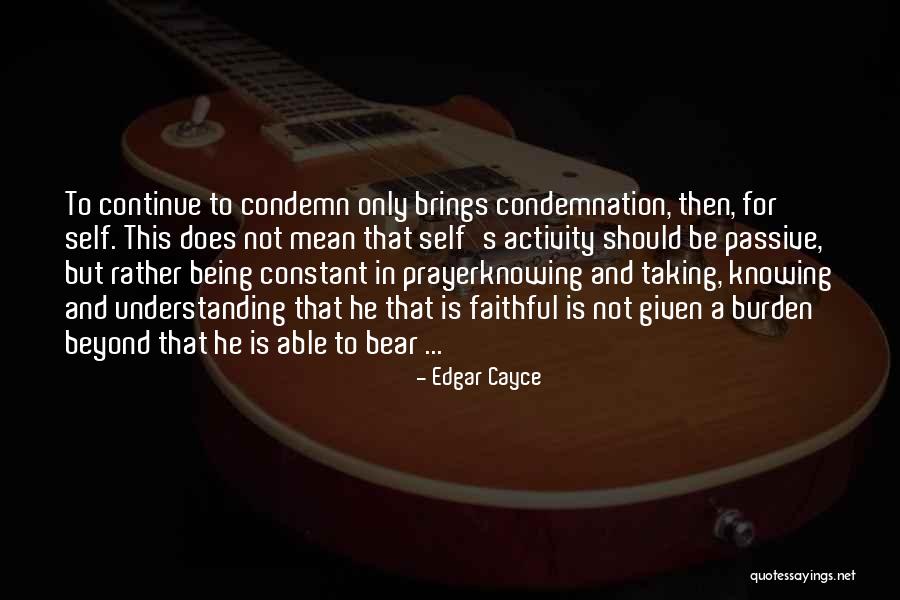 To continue to condemn only brings condemnation, then, for self. This does not mean that self's activity should be passive, but rather being constant in prayer
knowing and taking, knowing and understanding that he that is faithful is not given a burden beyond that he is able to bear ... — Edgar Cayce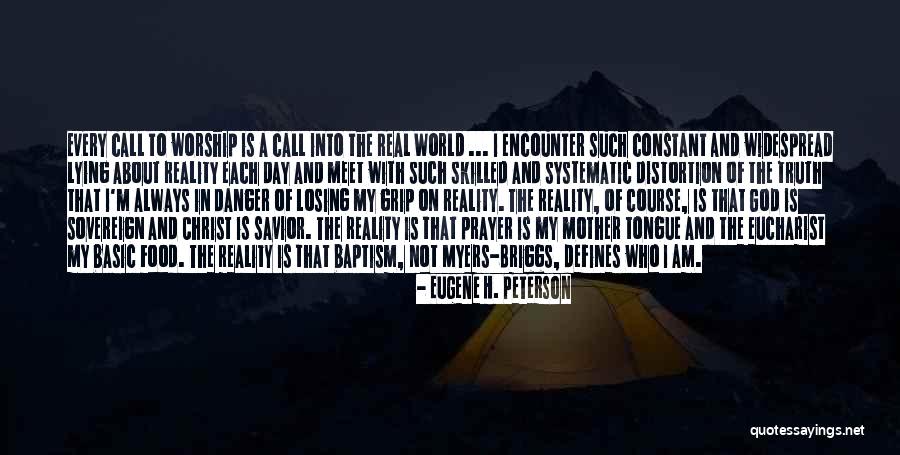 Every call to worship is a call into the Real World ... I encounter such constant and widespread lying about reality each day and meet with such skilled and systematic distortion of the truth that I'm always in danger of losing my grip on reality. The reality, of course, is that God is sovereign and Christ is savior. The reality is that prayer is my mother tongue and the eucharist my basic food. The reality is that baptism, not Myers-Briggs, defines who I am. — Eugene H. Peterson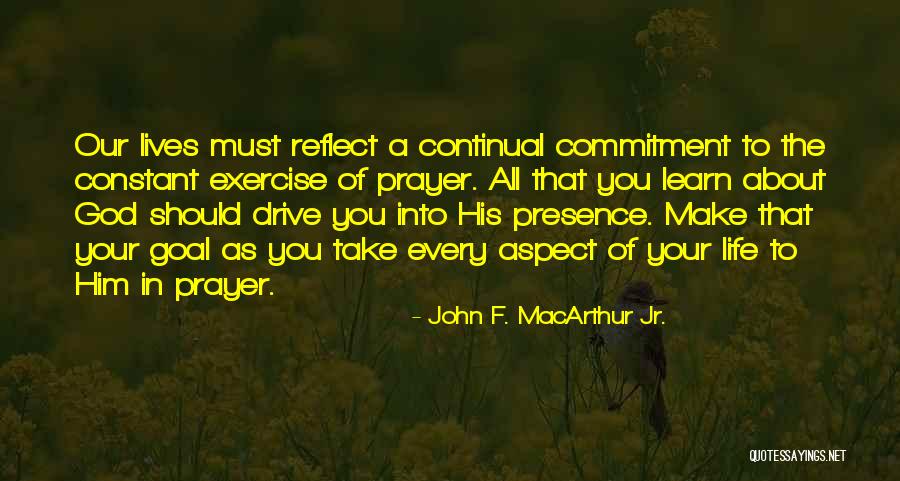 Our lives must reflect a continual commitment to the constant exercise of prayer. All that you learn about God should drive you into His presence. Make that your goal as you take every aspect of your life to Him in prayer. — John F. MacArthur Jr.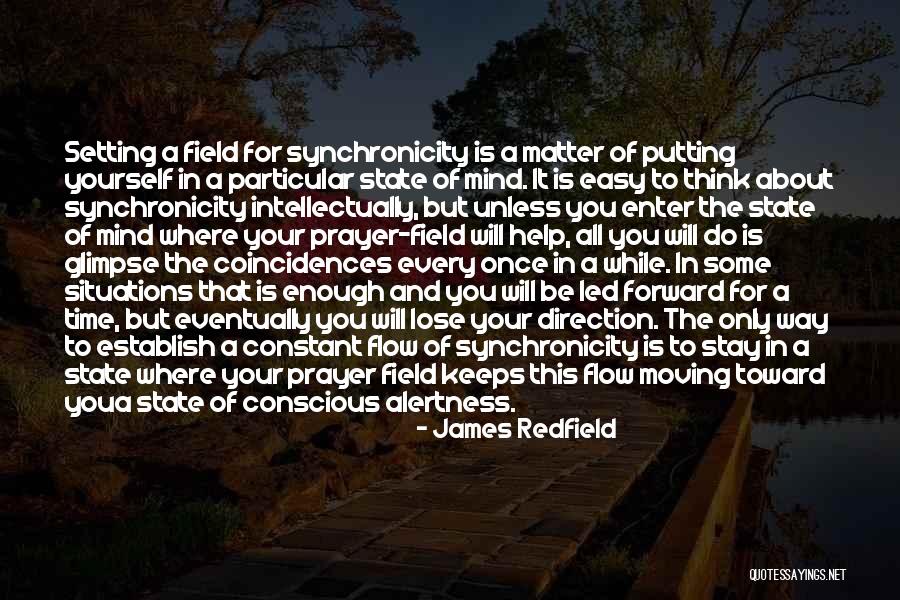 Setting a field for synchronicity is a matter of putting yourself in a particular state of mind. It is easy to think about synchronicity intellectually, but unless you enter the state of mind where your prayer-field will help, all you will do is glimpse the coincidences every once in a while. In some situations that is enough and you will be led forward for a time, but eventually you will lose your direction. The only way to establish a constant flow of synchronicity is to stay in a state where your prayer field keeps this flow moving toward you
a state of conscious alertness. — James Redfield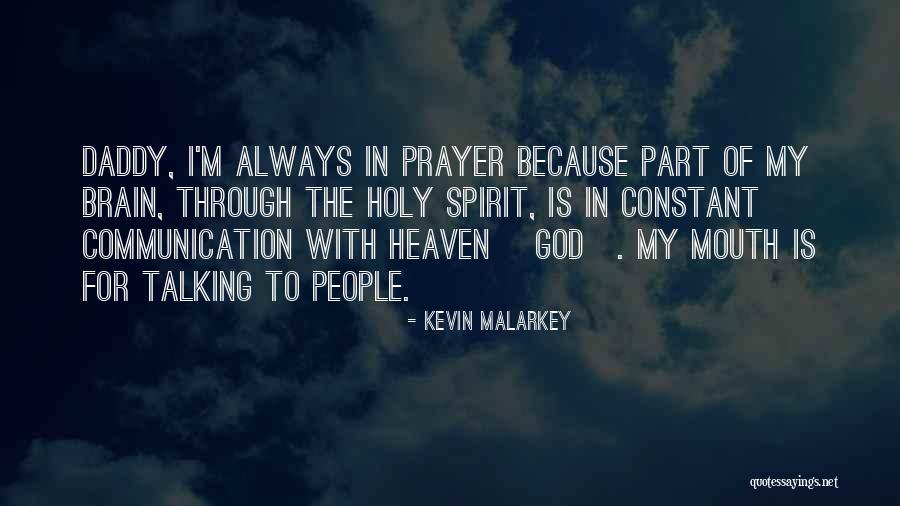 Daddy, I'm always in prayer because part of my brain, through the Holy Spirit, is in constant communication with Heaven [God]. My mouth is for talking to people. — Kevin Malarkey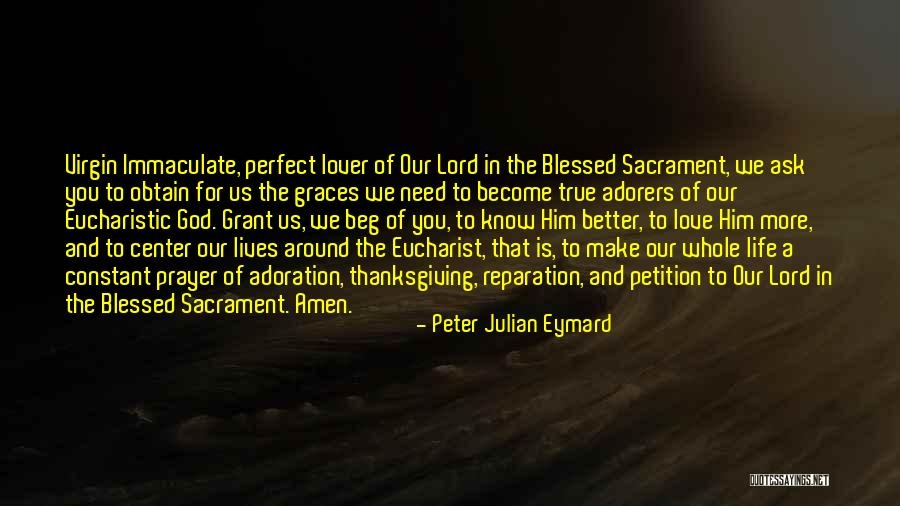 Virgin Immaculate, perfect lover of Our Lord in the Blessed Sacrament, we ask you to obtain for us the graces we need to become true adorers of our Eucharistic God. Grant us, we beg of you, to know Him better, to love Him more, and to center our lives around the Eucharist, that is, to make our whole life a constant prayer of adoration, thanksgiving, reparation, and petition to Our Lord in the Blessed Sacrament. Amen. — Peter Julian Eymard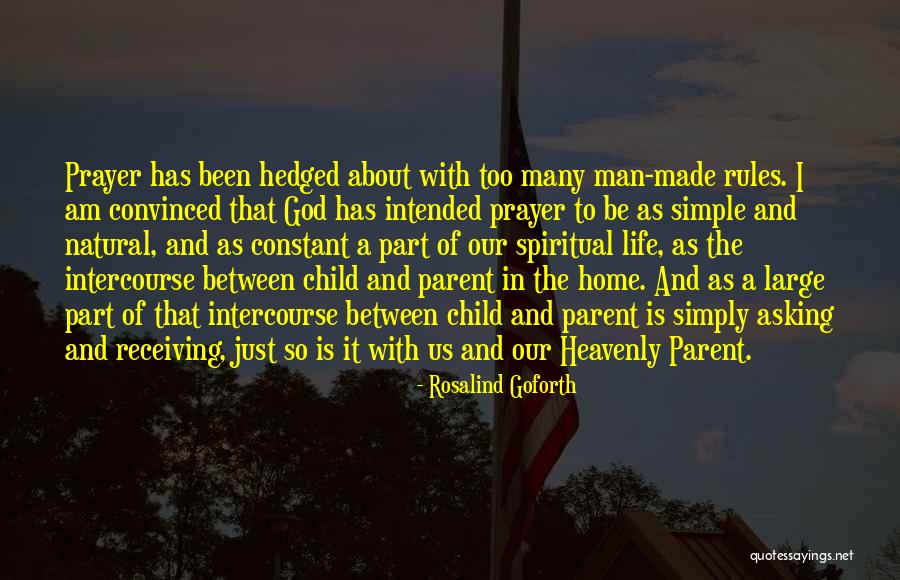 Prayer has been hedged about with too many man-made rules. I am convinced that God has intended prayer to be as simple and natural, and as constant a part of our spiritual life, as the intercourse between child and parent in the home. And as a large part of that intercourse between child and parent is simply asking and receiving, just so is it with us and our Heavenly Parent. — Rosalind Goforth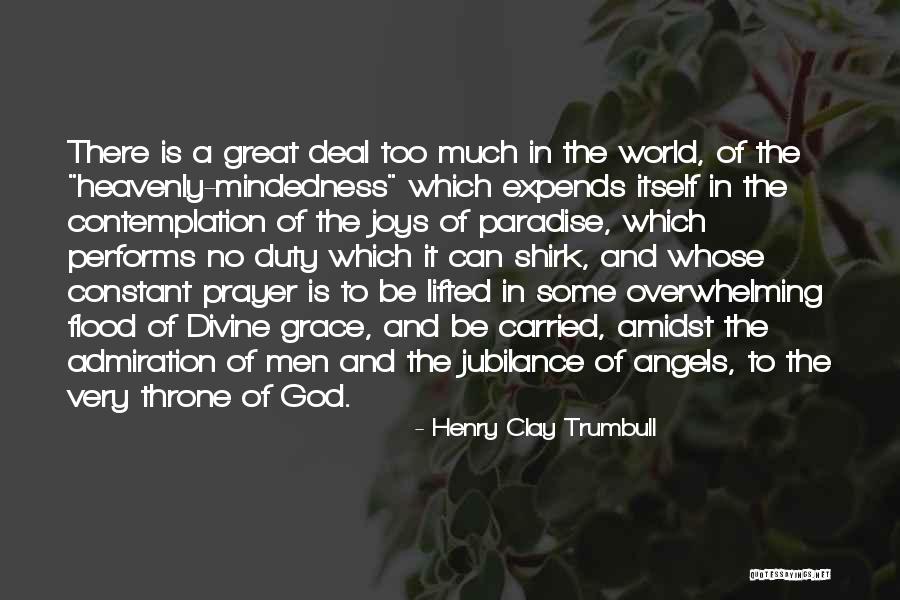 There is a great deal too much in the world, of the "heavenly-mindedness" which expends itself in the contemplation of the joys of paradise, which performs no duty which it can shirk, and whose constant prayer is to be lifted in some overwhelming flood of Divine grace, and be carried, amidst the admiration of men and the jubilance of angels, to the very throne of God. — Henry Clay Trumbull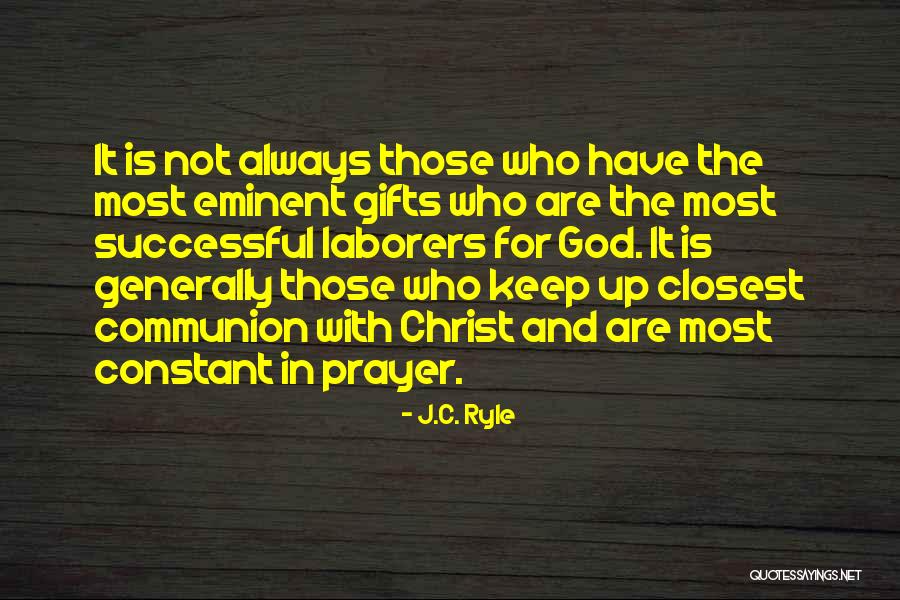 It is not always those who have the most eminent gifts who are the most successful laborers for God. It is generally those who keep up closest communion with Christ and are most constant in prayer. — J.C. Ryle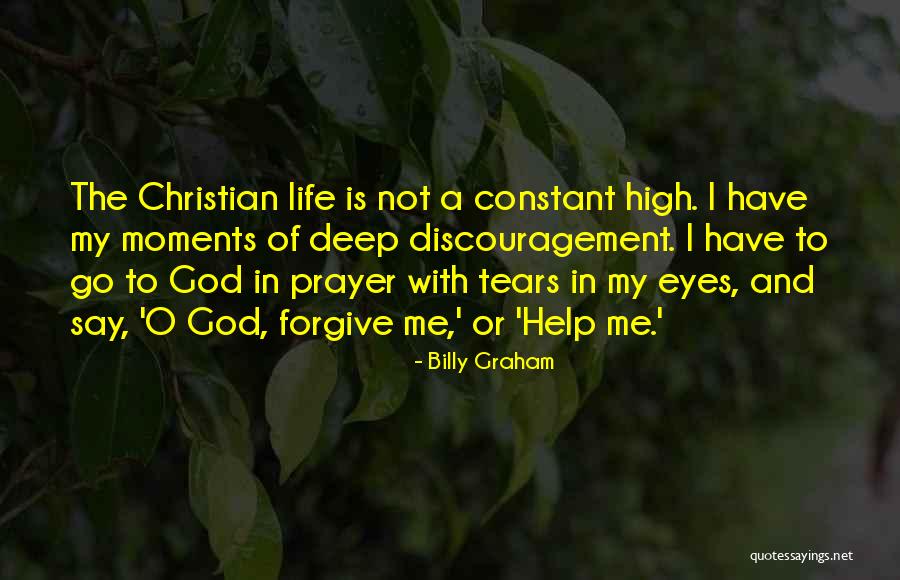 The Christian life is not a constant high. I have my moments of deep discouragement. I have to go to God in prayer with tears in my eyes, and say, 'O God, forgive me,' or 'Help me.' — Billy Graham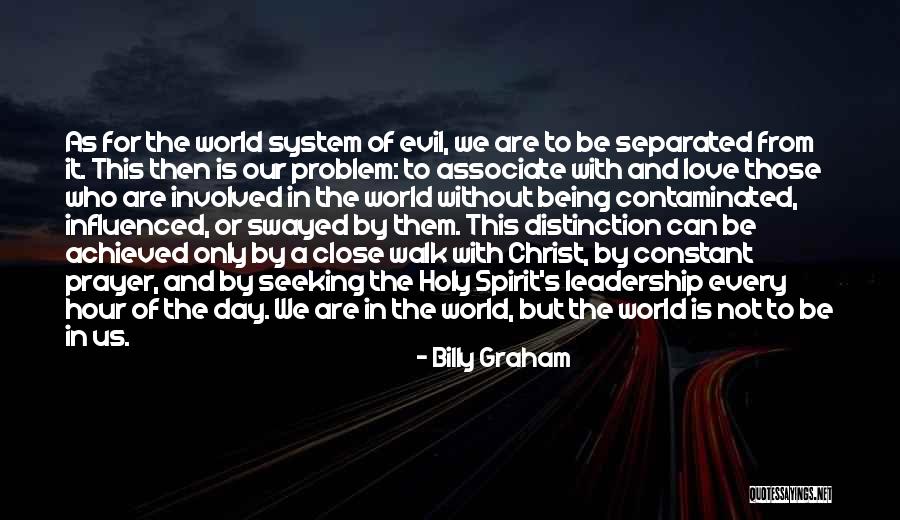 As for the world system of evil, we are to be separated from it. This then is our problem: to associate with and love those who are involved in the world without being contaminated, influenced, or swayed by them. This distinction can be achieved only by a close walk with Christ, by constant prayer, and by seeking the Holy Spirit's leadership every hour of the day. We are in the world, but the world is not to be in us. — Billy Graham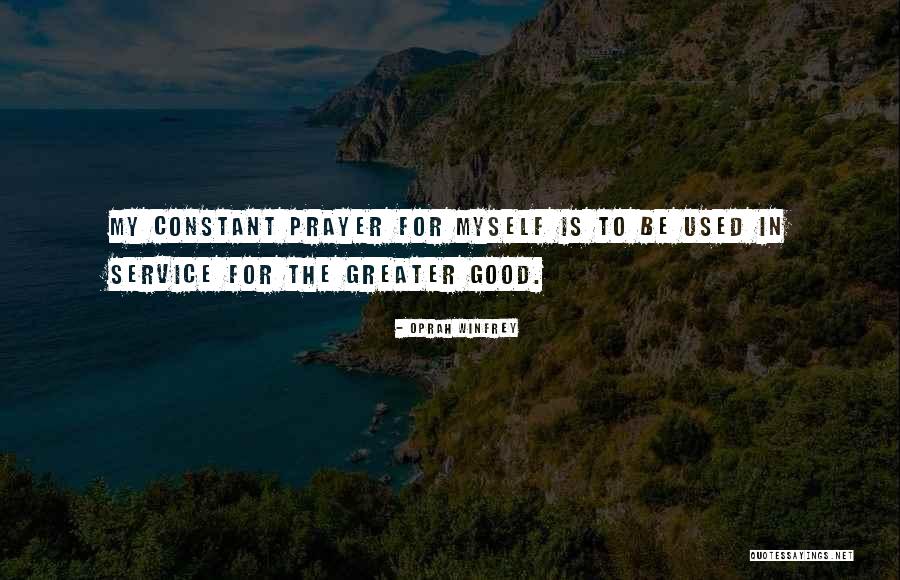 My constant prayer for myself is to be used in service for the greater good. — Oprah Winfrey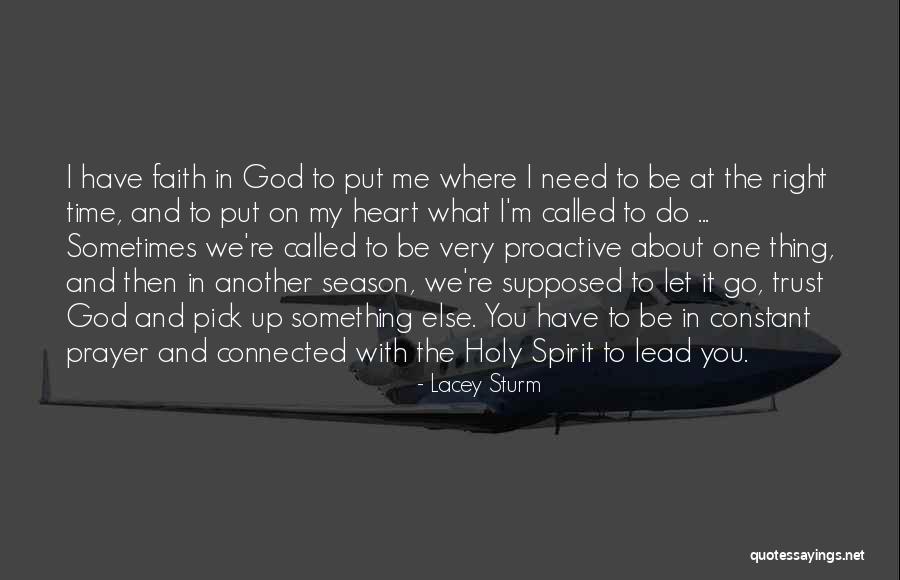 I have faith in God to put me where I need to be at the right time, and to put on my heart what I'm called to do ... Sometimes we're called to be very proactive about one thing, and then in another season, we're supposed to let it go, trust God and pick up something else. You have to be in constant prayer and connected with the Holy Spirit to lead you. — Lacey Sturm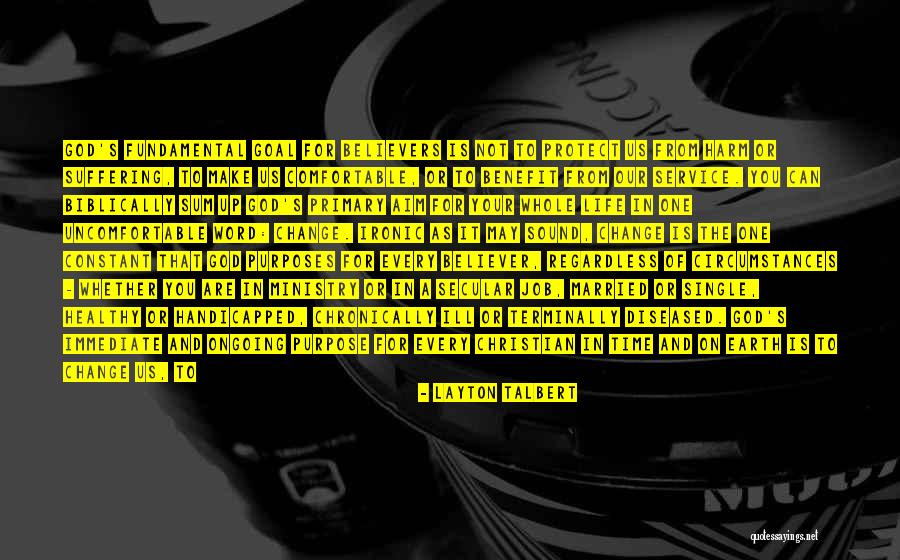 God's fundamental goal for believers is not to protect us from harm or suffering, to make us comfortable, or to benefit from our service. You can biblically sum up God's primary aim for your whole life in one uncomfortable word: change. Ironic as it may sound, change is the one constant that God purposes for every believer, regardless of circumstances - whether you are in ministry or in a secular job, married or single, healthy or handicapped, chronically ill or terminally diseased. God's immediate and ongoing purpose for every Christian in time and on earth is to change us, to make us like Himself, to conform us to the image of His Son. — Layton Talbert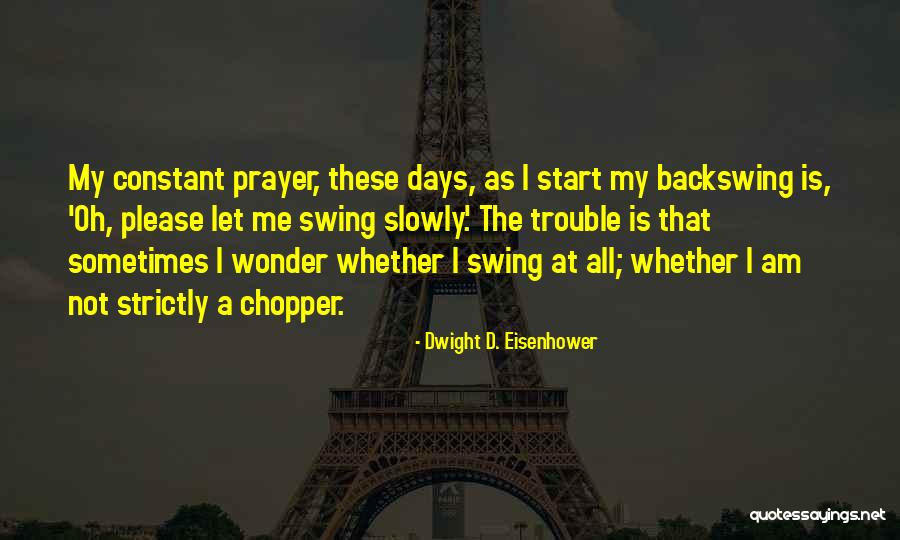 My constant prayer, these days, as I start my backswing is, 'Oh, please let me swing slowly.' The trouble is that sometimes I wonder whether I swing at all; whether I am not strictly a chopper. — Dwight D. Eisenhower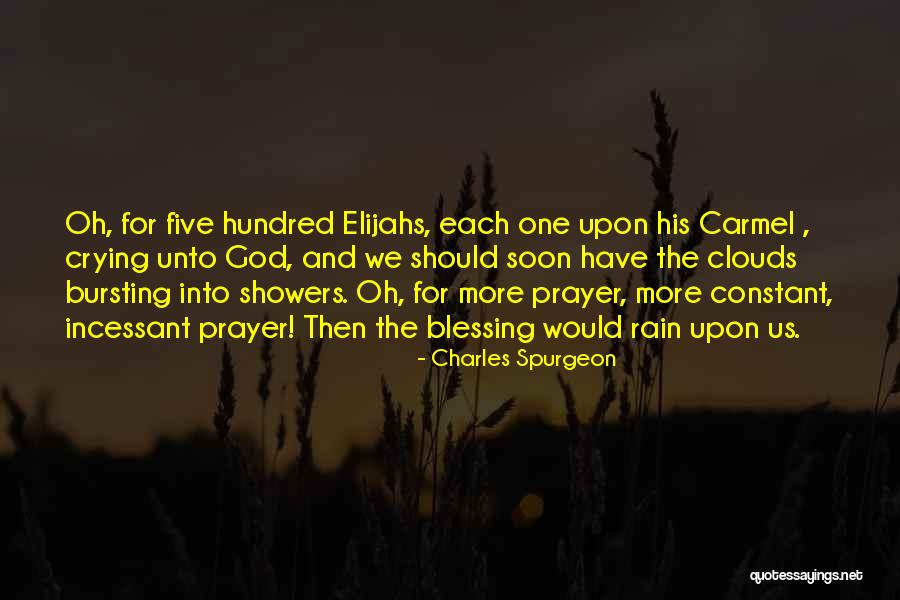 Oh, for five hundred Elijahs, each one upon his Carmel , crying unto God, and we should soon have the clouds bursting into showers. Oh, for more prayer, more constant, incessant prayer! Then the blessing would rain upon us. — Charles Spurgeon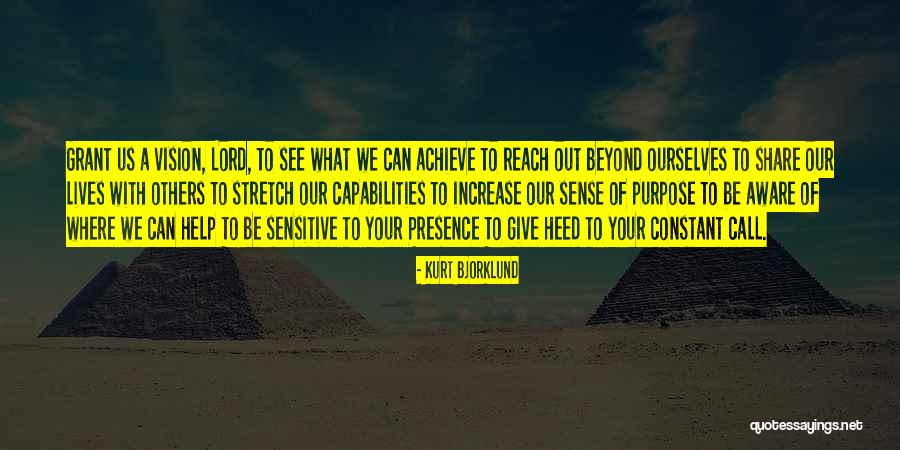 Grant us a vision, Lord,
To see what we can achieve
To reach out beyond ourselves
To share our lives with others
To stretch our capabilities
To increase our sense of purpose
To be aware of where we can help
To be sensitive to your Presence
To give heed to your constant call. — Kurt Bjorklund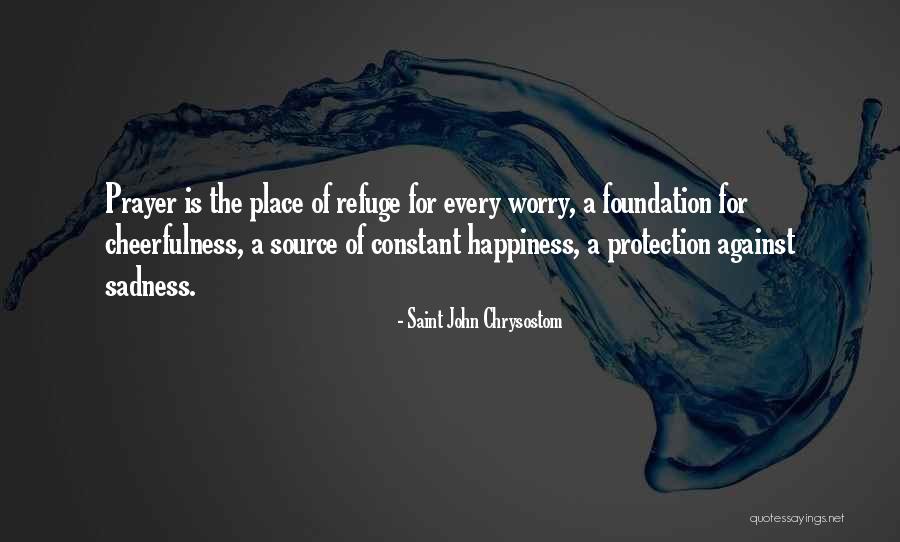 Prayer is the place of refuge for every worry, a foundation for cheerfulness, a source of constant happiness, a protection against sadness. — Saint John Chrysostom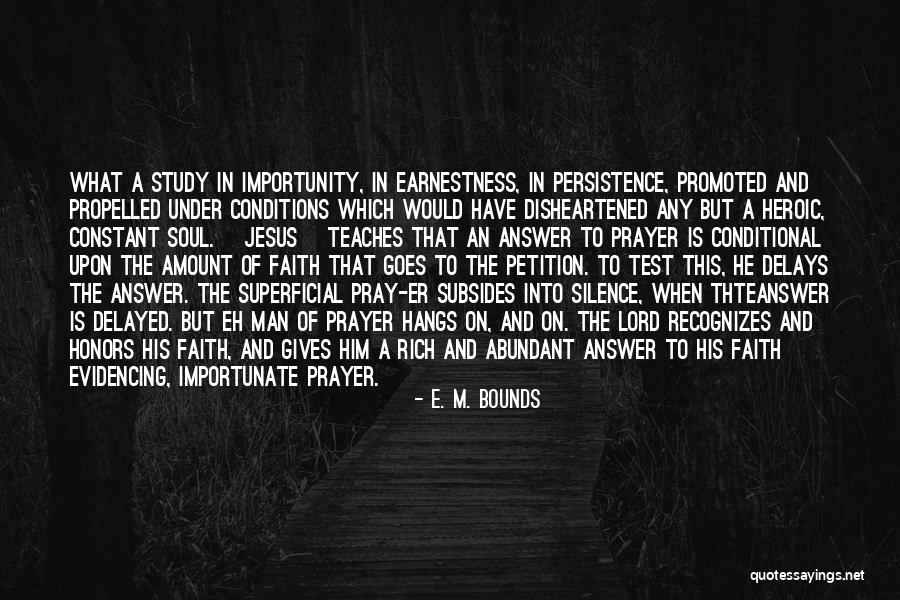 What a study in importunity, in earnestness, in persistence, promoted and propelled under conditions which would have disheartened any but a heroic, constant soul. [Jesus] teaches that an answer to prayer is conditional upon the amount of faith that goes to the petition. To test this, He delays the answer. the superficial pray-er subsides into silence, when thteanswer is delayed. But eh man of prayer hangs on, and on. The Lord recognizes and honors his faith, and gives him a rich and abundant answer to His faith evidencing, importunate prayer. — E. M. Bounds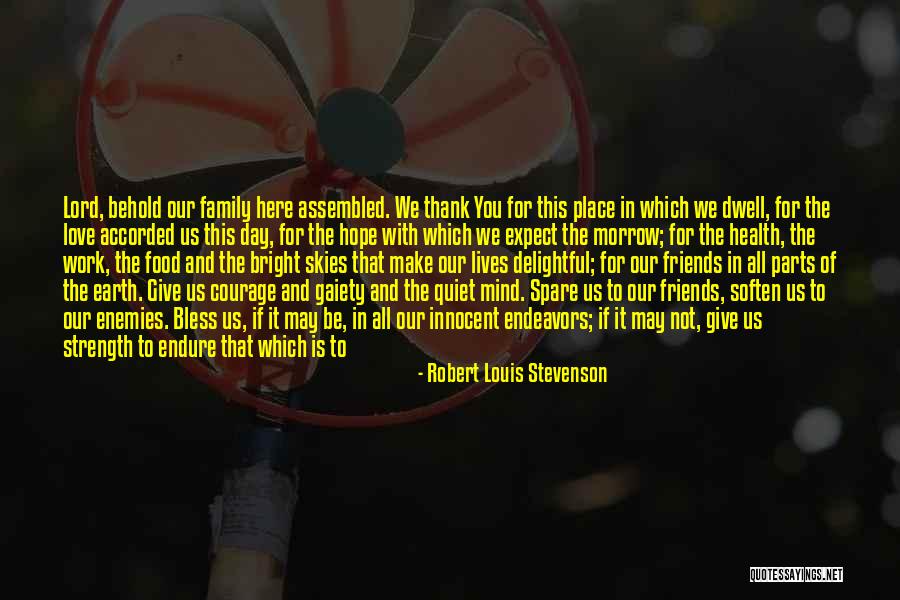 Lord, behold our family here assembled. We thank You for this place in which we dwell, for the love accorded us this day, for the hope with which we expect the morrow; for the health, the work, the food and the bright skies that make our lives delightful; for our friends in all parts of the earth. Give us courage and gaiety and the quiet mind. Spare us to our friends, soften us to our enemies. Bless us, if it may be, in all our innocent endeavors; if it may not, give us strength to endure that which is to come that we may be brave in peril, constant in tribulation, temperate in wrath and in all changes of fortune and down to the gates of death, loyal and loving to one another. We beseech of you this help and mercy for Christ's sake. — Robert Louis Stevenson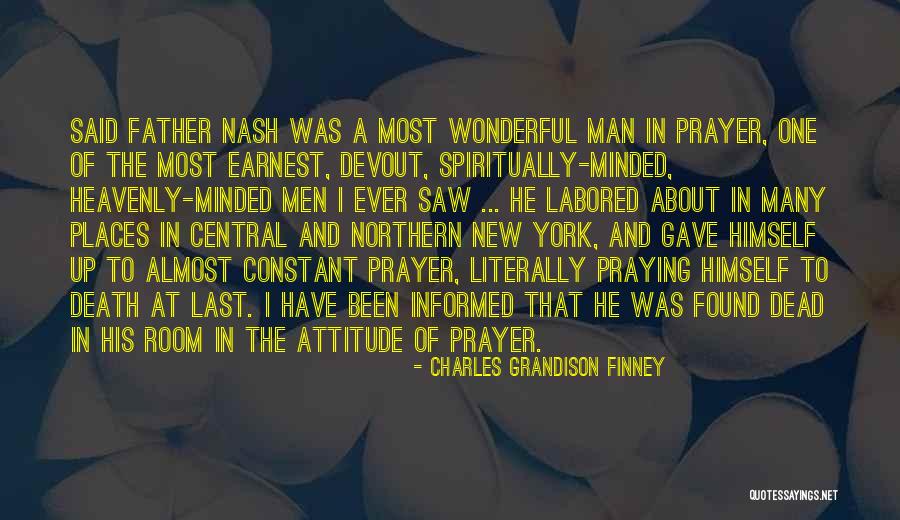 Said Father Nash was a most wonderful man in prayer, one of the most earnest, devout, spiritually-minded, heavenly-minded men I ever saw ... He labored about in many places in central and northern New York, and gave himself up to almost constant prayer, literally praying himself to death at last.
I have been informed that he was found dead in his room in the attitude of prayer. — Charles Grandison Finney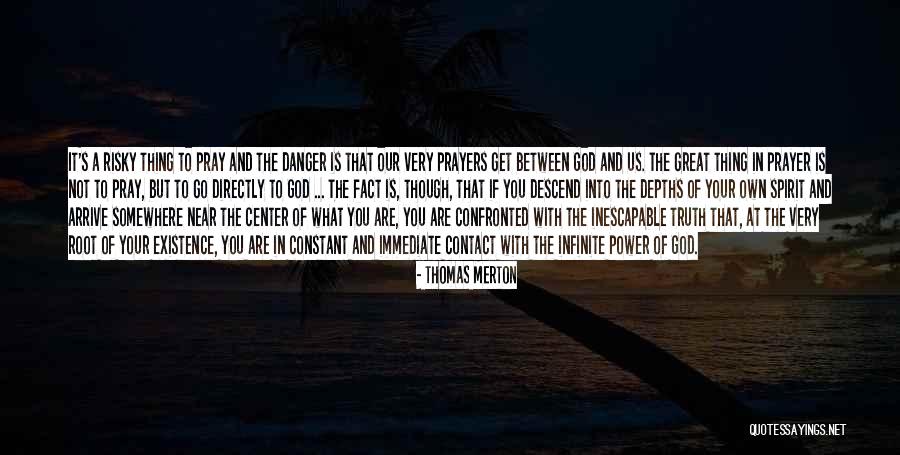 It's a risky thing to pray and the danger is that our very prayers get between God and us. The great thing in prayer is not to pray, but to go directly to God ... The fact is, though, that if you descend into the depths of your own spirit and arrive somewhere near the center of what you are, you are confronted with the inescapable truth that, at the very root of your existence, you are in constant and immediate contact with the infinite power of God. — Thomas Merton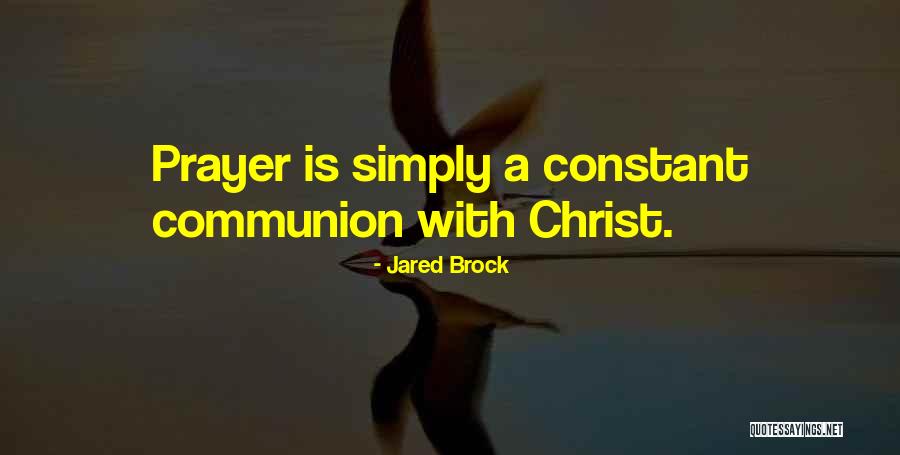 Prayer is simply a constant communion with Christ. — Jared Brock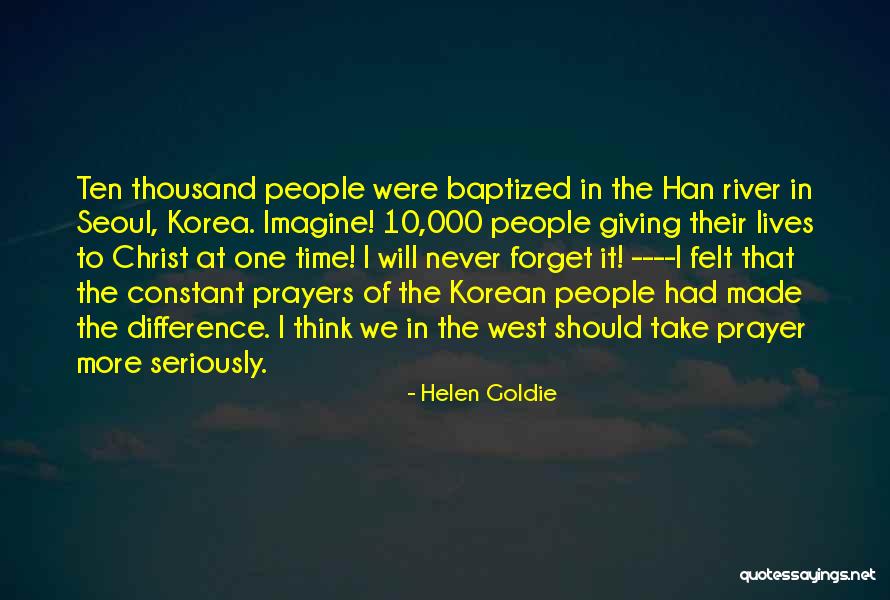 Ten thousand people were baptized in the Han river in Seoul, Korea. Imagine! 10,000 people giving their lives to Christ at one time! I will never forget it! ----I felt that the constant prayers of the Korean people had made the difference. I think we in the west should take prayer more seriously. — Helen Goldie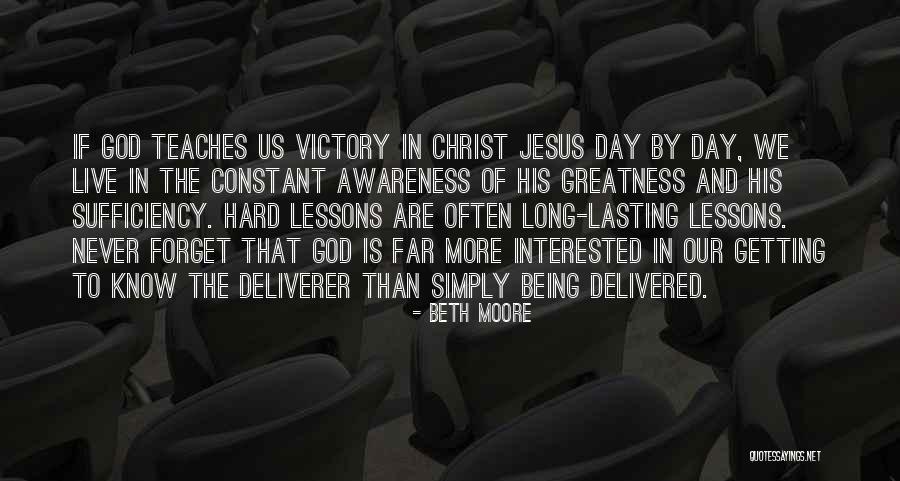 If God teaches us victory in Christ Jesus day by day, we live in the constant awareness of His greatness and His sufficiency. Hard lessons are often long-lasting lessons. Never forget that God is far more interested in our getting to know the Deliverer than simply being delivered. — Beth Moore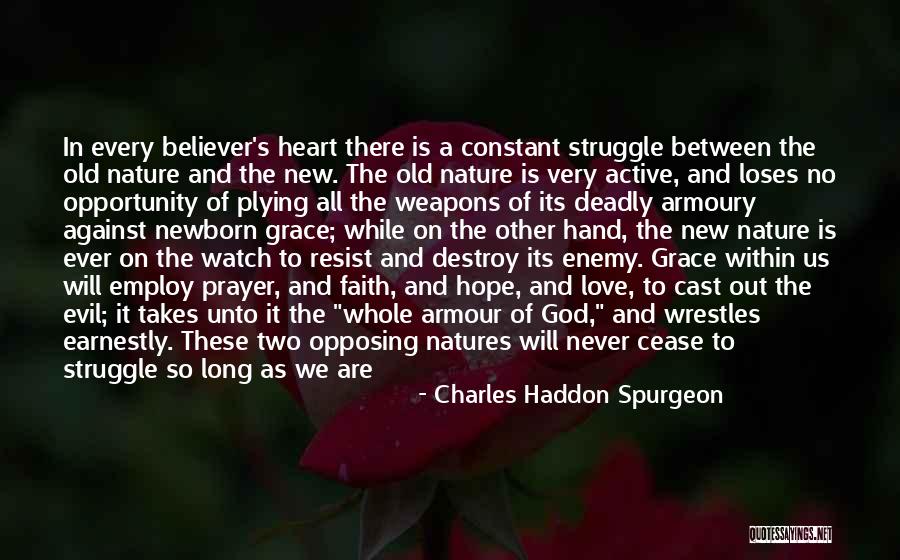 In every believer's heart there is a constant struggle between the old nature and the new. The old nature is very active, and loses no opportunity of plying all the weapons of its deadly armoury against newborn grace; while on the other hand, the new nature is ever on the watch to resist and destroy its enemy. Grace within us will employ prayer, and faith, and hope, and love, to cast out the evil; it takes unto it the "whole armour of God," and wrestles earnestly. These two opposing natures will never cease to struggle so long as we are in this world. The battle of "Christian" with "Apollyon" lasted three hours, but the battle of Christian with himself lasted all the way from the Wicket Gate to the river Jordan. — Charles Haddon Spurgeon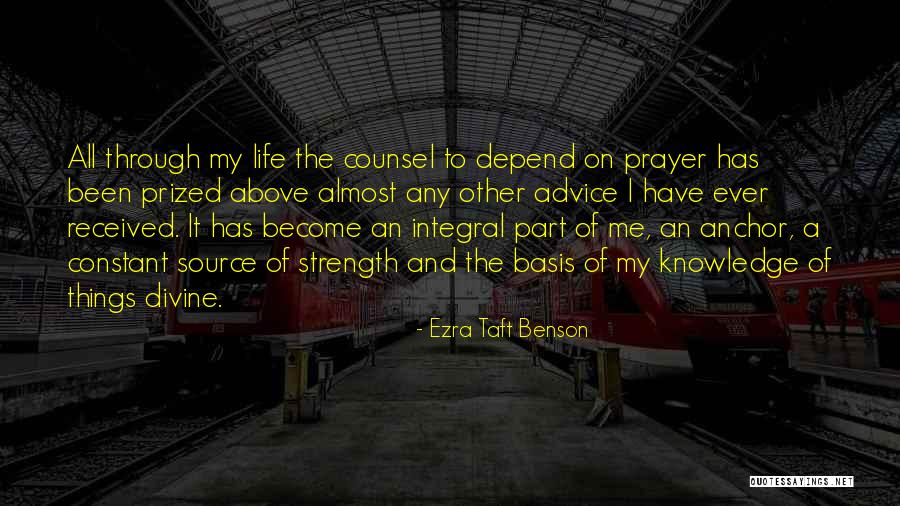 All through my life the counsel to depend on prayer has been prized above almost any other advice I have ever received. It has become an integral part of me, an anchor, a constant source of strength and the basis of my knowledge of things divine. — Ezra Taft Benson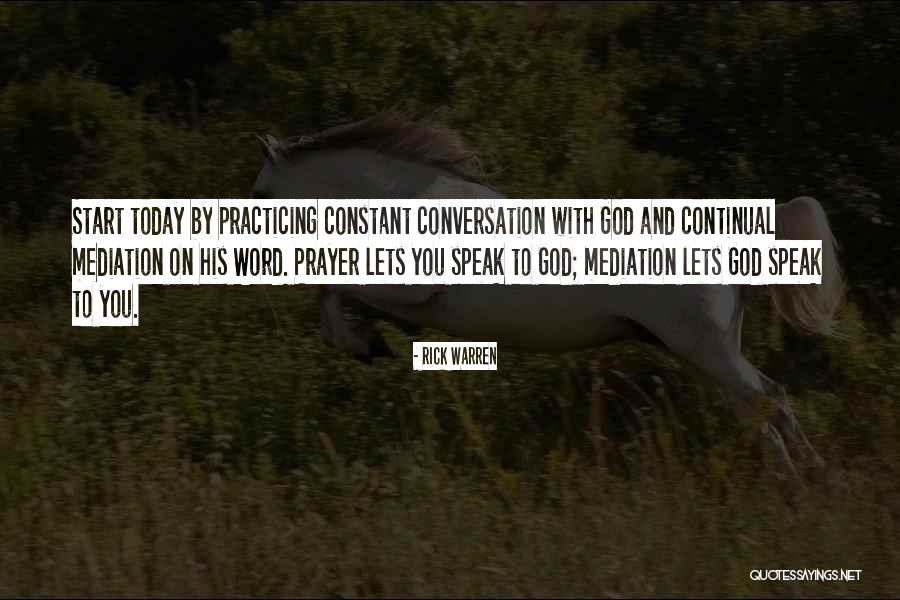 Start today by practicing constant conversation with God and continual mediation on his Word. Prayer lets you speak to God; mediation lets God speak to you. — Rick Warren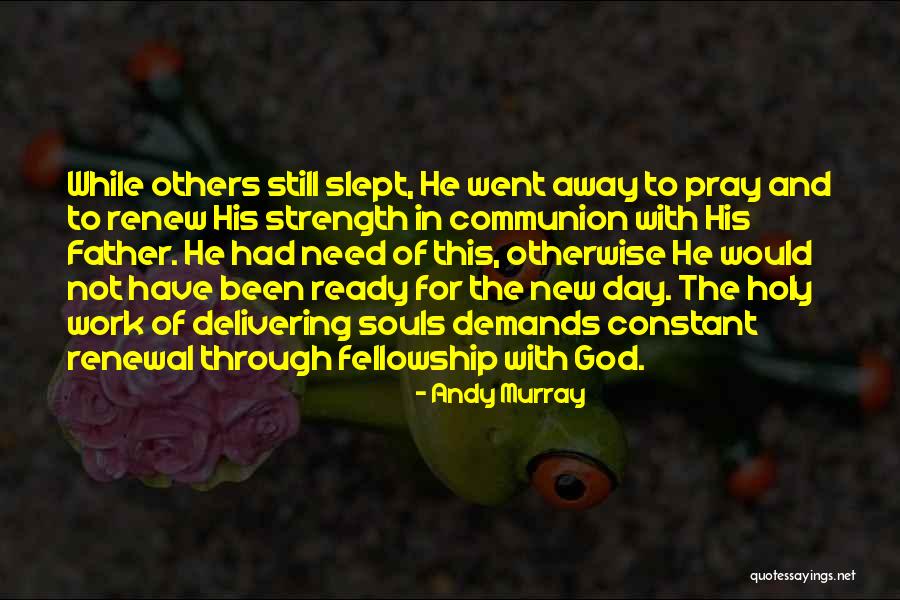 While others still slept, He went away to pray and to renew His strength in communion with His Father. He had need of this, otherwise He would not have been ready for the new day. The holy work of delivering souls demands constant renewal through fellowship with God. — Andy Murray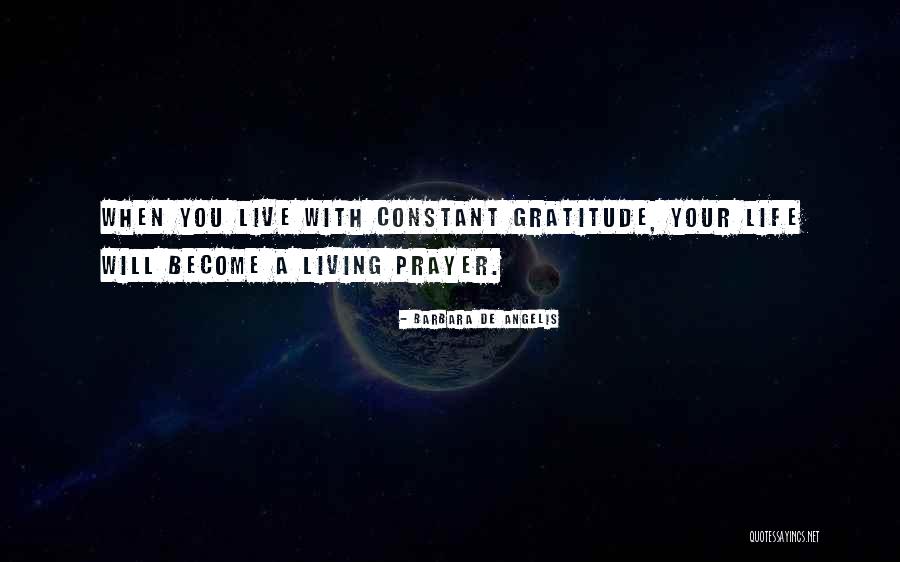 When you live with constant gratitude, your life will become a living prayer. — Barbara De Angelis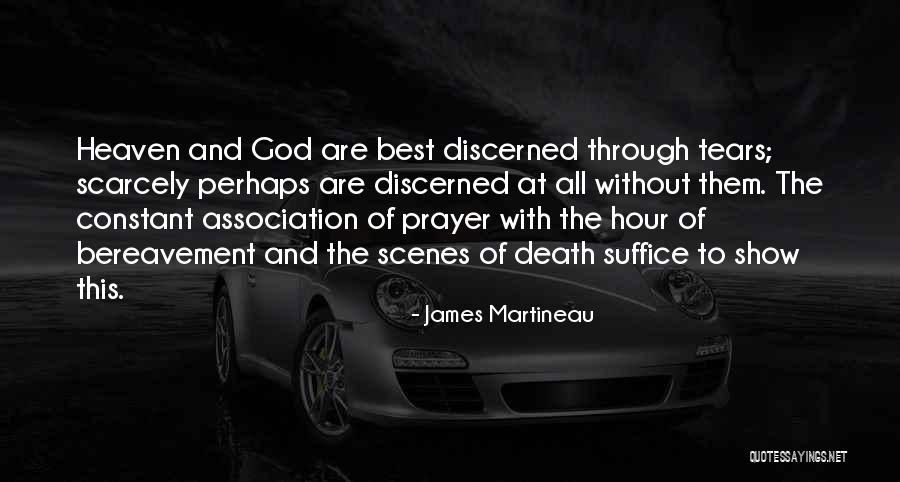 Heaven and God are best discerned through tears; scarcely perhaps are discerned at all without them. The constant association of prayer with the hour of bereavement and the scenes of death suffice to show this. — James Martineau
The constant exercise of our faith by lofty thinking, prayer, devotion, and acts of righteousness is just as essential to spiritual health as physical exercise is to the health of the body. Like all priceless things, faith, if lost, is hard to regain. Eternal vigilance is the price of our faith. In order to retain our faith we must keep ourselves in tune with our Heavenly Father by living in accordance with the principles and ordinances of the gospel. — O. Leslie Stone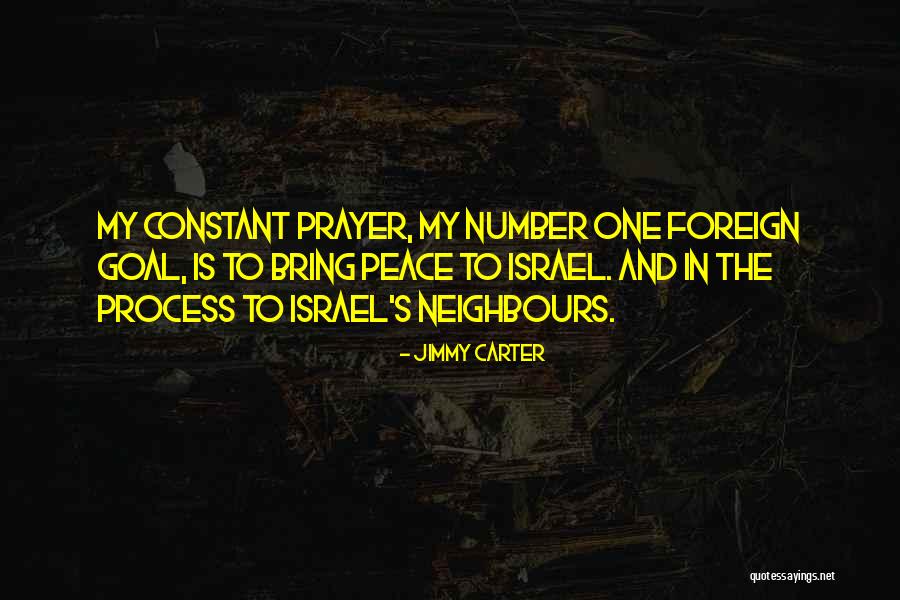 My constant prayer, my number one foreign goal, is to bring peace to Israel. And in the process to Israel's neighbours. — Jimmy Carter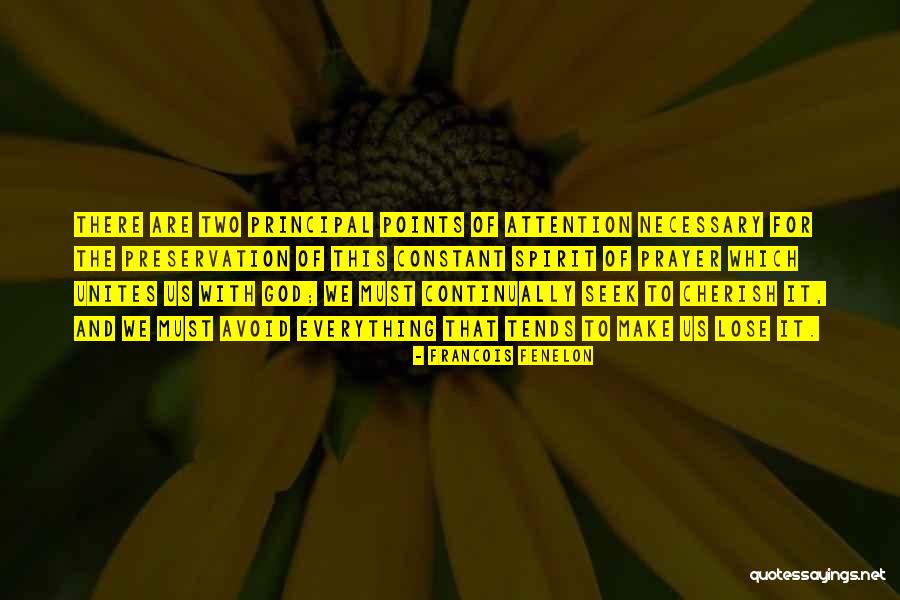 There are two principal points of attention necessary for the preservation of this constant spirit of prayer which unites us with God; we must continually seek to cherish it, and we must avoid everything that tends to make us lose it. — Francois Fenelon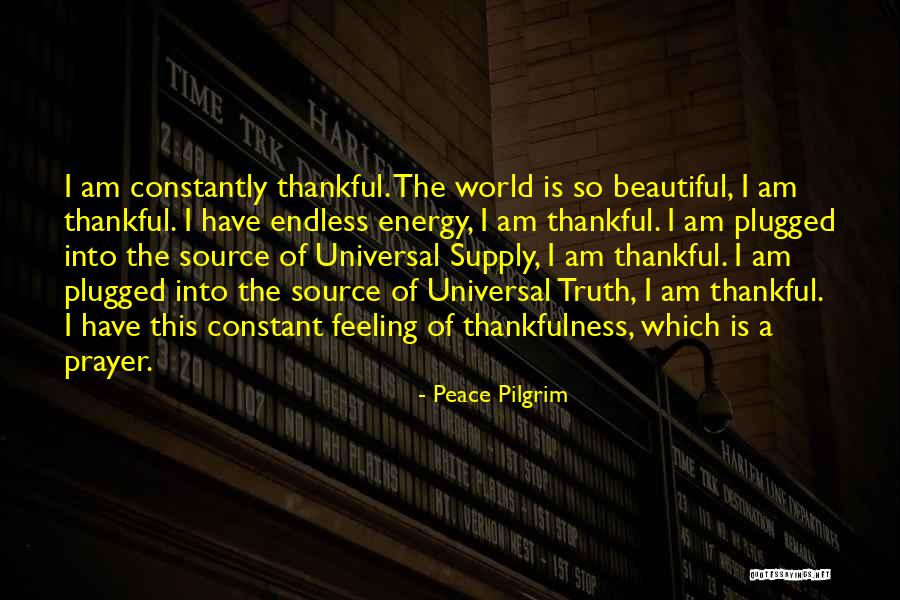 I am constantly thankful. The world is so beautiful, I am thankful. I have endless energy, I am thankful. I am plugged into the source of Universal Supply, I am thankful. I am plugged into the source of Universal Truth, I am thankful. I have this constant feeling of thankfulness, which is a prayer. — Peace Pilgrim
Several hundred men filled the main chamber. Women's voices could be heard from beyond the cloth screens running down the eastern wall. The gathering quieted for the service, which followed the same pattern as in Judea: a song and then a Scripture reading from the Torah scrolls, followed by a prayer from the Psalms. Some men departed to begin their day, but most remained. Jacob stayed where he was, repeating silently the Psalms that resonated with the emotions filling his heart. How precious, O God, is your constant love. You let us drink from the river of your goodness. You are the source of all life. — Davis Bunn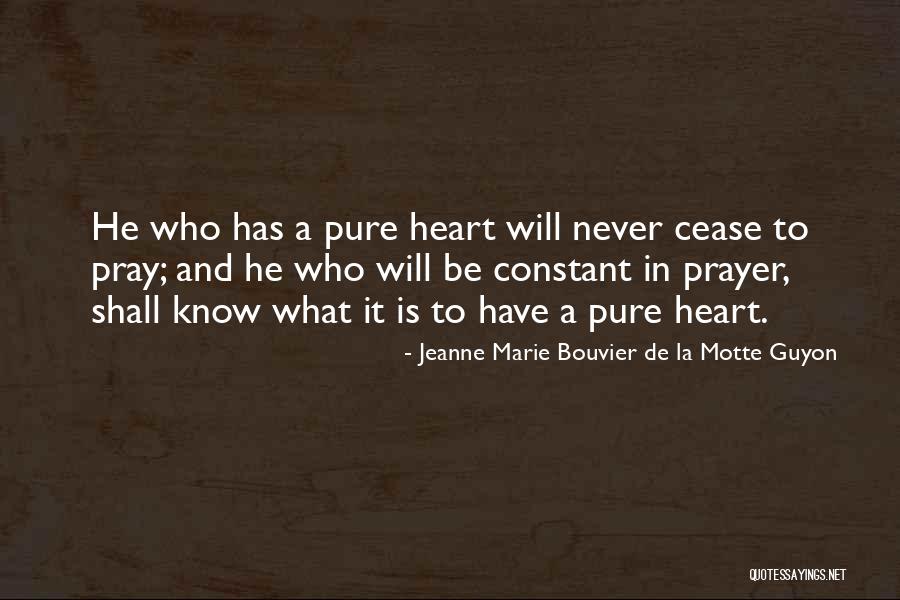 He who has a pure heart will never cease to pray; and he who will be constant in prayer, shall know what it is to have a pure heart. — Jeanne Marie Bouvier De La Motte Guyon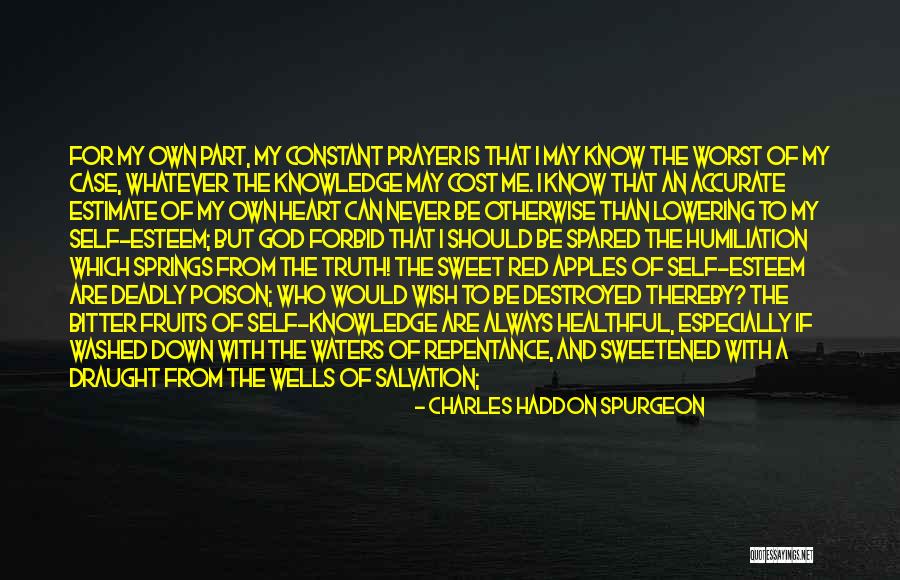 For my own part, my constant prayer is that I may know the worst of my case, whatever the knowledge may cost me. I know that an accurate estimate of my own heart can never be otherwise than lowering to my self-esteem; but God forbid that I should be spared the humiliation which springs from the truth! The sweet red apples of self-esteem are deadly poison; who would wish to be destroyed thereby? The bitter fruits of self-knowledge are always healthful, especially if washed down with the waters of repentance, and sweetened with a draught from the wells of salvation; he who loves his own soul will not despise them. — Charles Haddon Spurgeon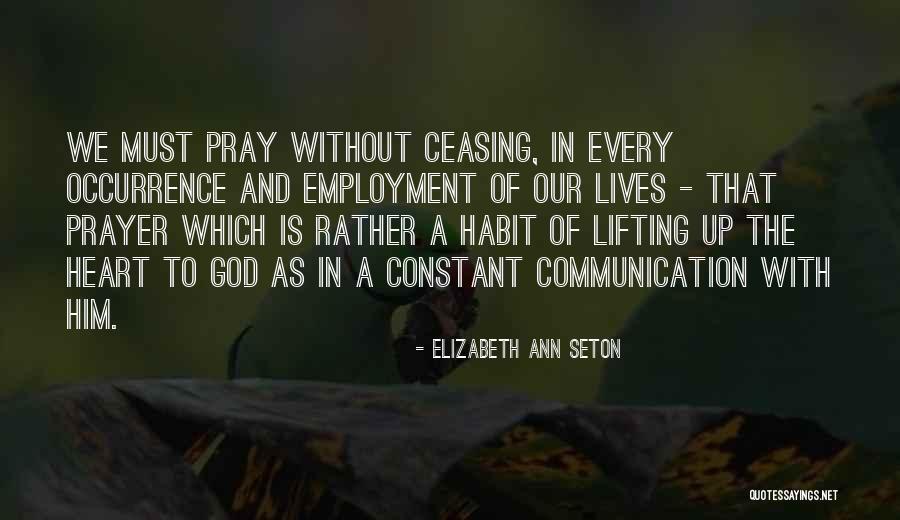 We must pray without ceasing, in every occurrence and employment of our lives - that prayer which is rather a habit of lifting up the heart to God as in a constant communication with Him. — Elizabeth Ann Seton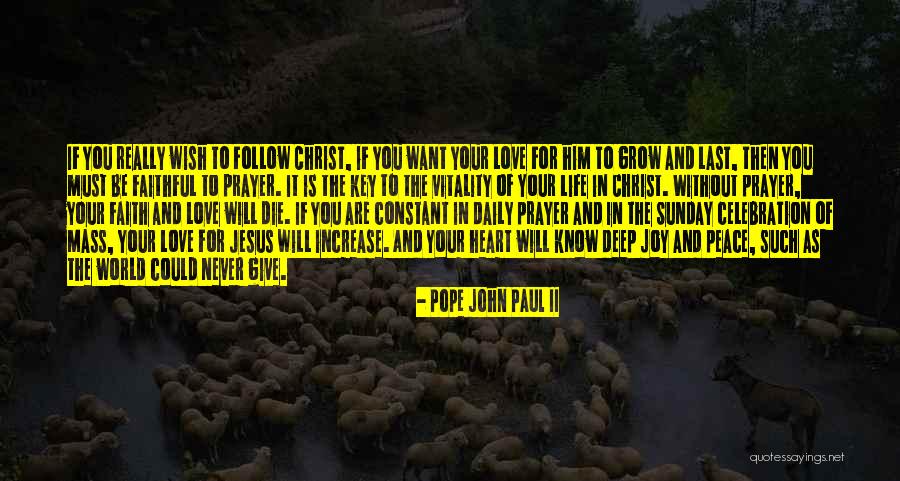 If you really wish to follow Christ, if you want your love for him to grow and last, then you must be faithful to prayer. It is the key to the vitality of your life in Christ. Without prayer, your faith and love will die. If you are constant in daily prayer and in the Sunday celebration of Mass, your love for Jesus will increase. And your heart will know deep joy and peace, such as the world could never give. — Pope John Paul II