Color Complexion Quotes & Sayings
Enjoy reading and share 15 famous quotes about Color Complexion with everyone.
Top Color Complexion Quotes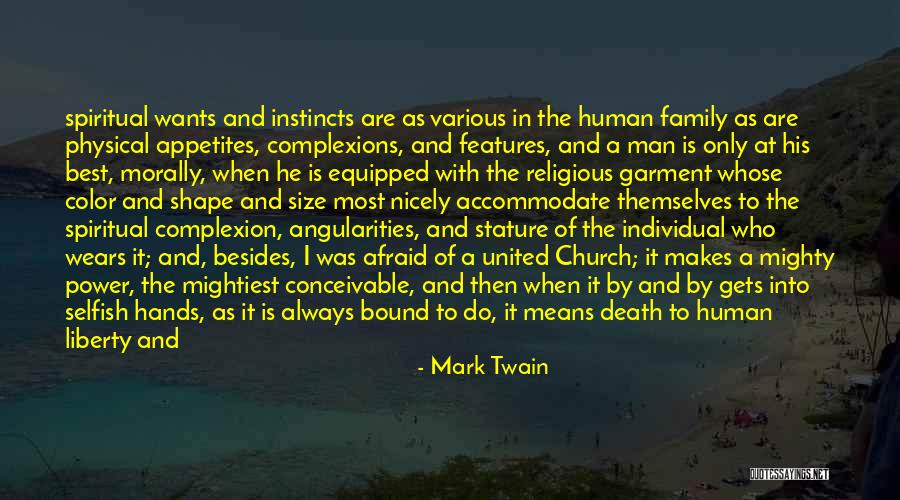 spiritual wants and instincts are as various in the human family as are physical appetites, complexions, and features, and a man is only at his best, morally, when he is equipped with the religious garment whose color and shape and size most nicely accommodate themselves to the spiritual complexion, angularities, and stature of the individual who wears it; and, besides, I was afraid of a united Church; it makes a mighty power, the mightiest conceivable, and then when it by and by gets into selfish hands, as it is always bound to do, it means death to human liberty and paralysis to human thought. — Mark Twain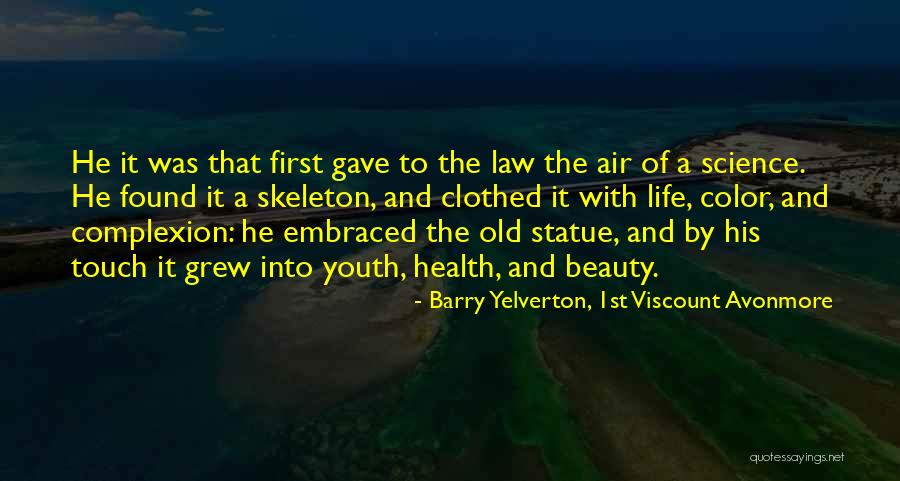 He it was that first gave to the law the air of a science. He found it a skeleton, and clothed it with life, color, and complexion: he embraced the old statue, and by his touch it grew into youth, health, and beauty. — Barry Yelverton, 1st Viscount Avonmore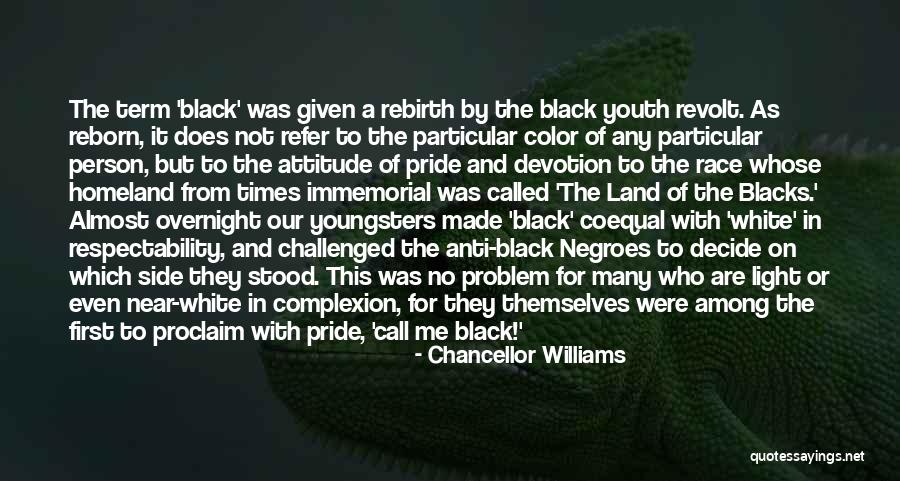 The term 'black' was given a rebirth by the black youth revolt. As reborn, it does not refer to the particular color of any particular person, but to the attitude of pride and devotion to the race whose homeland from times immemorial was called 'The Land of the Blacks.' Almost overnight our youngsters made 'black' coequal with 'white' in respectability, and challenged the anti-black Negroes to decide on which side they stood. This was no problem for many who are light or even near-white in complexion, for they themselves were among the first to proclaim with pride, 'call me black!' Those who hate the term but hold the majority of leadership positions feel compelled to use it to protect their leadership roles. — Chancellor Williams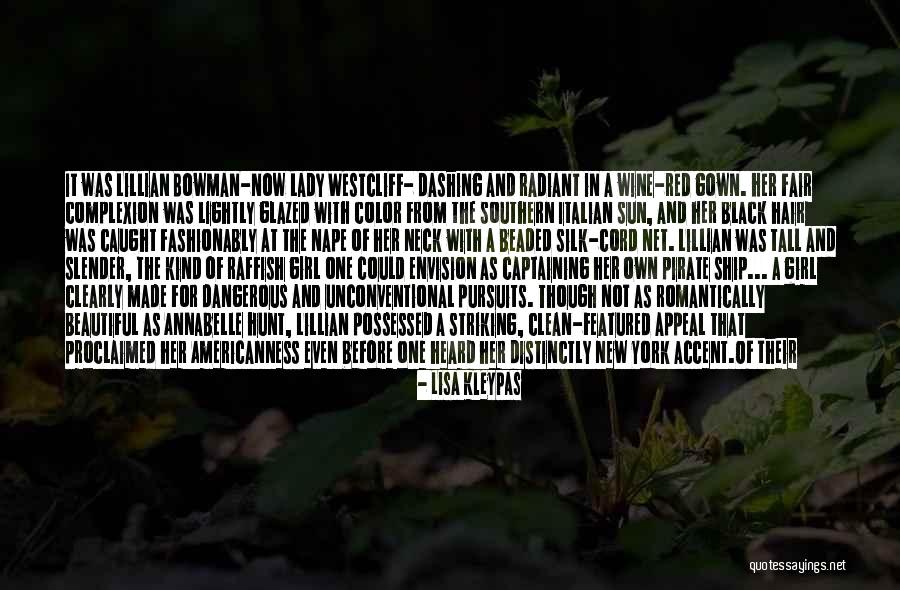 It was Lillian Bowman-now Lady Westcliff- dashing and radiant in a wine-red gown. Her fair complexion was lightly glazed with color from the southern Italian sun, and her black hair was caught fashionably at the nape of her neck with a beaded silk-cord net. Lillian was tall and slender, the kind of raffish girl one could envision as captaining her own pirate ship... a girl clearly made for dangerous and unconventional pursuits. Though not as romantically beautiful as Annabelle Hunt, Lillian possessed a striking, clean-featured appeal that proclaimed her Americanness even before one heard her distinctly New York accent.
Of their circle of friends, Lillian was the one that Evie felt the least close to. Lillian did not possess Annabelle's maternal softness, or Daisy's sparkling optimism... she had always intimidated Evie with her sharp tongue and prickly impatience. However, Lillian could always be counted on in times of trouble. — Lisa Kleypas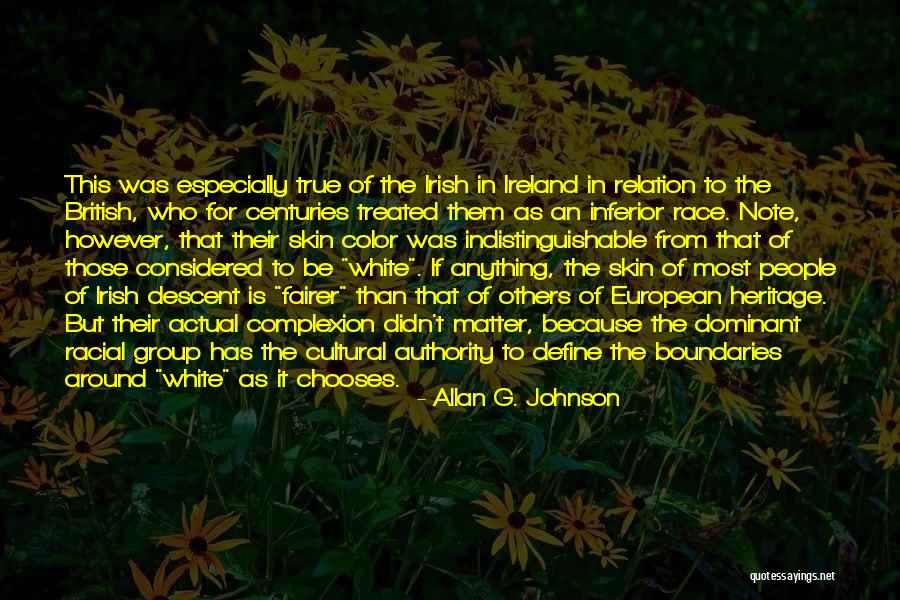 This was especially true of the Irish in Ireland in relation to the British, who for centuries treated them as an inferior race. Note, however, that their skin color was indistinguishable from that of those considered to be "white". If anything, the skin of most people of Irish descent is "fairer" than that of others of European heritage. But their actual complexion didn't matter, because the dominant racial group has the cultural authority to define the boundaries around "white" as it chooses. — Allan G. Johnson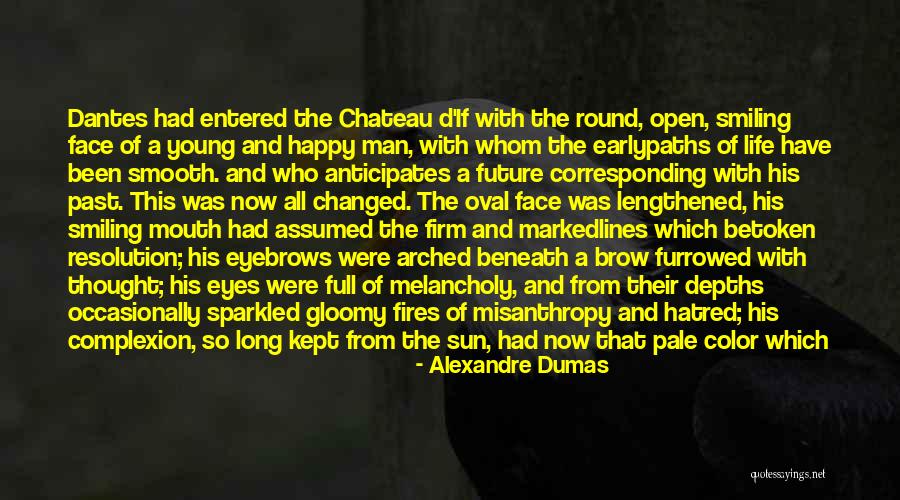 Dantes had entered the Chateau d'If with the round, open, smiling face of a young and happy man, with whom the early
paths of life have been smooth. and who anticipates a future corresponding with his past. This was now all changed. The oval face was lengthened, his smiling mouth had assumed the firm and marked
lines which betoken resolution; his eyebrows were arched beneath a brow furrowed with thought; his eyes were full of melancholy, and from their depths occasionally sparkled gloomy fires of misanthropy and hatred; his complexion, so long kept from the sun, had now that pale color which produces, when the features are encircled with black hair, the aristocratic beauty of the man of the north; the profound learning he had acquired had besides diffused over his features a refined intellectual expression; and he had also acquired, being naturally of a goodly stature, that vigor which a frame possesses which has so long concentrated all its force within itself. — Alexandre Dumas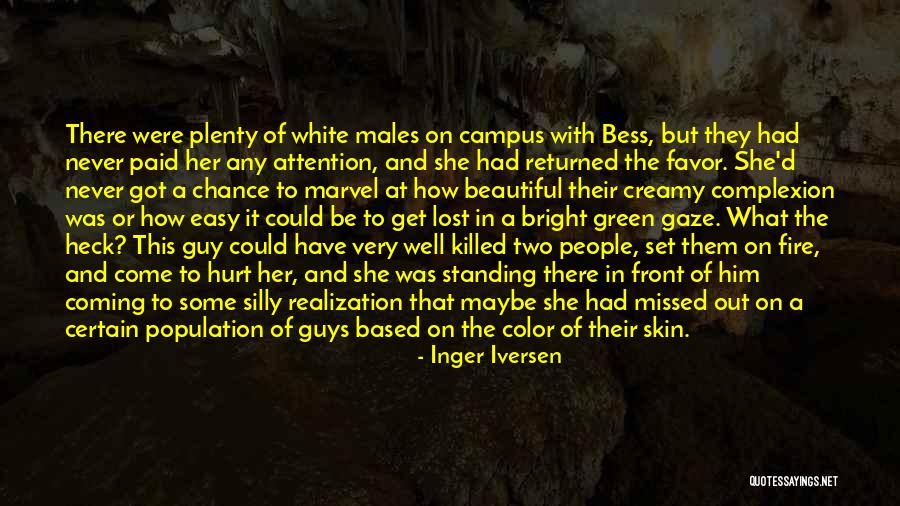 There were plenty of white males on campus with Bess, but they had never paid her any attention, and she had returned the favor. She'd never got a chance to marvel at how beautiful their creamy complexion was or how easy it could be to get lost in a bright green gaze. What the heck? This guy could have very well killed two people, set them on fire, and come to hurt her, and she was standing there in front of him coming to some silly realization that maybe she had missed out on a certain population of guys based on the color of their skin. — Inger Iversen
There is always something wrong with redheads. The hair is kinky, or it's the wrong color, too dark and tough, or too pale and sickly. And the skin - it rejects the elements: wind, sun, everything discolors it. A really beautiful redhead is rarer than a flawless forty-carat pigeon-blood ruby - or a flawed one, for that matter. But none of this was true of Kate. Her hair was like a winter sunset, lighted with the last of the pale afterglow. And the only redhead I've ever seen with a complexion to compare with hers was Pamela Churchill's. But then, Pam is English, she grew up saturated with dewy English mists, something every dermatologist ought to bottle. — Truman Capote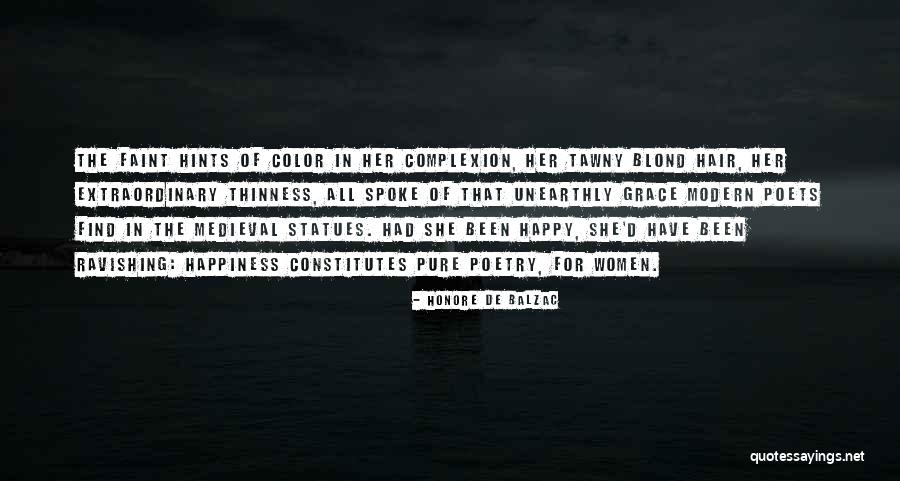 The faint hints of color in her complexion, her tawny blond hair, her extraordinary thinness, all spoke of that unearthly grace modern poets find in the medieval statues. Had she been happy, she'd have been ravishing: happiness constitutes pure poetry, for women. — Honore De Balzac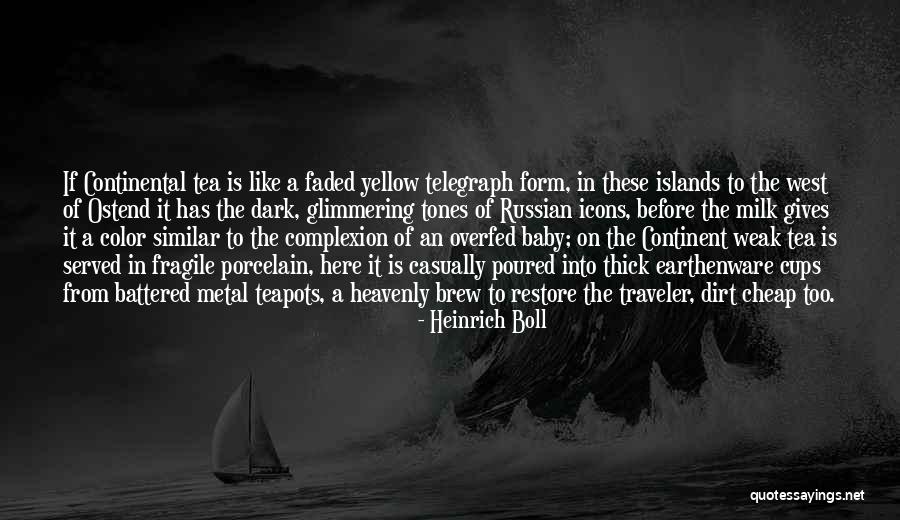 If Continental tea is like a faded yellow telegraph form, in these islands to the west of Ostend it has the dark, glimmering tones of Russian icons, before the milk gives it a color similar to the complexion of an overfed baby; on the Continent weak tea is served in fragile porcelain, here it is casually poured into thick earthenware cups from battered metal teapots, a heavenly brew to restore the traveler, dirt cheap too. — Heinrich Boll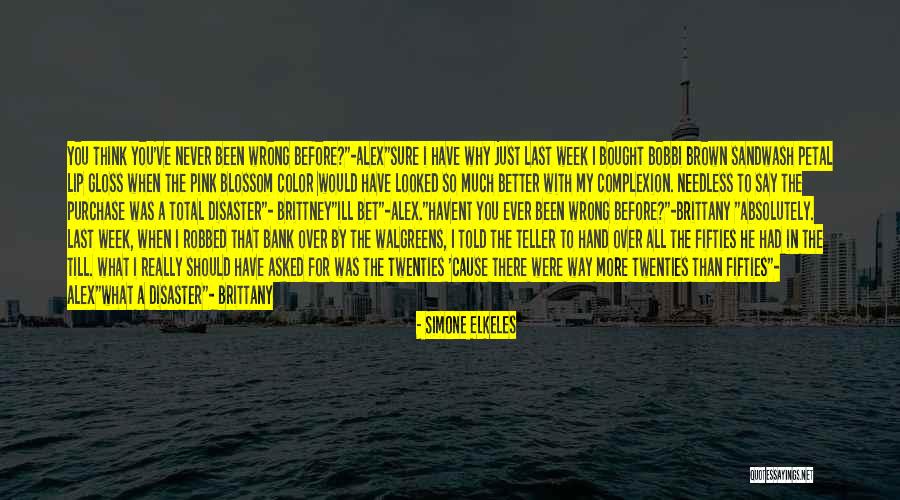 You think you've never been wrong before?"-alex
"sure i have why just last week I bought bobbi brown sandwash petal lip gloss when the pink blossom color would have looked so much better with my complexion. needless to say the purchase was a total disaster"- brittney
"ill bet"-alex.
"havent you ever been wrong before?"-brittany
"absolutely. last week, when i robbed that bank over by the walgreens, I told the teller to hand over all the fifties he had in the till. what i really should have asked for was the twenties 'cause there were way more twenties than fifties"- alex
"what a disaster"- brittany — Simone Elkeles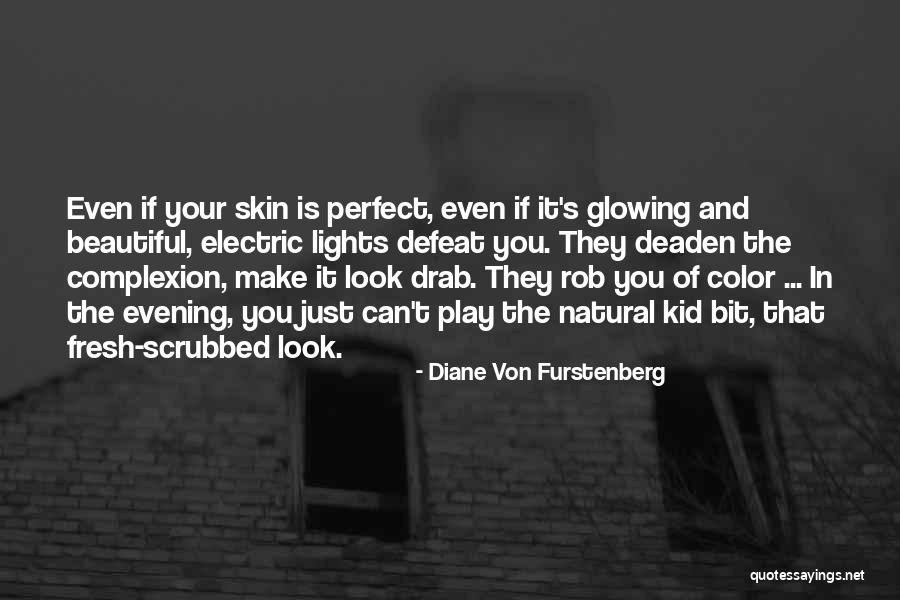 Even if your skin is perfect, even if it's glowing and beautiful, electric lights defeat you. They deaden the complexion, make it look drab. They rob you of color ... In the evening, you just can't play the natural kid bit, that fresh-scrubbed look. — Diane Von Furstenberg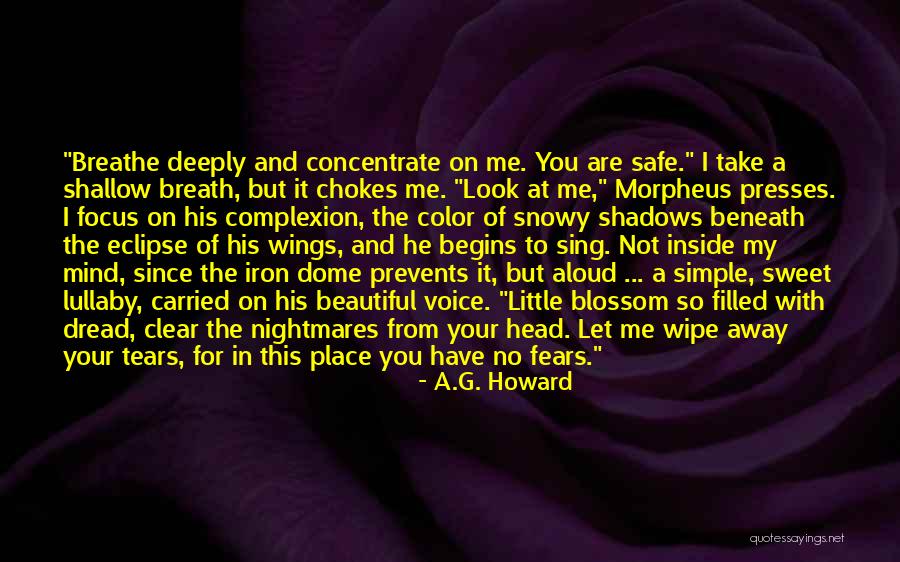 "Breathe deeply and concentrate on me. You are safe."
I take a shallow breath, but it chokes me.
"Look at me," Morpheus presses. I focus on his complexion, the color of snowy shadows beneath the eclipse of his wings, and he begins to sing. Not inside my mind, since the iron dome prevents it, but aloud ... a simple, sweet lullaby, carried on his beautiful voice.
"Little blossom so filled with dread, clear the nightmares from your head. Let me wipe away your tears, for in this place you have no fears." — A.G. Howard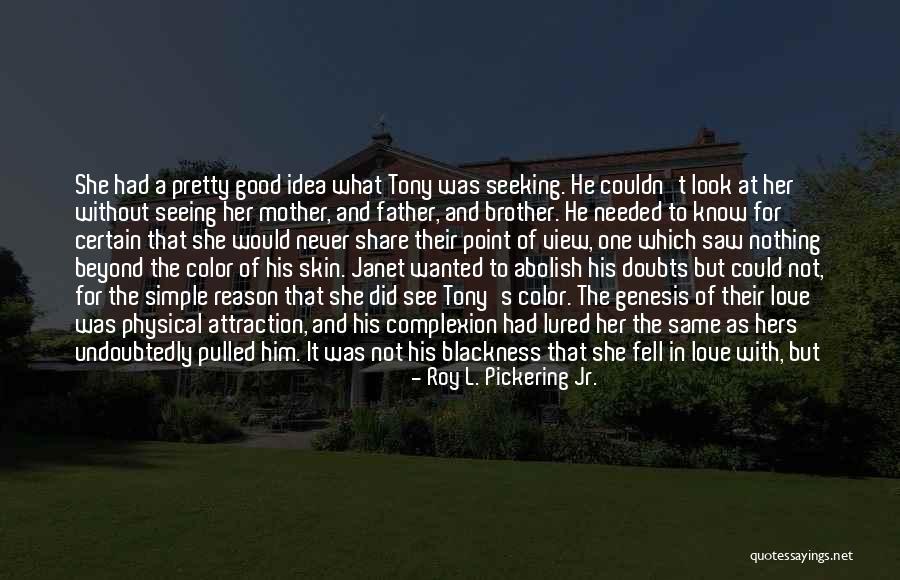 She had a pretty good idea what Tony was seeking. He couldn't look at her without seeing her mother, and father, and brother. He needed to know for certain that she would never share their point of view, one which saw nothing beyond the color of his skin. Janet wanted to abolish his doubts but could not, for the simple reason that she did see Tony's color. The genesis of their love was physical attraction, and his complexion had lured her the same as hers undoubtedly pulled him. It was not his blackness that she fell in love with, but it was a part of him, and therefore, a part of what she loved. — Roy L. Pickering Jr.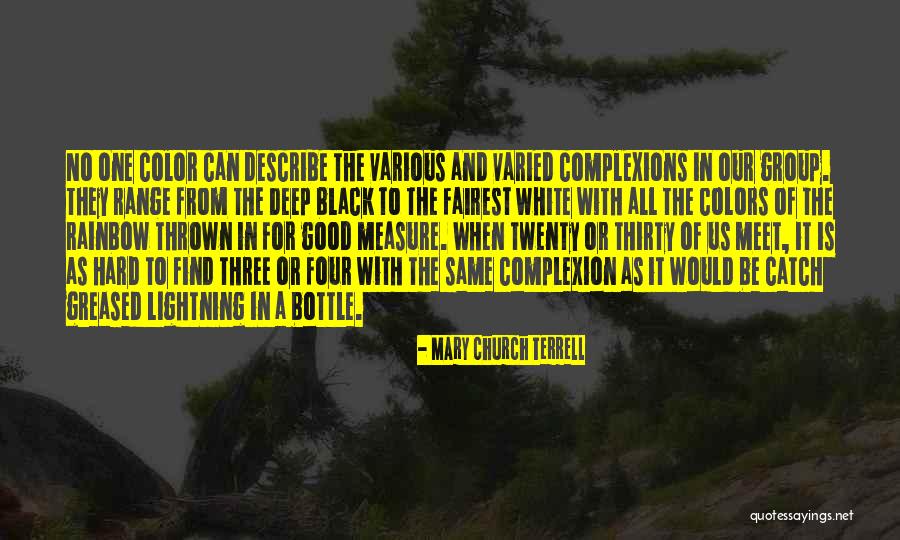 No one color can describe the various and varied complexions in our group. They range from the deep black to the fairest white with all the colors of the rainbow thrown in for good measure. When twenty or thirty of us meet, it is as hard to find three or four with the same complexion as it would be catch greased lightning in a bottle. — Mary Church Terrell