Born To Serve Quotes & Sayings
Enjoy reading and share 54 famous quotes about Born To Serve with everyone.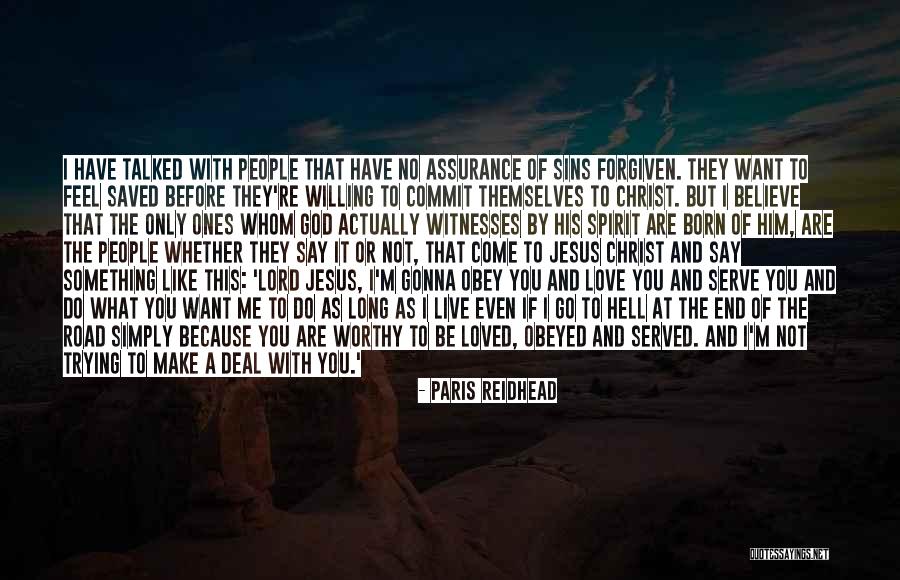 I have talked with people that have no assurance of sins forgiven. They want to feel saved before they're willing to commit themselves to Christ. But I believe that the only ones whom God actually witnesses by His Spirit are born of Him, are the people whether they say it or not, that come to Jesus Christ and say something like this: 'Lord Jesus, I'm gonna obey You and love You and serve You and do what You want me to do as long as I live even if I go to hell at the end of the road simply because You are worthy to be loved, obeyed and served. And I'm not trying to make a deal with You.' — Paris Reidhead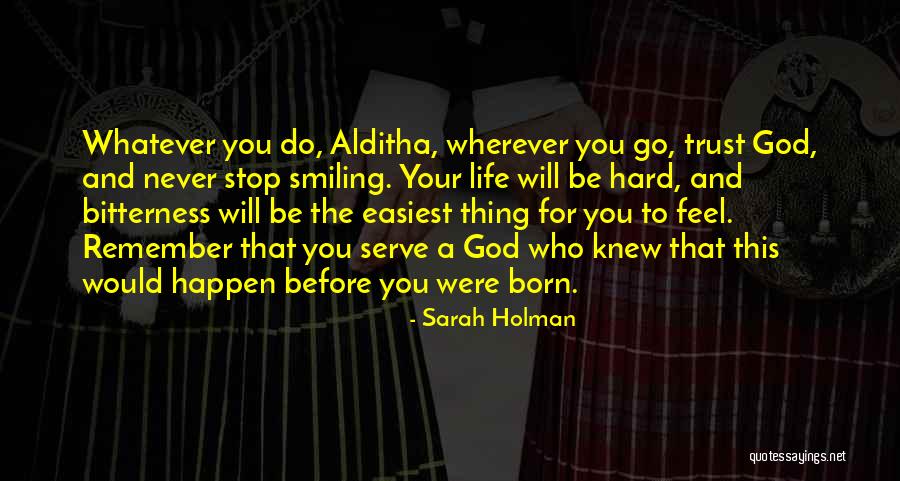 Whatever you do, Alditha, wherever you go, trust God, and never stop smiling. Your life will be hard, and bitterness will be the easiest thing for you to feel. Remember that you serve a God who knew that this would happen before you were born. — Sarah Holman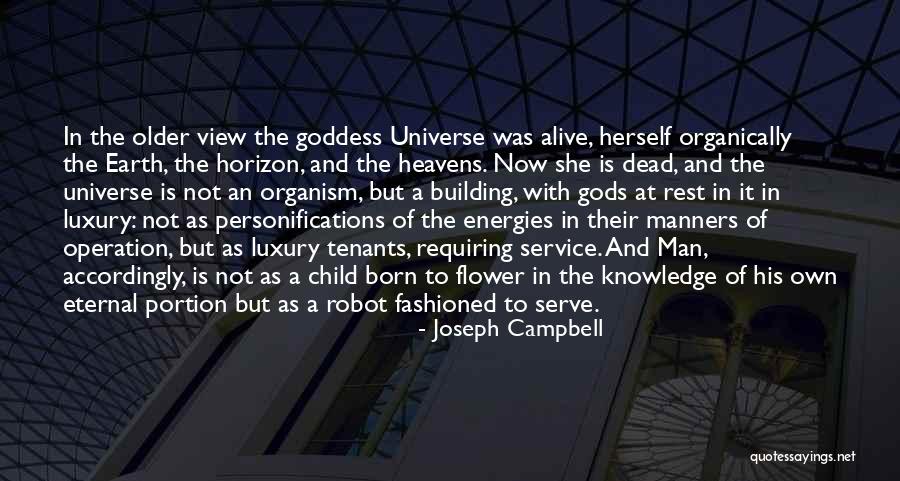 In the older view the goddess Universe was alive, herself organically the Earth, the horizon, and the heavens. Now she is dead, and the universe is not an organism, but a building, with gods at rest in it in luxury: not as personifications of the energies in their manners of operation, but as luxury tenants, requiring service. And Man, accordingly, is not as a child born to flower in the knowledge of his own eternal portion but as a robot fashioned to serve. — Joseph Campbell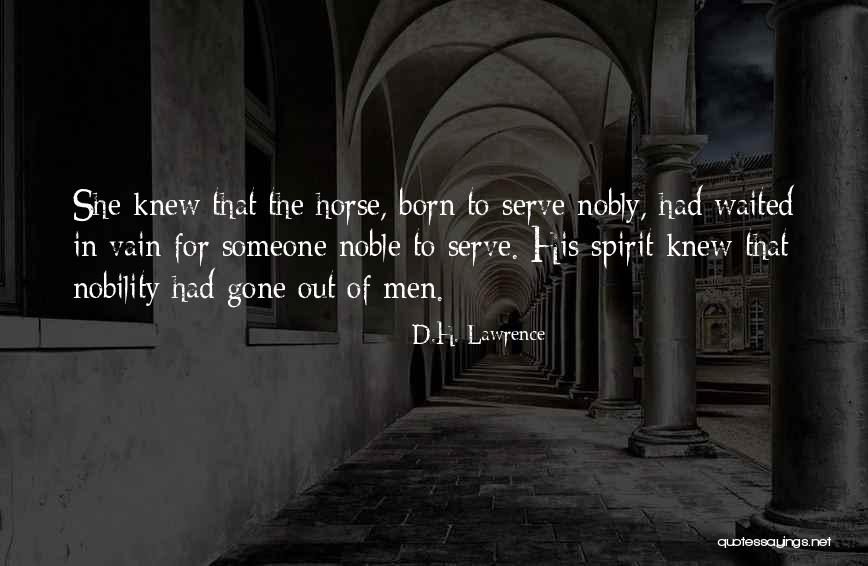 She knew that the horse, born to serve nobly, had waited in vain for someone noble to serve. His spirit knew that nobility had gone out of men. — D.H. Lawrence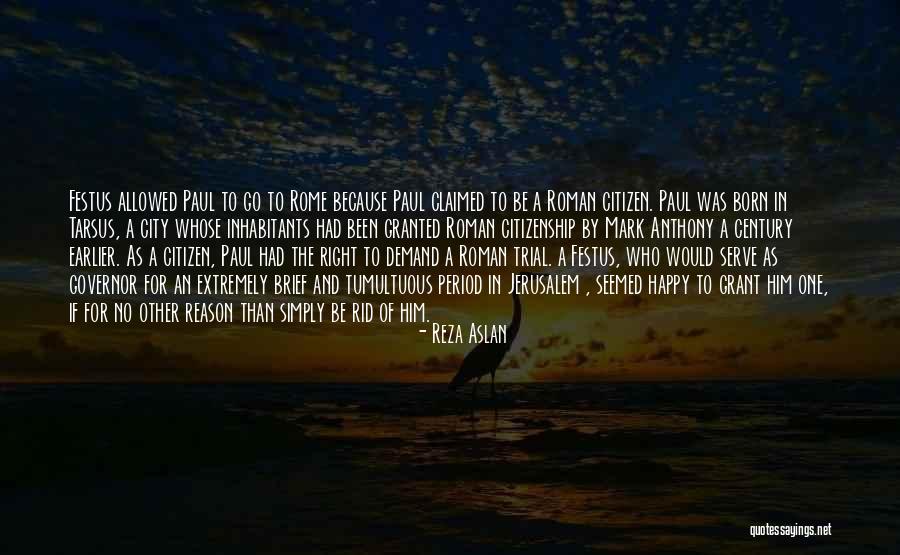 Festus allowed Paul to go to Rome because Paul claimed to be a Roman citizen. Paul was born in Tarsus, a city whose inhabitants had been granted Roman citizenship by Mark Anthony a century earlier. As a citizen, Paul had the right to demand a Roman trial. a Festus, who would serve as governor for an extremely brief and tumultuous period in Jerusalem , seemed happy to grant him one, if for no other reason than simply be rid of him. — Reza Aslan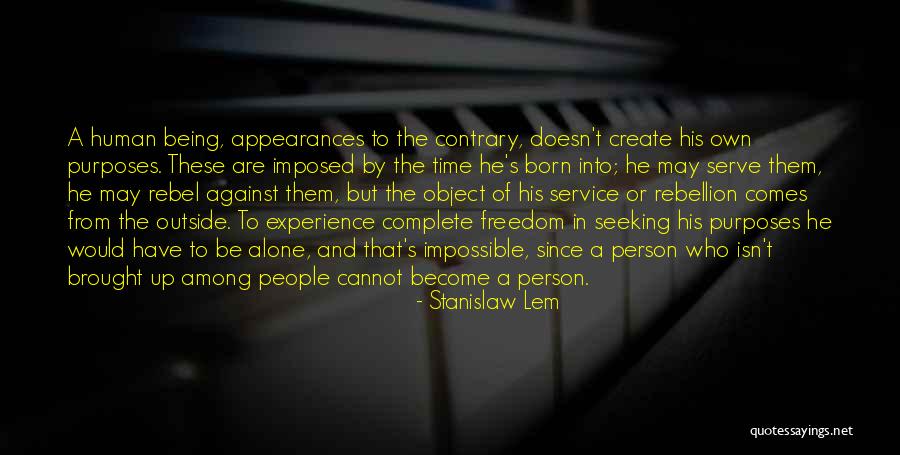 A human being, appearances to the contrary, doesn't create his own purposes. These are imposed by the time he's born into; he may serve them, he may rebel against them, but the object of his service or rebellion comes from the outside. To experience complete freedom in seeking his purposes he would have to be alone, and that's impossible, since a person who isn't brought up among people cannot become a person. — Stanislaw Lem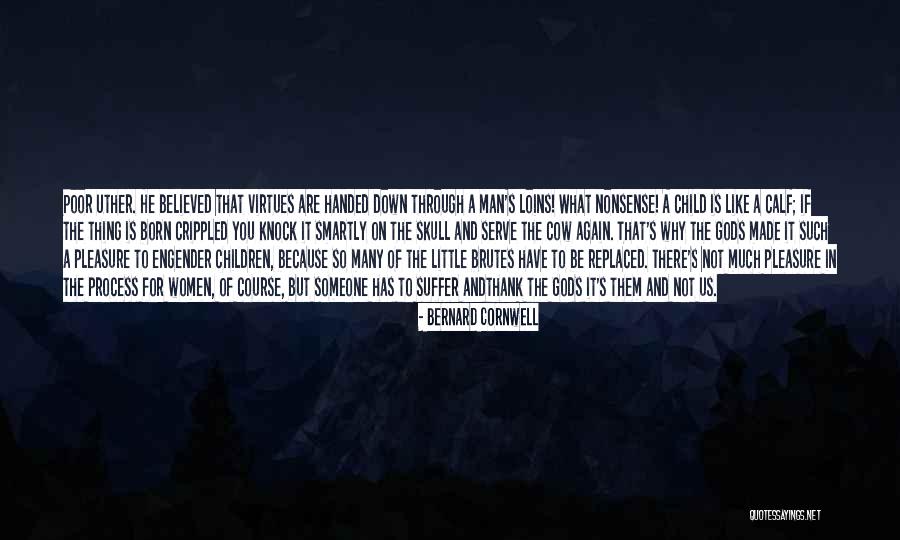 Poor Uther. He believed that virtues are handed down through a man's loins! What nonsense! A child is like a calf; if the thing is born crippled you knock it smartly on the skull and serve the cow again. That's why the Gods made it such a pleasure to engender children, because so many of the little brutes have to be replaced. There's not much pleasure in the process for women, of course, but someone has to suffer and
thank the Gods it's them and not us. — Bernard Cornwell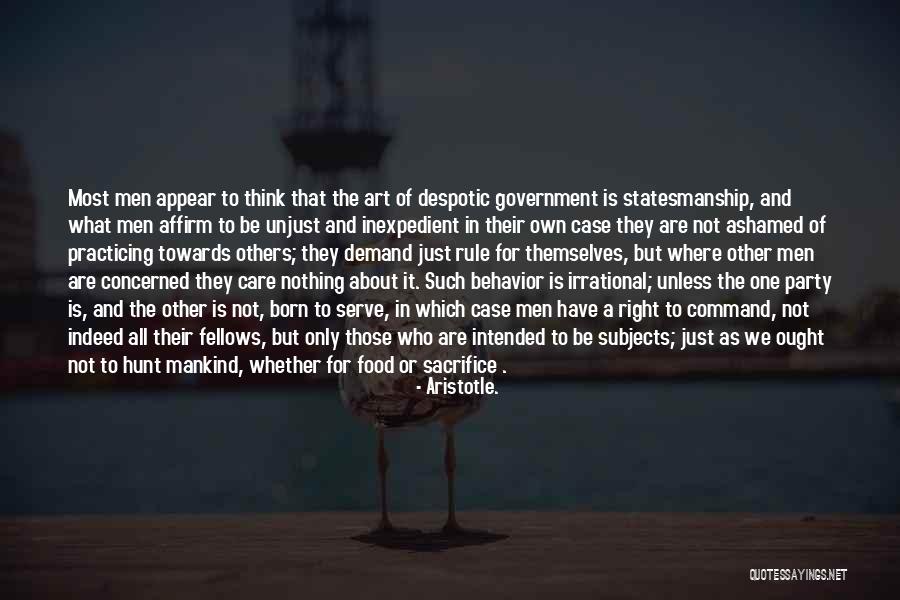 Most men appear to think that the art of despotic government is statesmanship, and what men affirm to be unjust and inexpedient in their own case they are not ashamed of practicing towards others; they demand just rule for themselves, but where other men are concerned they care nothing about it. Such behavior is irrational; unless the one party is, and the other is not, born to serve, in which case men have a right to command, not indeed all their fellows, but only those who are intended to be subjects; just as we ought not to hunt mankind, whether for food or sacrifice . — Aristotle.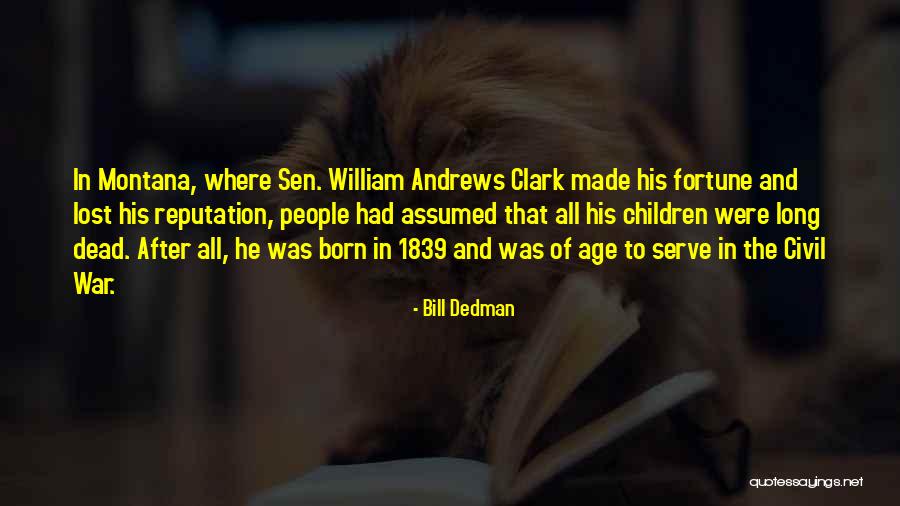 In Montana, where Sen. William Andrews Clark made his fortune and lost his reputation, people had assumed that all his children were long dead. After all, he was born in 1839 and was of age to serve in the Civil War. — Bill Dedman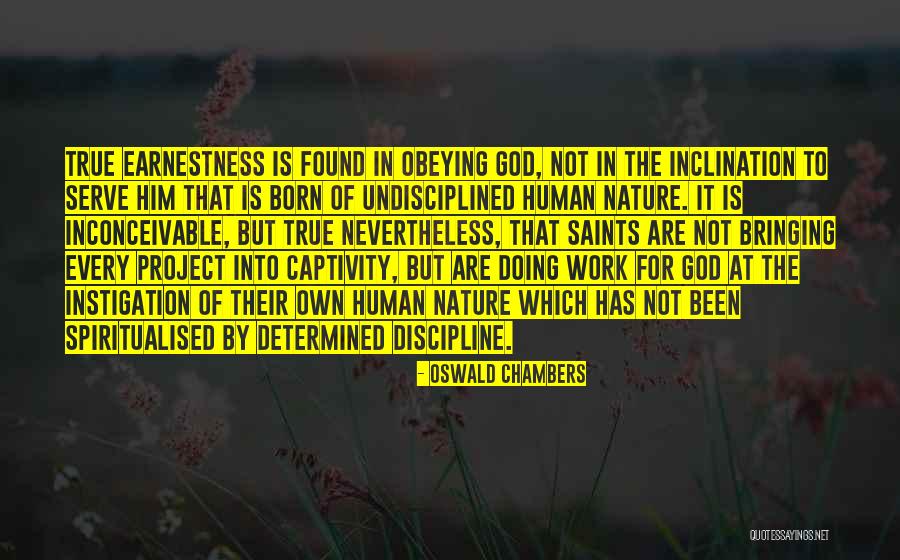 True earnestness is found in obeying God, not in the inclination to serve Him that is born of undisciplined human nature. It is inconceivable, but true nevertheless, that saints are not bringing every project into captivity, but are doing work for God at the instigation of their own human nature which has not been spiritualised by determined discipline. — Oswald Chambers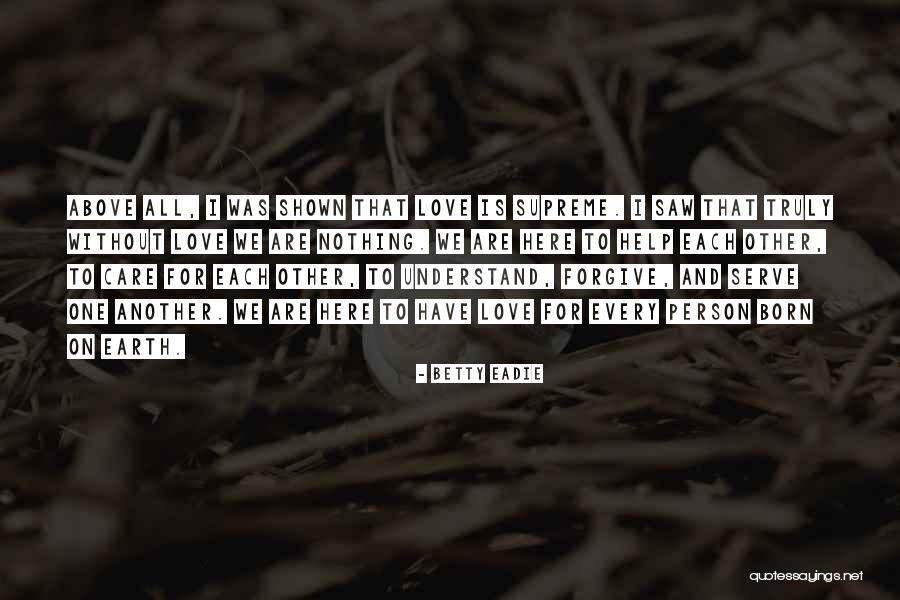 Above all, I was shown that love is supreme. I saw that truly without love we are nothing. We are here to help each other, to care for each other, to understand, forgive, and serve one another. We are here to have love for every person born on earth. — Betty Eadie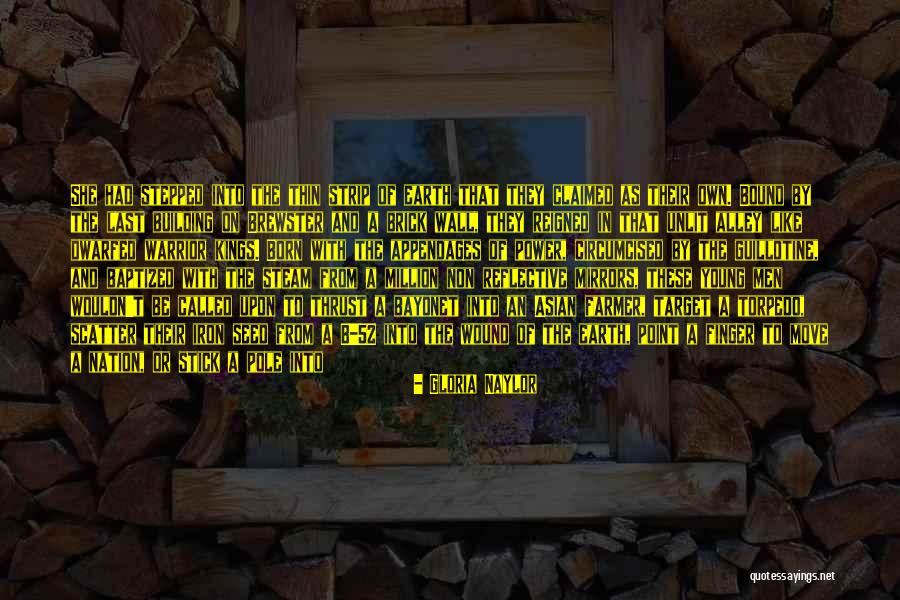 She had stepped into the thin strip of earth that they claimed as their own. Bound by the last building on Brewster and a brick wall, they reigned in that unlit alley like dwarfed warrior kings. Born with the appendages of power, circumcised by the guillotine, and baptized with the steam from a million non reflective mirrors, these young men wouldn't be called upon to thrust a bayonet into an Asian farmer, target a torpedo, scatter their iron seed from a B-52 into the wound of the earth, point a finger to move a nation, or stick a pole into the moon
and they knew it. They only had that three-hundred-foot alley to serve them as stateroom, armored tank, and executioner's chamber. — Gloria Naylor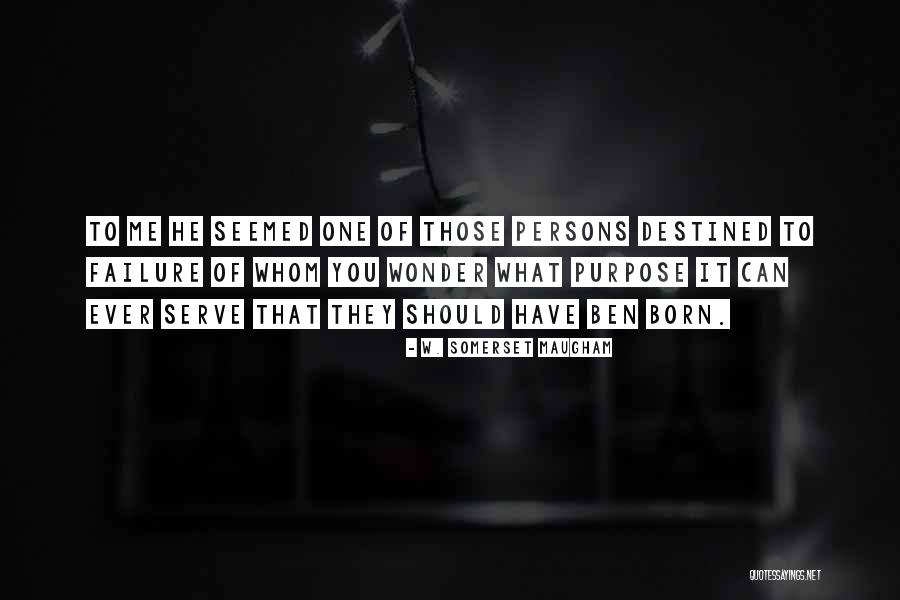 To me he seemed one of those persons destined to failure of whom you wonder what purpose it can ever serve that they should have ben born. — W. Somerset Maugham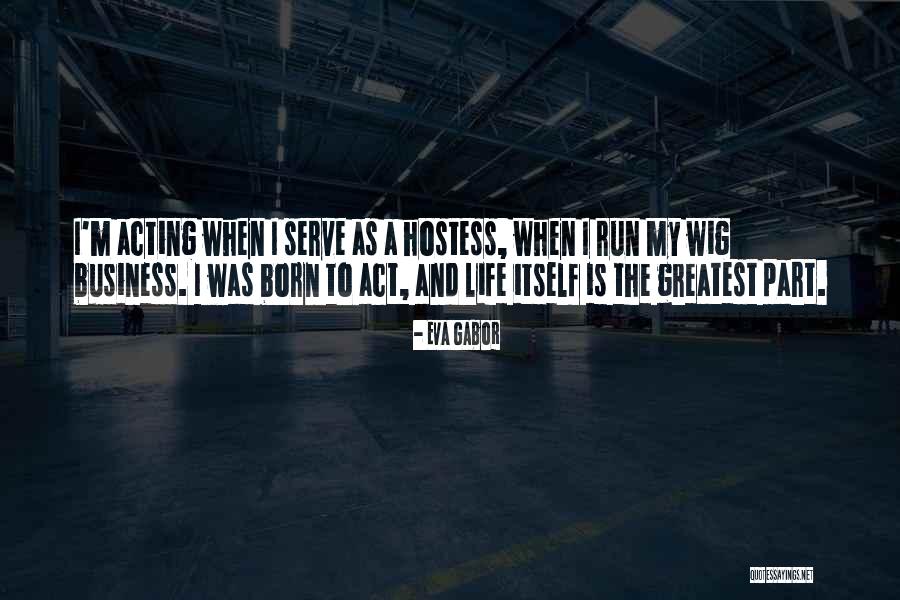 I'm acting when I serve as a hostess, when I run my wig business. I was born to act, and life itself is the greatest part. — Eva Gabor
Not because they were servants were we so reserved, for many noble persons are forced to serve through necessity, but by reason the vulgar sort of servants are as ill bred as meanly born, giving children ill examples and worse counsel. — Margaret Cavendish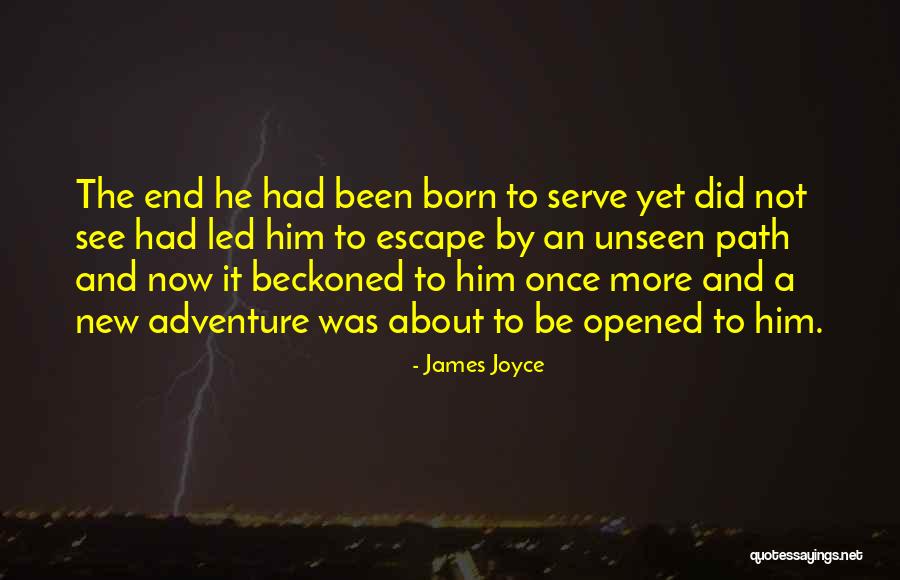 The end he had been born to serve yet did not see had led him to escape by an unseen path and now it beckoned to him once more and a new adventure was about to be opened to him. — James Joyce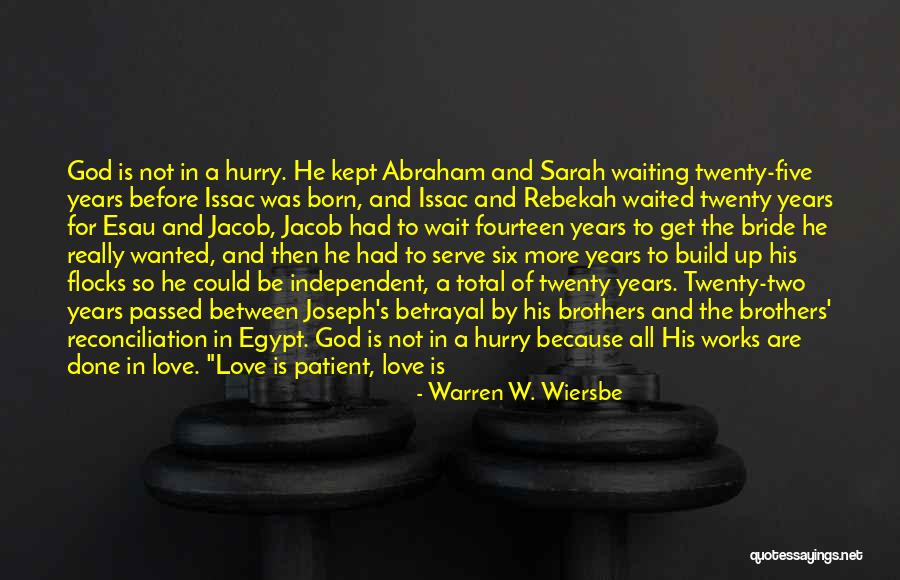 God is not in a hurry. He kept Abraham and Sarah waiting twenty-five years before Issac was born, and Issac and Rebekah waited twenty years for Esau and Jacob, Jacob had to wait fourteen years to get the bride he really wanted, and then he had to serve six more years to build up his flocks so he could be independent, a total of twenty years. Twenty-two years passed between Joseph's betrayal by his brothers and the brothers' reconciliation in Egypt. God is not in a hurry because all His works are done in love. "Love is patient, love is kind" (1 Cor.13:4). Let's be grateful that God takes His time. — Warren W. Wiersbe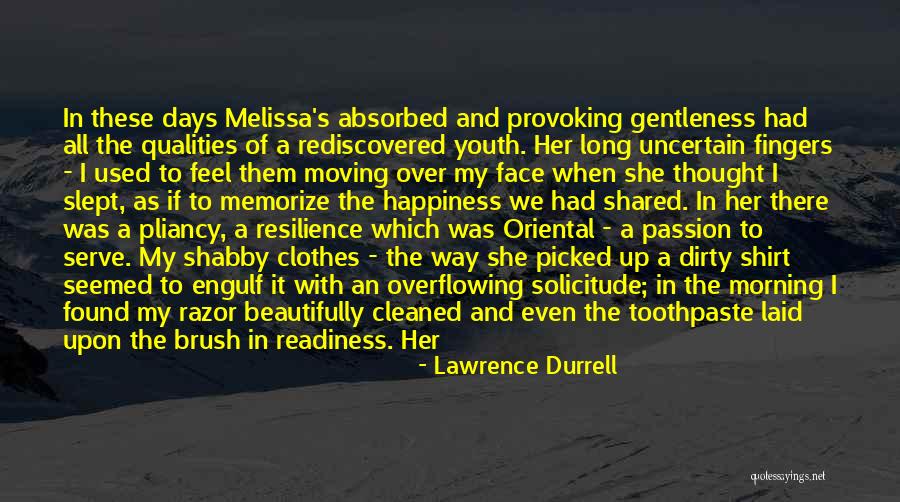 In these days Melissa's absorbed and provoking gentleness had all the qualities of a rediscovered youth. Her long uncertain fingers - I used to feel them moving over my face when she thought I slept, as if to memorize the happiness we had shared. In her there was a pliancy, a resilience which was Oriental - a passion to serve. My shabby clothes - the way she picked up a dirty shirt seemed to engulf it with an overflowing solicitude; in the morning I found my razor beautifully cleaned and even the toothpaste laid upon the brush in readiness. Her care for me was a goad, provoking me to give my life some sort of shape and style that might match the simplicity of hers. Of her experiences in love she would never speak, turning from them with a weariness and distaste which suggested that they had been born of necessity rather than desire. She paid me the comlpiment of saying: "For the first time I am not afraid to be light-headed or foolish with a man". — Lawrence Durrell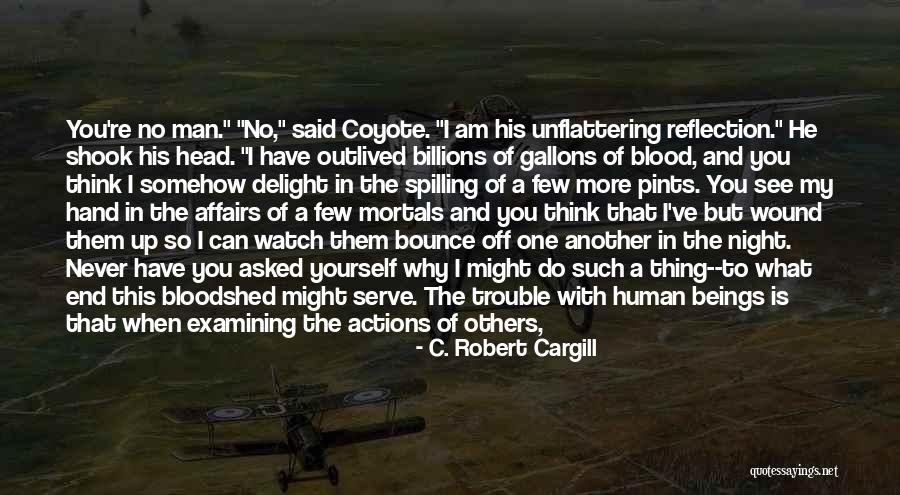 You're no man." "No," said Coyote. "I am his unflattering reflection." He shook his head. "I have outlived billions of gallons of blood, and you think I somehow delight in the spilling of a few more pints. You see my hand in the affairs of a few mortals and you think that I've but wound them up so I can watch them bounce off one another in the night. Never have you asked yourself why I might do such a thing--to what end this bloodshed might serve. The trouble with human beings is that when examining the actions of others, they always apply their own ethics and point of view., hoping to understand them in the context of what they might do and why they might do such a thing. When no answer lies in that examination, they always ascribe malice. Malice, you see, is the only thing people understand without explanation. You are born with it and thus come to expect it. — C. Robert Cargill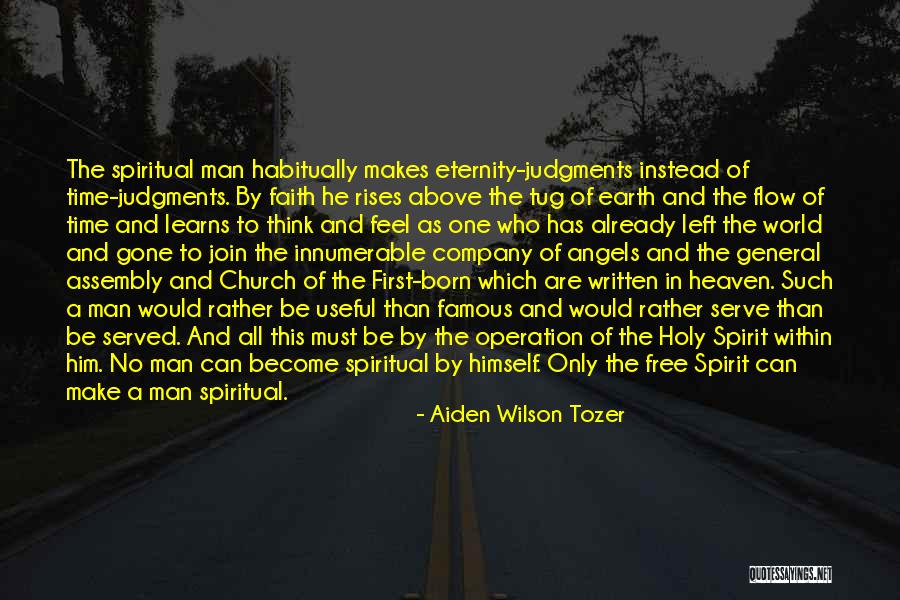 The spiritual man habitually makes eternity-judgments instead of time-judgments. By faith he rises above the tug of earth and the flow of time and learns to think and feel as one who has already left the world and gone to join the innumerable company of angels and the general assembly and Church of the First-born which are written in heaven. Such a man would rather be useful than famous and would rather serve than be served. And all this must be by the operation of the Holy Spirit within him. No man can become spiritual by himself. Only the free Spirit can make a man spiritual. — Aiden Wilson Tozer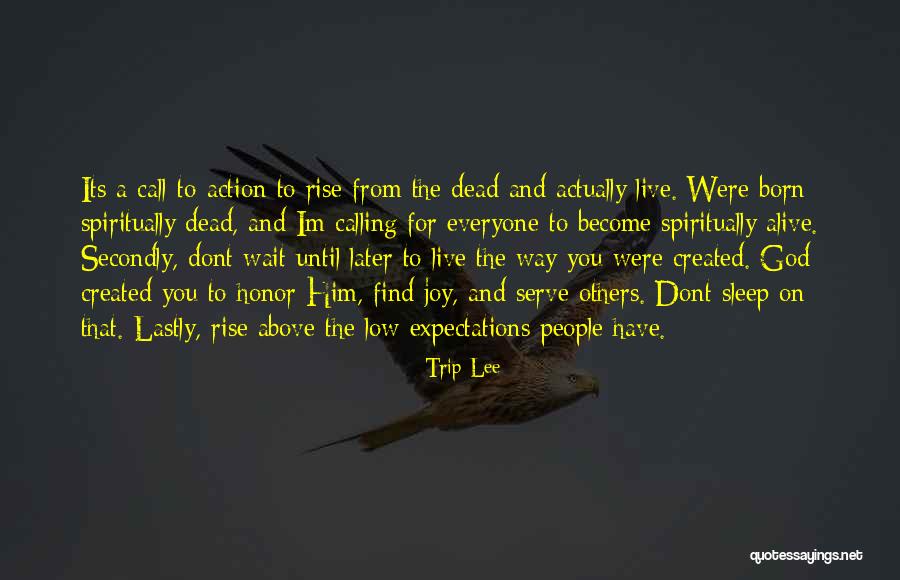 Its a call-to-action to rise from the dead and actually live. Were born spiritually dead, and Im calling for everyone to become spiritually alive. Secondly, dont wait until later to live the way you were created. God created you to honor Him, find joy, and serve others. Dont sleep on that. Lastly, rise above the low expectations people have. — Trip Lee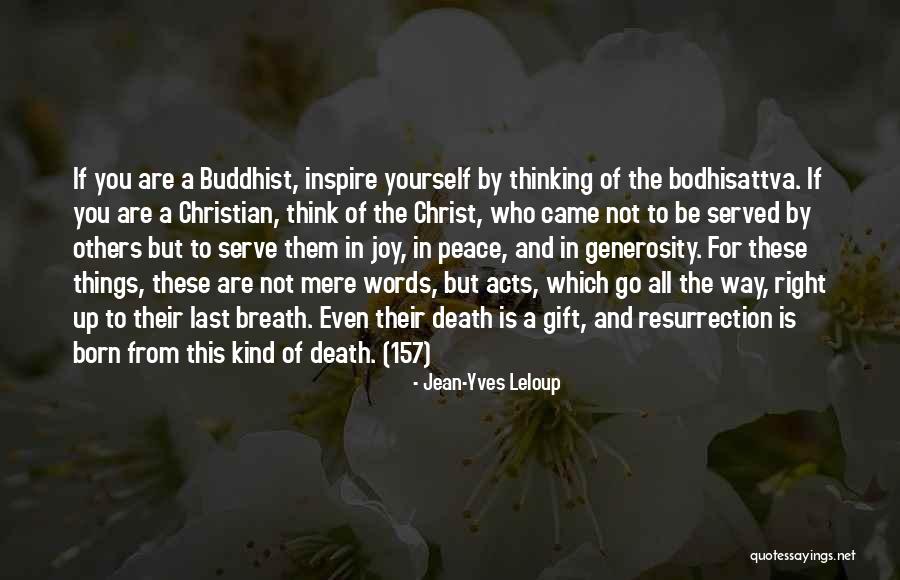 If you are a Buddhist, inspire yourself by thinking of the bodhisattva. If you are a Christian, think of the Christ, who came not to be served by others but to serve them in joy, in peace, and in generosity. For these things, these are not mere words, but acts, which go all the way, right up to their last breath. Even their death is a gift, and resurrection is born from this kind of death. (157) — Jean-Yves Leloup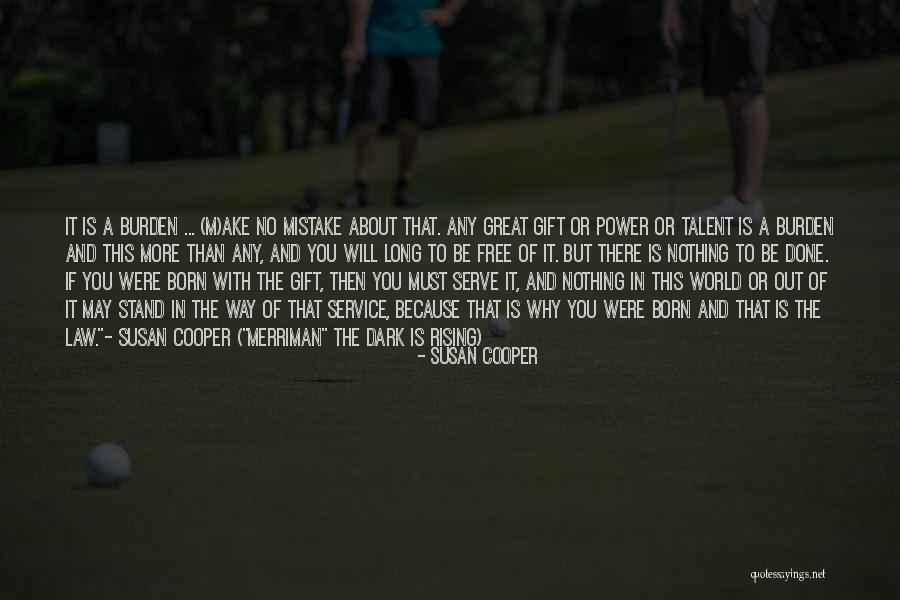 It is a burden ... (M)ake no mistake about that. Any great gift or power or talent is a burden and this more than any, and you will long to be free of it. But there is nothing to be done. If you were born with the gift, then you must serve it, and nothing in this world or out of it may stand in the way of that service, because that is why you were born and that is the Law."
- Susan Cooper ("Merriman" The Dark is Rising) — Susan Cooper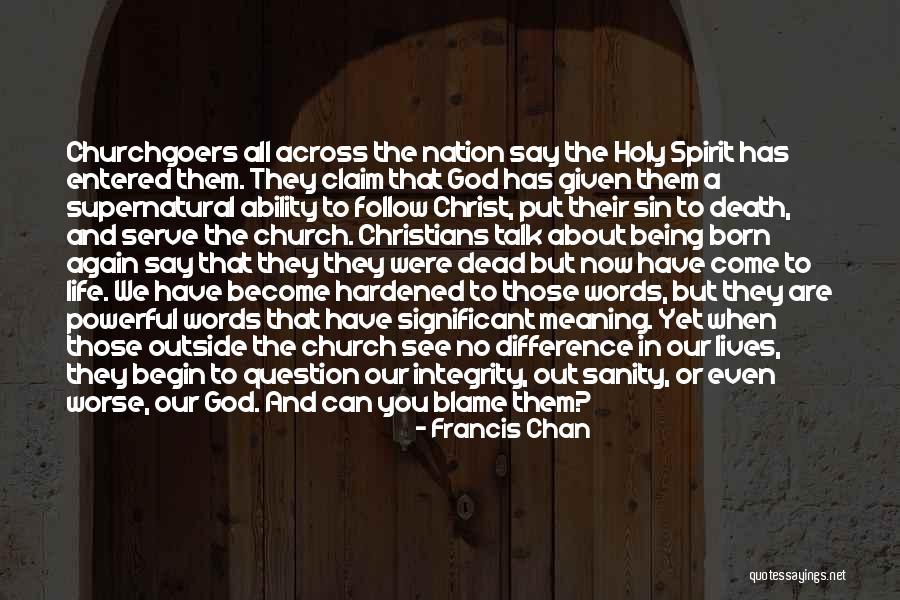 Churchgoers all across the nation say the Holy Spirit has entered them. They claim that God has given them a supernatural ability to follow Christ, put their sin to death, and serve the church. Christians talk about being born again say that they they were dead but now have come to life. We have become hardened to those words, but they are powerful words that have significant meaning. Yet when those outside the church see no difference in our lives, they begin to question our integrity, out sanity, or even worse, our God. And can you blame them? — Francis Chan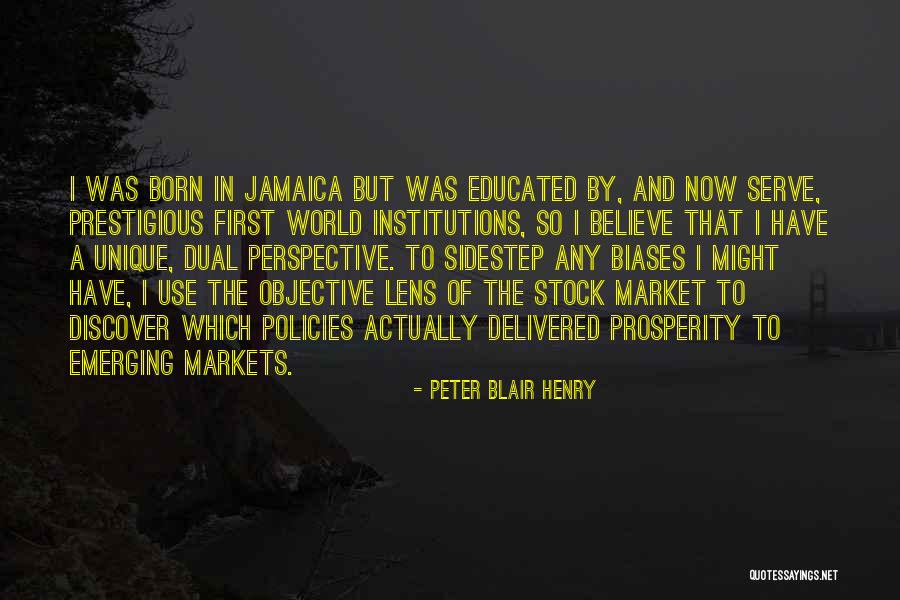 I was born in Jamaica but was educated by, and now serve, prestigious First World institutions, so I believe that I have a unique, dual perspective. To sidestep any biases I might have, I use the objective lens of the stock market to discover which policies actually delivered prosperity to emerging markets. — Peter Blair Henry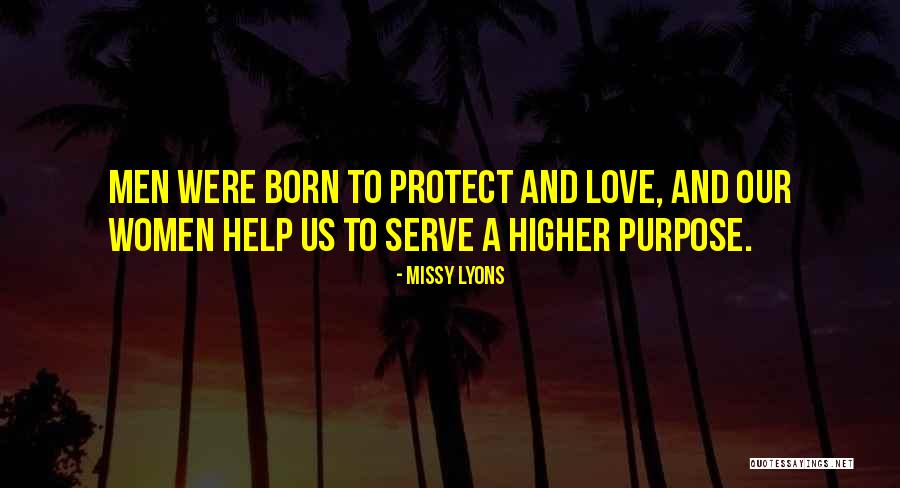 Men were born to protect and love, and our women help us to serve a higher purpose. — Missy Lyons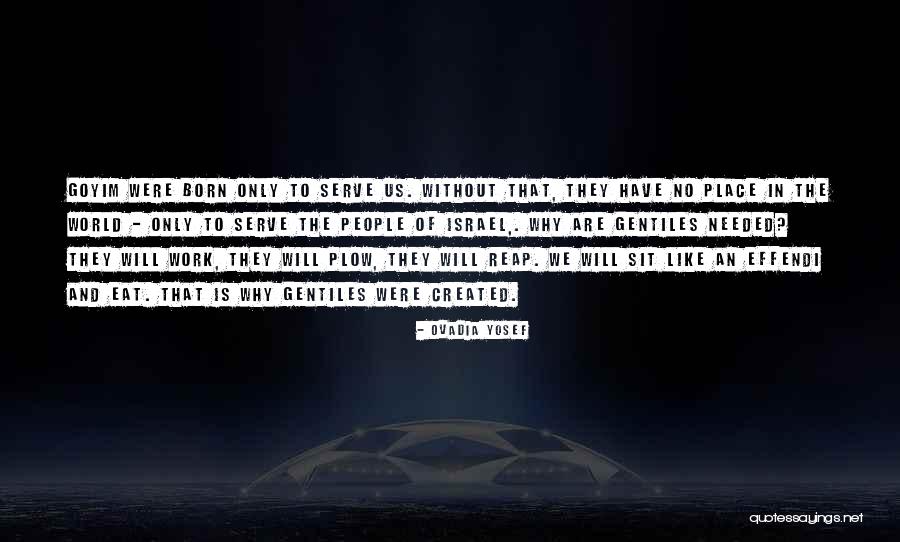 Goyim were born only to serve us. Without that, they have no place in the world - only to serve the People of Israel,. Why are gentiles needed? They will work, they will plow, they will reap. We will sit like an effendi and eat. That is why gentiles were created. — Ovadia Yosef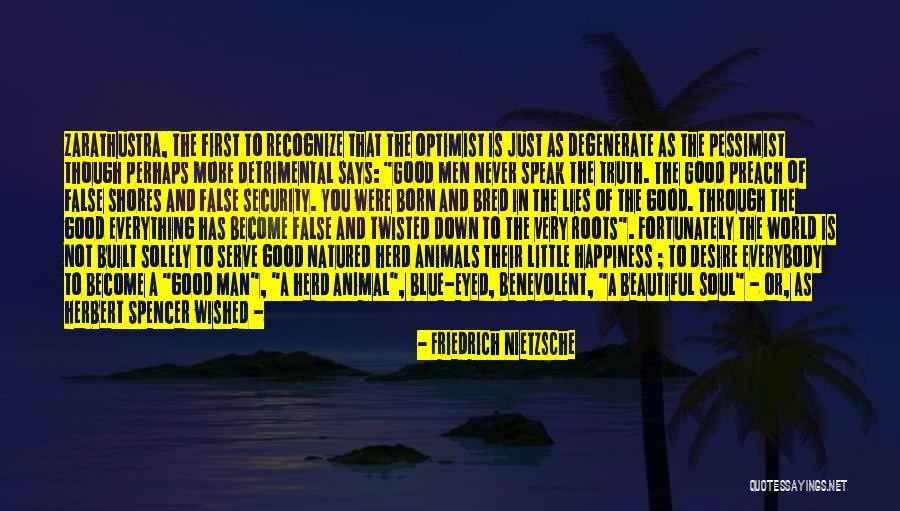 Zarathustra, the first to recognize that the optimist is just as degenerate as the pessimist though perhaps more detrimental says: "Good men never speak the truth. The Good preach of false shores and false security. You were born and bred in the lies of the good. Through the good everything has become false and twisted down to the very roots". Fortunately the world is not built solely to serve good natured herd animals their little happiness ; to desire everybody to become a "good man", "a herd animal", blue-eyed, benevolent, "a beautiful soul" - or, as Herbert Spencer wished - altruistic, would mean robbing existence of its great character, to castrate mankind and reduce humanity to a sort of wretched Chinadom. And this some have tried to do! It is precisely this that men have called morality. — Friedrich Nietzsche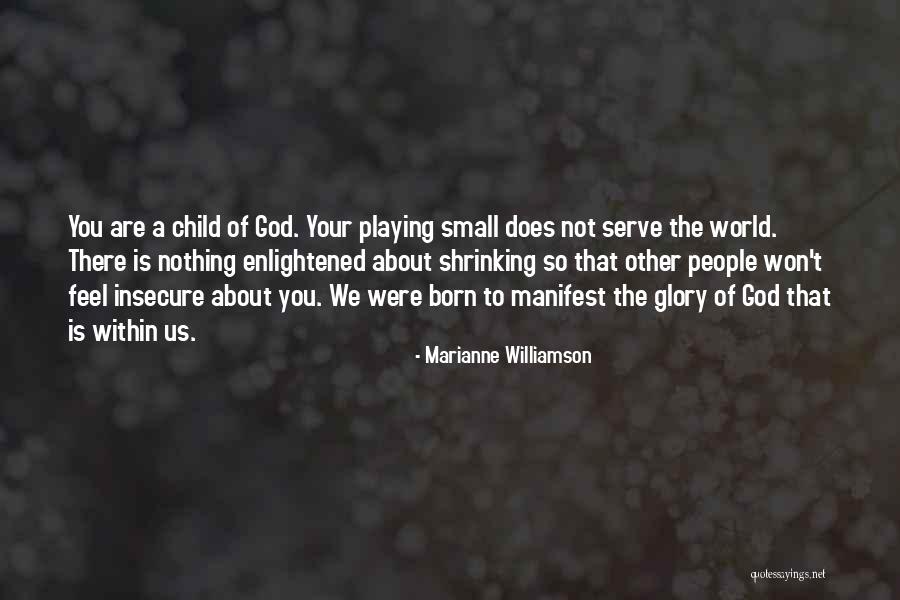 You are a child of God. Your playing small does not serve the world. There is nothing enlightened about shrinking so that other people won't feel insecure about you. We were born to manifest the glory of God that is within us. — Marianne Williamson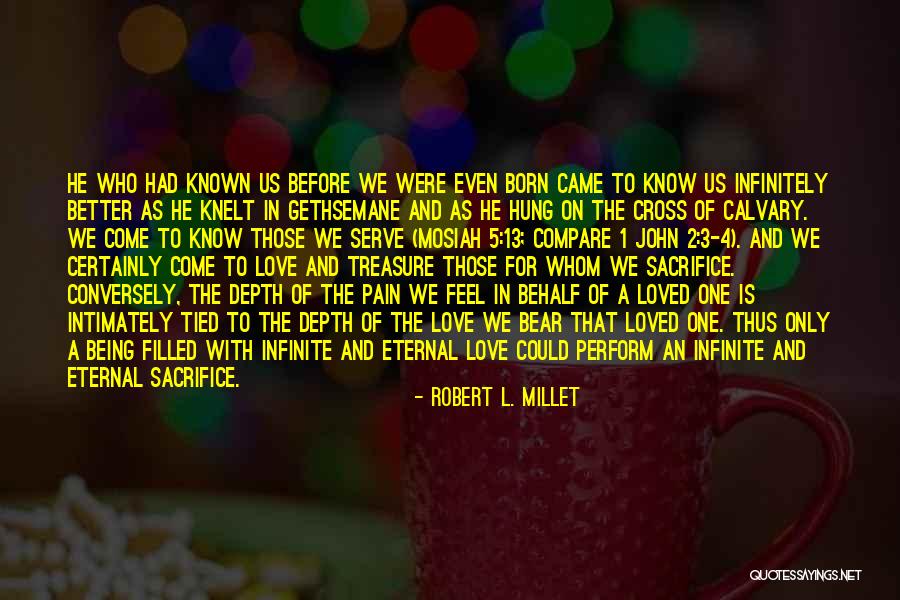 He who had known us before we were even born came to know us infinitely better as he knelt in Gethsemane and as he hung on the cross of Calvary. We come to know those we serve (Mosiah 5:13; compare 1 John 2:3-4). And we certainly come to love and treasure those for whom we sacrifice. Conversely, the depth of the pain we feel in behalf of a loved one is intimately tied to the depth of the love we bear that loved one. Thus only a being filled with infinite and eternal love could perform an infinite and eternal sacrifice. — Robert L. Millet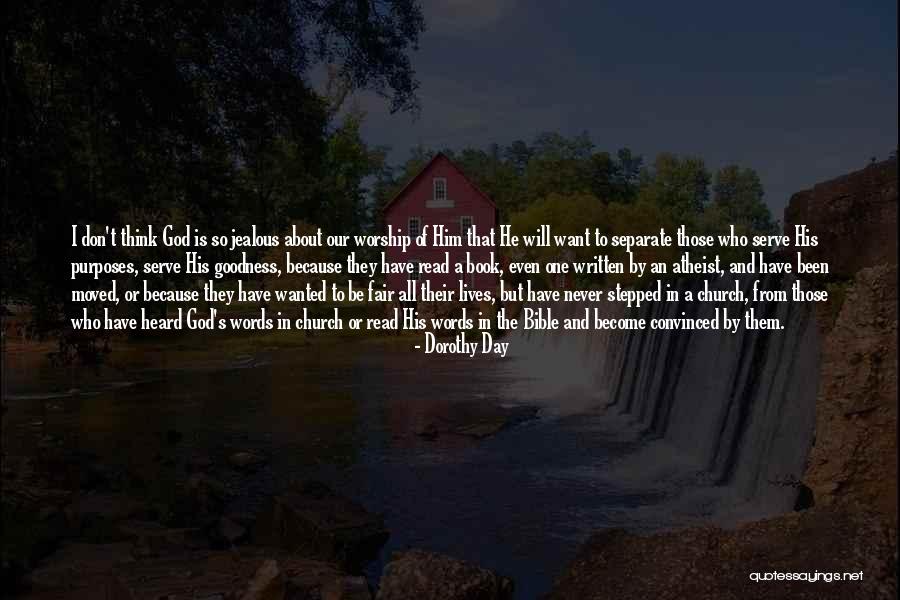 I don't think God is so jealous about our worship of Him that He will want to separate those who serve His purposes, serve His goodness, because they have read a book, even one written by an atheist, and have been moved, or because they have wanted to be fair all their lives, but have never stepped in a church, from those who have heard God's words in church or read His words in the Bible and become convinced by them. — Dorothy Day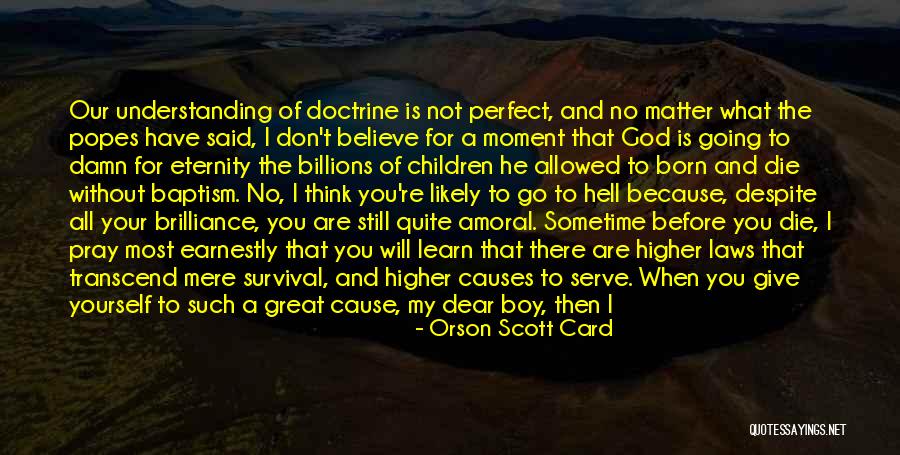 Our understanding of doctrine is not perfect, and no matter what the popes have said, I don't believe for a moment that God is going to damn for eternity the billions of children he allowed to born and die without baptism. No, I think you're likely to go to hell because, despite all your brilliance, you are still quite amoral. Sometime before you die, I pray most earnestly that you will learn that there are higher laws that transcend mere survival, and higher causes to serve. When you give yourself to such a great cause, my dear boy, then I will not fear your death, because I know that a just God will forgive you for the oversight of not having recognized the truth of Christianity during your lifetime. — Orson Scott Card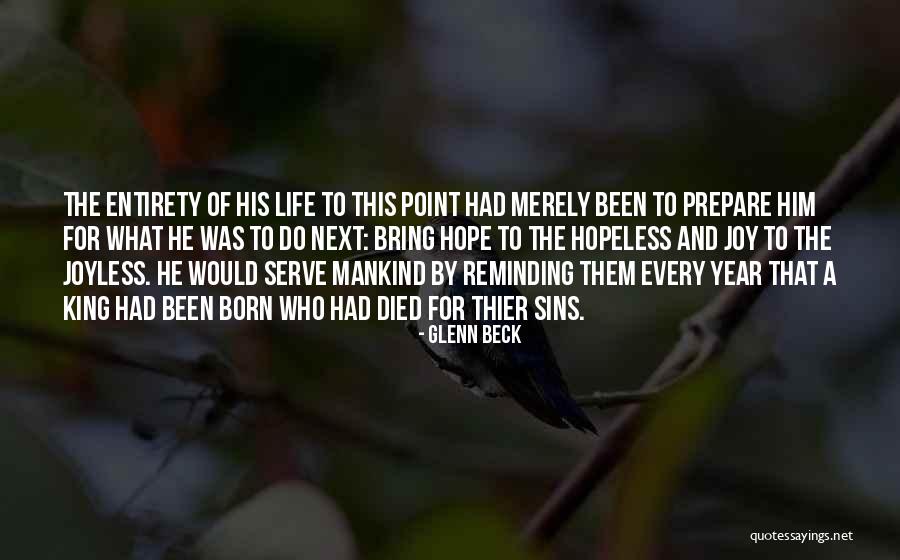 The entirety of his life to this point had merely been to prepare him for what he was to do next: bring hope to the hopeless and joy to the joyless. He would serve mankind by reminding them every year that a King had been born who had died for thier sins. — Glenn Beck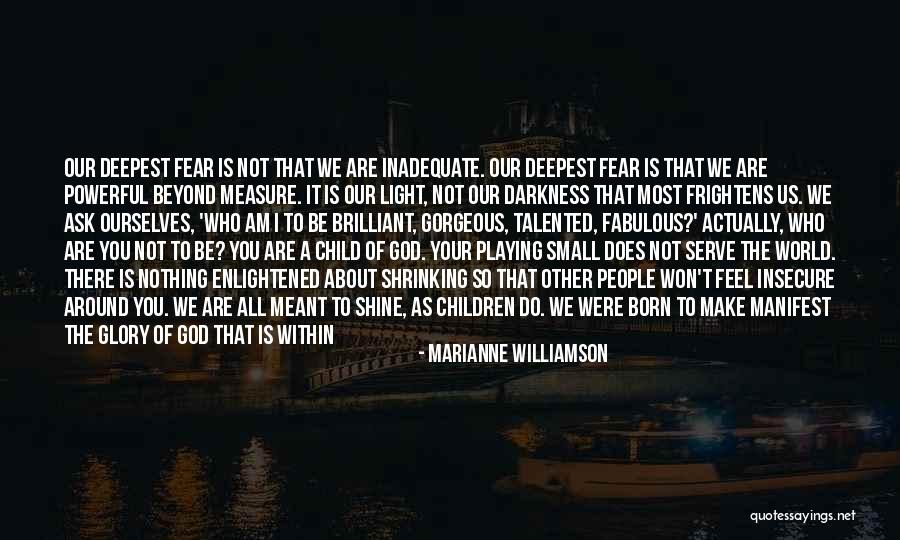 Our deepest fear is not that we are inadequate. Our deepest fear is that we are powerful beyond measure. It is our light, not our darkness that most frightens us. We ask ourselves, 'Who am I to be brilliant, gorgeous, talented, fabulous?' Actually, who are you not to be? You are a child of God. Your playing small does not serve the world. There is nothing enlightened about shrinking so that other people won't feel insecure around you. We are all meant to shine, as children do. We were born to make manifest the glory of God that is within us. It's not just in some of us; it's in everyone. And as we let our own light shine, we unconsciously give other people permission to do the same. As we are liberated from our own fear, our presence automatically liberates others. — Marianne Williamson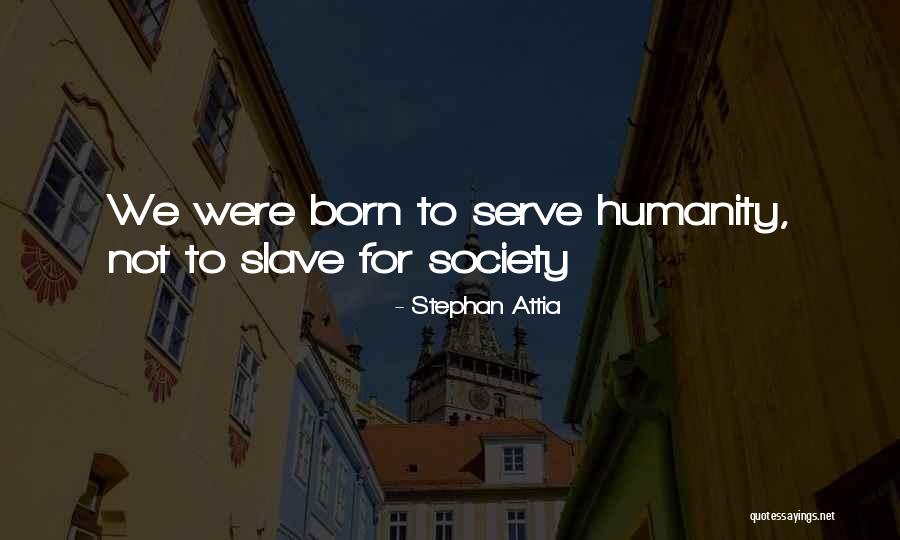 We were born to serve humanity, not to slave for society — Stephan Attia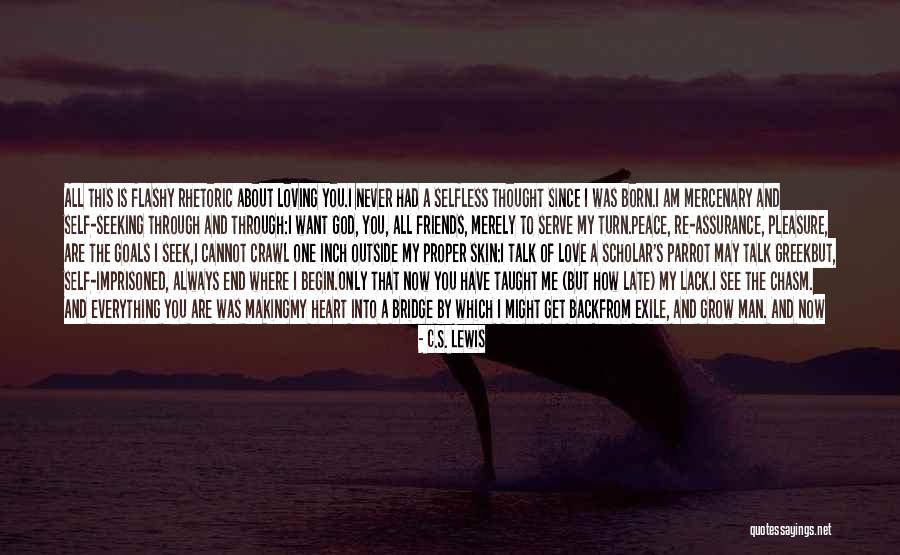 All this is flashy rhetoric about loving you.
I never had a selfless thought since I was born.
I am mercenary and self-seeking through and through:
I want God, you, all friends, merely to serve my turn.
Peace, re-assurance, pleasure, are the goals I seek,
I cannot crawl one inch outside my proper skin:
I talk of love
a scholar's parrot may talk Greek
But, self-imprisoned, always end where I begin.
Only that now you have taught me (but how late) my lack.
I see the chasm. And everything you are was making
My heart into a bridge by which I might get back
From exile, and grow man. And now the bridge is breaking.
For this I bless you as the ruin falls. The pains
You give me are more precious than all other gains. — C.S. Lewis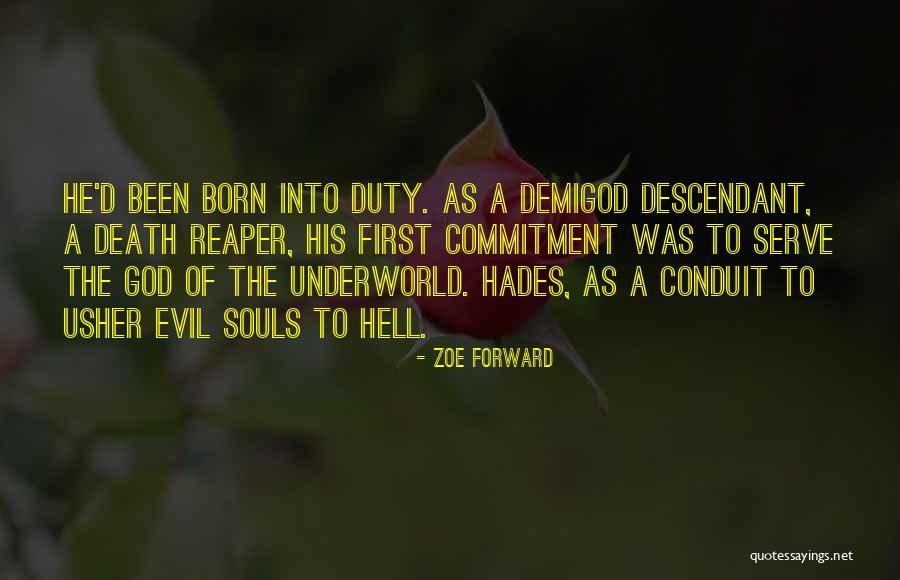 He'd been born into duty. As a demigod descendant, a death reaper, his first commitment was to serve the god of the underworld. Hades, as a conduit to usher evil souls to hell. — Zoe Forward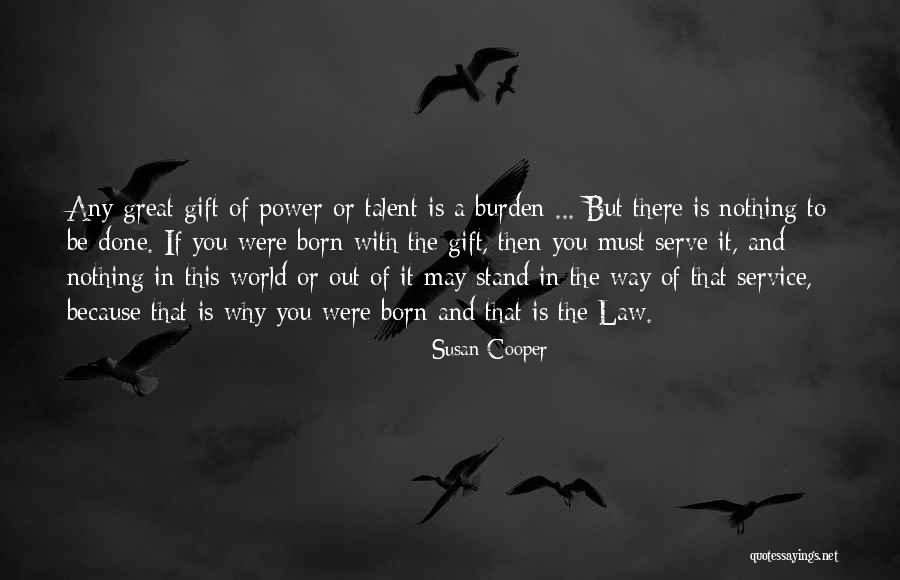 Any great gift of power or talent is a burden ... But there is nothing to be done. If you were born with the gift, then you must serve it, and nothing in this world or out of it may stand in the way of that service, because that is why you were born and that is the Law. — Susan Cooper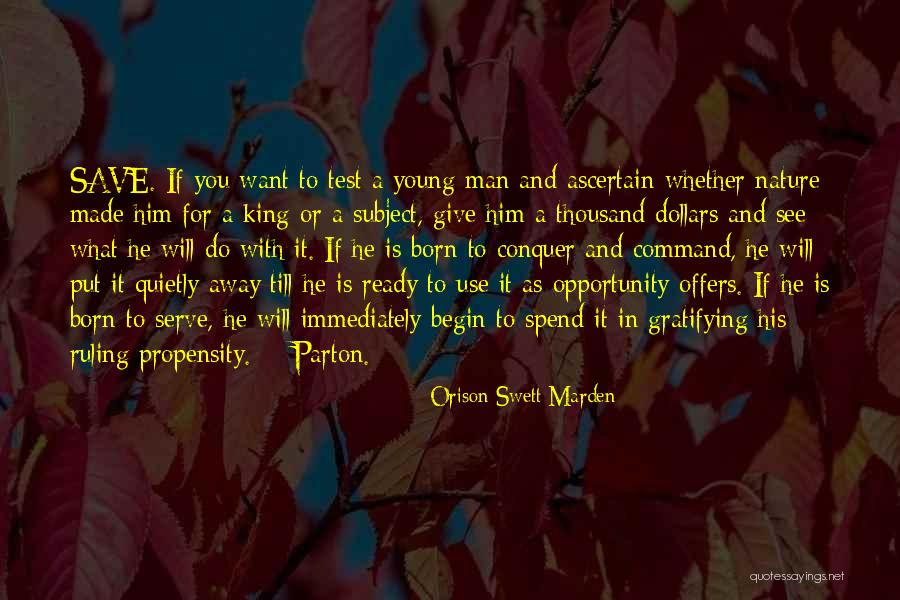 SAVE. If you want to test a young man and ascertain whether nature made him for a king or a subject, give him a thousand dollars and see what he will do with it. If he is born to conquer and command, he will put it quietly away till he is ready to use it as opportunity offers. If he is born to serve, he will immediately begin to spend it in gratifying his ruling propensity. - Parton. — Orison Swett Marden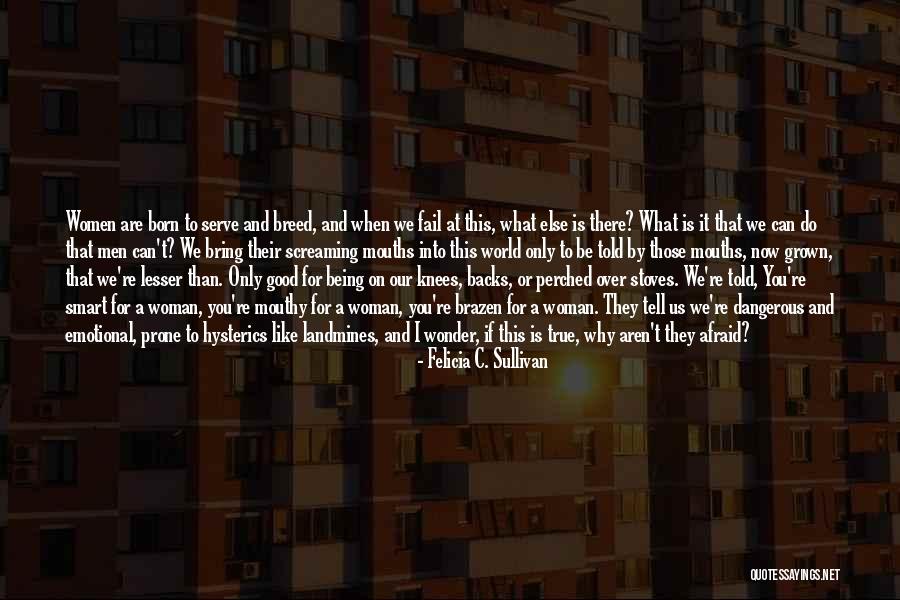 Women are born to serve and breed, and when we fail at this, what else is there? What is it that we can do that men can't? We bring their screaming mouths into this world only to be told by those mouths, now grown, that we're lesser than. Only good for being on our knees, backs, or perched over stoves. We're told, You're smart for a woman, you're mouthy for a woman, you're brazen for a woman. They tell us we're dangerous and emotional, prone to hysterics like landmines, and I wonder, if this is true, why aren't they afraid? — Felicia C. Sullivan
A man who can reason over trifles will become conceited, and will take pleasure in being described as 'odd'. He will start boasting that he was born with a personality that doesn't fit well with contemporary society, and be convinced that nobody else is above him. He will surely meet with divine retribution. Regardless of what abilities a man may possess, he will be of little use if rejected by others. People don't slight those who are eager to help and serve well, and who readily exhibit humility to their associates. — Tsunetomo Yamamoto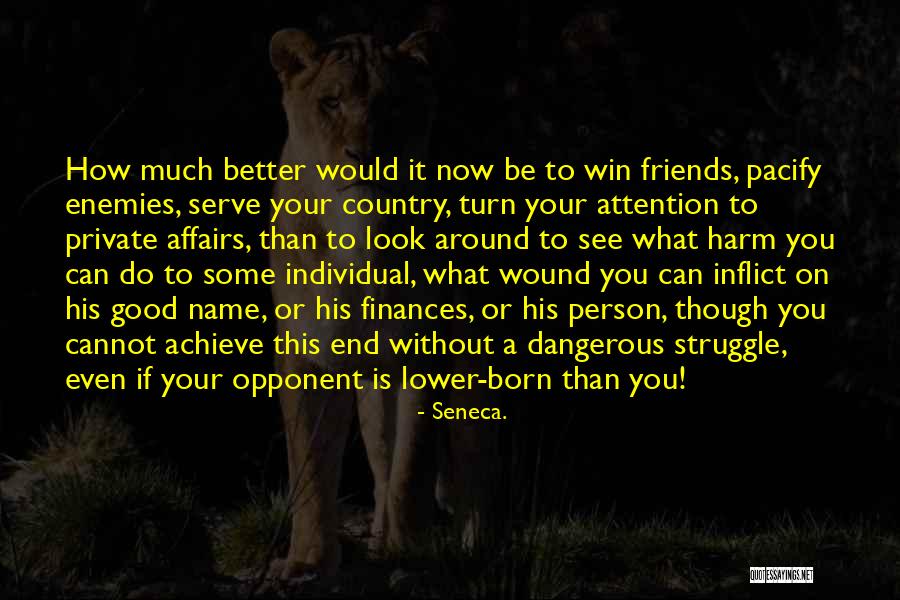 How much better would it now be to win friends, pacify enemies, serve your country, turn your attention to private affairs, than to look around to see what harm you can do to some individual, what wound you can inflict on his good name, or his finances, or his person, though you cannot achieve this end without a dangerous struggle, even if your opponent is lower-born than you! — Seneca.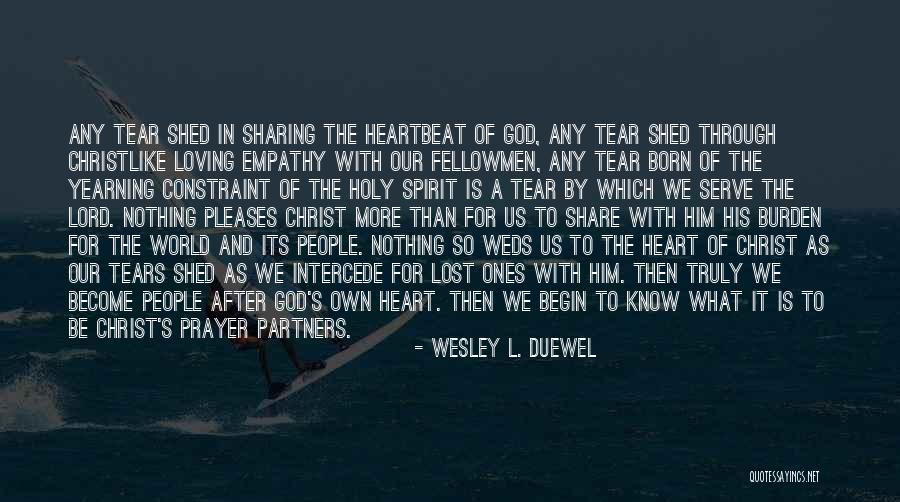 Any tear shed in sharing the heartbeat of God, any tear shed through Christlike loving empathy with our fellowmen, any tear born of the yearning constraint of the Holy Spirit is a tear by which we serve the Lord. Nothing pleases Christ more than for us to share with Him His burden for the world and its people. Nothing so weds us to the heart of Christ as our tears shed as we intercede for lost ones with Him. Then truly we become people after God's own heart. Then we begin to know what it is to be Christ's prayer partners. — Wesley L. Duewel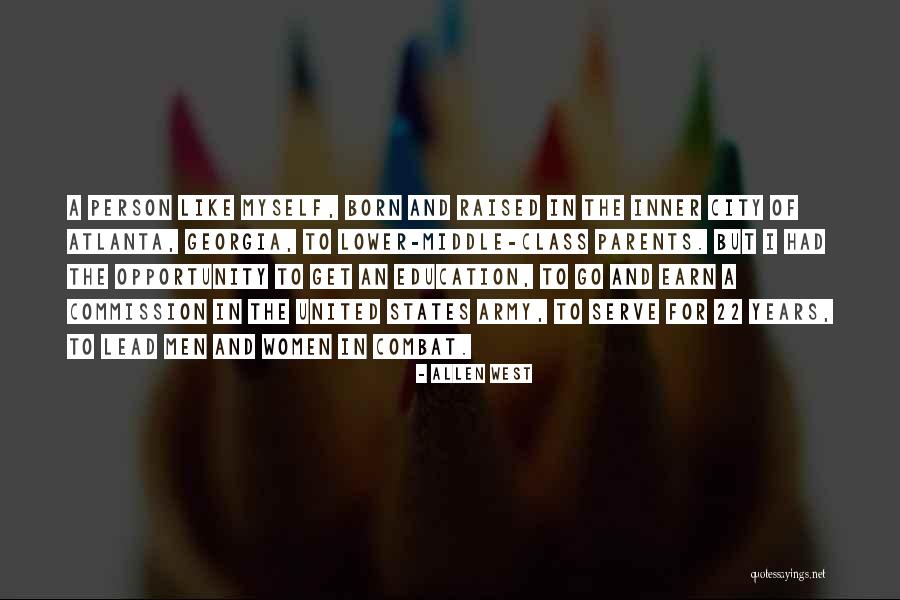 A person like myself, born and raised in the inner city of Atlanta, Georgia, to lower-middle-class parents. But I had the opportunity to get an education, to go and earn a commission in the United States Army, to serve for 22 years, to lead men and women in combat. — Allen West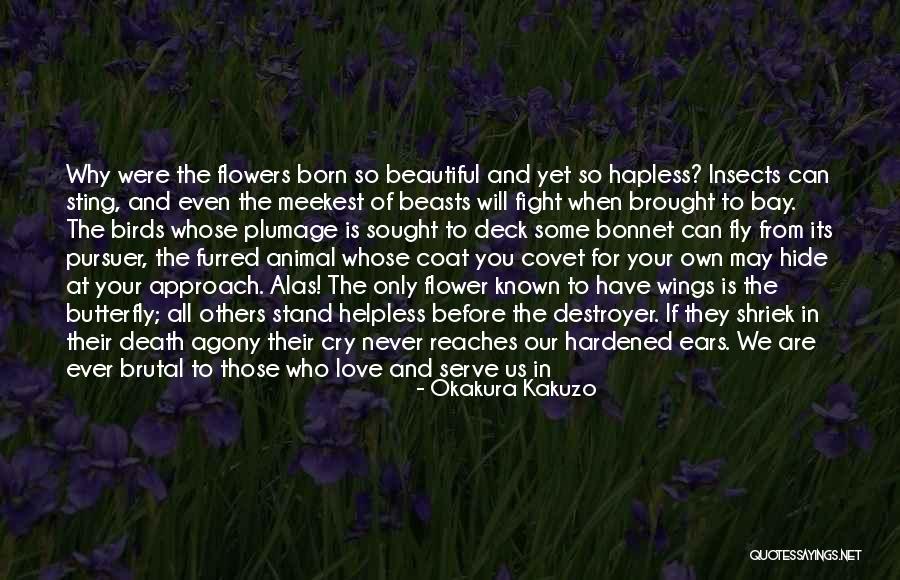 Why were the flowers born so beautiful and yet so hapless? Insects can sting, and even the meekest of beasts will fight when brought to bay. The birds whose plumage is sought to deck some bonnet can fly from its pursuer, the furred animal whose coat you covet for your own may hide at your approach. Alas! The only flower known to have wings is the butterfly; all others stand helpless before the destroyer. If they shriek in their death agony their cry never reaches our hardened ears. We are ever brutal to those who love and serve us in silence, but the time may come when, for our cruelty, we shall be deserted by these best friends of ours. Have you not noticed that the wild flowers are becoming scarcer every year? It may be that their wise men have told them to depart till man becomes more human. Perhaps they have migrated to heaven. Much may be said in favor of him who — Okakura Kakuzo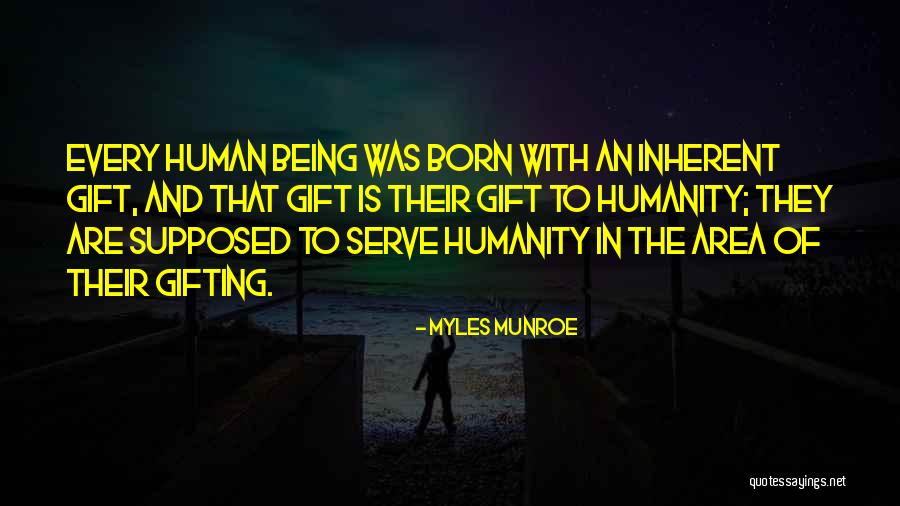 Every human being was born with an inherent gift, and that gift is their gift to humanity; they are supposed to serve humanity in the area of their gifting. — Myles Munroe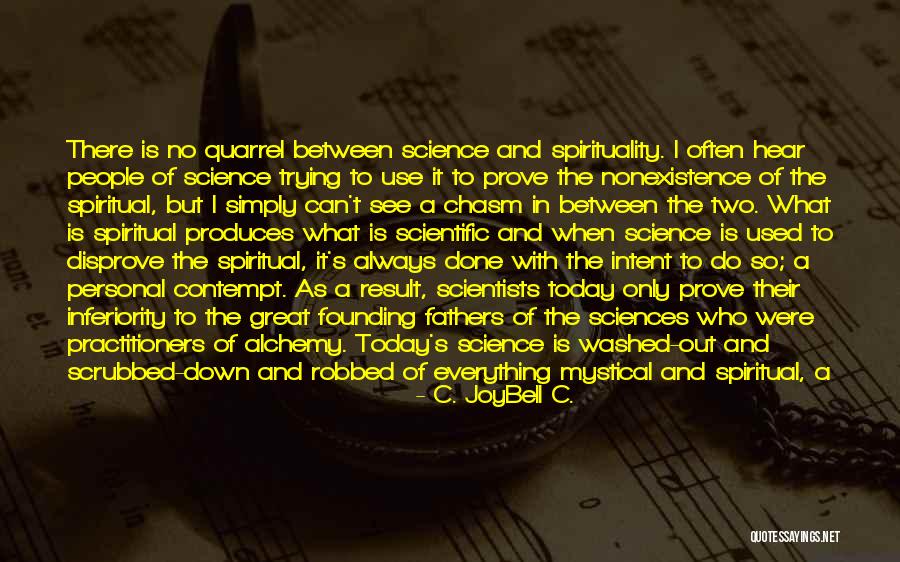 There is no quarrel between science and spirituality. I often hear people of science trying to use it to prove the nonexistence of the spiritual, but I simply can't see a chasm in between the two. What is spiritual produces what is scientific and when science is used to disprove the spiritual, it's always done with the intent to do so; a personal contempt. As a result, scientists today only prove their inferiority to the great founding fathers of the sciences who were practitioners of alchemy. Today's science is washed-out and scrubbed-down and robbed of everything mystical and spiritual, a knowledge born of contempt and discontent. Or perhaps, there are a few who wish to keep those secrets to themselves and serve everyone else up with a tasteless version of science and the idiots of today blindly follow their equally blind leaders. — C. JoyBell C.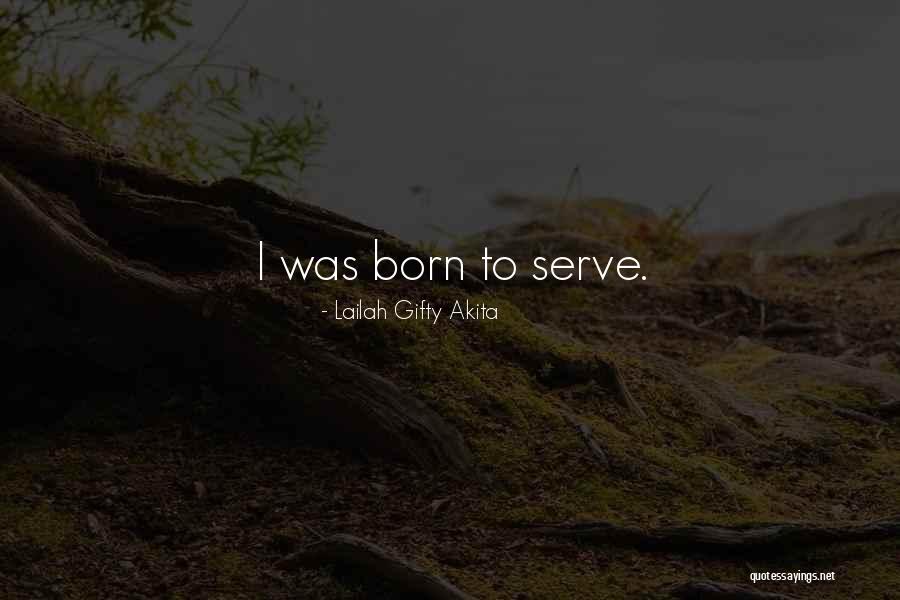 I was born to serve. — Lailah Gifty Akita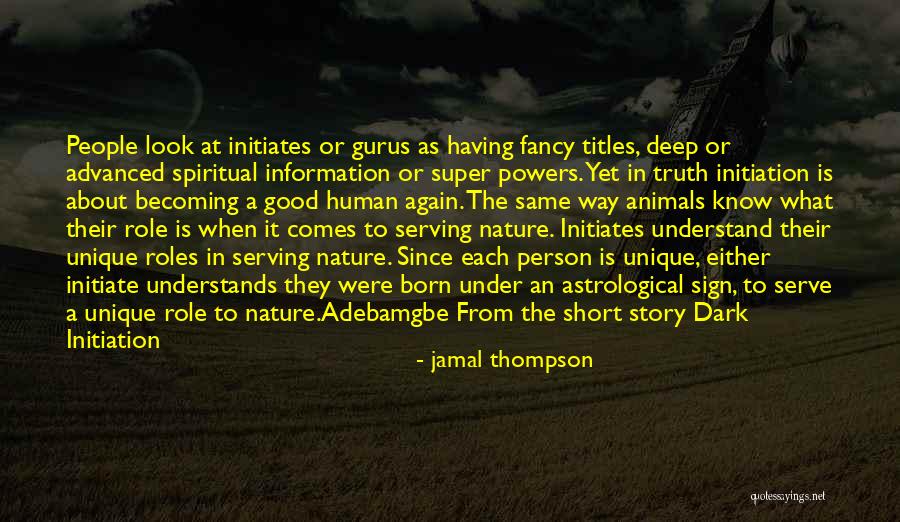 People look at initiates or gurus as having fancy titles, deep or advanced spiritual information or super powers. Yet in truth initiation is about becoming a good human again. The same way animals know what their role is when it comes to serving nature. Initiates understand their unique roles in serving nature. Since each person is unique, either initiate understands they were born under an astrological sign, to serve a unique role to nature.

Adebamgbe From the short story Dark Initiation — Jamal Thompson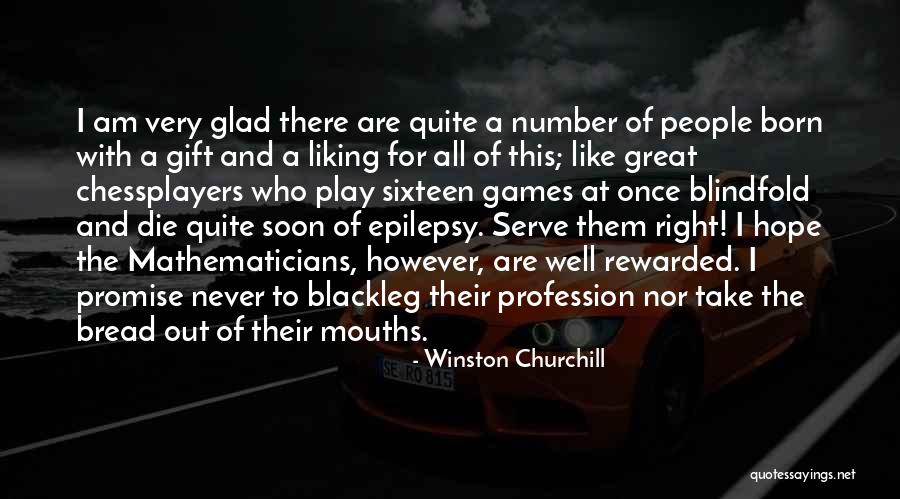 I am very glad there are quite a number of people born with a gift and a liking for all of this; like great chessplayers who play sixteen games at once blindfold and die quite soon of epilepsy. Serve them right! I hope the Mathematicians, however, are well rewarded. I promise never to blackleg their profession nor take the bread out of their mouths. — Winston Churchill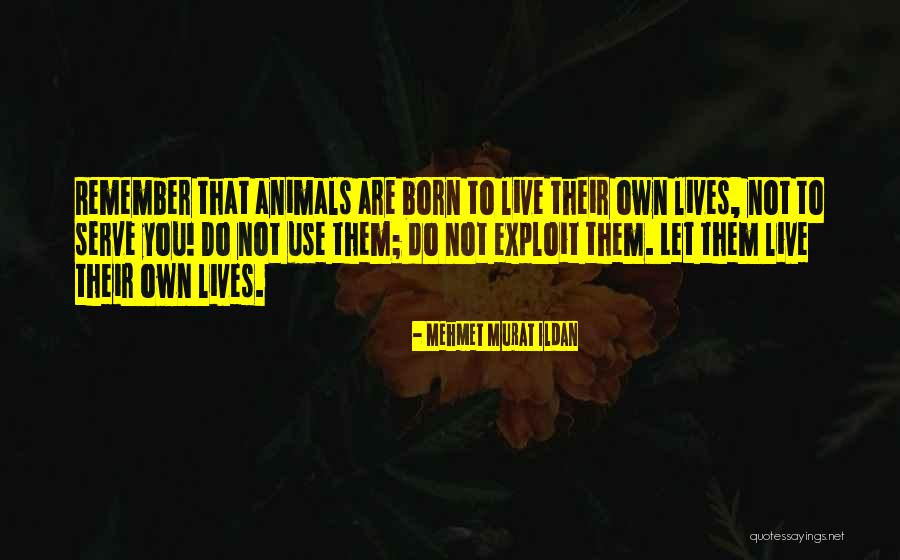 Remember that animals are born to live their own lives, not to serve you! Do not use them; do not exploit them. Let them live their own lives. — Mehmet Murat Ildan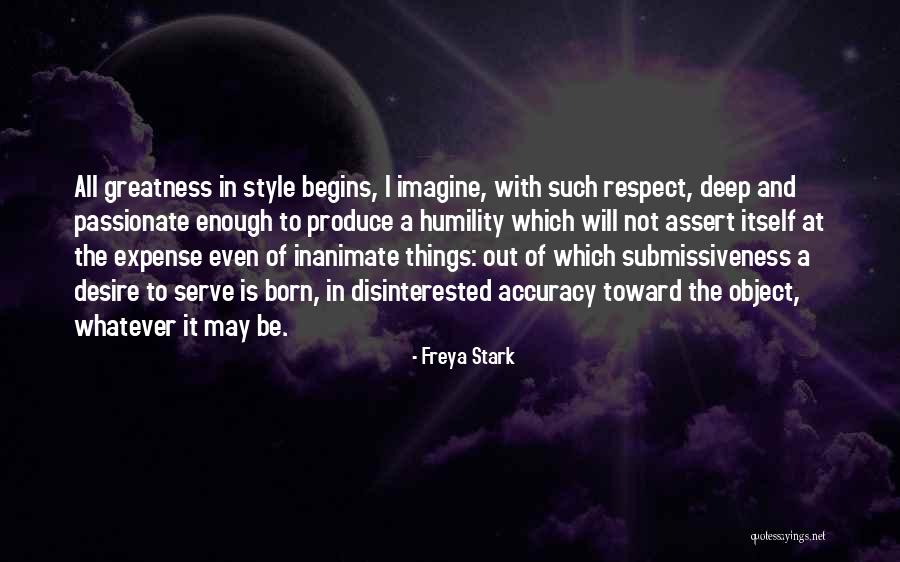 All greatness in style begins, I imagine, with such respect, deep and passionate enough to produce a humility which will not assert itself at the expense even of inanimate things: out of which submissiveness a desire to serve is born, in disinterested accuracy toward the object, whatever it may be. — Freya Stark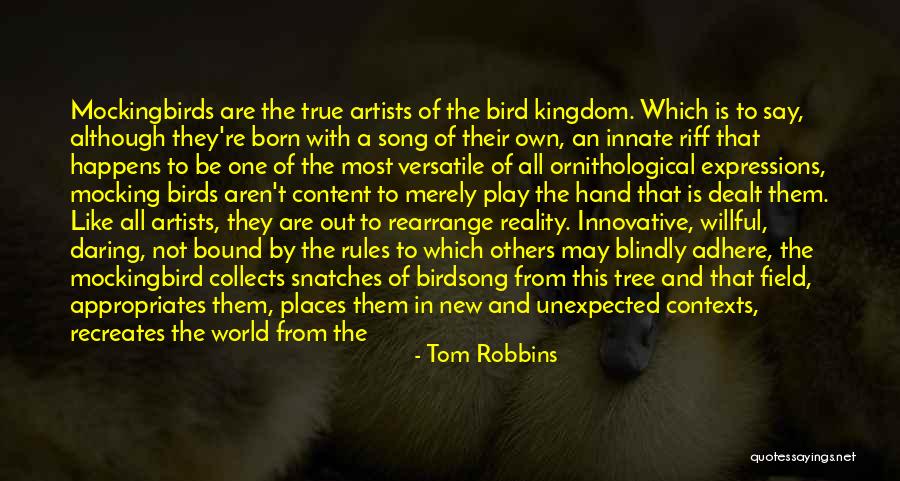 Mockingbirds are the true artists of the bird kingdom. Which is to say, although they're born with a song of their own, an innate riff that happens to be one of the most versatile of all ornithological expressions, mocking birds aren't content to merely play the hand that is dealt them. Like all artists, they are out to rearrange reality. Innovative, willful, daring, not bound by the rules to which others may blindly adhere, the mockingbird collects snatches of birdsong from this tree and that field, appropriates them, places them in new and unexpected contexts, recreates the world from the world. For example, a mockingbird in South Carolina was heard to blend the songs of thirty-two different kinds of birds into a ten-minute performance, a virtuoso display that serve no practical purpose, falling, therefore, into the realm of pure art. — Tom Robbins