Quotes & Sayings About A Lost Parent
Enjoy reading and share 45 famous quotes about A Lost Parent with everyone.
Top A Lost Parent Quotes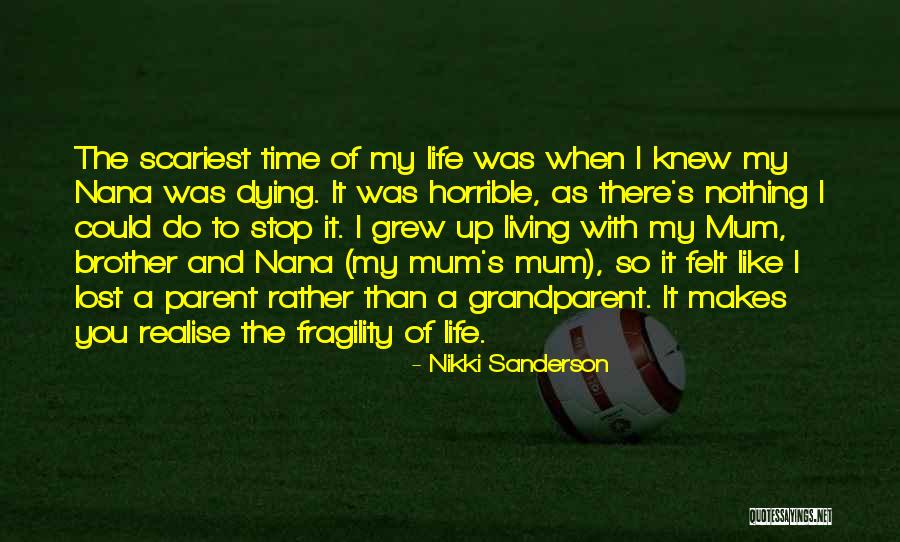 The scariest time of my life was when I knew my Nana was dying. It was horrible, as there's nothing I could do to stop it. I grew up living with my Mum, brother and Nana (my mum's mum), so it felt like I lost a parent rather than a grandparent. It makes you realise the fragility of life. — Nikki Sanderson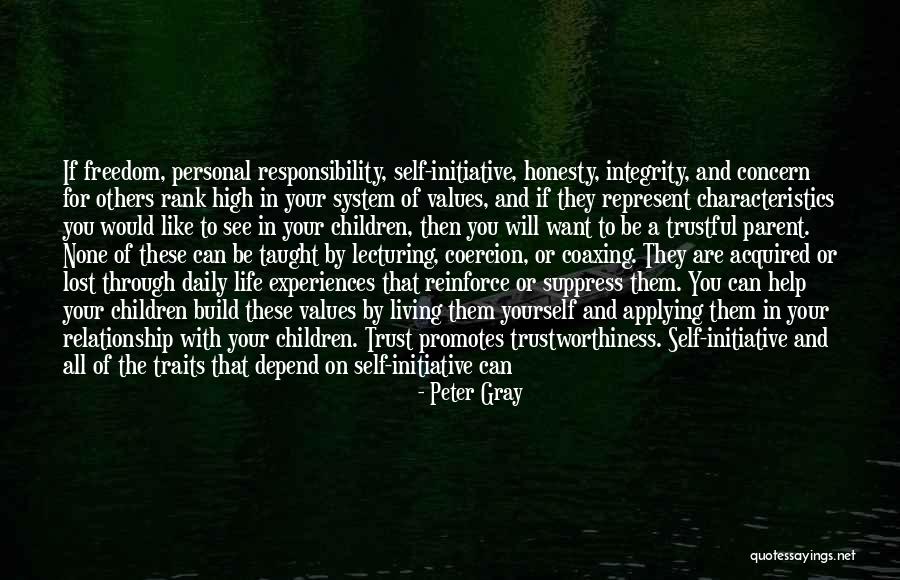 If freedom, personal responsibility, self-initiative, honesty, integrity, and concern for others rank high in your system of values, and if they represent characteristics you would like to see in your children, then you will want to be a trustful parent. None of these can be taught by lecturing, coercion, or coaxing. They are acquired or lost through daily life experiences that reinforce or suppress them. You can help your children build these values by living them yourself and applying them in your relationship with your children. Trust promotes trustworthiness. Self-initiative and all of the traits that depend on self-initiative can develop only under conditions of freedom. — Peter Gray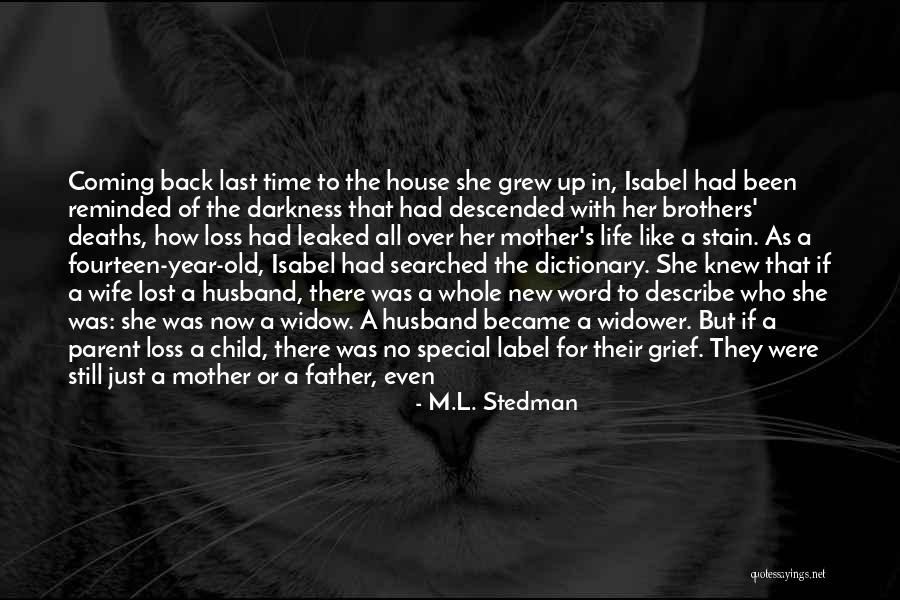 Coming back last time to the house she grew up in, Isabel had been reminded of the darkness that had descended with her brothers' deaths, how loss had leaked all over her mother's life like a stain. As a fourteen-year-old, Isabel had searched the dictionary. She knew that if a wife lost a husband, there was a whole new word to describe who she was: she was now a widow. A husband became a widower. But if a parent loss a child, there was no special label for their grief. They were still just a mother or a father, even if they no longer had a son or daughter. That seemed odd. As to her own status, she wondered whether she was still technically a sister, now that her adored brothers had died. — M.L. Stedman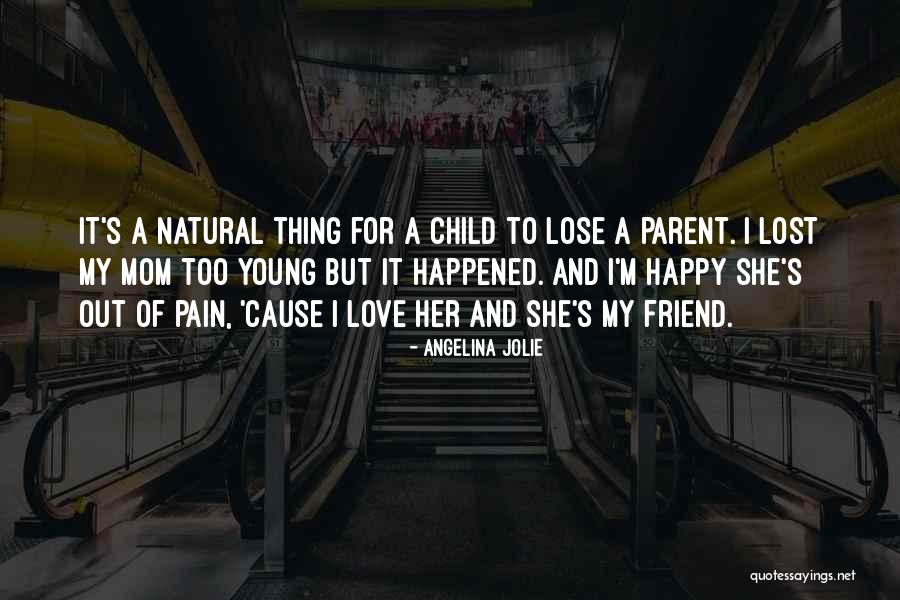 It's a natural thing for a child to lose a parent. I lost my mom too young but it happened. And I'm happy she's out of pain, 'cause I love her and she's my friend. — Angelina Jolie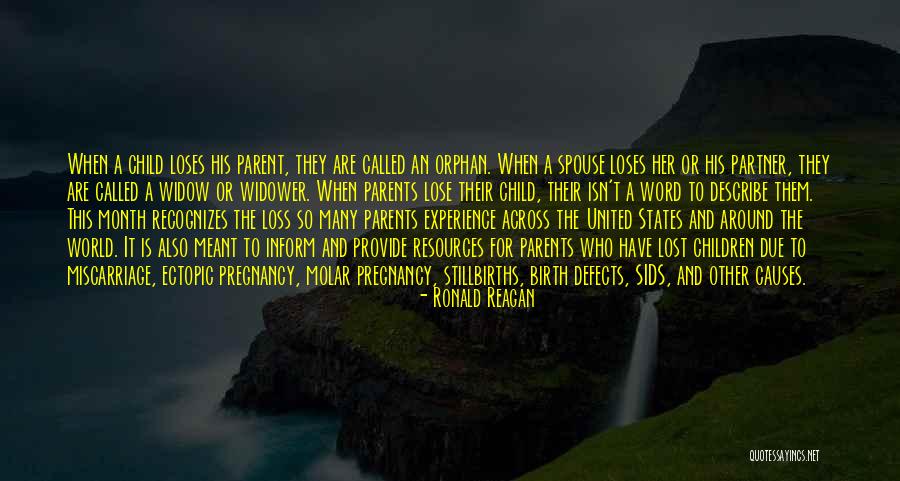 When a child loses his parent, they are called an orphan. When a spouse loses her or his partner, they are called a widow or widower. When parents lose their child, their isn't a word to describe them. This month recognizes the loss so many parents experience across the United States and around the world. It is also meant to inform and provide resources for parents who have lost children due to miscarriage, ectopic pregnancy, molar pregnancy, stillbirths, birth defects, SIDS, and other causes. — Ronald Reagan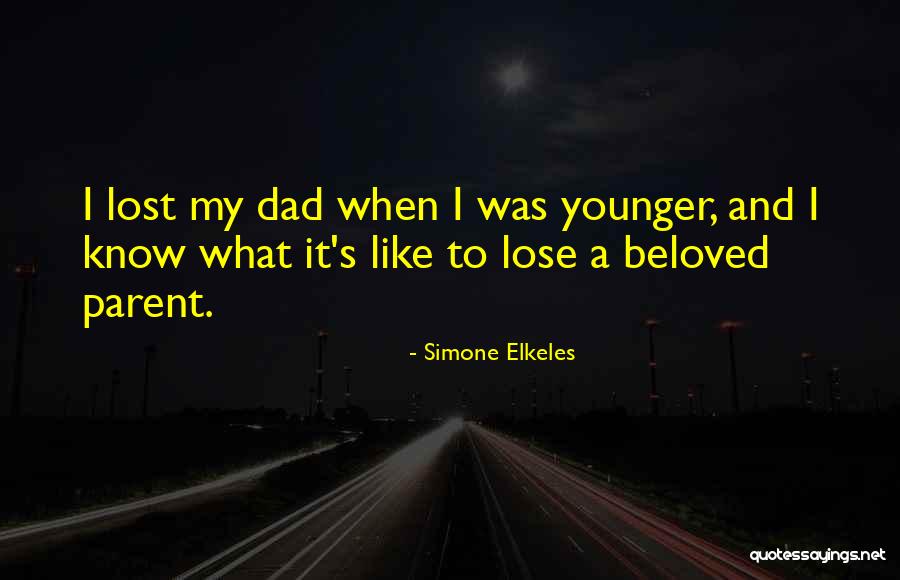 I lost my dad when I was younger, and I know what it's like to lose a beloved parent. — Simone Elkeles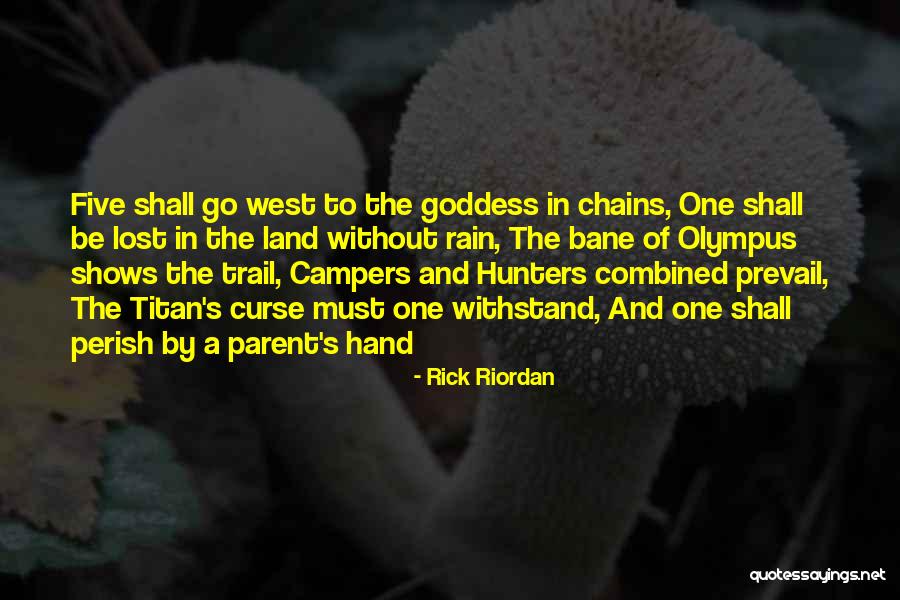 Five shall go west to the goddess in chains, One shall be lost in the land without rain, The bane of Olympus shows the trail, Campers and Hunters combined prevail, The Titan's curse must one withstand, And one shall perish by a parent's hand — Rick Riordan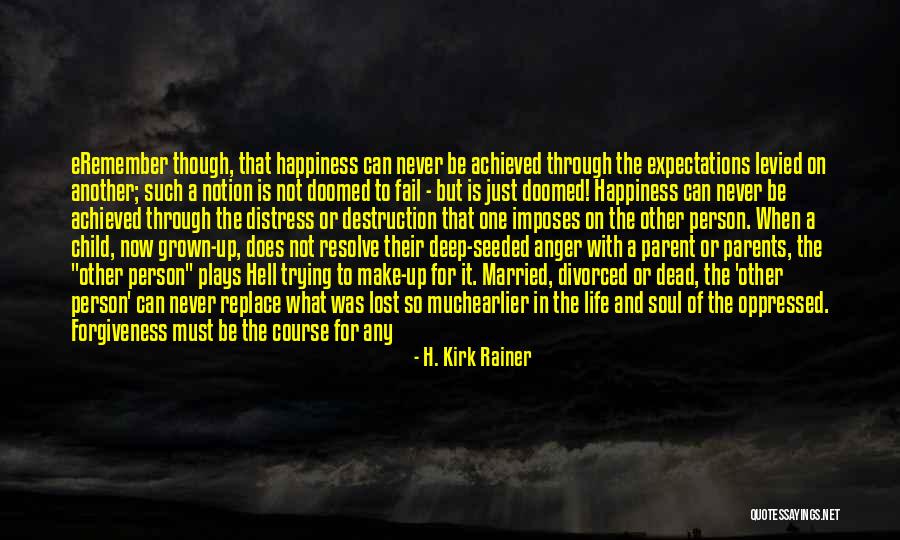 eRemember though, that happiness can never be achieved through the expectations levied on another; such a notion is not doomed to fail - but is just doomed! Happiness can never be achieved through the distress or destruction that one imposes on the other person. When a child, now grown-up, does not resolve their deep-seeded anger with a parent or parents, the "other person" plays Hell trying to make-up for it. Married, divorced or dead, the 'other person' can never replace what was lost so much
earlier in the life and soul of the oppressed. Forgiveness must be the course for any future, substantive relationships. — H. Kirk Rainer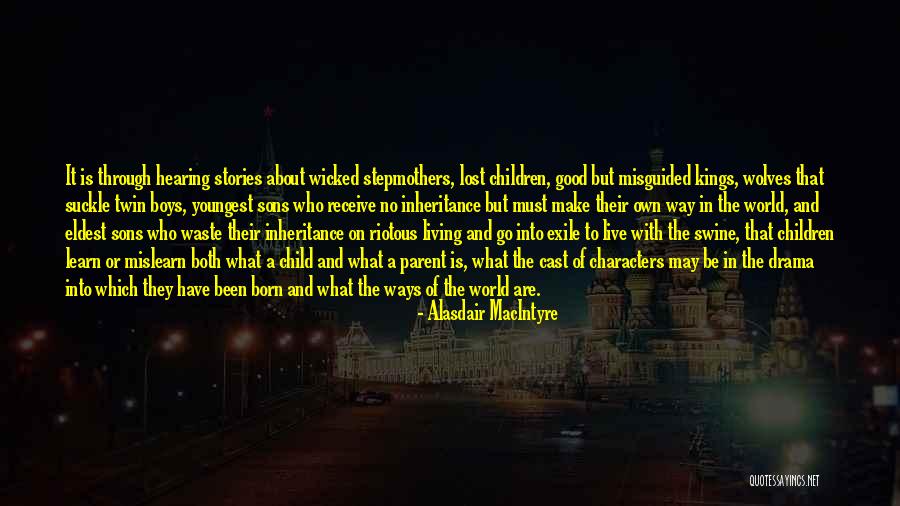 It is through hearing stories about wicked stepmothers, lost children, good but misguided kings, wolves that suckle twin boys, youngest sons who receive no inheritance but must make their own way in the world, and eldest sons who waste their inheritance on riotous living and go into exile to live with the swine, that children learn or mislearn both what a child and what a parent is, what the cast of characters may be in the drama into which they have been born and what the ways of the world are. — Alasdair MacIntyre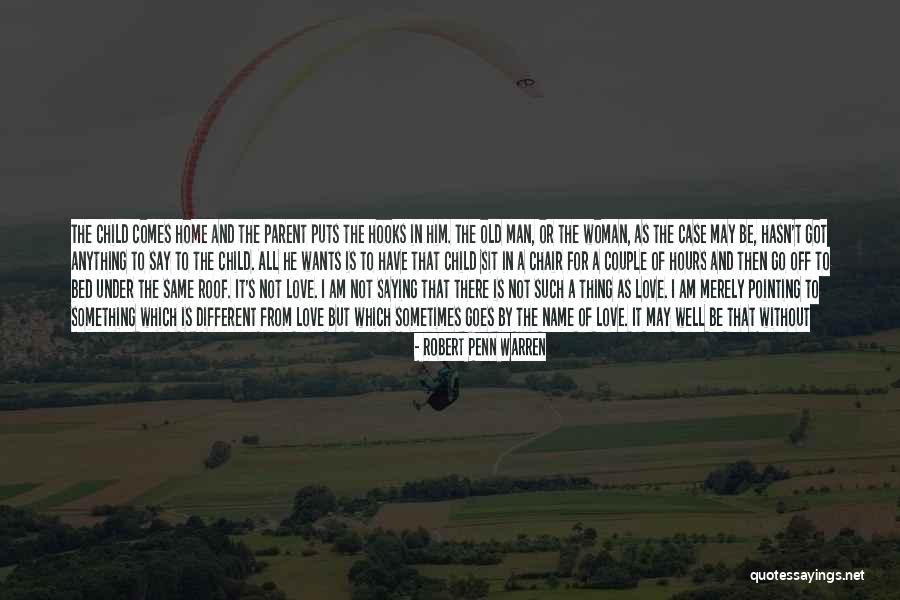 The child comes home and the parent puts the hooks in him. The old man, or the woman, as the case may be, hasn't got anything to say to the child. All he wants is to have that child sit in a chair for a couple of hours and then go off to bed under the same roof. It's not love. I am not saying that there is not such a thing as love. I am merely pointing to something which is different from love but which sometimes goes by the name of love. It may well be that without this thing which I am talking about there would not be any love. But this thing in itself is not love. It is just something in the blood. It is a kind of blood greed, and it is the fate of a man. It is the thing which man has which distinguishes him from the happy brute creation. When you got born your father and mother lost something out of themselves, and they are going to bust a hame trying to get it back, and you are it. They know they can't get it all back but they will get as big a chunk out of you as they can. — Robert Penn Warren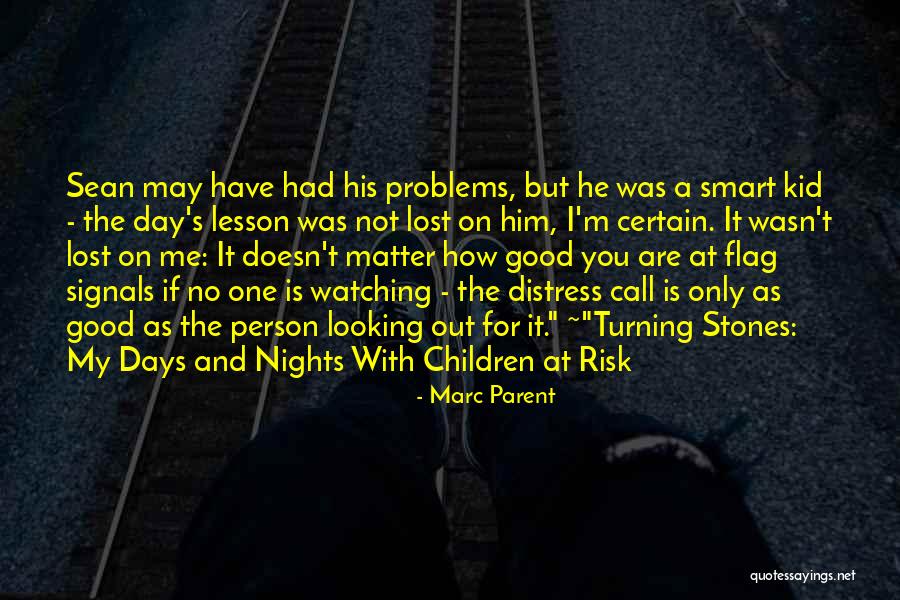 Sean may have had his problems, but he was a smart kid - the day's lesson was not lost on him, I'm certain. It wasn't lost on me: It doesn't matter how good you are at flag signals if no one is watching - the distress call is only as good as the person looking out for it."

~"Turning Stones: My Days and Nights With Children at Risk — Marc Parent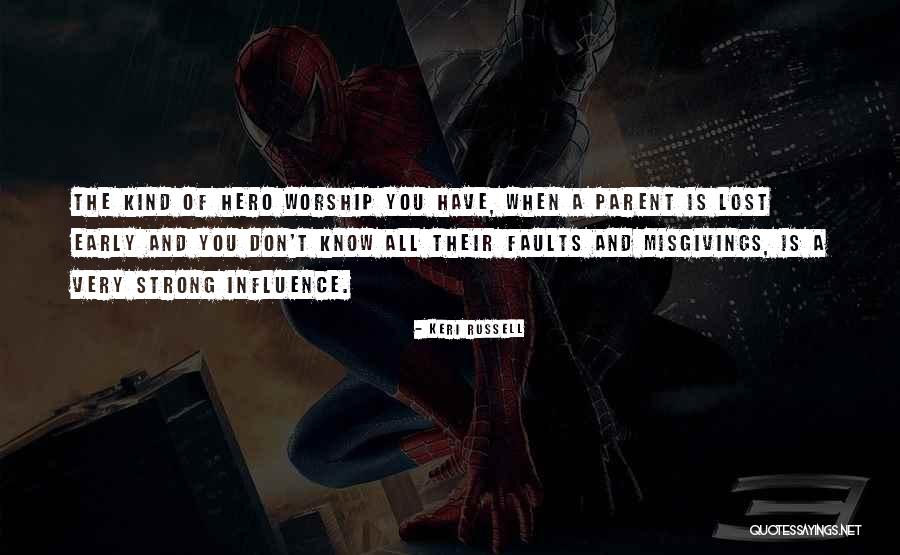 The kind of hero worship you have, when a parent is lost early and you don't know all their faults and misgivings, is a very strong influence. — Keri Russell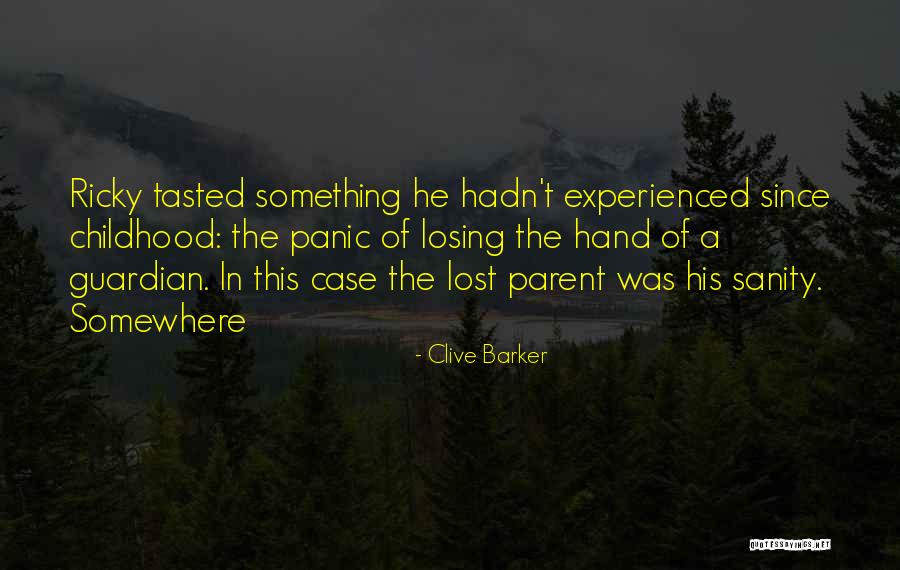 Ricky tasted something he hadn't experienced since childhood: the panic of losing the hand of a guardian. In this case the lost parent was his sanity. Somewhere — Clive Barker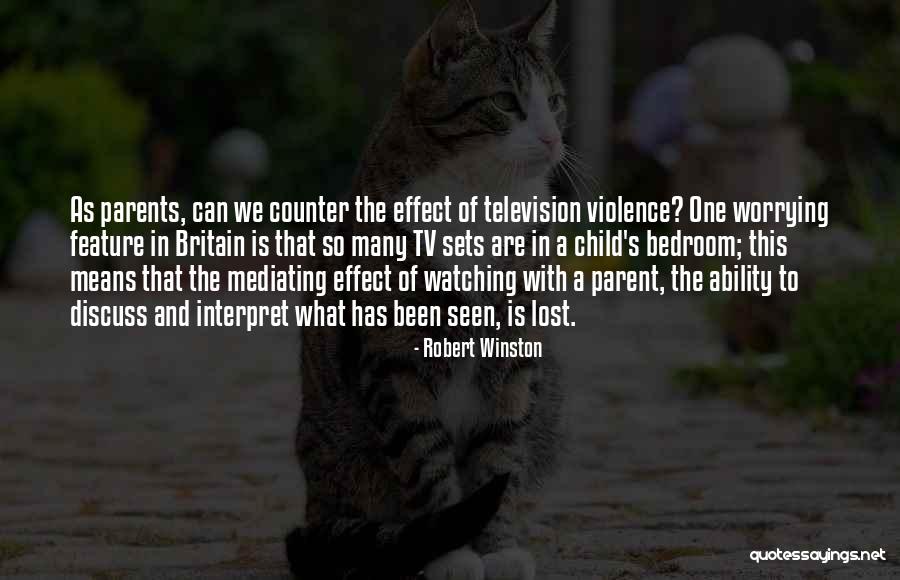 As parents, can we counter the effect of television violence? One worrying feature in Britain is that so many TV sets are in a child's bedroom; this means that the mediating effect of watching with a parent, the ability to discuss and interpret what has been seen, is lost. — Robert Winston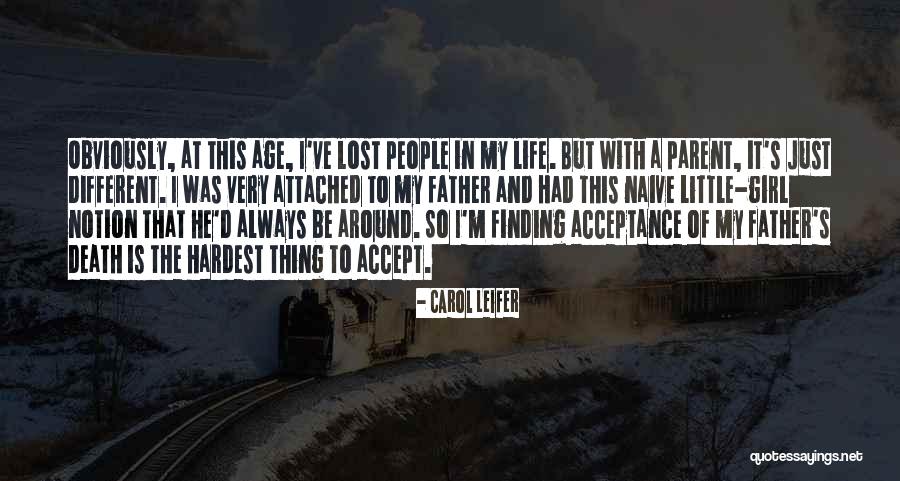 Obviously, at this age, I've lost people in my life. But with a parent, it's just different. I was very attached to my father and had this naive little-girl notion that he'd always be around. So I'm finding acceptance of my father's death is the hardest thing to accept. — Carol Leifer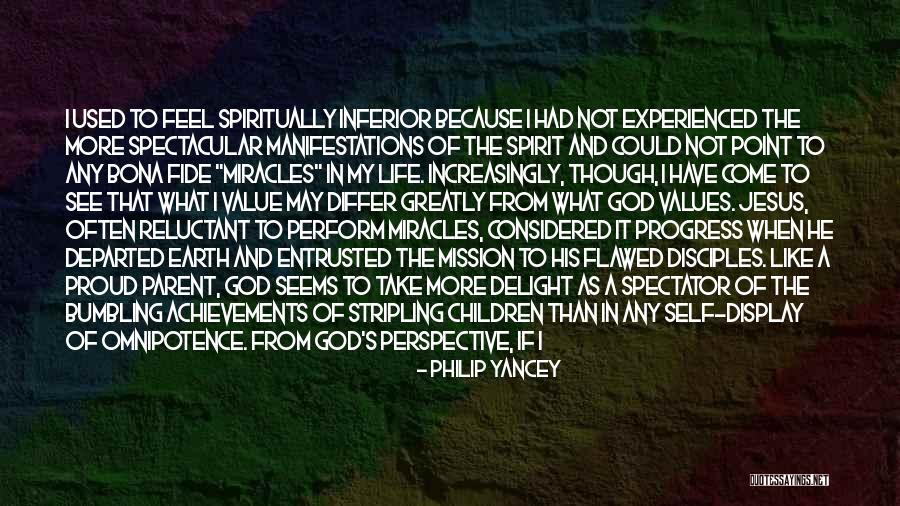 I used to feel spiritually inferior because I had not experienced the more spectacular manifestations of the Spirit and could not point to any bona fide "miracles" in my life. Increasingly, though, I have come to see that what I value may differ greatly from what God values. Jesus, often reluctant to perform miracles, considered it progress when he departed earth and entrusted the mission to his flawed disciples. Like a proud parent, God seems to take more delight as a spectator of the bumbling achievements of stripling children than in any self-display of omnipotence.
From God's perspective, if I may speculate, the great advance in human history may be what happened at Pentecost, which restored the direct correspondence of spirit to Spirit that had been lost in Eden. I want God to act in direct, impressive, irrefutable ways. God wants to "share power" with the likes of me, accomplishing his work through people, not despite them. — Philip Yancey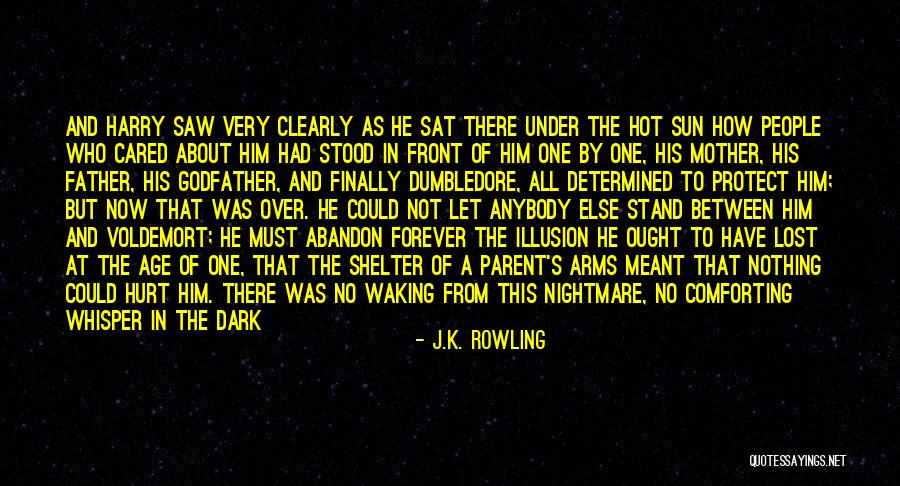 And Harry saw very clearly as he sat there under the hot sun how people who cared about him had stood in front of him one by one, his mother, his father, his godfather, and finally Dumbledore, all determined to protect him; but now that was over. He could not let anybody else stand between him and Voldemort; he must abandon forever the illusion he ought to have lost at the age of one, that the shelter of a parent's arms meant that nothing could hurt him. There was no waking from this nightmare, no comforting whisper in the dark that he was safe really, that it was all in his imagination; the last and greatest of his protectors had died, and he was more alone than he had ever been. — J.K. Rowling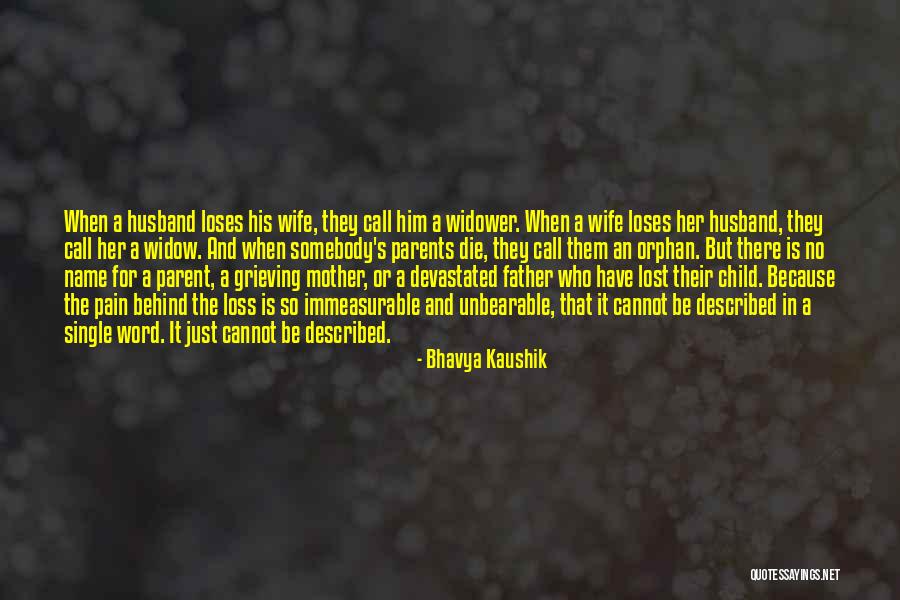 When a husband loses his wife, they call him a widower. When a wife loses her husband, they call her a widow. And when somebody's parents die, they call them an orphan. But there is no name for a parent, a grieving mother, or a devastated father who have lost their child. Because the pain behind the loss is so immeasurable and unbearable, that it cannot be described in a single word. It just cannot be described. — Bhavya Kaushik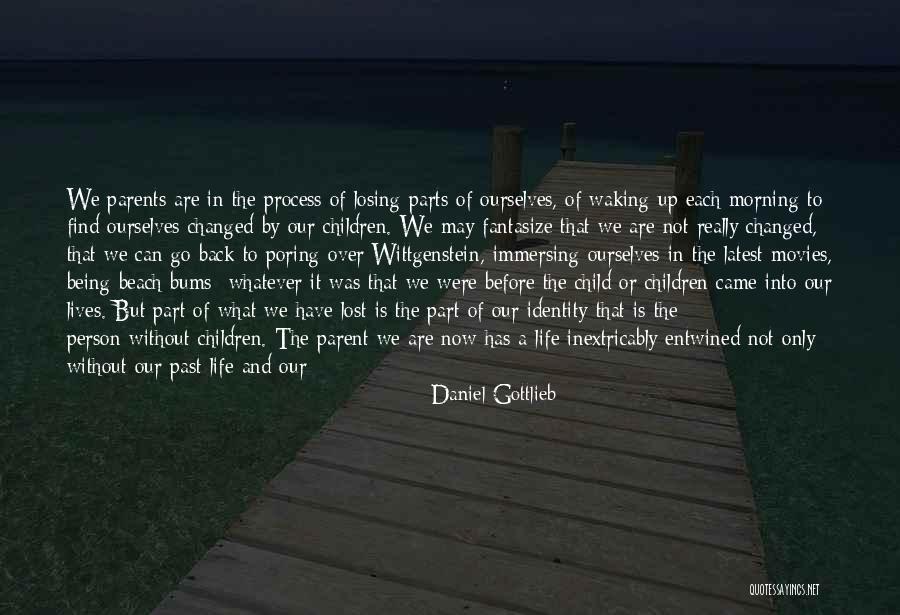 We parents are in the process of losing parts of ourselves, of waking up each morning to find ourselves changed by our children. We may fantasize that we are not really changed, that we can go back to poring over Wittgenstein, immersing ourselves in the latest movies, being beach bums- whatever it was that we were before the child or children came into our lives. But part of what we have lost is the part of our identity that is the person-without-children. The parent we are now has a life inextricably entwined not only without our past life and our private selves but also with the lives of our children. — Daniel Gottlieb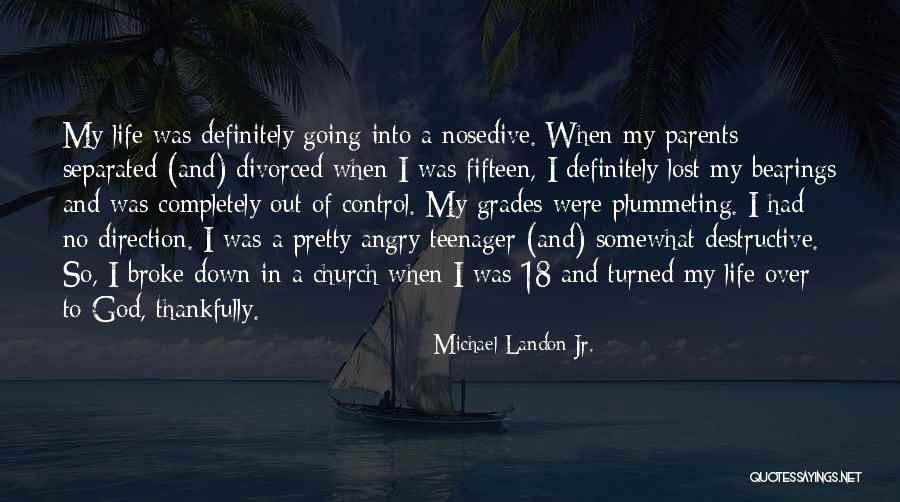 My life was definitely going into a nosedive. When my parents separated (and) divorced when I was fifteen, I definitely lost my bearings and was completely out of control. My grades were plummeting. I had no direction. I was a pretty angry teenager (and) somewhat destructive. So, I broke down in a church when I was 18 and turned my life over to God, thankfully. — Michael Landon Jr.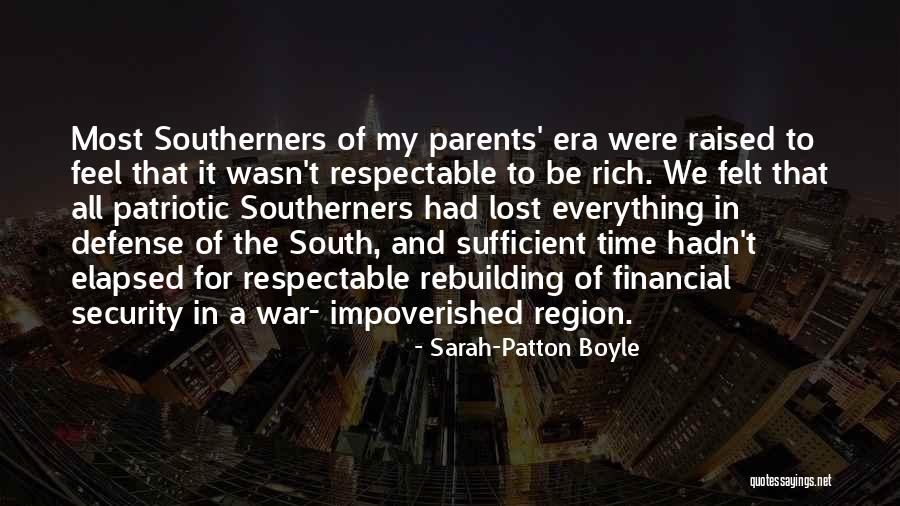 Most Southerners of my parents' era were raised to feel that it wasn't respectable to be rich. We felt that all patriotic Southerners had lost everything in defense of the South, and sufficient time hadn't elapsed for respectable rebuilding of financial security in a war- impoverished region. — Sarah-Patton Boyle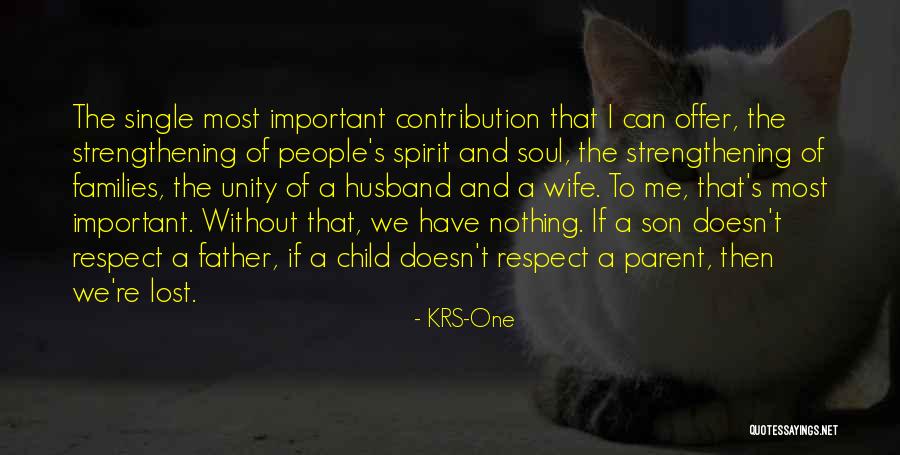 The single most important contribution that I can offer, the strengthening of people's spirit and soul, the strengthening of families, the unity of a husband and a wife. To me, that's most important. Without that, we have nothing. If a son doesn't respect a father, if a child doesn't respect a parent, then we're lost. — KRS-One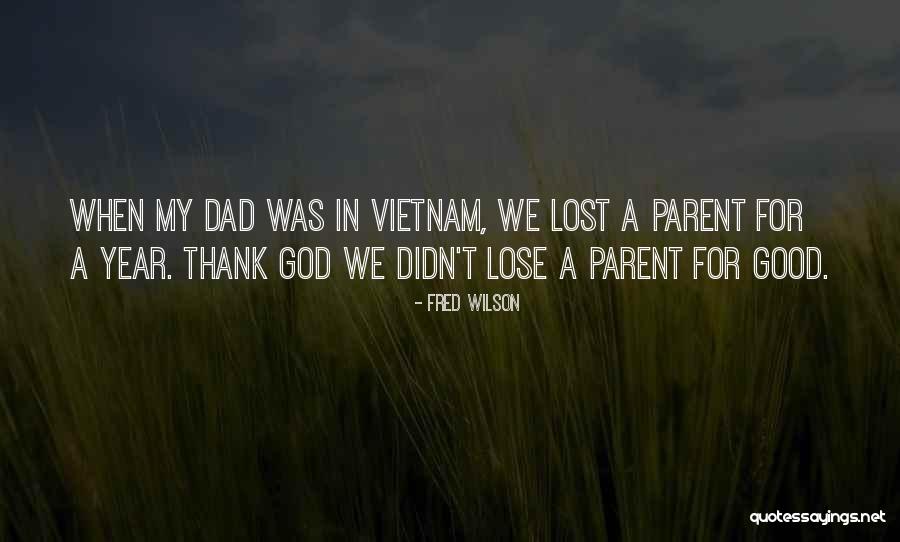 When my dad was in Vietnam, we lost a parent for a year. Thank God we didn't lose a parent for good. — Fred Wilson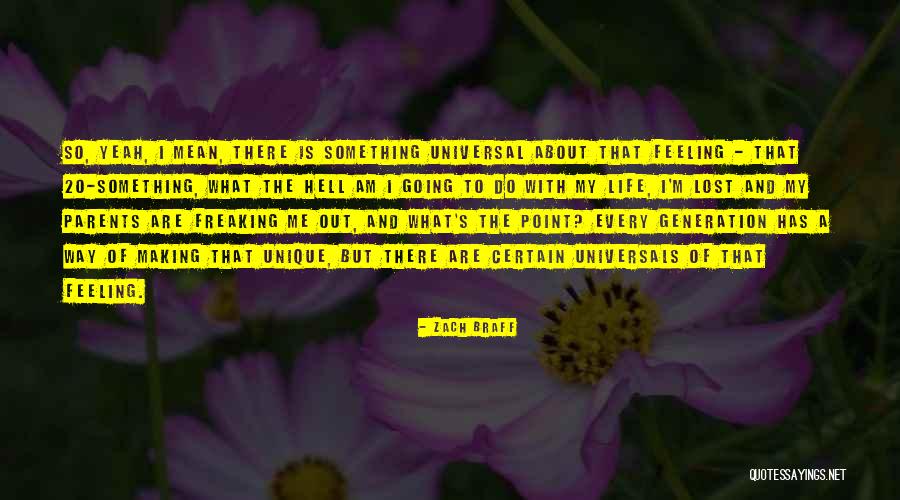 So, yeah, I mean, there is something universal about that feeling - that 20-something, what the hell am I going to do with my life, I'm lost and my parents are freaking me out, and what's the point? Every generation has a way of making that unique, but there are certain universals of that feeling. — Zach Braff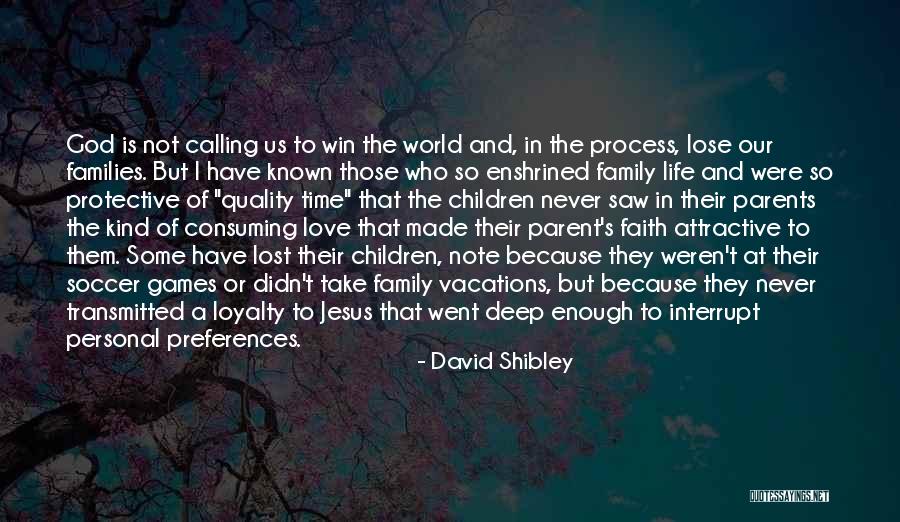 God is not calling us to win the world and, in the process, lose our families. But I have known those who so enshrined family life and were so protective of "quality time" that the children never saw in their parents the kind of consuming love that made their parent's faith attractive to them. Some have lost their children, note because they weren't at their soccer games or didn't take family vacations, but because they never transmitted a loyalty to Jesus that went deep enough to interrupt personal preferences. — David Shibley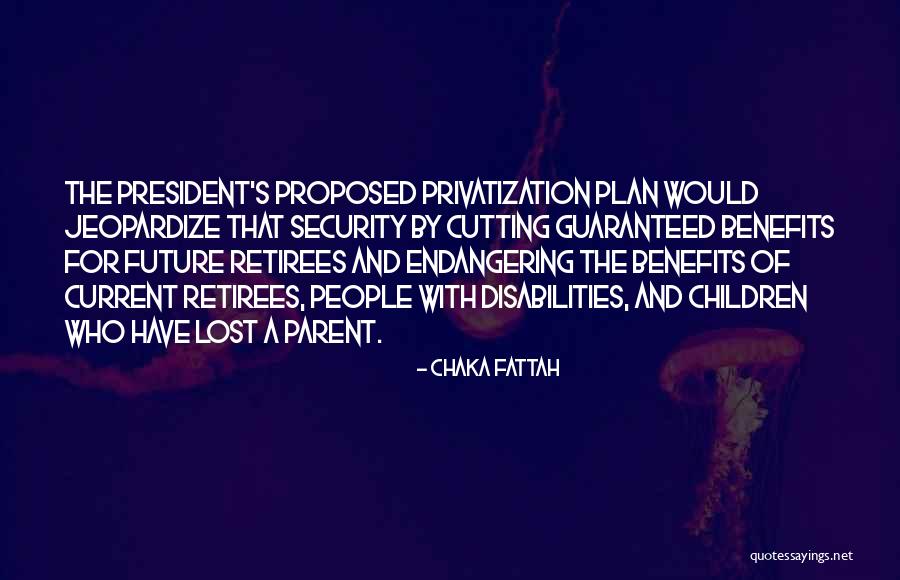 The President's proposed privatization plan would jeopardize that security by cutting guaranteed benefits for future retirees and endangering the benefits of current retirees, people with disabilities, and children who have lost a parent. — Chaka Fattah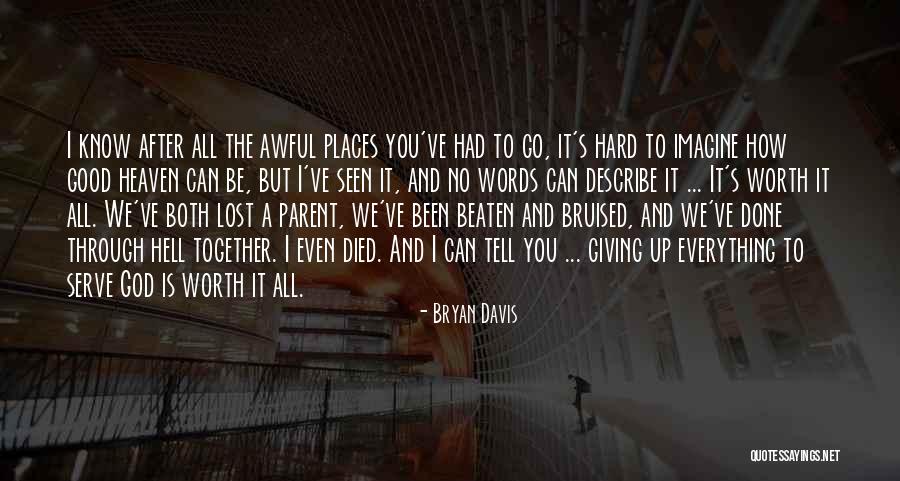 I know after all the awful places you've had to go, it's hard to imagine how good heaven can be, but I've seen it, and no words can describe it ... It's worth it all. We've both lost a parent, we've been beaten and bruised, and we've done through hell together. I even died. And I can tell you ... giving up everything to serve God is worth it all. — Bryan Davis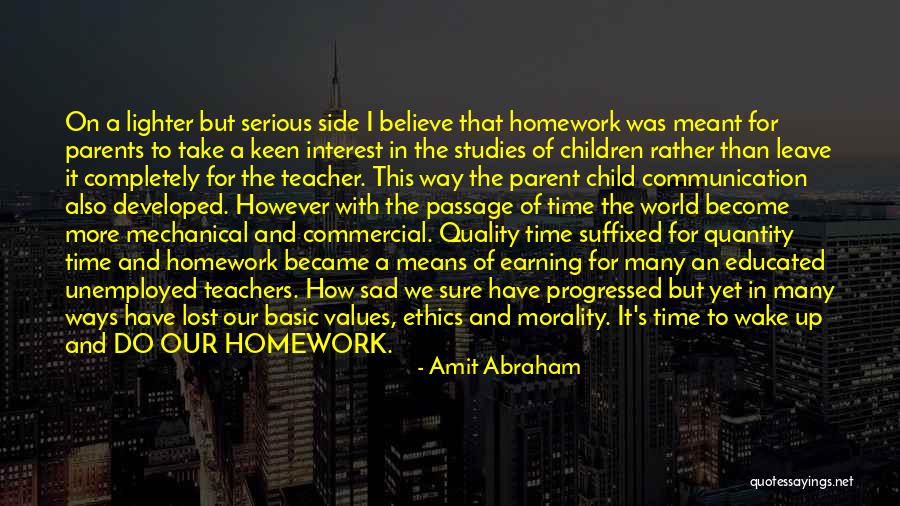 On a lighter but serious side I believe that homework was meant for parents to take a keen interest in the studies of children rather than leave it completely for the teacher. This way the parent child communication also developed. However with the passage of time the world become more mechanical and commercial. Quality time suffixed for quantity time and homework became a means of earning for many an educated unemployed teachers. How sad we sure have progressed but yet in many ways have lost our basic values, ethics and morality. It's time to wake up and DO OUR HOMEWORK. — Amit Abraham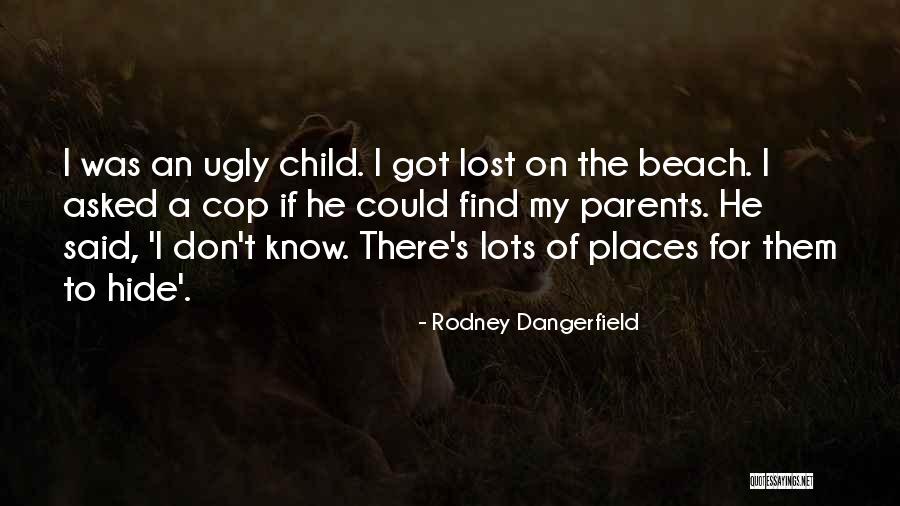 I was an ugly child. I got lost on the beach. I asked a cop if he could find my parents. He said, 'I don't know. There's lots of places for them to hide'. — Rodney Dangerfield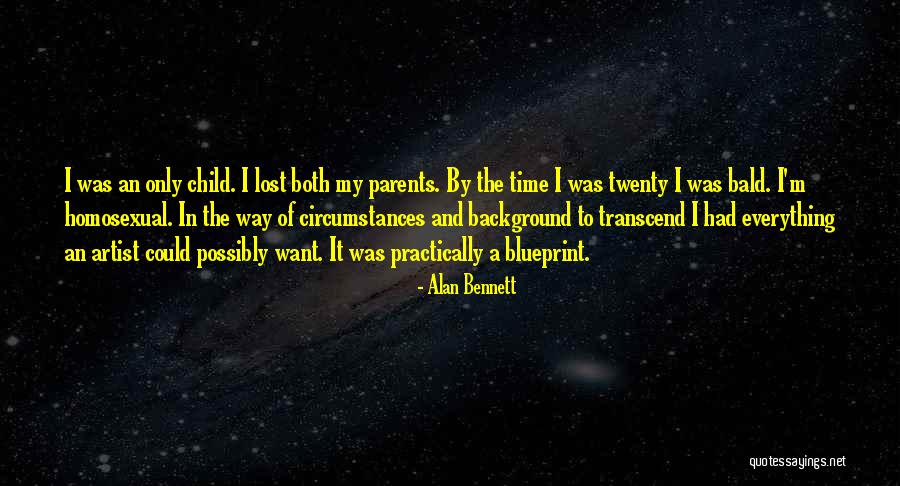 I was an only child. I lost both my parents. By the time I was twenty I was bald. I'm homosexual. In the way of circumstances and background to transcend I had everything an artist could possibly want. It was practically a blueprint. — Alan Bennett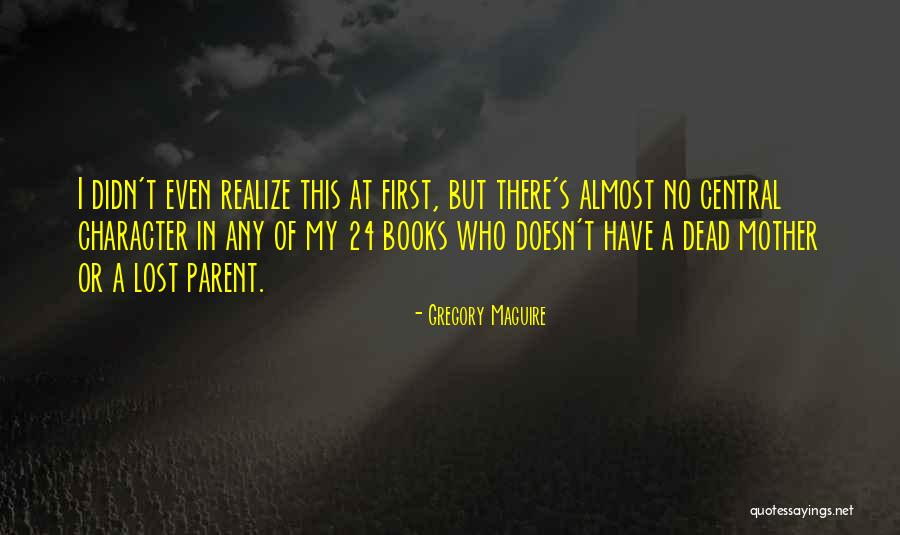 I didn't even realize this at first, but there's almost no central character in any of my 24 books who doesn't have a dead mother or a lost parent. — Gregory Maguire
Another parent's different approach raises the possibility that you've made a mistake with your child. We simply can't tolerate that because we fear that any mistake, no matter how minor, could have devastating consequences. So we proclaim the superiority of our own choices. We've lost sight of the fact that people have preferences. — Ayelet Waldman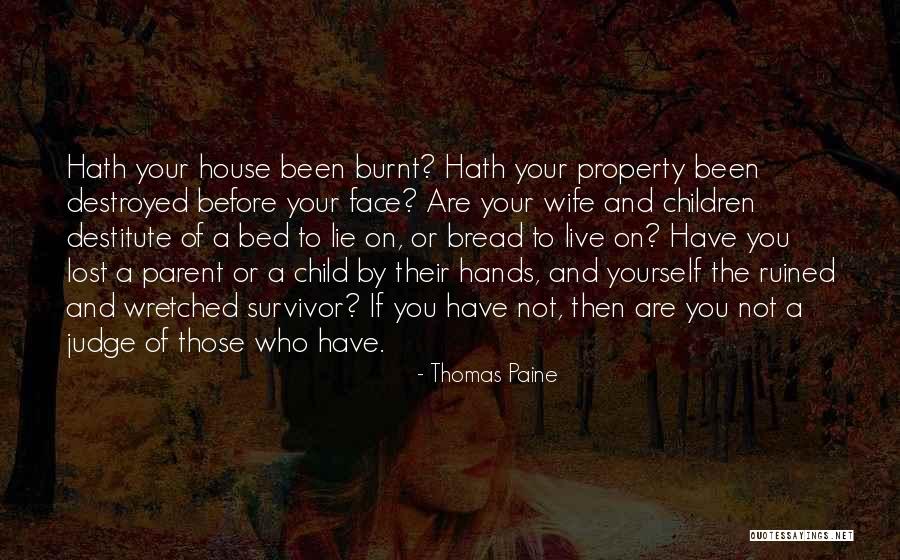 Hath your house been burnt? Hath your property been destroyed before your face? Are your wife and children destitute of a bed to lie on, or bread to live on? Have you lost a parent or a child by their hands, and yourself the ruined and wretched survivor? If you have not, then are you not a judge of those who have. — Thomas Paine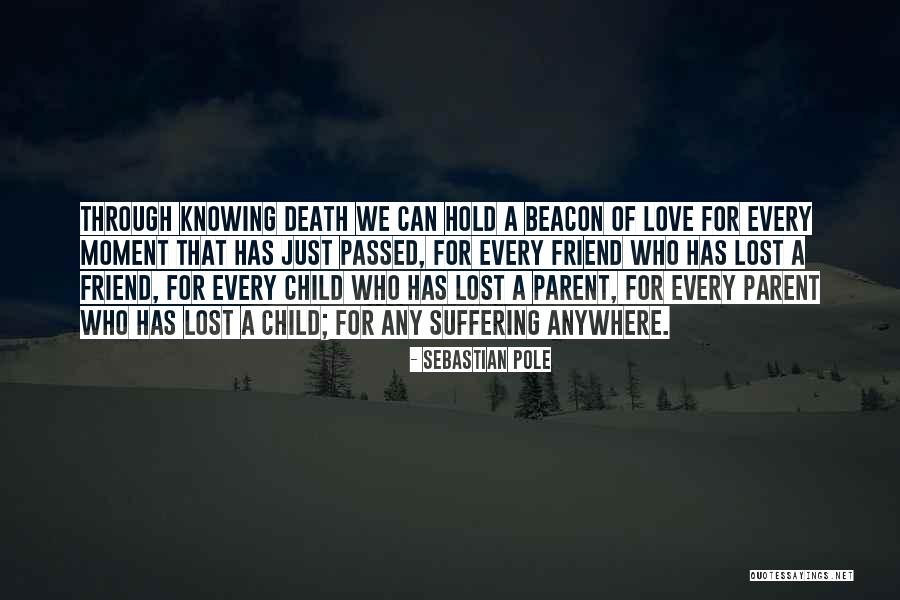 Through knowing death we can hold a beacon of love for every moment that has just passed, for every friend who has lost a friend, for every child who has lost a parent, for every parent who has lost a child; for any suffering anywhere. — Sebastian Pole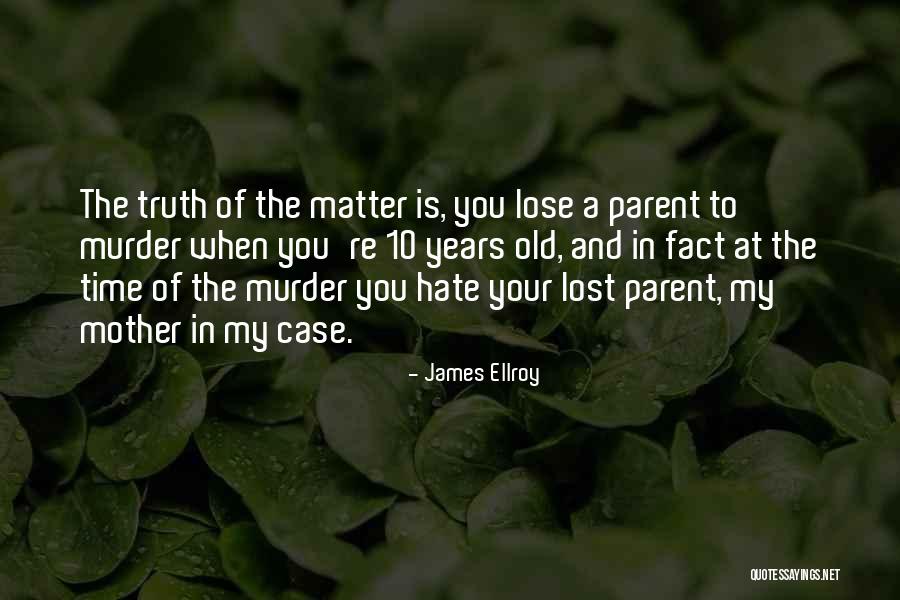 The truth of the matter is, you lose a parent to murder when you're 10 years old, and in fact at the time of the murder you hate your lost parent, my mother in my case. — James Ellroy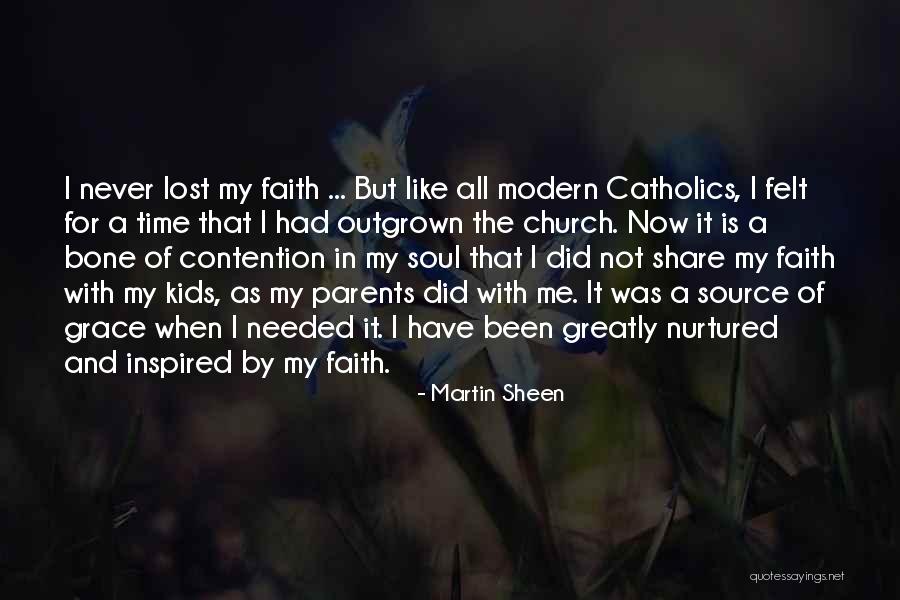 I never lost my faith ... But like all modern Catholics, I felt for a time that I had outgrown the church. Now it is a bone of contention in my soul that I did not share my faith with my kids, as my parents did with me. It was a source of grace when I needed it. I have been greatly nurtured and inspired by my faith. — Martin Sheen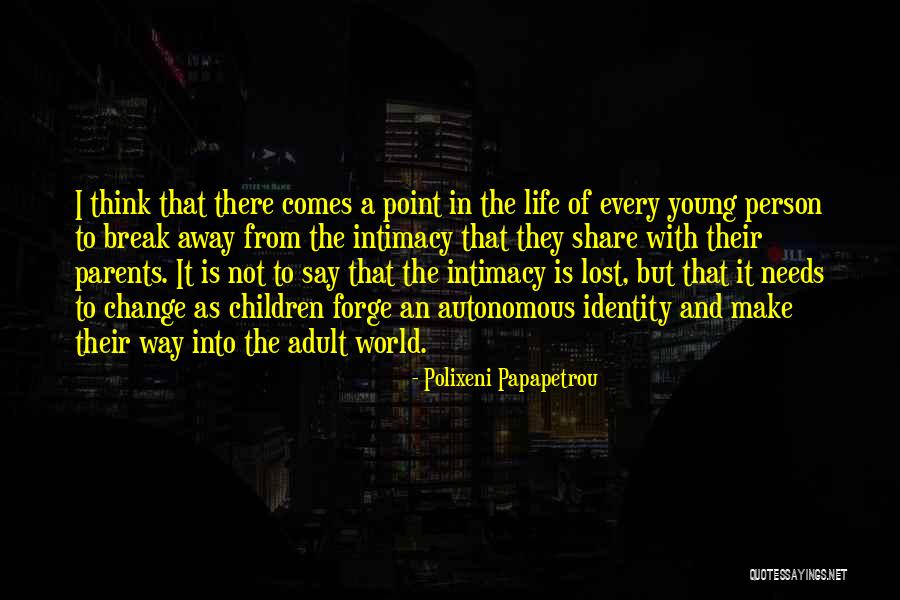 I think that there comes a point in the life of every young person to break away from the intimacy that they share with their parents. It is not to say that the intimacy is lost, but that it needs to change as children forge an autonomous identity and make their way into the adult world. — Polixeni Papapetrou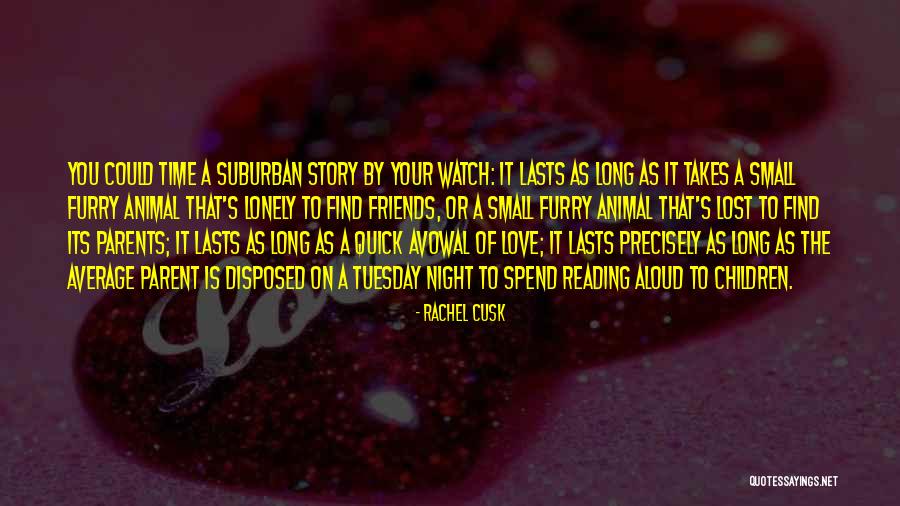 You could time a suburban story by your watch: it lasts as long as it takes a small furry animal that's lonely to find friends, or a small furry animal that's lost to find its parents; it lasts as long as a quick avowal of love; it lasts precisely as long as the average parent is disposed on a Tuesday night to spend reading aloud to children. — Rachel Cusk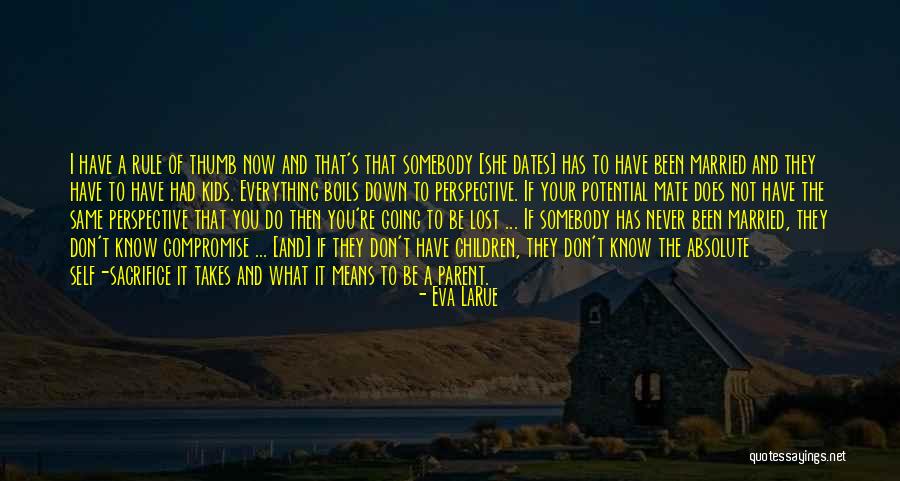 I have a rule of thumb now and that's that somebody [she dates] has to have been married and they have to have had kids. Everything boils down to perspective. If your potential mate does not have the same perspective that you do then you're going to be lost ... If somebody has never been married, they don't know compromise ... [and] if they don't have children, they don't know the absolute self-sacrifice it takes and what it means to be a parent. — Eva LaRue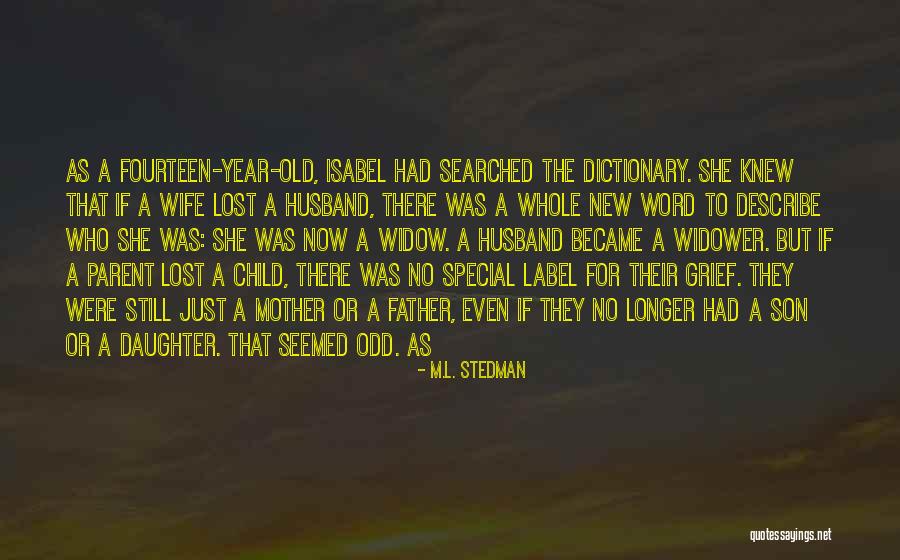 As a fourteen-year-old, Isabel had searched the dictionary. She knew that if a wife lost a husband, there was a whole new word to describe who she was: she was now a widow. A husband became a widower. But if a parent lost a child, there was no special label for their grief. They were still just a mother or a father, even if they no longer had a son or a daughter. That seemed odd. As — M.L. Stedman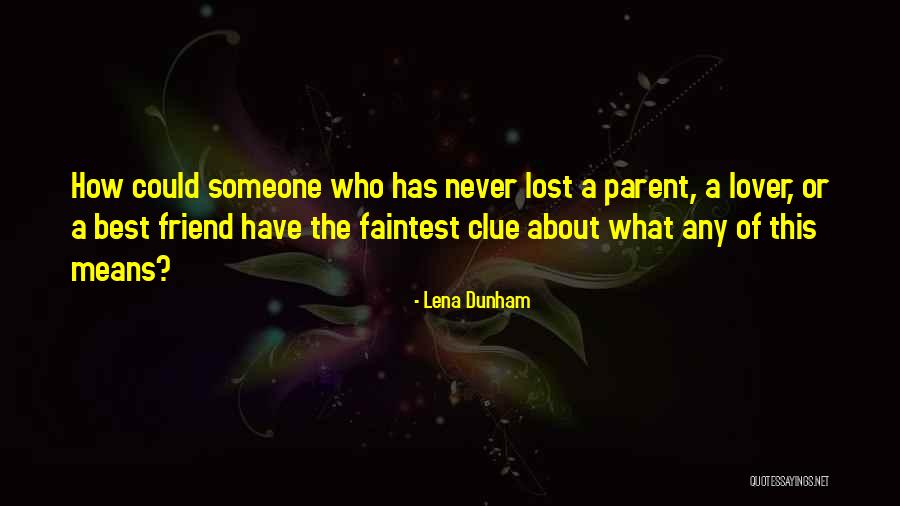 How could someone who has never lost a parent, a lover, or a best friend have the faintest clue about what any of this means? — Lena Dunham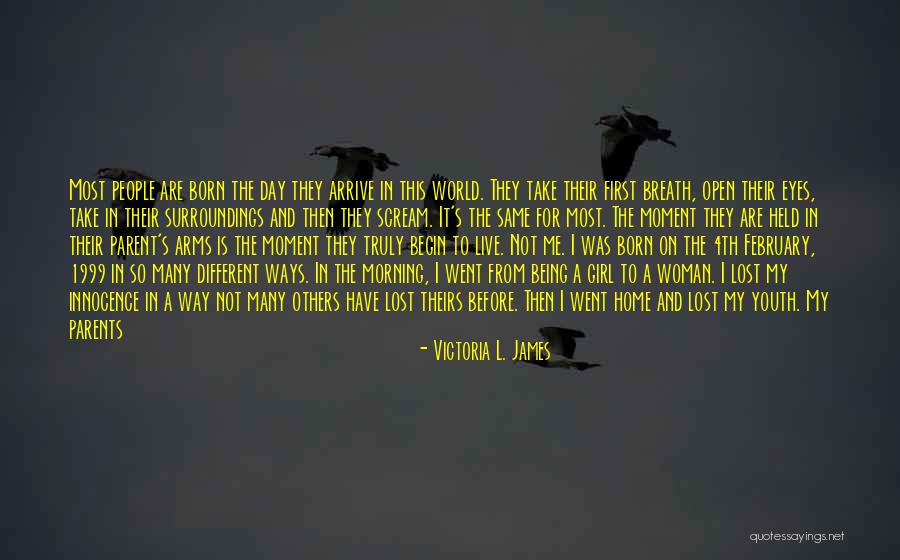 Most people are born the day they arrive in this world. They take their first breath, open their eyes, take in their surroundings and then they scream. It's the same for most. The moment they are held in their parent's arms is the moment they truly begin to live. Not me. I was born on the 4th February, 1999 in so many different ways. In the morning, I went from being a girl to a woman. I lost my innocence in a way not many others have lost theirs before. Then I went home and lost my youth. My parents have turned their backs on me and I have happily walked away, and even though that walk was painful, it was also freeing. My wings have spread and finally, I feel like I am soaring. — Victoria L. James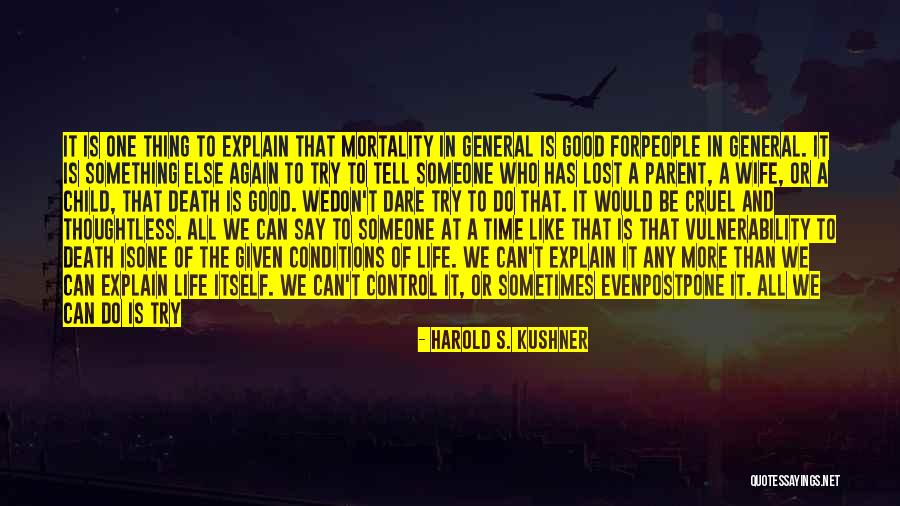 it is one thing to explain that mortality in general is good for
people in general. It is something else again to try to tell someone who has lost a parent, a wife, or a child, that death is good. We
don't dare try to do that. It would be cruel and thoughtless. All we can say to someone at a time like that is that vulnerability to death is
one of the given conditions of life. We can't explain it any more than we can explain life itself. We can't control it, or sometimes even
postpone it. All we can do is try to rise beyond the question "Why did it happen?" and begin to ask the question "What do I do now that
it has happened? — Harold S. Kushner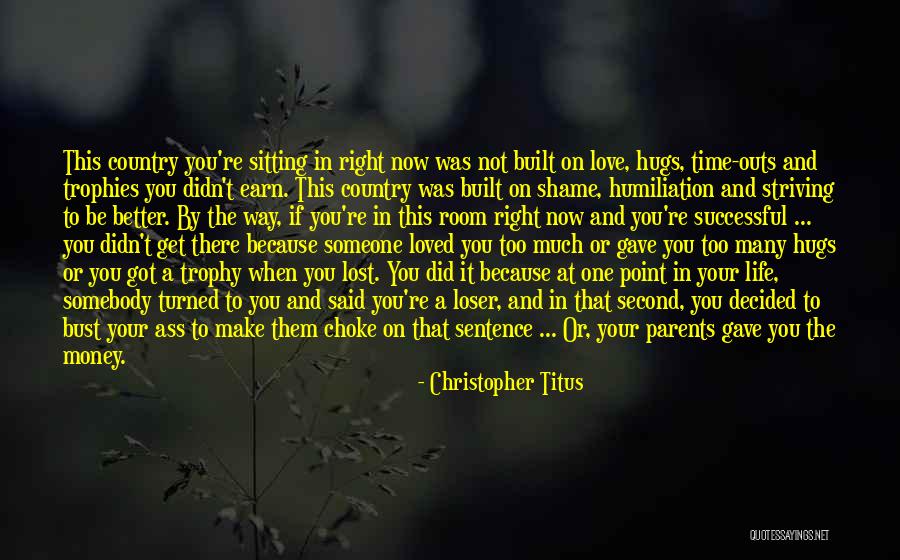 This country you're sitting in right now was not built on love, hugs, time-outs and trophies you didn't earn. This country was built on shame, humiliation and striving to be better. By the way, if you're in this room right now and you're successful ... you didn't get there because someone loved you too much or gave you too many hugs or you got a trophy when you lost. You did it because at one point in your life, somebody turned to you and said you're a loser, and in that second, you decided to bust your ass to make them choke on that sentence ... Or, your parents gave you the money. — Christopher Titus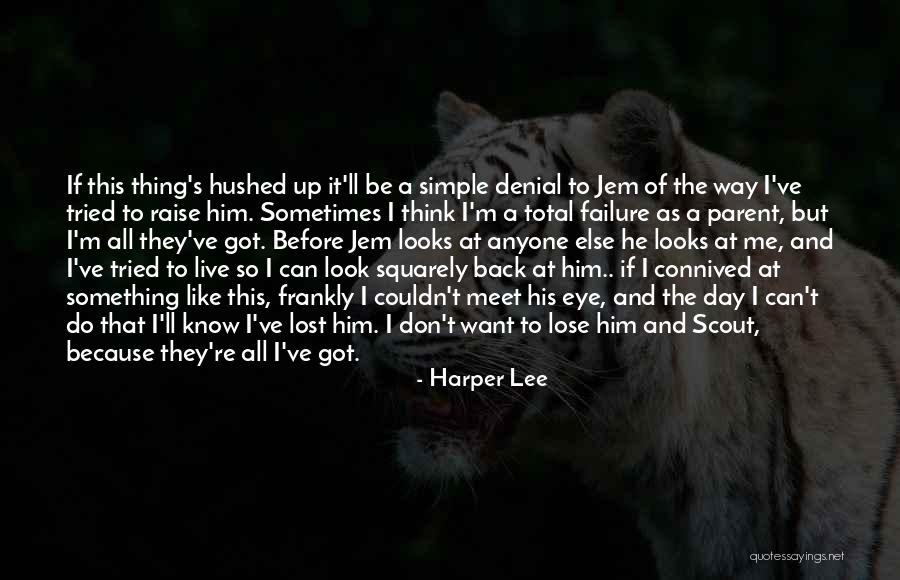 If this thing's hushed up it'll be a simple denial to Jem of the way I've tried to raise him. Sometimes I think I'm a total failure as a parent, but I'm all they've got. Before Jem looks at anyone else he looks at me, and I've tried to live so I can look squarely back at him.. if I connived at something like this, frankly I couldn't meet his eye, and the day I can't do that I'll know I've lost him. I don't want to lose him and Scout, because they're all I've got. — Harper Lee