Your Belief System Quotes & Sayings
Enjoy reading and share 61 famous quotes about Your Belief System with everyone.
Top Your Belief System Quotes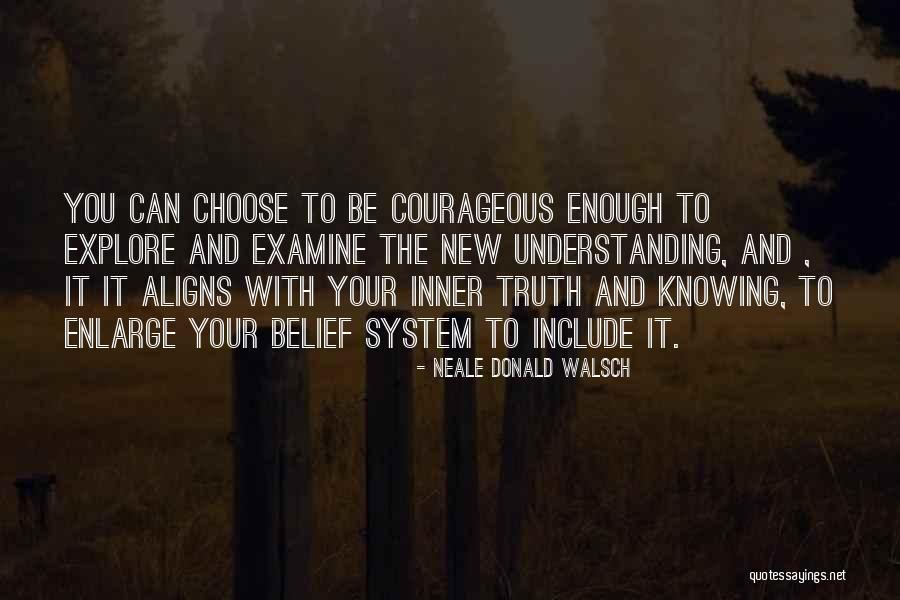 You can choose to be courageous enough to explore and examine the new understanding, and , it it aligns with your inner truth and knowing, to enlarge your belief system to include it. — Neale Donald Walsch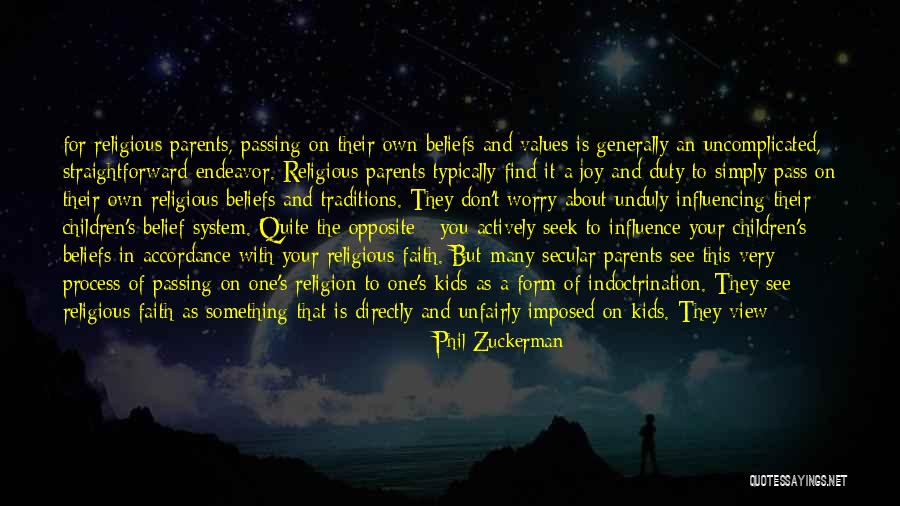 for religious parents, passing on their own beliefs and values is generally an uncomplicated, straightforward endeavor. Religious parents typically find it a joy and duty to simply pass on their own religious beliefs and traditions. They don't worry about unduly influencing their children's belief system. Quite the opposite - you actively seek to influence your children's beliefs in accordance with your religious faith. But many secular parents see this very process of passing on one's religion to one's kids as a form of indoctrination. They see religious faith as something that is directly and unfairly imposed on kids. They view young children as intellectually vulnerable, willing and perhaps even evolutionarily designed to believe almost anything their parents teach them about the nature of the world. — Phil Zuckerman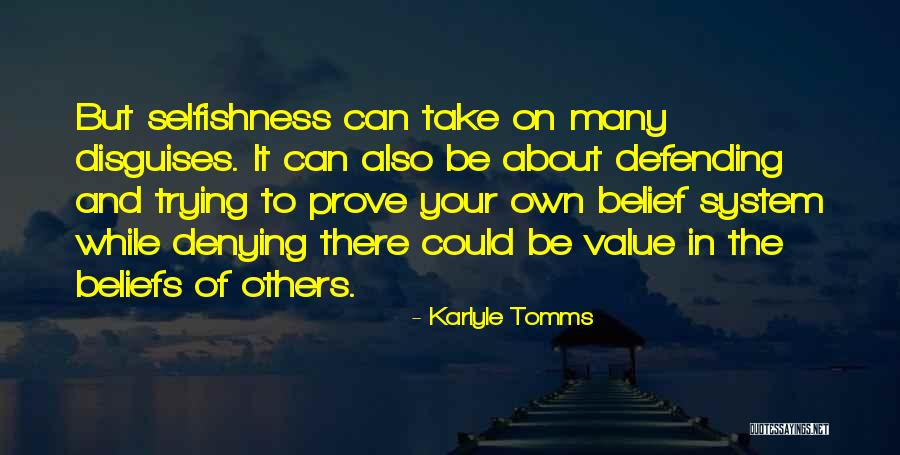 But selfishness can take on many disguises. It can also be about defending and trying to prove your own belief system while denying there could be value in the beliefs of others. — Karlyle Tomms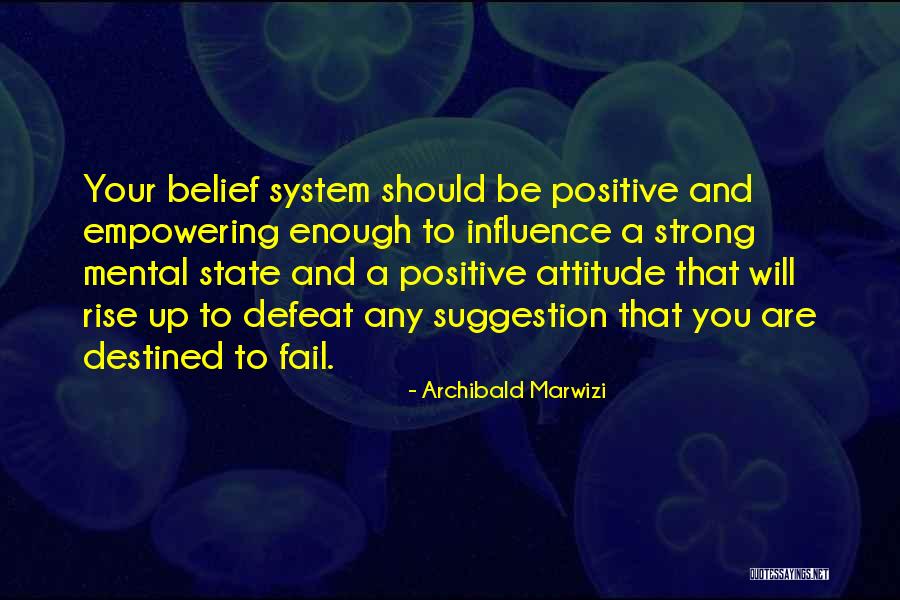 Your belief system should be positive and empowering enough to influence a strong mental state and a positive attitude that will rise up to defeat any suggestion that you are destined to fail. — Archibald Marwizi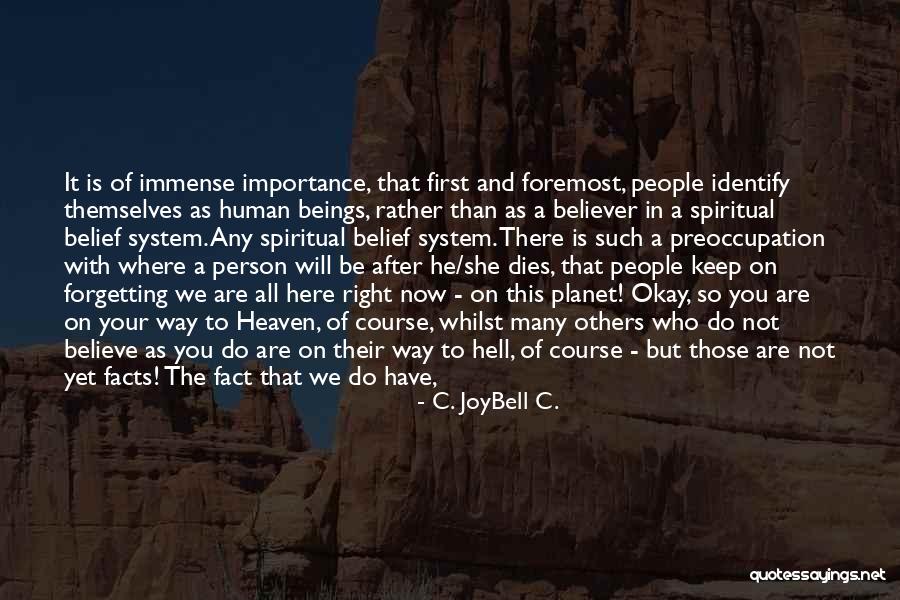 It is of immense importance, that first and foremost, people identify themselves as human beings, rather than as a believer in a spiritual belief system. Any spiritual belief system. There is such a preoccupation with where a person will be after he/she dies, that people keep on forgetting we are all here right now - on this planet! Okay, so you are on your way to Heaven, of course, whilst many others who do not believe as you do are on their way to hell, of course - but those are not yet facts! The fact that we do have, though, is the fact that we are all here right now, on this Earth, living this life, breathing this air, and it's about time we identify ourselves with the reality in front of us: that we are human beings and we all cry, laugh, love and hurt. — C. JoyBell C.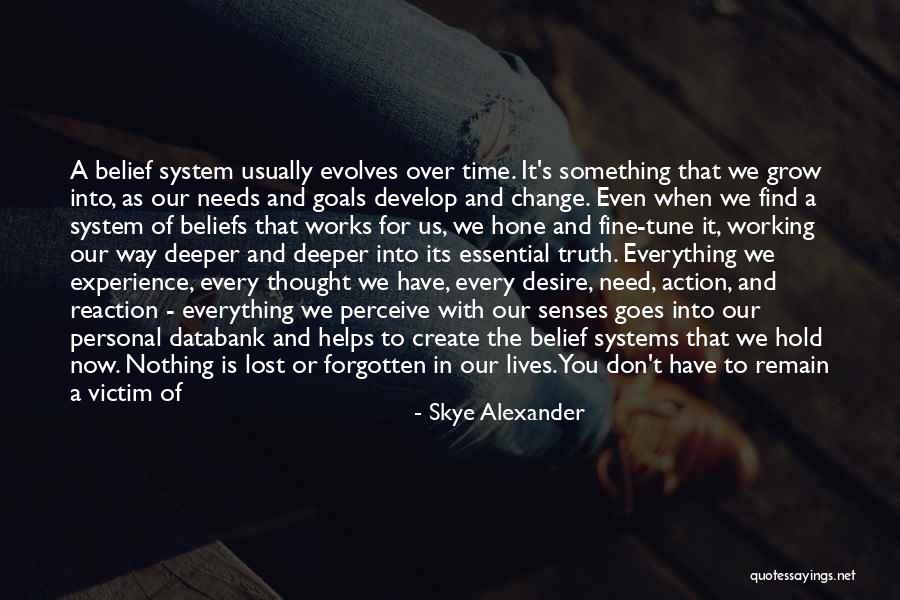 A belief system usually evolves over time. It's something that we grow into, as our needs and goals develop and change. Even when we find a system of beliefs that works for us, we hone and fine-tune it, working our way deeper and deeper into its essential truth. Everything we experience, every thought we have, every desire, need, action, and reaction - everything we perceive with our senses goes into our personal databank and helps to create the belief systems that we hold now. Nothing is lost or forgotten in our lives.
You don't have to remain a victim of your conditioning, however. You can choose for yourself what you believe or don't believe, what you desire and don't desire. You can define your own parameters. Once you do that, you can start consciously creating your destiny according to your own vision. — Skye Alexander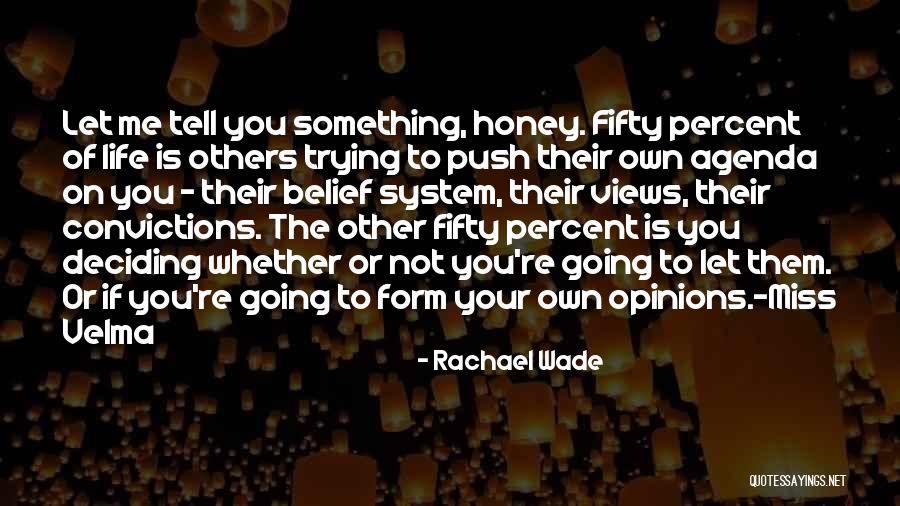 Let me tell you something, honey. Fifty percent of life is others trying to push their own agenda on you - their belief system, their views, their convictions. The other fifty percent is you deciding whether or not you're going to let them. Or if you're going to form your own opinions.
-Miss Velma — Rachael Wade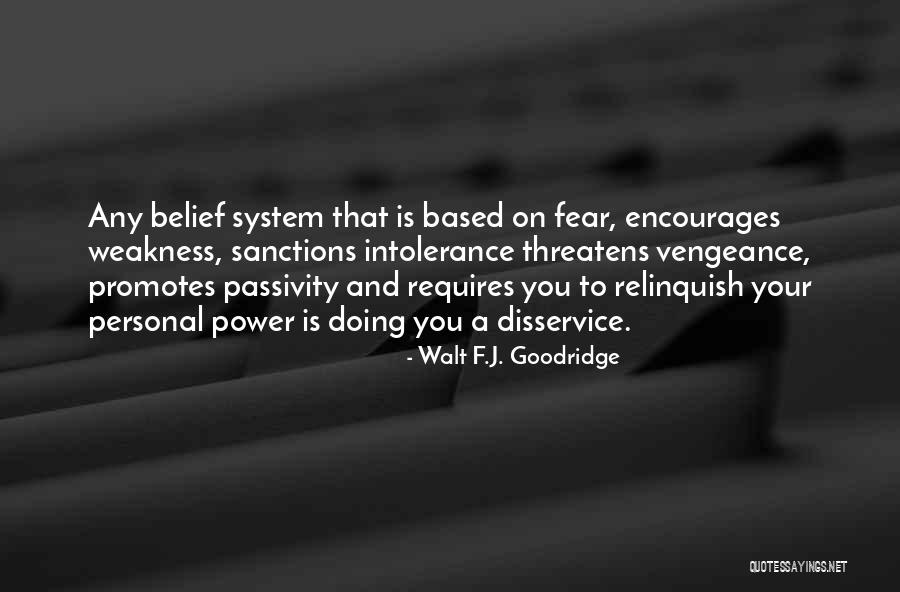 Any belief system that is based on fear, encourages weakness, sanctions intolerance threatens vengeance, promotes passivity and requires you to relinquish your personal power is doing you a disservice. — Walt F.J. Goodridge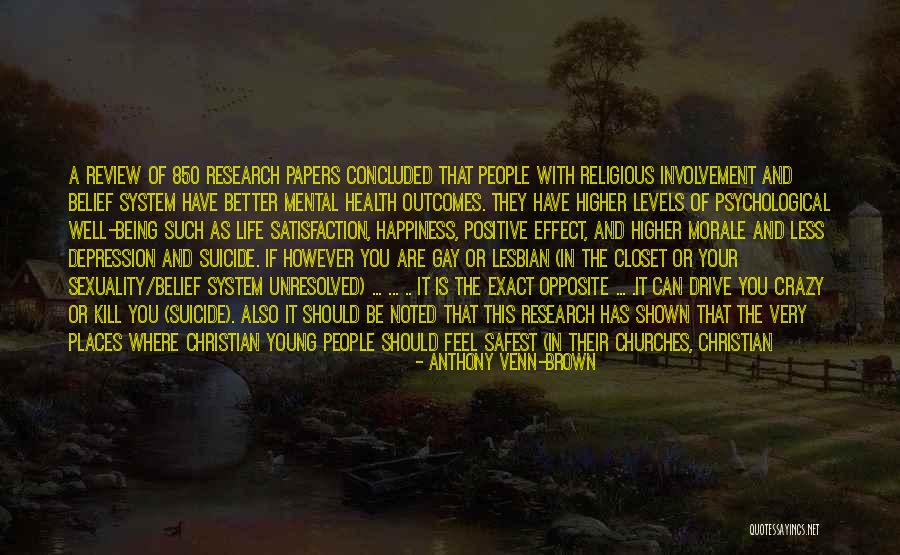 A review of 850 research papers concluded that people with religious involvement and belief system have better mental health outcomes. They have higher levels of psychological well-being such as life satisfaction, happiness, positive effect, and higher morale and less depression and suicide. If however you are gay or lesbian (in the closet or your sexuality/belief system unresolved) ... ... .. it is the exact opposite ... .it can drive you crazy or kill you (suicide). Also it should be noted that this research has shown that the very places where Christian young people should feel safest (in their churches, Christian homes, schools and with friends) are actually places of harm. — Anthony Venn-Brown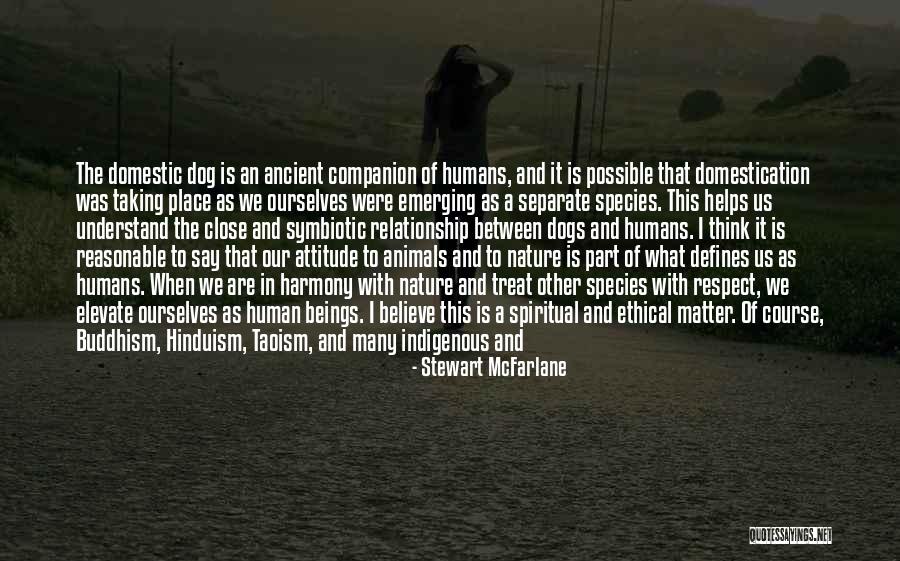 The domestic dog is an ancient companion of humans, and it is possible that domestication was taking place as we ourselves were emerging as a separate species. This helps us understand the close and symbiotic relationship between dogs and humans. I think it is reasonable to say that our attitude to animals and to nature is part of what defines us as humans. When we are in harmony with nature and treat other species with respect, we elevate ourselves as human beings. I believe this is a spiritual and ethical matter. Of course, Buddhism, Hinduism, Taoism, and many indigenous and ancient religions endorse this attitude, but I think it applies whatever your personal belief system. Respect for nature and kindness to animals are, I believe, fundamental human values, just as respect for and kindness to other people should be. I hope that the stories which follow help to illustrate that belief as it is actually lived, and hopefully, does so in an entertaining way. — Stewart McFarlane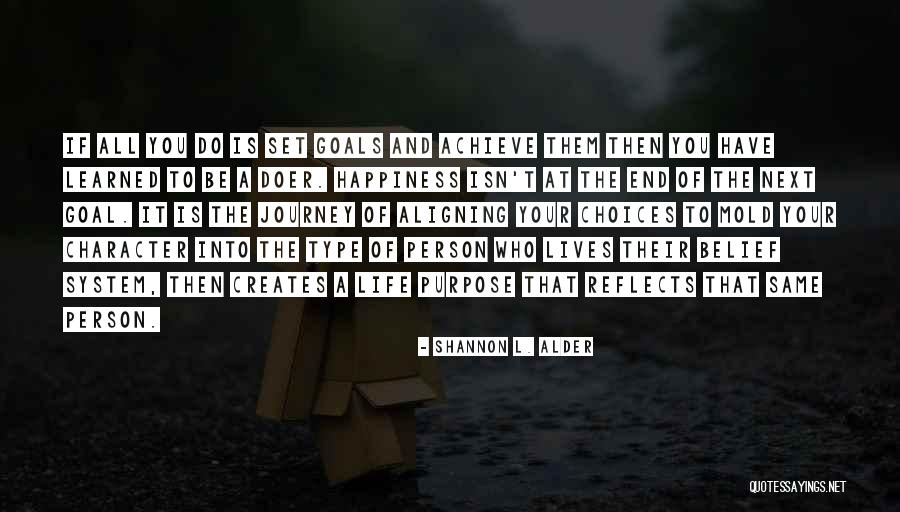 If all you do is set goals and achieve them then you have learned to be a doer. Happiness isn't at the end of the next goal. It is the journey of aligning your choices to mold your character into the type of person who lives their belief system, then creates a life purpose that reflects that same person. — Shannon L. Alder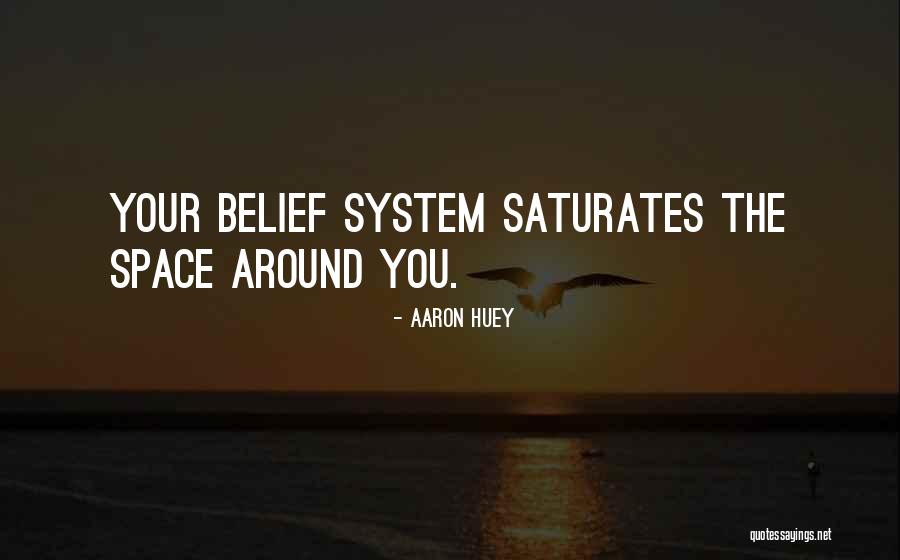 Your belief system saturates the space around you. — Aaron Huey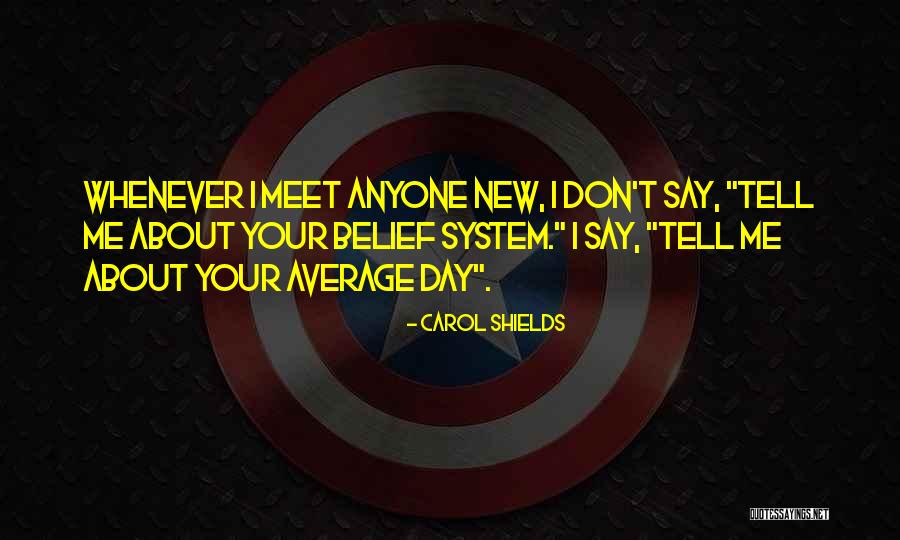 Whenever I meet anyone new, I don't say, "Tell me about your belief system." I say, "Tell me about your average day". — Carol Shields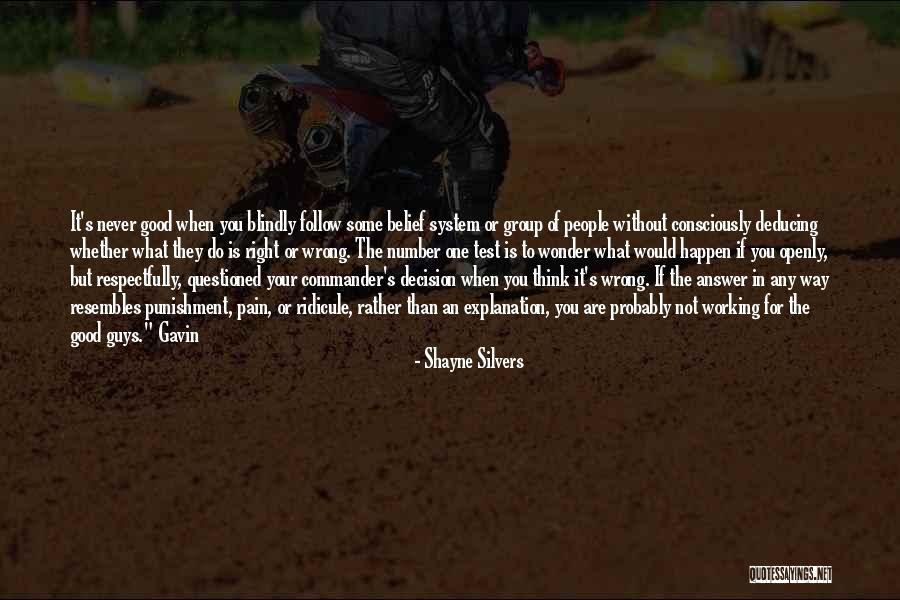 It's never good when you blindly follow some belief system or group of people without consciously deducing whether what they do is right or wrong. The number one test is to wonder what would happen if you openly, but respectfully, questioned your commander's decision when you think it's wrong. If the answer in any way resembles punishment, pain, or ridicule, rather than an explanation, you are probably not working for the good guys." Gavin — Shayne Silvers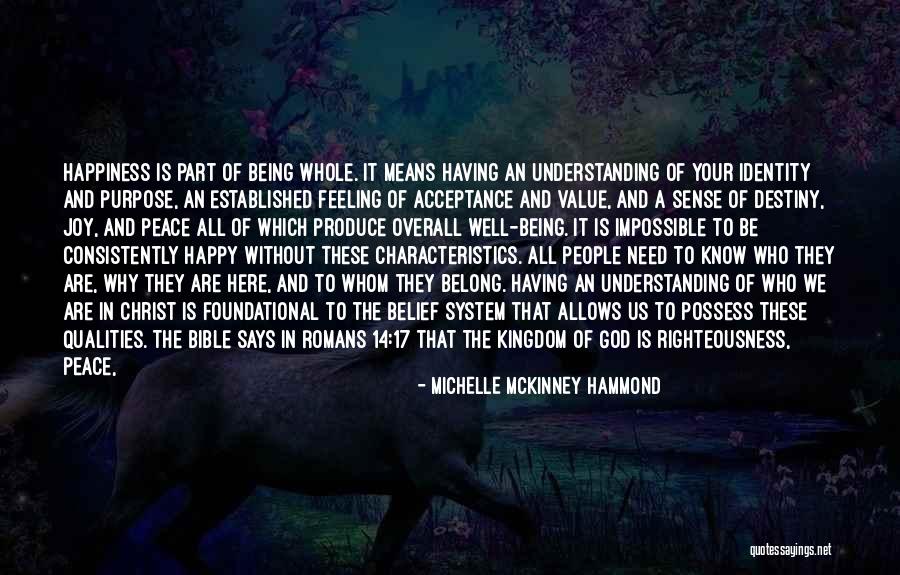 Happiness is part of being whole. It means having an understanding of your identity and purpose, an established feeling of acceptance and value, and a sense of destiny, joy, and peace
all of which produce overall well-being. It is impossible to be consistently happy without these characteristics. All people need to know who they are, why they are here, and to whom they belong. Having an understanding of who we are in Christ is foundational to the belief system that allows us to possess these qualities. The Bible says in Romans 14:17 that the kingdom of God is righteousness, peace, and joy in the Holy Spirit. You find in this passage all these characteristics that grow out of being in right relationship with God. His presence is always accompanied by peace and joy; in other words, a sense of total well-being. — Michelle McKinney Hammond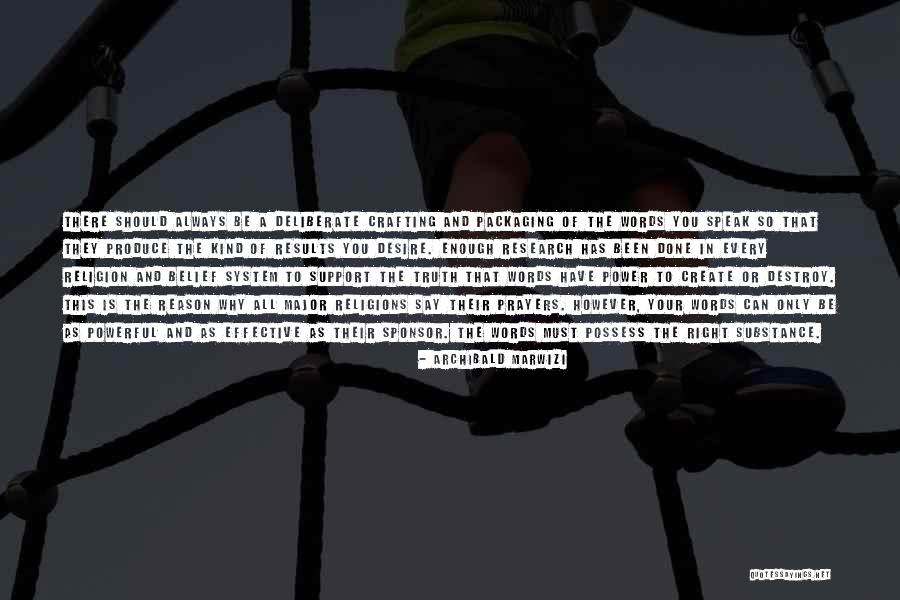 There should always be a deliberate crafting and packaging of the words you speak so that they produce the kind of results you desire. Enough research has been done in every religion and belief system to support the truth that words have power to create or destroy. This is the reason why all major religions say their prayers. However, your words can only be as powerful and as effective as their sponsor. The words must possess the right substance. — Archibald Marwizi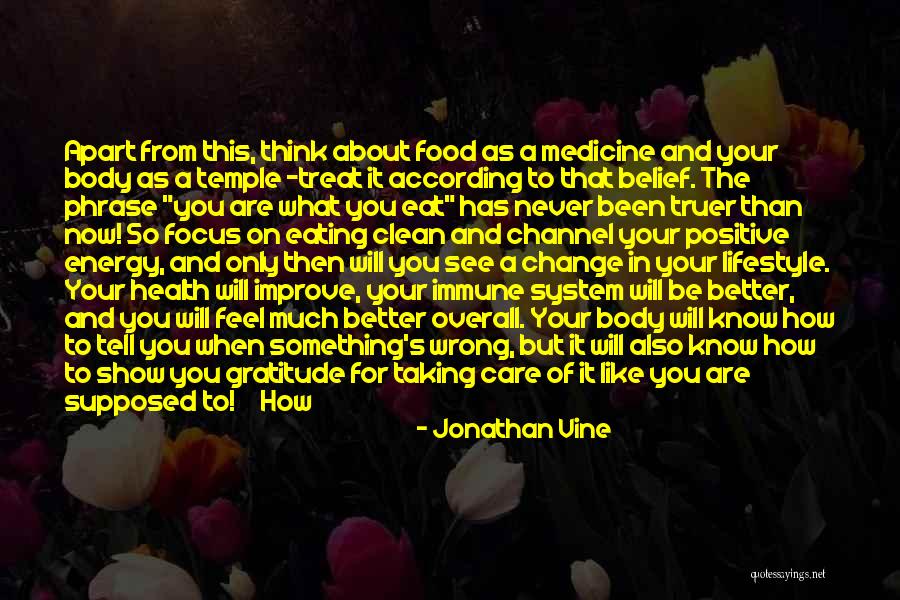 Apart from this, think about food as a medicine and your body as a temple -treat it according to that belief. The phrase "you are what you eat" has never been truer than now! So focus on eating clean and channel your positive energy, and only then will you see a change in your lifestyle. Your health will improve, your immune system will be better, and you will feel much better overall. Your body will know how to tell you when something's wrong, but it will also know how to show you gratitude for taking care of it like you are supposed to! How — Jonathan Vine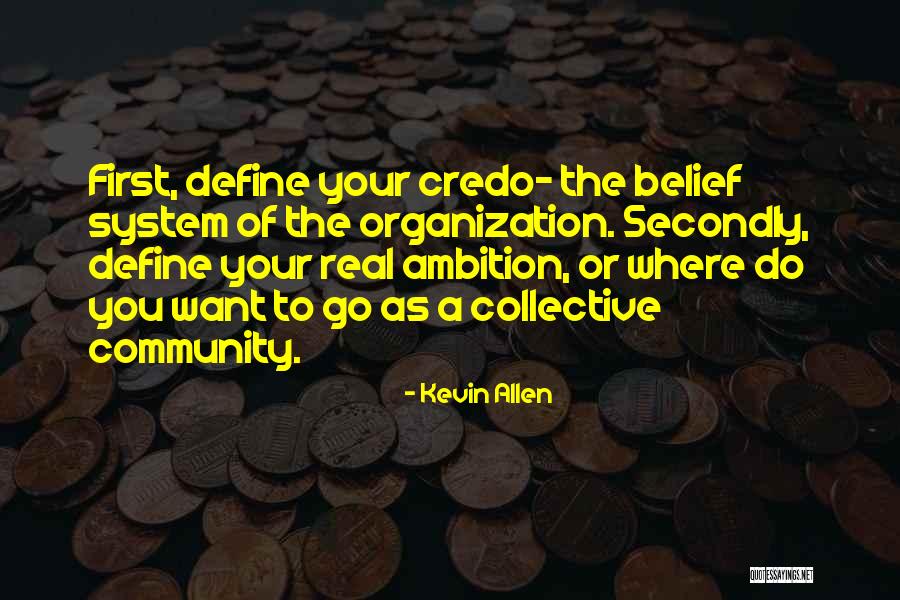 First, define your credo- the belief system of the organization. Secondly, define your real ambition, or where do you want to go as a collective community. — Kevin Allen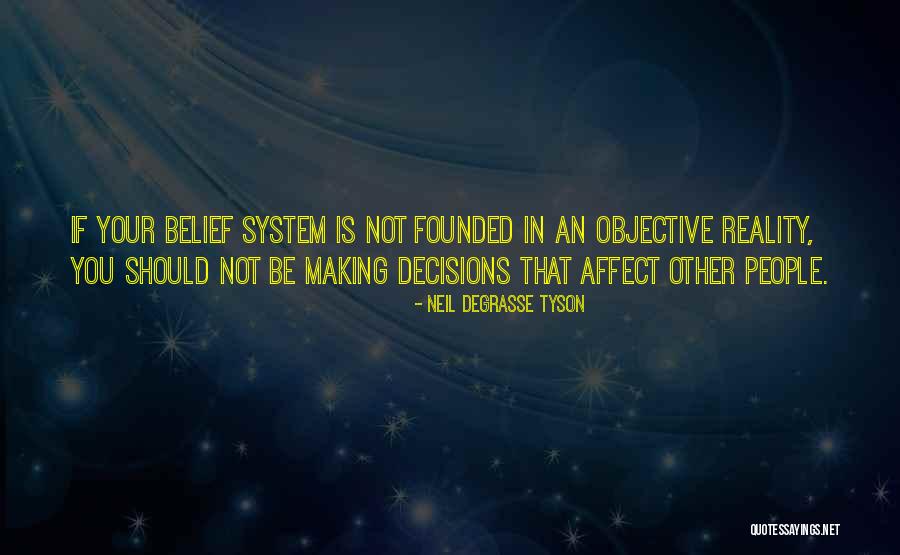 If your belief system is not founded in an objective reality, you should not be making decisions that affect other people. — Neil DeGrasse Tyson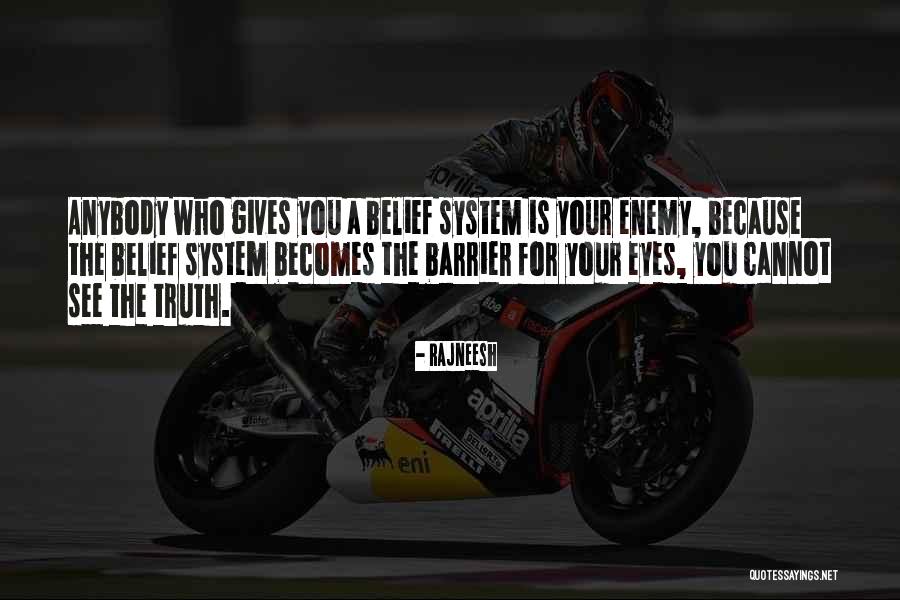 Anybody who gives you a belief system is your enemy, because the belief system becomes the barrier for your eyes, you cannot see the truth. — Rajneesh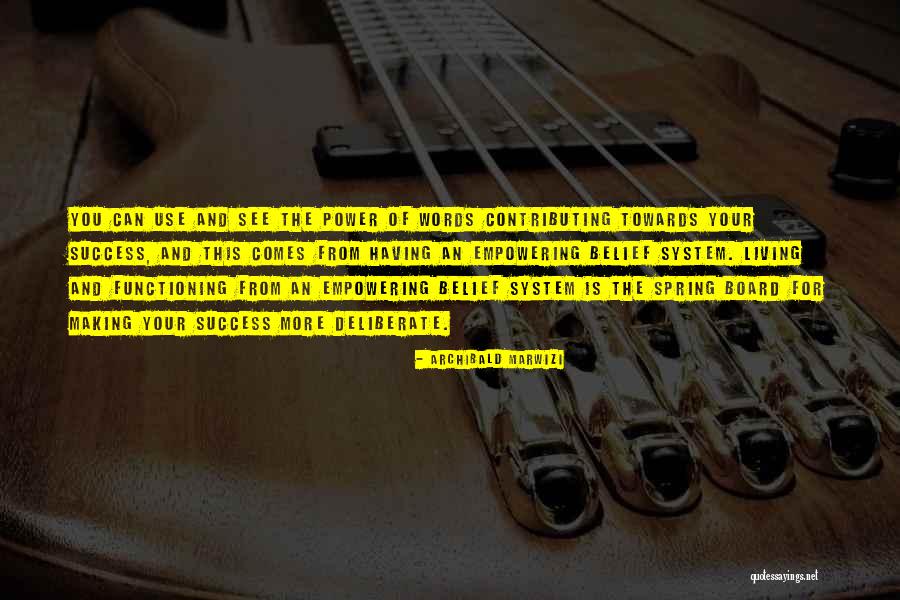 You can use and see the power of words contributing towards your success, and this comes from having an empowering belief system. Living and functioning from an empowering belief system is the spring board for making your success more deliberate. — Archibald Marwizi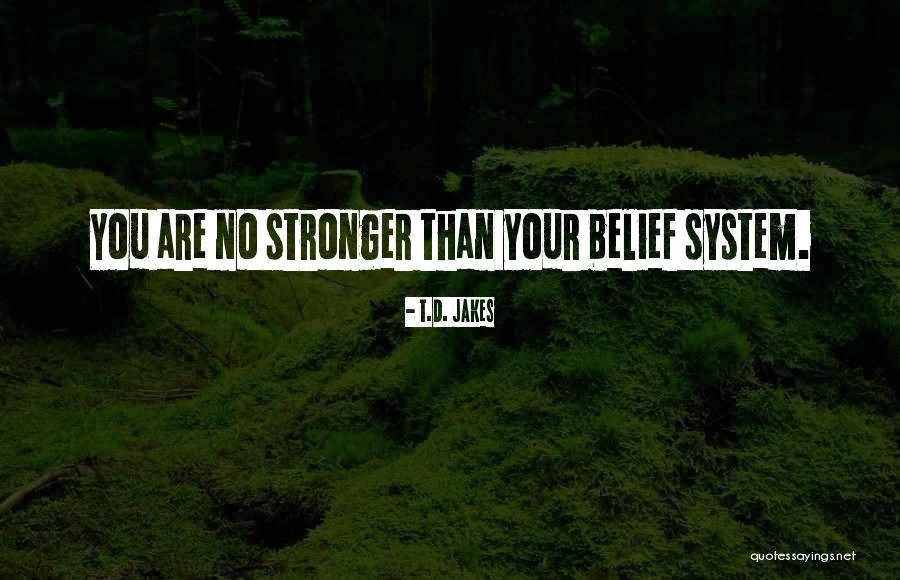 You are no stronger than your belief system. — T.D. Jakes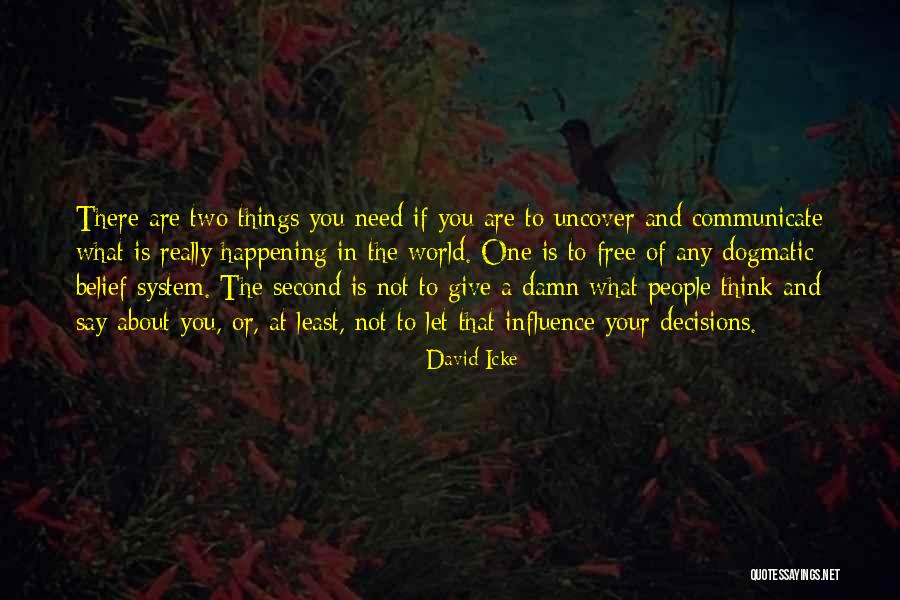 There are two things you need if you are to uncover and communicate what is really happening in the world. One is to free of any dogmatic belief system. The second is not to give a damn what people think and say about you, or, at least, not to let that influence your decisions. — David Icke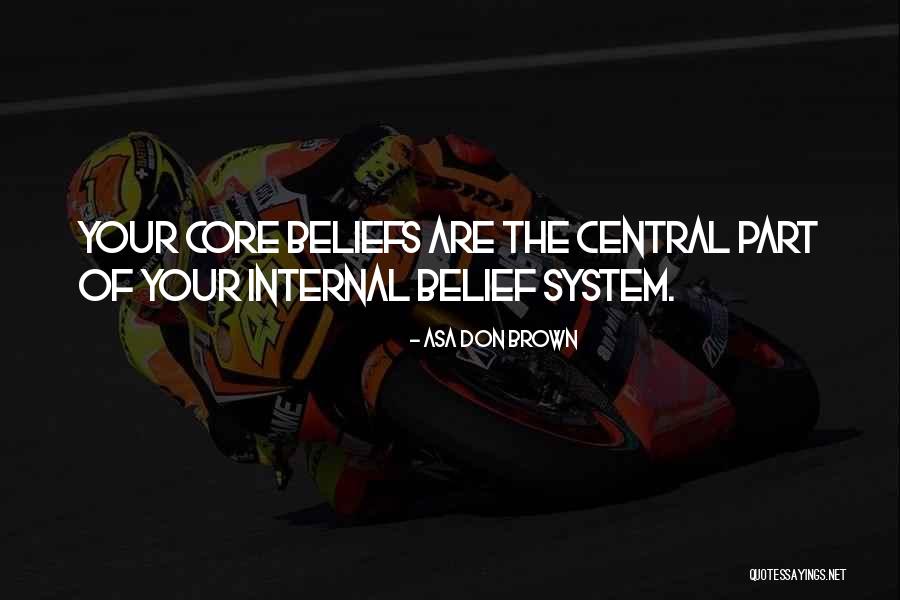 Your core beliefs are the central part of your internal belief system. — Asa Don Brown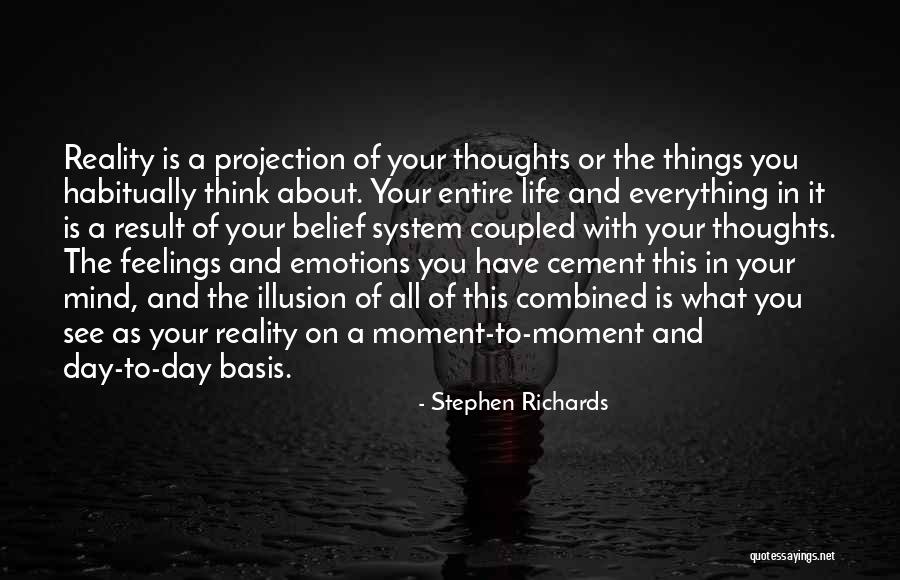 Reality is a projection of your thoughts or the things you habitually think about. Your entire life and everything in it is a result of your belief system coupled with your thoughts. The feelings and emotions you have cement this in your mind, and the illusion of all of this combined is what you see as your reality on a moment-to-moment and day-to-day basis. — Stephen Richards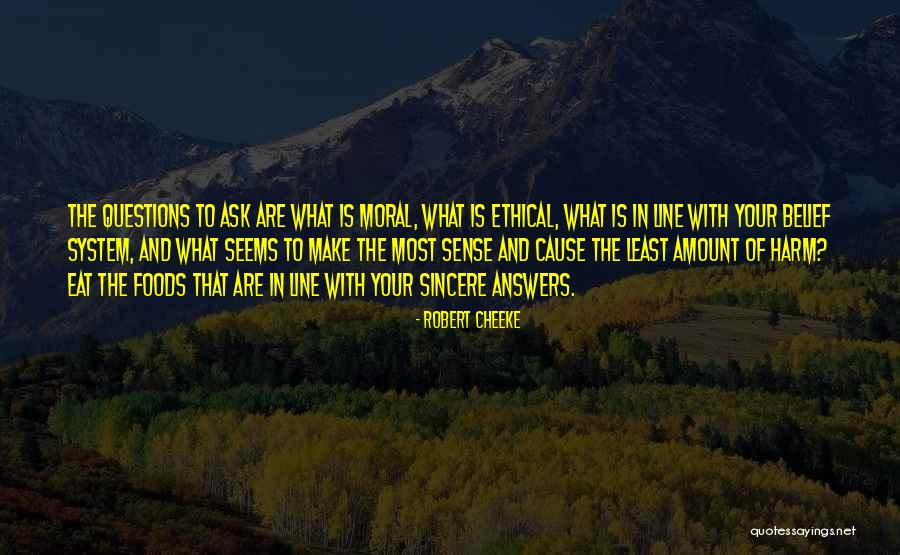 The questions to ask are what is moral, what is ethical, what is in line with your belief system, and what seems to make the most sense and cause the least amount of harm? Eat the foods that are in line with your sincere answers. — Robert Cheeke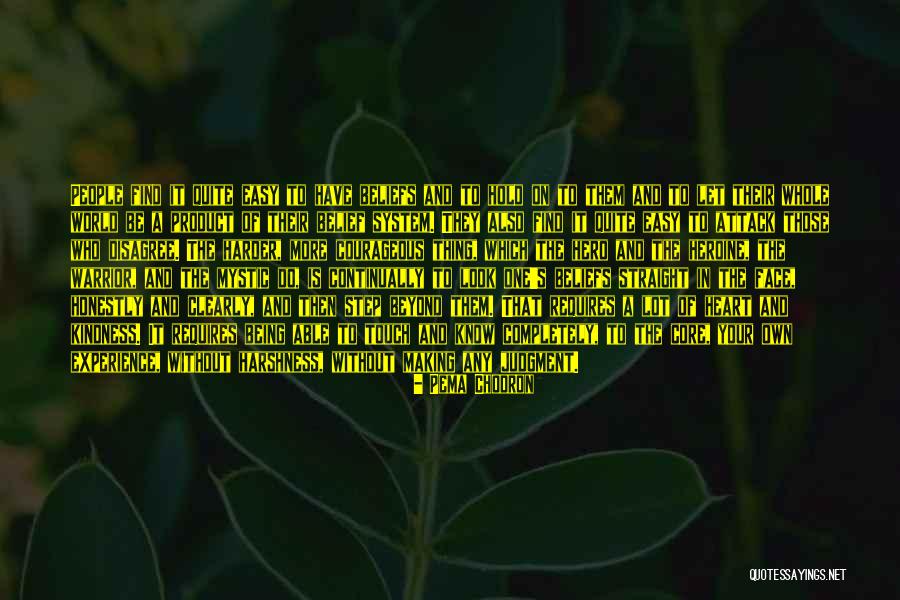 People find it quite easy to have beliefs and to hold on to them and to let their whole world be a product of their belief system. They also find it quite easy to attack those who disagree. The harder, more courageous thing, which the hero and the heroine, the warrior, and the mystic do, is continually to look one's beliefs straight in the face, honestly and clearly, and then step beyond them. That requires a lot of heart and kindness. It requires being able to touch and know completely, to the core, your own experience, without harshness, without making any judgment. — Pema Chodron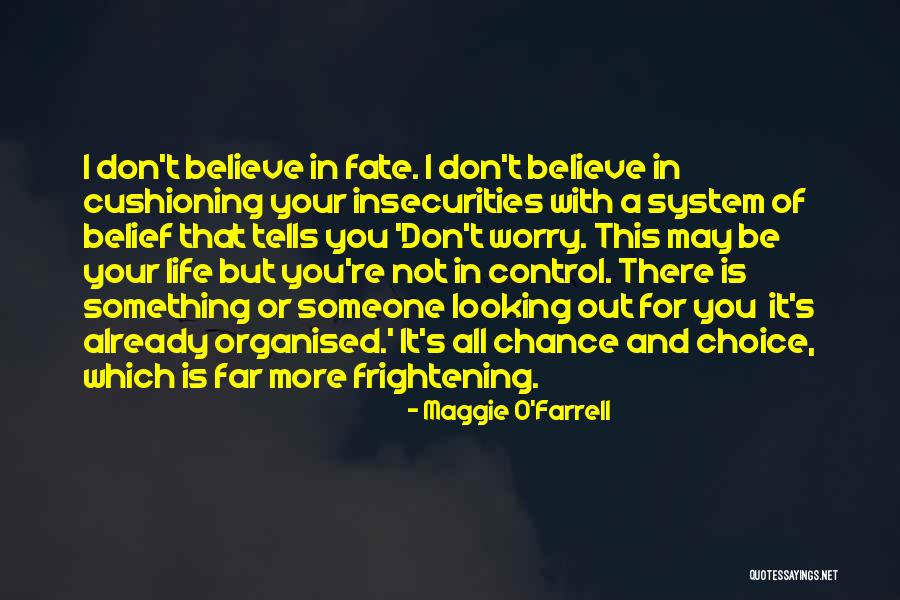 I don't believe in fate. I don't believe in cushioning your insecurities with a system of belief that tells you 'Don't worry. This may be your life but you're not in control. There is something or someone looking out for you
it's already organised.' It's all chance and choice, which is far more frightening. — Maggie O'Farrell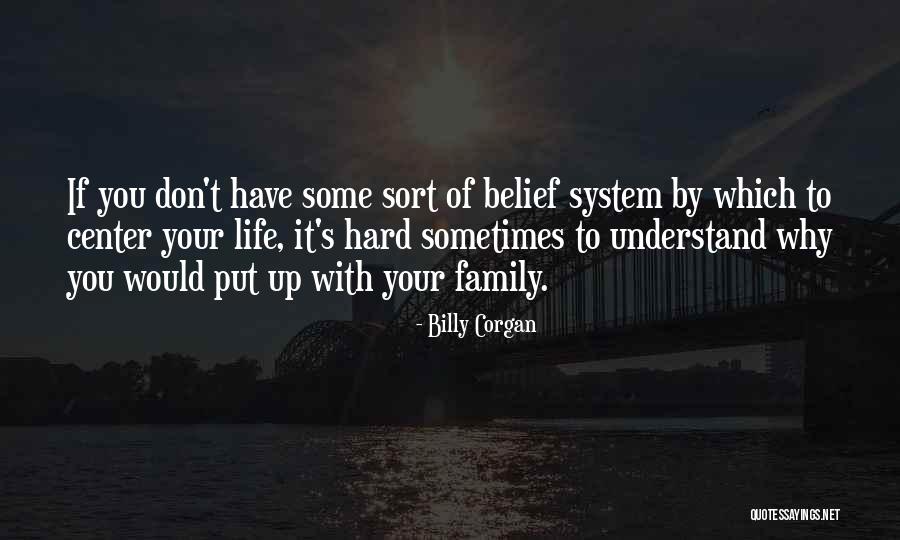 If you don't have some sort of belief system by which to center your life, it's hard sometimes to understand why you would put up with your family. — Billy Corgan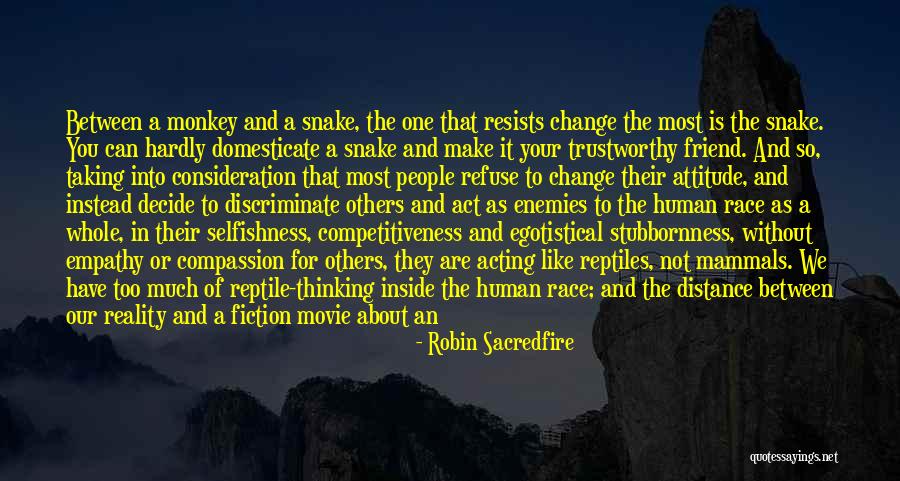 Between a monkey and a snake, the one that resists change the most is the snake. You can hardly domesticate a snake and make it your trustworthy friend. And so, taking into consideration that most people refuse to change their attitude, and instead decide to discriminate others and act as enemies to the human race as a whole, in their selfishness, competitiveness and egotistical stubbornness, without empathy or compassion for others, they are acting like reptiles, not mammals. We have too much of reptile-thinking inside the human race; and the distance between our reality and a fiction movie about an alien invasion, in which reptiles walk among us disguised as humans isn't that much. We have been corrupted already. Humanity is nearly extinct due to a massive invasion of a reptilian belief-system. — Robin Sacredfire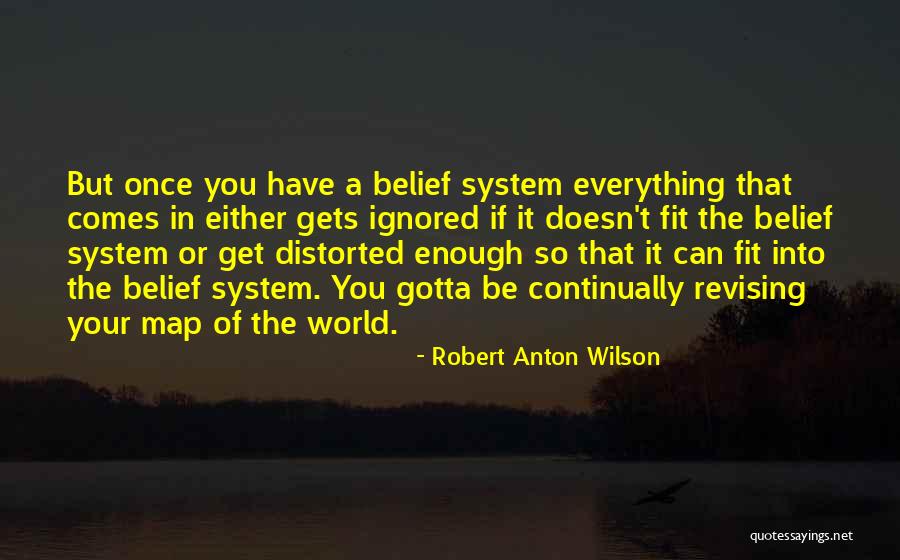 But once you have a belief system everything that comes in either gets ignored if it doesn't fit the belief system or get distorted enough so that it can fit into the belief system. You gotta be continually revising your map of the world. — Robert Anton Wilson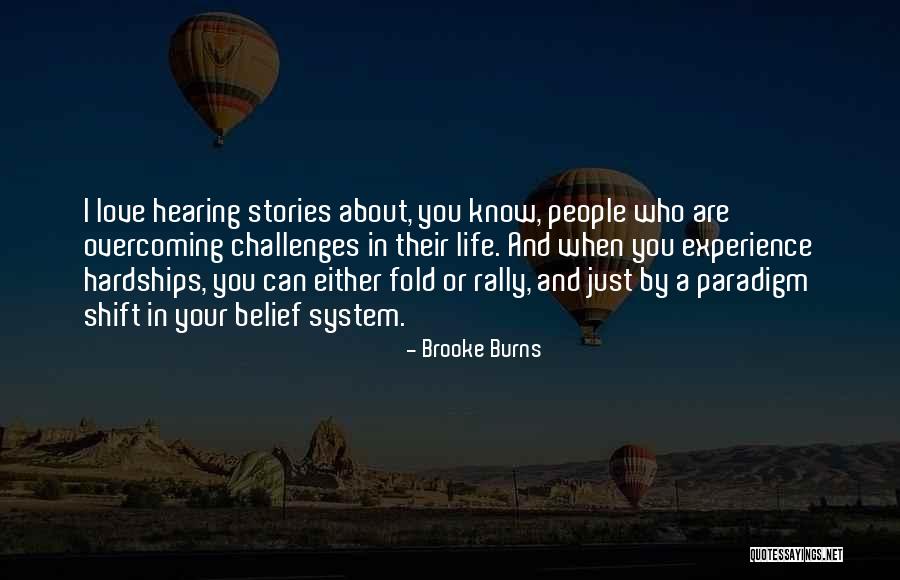 I love hearing stories about, you know, people who are overcoming challenges in their life. And when you experience hardships, you can either fold or rally, and just by a paradigm shift in your belief system. — Brooke Burns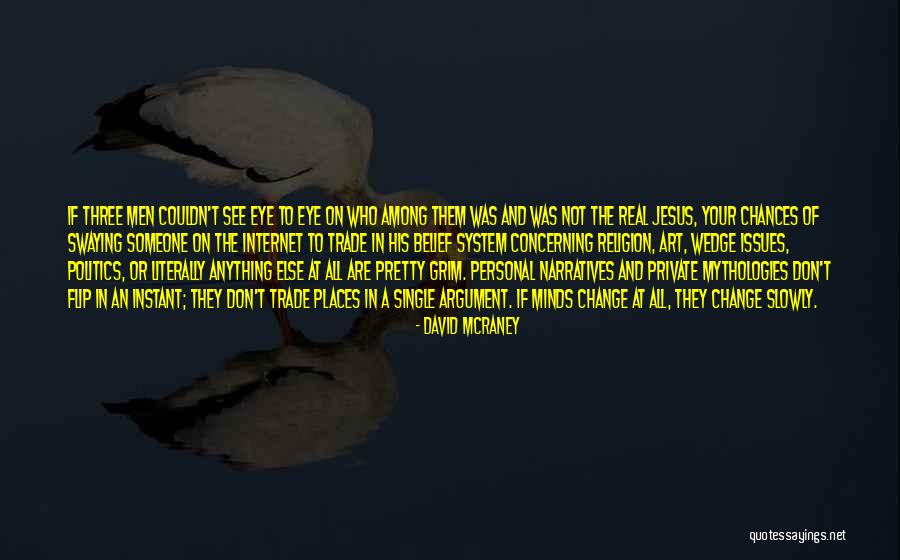 If three men couldn't see eye to eye on who among them was and was not the real Jesus, your chances of swaying someone on the Internet to trade in his belief system concerning religion, art, wedge issues, politics, or literally anything else at all are pretty grim. Personal narratives and private mythologies don't flip in an instant; they don't trade places in a single argument. If minds change at all, they change slowly. — David McRaney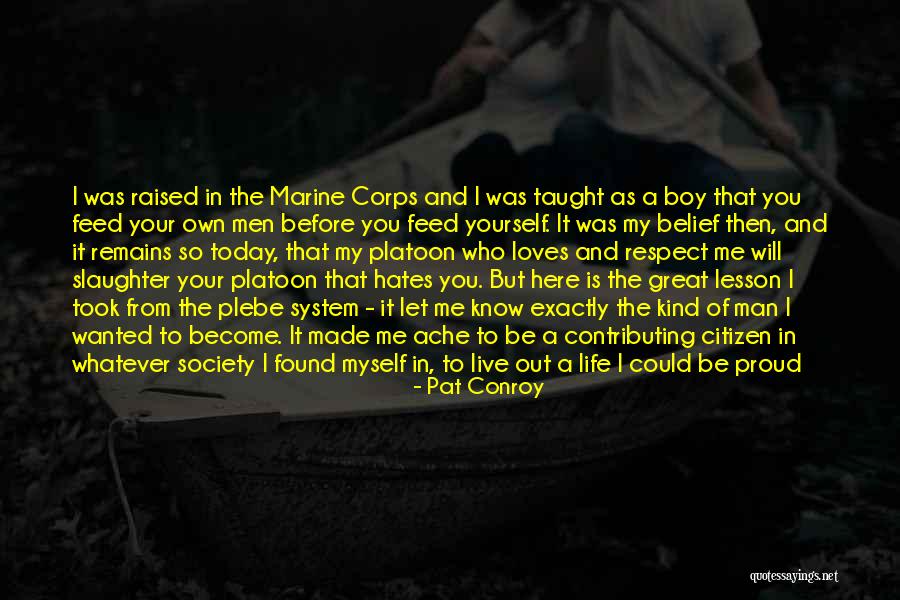 I was raised in the Marine Corps and I was taught as a boy that you feed your own men before you feed yourself. It was my belief then, and it remains so today, that my platoon who loves and respect me will slaughter your platoon that hates you. But here is the great lesson I took from the plebe system - it let me know exactly the kind of man I wanted to become. It made me ache to be a contributing citizen in whatever society I found myself in, to live out a life I could be proud of, and always to measure up to what I took to be the highest ideal of a Citadel man - or, now, a Citadel woman. The standards were clear to me and they were high, and I took my marching orders from my college to take my hard-won education and go out to try to make the whole world a better place. — Pat Conroy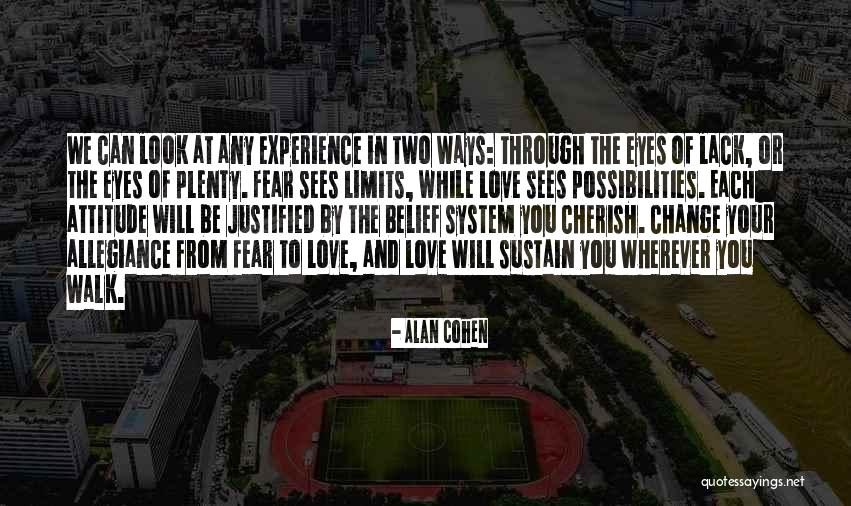 We can look at any experience in two ways: through the eyes of lack, or the eyes of plenty. Fear sees limits, while love sees possibilities. Each attitude will be justified by the belief system you cherish. Change your allegiance from fear to love, and love will sustain you wherever you walk. — Alan Cohen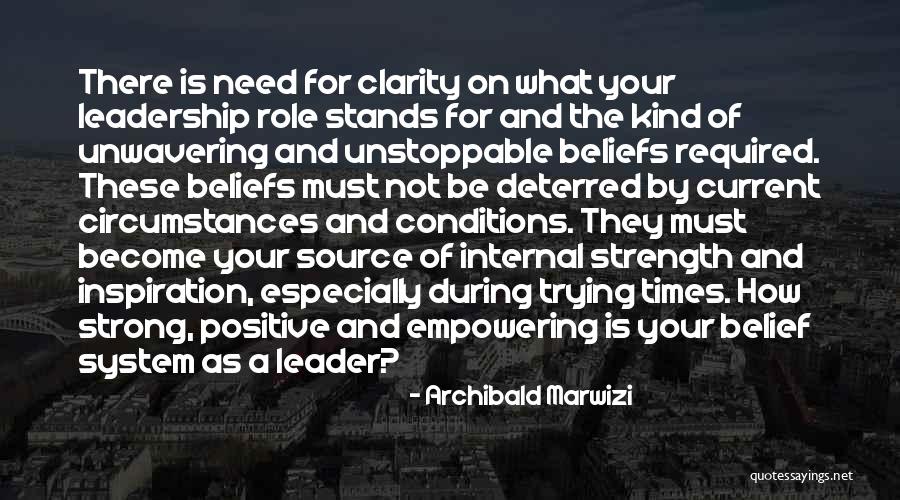 There is need for clarity on what your leadership role stands for and the kind of unwavering and unstoppable beliefs required. These beliefs must not be deterred by current circumstances and conditions. They must become your source of internal strength and inspiration, especially during trying times. How strong, positive and empowering is your belief system as a leader? — Archibald Marwizi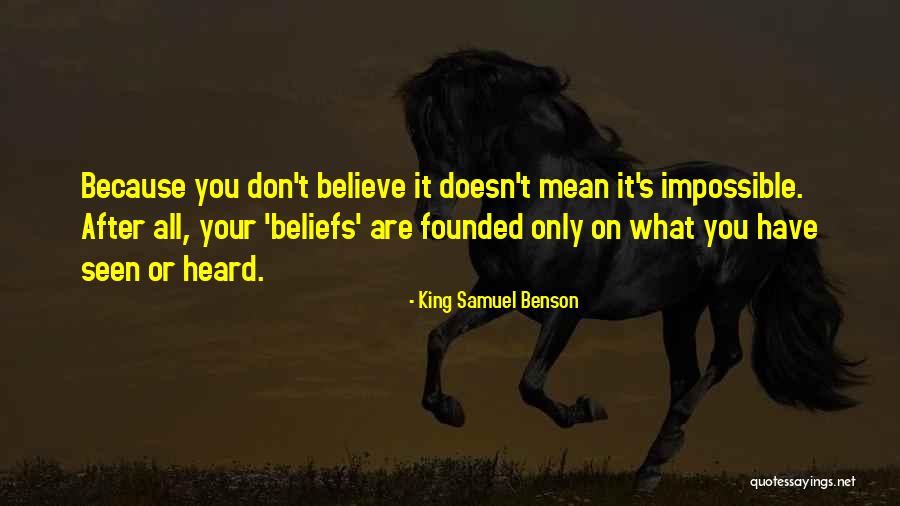 Because you don't believe it doesn't mean it's impossible. After all, your 'beliefs' are founded only on what you have seen or heard. — King Samuel Benson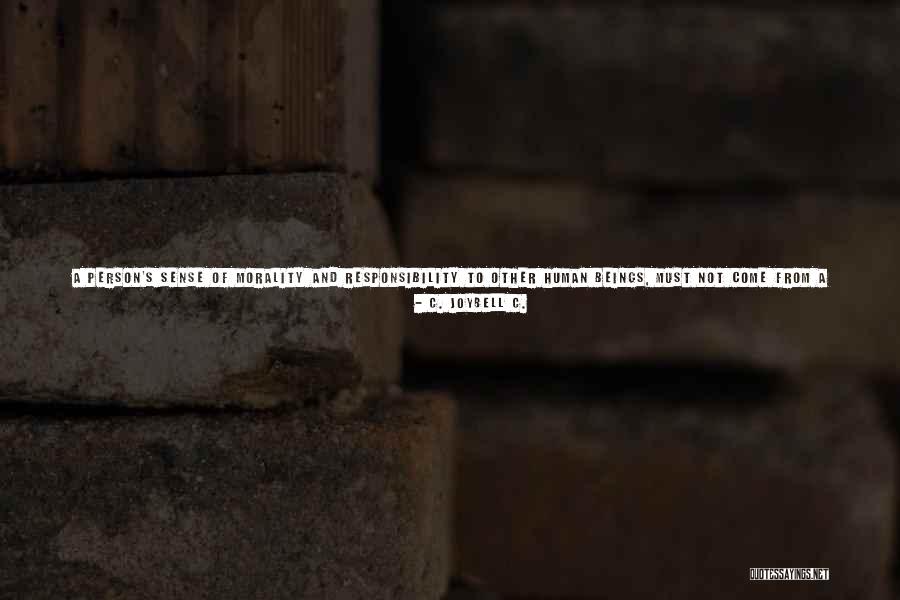 A person's sense of morality and responsibility to other human beings, must not come from a professed faith or belief system. Because when it does - it is merely a projection and not an internalization. A person must be able to say "I believe this, I do this, I say this, because this is who I am; not because I see myself as a member of so and so belief system." Adam and Eve walked with God every day in the garden of Eden and yet, they still chose their own way. This only means that their own way had nothing to do with God's way. Even if they walked with God physically, daily, in a garden! This is witness to the fact that your sense of morality and responsibility must be incarnated within you. In fact, this is the beauty of God - to unfold your own spirit within you - and then you see your own spirit and say that it is indeed beautiful. — C. JoyBell C.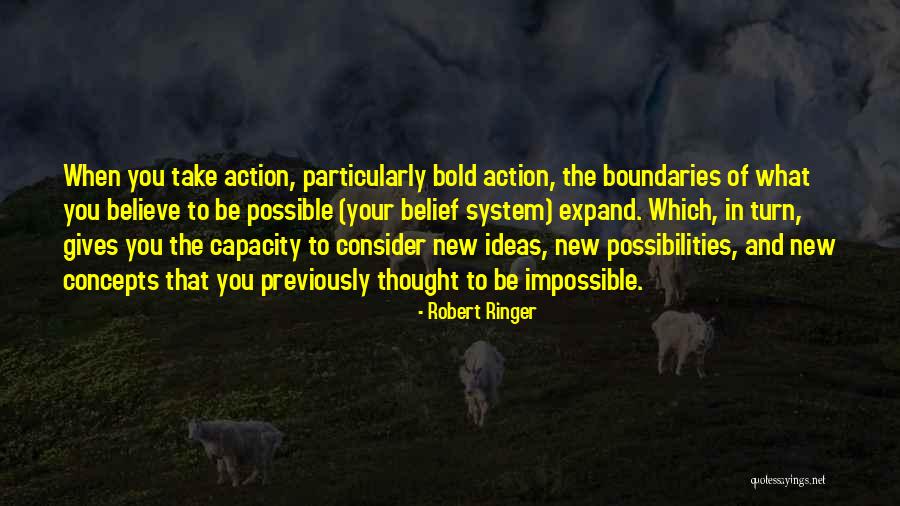 When you take action, particularly bold action, the boundaries of what you believe to be possible (your belief system) expand. Which, in turn, gives you the capacity to consider new ideas, new possibilities, and new concepts that you previously thought to be impossible. — Robert Ringer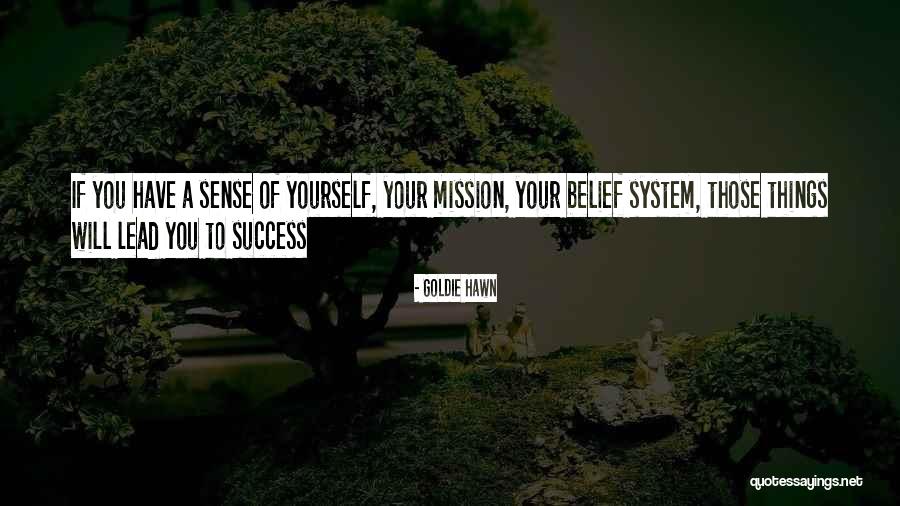 If you have a sense of yourself, your mission, your belief system, those things will lead you to success — Goldie Hawn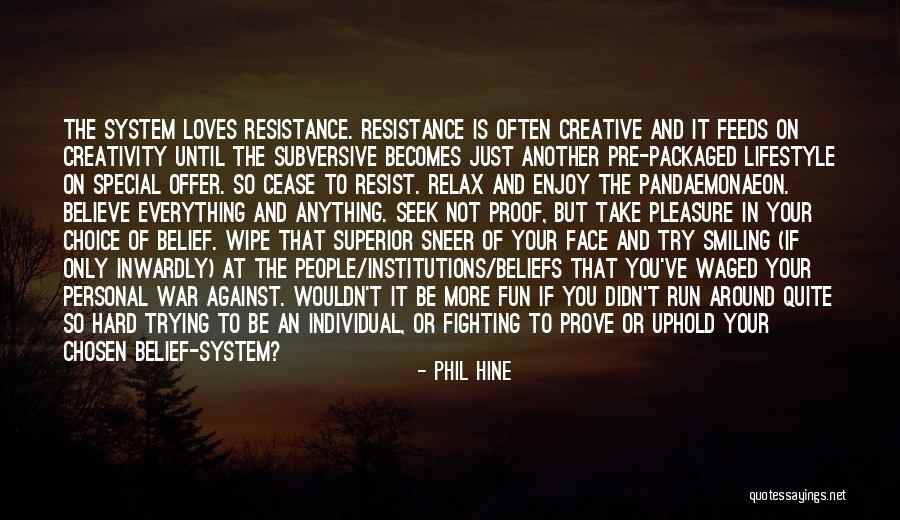 The system loves resistance. Resistance is often creative and it feeds on creativity until the subversive becomes just another pre-packaged lifestyle on special offer. So Cease to Resist. Relax and enjoy the PandaemonAeon. Believe everything and anything. Seek not proof, but take pleasure in your choice of belief. Wipe that superior sneer of your face and try smiling (if only inwardly) at the people/institutions/beliefs that you've waged your personal war against. Wouldn't it be more fun if you didn't run around quite so hard trying to be an individual, or fighting to prove or uphold your chosen belief-system? — Phil Hine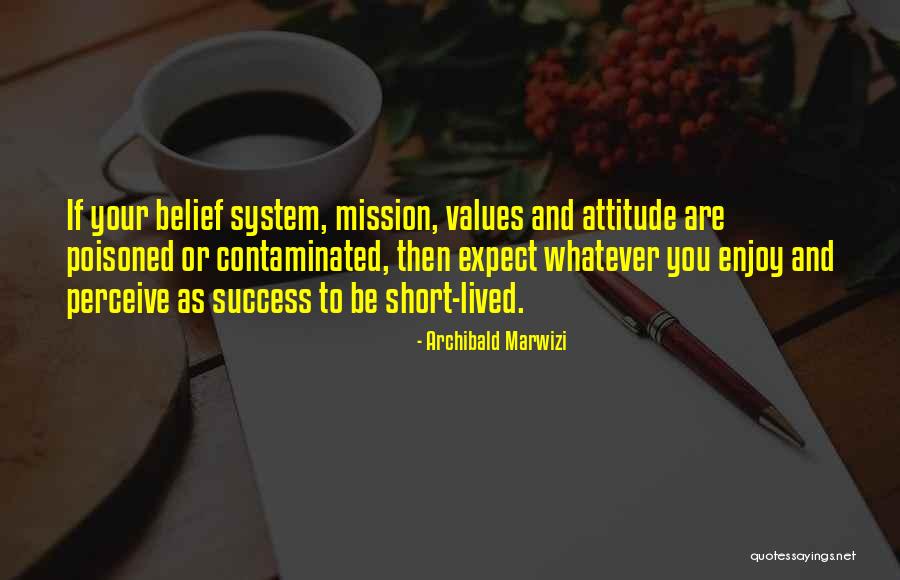 If your belief system, mission, values and attitude are poisoned or contaminated, then expect whatever you enjoy and perceive as success to be short-lived. — Archibald Marwizi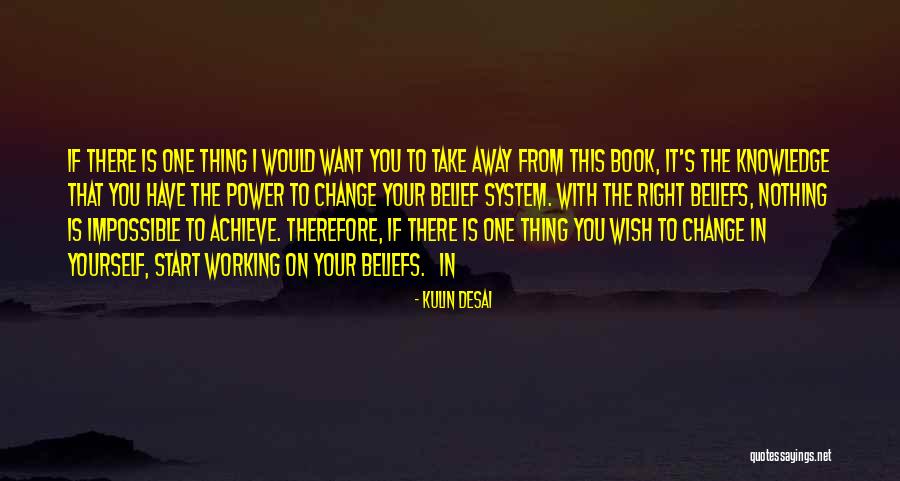 If there is one thing I would want you to take away from this book, it's the knowledge that you have the power to change your belief system. With the right beliefs, nothing is impossible to achieve. Therefore, if there is one thing you wish to change in yourself, start working on your beliefs. IN — Kulin Desai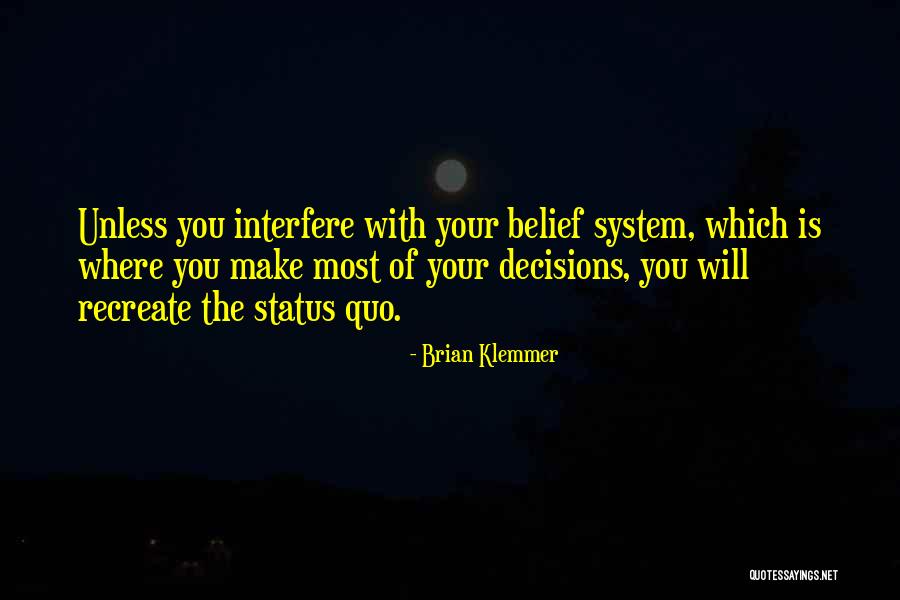 Unless you interfere with your belief system, which is where you make most of your decisions, you will recreate the status quo. — Brian Klemmer
You can say, "I don't believe in anything," but you do because you believe in nothing. That is your belief system. — Darren Lynn Bousman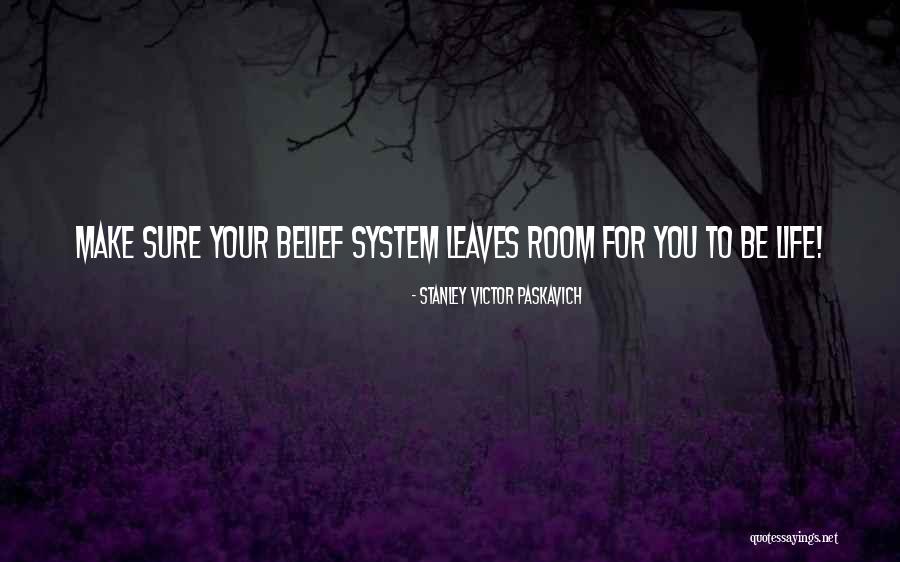 Make sure your Belief system leaves room for you to Be Life! — Stanley Victor Paskavich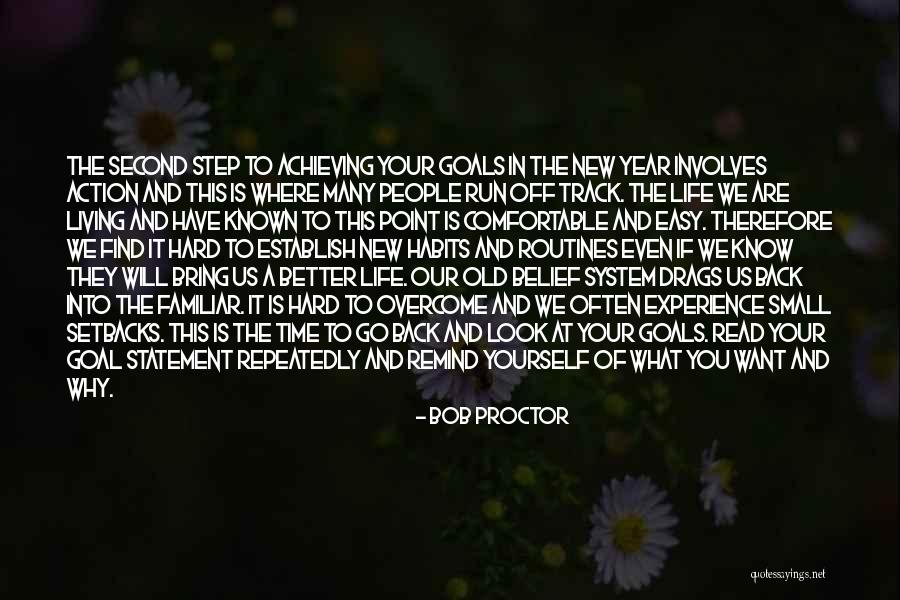 The second step to achieving your goals in the New Year involves action and this is where many people run off track. The life we are living and have known to this point is comfortable and easy. Therefore we find it hard to establish new habits and routines even if we know they will bring us a better life. Our old belief system drags us back into the familiar. It is hard to overcome and we often experience small setbacks. This is the time to go back and look at your goals. Read your goal statement repeatedly and remind yourself of what you want and why. — Bob Proctor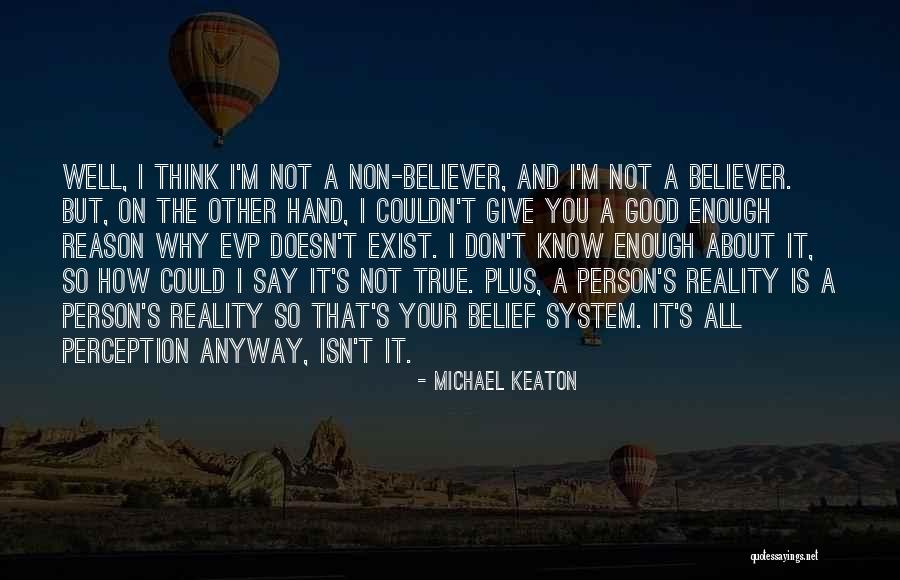 Well, I think I'm not a non-believer, and I'm not a believer. But, on the other hand, I couldn't give you a good enough reason why EVP doesn't exist. I don't know enough about it, so how could I say it's not true. Plus, a person's reality is a person's reality so that's your belief system. It's all perception anyway, isn't it. — Michael Keaton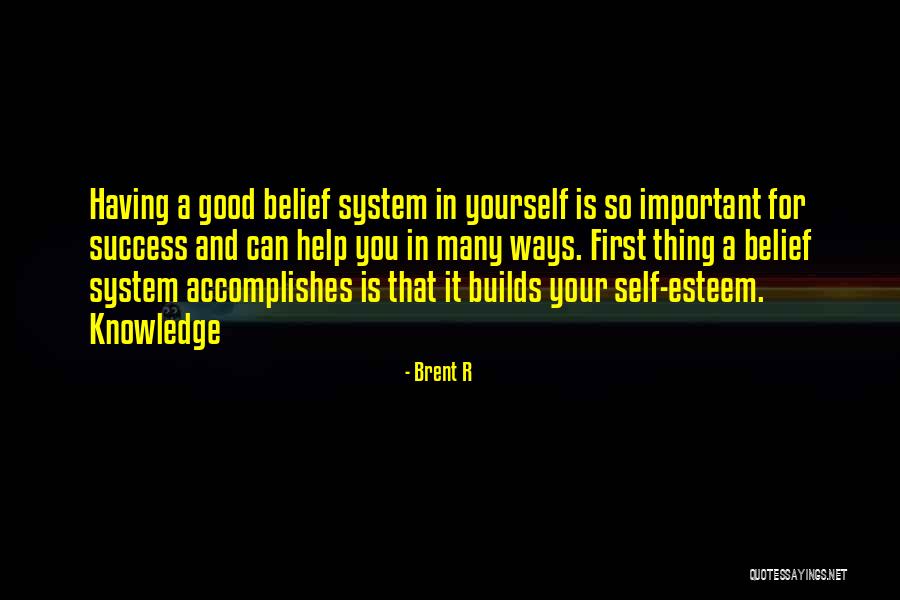 Having a good belief system in yourself is so important for success and can help you in many ways. First thing a belief system accomplishes is that it builds your self-esteem. Knowledge — Brent R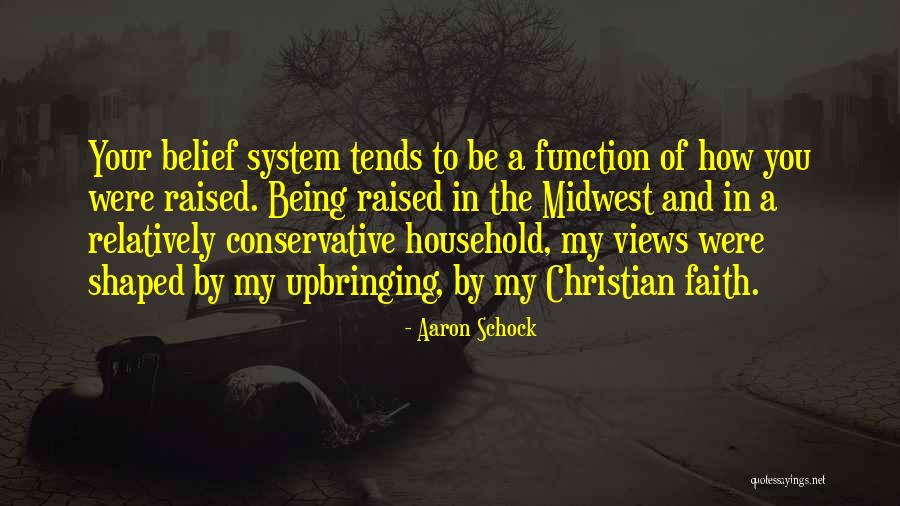 Your belief system tends to be a function of how you were raised. Being raised in the Midwest and in a relatively conservative household, my views were shaped by my upbringing, by my Christian faith. — Aaron Schock
Being generous often consists of simply extending a hand. That's hard to do if you are grasping tightly to your righteousness, your belief system, your superiority, your assumptions about others, your definition of normal. — Patti Digh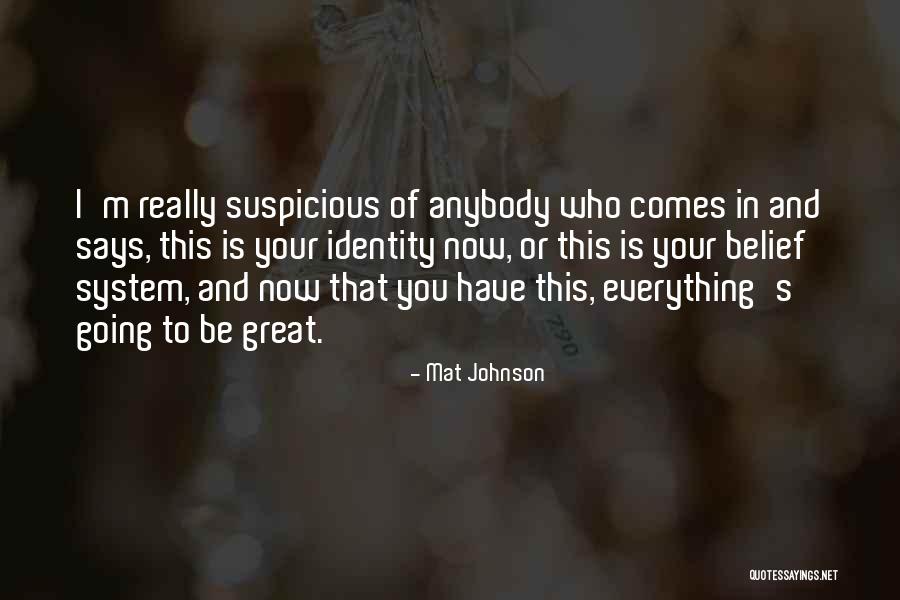 I'm really suspicious of anybody who comes in and says, this is your identity now, or this is your belief system, and now that you have this, everything's going to be great. — Mat Johnson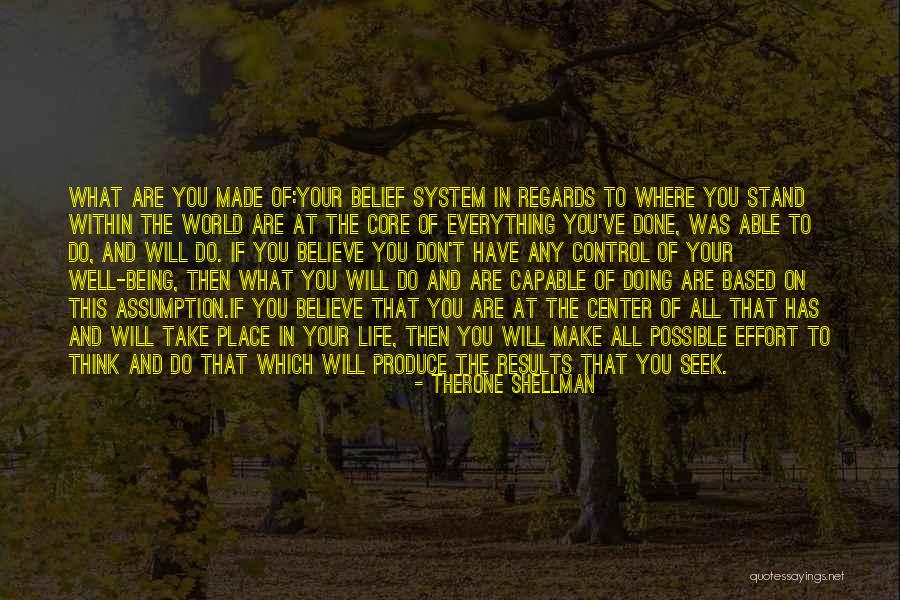 What Are You Made of:
Your belief system in regards to where you stand within the world are at the Core of everything you've done, was able to do, and will do.
If you believe you don't have any control of your well-being, then what you will do and are capable of doing are based on this assumption.
If you believe that you are at the center of all that has and will take place in your life, then you will make all possible effort to think and do that which will produce the results that you seek. — Therone Shellman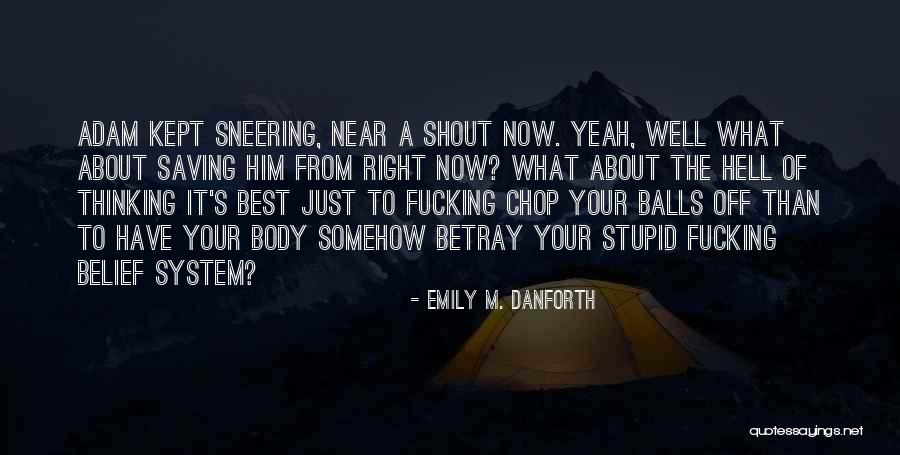 Adam kept sneering, near a shout now. Yeah, well what about saving him from right now? What about the hell of thinking it's best just to fucking chop your balls off than to have your body somehow betray your stupid fucking belief system? — Emily M. Danforth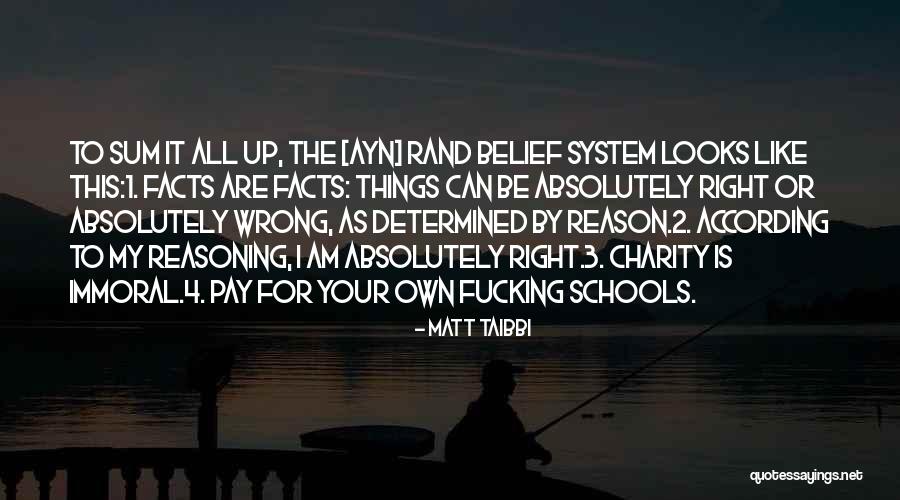 To sum it all up, the [Ayn] Rand belief system looks like this:
1. Facts are facts: things can be absolutely right or absolutely wrong, as determined by reason.
2. According to my reasoning, I am absolutely right.
3. Charity is immoral.
4. Pay for your own fucking schools. — Matt Taibbi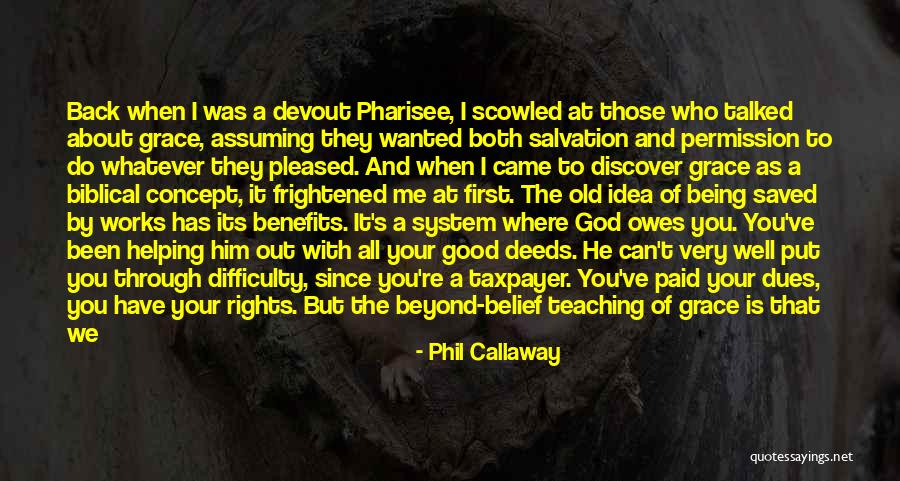 Back when I was a devout Pharisee, I scowled at those who talked about grace, assuming they wanted both salvation and permission to do whatever they pleased. And when I came to discover grace as a biblical concept, it frightened me at first. The old idea of being saved by works has its benefits. It's a system where God owes you. You've been helping him out with all your good deeds. He can't very well put you through difficulty, since you're a taxpayer. You've paid your dues, you have your rights. But the beyond-belief teaching of grace is that we get what we can never pay for and more, including joy and hope and the desire to please him. I like living by God's grace a lot better than relying on my own efforts. — Phil Callaway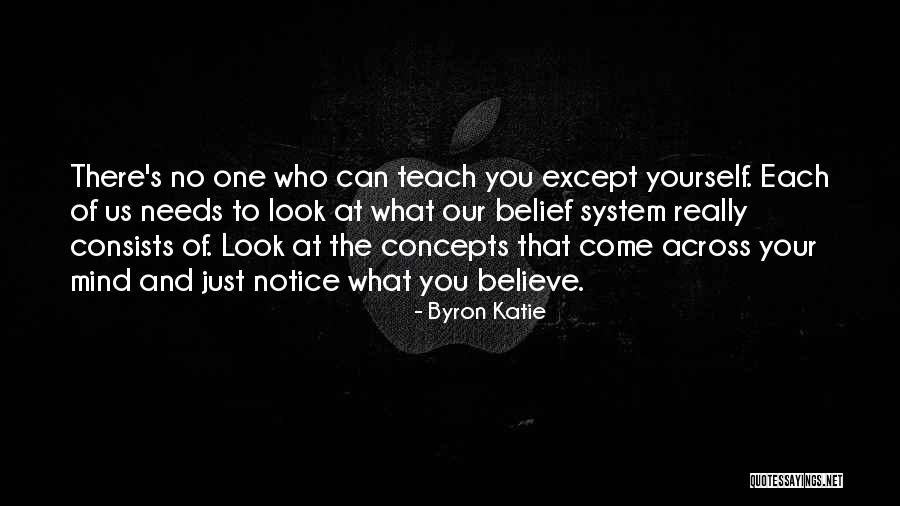 There's no one who can teach you except yourself. Each of us needs to look at what our belief system really consists of. Look at the concepts that come across your mind and just notice what you believe. — Byron Katie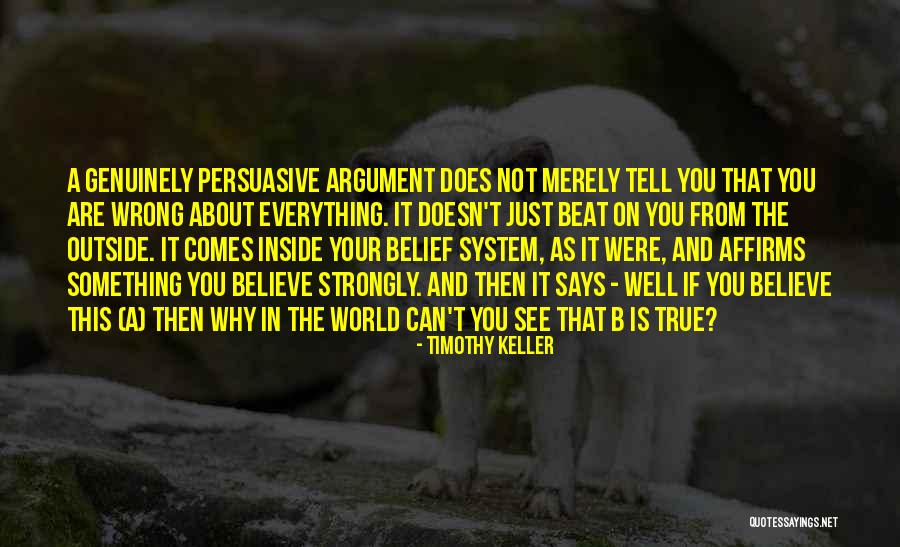 A genuinely persuasive argument does not merely tell you that you are wrong about everything. It doesn't just beat on you from the outside. It comes inside your belief system, as it were, and affirms something you believe strongly. And then it says - well if you believe this (A) then why in the world can't you see that B is true? — Timothy Keller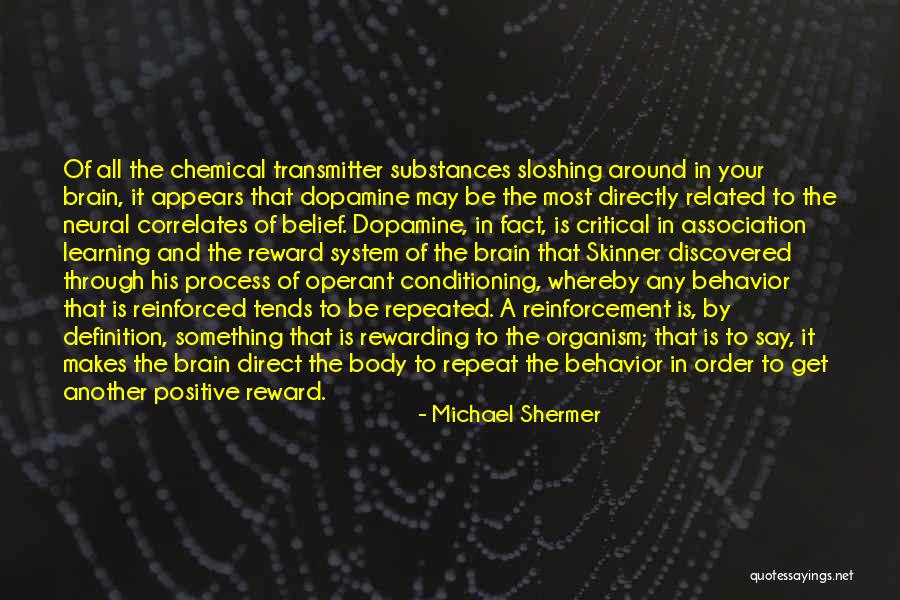 Of all the chemical transmitter substances sloshing around in your brain, it appears that dopamine may be the most directly related to the neural correlates of belief. Dopamine, in fact, is critical in association learning and the reward system of the brain that Skinner discovered through his process of operant conditioning, whereby any behavior that is reinforced tends to be repeated. A reinforcement is, by definition, something that is rewarding to the organism; that is to say, it makes the brain direct the body to repeat the behavior in order to get another positive reward. — Michael Shermer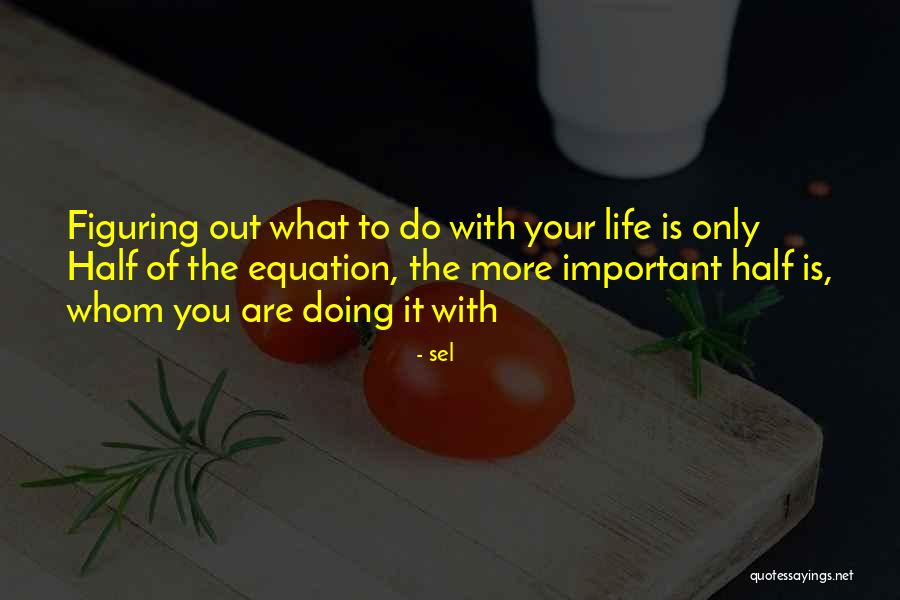 Figuring out what to do with your life is only Half of the equation, the more important half is, whom you are doing it with — Sel