You Can't Control The Uncontrollable Quotes & Sayings
Enjoy reading and share 36 famous quotes about You Can't Control The Uncontrollable with everyone.
Top You Can't Control The Uncontrollable Quotes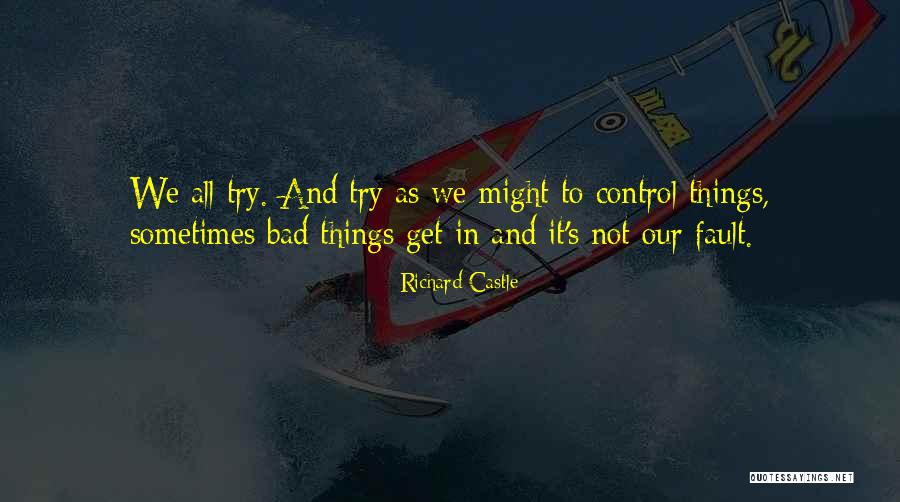 We all try. And try as we might to control things, sometimes bad things get in and it's not our fault. — Richard Castle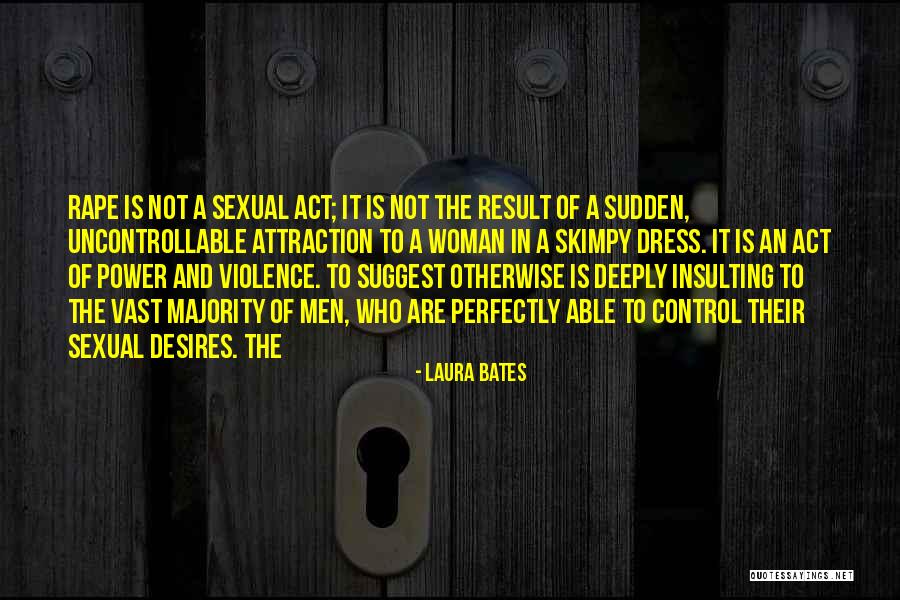 Rape is not a sexual act; it is not the result of a sudden, uncontrollable attraction to a woman in a skimpy dress. It is an act of power and violence. To suggest otherwise is deeply insulting to the vast majority of men, who are perfectly able to control their sexual desires. The — Laura Bates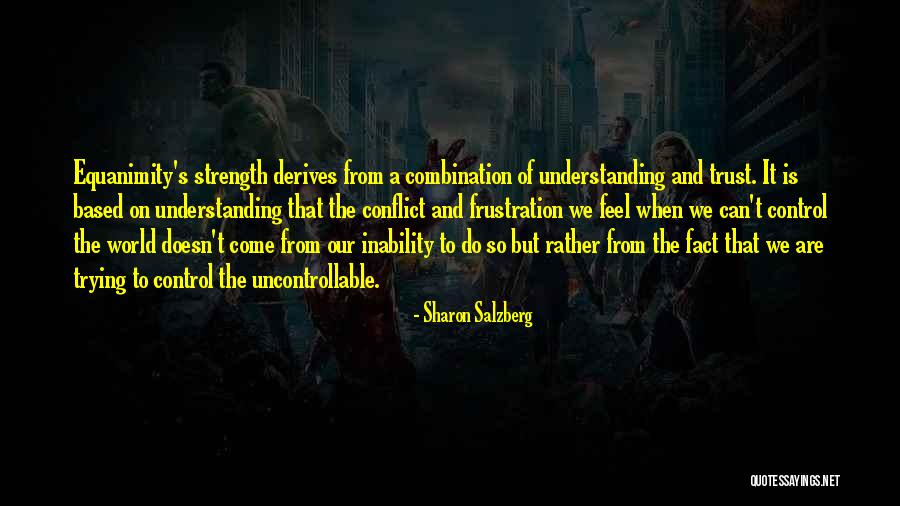 Equanimity's strength derives from a combination of understanding and trust. It is based on understanding that the conflict and frustration we feel when we can't control the world doesn't come from our inability to do so but rather from the fact that we are trying to control the uncontrollable. — Sharon Salzberg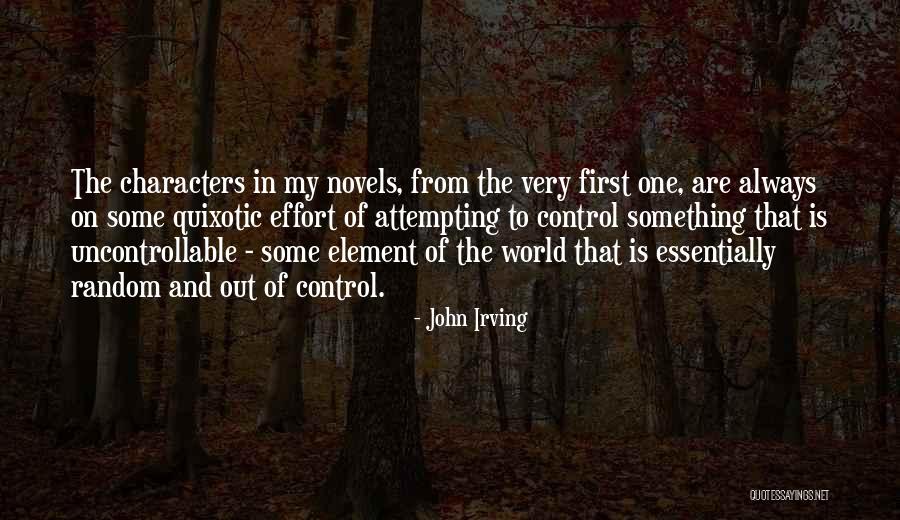 The characters in my novels, from the very first one, are always on some quixotic effort of attempting to control something that is uncontrollable - some element of the world that is essentially random and out of control. — John Irving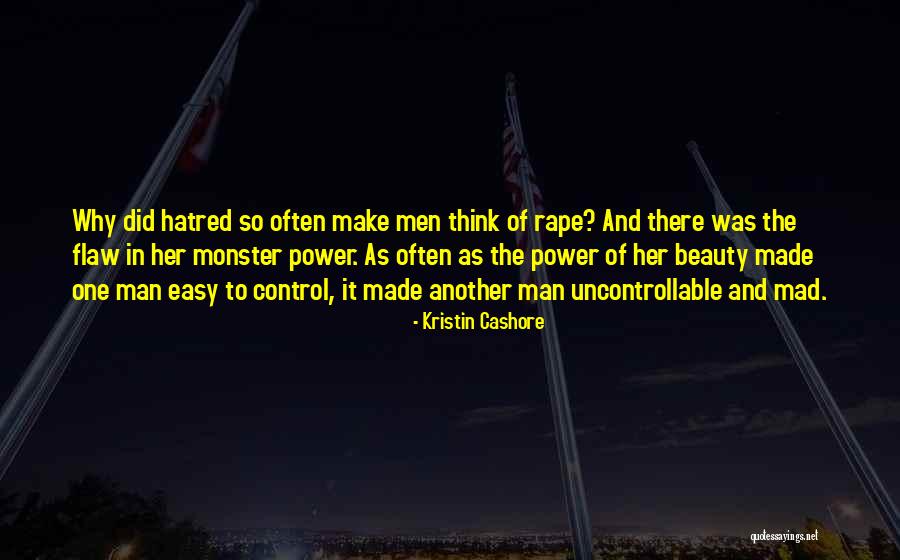 Why did hatred so often make men think of rape? And there was the flaw in her monster power. As often as the power of her beauty made one man easy to control, it made another man uncontrollable and mad. — Kristin Cashore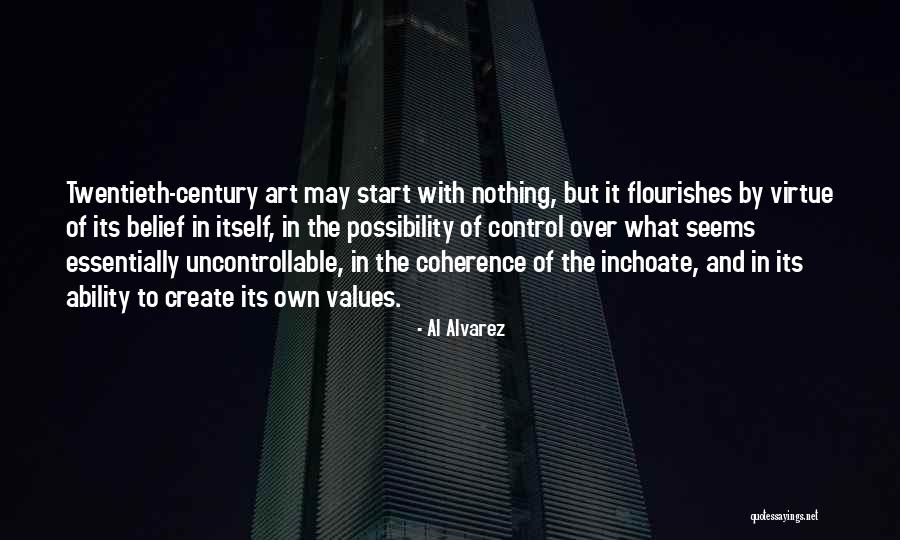 Twentieth-century art may start with nothing, but it flourishes by virtue of its belief in itself, in the possibility of control over what seems essentially uncontrollable, in the coherence of the inchoate, and in its ability to create its own values. — Al Alvarez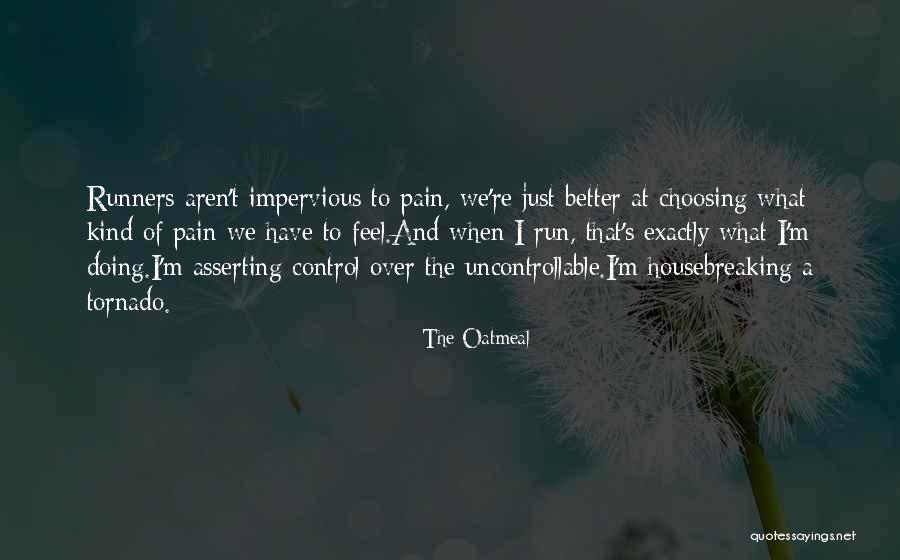 Runners aren't impervious to pain, we're just better at choosing what kind of pain we have to feel.

And when I run, that's exactly what I'm doing.

I'm asserting control over the uncontrollable.

I'm housebreaking a tornado. — The Oatmeal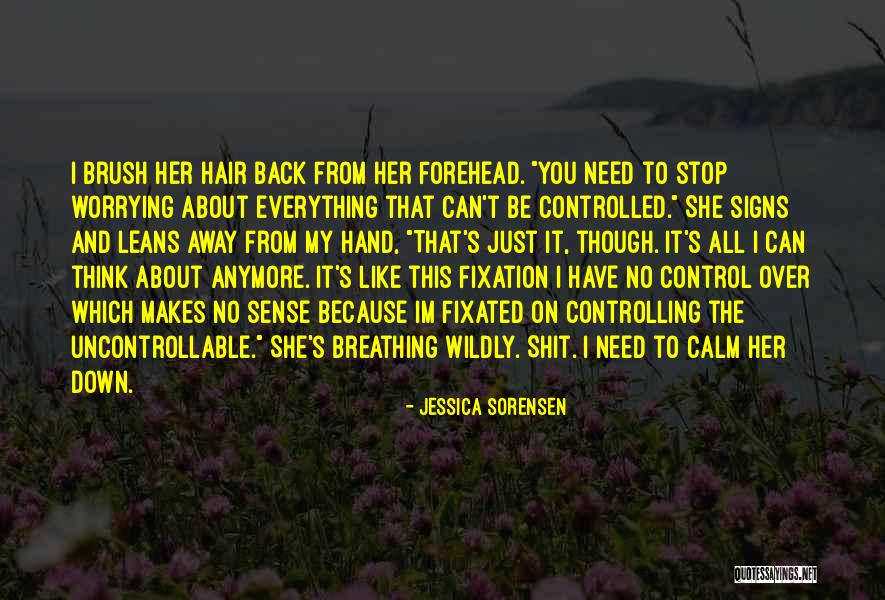 I brush her hair back from her forehead. "You need to stop worrying about everything that can't be controlled." She signs and leans away from my hand, "That's just it, though. It's all I can think about anymore. It's like this fixation I have no control over which makes no sense because Im fixated on controlling the uncontrollable." She's breathing wildly. Shit. I need to calm her down. — Jessica Sorensen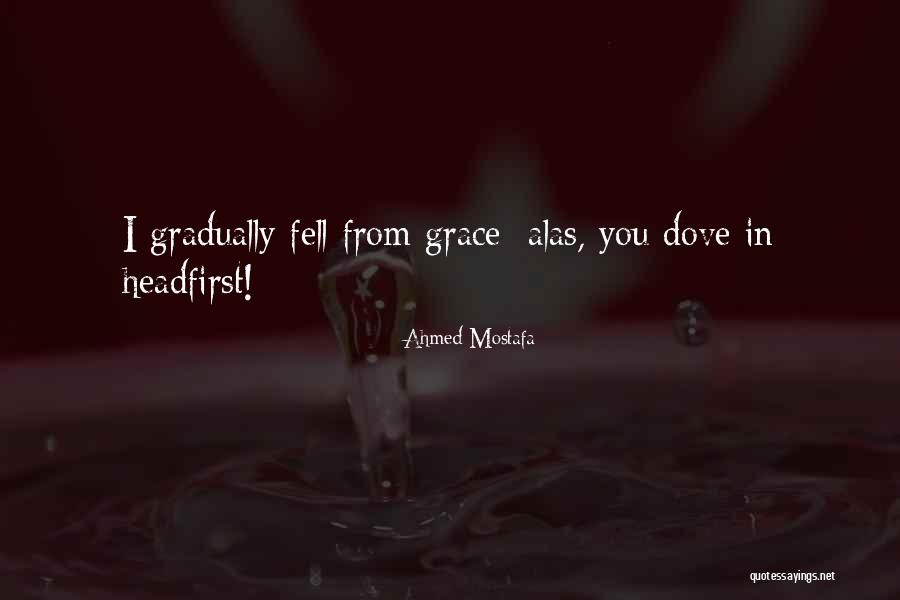 I gradually fell from grace; alas, you dove in headfirst! — Ahmed Mostafa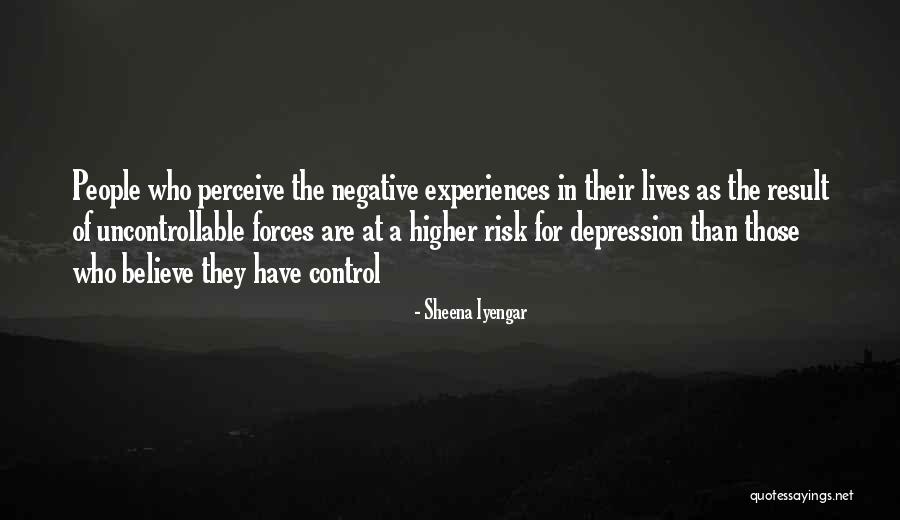 People who perceive the negative experiences in their lives as the result of uncontrollable forces are at a higher risk for depression than those who believe they have control — Sheena Iyengar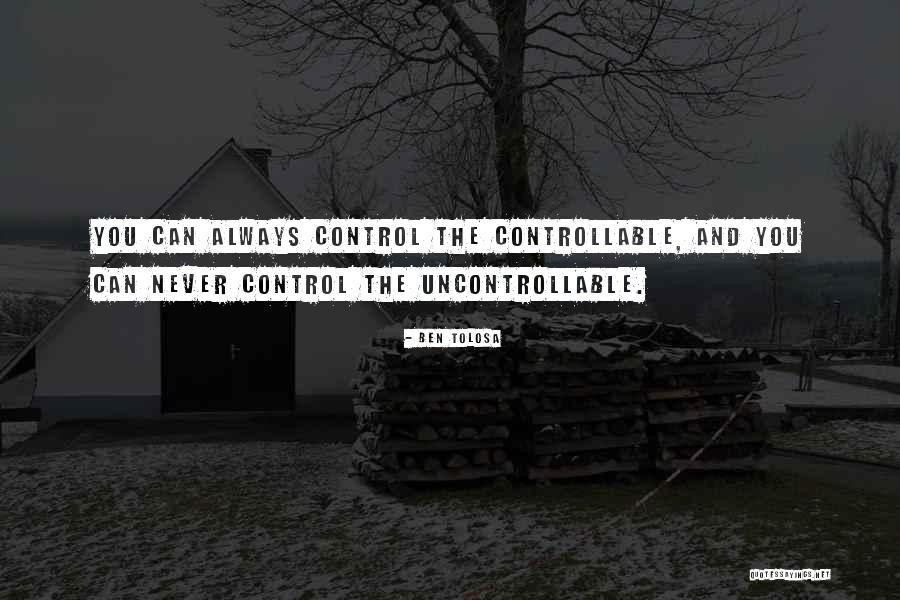 You can always control the controllable, and you can never control the uncontrollable. — Ben Tolosa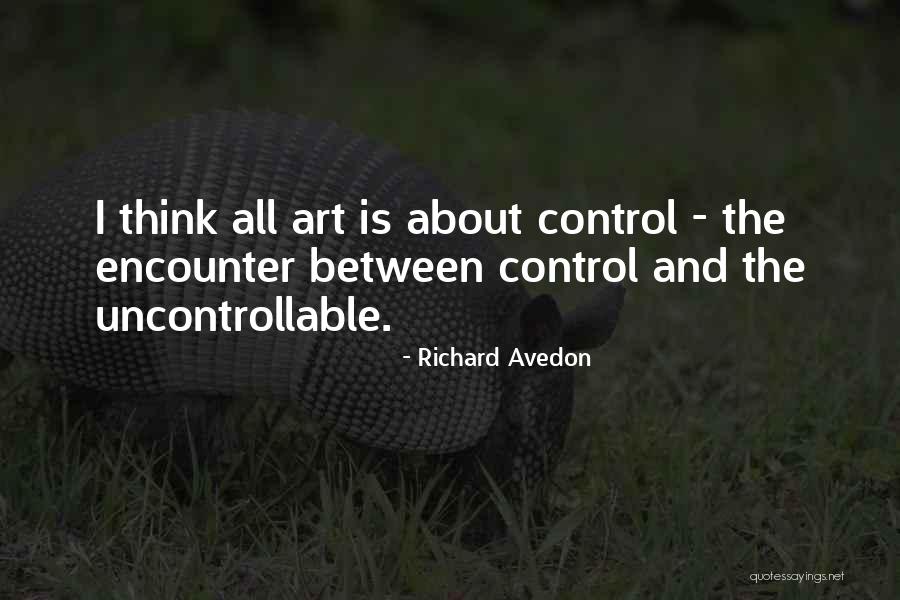 I think all art is about control - the encounter between control and the uncontrollable. — Richard Avedon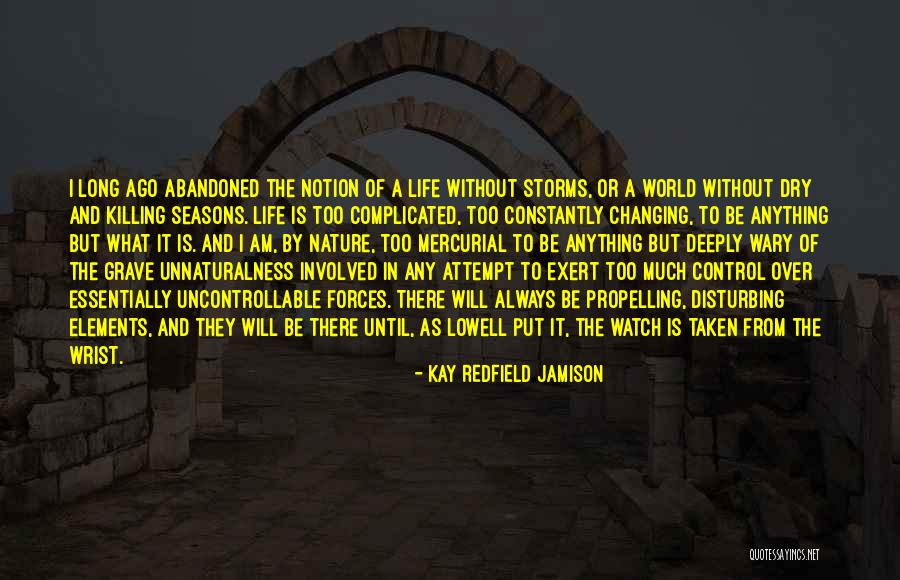 I long ago abandoned the notion of a life without storms, or a world without dry and killing seasons. Life is too complicated, too constantly changing, to be anything but what it is. And I am, by nature, too mercurial to be anything but deeply wary of the grave unnaturalness involved in any attempt to exert too much control over essentially uncontrollable forces. There will always be propelling, disturbing elements, and they will be there until, as Lowell put it, the watch is taken from the wrist. — Kay Redfield Jamison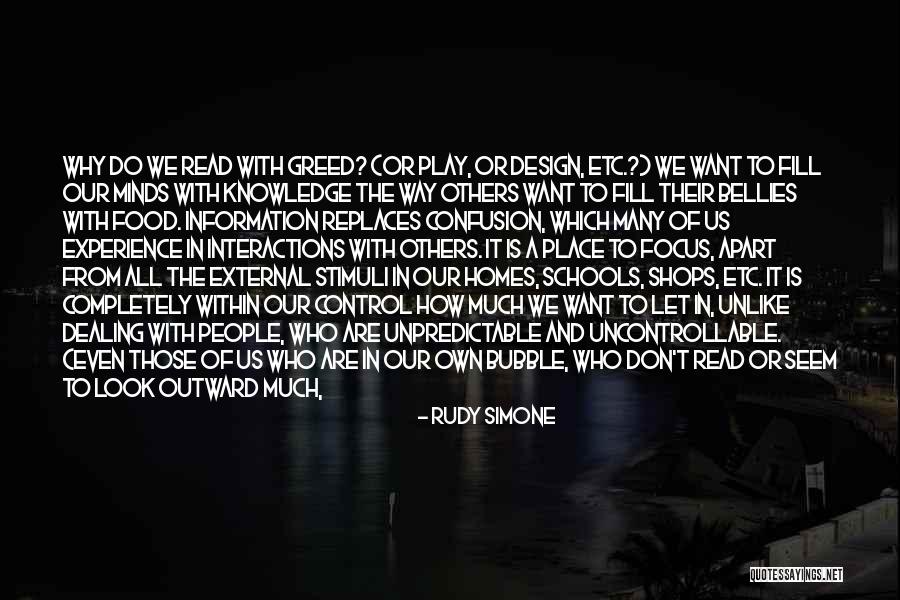 Why do we read with greed? (Or play, or design, etc.?) We want to fill our minds with knowledge the way others want to fill their bellies with food. Information replaces confusion, which many of us experience in interactions with others. It is a place to focus, apart from all the external stimuli in our homes, schools, shops, etc. It is completely within our control how much we want to let in, unlike dealing with people, who are unpredictable and uncontrollable. (Even those of us who are in our own bubble, who don't read or seem to look outward much, may have a rich internal world and not yet have such a need to connect.) — Rudy Simone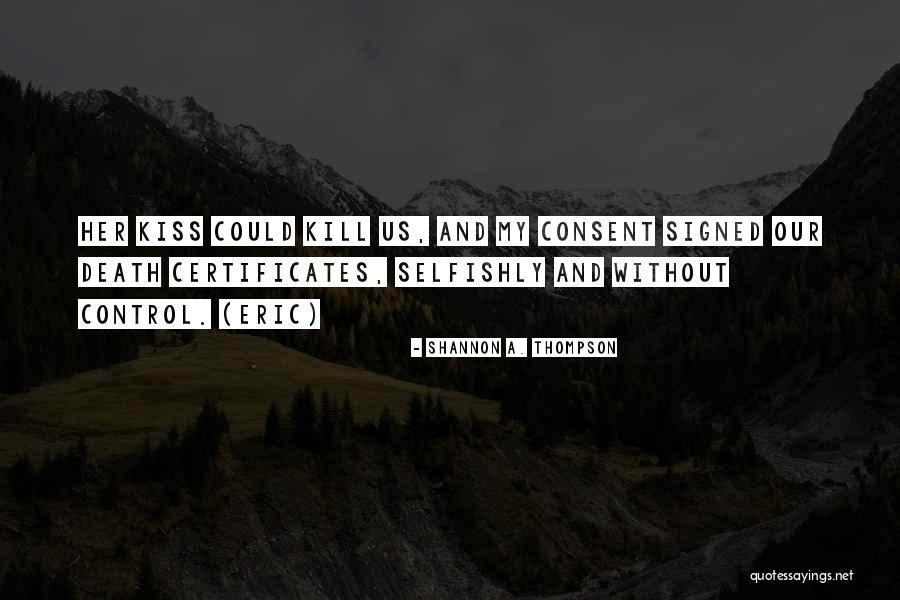 Her kiss could kill us, and my consent signed our death certificates, selfishly and without control. (Eric) — Shannon A. Thompson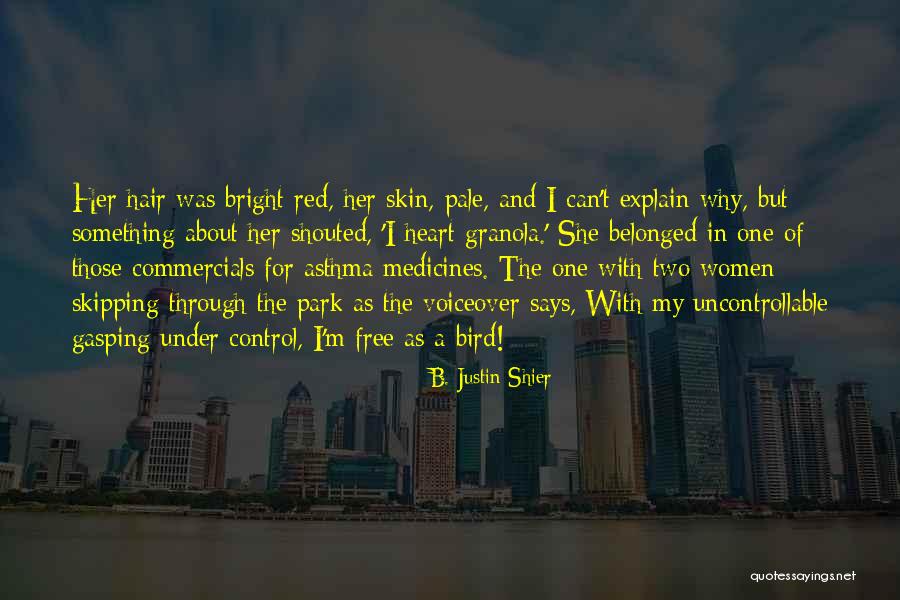 Her hair was bright red, her skin, pale, and I can't explain why, but something about her shouted, 'I heart granola.' She belonged in one of those commercials for asthma medicines. The one with two women skipping through the park as the voiceover says, With my uncontrollable gasping under control, I'm free as a bird! — B. Justin Shier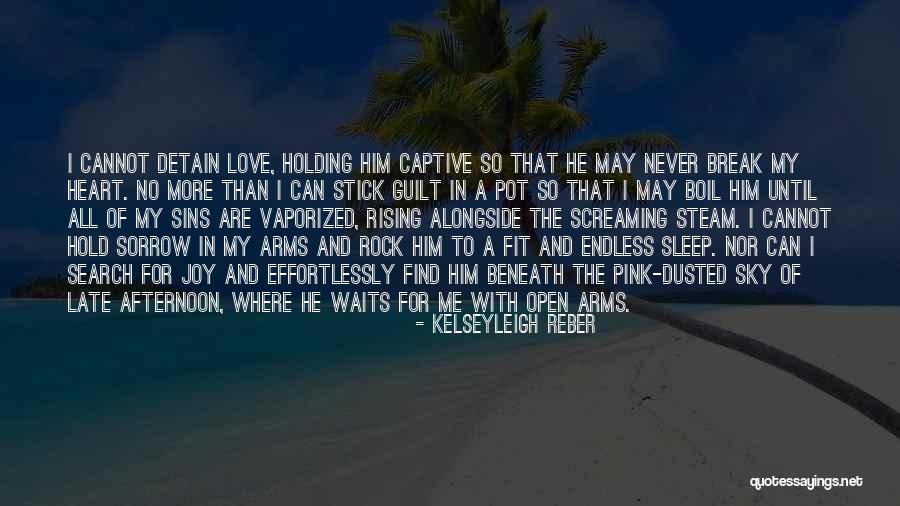 I cannot detain Love, holding him captive so that he may never break my heart. No more than I can stick Guilt in a pot so that I may boil him until all of my sins are vaporized, rising alongside the screaming steam. I cannot hold Sorrow in my arms and rock him to a fit and endless sleep. Nor can I search for Joy and effortlessly find him beneath the pink-dusted sky of late afternoon, where he waits for me with open arms. — Kelseyleigh Reber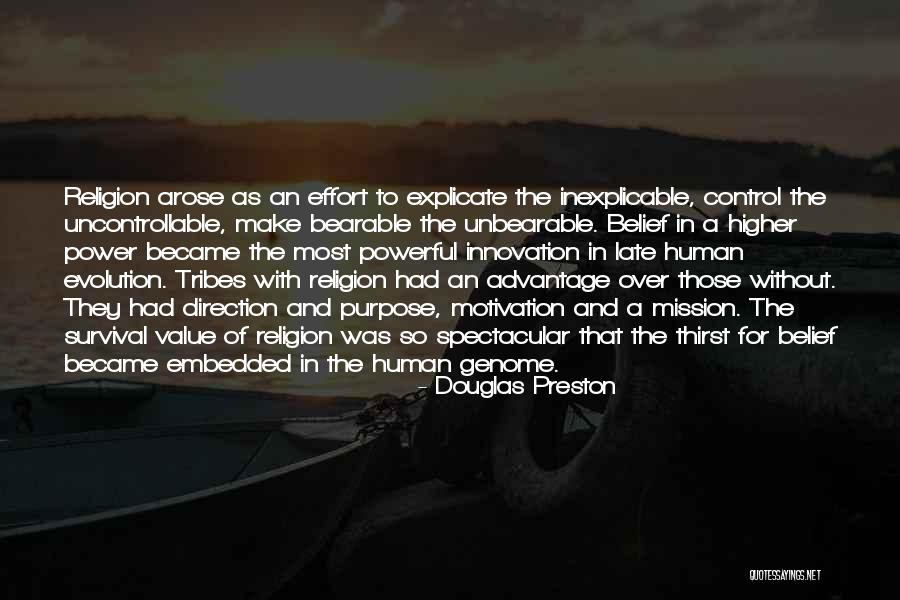 Religion arose as an effort to explicate the inexplicable, control the uncontrollable, make bearable the unbearable. Belief in a higher power became the most powerful innovation in late human evolution. Tribes with religion had an advantage over those without. They had direction and purpose, motivation and a mission. The survival value of religion was so spectacular that the thirst for belief became embedded in the human genome. — Douglas Preston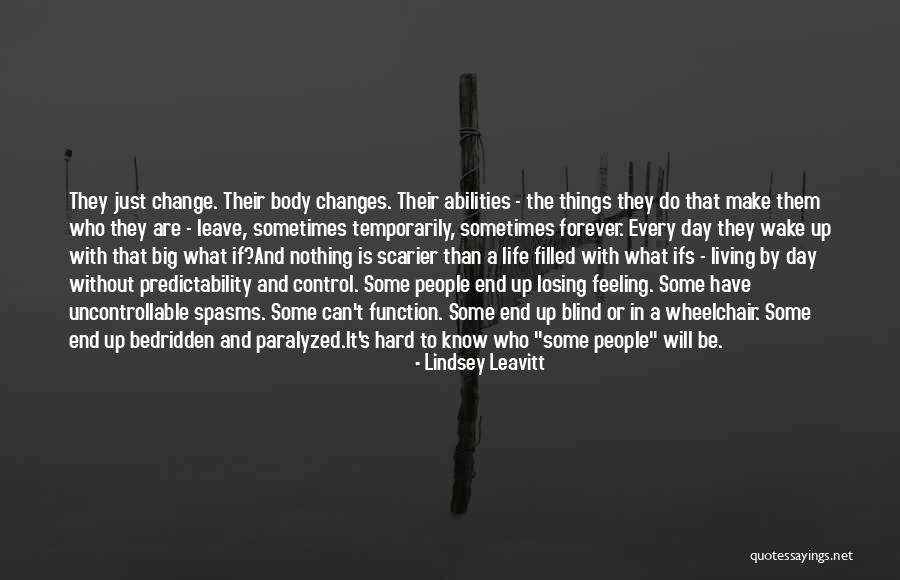 They just change. Their body changes. Their abilities - the things they do that make them who they are - leave, sometimes temporarily, sometimes forever. Every day they wake up with that big what if?
And nothing is scarier than a life filled with what ifs - living by day without predictability and control. Some people end up losing feeling. Some have uncontrollable spasms. Some can't function. Some end up blind or in a wheelchair. Some end up bedridden and paralyzed.
It's hard to know who "some people" will be. — Lindsey Leavitt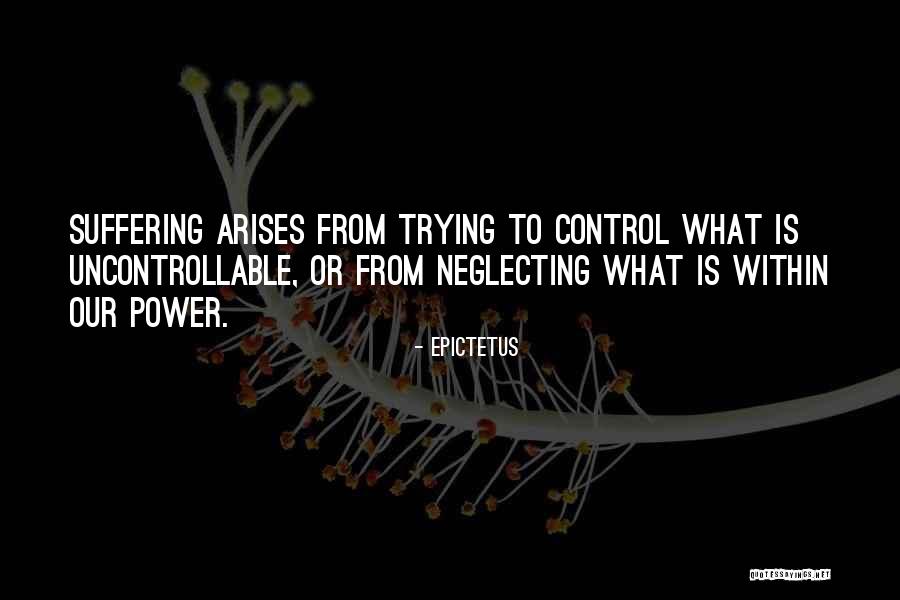 Suffering arises from trying to control what is uncontrollable, or from neglecting what is within our power. — Epictetus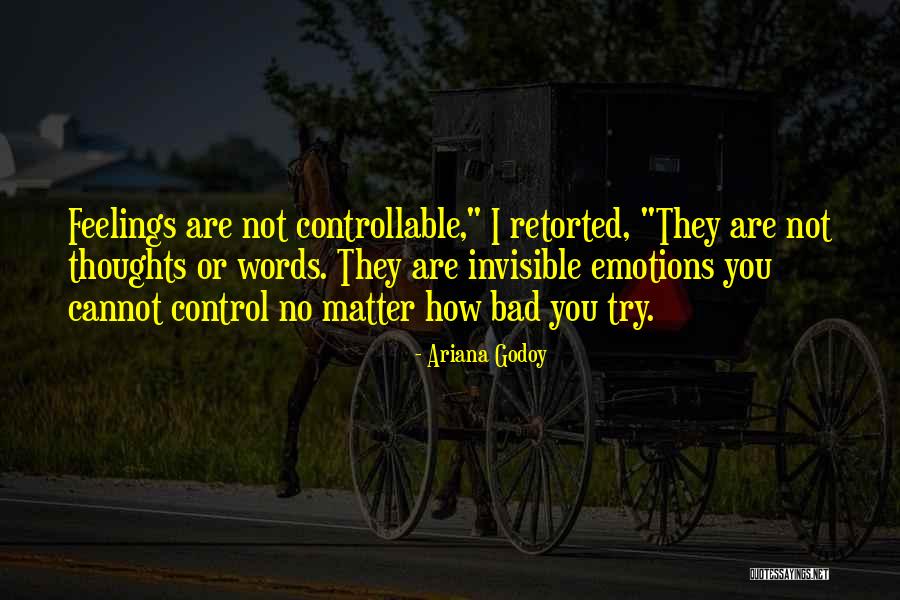 Feelings are not controllable," I retorted, "They are not thoughts or words. They are invisible emotions you cannot control no matter how bad you try. — Ariana Godoy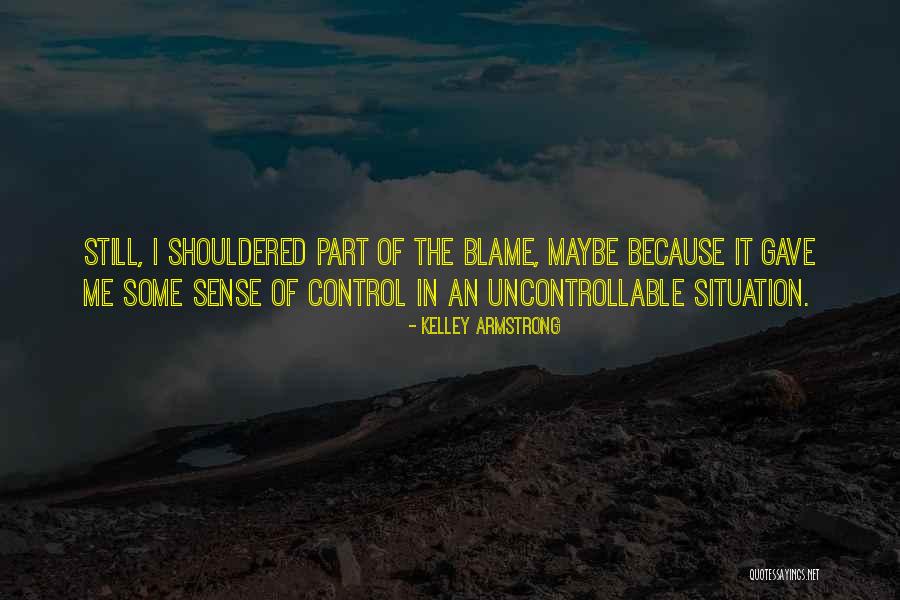 Still, I shouldered part of the blame, maybe because it gave me some sense of control in an uncontrollable situation. — Kelley Armstrong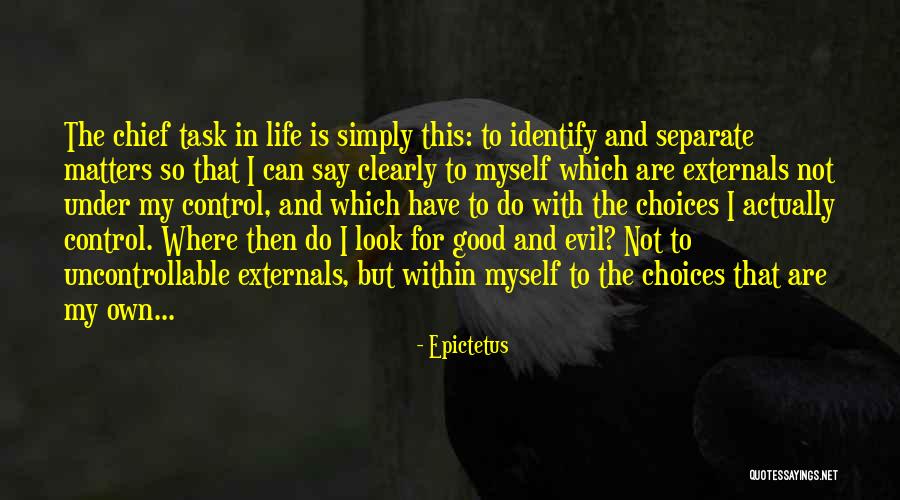 The chief task in life is simply this: to identify and separate matters so that I can say clearly to myself which are externals not under my control, and which have to do with the choices I actually control. Where then do I look for good and evil? Not to uncontrollable externals, but within myself to the choices that are my own... — Epictetus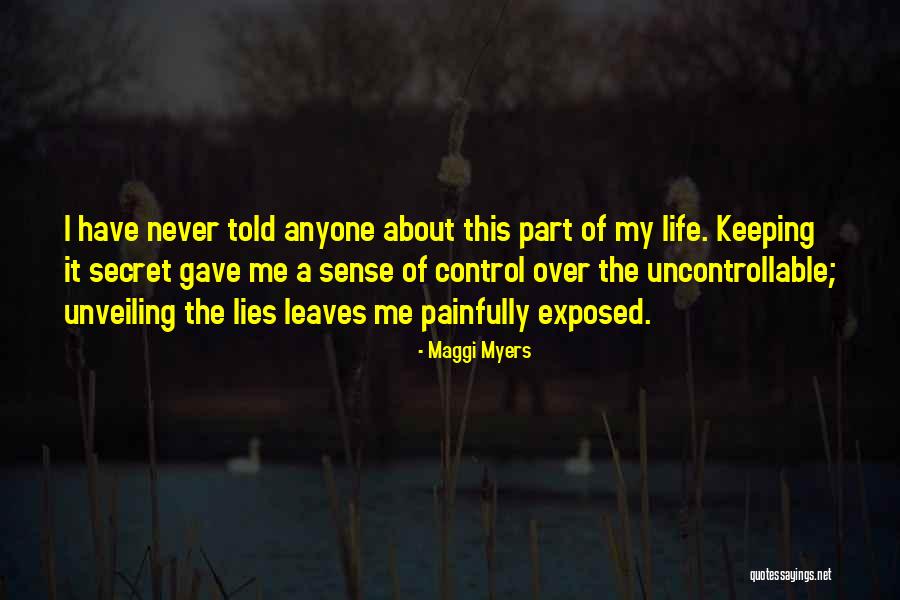 I have never told anyone about this part of my life. Keeping it secret gave me a sense of control over the uncontrollable; unveiling the lies leaves me painfully exposed. — Maggi Myers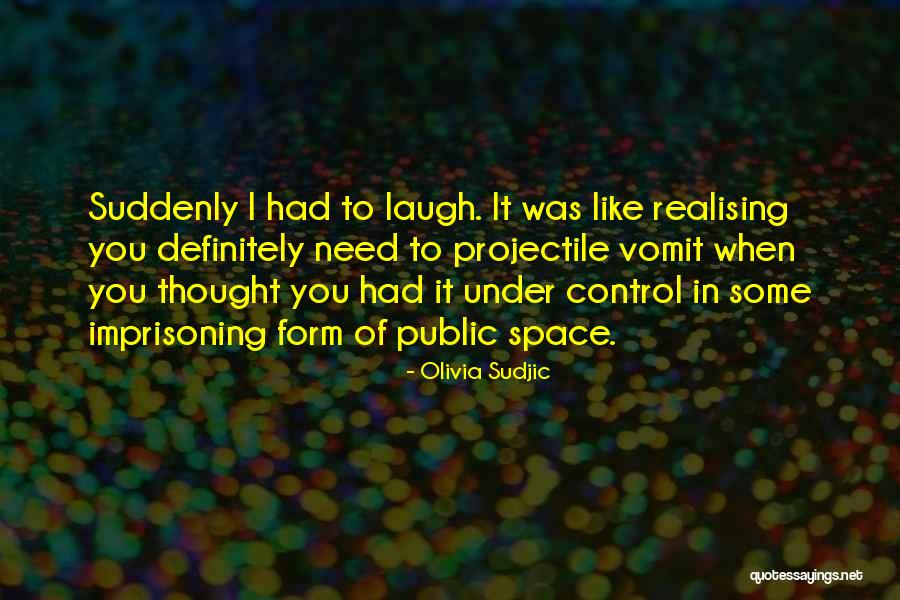 Suddenly I had to laugh. It was like realising you definitely need to projectile vomit when you thought you had it under control in some imprisoning form of public space. — Olivia Sudjic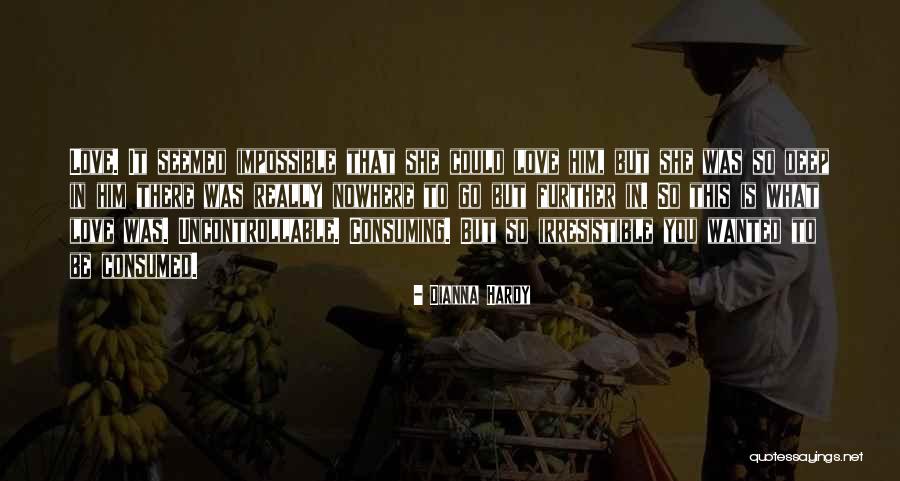 Love. It seemed impossible that she could love him, but she was so deep in him there was really nowhere to go but further in. So this is what love was. Uncontrollable. Consuming. But so irresistible you wanted to be consumed. — Dianna Hardy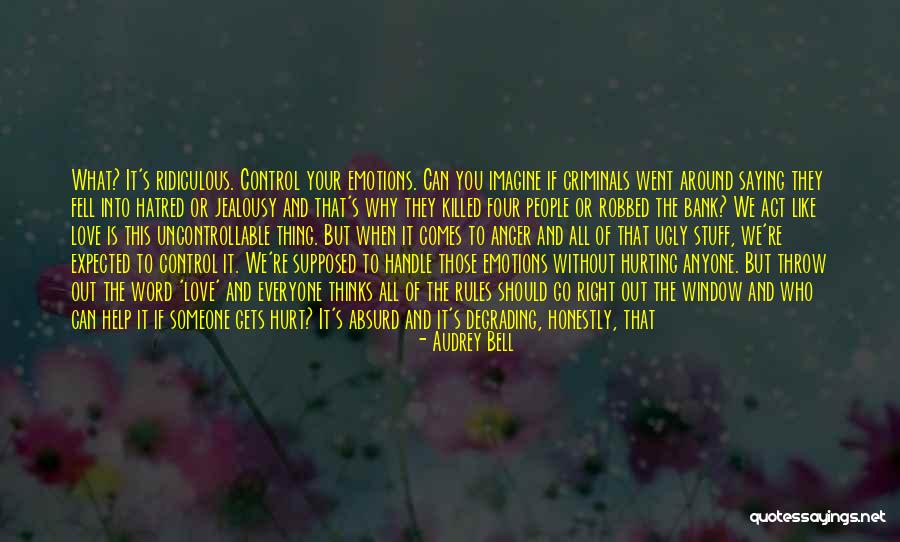 What? It's ridiculous. Control your emotions. Can you imagine if criminals went around saying they fell into hatred or jealousy and that's why they killed four people or robbed the bank? We act like love is this uncontrollable thing. But when it comes to anger and all of that ugly stuff, we're expected to control it. We're supposed to handle those emotions without hurting anyone. But throw out the word 'love' and everyone thinks all of the rules should go right out the window and who can help it if someone gets hurt? It's absurd and it's degrading, honestly, that we expect people to control themselves except for when it comes to wanting to sleep with someone. — Audrey Bell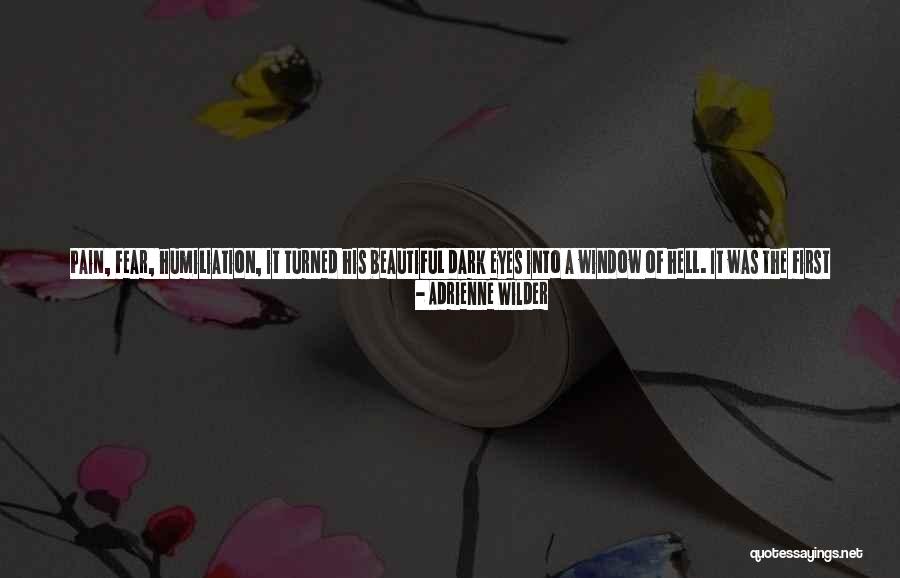 Pain, fear, humiliation, it turned his beautiful dark eyes into a window of hell. It was the first glimpse I'd had of the prison he lived in. A captive to the uncontrollable tics ravaging his body. I think it was then I understood the solace he found in the light. Just as it blinded the world to seeing what was there, it blinded Morgan. It tucked him away from the things he could not control and the things reminding him he was different. How he would never truly fit in. How he existed on the edge between here and wherever it was he went when the light spoke to him. — Adrienne Wilder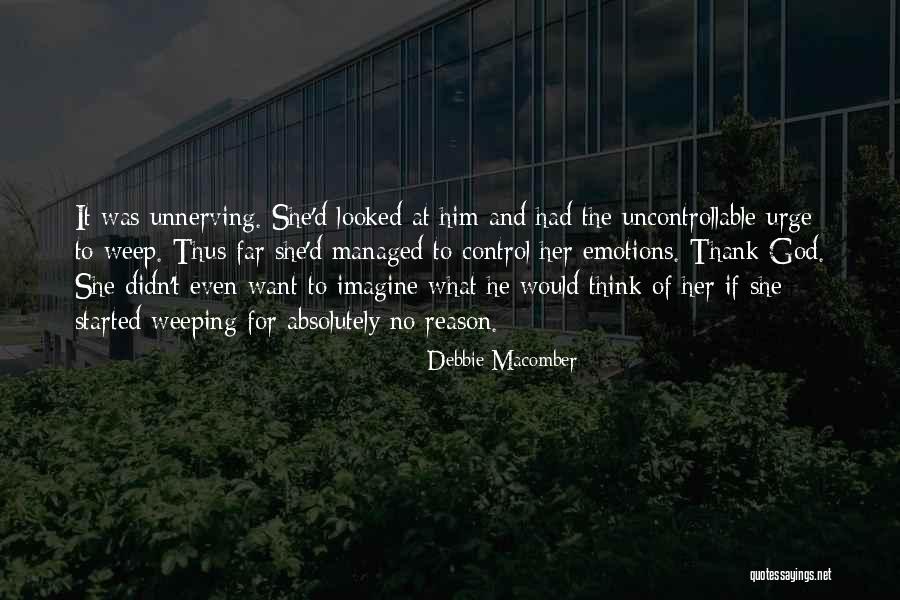 It was unnerving. She'd looked at him and had the uncontrollable urge to weep. Thus far she'd managed to control her emotions. Thank God. She didn't even want to imagine what he would think of her if she started weeping for absolutely no reason. — Debbie Macomber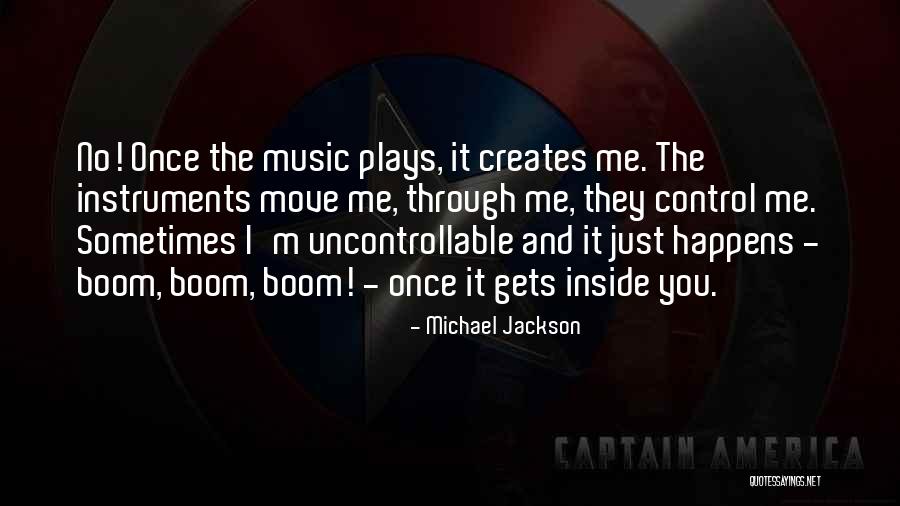 No! Once the music plays, it creates me. The instruments move me, through me, they control me. Sometimes I'm uncontrollable and it just happens - boom, boom, boom! - once it gets inside you. — Michael Jackson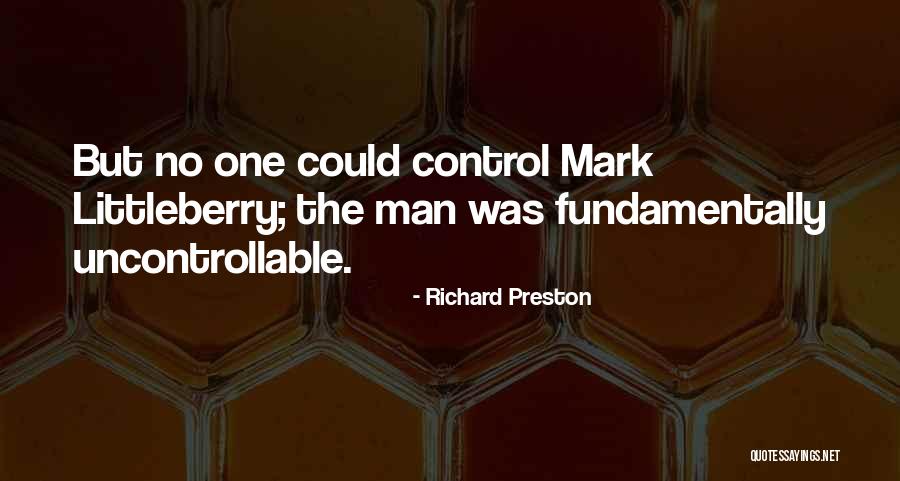 But no one could control Mark Littleberry; the man was fundamentally uncontrollable. — Richard Preston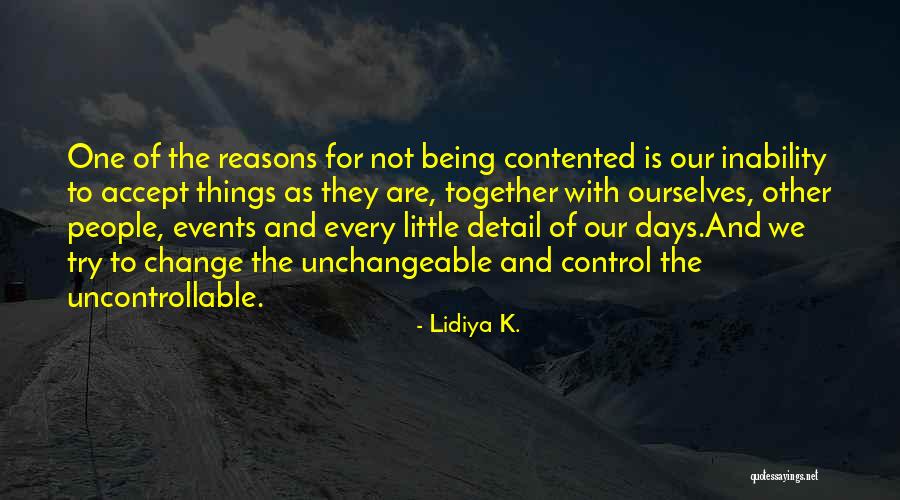 One of the reasons for not being contented is our inability to accept things as they are, together with ourselves, other people, events and every little detail of our days.
And we try to change the unchangeable and control the uncontrollable. — Lidiya K.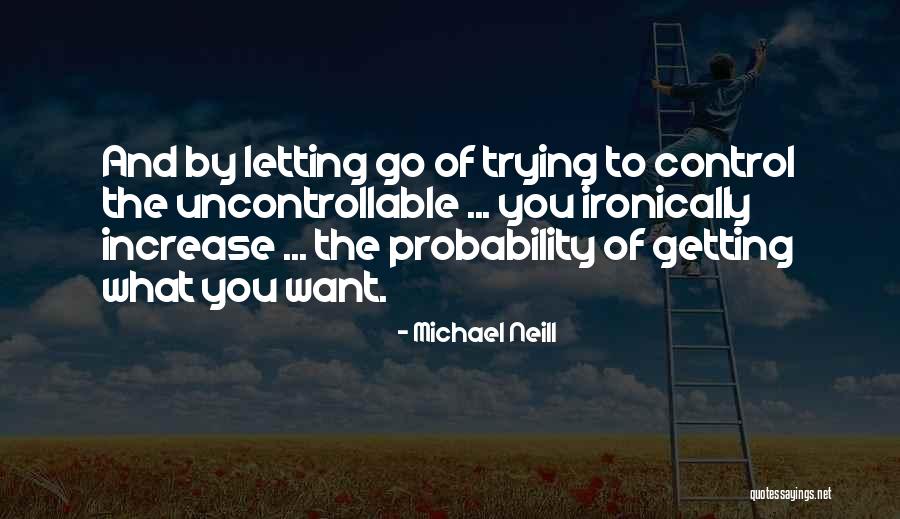 And by letting go of trying to control the uncontrollable ... you ironically increase ... the probability of getting what you want. — Michael Neill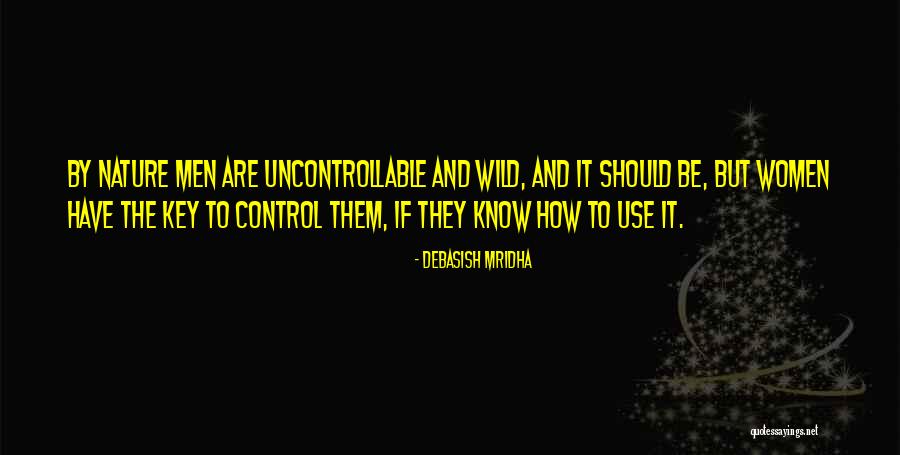 By nature men are uncontrollable and wild, and it should be, but women have the key to control them, if they know how to use it. — Debasish Mridha
For men to focus on controlling women's reproduction to solve a society's problems seems nothing short of mad or, at best, superstitious. But men's superstition or insanity has real and dire consequences for the women who are its object. And states, too, home in on women's bodies, perhaps to create the illusion that men are in control of uncontrollable forces. Indeed, almost all governments try to control women's bodies and regulate their appearance in some way. — Marilyn French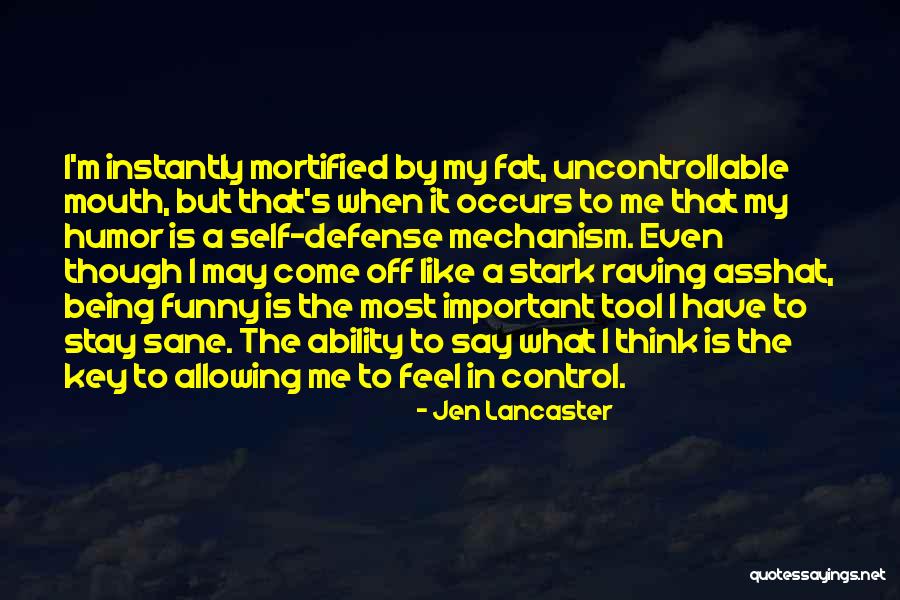 I'm instantly mortified by my fat, uncontrollable mouth, but that's when it occurs to me that my humor is a self-defense mechanism. Even though I may come off like a stark raving asshat, being funny is the most important tool I have to stay sane. The ability to say what I think is the key to allowing me to feel in control. — Jen Lancaster