Quotes & Sayings About Destiny And Success
Enjoy reading and share 69 famous quotes about Destiny And Success with everyone.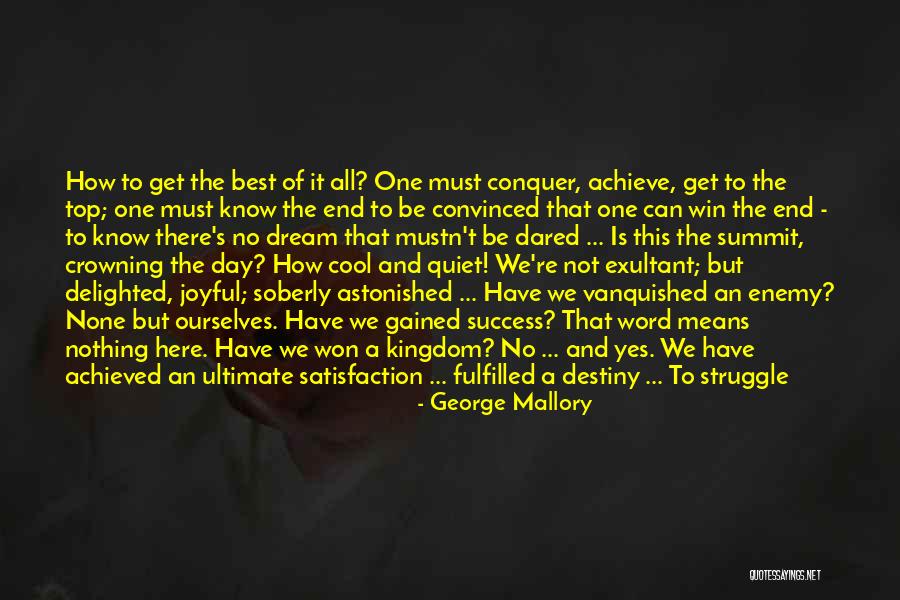 How to get the best of it all? One must conquer, achieve, get to the top; one must know the end to be convinced that one can win the end - to know there's no dream that mustn't be dared ... Is this the summit, crowning the day? How cool and quiet! We're not exultant; but delighted, joyful; soberly astonished ... Have we vanquished an enemy? None but ourselves. Have we gained success? That word means nothing here. Have we won a kingdom? No ... and yes. We have achieved an ultimate satisfaction ... fulfilled a destiny ... To struggle and to understand - never this last without the other; such is the law ... — George Mallory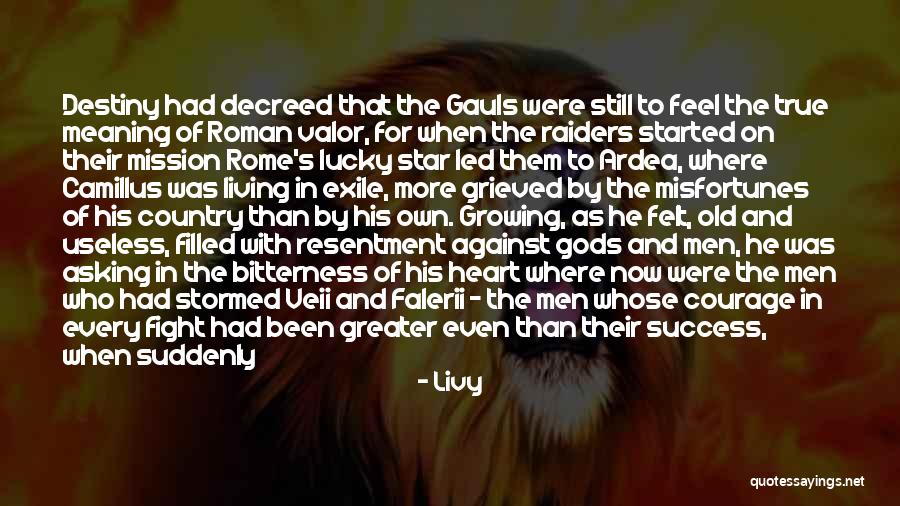 Destiny had decreed that the Gauls were still to feel the true meaning of Roman valor, for when the raiders started on their mission Rome's lucky star led them to Ardea, where Camillus was living in exile, more grieved by the misfortunes of his country than by his own. Growing, as he felt, old and useless, filled with resentment against gods and men, he was asking in the bitterness of his heart where now were the men who had stormed Veii and Falerii - the men whose courage in every fight had been greater even than their success, when suddenly he heard the news that a Gallic army was near. The men of Ardea, he knew, were in anxious consultation, and it had not been his custom to assist at their deliberations; but now, like a man inspired, he burst into the Council chamber. — Livy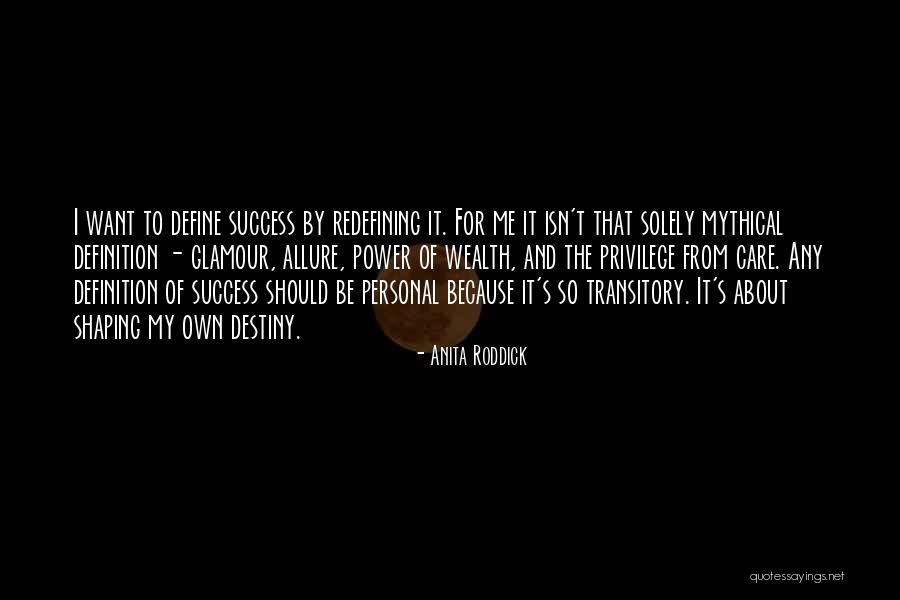 I want to define success by redefining it. For me it isn't that solely mythical definition - glamour, allure, power of wealth, and the privilege from care. Any definition of success should be personal because it's so transitory. It's about shaping my own destiny. — Anita Roddick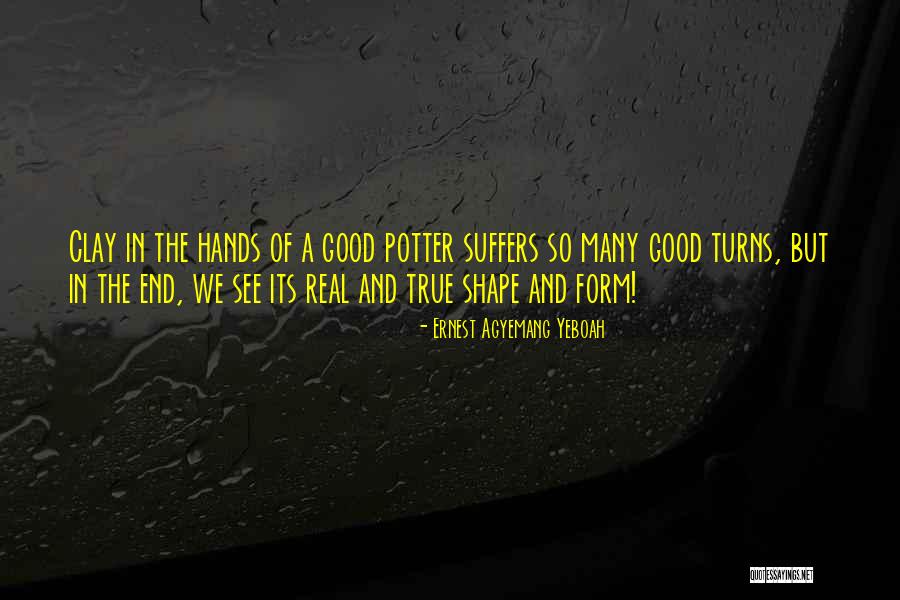 Clay in the hands of a good potter suffers so many good turns, but in the end, we see its real and true shape and form! — Ernest Agyemang Yeboah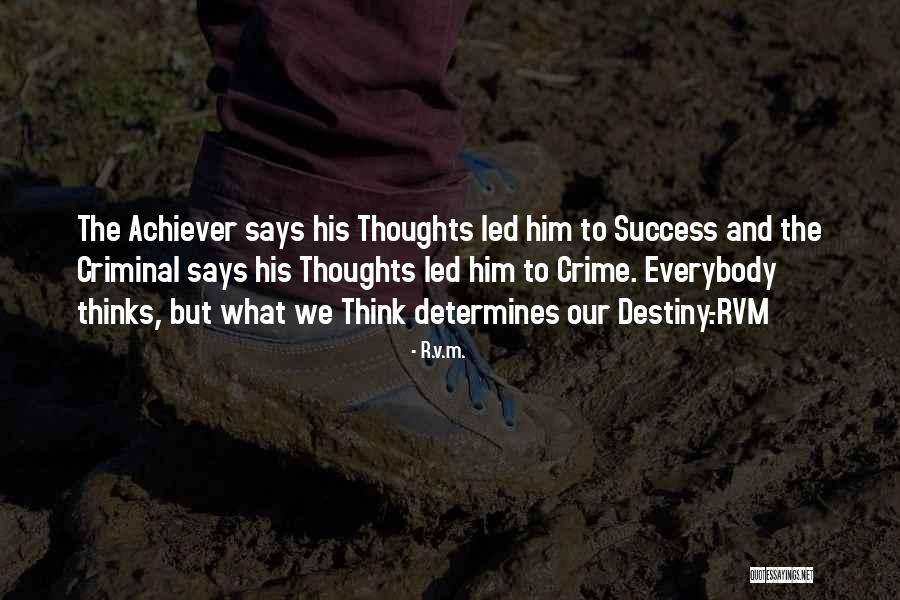 The Achiever says his Thoughts led him to Success and the Criminal says his Thoughts led him to Crime. Everybody thinks, but what we Think determines our Destiny.-RVM — R.v.m.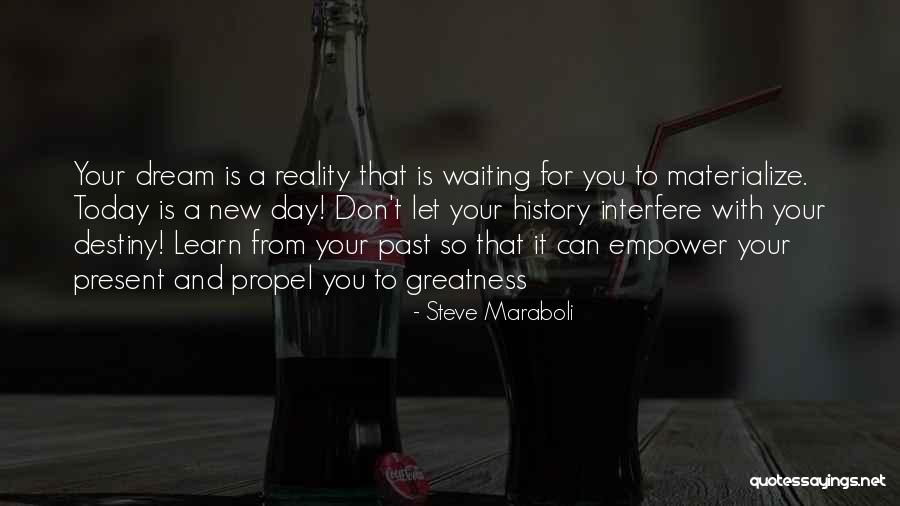 Your dream is a reality that is waiting for you to materialize. Today is a new day! Don't let your history interfere with your destiny! Learn from your past so that it can empower your present and propel you to greatness — Steve Maraboli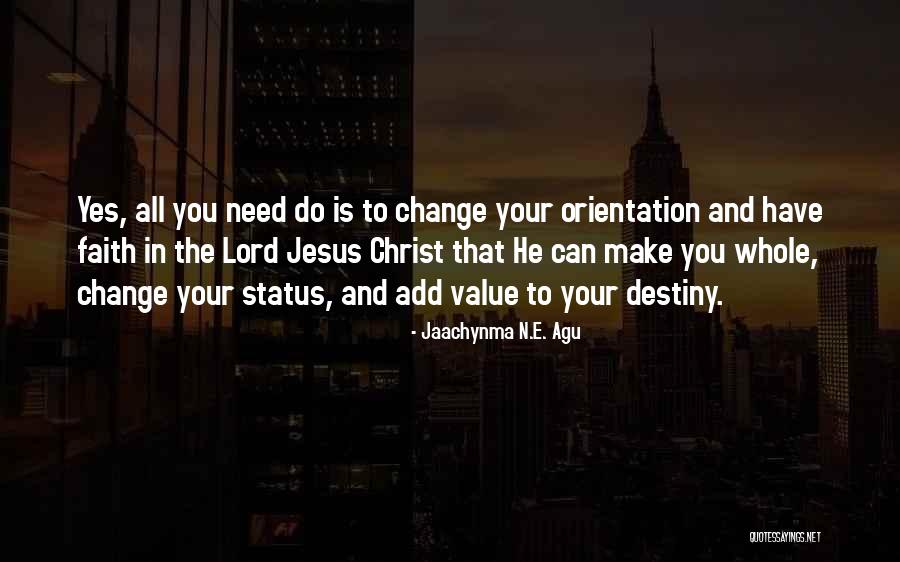 Yes, all you need do is to change your orientation and have faith in the Lord Jesus Christ that He can make you whole, change your status, and add value to your destiny. — Jaachynma N.E. Agu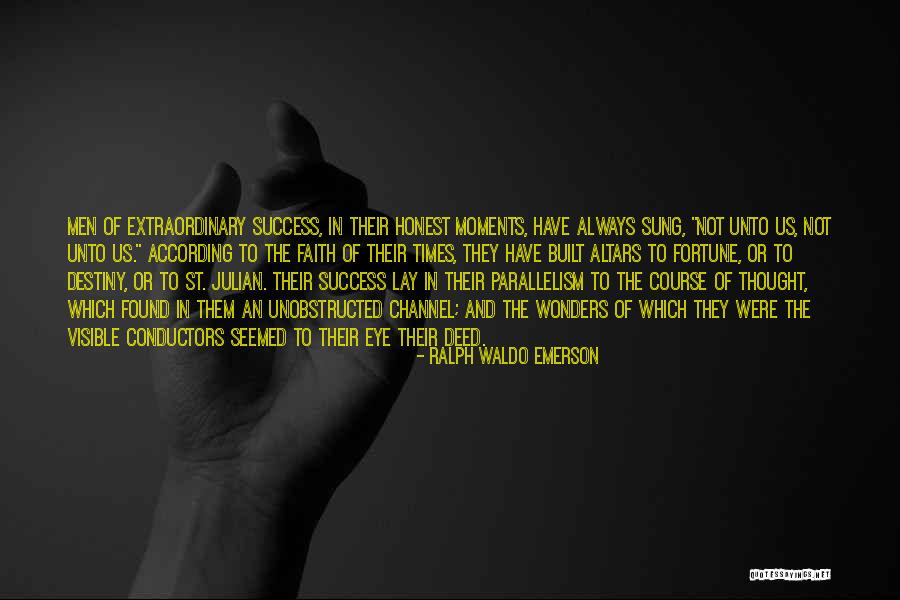 Men of extraordinary success, in their honest moments, have always sung, "Not unto us, not unto us." According to the faith of their times, they have built altars to Fortune, or to Destiny, or to St. Julian. Their success lay in their parallelism to the course of thought, which found in them an unobstructed channel; and the wonders of which they were the visible conductors seemed to their eye their deed. — Ralph Waldo Emerson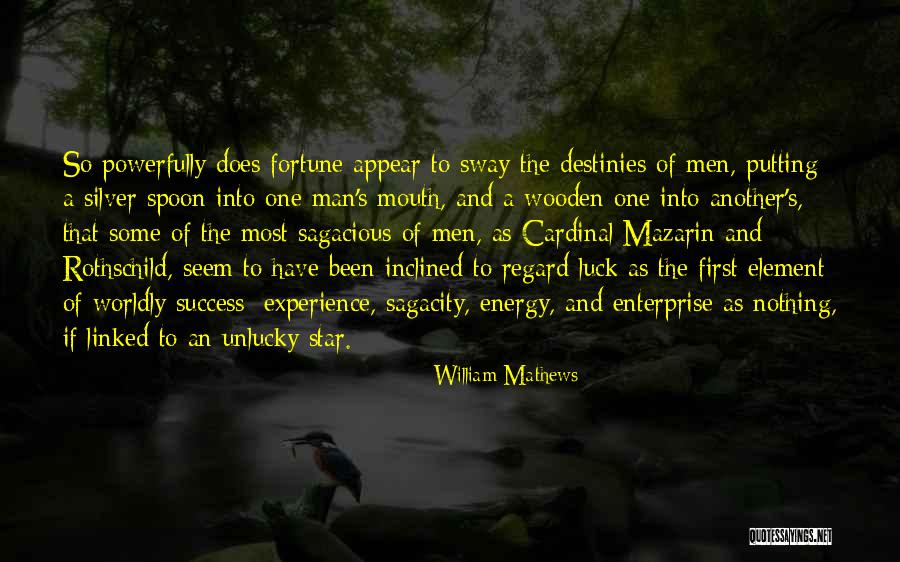 So powerfully does fortune appear to sway the destinies of men, putting a silver spoon into one man's mouth, and a wooden one into another's, that some of the most sagacious of men, as Cardinal Mazarin and Rothschild, seem to have been inclined to regard luck as the first element of worldly success; experience, sagacity, energy, and enterprise as nothing, if linked to an unlucky star. — William Mathews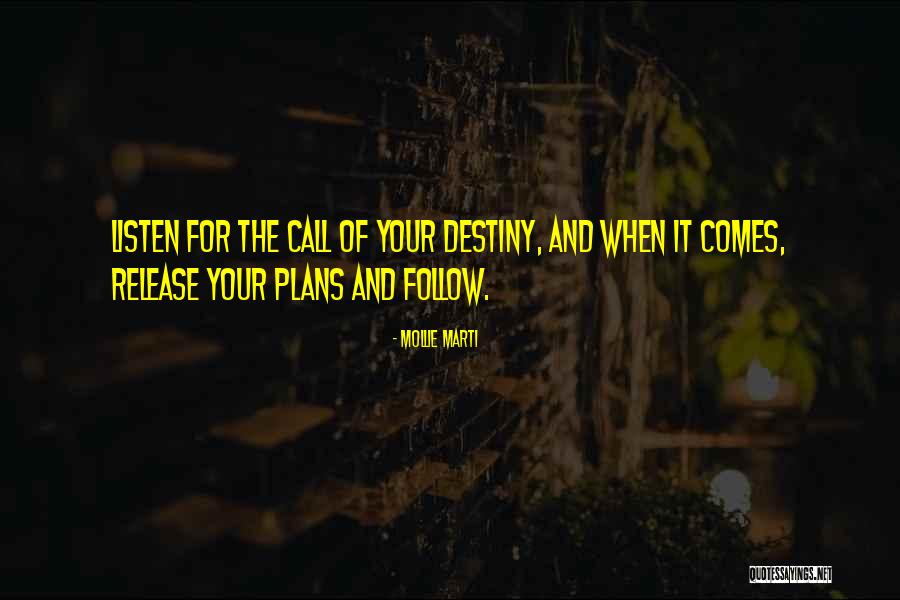 Listen for the call of your destiny, and when it comes, release your plans and follow. — Mollie Marti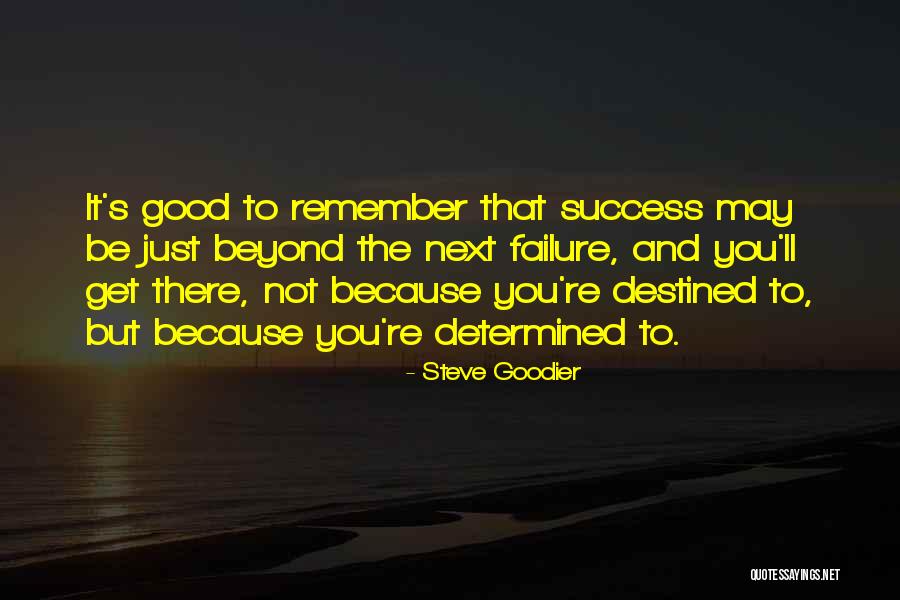 It's good to remember that success may be just beyond the next failure, and you'll get there, not because you're destined to, but because you're determined to. — Steve Goodier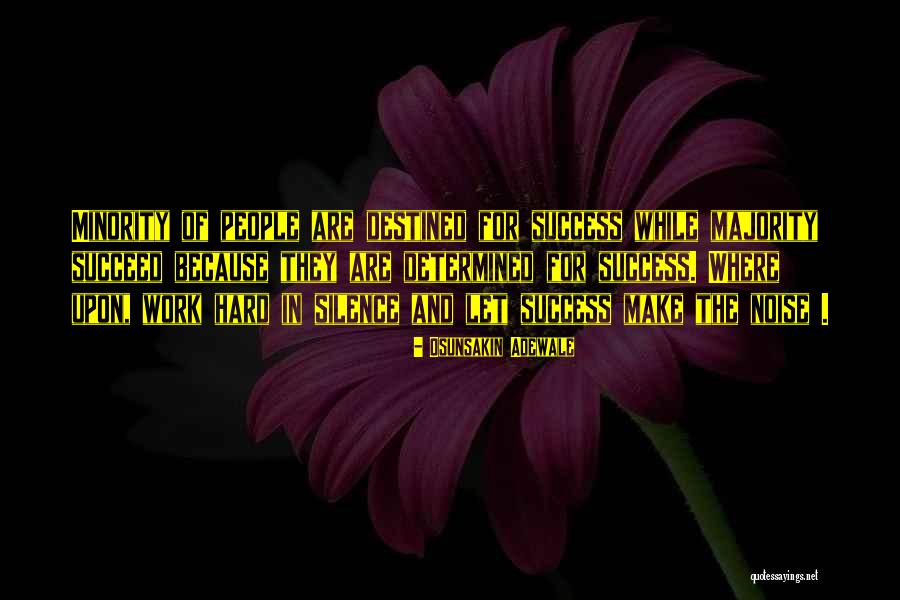 Minority of people are destined for success while majority succeed because they are determined for success. Where upon, work hard in silence and let success make the noise . — Osunsakin Adewale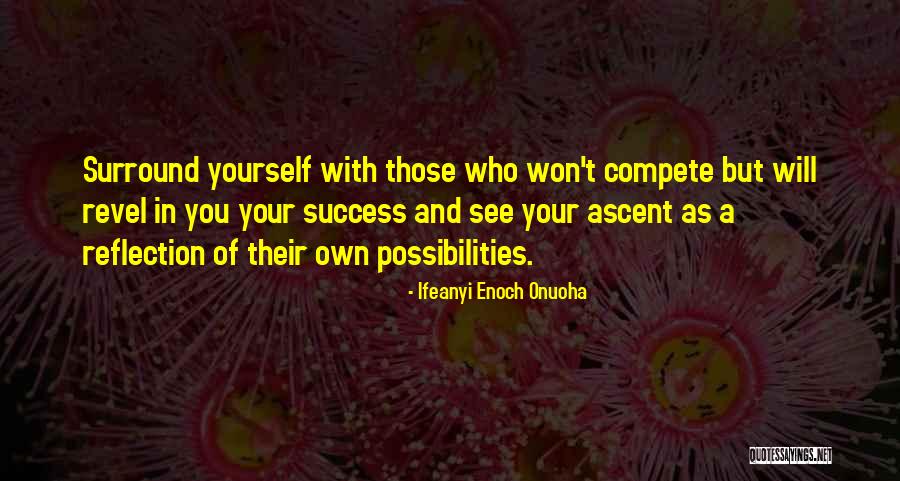 Surround yourself with those who won't compete but will revel in you your success and see your ascent as a reflection of their own possibilities. — Ifeanyi Enoch Onuoha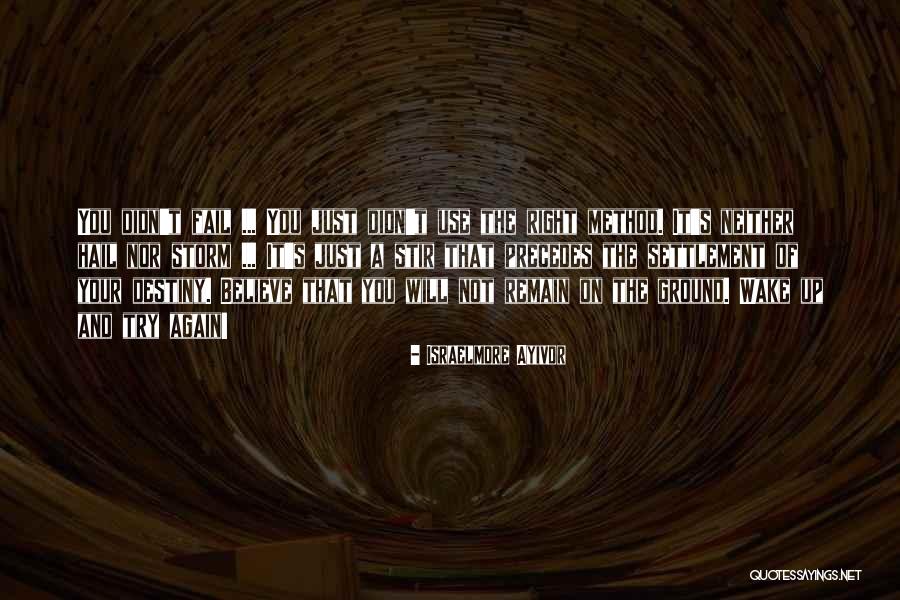 You didn't fail ... You just didn't use the right method. It's neither hail nor storm ... It's just a stir that precedes the settlement of your destiny. Believe that you will not remain on the ground. Wake up and try again! — Israelmore Ayivor
Death discredits. Survival is the whole success. The voice of the dead goes away. There isn't any memory. The power that's established fills the earth and destiny is whatever survives, so whatever is is right. — Saul Bellow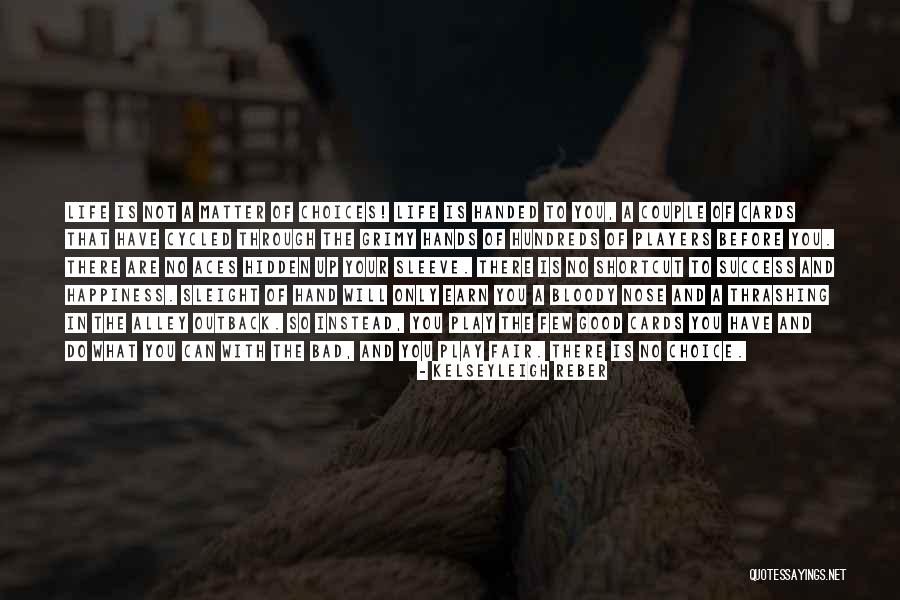 Life is not a matter of choices! Life is handed to you, a couple of cards that have cycled through the grimy hands of hundreds of players before you. There are no aces hidden up your sleeve. There is no shortcut to success and happiness. Sleight of hand will only earn you a bloody nose and a thrashing in the alley outback. So instead, you play the few good cards you have and do what you can with the bad, and you play fair. There is no choice. — Kelseyleigh Reber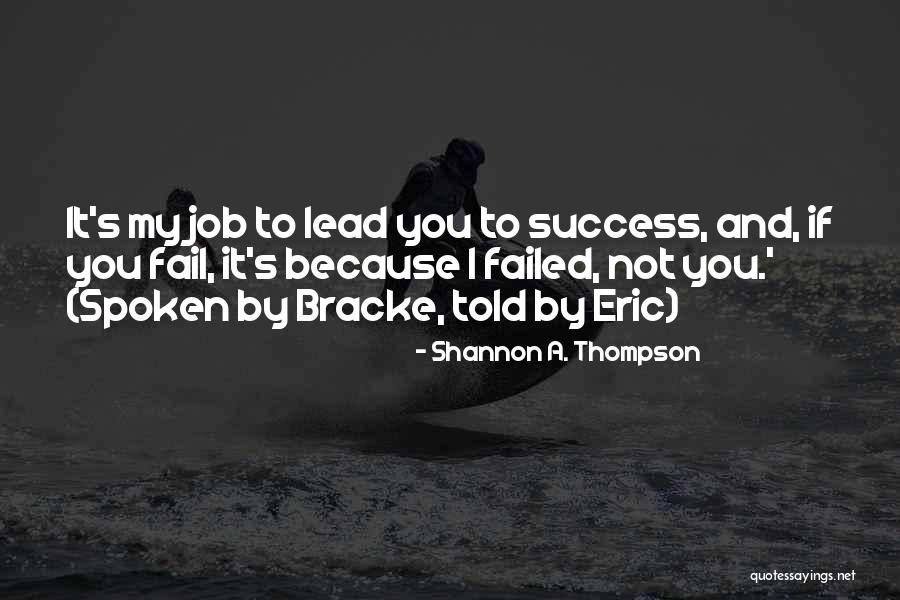 It's my job to lead you to success, and, if you fail, it's because I failed, not you.' (Spoken by Bracke, told by Eric) — Shannon A. Thompson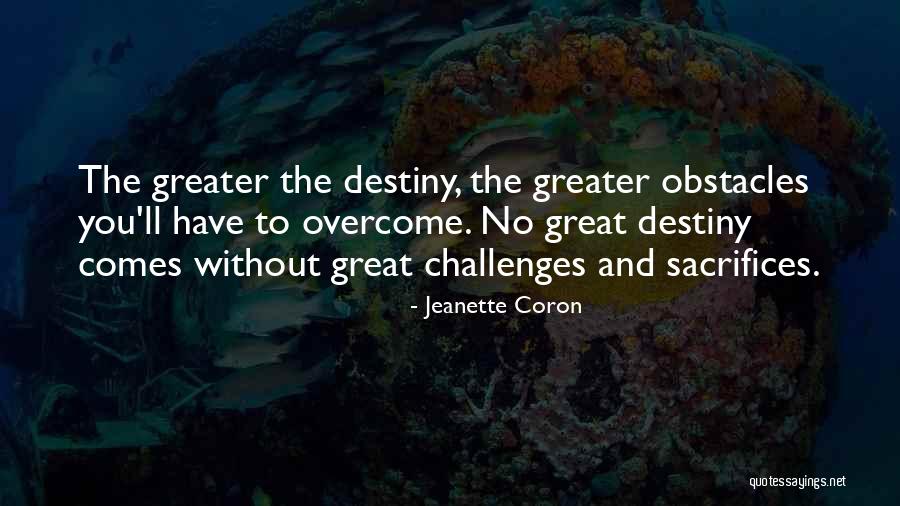 The greater the destiny, the greater obstacles you'll have to overcome. No great destiny comes without great challenges and sacrifices. — Jeanette Coron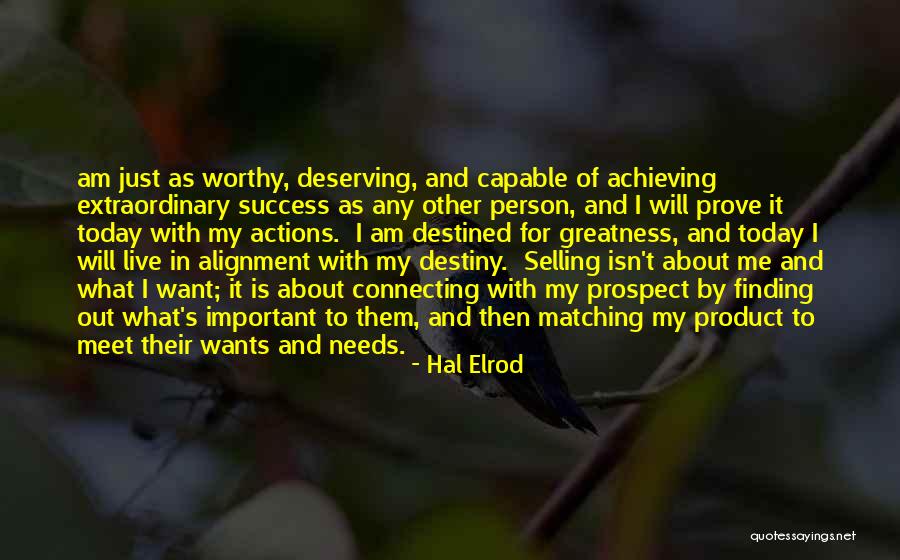 am just as worthy, deserving, and capable of achieving extraordinary success as any other person, and I will prove it today with my actions. I am destined for greatness, and today I will live in alignment with my destiny. Selling isn't about me and what I want; it is about connecting with my prospect by finding out what's important to them, and then matching my product to meet their wants and needs. — Hal Elrod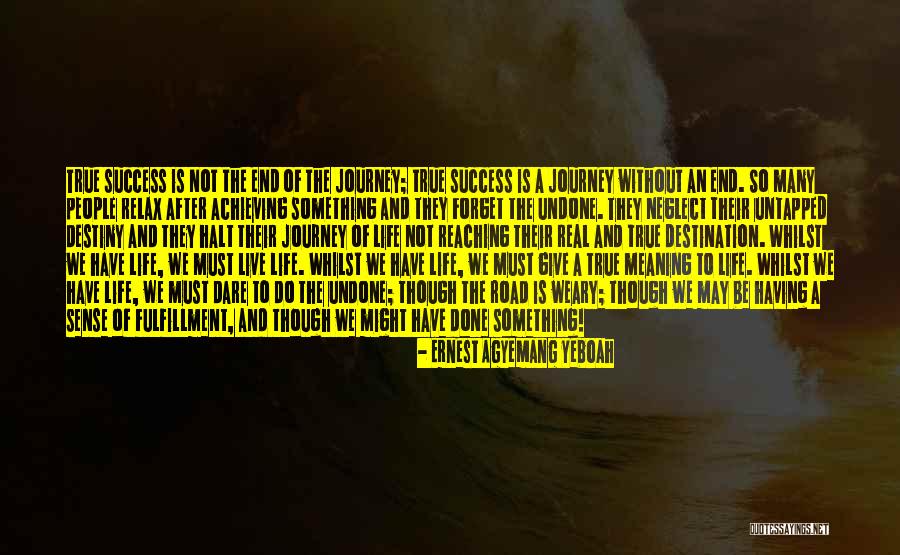 True success is not the end of the journey; true success is a journey without an end. So many people relax after achieving something and they forget the undone. They neglect their untapped destiny and they halt their journey of life not reaching their real and true destination. Whilst we have life, we must live life. Whilst we have life, we must give a true meaning to life. Whilst we have life, we must dare to do the undone; though the road is weary; though we may be having a sense of fulfillment, and though we might have done something! Let us awake and pursue with all zeal and tenacity until we get to the real end of our true purpose and destiny, such that long after we are gone, the voice of our footprints will speak to inspire, build and raise a generation of champions ! — Ernest Agyemang Yeboah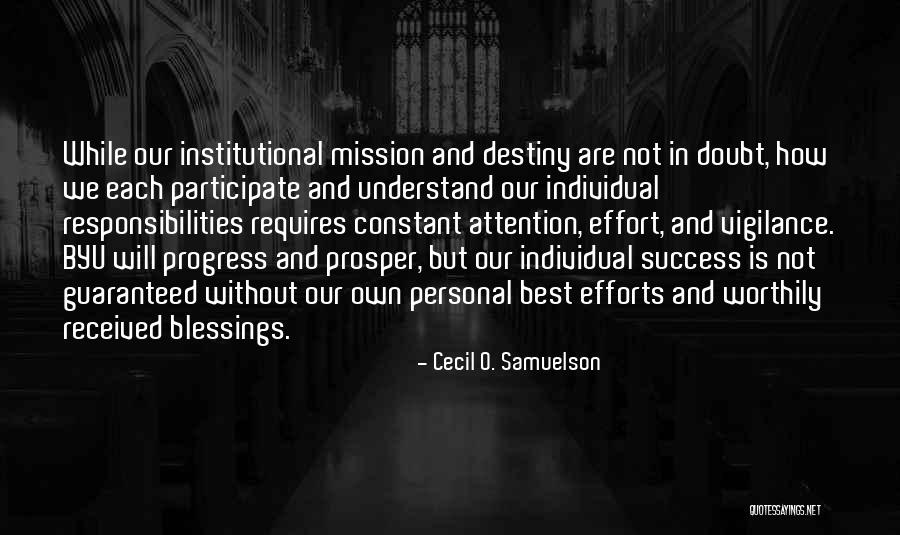 While our institutional mission and destiny are not in doubt, how we each participate and understand our individual responsibilities requires constant attention, effort, and vigilance. BYU will progress and prosper, but our individual success is not guaranteed without our own personal best efforts and worthily received blessings. — Cecil O. Samuelson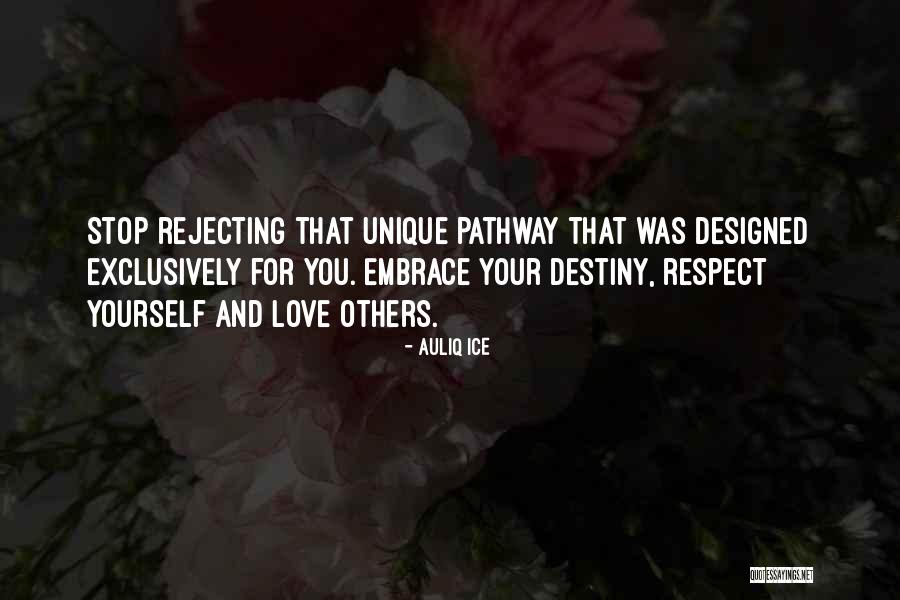 Stop rejecting that unique pathway that was designed exclusively for you. Embrace your destiny, respect yourself and love others. — Auliq Ice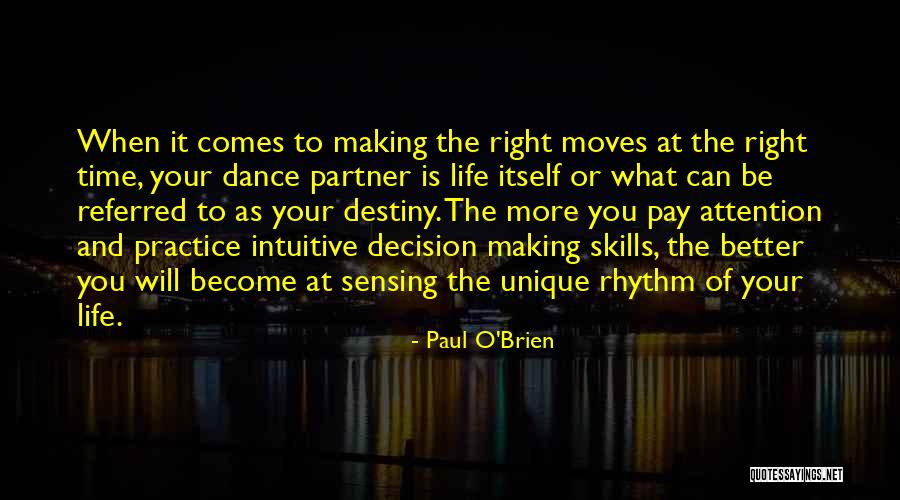 When it comes to making the right moves at the right time, your dance partner is life itself or what can be referred to as your destiny. The more you pay attention and practice intuitive decision making skills, the better you will become at sensing the unique rhythm of your life. — Paul O'Brien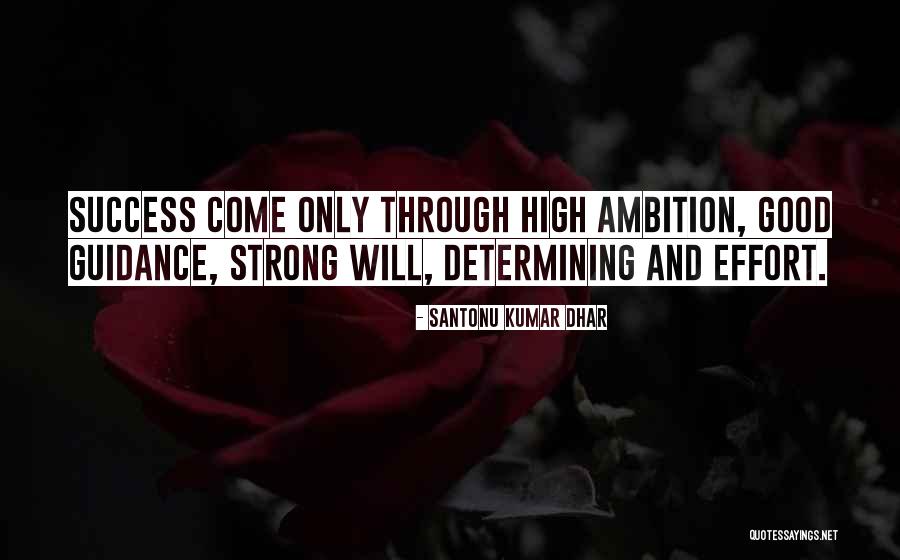 Success come only through high ambition, good guidance, strong will, determining and effort. — Santonu Kumar Dhar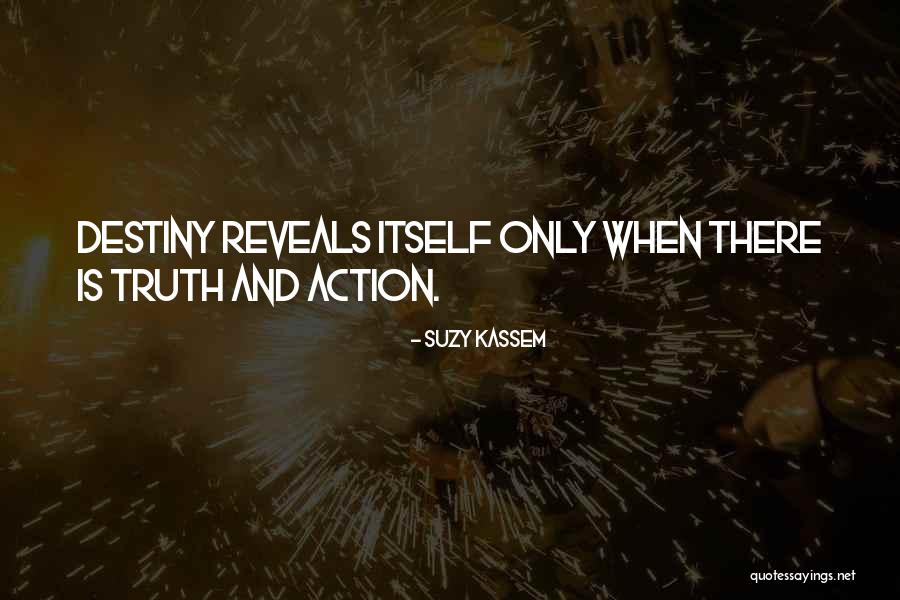 Destiny reveals itself only when there is truth and action. — Suzy Kassem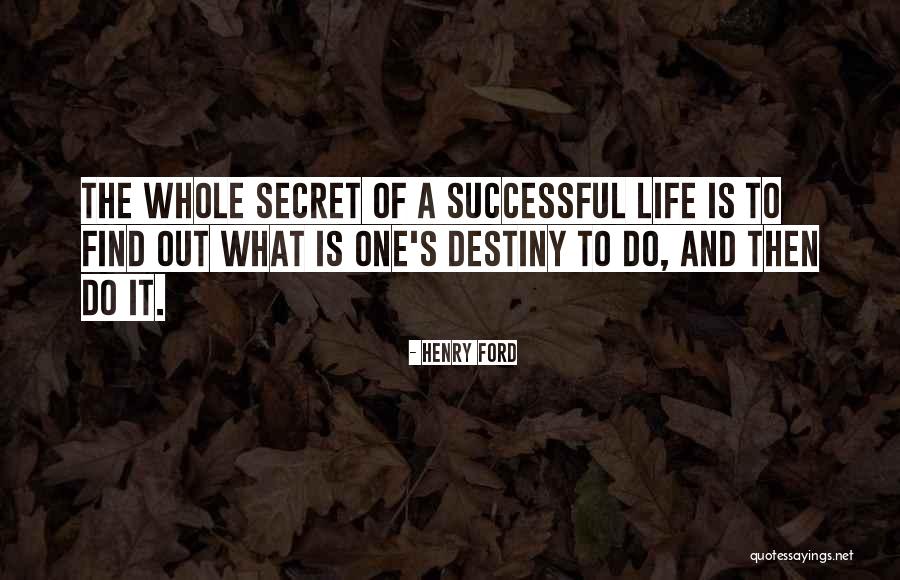 The whole secret of a successful life is to find out what is one's destiny to do, and then do it. — Henry Ford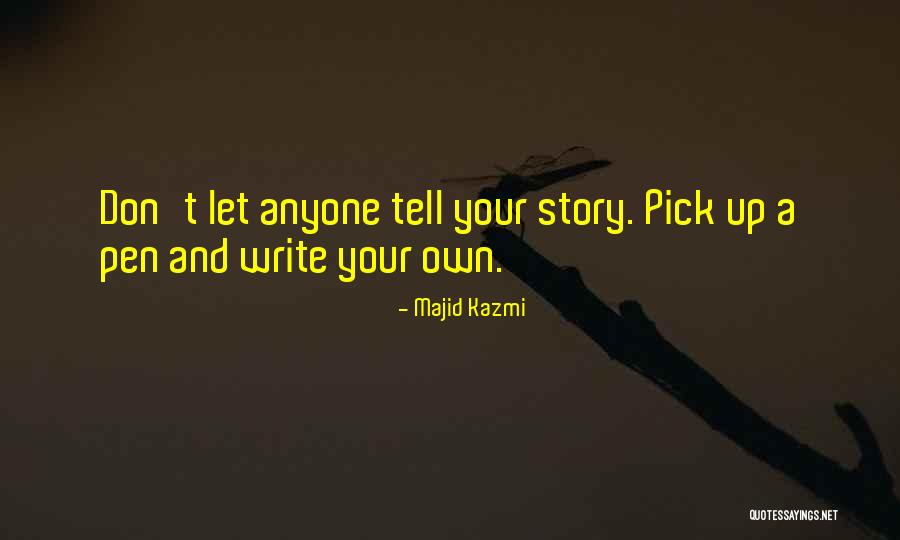 Don't let anyone tell your story. Pick up a pen and write your own. — Majid Kazmi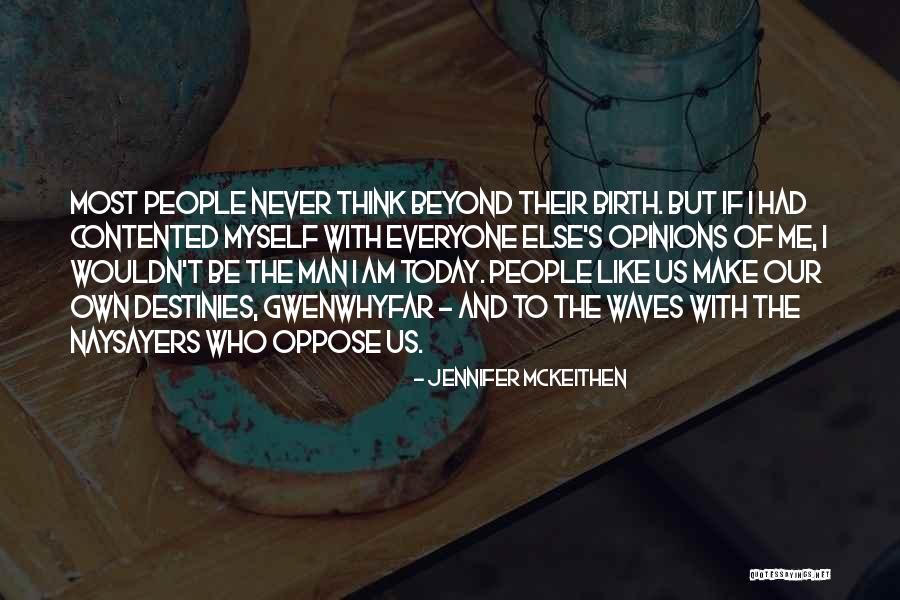 Most people never think beyond their birth. But if I had contented myself with everyone else's opinions of me, I wouldn't be the man I am today. People like us make our own destinies, Gwenwhyfar - and to the waves with the naysayers who oppose us. — Jennifer McKeithen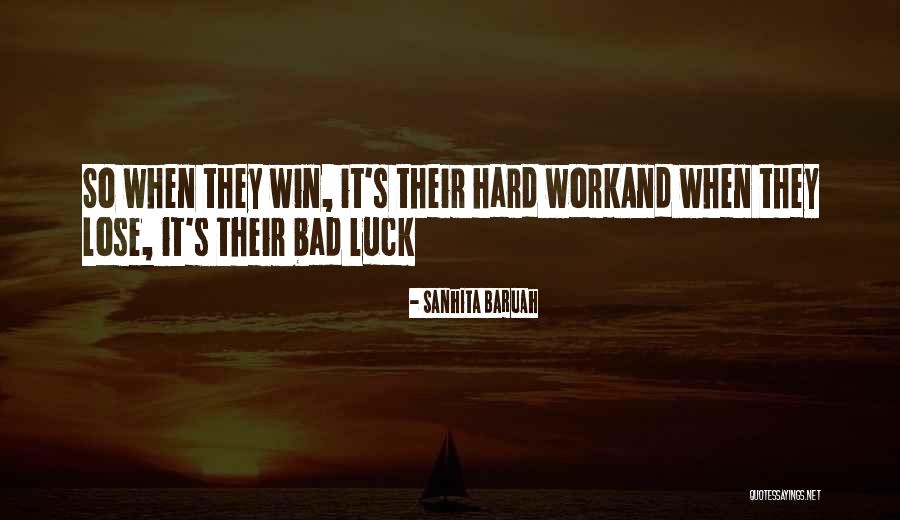 So when they win, it's their hard work
And when they lose, it's their bad luck — Sanhita Baruah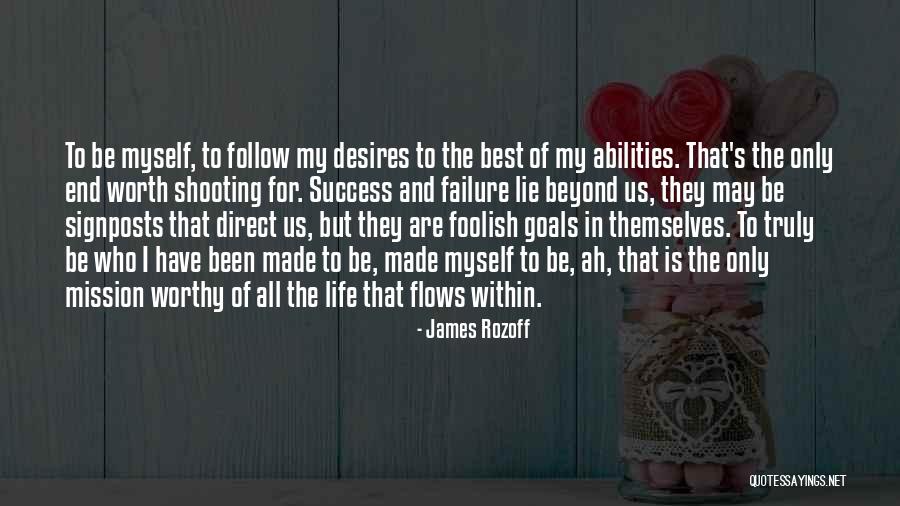 To be myself, to follow my desires to the best of my abilities. That's the only end worth shooting for. Success and failure lie beyond us, they may be signposts that direct us, but they are foolish goals in themselves. To truly be who I have been made to be, made myself to be, ah, that is the only mission worthy of all the life that flows within. — James Rozoff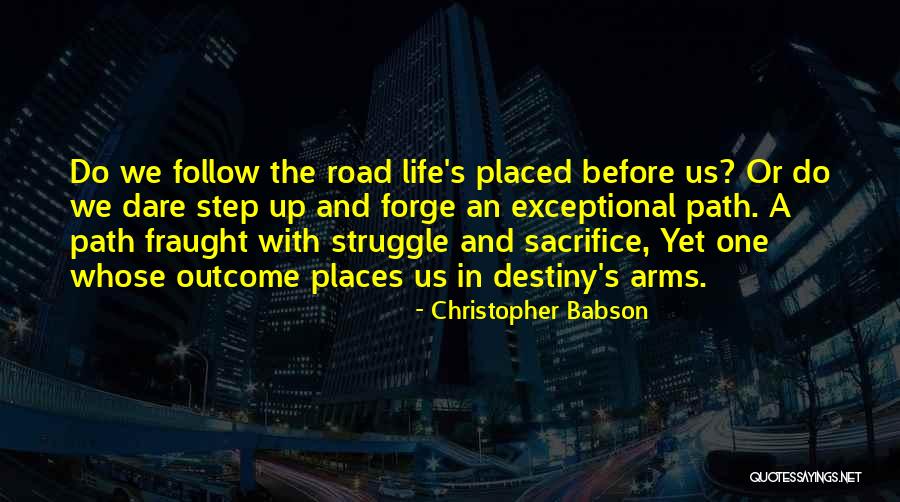 Do we follow the road life's placed before us?
Or do we dare step up and forge an exceptional path.
A path fraught with struggle and sacrifice,
Yet one whose outcome places us in destiny's arms. — Christopher Babson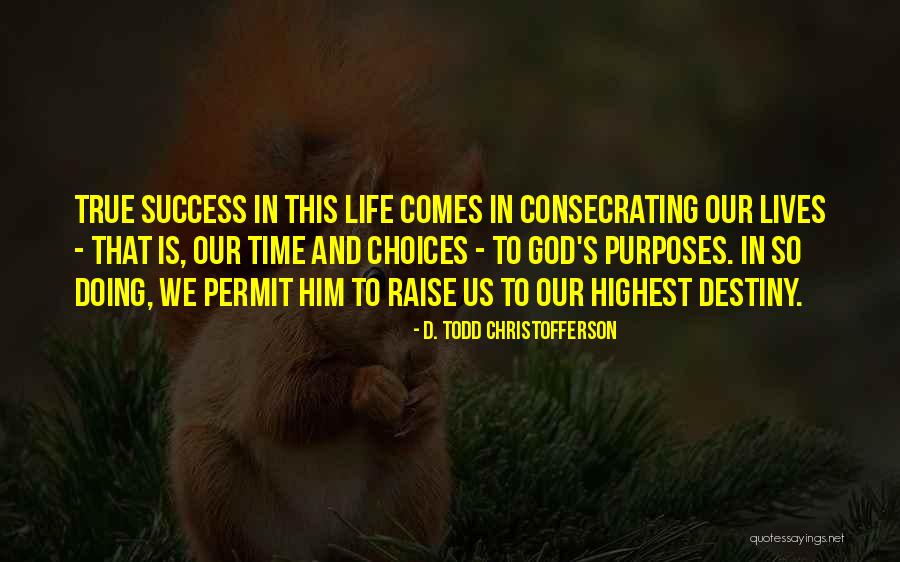 True success in this life comes in consecrating our lives - that is, our time and choices - to God's purposes. In so doing, we permit Him to raise us to our highest destiny. — D. Todd Christofferson
All of us attain the greatest success and happiness possible in this life whenever we use our native capacities to their fullest extent ... And every life must be chalked up at least a partial failure when it does not succeed in reaching its inherent destiny. — Smiley Blanton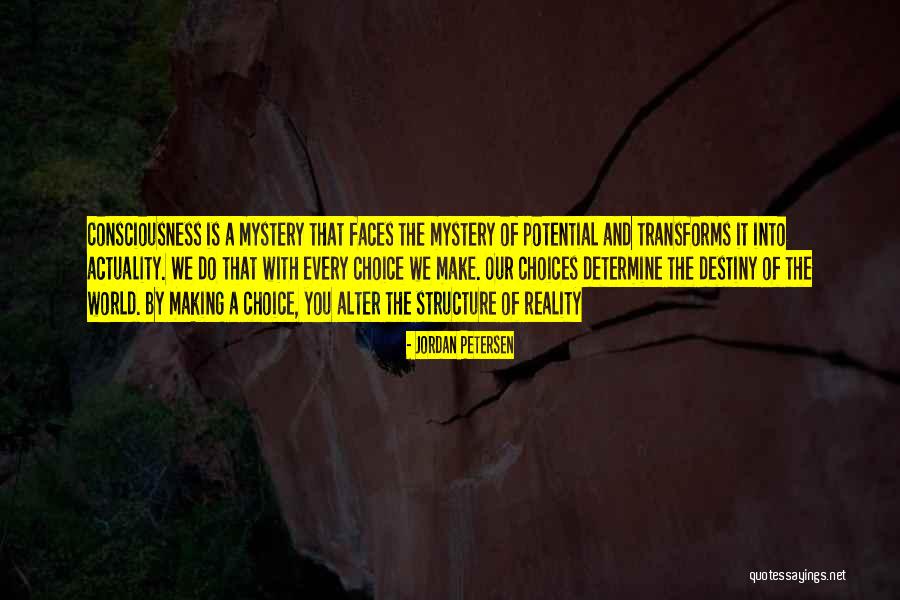 Consciousness is a mystery that faces the mystery of potential and transforms it into actuality. We do that with every choice we make. Our choices determine the destiny of the world. By making a choice, you alter the structure of reality — Jordan Petersen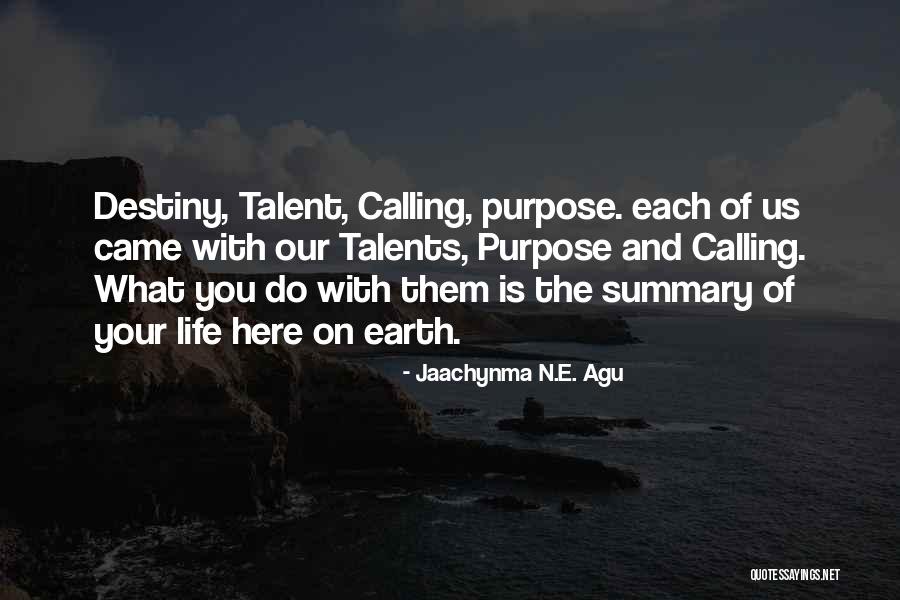 Destiny, Talent, Calling, purpose. each of us came with our Talents, Purpose and Calling. What you do with them is the summary of your life here on earth. — Jaachynma N.E. Agu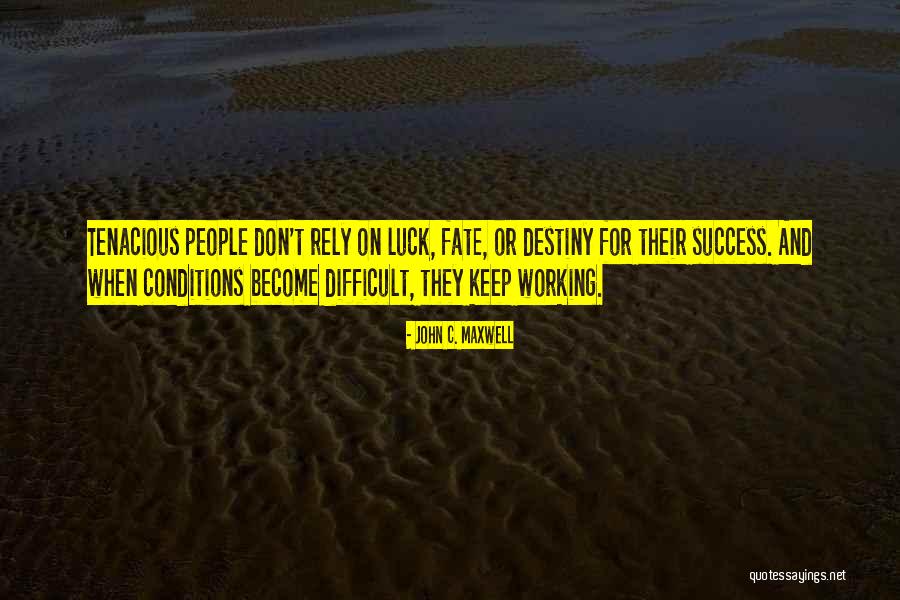 Tenacious people don't rely on luck, fate, or destiny for their success. And when conditions become difficult, they keep working. — John C. Maxwell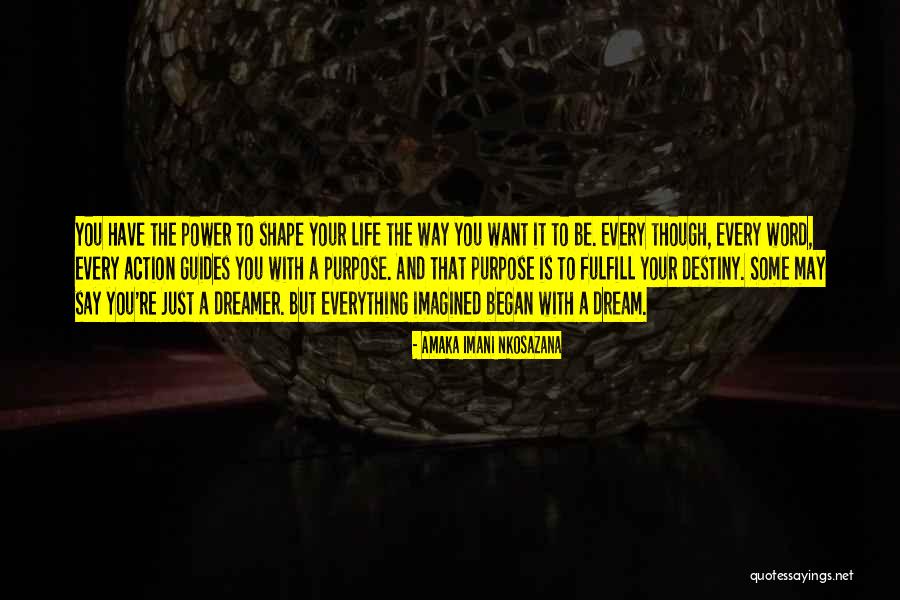 You have the power to shape your life the way you want it to be. Every though, every word, every action guides you with a purpose. And that purpose is to fulfill your destiny. Some may say you're just a dreamer. But everything imagined began with a dream. — Amaka Imani Nkosazana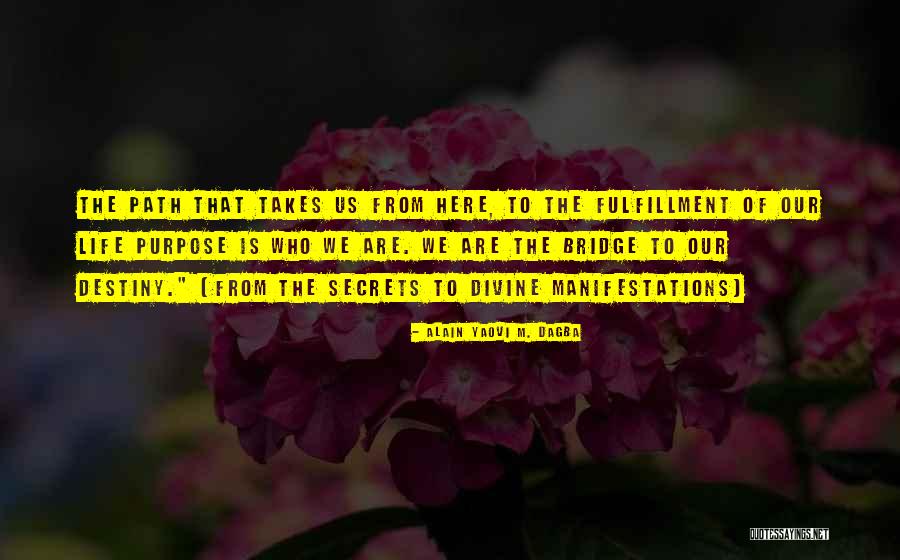 The path that takes us from here, to the fulfillment of our life purpose is who we are. We are the bridge to our destiny." (From the Secrets to Divine Manifestations) — Alain Yaovi M. Dagba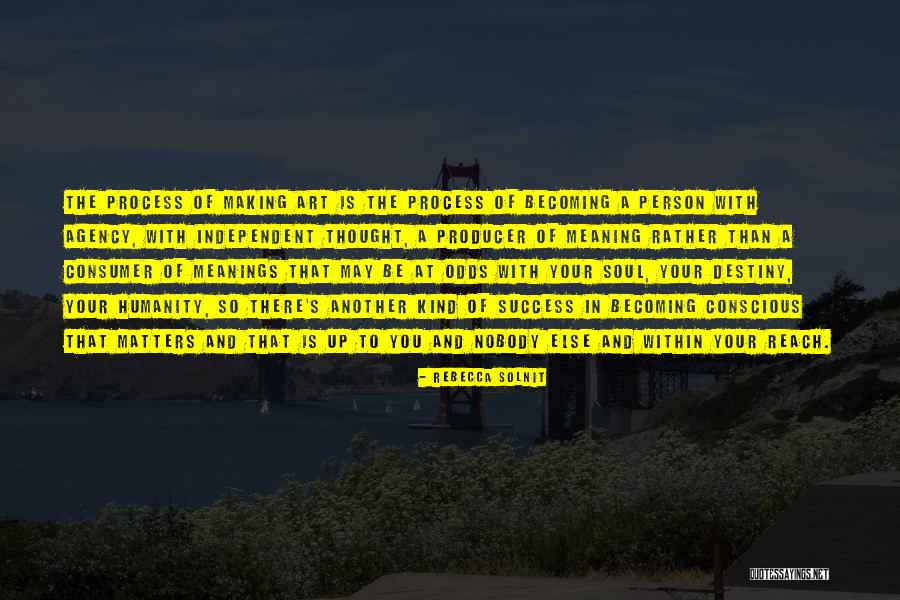 The process of making art is the process of becoming a person with agency, with independent thought, a producer of meaning rather than a consumer of meanings that may be at odds with your soul, your destiny, your humanity, so there's another kind of success in becoming conscious that matters and that is up to you and nobody else and within your reach. — Rebecca Solnit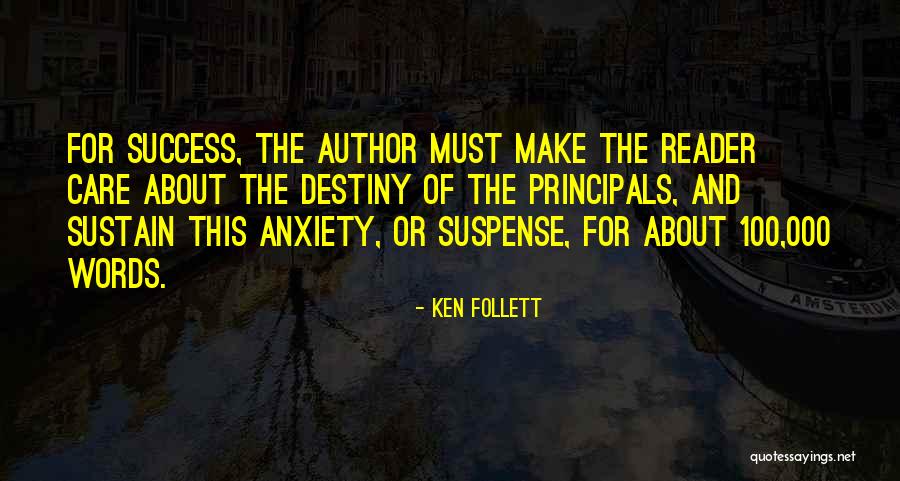 For success, the author must make the reader care about the destiny of the principals, and sustain this anxiety, or suspense, for about 100,000 words. — Ken Follett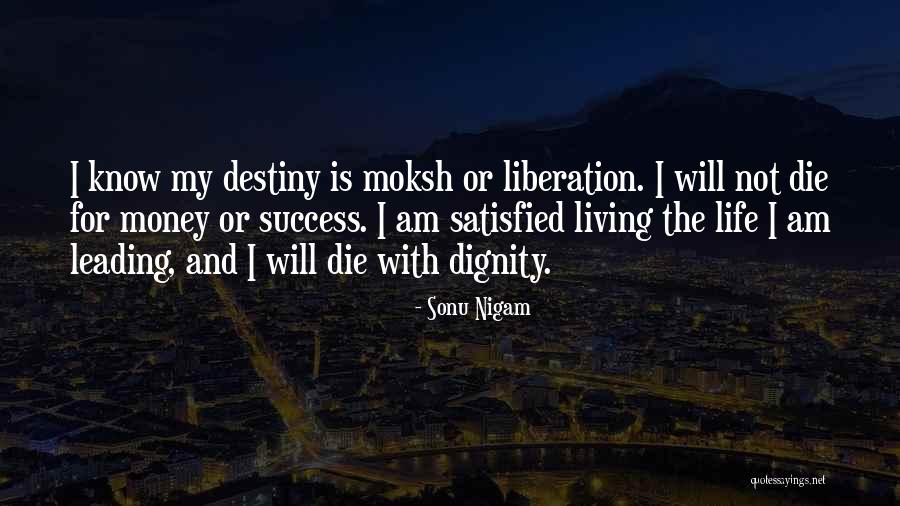 I know my destiny is moksh or liberation. I will not die for money or success. I am satisfied living the life I am leading, and I will die with dignity. — Sonu Nigam
The art of making True promises within ones ownself is termed as Will (Sankalp) ... for beginners (like me) it is a tough learning and for siddhas; they just become that way ... effortlessly they sail ... — Dinesh Kumar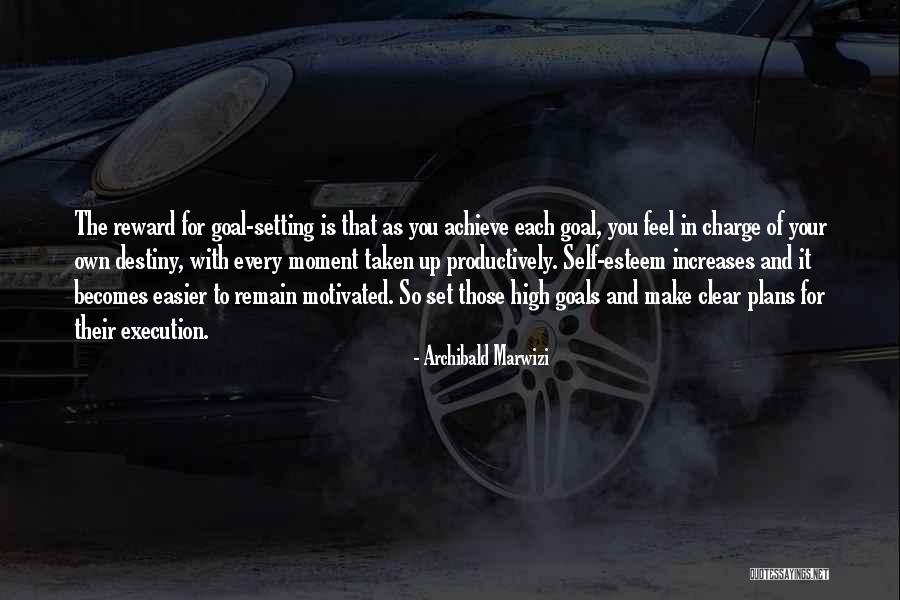 The reward for goal-setting is that as you achieve each goal, you feel in charge of your own destiny, with every moment taken up productively. Self-esteem increases and it becomes easier to remain motivated. So set those high goals and make clear plans for their execution. — Archibald Marwizi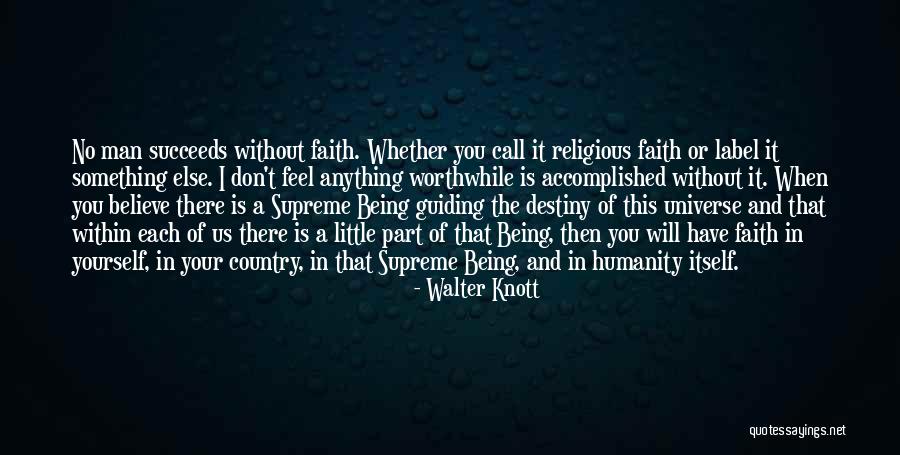 No man succeeds without faith. Whether you call it religious faith or label it something else. I don't feel anything worthwhile is accomplished without it. When you believe there is a Supreme Being guiding the destiny of this universe and that within each of us there is a little part of that Being, then you will have faith in yourself, in your country, in that Supreme Being, and in humanity itself. — Walter Knott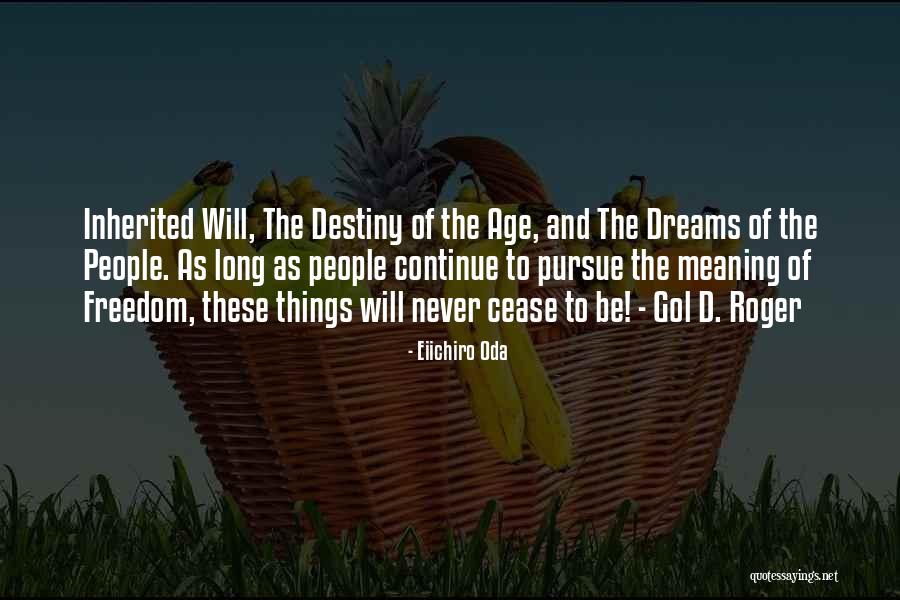 Inherited Will, The Destiny of the Age, and The Dreams of the People. As long as people continue to pursue the meaning of Freedom, these things will never cease to be! - Gol D. Roger — Eiichiro Oda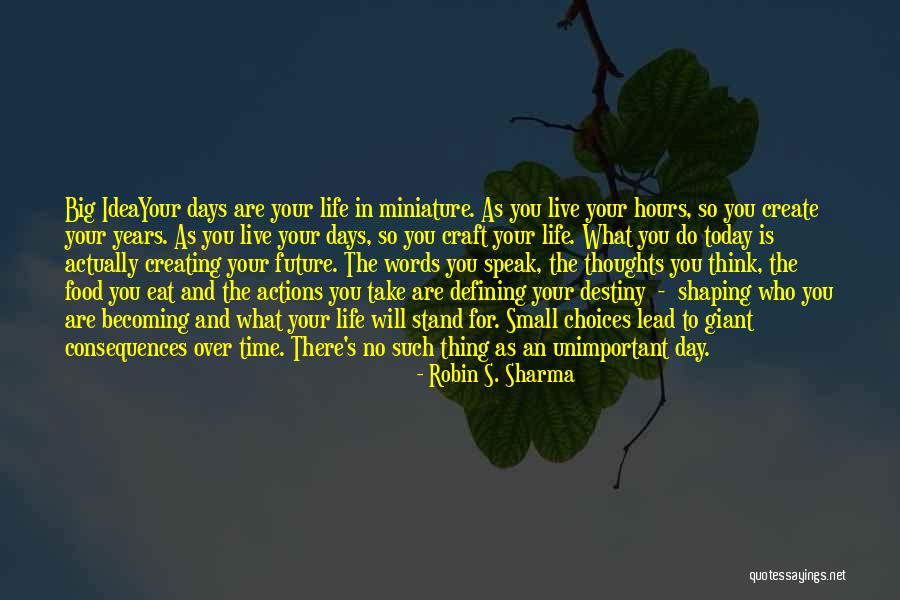 Big Idea
Your days are your life in miniature. As you live your hours, so you create your years. As you live your days, so you craft your life. What you do today is actually creating your future. The words you speak, the thoughts you think, the food you eat and the actions you take are defining your destiny - shaping who you are becoming and what your life will stand for. Small choices lead to giant consequences over time. There's no such thing as an unimportant day. — Robin S. Sharma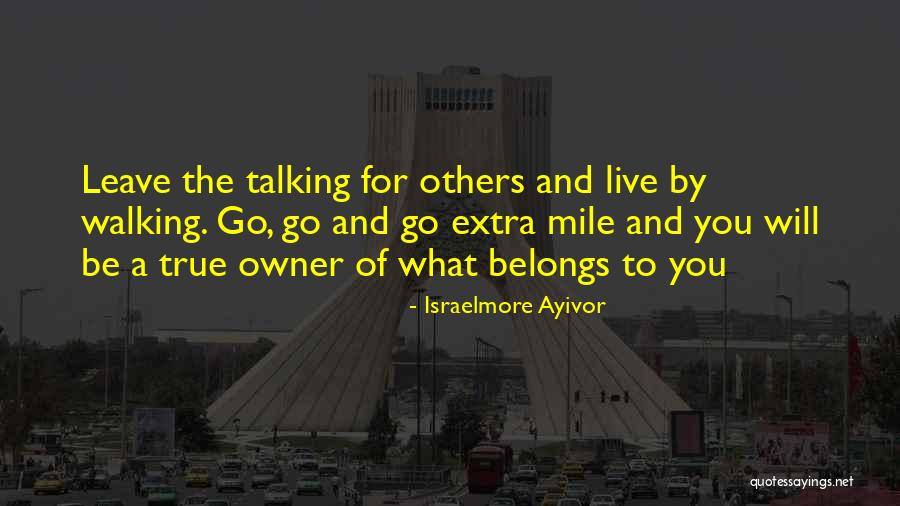 Leave the talking for others and live by walking. Go, go and go extra mile and you will be a true owner of what belongs to you — Israelmore Ayivor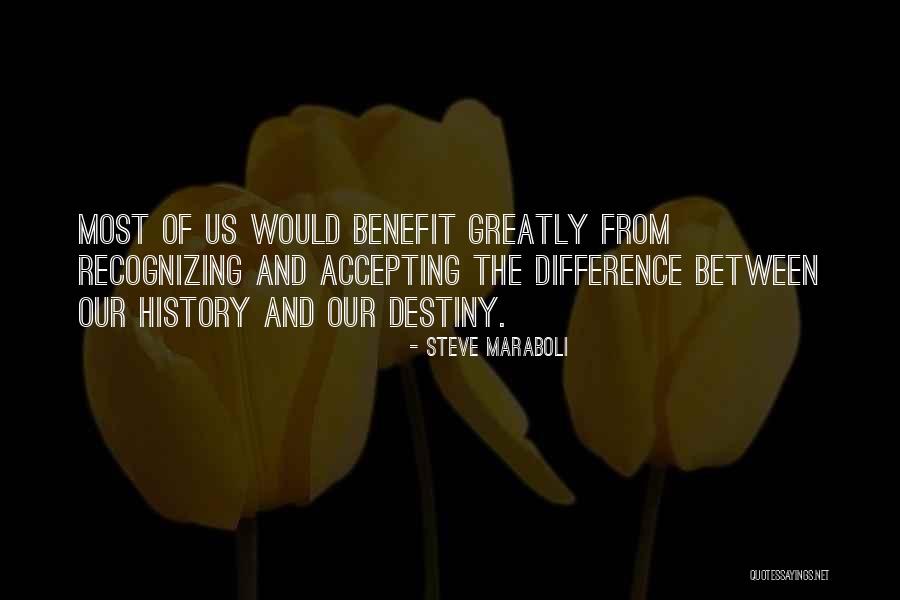 Most of us would benefit greatly from recognizing and accepting the difference between our history and our destiny. — Steve Maraboli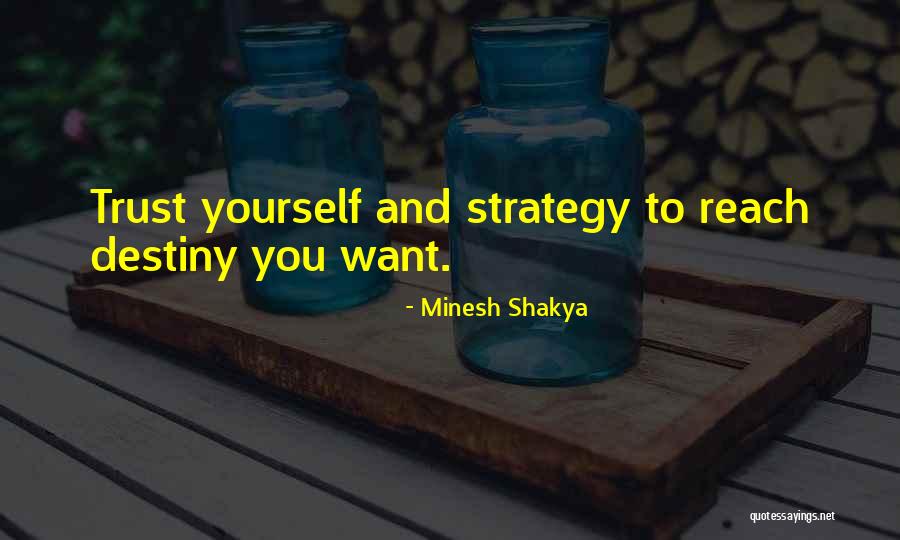 Trust yourself and strategy to reach destiny you want. — Minesh Shakya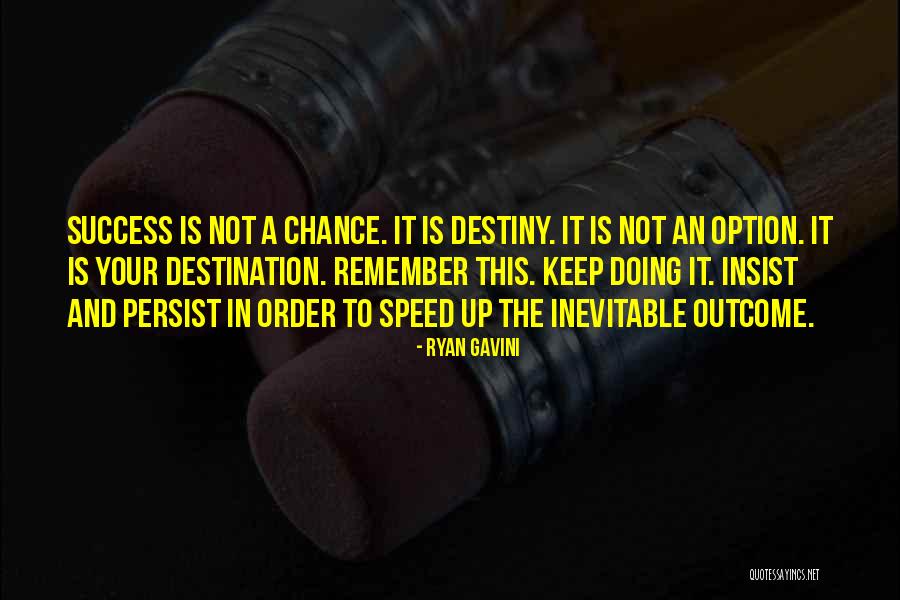 Success is not a chance. It is destiny. It is not an option. It is your destination. Remember this. Keep doing it. Insist and persist in order to speed up the inevitable outcome. — Ryan Gavini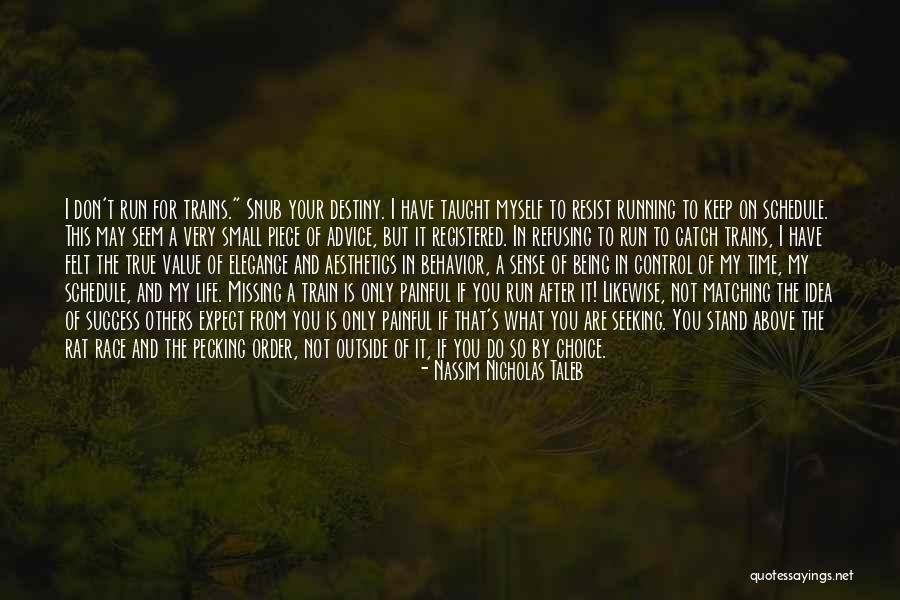 I don't run for trains." Snub your destiny. I have taught myself to resist running to keep on schedule. This may seem a very small piece of advice, but it registered. In refusing to run to catch trains, I have felt the true value of elegance and aesthetics in behavior, a sense of being in control of my time, my schedule, and my life. Missing a train is only painful if you run after it! Likewise, not matching the idea of success others expect from you is only painful if that's what you are seeking. You stand above the rat race and the pecking order, not outside of it, if you do so by choice. — Nassim Nicholas Taleb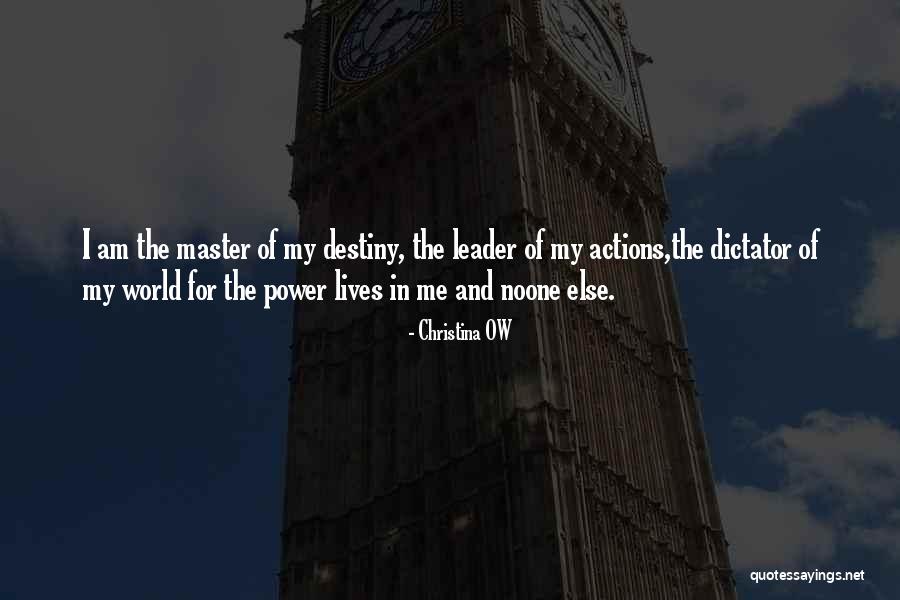 I am the master of my destiny, the leader of my actions,
the dictator of my world for the power lives in me and no
one else. — Christina OW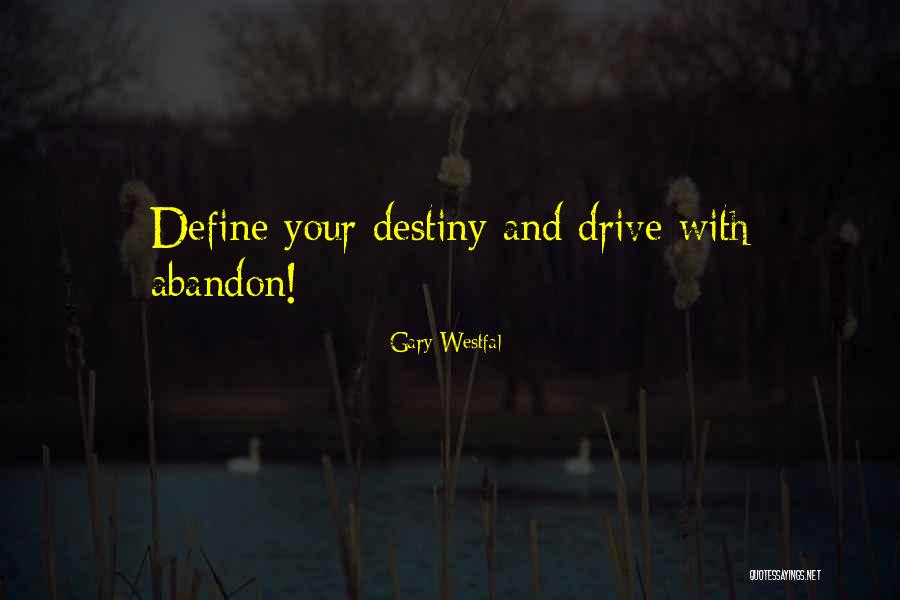 Define your destiny and drive with abandon! — Gary Westfal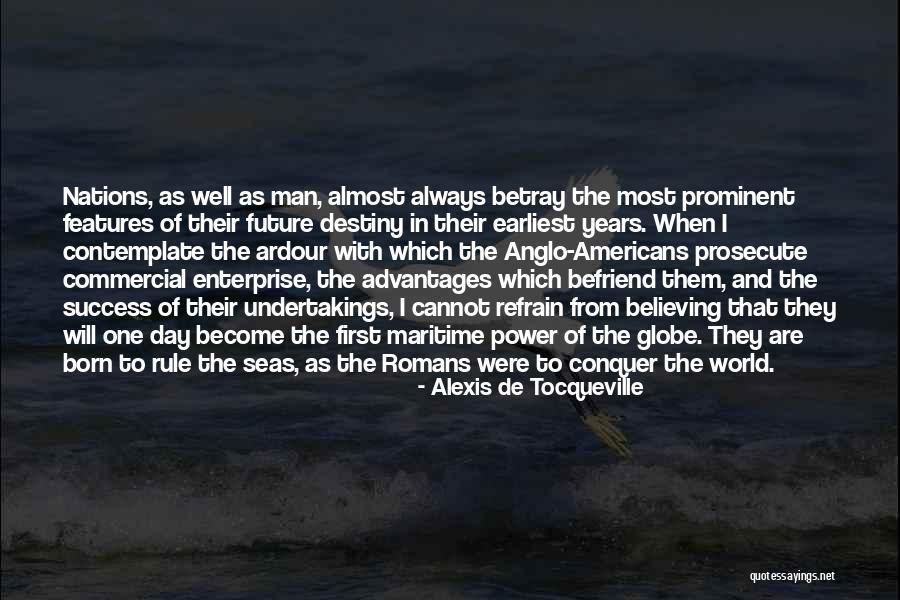 Nations, as well as man, almost always betray the most prominent features of their future destiny in their earliest years. When I contemplate the ardour with which the Anglo-Americans prosecute commercial enterprise, the advantages which befriend them, and the success of their undertakings, I cannot refrain from believing that they will one day become the first maritime power of the globe. They are born to rule the seas, as the Romans were to conquer the world. — Alexis De Tocqueville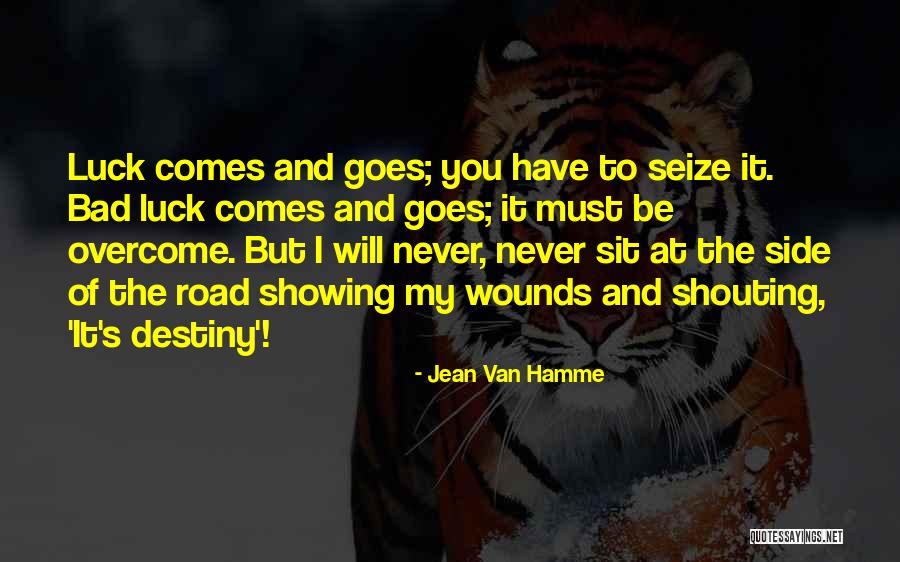 Luck comes and goes; you have to seize it. Bad luck comes and goes; it must be overcome. But I will never, never sit at the side of the road showing my wounds and shouting, 'It's destiny'! — Jean Van Hamme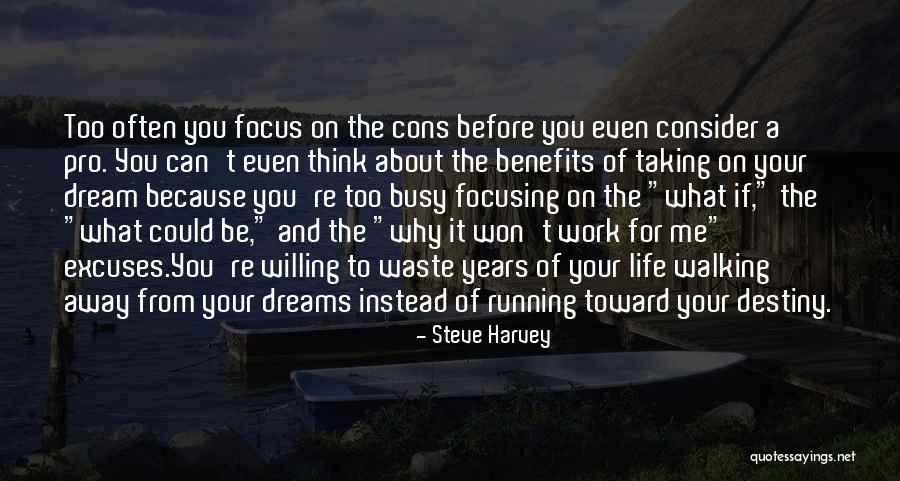 Too often you focus on the cons before you even consider a pro. You can't even think about the benefits of taking on your dream because you're too busy focusing on the "what if," the "what could be," and the "why it won't work for me" excuses.
You're willing to waste years of your life walking away from your dreams instead of running toward your destiny. — Steve Harvey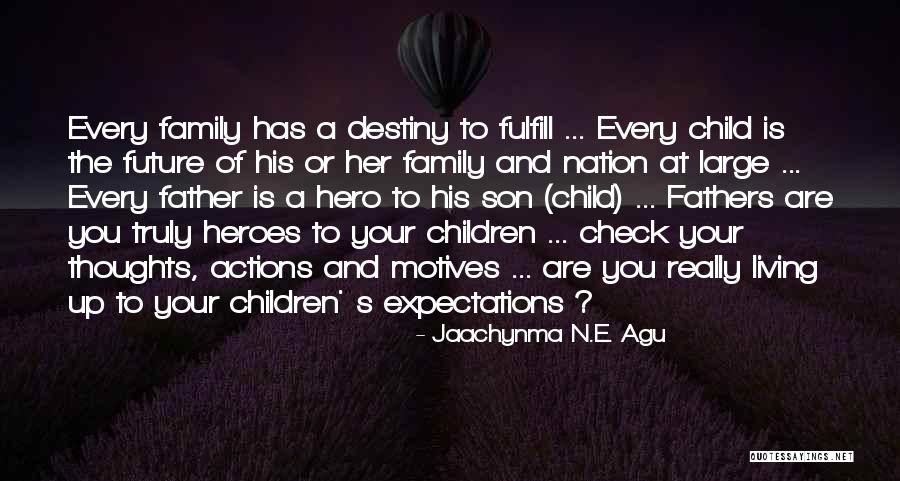 Every family has a destiny to fulfill ... Every child is the future of his or her family and nation at large ... Every father is a hero to his son (child) ... Fathers are you truly heroes to your children ... check your thoughts, actions and motives ... are you really living up to your children' s expectations ? — Jaachynma N.E. Agu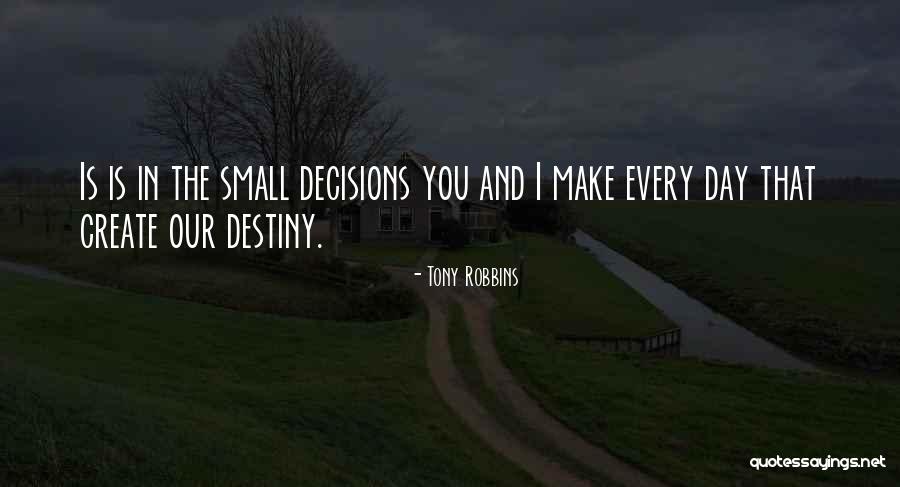 Is is in the small decisions you and I make every day that create our destiny. — Tony Robbins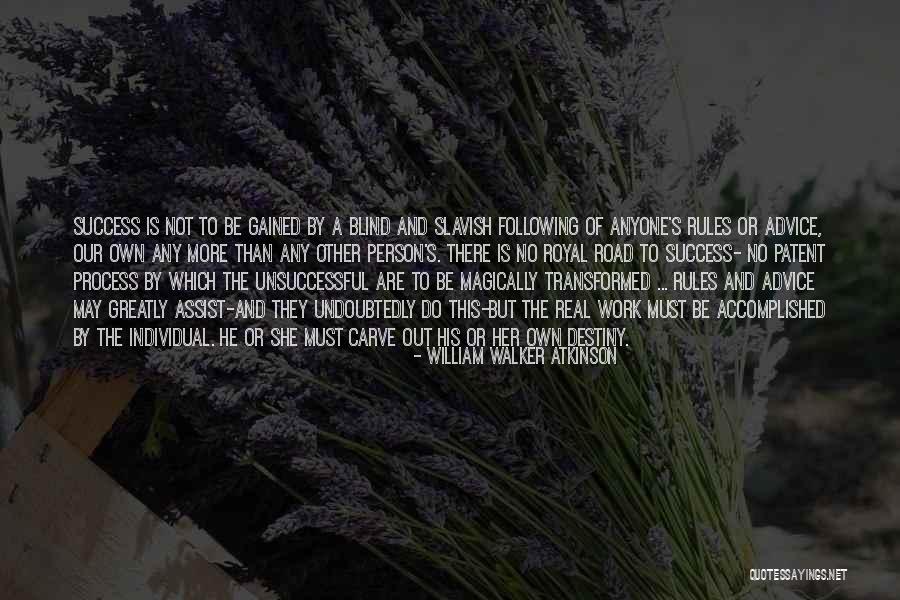 Success is not to be gained by a blind and slavish following of anyone's rules or advice, our own any more than any other person's. There is no royal road to success- no patent process by which the unsuccessful are to be magically transformed ... Rules and advice may greatly assist-and they undoubtedly do this-but the real work must be accomplished by the individual. He or she must carve out his or her own destiny. — William Walker Atkinson
Find what you love to do, what you're good at and passionate about and then dedicate your entire life to working hard at it. I wil say it again. Work hard. I mean that. Even if you're not sure where that work will lead, even if it is underappreciated or undervalued. Do it because the satisfaction, pride, and sense of self that comes from a job well done; from being the very best at what you do; from knowing that you did this, will be your ulltimate weapon and our greatest shield in a life that will often test you. One day destiny may conspire to take everything away from you, but it can never take away the abilities you have cultivated. As I am sure your grandfather will tell you, your winning lottery ticket is your mind. — Amy Mowafi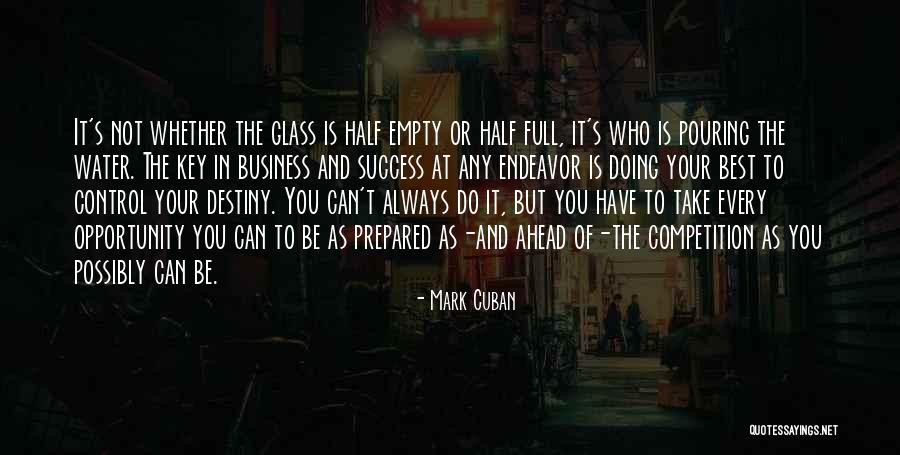 It's not whether the glass is half empty or half full, it's who is pouring the water. The key in business and success at any endeavor is doing your best to control your destiny. You can't always do it, but you have to take every opportunity you can to be as prepared as-and ahead of-the competition as you possibly can be. — Mark Cuban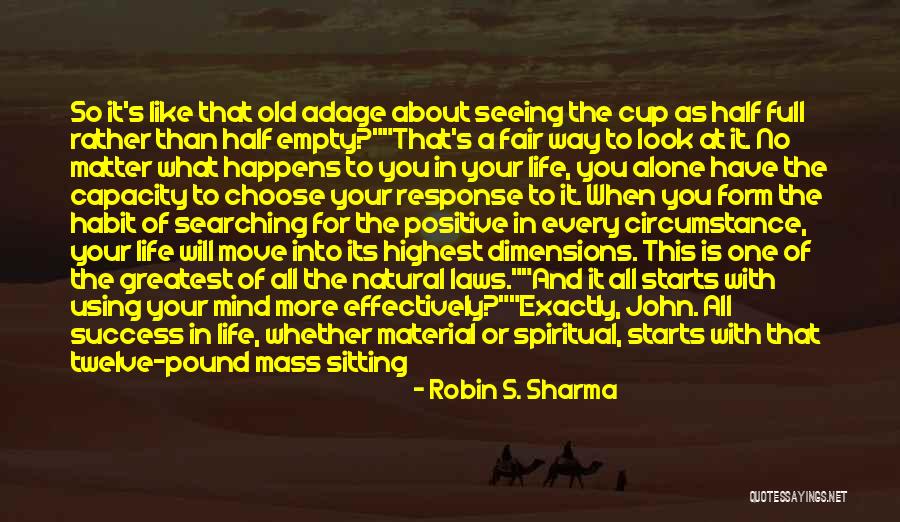 So it's like that old adage about seeing the cup as half full rather than half empty?"
"That's a fair way to look at it. No matter what happens to you in your life, you alone have the capacity to choose your response to it. When you form the habit of searching for the positive in every circumstance, your life will move into its highest dimensions. This is one of the greatest of all the natural laws."
"And it all starts with using your mind more effectively?"
"Exactly, John. All success in life, whether material or spiritual, starts with that twelve-pound mass sitting between your shoulders. Or more specifically, with the thoughts that you put into your mind every second of every minute of every day. Your outer world reflects the state of your inner world. By controlling the thoughts that you think and the way you respond to the events of your life, you begin to control your destiny. — Robin S. Sharma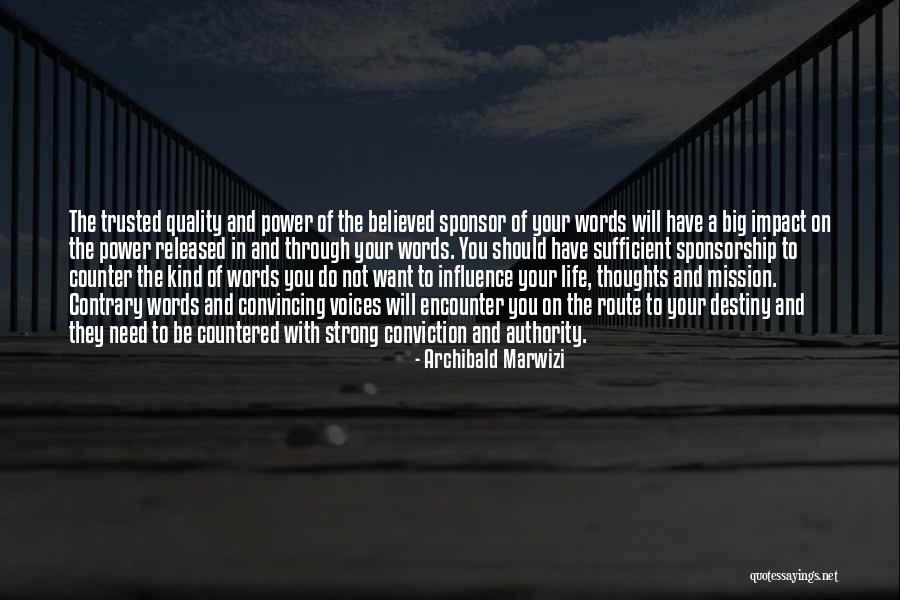 The trusted quality and power of the believed sponsor of your words will have a big impact on the power released in and through your words. You should have sufficient sponsorship to counter the kind of words you do not want to influence your life, thoughts and mission. Contrary words and convincing voices will encounter you on the route to your destiny and they need to be countered with strong conviction and authority. — Archibald Marwizi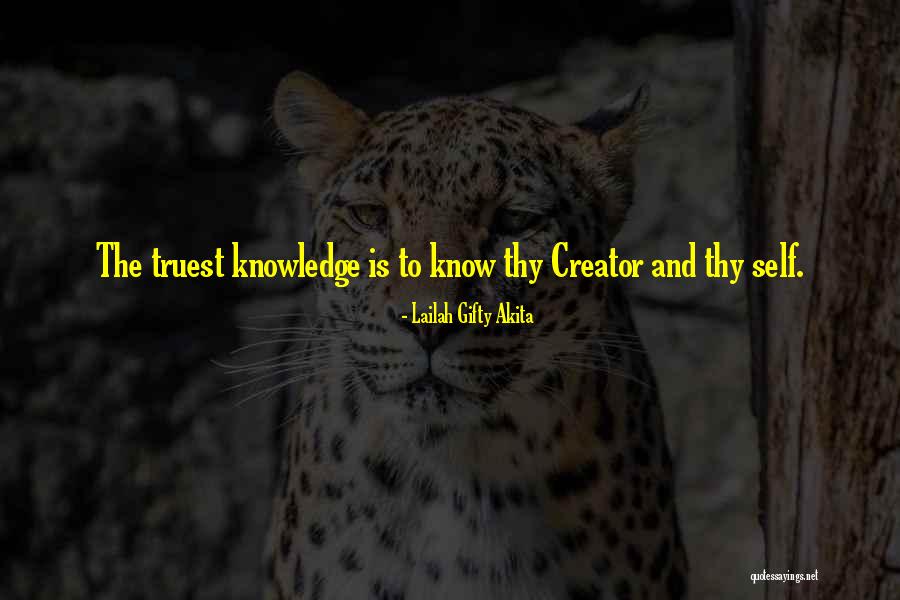 The truest knowledge is to know thy Creator and thy self. — Lailah Gifty Akita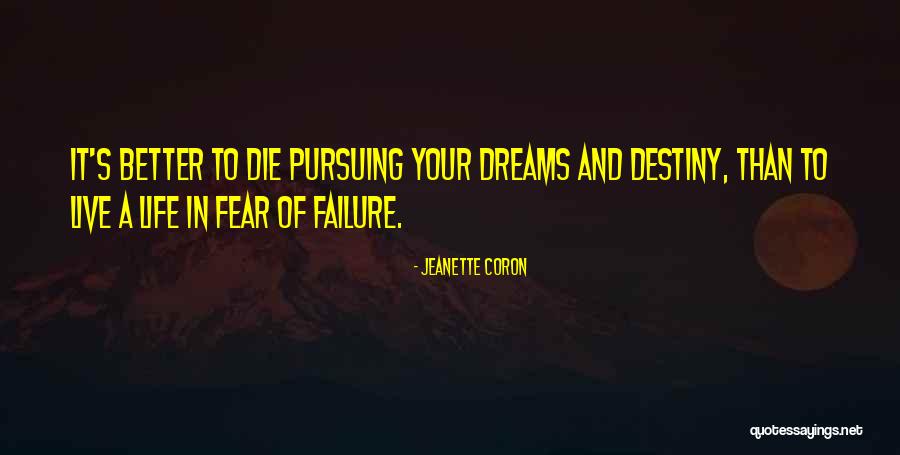 It's better to die pursuing your dreams and destiny, than to live a life in fear of failure. — Jeanette Coron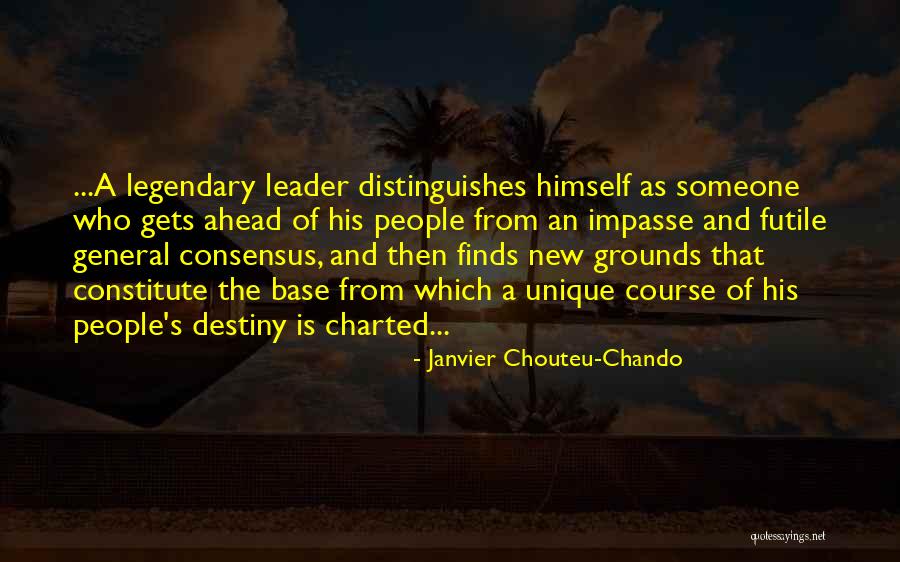 ...A legendary leader distinguishes himself as someone who gets ahead of his people from an impasse and futile general consensus, and then finds new grounds that constitute the base from which a unique course of his people's destiny is charted... — Janvier Chouteu-Chando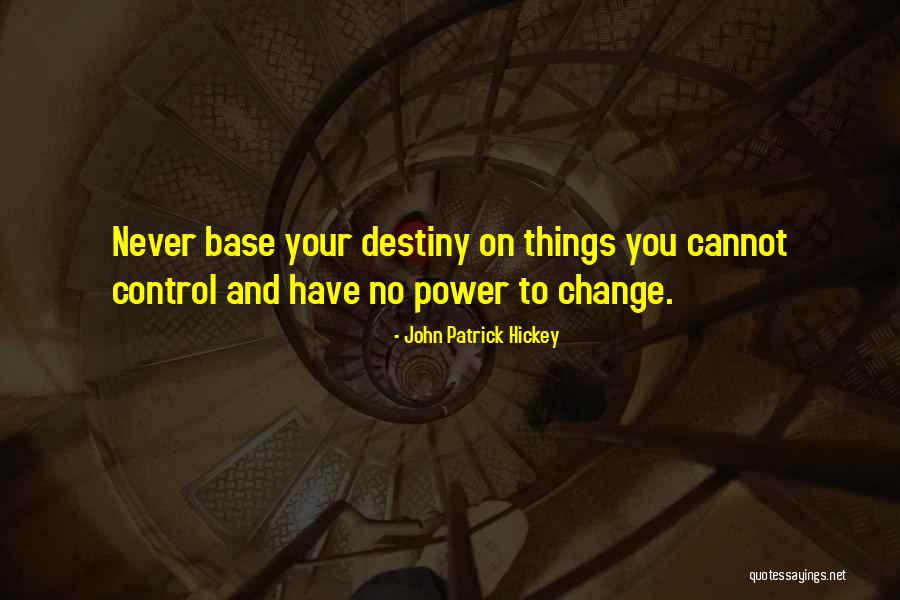 Never base your destiny on things you cannot control and have no power to change. — John Patrick Hickey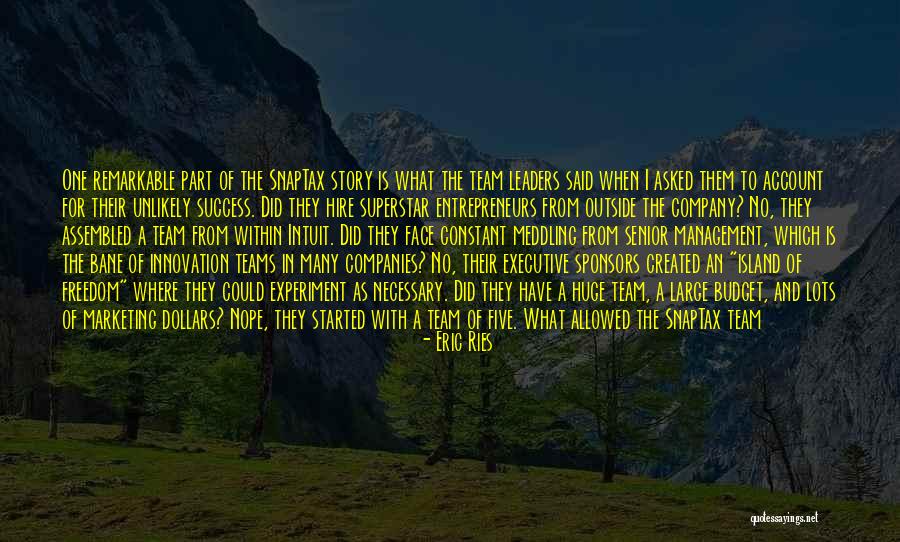 One remarkable part of the SnapTax story is what the team leaders said when I asked them to account for their unlikely success. Did they hire superstar entrepreneurs from outside the company? No, they assembled a team from within Intuit. Did they face constant meddling from senior management, which is the bane of innovation teams in many companies? No, their executive sponsors created an "island of freedom" where they could experiment as necessary. Did they have a huge team, a large budget, and lots of marketing dollars? Nope, they started with a team of five. What allowed the SnapTax team to innovate was not their genes, destiny, or astrological signs but a process deliberately facilitated by Intuit's senior management. — Eric Ries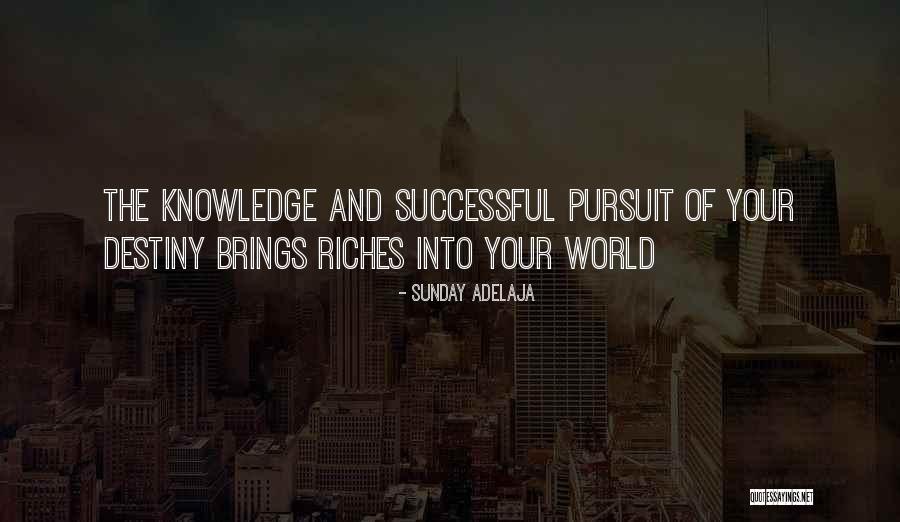 The knowledge and successful pursuit of your destiny brings riches into your world — Sunday Adelaja