Quotes & Sayings About Winter Vs Summer
Enjoy reading and share 32 famous quotes about Winter Vs Summer with everyone.
Top Winter Vs Summer Quotes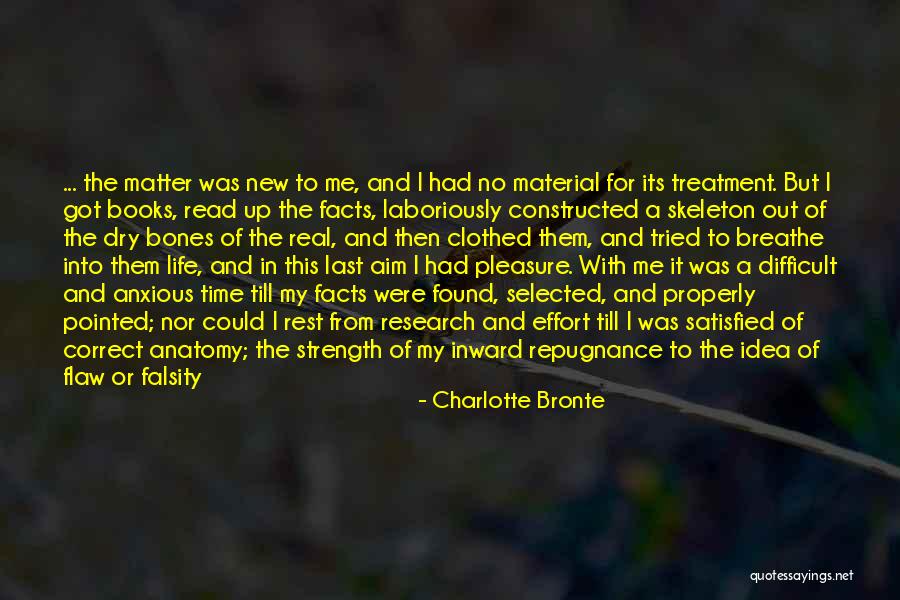 ... the matter was new to me, and I had no material for its treatment. But I got books, read up the facts, laboriously constructed a skeleton out of the dry bones of the real, and then clothed them, and tried to breathe into them life, and in this last aim I had pleasure. With me it was a difficult and anxious time till my facts were found, selected, and properly pointed; nor could I rest from research and effort till I was satisfied of correct anatomy; the strength of my inward repugnance to the idea of flaw or falsity sometimes enabled me to shun egregious blunders; but the knowledge was not there in my head, ready and mellow; it had not been down in Spring, grown in Summer, harvested in Autumn, and garnered through Winter; whatever I wanted I must go out and gather fresh; glean of wild herbs my lap full, and shred them green into the pot. — Charlotte Bronte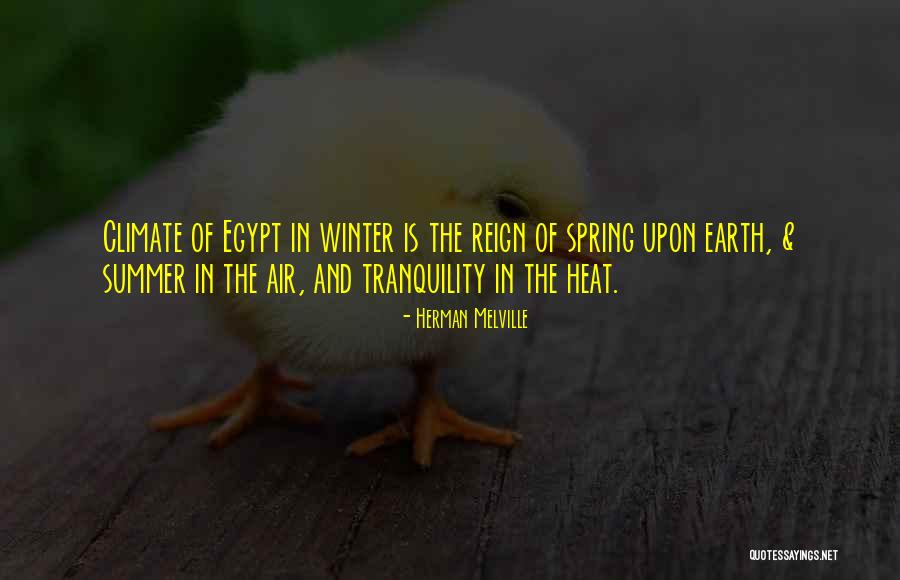 Climate of Egypt in winter is the reign of spring upon earth, & summer in the air, and tranquility in the heat. — Herman Melville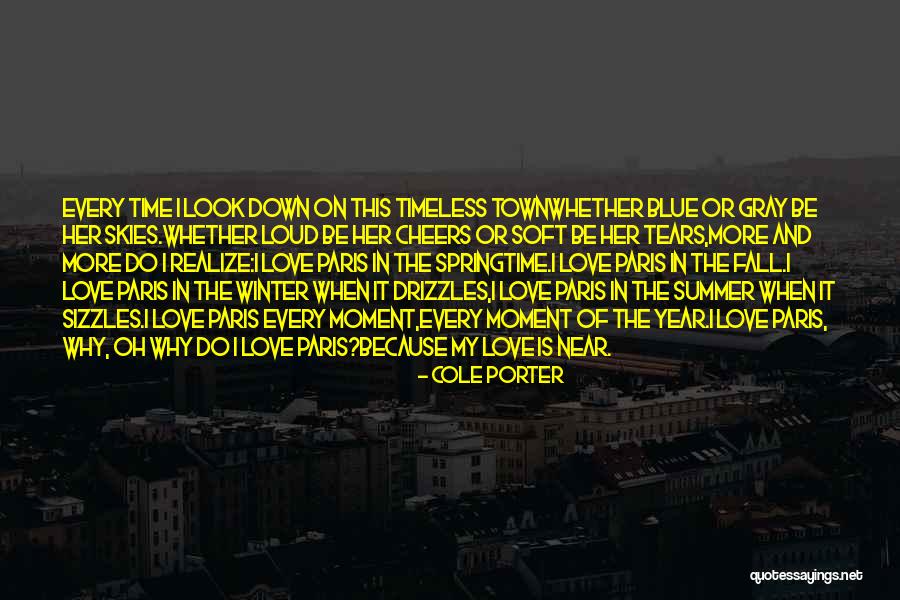 Every time I look down on this timeless town
Whether blue or gray be her skies.
Whether loud be her cheers or soft be her tears,
More and more do I realize:
I love Paris in the springtime.
I love Paris in the fall.
I love Paris in the winter when it drizzles,
I love Paris in the summer when it sizzles.
I love Paris every moment,
Every moment of the year.
I love Paris, why, oh why do I love Paris?
Because my love is near. — Cole Porter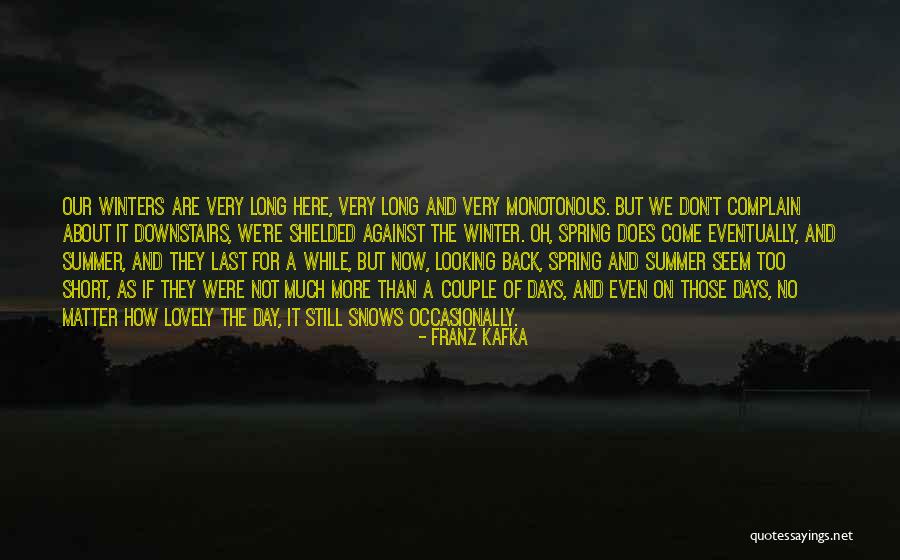 Our winters are very long here, very long and very monotonous. But we don't complain about it downstairs, we're shielded against the winter. Oh, spring does come eventually, and summer, and they last for a while, but now, looking back, spring and summer seem too short, as if they were not much more than a couple of days, and even on those days, no matter how lovely the day, it still snows occasionally. — Franz Kafka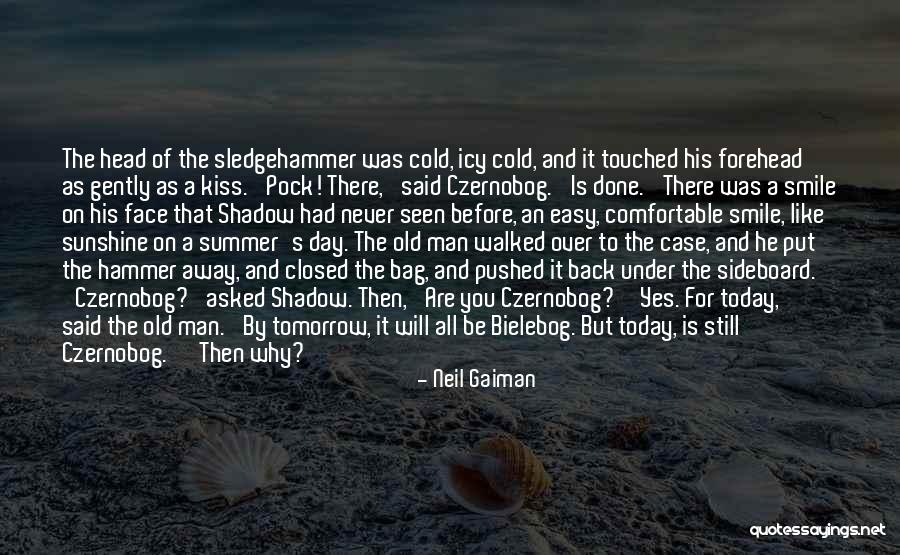 The head of the sledgehammer was cold, icy cold, and it touched his forehead as gently as a kiss.
'Pock! There,' said Czernobog. 'Is done.' There was a smile on his face that Shadow had never seen before, an easy, comfortable smile, like sunshine on a summer's day. The old man walked over to the case, and he put the hammer away, and closed the bag, and pushed it back under the sideboard.
'Czernobog?' asked Shadow. Then, 'Are you Czernobog?'
'Yes. For today,' said the old man. 'By tomorrow, it will all be Bielebog. But today, is still Czernobog.'
'Then why? Why didn't you kill me when you could?'
The old man took out an unfiltered cigarette from a pack in his pocket. He took a large box of matches from the mantelpiece and lit the cigarette with a match. He seemed deep in thought. 'Because,' said the old man, after some time, 'there is blood. But there is also gratitude. And it has been a long, long winter. — Neil Gaiman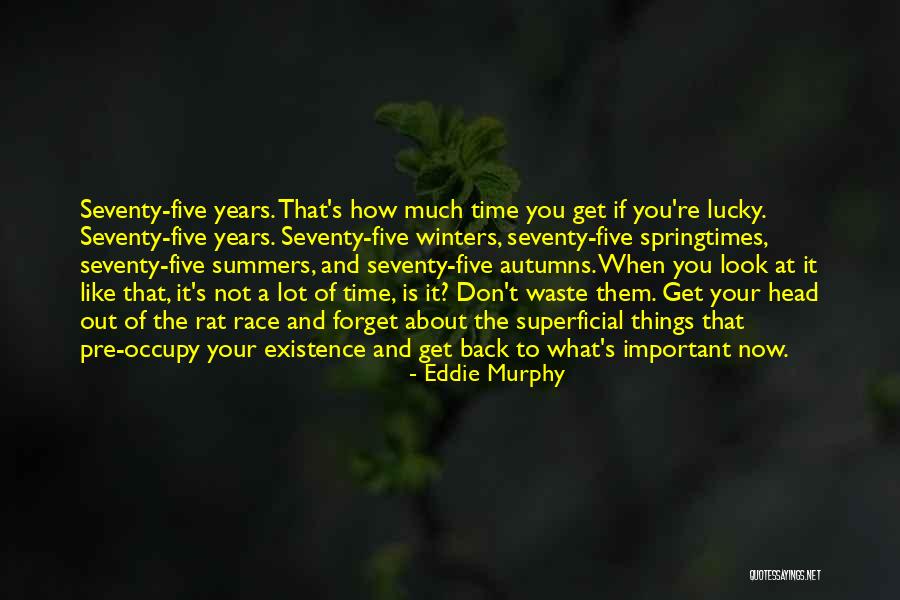 Seventy-five years. That's how much time you get if you're lucky. Seventy-five years. Seventy-five winters, seventy-five springtimes, seventy-five summers, and seventy-five autumns. When you look at it like that, it's not a lot of time, is it? Don't waste them. Get your head out of the rat race and forget about the superficial things that pre-occupy your existence and get back to what's important now. — Eddie Murphy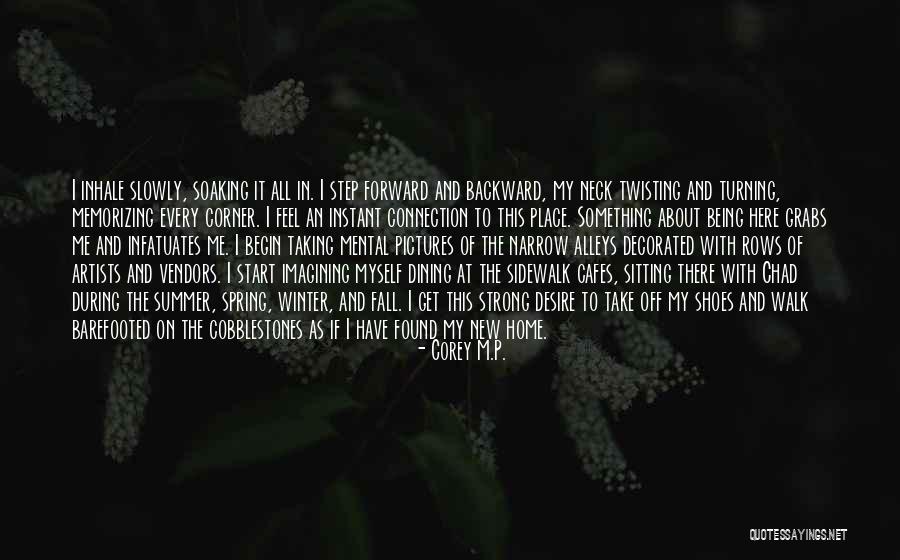 I inhale slowly, soaking it all in. I step forward and backward, my neck twisting and turning, memorizing every corner. I feel an instant connection to this place. Something about being here grabs me and infatuates me. I begin taking mental pictures of the narrow alleys decorated with rows of artists and vendors. I start imagining myself dining at the sidewalk cafes, sitting there with Chad during the summer, spring, winter, and fall. I get this strong desire to take off my shoes and walk barefooted on the cobblestones as if I have found my new home. — Corey M.P.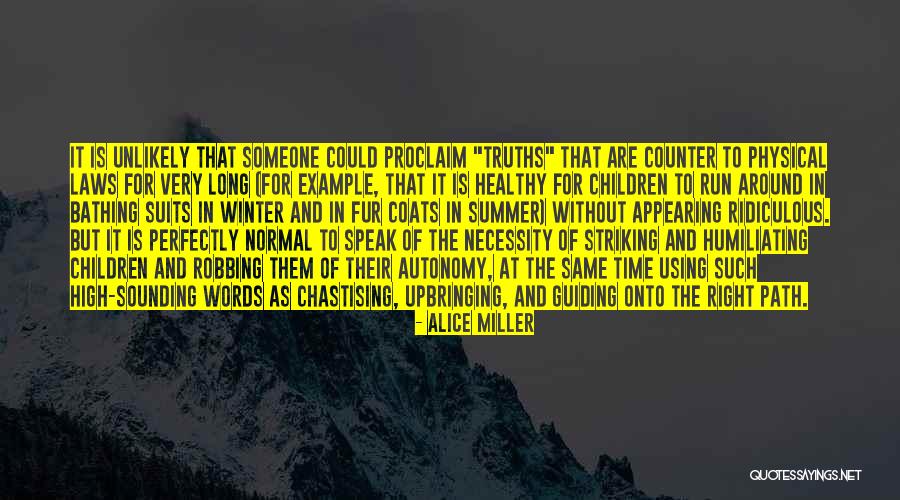 It is unlikely that someone could proclaim "truths" that are counter to physical laws for very long (for example, that it is healthy for children to run around in bathing suits in winter and in fur coats in summer) without appearing ridiculous. But it is perfectly normal to speak of the necessity of striking and humiliating children and robbing them of their autonomy, at the same time using such high-sounding words as chastising, upbringing, and guiding onto the right path. — Alice Miller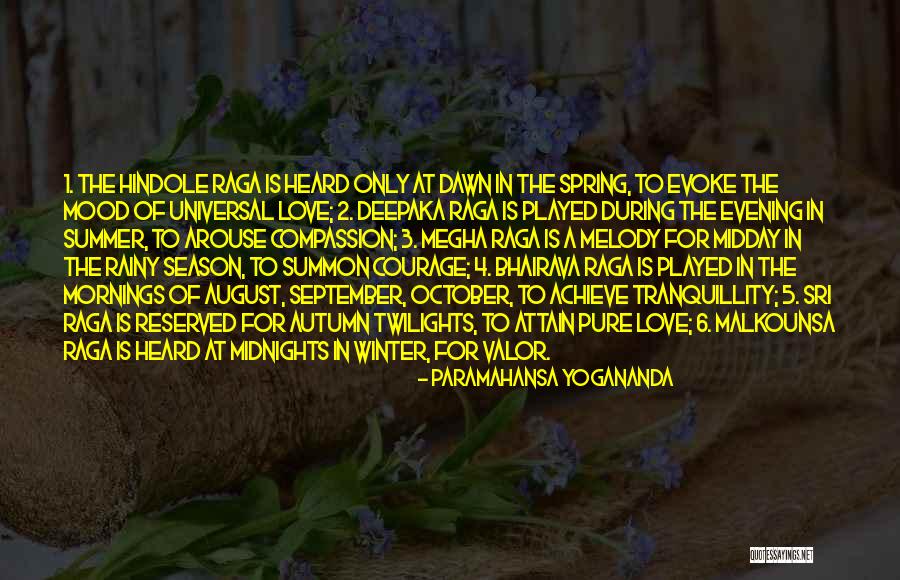 1. the Hindole Raga is heard only at dawn in the spring, to evoke the mood of universal love; 2. Deepaka Raga is played during the evening in summer, to arouse compassion; 3. Megha Raga is a melody for midday in the rainy season, to summon courage; 4. Bhairava Raga is played in the mornings of August, September, October, to achieve tranquillity; 5. Sri Raga is reserved for autumn twilights, to attain pure love; 6. Malkounsa Raga is heard at midnights in winter, for valor. — Paramahansa Yogananda
In the midst of winter, I finally learned that there was in me an invincible summer. - ALBERT CAMUS — Kristin Hannah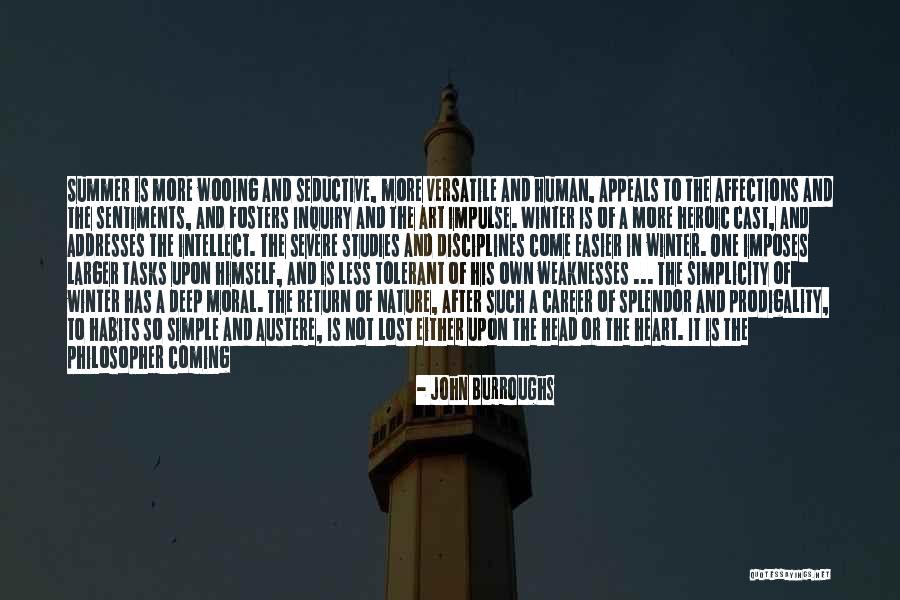 Summer is more wooing and seductive, more versatile and human, appeals to the affections and the sentiments, and fosters inquiry and the art impulse. Winter is of a more heroic cast, and addresses the intellect. The severe studies and disciplines come easier in winter. One imposes larger tasks upon himself, and is less tolerant of his own weaknesses ... The simplicity of winter has a deep moral. The return of nature, after such a career of splendor and prodigality, to habits so simple and austere, is not lost either upon the head or the heart. It is the philosopher coming back from the banquet and the wine to a cup of water and a crust of bread. — John Burroughs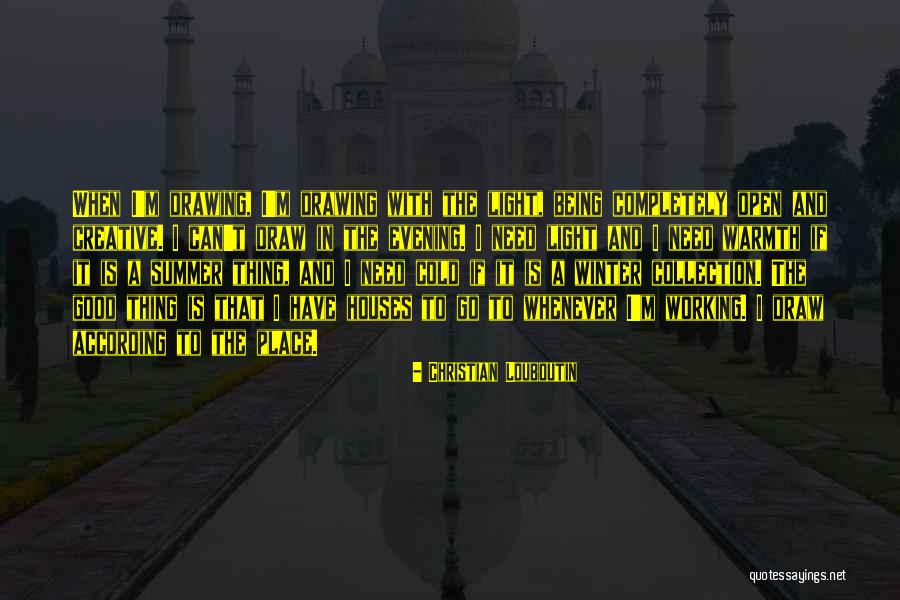 When I'm drawing, I'm drawing with the light, being completely open and creative. I can't draw in the evening. I need light and I need warmth if it is a summer thing, and I need cold if it is a winter collection. The good thing is that I have houses to go to whenever I'm working. I draw according to the place. — Christian Louboutin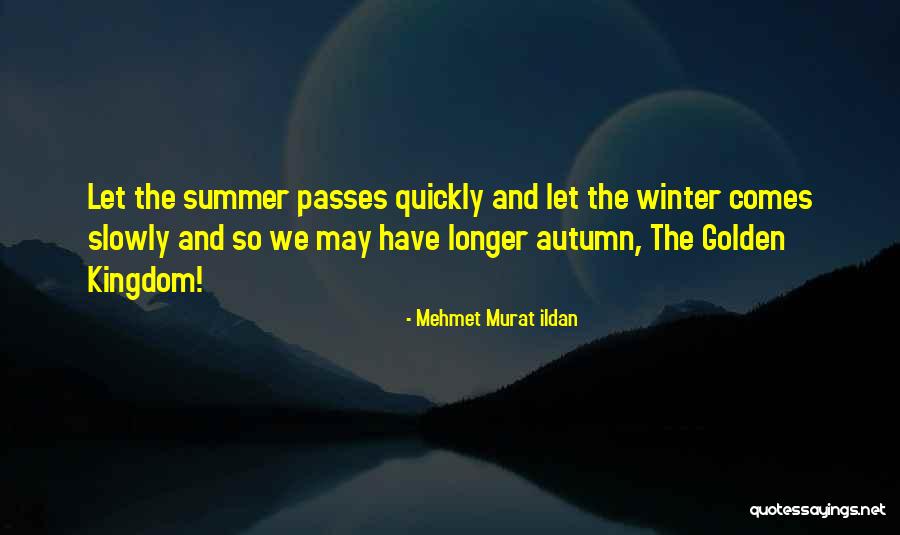 Let the summer passes quickly and let the winter comes slowly and so we may have longer autumn, The Golden Kingdom! — Mehmet Murat Ildan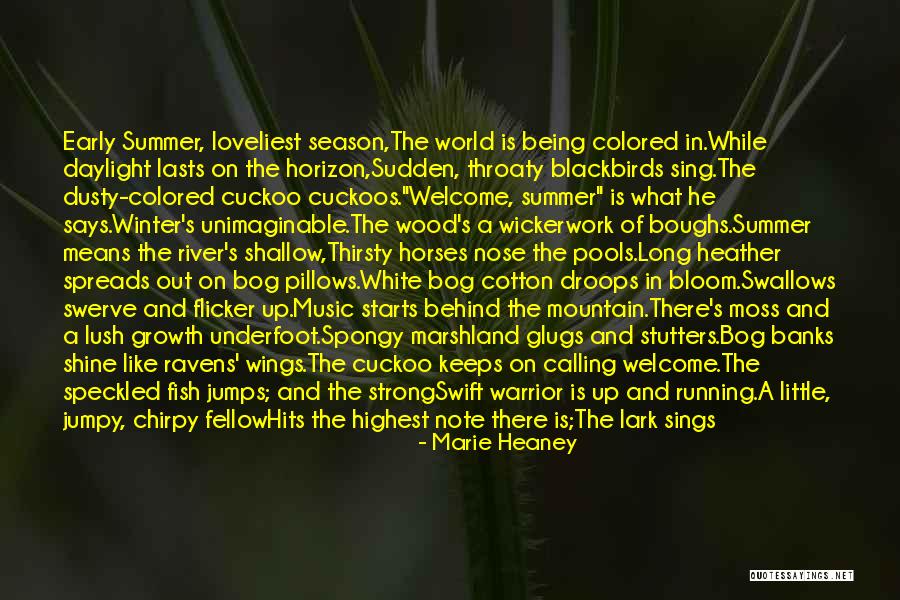 Early Summer, loveliest season,
The world is being colored in.
While daylight lasts on the horizon,
Sudden, throaty blackbirds sing.

The dusty-colored cuckoo cuckoos.
"Welcome, summer" is what he says.
Winter's unimaginable.
The wood's a wickerwork of boughs.

Summer means the river's shallow,
Thirsty horses nose the pools.
Long heather spreads out on bog pillows.
White bog cotton droops in bloom.

Swallows swerve and flicker up.
Music starts behind the mountain.
There's moss and a lush growth underfoot.
Spongy marshland glugs and stutters.

Bog banks shine like ravens' wings.
The cuckoo keeps on calling welcome.
The speckled fish jumps; and the strong
Swift warrior is up and running.

A little, jumpy, chirpy fellow
Hits the highest note there is;
The lark sings out his clear tidings.
Summer, shimmer, perfect days. — Marie Heaney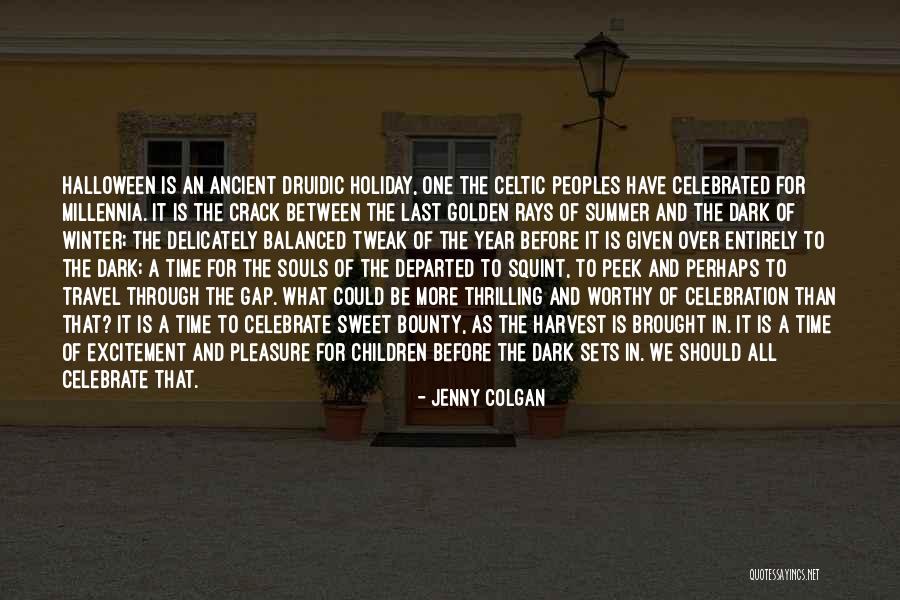 Halloween is an ancient druidic holiday, one the Celtic peoples have celebrated for millennia. It is the crack between the last golden rays of summer and the dark of winter; the delicately balanced tweak of the year before it is given over entirely to the dark; a time for the souls of the departed to squint, to peek and perhaps to travel through the gap. What could be more thrilling and worthy of celebration than that? It is a time to celebrate sweet bounty, as the harvest is brought in. It is a time of excitement and pleasure for children before the dark sets in. We should all celebrate that. — Jenny Colgan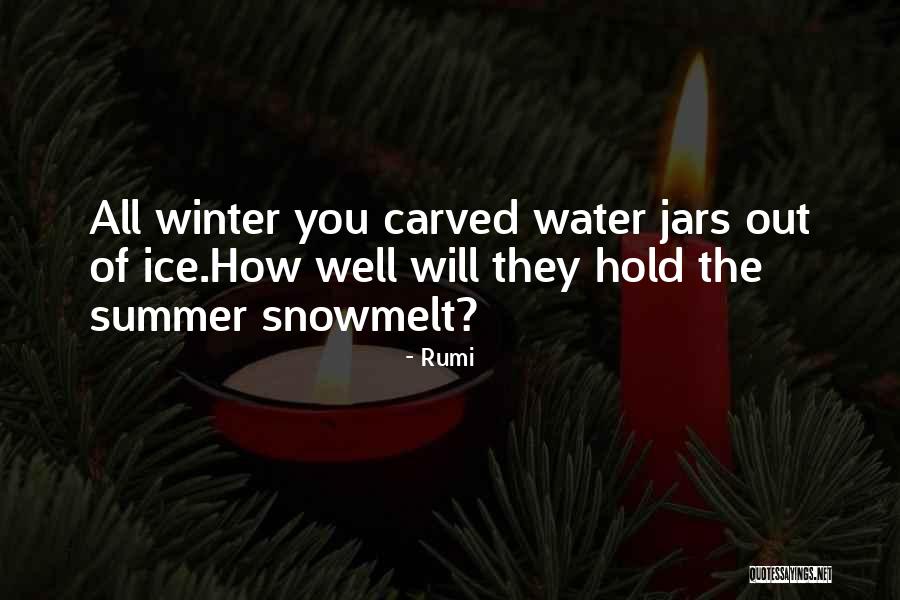 All winter you carved water jars out of ice.
How well will they hold the summer snowmelt? — Rumi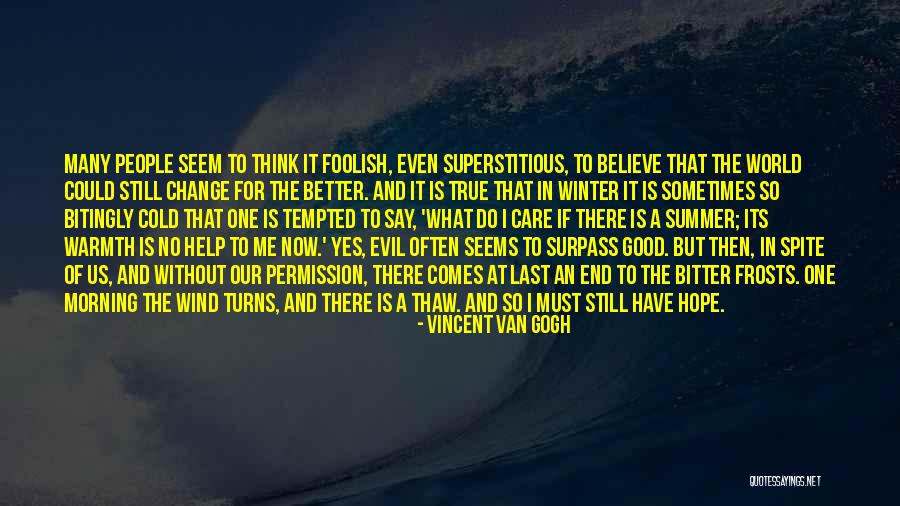 Many people seem to think it foolish, even superstitious, to believe that the world could still change for the better. And it is true that in winter it is sometimes so bitingly cold that one is tempted to say, 'What do I care if there is a summer; its warmth is no help to me now.' Yes, evil often seems to surpass good. But then, in spite of us, and without our permission, there comes at last an end to the bitter frosts. One morning the wind turns, and there is a thaw. And so I must still have hope. — Vincent Van Gogh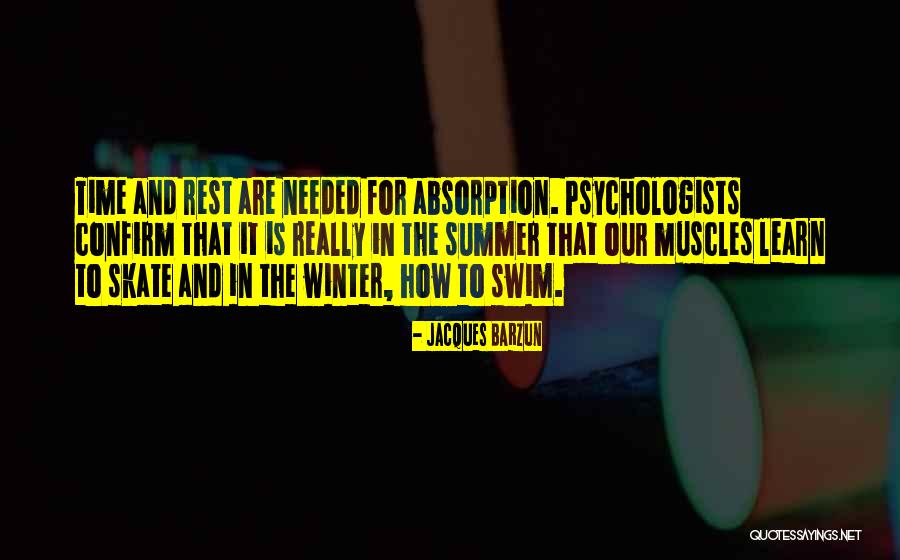 Time and rest are needed for absorption. Psychologists confirm that it is really in the summer that our muscles learn to skate and in the winter, how to swim. — Jacques Barzun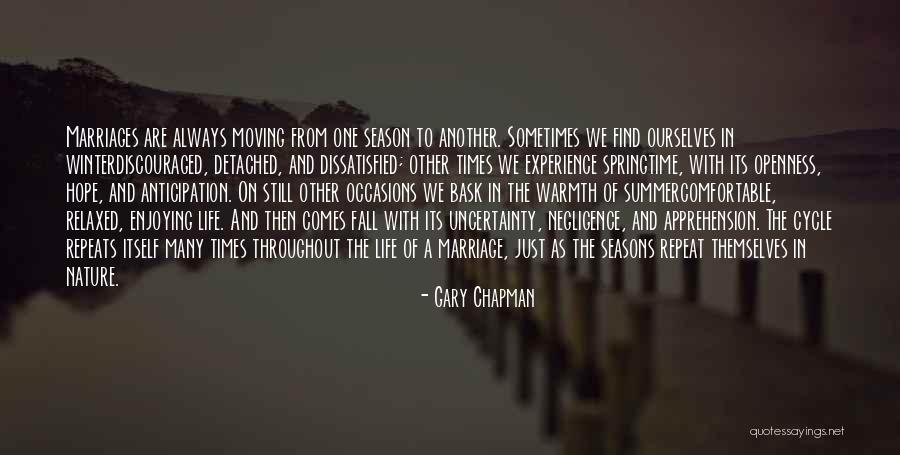 Marriages are always moving from one season to another. Sometimes we find ourselves in winter
discouraged, detached, and dissatisfied; other times we experience springtime, with its openness, hope, and anticipation. On still other occasions we bask in the warmth of summer
comfortable, relaxed, enjoying life. And then comes fall with its uncertainty, negligence, and apprehension. The cycle repeats itself many times throughout the life of a marriage, just as the seasons repeat themselves in nature. — Gary Chapman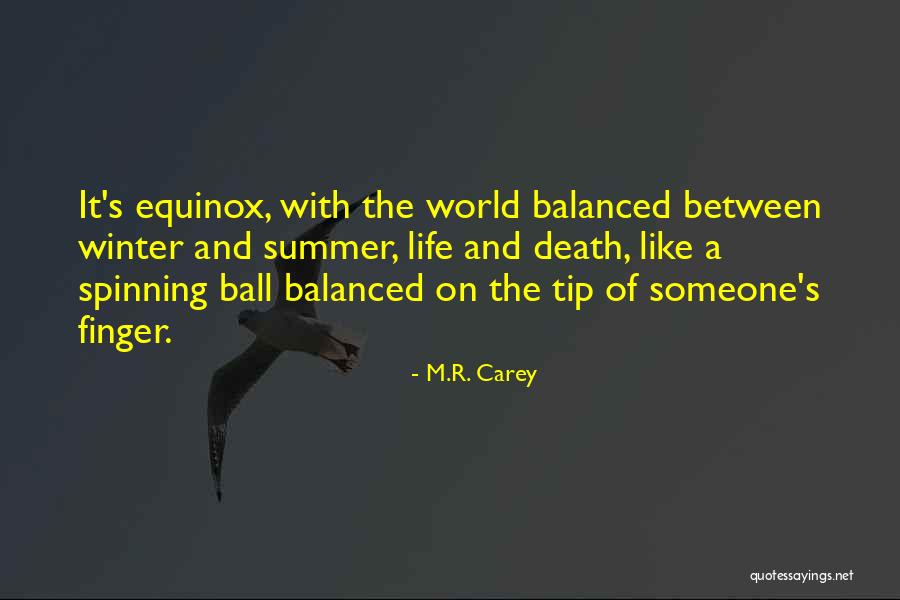 It's equinox, with the world balanced between winter and summer, life and death, like a spinning ball balanced on the tip of someone's finger. — M.R. Carey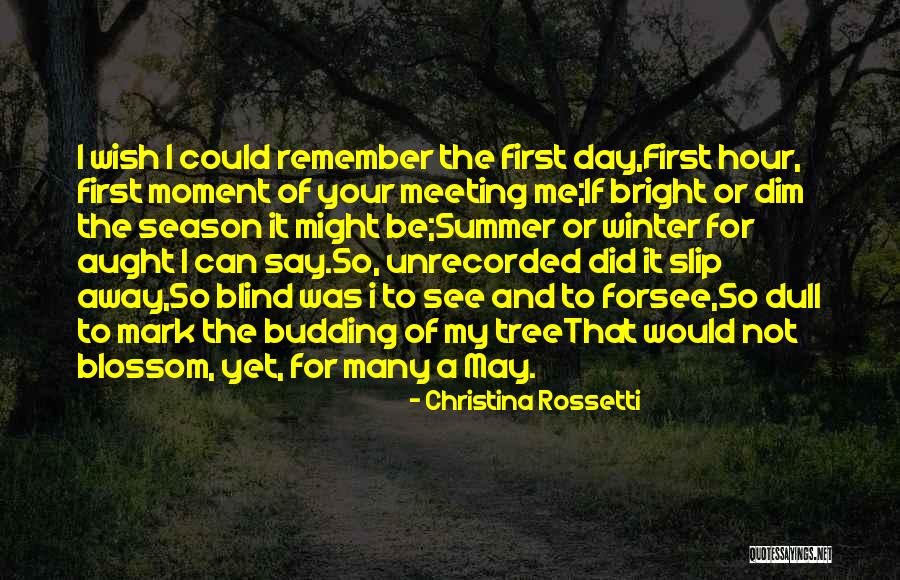 I wish I could remember the first day,
First hour, first moment of your meeting me;
If bright or dim the season it might be;
Summer or winter for aught I can say.
So, unrecorded did it slip away,
So blind was i to see and to forsee,
So dull to mark the budding of my tree
That would not blossom, yet, for many a May. — Christina Rossetti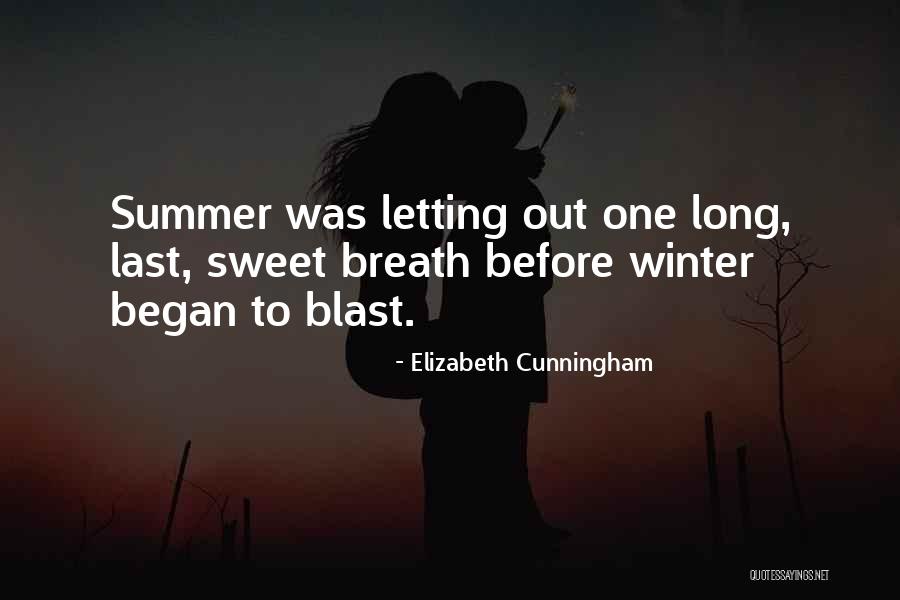 Summer was letting out one long, last, sweet breath before winter began to blast. — Elizabeth Cunningham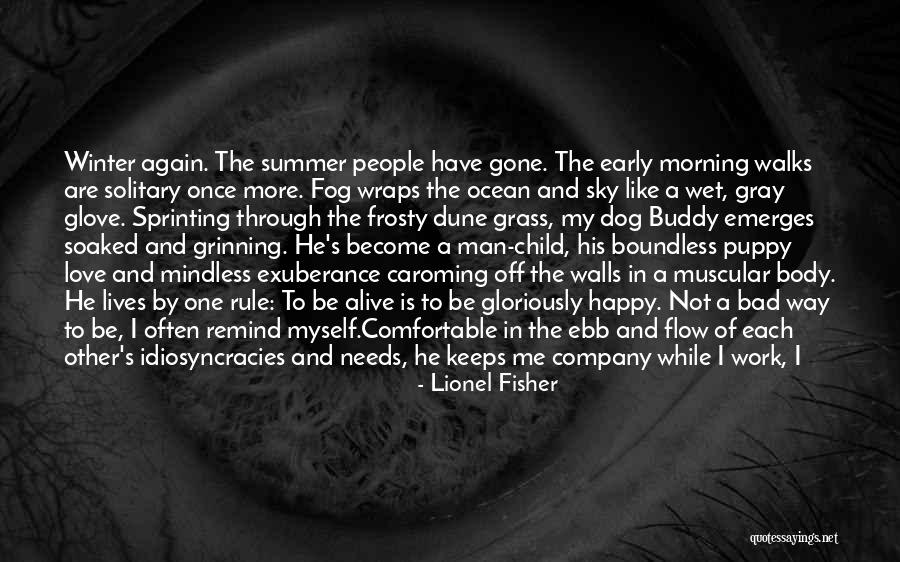 Winter again. The summer people have gone. The early morning walks are solitary once more. Fog wraps the ocean and sky like a wet, gray glove. Sprinting through the frosty dune grass, my dog Buddy emerges soaked and grinning. He's become a man-child, his boundless puppy love and mindless exuberance caroming off the walls in a muscular body. He lives by one rule: To be alive is to be gloriously happy. Not a bad way to be, I often remind myself.

Comfortable in the ebb and flow of each other's idiosyncracies and needs, he keeps me company while I work, I join him often in his play. His unflagging high spirits urge me to cram activity and joy into every waking moment as he does. By so doing, I tell myself, I will multiply my allotted time by dog years and dilate the remaining seasons accordingly. A good way to look at life, I figure. — Lionel Fisher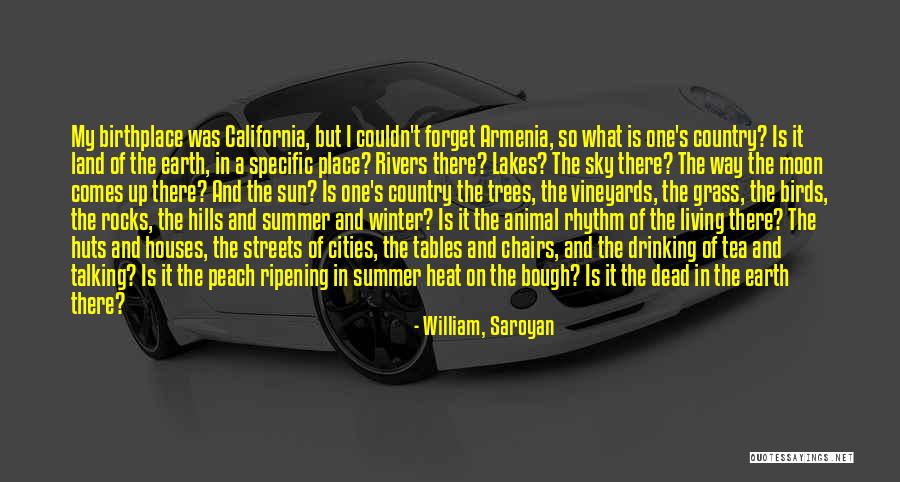 My birthplace was California, but I couldn't forget Armenia, so what is one's country? Is it land of the earth, in a specific place? Rivers there? Lakes? The sky there? The way the moon comes up there? And the sun? Is one's country the trees, the vineyards, the grass, the birds, the rocks, the hills and summer and winter? Is it the animal rhythm of the living there? The huts and houses, the streets of cities, the tables and chairs, and the drinking of tea and talking? Is it the peach ripening in summer heat on the bough? Is it the dead in the earth there? — William, Saroyan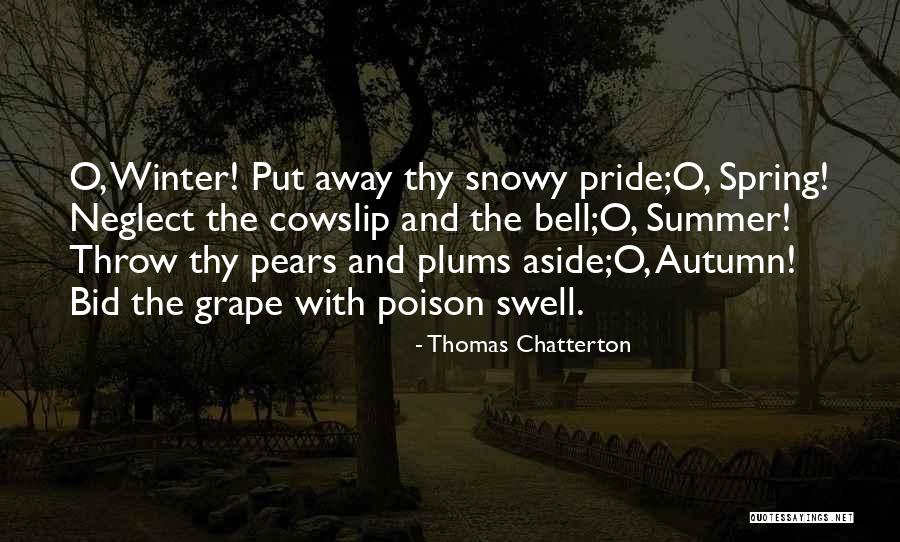 O, Winter! Put away thy snowy pride;
O, Spring! Neglect the cowslip and the bell;
O, Summer! Throw thy pears and plums aside;
O, Autumn! Bid the grape with poison swell. — Thomas Chatterton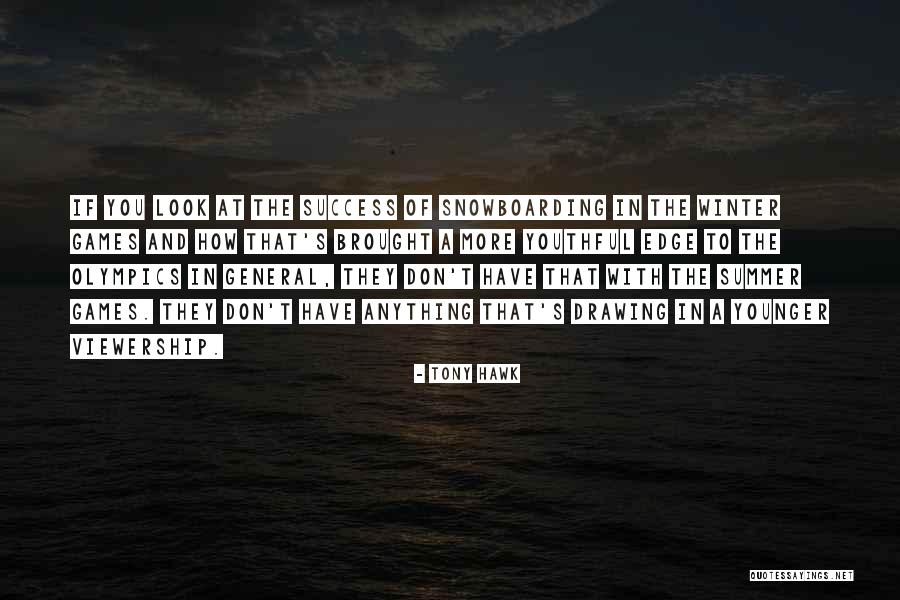 If you look at the success of snowboarding in the Winter Games and how that's brought a more youthful edge to the Olympics in general, they don't have that with the Summer Games. They don't have anything that's drawing in a younger viewership. — Tony Hawk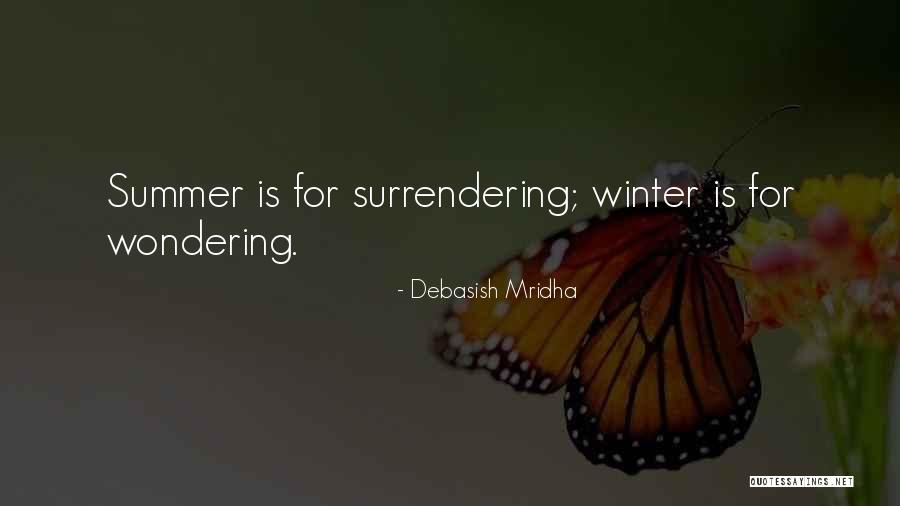 Summer is for surrendering; winter is for wondering. — Debasish Mridha
Ireland, in breadth, and for wholesomeness and serenity of climate, far surpasses Britain; for the snow scarcely ever lies there above three days: no man makes hay in the summer for winter's provision, or builds stables for his beasts of burden ... the island abounds in milk and honey. — Venerable Bede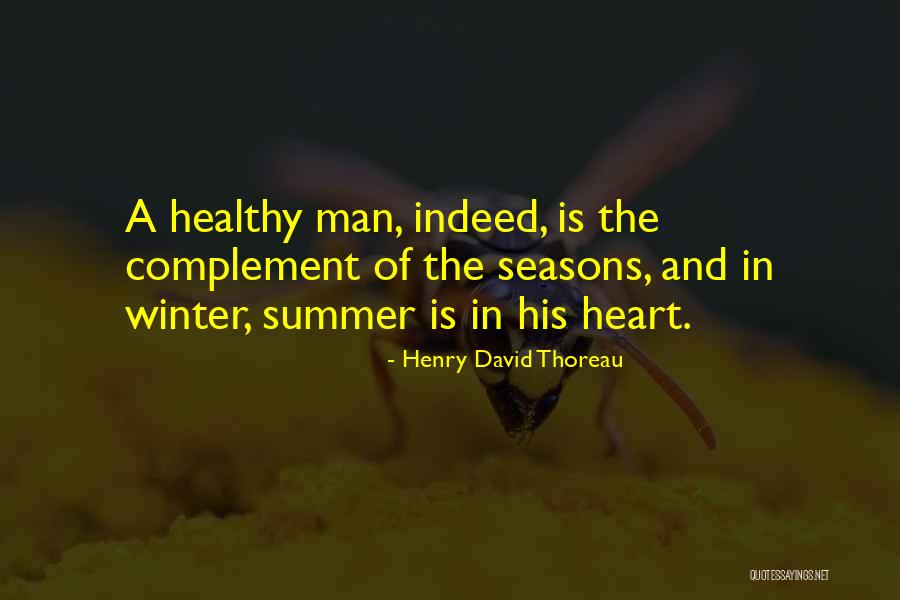 A healthy man, indeed, is the complement of the seasons, and in winter, summer is in his heart. — Henry David Thoreau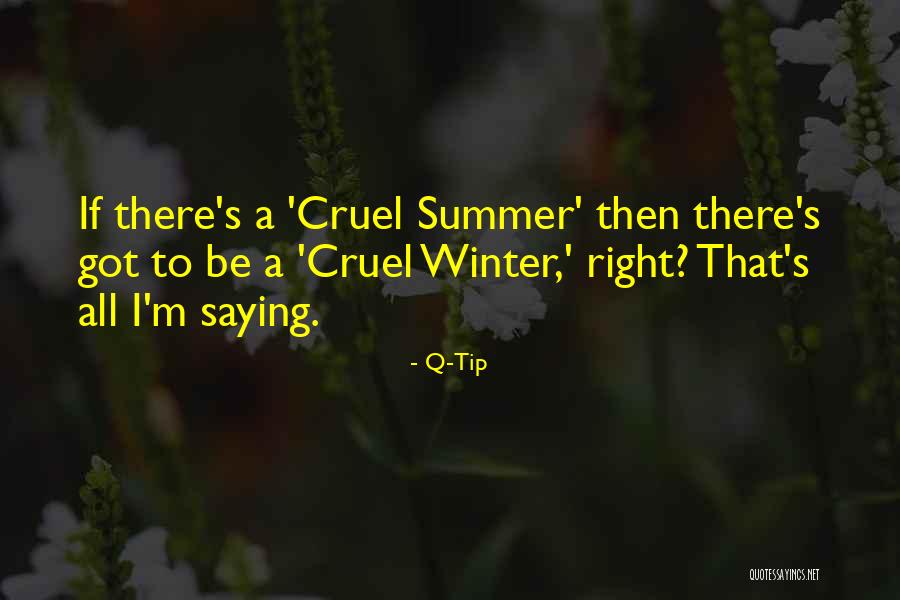 If there's a 'Cruel Summer' then there's got to be a 'Cruel Winter,' right? That's all I'm saying. — Q-Tip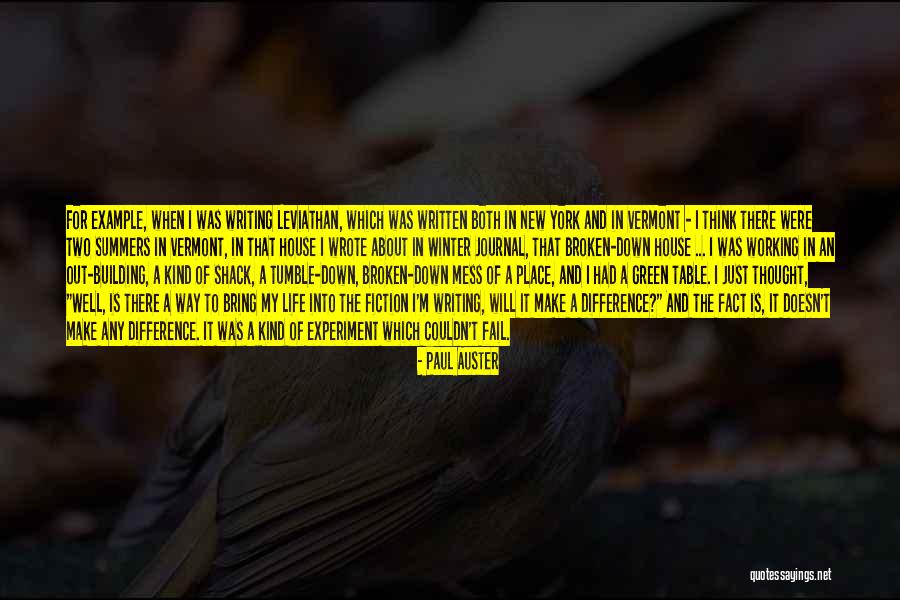 For example, when I was writing Leviathan, which was written both in New York and in Vermont - I think there were two summers in Vermont, in that house I wrote about in Winter Journal, that broken-down house ... I was working in an out-building, a kind of shack, a tumble-down, broken-down mess of a place, and I had a green table. I just thought, "Well, is there a way to bring my life into the fiction I'm writing, will it make a difference?" And the fact is, it doesn't make any difference. It was a kind of experiment which couldn't fail. — Paul Auster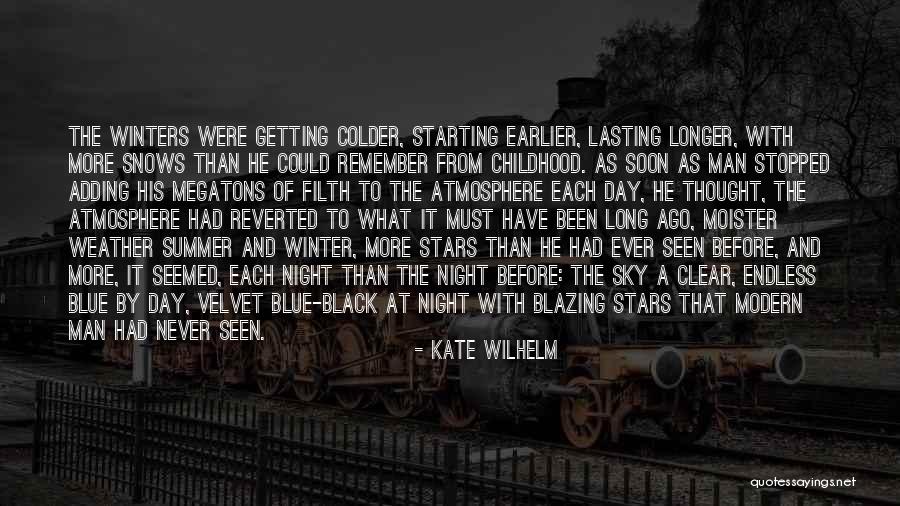 The winters were getting colder, starting earlier, lasting longer, with more snows than he could remember from childhood. As soon as man stopped adding his megatons of filth to the atmosphere each day, he thought, the atmosphere had reverted to what it must have been long ago, moister weather summer and winter, more stars than he had ever seen before, and more, it seemed, each night than the night before: the sky a clear, endless blue by day, velvet blue-black at night with blazing stars that modern man had never seen. — Kate Wilhelm