Winter Vs Spring Quotes & Sayings
Enjoy reading and share 30 famous quotes about Winter Vs Spring with everyone.
Top Winter Vs Spring Quotes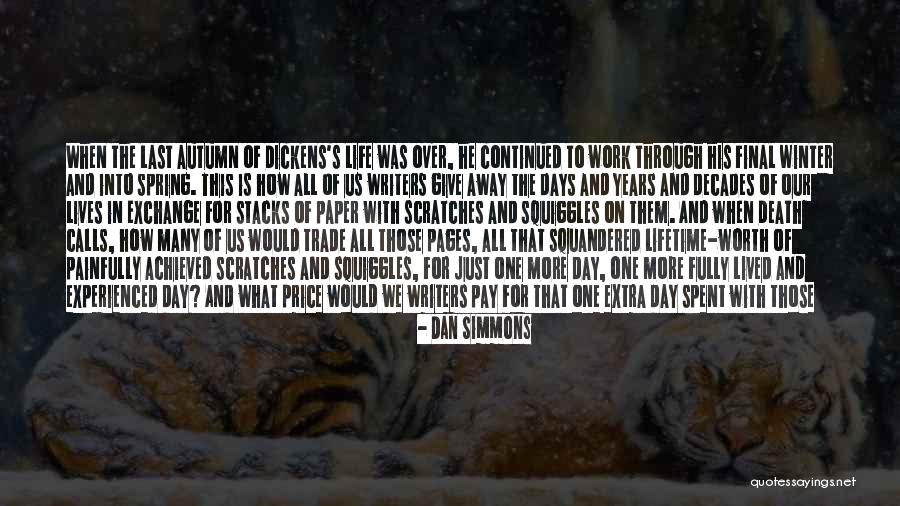 When the last autumn of Dickens's life was over, he continued to work through his final winter and into spring. This is how all of us writers give away the days and years and decades of our lives in exchange for stacks of paper with scratches and squiggles on them. And when Death calls, how many of us would trade all those pages, all that squandered lifetime-worth of painfully achieved scratches and squiggles, for just one more day, one more fully lived and experienced day? And what price would we writers pay for that one extra day spent with those we ignored while we were locked away scratching and squiggling in our arrogant years of solipsistic isolation?
Would we trade all those pages for a single hour? Or all of our books for one real minute? — Dan Simmons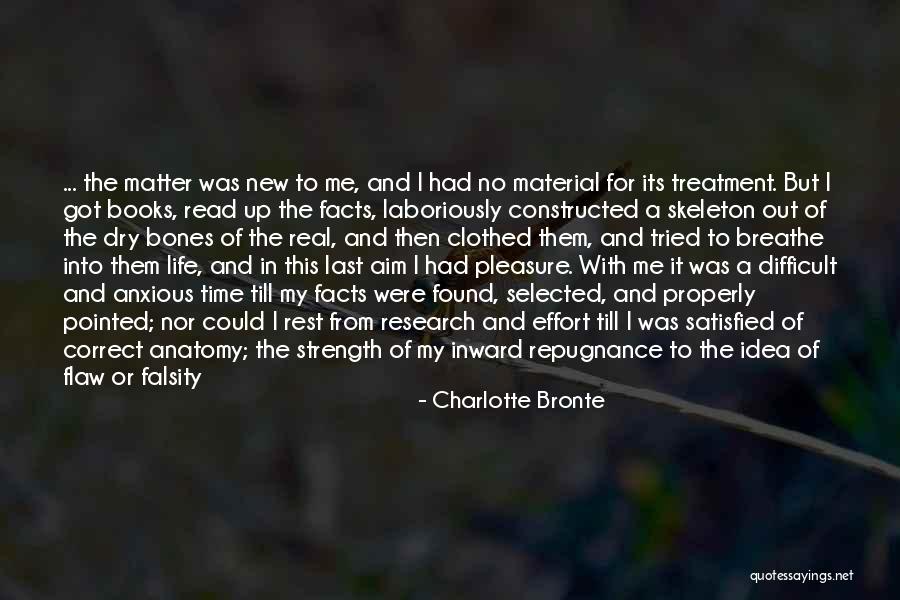 ... the matter was new to me, and I had no material for its treatment. But I got books, read up the facts, laboriously constructed a skeleton out of the dry bones of the real, and then clothed them, and tried to breathe into them life, and in this last aim I had pleasure. With me it was a difficult and anxious time till my facts were found, selected, and properly pointed; nor could I rest from research and effort till I was satisfied of correct anatomy; the strength of my inward repugnance to the idea of flaw or falsity sometimes enabled me to shun egregious blunders; but the knowledge was not there in my head, ready and mellow; it had not been down in Spring, grown in Summer, harvested in Autumn, and garnered through Winter; whatever I wanted I must go out and gather fresh; glean of wild herbs my lap full, and shred them green into the pot. — Charlotte Bronte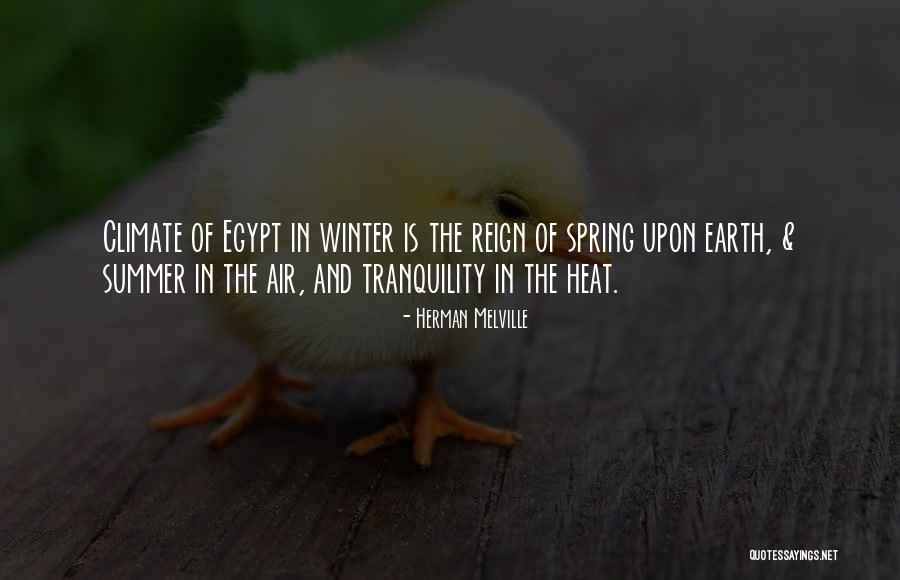 Climate of Egypt in winter is the reign of spring upon earth, & summer in the air, and tranquility in the heat. — Herman Melville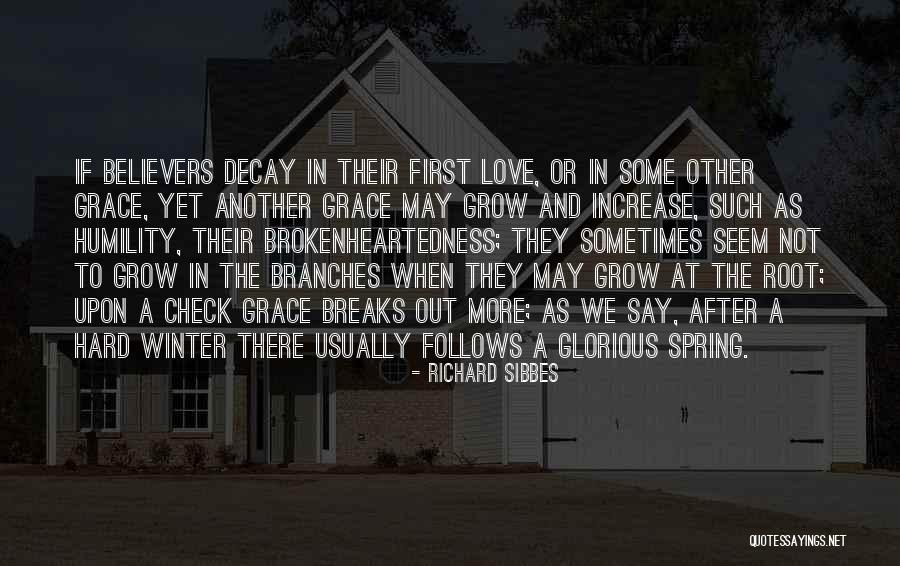 If believers decay in their first love, or in some other grace, yet another grace may grow and increase, such as humility, their brokenheartedness; they sometimes seem not to grow in the branches when they may grow at the root; upon a check grace breaks out more; as we say, after a hard winter there usually follows a glorious spring. — Richard Sibbes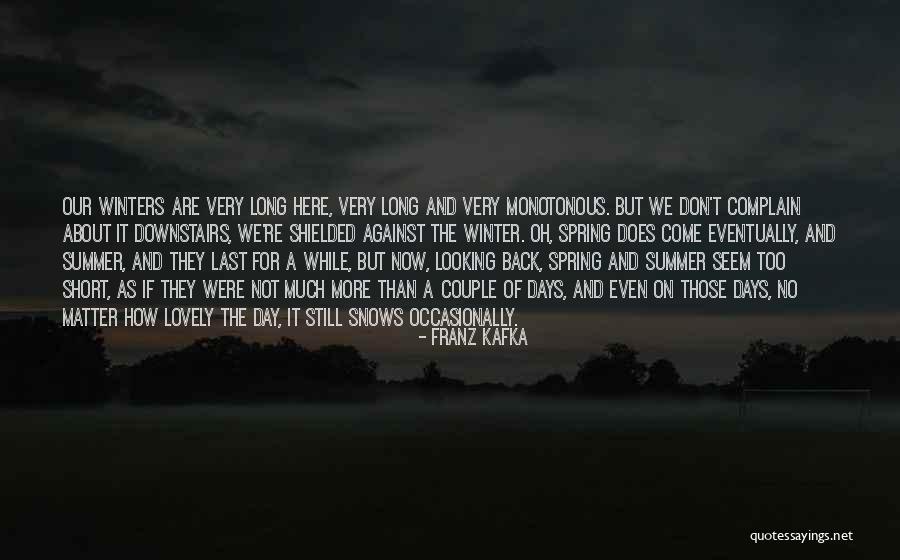 Our winters are very long here, very long and very monotonous. But we don't complain about it downstairs, we're shielded against the winter. Oh, spring does come eventually, and summer, and they last for a while, but now, looking back, spring and summer seem too short, as if they were not much more than a couple of days, and even on those days, no matter how lovely the day, it still snows occasionally. — Franz Kafka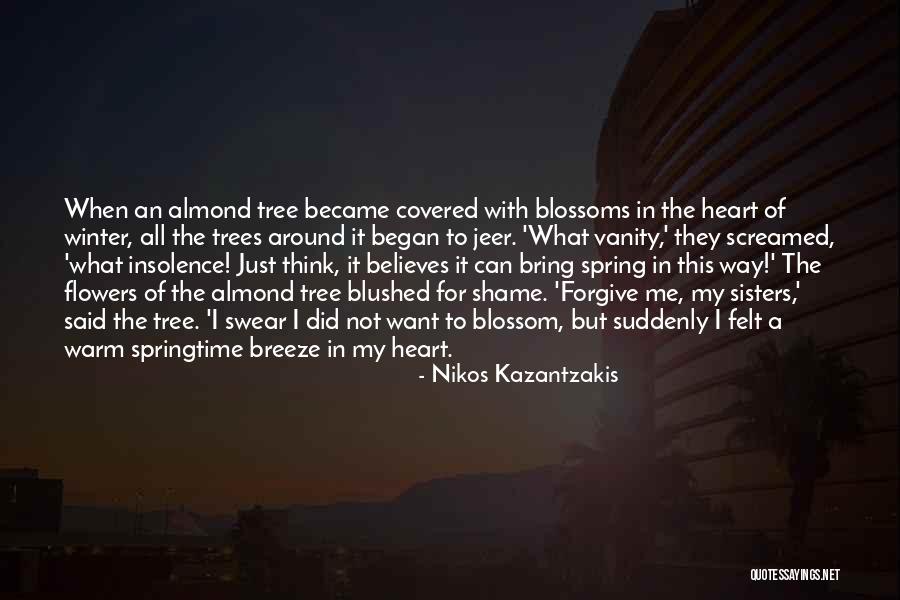 When an almond tree became covered with blossoms in the heart of winter, all the trees around it began to jeer. 'What vanity,' they screamed, 'what insolence! Just think, it believes it can bring spring in this way!' The flowers of the almond tree blushed for shame. 'Forgive me, my sisters,' said the tree. 'I swear I did not want to blossom, but suddenly I felt a warm springtime breeze in my heart. — Nikos Kazantzakis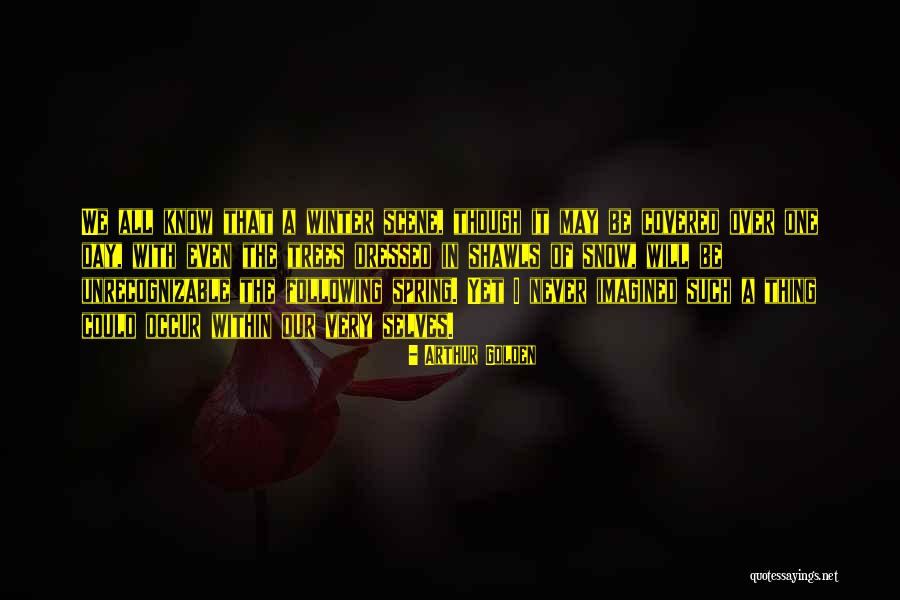 We all know that a winter scene, though it may be covered over one day, with even the trees dressed in shawls of snow, will be unrecognizable the following spring. Yet I never imagined such a thing could occur within our very selves. — Arthur Golden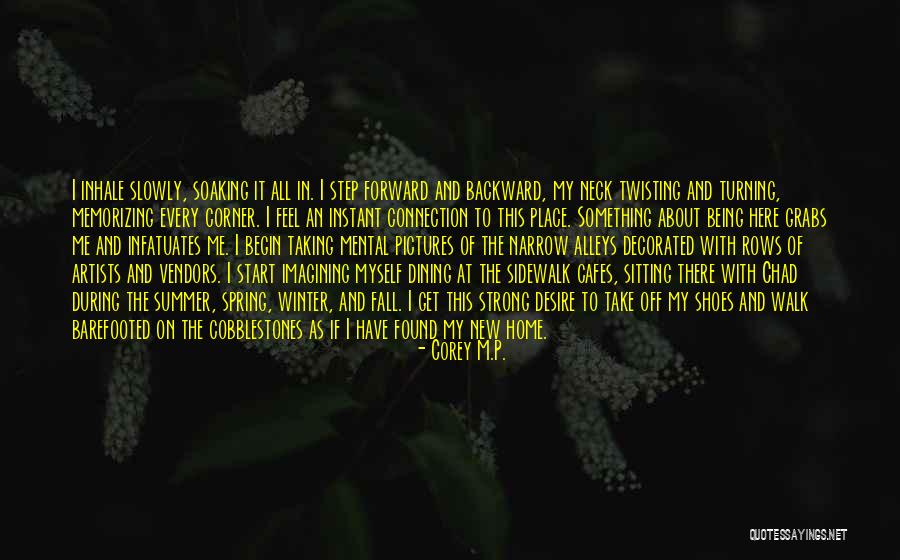 I inhale slowly, soaking it all in. I step forward and backward, my neck twisting and turning, memorizing every corner. I feel an instant connection to this place. Something about being here grabs me and infatuates me. I begin taking mental pictures of the narrow alleys decorated with rows of artists and vendors. I start imagining myself dining at the sidewalk cafes, sitting there with Chad during the summer, spring, winter, and fall. I get this strong desire to take off my shoes and walk barefooted on the cobblestones as if I have found my new home. — Corey M.P.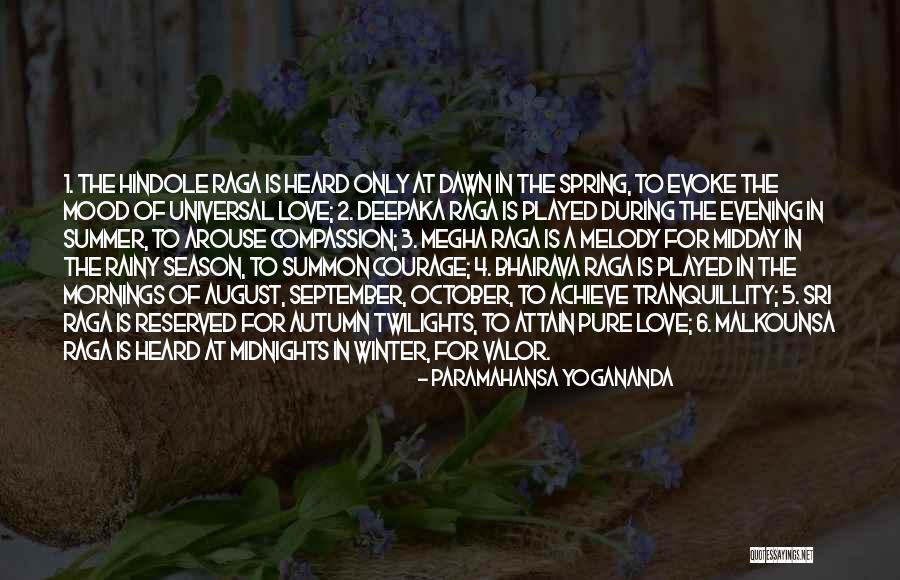 1. the Hindole Raga is heard only at dawn in the spring, to evoke the mood of universal love; 2. Deepaka Raga is played during the evening in summer, to arouse compassion; 3. Megha Raga is a melody for midday in the rainy season, to summon courage; 4. Bhairava Raga is played in the mornings of August, September, October, to achieve tranquillity; 5. Sri Raga is reserved for autumn twilights, to attain pure love; 6. Malkounsa Raga is heard at midnights in winter, for valor. — Paramahansa Yogananda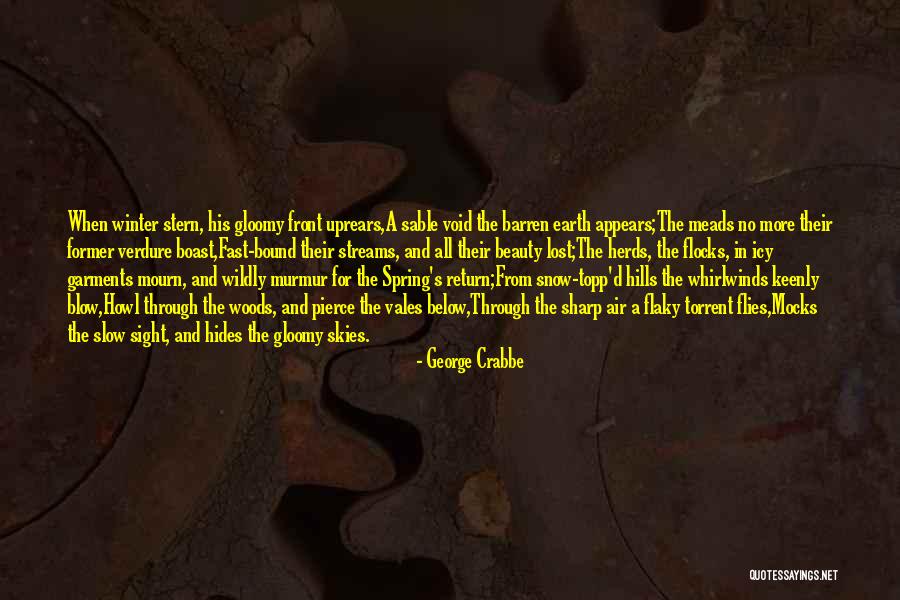 When winter stern, his gloomy front uprears,
A sable void the barren earth appears;
The meads no more their former verdure boast,
Fast-bound their streams, and all their beauty lost;
The herds, the flocks, in icy garments mourn, and wildly murmur for the Spring's return;
From snow-topp'd hills the whirlwinds keenly blow,
Howl through the woods, and pierce the vales below,
Through the sharp air a flaky torrent flies,
Mocks the slow sight, and hides the gloomy skies. — George Crabbe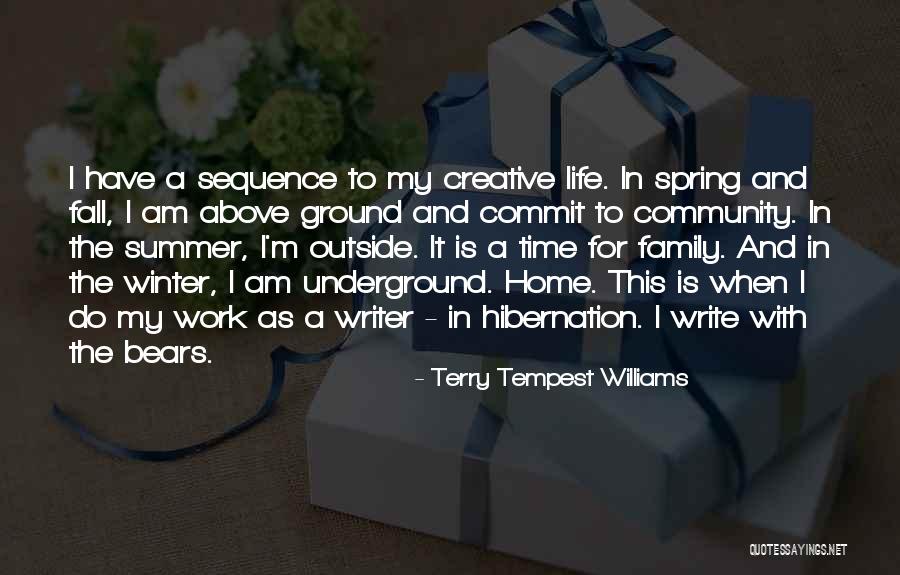 I have a sequence to my creative life. In spring and fall, I am above ground and commit to community. In the summer, I'm outside. It is a time for family. And in the winter, I am underground. Home. This is when I do my work as a writer - in hibernation. I write with the bears. — Terry Tempest Williams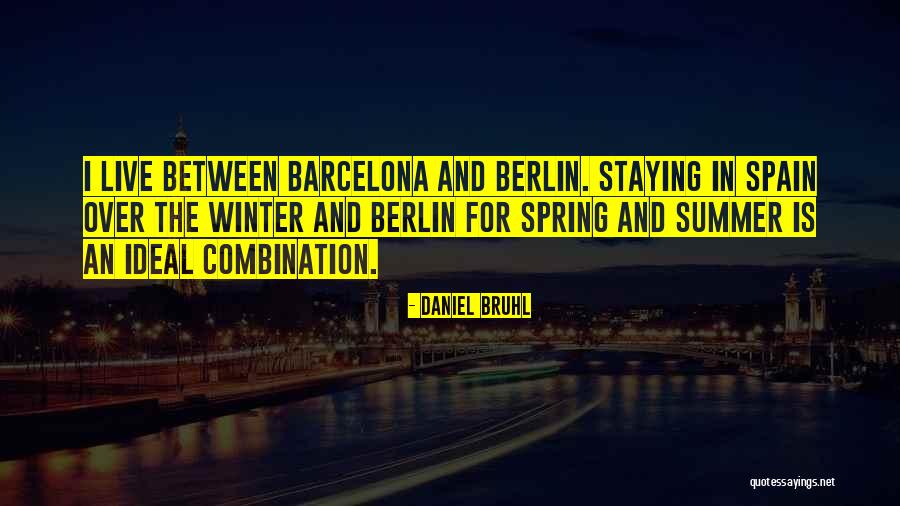 I live between Barcelona and Berlin. Staying in Spain over the winter and Berlin for spring and summer is an ideal combination. — Daniel Bruhl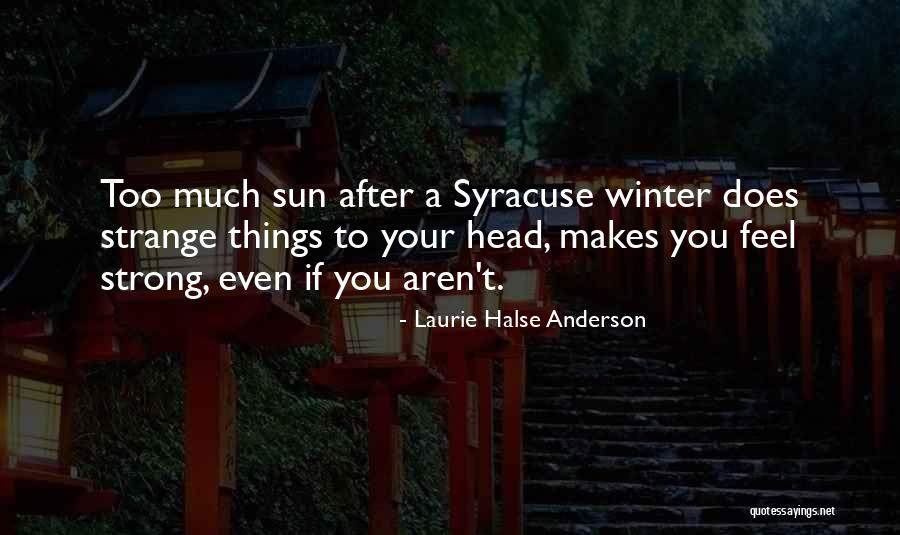 Too much sun after a Syracuse winter does strange things to your head, makes you feel strong, even if you aren't. — Laurie Halse Anderson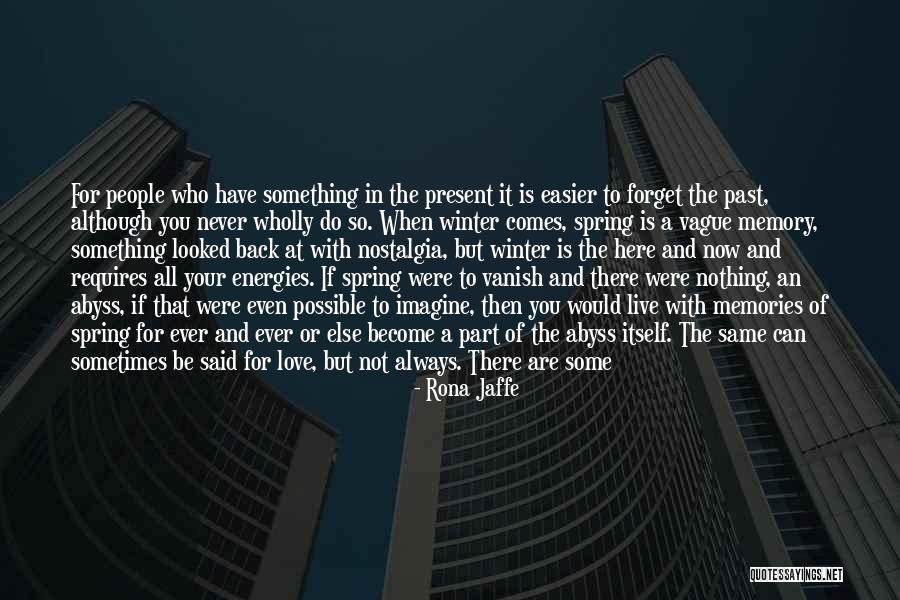 For people who have something in the present it is easier to forget the past, although you never wholly do so. When winter comes, spring is a vague memory, something looked back at with nostalgia, but winter is the here and now and requires all your energies. If spring were to vanish and there were nothing, an abyss, if that were even possible to imagine, then you would live with memories of spring for ever and ever or else become a part of the abyss itself. The same can sometimes be said for love, but not always. There are some loves that live on for years, inexplicably, although the lovers are parted and there is no hope that they may ever reunite except as polite and distant friends. — Rona Jaffe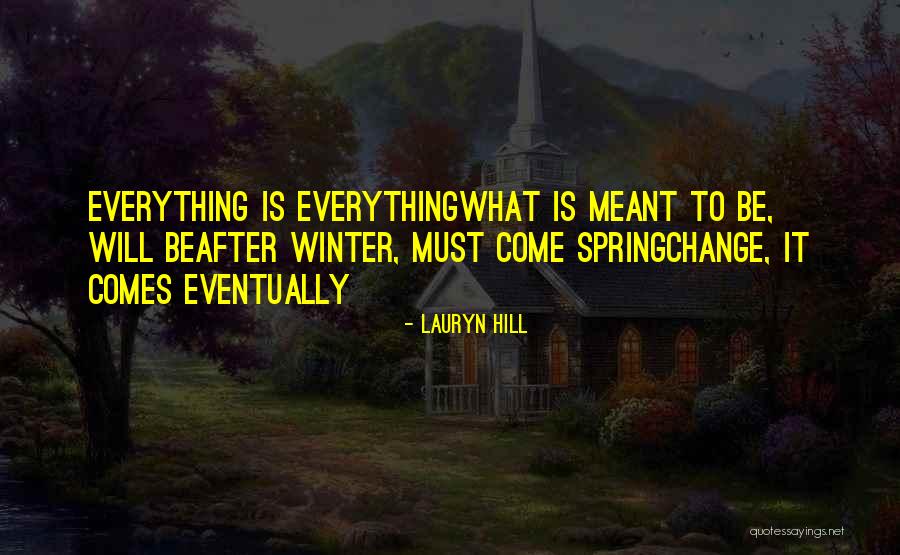 Everything is everything
What is meant to be, will be
After winter, must come spring
Change, it comes eventually — Lauryn Hill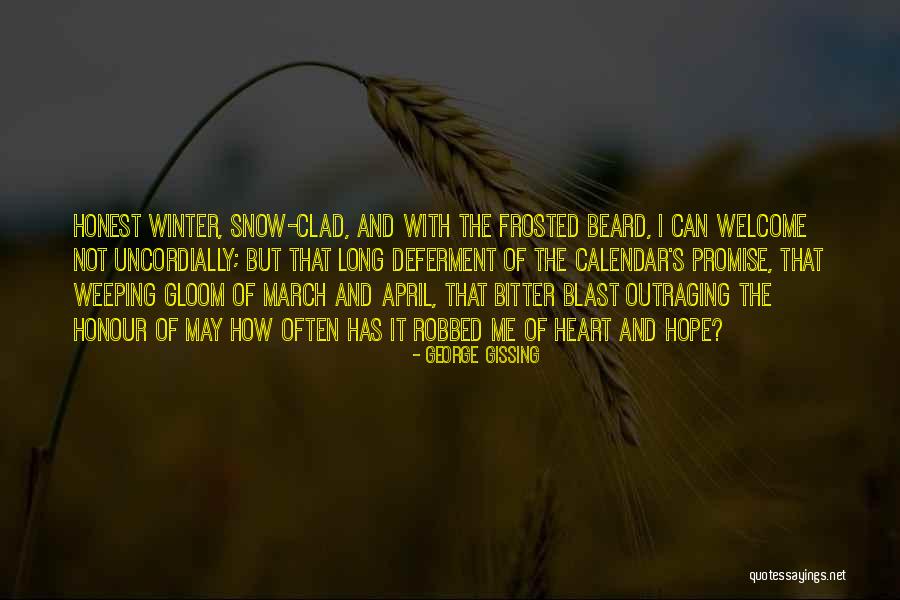 Honest Winter, snow-clad, and with the frosted beard, I can welcome not uncordially; But that long deferment of the calendar's promise, that weeping gloom of March and April, that bitter blast outraging the honour of May how often has it robbed me of heart and hope? — George Gissing
The entire gamut of the view's changes should have been known to her; its winter aspect, spring, summer and autumn; how storms came up from the sea; how the moors shuddered and brightened as the clouds went over. — Virginia Woolf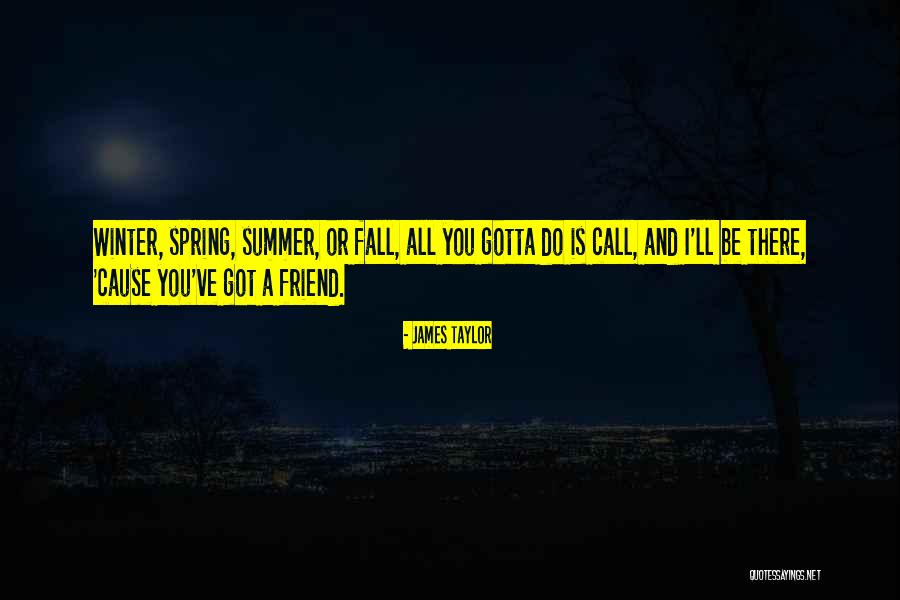 Winter, spring, summer, or fall, all you gotta do is call, and I'll be there, 'cause you've got a friend. — James Taylor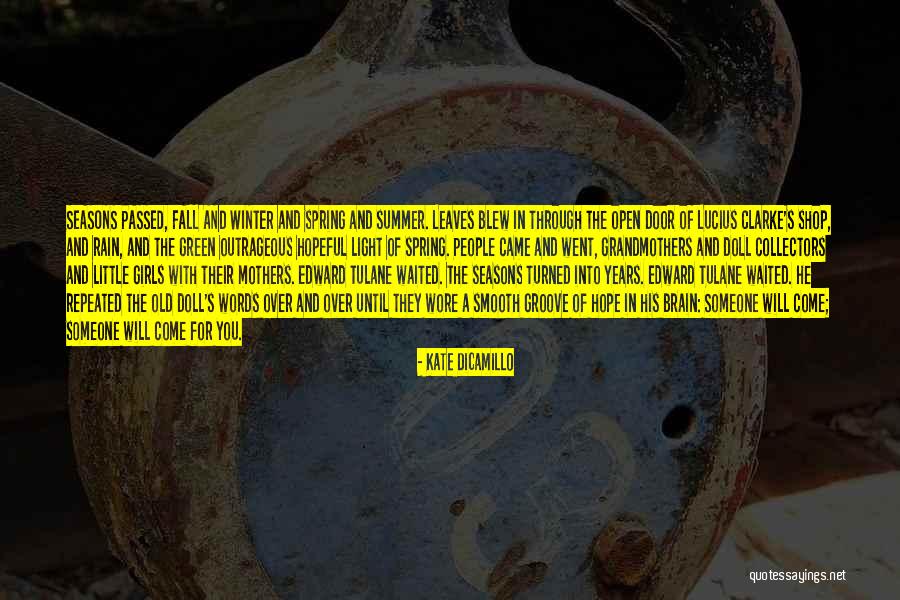 SEASONS PASSED, FALL AND WINTER and spring and summer. Leaves blew in through the open door of Lucius Clarke's shop, and rain, and the green outrageous hopeful light of spring. People came and went, grandmothers and doll collectors and little girls with their mothers. Edward Tulane waited. The seasons turned into years. Edward Tulane waited. He repeated the old doll's words over and over until they wore a smooth groove of hope in his brain: Someone will come; someone will come for you. — Kate DiCamillo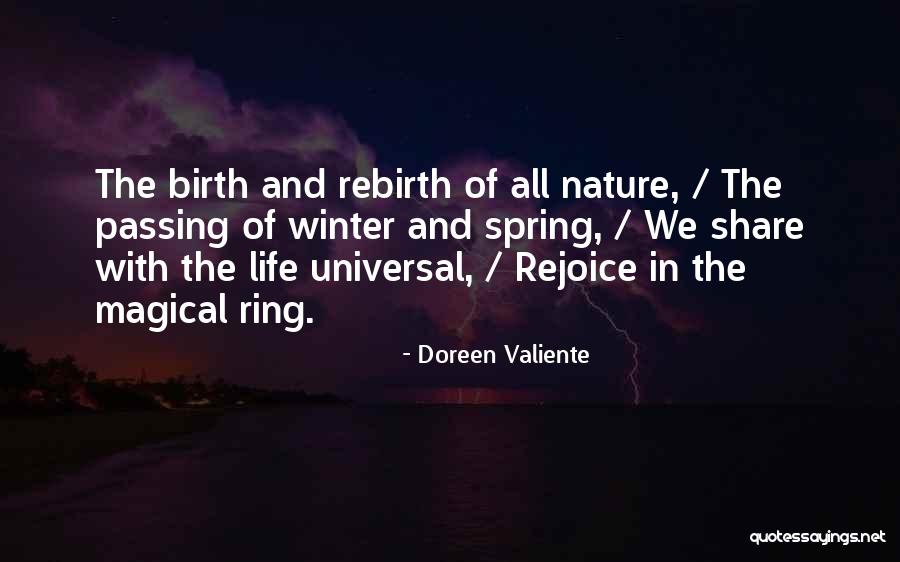 The birth and rebirth of all nature, / The passing of winter and spring, / We share with the life universal, / Rejoice in the magical ring. — Doreen Valiente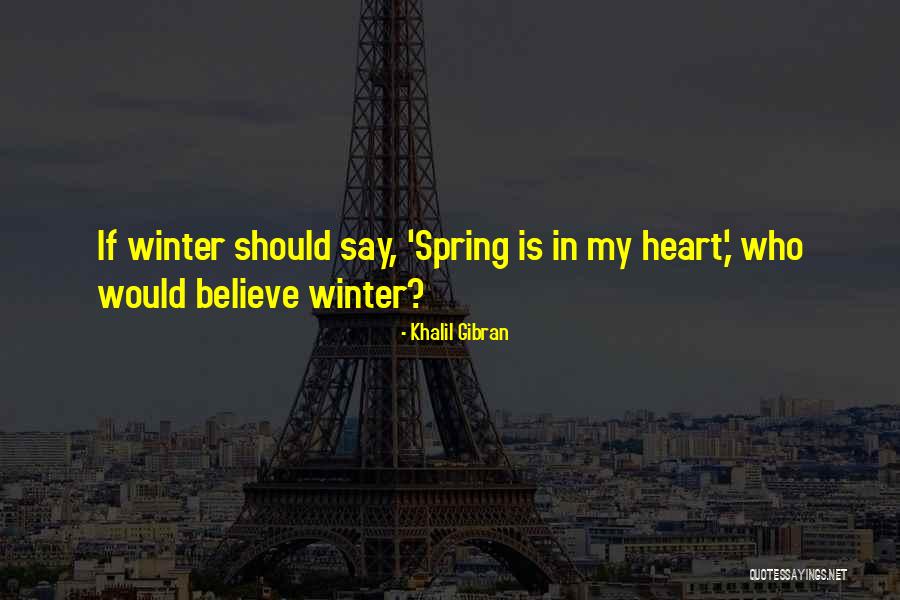 If winter should say, 'Spring is in my heart,' who would believe winter? — Khalil Gibran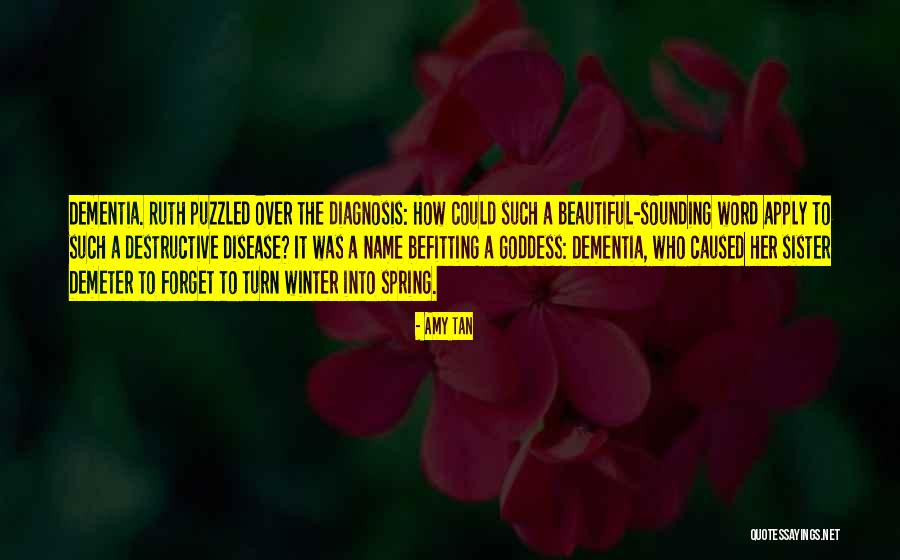 Dementia. Ruth puzzled over the diagnosis: How could such a beautiful-sounding word apply to such a destructive disease? It was a name befitting a goddess: Dementia, who caused her sister Demeter to forget to turn winter into spring. — Amy Tan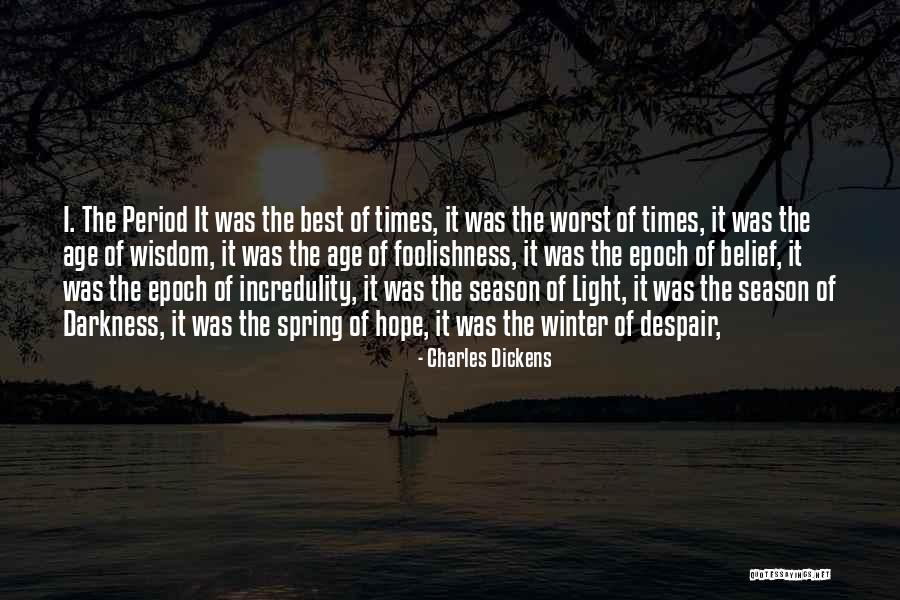 I. The Period It was the best of times, it was the worst of times, it was the age of wisdom, it was the age of foolishness, it was the epoch of belief, it was the epoch of incredulity, it was the season of Light, it was the season of Darkness, it was the spring of hope, it was the winter of despair, — Charles Dickens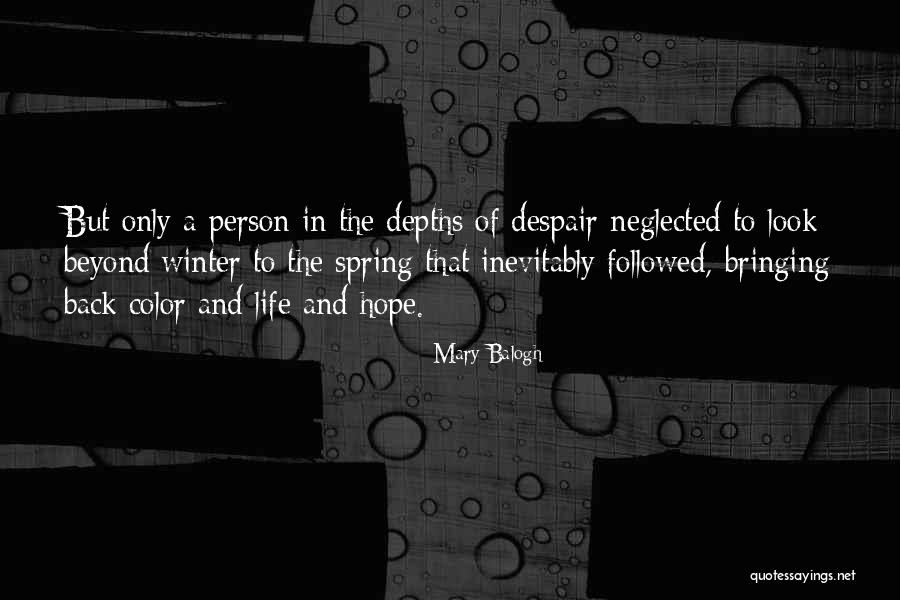 But only a person in the depths of despair neglected to look beyond winter to the spring that inevitably followed, bringing back color and life and hope. — Mary Balogh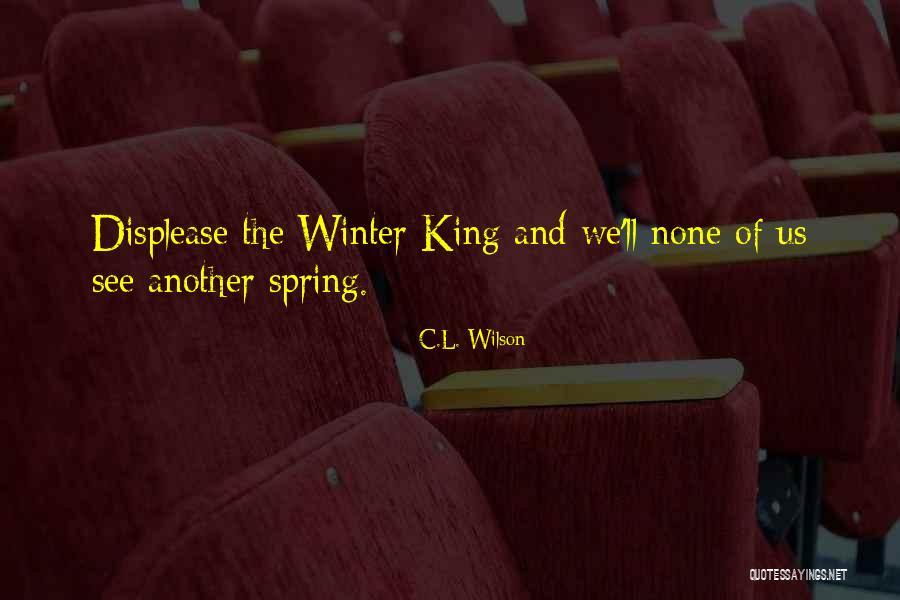 Displease the Winter King and we'll none of us see another spring. — C.L. Wilson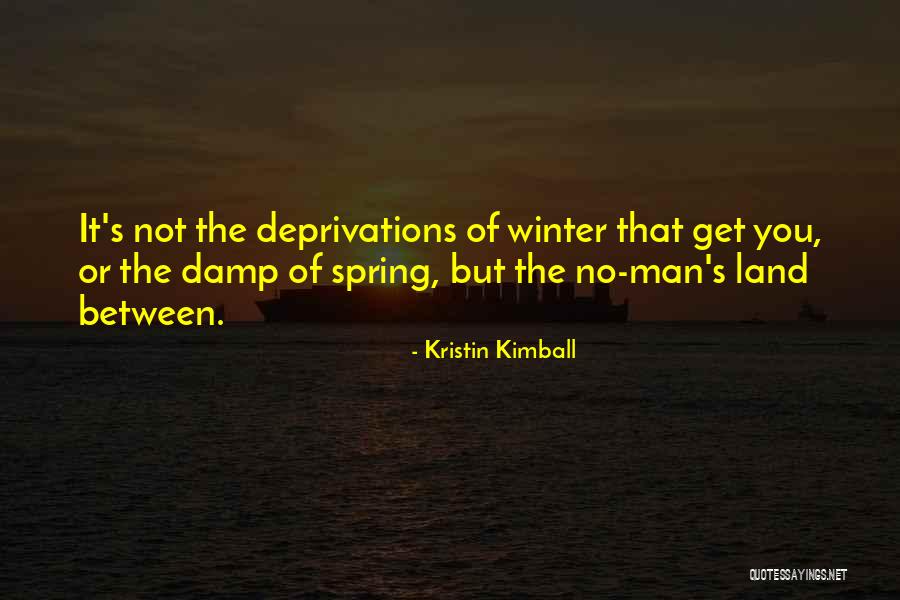 It's not the deprivations of winter that get you, or the damp of spring, but the no-man's land between. — Kristin Kimball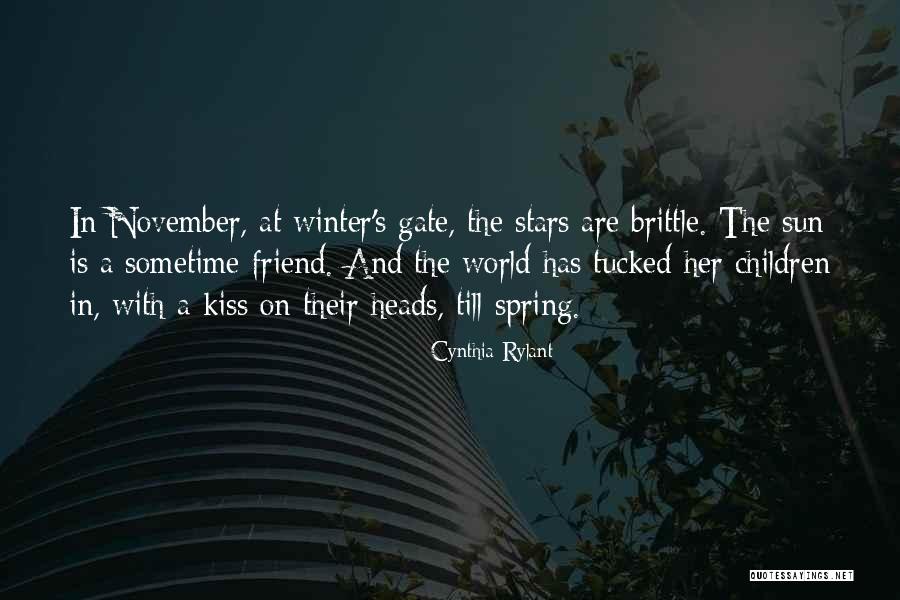 In November, at winter's gate, the stars are brittle. The sun is a sometime friend. And the world has tucked her children in, with a kiss on their heads, till spring. — Cynthia Rylant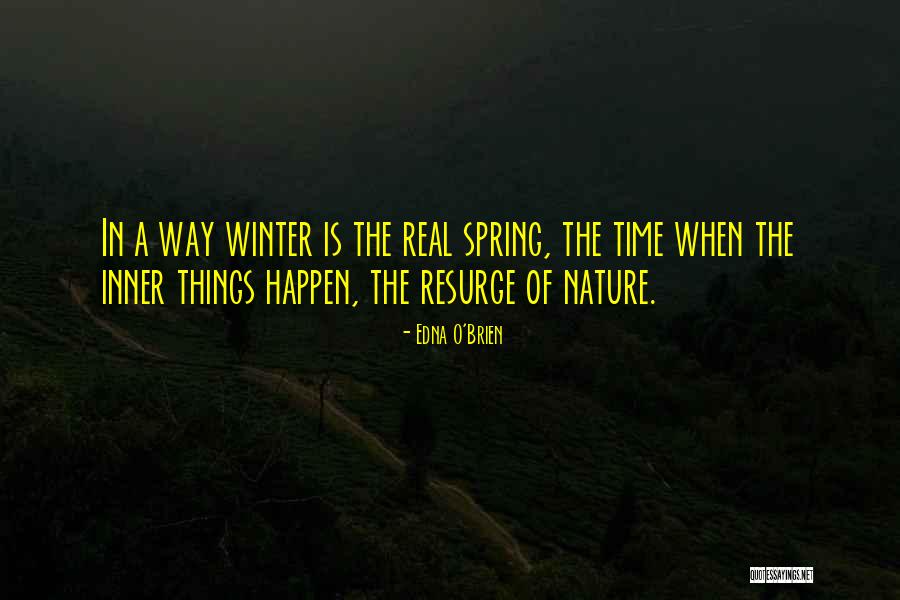 In a way winter is the real spring, the time when the inner things happen, the resurge of nature. — Edna O'Brien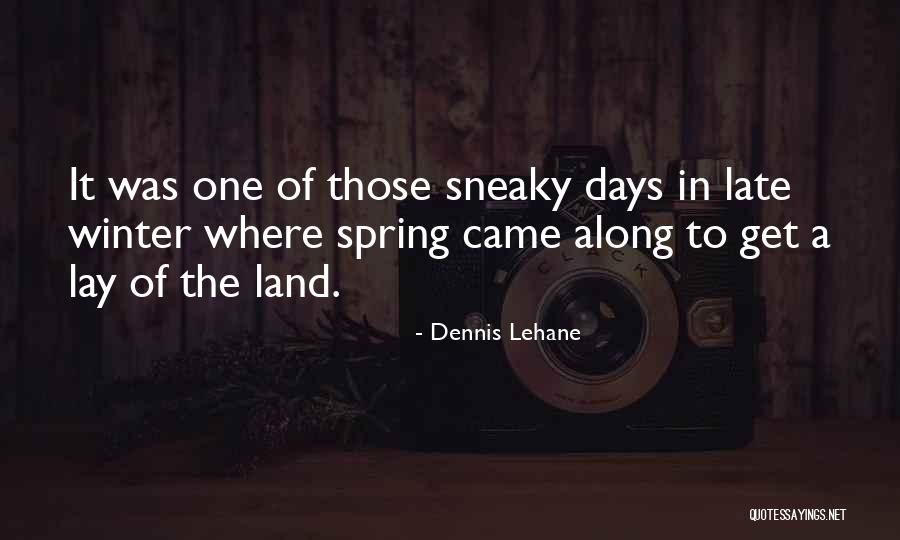 It was one of those sneaky days in late winter where spring came along to get a lay of the land. — Dennis Lehane
O, Winter! Put away thy snowy pride;
O, Spring! Neglect the cowslip and the bell;
O, Summer! Throw thy pears and plums aside;
O, Autumn! Bid the grape with poison swell. — Thomas Chatterton