Quotes & Sayings About What It Means To Be A Christian
Enjoy reading and share 40 famous quotes about What It Means To Be A Christian with everyone.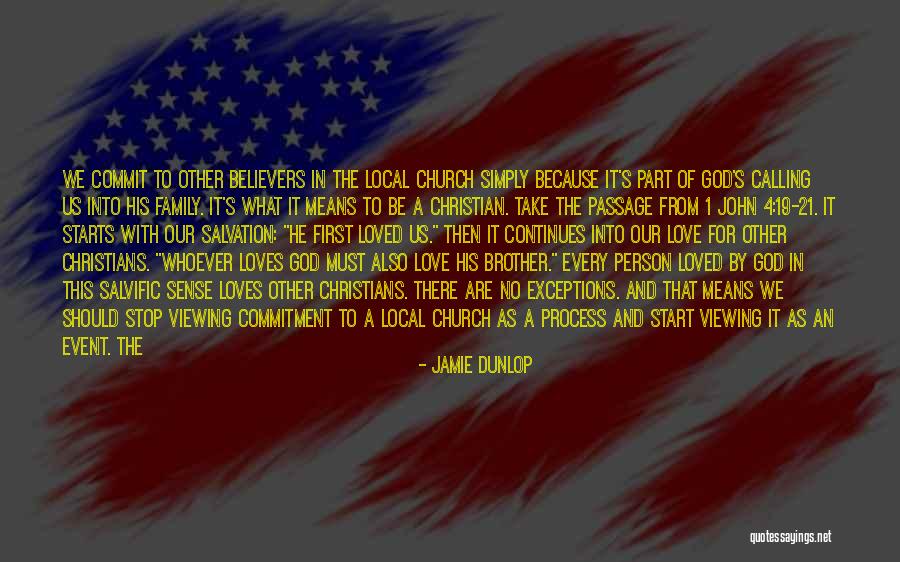 We commit to other believers in the local church simply because it's part of God's calling us into his family. It's what it means to be a Christian. Take the passage from 1 John 4:19-21. It starts with our salvation: "He first loved us." Then it continues into our love for other Christians. "Whoever loves God must also love his brother." Every person loved by God in this salvific sense loves other Christians. There are no exceptions. And that means we should stop viewing commitment to a local church as a process and start viewing it as an event. The event is our salvation, and commitment is something that inevitably follows- not something that merely happens as we mature. — Jamie Dunlop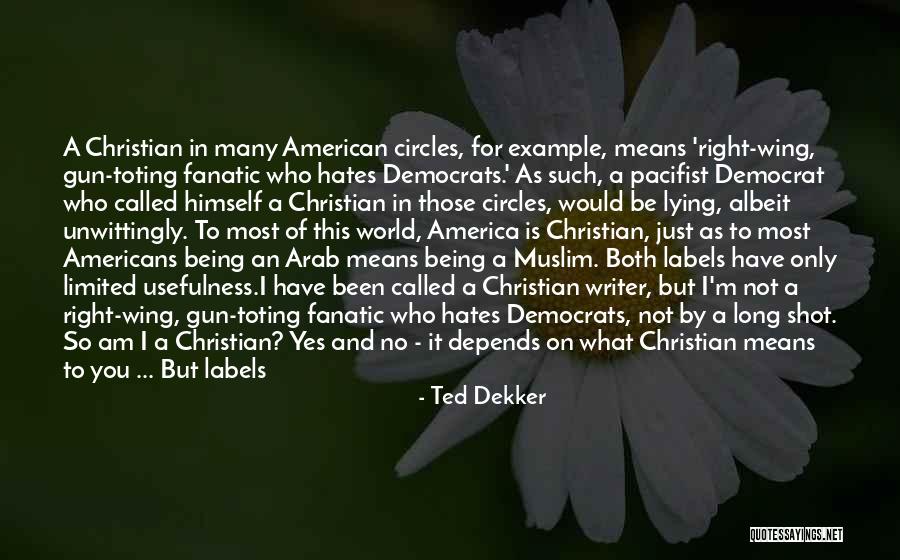 A Christian in many American circles, for example, means 'right-wing, gun-toting fanatic who hates Democrats.' As such, a pacifist Democrat who called himself a Christian in those circles, would be lying, albeit unwittingly. To most of this world, America is Christian, just as to most Americans being an Arab means being a Muslim. Both labels have only limited usefulness.
I have been called a Christian writer, but I'm not a right-wing, gun-toting fanatic who hates Democrats, not by a long shot. So am I a Christian? Yes and no - it depends on what Christian means to you ... But labels are almost impossible to shed. — Ted Dekker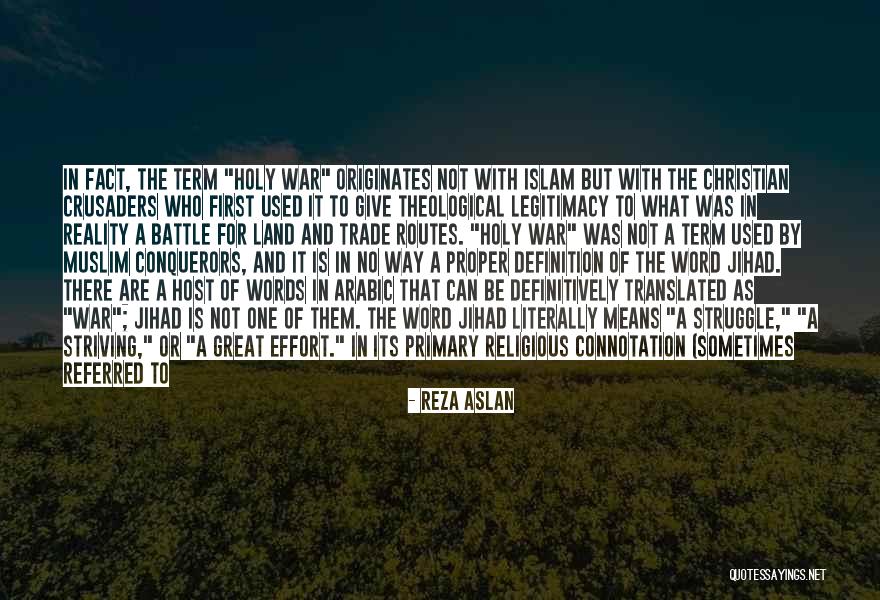 In fact, the term "holy war" originates not with Islam but with the Christian Crusaders who first used it to give theological legitimacy to what was in reality a battle for land and trade routes. "Holy war" was not a term used by Muslim conquerors, and it is in no way a proper definition of the word jihad. There are a host of words in Arabic that can be definitively translated as "war"; jihad is not one of them. The word jihad literally means "a struggle," "a striving," or "a great effort." In its primary religious connotation (sometimes referred to as "the greater jihad"), it means the struggle of the soul to overcome the sinful obstacles that keep a person from God. This is why the word jihad is nearly always followed in the Quran by the phrase "in the way of God. — Reza Aslan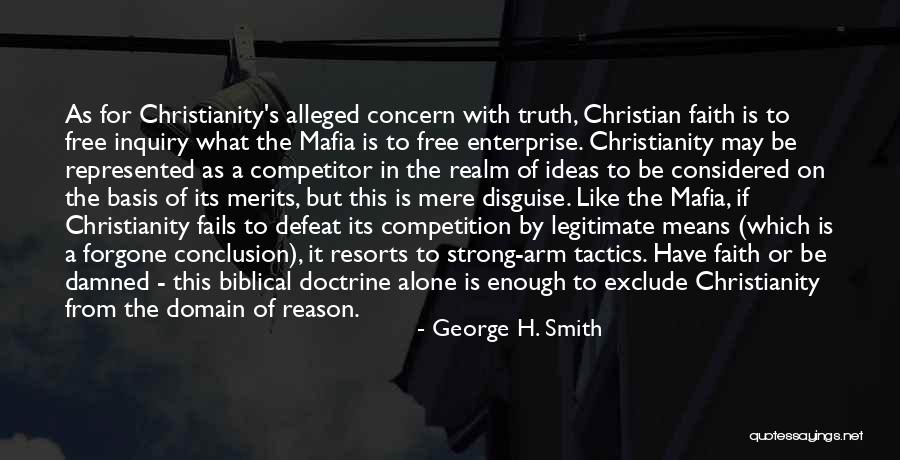 As for Christianity's alleged concern with truth, Christian faith is to free inquiry what the Mafia is to free enterprise. Christianity may be represented as a competitor in the realm of ideas to be considered on the basis of its merits, but this is mere disguise. Like the Mafia, if Christianity fails to defeat its competition by legitimate means (which is a forgone conclusion), it resorts to strong-arm tactics. Have faith or be damned - this biblical doctrine alone is enough to exclude Christianity from the domain of reason. — George H. Smith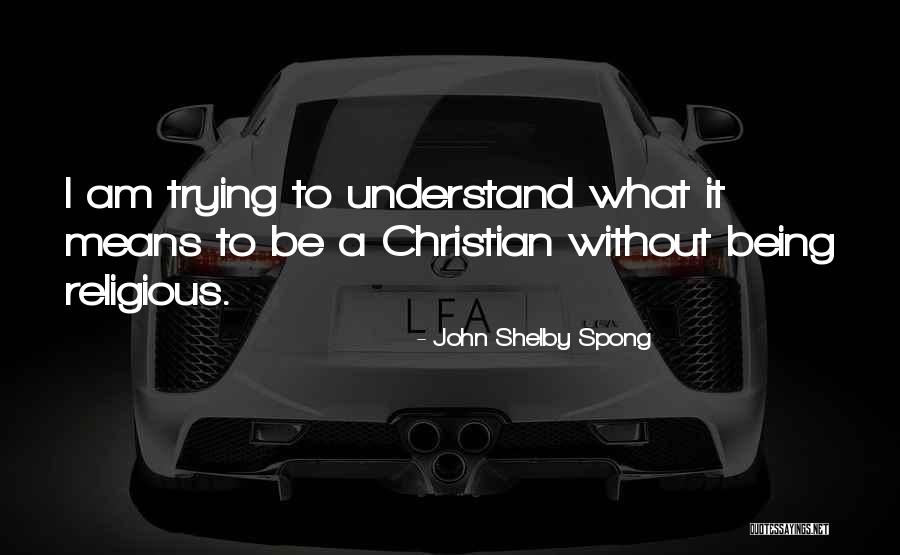 I am trying to understand what it means to be a Christian without being religious. — John Shelby Spong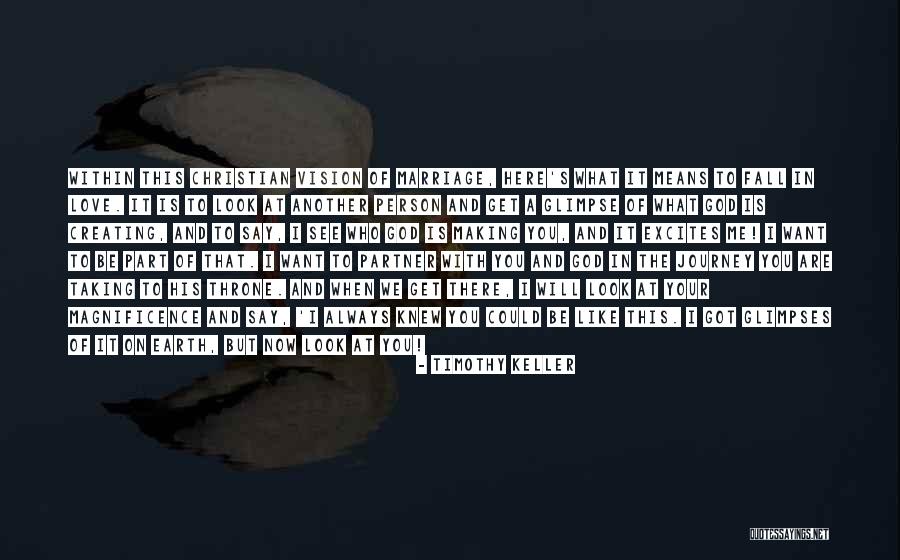 Within this Christian vision of marriage, here's what it means to fall in love. It is to look at another person and get a glimpse of what God is creating, and to say, I see who God is making you, and it excites me! I want to be part of that. I want to partner with you and God in the journey you are taking to his throne. And when we get there, I will look at your magnificence and say, 'I always knew you could be like this. I got glimpses of it on earth, but now look at you! — Timothy Keller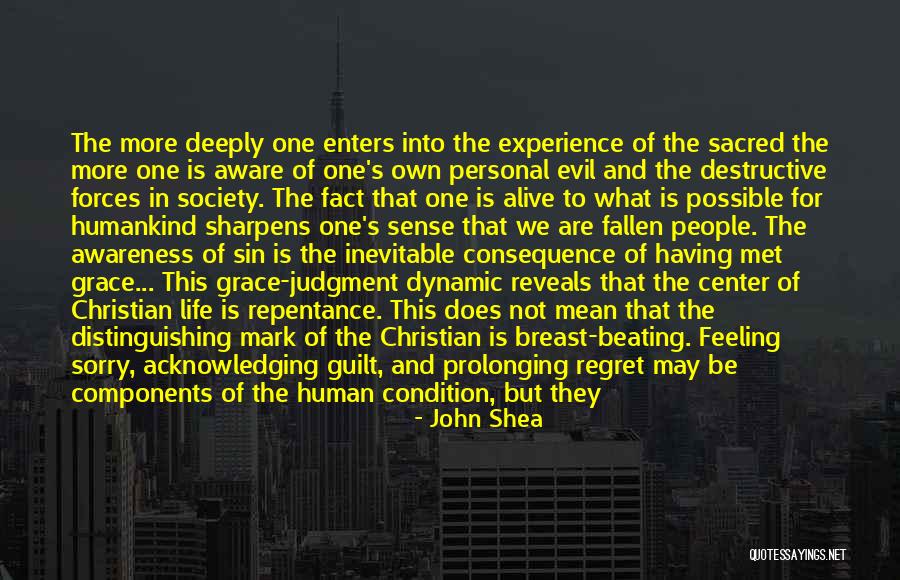 The more deeply one enters into the experience of the sacred the more one is aware of one's own personal evil and the destructive forces in society. The fact that one is alive to what is possible for humankind sharpens one's sense that we are fallen people. The awareness of sin is the inevitable consequence of having met grace... This grace-judgment dynamic reveals that the center of Christian life is repentance. This does not mean that the distinguishing mark of the Christian is breast-beating. Feeling sorry, acknowledging guilt, and prolonging regret may be components of the human condition, but they are not what Jesus means by repentance. Repentance is the response to grace that overcomes the past and opens out to a new future. Repentance distinguishes Christian life as one of struggle and conversion and pervades it, not with remorse, but with hope. The message of Jesus is not "Repent," but "Repent for the Kingdom of God is near. — John Shea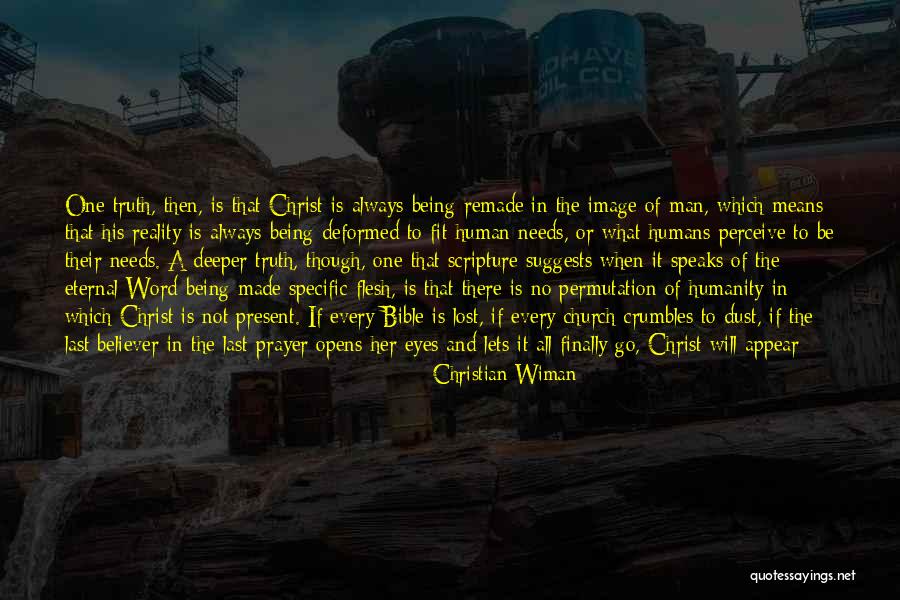 One truth, then, is that Christ is always being remade in the image of man, which means that his reality is always being deformed to fit human needs, or what humans perceive to be their needs. A deeper truth, though, one that scripture suggests when it speaks of the eternal Word being made specific flesh, is that there is no permutation of humanity in which Christ is not present. If every Bible is lost, if every church crumbles to dust, if the last believer in the last prayer opens her eyes and lets it all finally go, Christ will appear on this earth as calmly and casually as he appeared to the disciples walking to Emmaus after his death, who did not recognize this man to whom they had pledged their very lives; this man whom they had seen beaten, crucified, abandoned by God; this man who, after walking the dusty road with them, after sharing an ordinary meal and discussing the scriptures, had to vanish once more in order to make them see. — Christian Wiman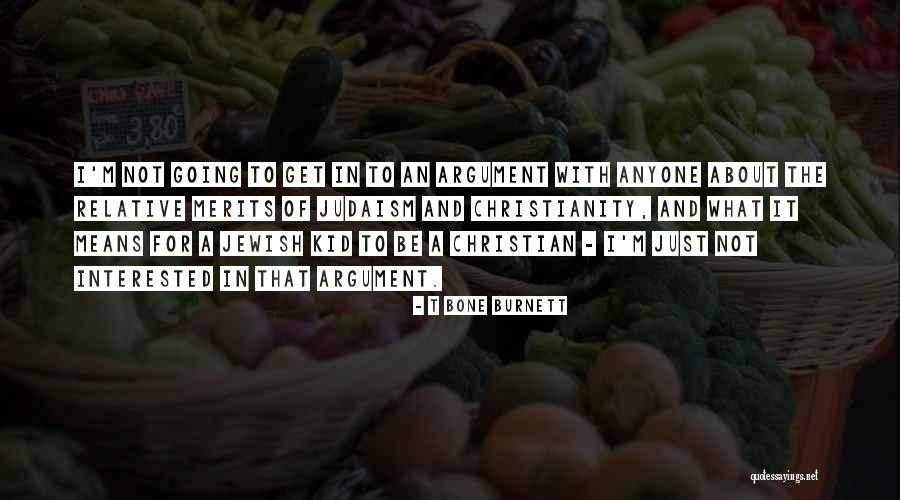 I'm not going to get in to an argument with anyone about the relative merits of Judaism and Christianity, and what it means for a Jewish kid to be a Christian - I'm just not interested in that argument. — T Bone Burnett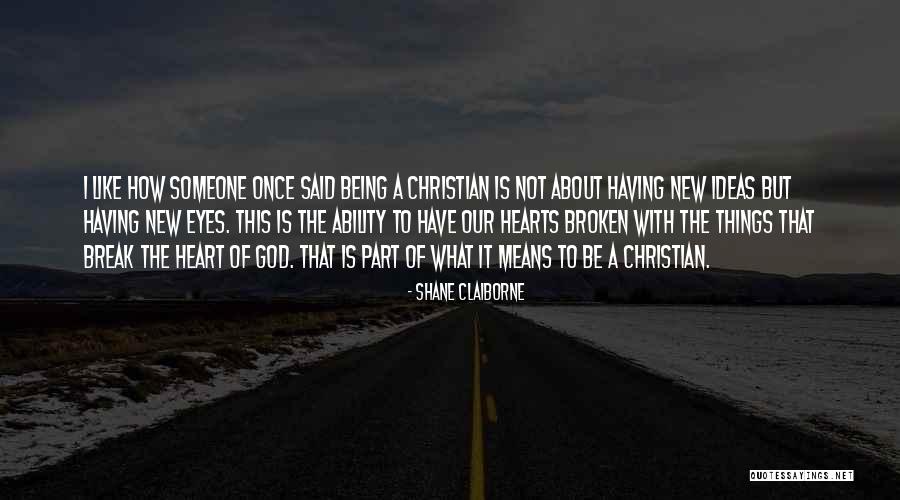 I like how someone once said being a Christian is not about having new ideas but having new eyes. This is the ability to have our hearts broken with the things that break the heart of God. That is part of what it means to be a Christian. — Shane Claiborne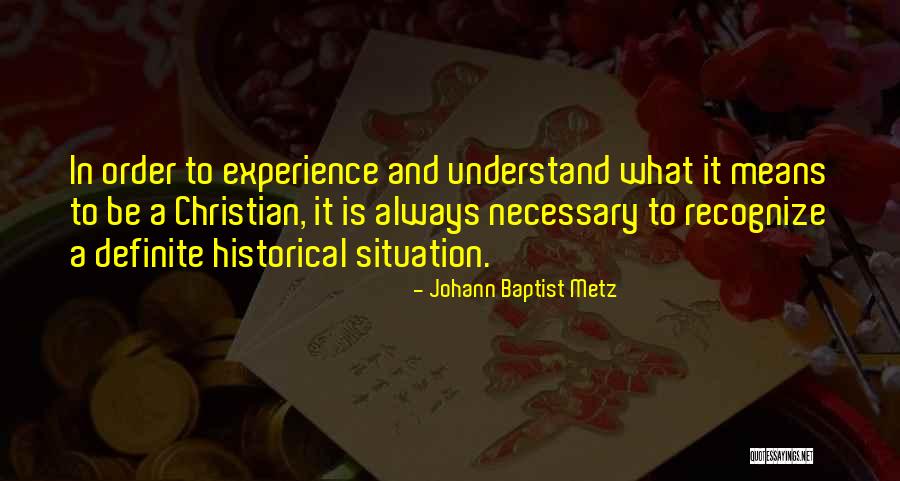 In order to experience and understand what it means to be a Christian, it is always necessary to recognize a definite historical situation. — Johann Baptist Metz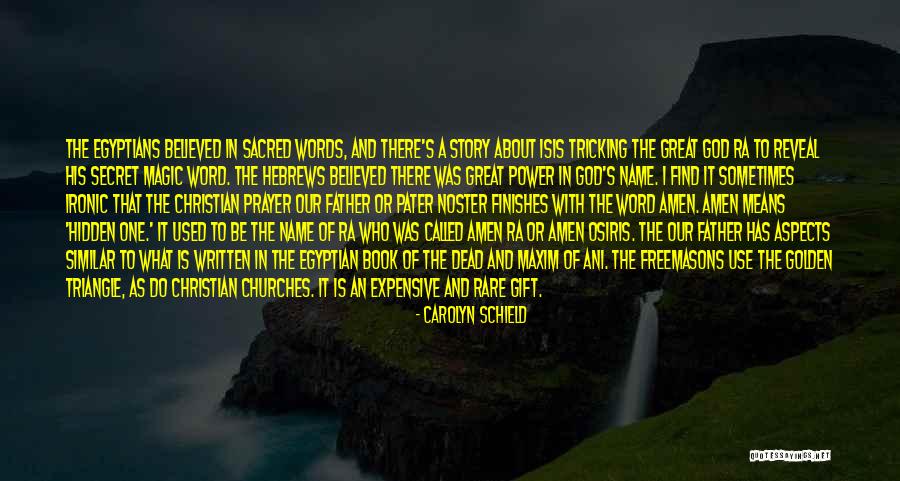 The Egyptians believed in sacred words, and there's a story about Isis tricking the great god Ra to reveal his secret magic word. The Hebrews believed there was great power in God's name. I find it sometimes ironic that the Christian prayer Our Father or Pater Noster finishes with the word Amen. Amen means 'hidden one.' It used to be the name of Ra who was called Amen Ra or Amen Osiris. The Our Father has aspects similar to what is written in the Egyptian Book of the Dead and Maxim of Ani. The Freemasons use the golden triangle, as do Christian churches. It is an expensive and rare gift. — Carolyn Schield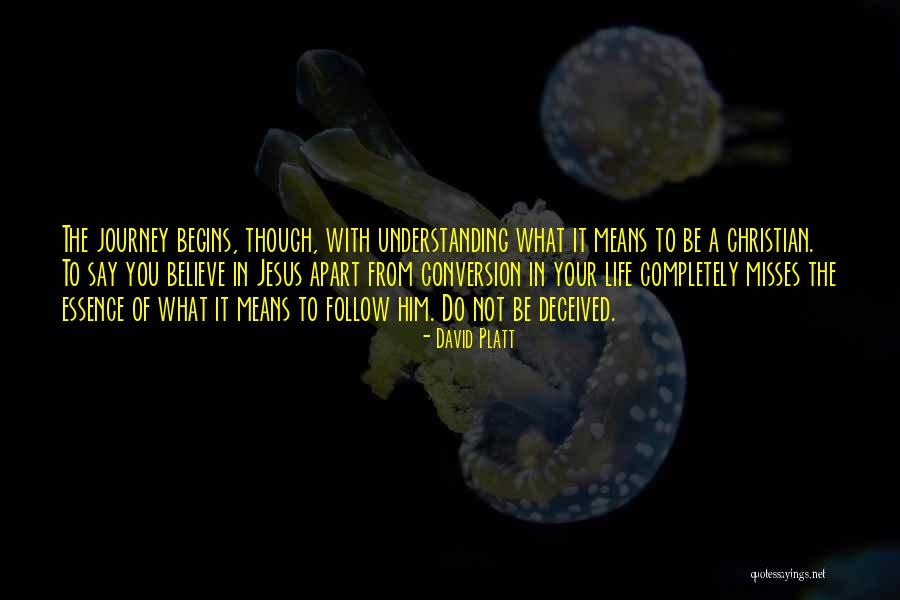 The journey begins, though, with understanding what it means to be a christian. To say you believe in Jesus apart from conversion in your life completely misses the essence of what it means to follow him. Do not be deceived. — David Platt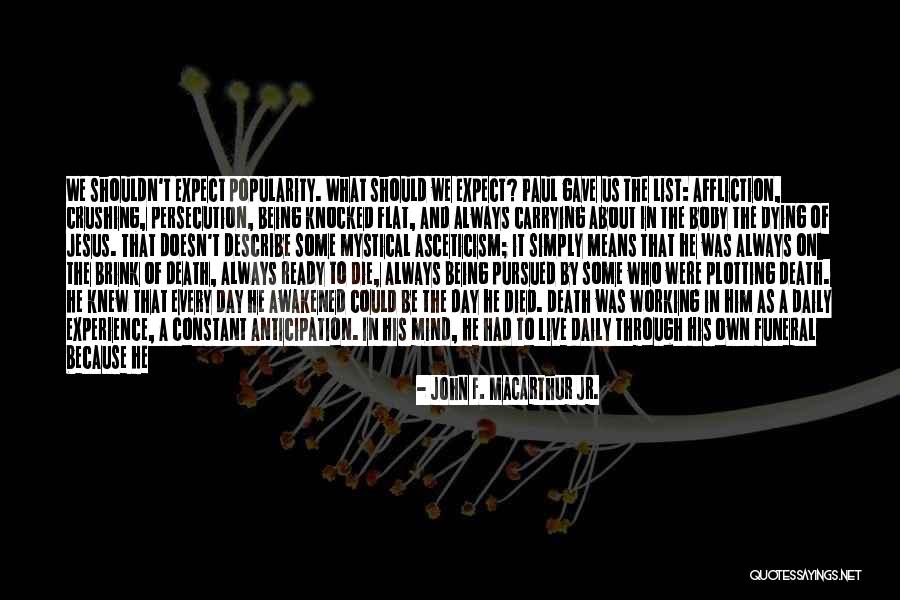 We shouldn't expect popularity. What should we expect? Paul gave us the list: affliction, crushing, persecution, being knocked flat, and always carrying about in the body the dying of Jesus. That doesn't describe some mystical asceticism; it simply means that He was always on the brink of death, always ready to die, always being pursued by some who were plotting death. He knew that every day He awakened could be the day He died. Death was working in Him as a daily experience, a constant anticipation. In His mind, He had to live daily through His own funeral because He could die any time. Yet this great truth never changed: "I believed and therefore I spoke." That's it, Christian. You believe, and you speak. — John F. MacArthur Jr.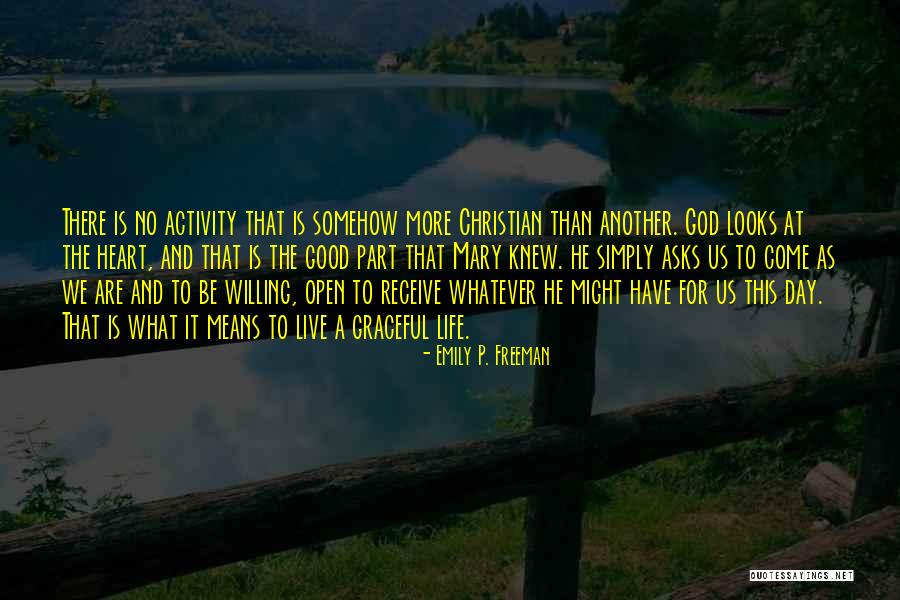 There is no activity that is somehow more Christian than another. God looks at the heart, and that is the good part that Mary knew. he simply asks us to come as we are and to be willing, open to receive whatever he might have for us this day. That is what it means to live a graceful life. — Emily P. Freeman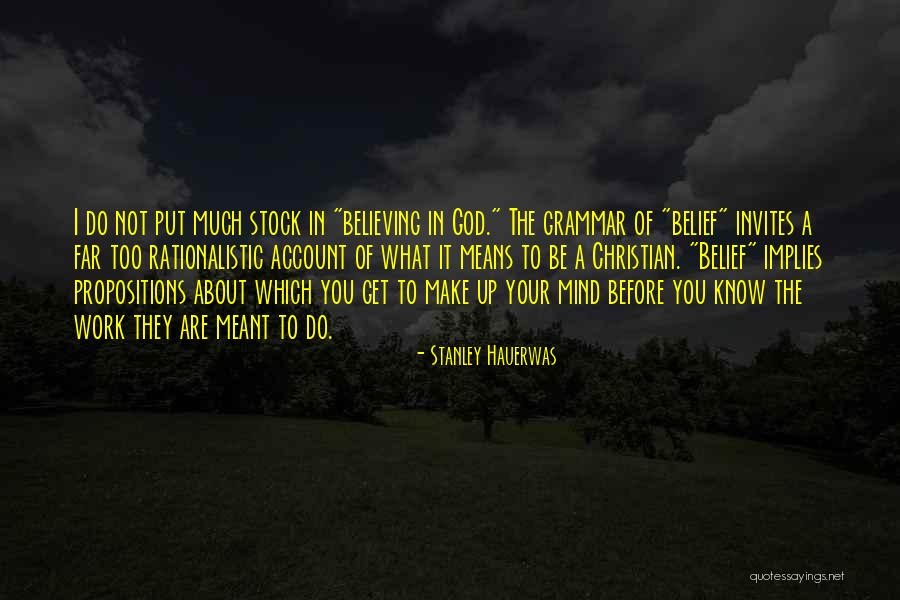 I do not put much stock in "believing in God." The grammar of "belief" invites a far too rationalistic account of what it means to be a Christian. "Belief" implies propositions about which you get to make up your mind before you know the work they are meant to do. — Stanley Hauerwas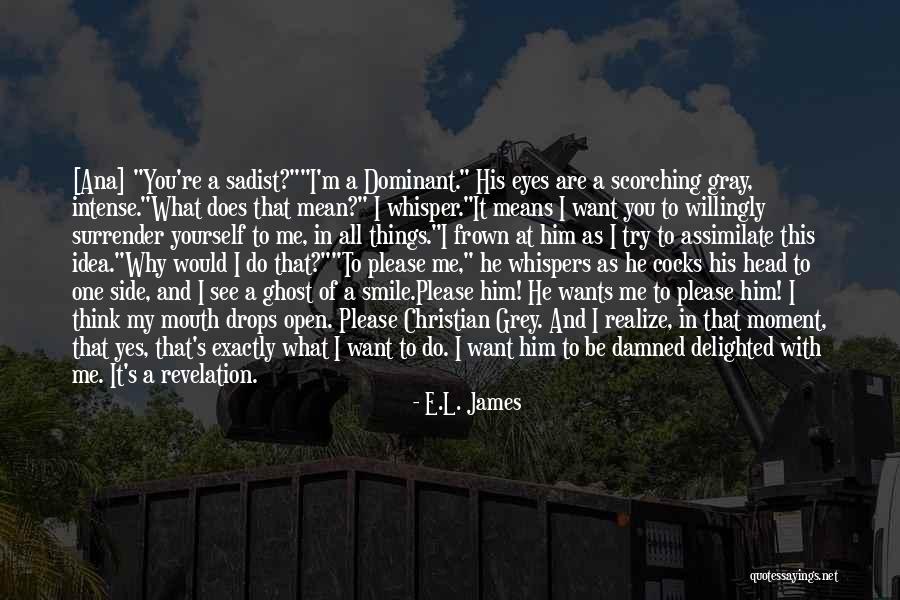 [Ana] "You're a sadist?"
"I'm a Dominant." His eyes are a scorching gray, intense.
"What does that mean?" I whisper.
"It means I want you to willingly surrender yourself to me, in all things."
I frown at him as I try to assimilate this idea.
"Why would I do that?"
"To please me," he whispers as he cocks his head to one side, and I see a ghost of a smile.
Please him! He wants me to please him! I think my mouth drops open. Please Christian Grey. And I realize, in that moment, that yes, that's exactly what I want to do. I want him to be damned delighted with me. It's a revelation. — E.L. James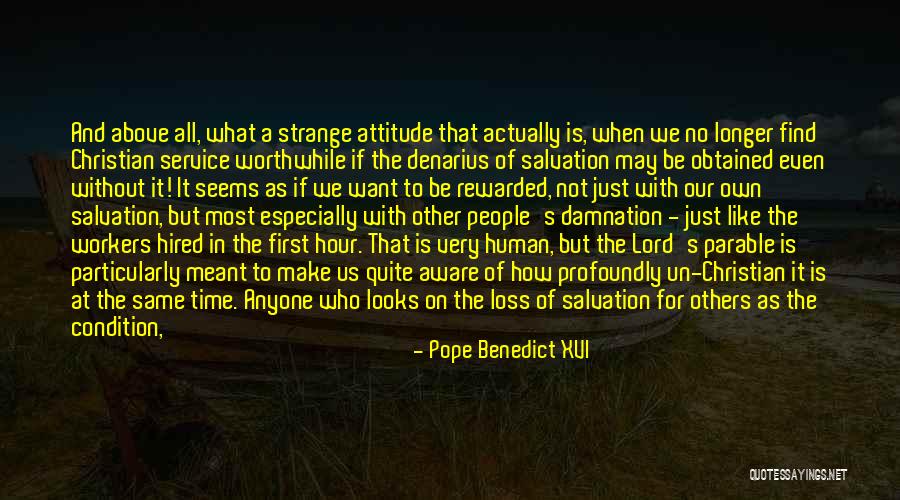 And above all, what a strange attitude that actually is, when we no longer find Christian service worthwhile if the denarius of salvation may be obtained even without it! It seems as if we want to be rewarded, not just with our own salvation, but most especially with other people's damnation - just like the workers hired in the first hour. That is very human, but the Lord's parable is particularly meant to make us quite aware of how profoundly un-Christian it is at the same time. Anyone who looks on the loss of salvation for others as the condition, as it were, on which he serves Christ will in the end only be able to turn away grumbling, because THAT kind of reward is contrary to the loving-kindness of God.
-What It Means To Be A Christian — Pope Benedict XVI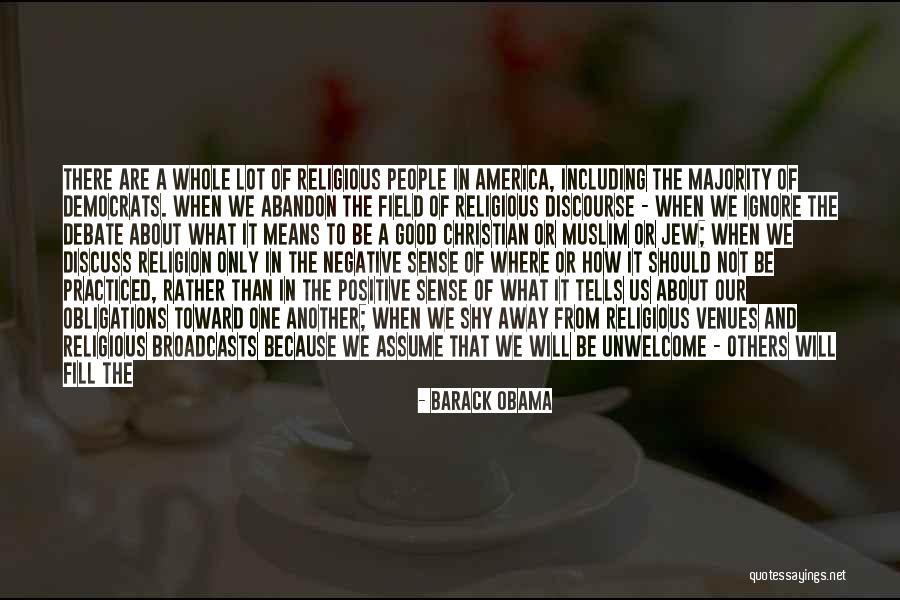 There are a whole lot of religious people in America, including the majority of Democrats. When we abandon the field of religious discourse - when we ignore the debate about what it means to be a good Christian or Muslim or Jew; when we discuss religion only in the negative sense of where or how it should not be practiced, rather than in the positive sense of what it tells us about our obligations toward one another; when we shy away from religious venues and religious broadcasts because we assume that we will be unwelcome - others will fill the vacuum. And those who do are likely to be those with the most insular views of faith, or who cynically use religion to justify partisan ends. — Barack Obama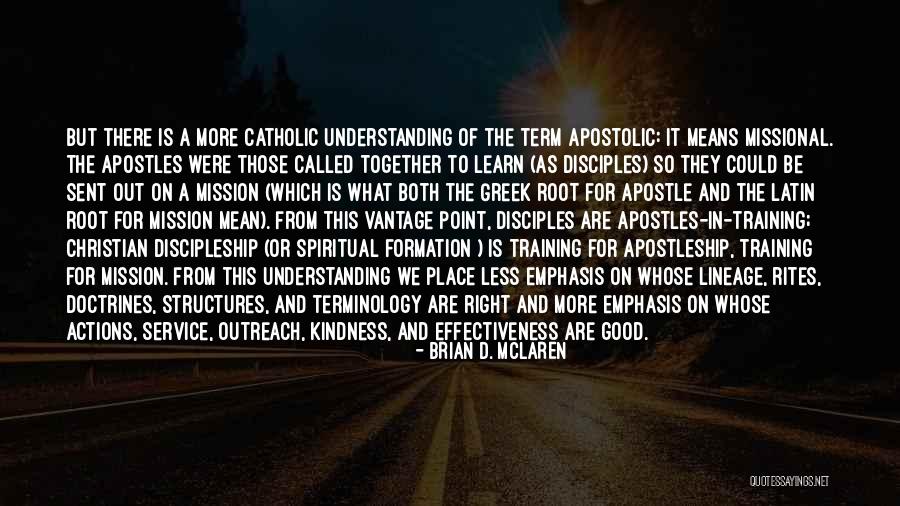 But there is a more catholic understanding of the term apostolic: it means missional. The apostles were those called together to learn (as disciples) so they could be sent out on a mission (which is what both the Greek root for apostle and the Latin root for mission mean). From this vantage point, disciples are apostles-in-training; Christian discipleship (or spiritual formation ) is training for apostleship, training for mission. From this understanding we place less emphasis on whose lineage, rites, doctrines, structures, and terminology are right and more emphasis on whose actions, service, outreach, kindness, and effectiveness are good. — Brian D. McLaren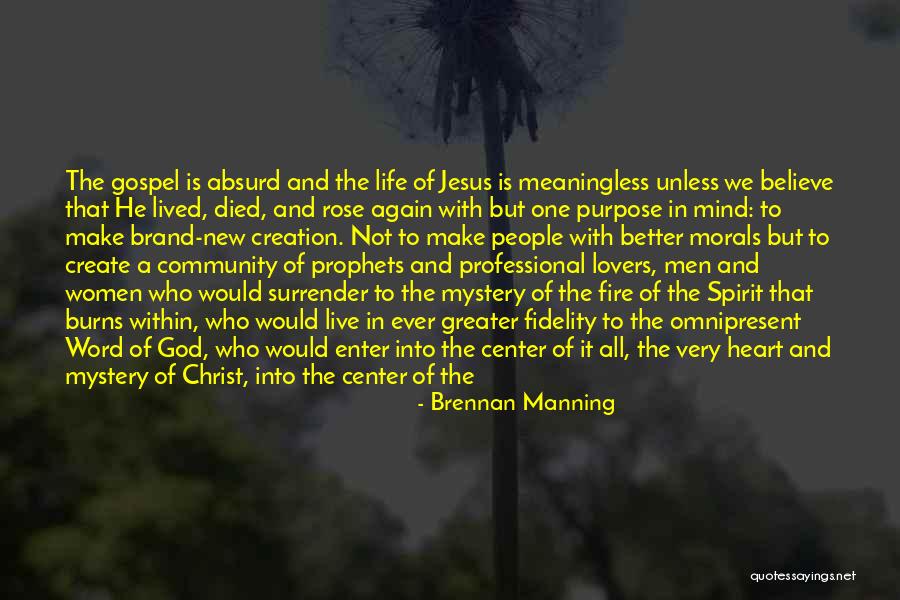 The gospel is absurd and the life of Jesus is meaningless unless we believe that He lived, died, and rose again with but one purpose in mind: to make brand-new creation. Not to make people with better morals but to create a community of prophets and professional lovers, men and women who would surrender to the mystery of the fire of the Spirit that burns within, who would live in ever greater fidelity to the omnipresent Word of God, who would enter into the center of it all, the very heart and mystery of Christ, into the center of the flame that consumes, purifies, and sets everything aglow with peace, joy, boldness, and extravagant, furious love. This, my friend, is what it really means to be a Christian. — Brennan Manning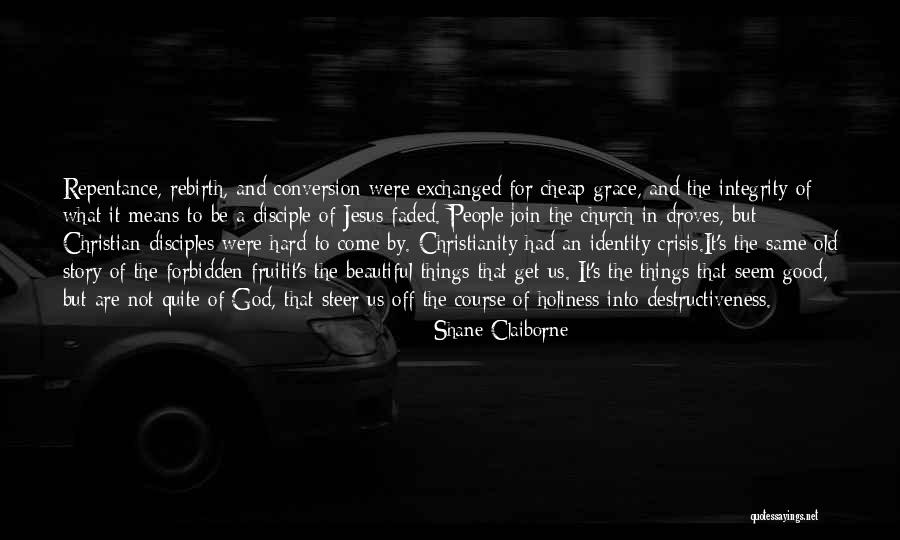 Repentance, rebirth, and conversion were exchanged for cheap grace, and the integrity of what it means to be a disciple of Jesus faded. People join the church in droves, but Christian disciples were hard to come by. Christianity had an identity crisis.
It's the same old story of the forbidden fruit
it's the beautiful things that get us. It's the things that seem good, but are not quite of God, that steer us off the course of holiness into destructiveness. — Shane Claiborne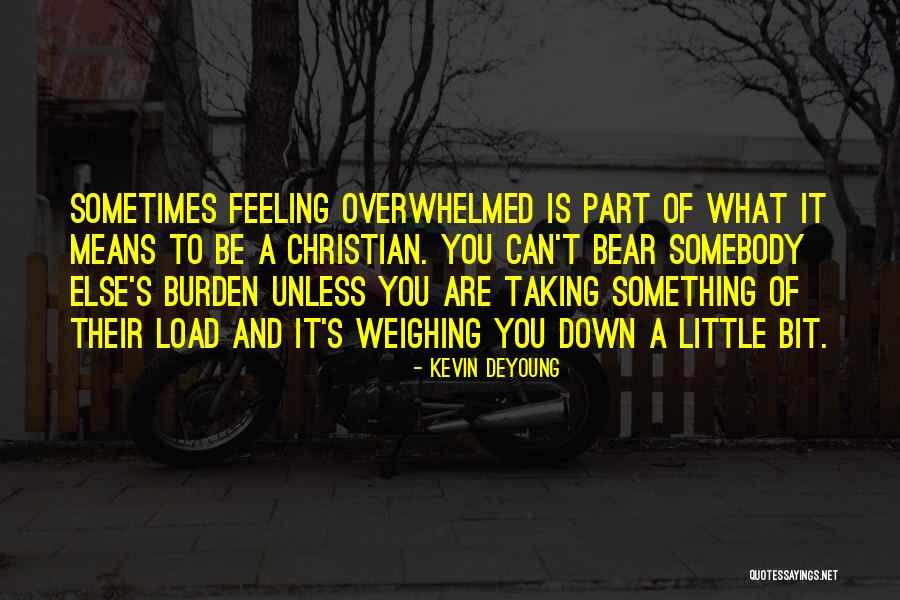 Sometimes feeling overwhelmed is part of what it means to be a Christian. You can't bear somebody else's burden unless you are taking something of their load and it's weighing you down a little bit. — Kevin DeYoung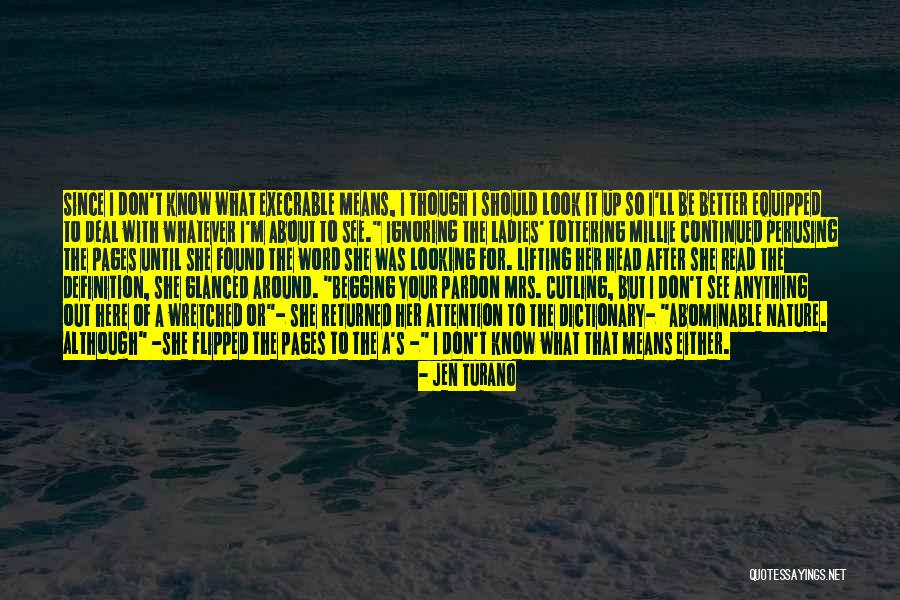 Since I don't know what execrable means, I though I should look it up so I'll be better equipped to deal with whatever I'm about to see." Ignoring the ladies' tottering Millie continued perusing the pages until she found the word she was looking for. Lifting her head after she read the definition, she glanced around. "Begging your pardon Mrs. Cutling, but I don't see anything out here of a wretched or"- she returned her attention to the dictionary- "abominable nature. Although" -she flipped the pages to the A's -" I don't know what that means either. — Jen Turano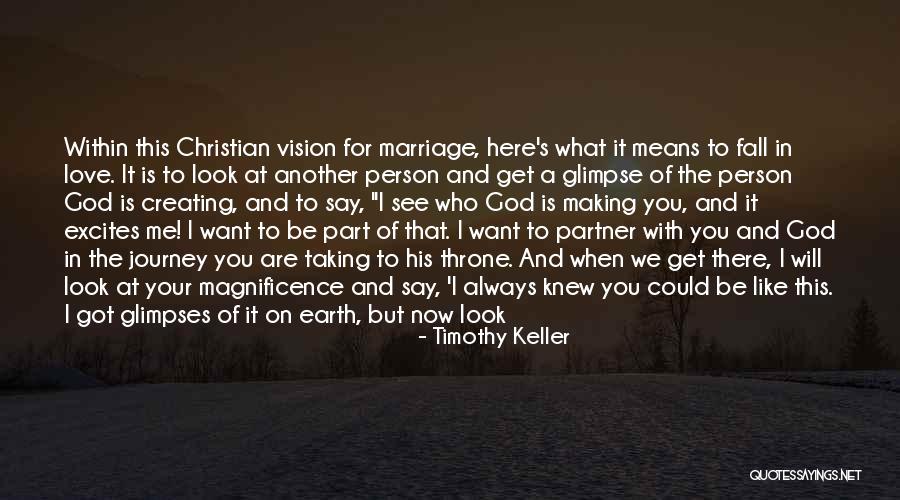 Within this Christian vision for marriage, here's what it means to fall in love. It is to look at another person and get a glimpse of the person God is creating, and to say, "I see who God is making you, and it excites me! I want to be part of that. I want to partner with you and God in the journey you are taking to his throne. And when we get there, I will look at your magnificence and say, 'I always knew you could be like this. I got glimpses of it on earth, but now look at you!'" Each spouse should see the great thing that Jesus is doing in the life of their mate through the Word, the gospel. Each spouse then should give him- or herself to be a vehicle for that work and envision the day that you will stand together before God, seeing each other presented in spotless beauty and glory. — Timothy Keller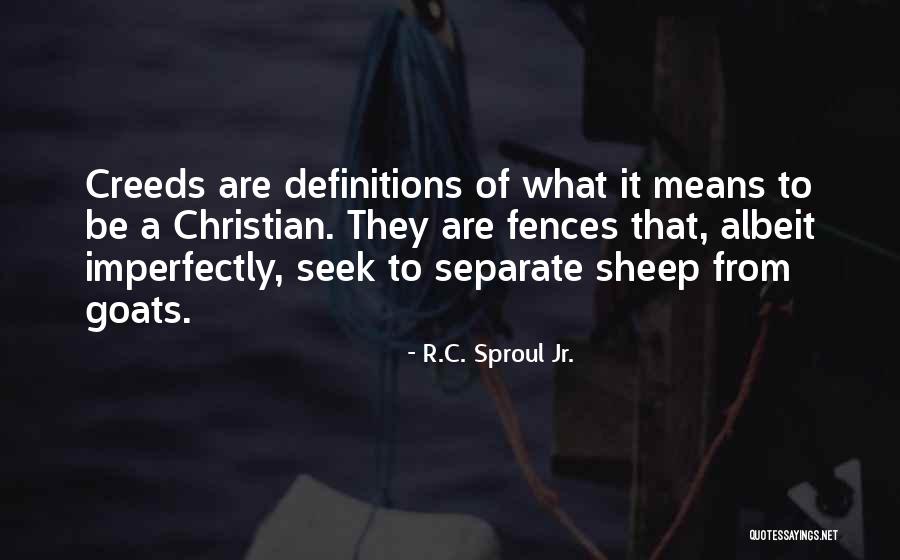 Creeds are definitions of what it means to be a Christian. They are fences that, albeit imperfectly, seek to separate sheep from goats. — R.C. Sproul Jr.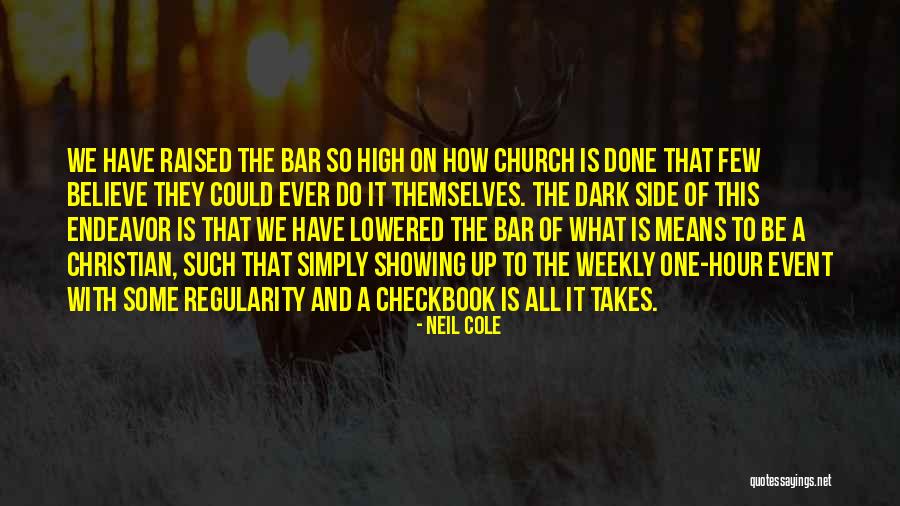 We have raised the bar so high on how church is done that few believe they could ever do it themselves. The dark side of this endeavor is that we have lowered the bar of what is means to be a Christian, such that simply showing up to the weekly one-hour event with some regularity and a checkbook is all it takes. — Neil Cole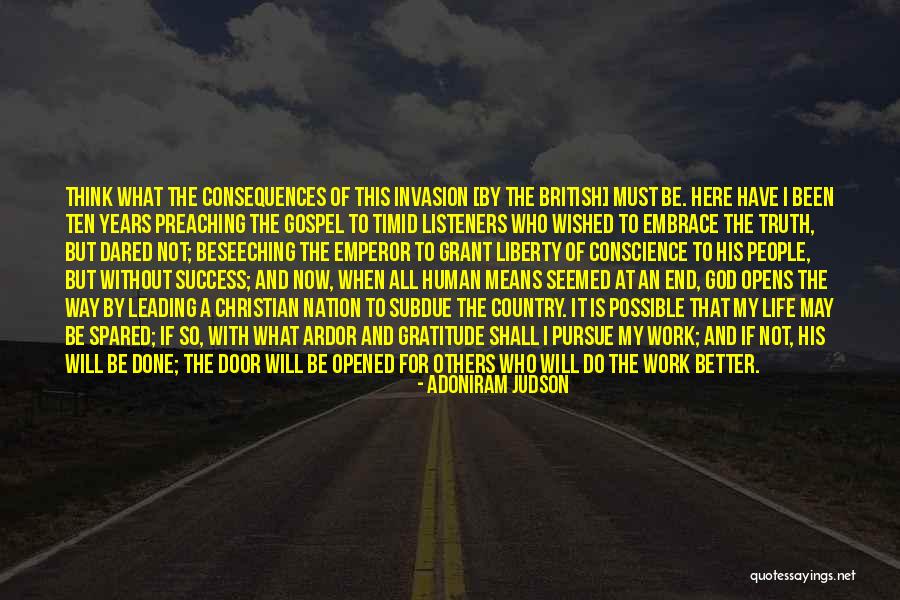 Think what the consequences of this invasion [by the British] must be. Here have I been ten years preaching the Gospel to timid listeners who wished to embrace the truth, but dared not; beseeching the emperor to grant liberty of conscience to his people, but without success; and now, when all human means seemed at an end, God opens the way by leading a Christian nation to subdue the country. It is possible that my life may be spared; if so, with what ardor and gratitude shall I pursue my work; and if not, His will be done; the door will be opened for others who will do the work better. — Adoniram Judson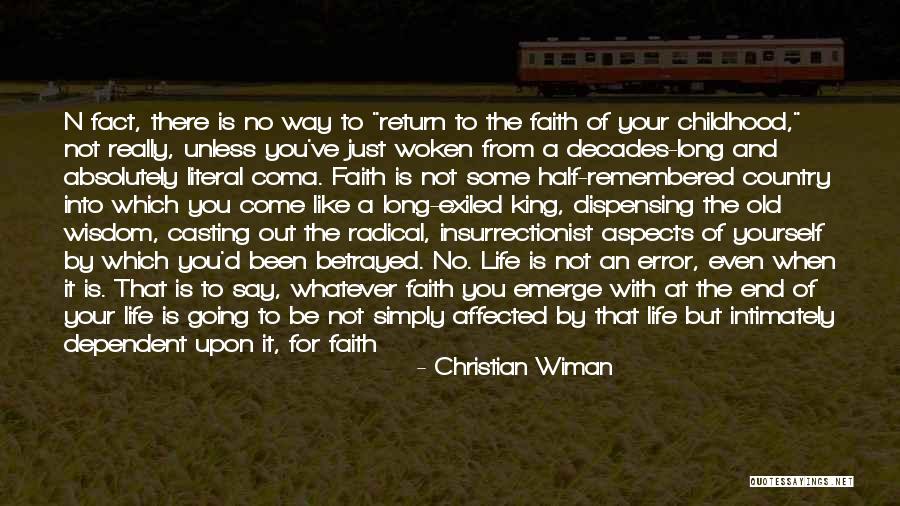 N fact, there is no way to "return to the faith of your childhood," not really, unless you've just woken from a decades-long and absolutely literal coma. Faith is not some half-remembered country into which you come like a long-exiled king, dispensing the old wisdom, casting out the radical, insurrectionist aspects of yourself by which you'd been betrayed. No. Life is not an error, even when it is. That is to say, whatever faith you emerge with at the end of your life is going to be not simply affected by that life but intimately dependent upon it, for faith in God is, in the deepest sense, faith in life
which means that even the staunchest life of faith is a life of great change. It follows that if you believe at fifty what you believed at fifteen, then you have not lived
or have denied the reality of your life. — Christian Wiman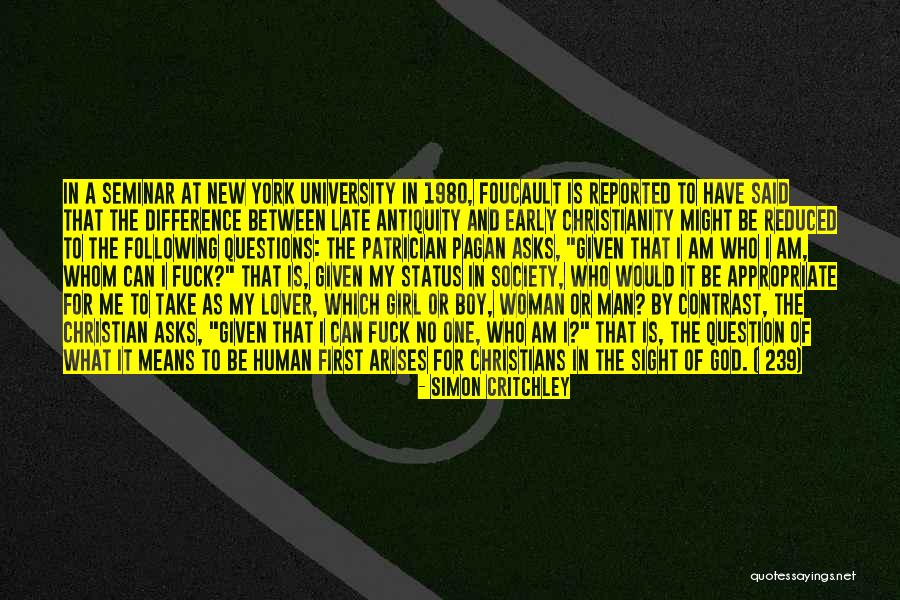 In a seminar at New York University in 1980, Foucault is reported to have said that the difference between late antiquity and early Christianity might be reduced to the following questions: the patrician pagan asks, "Given that I am who I am, whom can I fuck?" That is, given my status in society, who would it be appropriate for me to take as my lover, which girl or boy, woman or man? By contrast, the Christian asks, "Given that I can fuck no one, who am I?" That is, the question of what it means to be human first arises for Christians in the sight of God. ( 239) — Simon Critchley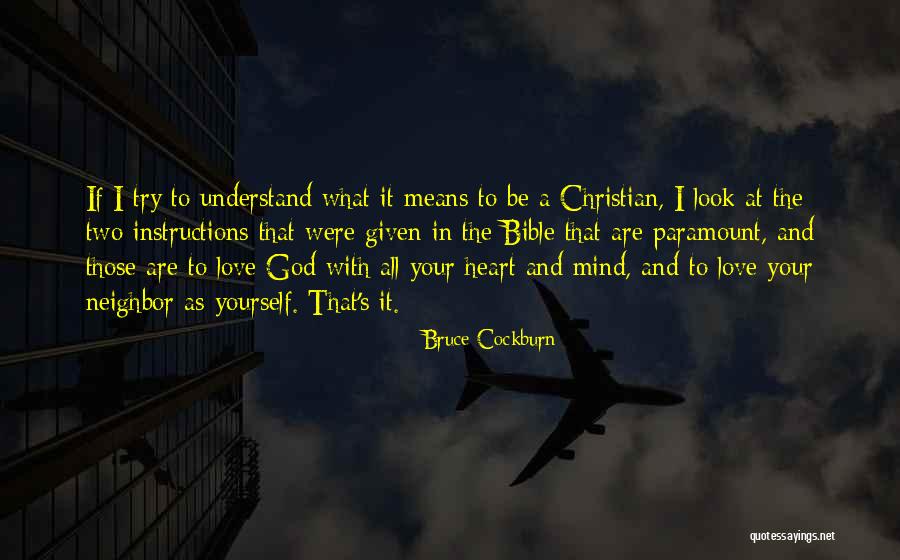 If I try to understand what it means to be a Christian, I look at the two instructions that were given in the Bible that are paramount, and those are to love God with all your heart and mind, and to love your neighbor as yourself. That's it. — Bruce Cockburn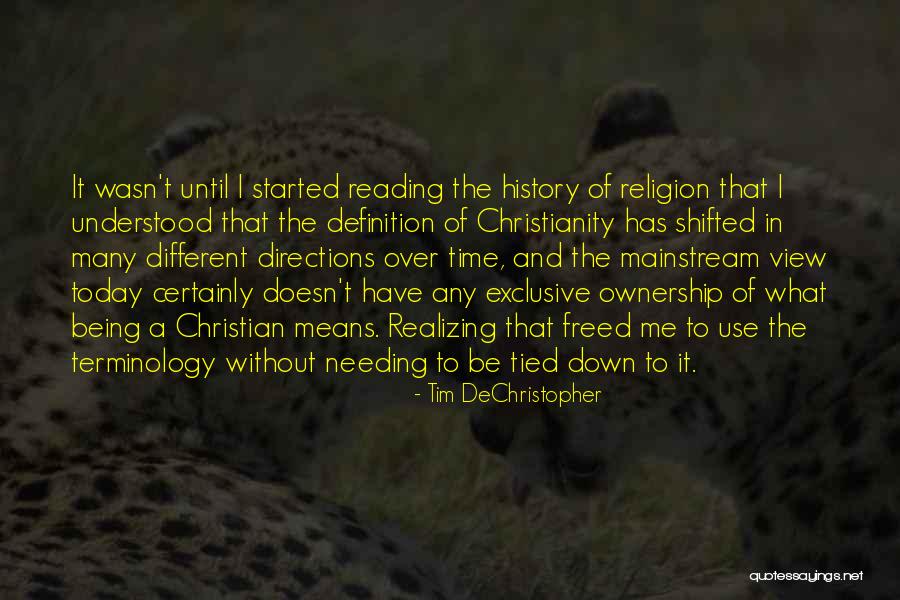 It wasn't until I started reading the history of religion that I understood that the definition of Christianity has shifted in many different directions over time, and the mainstream view today certainly doesn't have any exclusive ownership of what being a Christian means. Realizing that freed me to use the terminology without needing to be tied down to it. — Tim DeChristopher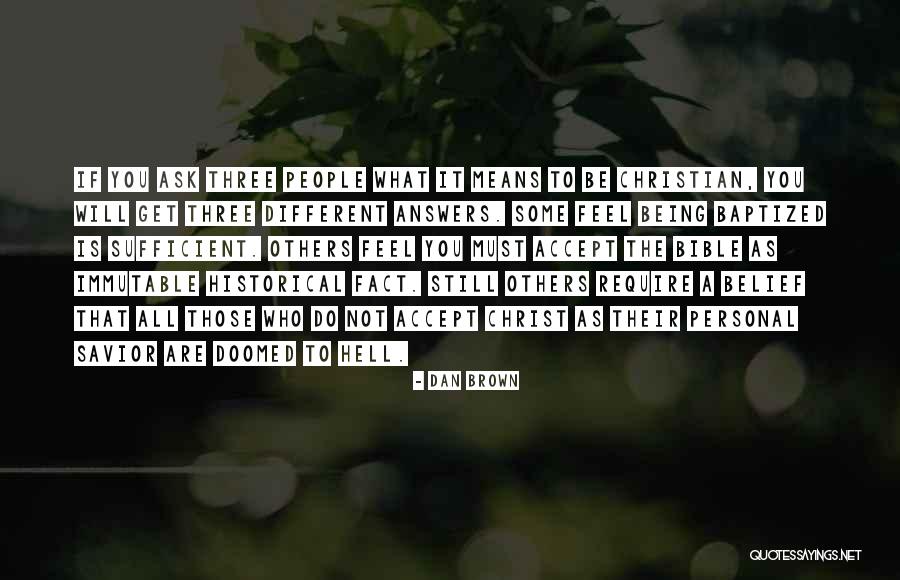 If you ask three people what it means to be Christian, you will get three different answers. Some feel being baptized is sufficient. Others feel you must accept the Bible as immutable historical fact. Still others require a belief that all those who do not accept Christ as their personal savior are doomed to hell. — Dan Brown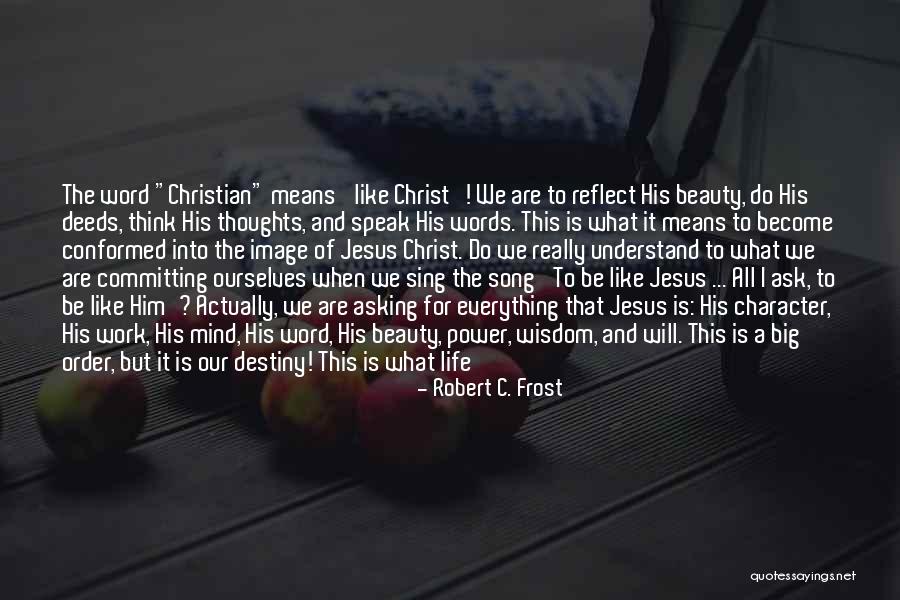 The word "Christian" means 'like Christ'! We are to reflect His beauty, do His deeds, think His thoughts, and speak His words. This is what it means to become conformed into the image of Jesus Christ. Do we really understand to what we are committing ourselves when we sing the song 'To be like Jesus ... All I ask, to be like Him'? Actually, we are asking for everything that Jesus is: His character, His work, His mind, His word, His beauty, power, wisdom, and will. This is a big order, but it is our destiny! This is what life is all about. To miss this is to miss everything. To gain this is to possess the answer to life's biggest question. Christ is the answer! God planned it so. The will of God the Father for you centers in His Son! — Robert C. Frost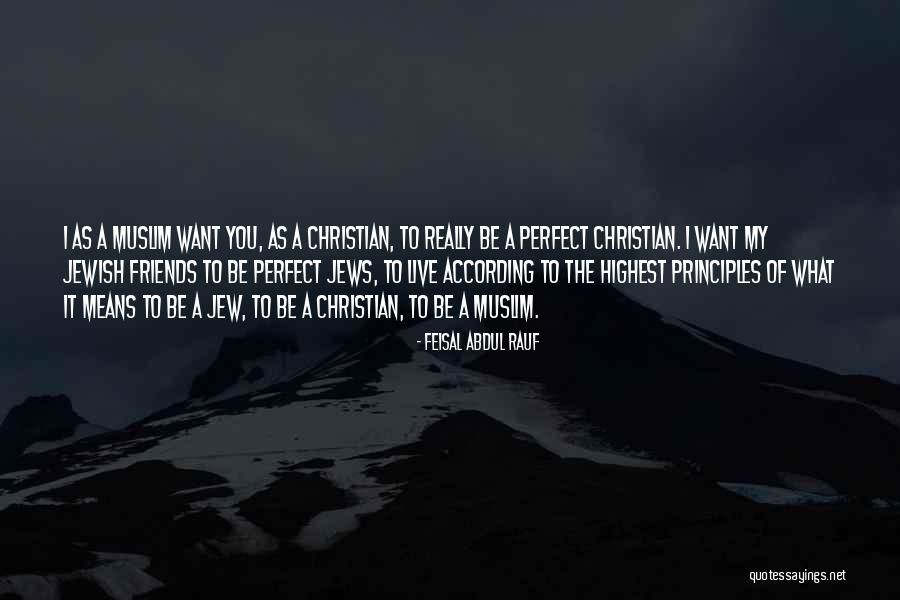 I as a Muslim want you, as a Christian, to really be a perfect Christian. I want my Jewish friends to be perfect Jews, to live according to the highest principles of what it means to be a Jew, to be a Christian, to be a Muslim. — Feisal Abdul Rauf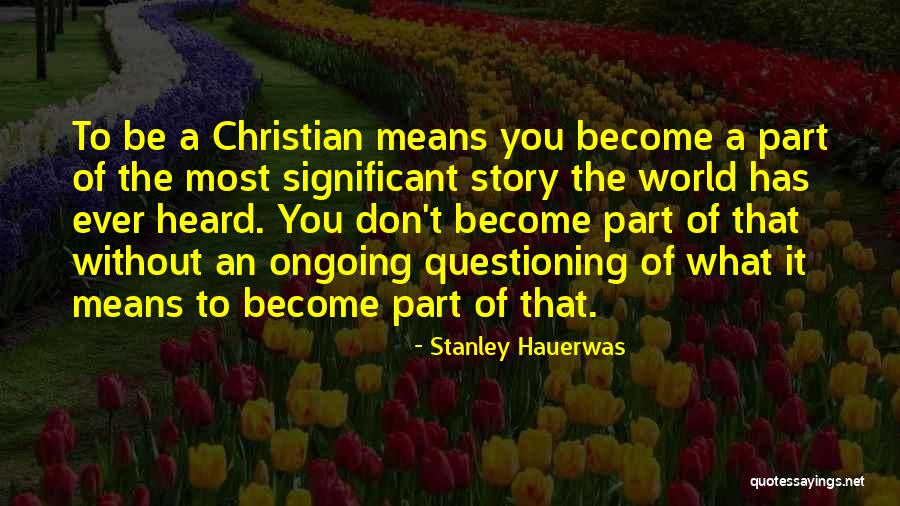 To be a Christian means you become a part of the most significant story the world has ever heard. You don't become part of that without an ongoing questioning of what it means to become part of that. — Stanley Hauerwas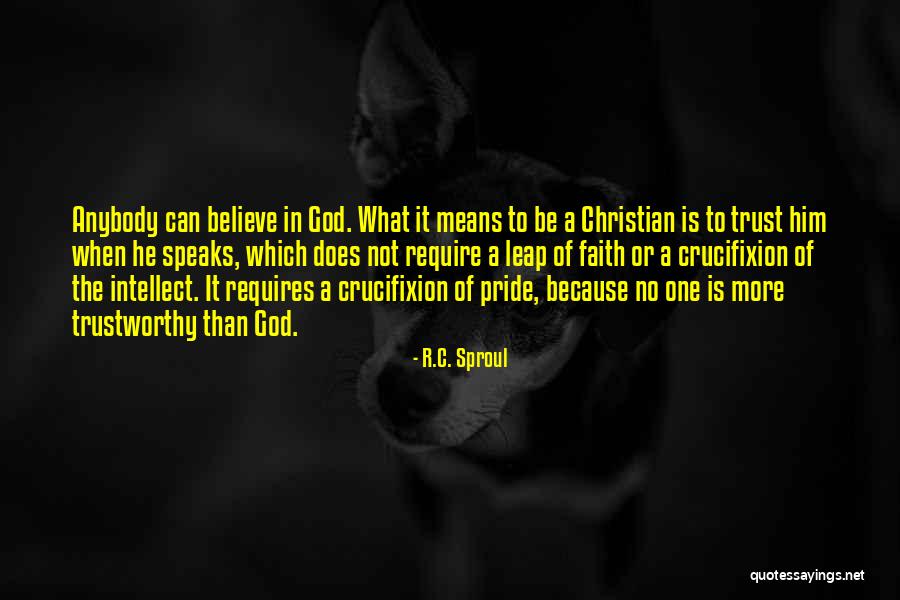 Anybody can believe in God. What it means to be a Christian is to trust him when he speaks, which does not require a leap of faith or a crucifixion of the intellect. It requires a crucifixion of pride, because no one is more trustworthy than God. — R.C. Sproul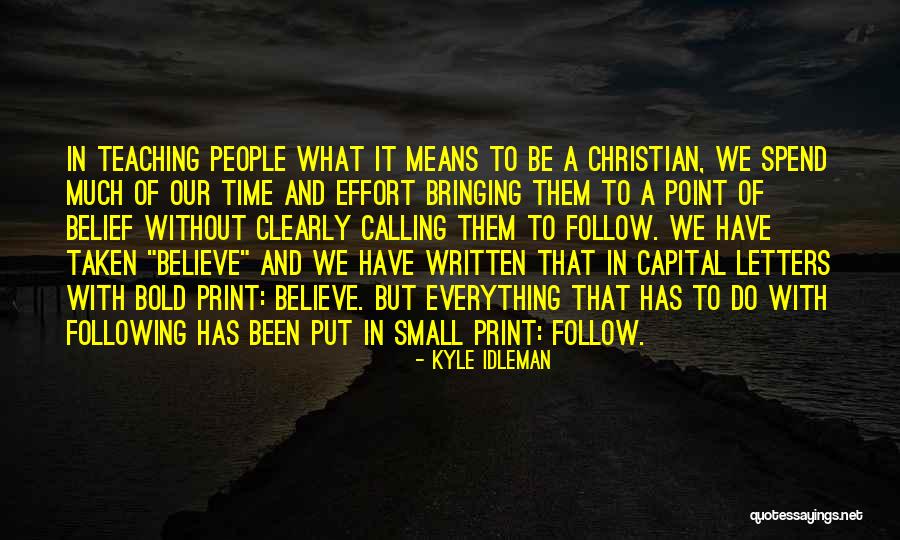 In teaching people what it means to be a Christian, we spend much of our time and effort bringing them to a point of belief without clearly calling them to follow. We have taken "believe" and we have written that in capital letters with bold print: BELIEVE. But everything that has to do with following has been put in small print: follow. — Kyle Idleman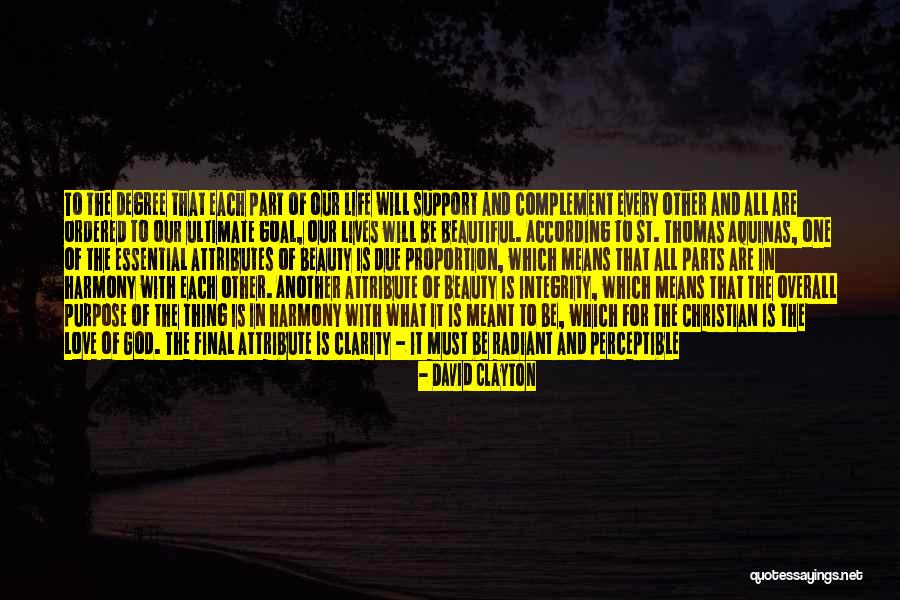 To the degree that each part of our life will support and complement every other and all are ordered to our ultimate goal, our lives will be beautiful. According to St. Thomas Aquinas, one of the essential attributes of beauty is due proportion, which means that all parts are in harmony with each other. Another attribute of beauty is integrity, which means that the overall purpose of the thing is in harmony with what it is meant to be, which for the Christian is the love of God. The final attribute is clarity - it must be radiant and perceptible by others. When people see a life well lived, they are drawn by its beauty and then beyond to the source to which it points, and to which that life is ordered: God. — David Clayton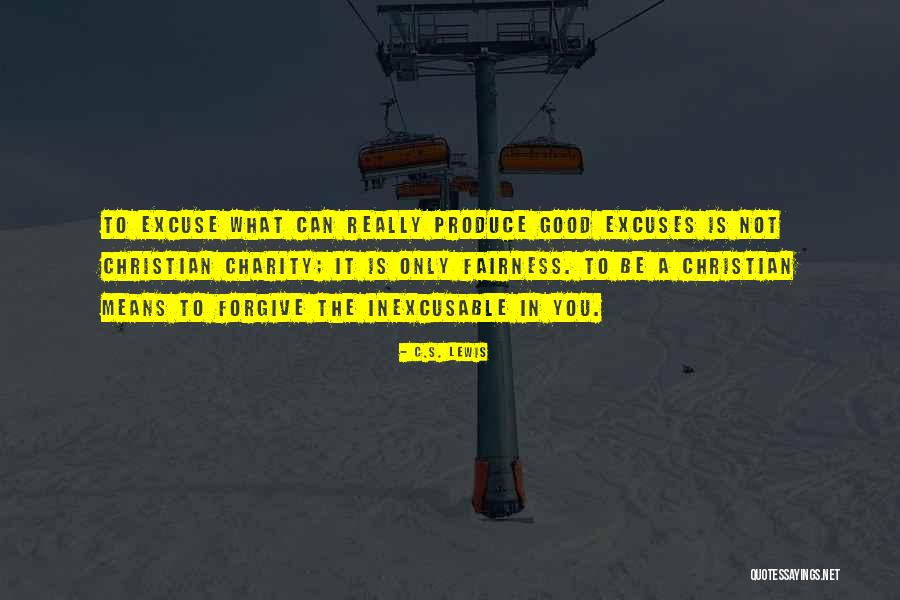 To excuse what can really produce good excuses is not Christian charity; it is only fairness. To be a Christian means to forgive the inexcusable in you. — C.S. Lewis