Vacation Time Is Over Quotes & Sayings
Enjoy reading and share 42 famous quotes about Vacation Time Is Over with everyone.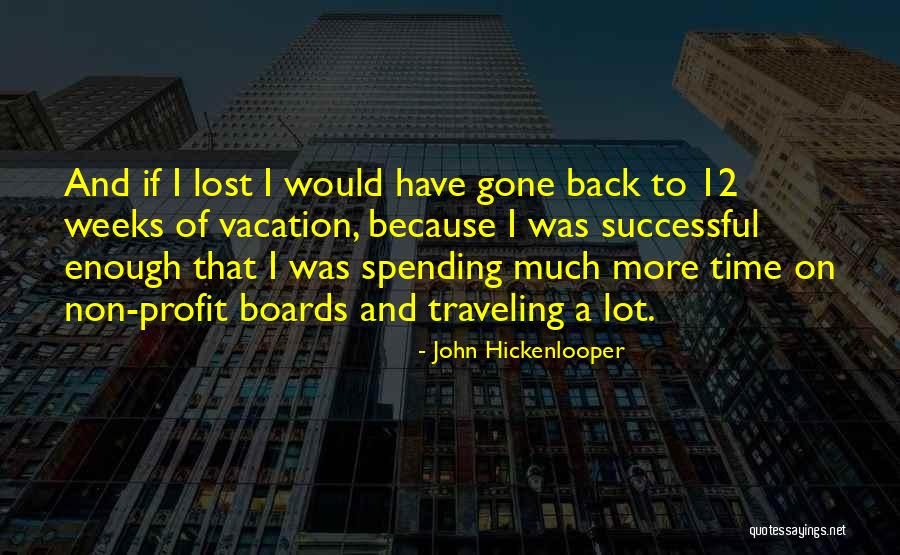 And if I lost I would have gone back to 12 weeks of vacation, because I was successful enough that I was spending much more time on non-profit boards and traveling a lot. — John Hickenlooper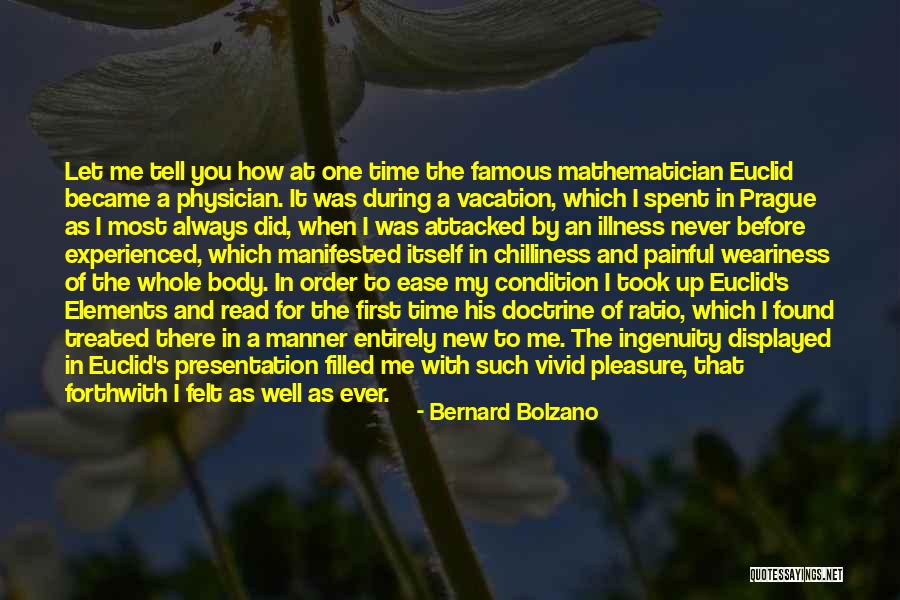 Let me tell you how at one time the famous mathematician Euclid became a physician. It was during a vacation, which I spent in Prague as I most always did, when I was attacked by an illness never before experienced, which manifested itself in chilliness and painful weariness of the whole body. In order to ease my condition I took up Euclid's Elements and read for the first time his doctrine of ratio, which I found treated there in a manner entirely new to me. The ingenuity displayed in Euclid's presentation filled me with such vivid pleasure, that forthwith I felt as well as ever. — Bernard Bolzano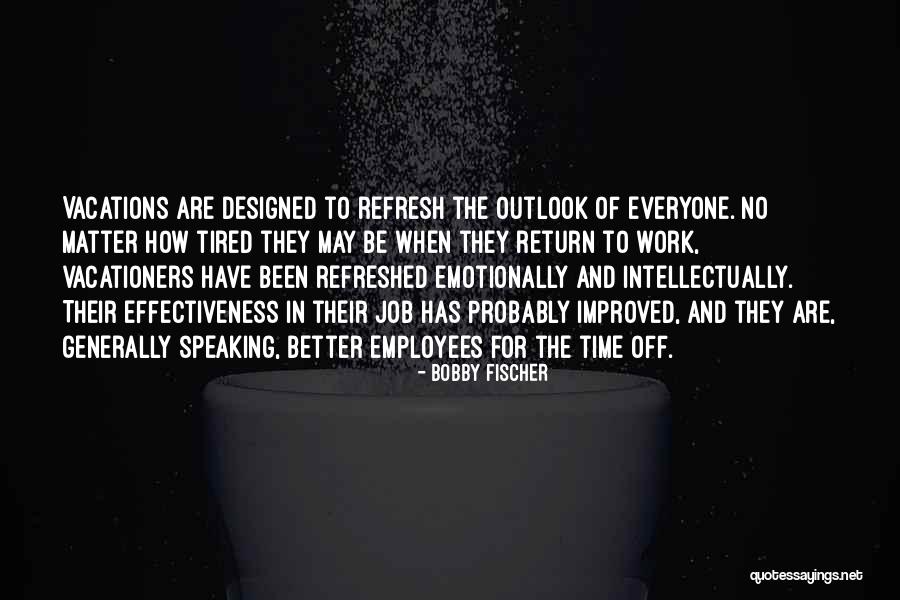 Vacations are designed to refresh the outlook of everyone. No matter how tired they may be when they return to work, vacationers have been refreshed emotionally and intellectually. Their effectiveness in their job has probably improved, and they are, generally speaking, better employees for the time off. — Bobby Fischer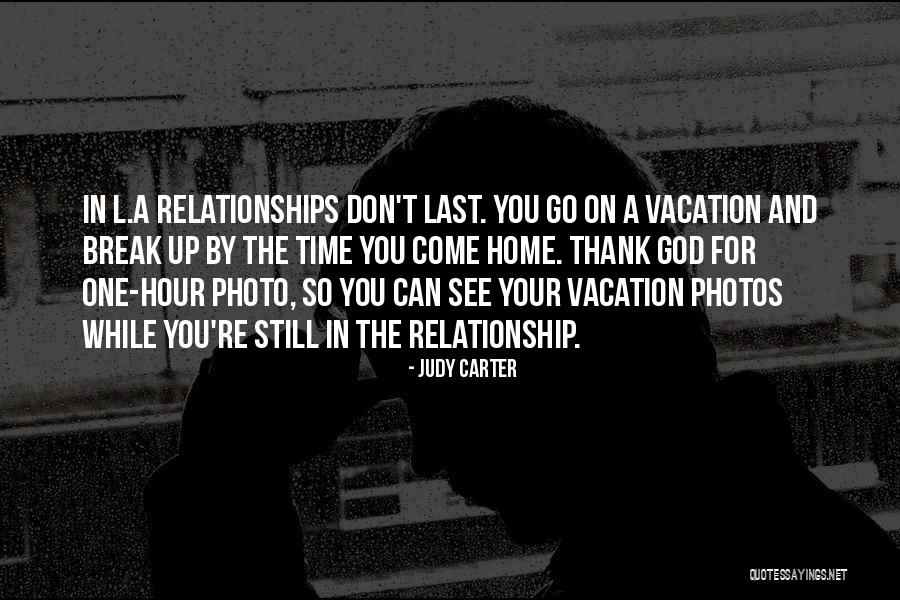 In L.A relationships don't last. You go on a vacation and break up by the time you come home. Thank God for one-hour photo, so you can see your vacation photos while you're still in the relationship. — Judy Carter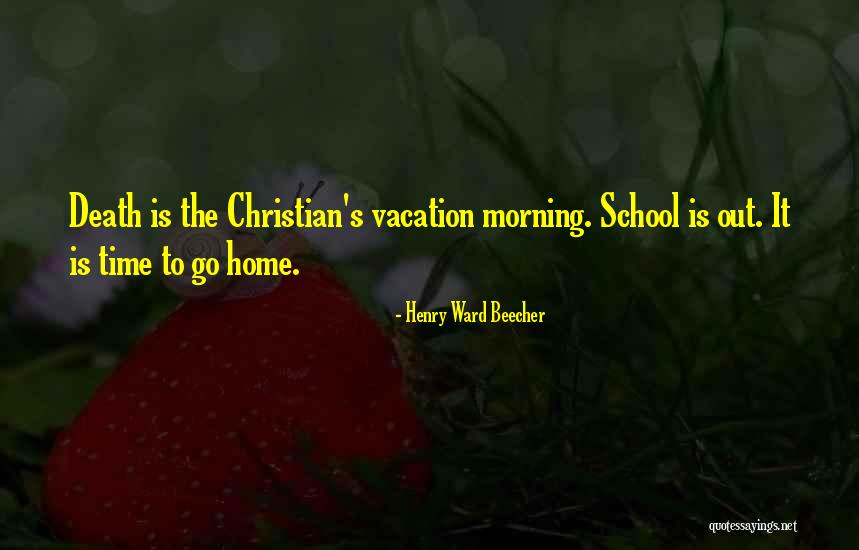 Death is the Christian's vacation morning. School is out. It is time to go home. — Henry Ward Beecher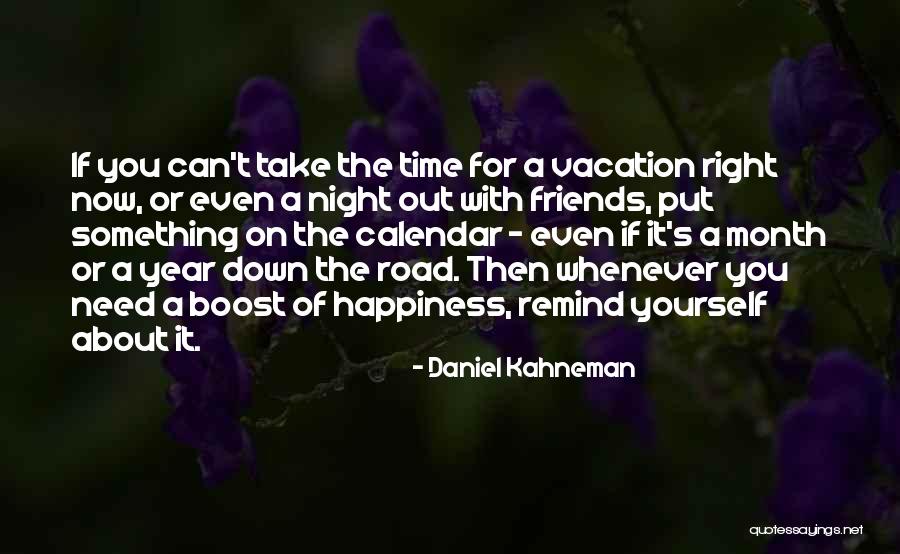 If you can't take the time for a vacation right now, or even a night out with friends, put something on the calendar - even if it's a month or a year down the road. Then whenever you need a boost of happiness, remind yourself about it. — Daniel Kahneman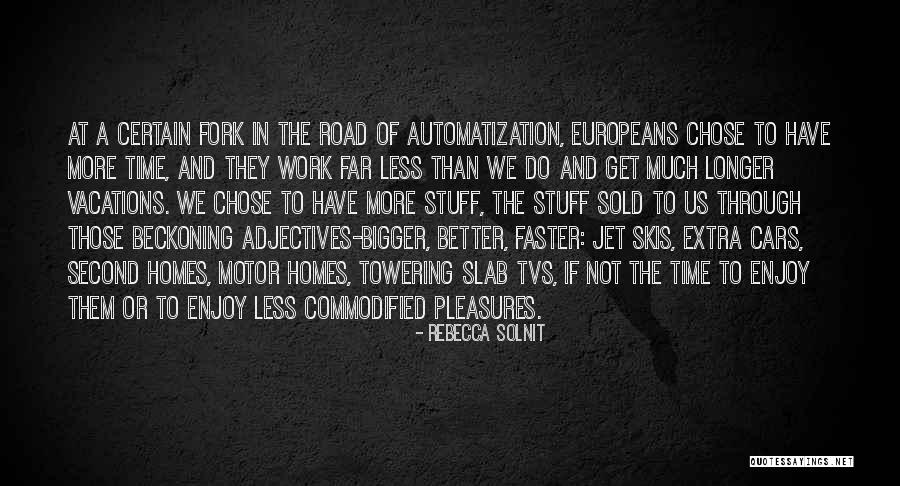 At a certain fork in the road of automatization, Europeans chose to have more time, and they work far less than we do and get much longer vacations. We chose to have more stuff, the stuff sold to us through those beckoning adjectives-bigger, better, faster: Jet Skis, extra cars, second homes, motor homes, towering slab TVs, if not the time to enjoy them or to enjoy less commodified pleasures. — Rebecca Solnit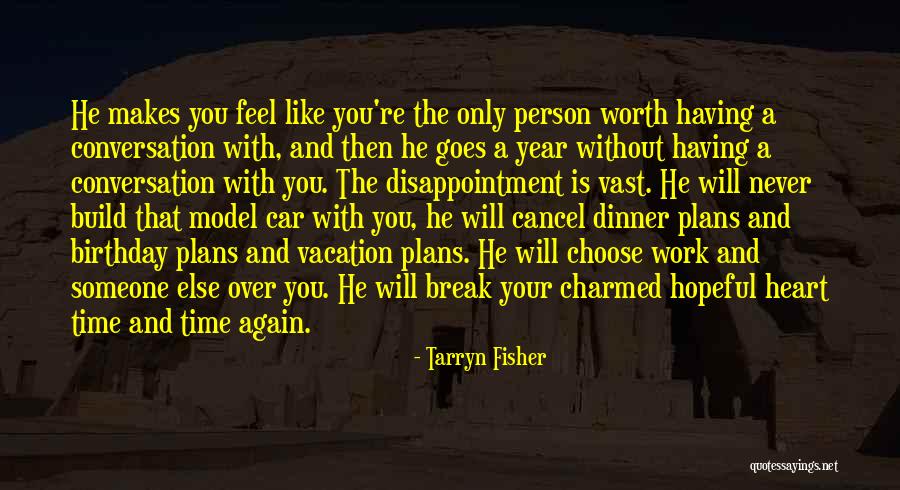 He makes you feel like you're the only person worth having a conversation with, and then he goes a year without having a conversation with you. The disappointment is vast. He will never build that model car with you, he will cancel dinner plans and birthday plans and vacation plans. He will choose work and someone else over you. He will break your charmed hopeful heart time and time again. — Tarryn Fisher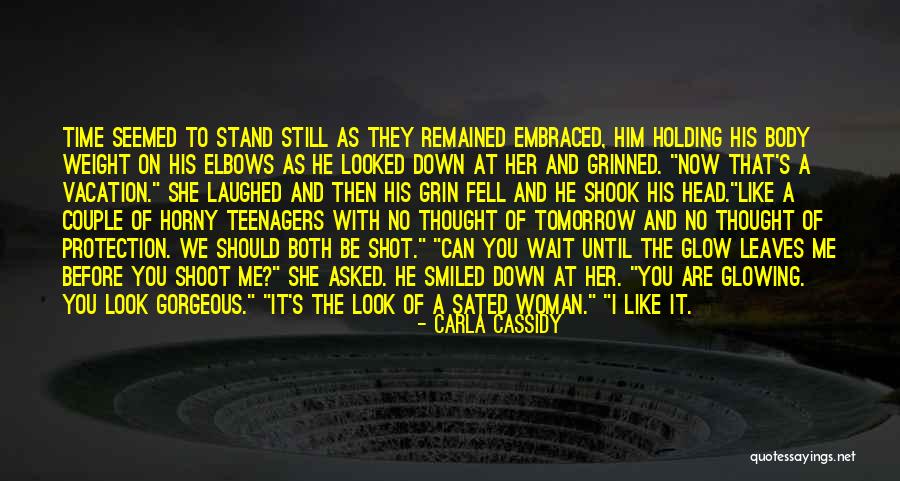 Time seemed to stand still as they remained embraced, him holding his body weight on his elbows as he looked down at her and grinned.
"Now that's a vacation." She laughed and then his grin fell and he shook his head.
"Like a couple of horny teenagers with no thought of tomorrow and no thought of protection. We should both be shot."
"Can you wait until the glow leaves me before you shoot me?" she asked.
He smiled down at her. "You are glowing. You look gorgeous." "It's the look of a sated woman." "I like it. — Carla Cassidy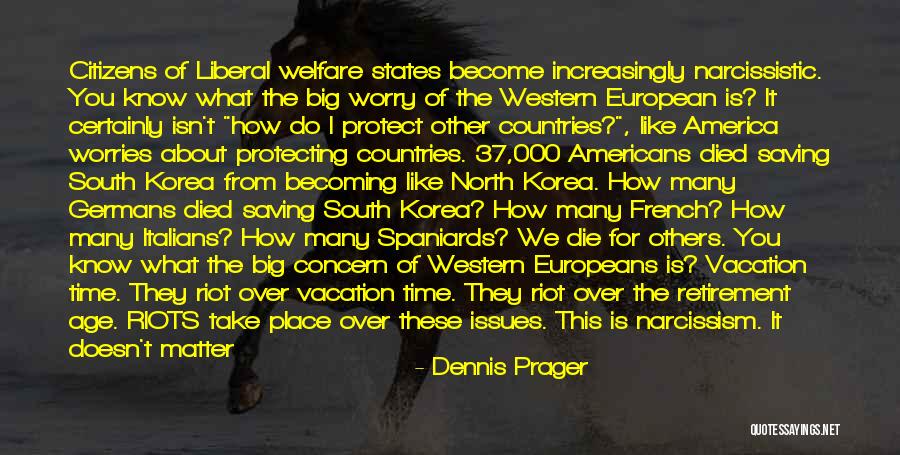 Citizens of Liberal welfare states become increasingly narcissistic. You know what the big worry of the Western European is? It certainly isn't "how do I protect other countries?", like America worries about protecting countries. 37,000 Americans died saving South Korea from becoming like North Korea. How many Germans died saving South Korea? How many French? How many Italians? How many Spaniards?
We die for others.
You know what the big concern of Western Europeans is? Vacation time. They riot over vacation time. They riot over the retirement age.
RIOTS take place over these issues. This is narcissism. It doesn't matter what is happening in Cambodia. It doesn't matter what is happening in Syria. I want my vacation time. — Dennis Prager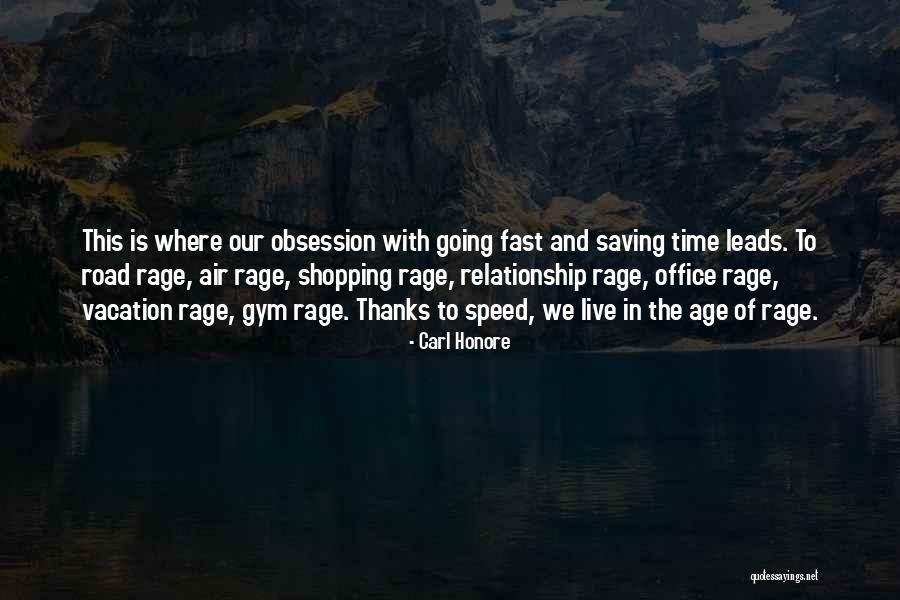 This is where our obsession with going fast and saving time leads. To road rage, air rage, shopping rage, relationship rage, office rage, vacation rage, gym rage. Thanks to speed, we live in the age of rage. — Carl Honore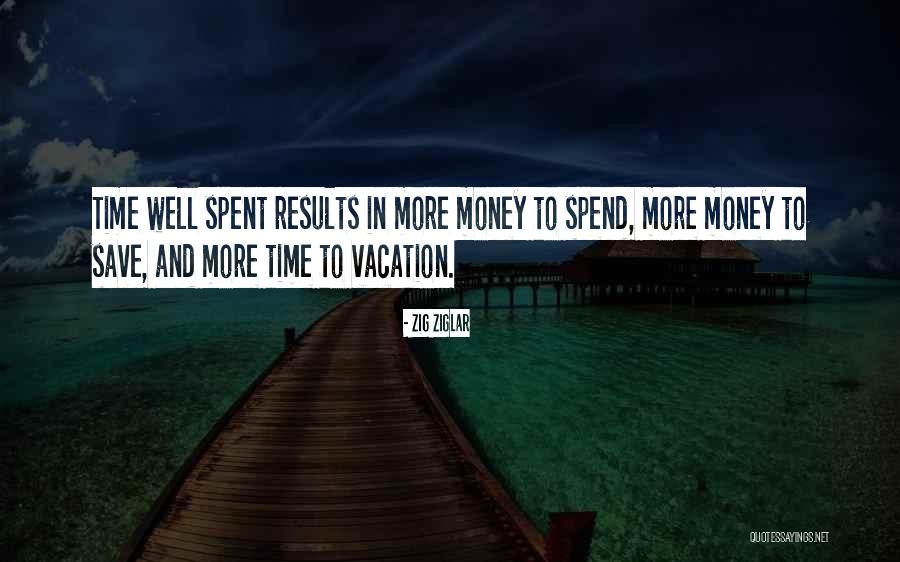 Time well spent results in more money to spend, more money to save, and more time to vacation. — Zig Ziglar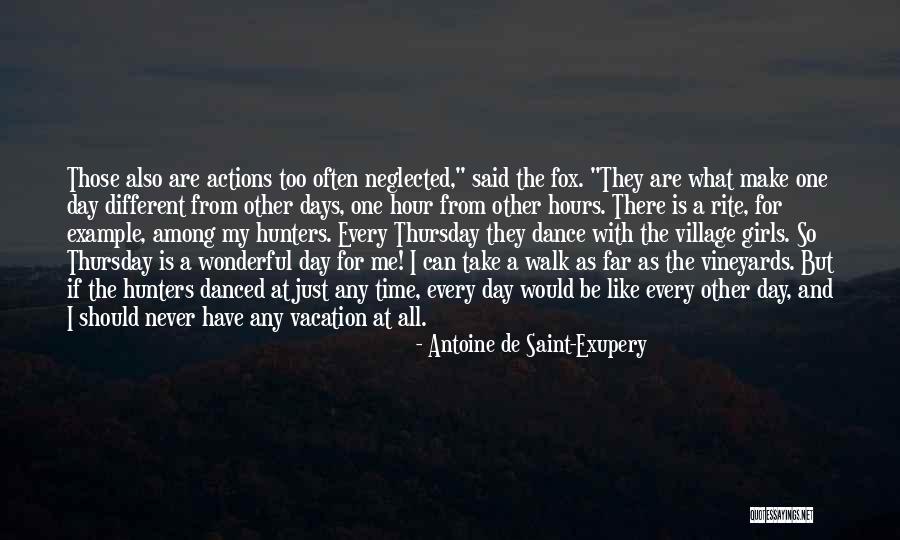 Those also are actions too often neglected," said the fox. "They are what make one day different from other days, one hour from other hours. There is a rite, for example, among my hunters. Every Thursday they dance with the village girls. So Thursday is a wonderful day for me! I can take a walk as far as the vineyards. But if the hunters danced at just any time, every day would be like every other day, and I should never have any vacation at all. — Antoine De Saint-Exupery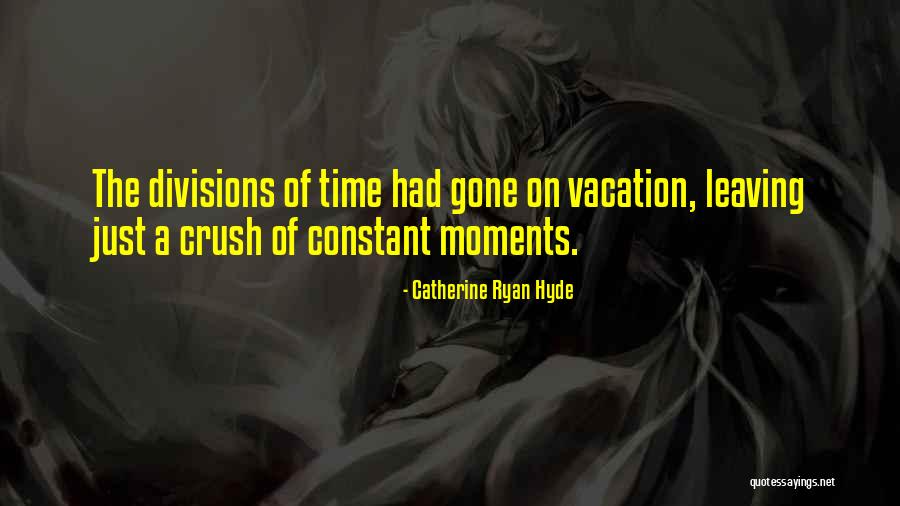 The divisions of time had gone on vacation, leaving just a crush of constant moments. — Catherine Ryan Hyde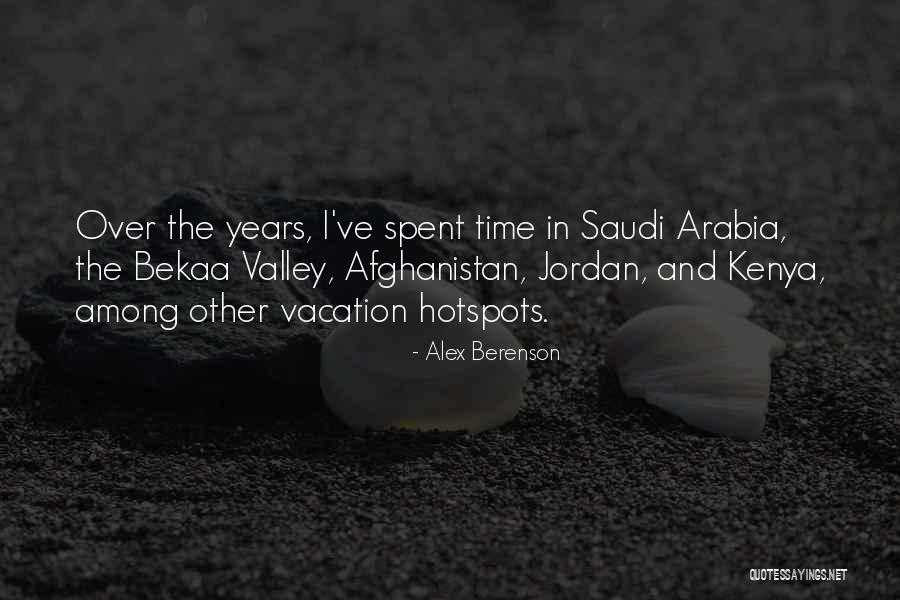 Over the years, I've spent time in Saudi Arabia, the Bekaa Valley, Afghanistan, Jordan, and Kenya, among other vacation hotspots. — Alex Berenson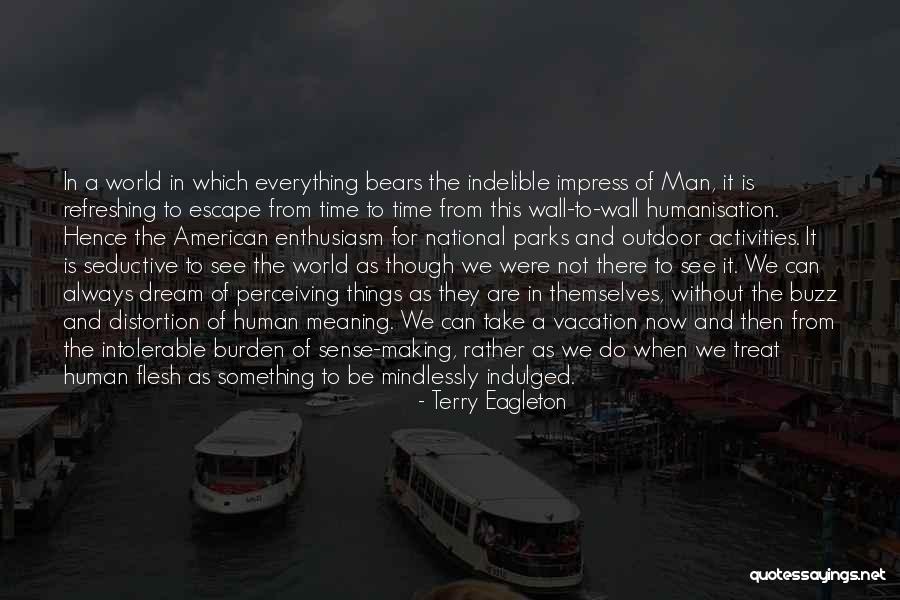 In a world in which everything bears the indelible impress of Man, it is refreshing to escape from time to time from this wall-to-wall humanisation. Hence the American enthusiasm for national parks and outdoor activities. It is seductive to see the world as though we were not there to see it. We can always dream of perceiving things as they are in themselves, without the buzz and distortion of human meaning. We can take a vacation now and then from the intolerable burden of sense-making, rather as we do when we treat human flesh as something to be mindlessly indulged. We can shuck off language and confront reality in the raw, as we imagine an innocent child might do. — Terry Eagleton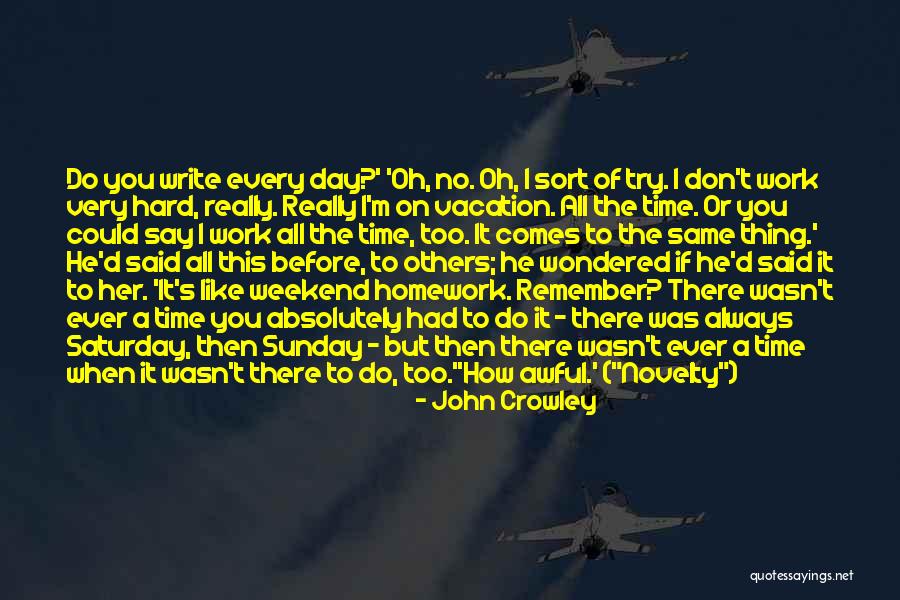 Do you write every day?'
'Oh, no. Oh, I sort of try. I don't work very hard, really. Really I'm on vacation. All the time. Or you could say I work all the time, too. It comes to the same thing.' He'd said all this before, to others; he wondered if he'd said it to her. 'It's like weekend homework. Remember? There wasn't ever a time you absolutely had to do it - there was always Saturday, then Sunday - but then there wasn't ever a time when it wasn't there to do, too.'
'How awful.' ("Novelty") — John Crowley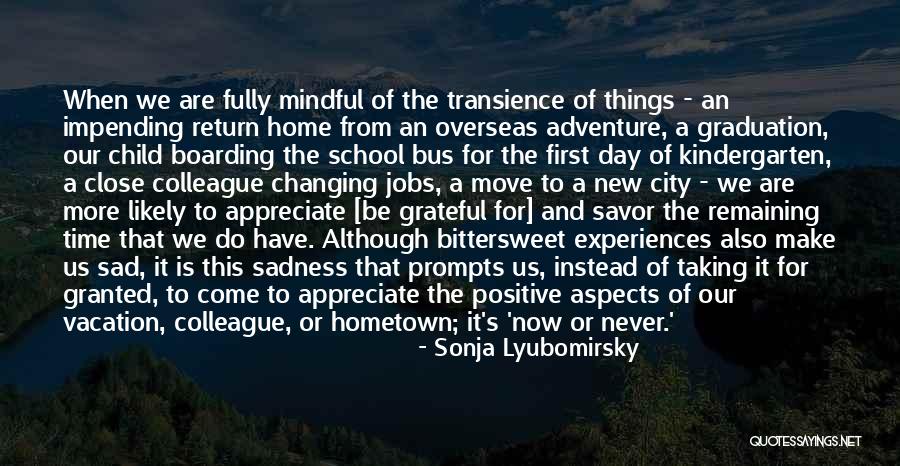 When we are fully mindful of the transience of things - an impending return home from an overseas adventure, a graduation, our child boarding the school bus for the first day of kindergarten, a close colleague changing jobs, a move to a new city - we are more likely to appreciate [be grateful for] and savor the remaining time that we do have. Although bittersweet experiences also make us sad, it is this sadness that prompts us, instead of taking it for granted, to come to appreciate the positive aspects of our vacation, colleague, or hometown; it's 'now or never.' — Sonja Lyubomirsky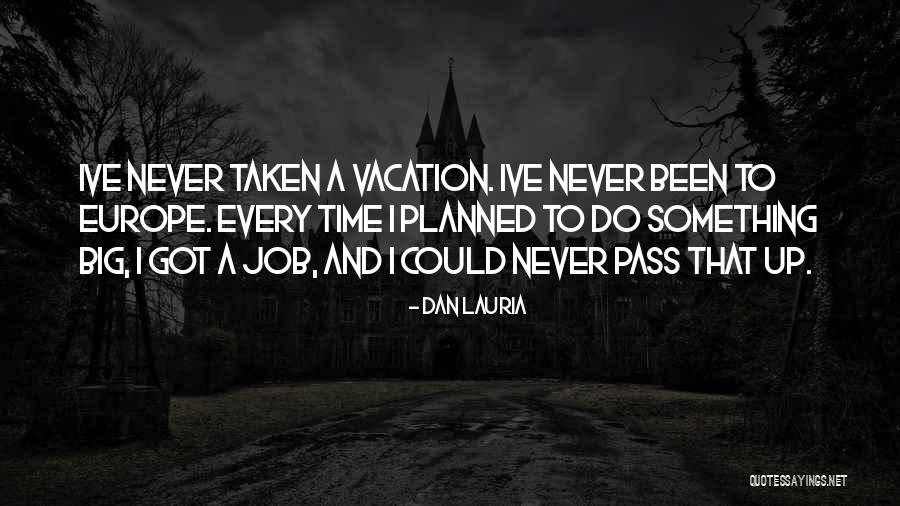 Ive never taken a vacation. Ive never been to Europe. Every time I planned to do something big, I got a job, and I could never pass that up. — Dan Lauria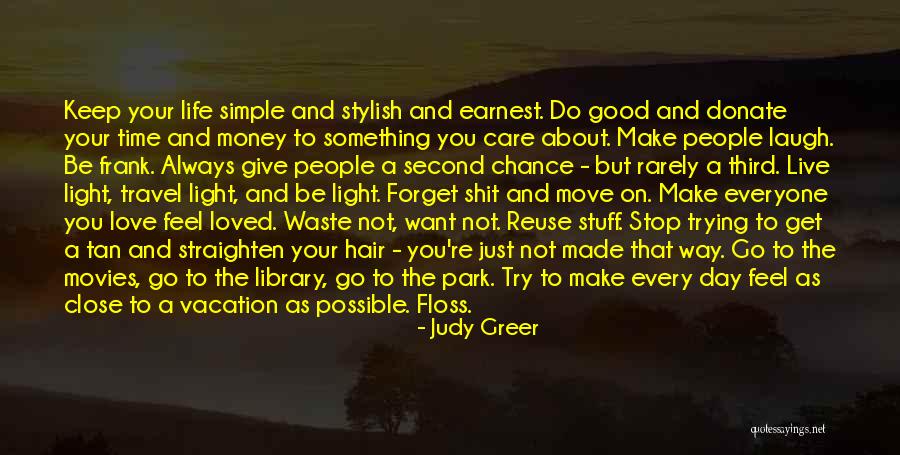 Keep your life simple and stylish and earnest. Do good and donate your time and money to something you care about. Make people laugh. Be frank. Always give people a second chance - but rarely a third. Live light, travel light, and be light. Forget shit and move on. Make everyone you love feel loved. Waste not, want not. Reuse stuff. Stop trying to get a tan and straighten your hair - you're just not made that way. Go to the movies, go to the library, go to the park. Try to make every day feel as close to a vacation as possible. Floss. — Judy Greer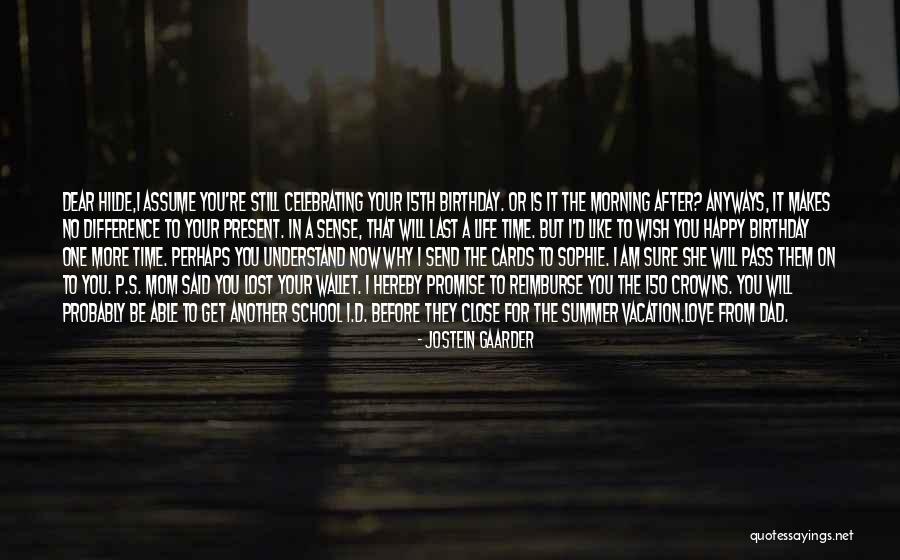 Dear Hilde,
I assume you're still celebrating your 15th birthday. Or is it the morning after? Anyways, it makes no difference to your present. In a sense, that will last a life time. But I'd like to wish you happy birthday one more time. Perhaps you understand now why I send the cards to Sophie. I am sure she will pass them on to you.
P.S. Mom said you lost your wallet. I hereby promise to reimburse you the 150 crowns. You will probably be able to get another school I.D. before they close for the summer vacation.
Love from Dad. — Jostein Gaarder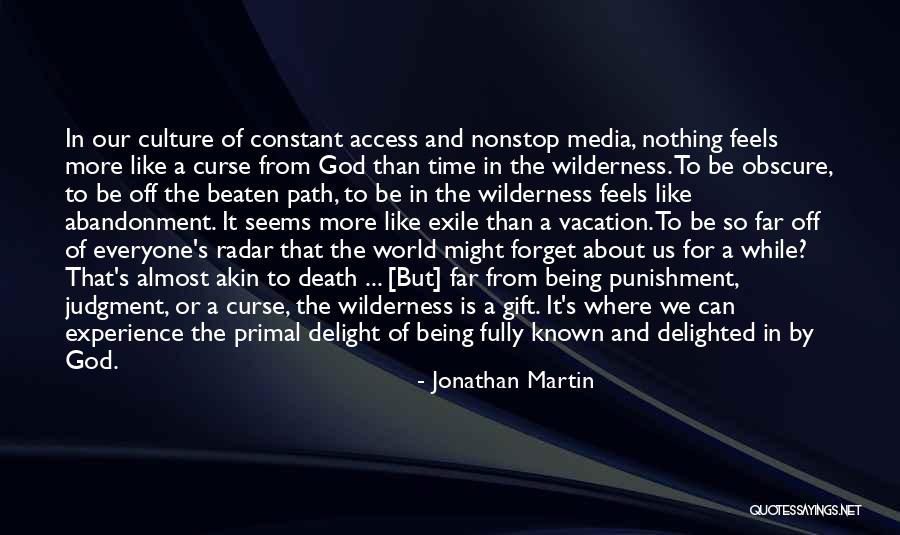 In our culture of constant access and nonstop media, nothing feels more like a curse from God than time in the wilderness. To be obscure, to be off the beaten path, to be in the wilderness feels like abandonment. It seems more like exile than a vacation. To be so far off of everyone's radar that the world might forget about us for a while? That's almost akin to death ... [But] far from being punishment, judgment, or a curse, the wilderness is a gift. It's where we can experience the primal delight of being fully known and delighted in by God. — Jonathan Martin
Every time you work on a project, it's a little vacation from the project you're working on the other 23 hours. That's the thing - it replenishes you to do something else. — Joss Whedon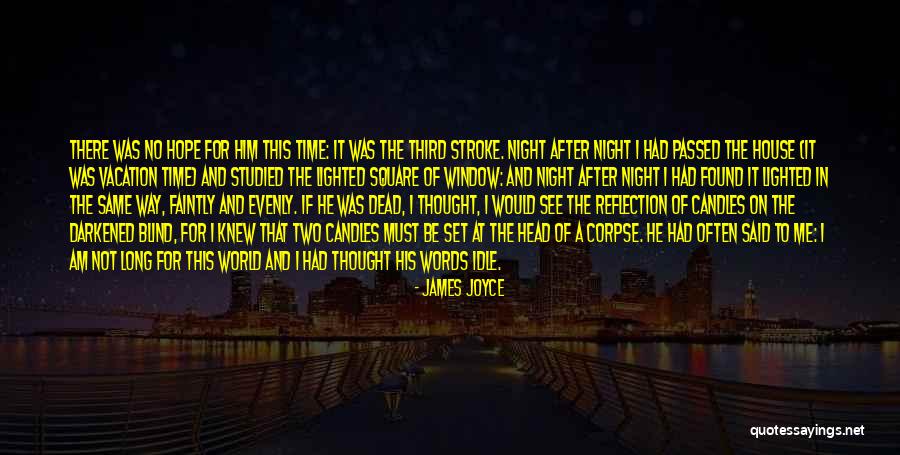 There was no hope for him this time: it was the third stroke. Night after night I had passed the house (it was vacation time) and studied the lighted square of window: and night after night I had found it lighted in the same way, faintly and evenly. If he was dead, I thought, I would see the reflection of candles on the darkened blind, for I knew that two candles must be set at the head of a corpse. He had often said to me: I am not long for this world and I had thought his words idle. Now I knew they were true. Every night as I gazed up at the window I said softly to myself the word paralysis. It had always sounded strangely in my ears, like the word gnomon in the Euclid and the word simony in the Catechism. But now it sounded to me like the name of some maleficent and sinful being. It filled me with fear, and yet I longed to be nearer to it and to look upon its deadly work. — James Joyce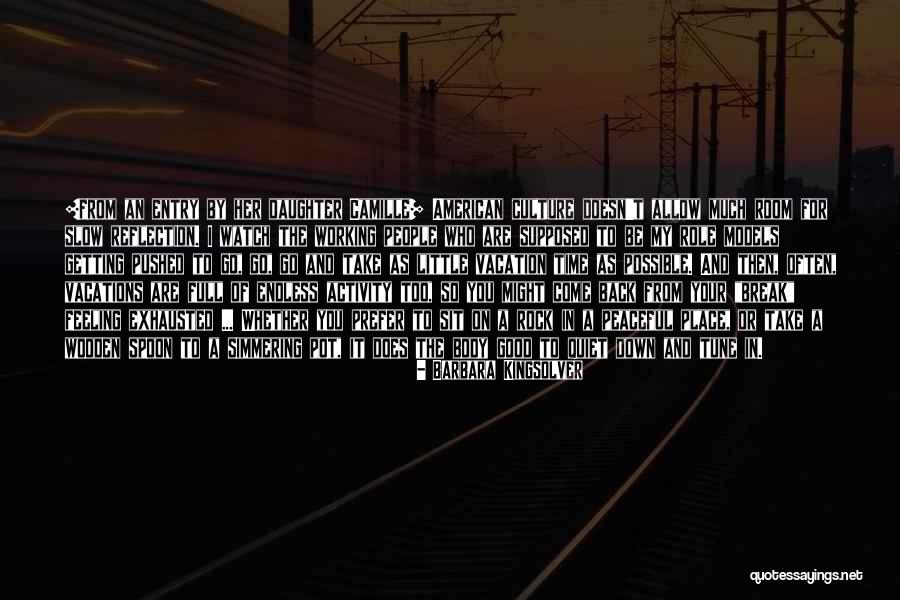 [from an entry by her daughter Camille] American culture doesn't allow much room for slow reflection. I watch the working people who are supposed to be my role models getting pushed to go, go, go and take as little vacation time as possible. And then, often, vacations are full of endless activity too, so you might come back from your "break" feeling exhausted ... Whether you prefer to sit on a rock in a peaceful place, or take a wooden spoon to a simmering pot, it does the body good to quiet down and tune in. — Barbara Kingsolver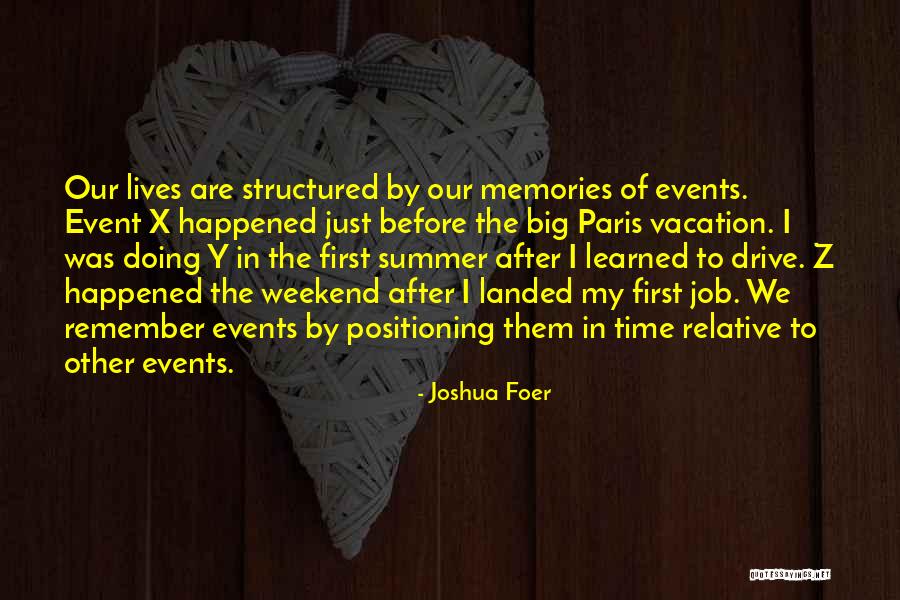 Our lives are structured by our memories of events. Event X happened just before the big Paris vacation. I was doing Y in the first summer after I learned to drive. Z happened the weekend after I landed my first job. We remember events by positioning them in time relative to other events. — Joshua Foer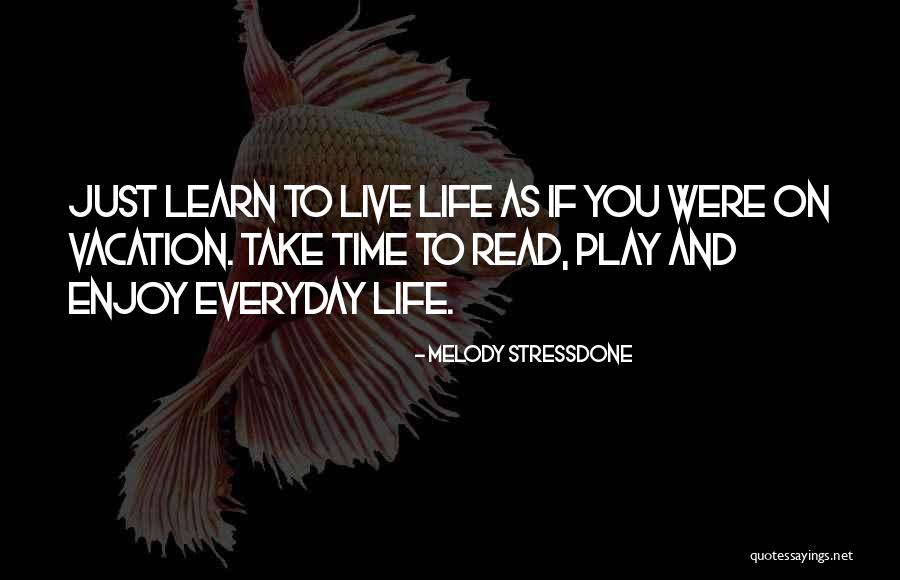 just learn to live life as if you were on vacation. Take time to read, play and enjoy everyday life. — Melody Stressdone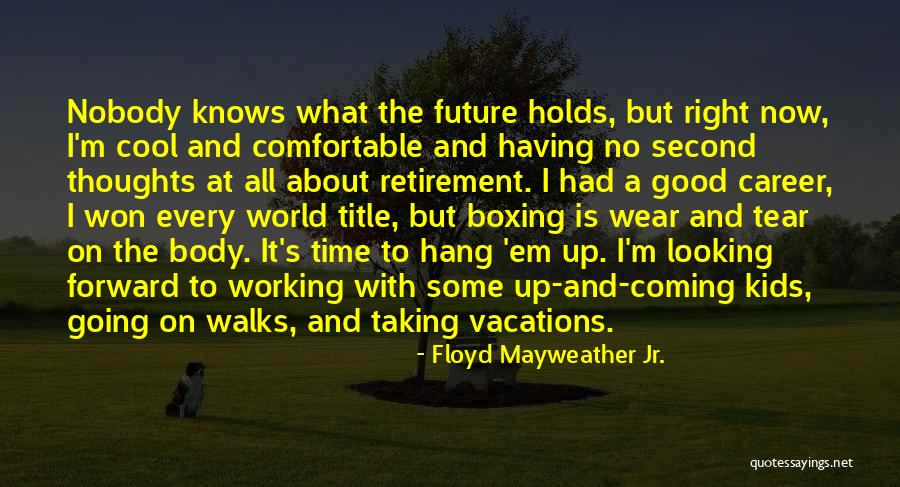 Nobody knows what the future holds, but right now, I'm cool and comfortable and having no second thoughts at all about retirement. I had a good career, I won every world title, but boxing is wear and tear on the body. It's time to hang 'em up. I'm looking forward to working with some up-and-coming kids, going on walks, and taking vacations. — Floyd Mayweather Jr.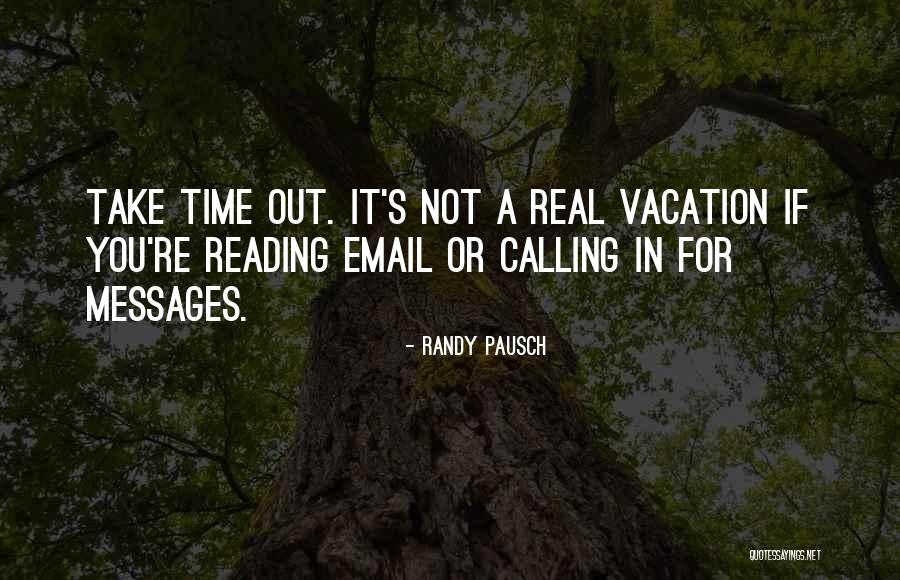 Take Time Out. It's not a real vacation if you're reading email or calling in for messages. — Randy Pausch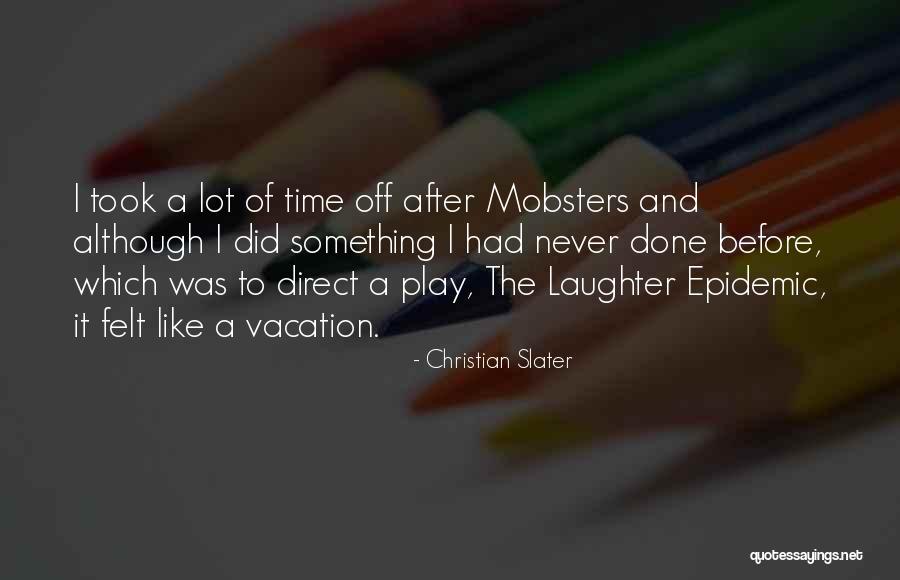 I took a lot of time off after Mobsters and although I did something I had never done before, which was to direct a play, The Laughter Epidemic, it felt like a vacation. — Christian Slater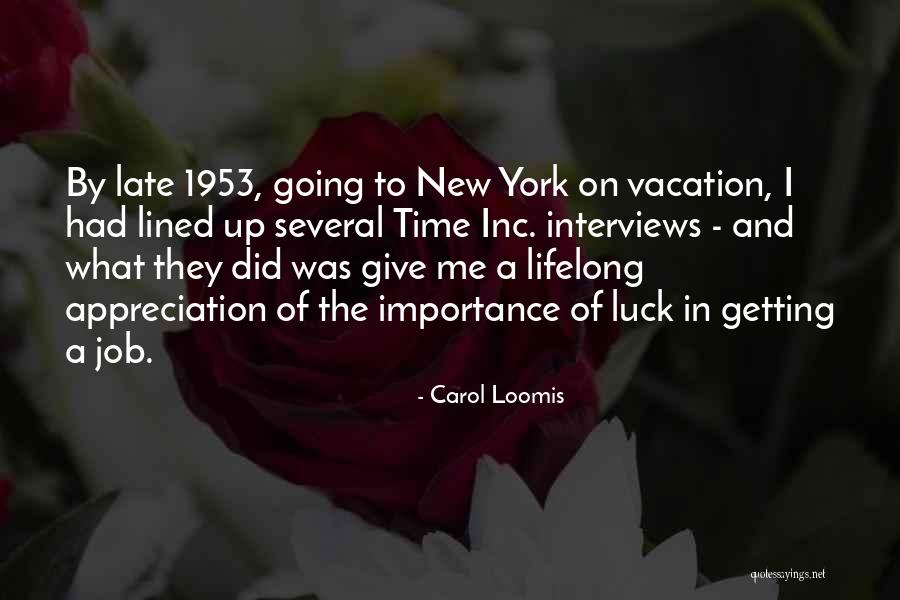 By late 1953, going to New York on vacation, I had lined up several Time Inc. interviews - and what they did was give me a lifelong appreciation of the importance of luck in getting a job. — Carol Loomis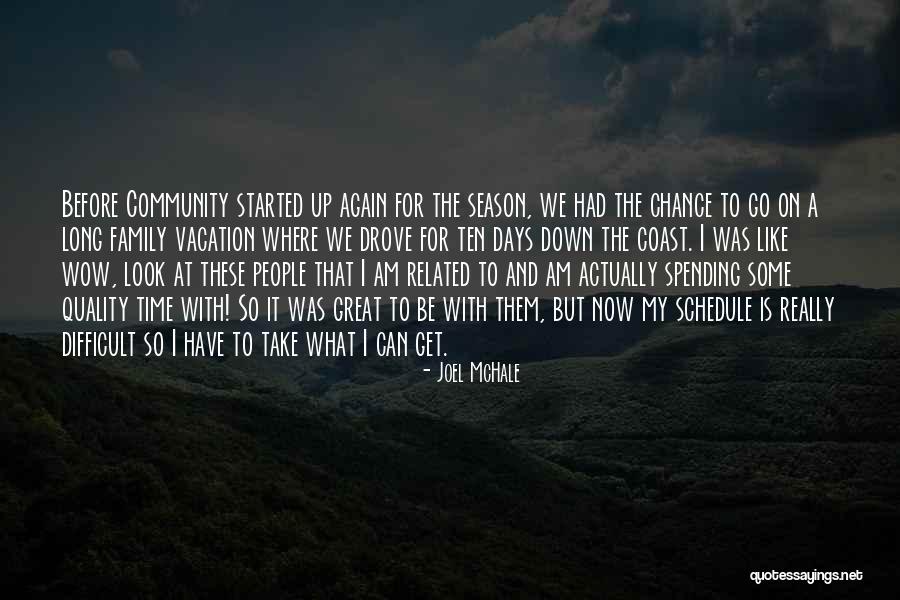 Before Community started up again for the season, we had the chance to go on a long family vacation where we drove for ten days down the coast. I was like wow, look at these people that I am related to and am actually spending some quality time with! So it was great to be with them, but now my schedule is really difficult so I have to take what I can get. — Joel McHale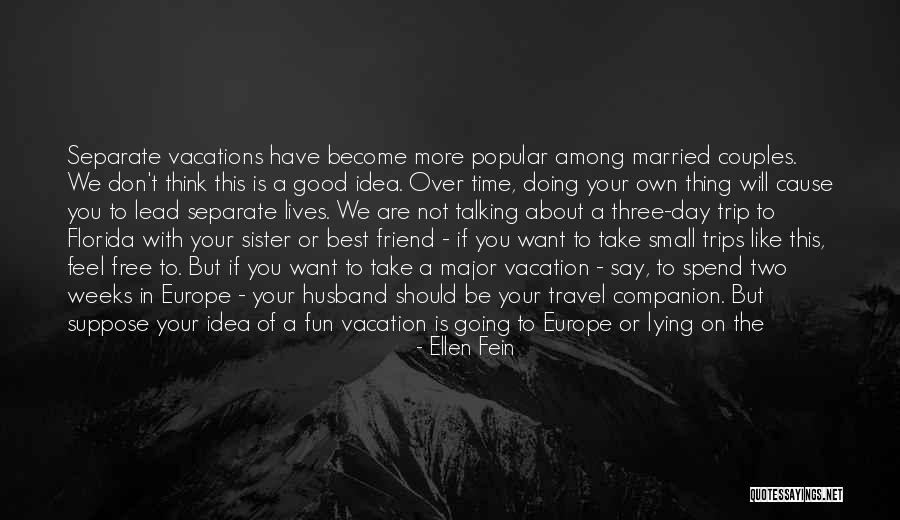 Separate vacations have become more popular among married couples. We don't think this is a good idea. Over time, doing your own thing will cause you to lead separate lives. We are not talking about a three-day trip to Florida with your sister or best friend - if you want to take small trips like this, feel free to. But if you want to take a major vacation - say, to spend two weeks in Europe - your husband should be your travel companion. But suppose your idea of a fun vacation is going to Europe or lying on the beach in the Caribbean, while your husband loves tours of historic sites and museums. Our advice is to figure out a way to do a little of both. One year, you can go to the beach, the next year you can do a tourist package together, or go on a trip with a beach near some sites of cultural interest. Once you start planning separate vacations, you become like roommates, not lovers. — Ellen Fein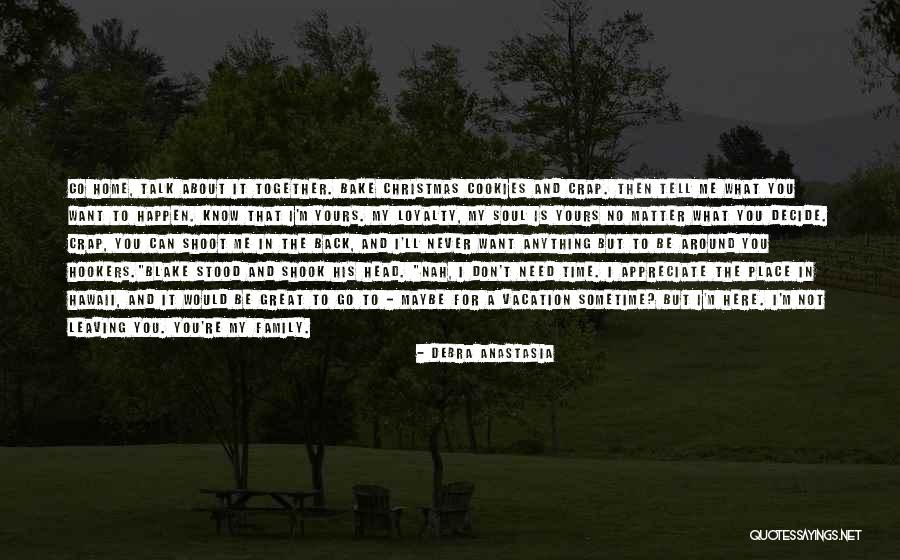 Go home, talk about it together. Bake Christmas cookies and crap. Then tell me what you want to happen. Know that I'm yours. My loyalty, my soul is yours no matter what you decide. Crap, you can shoot me in the back, and I'll never want anything but to be around you hookers."
Blake stood and shook his head. "Nah, I don't need time. I appreciate the place in Hawaii, and it would be great to go to - maybe for a vacation sometime? But I'm here. I'm not leaving you. You're my family. — Debra Anastasia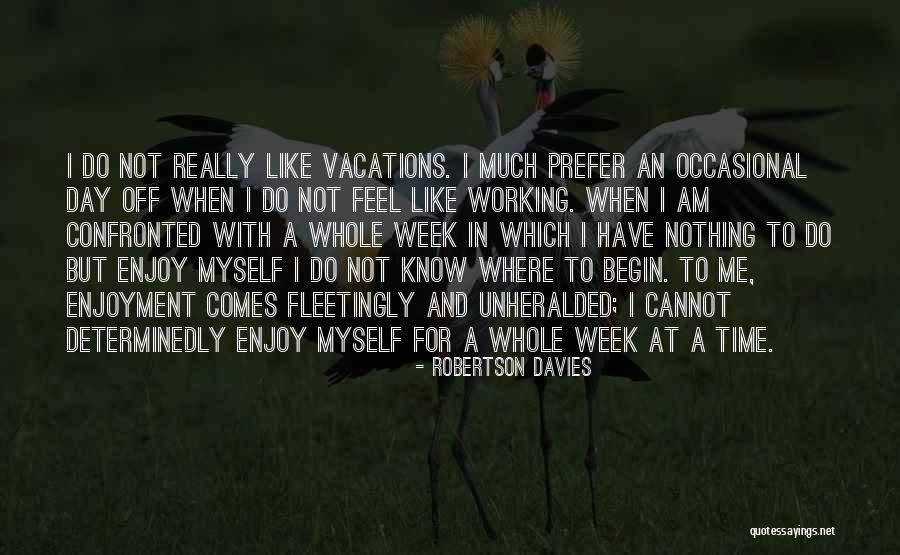 I do not really like vacations. I much prefer an occasional day off when I do not feel like working. When I am confronted with a whole week in which I have nothing to do but enjoy myself I do not know where to begin. To me, enjoyment comes fleetingly and unheralded; I cannot determinedly enjoy myself for a whole week at a time. — Robertson Davies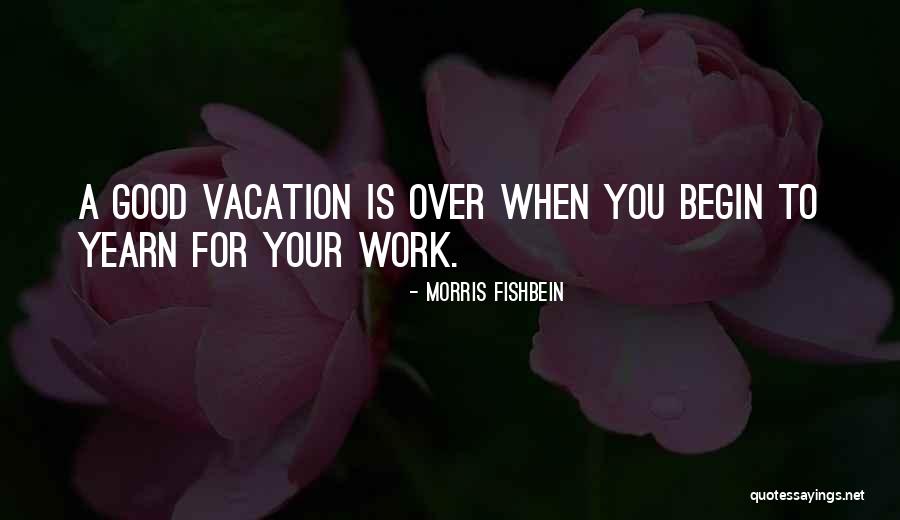 A good vacation is over when you begin to yearn for your work. — Morris Fishbein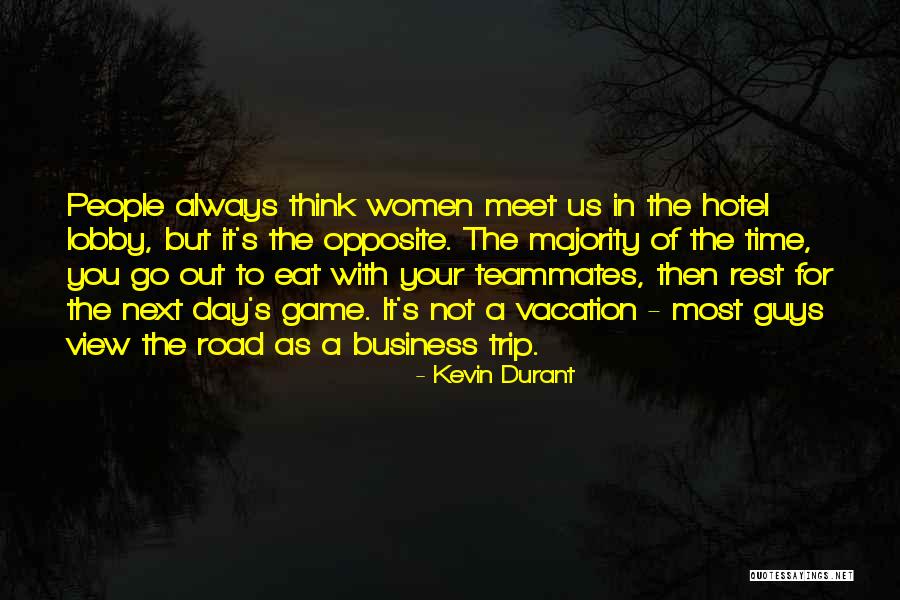 People always think women meet us in the hotel lobby, but it's the opposite. The majority of the time, you go out to eat with your teammates, then rest for the next day's game. It's not a vacation - most guys view the road as a business trip. — Kevin Durant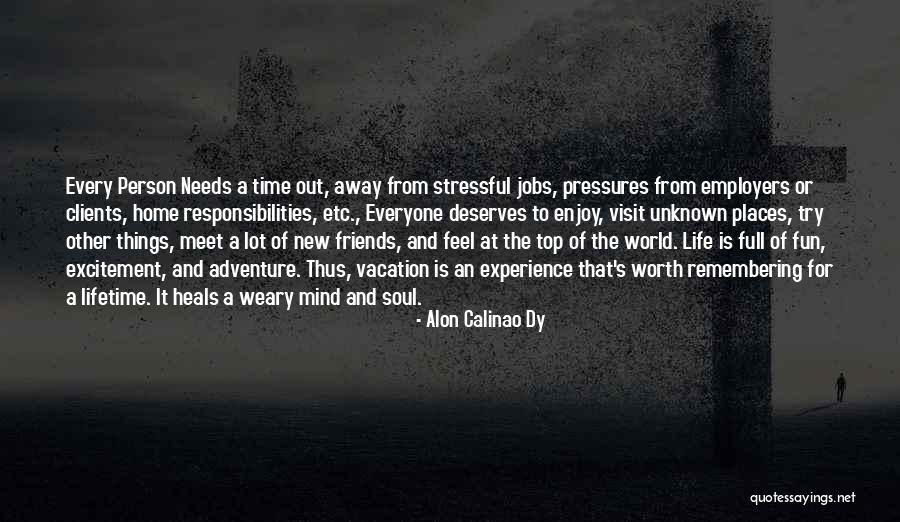 Every Person Needs a time out, away from stressful jobs, pressures from employers or clients, home responsibilities, etc., Everyone deserves to enjoy, visit unknown places, try other things, meet a lot of new friends, and feel at the top of the world. Life is full of fun, excitement, and adventure. Thus, vacation is an experience that's worth remembering for a lifetime. It heals a weary mind and soul. — Alon Calinao Dy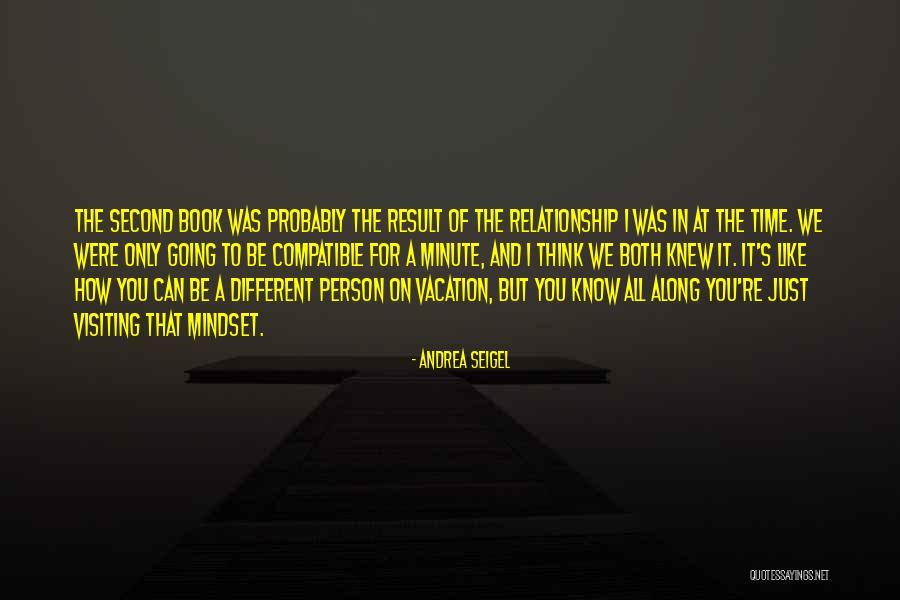 The second book was probably the result of the relationship I was in at the time. We were only going to be compatible for a minute, and I think we both knew it. It's like how you can be a different person on vacation, but you know all along you're just visiting that mindset. — Andrea Seigel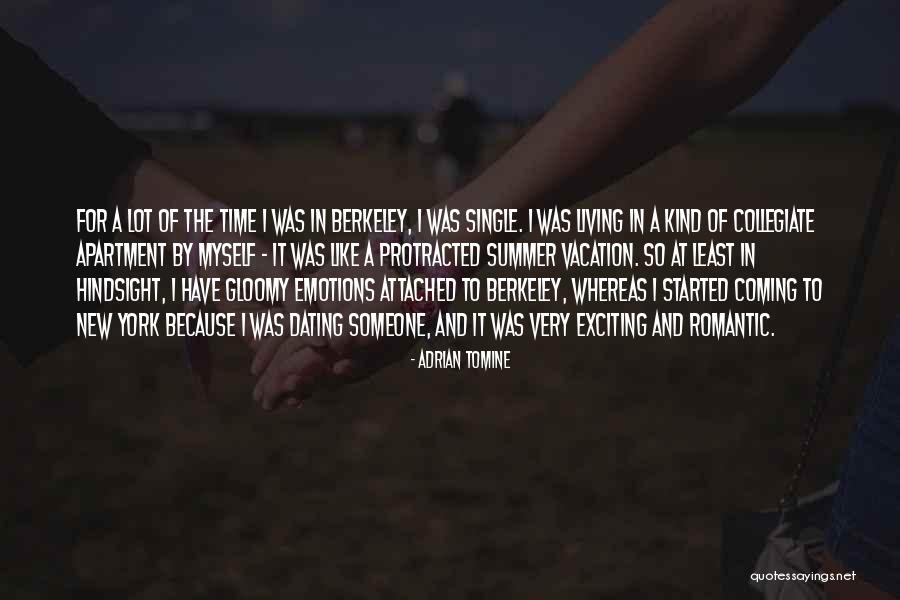 For a lot of the time I was in Berkeley, I was single. I was living in a kind of collegiate apartment by myself - it was like a protracted summer vacation. So at least in hindsight, I have gloomy emotions attached to Berkeley, whereas I started coming to New York because I was dating someone, and it was very exciting and romantic. — Adrian Tomine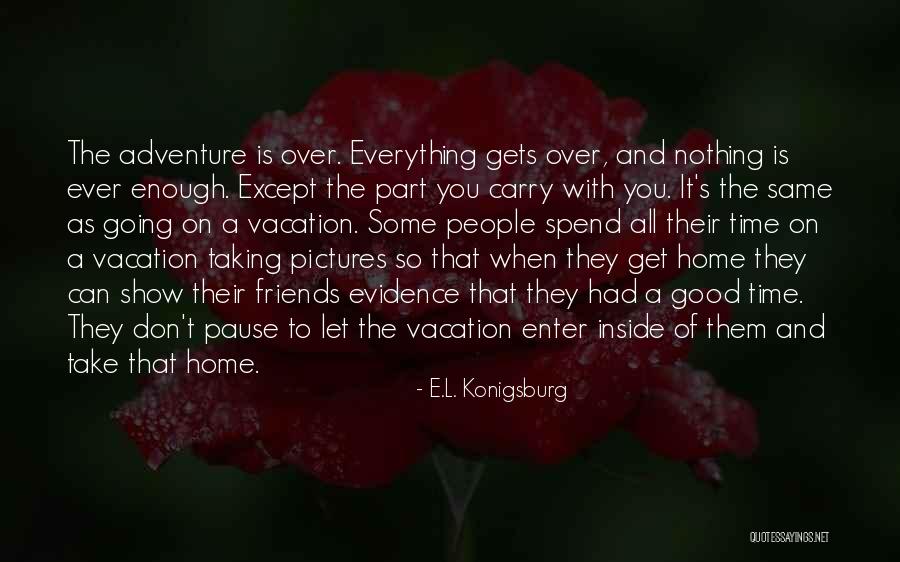 The adventure is over. Everything gets over, and nothing is ever enough. Except the part you carry with you. It's the same as going on a vacation. Some people spend all their time on a vacation taking pictures so that when they get home they can show their friends evidence that they had a good time. They don't pause to let the vacation enter inside of them and take that home. — E.L. Konigsburg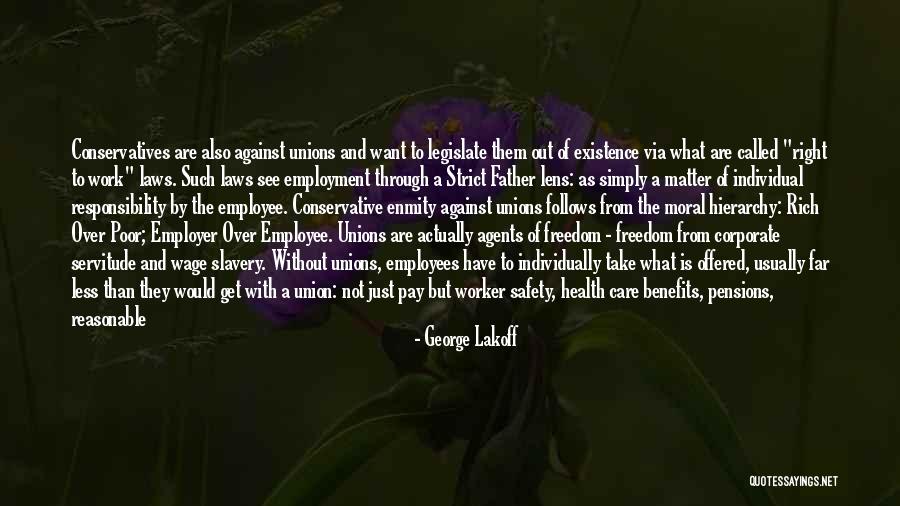 Conservatives are also against unions and want to legislate them out of existence via what are called "right to work" laws. Such laws see employment through a Strict Father lens: as simply a matter of individual responsibility by the employee. Conservative enmity against unions follows from the moral hierarchy: Rich Over Poor; Employer Over Employee. Unions are actually agents of freedom - freedom from corporate servitude and wage slavery. Without unions, employees have to individually take what is offered, usually far less than they would get with a union: not just pay but worker safety, health care benefits, pensions, reasonable working conditions and hours, reasonable vacation time. What is "reasonable"? What the union members can negotiate. Unions create freedom. Austerity — George Lakoff