Quotes & Sayings About Things You Never Thought Would Happen
Enjoy reading and share 44 famous quotes about Things You Never Thought Would Happen with everyone.
Top Things You Never Thought Would Happen Quotes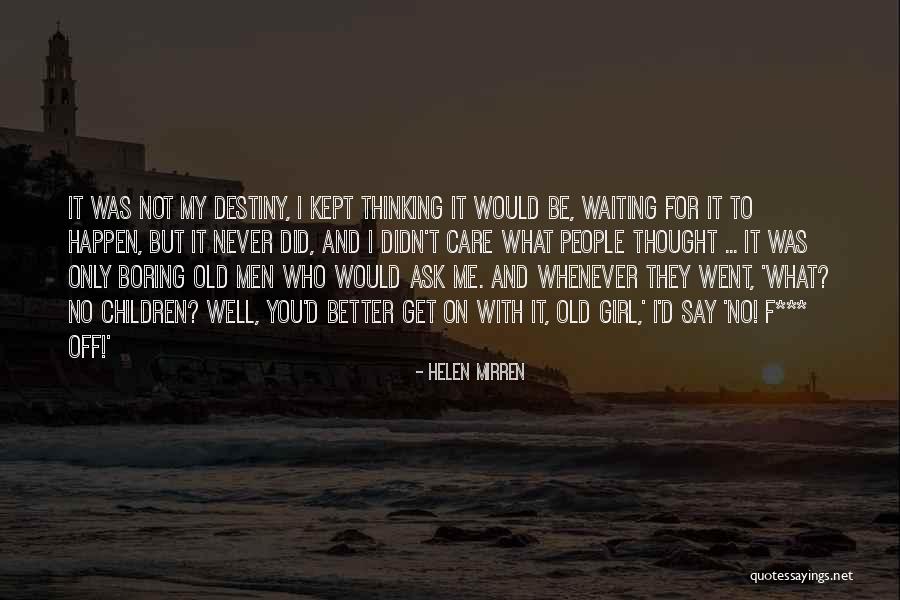 It was not my destiny, I kept thinking it would be, waiting for it to happen, but it never did, and I didn't care what people thought ... It was only boring old men who would ask me. And whenever they went, 'What? No children? Well, you'd better get on with it, old girl,' I'd say 'No! F*** off!' — Helen Mirren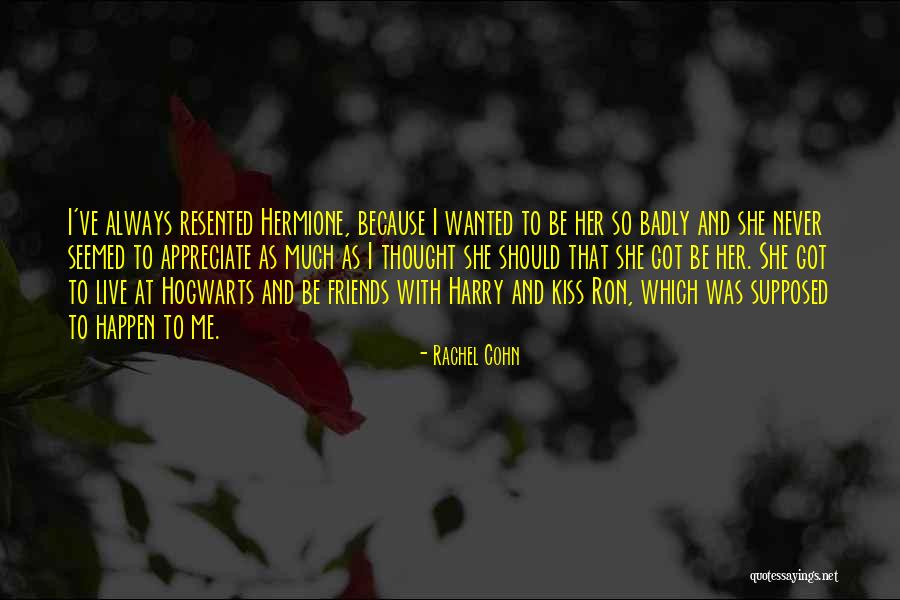 I've always resented Hermione, because I wanted to be her so badly and she never seemed to appreciate as much as I thought she should that she got be her. She got to live at Hogwarts and be friends with Harry and kiss Ron, which was supposed to happen to me. — Rachel Cohn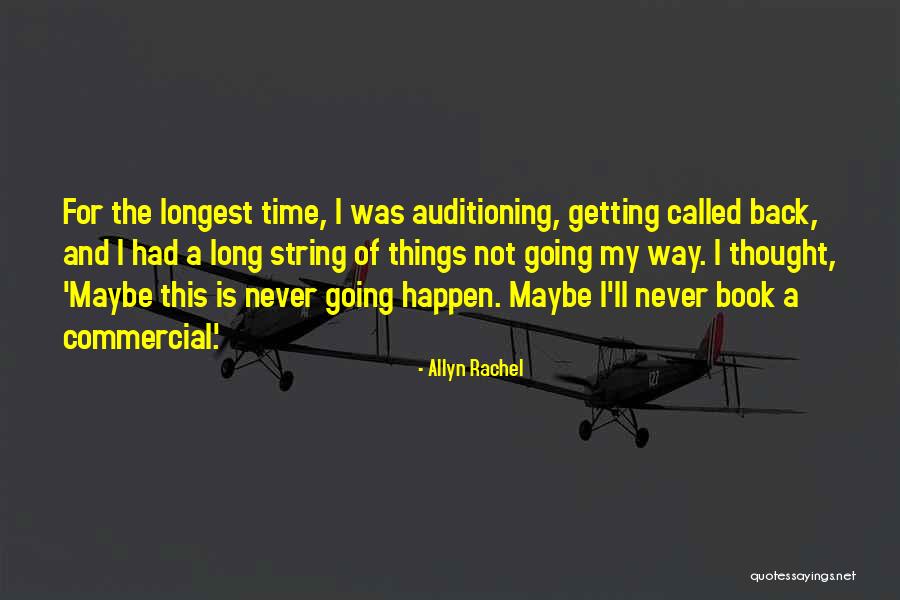 For the longest time, I was auditioning, getting called back, and I had a long string of things not going my way. I thought, 'Maybe this is never going happen. Maybe I'll never book a commercial.' — Allyn Rachel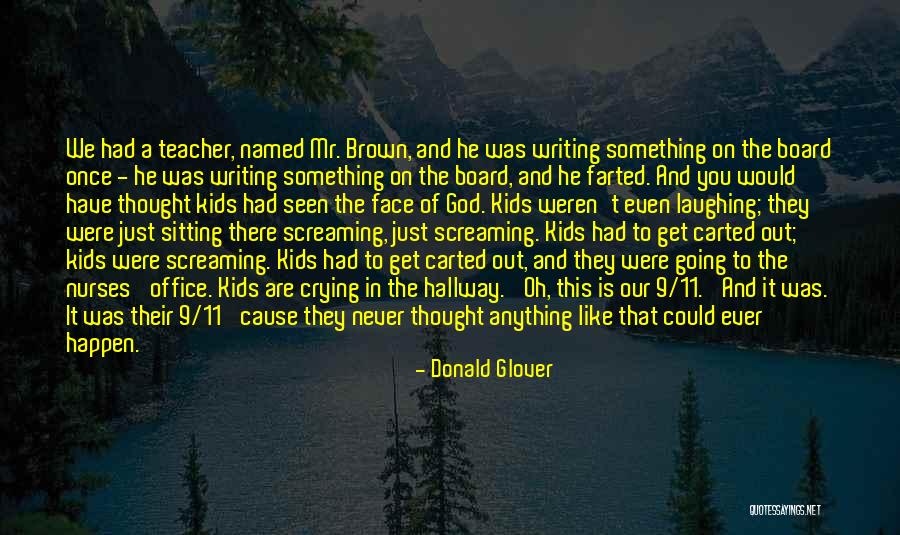 We had a teacher, named Mr. Brown, and he was writing something on the board once - he was writing something on the board, and he farted. And you would have thought kids had seen the face of God. Kids weren't even laughing; they were just sitting there screaming, just screaming. Kids had to get carted out; kids were screaming. Kids had to get carted out, and they were going to the nurses' office. Kids are crying in the hallway. 'Oh, this is our 9/11.' And it was. It was their 9/11 'cause they never thought anything like that could ever happen. — Donald Glover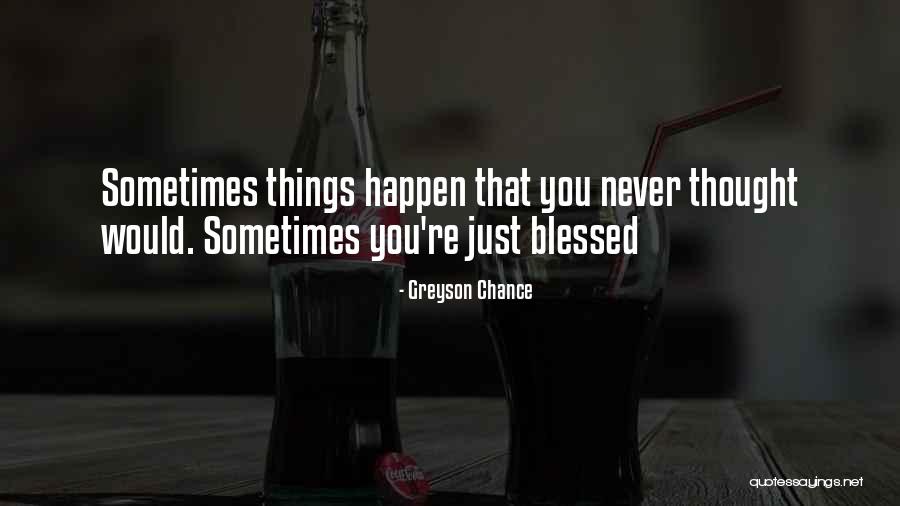 Sometimes things happen that you never thought would. Sometimes you're just blessed — Greyson Chance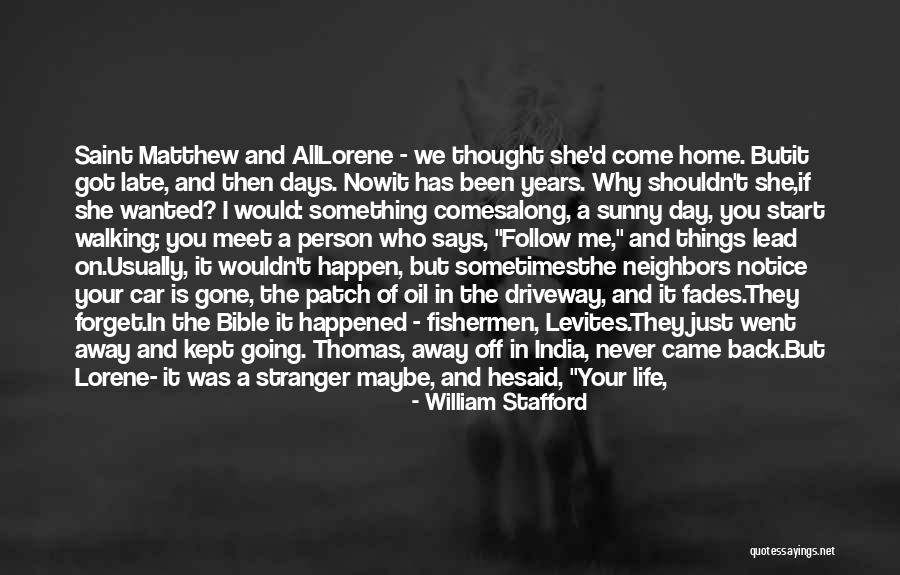 Saint Matthew and All

Lorene - we thought she'd come home. But
it got late, and then days. Now
it has been years. Why shouldn't she,
if she wanted? I would: something comes
along, a sunny day, you start walking;
you meet a person who says, "Follow me,"
and things lead on.

Usually, it wouldn't happen, but sometimes
the neighbors notice your car is gone, the
patch of oil in the driveway, and it fades.
They forget.

In the Bible it happened - fishermen, Levites.
They just went away and kept going. Thomas,
away off in India, never came back.

But Lorene- it was a stranger maybe, and he
said, "Your life, I need it." And nobody else did. — William Stafford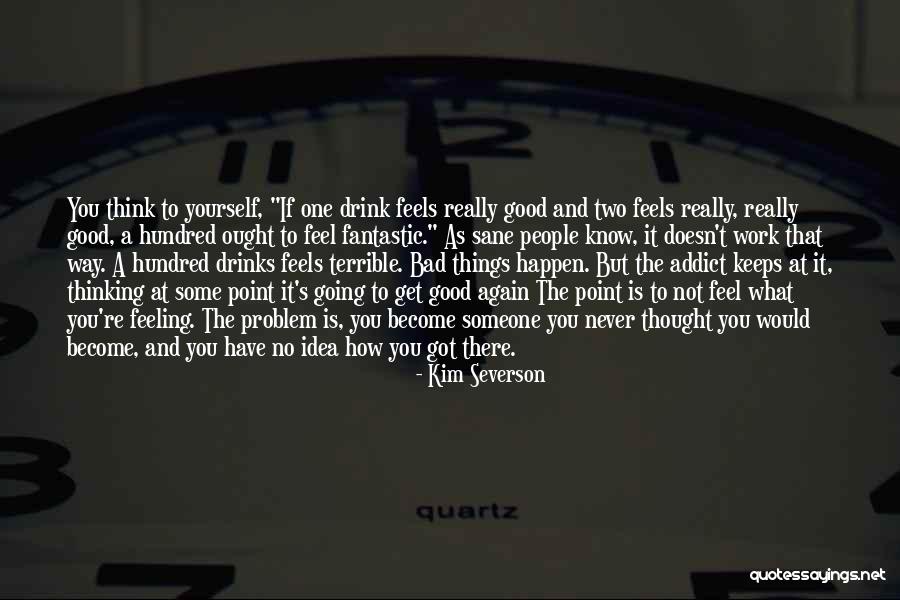 You think to yourself, "If one drink feels really good and two feels really, really good, a hundred ought to feel fantastic." As sane people know, it doesn't work that way. A hundred drinks feels terrible. Bad things happen. But the addict keeps at it, thinking at some point it's going to get good again The point is to not feel what you're feeling. The problem is, you become someone you never thought you would become, and you have no idea how you got there. — Kim Severson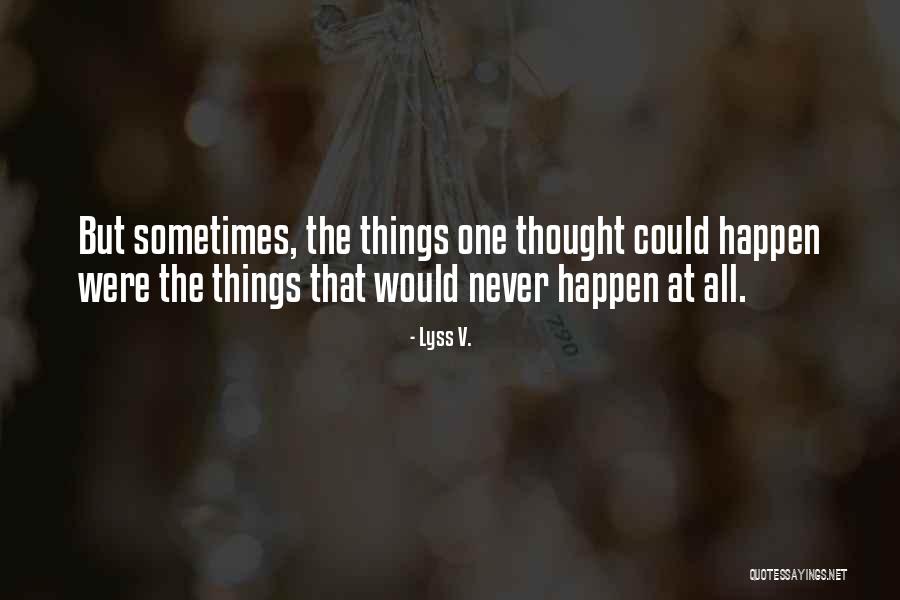 But sometimes, the things one thought could happen were the things that would never happen at all. — Lyss V.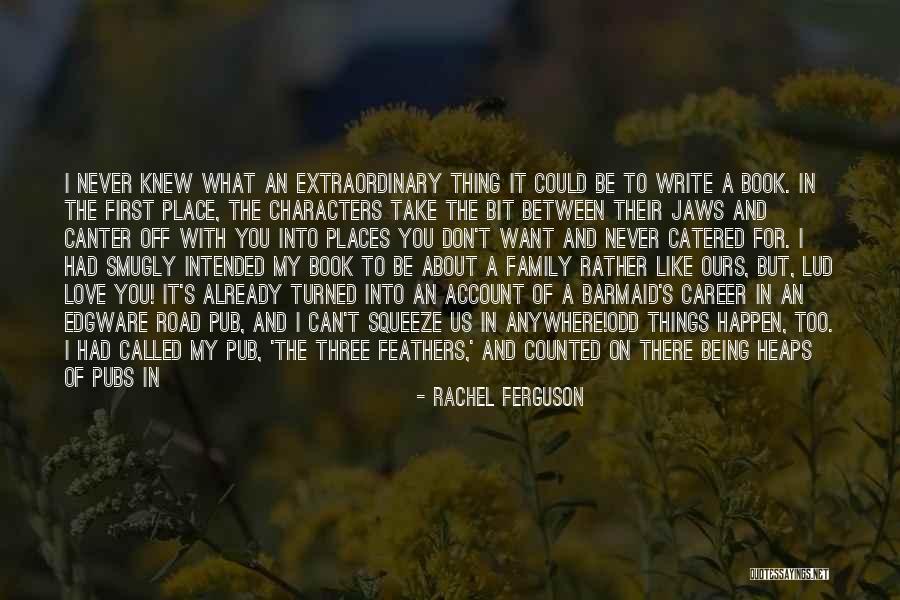 I never knew what an extraordinary thing it could be to write a book. In the first place, the characters take the bit between their jaws and canter off with you into places you don't want and never catered for. I had smugly intended my book to be about a family rather like ours, but, lud love you! it's already turned into an account of a barmaid's career in an Edgware Road pub, and I can't squeeze us in anywhere!

Odd things happen, too. I had called my pub, 'The Three Feathers,' and counted on there being heaps of pubs in Edgware Road, not called that, but looking a bit like my description. Before we left home, I went down Edgware Road to investigate, and found my pub, even down to the old-fashioned phonograph on the table in the upstairs sitting-room. And I thought, 'I built that place. — Rachel Ferguson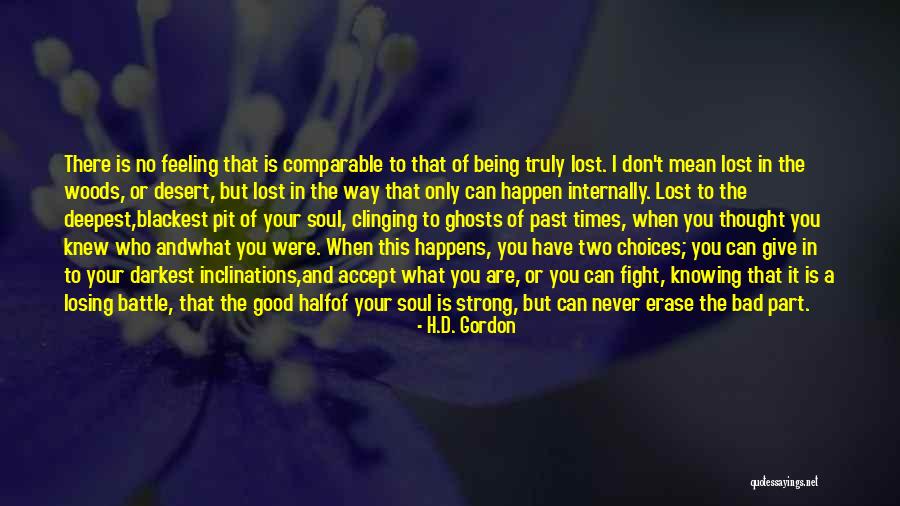 There is no feeling that is comparable to that of being truly lost. I don't mean lost in the woods, or desert, but lost in the way that only can happen internally. Lost to the deepest,
blackest pit of your soul, clinging to ghosts of past times, when you thought you knew who and
what you were. When this happens, you have two choices; you can give in to your darkest inclinations,
and accept what you are, or you can fight, knowing that it is a losing battle, that the good half
of your soul is strong, but can never erase the bad part. — H.D. Gordon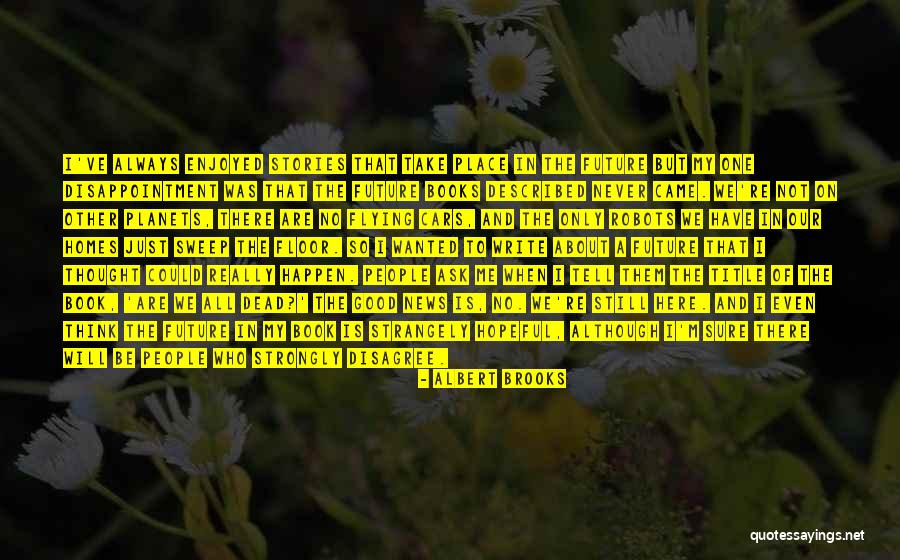 I've always enjoyed stories that take place in the future but my one disappointment was that the future books described never came. We're not on other planets, there are no flying cars, and the only robots we have in our homes just sweep the floor. So I wanted to write about a future that I thought could really happen. People ask me when I tell them the title of the book, 'Are we all dead?' The good news is, no. We're still here. And I even think the future in my book is strangely hopeful, although I'm sure there will be people who strongly disagree. — Albert Brooks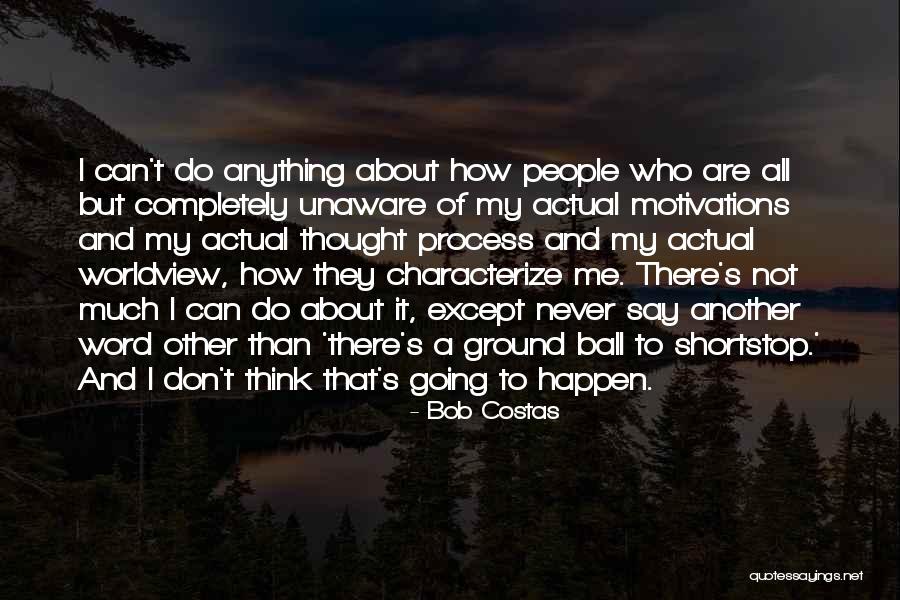 I can't do anything about how people who are all but completely unaware of my actual motivations and my actual thought process and my actual worldview, how they characterize me. There's not much I can do about it, except never say another word other than 'there's a ground ball to shortstop.' And I don't think that's going to happen. — Bob Costas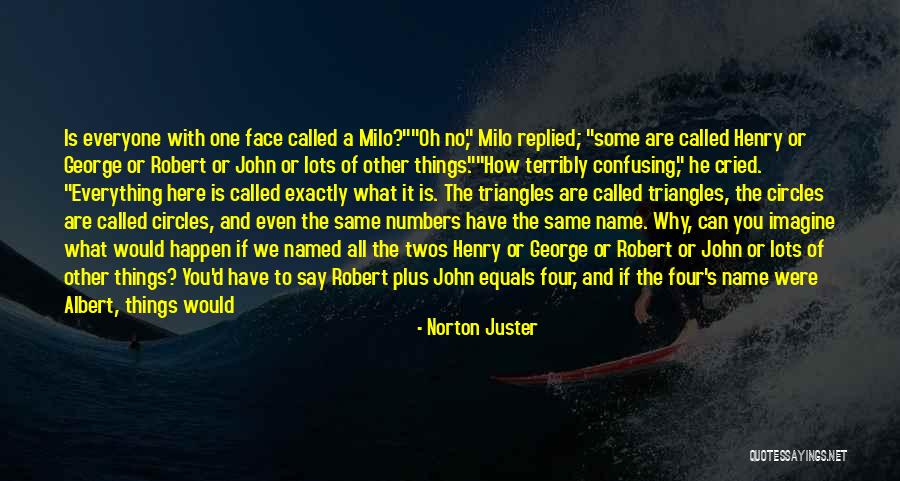 Is everyone with one face called a Milo?"
"Oh no," Milo replied; "some are called Henry or George or Robert or John or lots of other things."
"How terribly confusing," he cried. "Everything here is called exactly what it is. The triangles are called triangles, the circles are called circles, and even the same numbers have the same name. Why, can you imagine what would happen if we named all the twos Henry or George or Robert or John or lots of other things? You'd have to say Robert plus John equals four, and if the four's name were Albert, things would be hopeless."
"I never thought of it that way," Milo admitted.
"Then I suggest you begin at once," admonished the Dodecahedron from his admonishing face, "for here in Digitopolis everything is quite precise. — Norton Juster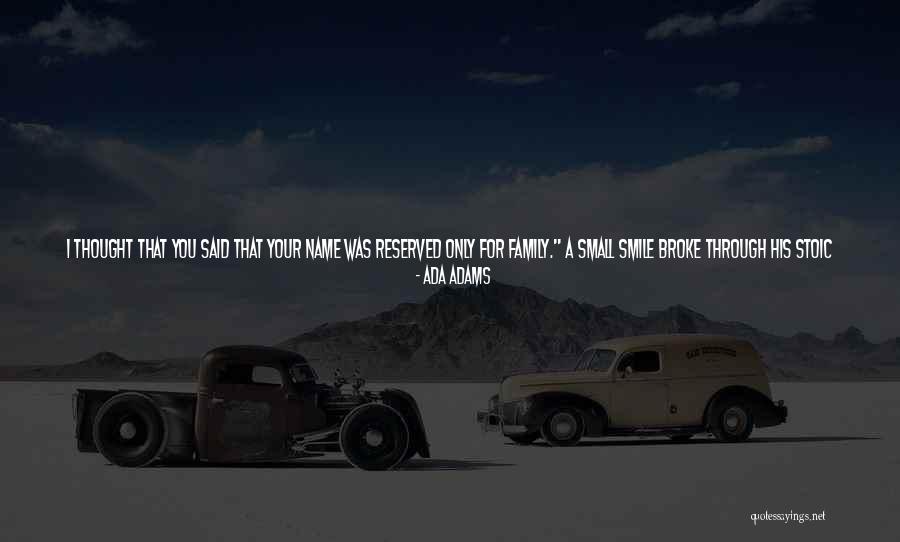 I thought that you said that your name was reserved only for family." A small smile broke through his stoic expression.
"The way I see it, even if you don't come around and realize that you can't resist my striking looks and enticing charm, and that you desperately want to spend the rest of your life in my arms - "
"Which will never happen ... "
" - you'll eventually end up with my silly little brother. Who, just to warn you, despite being a great guy, is nowhere near as handsome and charming as I. — Ada Adams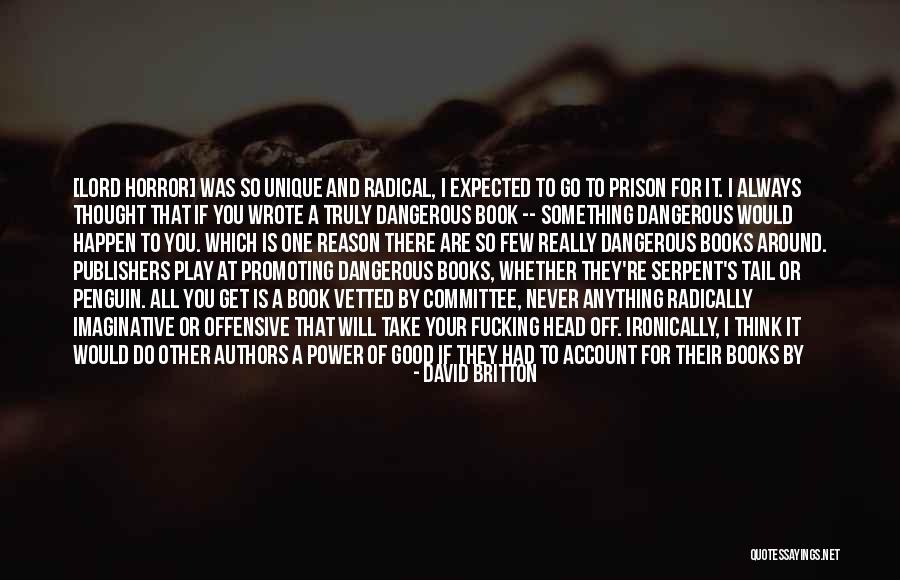 [Lord Horror] was so unique and radical, I expected to go to prison for it. I always thought that if you wrote a truly dangerous book -- something dangerous would happen to you. Which is one reason there are so few really dangerous books around. Publishers play at promoting dangerous books, whether they're Serpent's Tail or Penguin. All you get is a book vetted by committee, never anything radically imaginative or offensive that will take your fucking head off. Ironically, I think it would do other authors a power of good if they had to account for their books by going to prison -- there are far too many bad books being published! — David Britton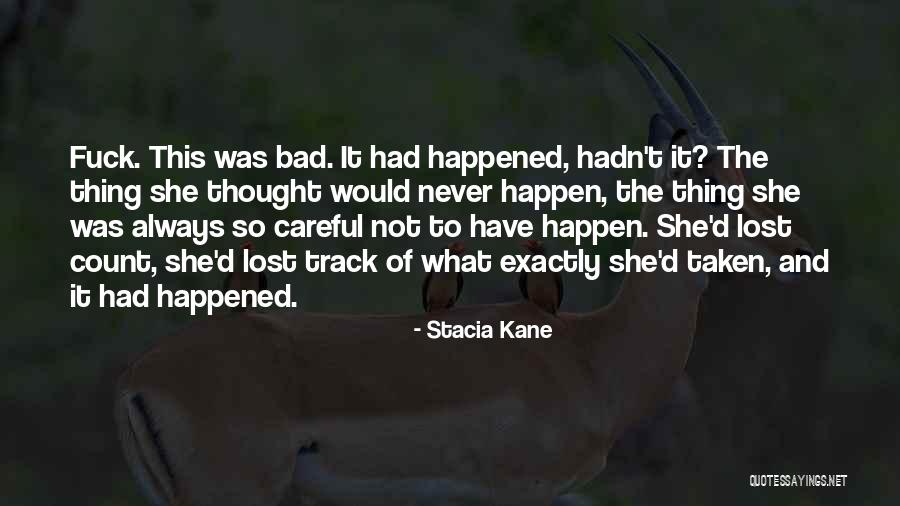 Fuck. This was bad. It had happened, hadn't it? The thing she thought would never happen, the thing she was always so careful not to have happen. She'd lost count, she'd lost track of what exactly she'd taken, and it had happened. — Stacia Kane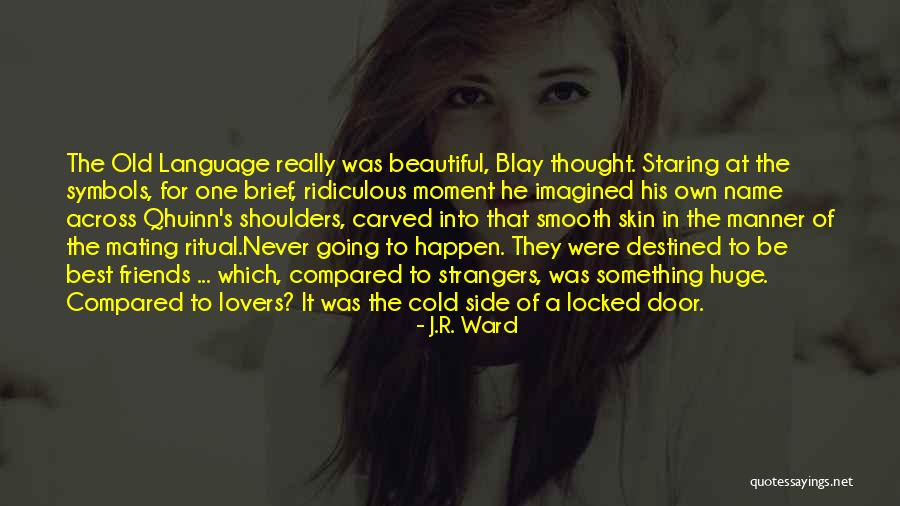 The Old Language really was beautiful, Blay thought. Staring at the symbols, for one brief, ridiculous moment he imagined his own name across Qhuinn's shoulders, carved into that smooth skin in the manner of the mating ritual.
Never going to happen. They were destined to be best friends ... which, compared to strangers, was something huge. Compared to lovers? It was the cold side of a locked door. — J.R. Ward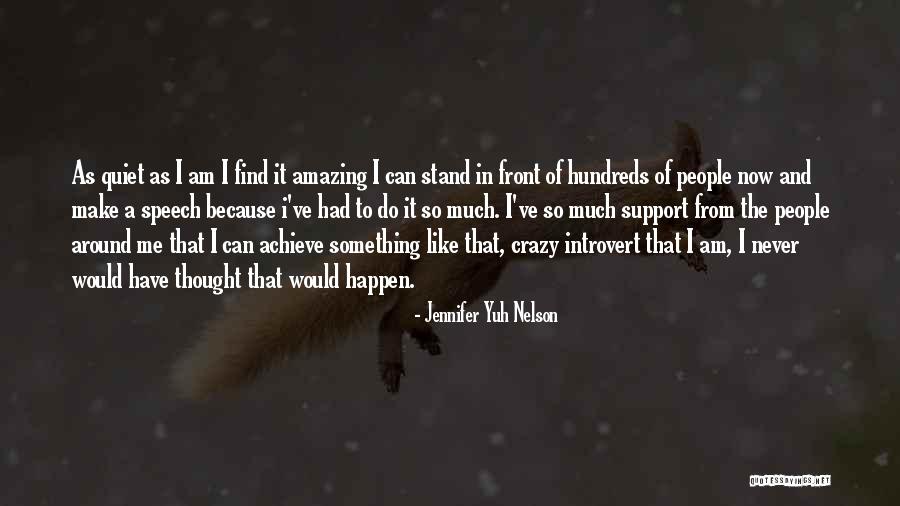 As quiet as I am I find it amazing I can stand in front of hundreds of people now and make a speech because i've had to do it so much. I've so much support from the people around me that I can achieve something like that, crazy introvert that I am, I never would have thought that would happen. — Jennifer Yuh Nelson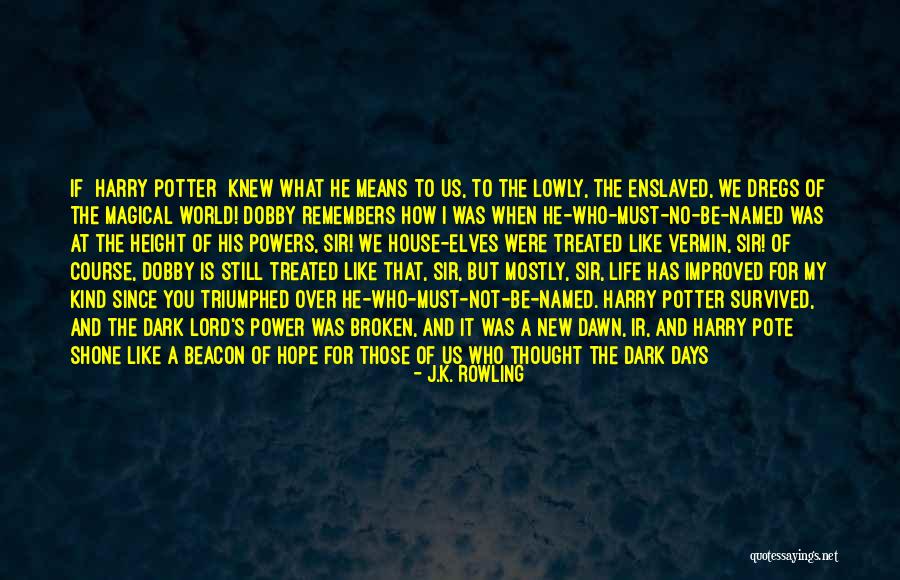 If [Harry Potter] knew what he means to us, to the lowly, the enslaved, we dregs of the magical world! Dobby remembers how i was when He-Who-Must-No-Be-Named was at the height of his powers, sir! We house-elves were treated like vermin, sir! Of course, Dobby is still treated like that, sir, but mostly, sir, life has improved for my kind since you triumphed over He-Who-Must-Not-Be-Named. Harry Potter survived, and the Dark Lord's power was broken, and it was a new dawn, ir, and Harry Pote shone like a beacon of hope for those of us who thought the dark days would never end, sir. . . .And now, at Hogwarts, terrible things are to happen, are perhaps happening already, and Dobby cannot let Harry Potter stay here now that history is to repeat itself, now that the Chamber of Secrets is open once more - — J.K. Rowling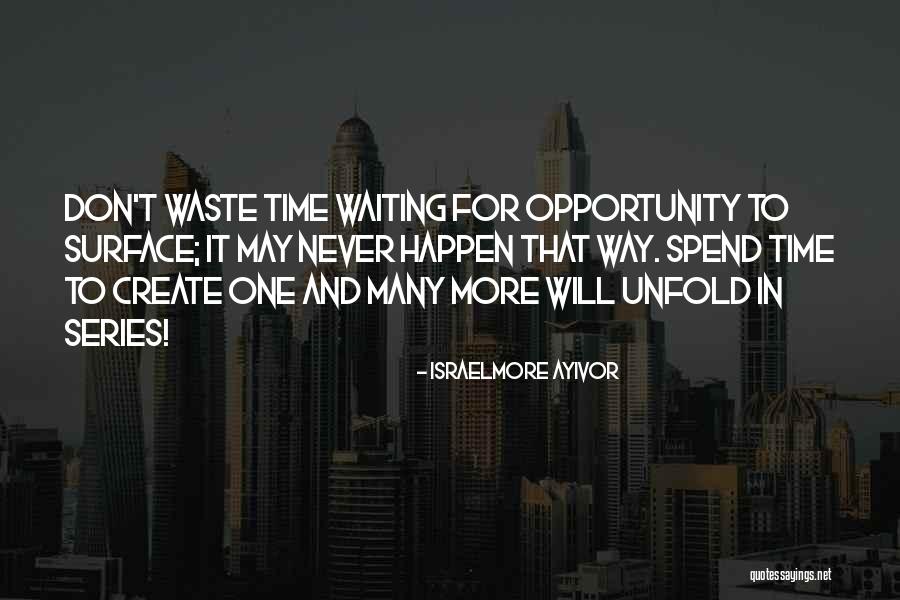 Don't waste time waiting for opportunity to surface; it may never happen that way. Spend time to create one and many more will unfold in series! — Israelmore Ayivor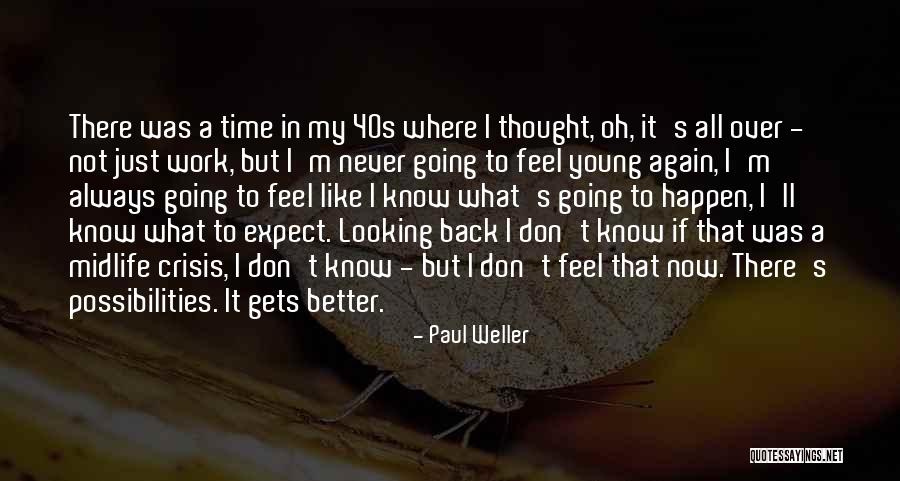 There was a time in my 40s where I thought, oh, it's all over - not just work, but I'm never going to feel young again, I'm always going to feel like I know what's going to happen, I'll know what to expect. Looking back I don't know if that was a midlife crisis, I don't know - but I don't feel that now. There's possibilities. It gets better. — Paul Weller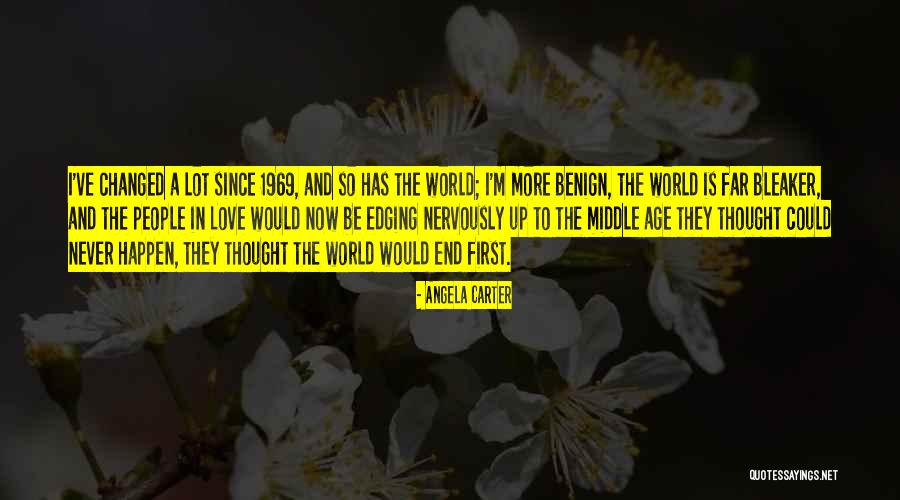 I've changed a lot since 1969, and so has the world; I'm more benign, the world is far bleaker, and the people in Love would now be edging nervously up to the middle age they thought could never happen, they thought the world would end first. — Angela Carter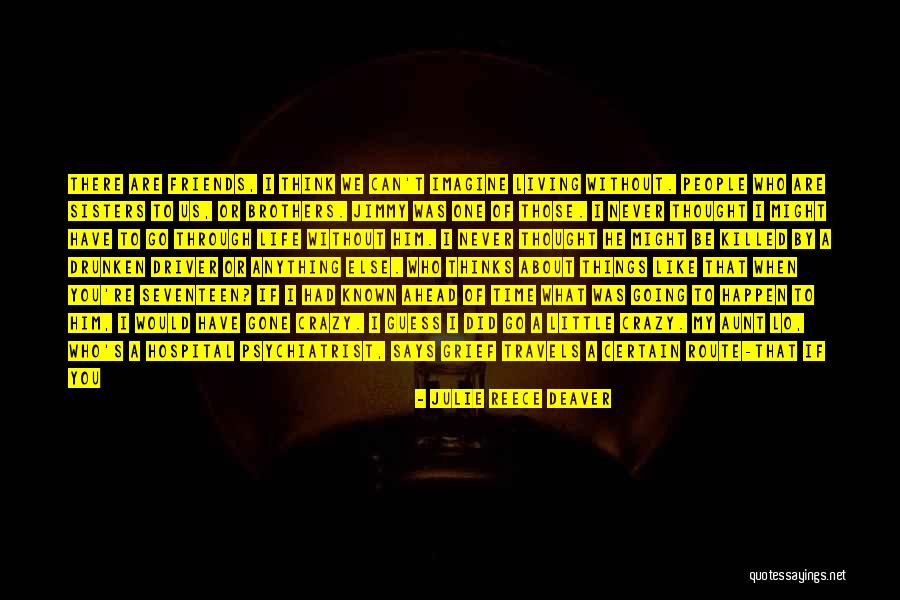 There are friends, I think we can't imagine living without. People who are sisters to us, or brothers. Jimmy was one of those. I never thought I might have to go through life without him. I never thought he might be killed by a drunken driver or anything else. Who thinks about things like that when you're seventeen? If I had known ahead of time what was going to happen to him, I would have gone crazy. I guess I did go a little crazy. My Aunt Lo, who's a hospital psychiatrist, says grief travels a certain route-that if you could plot it out on a map you'd have a line that twists and weaves and eventually ends up near the point of departure. I say "near" because although
you may survive the grief, you won't ever be exactly the same. It took me a long time to learn that, and sometimes the whole experience comes back on me and I have to learn it all over again. — Julie Reece Deaver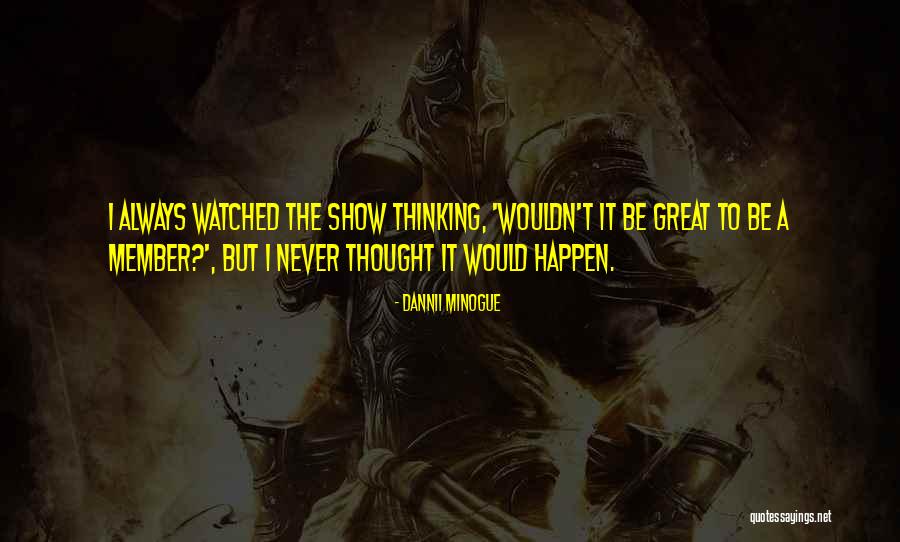 I always watched the show thinking, 'Wouldn't it be great to be a member?', but I never thought it would happen. — Dannii Minogue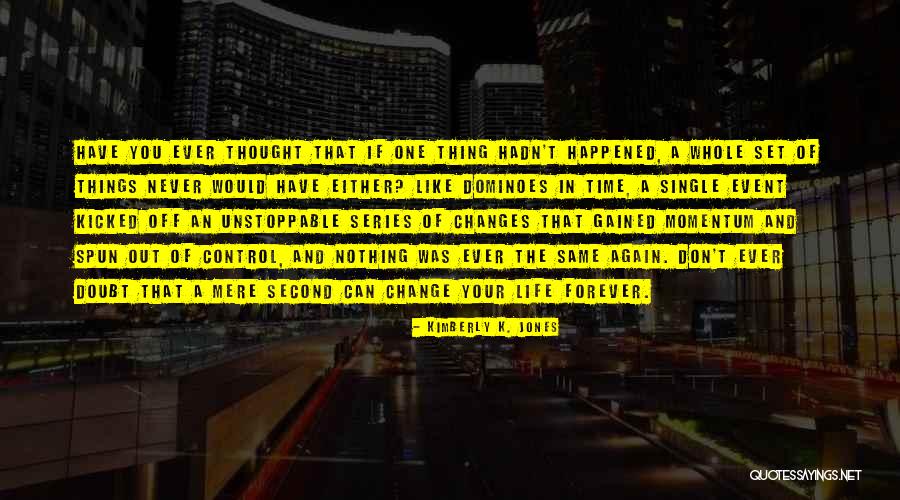 Have you ever thought that if one thing hadn't happened, a whole set of things never would have either? Like dominoes in time, a single event kicked off an unstoppable series of changes that gained momentum and spun out of control, and nothing was ever the same again. Don't ever doubt that a mere second can change your life forever. — Kimberly K. Jones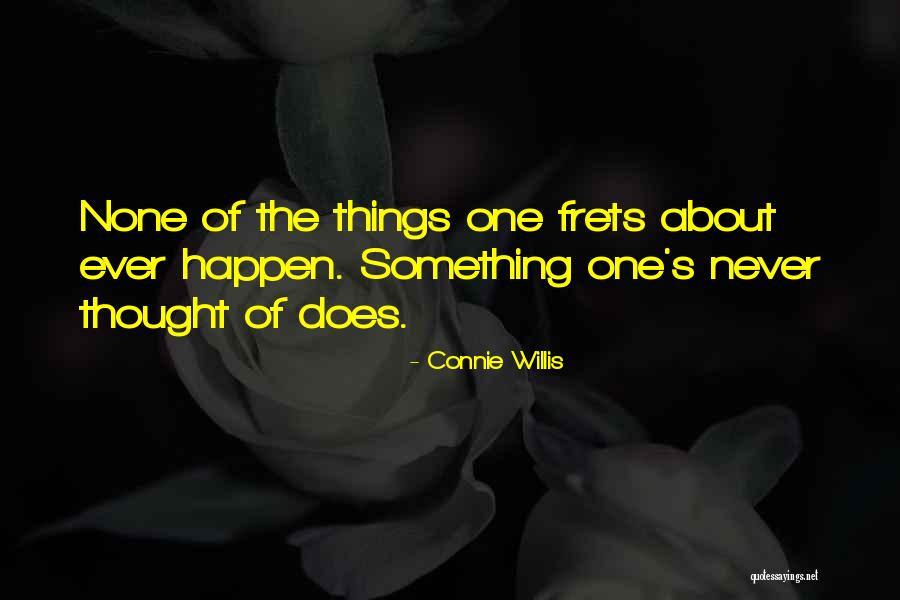 None of the things one frets about ever happen. Something one's never thought of does. — Connie Willis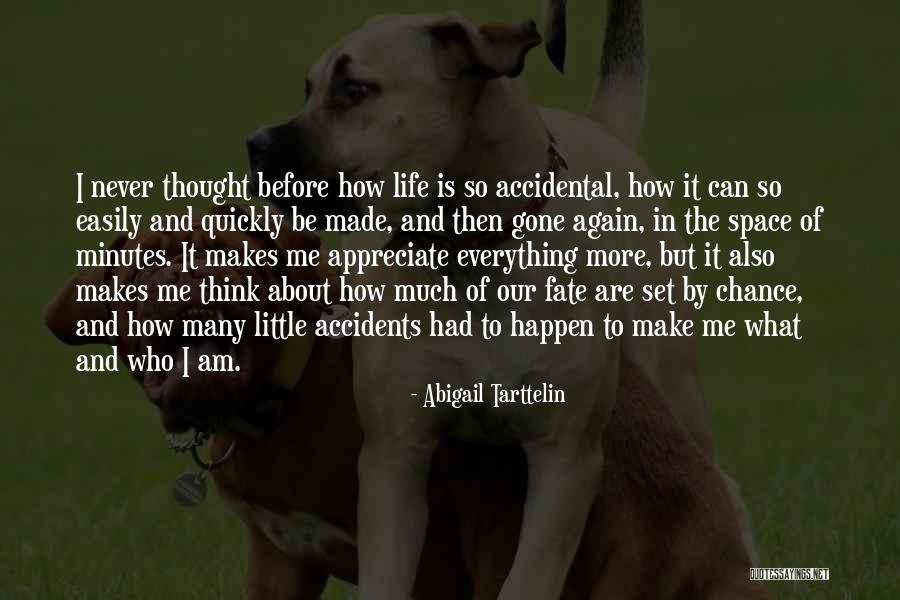 I never thought before how life is so accidental, how it can so easily and quickly be made, and then gone again, in the space of minutes. It makes me appreciate everything more, but it also makes me think about how much of our fate are set by chance, and how many little accidents had to happen to make me what and who I am. — Abigail Tarttelin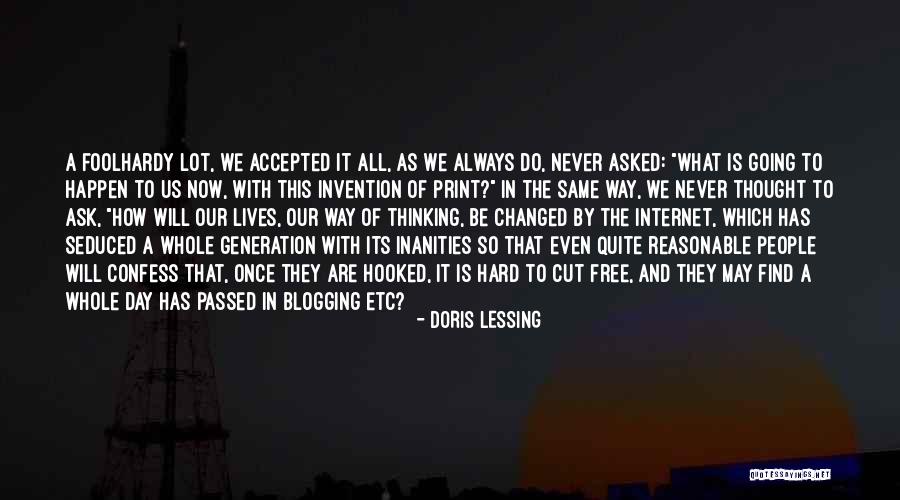 A foolhardy lot, we accepted it all, as we always do, never asked: "What is going to happen to us now, with this invention of print?" In the same way, we never thought to ask, "How will our lives, our way of thinking, be changed by the internet, which has seduced a whole generation with its inanities so that even quite reasonable people will confess that, once they are hooked, it is hard to cut free, and they may find a whole day has passed in blogging etc? — Doris Lessing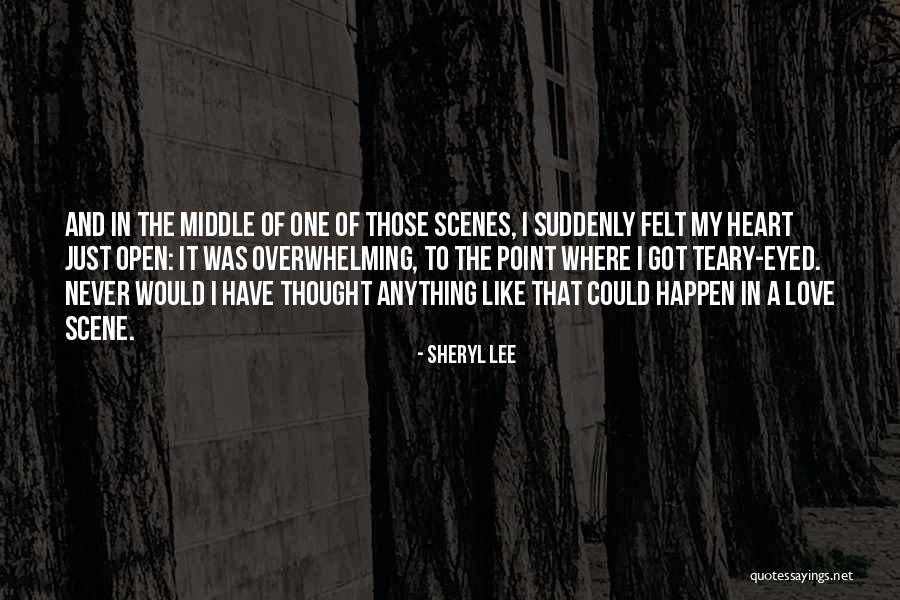 And in the middle of one of those scenes, I suddenly felt my heart just open: it was overwhelming, to the point where I got teary-eyed. Never would I have thought anything like that could happen in a love scene. — Sheryl Lee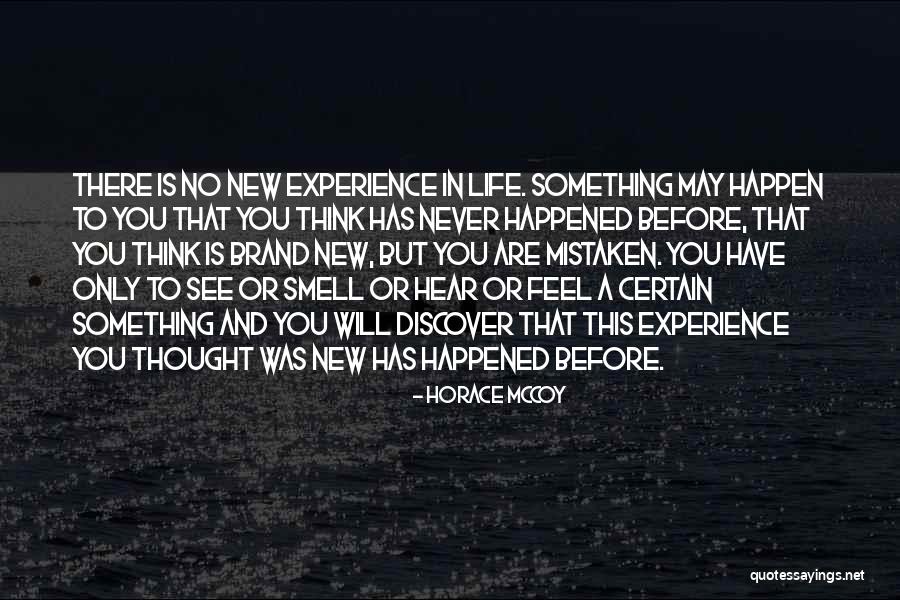 there is no new experience in life. something may happen to you that you think has never happened before, that you think is brand new, but you are mistaken. you have only to see or smell or hear or feel a certain something and you will discover that this experience you thought was new has happened before. — Horace McCoy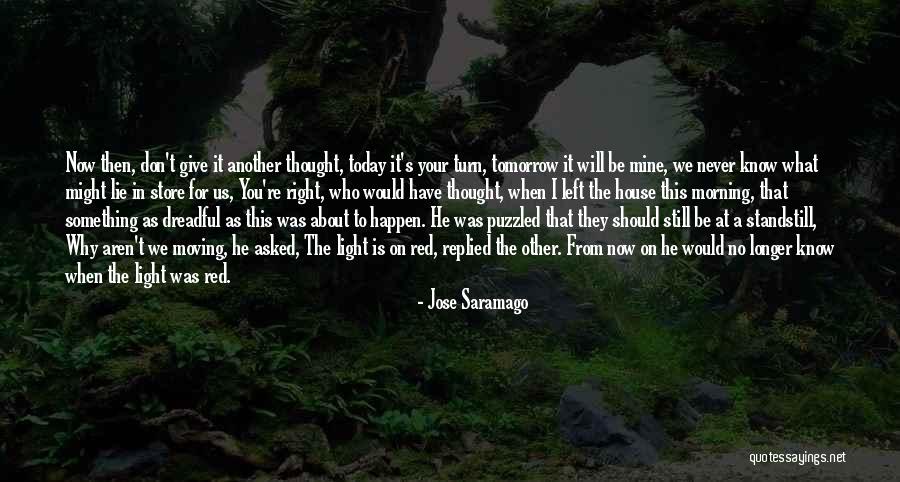 Now then, don't give it another thought, today it's your turn, tomorrow it will be mine, we never know what might lie in store for us, You're right, who would have thought, when I left the house this morning, that something as dreadful as this was about to happen. He was puzzled that they should still be at a standstill, Why aren't we moving, he asked, The light is on red, replied the other. From now on he would no longer know when the light was red. — Jose Saramago
In the old days, I'd never given a thought to the future, and not much to the past. I'd lived simply in the now. I'd been happy if I had enough to eat, and nobody was hitting me. I'd been miserable when I was cold and frightened when I was ill, but mostly I gave no more thought than an animal did to what might happen tomorrow, or next week. Just an animal walking about on two legs, that's all I was till Myrddin changed me. It seemd to me sometimes I'd been happier that way. — Philip Reeve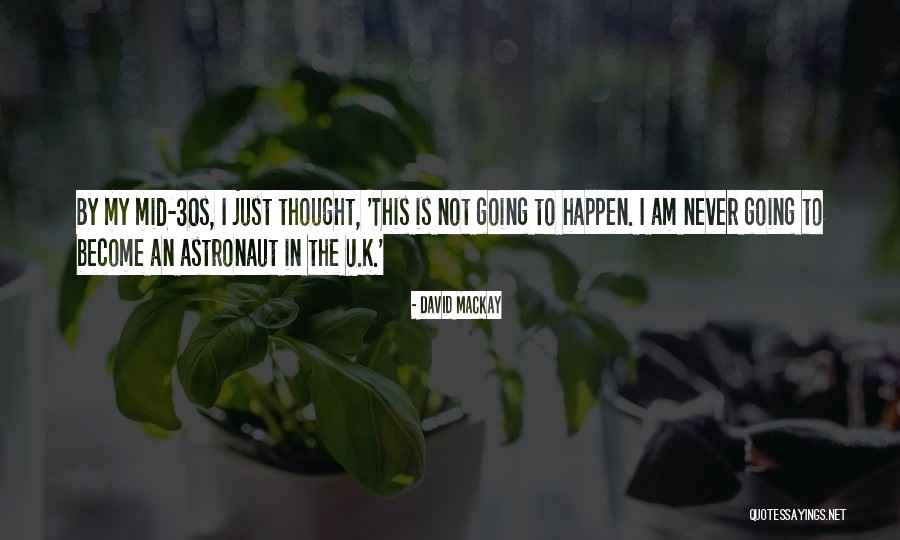 By my mid-30s, I just thought, 'This is not going to happen. I am never going to become an astronaut in the U.K.' — David Mackay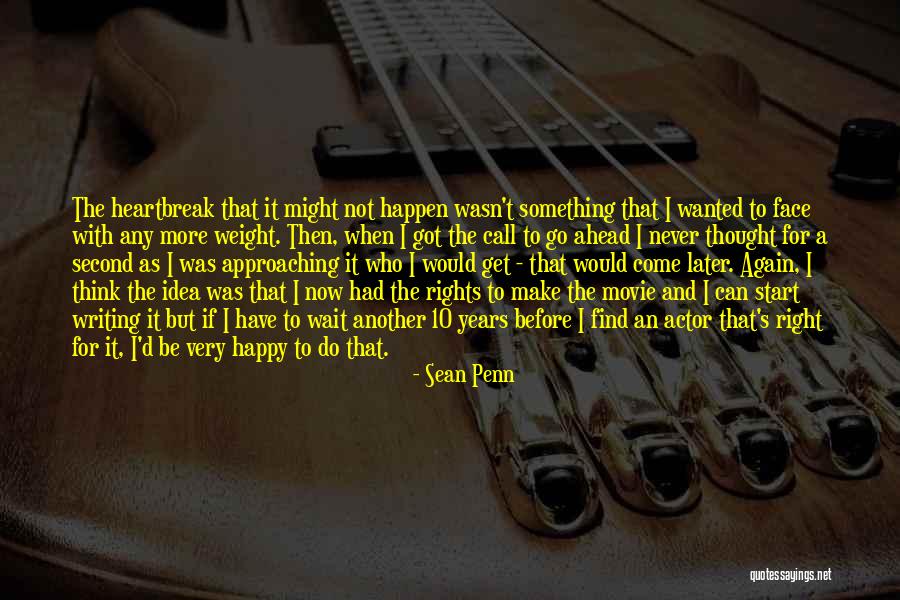 The heartbreak that it might not happen wasn't something that I wanted to face with any more weight. Then, when I got the call to go ahead I never thought for a second as I was approaching it who I would get - that would come later. Again, I think the idea was that I now had the rights to make the movie and I can start writing it but if I have to wait another 10 years before I find an actor that's right for it, I'd be very happy to do that. — Sean Penn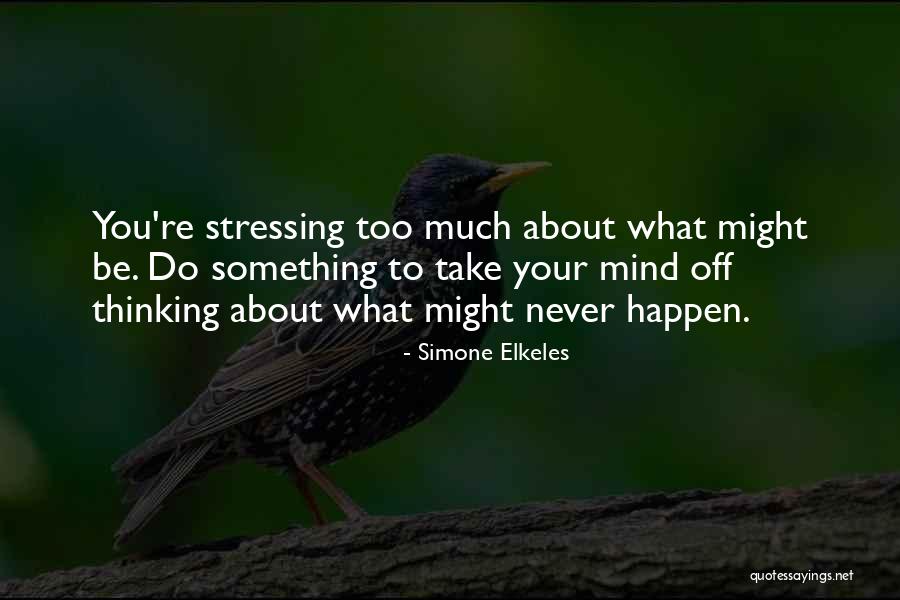 You're stressing too much about what might be. Do something to take your mind off thinking about what might never happen. — Simone Elkeles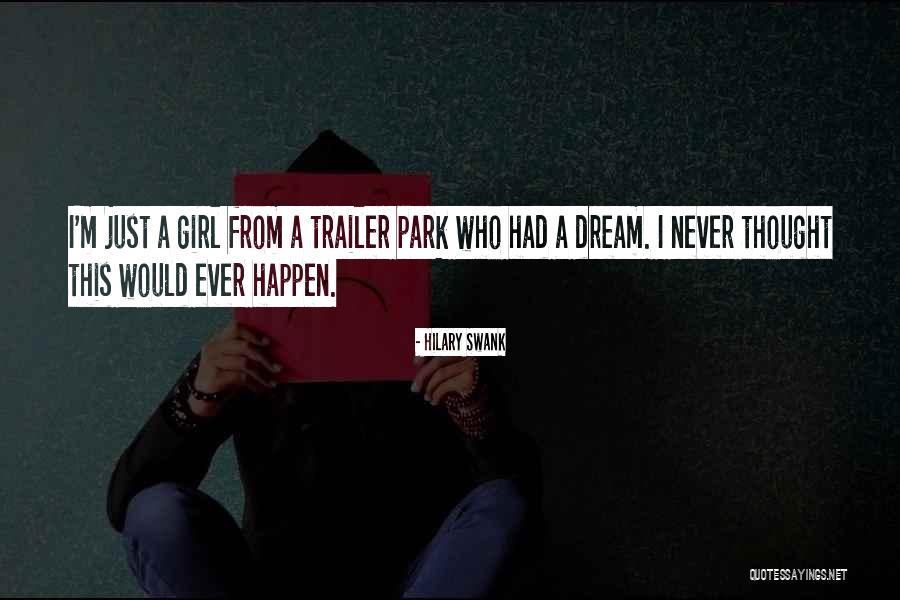 I'm just a girl from a trailer park who had a dream. I never thought this would ever happen. — Hilary Swank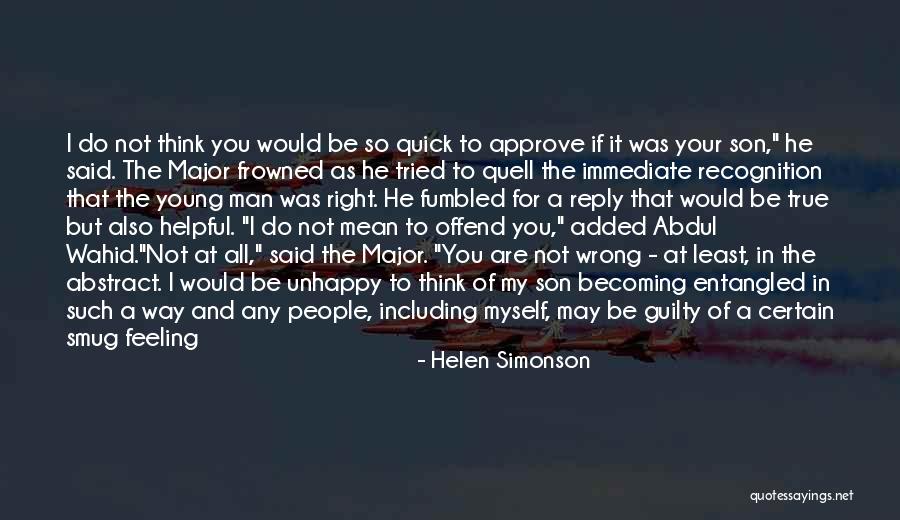 I do not think you would be so quick to approve if it was your son," he said. The Major frowned as he tried to quell the immediate recognition that the young man was right. He fumbled for a reply that would be true but also helpful. "I do not mean to offend you," added Abdul Wahid.
"Not at all," said the Major. "You are not wrong - at least, in the abstract. I would be unhappy to think of my son becoming entangled in such a way and any people, including myself, may be guilty of a certain smug feeling that it would never happen in our families."
"I thought so," said Abdul Wahid with a grimace.
"Now, don't you get offended, either," said the Major. "What I'm trying to say is that I think that is how everyone feels in the abstract. But then life hands you something concrete - something concrete like little George - and abstracts have to go out the window. — Helen Simonson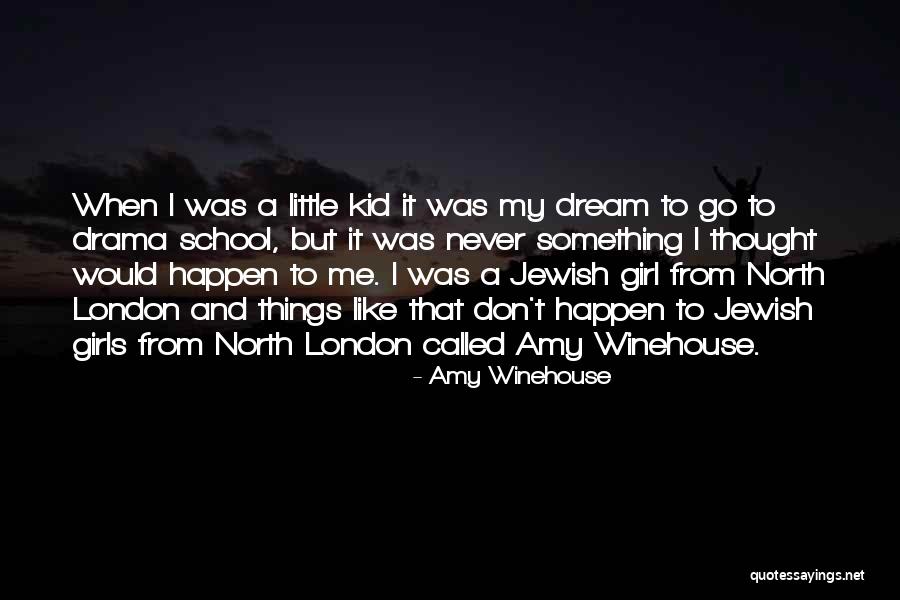 When I was a little kid it was my dream to go to drama school, but it was never something I thought would happen to me. I was a Jewish girl from North London and things like that don't happen to Jewish girls from North London called Amy Winehouse. — Amy Winehouse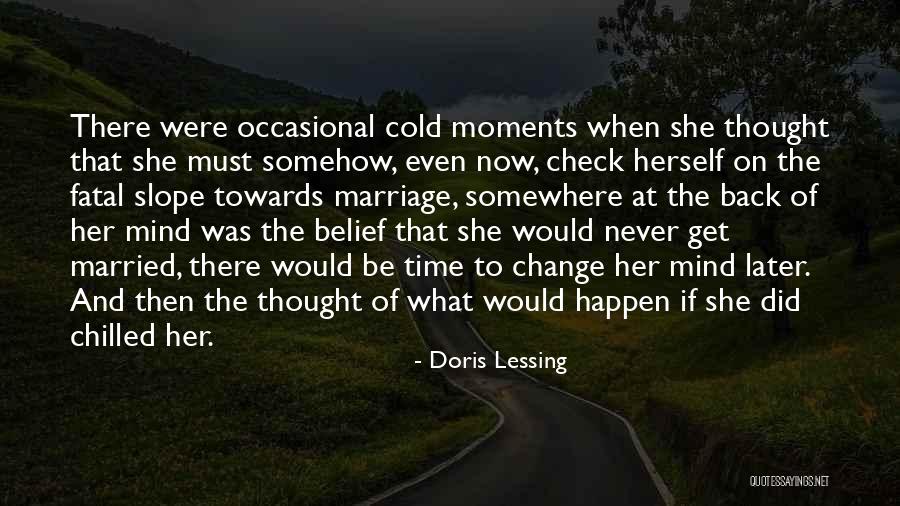 There were occasional cold moments when she thought that she must somehow, even now, check herself on the fatal slope towards marriage, somewhere at the back of her mind was the belief that she would never get married, there would be time to change her mind later. And then the thought of what would happen if she did chilled her. — Doris Lessing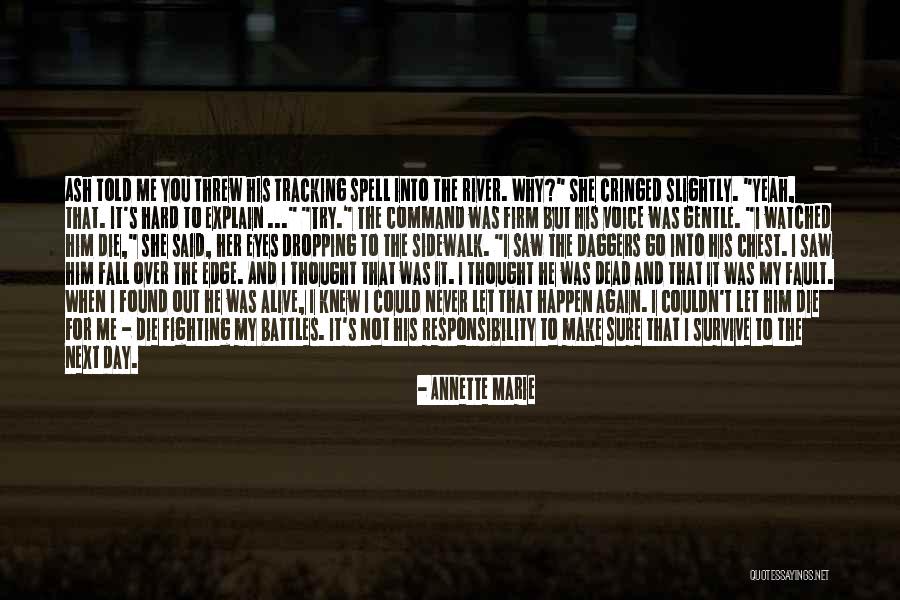 Ash told me you threw his tracking spell into the river. Why?" She cringed slightly. "Yeah, that. It's hard to explain ..." "Try." The command was firm but his voice was gentle. "I watched him die," she said, her eyes dropping to the sidewalk. "I saw the daggers go into his chest. I saw him fall over the edge. And I thought that was it. I thought he was dead and that it was my fault. When I found out he was alive, I knew I could never let that happen again. I couldn't let him die for me - die fighting my battles. It's not his responsibility to make sure that I survive to the next day. — Annette Marie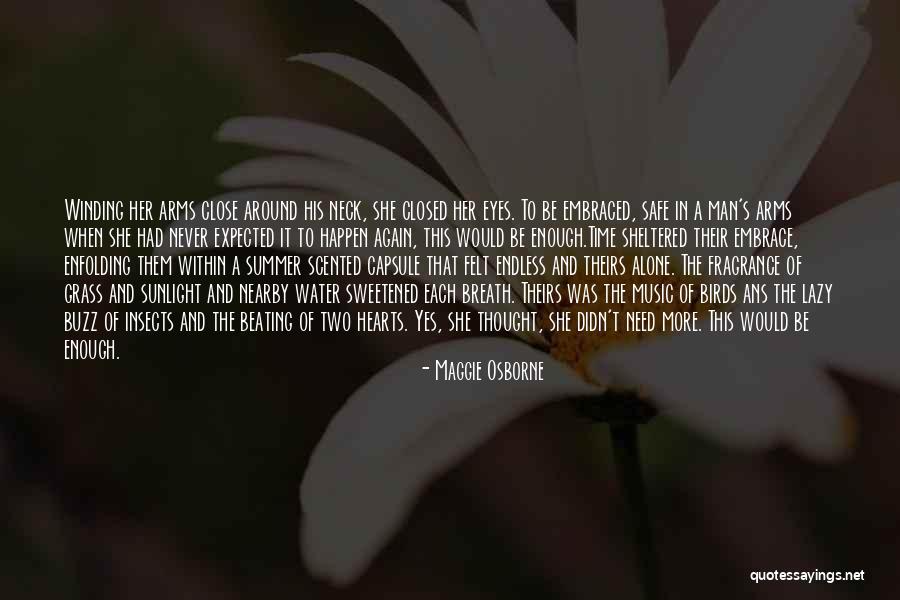 Winding her arms close around his neck, she closed her eyes. To be embraced, safe in a man's arms when she had never expected it to happen again, this would be enough.Time sheltered their embrace, enfolding them within a summer scented capsule that felt endless and theirs alone. The fragrance of grass and sunlight and nearby water sweetened each breath. Theirs was the music of birds ans the lazy buzz of insects and the beating of two hearts. Yes, she thought, she didn't need more. This would be enough. — Maggie Osborne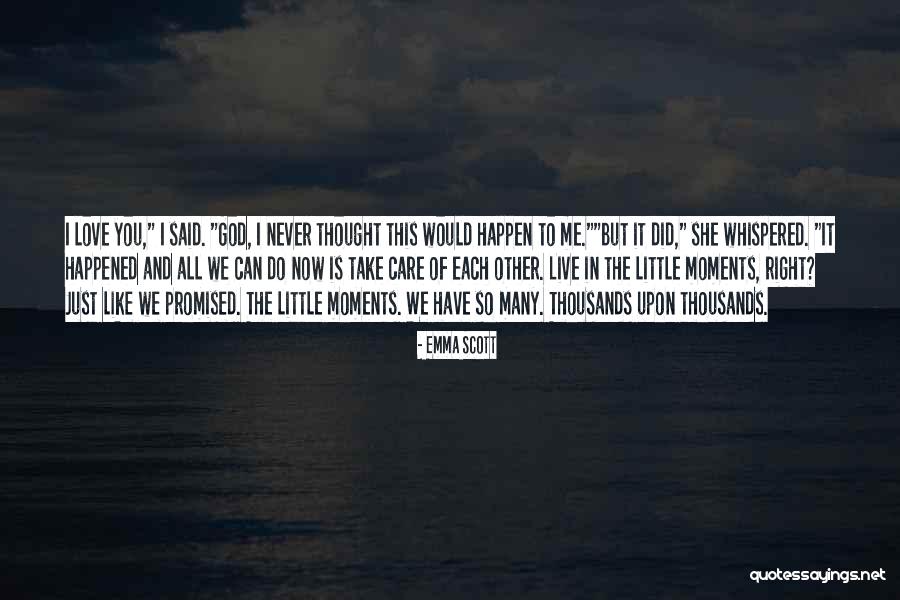 I love you," I said. "God, I never thought this would happen to me."
"But it did," she whispered. "It happened and all we can do now is take care of each other. Live in the little moments, right? Just like we promised. The little moments. We have so many. Thousands upon thousands. — Emma Scott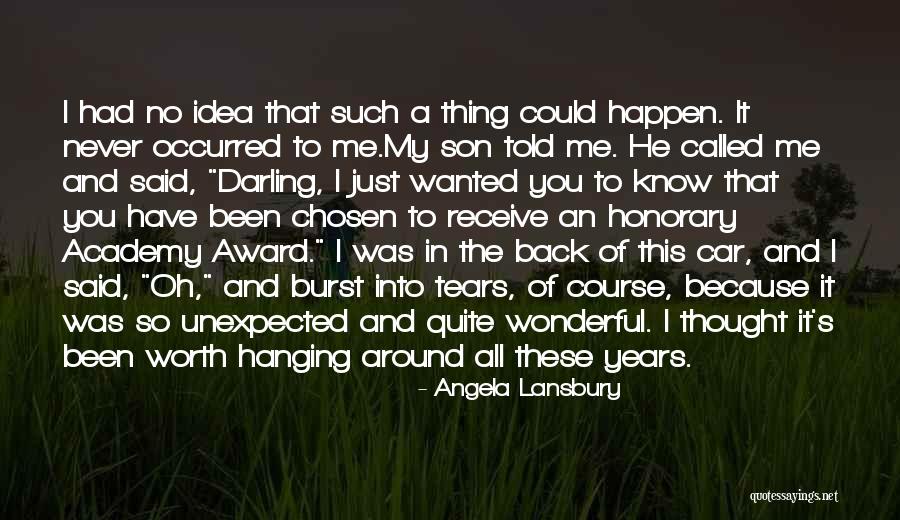 I had no idea that such a thing could happen. It never occurred to me.My son told me. He called me and said, "Darling, I just wanted you to know that you have been chosen to receive an honorary Academy Award." I was in the back of this car, and I said, "Oh," and burst into tears, of course, because it was so unexpected and quite wonderful. I thought it's been worth hanging around all these years. — Angela Lansbury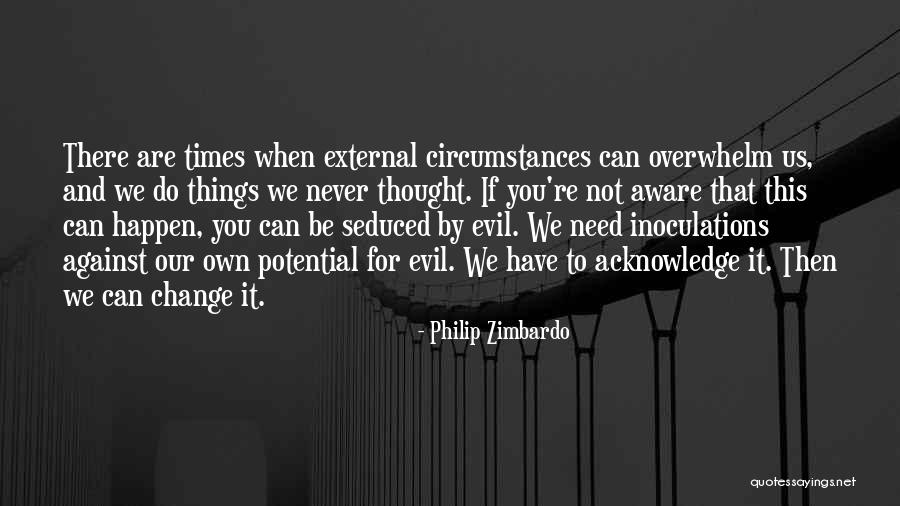 There are times when external circumstances can overwhelm us, and we do things we never thought. If you're not aware that this can happen, you can be seduced by evil. We need inoculations against our own potential for evil. We have to acknowledge it. Then we can change it. — Philip Zimbardo