Things I Learned About Life Quotes & Sayings
Enjoy reading and share 56 famous quotes about Things I Learned About Life with everyone.
Top Things I Learned About Life Quotes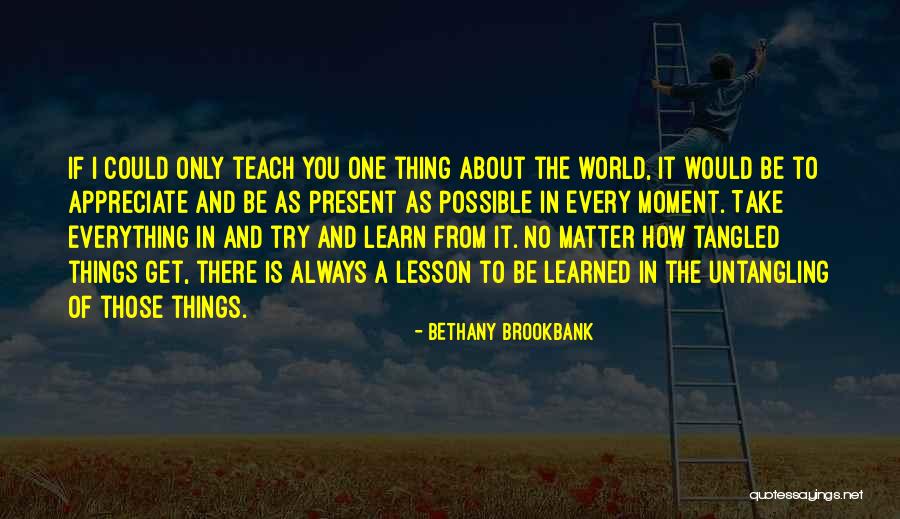 If I could only teach you one thing about the world, it would be to Appreciate and be as present as possible in every moment. Take everything in and try and learn from it. No matter how tangled things get, there is always a lesson to be learned in the untangling of those things. — Bethany Brookbank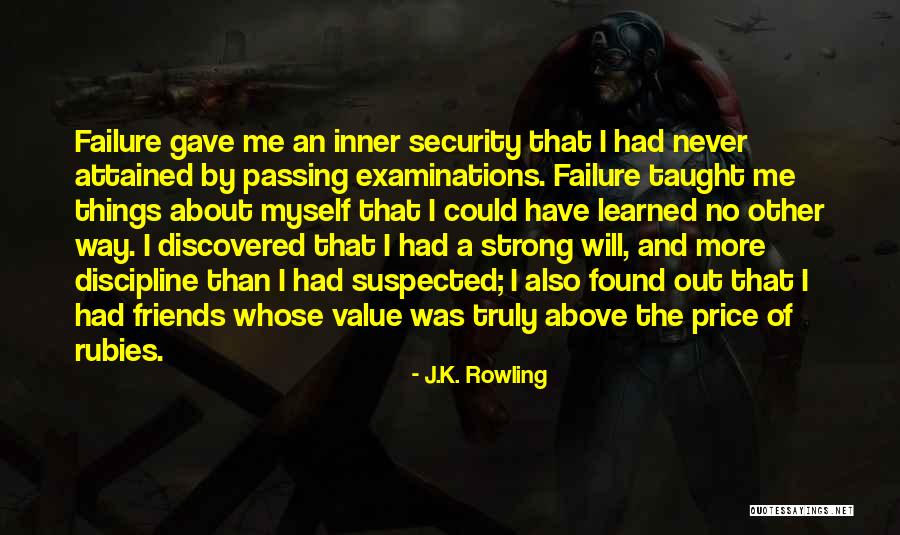 Failure gave me an inner security that I had never attained by passing examinations. Failure taught me things about myself that I could have learned no other way. I discovered that I had a strong will, and more discipline than I had suspected; I also found out that I had friends whose value was truly above the price of rubies. — J.K. Rowling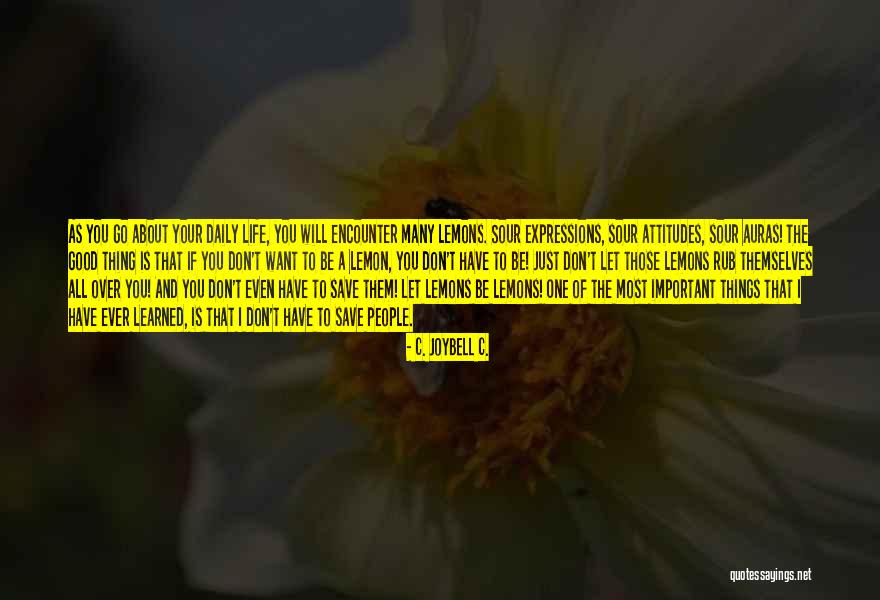 As you go about your daily life, you will encounter many lemons. Sour expressions, sour attitudes, sour auras! The good thing is that if you don't want to be a lemon, you don't have to be! Just don't let those lemons rub themselves all over you! And you don't even have to save them! Let lemons be lemons! One of the most important things that I have ever learned, is that I don't have to save people. — C. JoyBell C.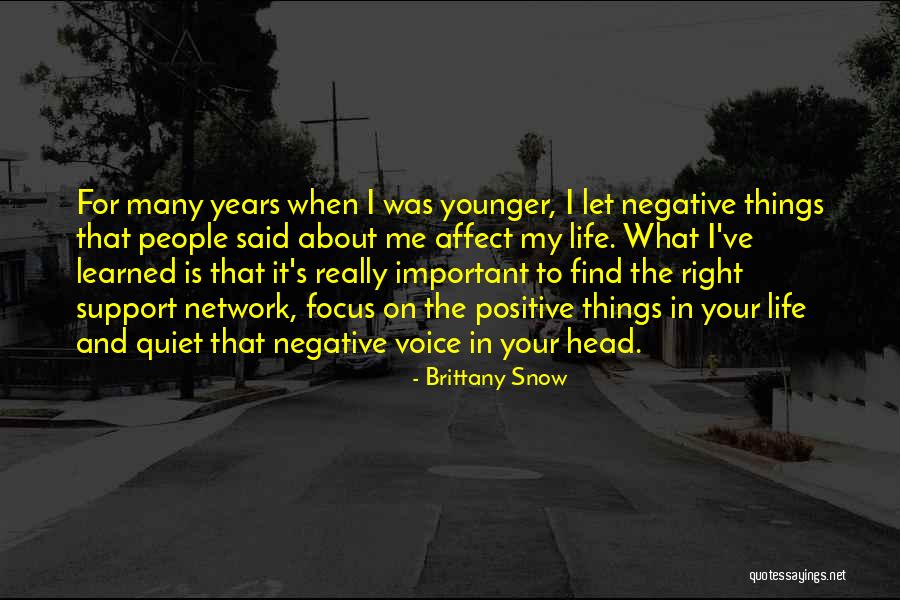 For many years when I was younger, I let negative things that people said about me affect my life. What I've learned is that it's really important to find the right support network, focus on the positive things in your life and quiet that negative voice in your head. — Brittany Snow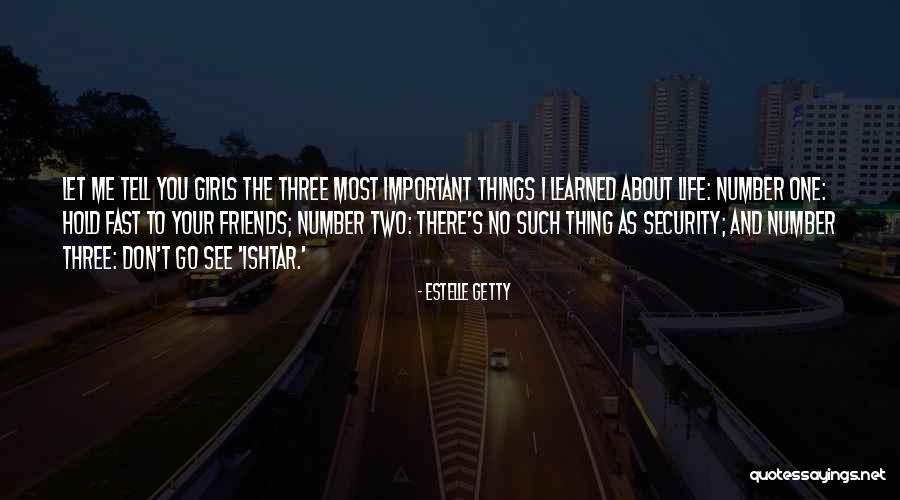 Let me tell you girls the three most important things I learned about life: Number one: Hold fast to your friends; number two: There's no such thing as security; and number three: Don't go see 'Ishtar.' — Estelle Getty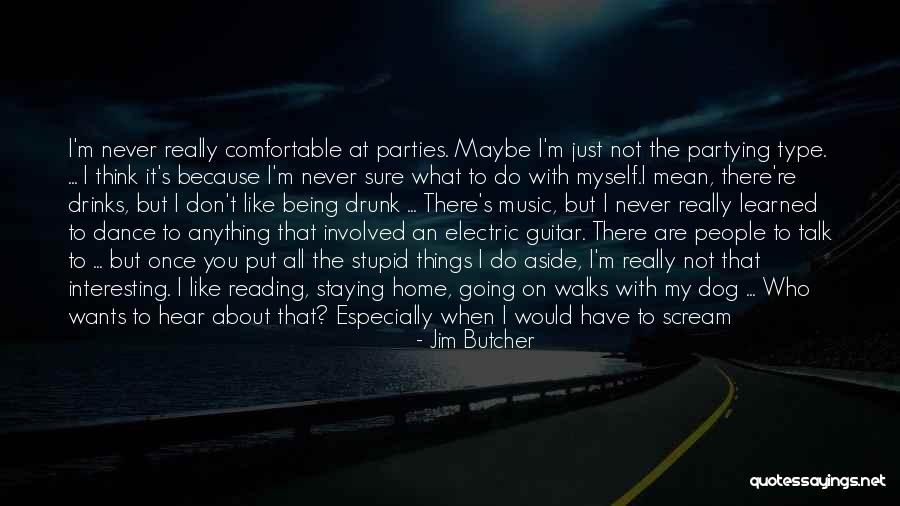 I'm never really comfortable at parties. Maybe I'm just not the partying type.
... I think it's because I'm never sure what to do with myself.
I mean, there're drinks, but I don't like being drunk ... There's music, but I never really learned to dance to anything that involved an electric guitar. There are people to talk to ... but once you put all the stupid things I do aside, I'm really not that interesting. I like reading, staying home, going on walks with my dog ... Who wants to hear about that? Especially when I would have to scream it over music to which no one dances.
So I'm there but not drinking, listening to music but not dancing, and trying to have conversations with near-strangers about anything other than my own stupid life ... Leads to a lot of awkward pauses. And then I start wondering why I showed up in the first place.
Cold Days (The Dresden Files Book 14), pg. 33 — Jim Butcher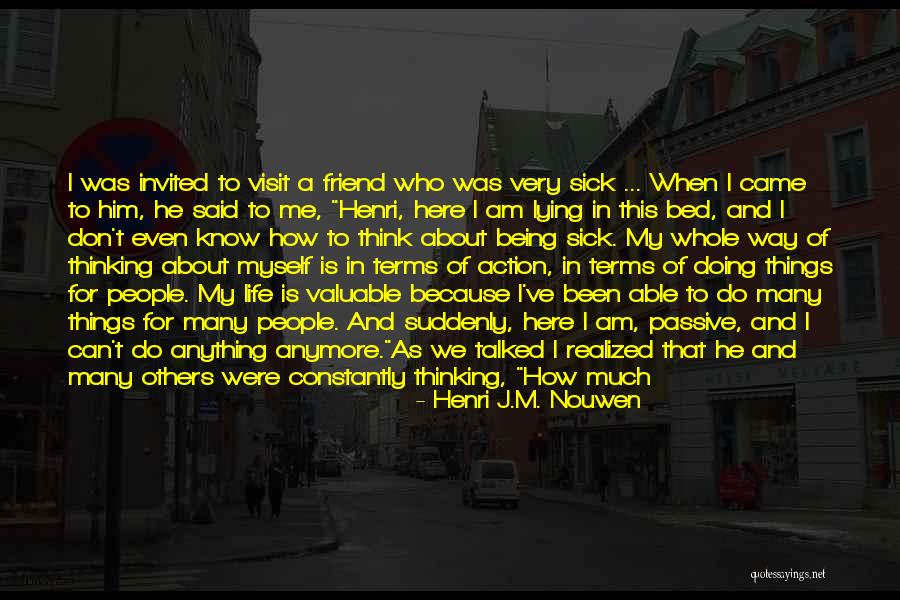 I was invited to visit a friend who was very sick ... When I came to him, he said to me, "Henri, here I am lying in this bed, and I don't even know how to think about being sick. My whole way of thinking about myself is in terms of action, in terms of doing things for people. My life is valuable because I've been able to do many things for many people. And suddenly, here I am, passive, and I can't do anything anymore."
As we talked I realized that he and many others were constantly thinking, "How much can I still do?" Somehow this man had learned to think about himself as a man who was worth only what he was doing. And so when he got sick, his hope seemed to rest on the idea that he might get better and return to what he had been doing. If the spirit of this man was dependent on how much he would still be able to do, what did I have to say to him? — Henri J.M. Nouwen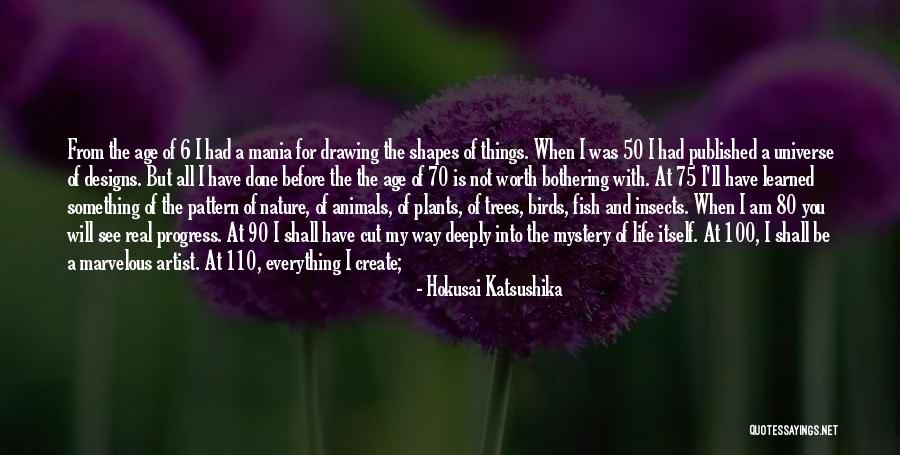 From the age of 6 I had a mania for drawing the shapes of things. When I was 50 I had published a universe of designs. But all I have done before the the age of 70 is not worth bothering with. At 75 I'll have learned something of the pattern of nature, of animals, of plants, of trees, birds, fish and insects. When I am 80 you will see real progress. At 90 I shall have cut my way deeply into the mystery of life itself. At 100, I shall be a marvelous artist. At 110, everything I create; a dot, a line, will jump to life as never before. To all of you who are going to live as long as I do, I promise to keep my word. I am writing this in my old age. I used to call myself Hokusai, but today I sign my self 'The Old Man Mad About Drawing. — Hokusai Katsushika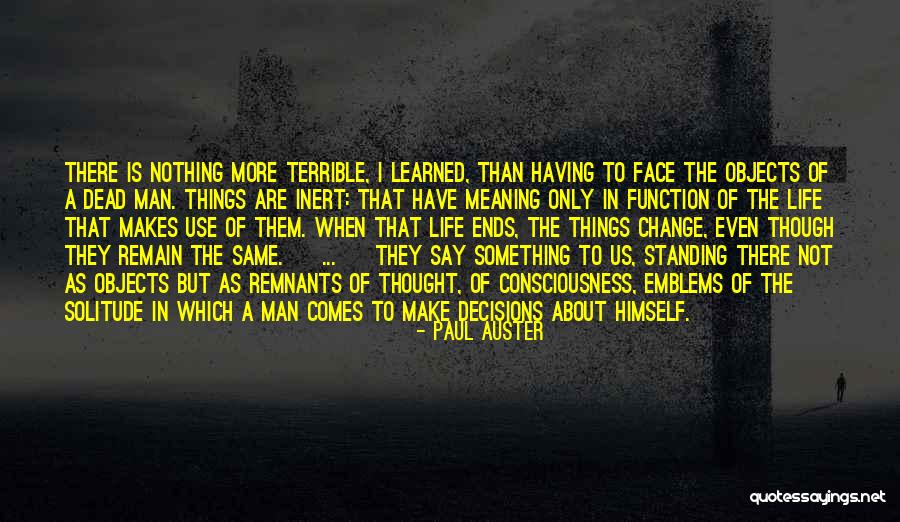 There is nothing more terrible, I learned, than having to face the objects of a dead man. Things are inert: that have meaning only in function of the life that makes use of them. When that life ends, the things change, even though they remain the same. [ ... ] they say something to us, standing there not as objects but as remnants of thought, of consciousness, emblems of the solitude in which a man comes to make decisions about himself. — Paul Auster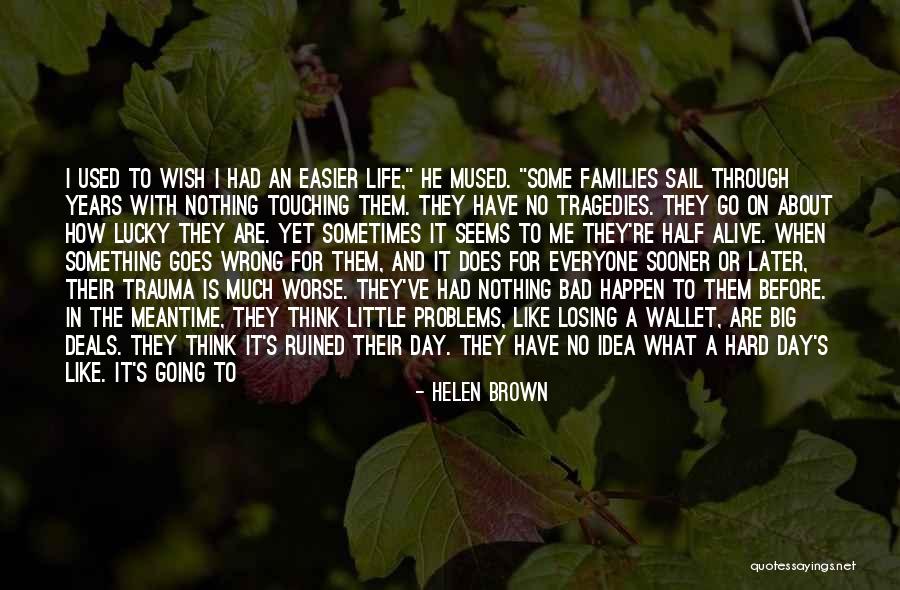 I used to wish I had an easier life," he mused. "Some families sail through years with nothing touching them. They have no tragedies. They go on about how lucky they are. Yet sometimes it seems to me they're half alive. When something goes wrong for them, and it does for everyone sooner or later, their trauma is much worse. They've had nothing bad happen to them before. In the meantime, they think little problems, like losing a wallet, are big deals. They think it's ruined their day. They have no idea what a hard day's like. It's going to be incredibly tough for them when they find out."
He'd also developed his own version of making the most of every minute. "Through Sam I found out how quickly things can change. Because of him I've learned to appreciate each moment and try not to hold on to things. Life's more exciting and intense that way. It's like the yogurt that goes off after three days. It tastes so much better than the stuff that lasts three weeks. — Helen Brown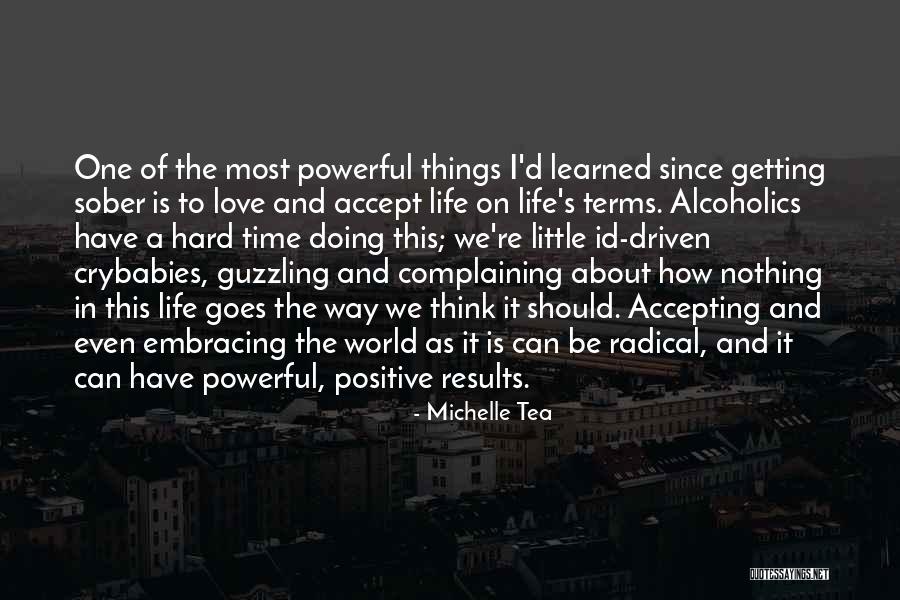 One of the most powerful things I'd learned since getting sober is to love and accept life on life's terms. Alcoholics have a hard time doing this; we're little id-driven crybabies, guzzling and complaining about how nothing in this life goes the way we think it should. Accepting and even embracing the world as it is can be radical, and it can have powerful, positive results. — Michelle Tea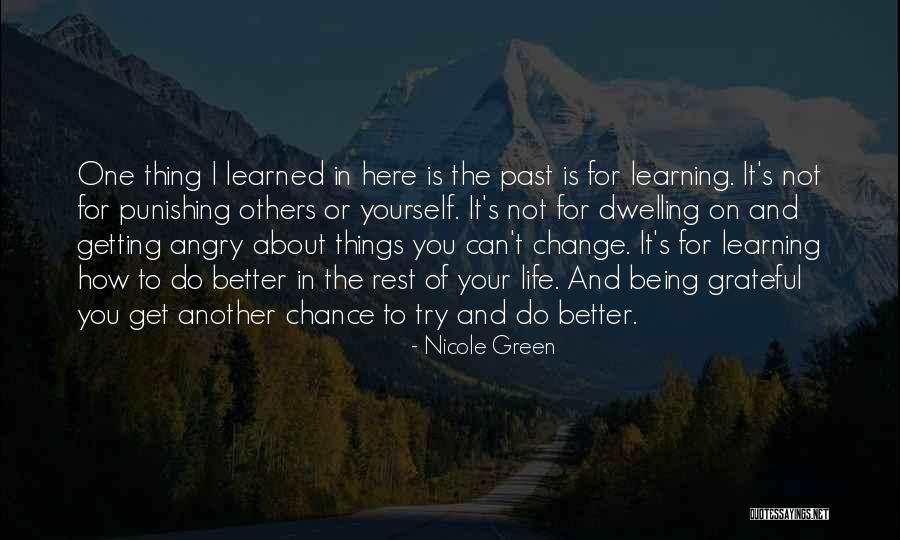 One thing I learned in here is the past is for learning. It's not for punishing others or yourself. It's not for dwelling on and getting angry about things you can't change. It's for learning how to do better in the rest of your life. And being grateful you get another chance to try and do better. — Nicole Green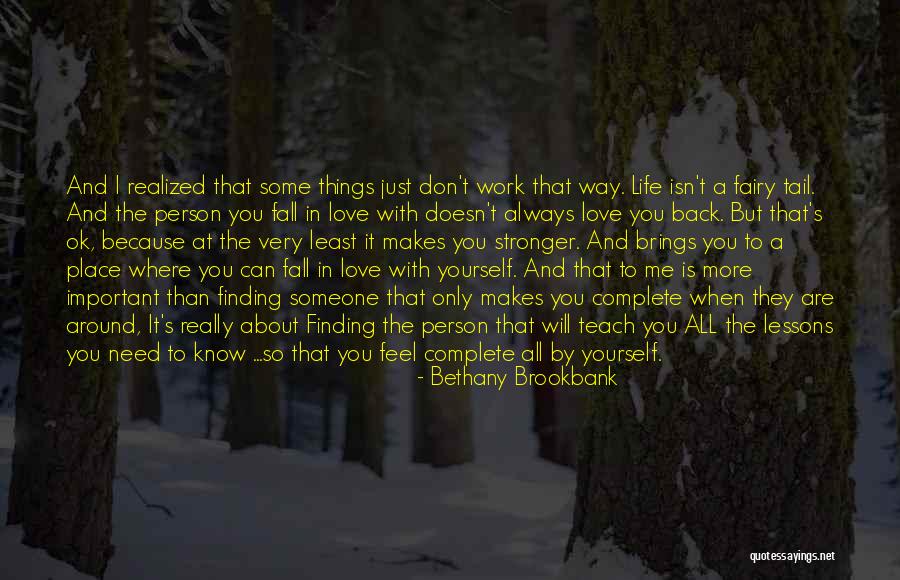 And I realized that some things just don't work that way. Life isn't a fairy tail. And the person you fall in love with doesn't always love you back. But that's ok, because at the very least it makes you stronger. And brings you to a place where you can fall in love with yourself. And that to me is more important than finding someone that only makes you complete when they are around, It's really about Finding the person that will teach you ALL the lessons you need to know ...so that you feel complete all by yourself. — Bethany Brookbank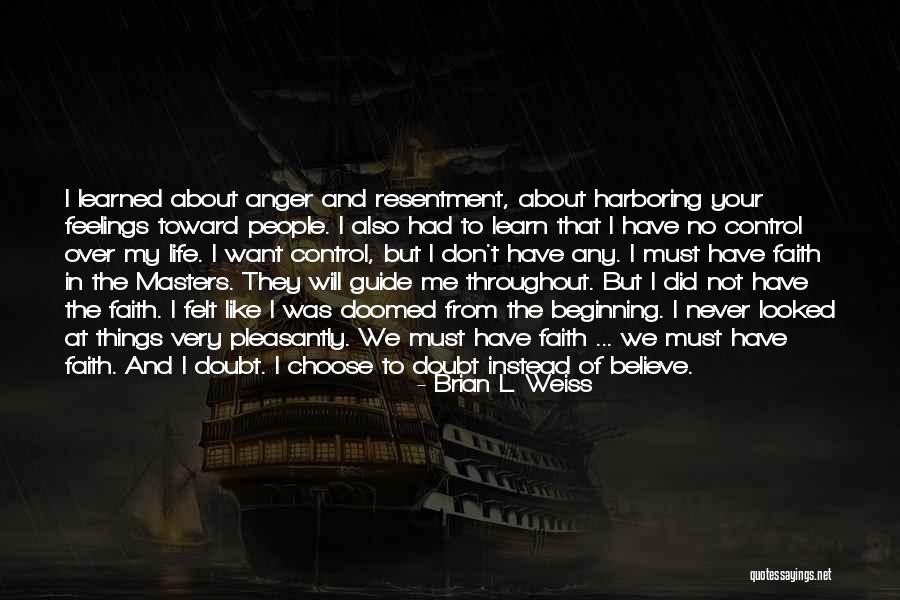 I learned about anger and resentment, about harboring your feelings toward people. I also had to learn that I have no control over my life. I want control, but I don't have any. I must have faith in the Masters. They will guide me throughout. But I did not have the faith. I felt like I was doomed from the beginning. I never looked at things very pleasantly. We must have faith ... we must have faith. And I doubt. I choose to doubt instead of believe. — Brian L. Weiss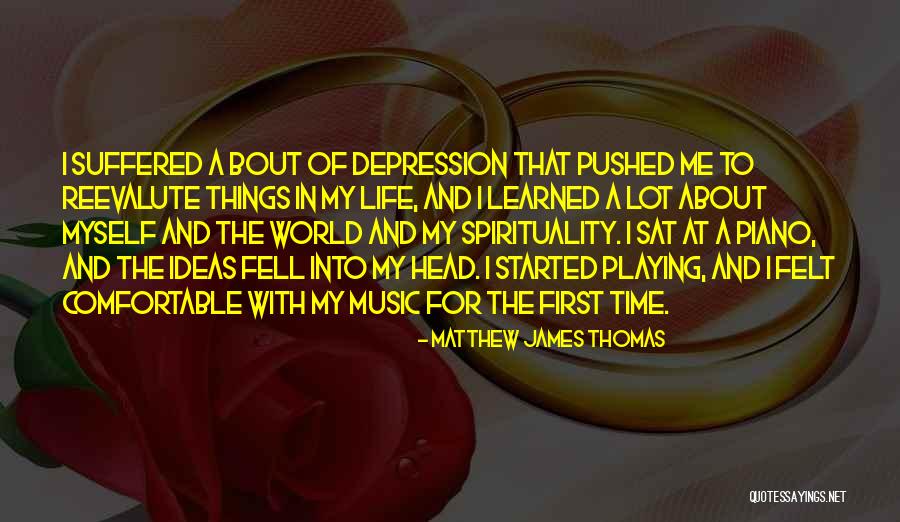 I suffered a bout of depression that pushed me to reevalute things in my life, and I learned a lot about myself and the world and my spirituality. I sat at a piano, and the ideas fell into my head. I started playing, and I felt comfortable with my music for the first time. — Matthew James Thomas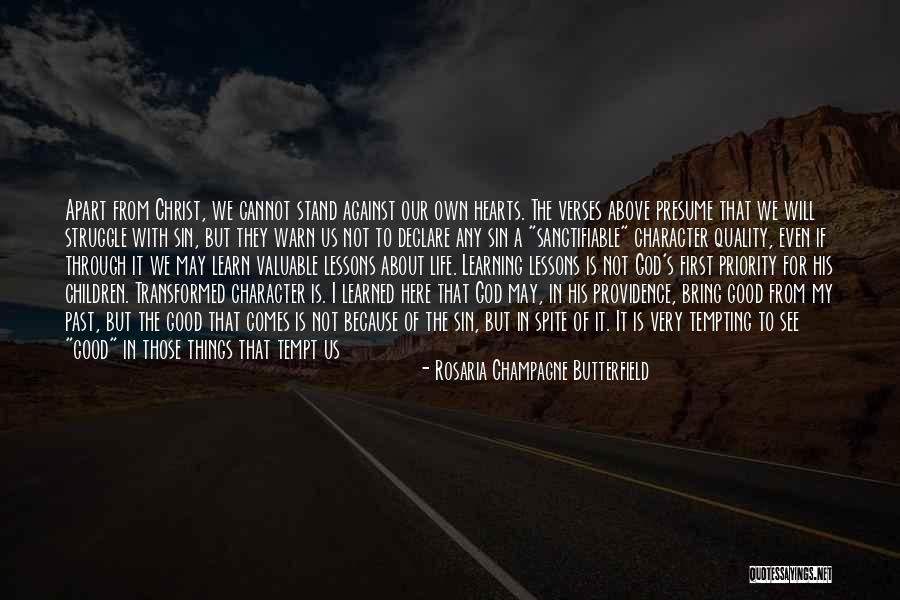 Apart from Christ, we cannot stand against our own hearts. The verses above presume that we will struggle with sin, but they warn us not to declare any sin a "sanctifiable" character quality, even if through it we may learn valuable lessons about life. Learning lessons is not God's first priority for his children. Transformed character is. I learned here that God may, in his providence, bring good from my past, but the good that comes is not because of the sin, but in spite of it. It is very tempting to see "good" in those things that tempt us to sin or lead us to sin because then we don't seem nearly as corrupt as Original Sin renders us. According to God, sinful temptations are inclinations to do something or become something that cost Jesus his life for my sake. We are not to try to ransom it on our own terms. Suggesting that our sin is good or produces good is tantamount to calling cancer good health. — Rosaria Champagne Butterfield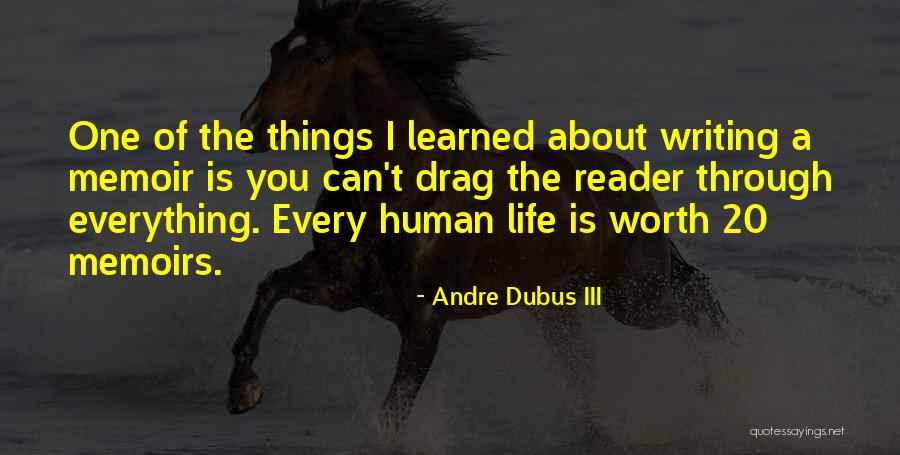 One of the things I learned about writing a memoir is you can't drag the reader through everything. Every human life is worth 20 memoirs. — Andre Dubus III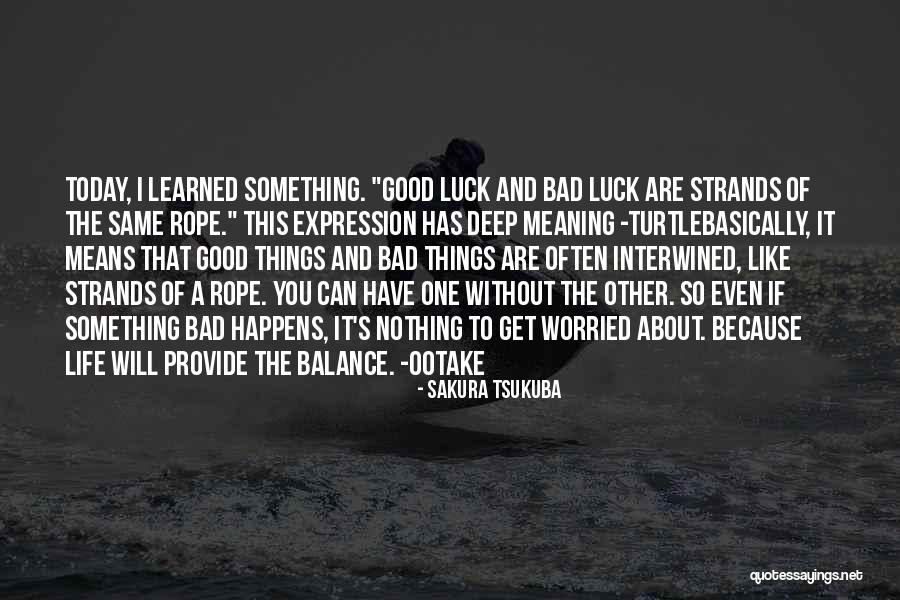 Today, i learned something. "Good luck and bad luck are strands of the same rope." This expression has deep meaning -turtle
Basically, it means that good things and bad things are often interwined, like strands of a rope. You can have one without the other. So even if something bad happens, it's nothing to get worried about. Because life will provide the balance. -Ootake — Sakura Tsukuba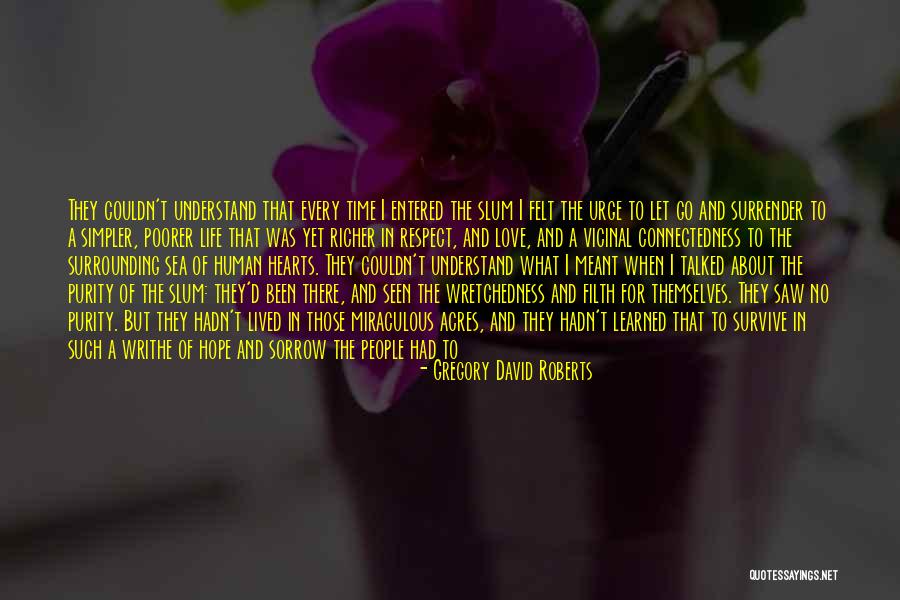 They couldn't understand that every time I entered the slum I felt the urge to let go and surrender to a simpler, poorer life that was yet richer in respect, and love, and a vicinal connectedness to the surrounding sea of human hearts. They couldn't understand what I meant when I talked about the purity of the slum: they'd been there, and seen the wretchedness and filth for themselves. They saw no purity. But they hadn't lived in those miraculous acres, and they hadn't learned that to survive in such a writhe of hope and sorrow the people had to be scrupulously and heartbreakingly honest. That was the source of their purity: above all things, they were true to themselves. — Gregory David Roberts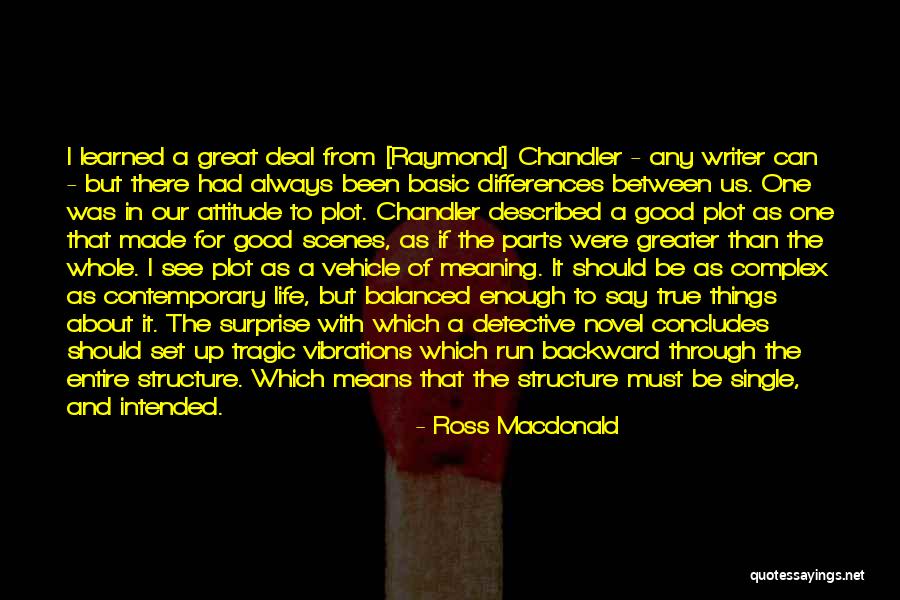 I learned a great deal from [Raymond] Chandler - any writer can - but there had always been basic differences between us. One was in our attitude to plot. Chandler described a good plot as one that made for good scenes, as if the parts were greater than the whole. I see plot as a vehicle of meaning. It should be as complex as contemporary life, but balanced enough to say true things about it. The surprise with which a detective novel concludes should set up tragic vibrations which run backward through the entire structure. Which means that the structure must be single, and intended. — Ross Macdonald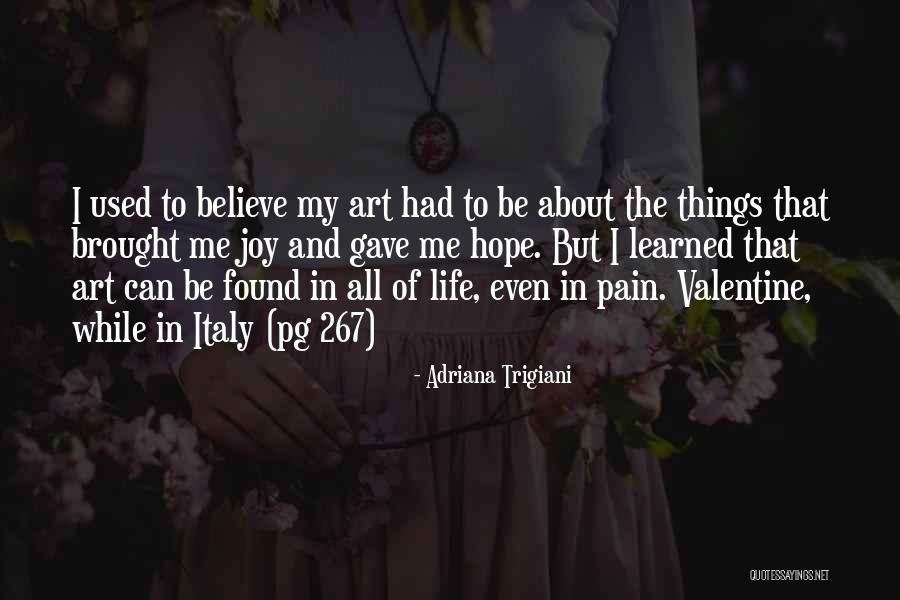 I used to believe my art had to be about the things that brought me joy and gave me hope. But I learned that art can be found in all of life, even in pain.
Valentine, while in Italy (pg 267) — Adriana Trigiani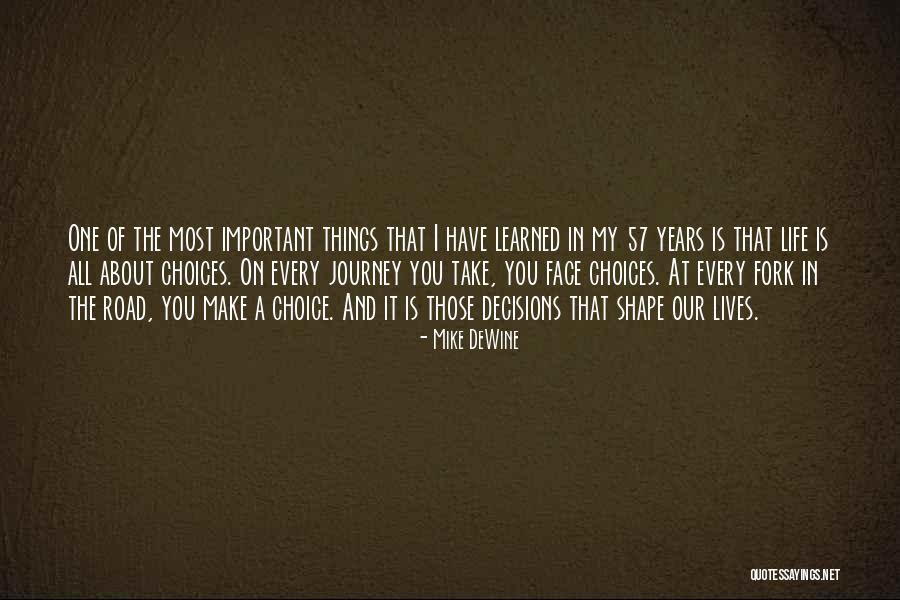 One of the most important things that I have learned in my 57 years is that life is all about choices. On every journey you take, you face choices. At every fork in the road, you make a choice. And it is those decisions that shape our lives. — Mike DeWine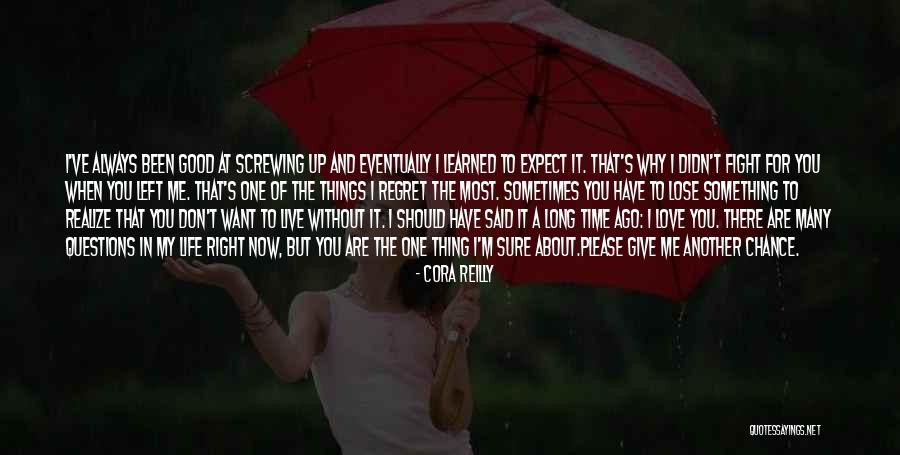 I've always been good at screwing up and eventually I learned to expect it. That's why I didn't fight for you when you left me. That's one of the things I regret the most. Sometimes you have to lose something to realize that you don't want to live without it. I should have said it a long time ago: I love you. There are many questions in my life right now, but you are the one thing I'm sure about.

Please give me another chance. — Cora Reilly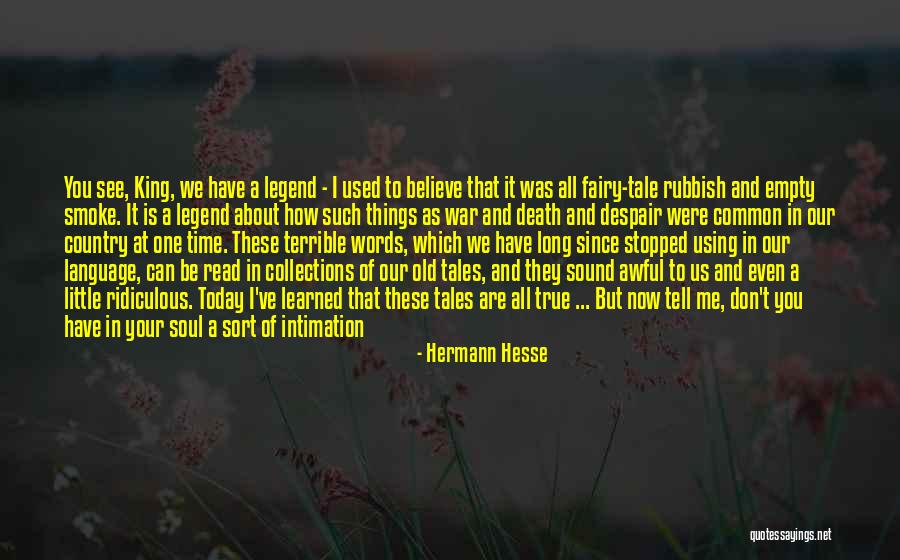 You see, King, we have a legend - I used to believe that it was all fairy-tale rubbish and empty smoke. It is a legend about how such things as war and death and despair were common in our country at one time. These terrible words, which we have long since stopped using in our language, can be read in collections of our old tales, and they sound awful to us and even a little ridiculous. Today I've learned that these tales are all true ... But now tell me, don't you have in your soul a sort of intimation that you're not doing the right thing? Don't you have a yearning for bright, serene gods, for sensible and cheerful leaders and mentors? Don't you ever dream in your sleep about another, more beautiful life where nobody is envious of others, where reason and order prevails, where people treat other people only with cheerfulness and considerations? — Hermann Hesse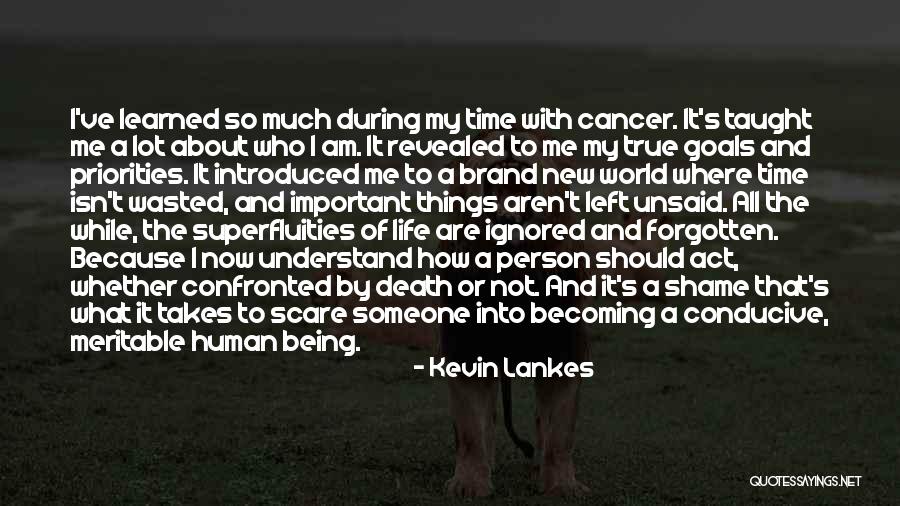 I've learned so much during my time with cancer. It's taught me a lot about who I am. It revealed to me my true goals and priorities. It introduced me to a brand new world where time isn't wasted, and important things aren't left unsaid. All the while, the superfluities of life are ignored and forgotten. Because I now understand how a person should act, whether confronted by death or not. And it's a shame that's what it takes to scare someone into becoming a conducive, meritable human being. — Kevin Lankes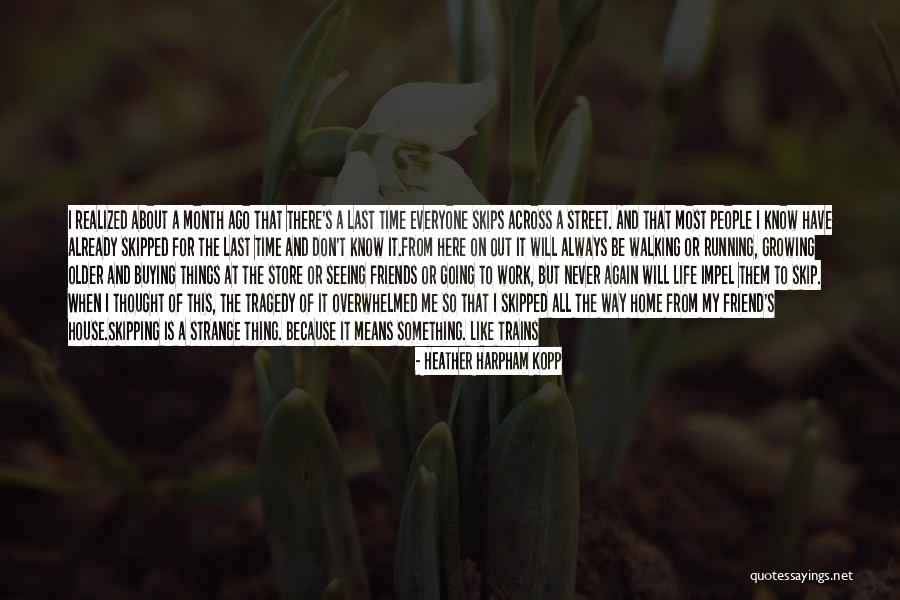 I realized about a month ago that there's a last time everyone skips across a street. And that most people I know have already skipped for the last time and don't know it.

From here on out it will always be walking or running, growing older and buying things at the store or seeing friends or going to work, but never again will life impel them to skip. When I thought of this, the tragedy of it overwhelmed me so that I skipped all the way home from my friend's house.

Skipping is a strange thing. Because it means something. Like trains make the sound of leaving. Skipping is the motion of being totally free, childlike, abandoned of self and to self.

But I learned something else about skipping. You can't fake it. Or make it happen. It must be something that happens to you. (pp. 152-153) — Heather Harpham Kopp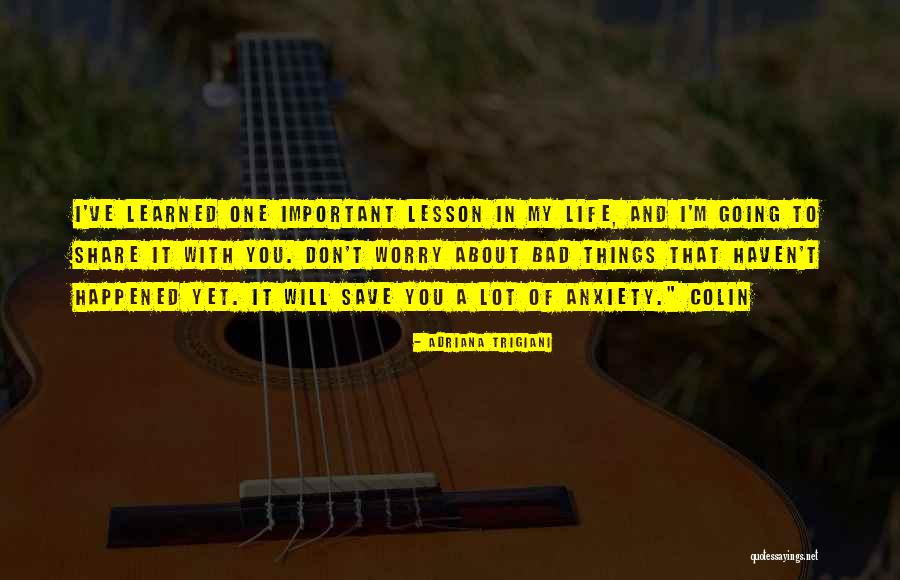 I've learned one important lesson in my life, and I'm going to share it with you. Don't worry about bad things that haven't happened yet. It will save you a lot of anxiety." Colin — Adriana Trigiani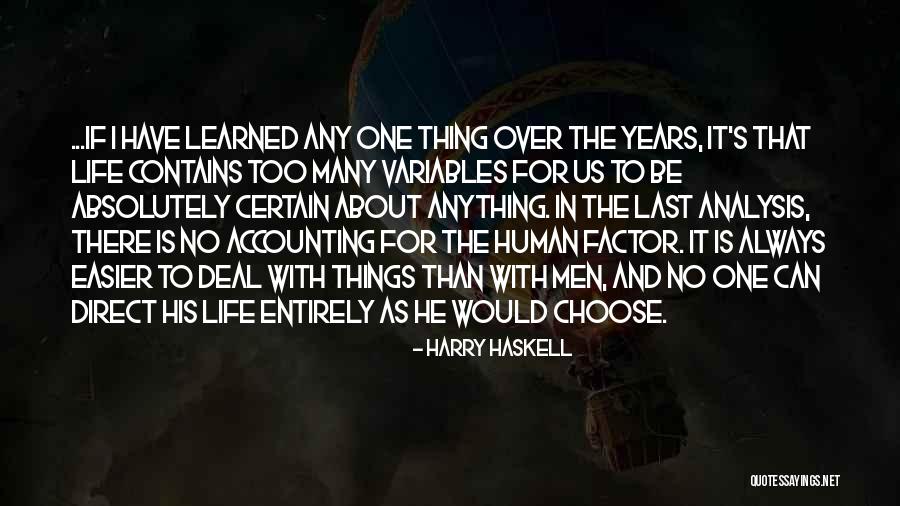 ...if I have learned any one thing over the years, it's that life contains too many variables for us to be absolutely certain about anything. In the last analysis, there is no accounting for the human factor. It is always easier to deal with things than with men, and no one can direct his life entirely as he would choose. — Harry Haskell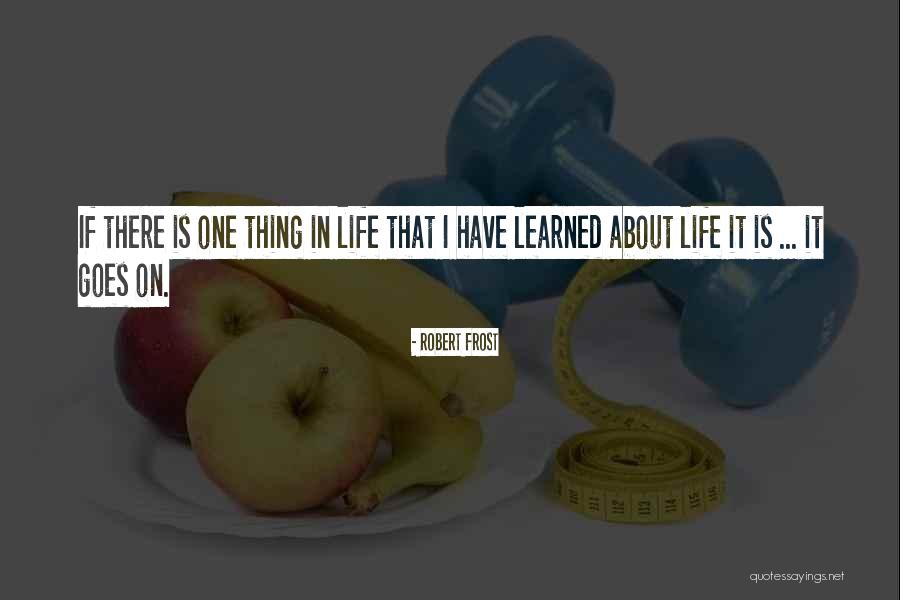 If there is one thing in life that I have learned about life it is ... it goes on. — Robert Frost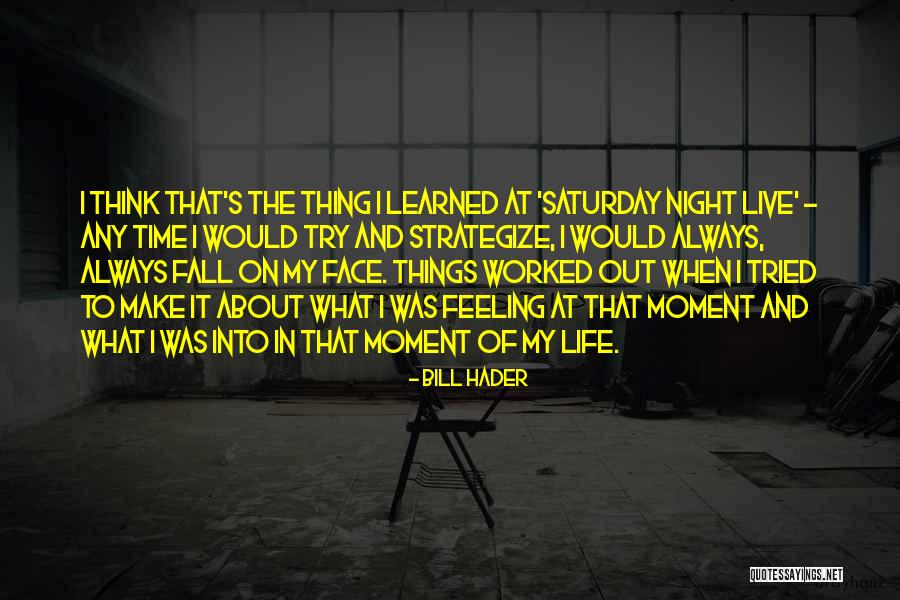 I think that's the thing I learned at 'Saturday Night Live' - any time I would try and strategize, I would always, always fall on my face. Things worked out when I tried to make it about what I was feeling at that moment and what I was into in that moment of my life. — Bill Hader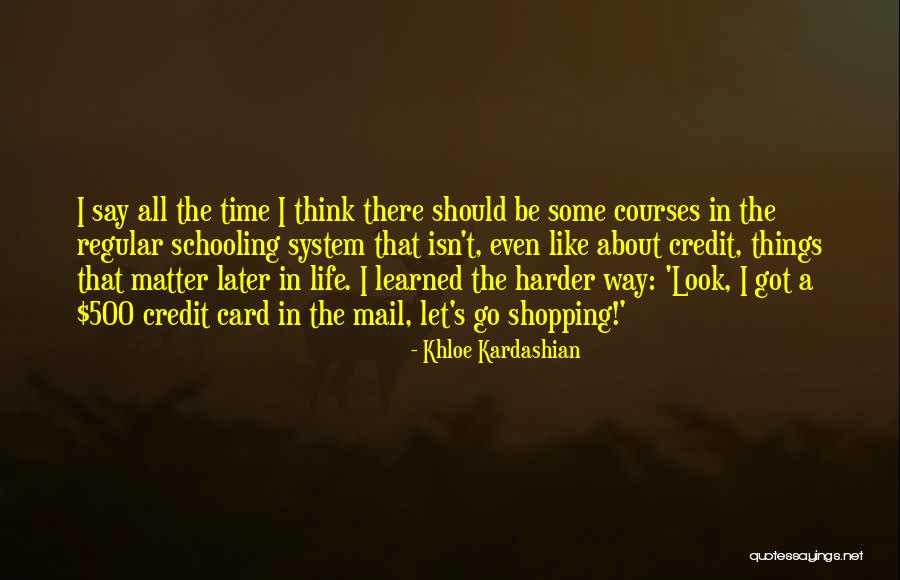 I say all the time I think there should be some courses in the regular schooling system that isn't, even like about credit, things that matter later in life. I learned the harder way: 'Look, I got a $500 credit card in the mail, let's go shopping!' — Khloe Kardashian
And I have always had an especially great desire to learn to distinguish the true from the false, in order to see my way clearly in my actions, and to go forward with confidence in this life. It is true that, so long as I merely considered the customs of other men, I found hardly anything there about which to be confident, and that I noticed there was about as much diversity as I had previously found among the opinions of philosophers. Thus the greatest profit I derived from this was that, on seeing many things that, although they seem to us very extravagant and ridiculous, do not cease to be commonly accepted and approved among other great peoples, I learned not to believe anything too firmly of which I had been persuaded only by example and custom; and thus I little by little freed myself from many errors that can darken our natural light and render us less able to listen to reason. — Rene Descartes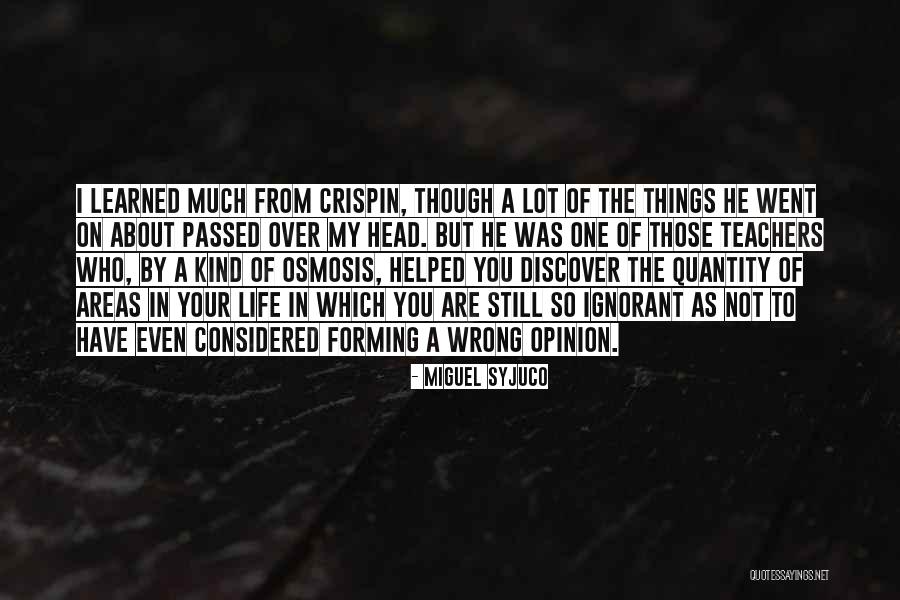 I learned much from Crispin, though a lot of the things he went on about passed over my head. But he was one of those teachers who, by a kind of osmosis, helped you discover the quantity of areas in your life in which you are still so ignorant as not to have even considered forming a wrong opinion. — Miguel Syjuco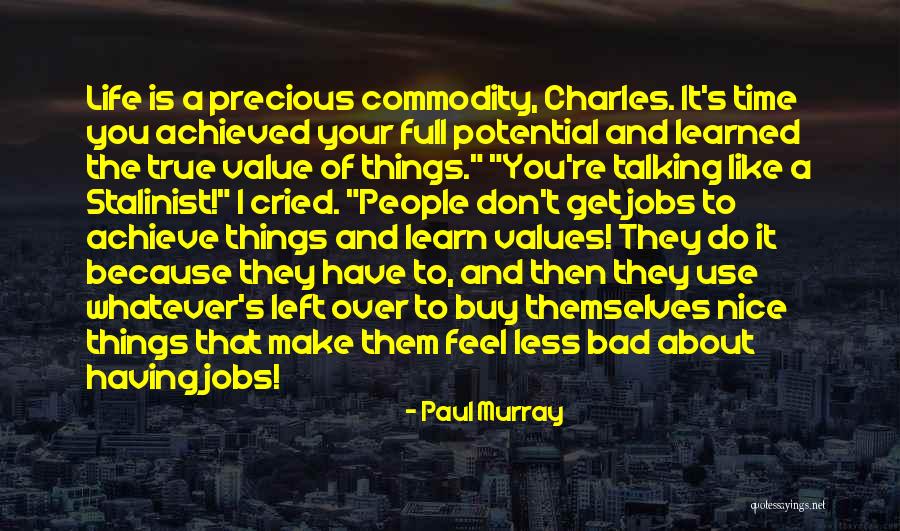 Life is a precious commodity, Charles. It's time you achieved your full potential and learned the true value of things." "You're talking like a Stalinist!" I cried. "People don't get jobs to achieve things and learn values! They do it because they have to, and then they use whatever's left over to buy themselves nice things that make them feel less bad about having jobs! — Paul Murray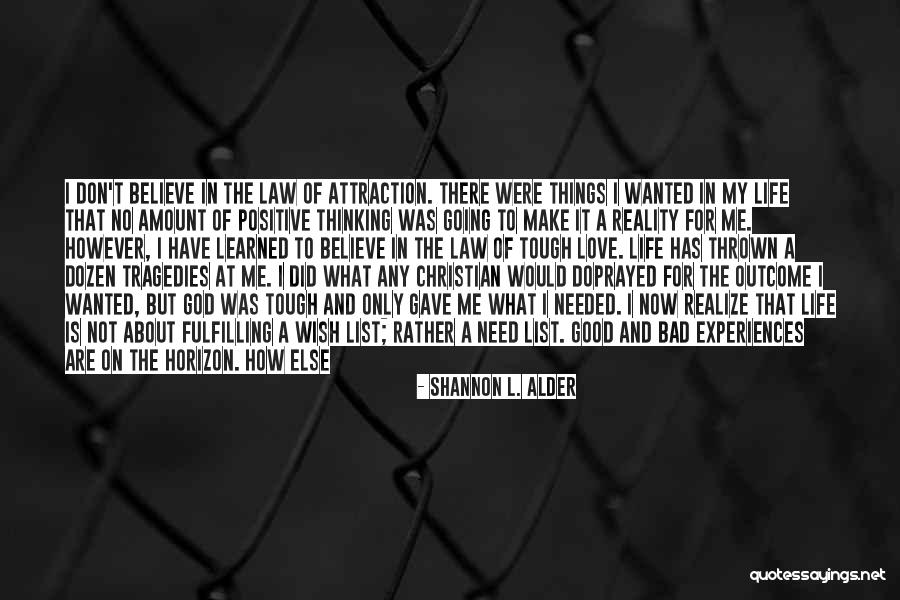 I don't believe in the Law of Attraction. There were things I wanted in my life that no amount of positive thinking was going to make it a reality for me. However, I have learned to believe in the Law of Tough Love. Life has thrown a dozen tragedies at me. I did what any Christian would do
prayed for the outcome I wanted, but God was tough and only gave me what I needed. I now realize that life is not about fulfilling a wish list; rather a need list. Good and bad experiences are on the horizon. How else does a person change, grow and evolve? And just like any warrior woman, I won't simply survive
but thrive! — Shannon L. Alder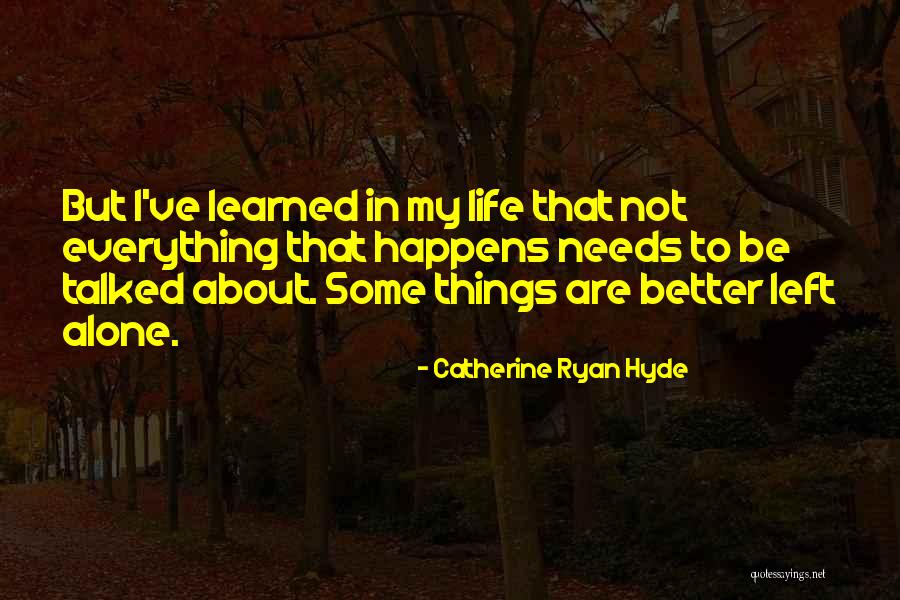 But I've learned in my life that not everything that happens needs to be talked about. Some things are better left alone. — Catherine Ryan Hyde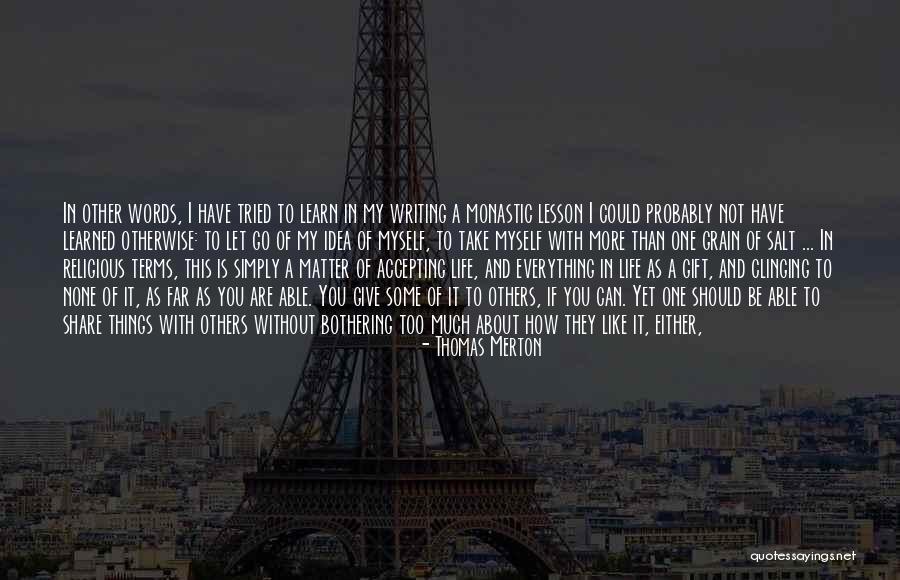 In other words, I have tried to learn in my writing a monastic lesson I could probably not have learned otherwise: to let go of my idea of myself, to take myself with more than one grain of salt ... In religious terms, this is simply a matter of accepting life, and everything in life as a gift, and clinging to none of it, as far as you are able. You give some of it to others, if you can. Yet one should be able to share things with others without bothering too much about how they like it, either, or how they accept it. Assume they will accept it, if they need it. And if they don't need it, why should they accept it? That is their business. Let me accept what is mine and give them all their share, and go my way. — Thomas Merton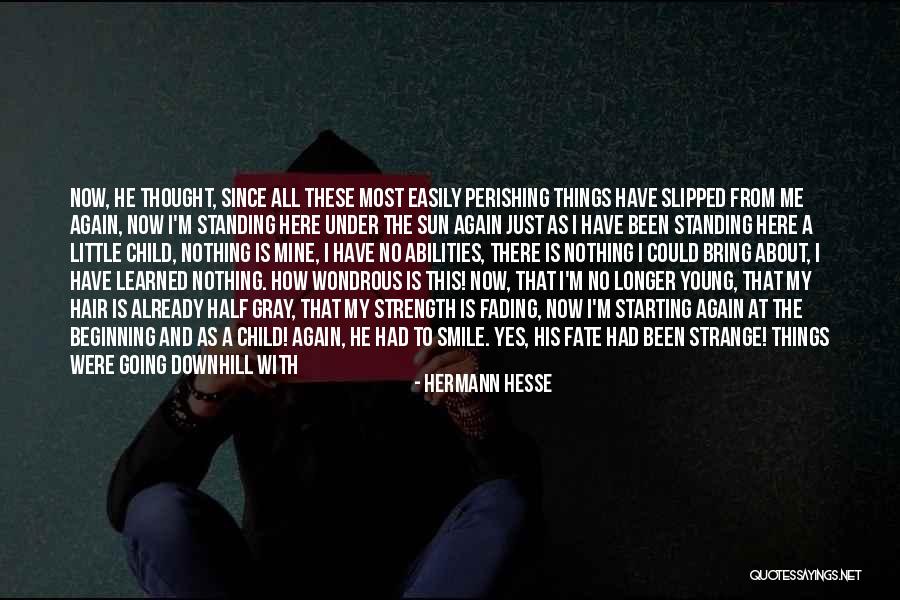 Now, he thought, since all these most easily perishing things have slipped from me again, now I'm standing here under the sun again just as I have been standing here a little child, nothing is mine, I have no abilities, there is nothing I could bring about, I have learned nothing. How wondrous is this! Now, that I'm no longer young, that my hair is already half gray, that my strength is fading, now I'm starting again at the beginning and as a child! Again, he had to smile. Yes, his fate had been strange! Things were going downhill with him, and now he was again facing the world void and naked and stupid. But he could not feel sad about this, no, he even felt a great urge to laugh, to laugh about himself, to laugh about this strange, foolish world. — Hermann Hesse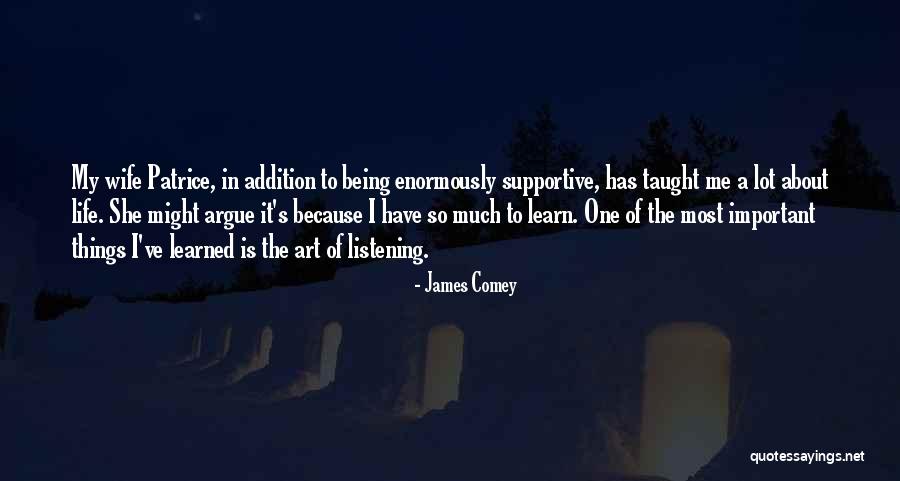 My wife Patrice, in addition to being enormously supportive, has taught me a lot about life. She might argue it's because I have so much to learn. One of the most important things I've learned is the art of listening. — James Comey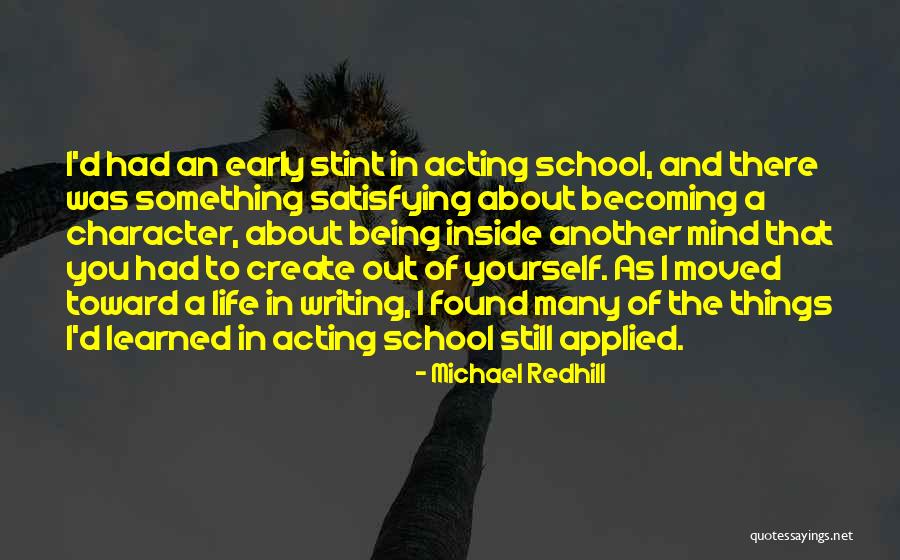 I'd had an early stint in acting school, and there was something satisfying about becoming a character, about being inside another mind that you had to create out of yourself. As I moved toward a life in writing, I found many of the things I'd learned in acting school still applied. — Michael Redhill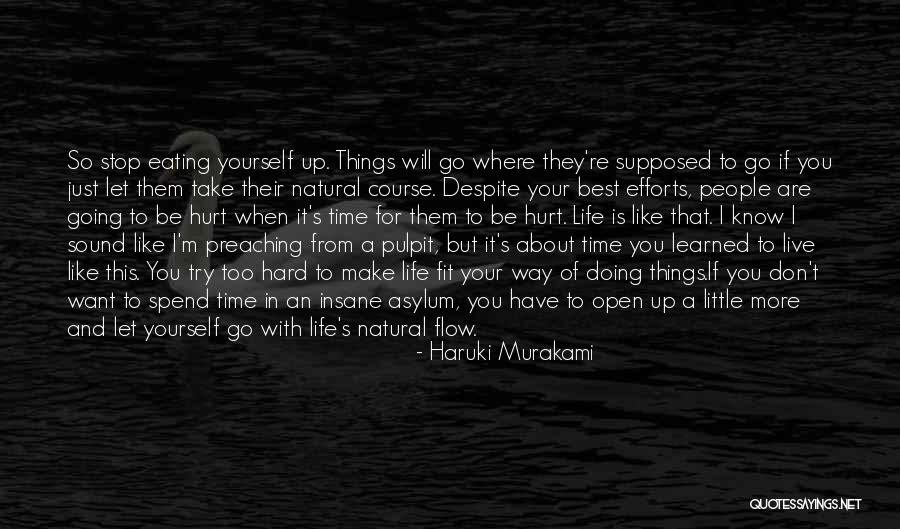 So stop eating yourself up. Things will go where they're supposed to go if you just let them take their natural course. Despite your best efforts, people are going to be hurt when it's time for them to be hurt. Life is like that. I know I sound like I'm preaching from a pulpit, but it's about time you learned to live like this. You try too hard to make life fit your way of doing things.If you don't want to spend time in an insane asylum, you have to open up a little more and let yourself go with life's natural flow. — Haruki Murakami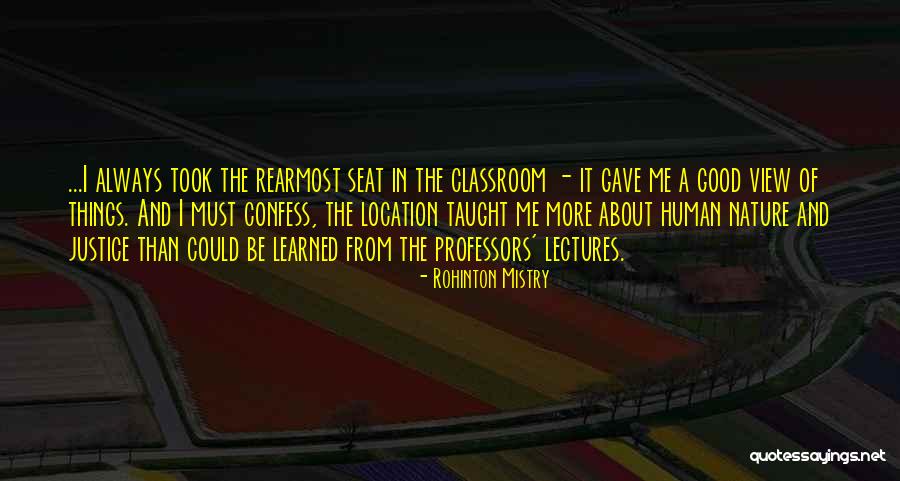 ...I always took the rearmost seat in the classroom - it gave me a good view of things. And I must confess, the location taught me more about human nature and justice than could be learned from the professors' lectures. — Rohinton Mistry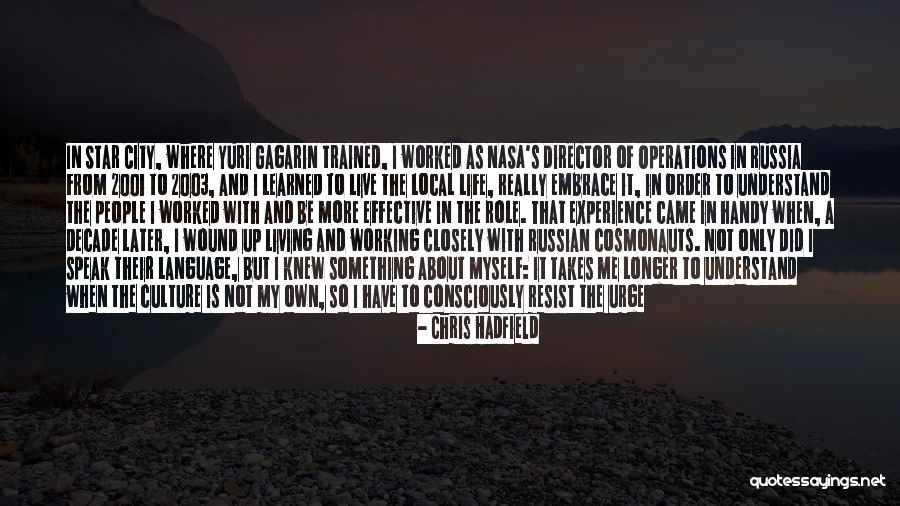 In Star City, where Yuri Gagarin trained, I worked as NASA's Director of Operations in Russia from 2001 to 2003, and I learned to live the local life, really embrace it, in order to understand the people I worked with and be more effective in the role. That experience came in handy when, a decade later, I wound up living and working closely with Russian cosmonauts. Not only did I speak their language, but I knew something about myself: it takes me longer to understand when the culture is not my own, so I have to consciously resist the urge to hurry things along and push my own expectations on others. — Chris Hadfield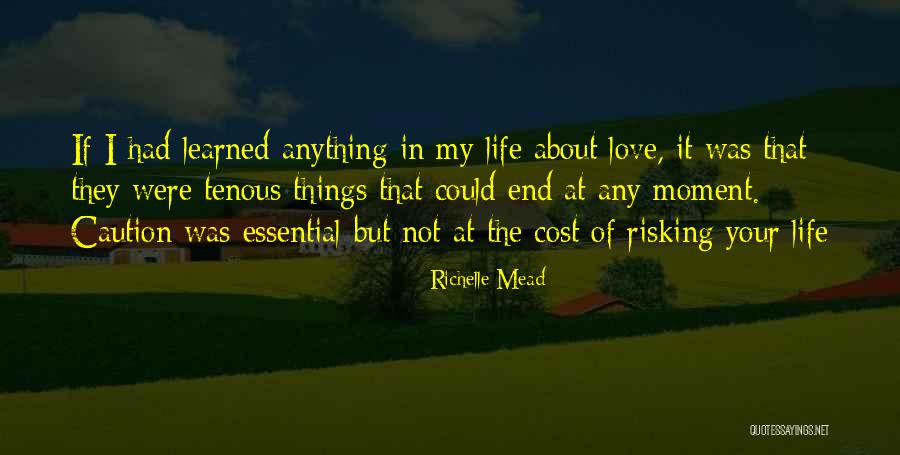 If I had learned anything in my life about love, it was that they were tenous things that could end at any moment. Caution was essential-but not at the cost of risking your life — Richelle Mead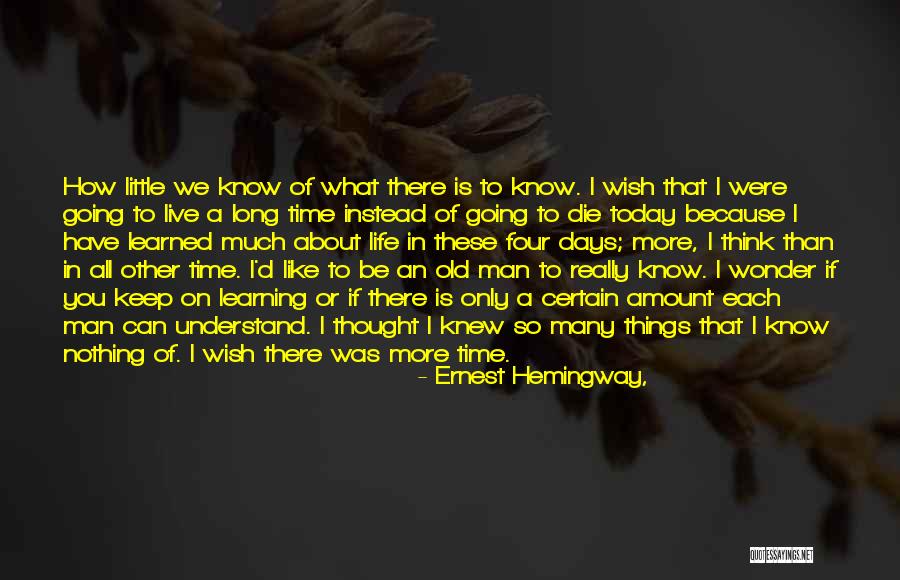 How little we know of what there is to know. I wish that I were going to live a long time instead of going to die today because I have learned much about life in these four days; more, I think than in all other time. I'd like to be an old man to really know. I wonder if you keep on learning or if there is only a certain amount each man can understand. I thought I knew so many things that I know nothing of. I wish there was more time. — Ernest Hemingway,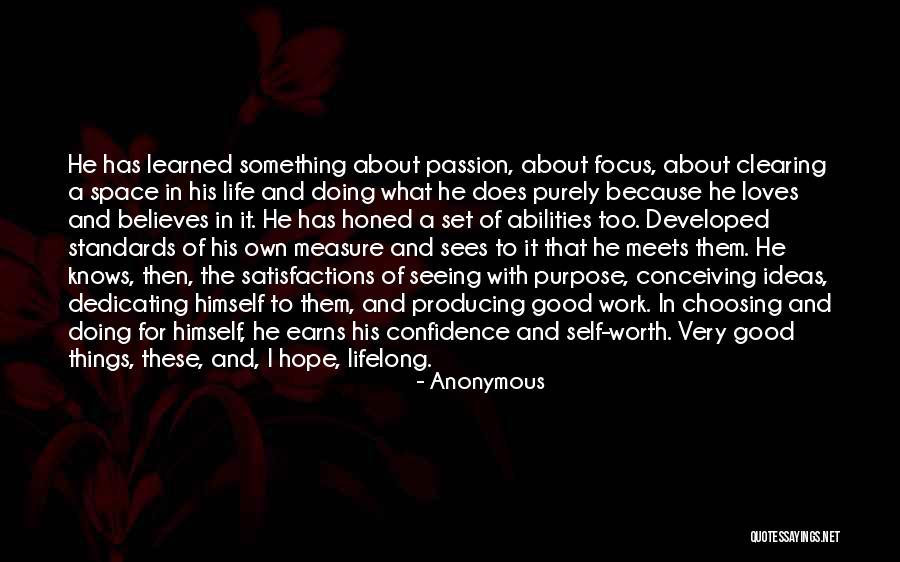 He has learned something about passion, about focus, about clearing a space in his life and doing what he does purely because he loves and believes in it. He has honed a set of abilities too. Developed standards of his own measure and sees to it that he meets them. He knows, then, the satisfactions of seeing with purpose, conceiving ideas, dedicating himself to them, and producing good work. In choosing and doing for himself, he earns his confidence and self-worth. Very good things, these, and, I hope, lifelong. — Anonymous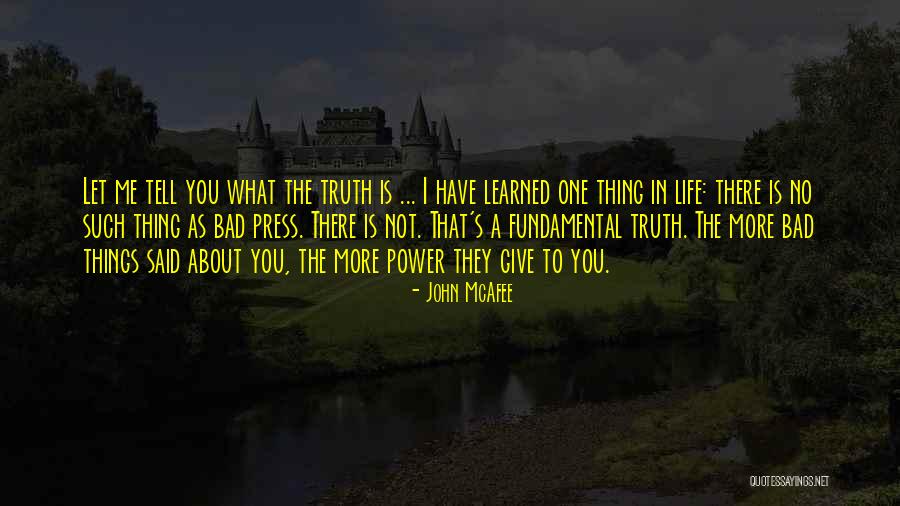 Let me tell you what the truth is ... I have learned one thing in life: there is no such thing as bad press. There is not. That's a fundamental truth. The more bad things said about you, the more power they give to you. — John McAfee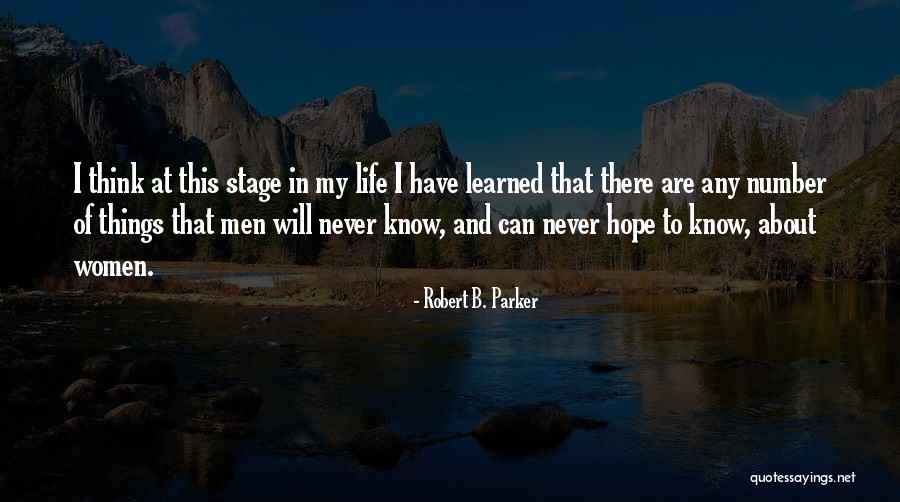 I think at this stage in my life I have learned that there are any number of things that men will never know, and can never hope to know, about women. — Robert B. Parker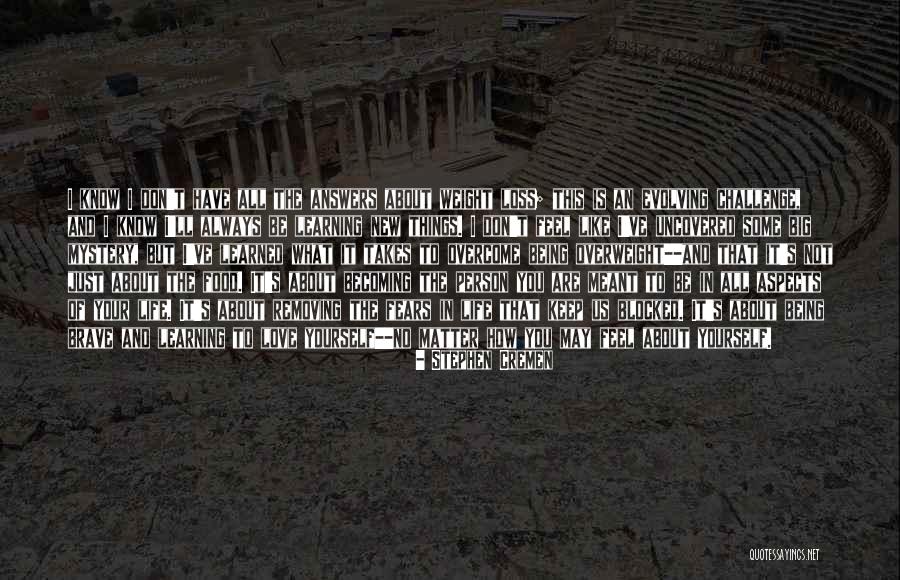 I know I don't have all the answers about weight loss; this is an evolving challenge, and I know I'll always be learning new things. I don't feel like I've uncovered some big mystery, but I've learned what it takes to overcome being overweight--and that it's not just about the food. It's about becoming the person you are meant to be in all aspects of your life. It's about removing the fears in life that keep us blocked. It's about being brave and learning to love yourself--no matter how you may feel about yourself. — Stephen Cremen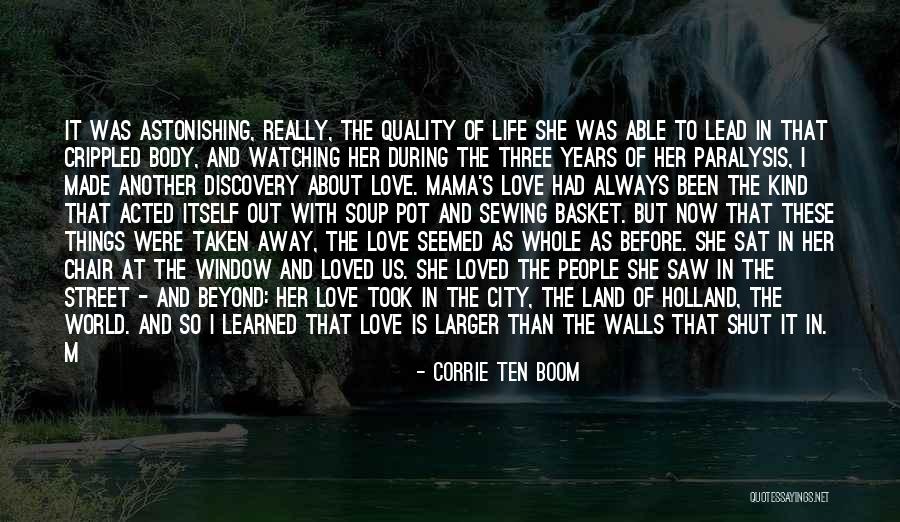 It was astonishing, really, the quality of life she was able to lead in that crippled body, and watching her during the three years of her paralysis, I made another discovery about love. Mama's love had always been the kind that acted itself out with soup pot and sewing basket. But now that these things were taken away, the love seemed as whole as before. She sat in her chair at the window and loved us. She loved the people she saw in the street - and beyond: her love took in the city, the land of Holland, the world. And so I learned that love is larger than the walls that shut it in. M — Corrie Ten Boom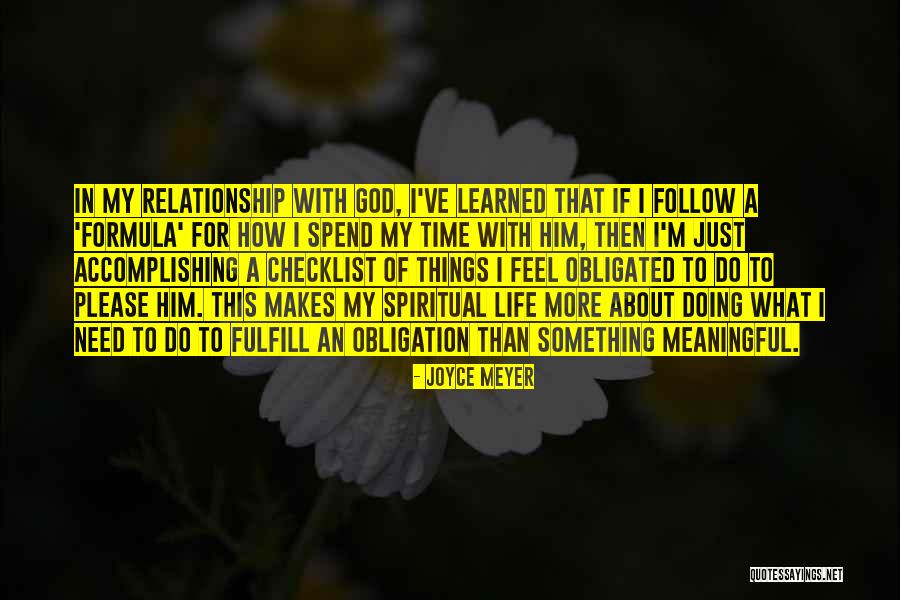 In my relationship with God, I've learned that if I follow a 'formula' for how I spend my time with Him, then I'm just accomplishing a checklist of things I feel obligated to do to please Him. This makes my spiritual life more about doing what I need to do to fulfill an obligation than something meaningful. — Joyce Meyer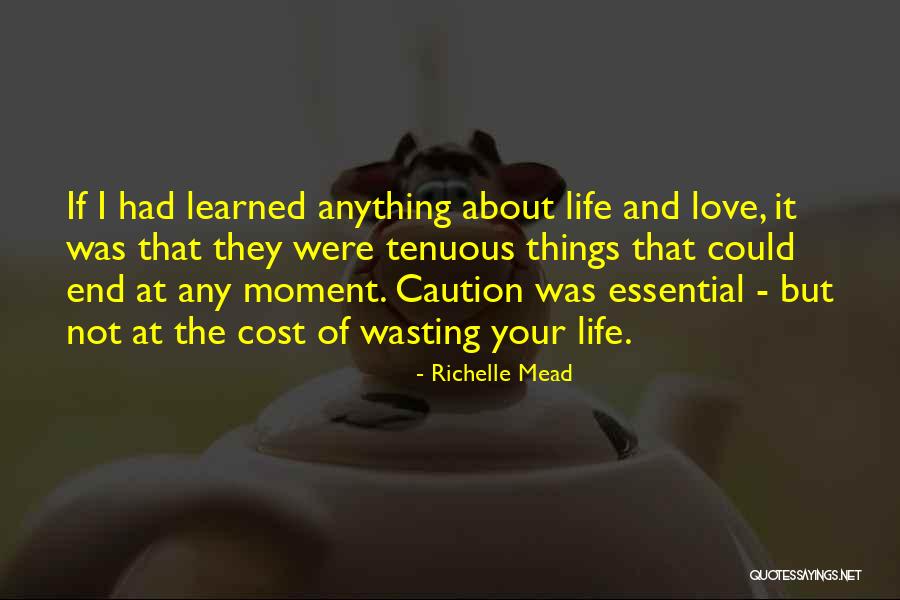 If I had learned anything about life and love, it was that they were tenuous things that could end at any moment. Caution was essential - but not at the cost of wasting your life. — Richelle Mead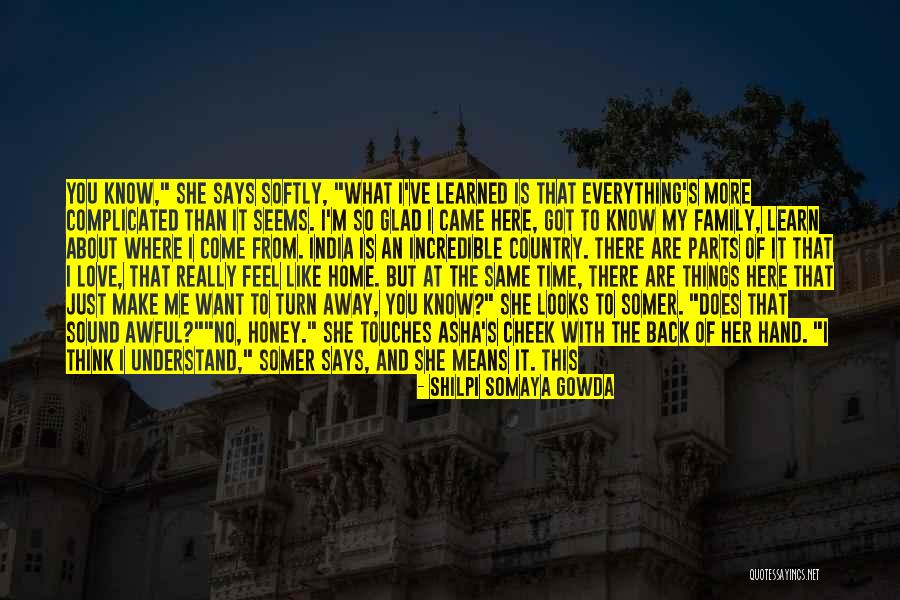 You know," she says softly, "what I've learned is that everything's more complicated than it seems. I'm so glad I came here, got to know my family, learn about where I come from. India is an incredible country. There are parts of it that I love, that really feel like home. But at the same time, there are things here that just make me want to turn away, you know?"
She looks to Somer.
"Does that sound awful?"
"No, honey." She touches Asha's cheek with the back of her hand. "I think I understand," Somer says, and she means it.
This country has given her Krishnan and Asha, the most important people in her life. But when she has fought against the power of its influence, it has also been the root of her greatest turmoil. — Shilpi Somaya Gowda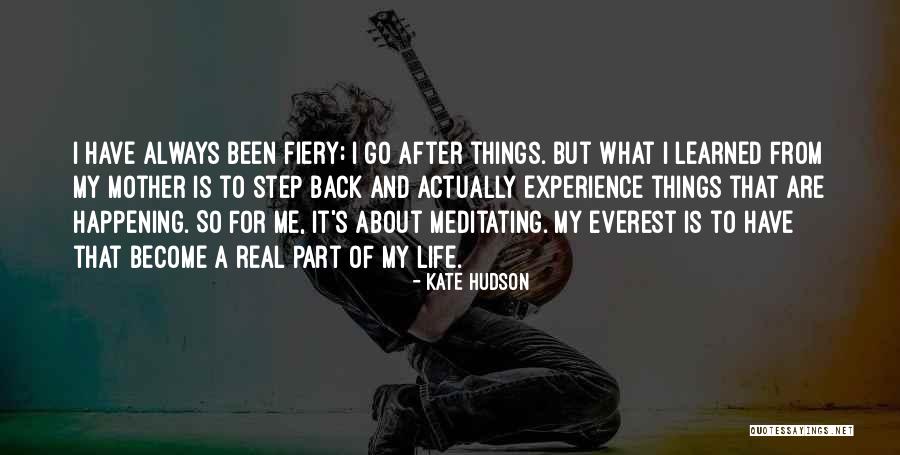 I have always been fiery; I go after things. But what I learned from my mother is to step back and actually experience things that are happening. So for me, it's about meditating. My Everest is to have that become a real part of my life. — Kate Hudson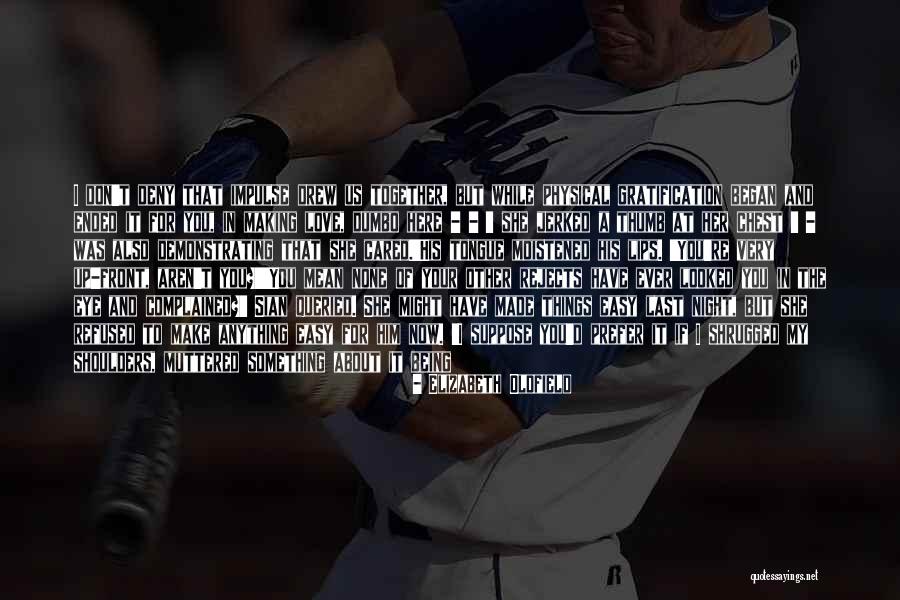 I don't deny that impulse drew us together, but while physical gratification began and ended it for you, in making love, dumbo here - - ' she jerked a thumb at her chest ' - was also demonstrating that she cared.'
His tongue moistened his lips. 'You're very up-front, aren't you?'
'You mean none of your other rejects have ever looked you in the eye and complained?' Sian queried. She might have made things easy last night, but she refused to make anything easy for him now. 'I suppose you'd prefer it if I shrugged my shoulders, muttered something about it being nice while it lasted, and filed the experience away under lessons learned? Well, sorry, but for me, and for most women if they're honest, going to bed with someone is a darn sight more complicated than that! — Elizabeth Oldfield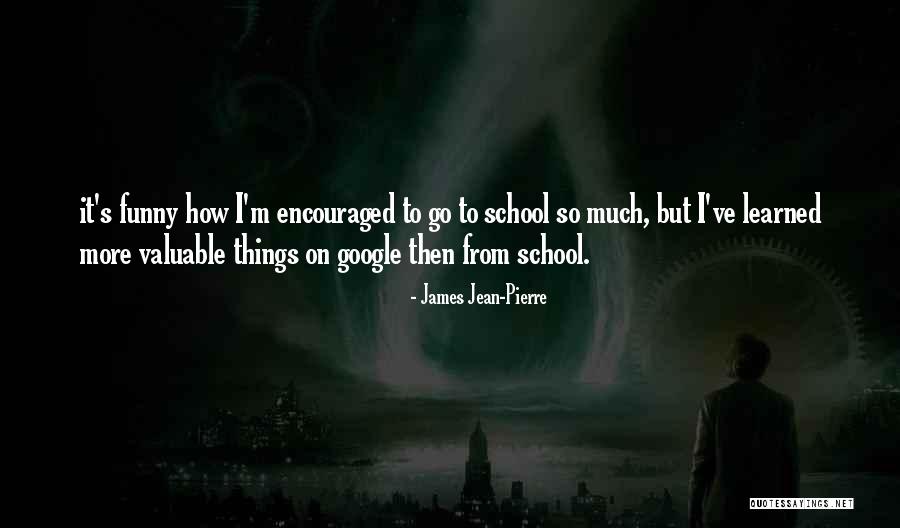 it's funny how I'm encouraged to go to school so much, but I've learned more valuable things on google then from school. — James Jean-Pierre