Quotes & Sayings About Strength In Face Of Adversity
Enjoy reading and share 22 famous quotes about Strength In Face Of Adversity with everyone.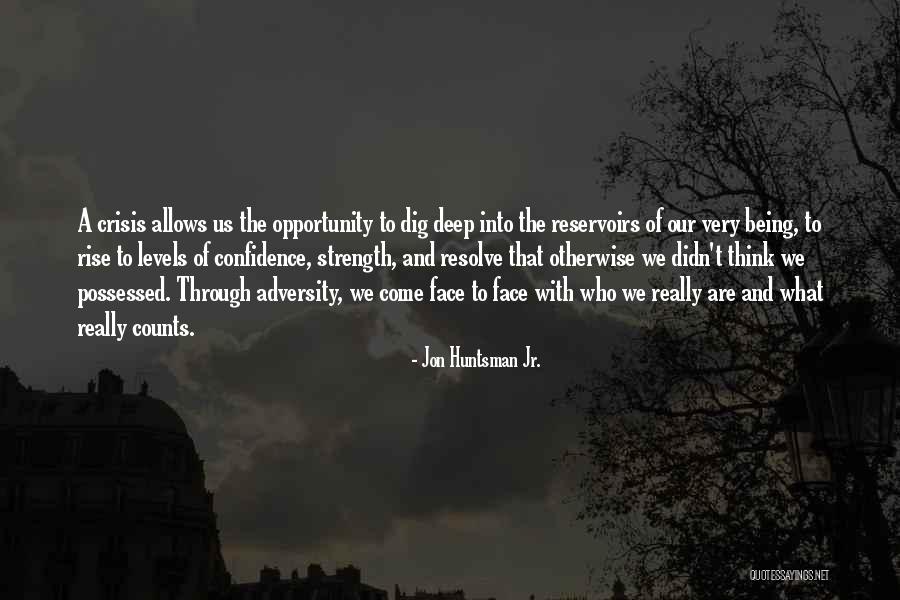 A crisis allows us the opportunity to dig deep into the reservoirs of our very being, to rise to levels of confidence, strength, and resolve that otherwise we didn't think we possessed. Through adversity, we come face to face with who we really are and what really counts. — Jon Huntsman Jr.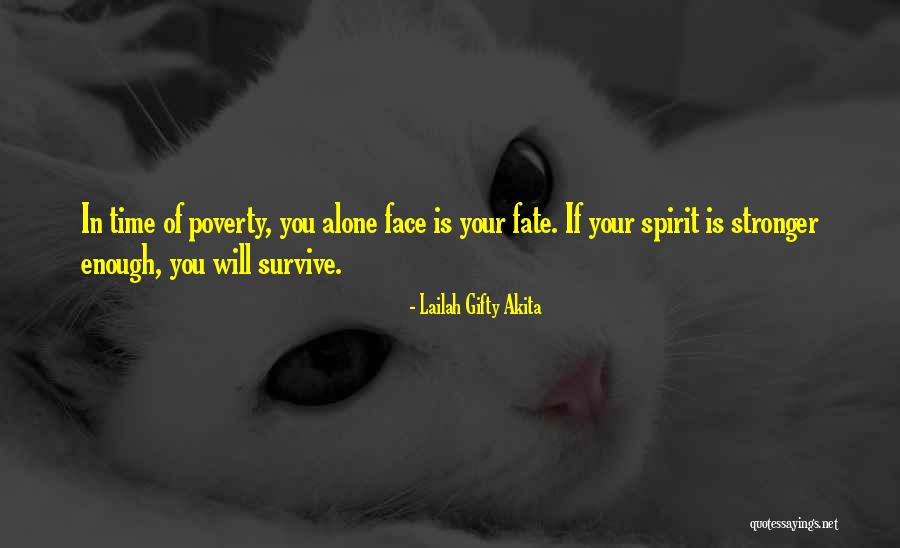 In time of poverty, you alone face is your fate. If your spirit is stronger enough, you will survive. — Lailah Gifty Akita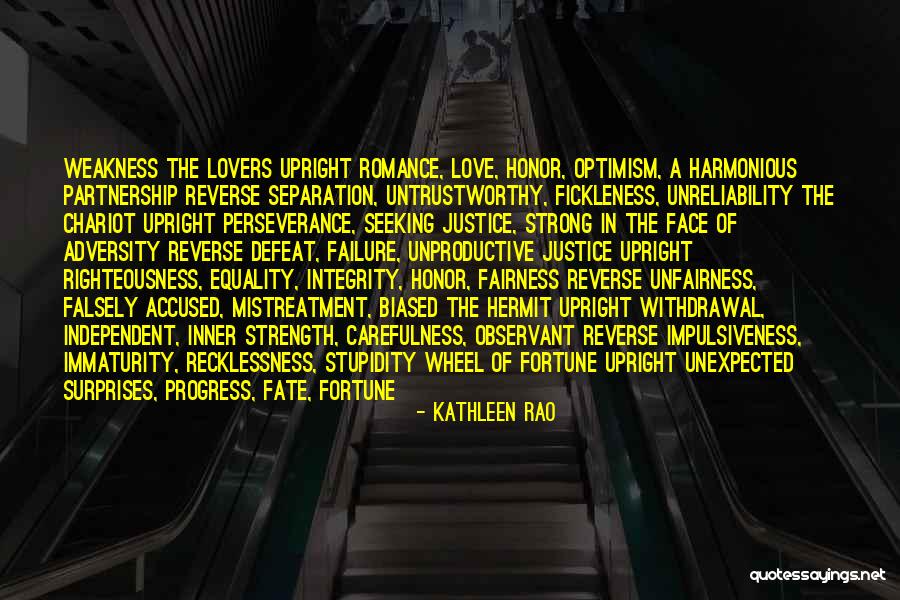 Weakness The Lovers Upright Romance, Love, Honor, Optimism, a Harmonious Partnership Reverse Separation, Untrustworthy, Fickleness, Unreliability The Chariot Upright Perseverance, Seeking Justice, Strong in the face of Adversity Reverse Defeat, Failure, Unproductive Justice Upright Righteousness, Equality, Integrity, Honor, Fairness Reverse Unfairness, Falsely Accused, Mistreatment, Biased The Hermit Upright Withdrawal, Independent, Inner Strength, Carefulness, Observant Reverse Impulsiveness, Immaturity, Recklessness, Stupidity Wheel of Fortune Upright Unexpected Surprises, Progress, Fate, Fortune — Kathleen Rao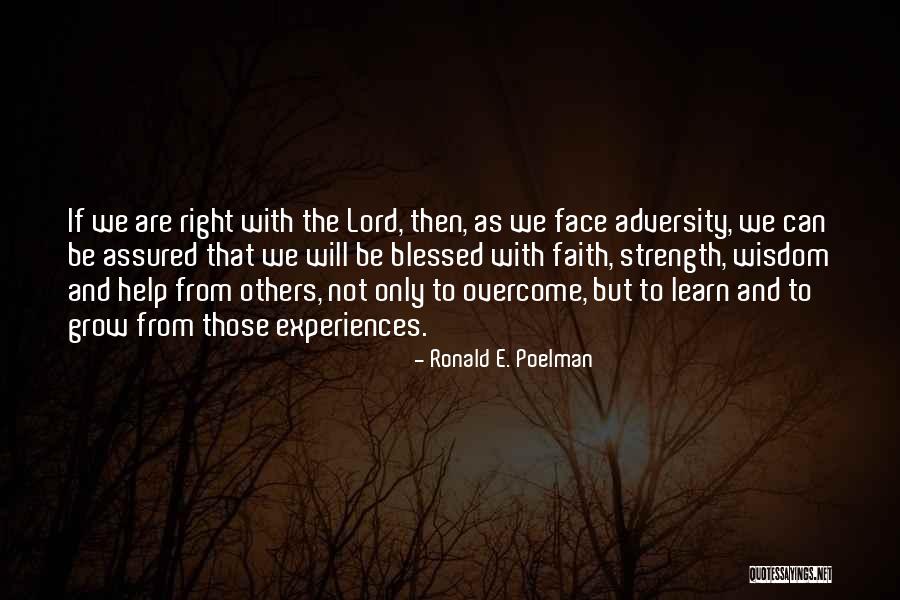 If we are right with the Lord, then, as we face adversity, we can be assured that we will be blessed with faith, strength, wisdom and help from others, not only to overcome, but to learn and to grow from those experiences. — Ronald E. Poelman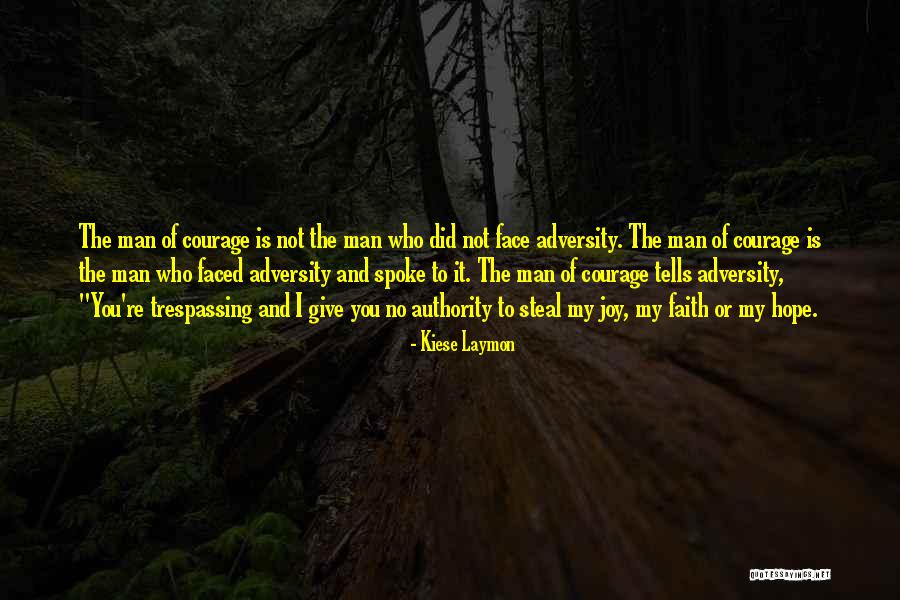 The man of courage is not the man who did not face adversity. The man of courage is the man who faced adversity and spoke to it. The man of courage tells adversity, "You're trespassing and I give you no authority to steal my joy, my faith or my hope. — Kiese Laymon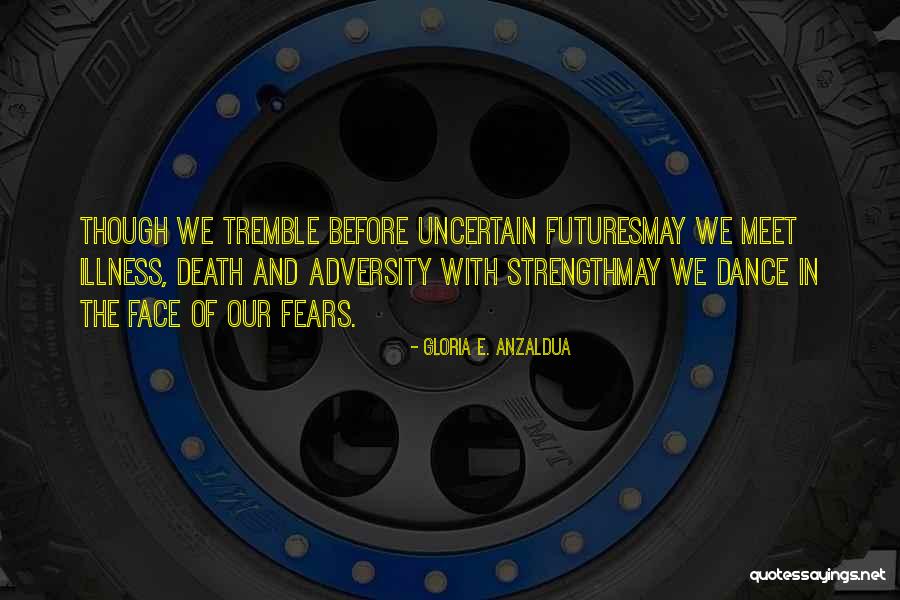 Though we tremble before uncertain futures
may we meet illness, death and adversity with strength
may we dance in the face of our fears.
— Gloria E. Anzaldua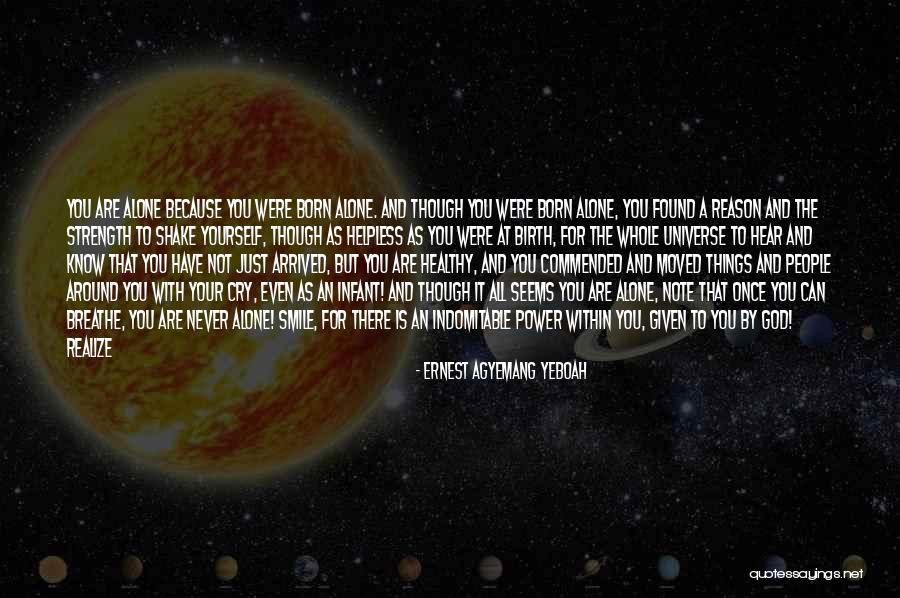 You are alone because you were born alone. And though you were born alone, you found a reason and the strength to shake yourself, though as helpless as you were at birth, for the whole universe to hear and know that you have not just arrived, but you are healthy, and you commended and moved things and people around you with your cry, even as an infant! And though it all seems you are alone, note that once you can breathe, you are never alone! Smile, for there is an indomitable power within you, given to you by God! Realize your God, realize your power! Awake and realize your true strength and the strong power within you! Face life and do not just challenge the challenges in life but conquer them with all boldness and fortitude. Step by step, complete the steps! It is always not all that easy, but, be strong and beat life no matter what! — Ernest Agyemang Yeboah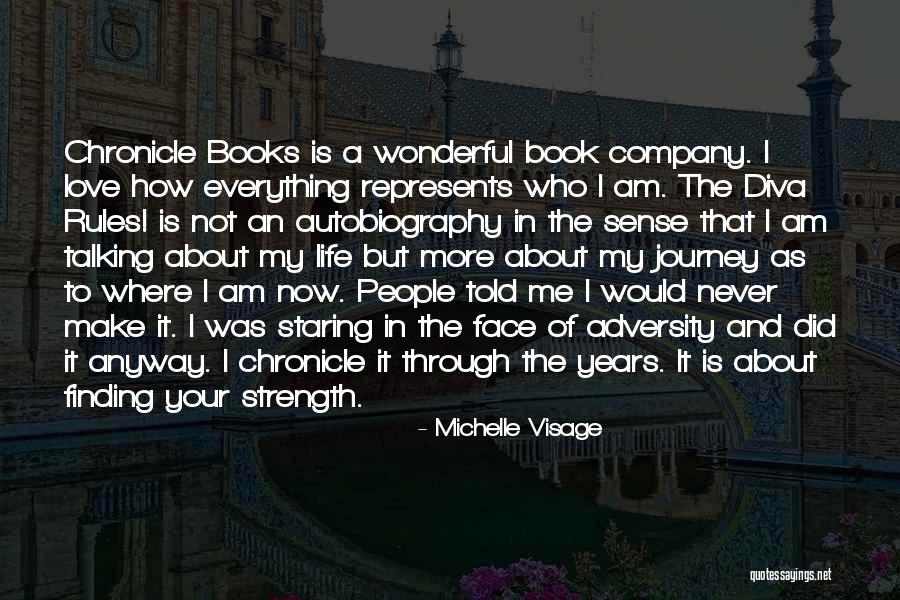 Chronicle Books is a wonderful book company. I love how everything represents who I am. The Diva Rules! is not an autobiography in the sense that I am talking about my life but more about my journey as to where I am now. People told me I would never make it. I was staring in the face of adversity and did it anyway. I chronicle it through the years. It is about finding your strength. — Michelle Visage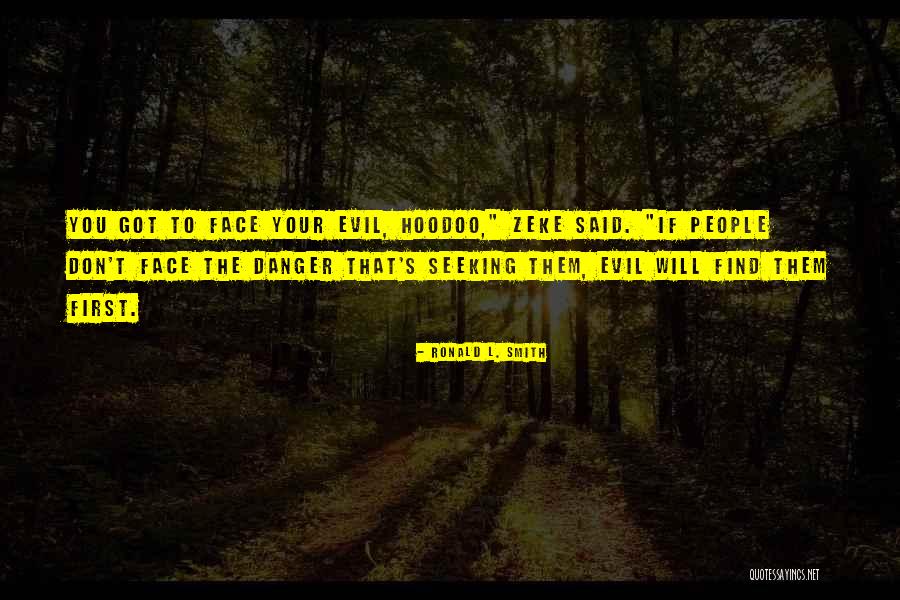 You got to face your evil, Hoodoo," Zeke said. "If people don't face the danger that's seeking them, evil will find them first. — Ronald L. Smith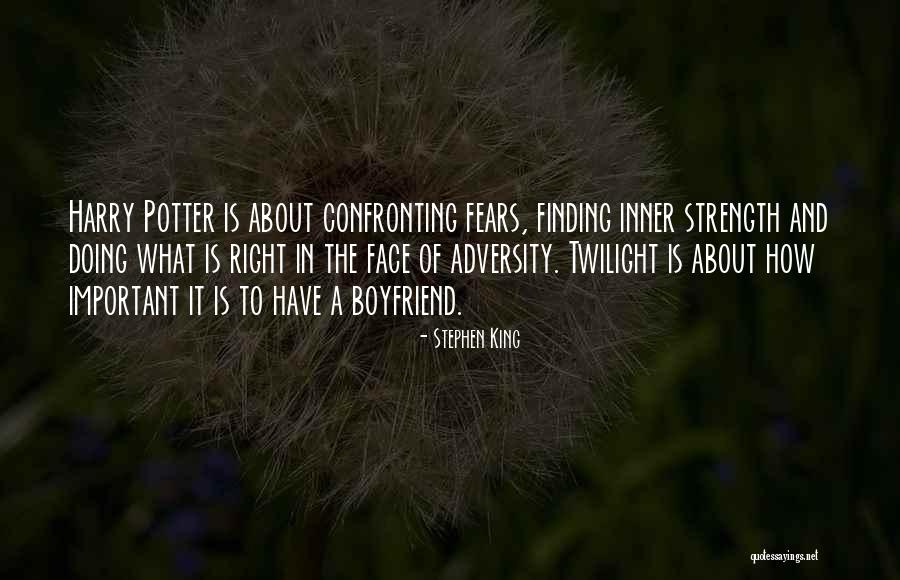 Harry Potter is about confronting fears, finding inner strength and doing what is right in the face of adversity. Twilight is about how important it is to have a boyfriend. — Stephen King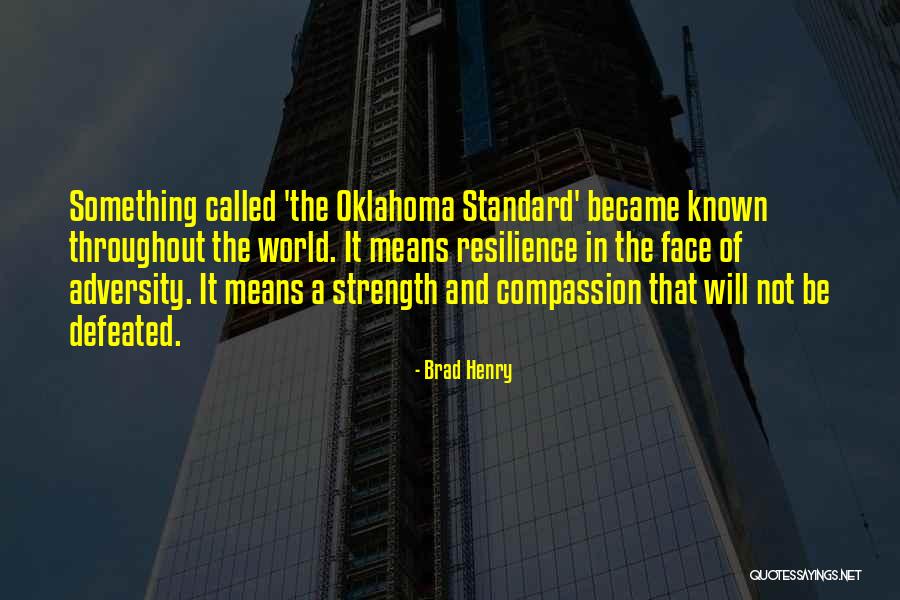 Something called 'the Oklahoma Standard' became known throughout the world. It means resilience in the face of adversity. It means a strength and compassion that will not be defeated. — Brad Henry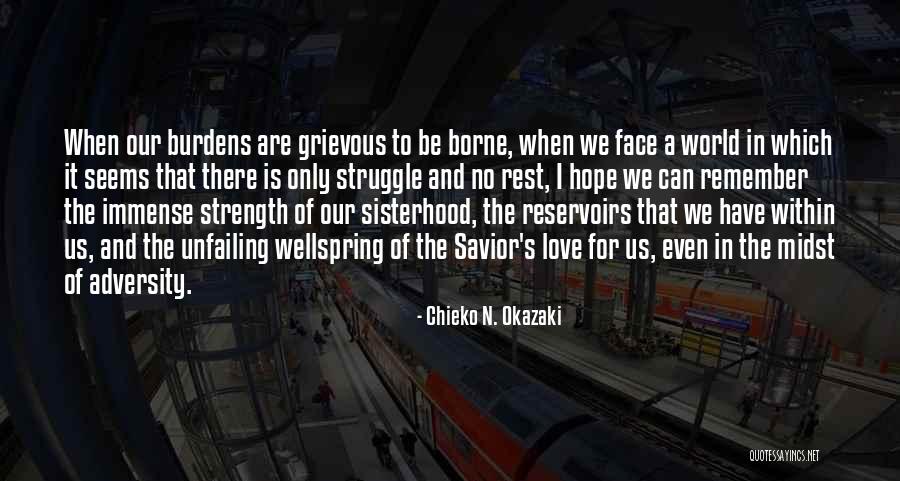 When our burdens are grievous to be borne, when we face a world in which it seems that there is only struggle and no rest, I hope we can remember the immense strength of our sisterhood, the reservoirs that we have within us, and the unfailing wellspring of the Savior's love for us, even in the midst of adversity. — Chieko N. Okazaki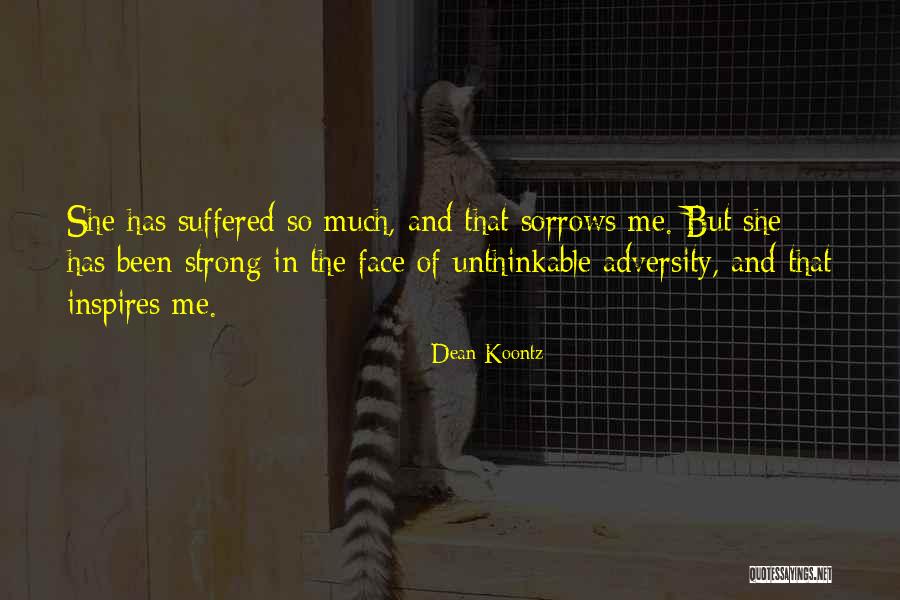 She has suffered so much, and that sorrows me. But she has been strong in the face of unthinkable adversity, and that inspires me. — Dean Koontz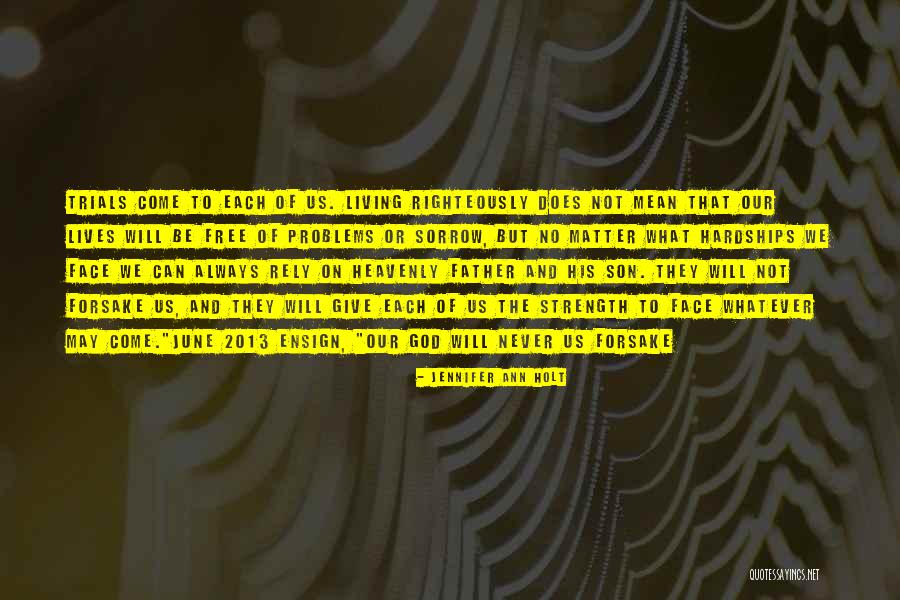 Trials come to each of us. Living righteously does not mean that our lives will be free of problems or sorrow, but no matter what hardships we face we can always rely on Heavenly Father and His son. They will not forsake us, and They will give each of us the strength to face whatever may come."
June 2013 Ensign, "Our God Will Never Us Forsake — Jennifer Ann Holt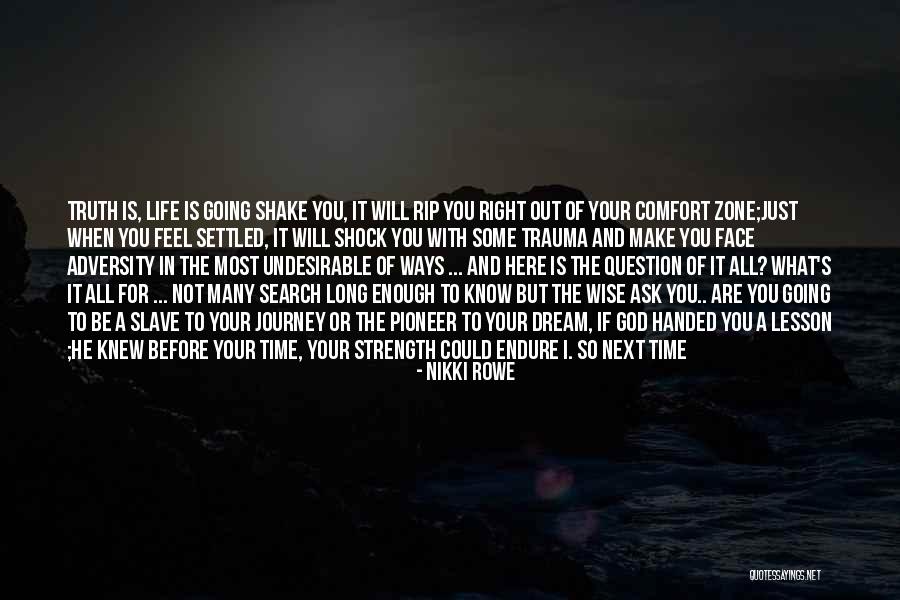 Truth is, life is going shake you, it will rip you right out of your comfort zone;just when you feel settled, it will shock you with some trauma and make you face adversity in the most undesirable of ways ... And here is the question of it all? What's it all for ... Not many search long enough to know but the wise ask you.. Are you going to be a slave to your journey or the pioneer to your dream, if God handed you a lesson ;he knew before your time, your strength could endure i. so next time you doubt another thought or feed your heart with negative emotions think about it ... You are here, alive, breathing and if that's not enough than you should think about what is. — Nikki Rowe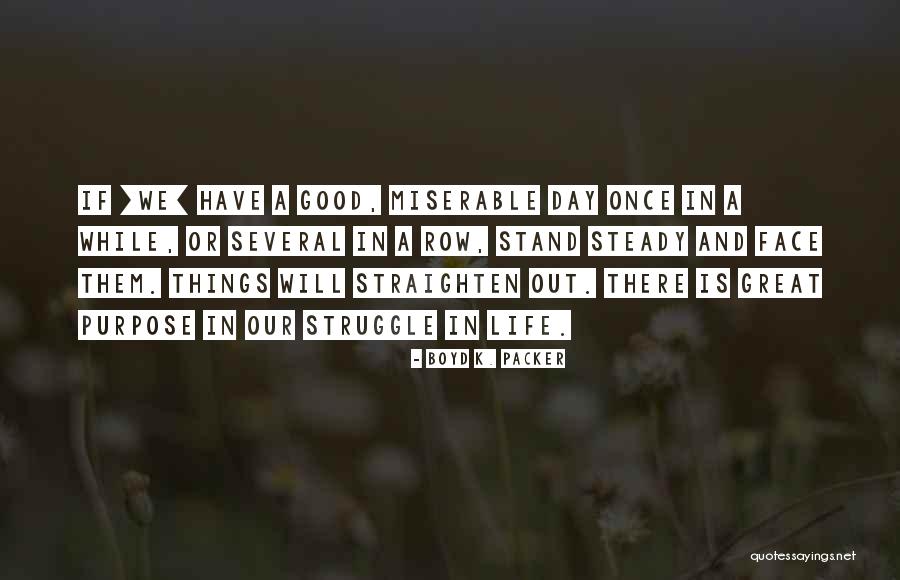 If [we] have a good, miserable day once in a while, or several in a row, stand steady and face them. Things will straighten out. There is great purpose in our struggle in life. — Boyd K. Packer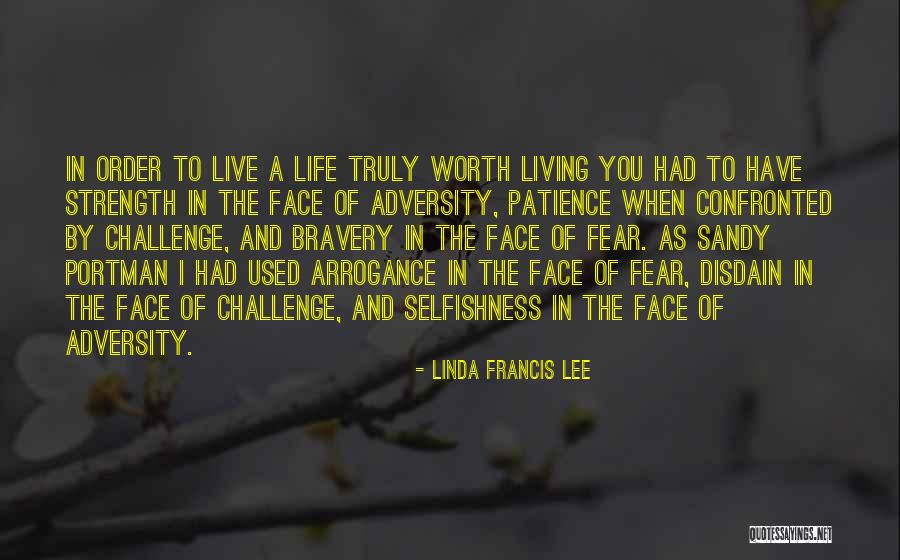 In order to live a life truly worth living you had to have strength in the face of adversity, patience when confronted by challenge, and bravery in the face of fear. As Sandy Portman I had used arrogance in the face of fear, disdain in the face of challenge, and selfishness in the face of adversity. — Linda Francis Lee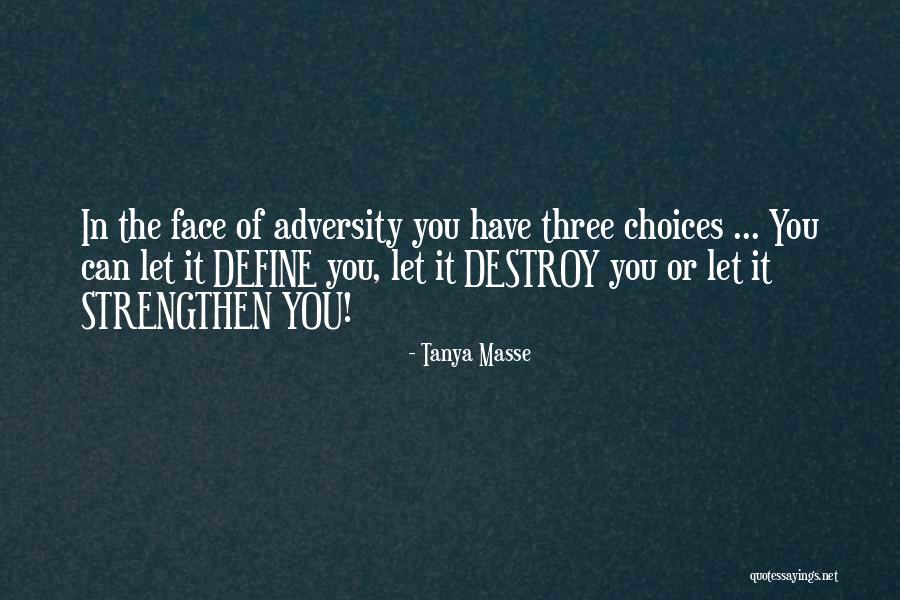 In the face of adversity you have three choices ... You can let it DEFINE you, let it DESTROY you or let it STRENGTHEN YOU! — Tanya Masse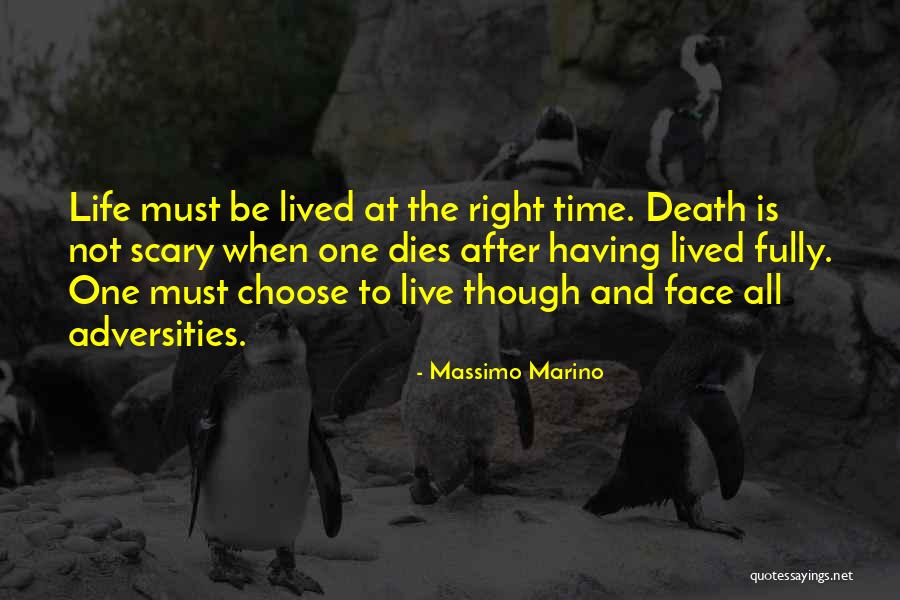 Life must be lived at the right time. Death is not scary when one dies after having lived fully. One must choose to live though and face all adversities. — Massimo Marino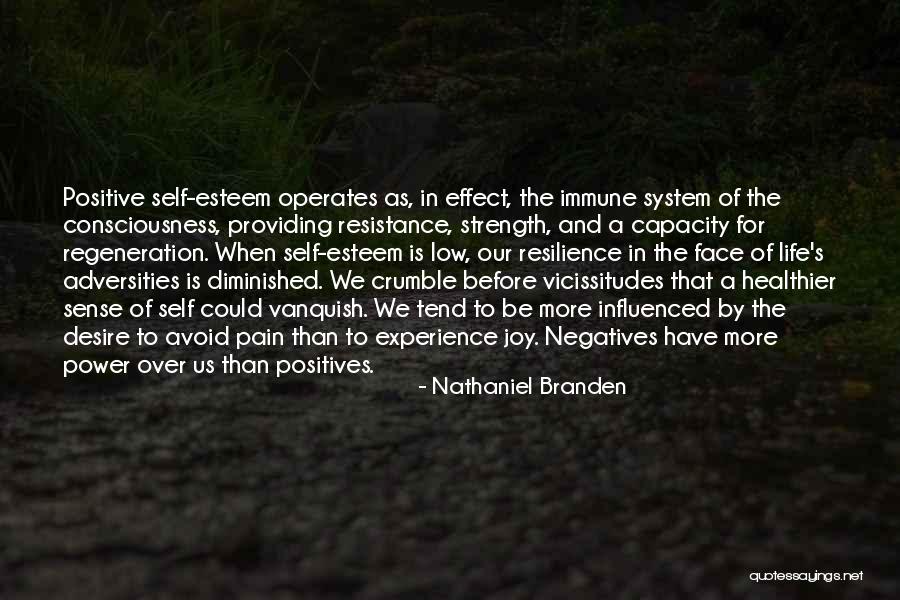 Positive self-esteem operates as, in effect, the immune system of the consciousness, providing resistance, strength, and a capacity for regeneration. When self-esteem is low, our resilience in the face of life's adversities is diminished. We crumble before vicissitudes that a healthier sense of self could vanquish. We tend to be more influenced by the desire to avoid pain than to experience joy. Negatives have more power over us than positives. — Nathaniel Branden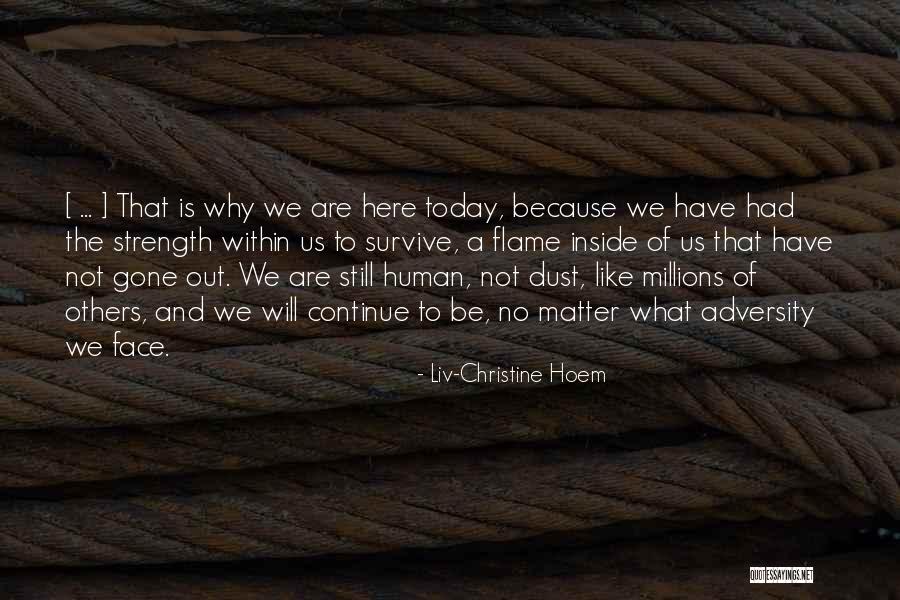 [ ... ] That is why we are here today, because we have had the strength within us to survive, a flame inside of us that have not gone out. We are still human, not dust, like millions of others, and we will continue to be, no matter what adversity we face. — Liv-Christine Hoem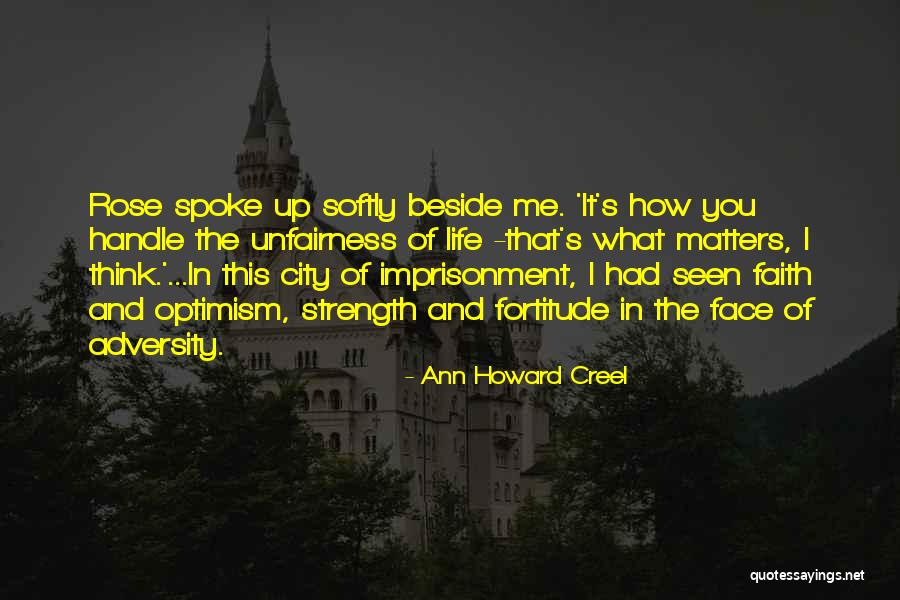 Rose spoke up softly beside me. 'It's how you handle the unfairness of life -that's what matters, I think.'...In this city of imprisonment, I had seen faith and optimism, strength and fortitude in the face of adversity. — Ann Howard Creel