Quotes & Sayings About Slave Punishment
Enjoy reading and share 12 famous quotes about Slave Punishment with everyone.
Top Slave Punishment Quotes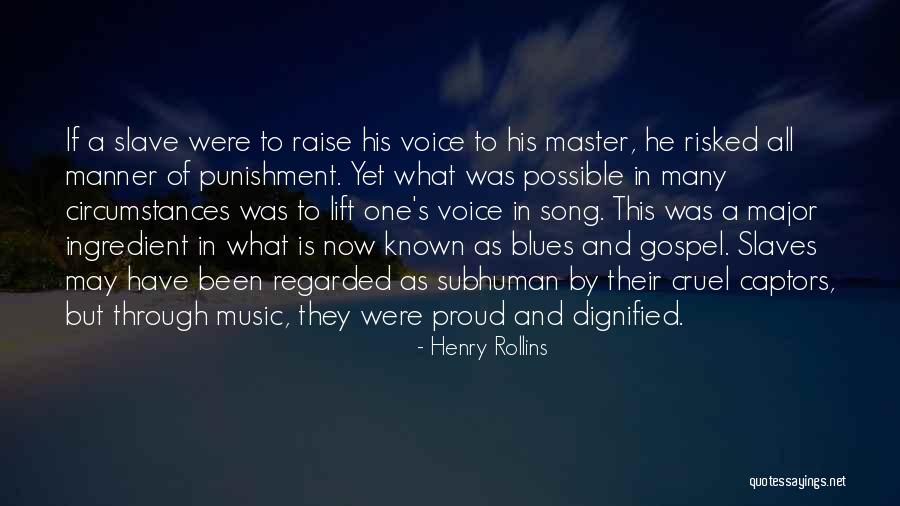 If a slave were to raise his voice to his master, he risked all manner of punishment. Yet what was possible in many circumstances was to lift one's voice in song. This was a major ingredient in what is now known as blues and gospel. Slaves may have been regarded as subhuman by their cruel captors, but through music, they were proud and dignified. — Henry Rollins
The blacks of this region are a cheerful, careless, dirty, race, not hard worked, and in many respects indulgently treated. It is of course the desire of the master that his slaves shall be laborious; on the other hand it is the determination of the slave to lead as easy a life as he can. The master has the power of punishment on his side; the slave, on his, has invincible inclination, and a thousand expedients learned by long practice ... Good natured though imperfect and slovenly obedience on one side, is purchased by good treatment on the other. — William C. Bryant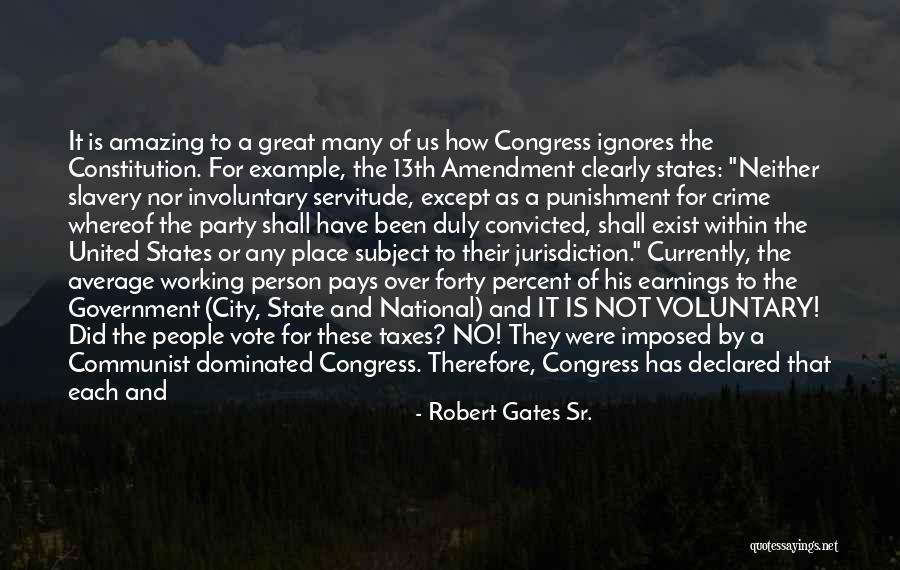 It is amazing to a great many of us how Congress ignores the Constitution. For example, the 13th Amendment clearly states: "Neither slavery nor involuntary servitude, except as a punishment for crime whereof the party shall have been duly convicted, shall exist within the United States or any place subject to their jurisdiction." Currently, the average working person pays over forty percent of his earnings to the Government (City, State and National) and IT IS NOT VOLUNTARY! Did the people vote for these taxes? NO! They were imposed by a Communist dominated Congress. Therefore, Congress has declared that each and every wage earner is a SLAVE of the Government and the Government has a right to steal their money. WHY? — Robert Gates Sr.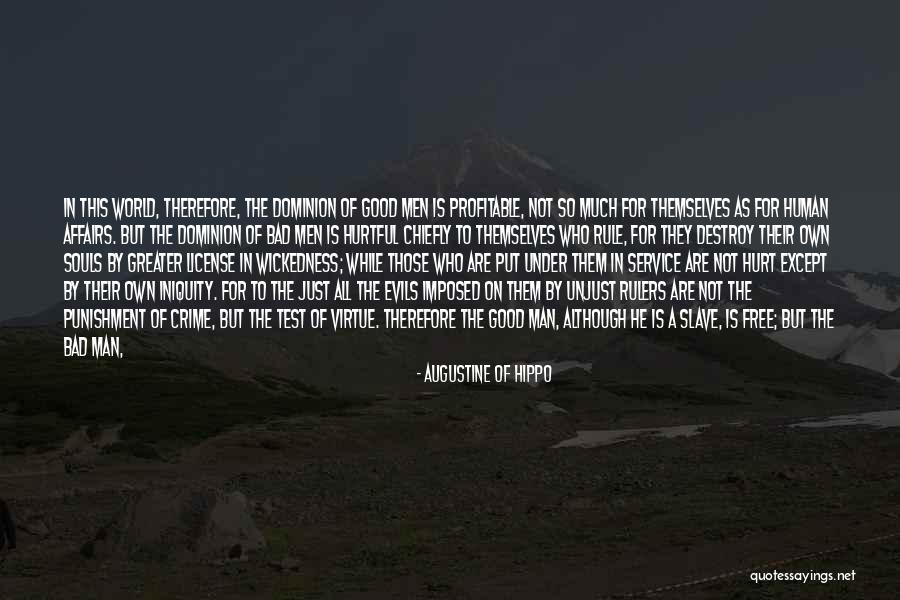 In this world, therefore, the dominion of good men is profitable, not so much for themselves as for human affairs. But the dominion of bad men is hurtful chiefly to themselves who rule, for they destroy their own souls by greater license in wickedness; while those who are put under them in service are not hurt except by their own iniquity. For to the just all the evils imposed on them by unjust rulers are not the punishment of crime, but the test of virtue. Therefore the good man, although he is a slave, is free; but the bad man, even if he reigns, is a slave, and that not of one man, but, what is far more grievous, of as many masters as he has vices; of which vices when the divine Scripture treats, it says, For of whom any man is overcome, to the same he is also the bond-slave. — Augustine Of Hippo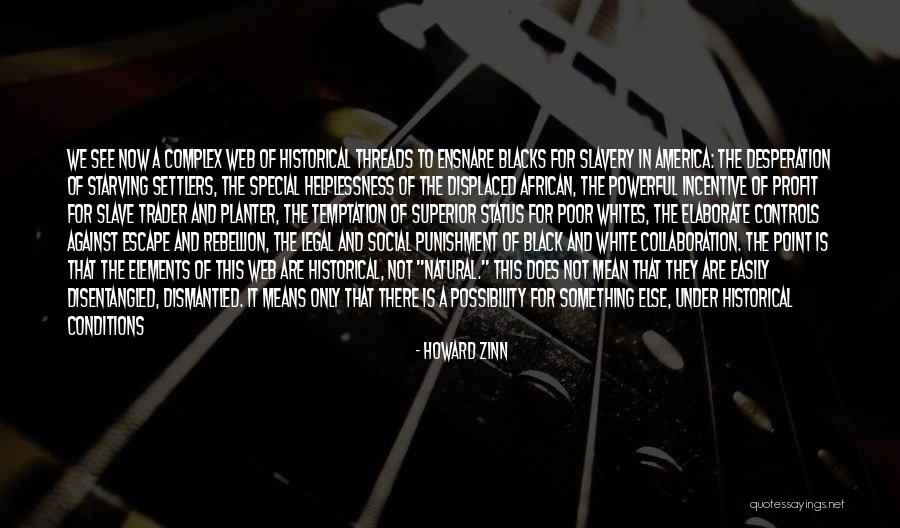 We see now a complex web of historical threads to ensnare blacks for slavery in America: the desperation of starving settlers, the special helplessness of the displaced African, the powerful incentive of profit for slave trader and planter, the temptation of superior status for poor whites, the elaborate controls against escape and rebellion, the legal and social punishment of black and white collaboration. The point is that the elements of this web are historical, not "natural." This does not mean that they are easily disentangled, dismantled. It means only that there is a possibility for something else, under historical conditions not yet realized. And one of these conditions would be the elimination of that class exploitation which has made poor whites desperate for small gifts of status, and has prevented that unity of black and white necessary for joint rebellion and reconstruction. — Howard Zinn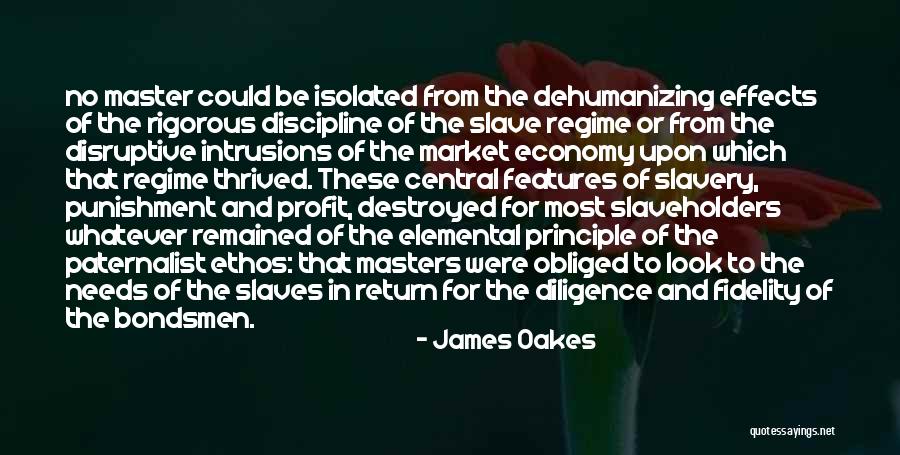 no master could be isolated from the dehumanizing effects of the rigorous discipline of the slave regime or from the disruptive intrusions of the market economy upon which that regime thrived. These central features of slavery, punishment and profit, destroyed for most slaveholders whatever remained of the elemental principle of the paternalist ethos: that masters were obliged to look to the needs of the slaves in return for the diligence and fidelity of the bondsmen. — James Oakes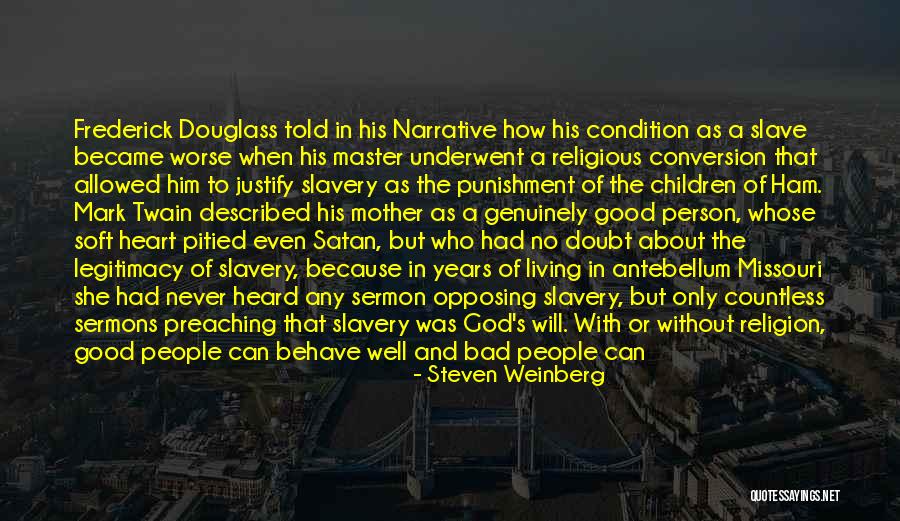 Frederick Douglass told in his Narrative how his condition as a slave became worse when his master underwent a religious conversion that allowed him to justify slavery as the punishment of the children of Ham. Mark Twain described his mother as a genuinely good person, whose soft heart pitied even Satan, but who had no doubt about the legitimacy of slavery, because in years of living in antebellum Missouri she had never heard any sermon opposing slavery, but only countless sermons preaching that slavery was God's will. With or without religion, good people can behave well and bad people can do evil; but for good people to do evil - that takes religion. — Steven Weinberg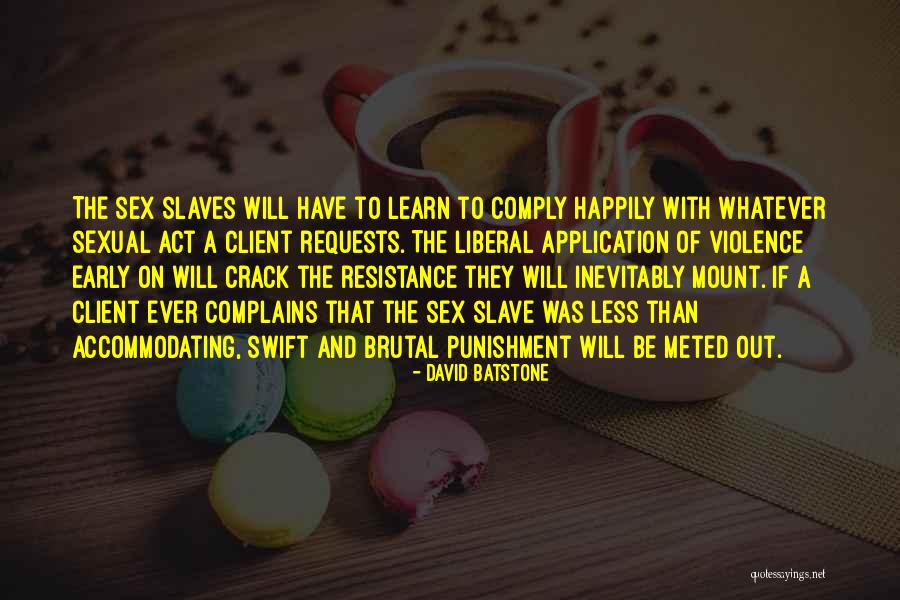 The sex slaves will have to learn to comply happily with whatever sexual act a client requests. The liberal application of violence early on will crack the resistance they will inevitably mount. If a client ever complains that the sex slave was less than accommodating, swift and brutal punishment will be meted out. — David Batstone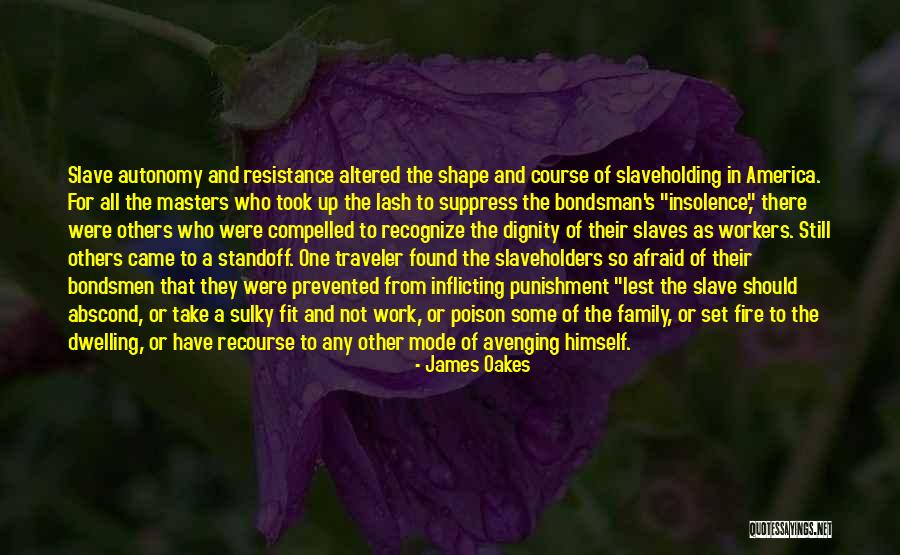 Slave autonomy and resistance altered the shape and course of slaveholding in America. For all the masters who took up the lash to suppress the bondsman's "insolence," there were others who were compelled to recognize the dignity of their slaves as workers. Still others came to a standoff. One traveler found the slaveholders so afraid of their bondsmen that they were prevented from inflicting punishment "lest the slave should abscond, or take a sulky fit and not work, or poison some of the family, or set fire to the dwelling, or have recourse to any other mode of avenging himself. — James Oakes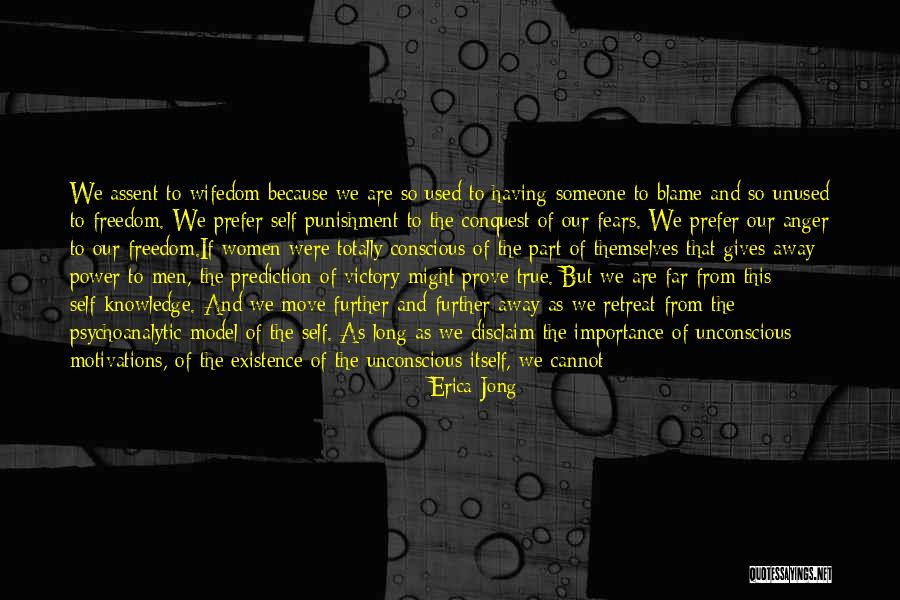 We assent to wifedom because we are so used to having someone to blame and so unused to freedom. We prefer self-punishment to the conquest of our fears. We prefer our anger to our freedom.
If women were totally conscious of the part of themselves that gives away power to men, the prediction of victory might prove true. But we are far from this self-knowledge. And we move further and further away as we retreat from the psychoanalytic model of the self. As long as we disclaim the importance of unconscious motivations, of the existence of the unconscious itself, we cannot root out the slave in ourselves. Freedom is hand to love. Freedom takes away all the excuses. — Erica Jong
Rusche and Kirchheimer relate the different systems of punishment with the systems of production within which they operate: thus, in a slave economy, punitive mechanisms serve to provide an additional labour force
and to constitute a body of 'civil' slaves in addition to those provided by war or trading; with feudalism, at a time when money and production were still at an early stage of development, we find a sudden increase in corporal punishments
the body being in most cases the only property accessible; the penitentiary (the Hopital General, the Spinhuis or the Rasphuis), forced labour and the prison factory appear with the development of the mercantile economy. But the industrial system requires a free market in labour and, in the nineteenth century, the role of forced labour in the mechanisms of punishment diminishes accordingly and 'corrective' detention takes its place. — Michel Foucault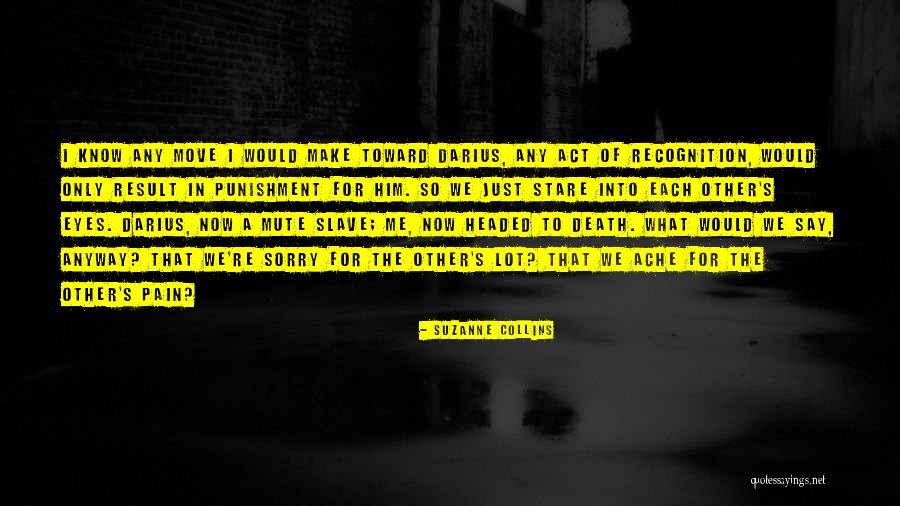 I know any move I would make toward Darius, any act of recognition, would only result in punishment for him. So we just stare into each other's eyes. Darius, now a mute slave; me, now headed to death. What would we say, anyway? That we're sorry for the other's lot? That we ache for the other's pain? — Suzanne Collins