Simple And Motivational Quotes & Sayings
Enjoy reading and share 54 famous quotes about Simple And Motivational with everyone.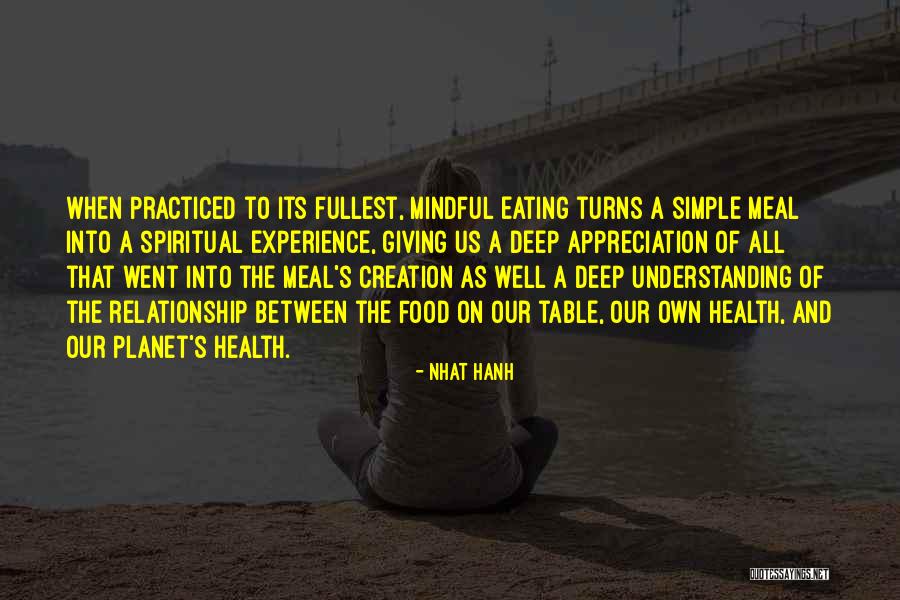 When practiced to its fullest, mindful eating turns a simple meal into a spiritual experience, giving us a deep appreciation of all that went into the meal's creation as well a deep understanding of the relationship between the food on our table, our own health, and our planet's health. — Nhat Hanh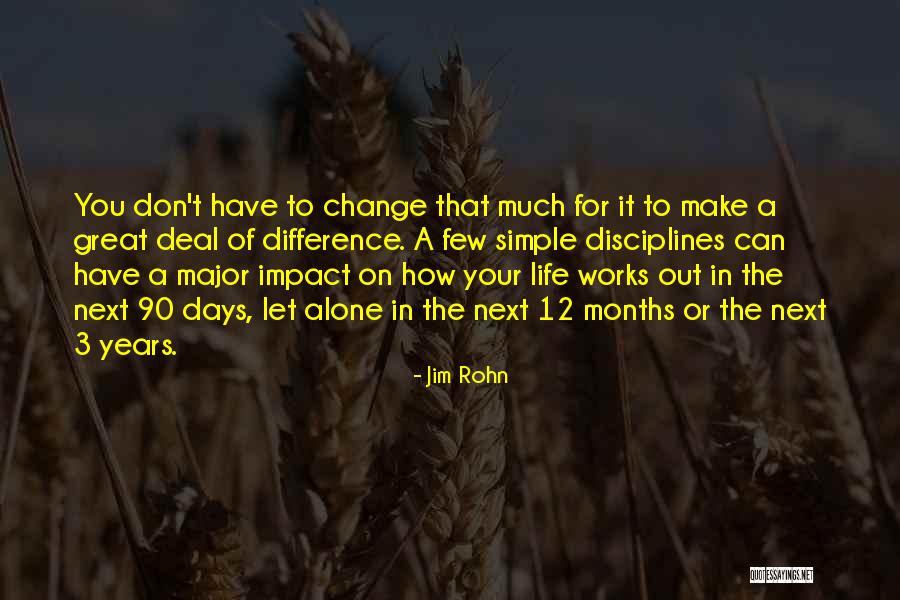 You don't have to change that much for it to make a great deal of difference. A few simple disciplines can have a major impact on how your life works out in the next 90 days, let alone in the next 12 months or the next 3 years. — Jim Rohn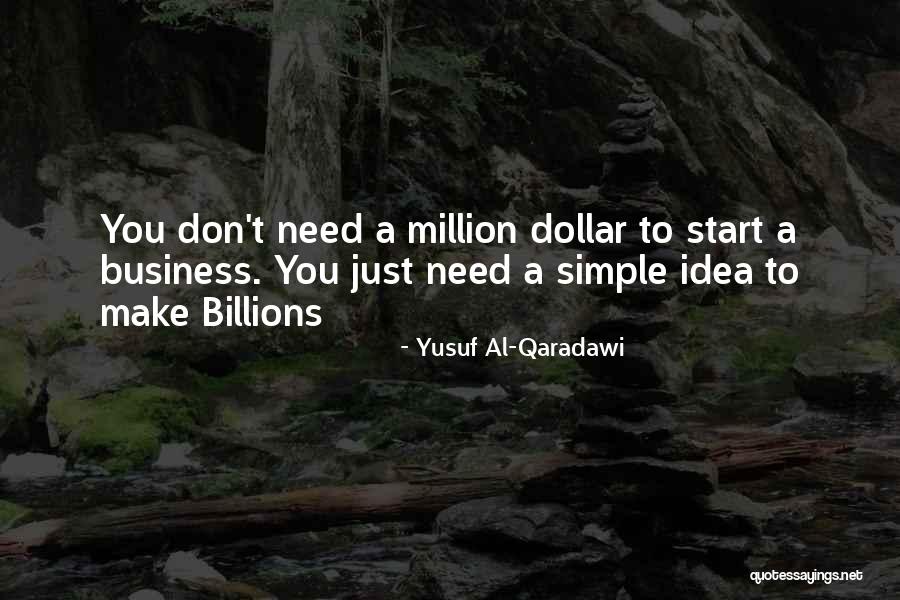 You don't need a million dollar to start a business.
You just need a simple idea to make Billions — Yusuf Al-Qaradawi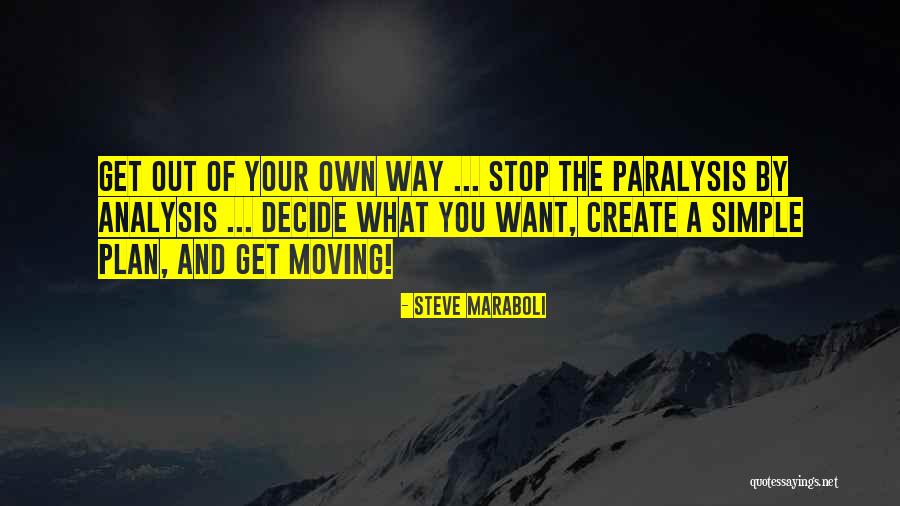 Get out of your own way ... stop the paralysis by analysis ... decide what you want, create a simple plan, and get moving! — Steve Maraboli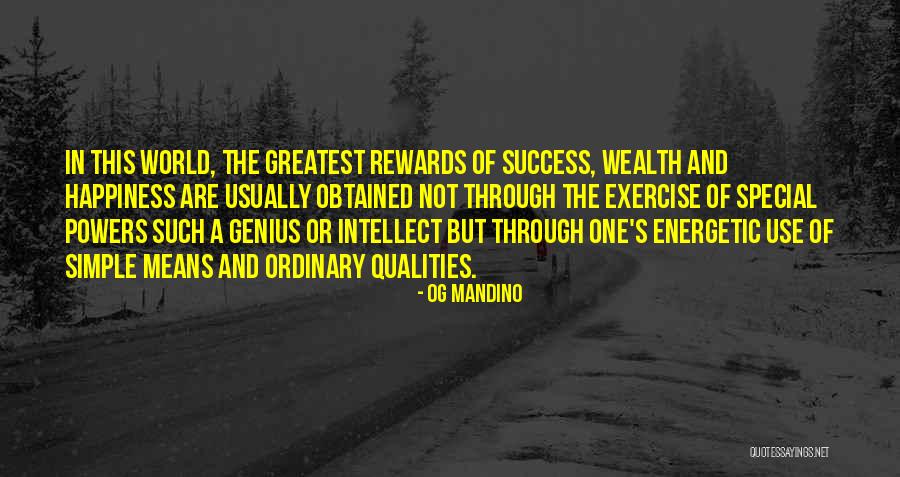 In this world, the greatest rewards of success, wealth and happiness are usually obtained not through the exercise of special powers such a genius or intellect but through one's energetic use of simple means and ordinary qualities. — Og Mandino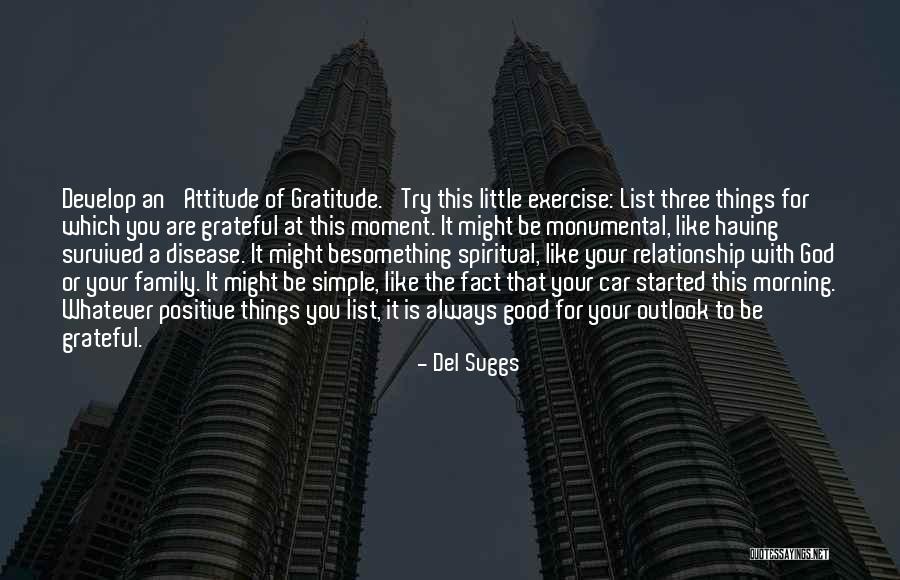 Develop an 'Attitude of Gratitude.' Try this little exercise: List three things for which you are grateful at this moment. It might be monumental, like having survived a disease. It might be
something spiritual, like your relationship with God or your family. It might be simple, like the fact that your car started this morning. Whatever positive things you list, it is always good for your outlook to be grateful. — Del Suggs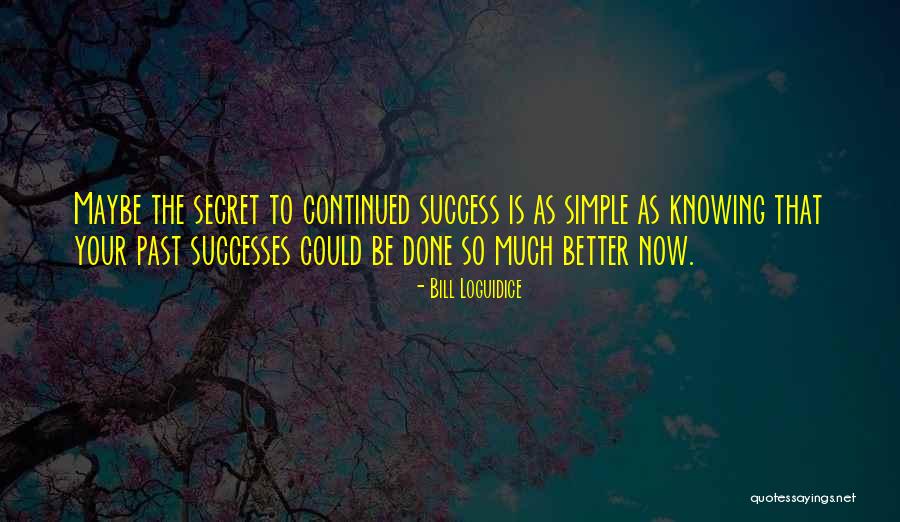 Maybe the secret to continued success is as simple as knowing that your past successes could be done so much better now. — Bill Loguidice
The entire universe has been harmoniously created and everything in it work in harmony.The sun has its rising and settling time. Seasonal changes have their own time for appearing and departing.Fruit bearing trees have their own time and timing. The child crawls and then walks.We take a step to make a journey. A simple deviation then from the normal is a simple deviation to the abnormal. — Ernest Agyemang Yeboah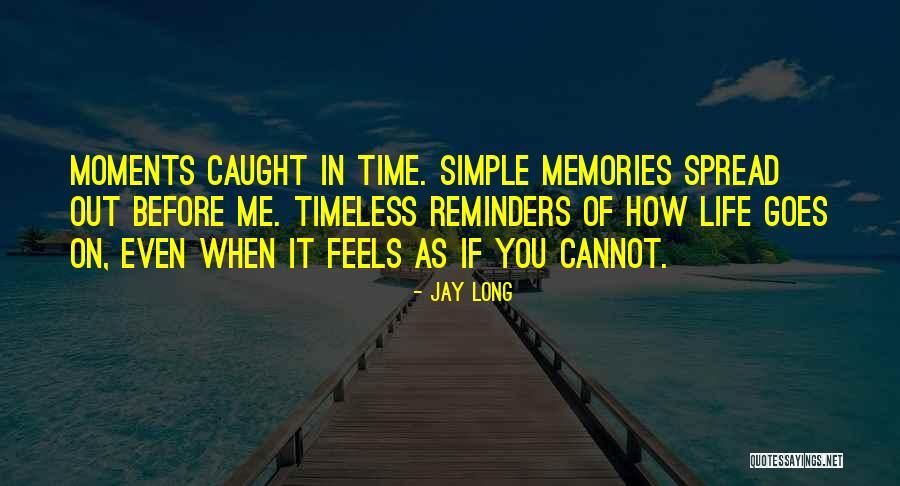 Moments caught in time. Simple memories spread out before me. Timeless reminders of how life goes on, even when it feels as if you cannot. — Jay Long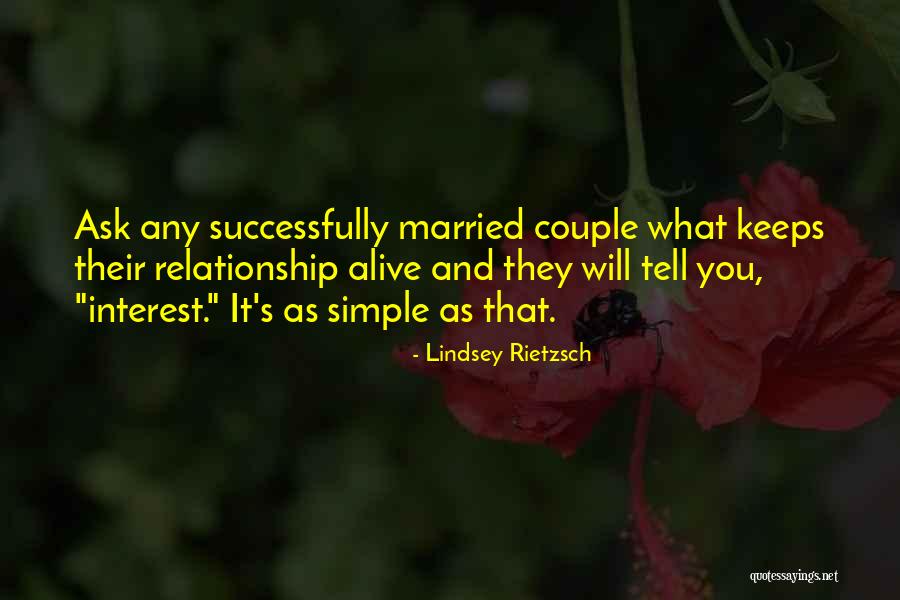 Ask any successfully married couple what keeps their relationship alive and they will tell you, "interest." It's as simple as that. — Lindsey Rietzsch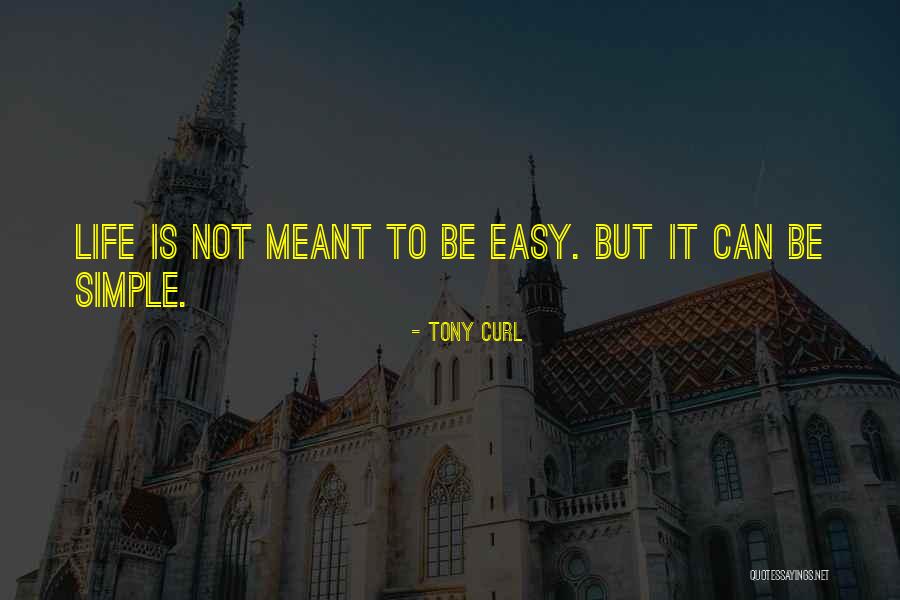 Life is not meant to be easy. But it can be simple. — Tony Curl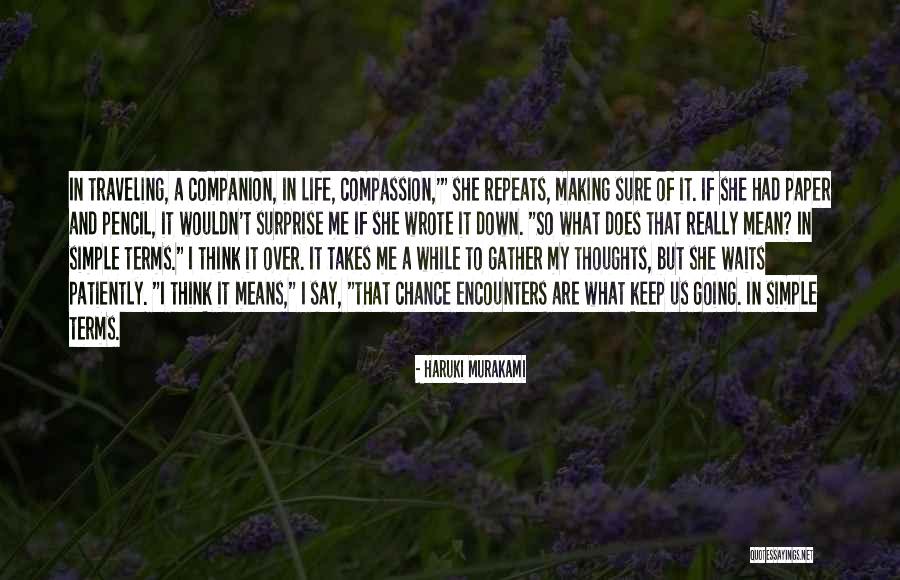 In traveling, a companion, in life, compassion,'" she repeats, making sure of it. If she had paper and pencil, it wouldn't surprise me if she wrote it down. "So what does that really mean? In simple terms."
I think it over. It takes me a while to gather my thoughts, but she waits patiently.
"I think it means," I say, "that chance encounters are what keep us going. In simple terms. — Haruki Murakami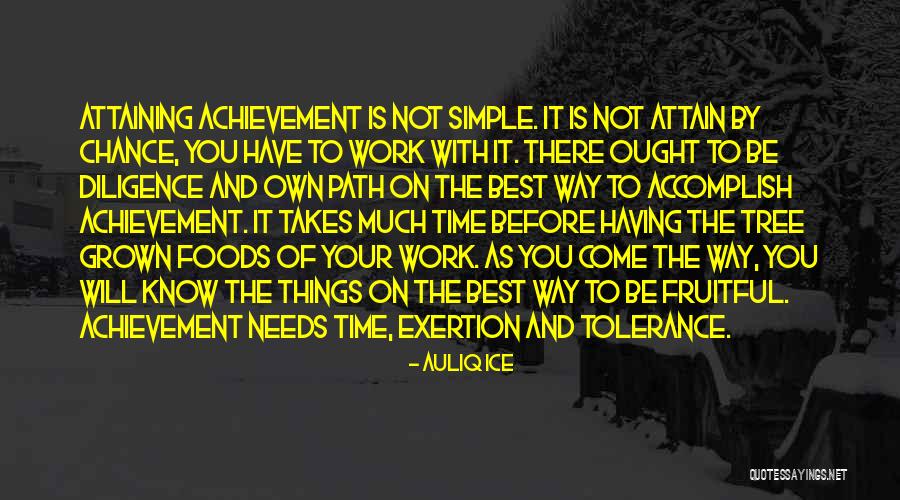 Attaining achievement is not simple. It is not attain by chance, you have to work with it. There ought to be diligence and own path on the best way to accomplish achievement. It takes much time before having the tree grown foods of your work. As you come the way, you will know the things on the best way to be fruitful. Achievement needs time, exertion and tolerance. — Auliq Ice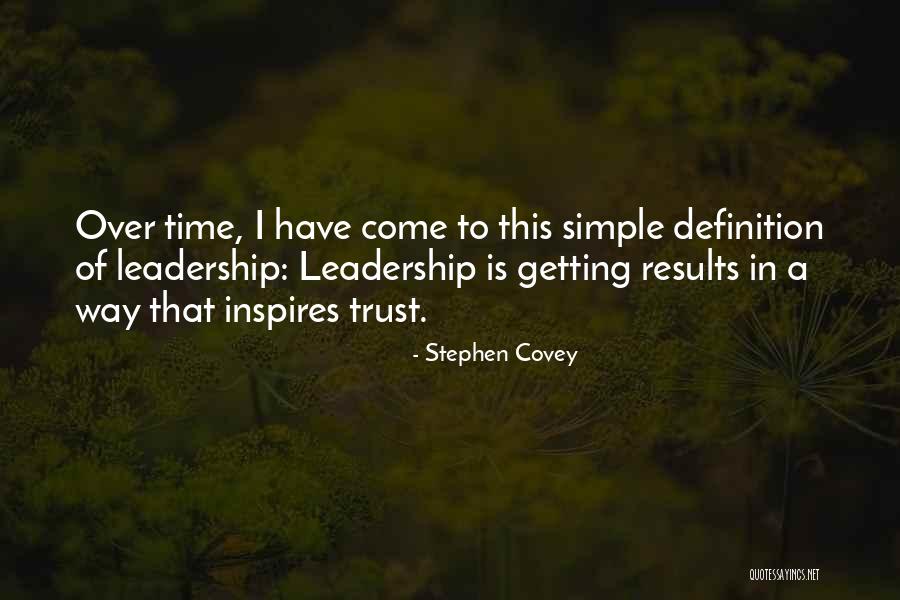 Over time, I have come to this simple definition of leadership: Leadership is getting results in a way that inspires trust. — Stephen Covey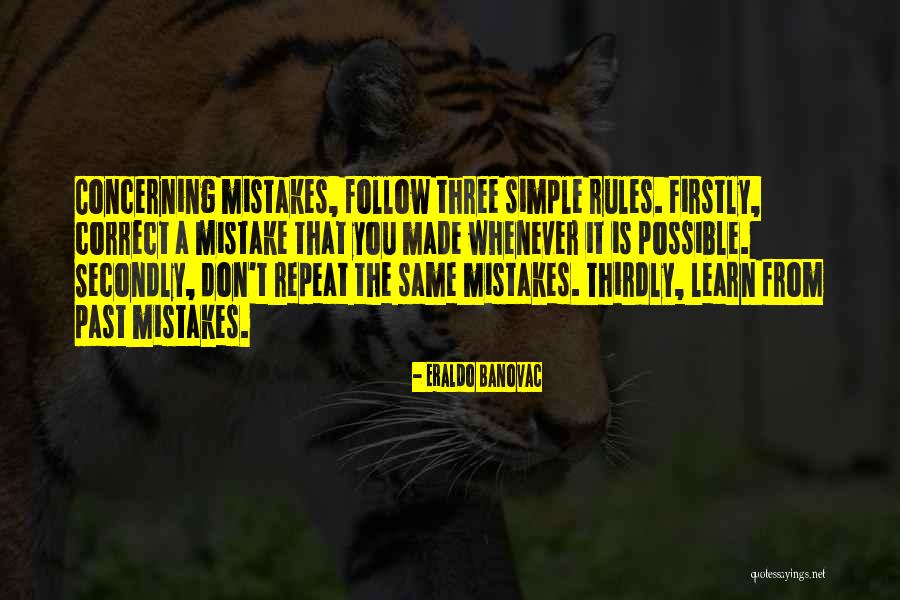 Concerning mistakes, follow three simple rules. Firstly, correct a mistake that you made whenever it is possible. Secondly, don't repeat the same mistakes. Thirdly, learn from past mistakes. — Eraldo Banovac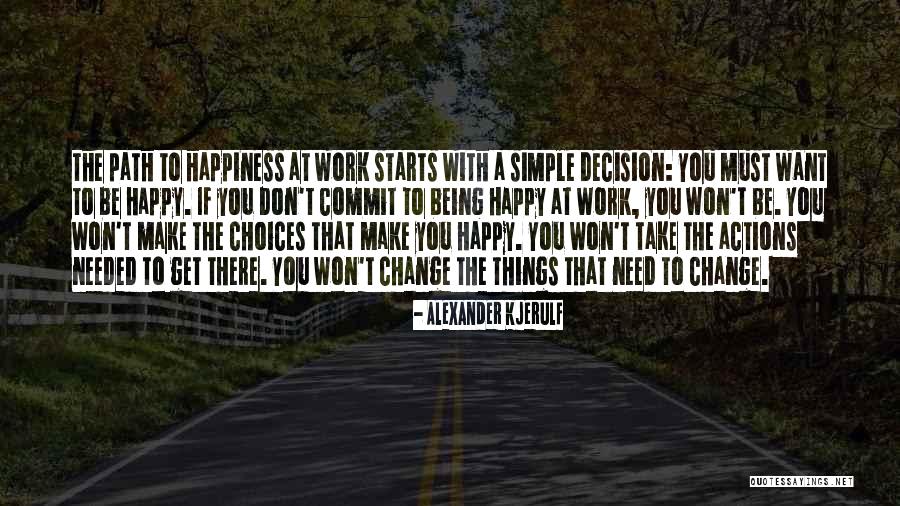 The path to happiness at work starts with a simple decision: You must want to be happy. If you don't commit to being happy at work, you won't be. You won't make the choices that make you happy. You won't take the actions needed to get there. You won't change the things that need to change. — Alexander Kjerulf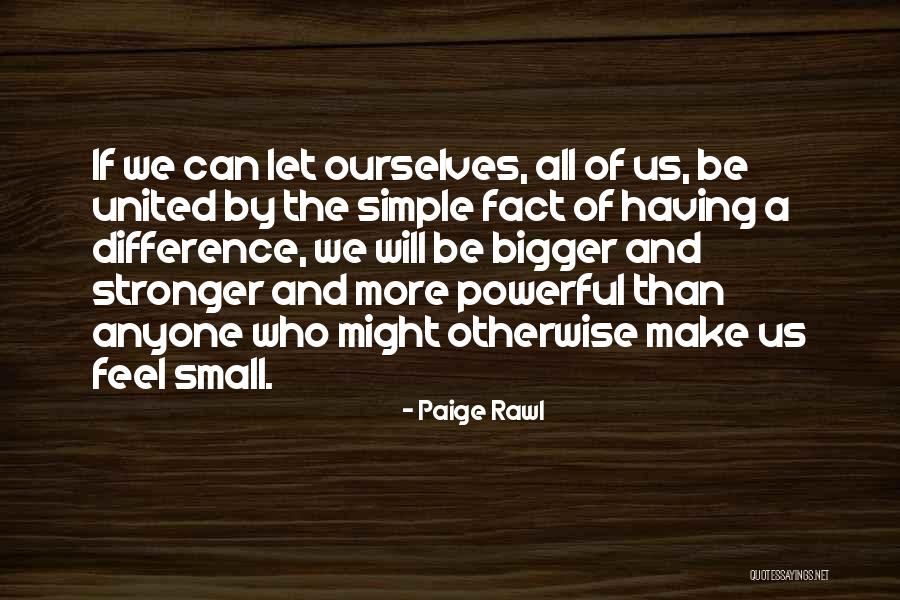 If we can let ourselves, all of us, be united by the simple fact of having a difference, we will be bigger and stronger and more powerful than anyone who might otherwise make us feel small. — Paige Rawl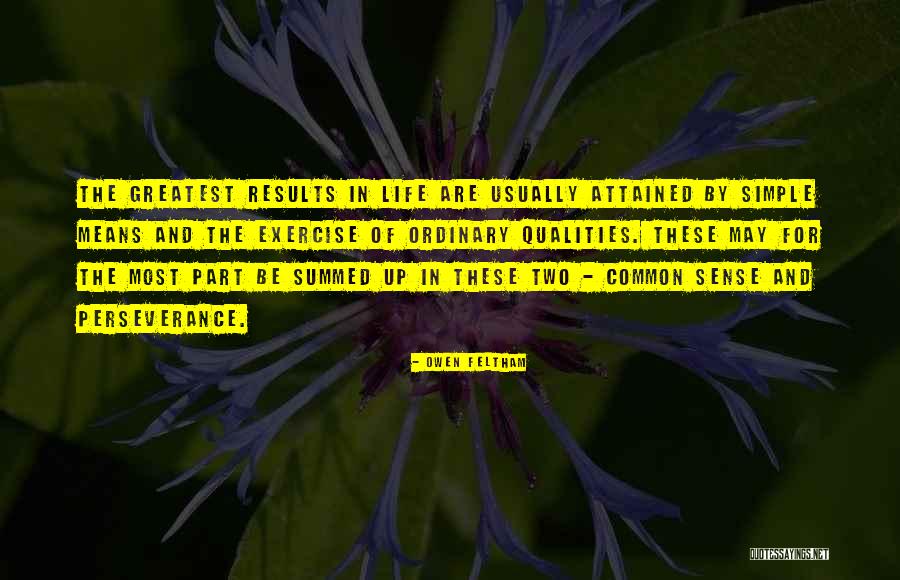 The greatest results in life are usually attained by simple means and the exercise of ordinary qualities. These may for the most part be summed up in these two - common sense and perseverance. — Owen Feltham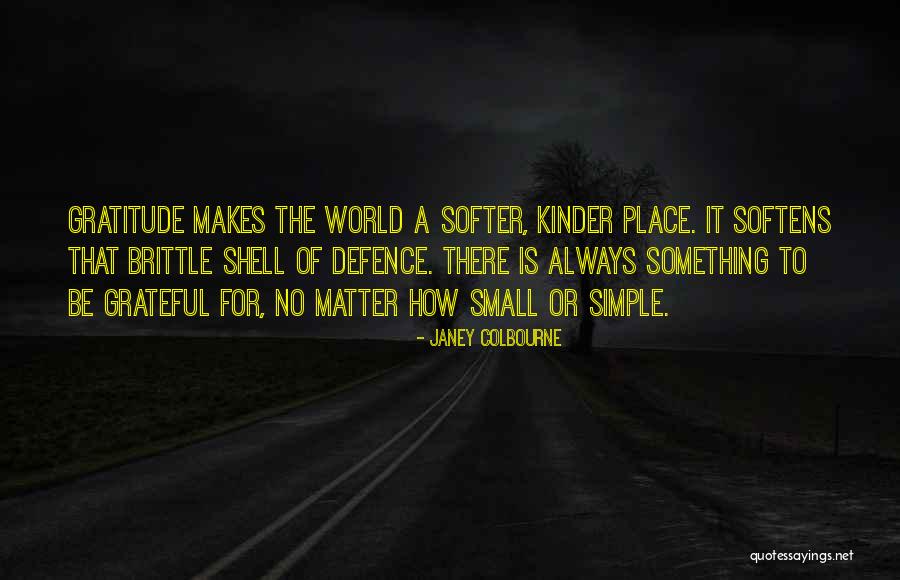 Gratitude makes the world a softer, kinder place. It softens that brittle shell of defence. There is always something to be grateful for, no matter how small or simple. — Janey Colbourne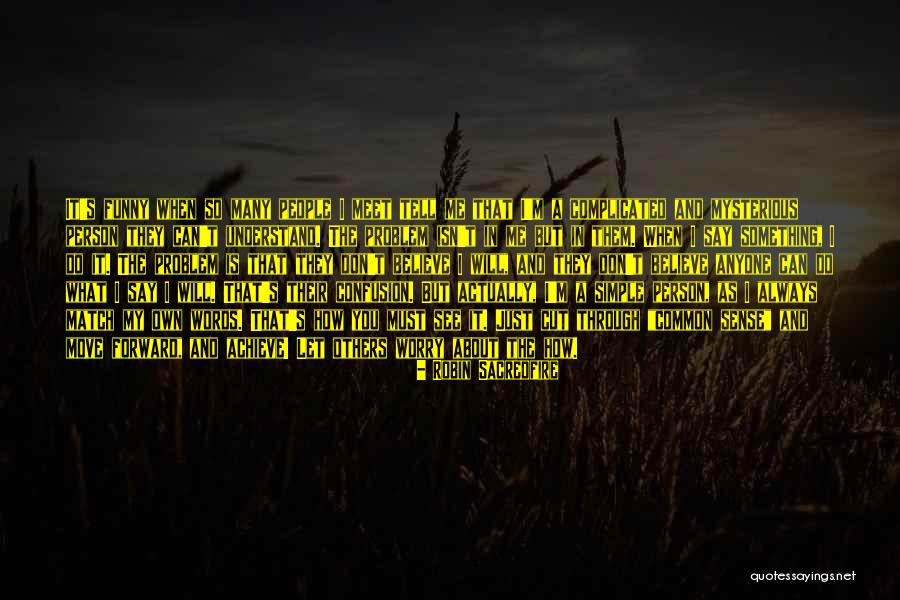 It's funny when so many people I meet tell me that I'm a complicated and mysterious person they can't understand. The problem isn't in me but in them. When I say something, I do it. The problem is that they don't believe I will, and they don't believe anyone can do what I say I will. That's their confusion. But actually, I'm a simple person, as I always match my own words. That's how you must see it. Just cut through "common sense" and move forward, and achieve! Let others worry about the how. — Robin Sacredfire
To make 2013 (or any other)your year, keep it simple:
1) Count your blessings first
2) Whatever you did last year, Do it better
3) Go step by step, One day at a time.
4) Create/make your own opportunities.
5) Believe in your abilities at all times,
6) Qutting is not an option. Keep Going.
7) Finish what you started — Pablo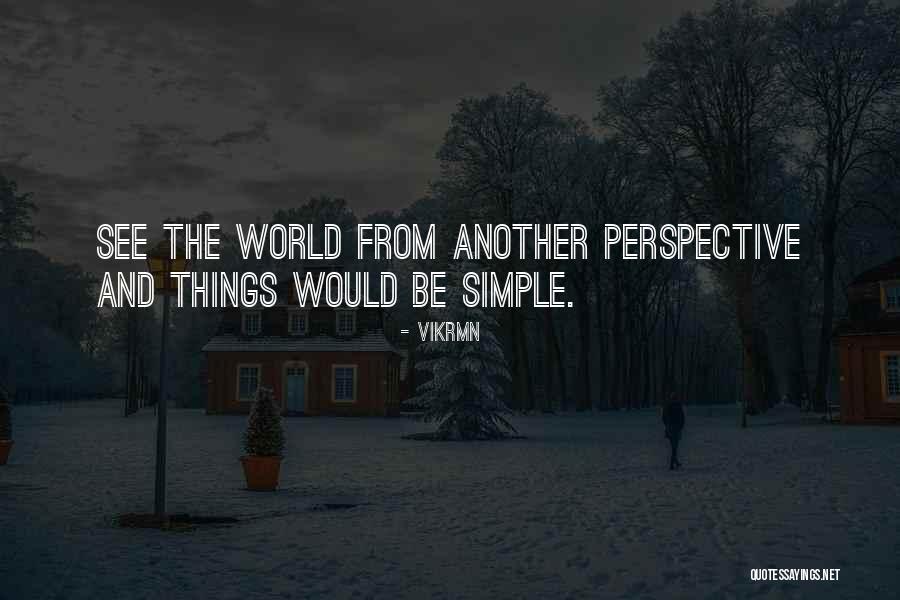 See the world from another perspective and things would be simple. — Vikrmn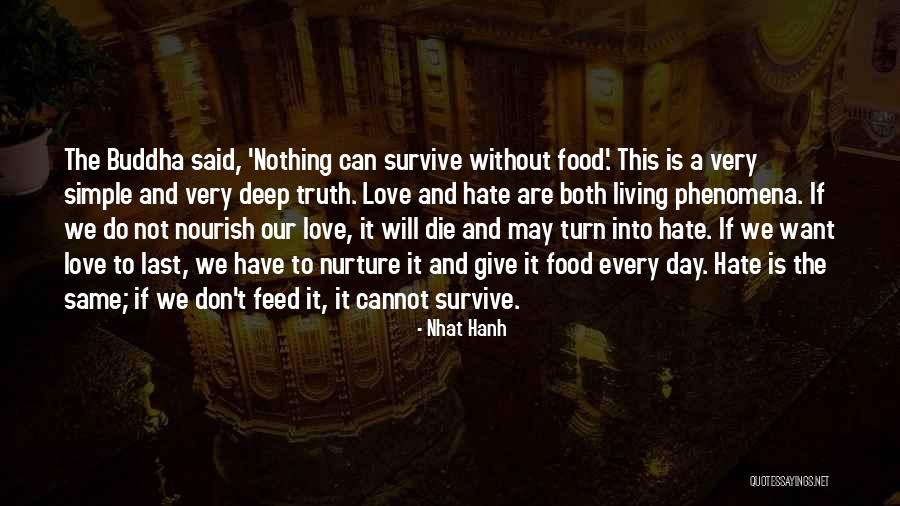 The Buddha said, 'Nothing can survive without food.' This is a very simple and very deep truth. Love and hate are both living phenomena. If we do not nourish our love, it will die and may turn into hate. If we want love to last, we have to nurture it and give it food every day. Hate is the same; if we don't feed it, it cannot survive. — Nhat Hanh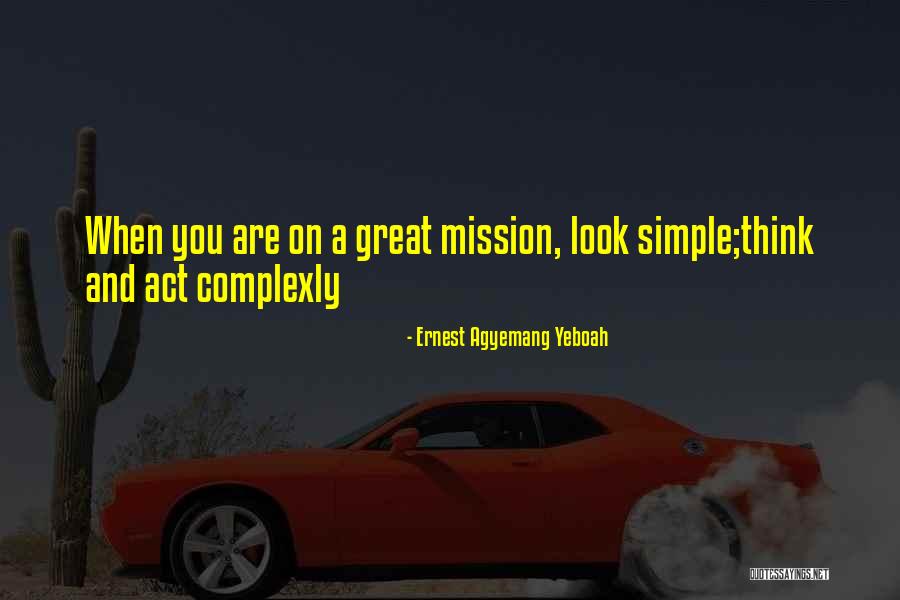 When you are on a great mission, look simple;think and act complexly — Ernest Agyemang Yeboah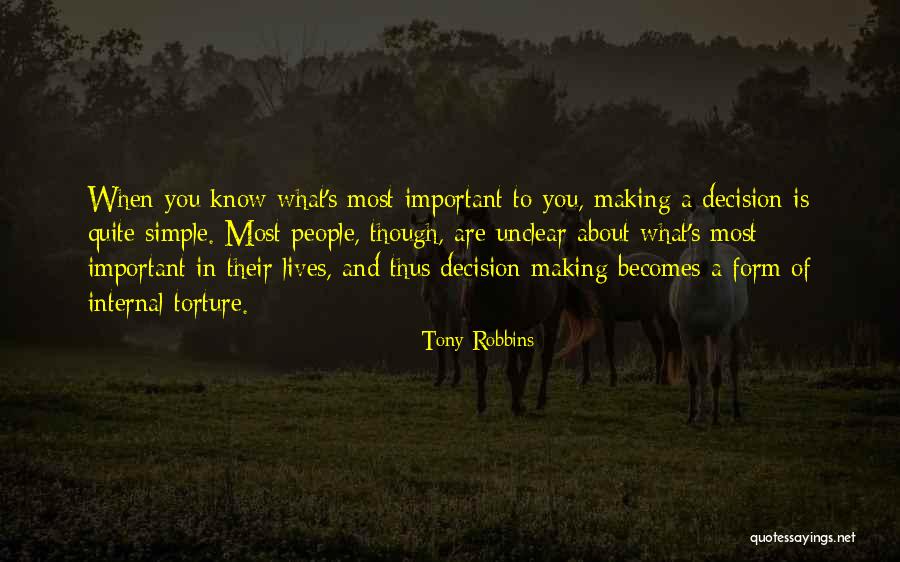 When you know what's most important to you, making a decision is quite simple. Most people, though, are unclear about what's most important in their lives, and thus decision making becomes a form of internal torture. — Tony Robbins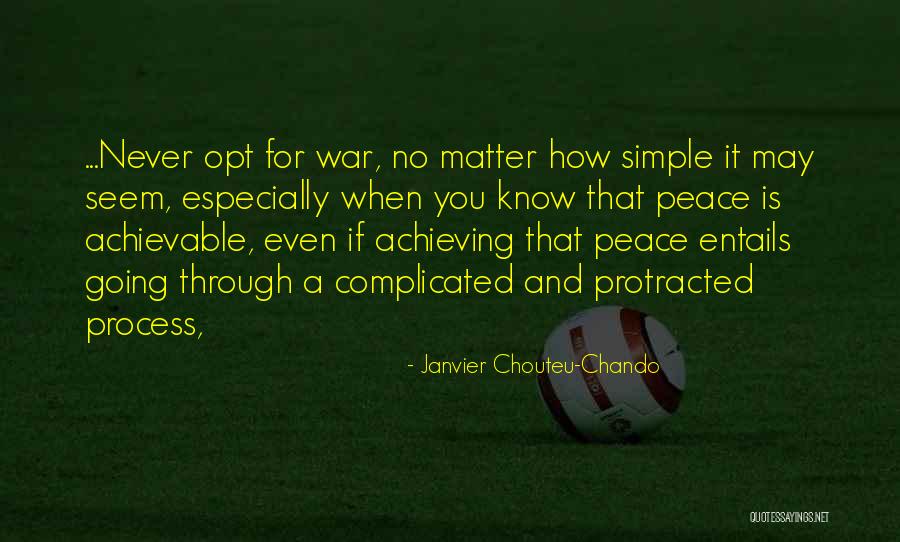 ...Never opt for war, no matter how simple it may seem, especially when you know that peace is achievable, even if achieving that peace entails going through a complicated and protracted process, — Janvier Chouteu-Chando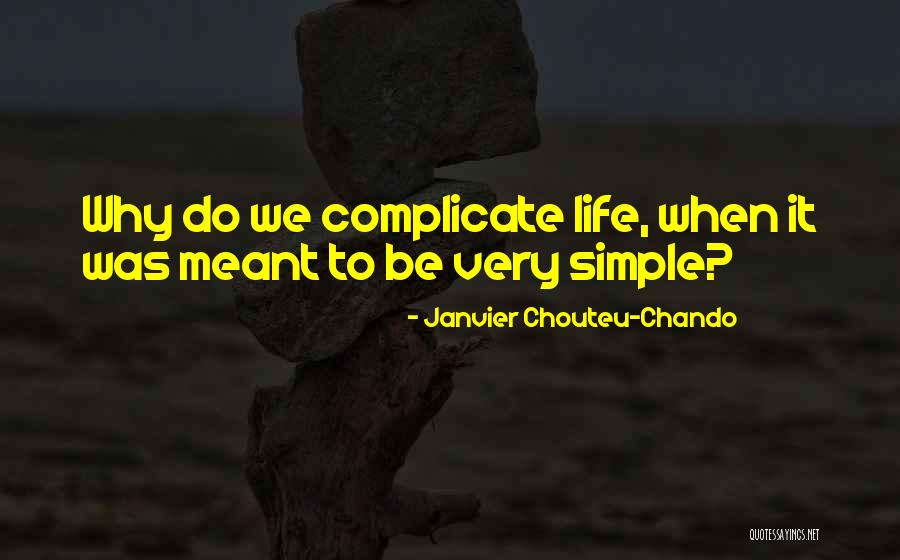 Why do we complicate life, when it was meant to be very simple? — Janvier Chouteu-Chando
Just get to lunch," I muttered to myself.
It was the only way I could control my anxiety. In 1998, I'd made it through Basic Underwater Demolition/SEAL, or BUD/S, by focusing on just making it to the next meal. It didn't matter if I couldn't feel my arms as we hoisted logs over our heads or if the cold surf soaked me to the core. It wasn't going to last forever. There is a saying: "How do you eat an elephant?" The answer is simple: "One bite at a time." Only my bites were separated by meals: Make it to breakfast, train hard until lunch, and focus until dinner. Repeat. — Mark Owen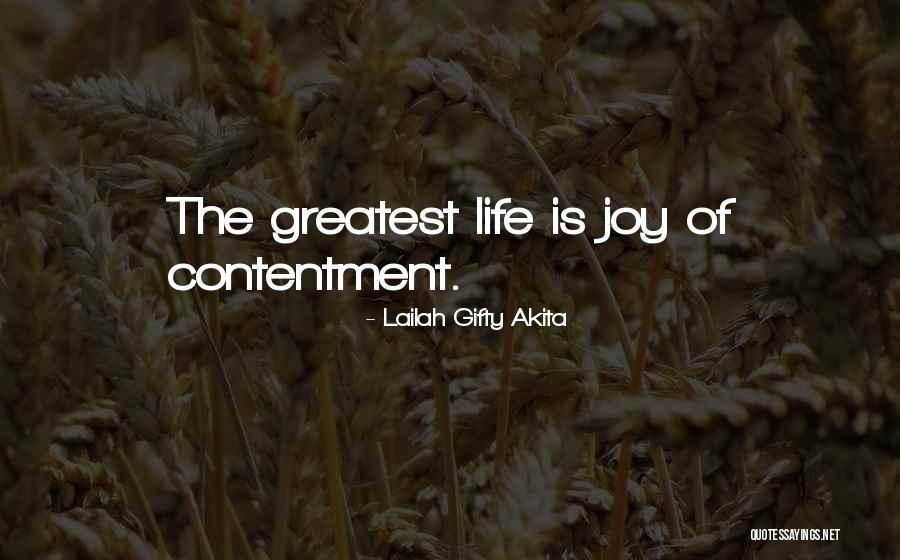 The greatest life is joy of contentment. — Lailah Gifty Akita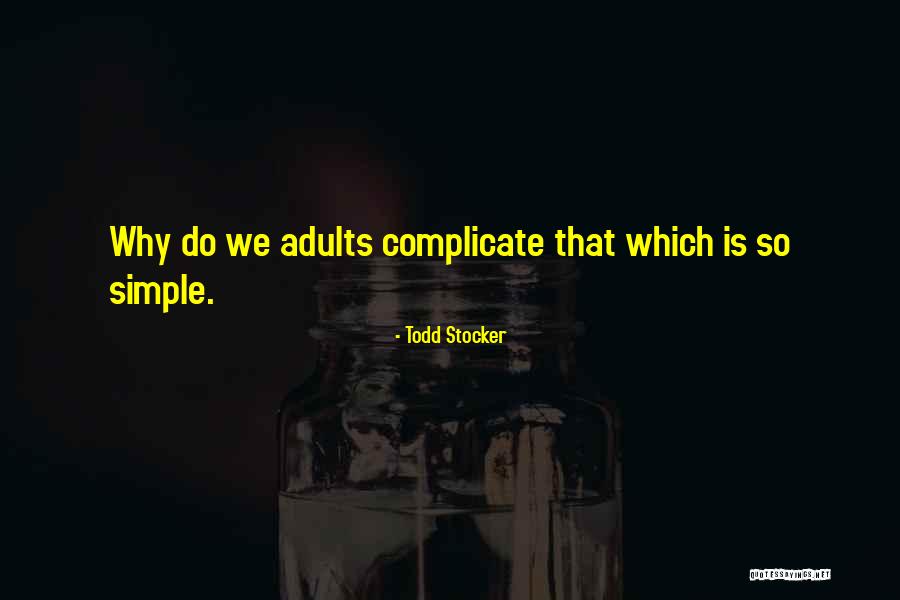 Why do we adults complicate that which is so simple. — Todd Stocker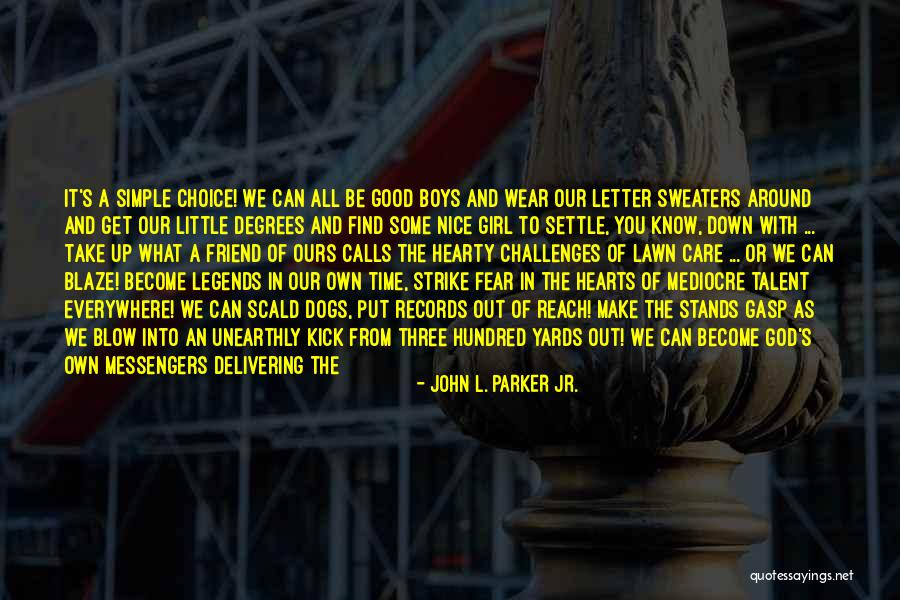 It's a simple choice! We can all be good boys and wear our letter sweaters around and get our little degrees and find some nice girl to settle, you know, down with ... Take up what a friend of ours calls the hearty challenges of lawn care ... Or we can blaze! Become legends in our own time, strike fear in the hearts of mediocre talent everywhere! We can scald dogs, put records out of reach! Make the stands gasp as we blow into an unearthly kick from three hundred yards out! We can become God's own messengers delivering the dreaded scrolls! We can race satan himslef till he wheezes fiery cinders down the back straight away ... They'll speak our names in hushed tones, 'those guys are animals' they'll say! We can lay it on the line, bust a guy, show them a clean pair of heels. We can sprint the turn on a spring breeze and feel the winter leave our feet! We can, by god, let out demons loose and just wail on! — John L. Parker Jr.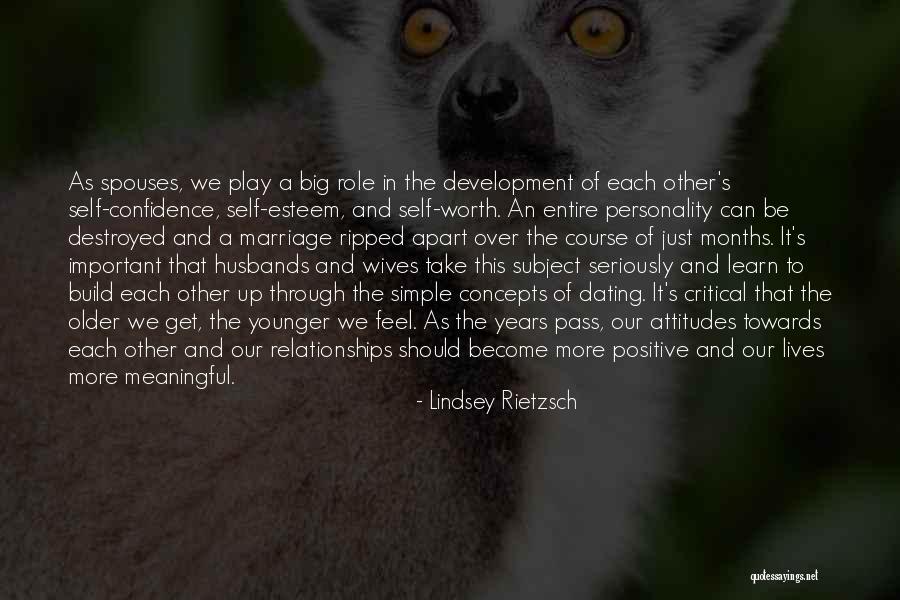 As spouses, we play a big role in the development of each other's self-confidence, self-esteem, and self-worth. An entire personality can be destroyed and a marriage ripped apart over the course of just months. It's important that husbands and wives take this subject seriously and learn to build each other up through the simple concepts of dating. It's critical that the older we get, the younger we feel. As the years pass, our attitudes towards each other and our relationships should become more positive and our lives more meaningful. — Lindsey Rietzsch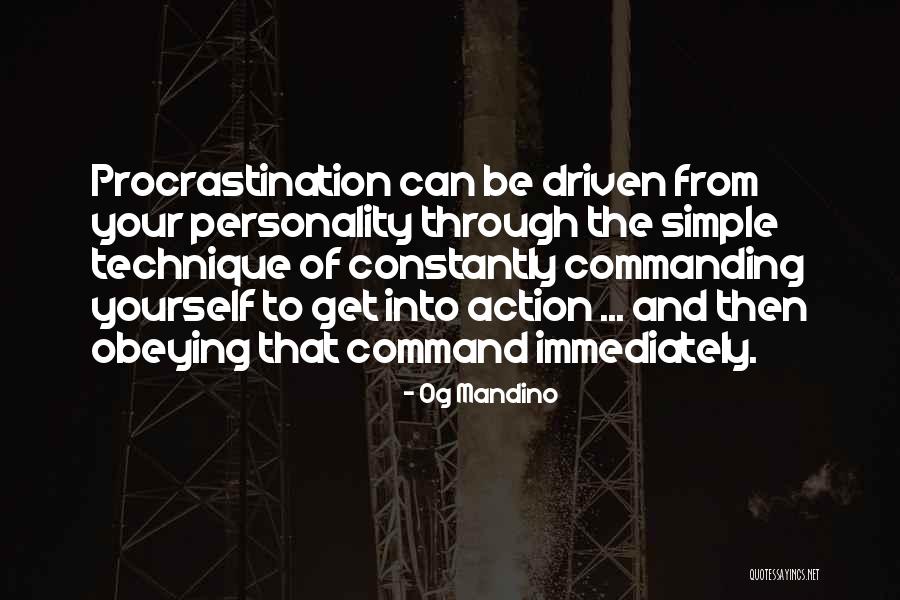 Procrastination can be driven from your personality through the simple technique of constantly commanding yourself to get into action ... and then obeying that command immediately. — Og Mandino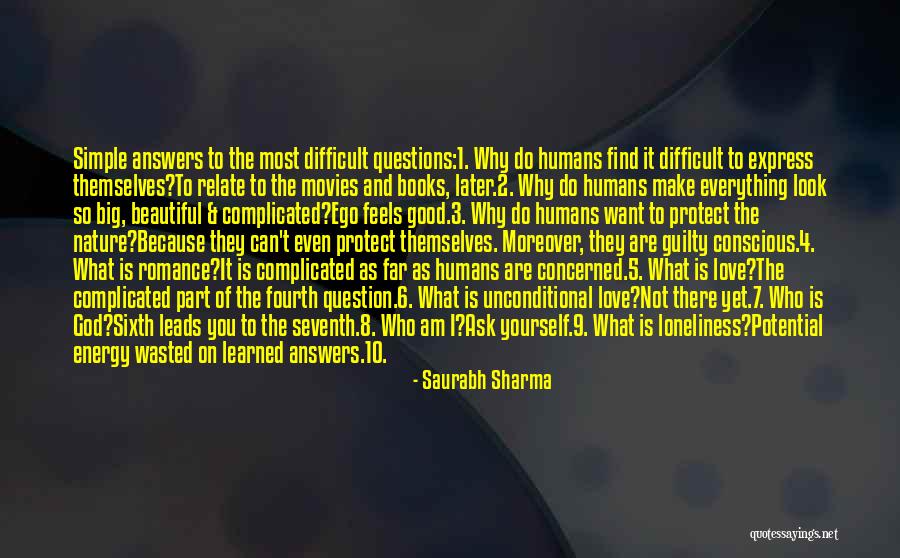 Simple answers to the most difficult questions:

1. Why do humans find it difficult to express themselves?

To relate to the movies and books, later.


2. Why do humans make everything look so big, beautiful & complicated?

Ego feels good.


3. Why do humans want to protect the nature?

Because they can't even protect themselves. Moreover, they are guilty conscious.


4. What is romance?

It is complicated as far as humans are concerned.


5. What is love?

The complicated part of the fourth question.


6. What is unconditional love?

Not there yet.


7. Who is God?

Sixth leads you to the seventh.


8. Who am I?

Ask yourself.


9. What is loneliness?

Potential energy wasted on learned answers.


10. What is happiness?

All of the above. — Saurabh Sharma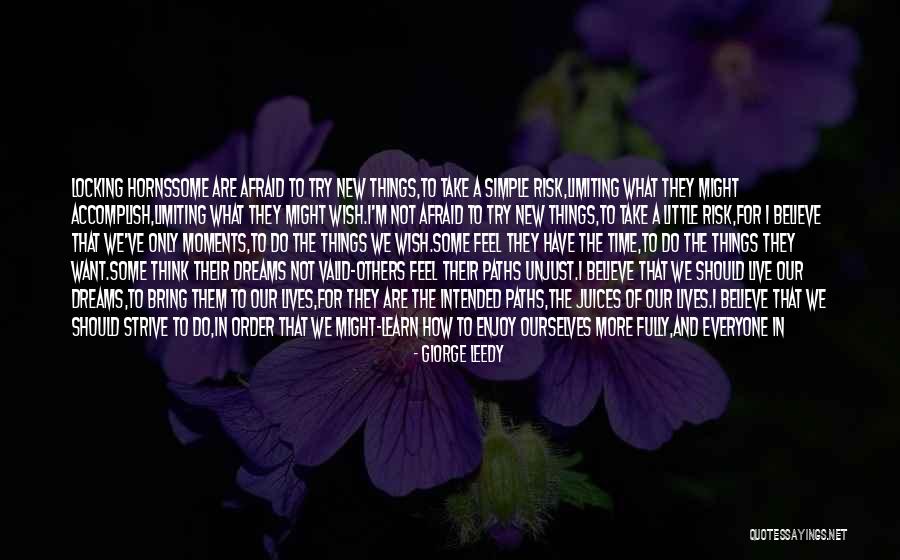 LOCKING HORNS

Some are afraid to try new things,
To take a simple risk,
Limiting what they might accomplish,
Limiting what they might wish.

I'm not afraid to try new things,
To take a little risk,
For I believe that we've only moments,
To do the things we wish.

Some feel they have the time,
To do the things they want.
Some think their dreams not valid-
Others feel their paths unjust.

I believe that we should live our dreams,
To bring them to our lives,
For they are the intended paths,
The juices of our lives.

I believe that we should strive to do,
In order that we might-
Learn how to enjoy ourselves more fully,
And everyone in sight. — Giorge Leedy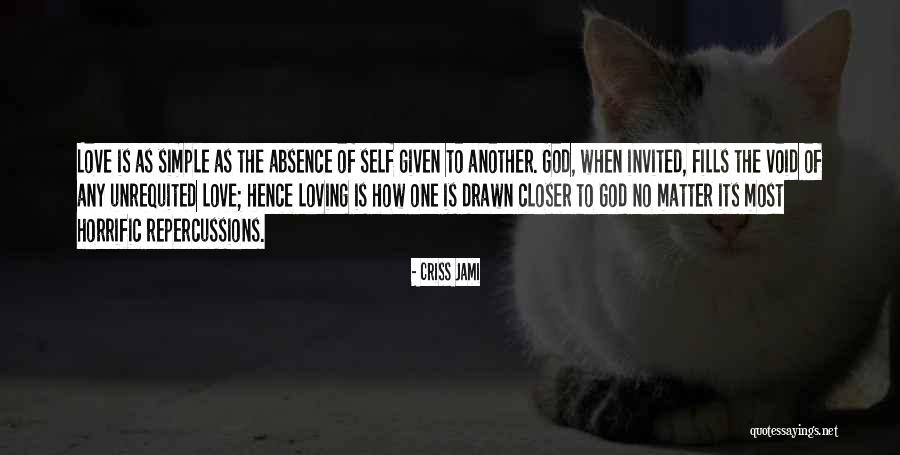 Love is as simple as the absence of self given to another. God, when invited, fills the void of any unrequited love; hence loving is how one is drawn closer to God no matter its most horrific repercussions. — Criss Jami
Now, motivational patterns are going to be similar among all espionage agents. That is to say: there will be certain types of motivation that are similar despite differing schools or opposed aims. You will study first how to separate this element for your analysis - in the beginning, through interrogation patterns that betray the inner orientation of the interrogators; secondly, by close observation of language-thought orientation of those under analysis. You will find it fairly simple to determine the root languages of your subjects, of course, both through voice inflection and speech pattern. — Frank Herbert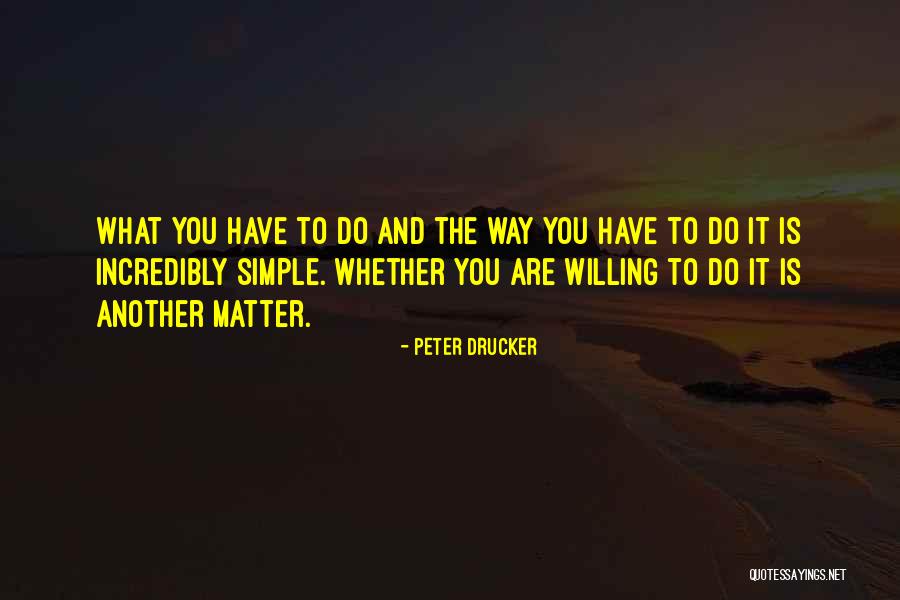 What you have to do and the way you have to do it is incredibly simple. Whether you are willing to do it is another matter. — Peter Drucker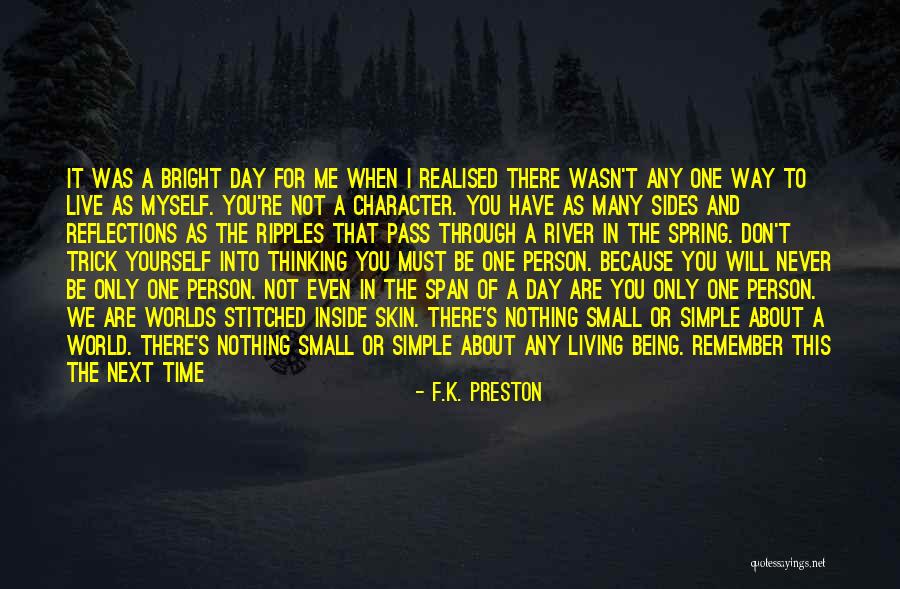 It was a bright day for me when I realised there wasn't any one way to live as myself. You're not a character. You have as many sides and reflections as the ripples that pass through a river in the spring. Don't trick yourself into thinking you must be one person. Because you will never be only one person. Not even in the span of a day are you only one person. We are worlds stitched inside skin. There's nothing small or simple about a world. There's nothing small or simple about any living being. Remember this the next time someone tells you who to be and how to live. They haven't figured it out yet. But don't let yourself forget. — F.K. Preston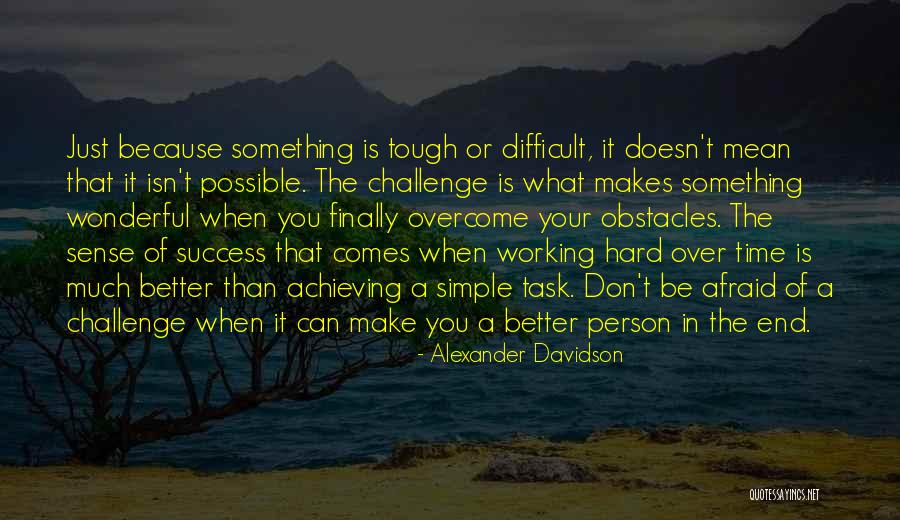 Just because something is tough or difficult, it doesn't mean that it isn't possible. The challenge is what makes something wonderful when you finally overcome your obstacles. The sense of success that comes when working hard over time is much better than achieving a simple task. Don't be afraid of a challenge when it can make you a better person in the end. — Alexander Davidson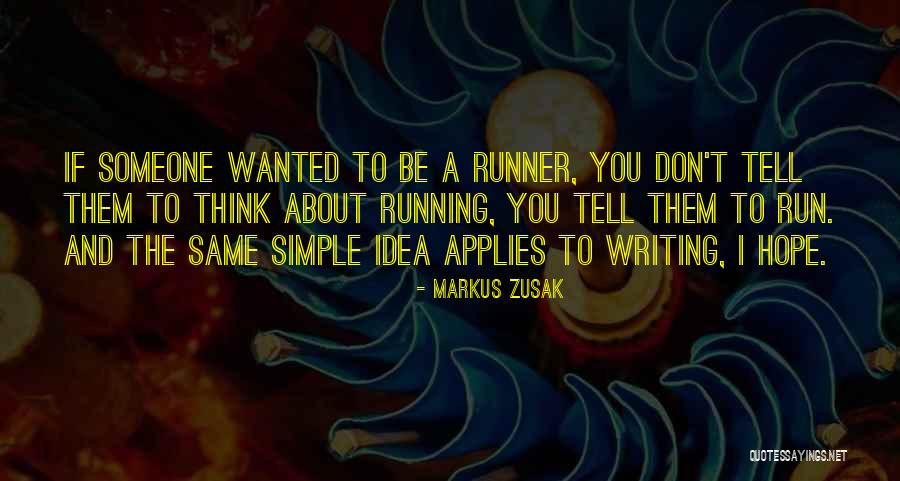 If someone wanted to be a runner, you don't tell them to think about running, you tell them to run. And the same simple idea applies to writing, I hope. — Markus Zusak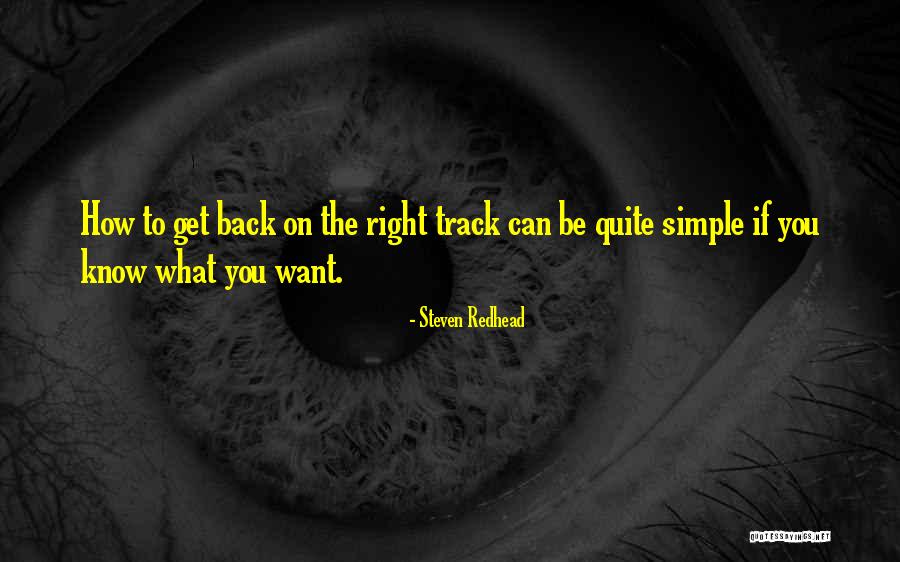 How to get back on the right track can be quite simple if you know what you want. — Steven Redhead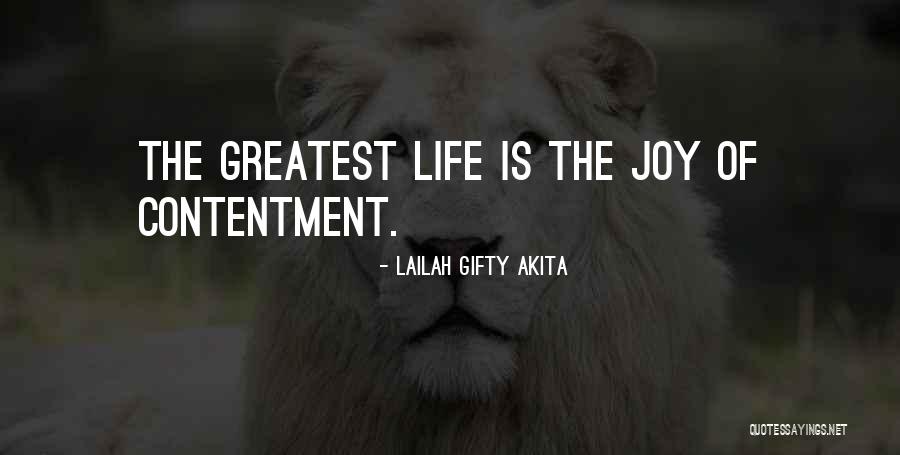 The greatest life is the joy of contentment. — Lailah Gifty Akita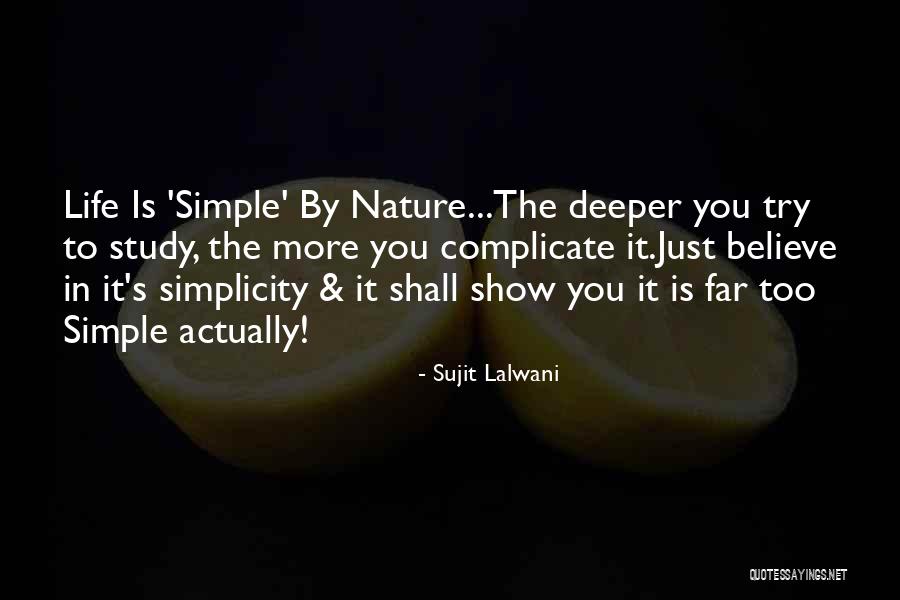 Life Is 'Simple' By Nature...
The deeper you try to study, the more you complicate it.
Just believe in it's simplicity & it shall show you it is
far too Simple actually! — Sujit Lalwani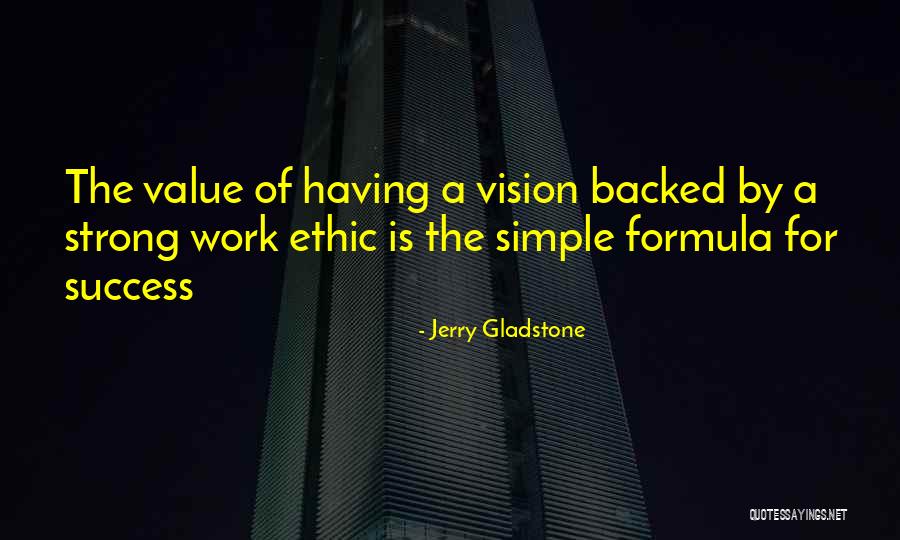 The value of having a vision backed by a strong work ethic is the simple formula for success — Jerry Gladstone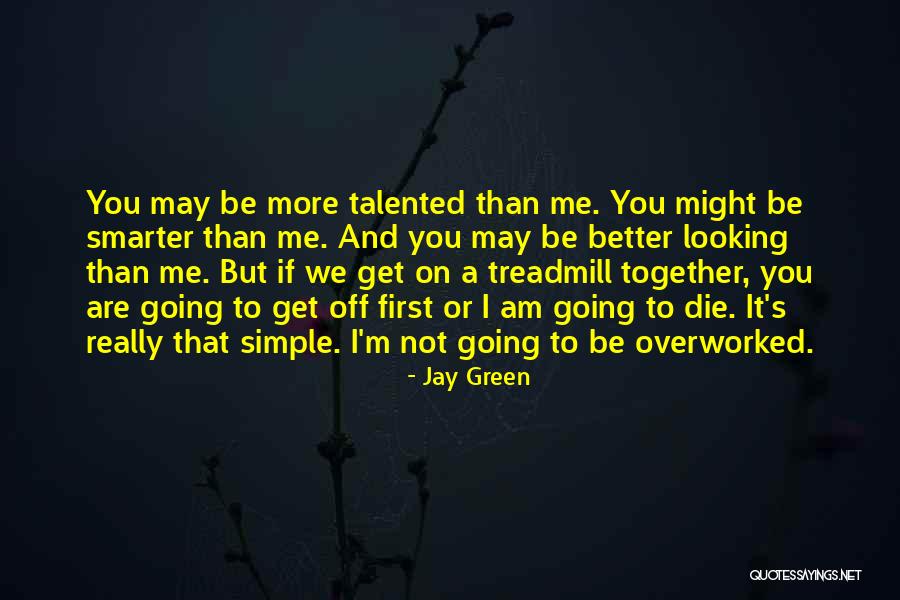 You may be more talented than me. You might be smarter than me. And you may be better looking than me. But if we get on a treadmill together, you are going to get off first or I am going to die. It's really that simple. I'm not going to be overworked. — Jay Green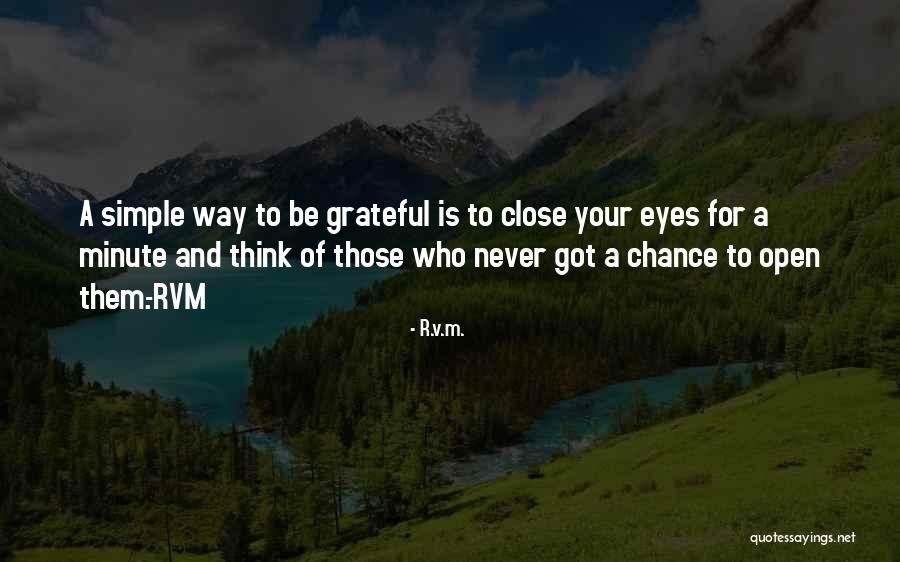 A simple way to be grateful is to close your eyes for a minute and think of those who never got a chance to open them.-RVM — R.v.m.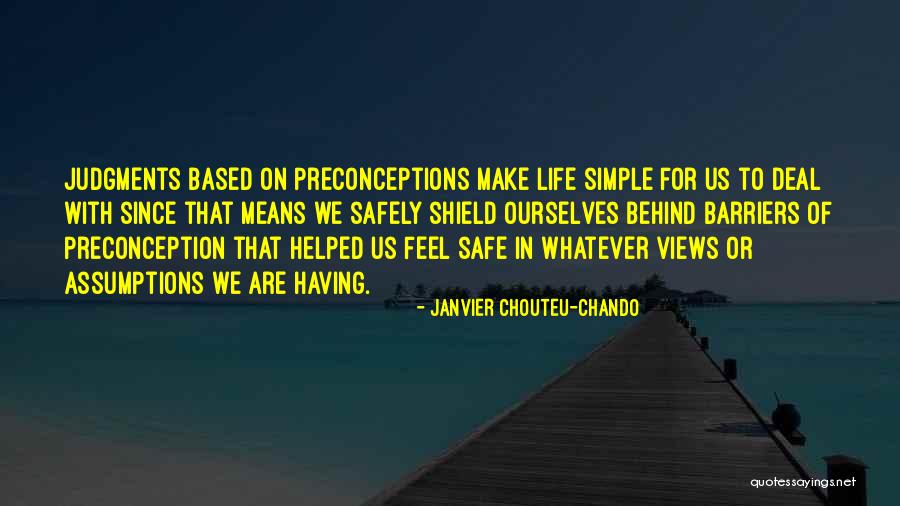 Judgments based on preconceptions make life simple for us to deal with since that means we safely shield ourselves behind barriers of preconception that helped us feel safe in whatever views or assumptions we are having. — Janvier Chouteu-Chando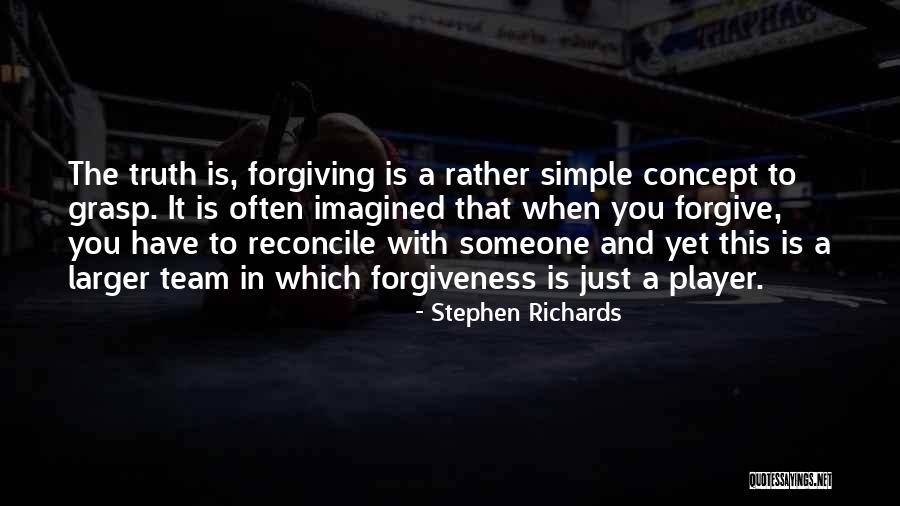 The truth is, forgiving is a rather simple concept to grasp. It is often imagined that when you forgive, you have to reconcile with someone and yet this is a larger team in which forgiveness is just a player. — Stephen Richards
Life is simple but if you don't put anything into it, you won't get anything out of it. — Auliq Ice