Power Of The Spoken Word Quotes & Sayings
Enjoy reading and share 28 famous quotes about Power Of The Spoken Word with everyone.
Top Power Of The Spoken Word Quotes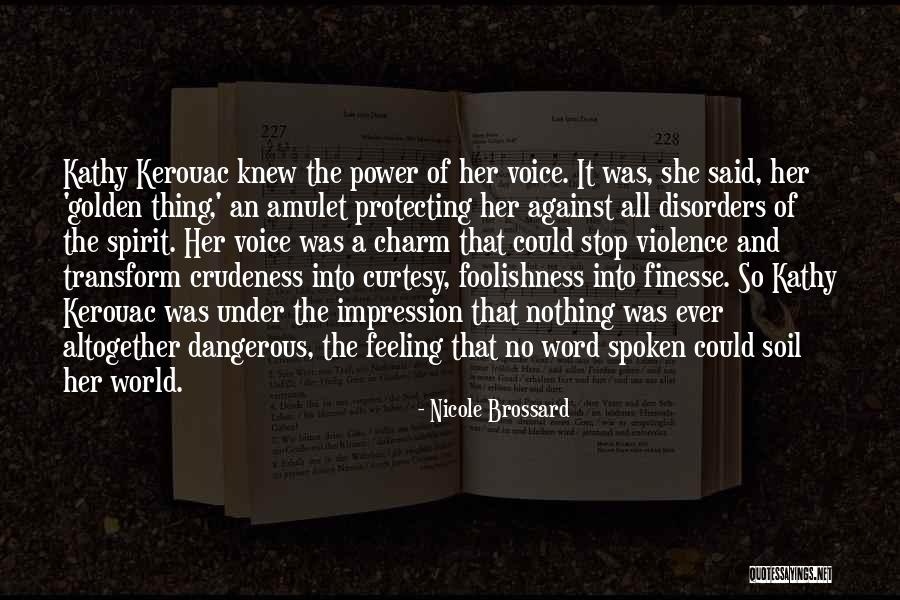 Kathy Kerouac knew the power of her voice. It was, she said, her 'golden thing,' an amulet protecting her against all disorders of the spirit. Her voice was a charm that could stop violence and transform crudeness into curtesy, foolishness into finesse. So Kathy Kerouac was under the impression that nothing was ever altogether dangerous, the feeling that no word spoken could soil her world. — Nicole Brossard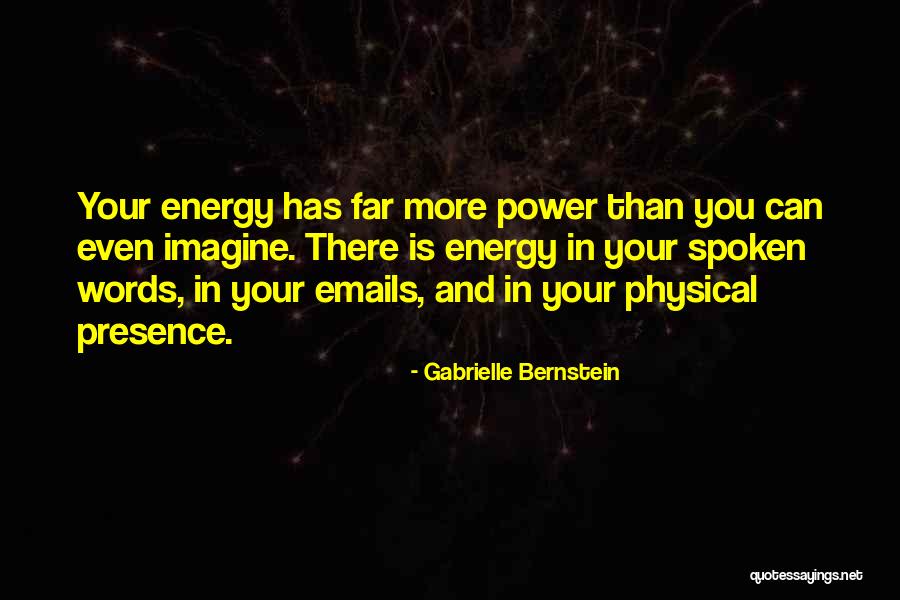 Your energy has far more power than you can even imagine. There is energy in your spoken words, in your emails, and in your physical presence. — Gabrielle Bernstein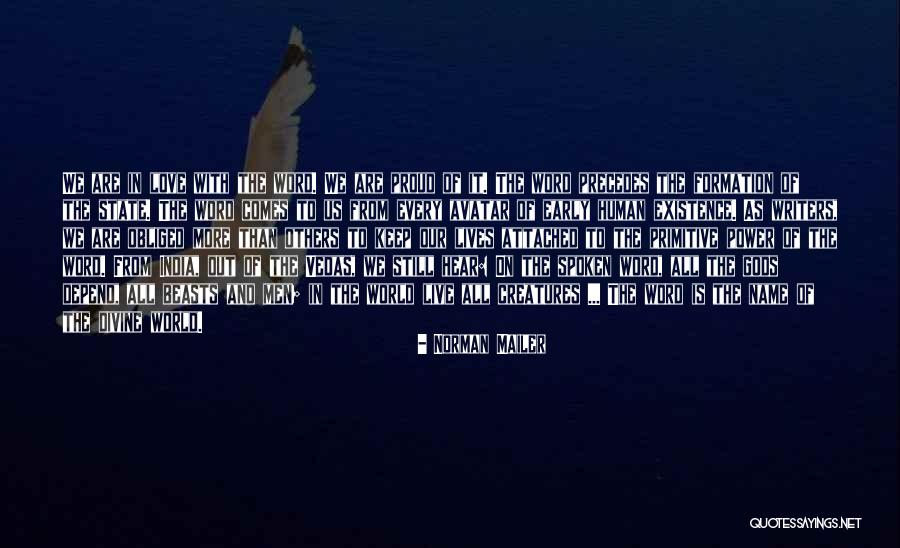 We are in love with the word. We are proud of it. The word precedes the formation of the state. The word comes to us from every avatar of early human existence. As writers, we are obliged more than others to keep our lives attached to the primitive power of the word. From India, out of the Vedas, we still hear: On the spoken word, all the gods depend, all beasts and men; in the world live all creatures ... The word is the name of the divine world. — Norman Mailer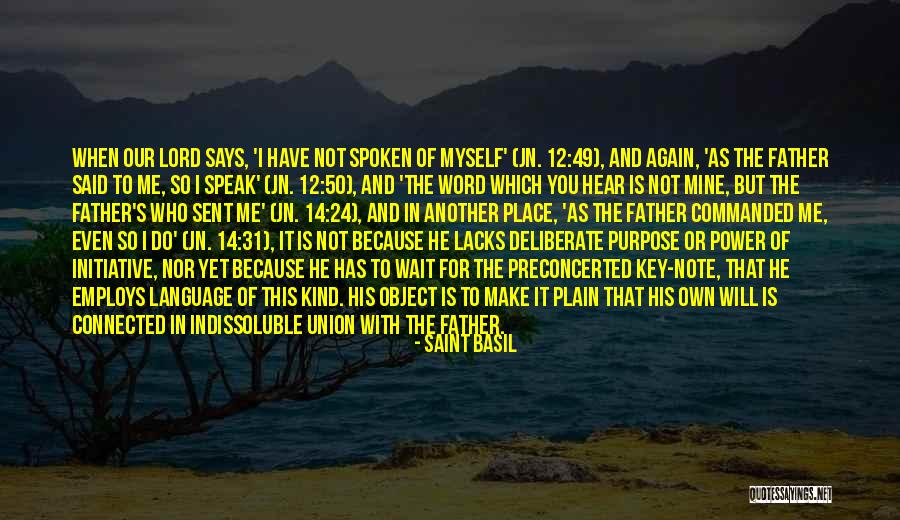 When our Lord says, 'I have not spoken of Myself' (Jn. 12:49), and again, 'As the Father said to Me, so I speak' (Jn. 12:50), and 'The word which you hear is not mine, but the Father's Who sent Me' (Jn. 14:24), and in another place, 'As the Father commanded Me, even so I do' (Jn. 14:31), it is not because He lacks deliberate purpose or power of initiative, nor yet because He has to wait for the preconcerted key-note, that He employs language of this kind. His object is to make it plain that His own will is connected in indissoluble union with the Father. — Saint Basil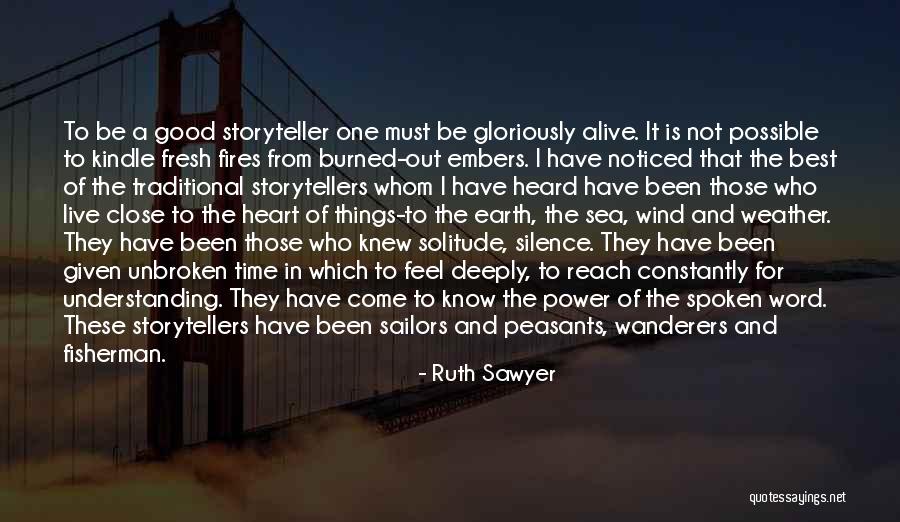 To be a good storyteller one must be gloriously alive. It is not possible to kindle fresh fires from burned-out embers. I have noticed that the best of the traditional storytellers whom I have heard have been those who live close to the heart of things-to the earth, the sea, wind and weather. They have been those who knew solitude, silence. They have been given unbroken time in which to feel deeply, to reach constantly for understanding. They have come to know the power of the spoken word. These storytellers have been sailors and peasants, wanderers and fisherman. — Ruth Sawyer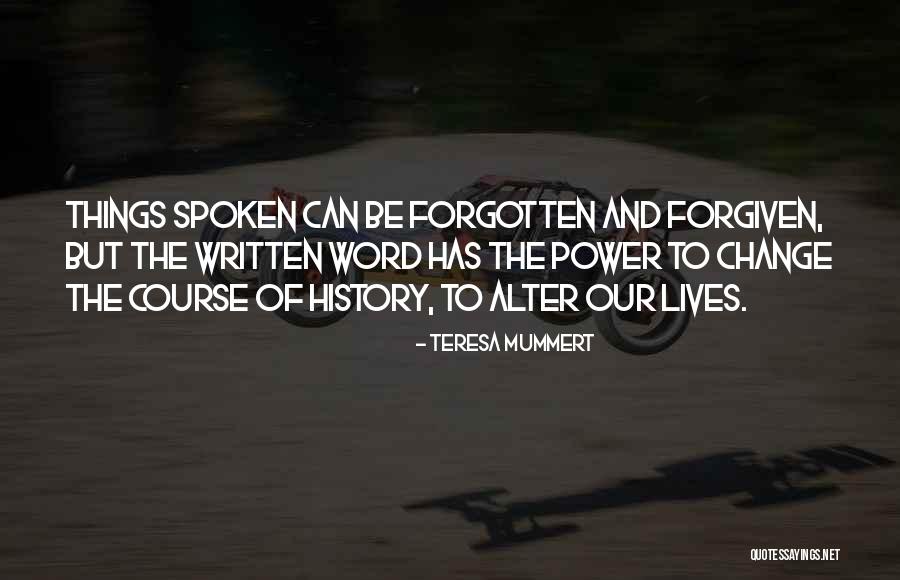 Things spoken can be forgotten and forgiven, but the written word has the power to change the course of history, to alter our lives. — Teresa Mummert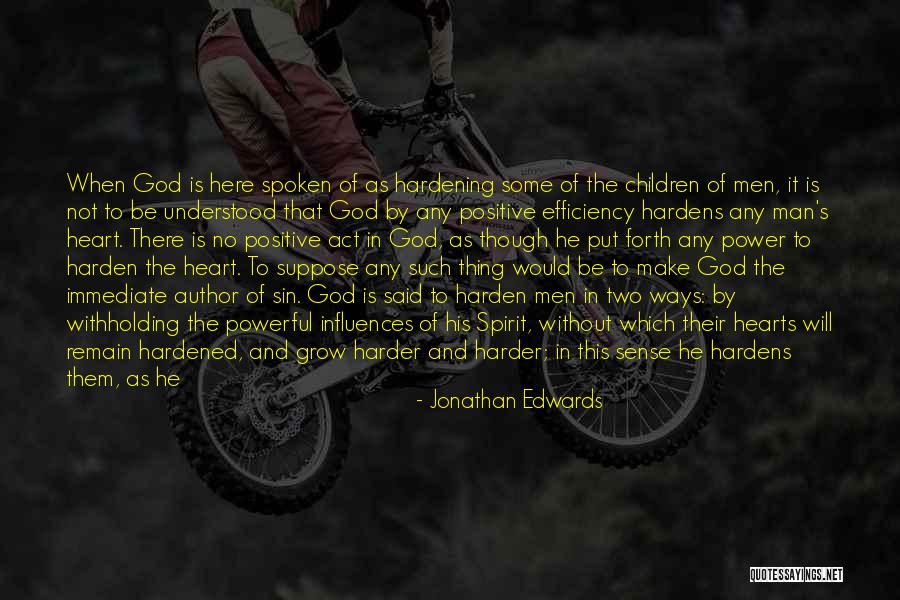 When God is here spoken of as hardening some of the children of men, it is not to be understood that God by any positive efficiency hardens any man's heart. There is no positive act in God, as though he put forth any power to harden the heart. To suppose any such thing would be to make God the immediate author of sin. God is said to harden men in two ways: by withholding the powerful influences of his Spirit, without which their hearts will remain hardened, and grow harder and harder; in this sense he hardens them, as he leaves them to hardness. And again, by ordering those things in his providence which, through the abuse of their corruption, become the occasion of their hardening. Thus God sends his word and ordinances to men which, by their abuse, prove an occasion of their hardening. — Jonathan Edwards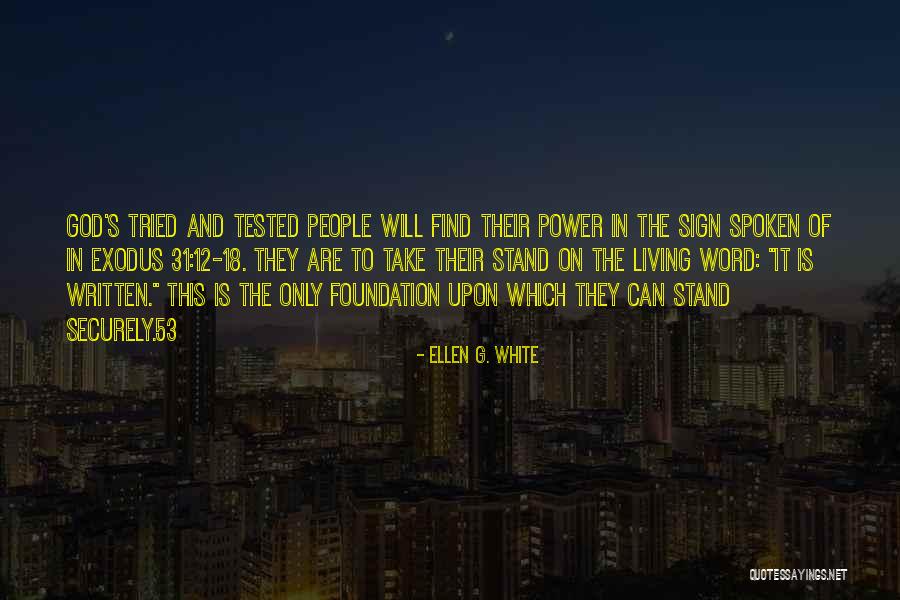 God's tried and tested people will find their power in the sign spoken of in Exodus 31:12-18. They are to take their stand on the living word: "It is written." This is the only foundation upon which they can stand securely.53 — Ellen G. White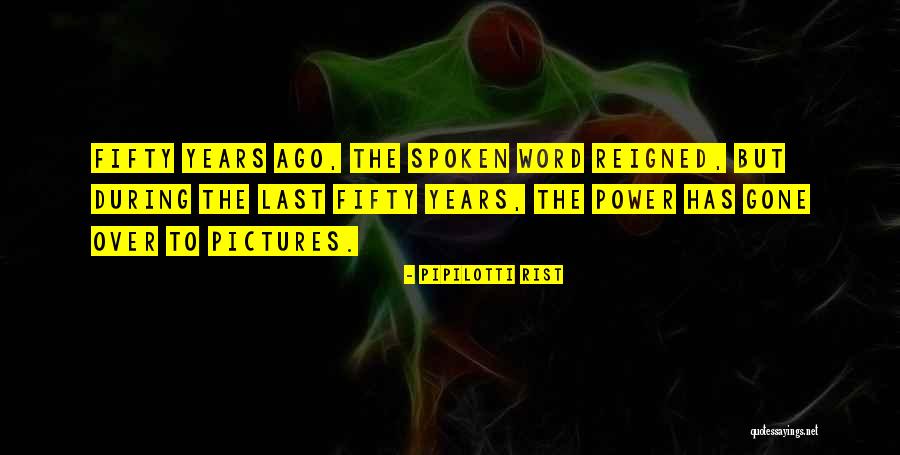 Fifty years ago, the spoken word reigned, but during the last fifty years, the power has gone over to pictures. — Pipilotti Rist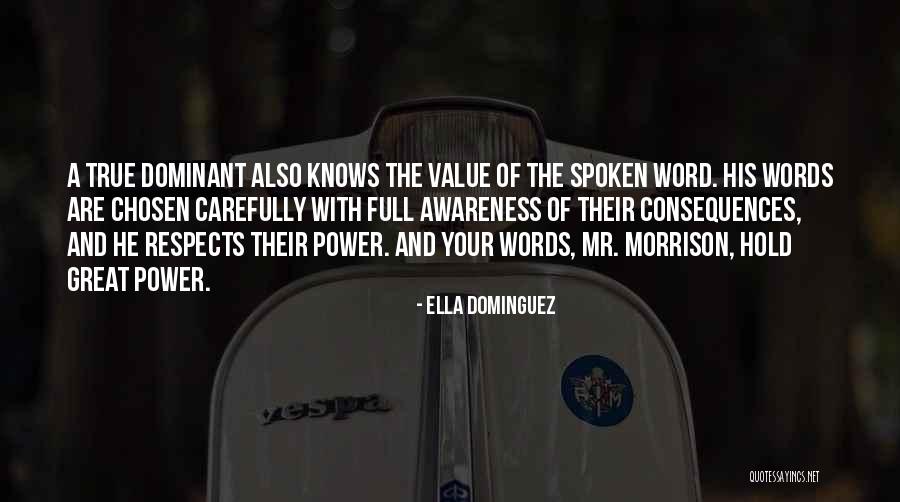 A true Dominant also knows the value of the spoken word. His words are chosen carefully with full awareness of their consequences, and he respects their power. And your words, Mr. Morrison, hold great power. — Ella Dominguez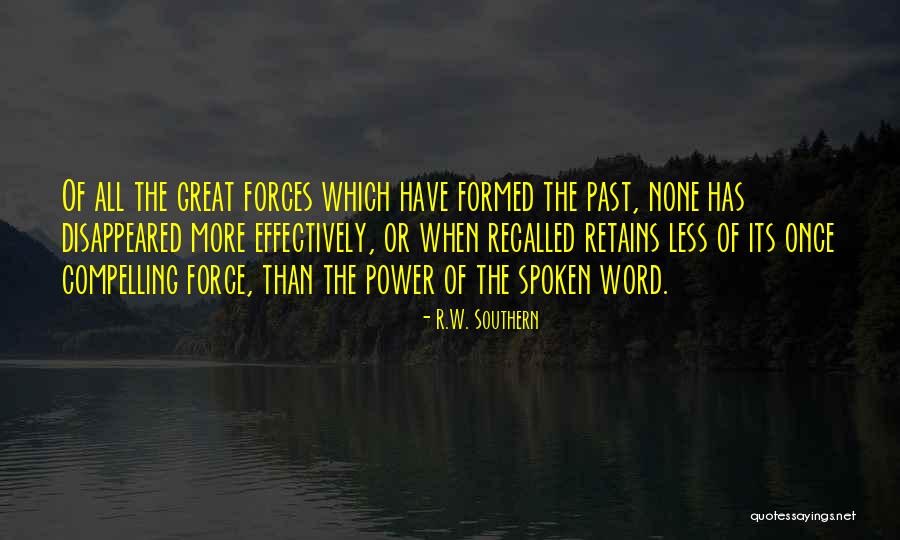 Of all the great forces which have formed the past, none has disappeared more effectively, or when recalled retains less of its once compelling force, than the power of the spoken word. — R.W. Southern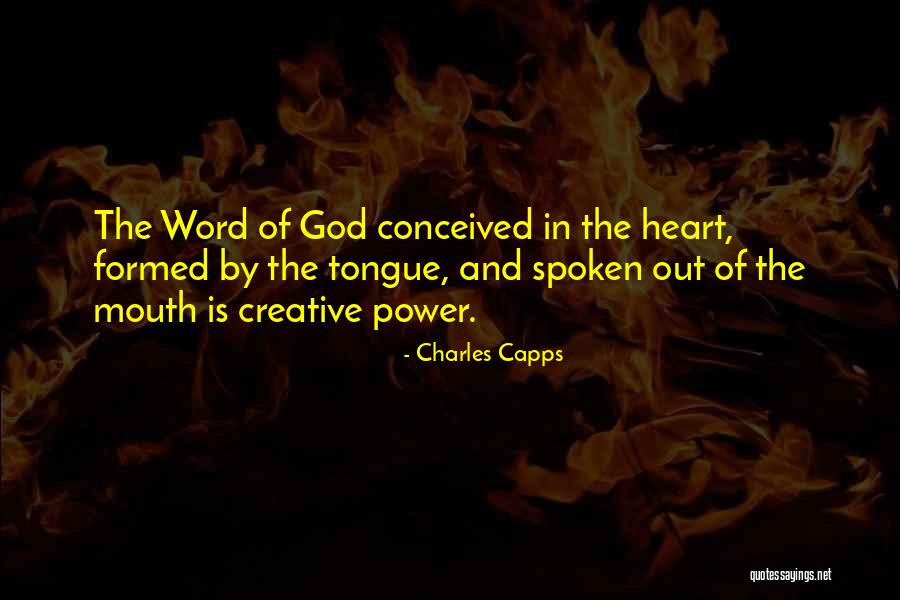 The Word of God conceived in the heart, formed by the tongue, and spoken out of the mouth is creative power. — Charles Capps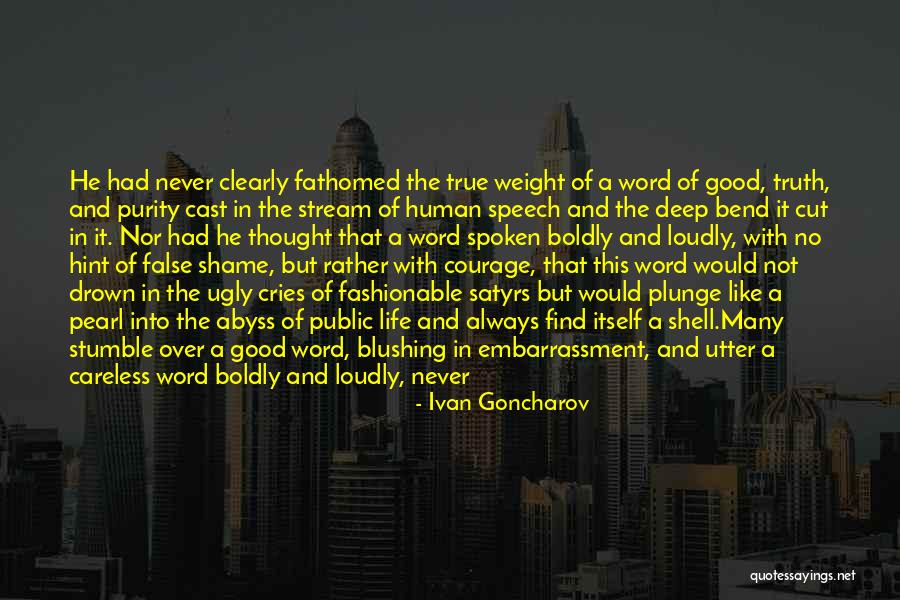 He had never clearly fathomed the true weight of a word of good, truth, and purity cast in the stream of human speech and the deep bend it cut in it. Nor had he thought that a word spoken boldly and loudly, with no hint of false shame, but rather with courage, that this word would not drown in the ugly cries of fashionable satyrs but would plunge like a pearl into the abyss of public life and always find itself a shell.
Many stumble over a good word, blushing in embarrassment, and utter a careless word boldly and loudly, never suspecting that it, too, unfortunately, will not go for naught but will leave a long trail of often times ineradicable evil.
p. 296 — Ivan Goncharov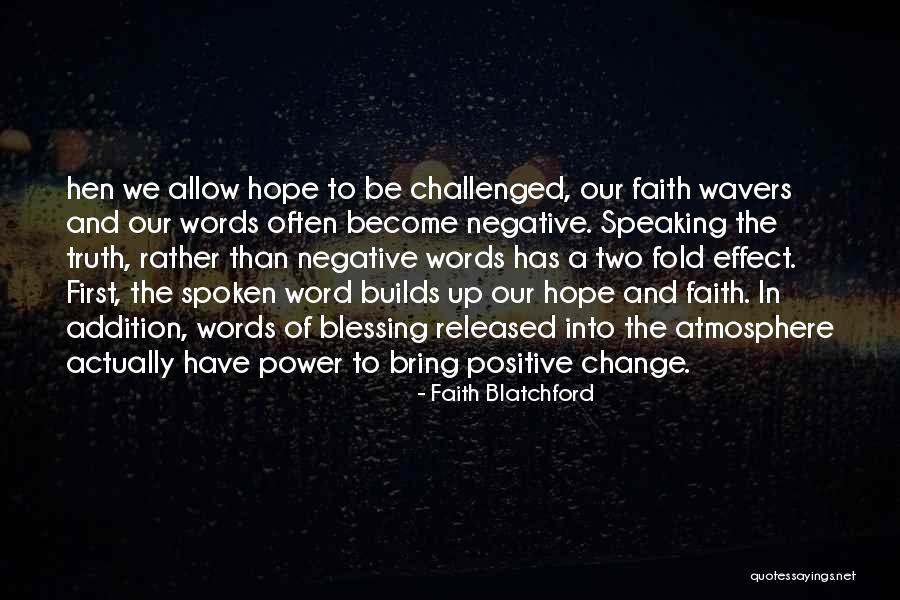 hen we allow hope to be challenged, our faith wavers and our words often become negative. Speaking the truth, rather than negative words has a two fold effect. First, the spoken word builds up our hope and faith. In addition, words of blessing released into the atmosphere actually have power to bring positive change. — Faith Blatchford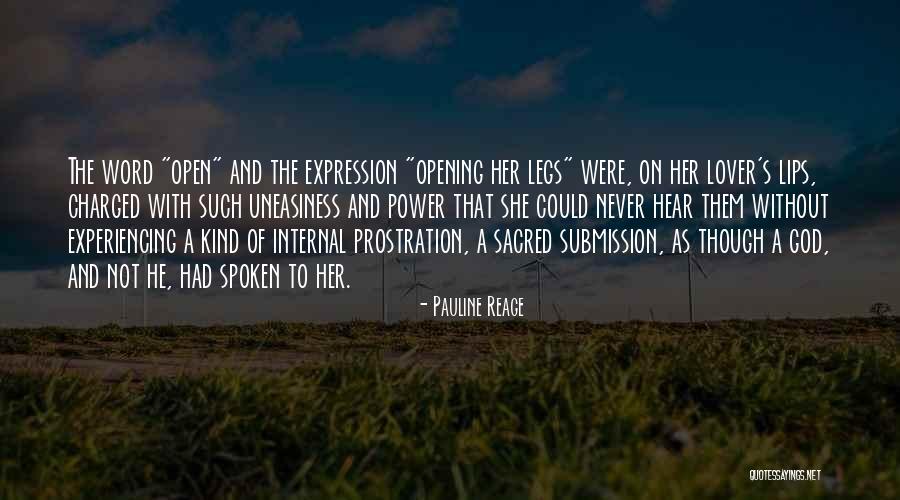 The word "open" and the expression "opening her legs" were, on her lover's lips, charged with such uneasiness and power that she could never hear them without experiencing a kind of internal prostration, a sacred submission, as though a god, and not he, had spoken to her. — Pauline Reage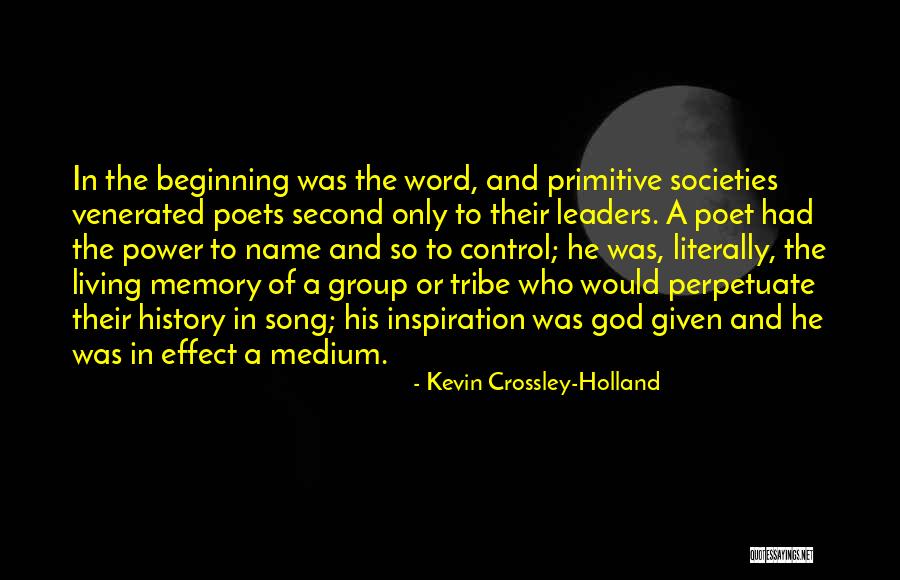 In the beginning was the word, and primitive societies venerated poets second only to their leaders. A poet had the power to name and so to control; he was, literally, the living memory of a group or tribe who would perpetuate their history in song; his inspiration was god given and he was in effect a medium. — Kevin Crossley-Holland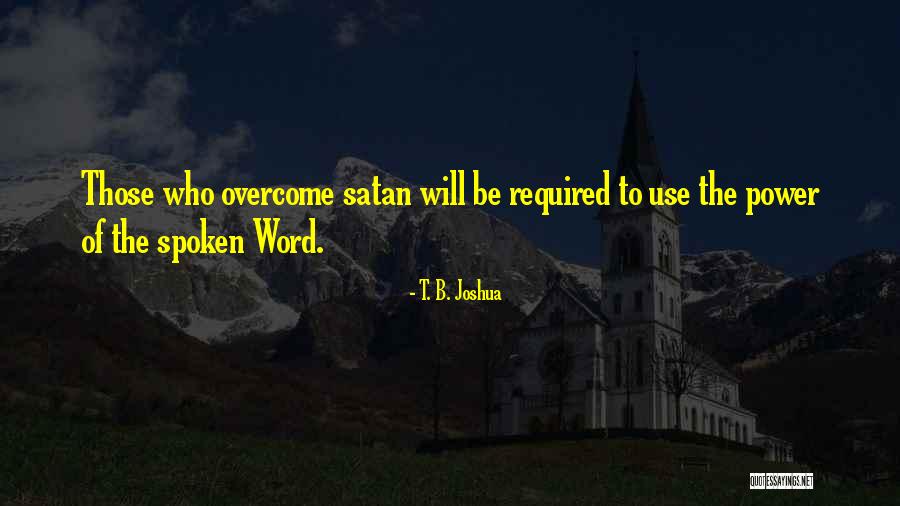 Those who overcome satan will be required to use the power of the spoken Word. — T. B. Joshua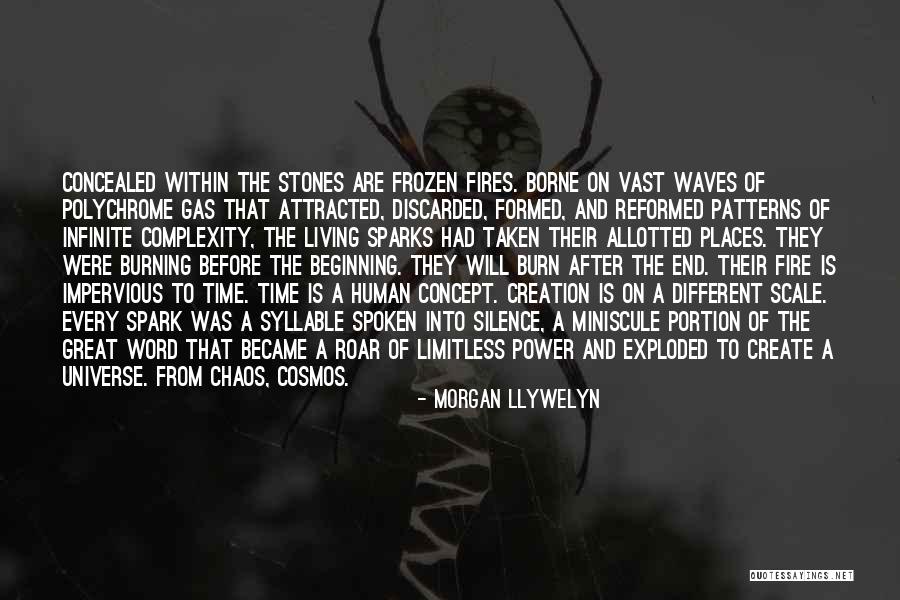 Concealed within the stones are frozen fires. Borne on vast waves of polychrome gas that attracted, discarded, formed, and reformed patterns of infinite complexity, the living sparks had taken their allotted places. They were burning before the beginning. They will burn after the end. Their fire is impervious to time. Time is a human concept. Creation is on a different scale. Every spark was a syllable spoken into silence, a miniscule portion of the great Word that became a roar of limitless power and exploded to create a universe. From chaos, cosmos. — Morgan Llywelyn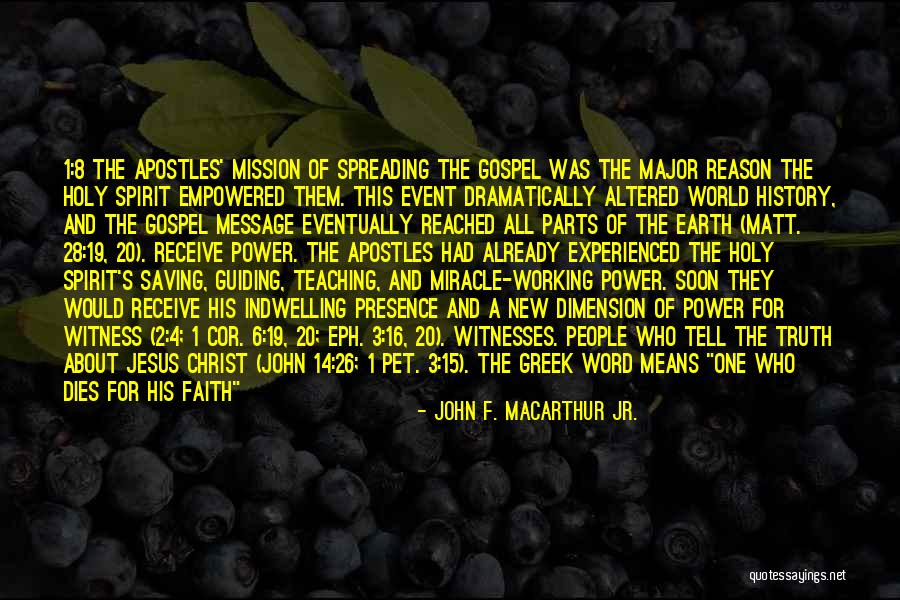 1:8 The apostles' mission of spreading the gospel was the major reason the Holy Spirit empowered them. This event dramatically altered world history, and the gospel message eventually reached all parts of the earth (Matt. 28:19, 20). receive power. The apostles had already experienced the Holy Spirit's saving, guiding, teaching, and miracle-working power. Soon they would receive His indwelling presence and a new dimension of power for witness (2:4; 1 Cor. 6:19, 20; Eph. 3:16, 20). witnesses. People who tell the truth about Jesus Christ (John 14:26; 1 Pet. 3:15). The Greek word means "one who dies for his faith" because that was commonly the price of witnessing. Judea. The region in which Jerusalem was located. Samaria. The region immediately to the north of Judea. Jesus Ascends to Heaven 9Now when He had spoken these things, while they watched, He was taken up, and a cloud received Him out of their sight. — John F. MacArthur Jr.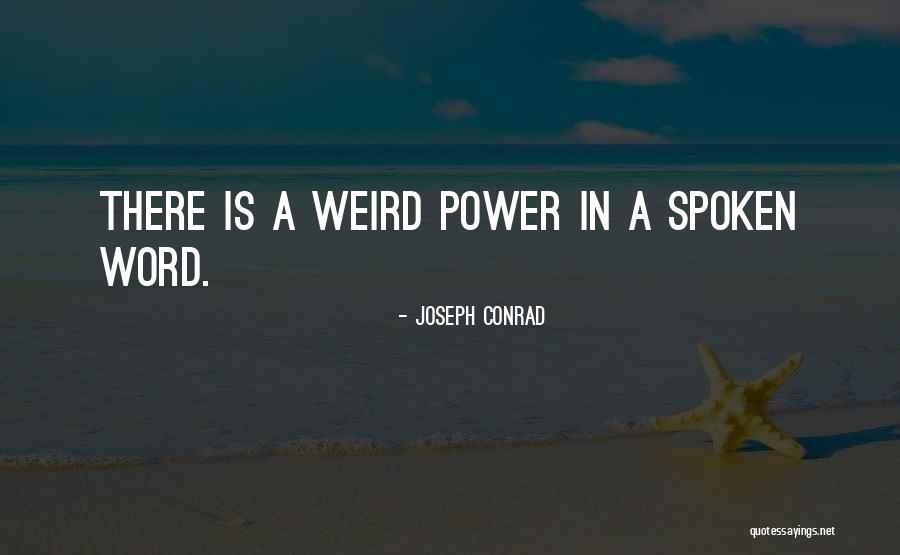 There is a weird power in a spoken word. — Joseph Conrad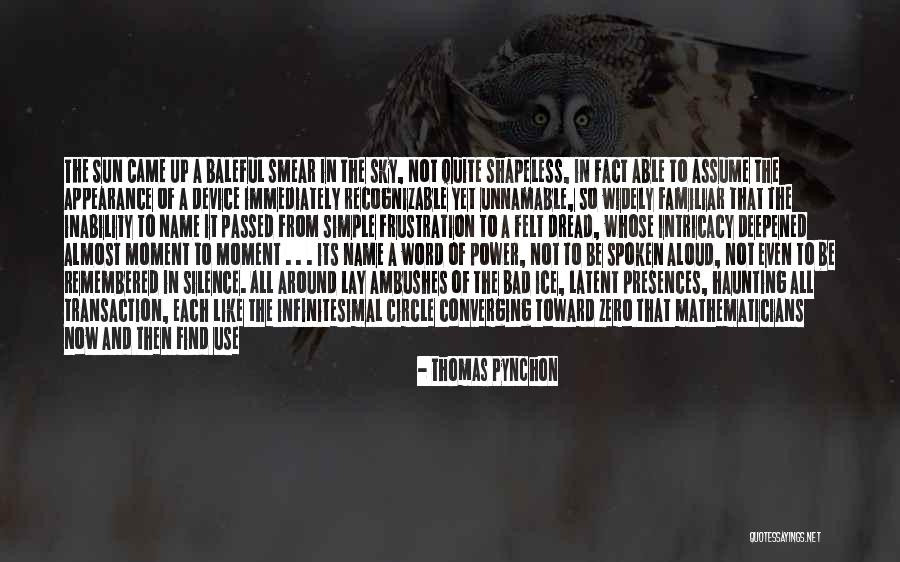 THE SUN CAME UP a baleful smear in the sky, not quite shapeless, in fact able to assume the appearance of a device immediately recognizable yet unnamable, so widely familiar that the inability to name it passed from simple frustration to a felt dread, whose intricacy deepened almost moment to moment . . . its name a word of power, not to be spoken aloud, not even to be remembered in silence. All around lay ambushes of the bad ice, latent presences, haunting all transaction, each like the infinitesimal circle converging toward zero that mathematicians now and then find use for. A silver-gray, odorless, silent exit from the upper world. . . . The sun might be visible from time to time, with or without clouds, but the sky was more neutral-density gray than blue. Out on the promontory grew some even-textured foliage, in this light a blazing, virtually shadowless green, and breaking down at the base of the headland was the sea-green sea, the ice-green, glass-green sea. Hunter — Thomas Pynchon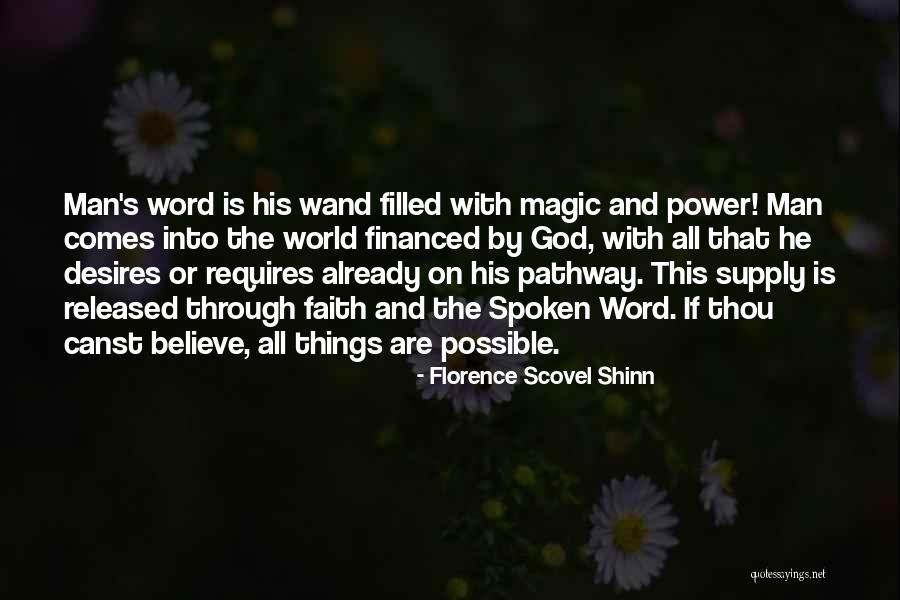 Man's word is his wand filled with magic and power! Man comes into the world financed by God, with all that he desires or requires already on his pathway. This supply is released through faith and the Spoken Word. If thou canst believe, all things are possible. — Florence Scovel Shinn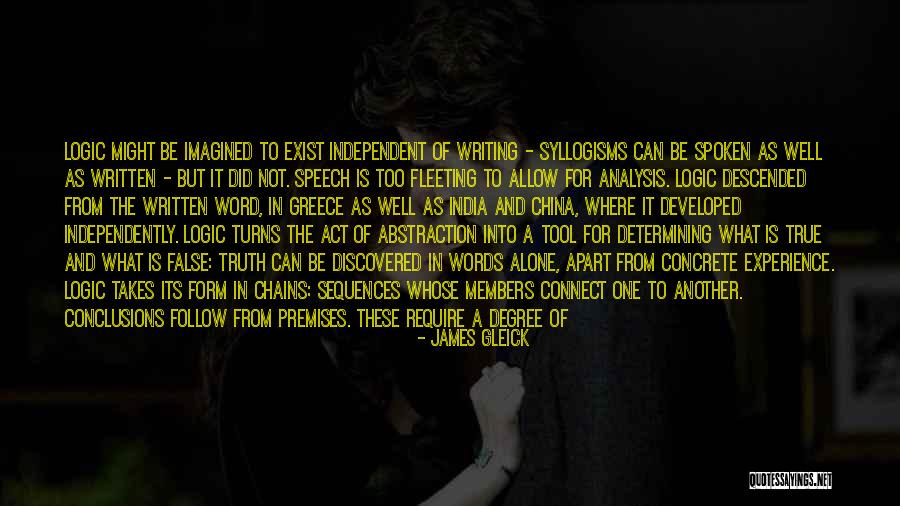 Logic might be imagined to exist independent of writing - syllogisms can be spoken as well as written - but it did not. Speech is too fleeting to allow for analysis. Logic descended from the written word, in Greece as well as India and China, where it developed independently. Logic turns the act of abstraction into a tool for determining what is true and what is false: truth can be discovered in words alone, apart from concrete experience. Logic takes its form in chains: sequences whose members connect one to another. Conclusions follow from premises. These require a degree of constancy. They have no power unless people can examine and evaluate them. In contrast, an oral narrative proceeds by accretion, the words passing by in a line of parade past the viewing stand, briefly present and then gone, interacting with one another via memory and association. — James Gleick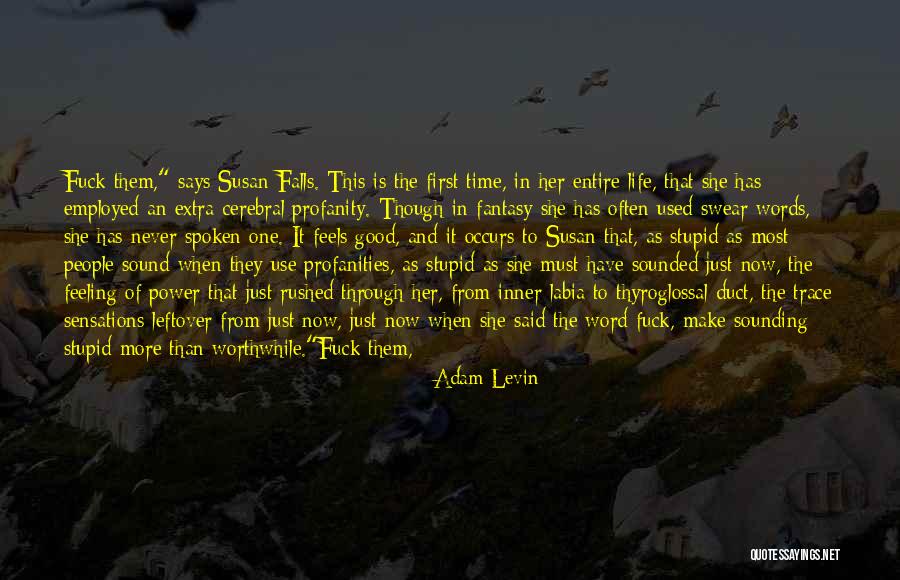 Fuck them," says Susan Falls. This is the first time, in her entire life, that she has employed an extra-cerebral profanity. Though in fantasy she has often used swear words, she has never spoken one. It feels good, and it occurs to Susan that, as stupid as most people sound when they use profanities, as stupid as she must have sounded just now, the feeling of power that just rushed through her, from inner labia to thyroglossal duct, the trace sensations leftover from just now, just now when she said the word fuck, make sounding stupid more than worthwhile.
"Fuck them, then," Carla Ribisi agrees, and it is the hottest motherfucking thing Susan has ever heard. — Adam Levin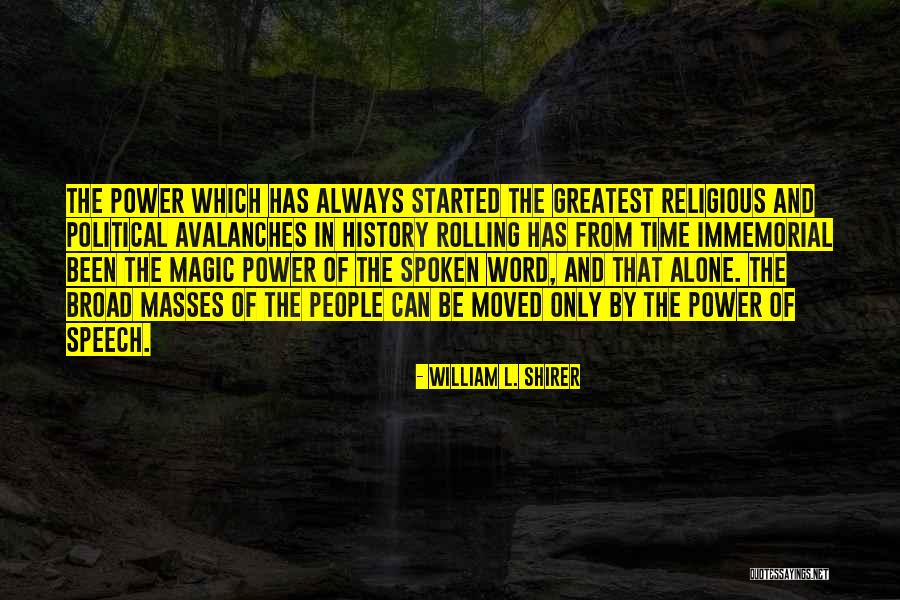 The power which has always started the greatest religious and political avalanches in history rolling has from time immemorial been the magic power of the spoken word, and that alone. The broad masses of the people can be moved only by the power of speech. — William L. Shirer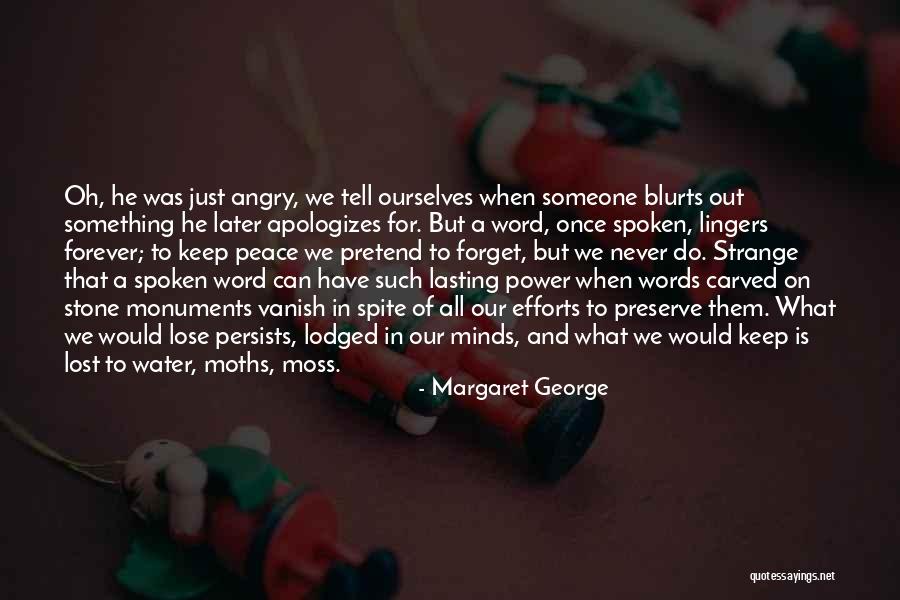 Oh, he was just angry, we tell ourselves when someone blurts out something he later apologizes for. But a word, once spoken, lingers forever; to keep peace we pretend to forget, but we never do. Strange that a spoken word can have such lasting power when words carved on stone monuments vanish in spite of all our efforts to preserve them. What we would lose persists, lodged in our minds, and what we would keep is lost to water, moths, moss. — Margaret George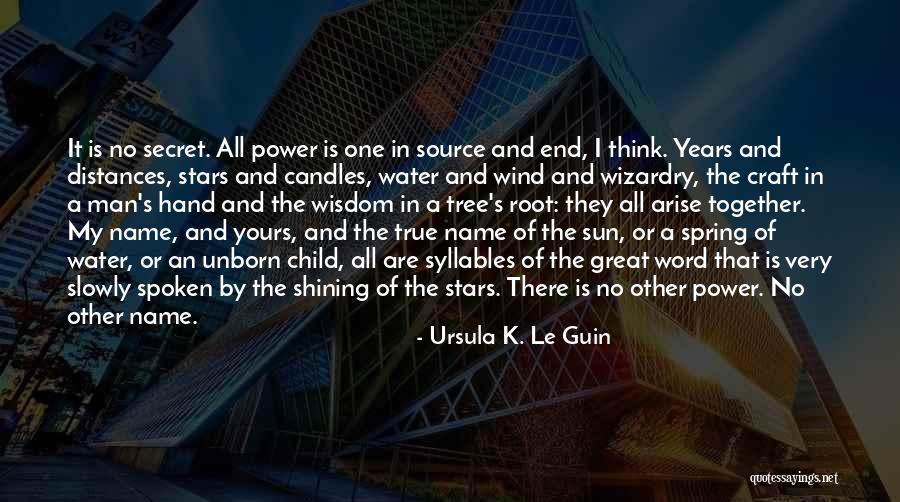 It is no secret. All power is one in source and end, I think. Years and distances, stars and candles, water and wind and wizardry, the craft in a man's hand and the wisdom in a tree's root: they all arise together. My name, and yours, and the true name of the sun, or a spring of water, or an unborn child, all are syllables of the great word that is very slowly spoken by the shining of the stars. There is no other power. No other name. — Ursula K. Le Guin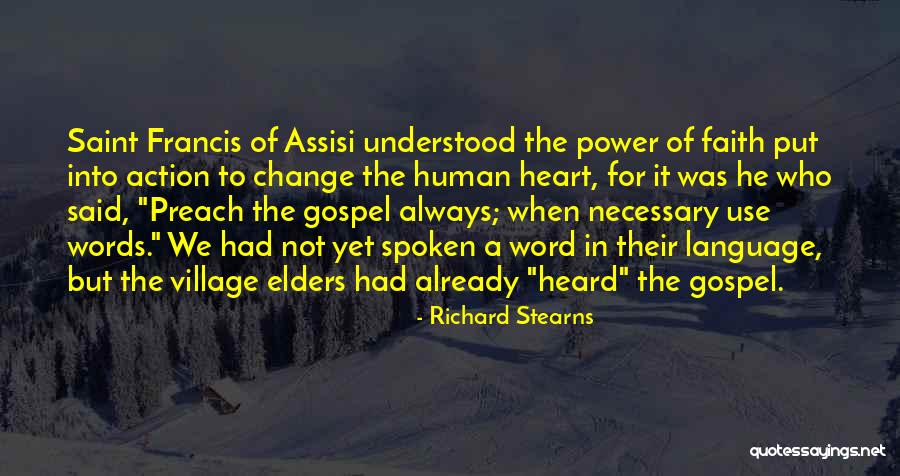 Saint Francis of Assisi understood the power of faith put into action to change the human heart, for it was he who said, "Preach the gospel always; when necessary use words." We had not yet spoken a word in their language, but the village elders had already "heard" the gospel. — Richard Stearns