Shrek's Quotes & Sayings
Enjoy reading and share 39 famous quotes about Shrek's with everyone.
Top Shrek's Quotes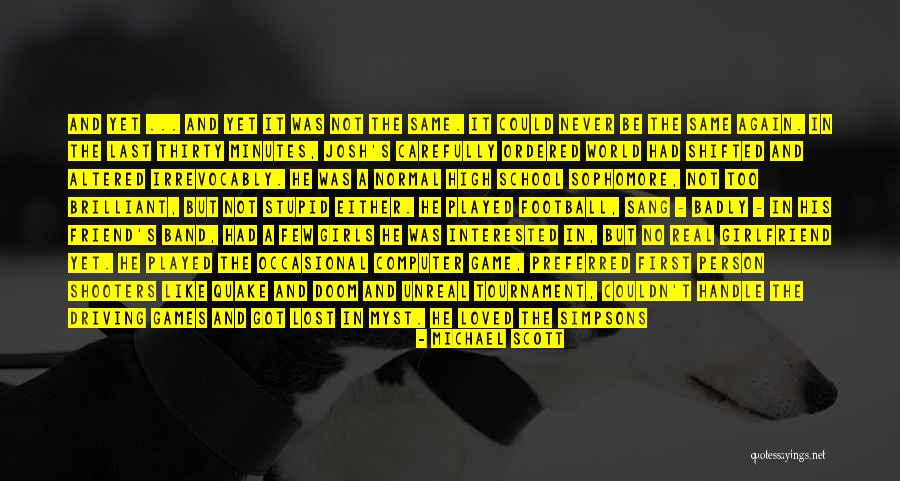 And yet ... And yet it was not the same. It could never be the same again. In the last thirty minutes, Josh's carefully ordered world had shifted and altered irrevocably. He was a normal high school sophomore, not too brilliant, but not stupid either. He played football, sang - badly - in his friend's band, had a few girls he was interested in, but no real girlfriend yet. He played the occasional computer game, preferred first person shooters like Quake and Doom and Unreal Tournament, couldn't handle the driving games and got lost in Myst. He loved The Simpsons and could quote chunks of episodes by heart, really liked Shrek, though he'd never admit it, thought the new Batman was all right and that X-Men was excellent. He even liked the new Superman, despite what other people said. Josh was ordinary. — Michael Scott
I think that the major message in 'Shrek: The Musical' is be who you want to be. I think that it is about being your true self in this world. — Daniel Breaker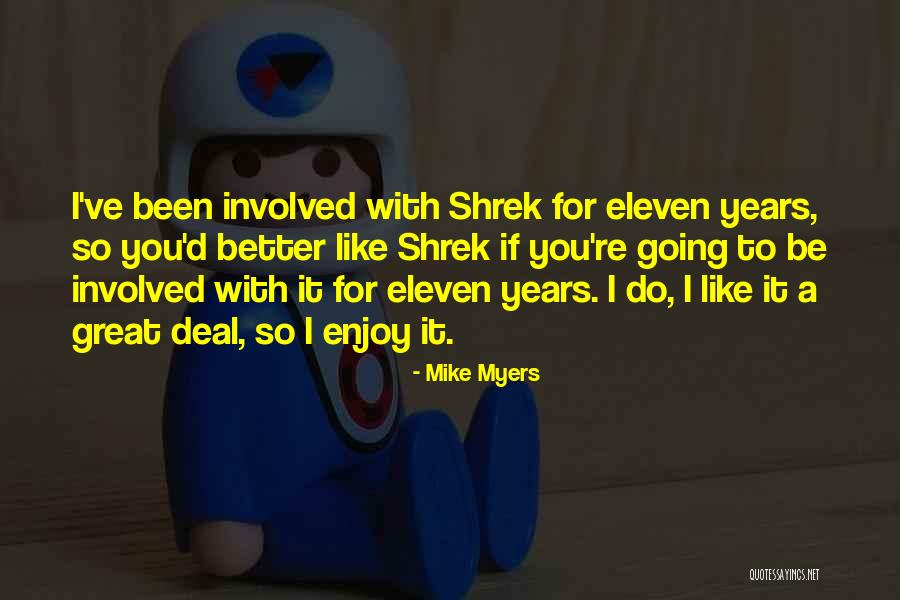 I've been involved with Shrek for eleven years, so you'd better like Shrek if you're going to be involved with it for eleven years. I do, I like it a great deal, so I enjoy it. — Mike Myers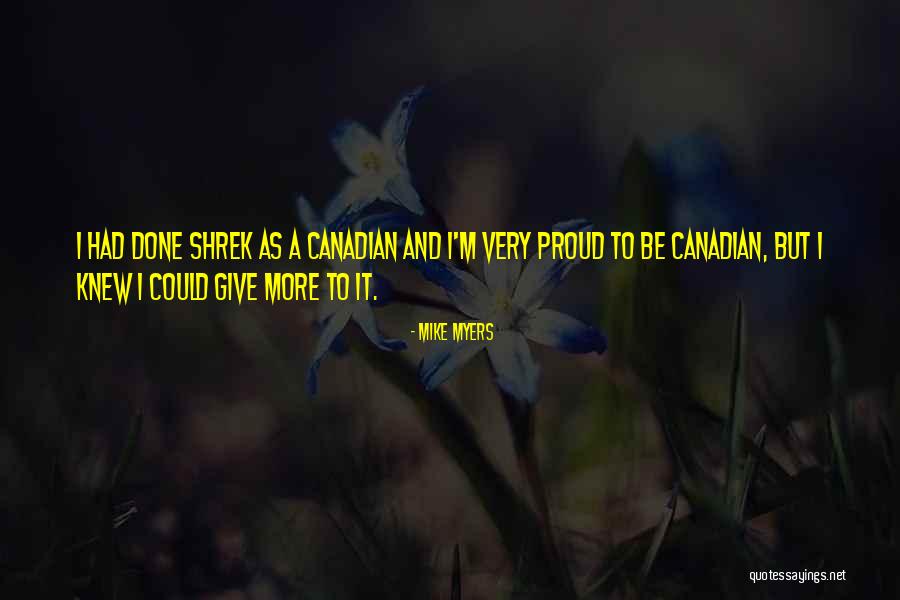 I had done Shrek as a Canadian and I'm very proud to be Canadian, but I knew I could give more to it. — Mike Myers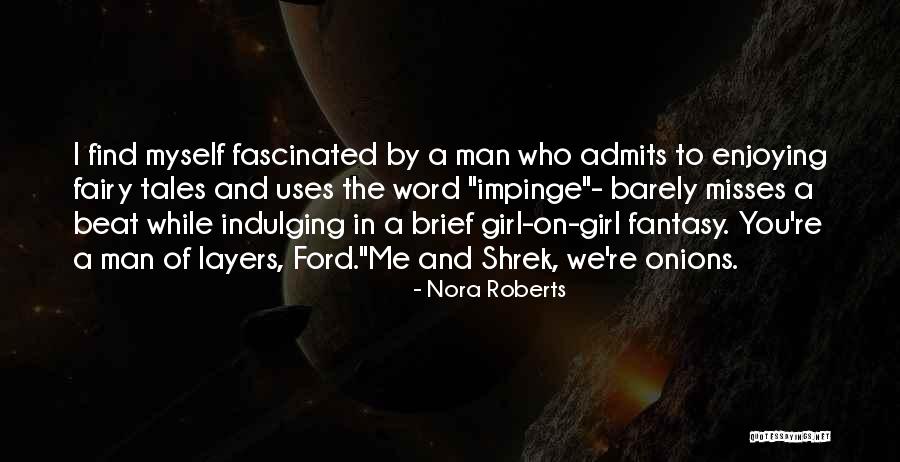 I find myself fascinated by a man who admits to enjoying fairy tales and uses the word "impinge"- barely misses a beat while indulging in a brief girl-on-girl fantasy. You're a man of layers, Ford."
Me and Shrek, we're onions. — Nora Roberts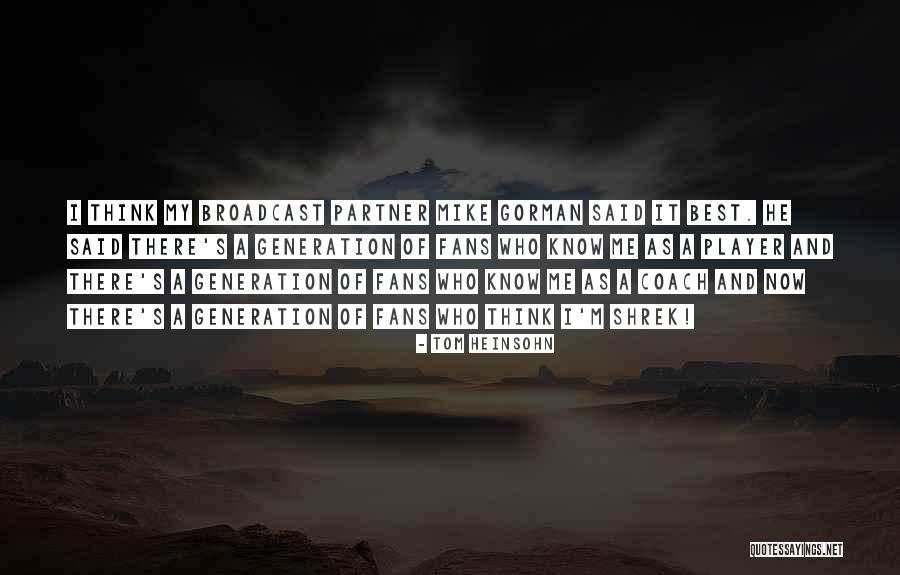 I think my broadcast partner Mike Gorman said it best. He said there's a generation of fans who know me as a player and there's a generation of fans who know me as a coach and now there's a generation of fans who think I'm Shrek! — Tom Heinsohn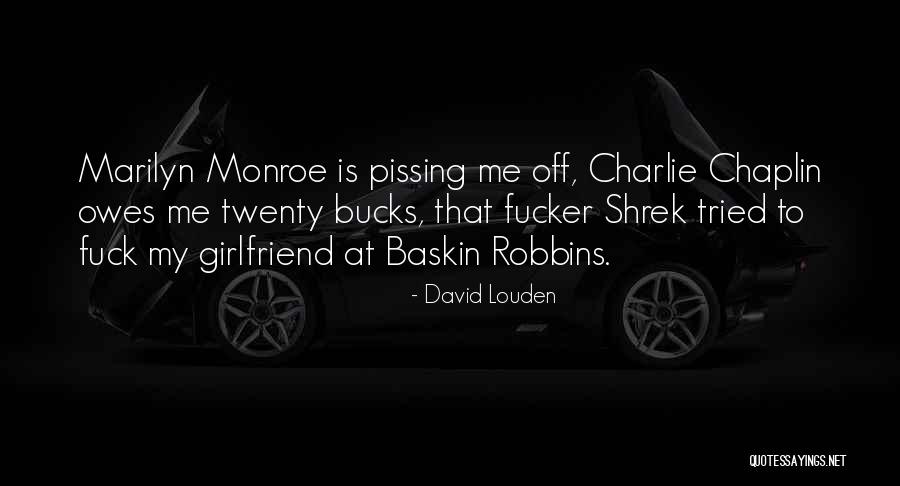 Marilyn Monroe is pissing me off, Charlie Chaplin owes me twenty bucks, that fucker Shrek tried to fuck my girlfriend at Baskin Robbins. — David Louden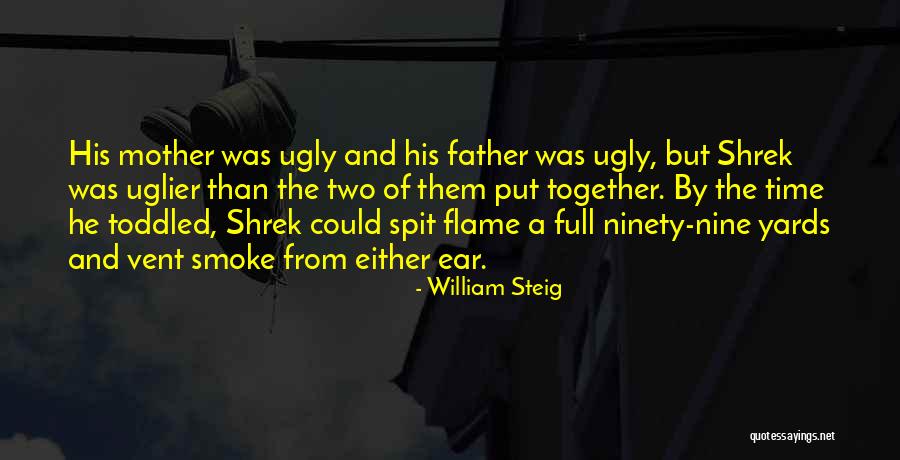 His mother was ugly and his father was ugly, but Shrek was uglier than the two of them put together. By the time he toddled, Shrek could spit flame a full ninety-nine yards and vent smoke from either ear. — William Steig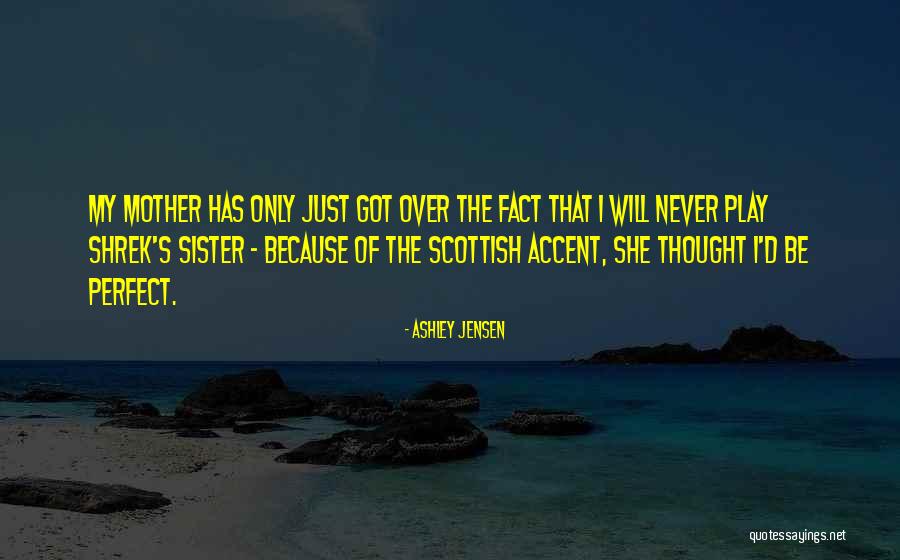 My mother has only just got over the fact that I will never play Shrek's sister - because of the Scottish accent, she thought I'd be perfect. — Ashley Jensen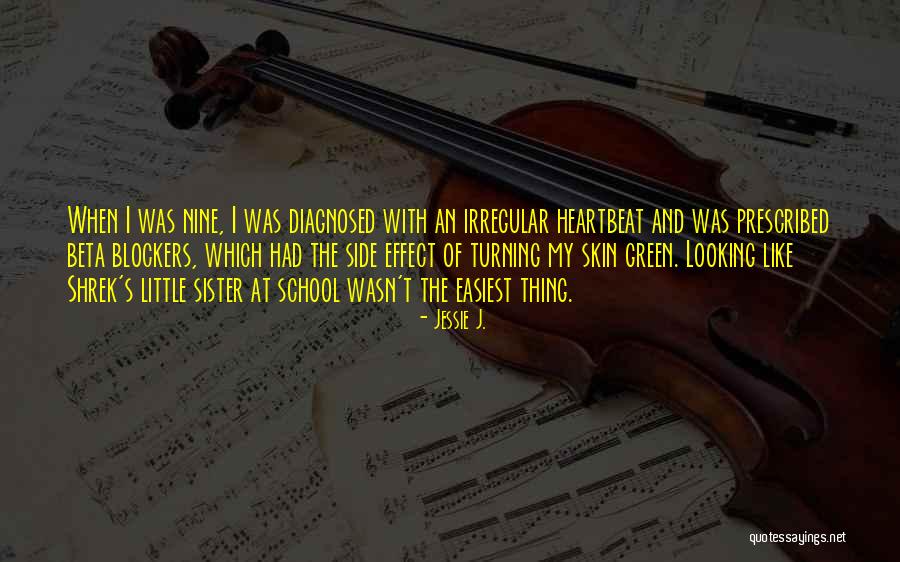 When I was nine, I was diagnosed with an irregular heartbeat and was prescribed beta blockers, which had the side effect of turning my skin green. Looking like Shrek's little sister at school wasn't the easiest thing. — Jessie J.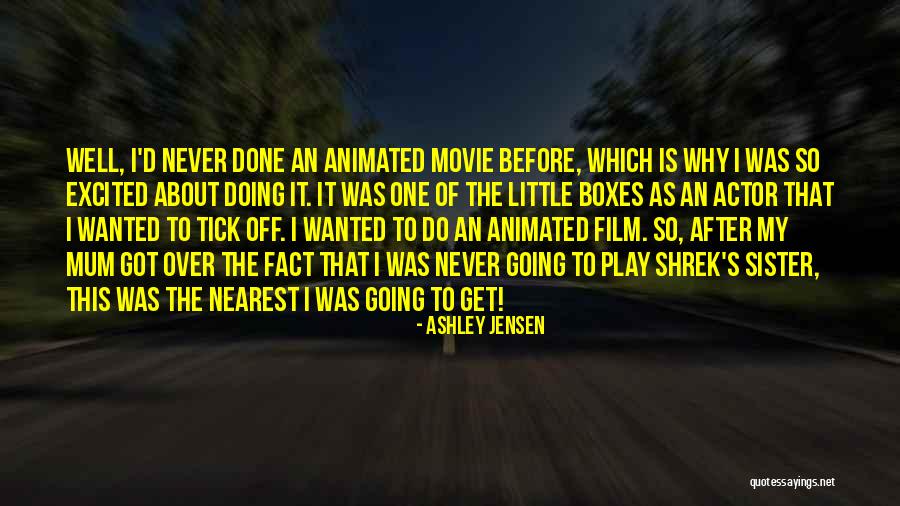 Well, I'd never done an animated movie before, which is why I was so excited about doing it. It was one of the little boxes as an actor that I wanted to tick off. I wanted to do an animated film. So, after my mum got over the fact that I was never going to play Shrek's sister, this was the nearest I was going to get! — Ashley Jensen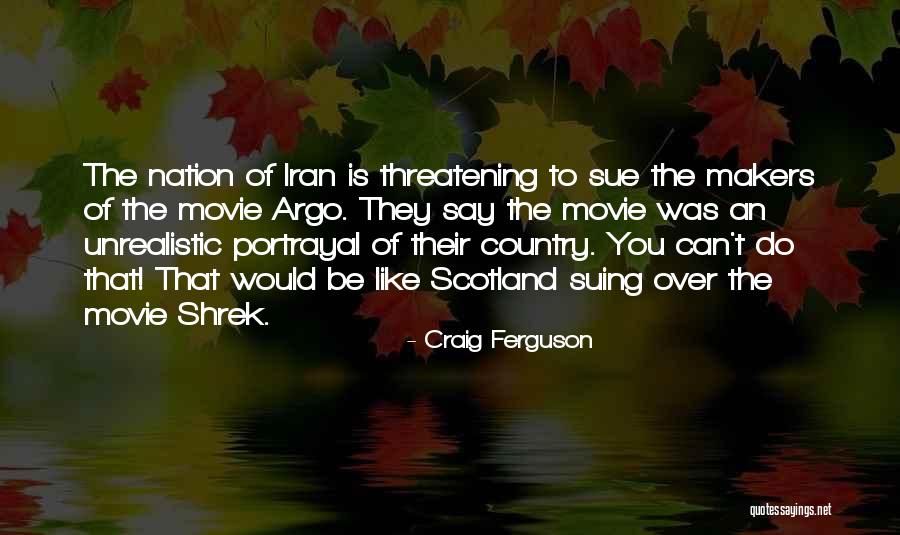 The nation of Iran is threatening to sue the makers of the movie Argo. They say the movie was an unrealistic portrayal of their country. You can't do that! That would be like Scotland suing over the movie Shrek. — Craig Ferguson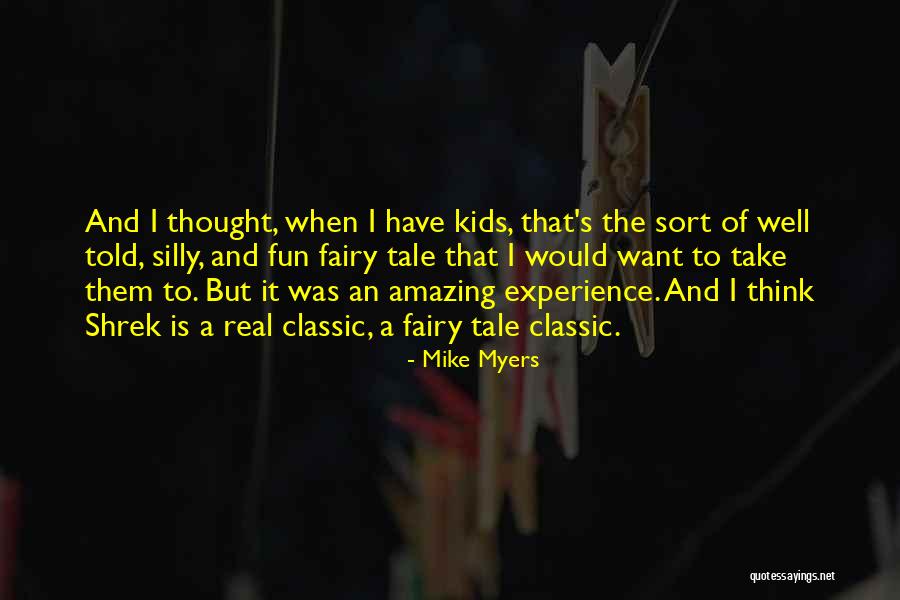 And I thought, when I have kids, that's the sort of well told, silly, and fun fairy tale that I would want to take them to. But it was an amazing experience. And I think Shrek is a real classic, a fairy tale classic. — Mike Myers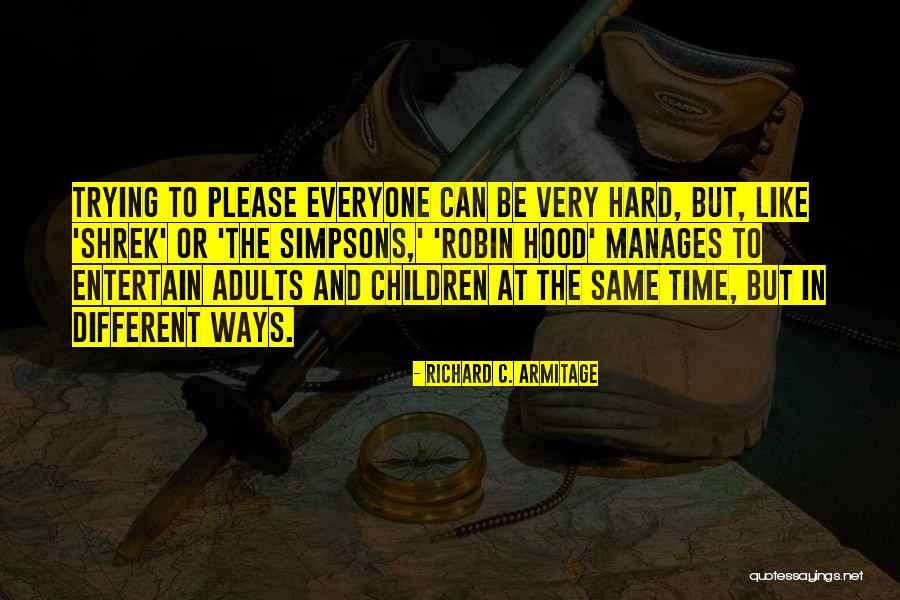 Trying to please everyone can be very hard, but, like 'Shrek' or 'The Simpsons,' 'Robin Hood' manages to entertain adults and children at the same time, but in different ways. — Richard C. Armitage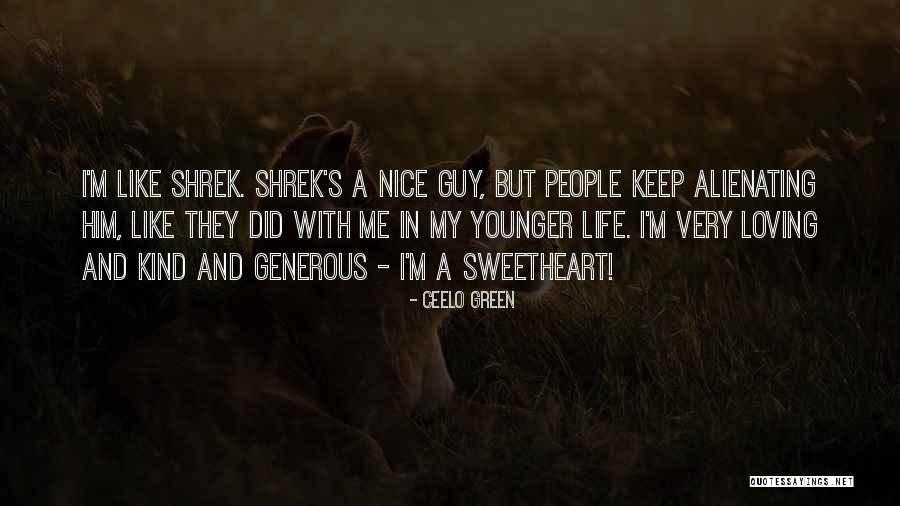 I'm like Shrek. Shrek's a nice guy, but people keep alienating him, like they did with me in my younger life. I'm very loving and kind and generous - I'm a sweetheart! — CeeLo Green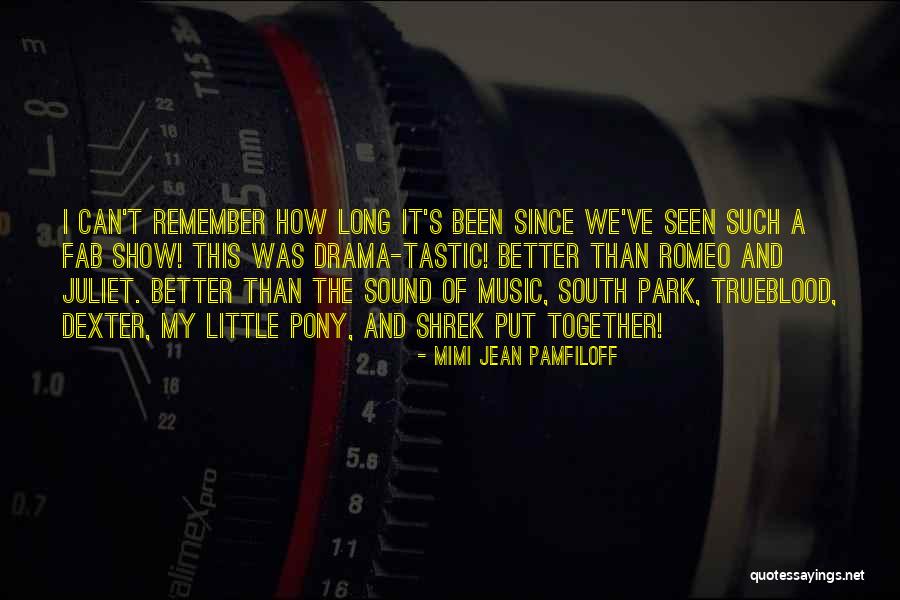 I can't remember how long it's been since we've seen such a fab show! This was drama-tastic! Better than Romeo and Juliet. Better than The Sound of Music, South Park, Trueblood, Dexter, My Little Pony, and Shrek put together! — Mimi Jean Pamfiloff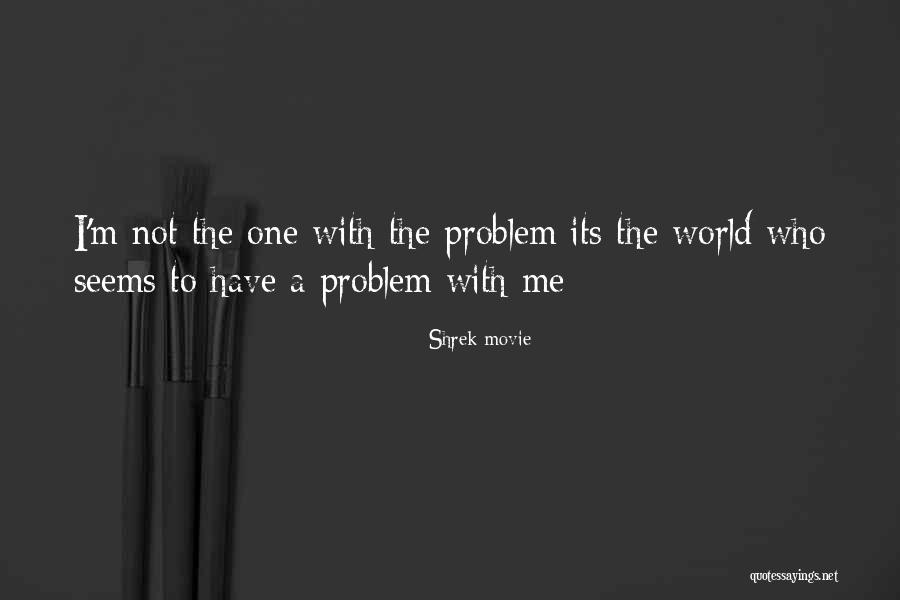 I'm not the one with the problem its the world who seems to have a problem with me — Shrek Movie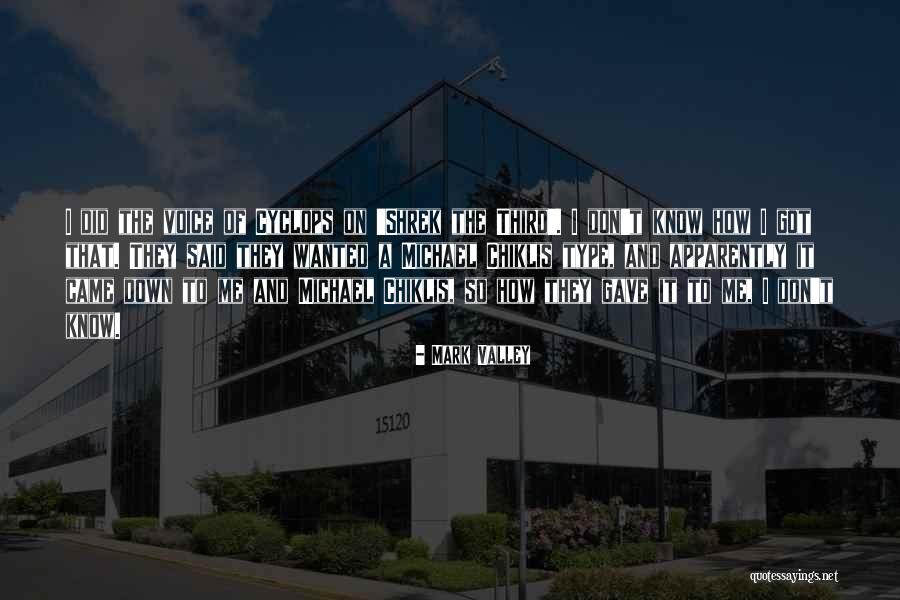 I did the voice of Cyclops on 'Shrek the Third'. I don't know how I got that. They said they wanted a Michael Chiklis type, and apparently it came down to me and Michael Chiklis, so how they gave it to me, I don't know. — Mark Valley
I have a small child. Being a parent takes a lot of time. People always ask me, "What movies have you watched lately?" I tell them, "Finding 'Nemo' ... 'Shrek' ... — Clint Eastwood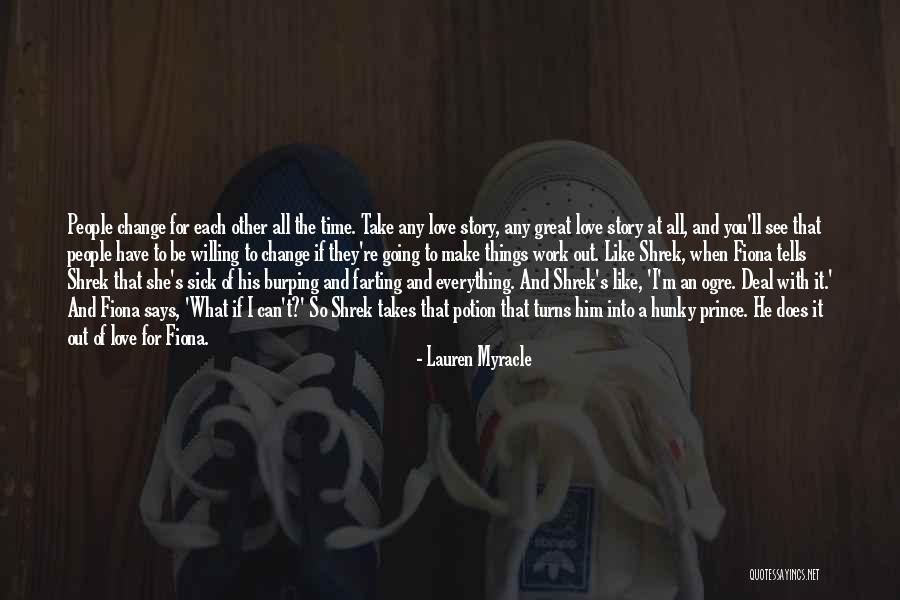 People change for each other all the time. Take any love story, any great love story at all, and you'll see that people have to be willing to change if they're going to make things work out. Like Shrek, when Fiona tells Shrek that she's sick of his burping and farting and everything. And Shrek's like, 'I'm an ogre. Deal with it.' And Fiona says, 'What if I can't?' So Shrek takes that potion that turns him into a hunky prince. He does it out of love for Fiona. — Lauren Myracle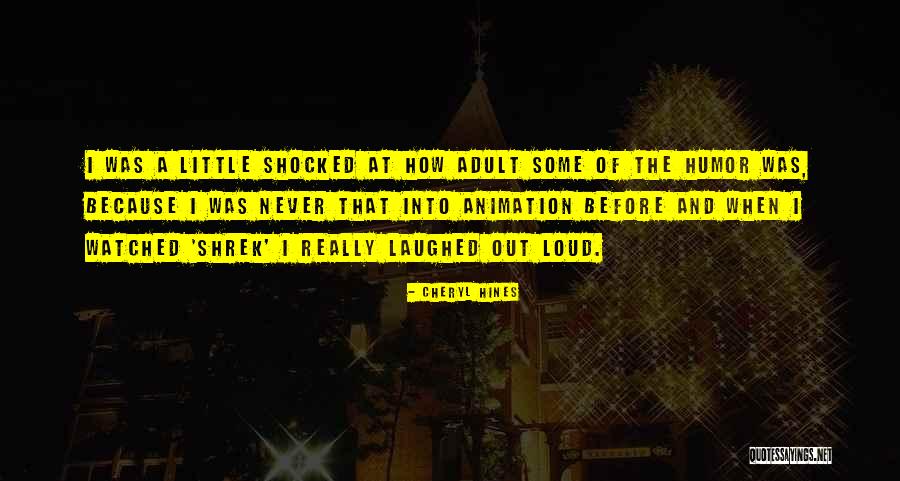 I was a little shocked at how adult some of the humor was, because I was never that into animation before and when I watched 'Shrek' I really laughed out loud. — Cheryl Hines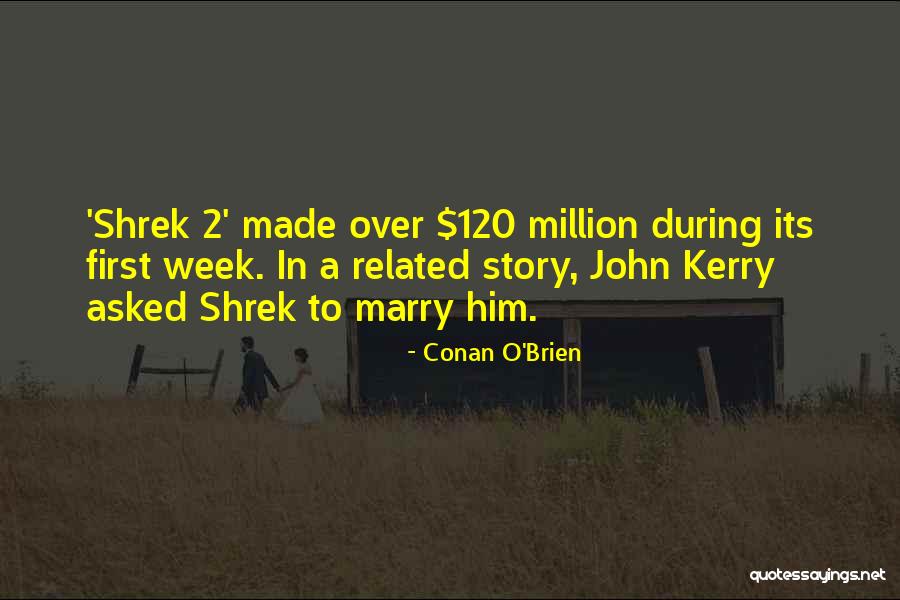 'Shrek 2' made over $120 million during its first week. In a related story, John Kerry asked Shrek to marry him. — Conan O'Brien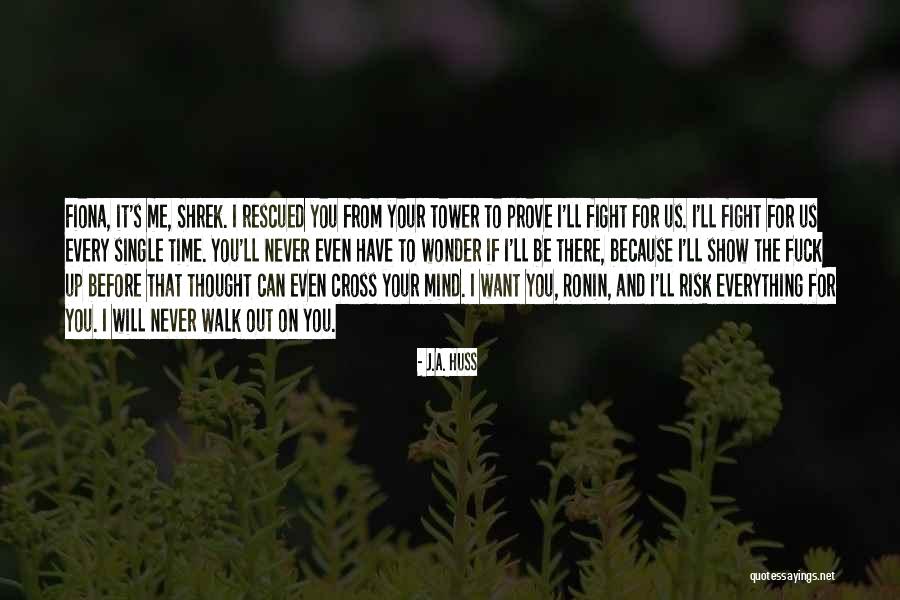 Fiona, it's me, Shrek. I rescued you from your tower to prove I'll fight for us. I'll fight for us every single time. You'll never even have to wonder if I'll be there, because I'll show the fuck up before that thought can even cross your mind. I want you, Ronin, and I'll risk everything for you. I will never walk out on you. — J.A. Huss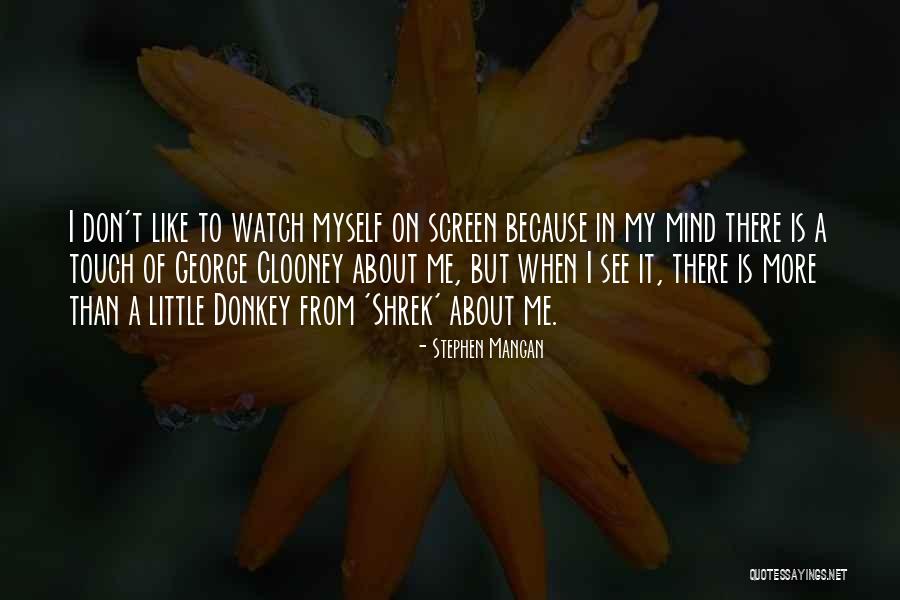 I don't like to watch myself on screen because in my mind there is a touch of George Clooney about me, but when I see it, there is more than a little Donkey from 'Shrek' about me. — Stephen Mangan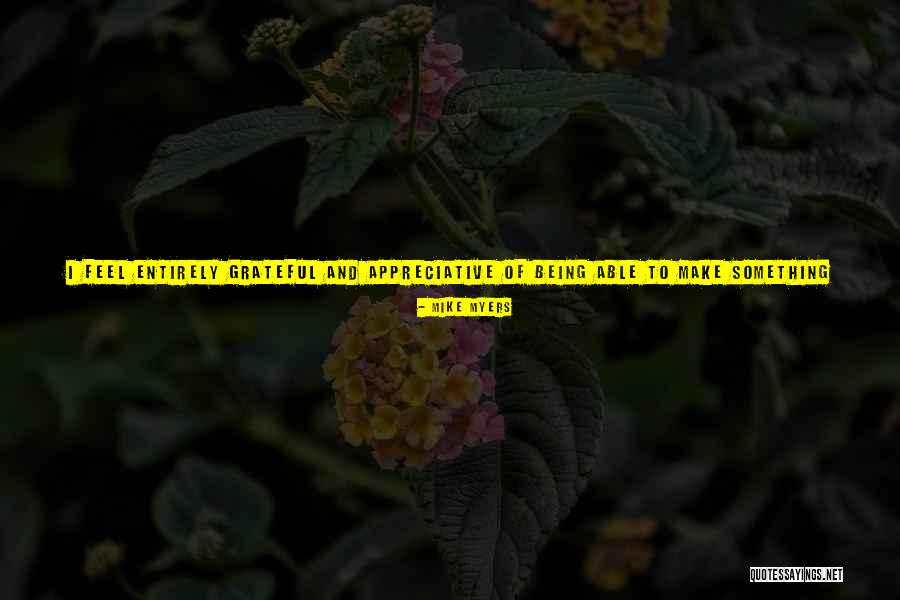 I feel entirely grateful and appreciative of being able to make something up and do it, and I'm very grateful how well it's gone. I'm a guy from Toronto who just wanted to be an actor since he was eight so it's all kind-of crazy. Shrek has been wonderfully successful, it did really well in the States, and so it's magical to me, still. I'm still that kid from Toronto. — Mike Myers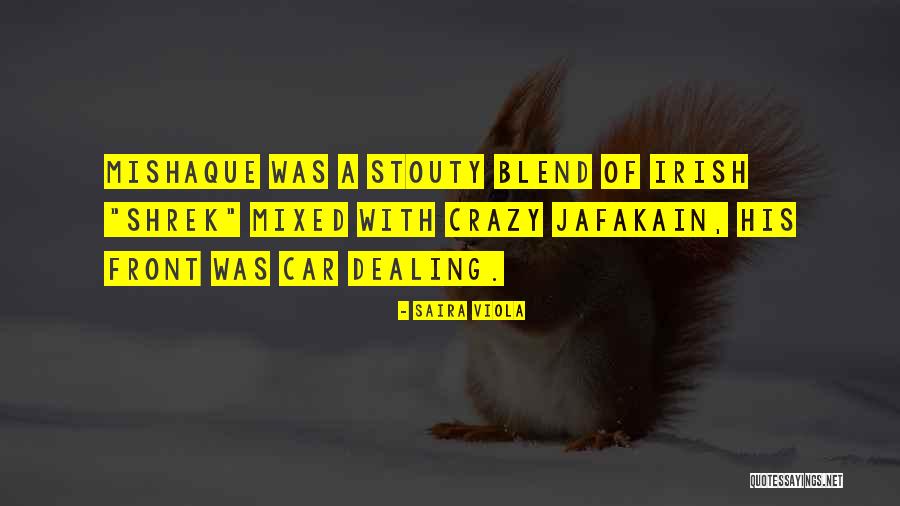 Mishaque was a stouty blend of Irish "shrek" mixed with crazy Jafakain, his front was car dealing. — Saira Viola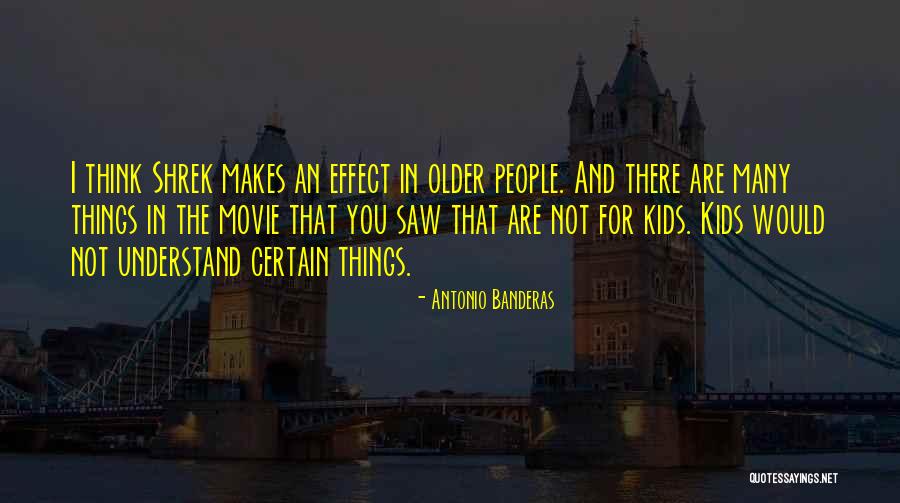 I think Shrek makes an effect in older people. And there are many things in the movie that you saw that are not for kids. Kids would not understand certain things. — Antonio Banderas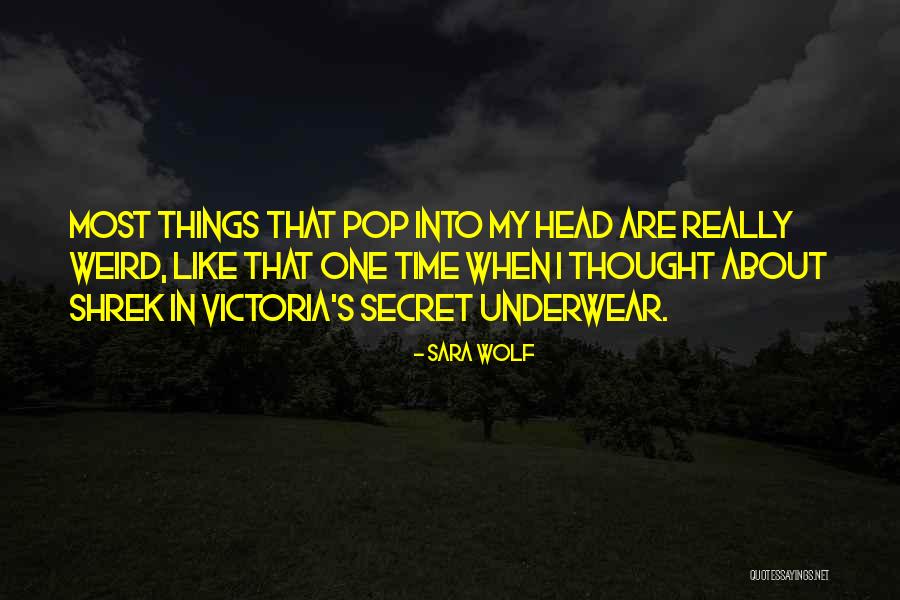 Most things that pop into my head are really weird, like that one time when I thought about Shrek in Victoria's Secret underwear. — Sara Wolf
One of the head guys at Disney categorically said to me, 'We don't want to make children's films any more. We want to make films that are going to appeal to all quadrants.' Hence you have films like 'Shrek' and all the Pixar stuff, which is designed to suit everybody. — Gurinder Chadha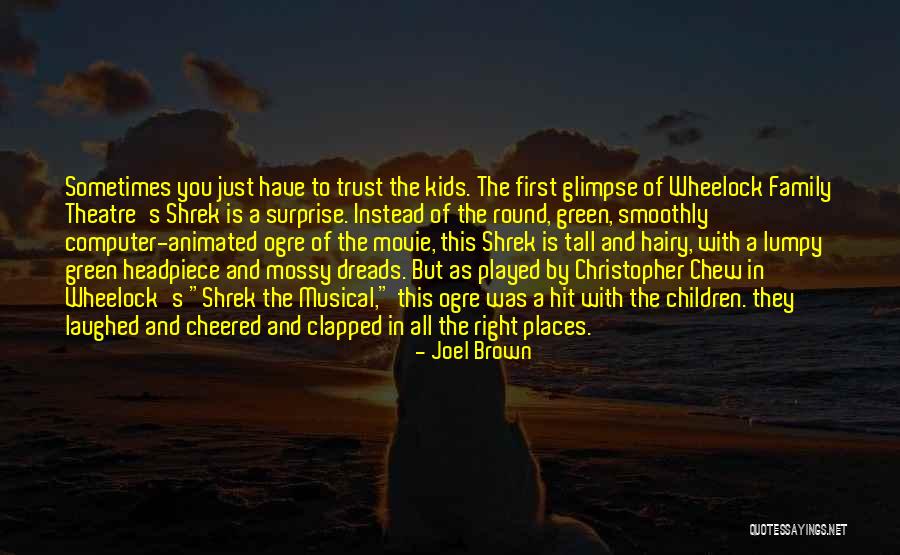 Sometimes you just have to trust the kids. The first glimpse of Wheelock Family Theatre's Shrek is a surprise. Instead of the round, green, smoothly computer-animated ogre of the movie, this Shrek is tall and hairy, with a lumpy green headpiece and mossy dreads. But as played by Christopher Chew in Wheelock's "Shrek the Musical," this ogre was a hit with the children. they laughed and cheered and clapped in all the right places. — Joel Brown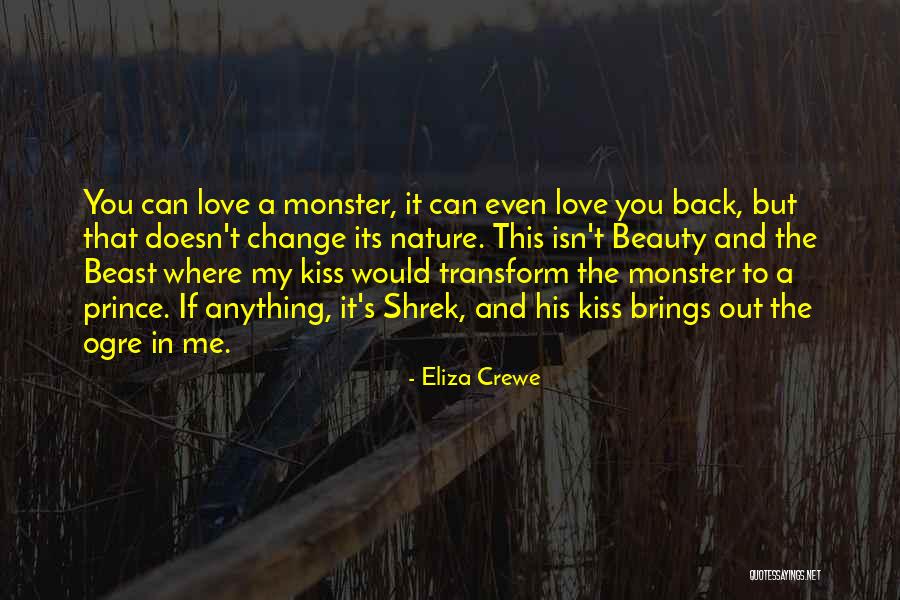 You can love a monster, it can even love you back, but that doesn't change its nature. This isn't Beauty and the Beast where my kiss would transform the monster to a prince. If anything, it's Shrek, and his kiss brings out the ogre in me. — Eliza Crewe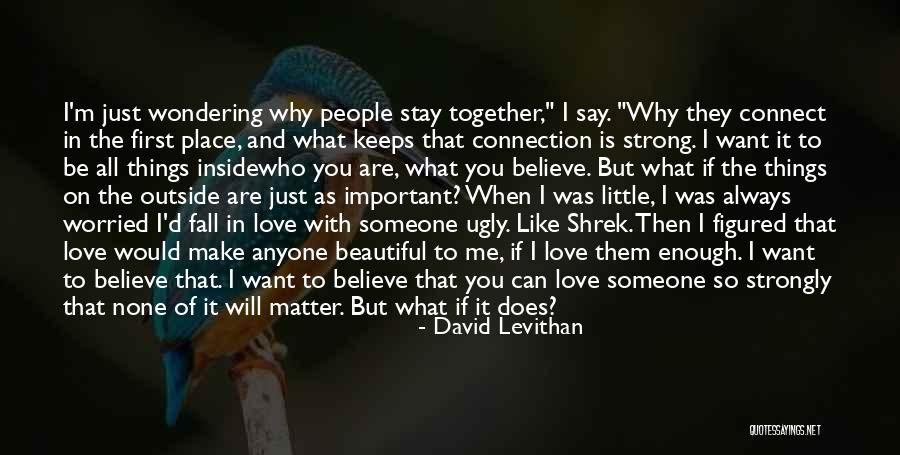 I'm just wondering why people stay together," I say. "Why they connect in the first place, and what keeps that connection is strong. I want it to be all things inside
who you are,
what you believe. But what if the things on the outside are just as important? When I was little, I was always worried I'd fall in love with someone ugly. Like Shrek. Then I figured that love would make anyone beautiful to me, if I love them enough. I want to believe that. I want to believe that you can love someone so strongly that none of it will matter. But what if it does? — David Levithan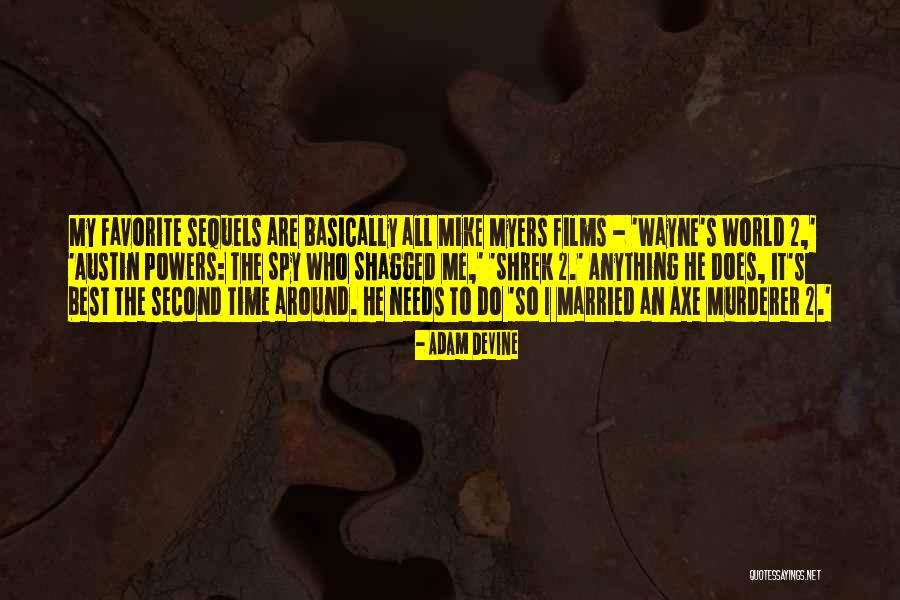 My favorite sequels are basically all Mike Myers films - 'Wayne's World 2,' 'Austin Powers: The Spy Who Shagged Me,' 'Shrek 2.' Anything he does, it's best the second time around. He needs to do 'So I Married an Axe Murderer 2.' — Adam DeVine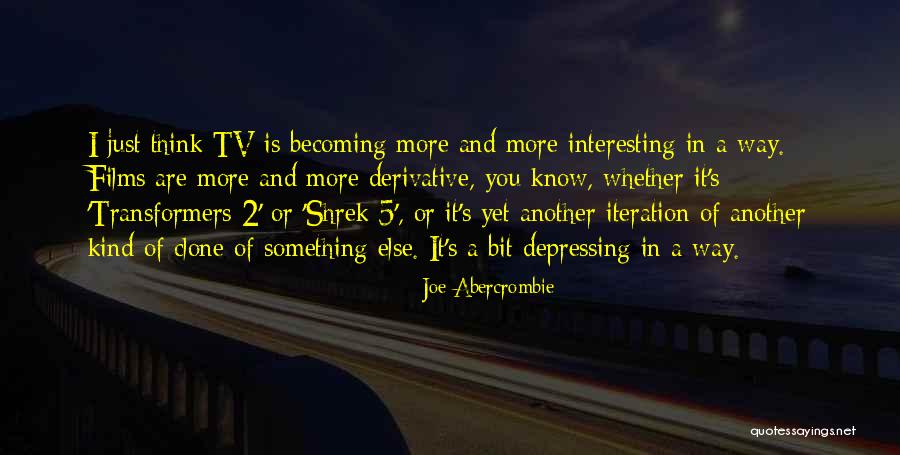 I just think TV is becoming more and more interesting in a way. Films are more and more derivative, you know, whether it's 'Transformers 2' or 'Shrek 5', or it's yet another iteration of another kind of clone of something else. It's a bit depressing in a way. — Joe Abercrombie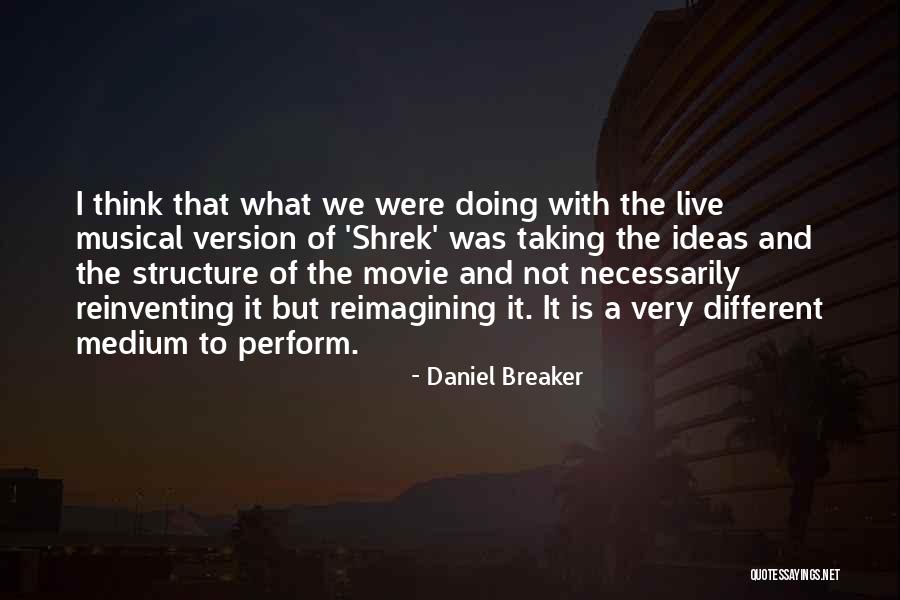 I think that what we were doing with the live musical version of 'Shrek' was taking the ideas and the structure of the movie and not necessarily reinventing it but reimagining it. It is a very different medium to perform. — Daniel Breaker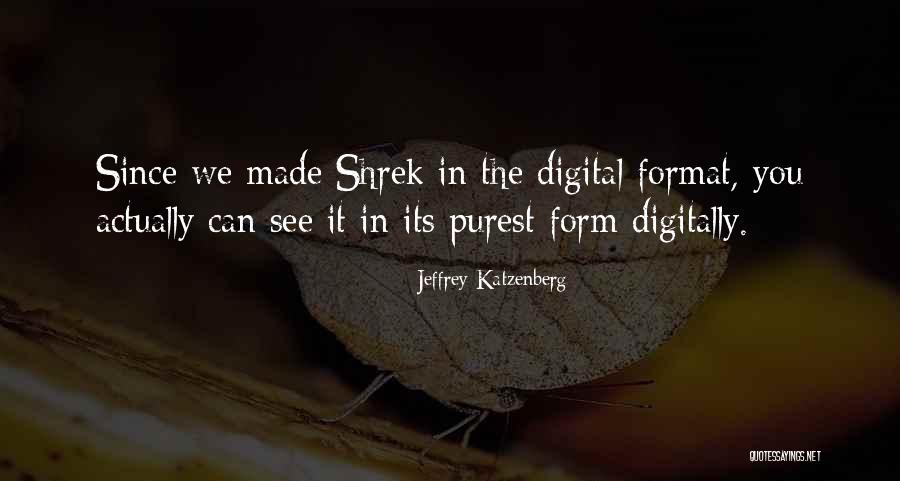 Since we made Shrek in the digital format, you actually can see it in its purest form digitally. — Jeffrey Katzenberg
It's the gap in the teeth. My friends say I look like Shrek - some of my friends - and you can't choose your friends, so what can I say? — Louis Oosthuizen