Respect Our President Quotes & Sayings
Enjoy reading and share 58 famous quotes about Respect Our President with everyone.
Top Respect Our President Quotes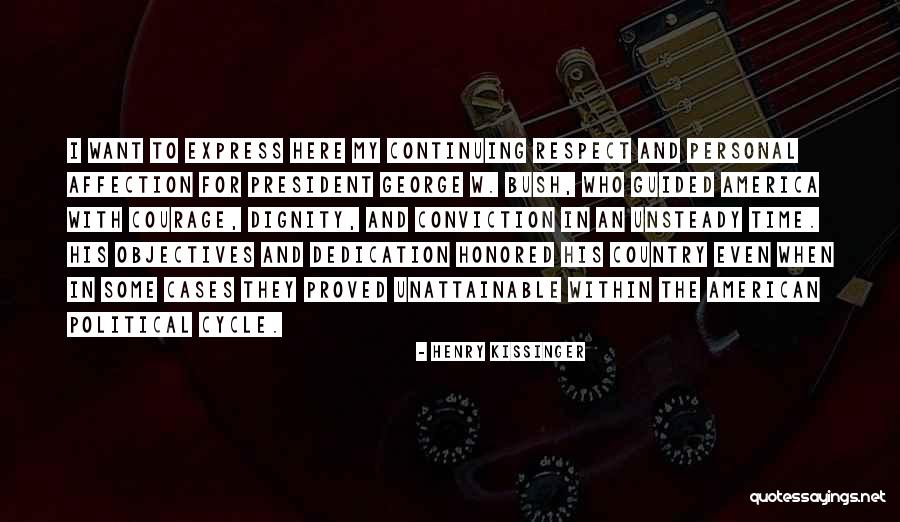 I want to express here my continuing respect and personal affection for President George W. Bush, who guided America with courage, dignity, and conviction in an unsteady time. His objectives and dedication honored his country even when in some cases they proved unattainable within the American political cycle. — Henry Kissinger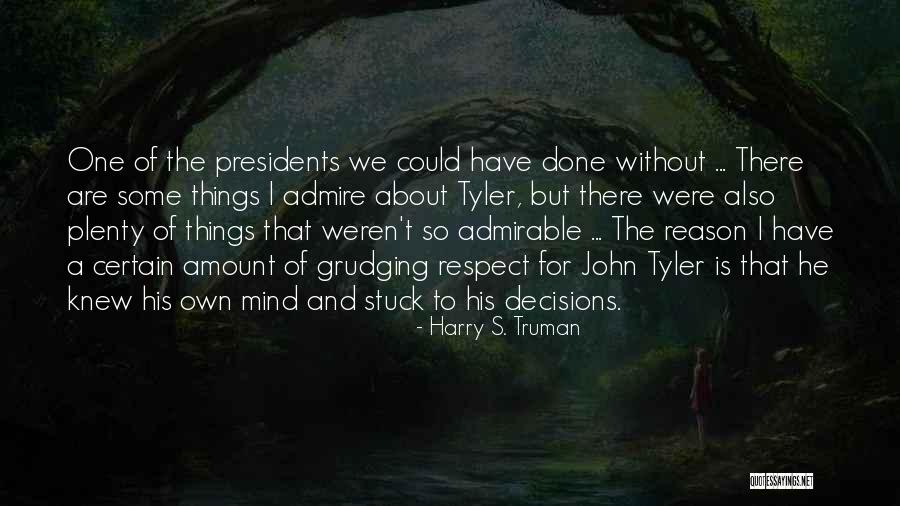 One of the presidents we could have done without ... There are some things I admire about Tyler, but there were also plenty of things that weren't so admirable ... The reason I have a certain amount of grudging respect for John Tyler is that he knew his own mind and stuck to his decisions. — Harry S. Truman
I was a constitutional law professor, which means unlike the current president I actually respect the Constitution. — Barack Obama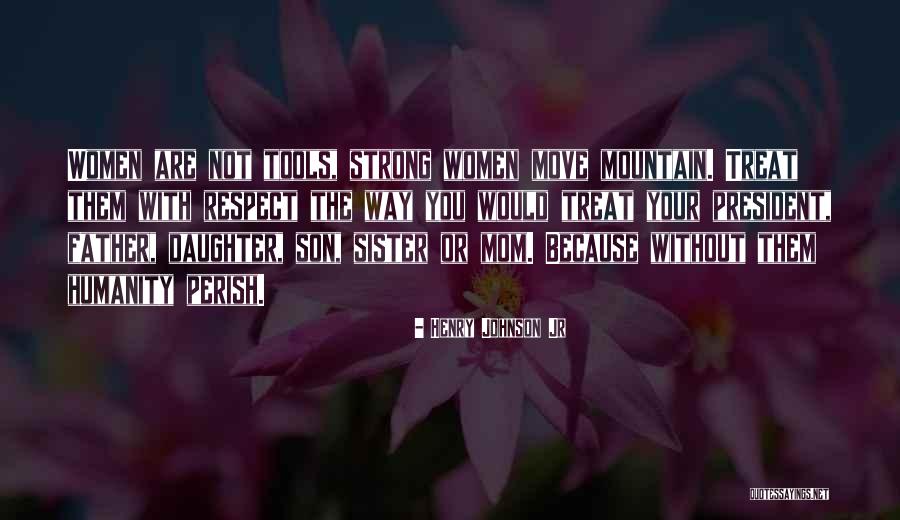 Women are not tools, strong women move mountain. Treat them with respect the way you would treat your president, father, daughter, son, sister or mom. Because without them humanity perish. — Henry Johnson Jr
From the very beginning the president [of USA] had two very important principles that had to be reconciled. One principle is that every woman should have the right to all forms of preventive health care, including contraception. The other is that we need to respect the religious liberties which are the cornerstone of American life. — Jacob Lew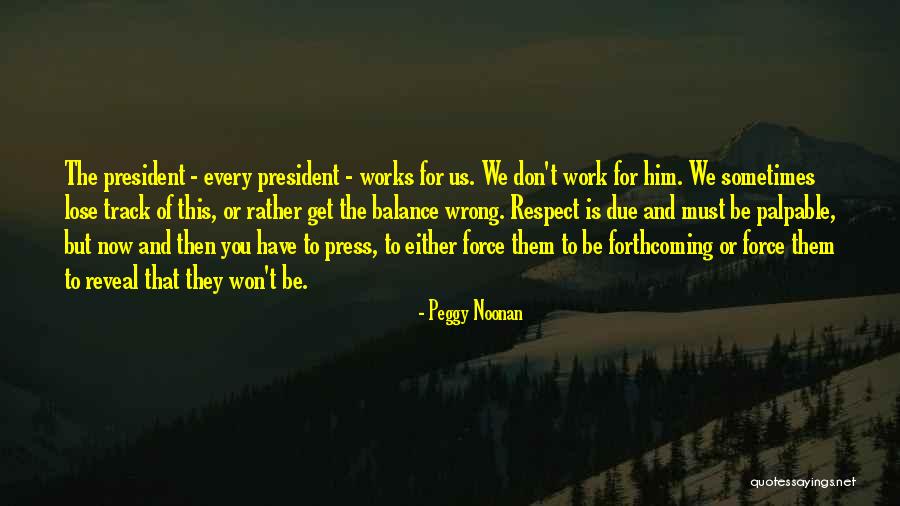 The president - every president - works for us. We don't work for him. We sometimes lose track of this, or rather get the balance wrong. Respect is due and must be palpable, but now and then you have to press, to either force them to be forthcoming or force them to reveal that they won't be. — Peggy Noonan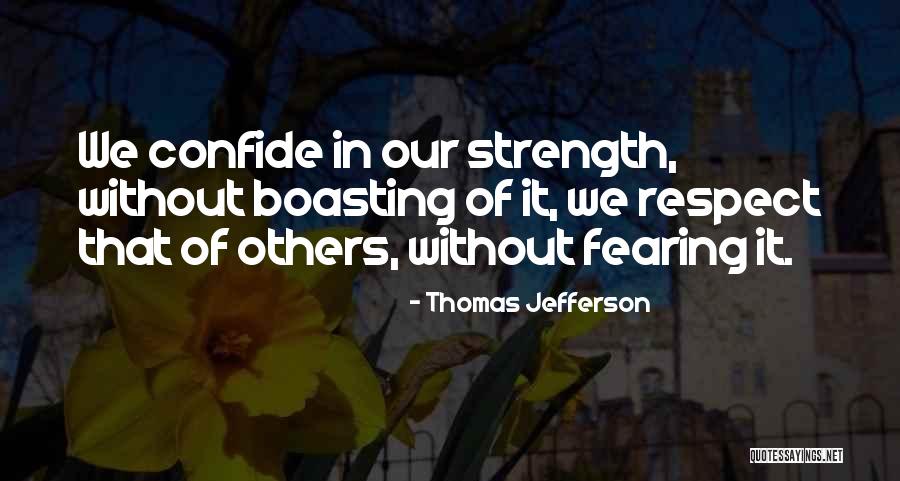 We confide in our strength, without boasting of it, we respect that of others, without fearing it. — Thomas Jefferson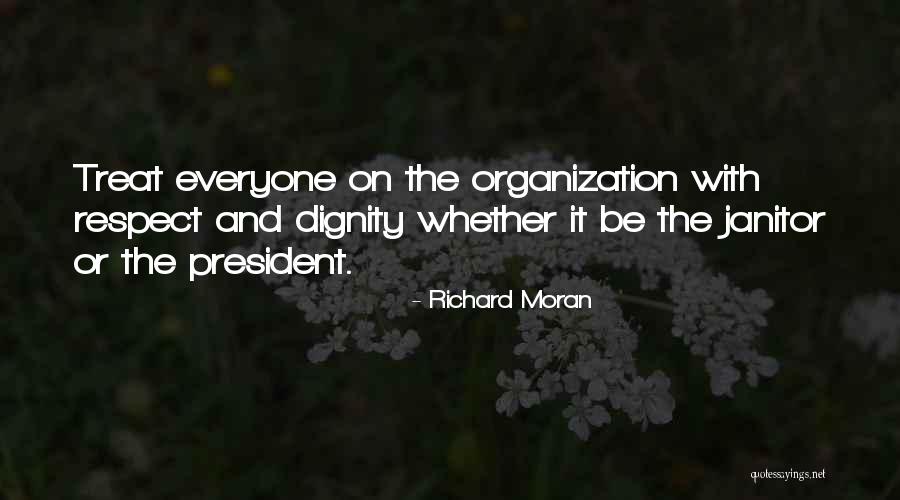 Treat everyone on the organization with respect and dignity whether it be the janitor or the president. — Richard Moran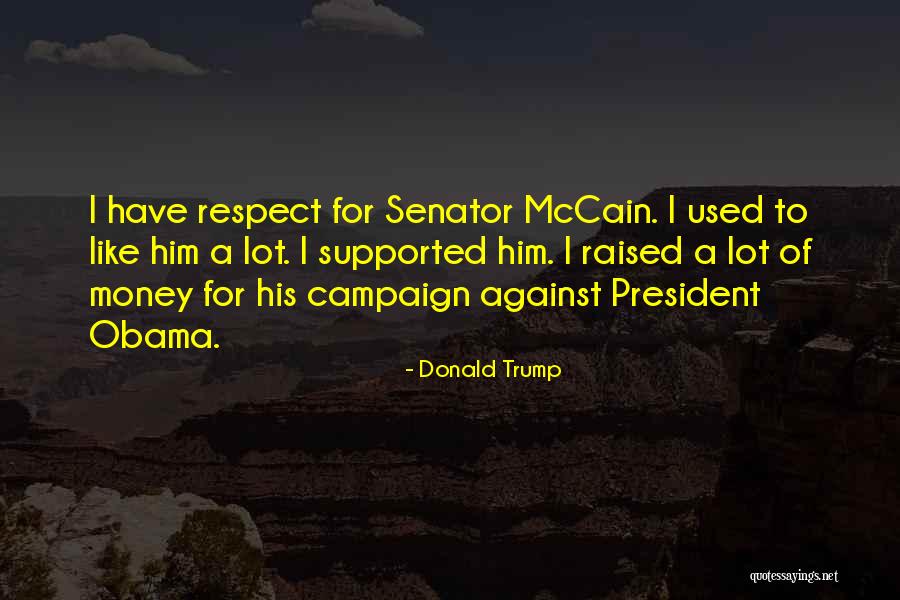 I have respect for Senator McCain. I used to like him a lot. I supported him. I raised a lot of money for his campaign against President Obama. — Donald Trump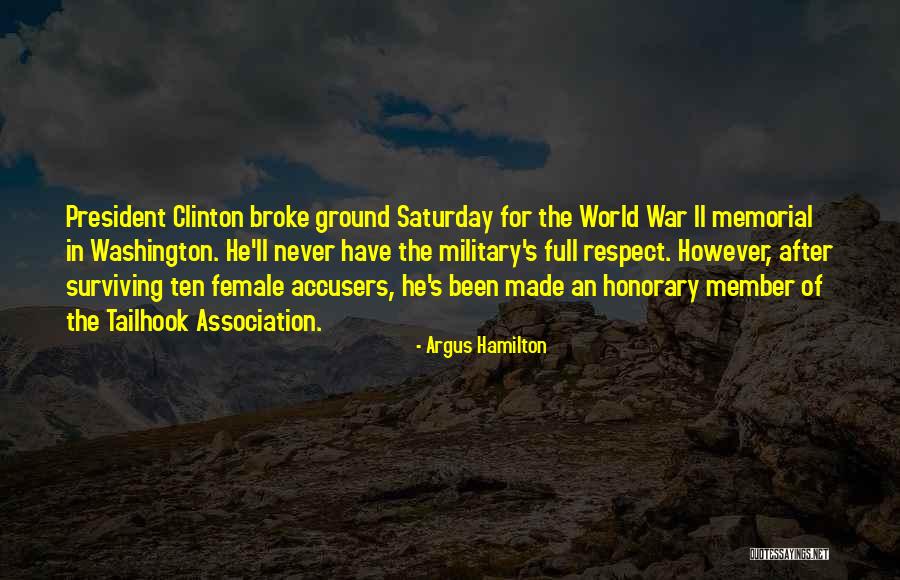 President Clinton broke ground Saturday for the World War II memorial in Washington. He'll never have the military's full respect. However, after surviving ten female accusers, he's been made an honorary member of the Tailhook Association. — Argus Hamilton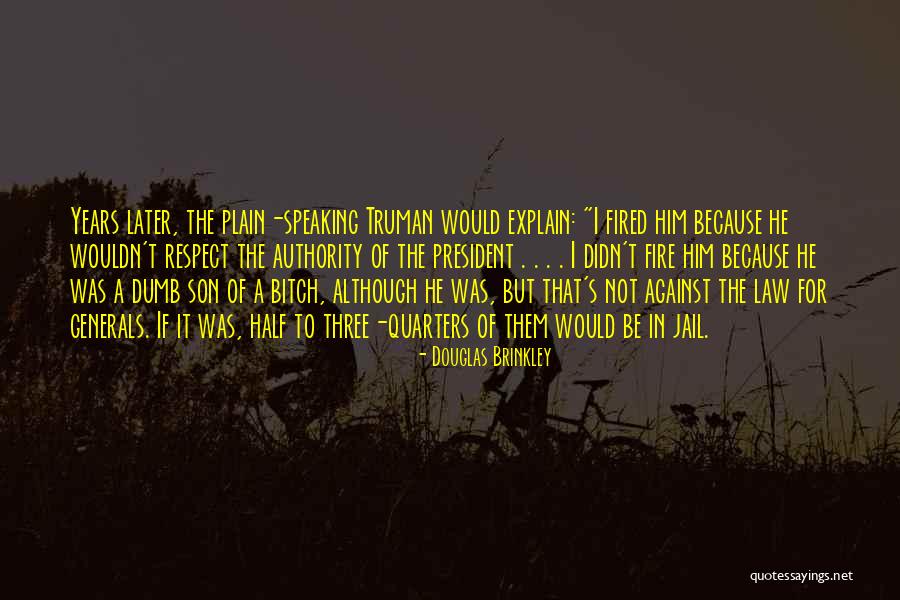 Years later, the plain-speaking Truman would explain: "I fired him because he wouldn't respect the authority of the president . . . . I didn't fire him because he was a dumb son of a bitch, although he was, but that's not against the law for generals. If it was, half to three-quarters of them would be in jail. — Douglas Brinkley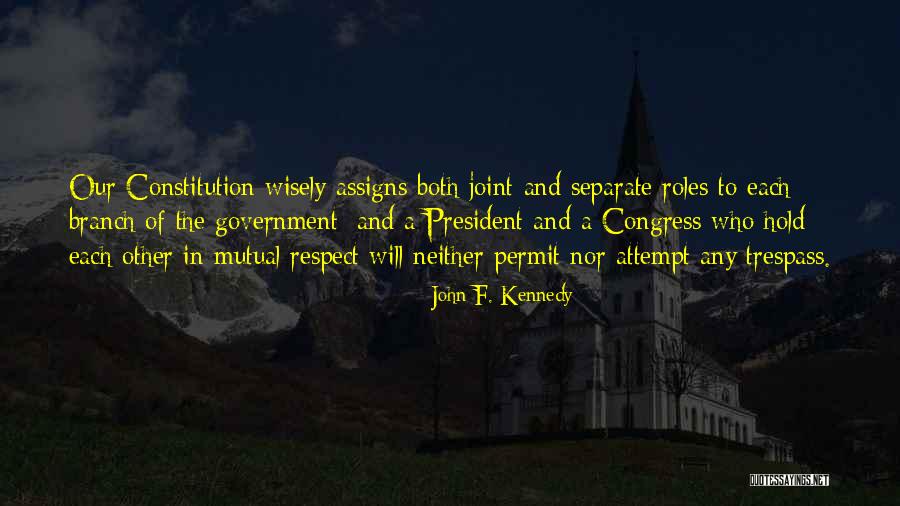 Our Constitution wisely assigns both joint and separate roles to each branch of the government; and a President and a Congress who hold each other in mutual respect will neither permit nor attempt any trespass. — John F. Kennedy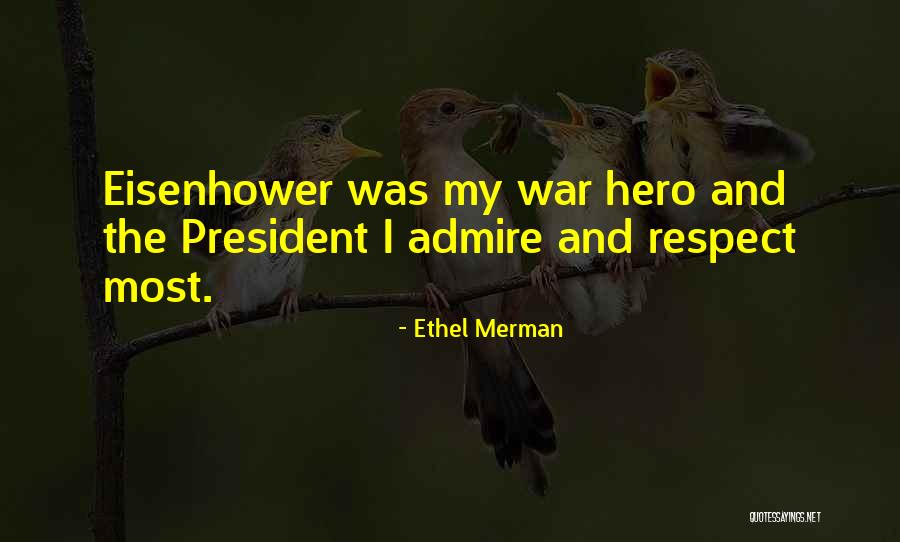 Eisenhower was my war hero and the President I admire and respect most. — Ethel Merman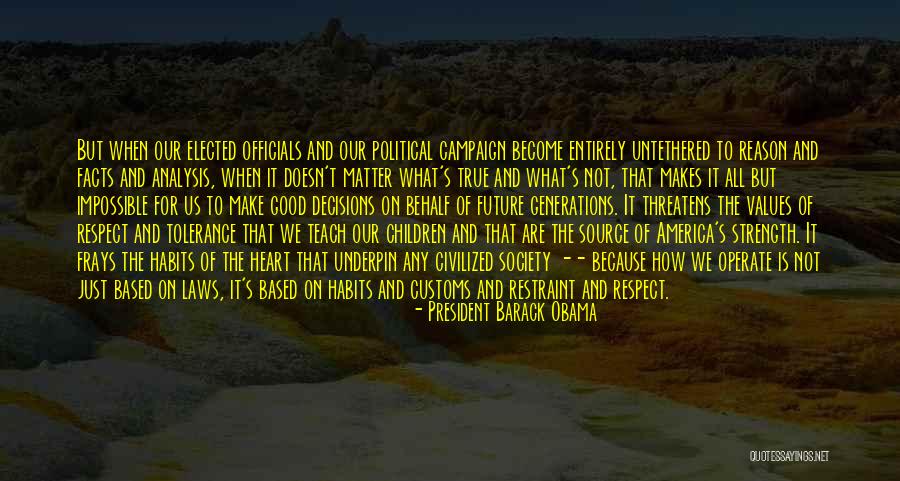 But when our elected officials and our political campaign become entirely untethered to reason and facts and analysis, when it doesn't matter what's true and what's not, that makes it all but impossible for us to make good decisions on behalf of future generations. It threatens the values of respect and tolerance that we teach our children and that are the source of America's strength. It frays the habits of the heart that underpin any civilized society -- because how we operate is not just based on laws, it's based on habits and customs and restraint and respect. — President Barack Obama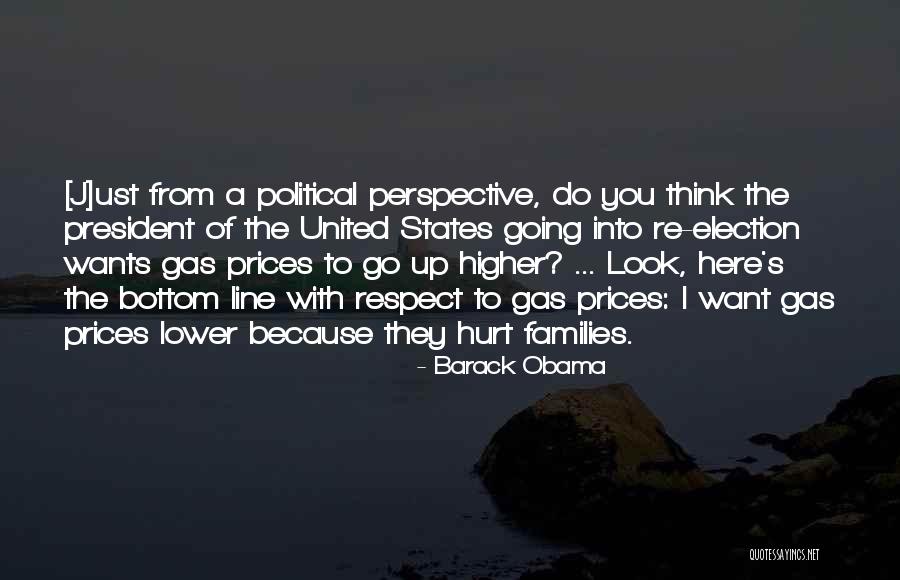 [J]ust from a political perspective, do you think the president of the United States going into re-election wants gas prices to go up higher? ... Look, here's the bottom line with respect to gas prices: I want gas prices lower because they hurt families. — Barack Obama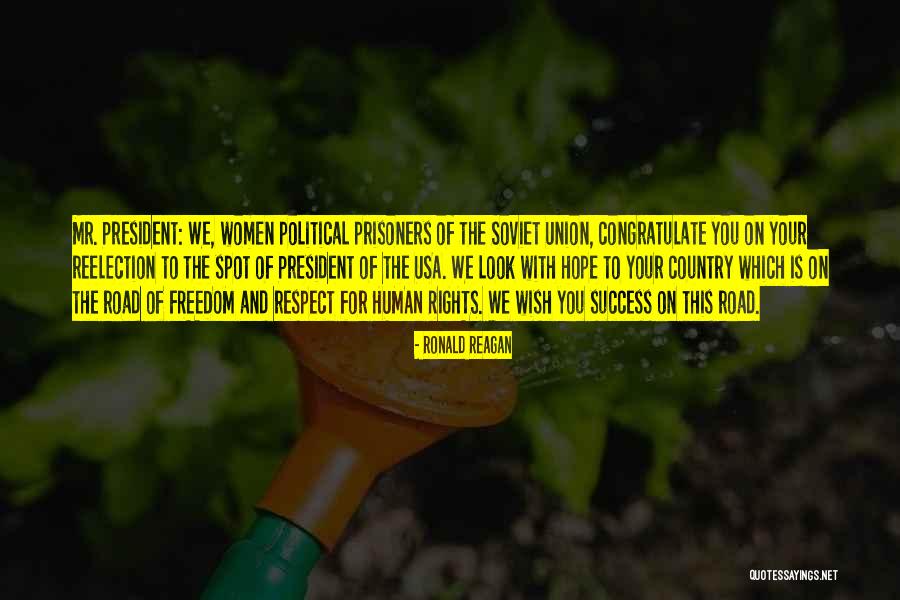 Mr. President: We, women political prisoners of the Soviet Union, congratulate you on your reelection to the spot of President of the USA. We look with hope to your country which is on the road of FREEDOM and respect for HUMAN RIGHTS. We wish you success on this road. — Ronald Reagan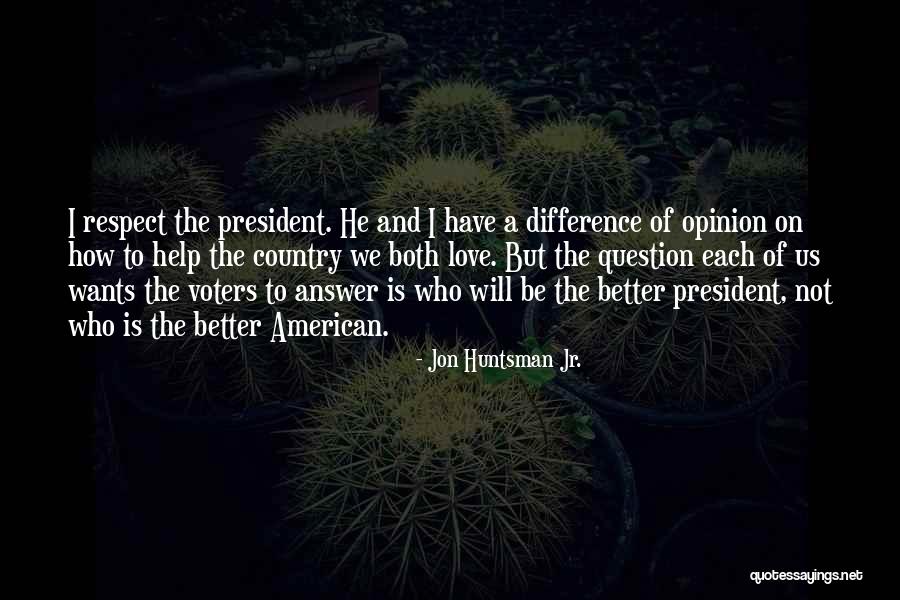 I respect the president. He and I have a difference of opinion on how to help the country we both love. But the question each of us wants the voters to answer is who will be the better president, not who is the better American. — Jon Huntsman Jr.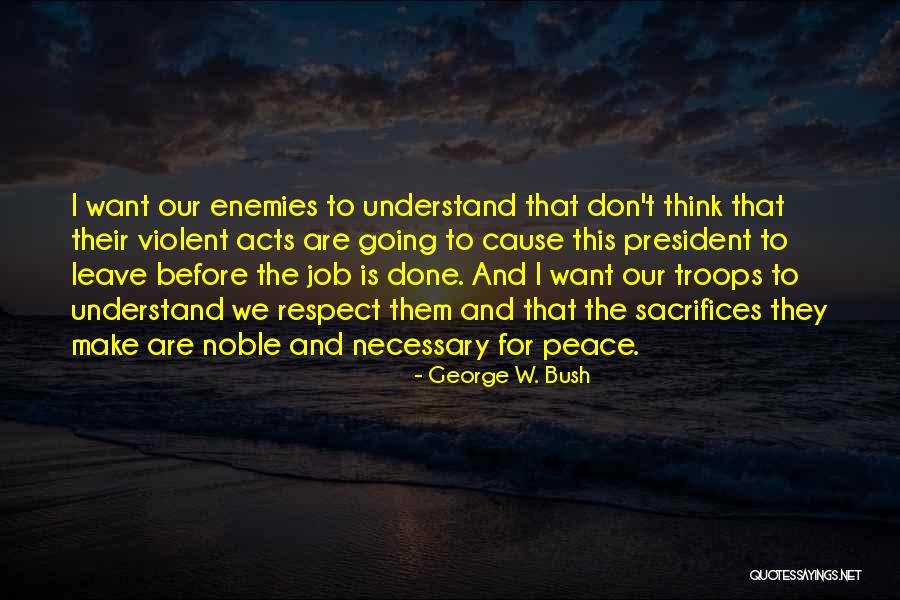 I want our enemies to understand that don't think that their violent acts are going to cause this president to leave before the job is done. And I want our troops to understand we respect them and that the sacrifices they make are noble and necessary for peace. — George W. Bush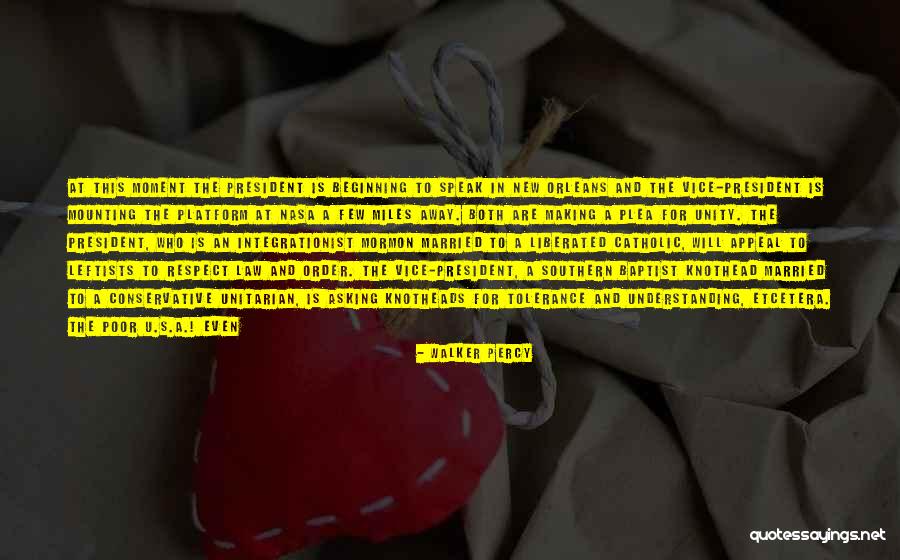 At this moment the President is beginning to speak in New Orleans and the Vice-President is mounting the platform at NASA a few miles away. Both are making a plea for unity. The President, who is an integrationist Mormon married to a liberated Catholic, will appeal to Leftists to respect law and order. The Vice-President, a Southern Baptist Knothead married to a conservative Unitarian, is asking Knotheads for tolerance and understanding, etcetera. The poor U.S.A.! Even — Walker Percy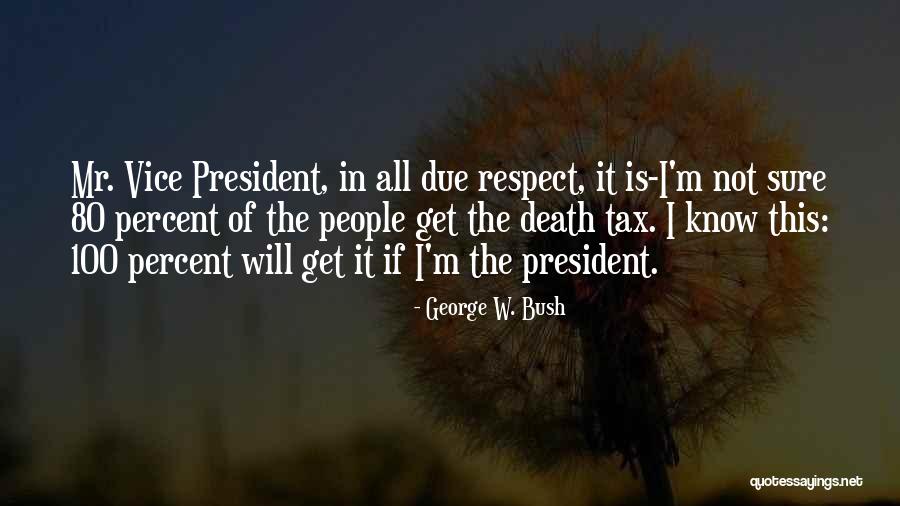 Mr. Vice President, in all due respect, it is-I'm not sure 80 percent of the people get the death tax. I know this: 100 percent will get it if I'm the president. — George W. Bush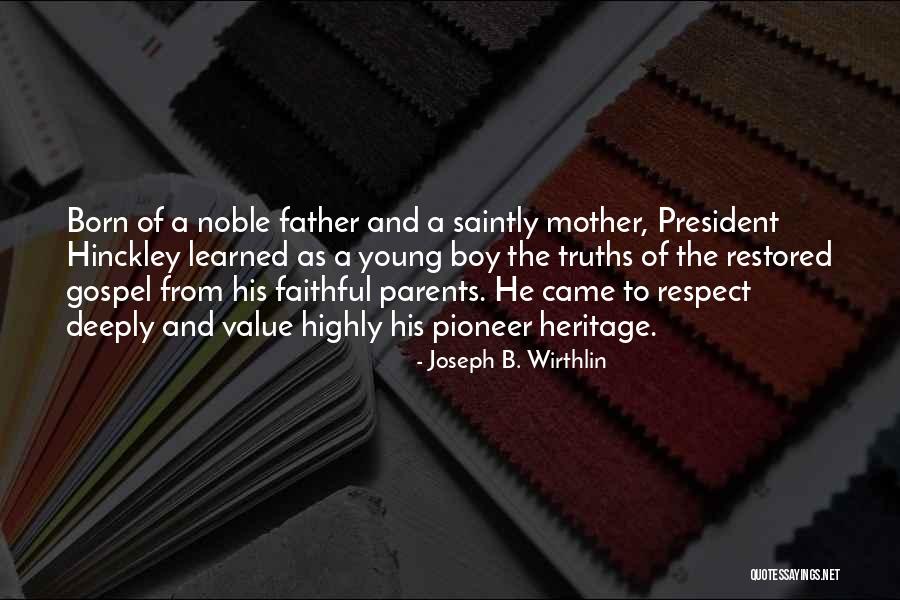 Born of a noble father and a saintly mother, President Hinckley learned as a young boy the truths of the restored gospel from his faithful parents. He came to respect deeply and value highly his pioneer heritage. — Joseph B. Wirthlin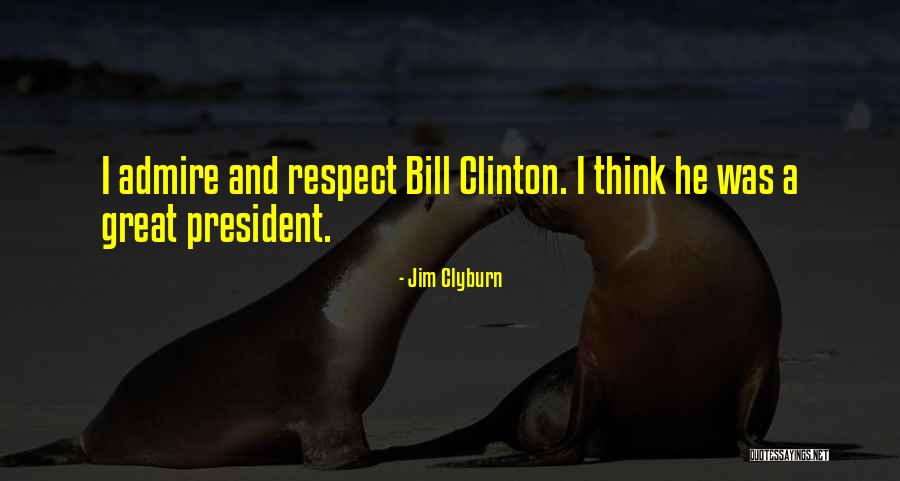 I admire and respect Bill Clinton. I think he was a great president. — Jim Clyburn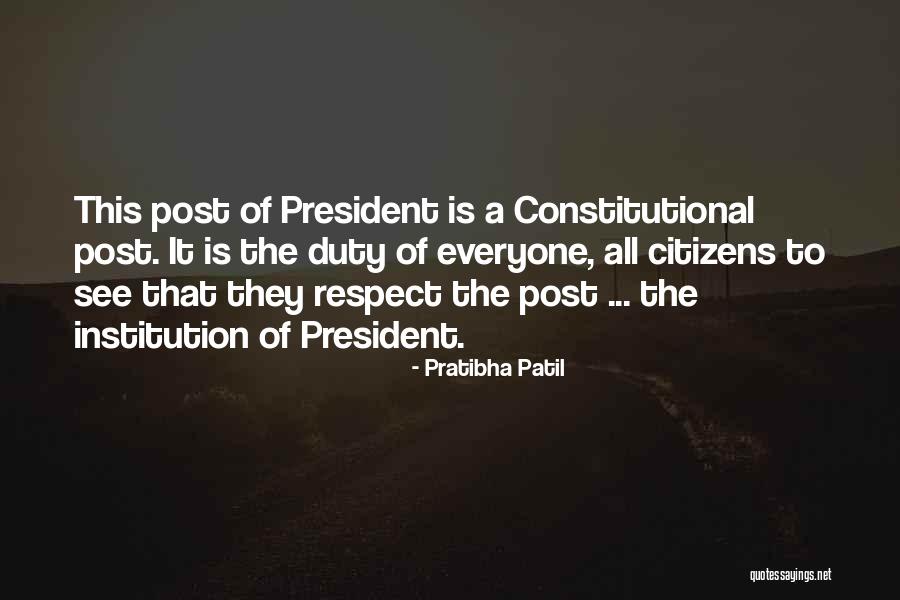 This post of President is a Constitutional post. It is the duty of everyone, all citizens to see that they respect the post ... the institution of President. — Pratibha Patil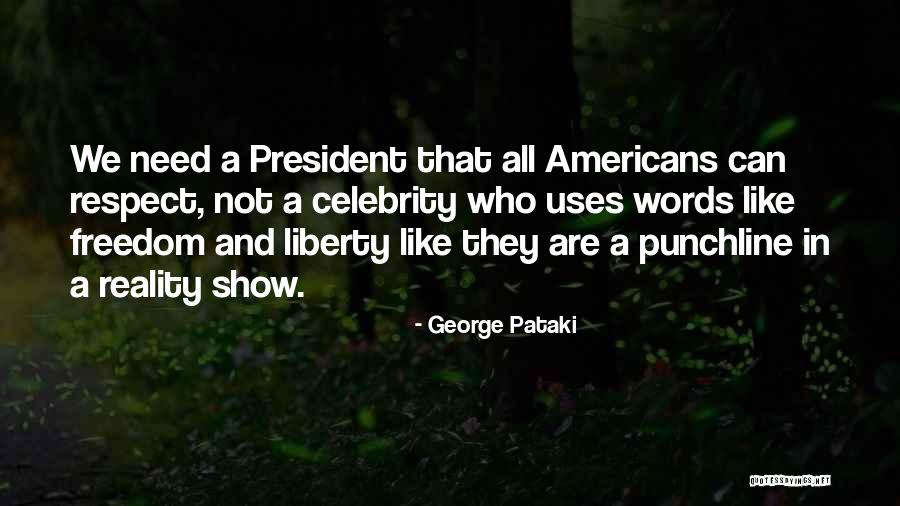 We need a President that all Americans can respect, not a celebrity who uses words like freedom and liberty like they are a punchline in a reality show. — George Pataki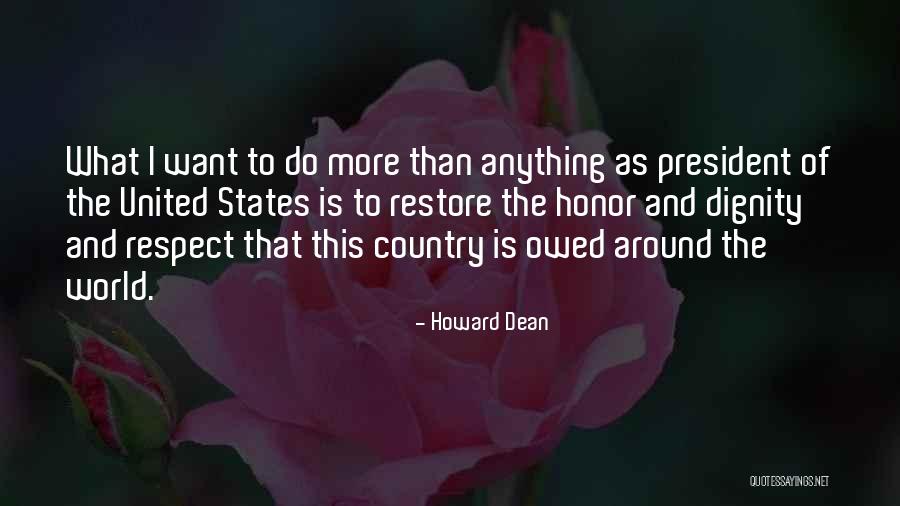 What I want to do more than anything as president of the United States is to restore the honor and dignity and respect that this country is owed around the world. — Howard Dean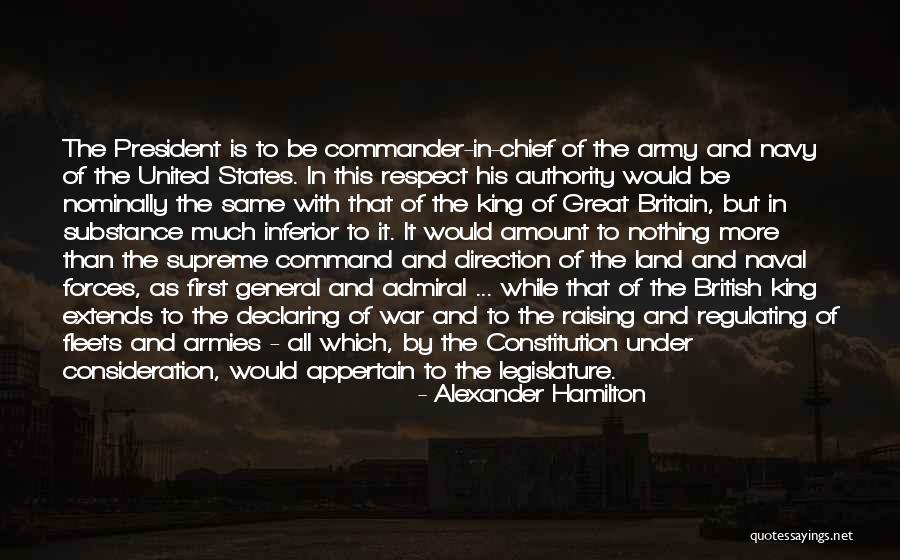 The President is to be commander-in-chief of the army and navy of the United States. In this respect his authority would be nominally the same with that of the king of Great Britain, but in substance much inferior to it. It would amount to nothing more than the supreme command and direction of the land and naval forces, as first general and admiral ... while that of the British king extends to the declaring of war and to the raising and regulating of fleets and armies - all which, by the Constitution under consideration, would appertain to the legislature. — Alexander Hamilton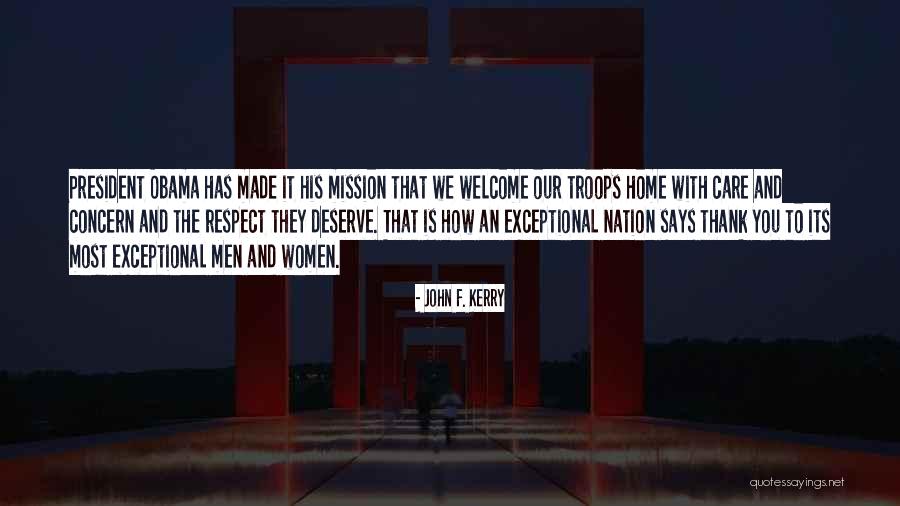 President Obama has made it his mission that we welcome our troops home with care and concern and the respect they deserve. That is how an exceptional nation says thank you to its most exceptional men and women. — John F. Kerry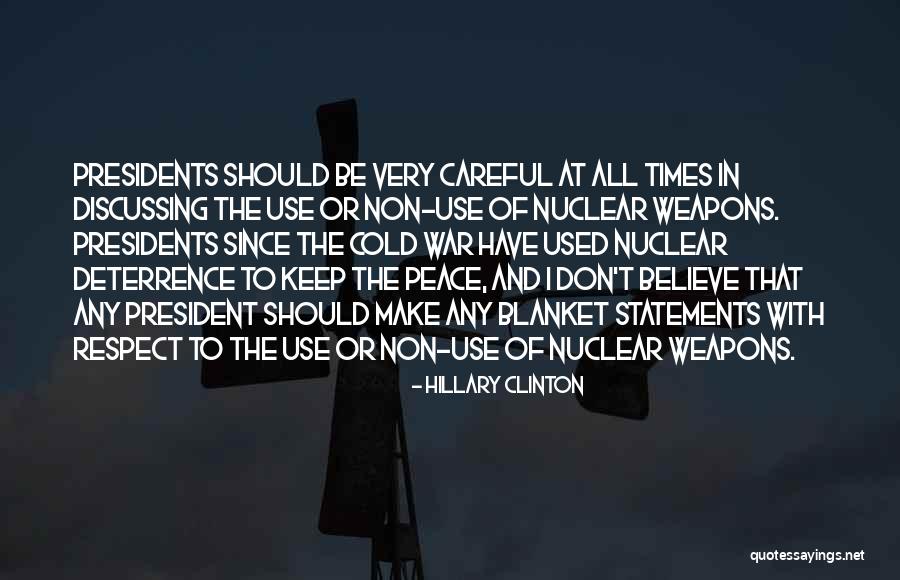 Presidents should be very careful at all times in discussing the use or non-use of nuclear weapons. Presidents since the cold war have used nuclear deterrence to keep the peace, and I don't believe that any president should make any blanket statements with respect to the use or non-use of nuclear weapons. — Hillary Clinton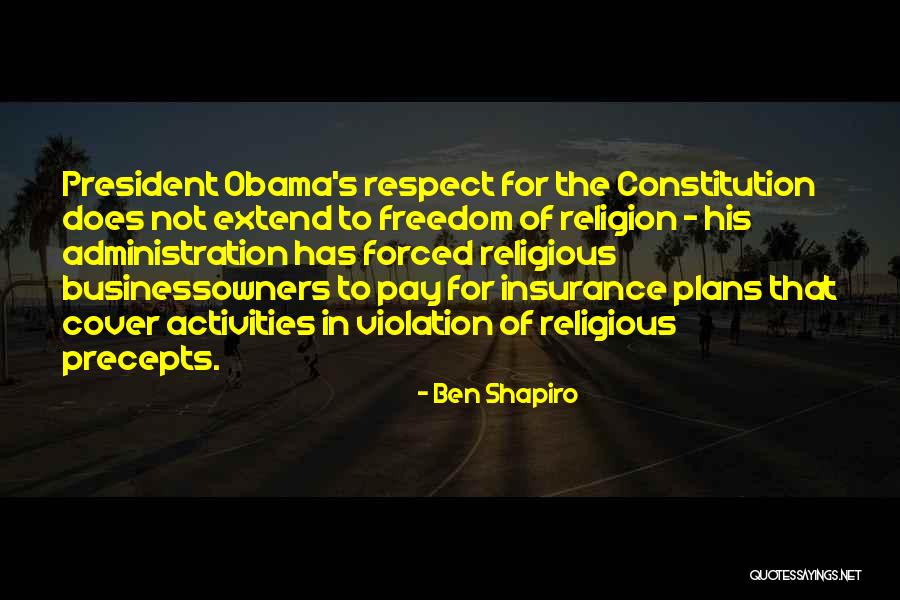 President Obama's respect for the Constitution does not extend to freedom of religion - his administration has forced religious businessowners to pay for insurance plans that cover activities in violation of religious precepts. — Ben Shapiro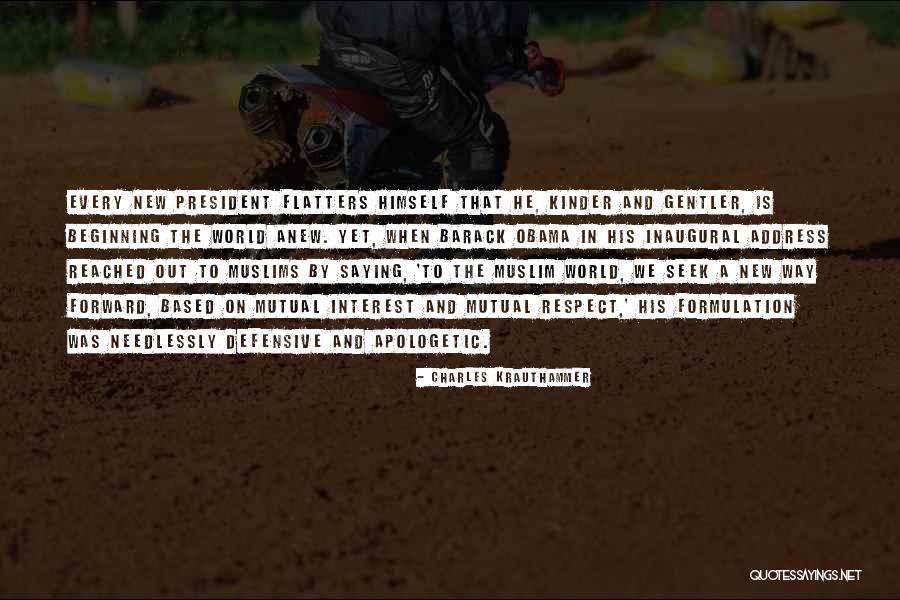 Every new president flatters himself that he, kinder and gentler, is beginning the world anew. Yet, when Barack Obama in his inaugural address reached out to Muslims by saying, 'To the Muslim world, we seek a new way forward, based on mutual interest and mutual respect,' his formulation was needlessly defensive and apologetic. — Charles Krauthammer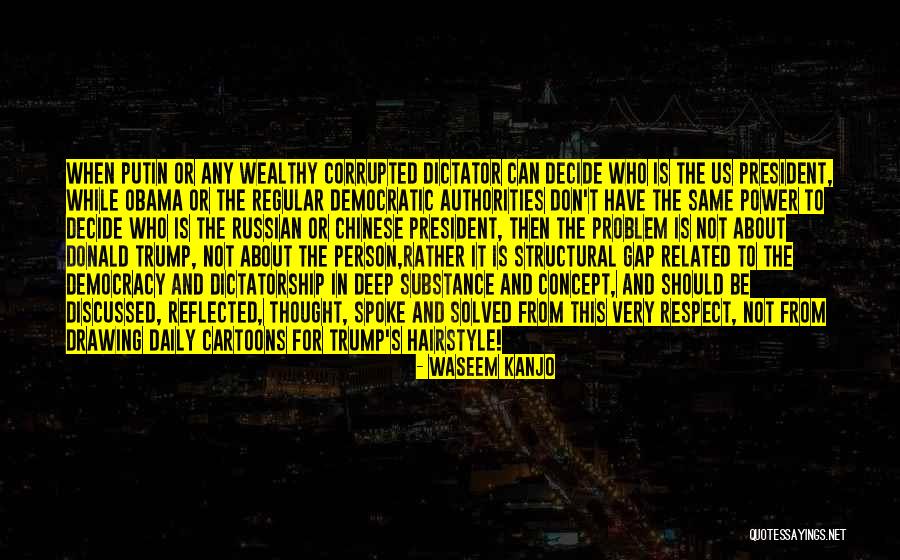 When Putin or any wealthy corrupted dictator can decide who is the US President, while Obama or the regular democratic authorities don't have the same power to decide who is the Russian or Chinese president, then the problem is not about Donald Trump, not about The Person,rather it is structural gap related to the Democracy and Dictatorship in deep substance and concept, and should be discussed, reflected, thought, spoke and solved from this very respect, not from drawing daily cartoons for Trump's hairstyle! — Waseem Kanjo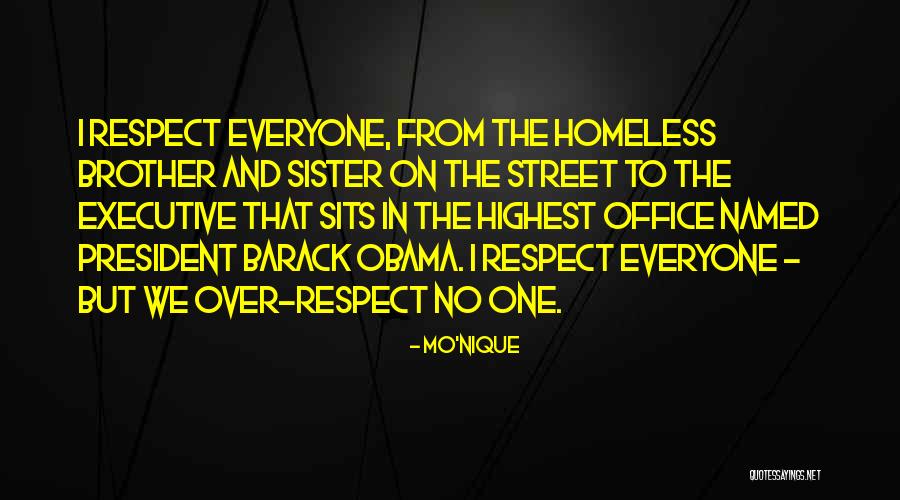 I respect everyone, from the homeless brother and sister on the street to the executive that sits in the highest office named President Barack Obama. I respect everyone - but we over-respect no one. — Mo'Nique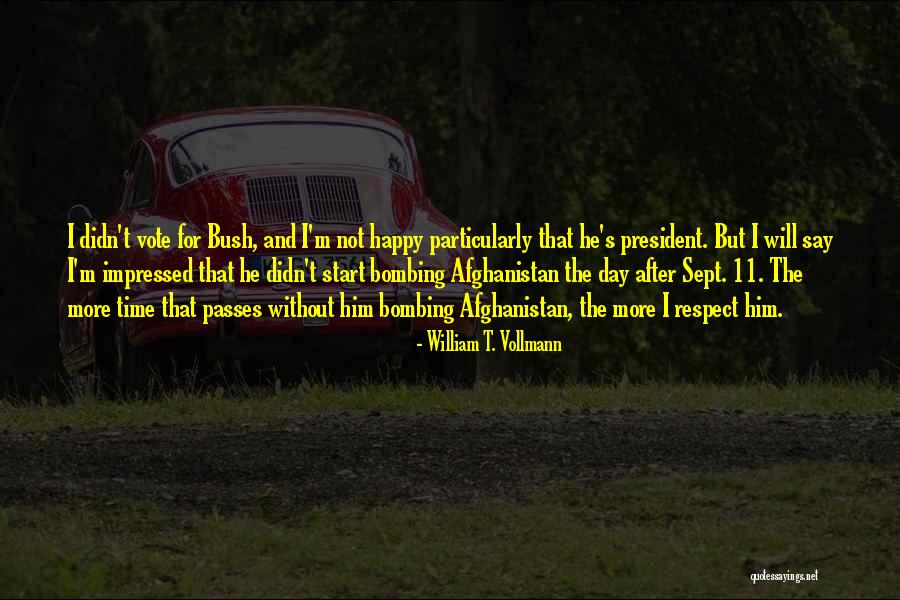 I didn't vote for Bush, and I'm not happy particularly that he's president. But I will say I'm impressed that he didn't start bombing Afghanistan the day after Sept. 11. The more time that passes without him bombing Afghanistan, the more I respect him. — William T. Vollmann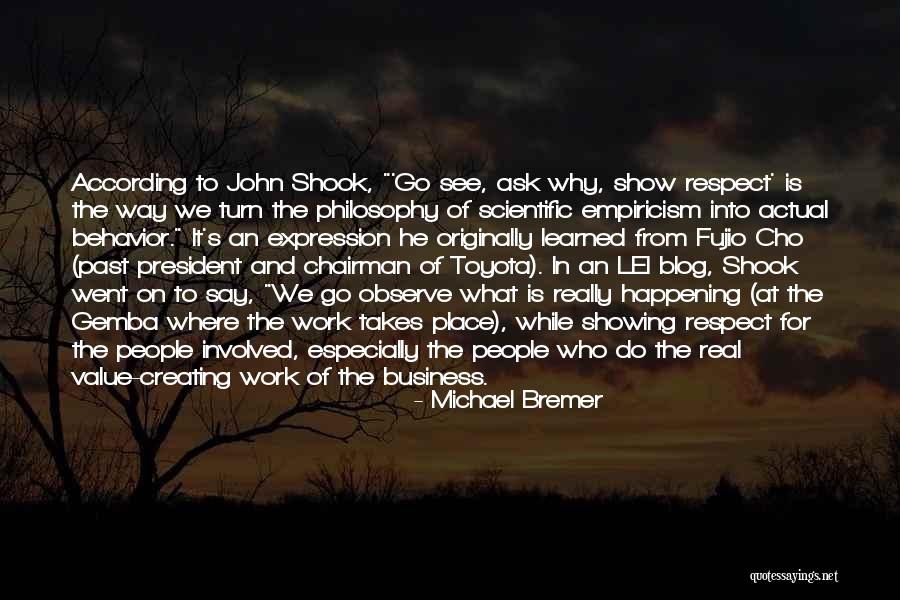 According to John Shook, "'Go see, ask why, show respect' is the way we turn the philosophy of scientific empiricism into actual behavior." It's an expression he originally learned from Fujio Cho (past president and chairman of Toyota). In an LEI blog, Shook went on to say, "We go observe what is really happening (at the Gemba where the work takes place), while showing respect for the people involved, especially the people who do the real value-creating work of the business. — Michael Bremer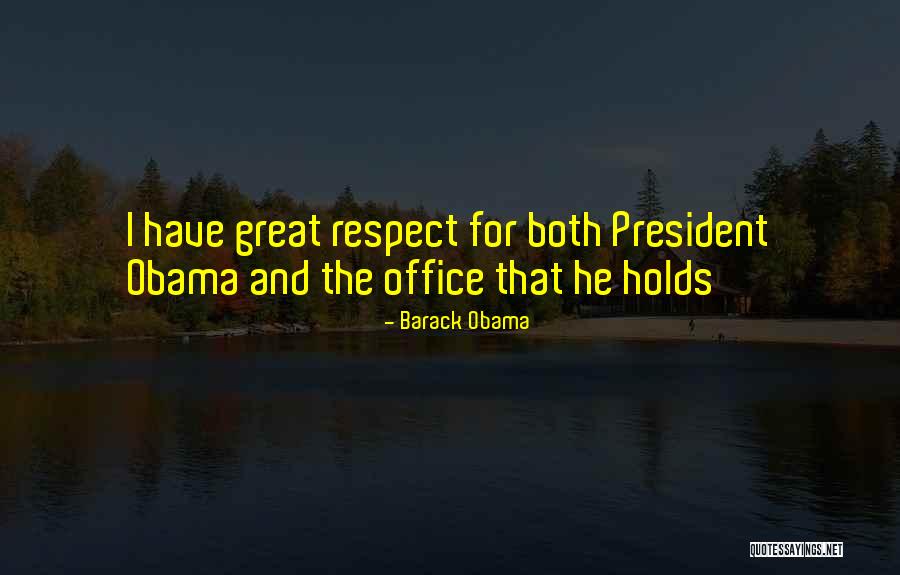 I have great respect for both President Obama and the office that he holds — Barack Obama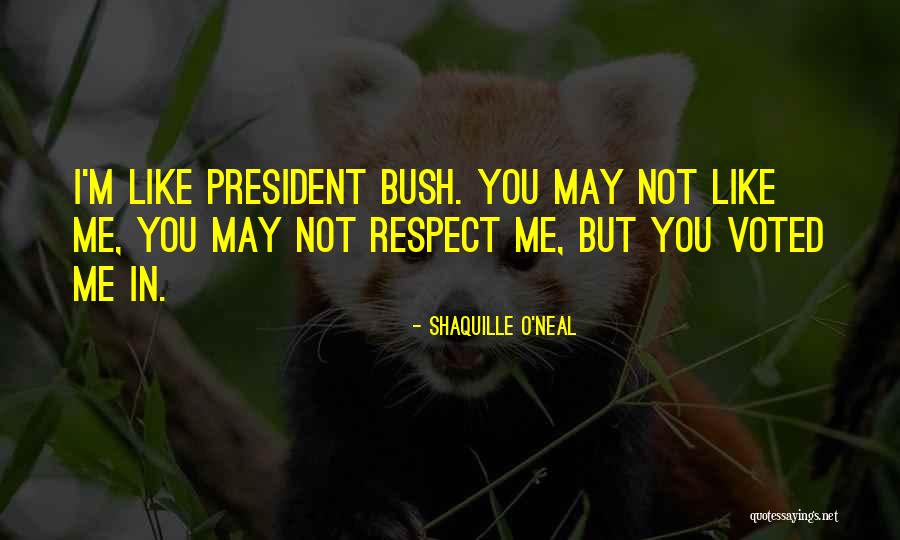 I'm like President Bush. You may not like me, you may not respect me, but you voted me in. — Shaquille O'Neal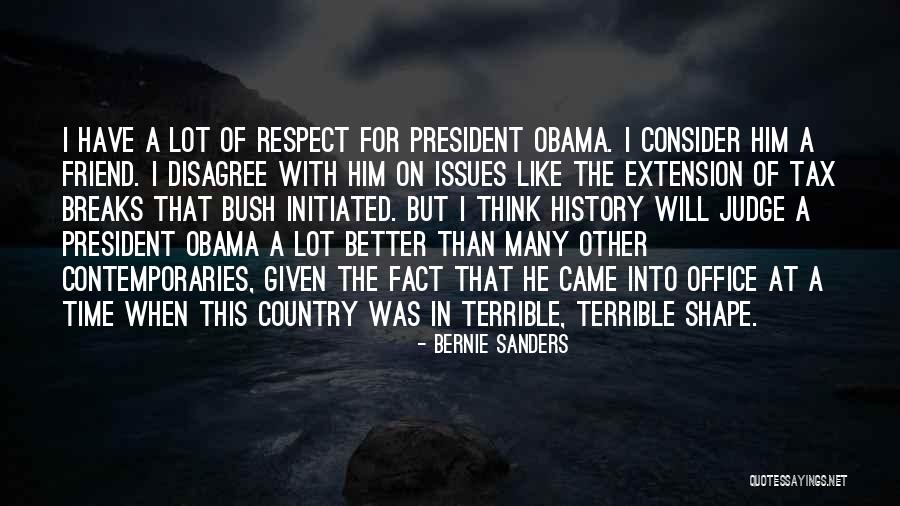 I have a lot of respect for President Obama. I consider him a friend. I disagree with him on issues like the extension of tax breaks that Bush initiated. But I think history will judge a President Obama a lot better than many other contemporaries, given the fact that he came into office at a time when this country was in terrible, terrible shape. — Bernie Sanders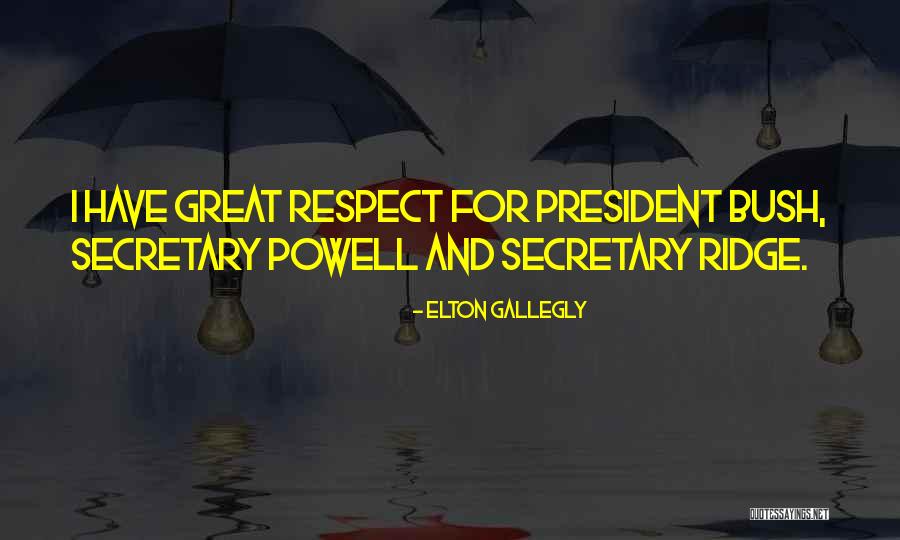 I have great respect for President Bush, Secretary Powell and Secretary Ridge. — Elton Gallegly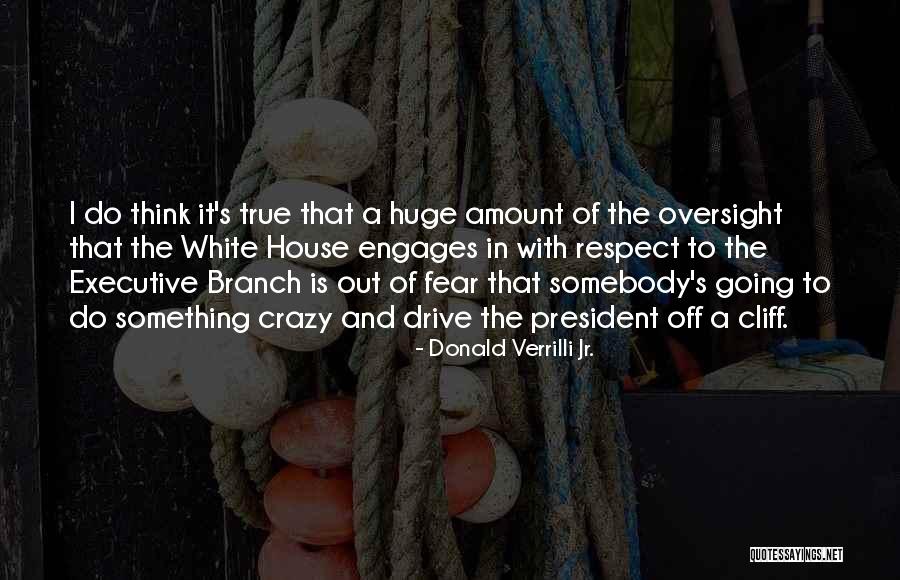 I do think it's true that a huge amount of the oversight that the White House engages in with respect to the Executive Branch is out of fear that somebody's going to do something crazy and drive the president off a cliff. — Donald Verrilli Jr.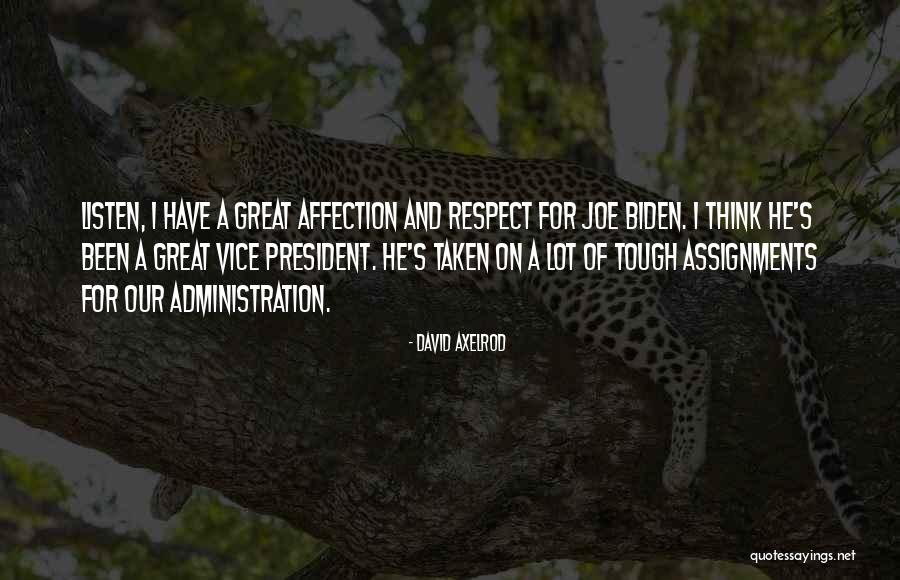 Listen, I have a great affection and respect for Joe Biden. I think he's been a great vice president. He's taken on a lot of tough assignments for our administration. — David Axelrod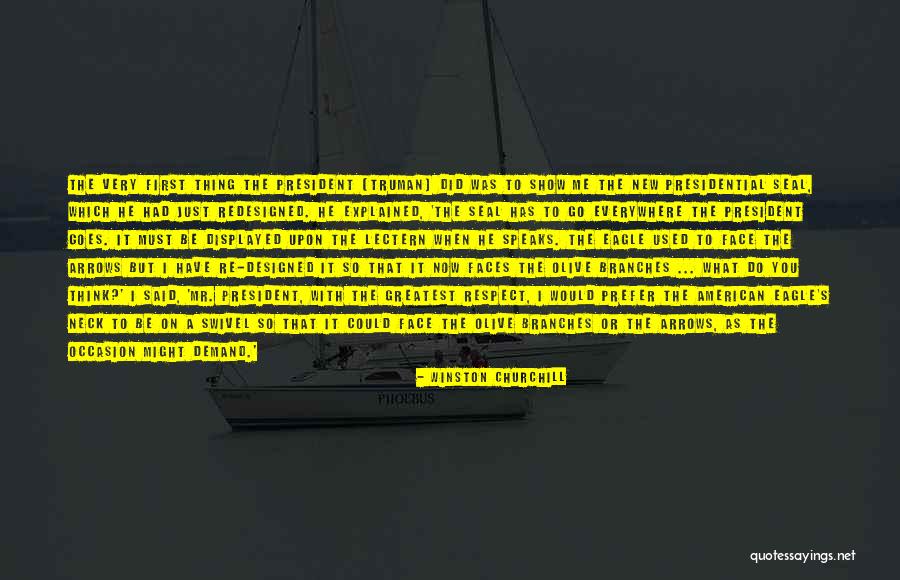 The very first thing the President [Truman] did was to show me the new Presidential Seal, which he had just redesigned. He explained, 'The seal has to go everywhere the President goes. It must be displayed upon the lectern when he speaks. The eagle used to face the arrows but I have re-designed it so that it now faces the olive branches ... what do you think?' I said, 'Mr. President, with the greatest respect, I would prefer the American eagle's neck to be on a swivel so that it could face the olive branches or the arrows, as the occasion might demand.' — Winston Churchill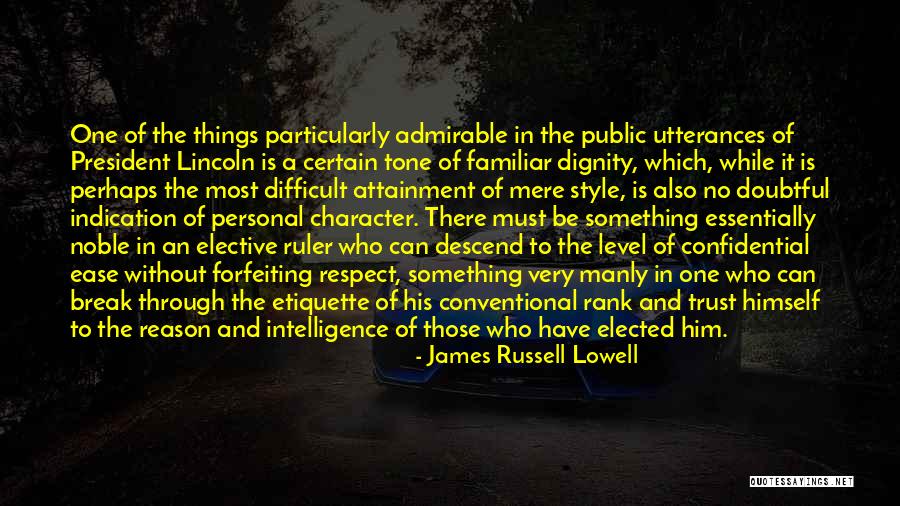 One of the things particularly admirable in the public utterances of President Lincoln is a certain tone of familiar dignity, which, while it is perhaps the most difficult attainment of mere style, is also no doubtful indication of personal character. There must be something essentially noble in an elective ruler who can descend to the level of confidential ease without forfeiting respect, something very manly in one who can break through the etiquette of his conventional rank and trust himself to the reason and intelligence of those who have elected him. — James Russell Lowell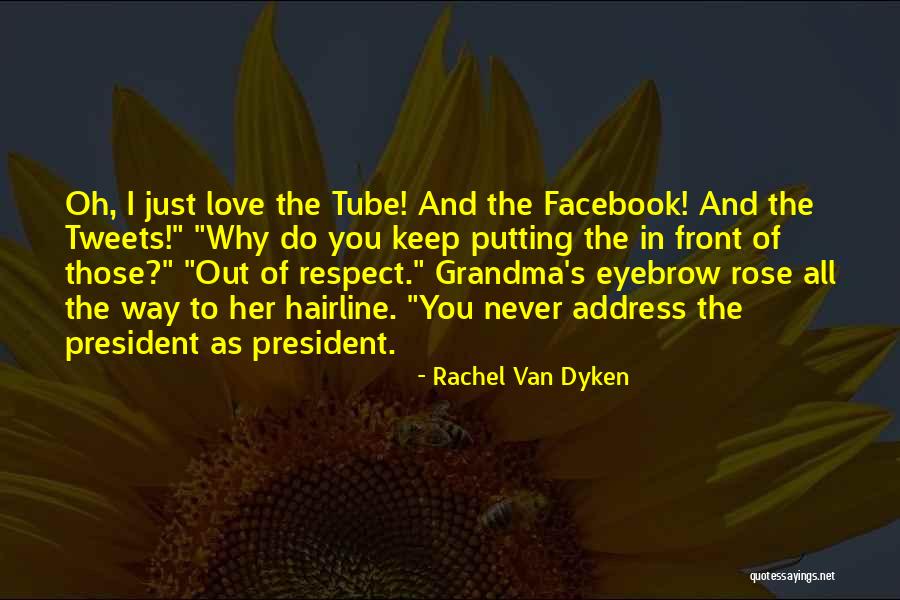 Oh, I just love the Tube! And the Facebook! And the Tweets!" "Why do you keep putting the in front of those?" "Out of respect." Grandma's eyebrow rose all the way to her hairline. "You never address the president as president. — Rachel Van Dyken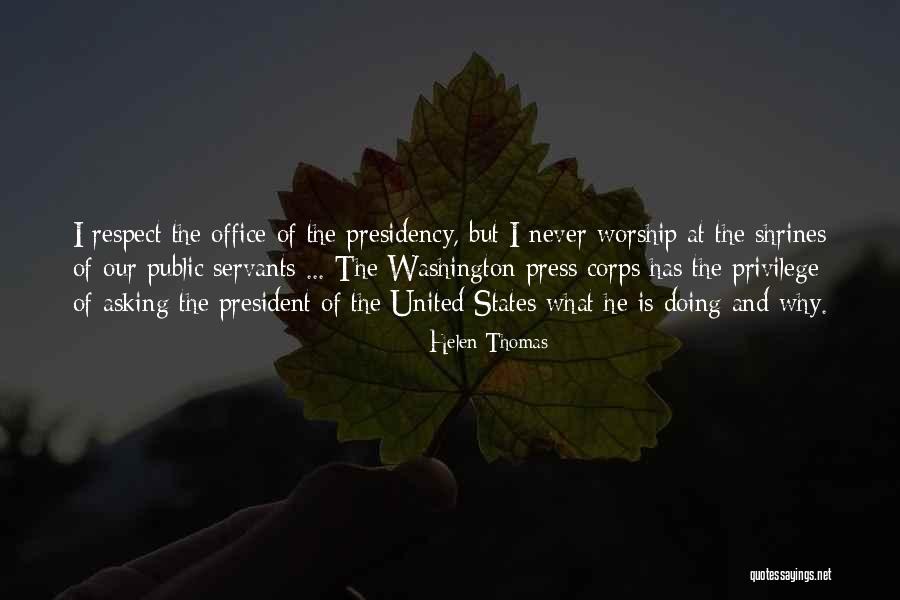 I respect the office of the presidency, but I never worship at the shrines of our public servants ... The Washington press corps has the privilege of asking the president of the United States what he is doing and why. — Helen Thomas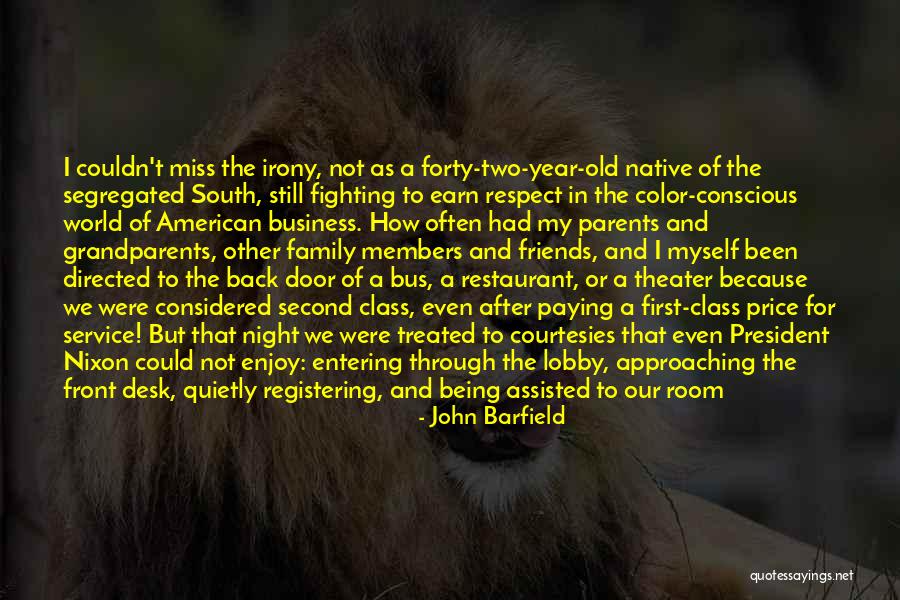 I couldn't miss the irony, not as a forty-two-year-old native of the segregated South, still fighting to earn respect in the color-conscious world of American business. How often had my parents and grandparents, other family members and friends, and I myself been directed to the back door of a bus, a restaurant, or a theater because we were considered second class, even after paying a first-class price for service! But that night we were treated to courtesies that even President Nixon could not enjoy: entering through the lobby, approaching the front desk, quietly registering, and being assisted to our room by the highly trained wait staff. A familiar portion of a Bible verse came to mind. The last shall be first and the first last (Matt. 20:16). — John Barfield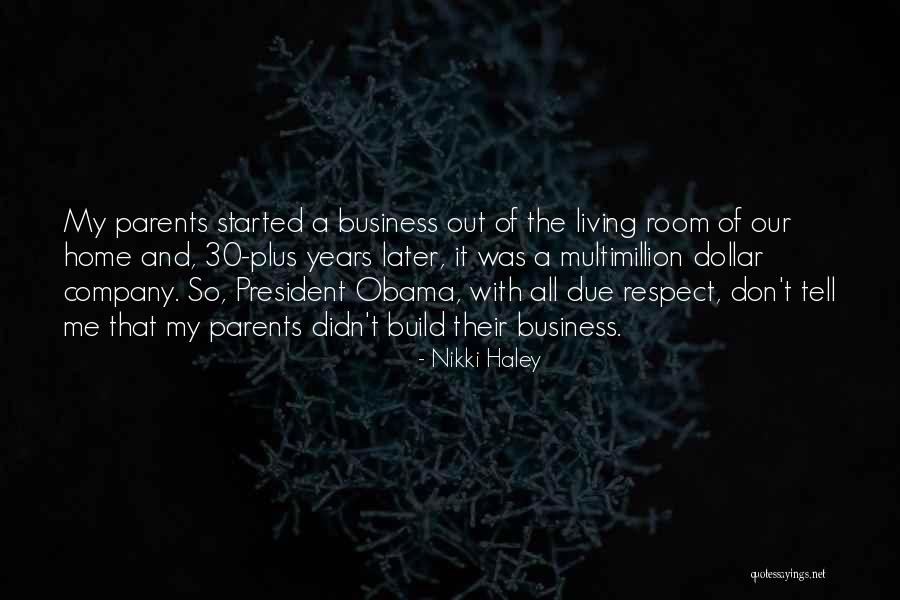 My parents started a business out of the living room of our home and, 30-plus years later, it was a multimillion dollar company. So, President Obama, with all due respect, don't tell me that my parents didn't build their business. — Nikki Haley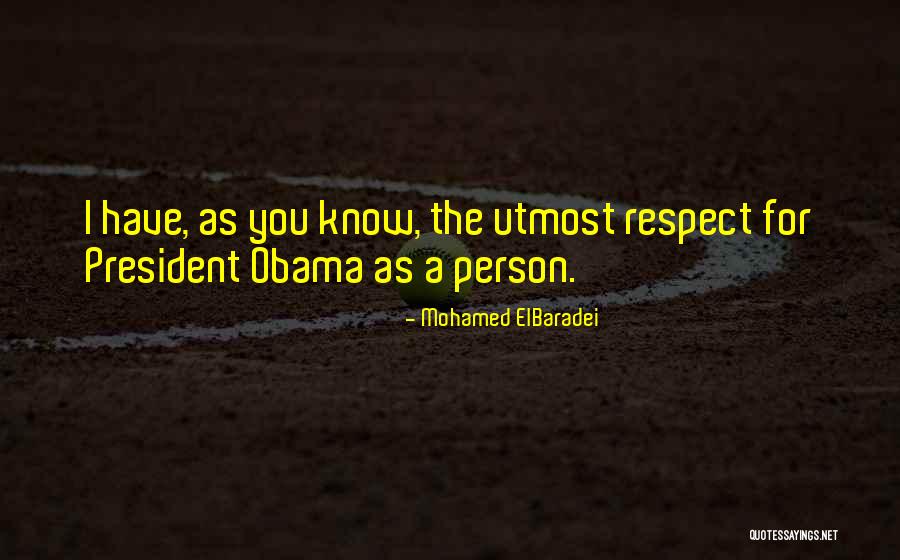 I have, as you know, the utmost respect for President Obama as a person. — Mohamed ElBaradei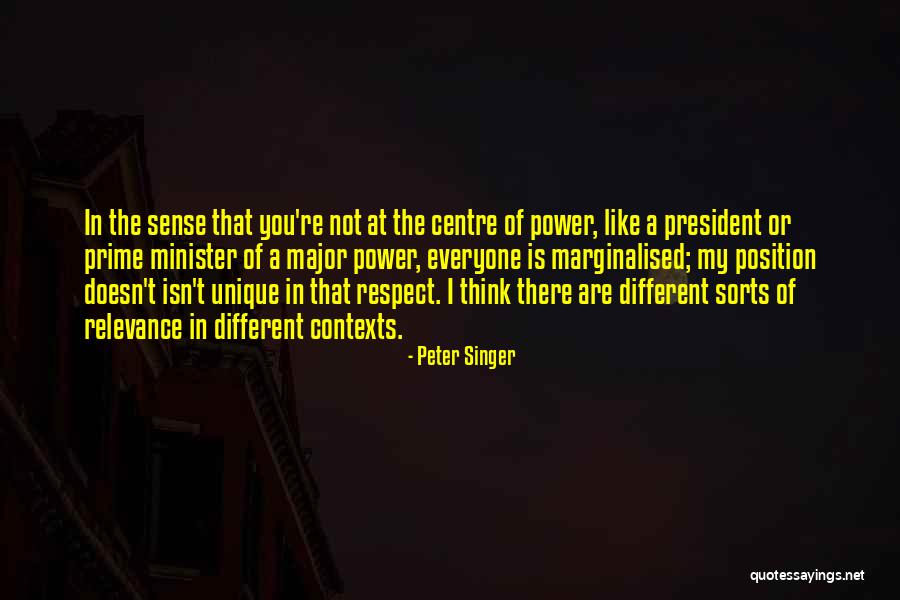 In the sense that you're not at the centre of power, like a president or prime minister of a major power, everyone is marginalised; my position doesn't isn't unique in that respect. I think there are different sorts of relevance in different contexts. — Peter Singer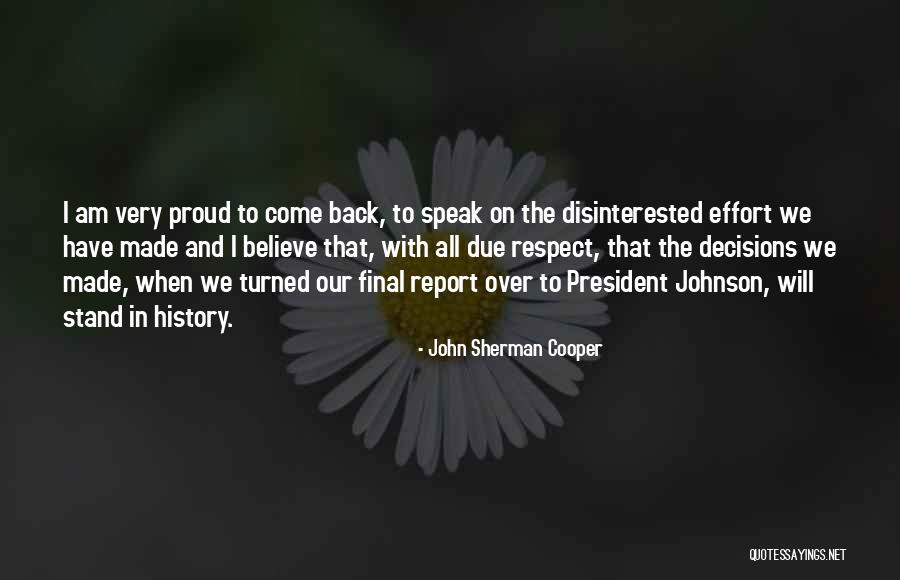 I am very proud to come back, to speak on the disinterested effort we have made and I believe that, with all due respect, that the decisions we made, when we turned our final report over to President Johnson, will stand in history. — John Sherman Cooper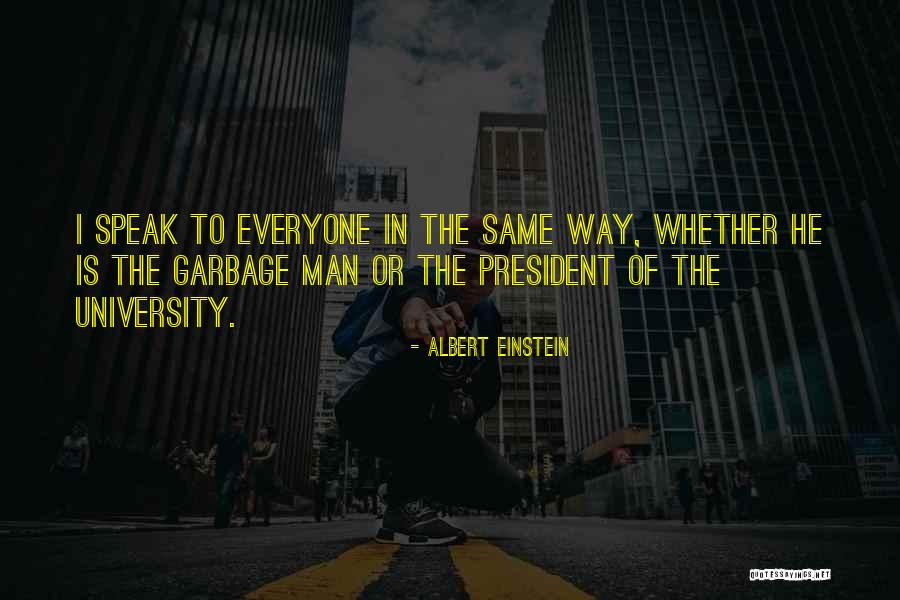 I speak to everyone in the same way, whether he is the garbage man or the president of the university. — Albert Einstein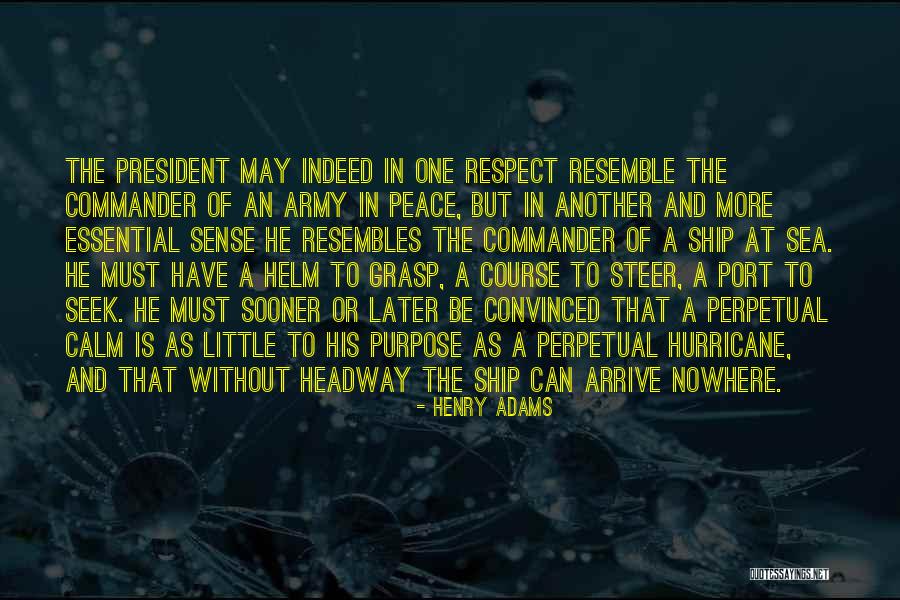 The President may indeed in one respect resemble the commander of an army in peace, but in another and more essential sense he resembles the commander of a ship at sea. He must have a helm to grasp, a course to steer, a port to seek. He must sooner or later be convinced that a perpetual calm is as little to his purpose as a perpetual hurricane, and that without headway the ship can arrive nowhere. — Henry Adams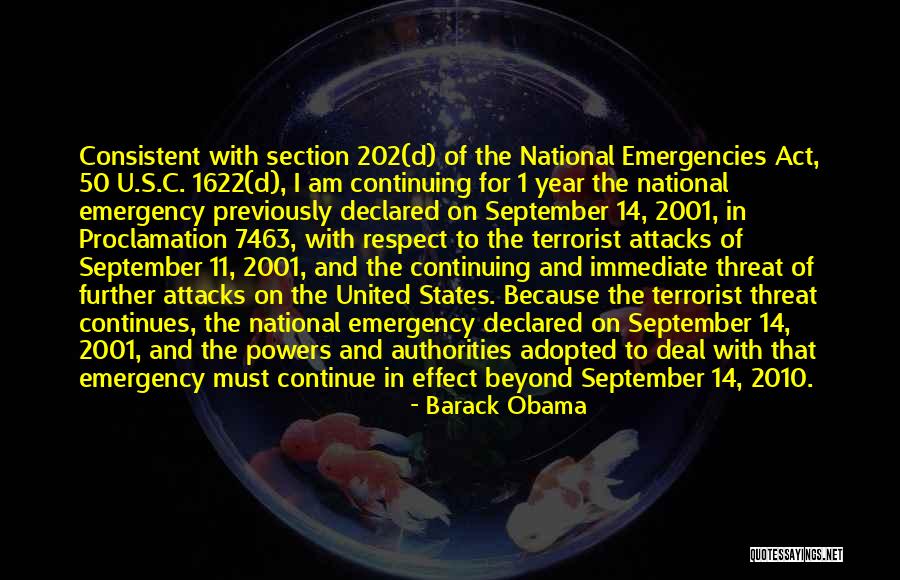 Consistent with section 202(d) of the National Emergencies Act, 50 U.S.C. 1622(d), I am continuing for 1 year the national emergency previously declared on September 14, 2001, in Proclamation 7463, with respect to the terrorist attacks of September 11, 2001, and the continuing and immediate threat of further attacks on the United States. Because the terrorist threat continues, the national emergency declared on September 14, 2001, and the powers and authorities adopted to deal with that emergency must continue in effect beyond September 14, 2010. — Barack Obama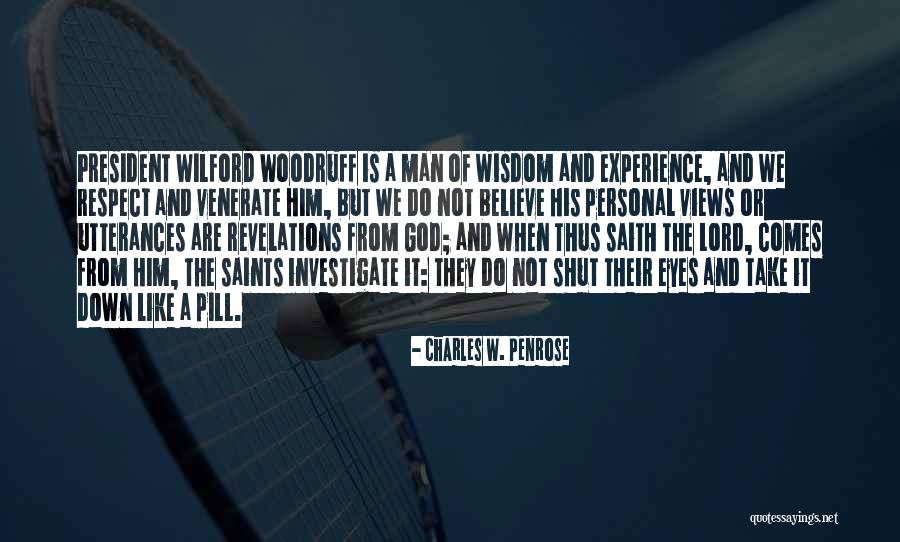 President Wilford Woodruff is a man of wisdom and experience, and we respect and venerate him, but we do not believe his personal views or utterances are revelations from God; and when Thus saith the Lord, comes from him, the saints investigate it: they do not shut their eyes and take it down like a pill. — Charles W. Penrose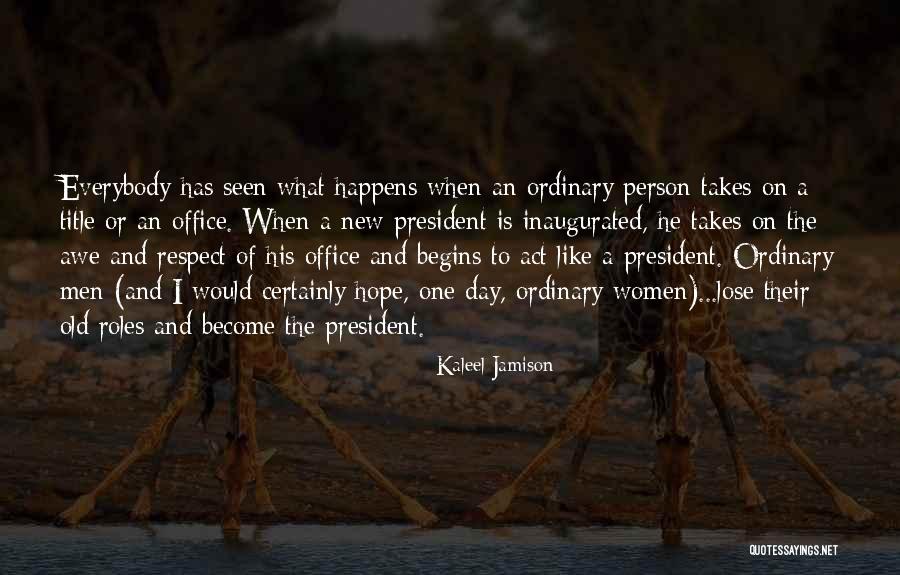 Everybody has seen what happens when an ordinary person takes on a title or an office. When a new president is inaugurated, he takes on the awe and respect of his office and begins to act like a president. Ordinary men (and I would certainly hope, one day, ordinary women)...lose their old roles and become the president. — Kaleel Jamison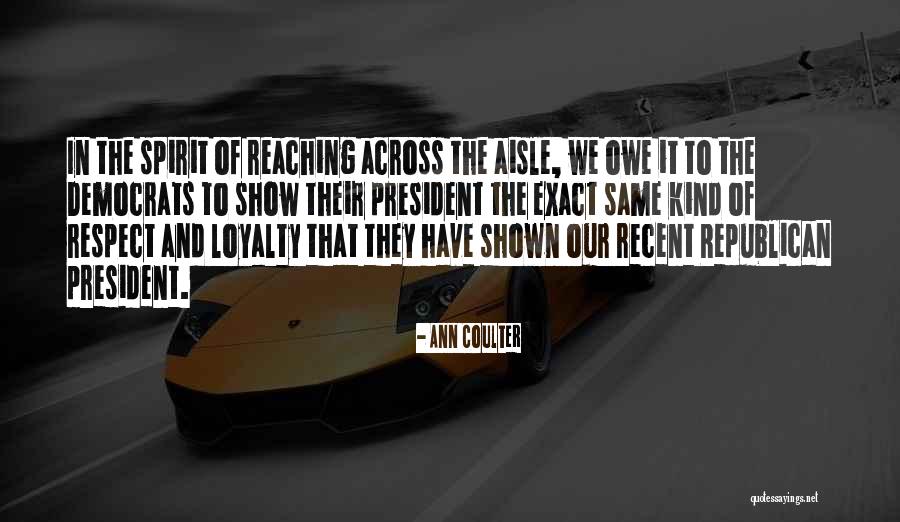 In the spirit of reaching across the aisle, we owe it to the Democrats to show their president the exact same kind of respect and loyalty that they have shown our recent Republican president. — Ann Coulter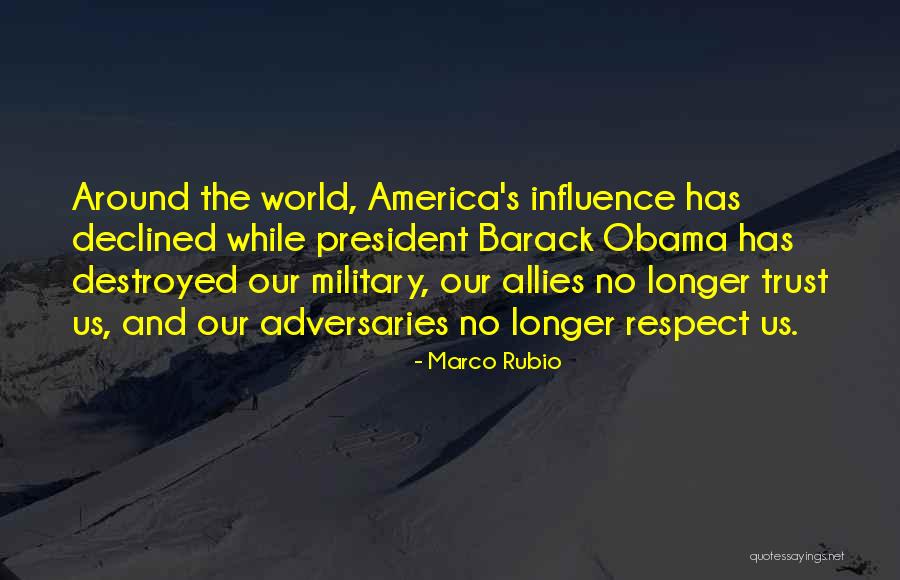 Around the world, America's influence has declined while president Barack Obama has destroyed our military, our allies no longer trust us, and our adversaries no longer respect us. — Marco Rubio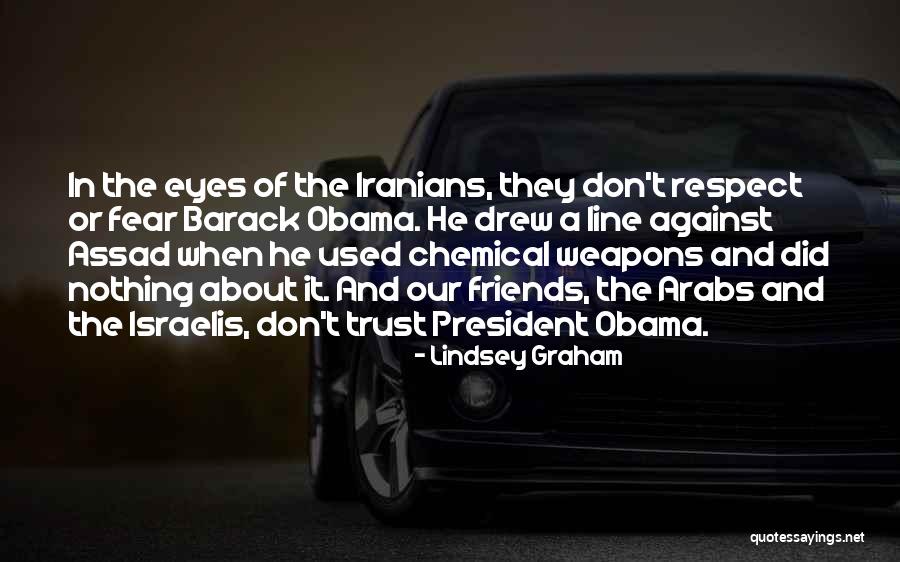 In the eyes of the Iranians, they don't respect or fear Barack Obama. He drew a line against Assad when he used chemical weapons and did nothing about it. And our friends, the Arabs and the Israelis, don't trust President Obama. — Lindsey Graham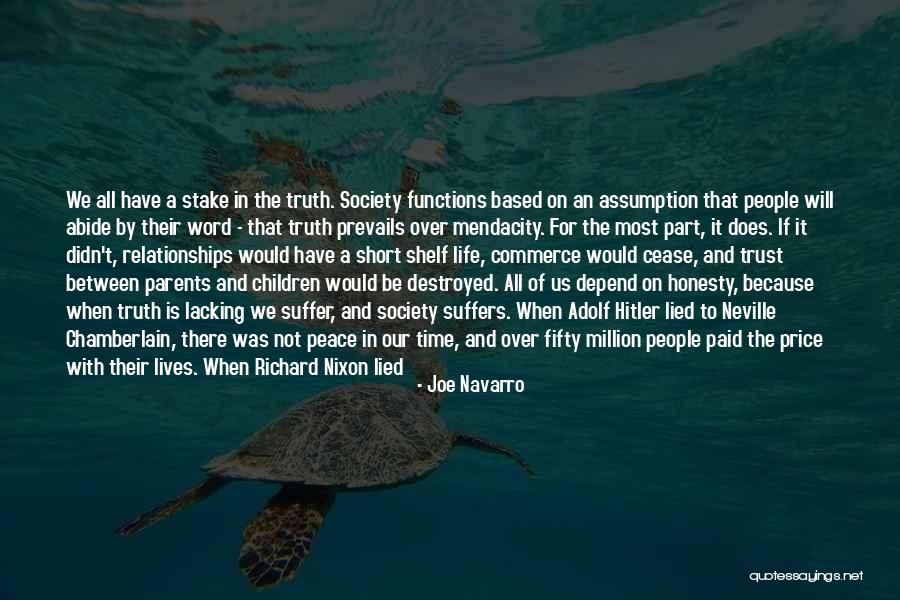 We all have a stake in the truth. Society functions based on an assumption that people will abide by their word - that truth prevails over mendacity. For the most part, it does. If it didn't, relationships would have a short shelf life, commerce would cease, and trust between parents and children would be destroyed. All of us depend on honesty, because when truth is lacking we suffer, and society suffers. When Adolf Hitler lied to Neville Chamberlain, there was not peace in our time, and over fifty million people paid the price with their lives. When Richard Nixon lied to the nation, it destroyed the respect many had for the office of the president. When Enron executives lied to their employees, thousands of lives were ruined overnight. We count on our government and commercial institutions to be honest and truthful. We need and expect our friends and family to be truthful. Truth is essential for all relations be they personal, professional, or civic. — Joe Navarro