Quotes & Sayings About Enjoying Life As It Is
Enjoy reading and share 78 famous quotes about Enjoying Life As It Is with everyone.
I don't want to put a pause on the rest of my life; I'm really enjoying getting older and the wisdom that comes from that. — Rosemarie DeWitt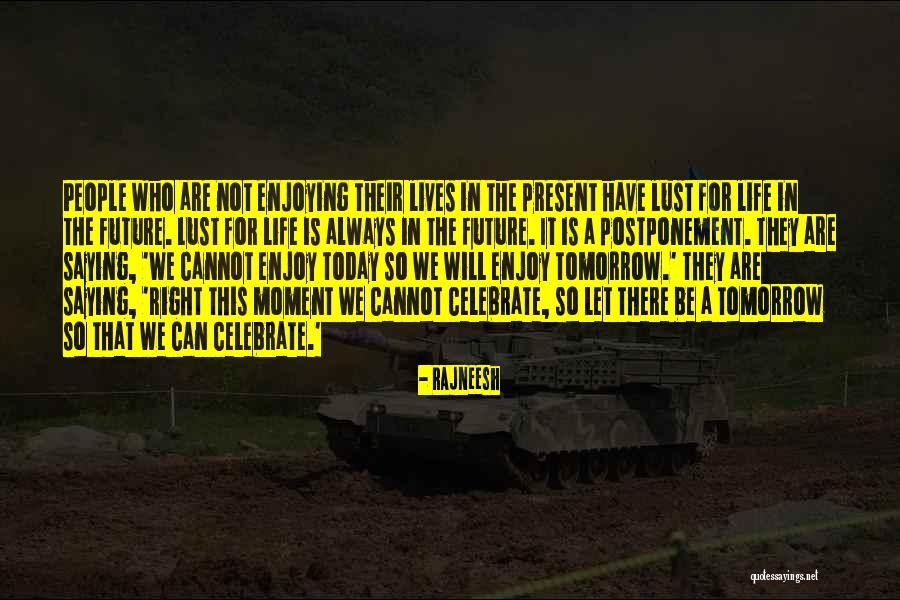 People who are not enjoying their lives in the present have lust for life in the future. Lust for life is always in the future. It is a postponement. They are saying, 'We cannot enjoy today so we will enjoy tomorrow.' They are saying, 'Right this moment we cannot celebrate, so let there be a tomorrow so that we can celebrate.' — Rajneesh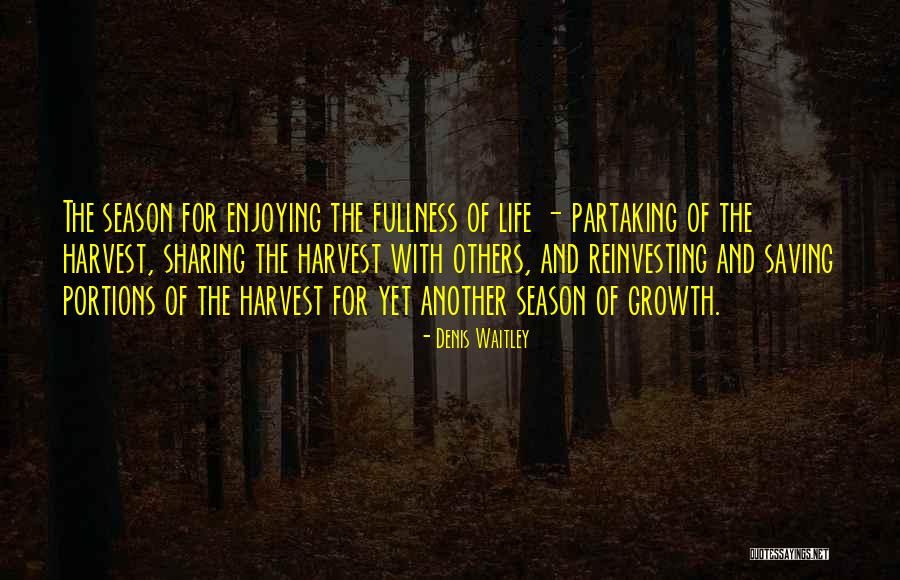 The season for enjoying the fullness of life - partaking of the harvest, sharing the harvest with others, and reinvesting and saving portions of the harvest for yet another season of growth. — Denis Waitley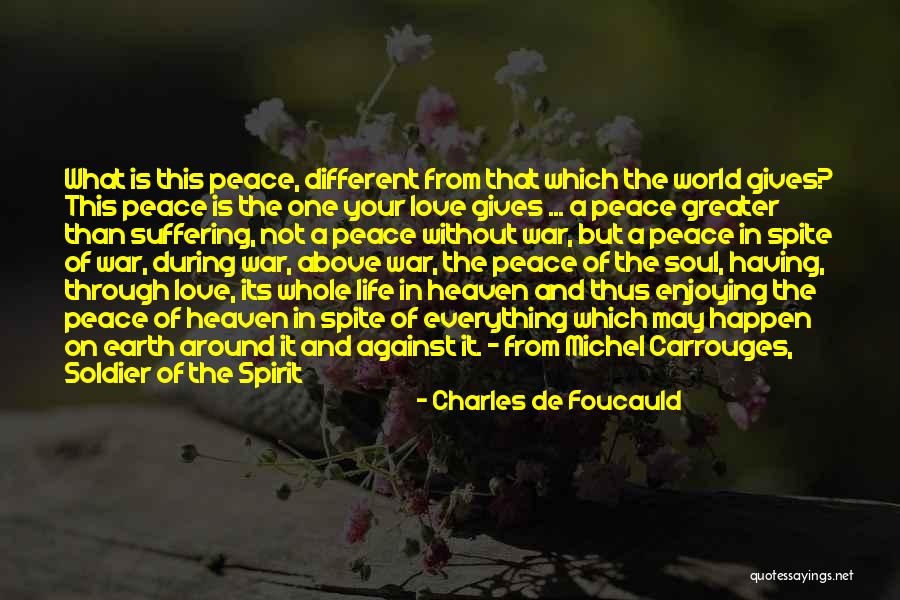 What is this peace, different from that which the world gives? This peace is the one your love gives ... a peace greater than suffering, not a peace without war, but a peace in spite of war, during war, above war, the peace of the soul, having, through love, its whole life in heaven and thus enjoying the peace of heaven in spite of everything which may happen on earth around it and against it. - from Michel Carrouges, Soldier of the Spirit — Charles De Foucauld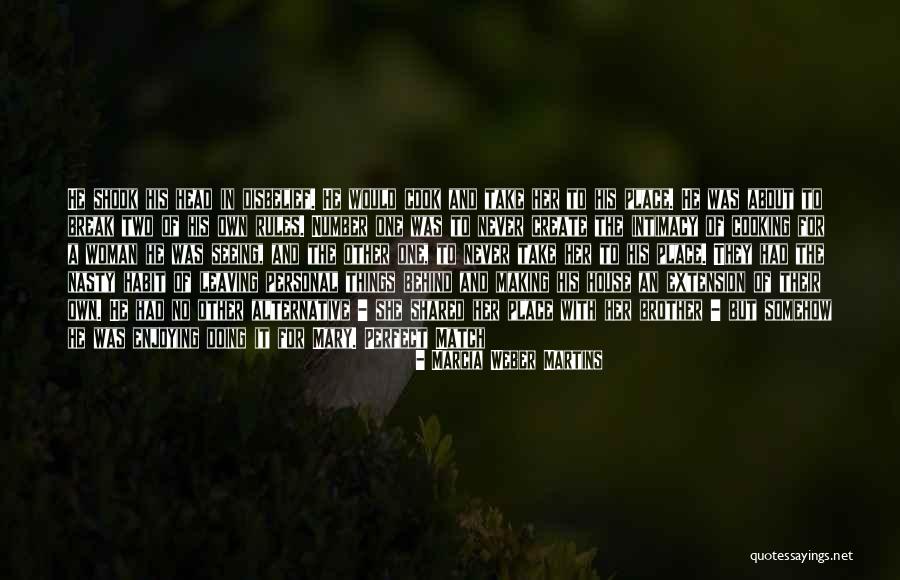 He shook his head in disbelief. He would cook and take her to his place. He was about to break two of his own rules. Number one was to never create the intimacy of cooking for a woman he was seeing, and the other one, to never take her to his place. They had the nasty habit of leaving personal things behind and making his house an extension of their own. He had no other alternative - she shared her place with her brother - but somehow he was enjoying doing it for Mary.
Perfect Match — Marcia Weber Martins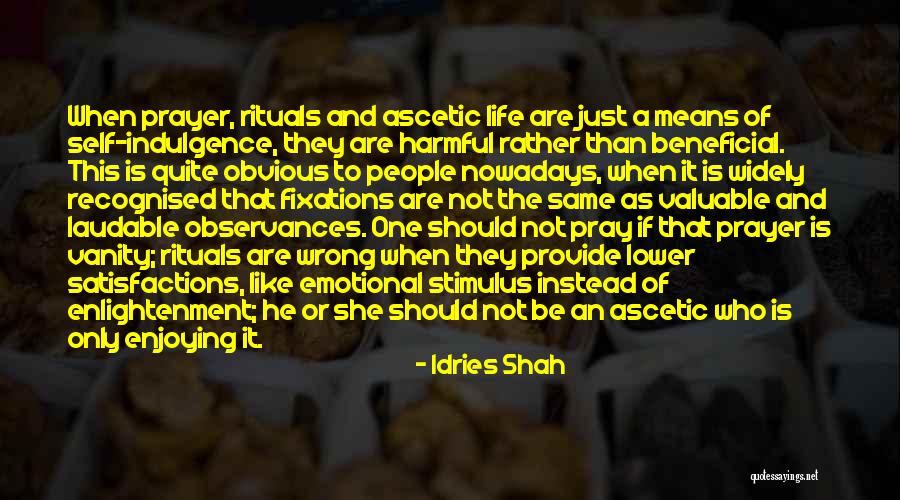 When prayer, rituals and ascetic life are just a means of self-indulgence, they are harmful rather than beneficial. This is quite obvious to people nowadays, when it is widely recognised that fixations are not the same as valuable and laudable observances. One should not pray if that prayer is vanity; rituals are wrong when they provide lower satisfactions, like emotional stimulus instead of enlightenment; he or she should not be an ascetic who is only enjoying it. — Idries Shah
I'm really enjoying the process of learning to fly. How it will fit into my life down the road - I'm looking forward to discovering that. — Matthew Fox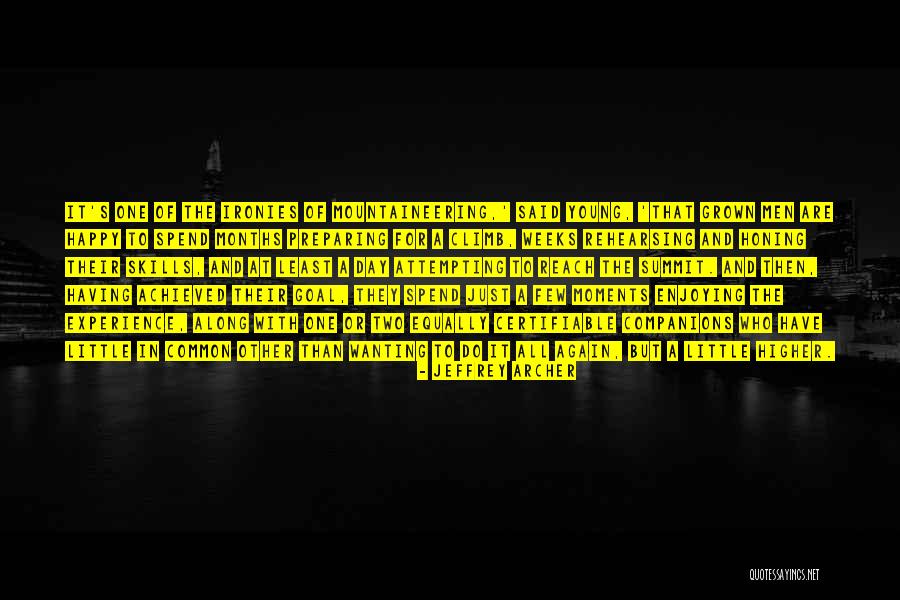 It's one of the ironies of mountaineering,' said Young, 'that grown men are happy to spend months preparing for a climb, weeks rehearsing and honing their skills, and at least a day attempting to reach the summit. And then, having achieved their goal, they spend just a few moments enjoying the experience, along with one or two equally certifiable companions who have little in common other than wanting to do it all again, but a little higher. — Jeffrey Archer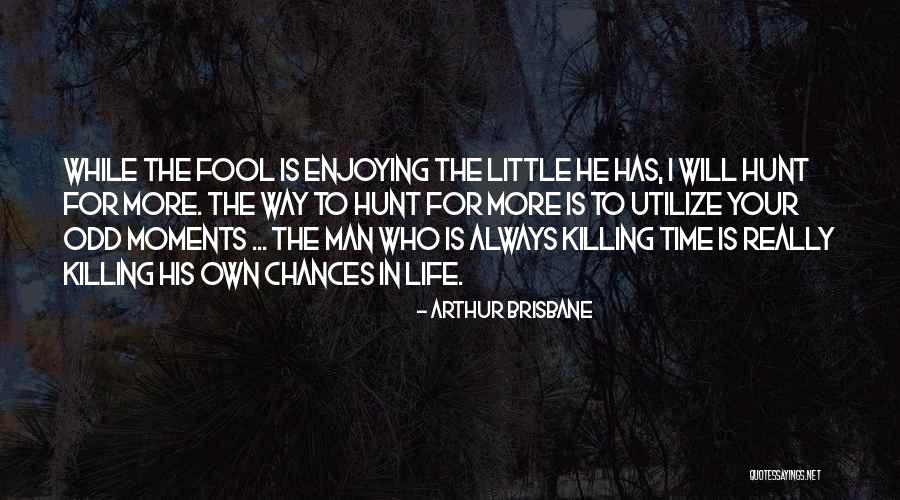 While the fool is enjoying the little he has, I will hunt for more. The way to hunt for more is to utilize your odd moments ... the man who is always killing time is really killing his own chances in life. — Arthur Brisbane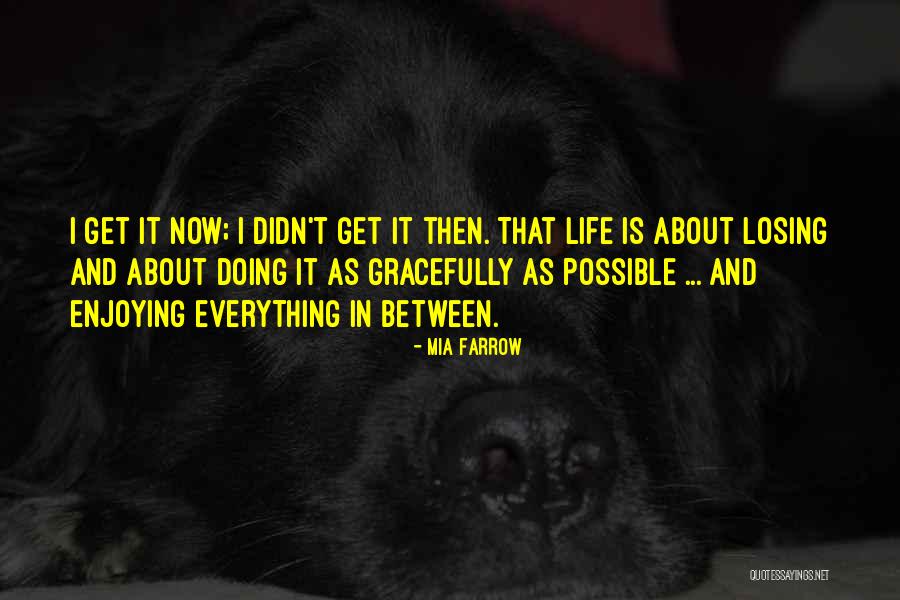 I get it now; I didn't get it then. That life is about losing and about doing it as gracefully as possible ... and enjoying everything in between. — Mia Farrow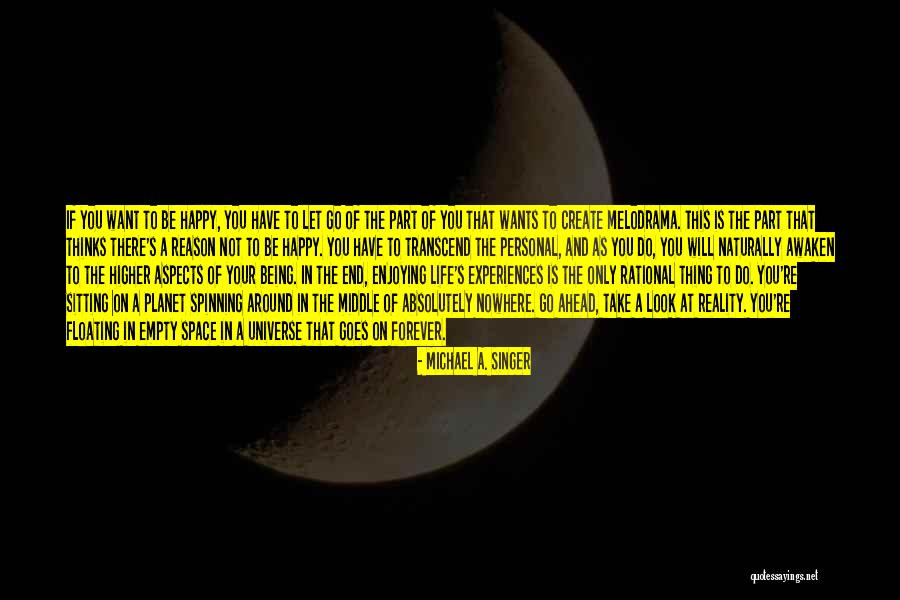 If you want to be happy, you have to let go of the part of you that wants to create melodrama. This is the part that thinks there's a reason not to be happy. You have to transcend the personal, and as you do, you will naturally awaken to the higher aspects of your being. In the end, enjoying life's experiences is the only rational thing to do. You're sitting on a planet spinning around in the middle of absolutely nowhere. Go ahead, take a look at reality. You're floating in empty space in a universe that goes on forever. If you have to be here, at least be happy and enjoy the experience. You're going to die anyway. Things are going to happen anyway. Why shouldn't you be happy? You gain nothing by being bothered by life's events. It doesn't change the world; you just suffer. There's always going to be something that can bother you, if you let it. — Michael A. Singer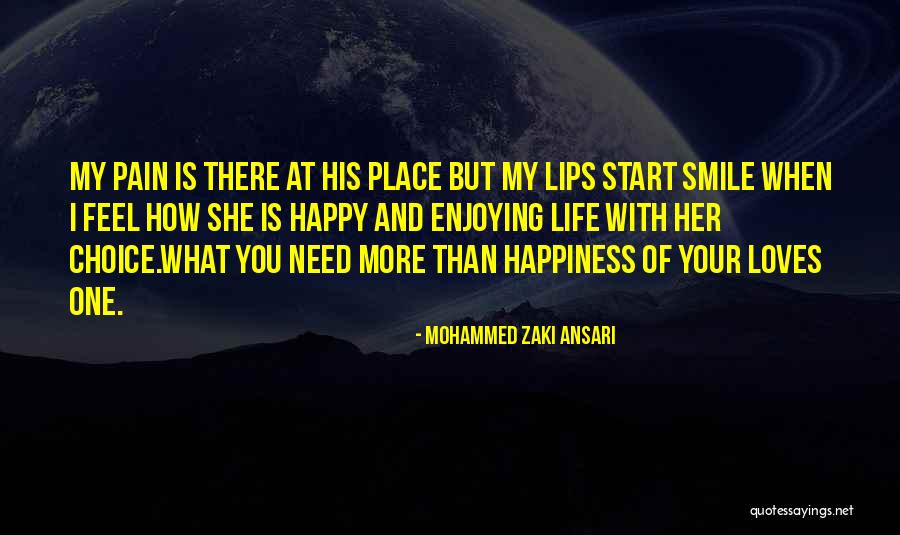 My pain is there at his place but my lips start smile when i feel how she is happy and enjoying life with her choice.what you need more than happiness of your loves one. — Mohammed Zaki Ansari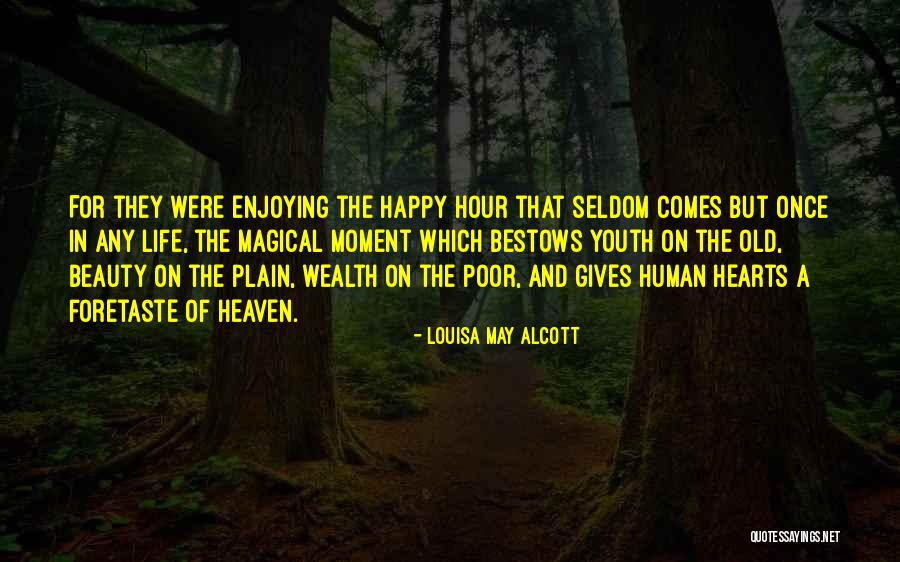 For they were enjoying the happy hour that seldom comes but once in any life, the magical moment which bestows youth on the old, beauty on the plain, wealth on the poor, and gives human hearts a foretaste of heaven. — Louisa May Alcott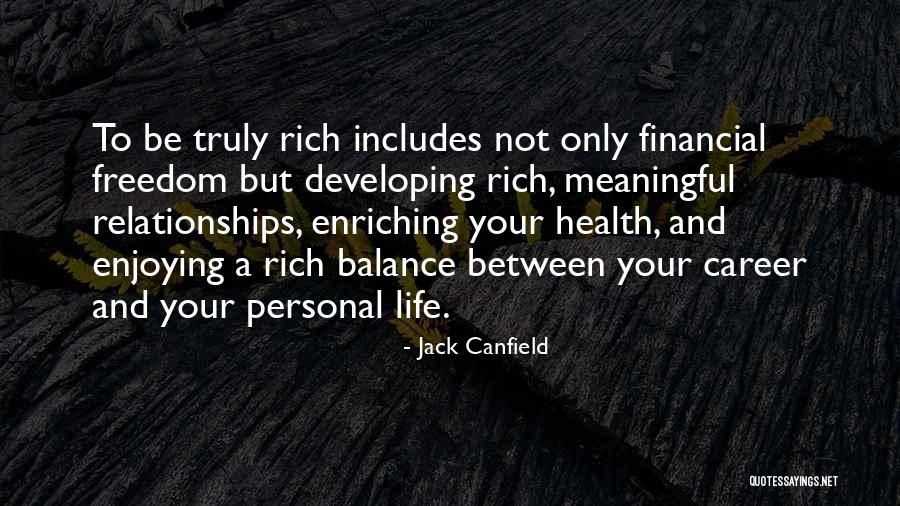 To be truly rich includes not only financial freedom but developing rich, meaningful relationships, enriching your health, and enjoying a rich balance between your career and your personal life. — Jack Canfield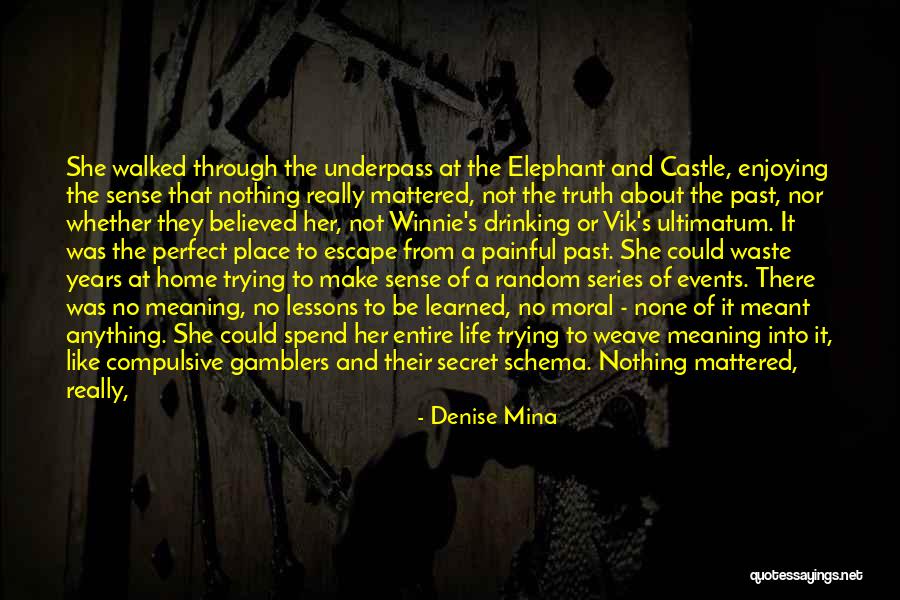 She walked through the underpass at the Elephant and Castle, enjoying the sense that nothing really mattered, not the truth about the past, nor whether they believed her, not Winnie's drinking or Vik's ultimatum. It was the perfect place to escape from a painful past. She could waste years at home trying to make sense of a random series of events. There was no meaning, no lessons to be learned, no moral - none of it meant anything. She could spend her entire life trying to weave meaning into it, like compulsive gamblers and their secret schema. Nothing mattered, really, because an anonymous city is the moral equivalent of a darkened room. She understood why Ann had come here and stayed here and died here. It wouldn't be hard. All she had to do was let go of home. She would phone Leslie and Liam sometimes, say she was fine, fine, let the calls get farther apart, make up a life for herself and they'd finally forget. — Denise Mina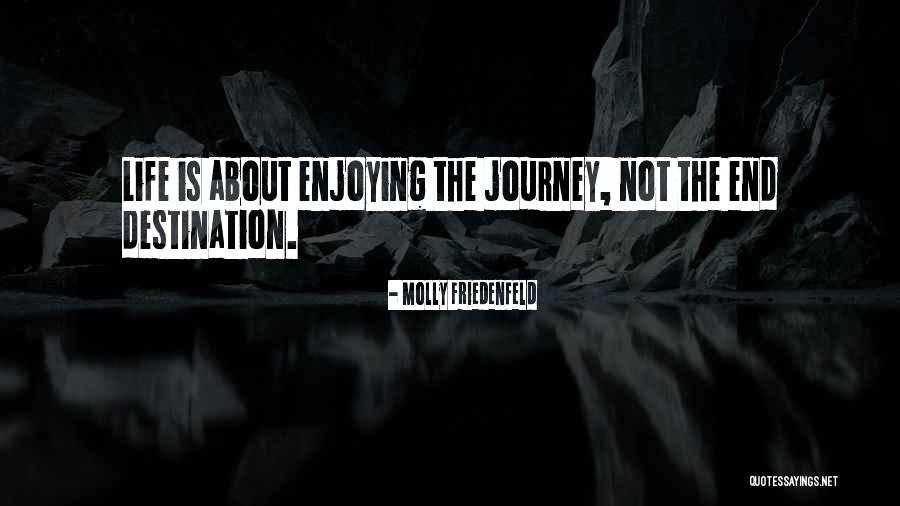 Life is about enjoying the journey, not the end destination. — Molly Friedenfeld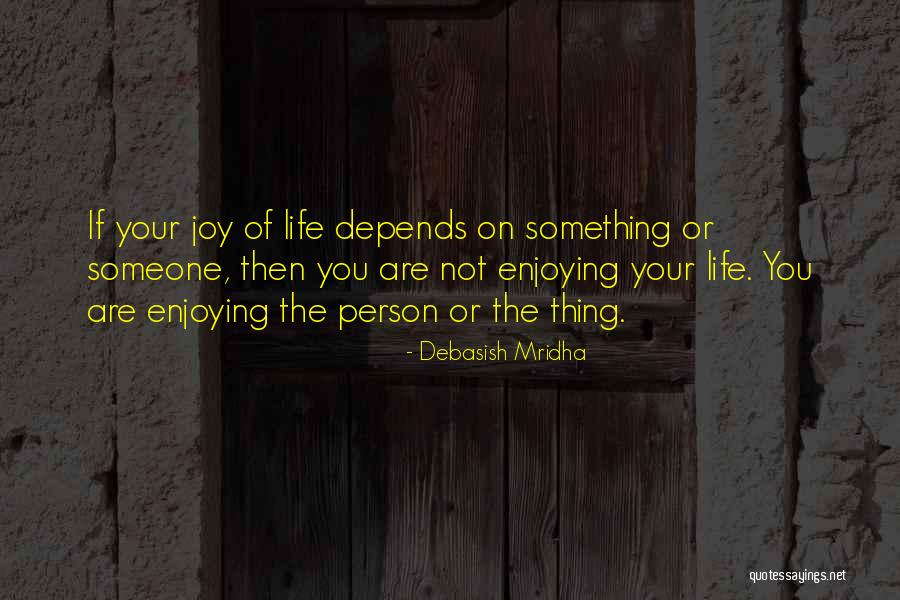 If your joy of life depends on something or someone, then you are not enjoying your life. You are enjoying the person or the thing. — Debasish Mridha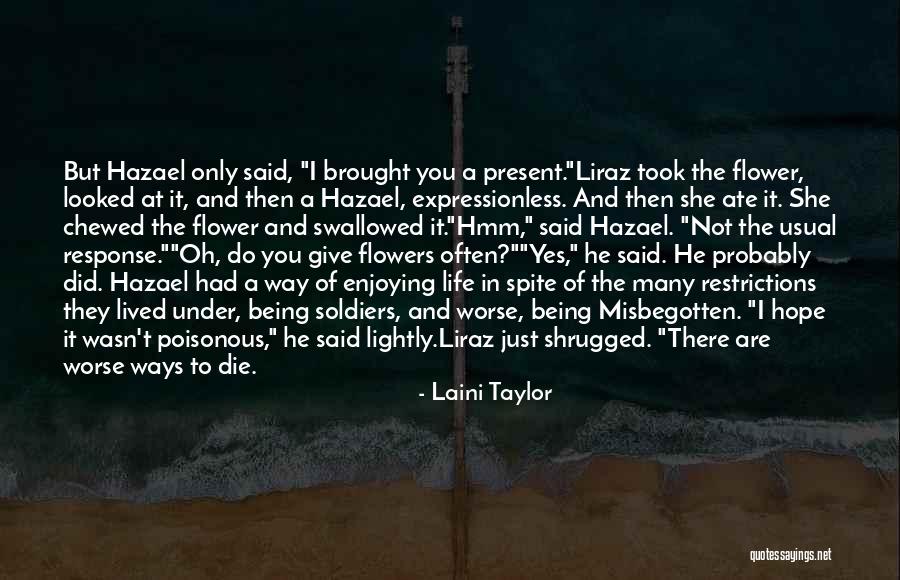 But Hazael only said, "I brought you a present."
Liraz took the flower, looked at it, and then a Hazael, expressionless. And then she ate it. She chewed the flower and swallowed it.
"Hmm," said Hazael. "Not the usual response."
"Oh, do you give flowers often?"
"Yes," he said. He probably did. Hazael had a way of enjoying life in spite of the many restrictions they lived under, being soldiers, and worse, being Misbegotten. "I hope it wasn't poisonous," he said lightly.
Liraz just shrugged. "There are worse ways to die. — Laini Taylor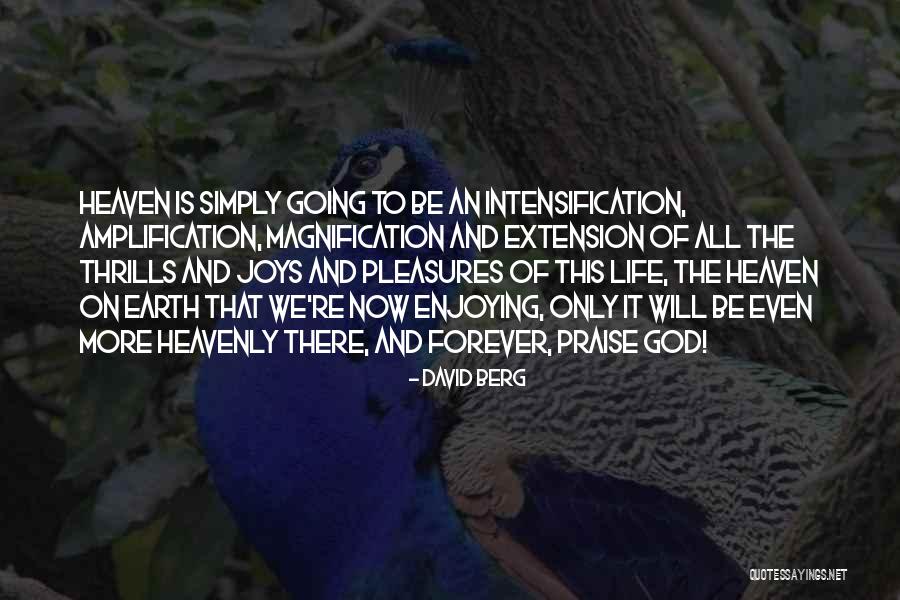 Heaven is simply going to be an intensification, amplification, magnification and extension of all the thrills and joys and pleasures of this life, the Heaven on Earth that we're now enjoying, only it will be even more Heavenly there, and forever, praise God! — David Berg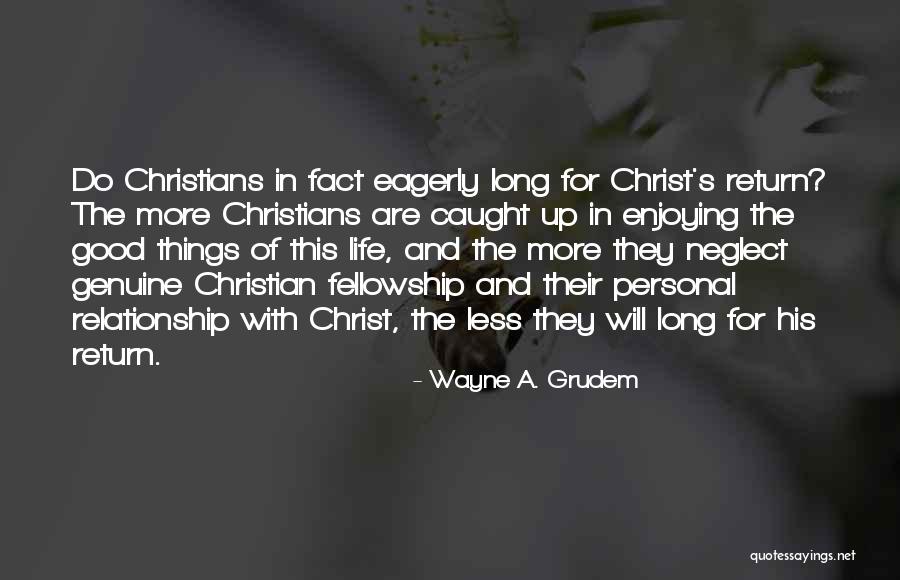 Do Christians in fact eagerly long for Christ's return? The more Christians are caught up in enjoying the good things of this life, and the more they neglect genuine Christian fellowship and their personal relationship with Christ, the less they will long for his return. — Wayne A. Grudem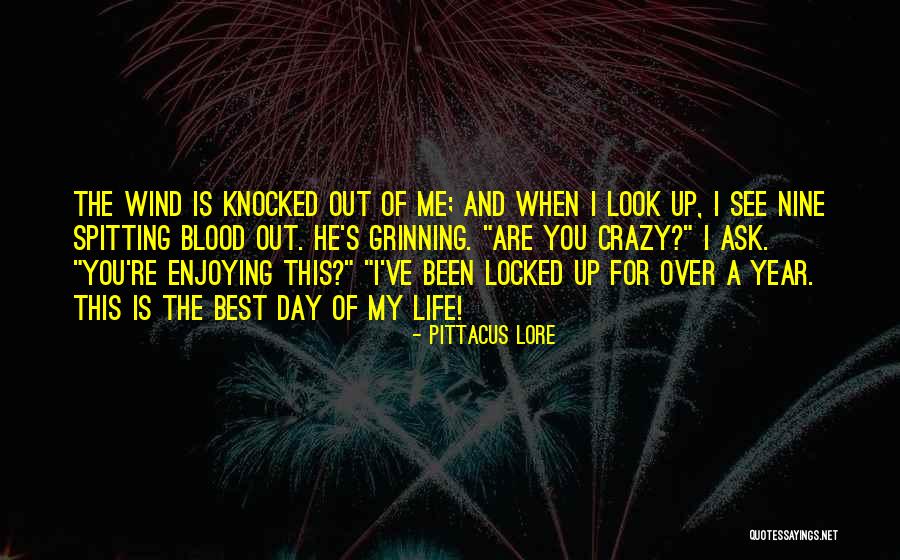 The wind is knocked out of me; and when I look up, I see Nine spitting blood out. He's grinning.
"Are you crazy?" I ask. "You're enjoying this?"
"I've been locked up for over a year. This is the best day of my life! — Pittacus Lore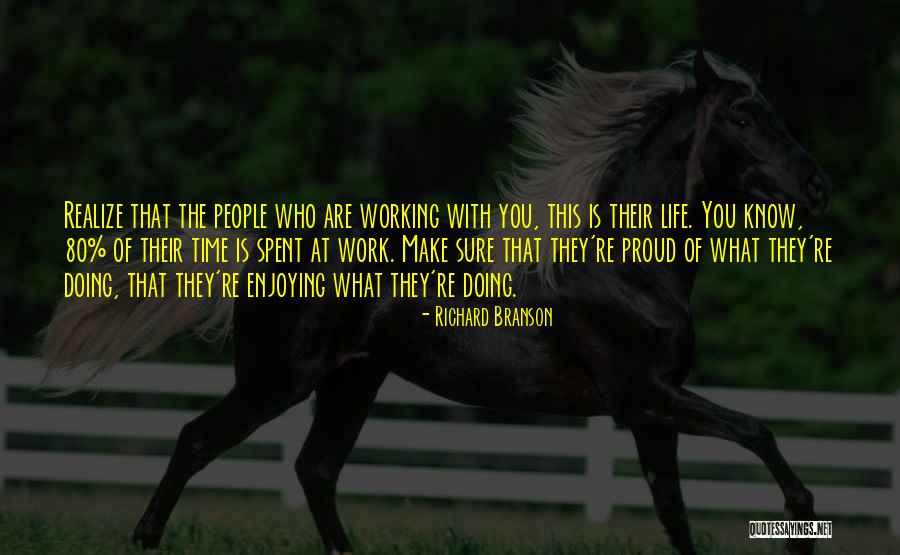 Realize that the people who are working with you, this is their life. You know, 80% of their time is spent at work. Make sure that they're proud of what they're doing, that they're enjoying what they're doing. — Richard Branson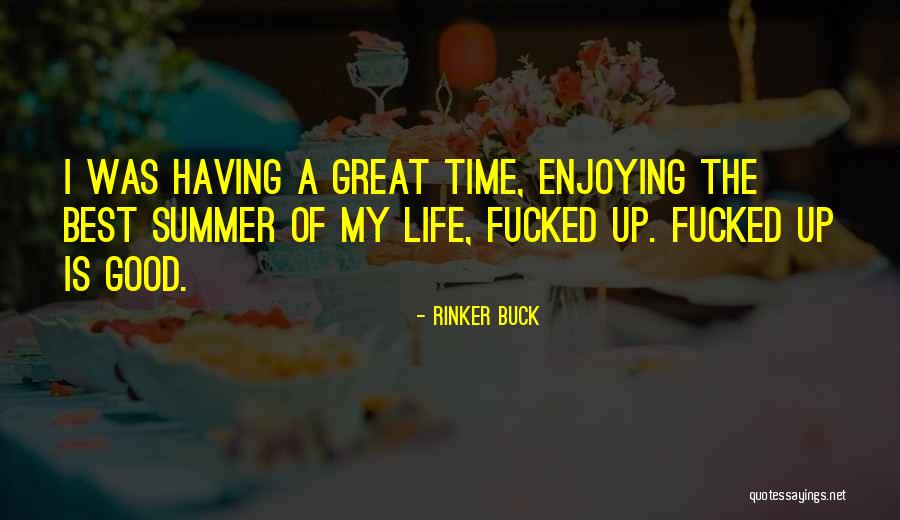 I was having a great time, enjoying the best summer of my life, fucked up. Fucked up is good. — Rinker Buck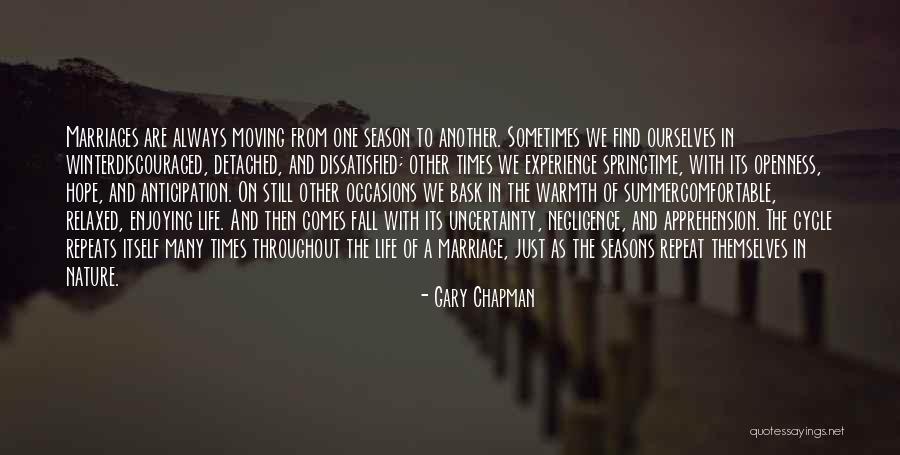 Marriages are always moving from one season to another. Sometimes we find ourselves in winter
discouraged, detached, and dissatisfied; other times we experience springtime, with its openness, hope, and anticipation. On still other occasions we bask in the warmth of summer
comfortable, relaxed, enjoying life. And then comes fall with its uncertainty, negligence, and apprehension. The cycle repeats itself many times throughout the life of a marriage, just as the seasons repeat themselves in nature. — Gary Chapman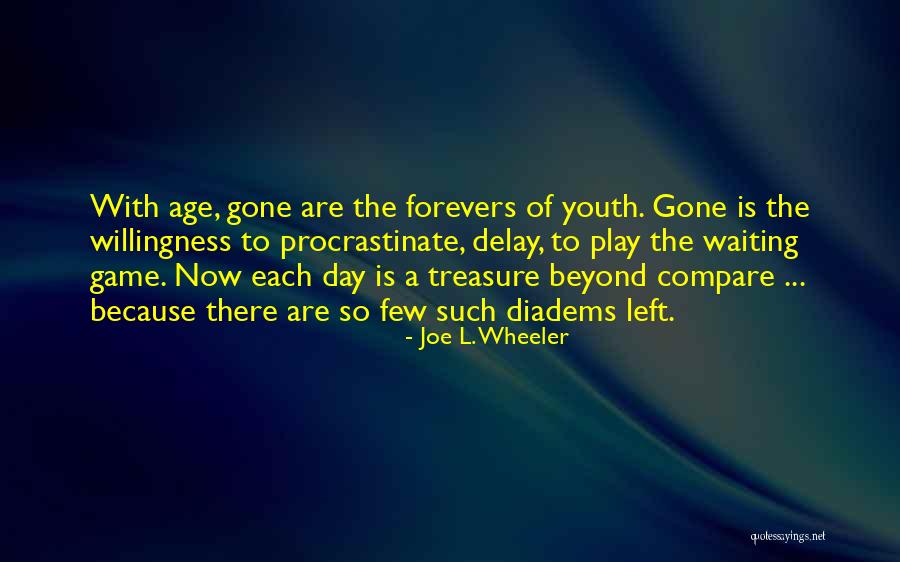 With age, gone are the forevers of youth. Gone is the willingness to procrastinate, delay, to play the waiting game. Now each day is a treasure beyond compare ... because there are so few such diadems left. — Joe L. Wheeler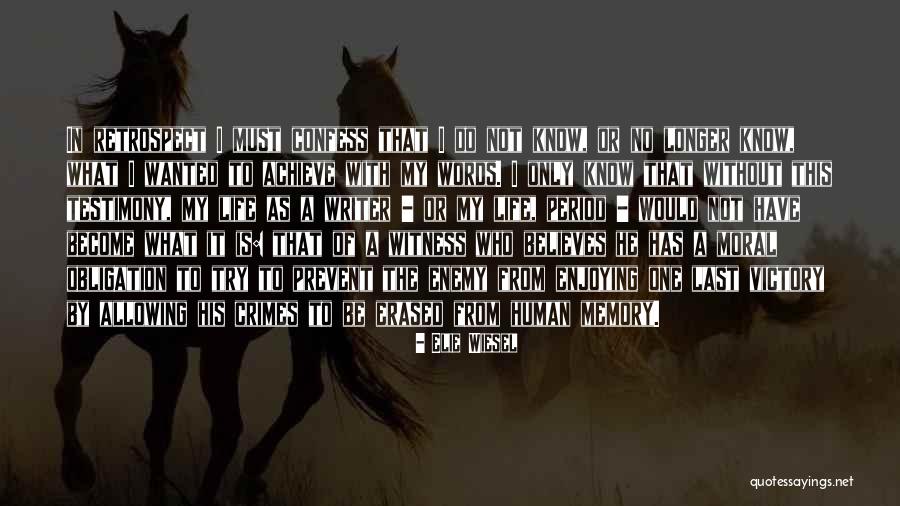 In retrospect I must confess that I do not know, or no longer know, what I wanted to achieve with my words. I only know that without this testimony, my life as a writer - or my life, period - would not have become what it is: that of a witness who believes he has a moral obligation to try to prevent the enemy from enjoying one last victory by allowing his crimes to be erased from human memory. — Elie Wiesel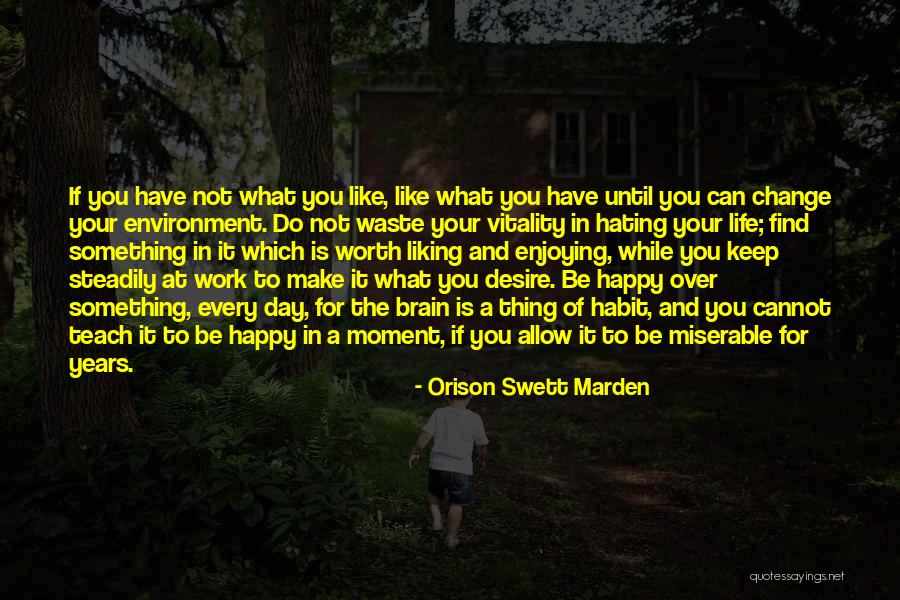 If you have not what you like, like what you have until you can change your environment. Do not waste your vitality in hating your life; find something in it which is worth liking and enjoying, while you keep steadily at work to make it what you desire. Be happy over something, every day, for the brain is a thing of habit, and you cannot teach it to be happy in a moment, if you allow it to be miserable for years. — Orison Swett Marden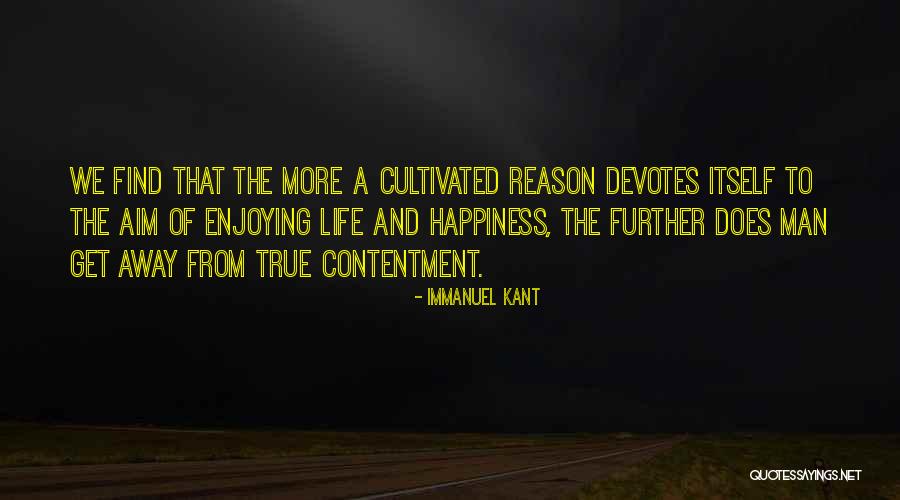 We find that the more a cultivated reason devotes itself to the aim of enjoying life and happiness, the further does man get away from true contentment. — Immanuel Kant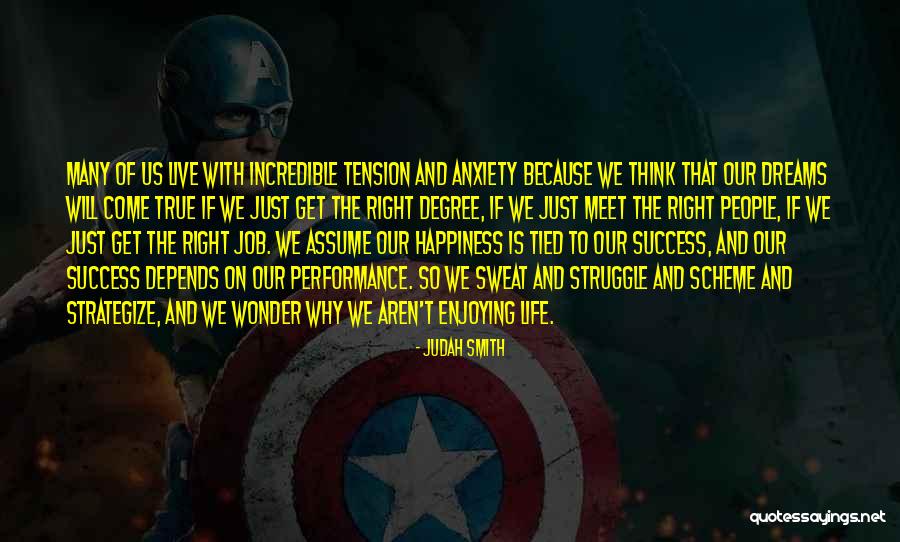 Many of us live with incredible tension and anxiety because we think that our dreams will come true if we just get the right degree, if we just meet the right people, if we just get the right job. We assume our happiness is tied to our success, and our success depends on our performance. So we sweat and struggle and scheme and strategize, and we wonder why we aren't enjoying life. — Judah Smith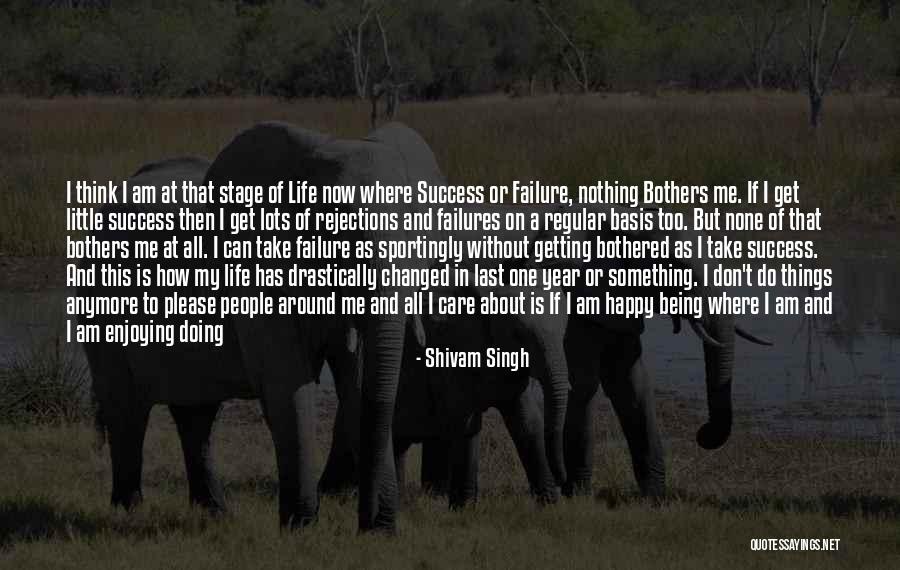 I think I am at that stage of Life now where Success or Failure, nothing Bothers me. If I get little success then I get lots of rejections and failures on a regular basis too. But none of that bothers me at all. I can take failure as sportingly without getting bothered as I take success. And this is how my life has drastically changed in last one year or something. I don't do things anymore to please people around me and all I care about is If I am happy being where I am and I am enjoying doing what I am doing or not. I may not be where I want to be yet but I am Happy.This is what matters in Life. Isn't it? Find what you love. Sooner or Later but you need to find one day, and once you find, give your everything to it. There may be many failures and rejections on the way but you will reach where you want to be some day and most importantly, you will be happy and in Peace with where you are. — Shivam Singh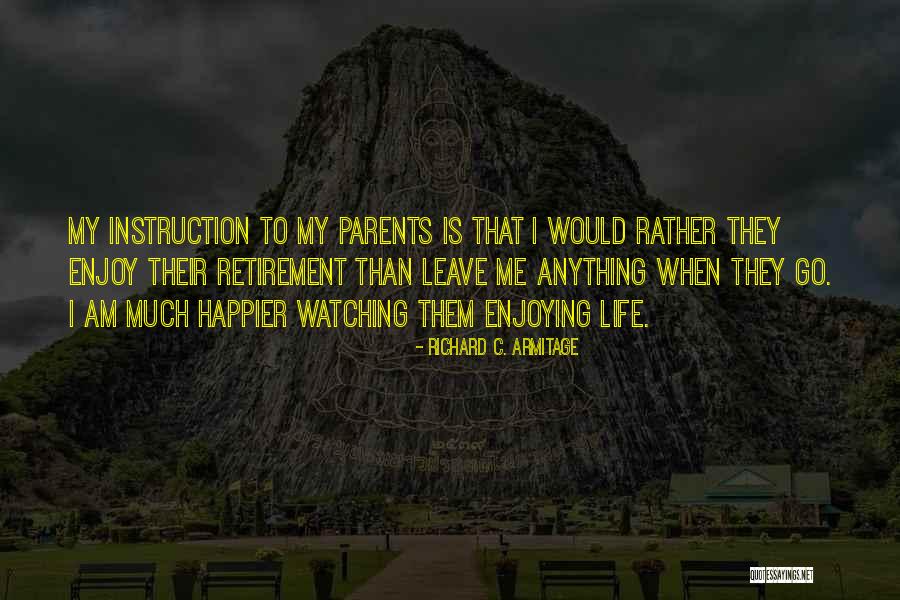 My instruction to my parents is that I would rather they enjoy their retirement than leave me anything when they go. I am much happier watching them enjoying life. — Richard C. Armitage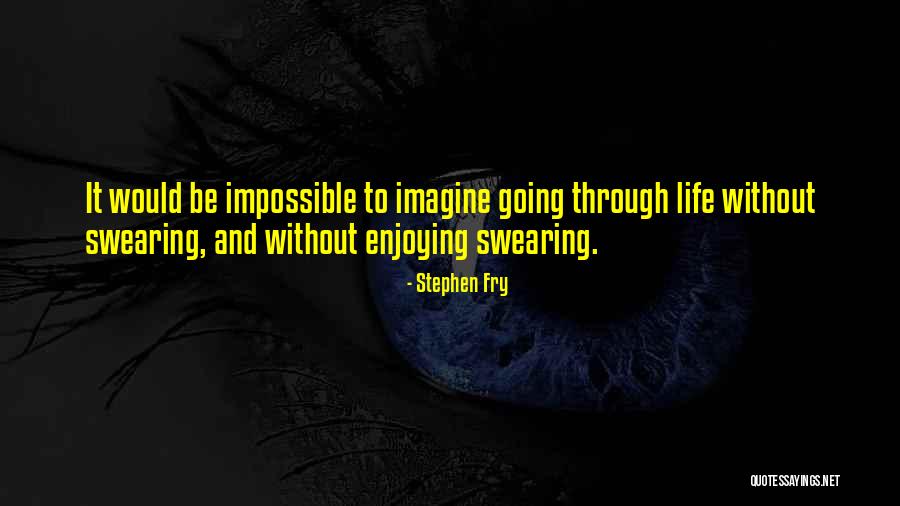 It would be impossible to imagine going through life without swearing, and without enjoying swearing. — Stephen Fry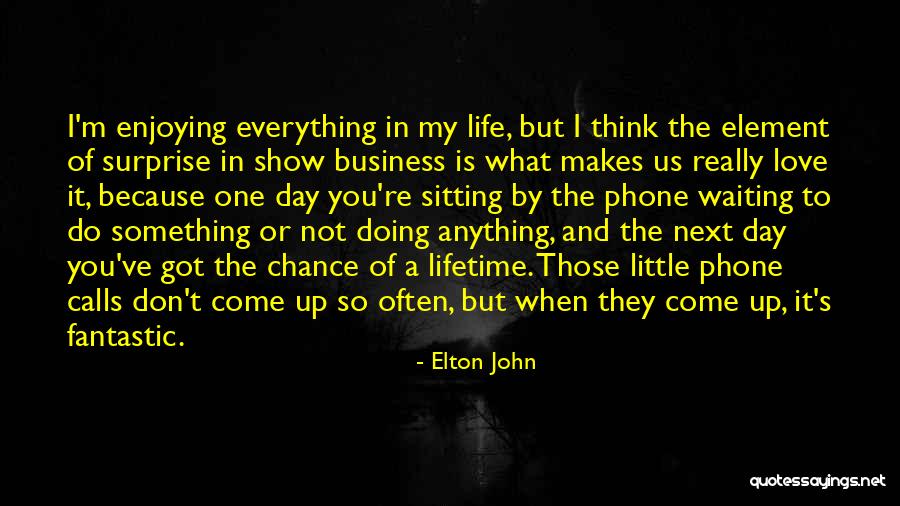 I'm enjoying everything in my life, but I think the element of surprise in show business is what makes us really love it, because one day you're sitting by the phone waiting to do something or not doing anything, and the next day you've got the chance of a lifetime. Those little phone calls don't come up so often, but when they come up, it's fantastic. — Elton John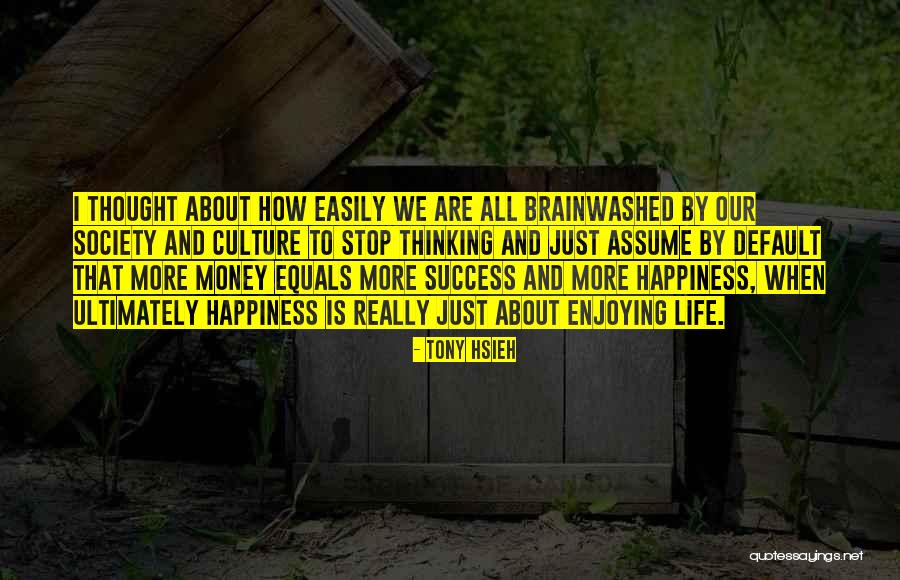 I thought about how easily we are all brainwashed by our society and culture to stop thinking and just assume by default that more money equals more success and more happiness, when ultimately happiness is really just about enjoying life. — Tony Hsieh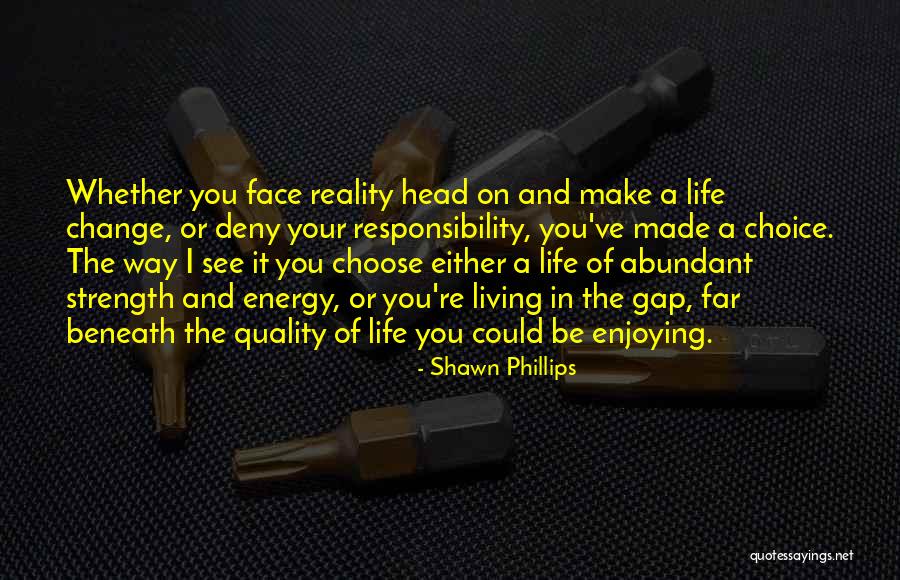 Whether you face reality head on and make a life change, or deny your responsibility, you've made a choice. The way I see it you choose either a life of abundant strength and energy, or you're living in the gap, far beneath the quality of life you could be enjoying. — Shawn Phillips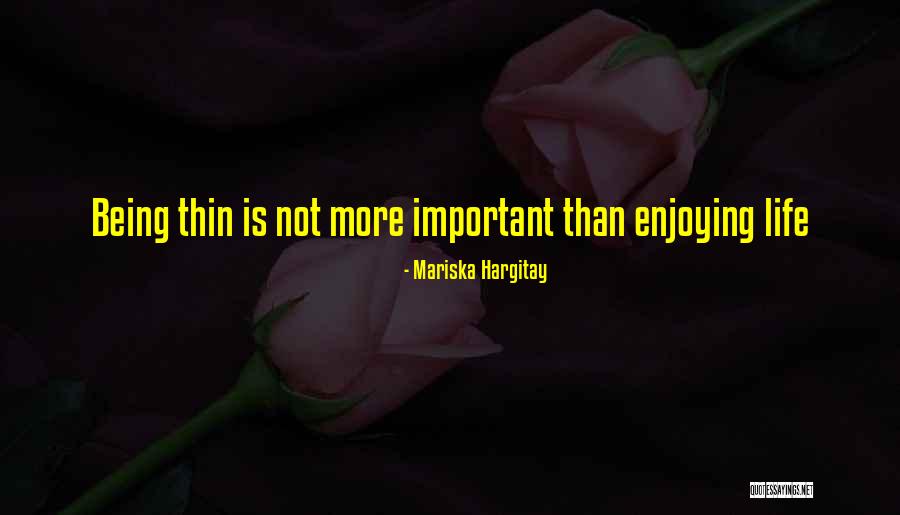 Being thin is not more important than enjoying life — Mariska Hargitay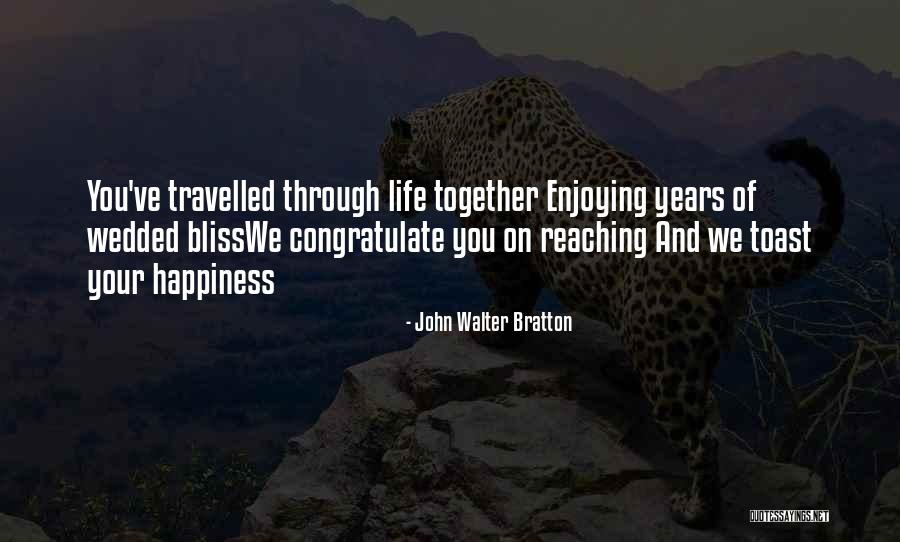 You've travelled through life together
Enjoying years of wedded bliss
We congratulate you on reaching
And we toast your happiness — John Walter Bratton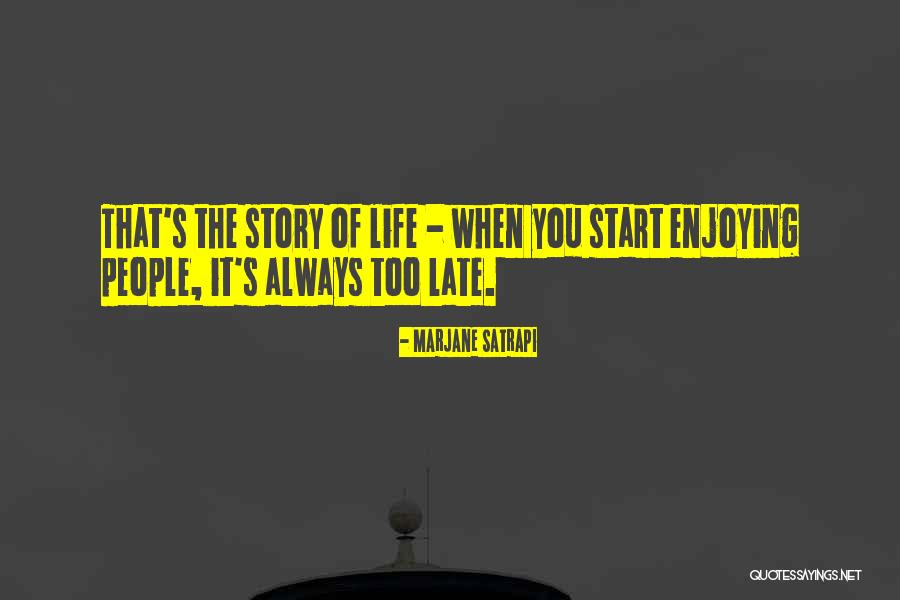 That's the story of life - when you start enjoying people, it's always too late. — Marjane Satrapi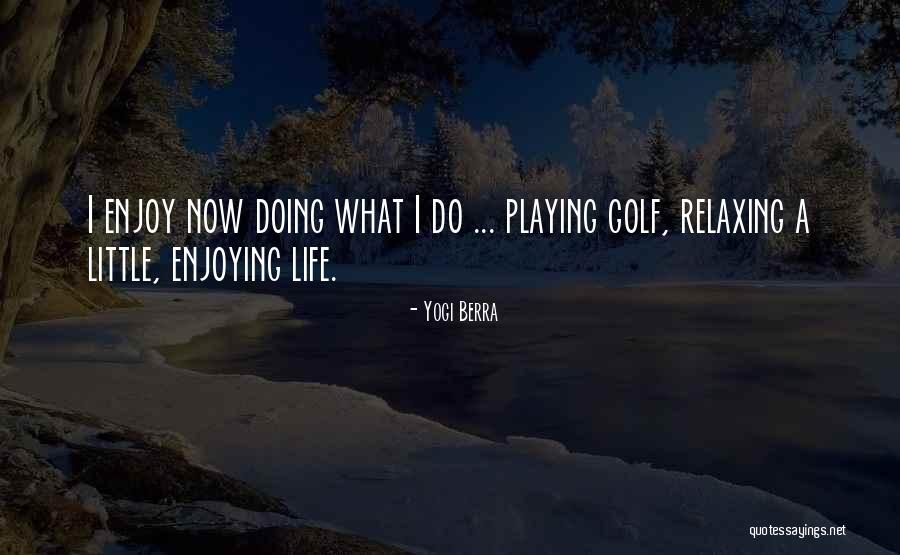 I enjoy now doing what I do ... playing golf, relaxing a little, enjoying life. — Yogi Berra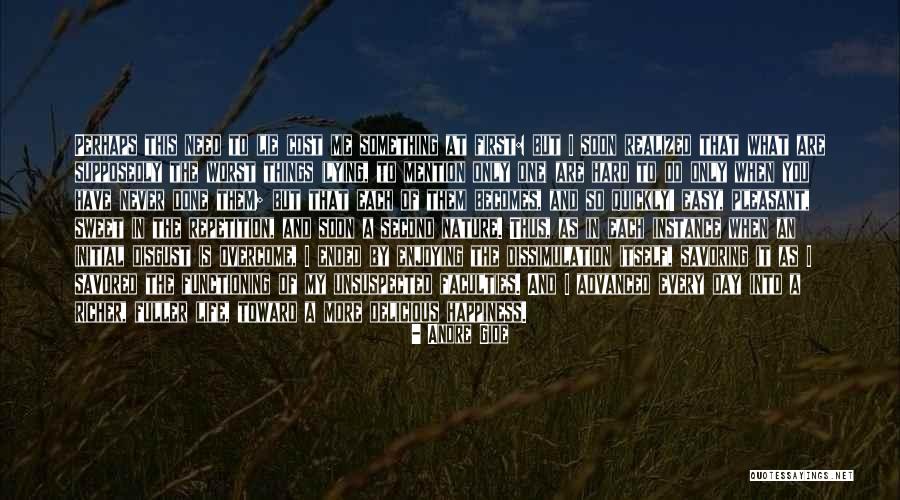 Perhaps this need to lie cost me something at first: but I soon realized that what are supposedly the worst things (lying, to mention only one) are hard to do only when you have never done them; but that each of them becomes, and so quickly! easy, pleasant, sweet in the repetition, and soon a second nature. Thus, as in each instance when an initial disgust is overcome, I ended by enjoying the dissimulation itself, savoring it as I savored the functioning of my unsuspected faculties. And I advanced every day into a richer, fuller life, toward a more delicious happiness. — Andre Gide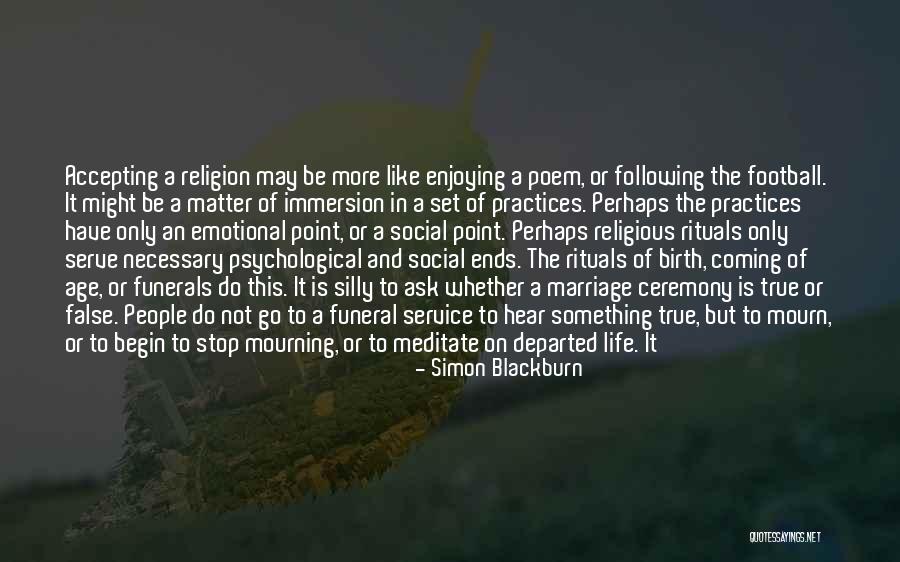 Accepting a religion may be more like enjoying a poem, or following the football. It might be a matter of immersion in a set of practices. Perhaps the practices have only an emotional point, or a social point. Perhaps religious rituals only serve necessary psychological and social ends. The rituals of birth, coming of age, or funerals do this. It is silly to ask whether a marriage ceremony is true or false. People do not go to a funeral service to hear something true, but to mourn, or to begin to stop mourning, or to meditate on departed life. It can be as inappropriate to ask whether what is said is true as to ask whether Keats's ode to a Grecian urn is true. The poem is successful or not in quite a different dimension, and so is Chartres cathedral, or a statue of the Buddha. They may be magnificent, and moving, and awe-inspiring, but not because they make statements that are true or false. — Simon Blackburn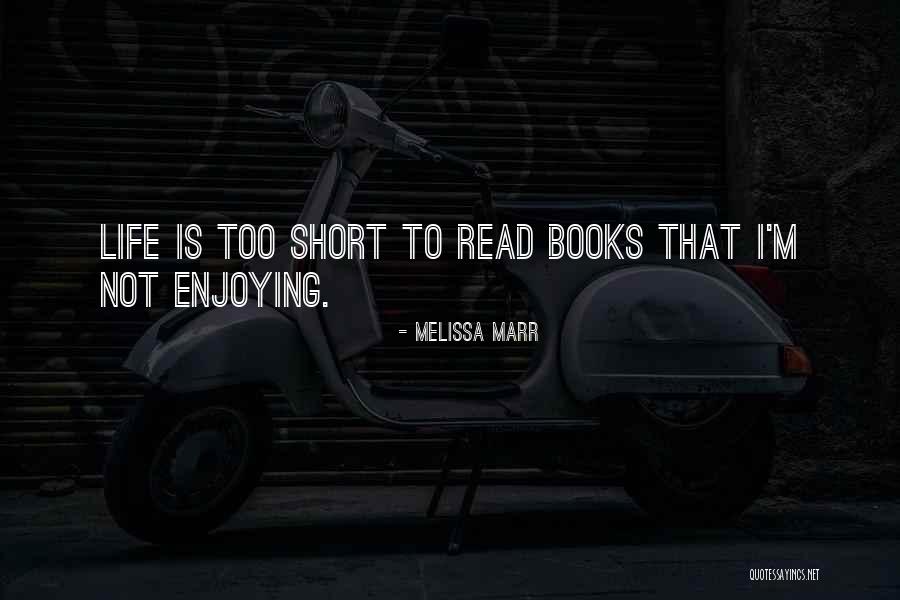 Life is too short to read books that I'm not enjoying. — Melissa Marr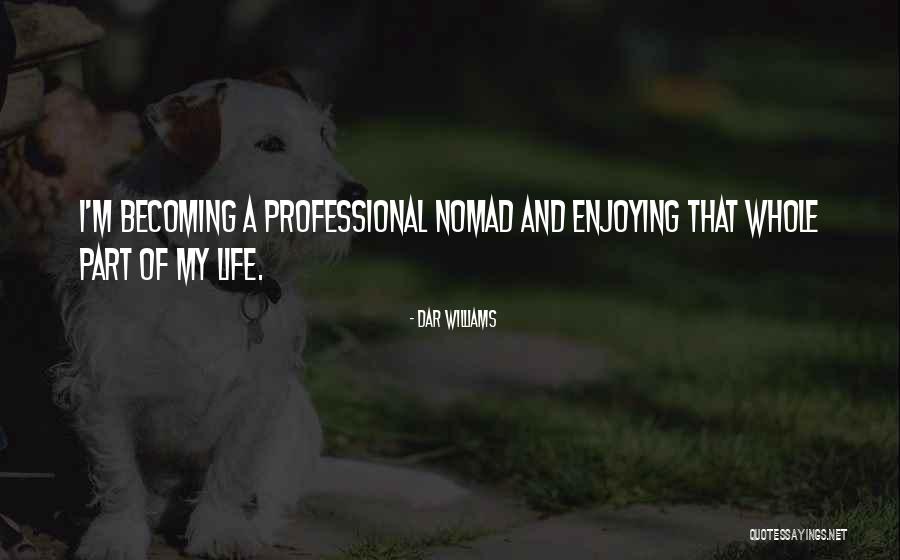 I'm becoming a professional nomad and enjoying that whole part of my life. — Dar Williams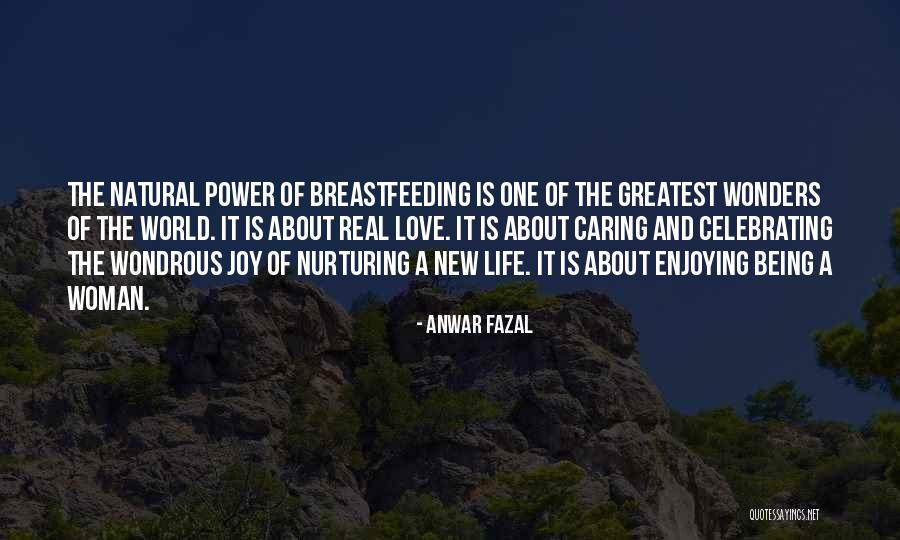 The natural power of breastfeeding is one of the greatest wonders of the world. It is about real love. It is about caring and celebrating the wondrous joy of nurturing a new life. It is about enjoying being a woman. — Anwar Fazal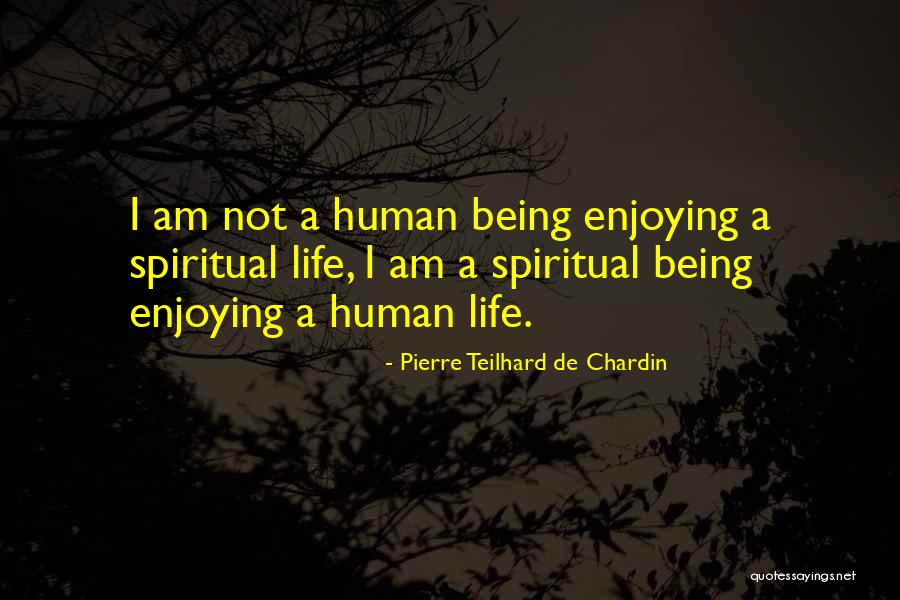 I am not a human being enjoying a spiritual life, I am a spiritual being enjoying a human life. — Pierre Teilhard De Chardin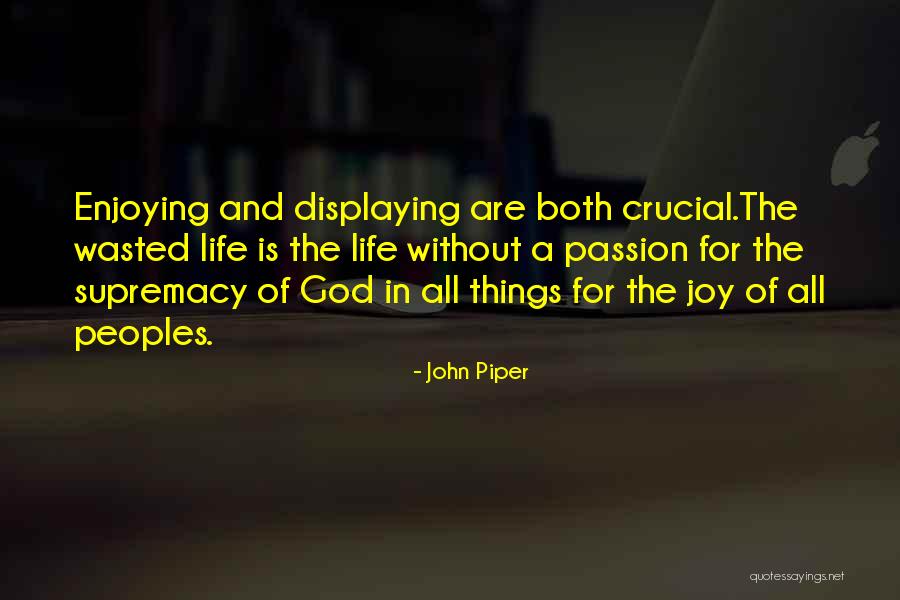 Enjoying and displaying are both crucial.
The wasted life is the life without a passion for the supremacy of God in all things for the joy of all peoples. — John Piper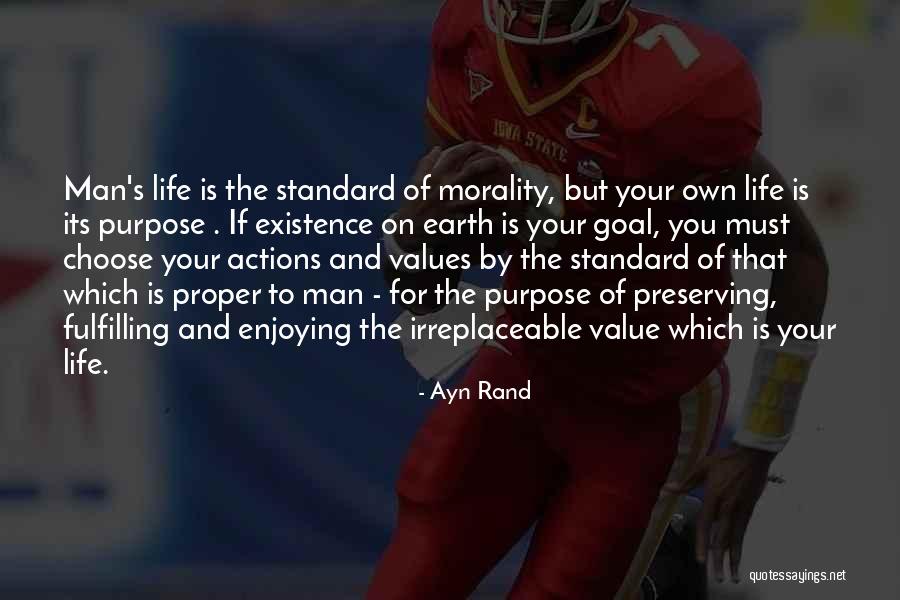 Man's life is the standard of morality, but your own life is its purpose . If existence on earth is your goal, you must choose your actions and values by the standard of that which is proper to man - for the purpose of preserving, fulfilling and enjoying the irreplaceable value which is your life. — Ayn Rand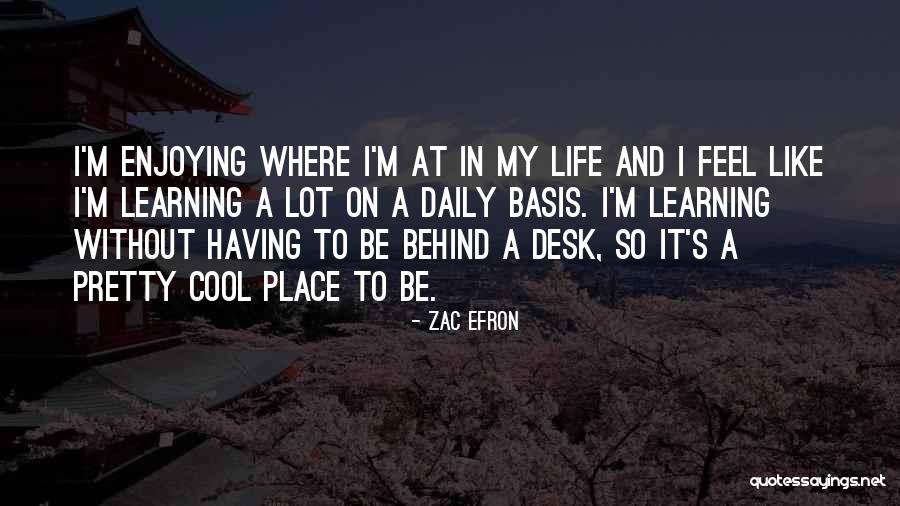 I'm enjoying where I'm at in my life and I feel like I'm learning a lot on a daily basis. I'm learning without having to be behind a desk, so it's a pretty cool place to be. — Zac Efron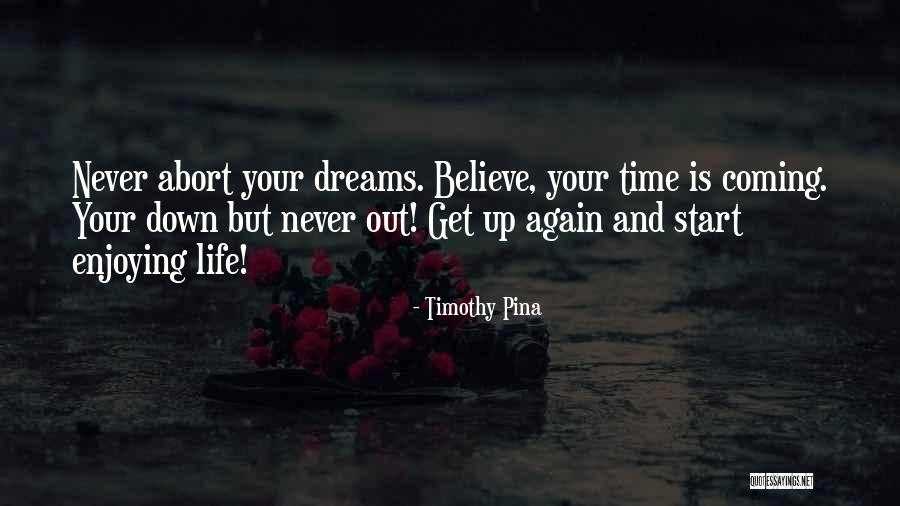 Never abort your dreams. Believe, your time is coming. Your down but never out! Get up again and start enjoying life! — Timothy Pina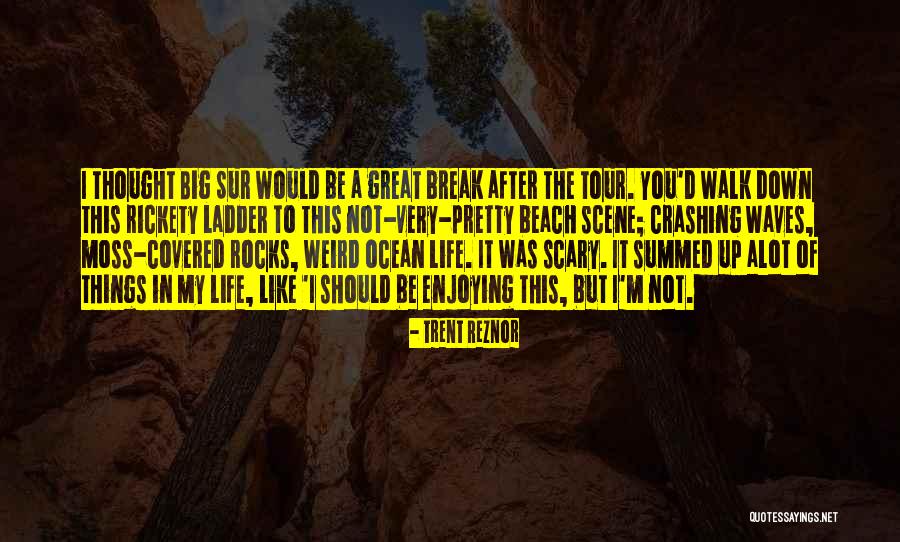 I thought Big Sur would be a great break after the tour. You'd walk down this rickety ladder to this not-very-pretty beach scene; crashing waves, moss-covered rocks, weird ocean life. It was scary. It summed up alot of things in my life, like 'I should be enjoying this, but I'm not. — Trent Reznor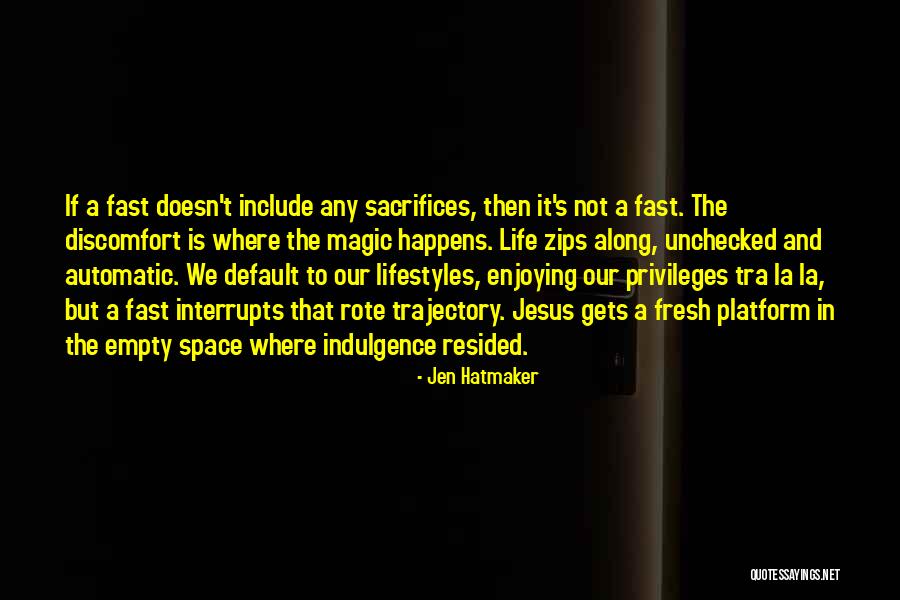 If a fast doesn't include any sacrifices, then it's not a fast. The discomfort is where the magic happens. Life zips along, unchecked and automatic. We default to our lifestyles, enjoying our privileges tra la la, but a fast interrupts that rote trajectory. Jesus gets a fresh platform in the empty space where indulgence resided. — Jen Hatmaker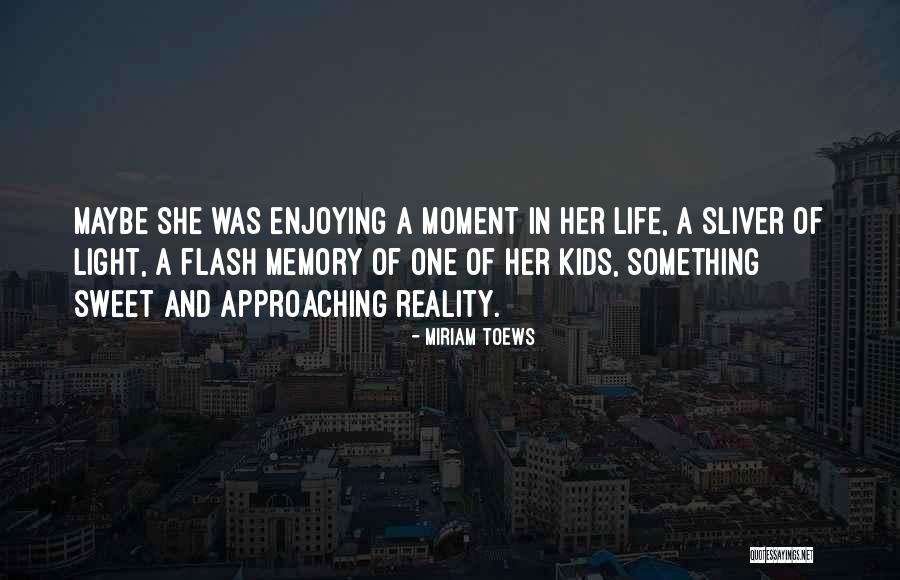 Maybe she was enjoying a moment in her life, a sliver of light, a flash memory of one of her kids, something sweet and approaching reality. — Miriam Toews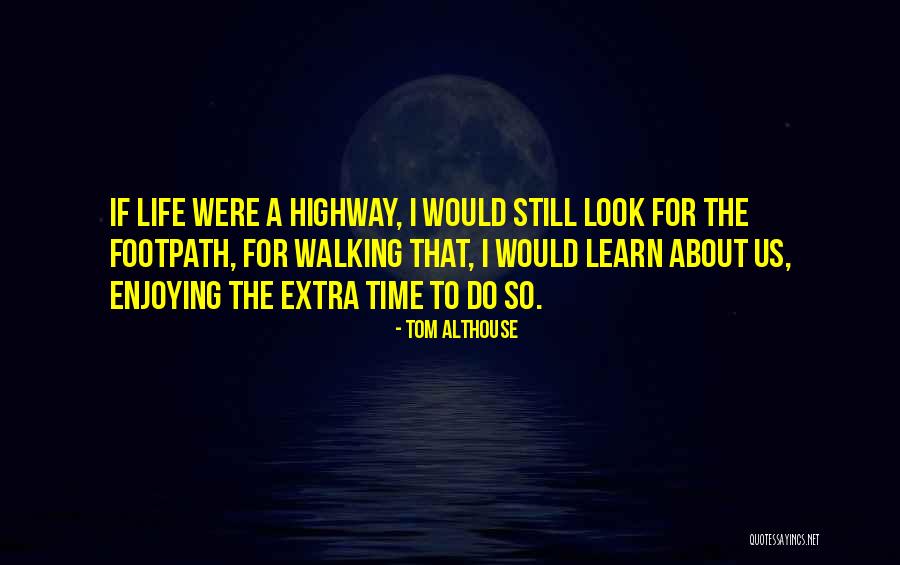 If life were a highway, I would still look for the footpath, for walking that, I would learn about us, enjoying the extra time to do so. — Tom Althouse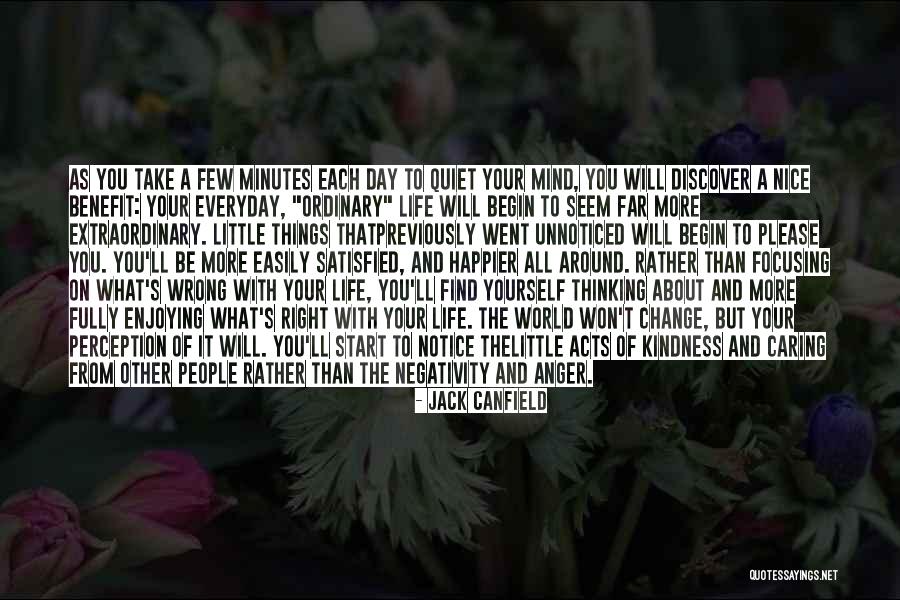 As you take a few minutes each day to quiet your mind, you will discover a nice benefit: your everyday, "ordinary" life will begin to seem far more extraordinary. Little things that
previously went unnoticed will begin to please you. You'll be more easily satisfied, and happier all around. Rather than focusing on what's wrong with your life, you'll find yourself thinking about and more fully enjoying what's right with your life. The world won't change, but your perception of it will. You'll start to notice the
little acts of kindness and caring from other people rather than the negativity and anger. — Jack Canfield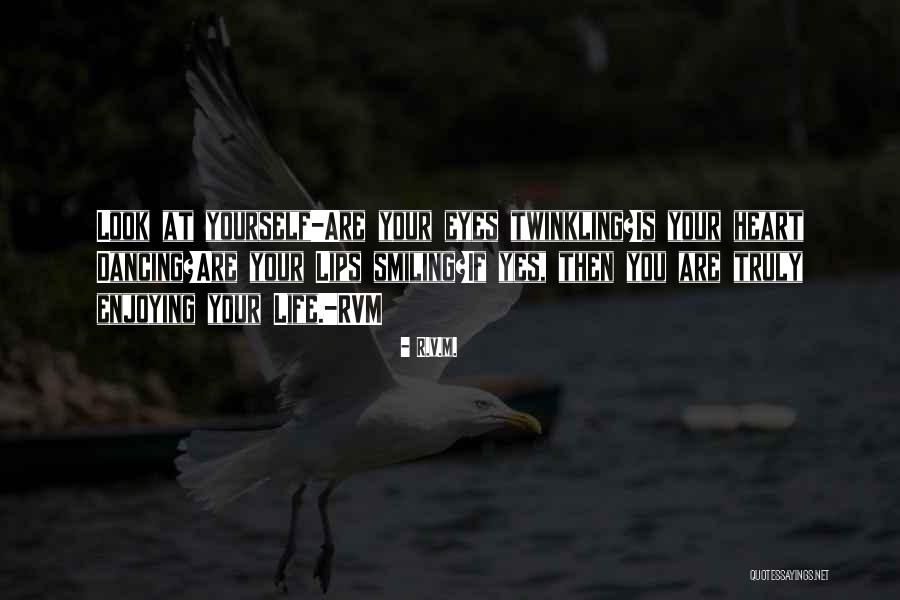 Look at yourself-Are your eyes twinkling?Is your heart Dancing?Are your Lips smiling?If yes, then you are truly enjoying your Life.-RVM — R.v.m.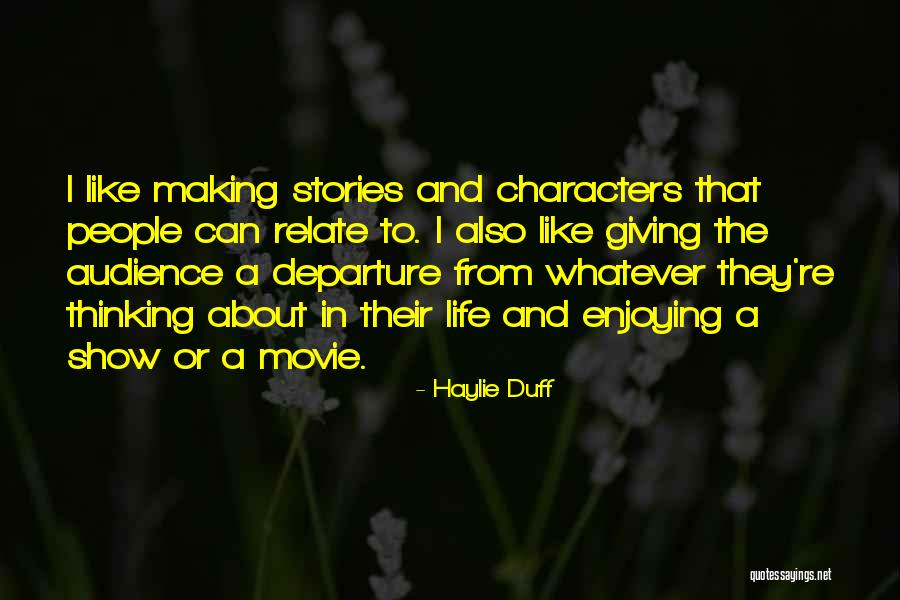 I like making stories and characters that people can relate to. I also like giving the audience a departure from whatever they're thinking about in their life and enjoying a show or a movie. — Haylie Duff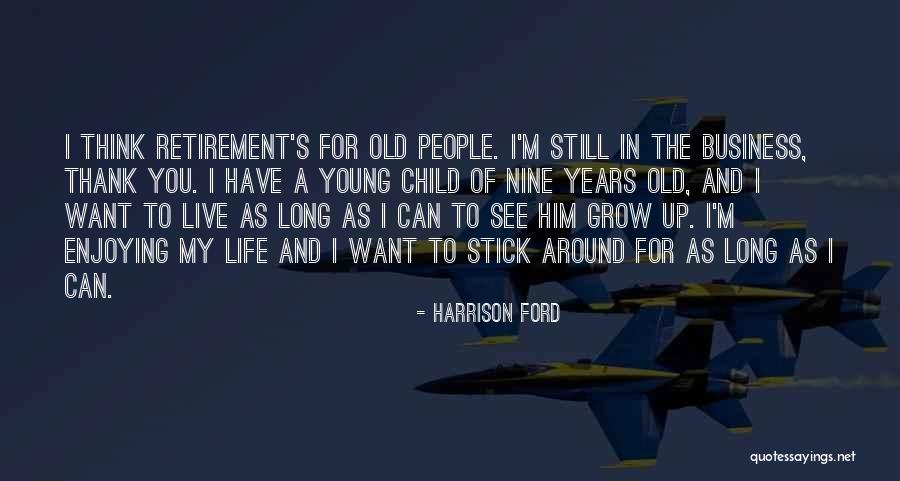 I think retirement's for old people. I'm still in the business, thank you. I have a young child of nine years old, and I want to live as long as I can to see him grow up. I'm enjoying my life and I want to stick around for as long as I can. — Harrison Ford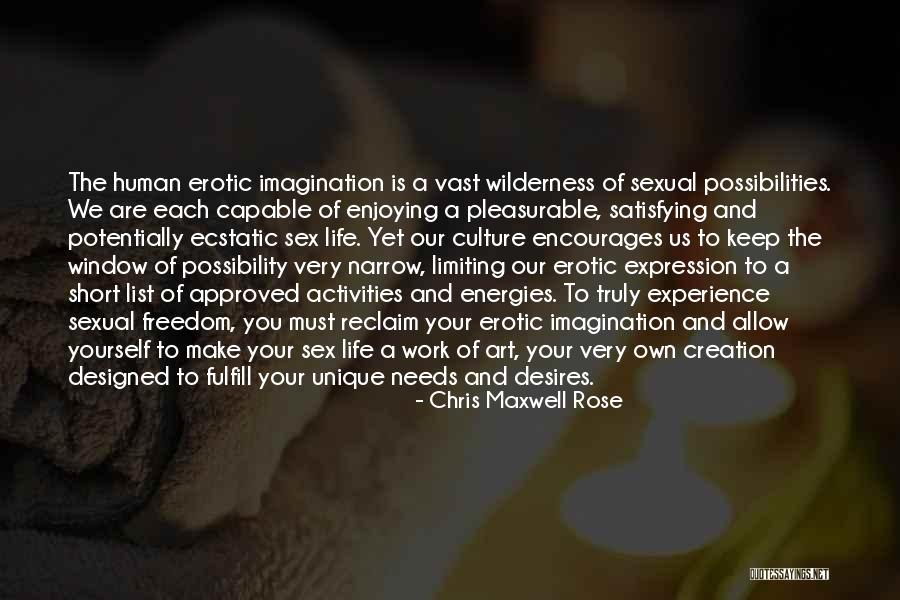 The human erotic imagination is a vast wilderness of sexual possibilities. We are each capable of enjoying a pleasurable, satisfying and potentially ecstatic sex life. Yet our culture encourages us to keep the window of possibility very narrow, limiting our erotic expression to a short list of approved activities and energies. To truly experience sexual freedom, you must reclaim your erotic imagination and allow yourself to make your sex life a work of art, your very own creation designed to fulfill your unique needs and desires. — Chris Maxwell Rose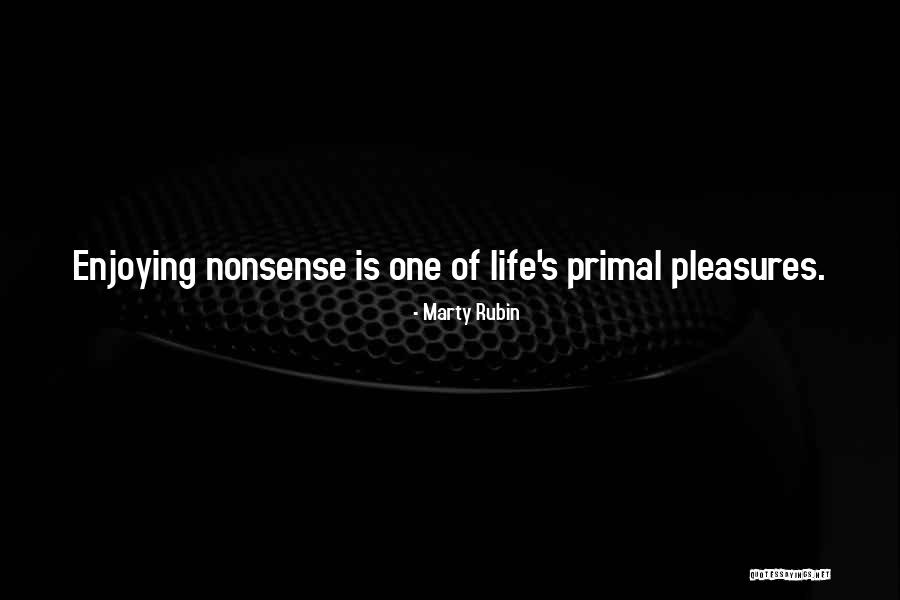 Enjoying nonsense is one of life's primal pleasures. — Marty Rubin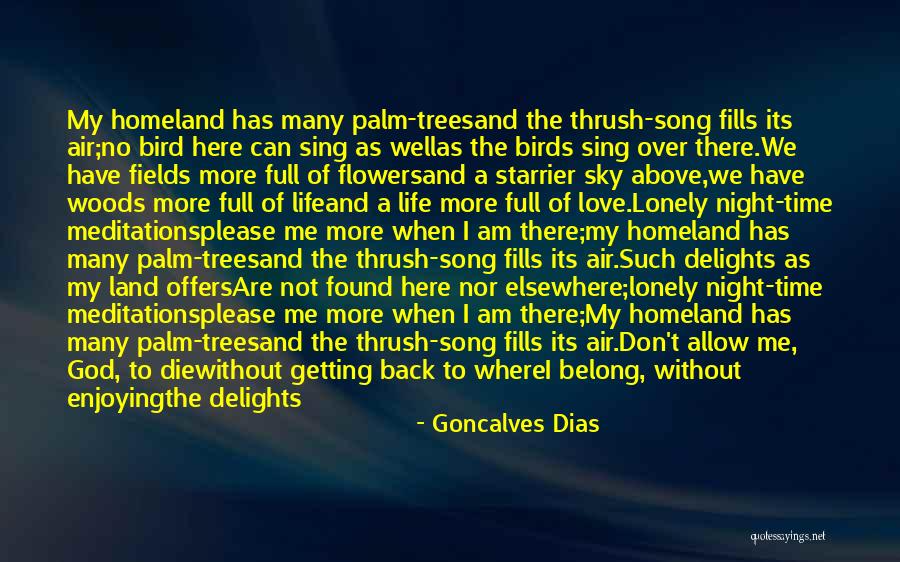 My homeland has many palm-trees
and the thrush-song fills its air;
no bird here can sing as well
as the birds sing over there.

We have fields more full of flowers
and a starrier sky above,
we have woods more full of life
and a life more full of love.

Lonely night-time meditations
please me more when I am there;
my homeland has many palm-trees
and the thrush-song fills its air.

Such delights as my land offers
Are not found here nor elsewhere;
lonely night-time meditations
please me more when I am there;
My homeland has many palm-trees
and the thrush-song fills its air.

Don't allow me, God, to die
without getting back to where
I belong, without enjoying
the delights found only there,
without seeing all those palm-trees,
hearing thrush-songs fill the air. — Goncalves Dias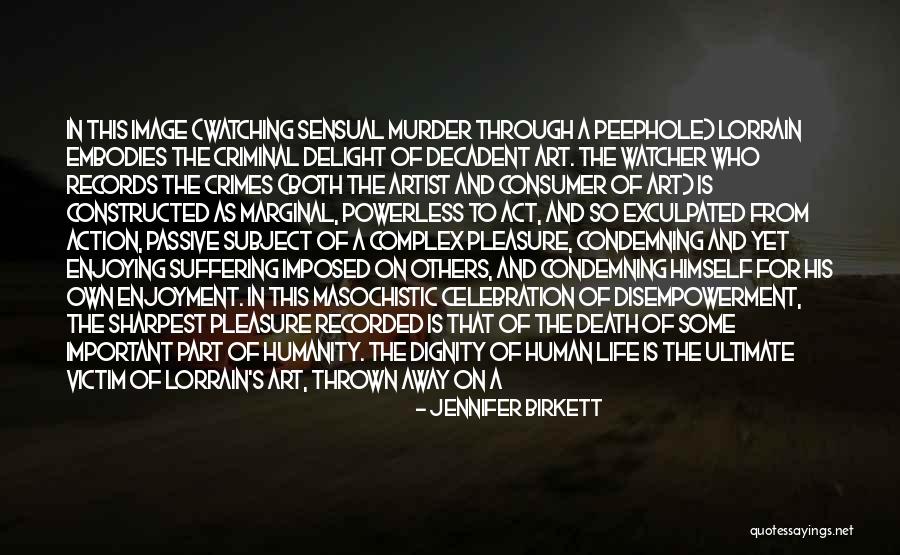 In this image (watching sensual murder through a peephole) Lorrain embodies the criminal delight of decadent art. The watcher who records the crimes (both the artist and consumer of art) is constructed as marginal, powerless to act, and so exculpated from action, passive subject of a complex pleasure, condemning and yet enjoying suffering imposed on others, and condemning himself for his own enjoyment. In this masochistic celebration of disempowerment, the sharpest pleasure recorded is that of the death of some important part of humanity. The dignity of human life is the ultimate victim of Lorrain's art, thrown away on a welter of delighted self-disgust. — Jennifer Birkett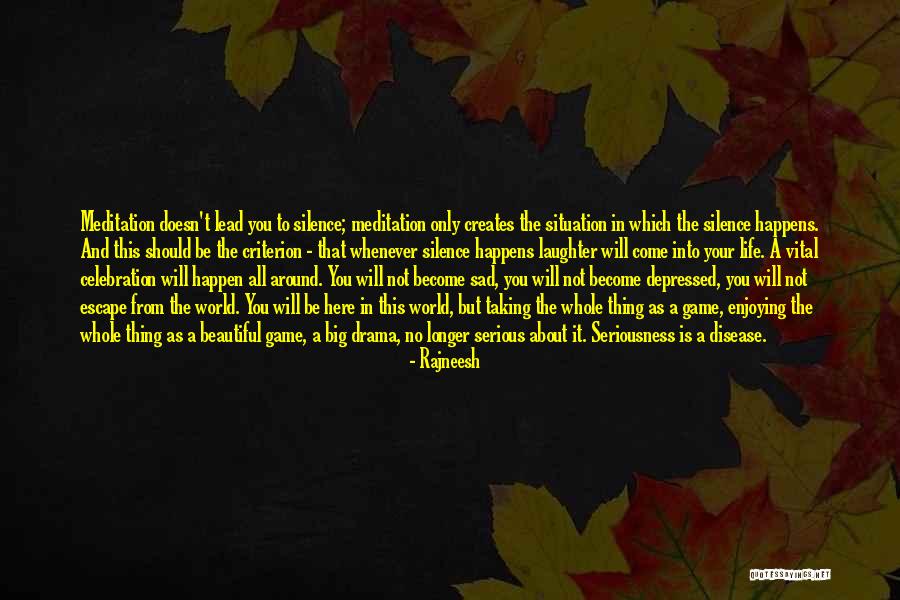 Meditation doesn't lead you to silence; meditation only creates the situation in which the silence happens. And this should be the criterion - that whenever silence happens laughter will come into your life. A vital celebration will happen all around. You will not become sad, you will not become depressed, you will not escape from the world. You will be here in this world, but taking the whole thing as a game, enjoying the whole thing as a beautiful game, a big drama, no longer serious about it. Seriousness is a disease. — Rajneesh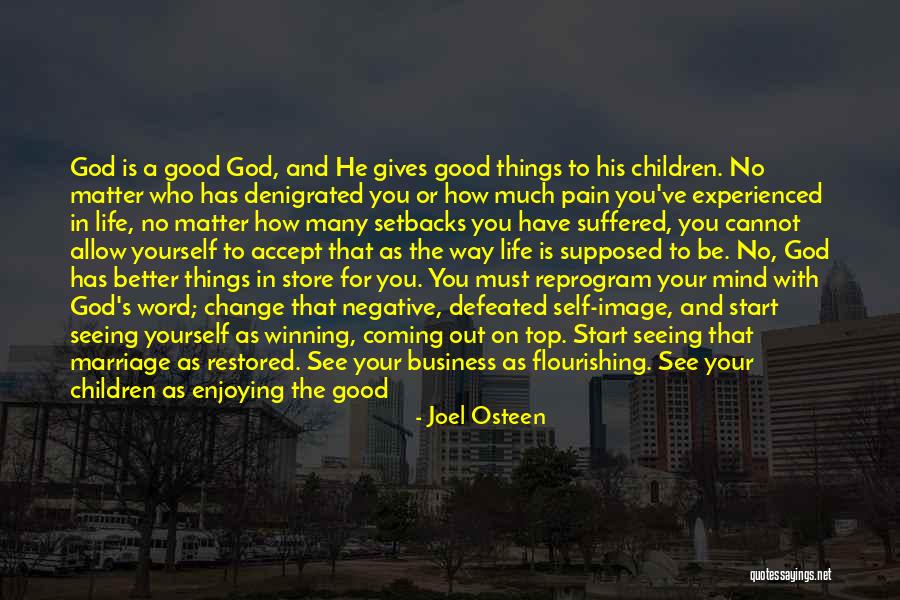 God is a good God, and He gives good things to his children. No matter who has denigrated you or how much pain you've experienced in life, no matter how many setbacks you have suffered, you cannot allow yourself to accept that as the way life is supposed to be. No, God has better things in store for you. You must reprogram your mind with God's word; change that negative, defeated self-image, and start seeing yourself as winning, coming out on top. Start seeing that marriage as restored. See your business as flourishing. See your children as enjoying the good things of God. You must see it through your eyes of faith, and then it will begin to happen. — Joel Osteen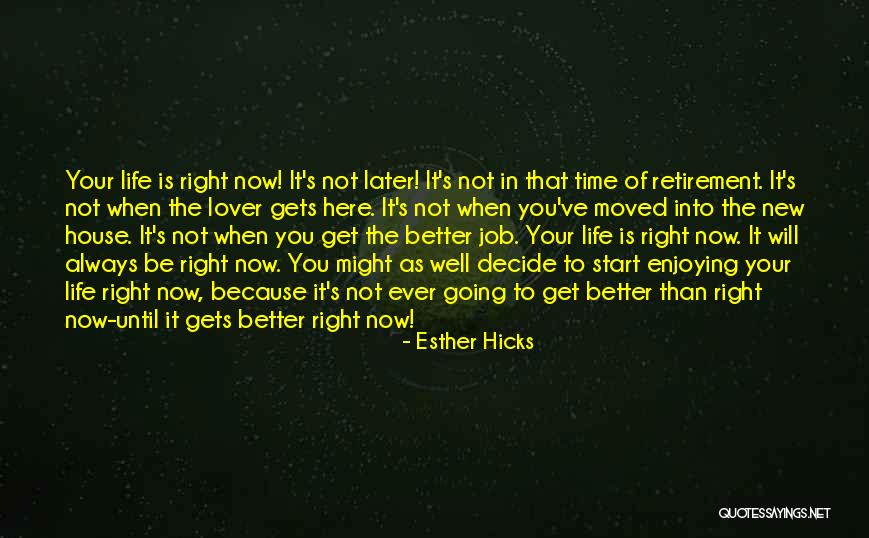 Your life is right now! It's not later! It's not in that time of retirement. It's not when the lover gets here. It's not when you've moved into the new house. It's not when you get the better job. Your life is right now. It will always be right now. You might as well decide to start enjoying your life right now, because it's not ever going to get better than right now-until it gets better right now! — Esther Hicks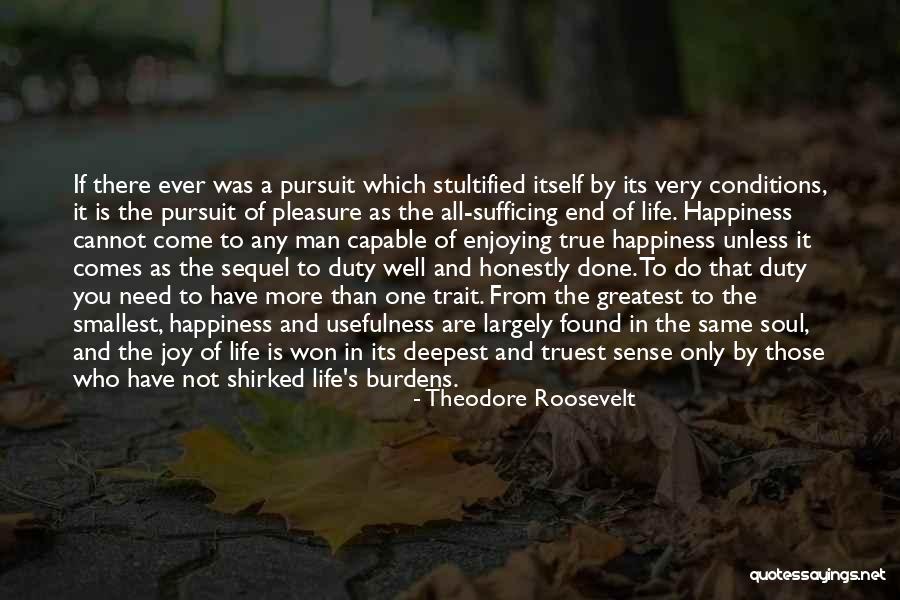 If there ever was a pursuit which stultified itself by its very conditions, it is the pursuit of pleasure as the all-sufficing end of life. Happiness cannot come to any man capable of enjoying true happiness unless it comes as the sequel to duty well and honestly done. To do that duty you need to have more than one trait. From the greatest to the smallest, happiness and usefulness are largely found in the same soul, and the joy of life is won in its deepest and truest sense only by those who have not shirked life's burdens. — Theodore Roosevelt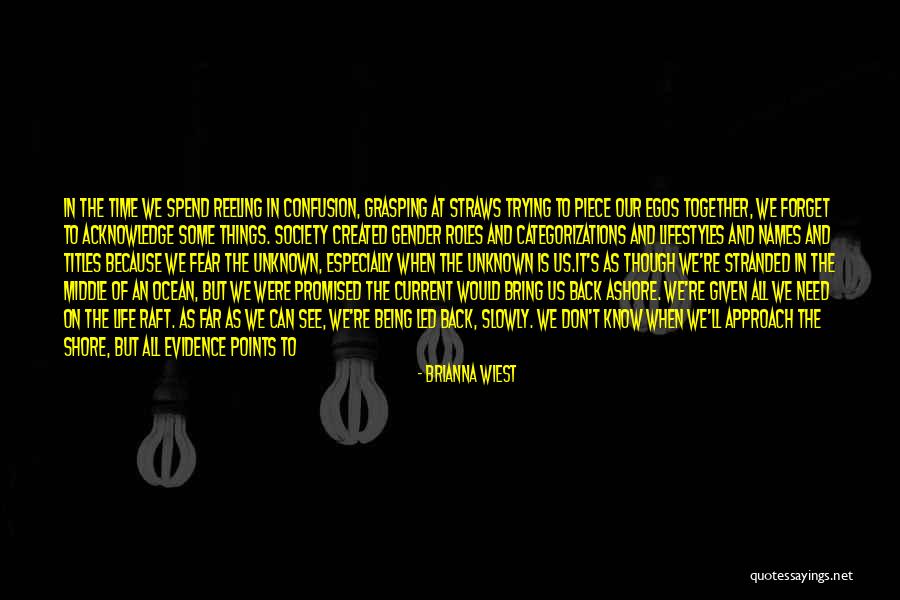 In the time we spend reeling in confusion, grasping at straws trying to piece our egos together, we forget to acknowledge some things. Society created gender roles and categorizations and lifestyles and names and titles because we fear the unknown, especially when the unknown is us.
It's as though we're stranded in the middle of an ocean, but we were promised the current would bring us back ashore. We're given all we need on the life raft. As far as we can see, we're being led back, slowly. We don't know when we'll approach the shore, but all evidence points to the fact that we will. But we don't spend our time looking around, enjoying the view, seeing who came with us, and riding out the waves. We sit and panic about what we're doing and why we came here.
It doesn't matter where we started because we may never know. It matters where we're going, because that, we do. We begin and we end. We've seen one, so there's only one other option. — Brianna Wiest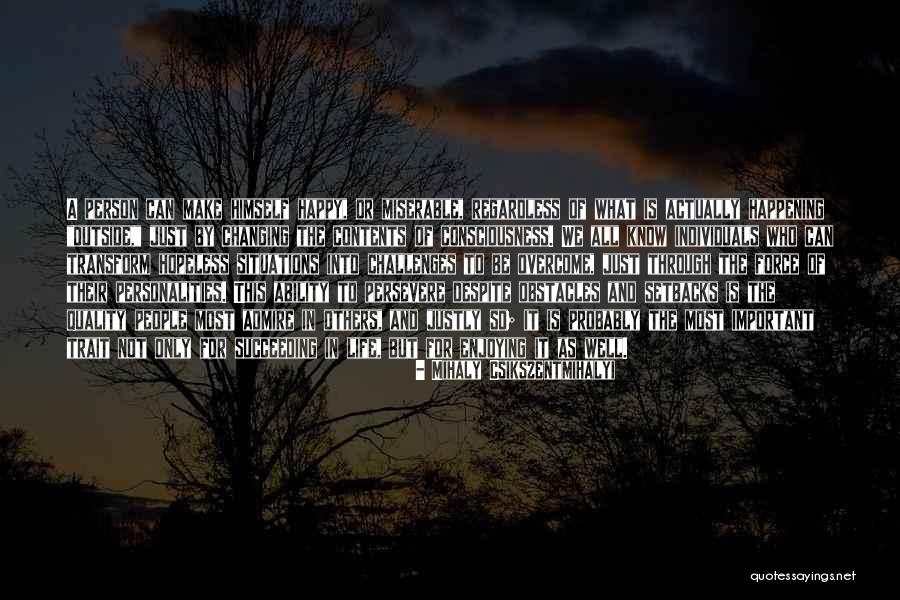 A person can make himself happy, or miserable, regardless of what is actually happening "outside," just by changing the contents of consciousness. We all know individuals who can transform hopeless situations into challenges to be overcome, just through the force of their personalities. This ability to persevere despite obstacles and setbacks is the quality people most admire in others, and justly so; it is probably the most important trait not only for succeeding in life, but for enjoying it as well. — Mihaly Csikszentmihalyi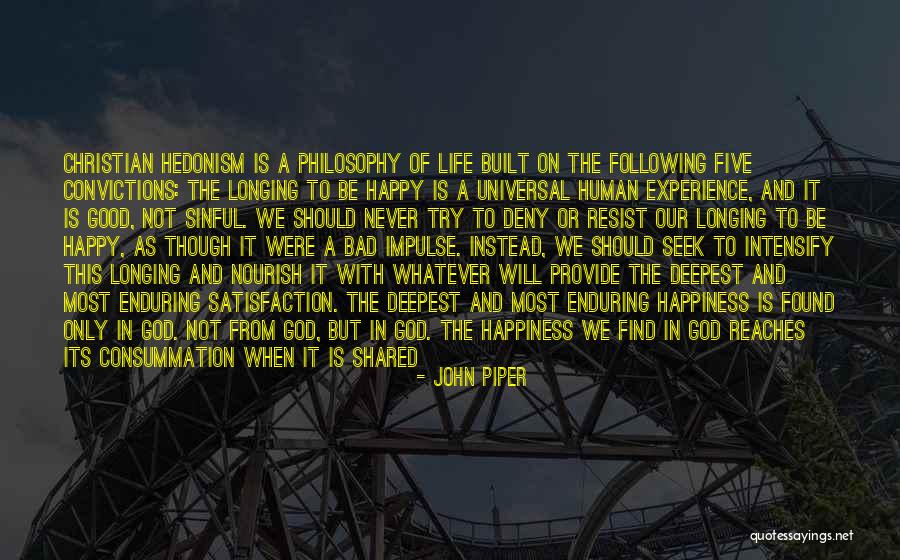 Christian Hedonism is a philosophy of life built on the following five convictions: The longing to be happy is a universal human experience, and it is good, not sinful. We should never try to deny or resist our longing to be happy, as though it were a bad impulse. Instead, we should seek to intensify this longing and nourish it with whatever will provide the deepest and most enduring satisfaction. The deepest and most enduring happiness is found only in God. Not from God, but in God. The happiness we find in God reaches its consummation when it is shared with others in the manifold ways of love. To the extent that we try to abandon the pursuit of our own pleasure, we fail to honor God and love people. Or, to put it positively: The pursuit of pleasure is a necessary part of all worship and virtue. That is: The chief end of man is to glorify God by enjoying Him forever. — John Piper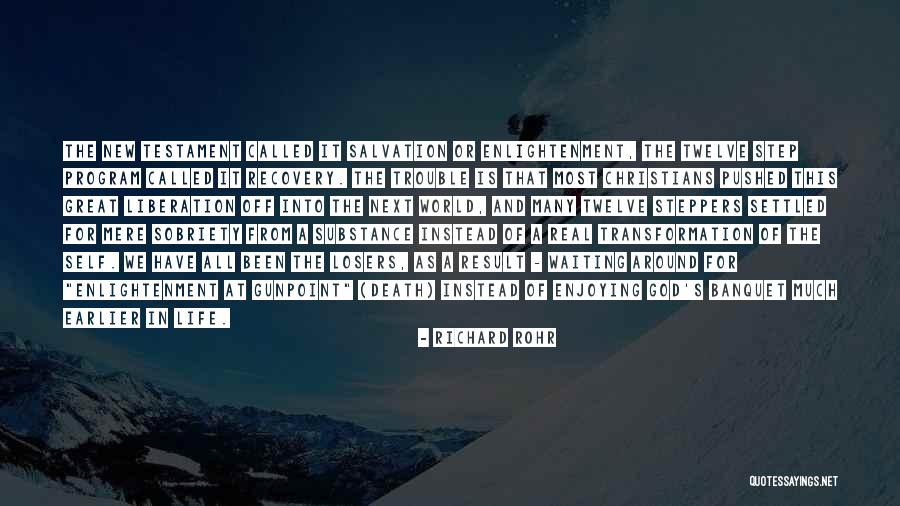 The New Testament called it salvation or enlightenment, the Twelve Step Program called it recovery. The trouble is that most Christians pushed this great liberation off into the next world, and many Twelve Steppers settled for mere sobriety from a substance instead of a real transformation of the self. We have all been the losers, as a result - waiting around for "enlightenment at gunpoint" (death) instead of enjoying God's banquet much earlier in life. — Richard Rohr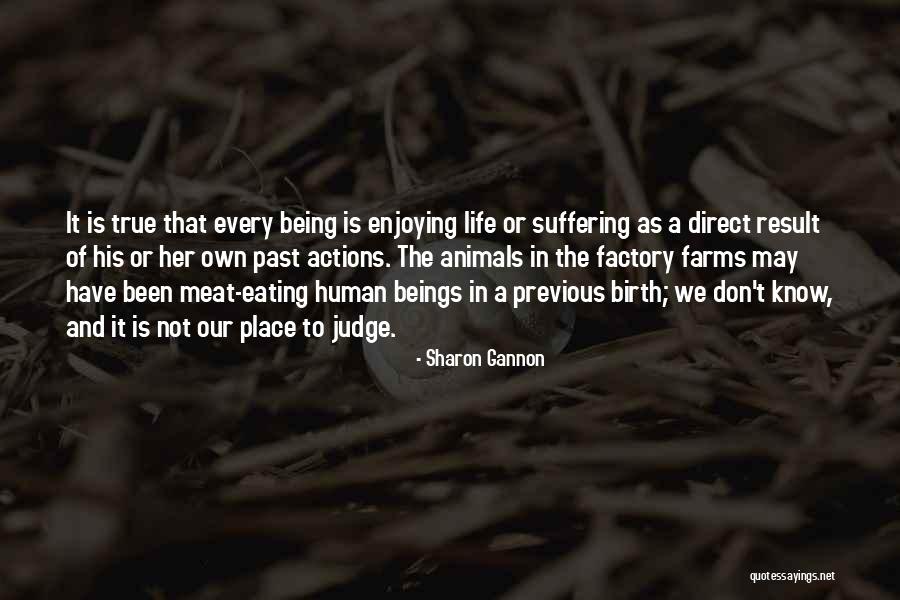 It is true that every being is enjoying life or suffering as a direct result of his or her own past actions. The animals in the factory farms may have been meat-eating human beings in a previous birth; we don't know, and it is not our place to judge. — Sharon Gannon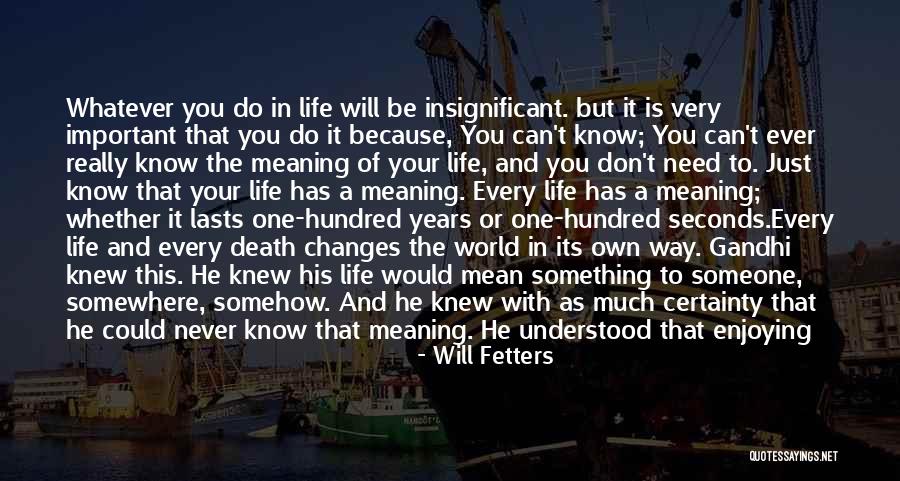 Whatever you do in life will be insignificant. but it is very important that you do it because, You can't know; You can't ever really know the meaning of your life, and you don't need to. Just know that your life has a meaning. Every life has a meaning; whether it lasts one-hundred years or one-hundred seconds.Every life and every death changes the world in its own way. Gandhi knew this. He knew his life would mean something to someone, somewhere, somehow. And he knew with as much certainty that he could never know that meaning. He understood that enjoying life should be of much greater concern than understanding it. And so do I. You can't know. So don't take it for granted; but don't take it too seriously. Don't postpone what you want. Don't leave anything misunderstood. Make sure the people you care about know. Make sure they know how you really feel. Because just like that it could end. — Will Fetters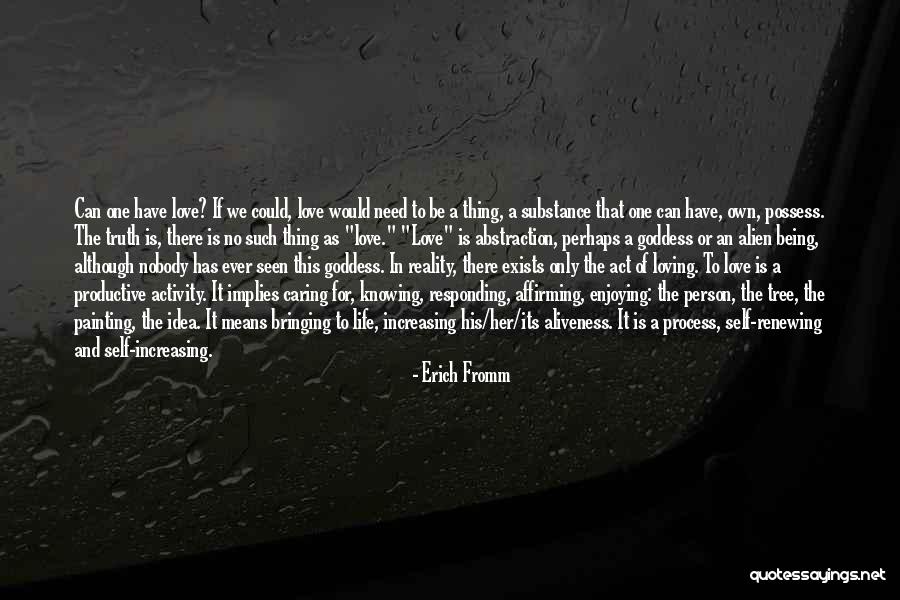 Can one have love? If we could, love would need to be a thing, a substance that one can have, own, possess. The truth is, there is no such thing as "love." "Love" is abstraction, perhaps a goddess or an alien being, although nobody has ever seen this goddess. In reality, there exists only the act of loving. To love is a productive activity. It implies caring for, knowing, responding, affirming, enjoying: the person, the tree, the painting, the idea. It means bringing to life, increasing his/her/its aliveness. It is a process, self-renewing and self-increasing. — Erich Fromm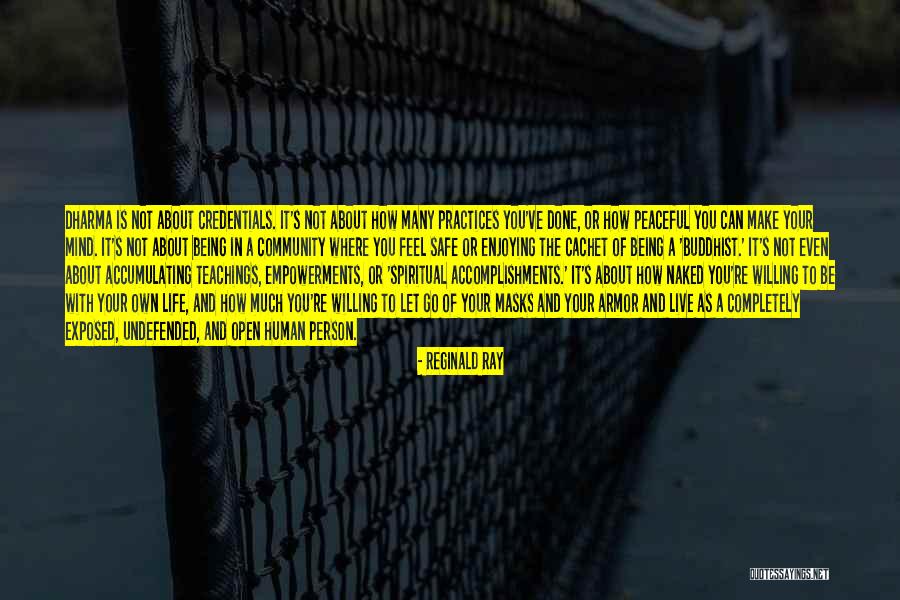 Dharma is not about credentials. It's not about how many practices you've done, or how peaceful you can make your mind. It's not about being in a community where you feel safe or enjoying the cachet of being a 'Buddhist.' It's not even about accumulating teachings, empowerments, or 'spiritual accomplishments.' It's about how naked you're willing to be with your own life, and how much you're willing to let go of your masks and your armor and live as a completely exposed, undefended, and open human person. — Reginald Ray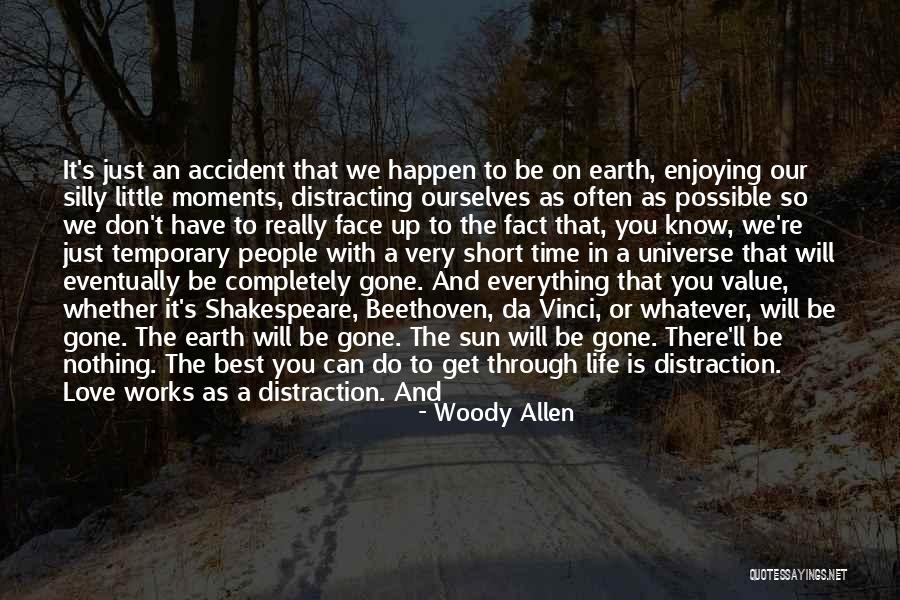 It's just an accident that we happen to be on earth, enjoying our silly little moments, distracting ourselves as often as possible so we don't have to really face up to the fact that, you know, we're just temporary people with a very short time in a universe that will eventually be completely gone. And everything that you value, whether it's Shakespeare, Beethoven, da Vinci, or whatever, will be gone. The earth will be gone. The sun will be gone. There'll be nothing. The best you can do to get through life is distraction. Love works as a distraction. And work works as a distraction. You can distract yourself a billion different ways. But the key is to distract yourself. — Woody Allen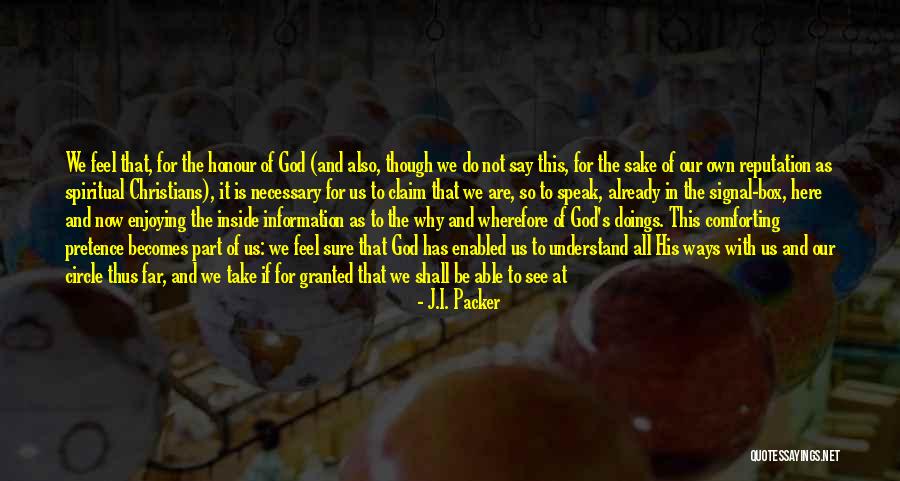 We feel that, for the honour of God (and also, though we do not say this, for the sake of our own reputation as spiritual Christians), it is necessary for us to claim that we are, so to speak, already in the signal-box, here and now enjoying the inside information as to the why and wherefore of God's doings. This comforting pretence becomes part of us: we feel sure that God has enabled us to understand all His ways with us and our circle thus far, and we take if for granted that we shall be able to see at once the reason for anything that may happen to us in the future. And then something very painful and quite inexplicable comes along, and our cheerful illusion of being in God's secret councils is shattered. Our pride is wounded; we feel that God has slighted us; and unless at this point we repent, and humble ourselves very thoroughly for our former presumption, our whole subsequent spriritual life may be blighted. — J.I. Packer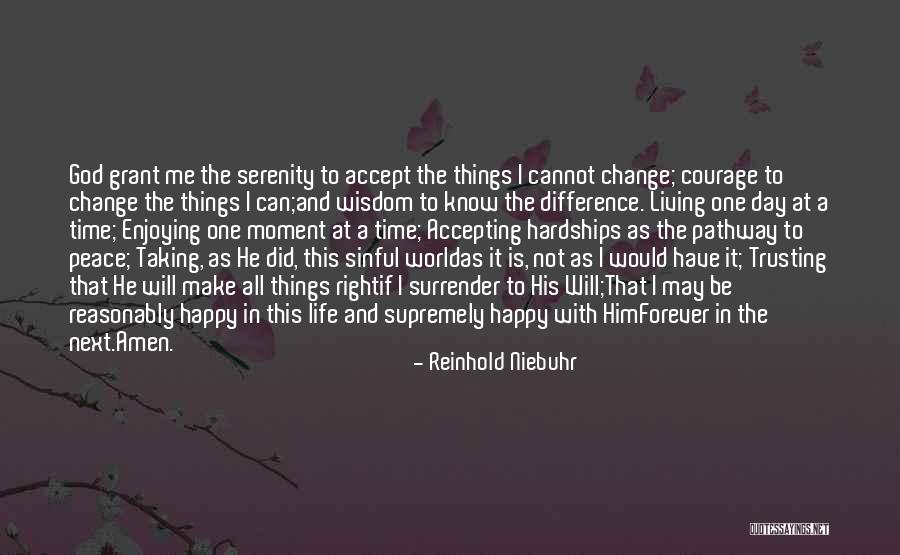 God grant me the serenity
to accept the things I cannot change;
courage to change the things I can;
and wisdom to know the difference.
Living one day at a time;
Enjoying one moment at a time;
Accepting hardships as the pathway to peace;
Taking, as He did, this sinful world
as it is, not as I would have it;
Trusting that He will make all things right
if I surrender to His Will;
That I may be reasonably happy in this life
and supremely happy with Him
Forever in the next.
Amen. — Reinhold Niebuhr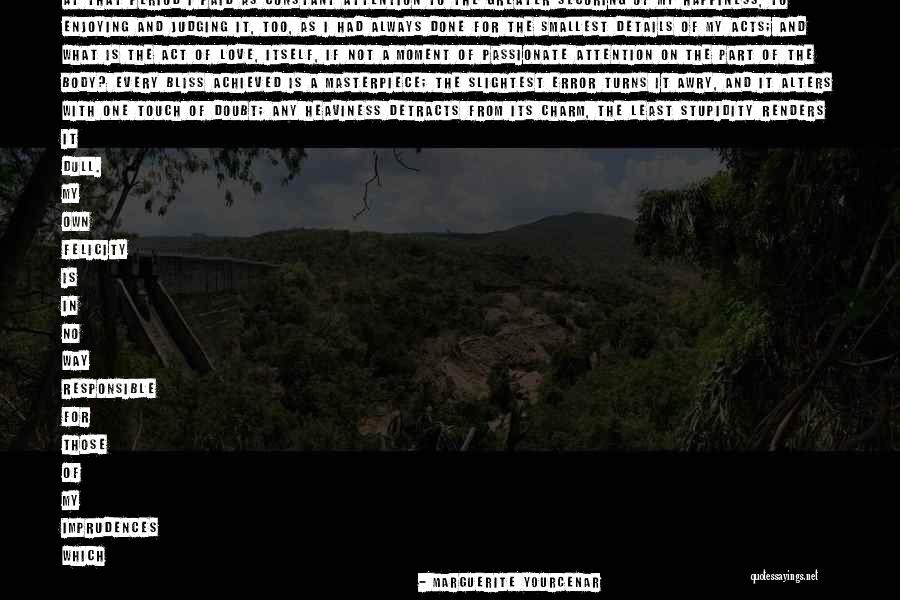 At that period I paid as constant attention to the greater securing of my happiness, to enjoying and judging it, too, as I had always done for the smallest details of my acts; and what is the act of love, itself, if not a moment of passionate attention on the part of the body? Every bliss achieved is a masterpiece; the slightest error turns it awry, and it alters with one touch of doubt; any heaviness detracts from its charm, the least stupidity renders it dull. My own felicity is in no way responsible for those of my imprudences which shattered it later on; in so far as I have acted in harmony with it I have been wise. I think still that someone wiser than I might well have remained happy till his death. — Marguerite Yourcenar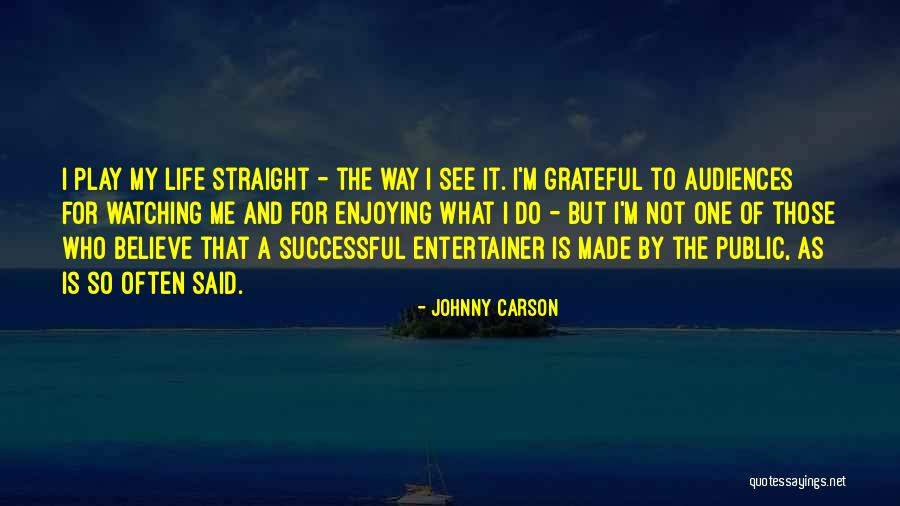 I play my life straight - the way I see it. I'm grateful to audiences for watching me and for enjoying what I do - but I'm not one of those who believe that a successful entertainer is made by the public, as is so often said. — Johnny Carson