Quotes & Sayings About Relationship Between Brothers
Enjoy reading and share 10 famous quotes about Relationship Between Brothers with everyone.
Top Relationship Between Brothers Quotes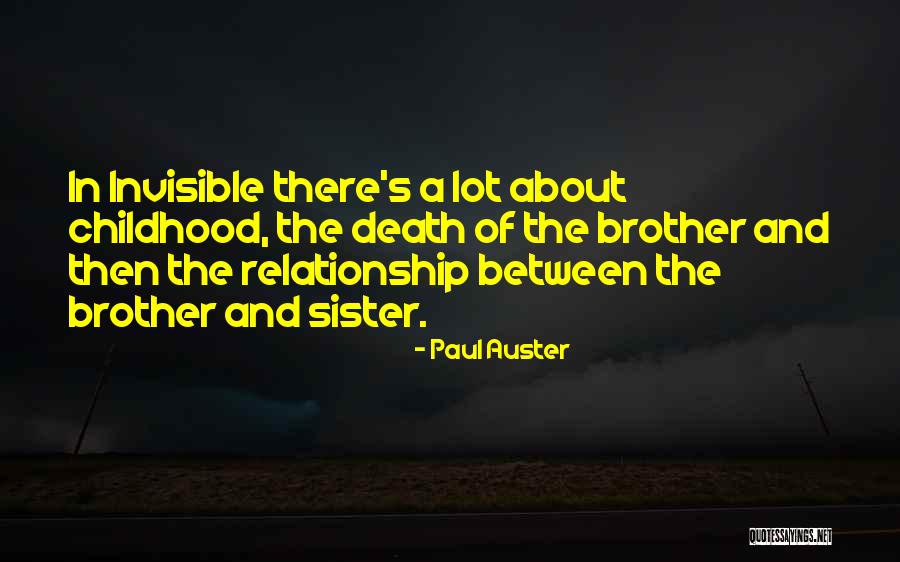 In Invisible there's a lot about childhood, the death of the brother and then the relationship between the brother and sister. — Paul Auster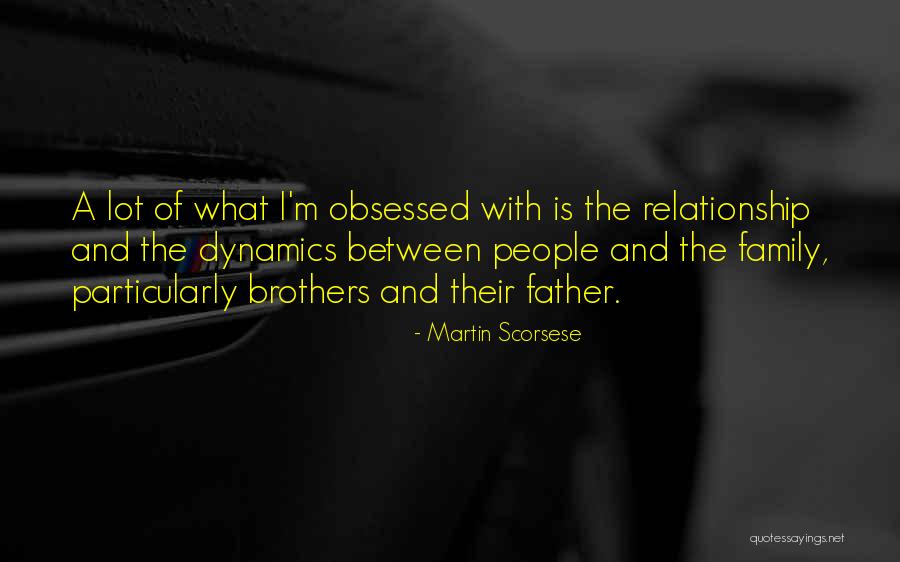 A lot of what I'm obsessed with is the relationship and the dynamics between people and the family, particularly brothers and their father. — Martin Scorsese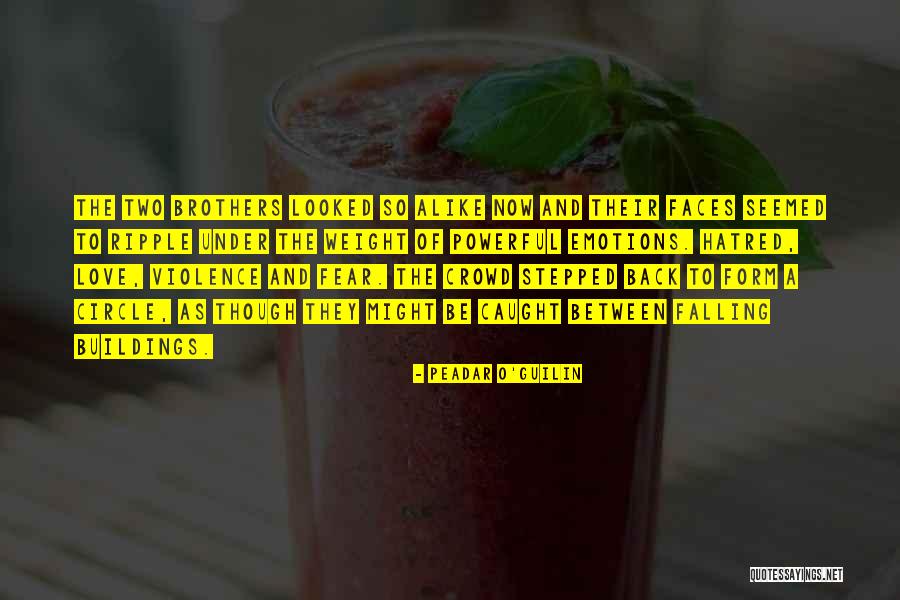 The two brothers looked so alike now and their faces seemed to ripple under the weight of powerful emotions. Hatred, love, violence and fear. The crowd stepped back to form a circle, as though they might be caught between falling buildings. — Peadar O'Guilin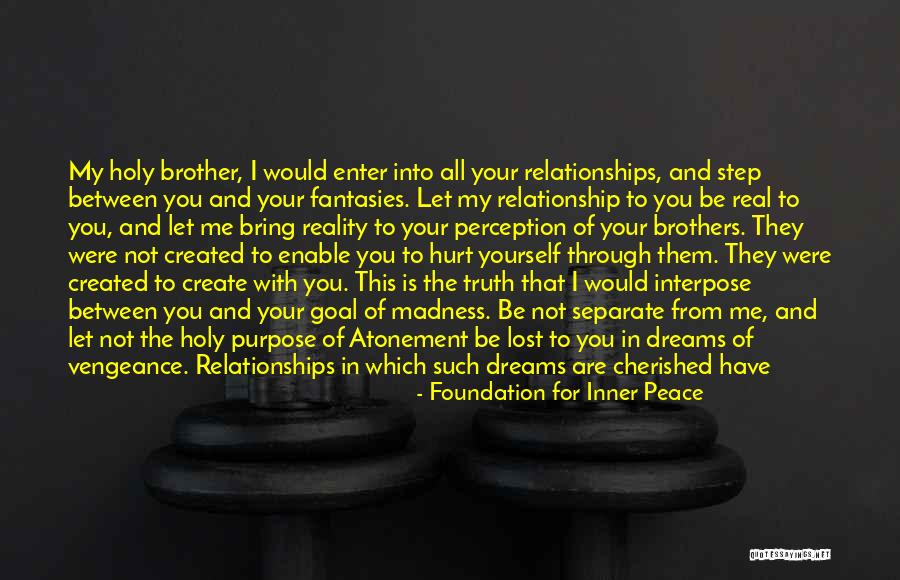 My holy brother, I would enter into all your relationships, and step between you and your fantasies. Let my relationship to you be real to you, and let me bring reality to your perception of your brothers. They were not created to enable you to hurt yourself through them. They were created to create with you. This is the truth that I would interpose between you and your goal of madness. Be not separate from me, and let not the holy purpose of Atonement be lost to you in dreams of vengeance. Relationships in which such dreams are cherished have excluded me. Let me enter in the Name of God and bring you peace, that you may offer peace to me. — Foundation For Inner Peace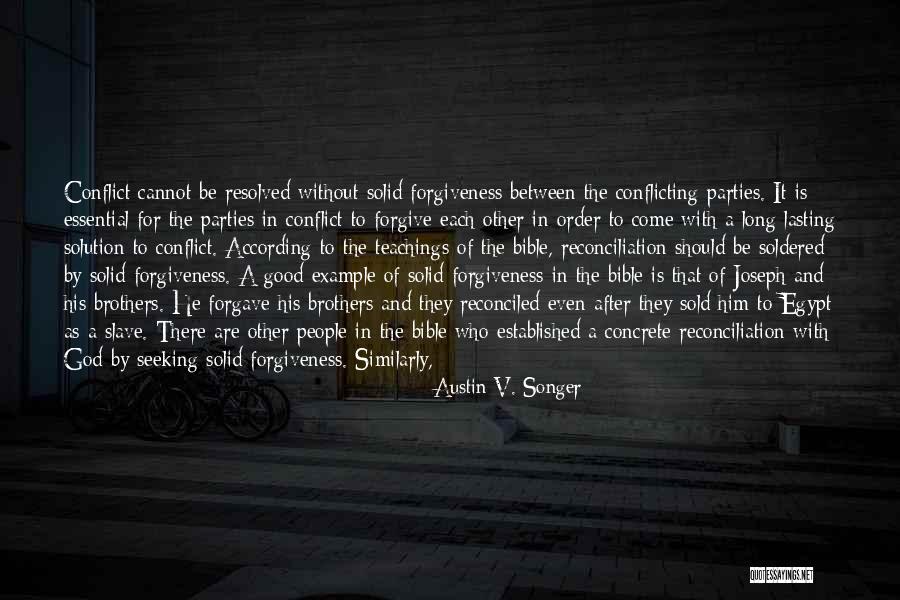 Conflict cannot be resolved without solid forgiveness between the conflicting parties. It is essential for the parties in conflict to forgive each other in order to come with a long lasting solution to conflict. According to the teachings of the bible, reconciliation should be soldered by solid forgiveness. A good example of solid forgiveness in the bible is that of Joseph and his brothers. He forgave his brothers and they reconciled even after they sold him to Egypt as a slave. There are other people in the bible who established a concrete reconciliation with God by seeking solid forgiveness. Similarly, Christians are supposed to seek solid forgiveness from God and fellow human beings whenever there is conflict as way of ensuring peace relationship with our neighbors. — Austin V. Songer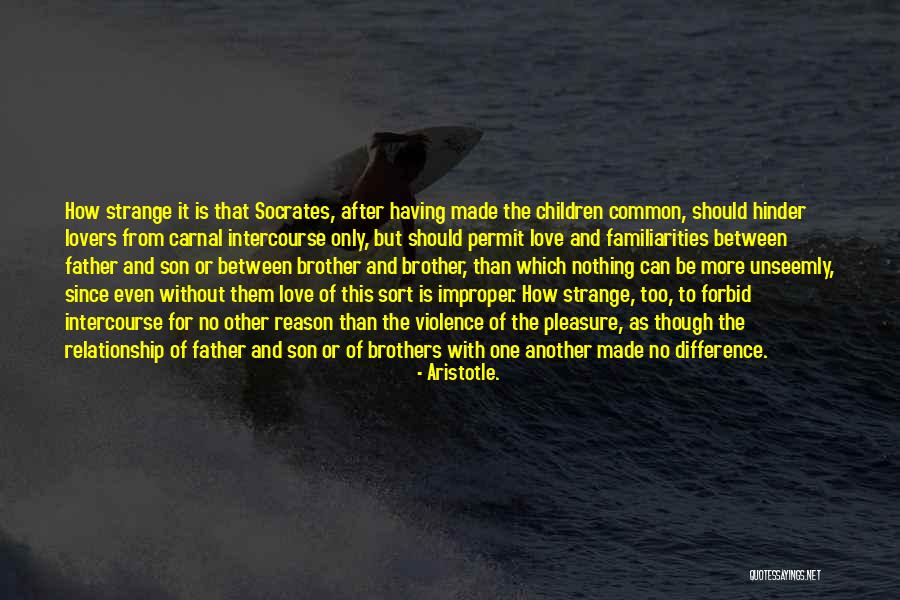 How strange it is that Socrates, after having made the children common, should hinder lovers from carnal intercourse only, but should permit love and familiarities between father and son or between brother and brother, than which nothing can be more unseemly, since even without them love of this sort is improper. How strange, too, to forbid intercourse for no other reason than the violence of the pleasure, as though the relationship of father and son or of brothers with one another made no difference. — Aristotle.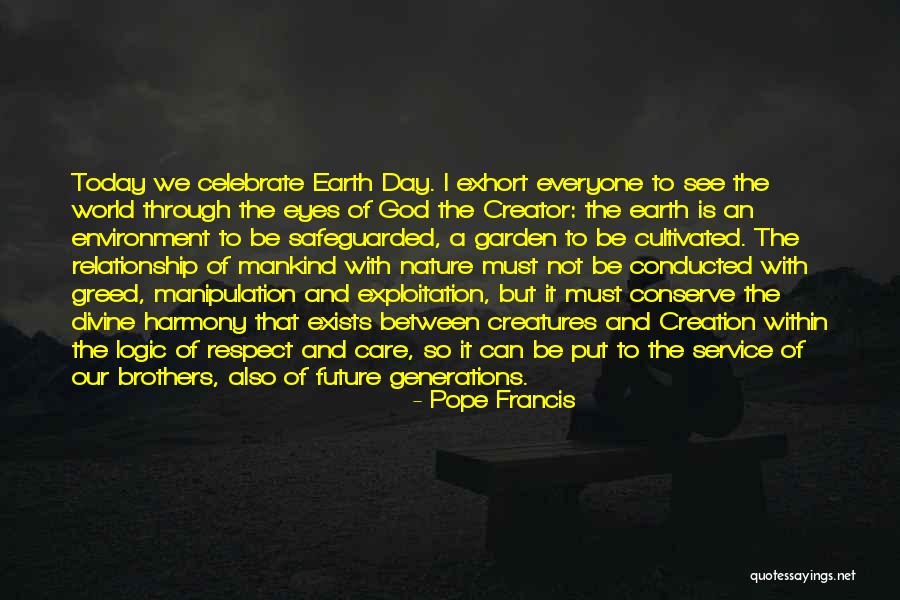 Today we celebrate Earth Day. I exhort everyone to see the world through the eyes of God the Creator: the earth is an environment to be safeguarded, a garden to be cultivated. The relationship of mankind with nature must not be conducted with greed, manipulation and exploitation, but it must conserve the divine harmony that exists between creatures and Creation within the logic of respect and care, so it can be put to the service of our brothers, also of future generations. — Pope Francis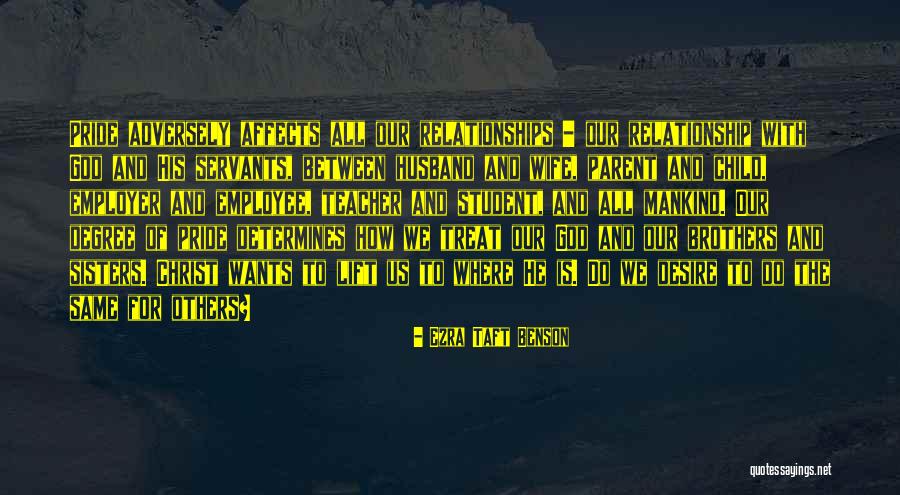 Pride adversely affects all our relationships - our relationship with God and His servants, between husband and wife, parent and child, employer and employee, teacher and student, and all mankind. Our degree of pride determines how we treat our God and our brothers and sisters. Christ wants to lift us to where He is. Do we desire to do the same for others? — Ezra Taft Benson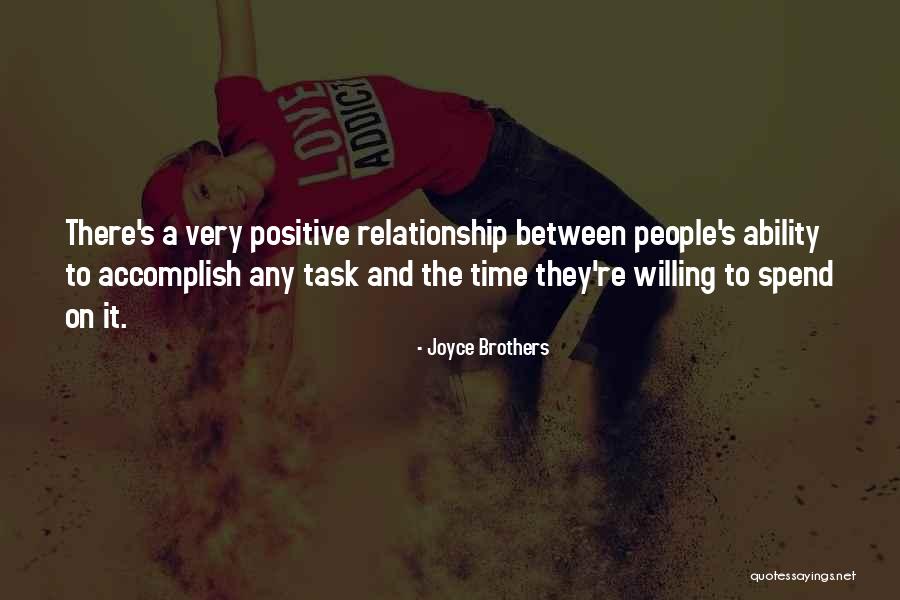 There's a very positive relationship between people's ability to accomplish any task and the time they're willing to spend on it. — Joyce Brothers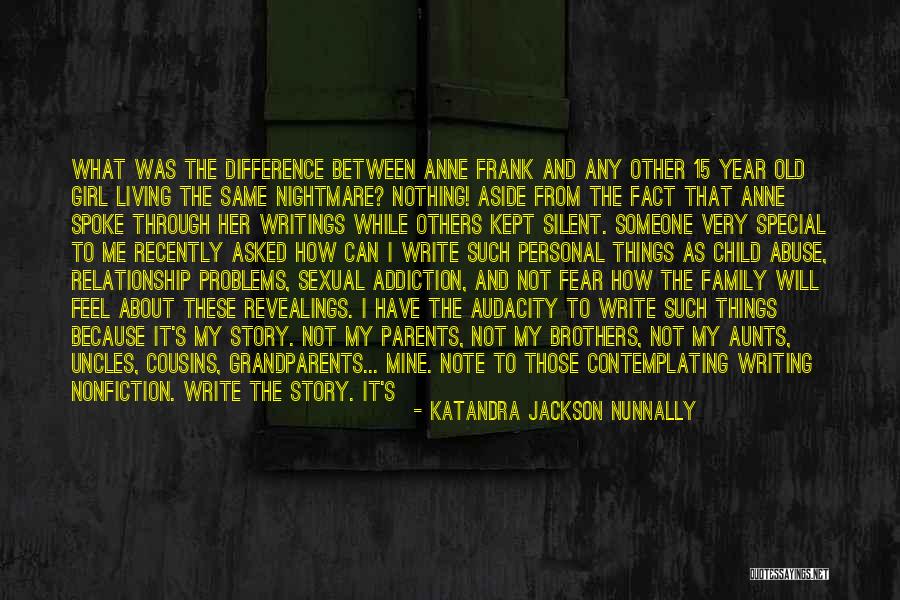 What was the difference between Anne Frank and any other 15 year old girl living the same nightmare? Nothing! Aside from the fact that Anne spoke through her writings while others kept silent. Someone very special to me recently asked how can I write such personal things as child abuse, relationship problems, sexual addiction, and not fear how the family will feel about these revealings. I have the audacity to write such things because it's MY story. Not my parents, not my brothers, not my aunts, uncles, cousins, grandparents... MINE. Note to those contemplating writing nonfiction. Write the story. It's yours to tell. Nevermind how your family will feel. Those that love you will not judge you. I promise. Do not let your testimony be in vain. — Katandra Jackson Nunnally