Quotes & Sayings About Reaching Goals In Life
Enjoy reading and share 23 famous quotes about Reaching Goals In Life with everyone.
Top Reaching Goals In Life Quotes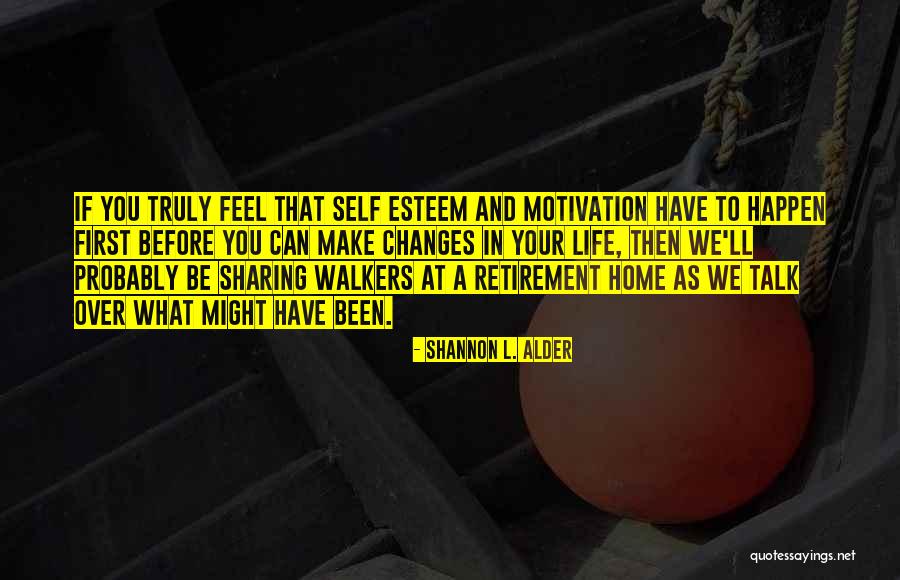 If you truly feel that self esteem and motivation have to happen first before you can make changes in your life, then we'll probably be sharing walkers at a retirement home as we talk over what might have been. — Shannon L. Alder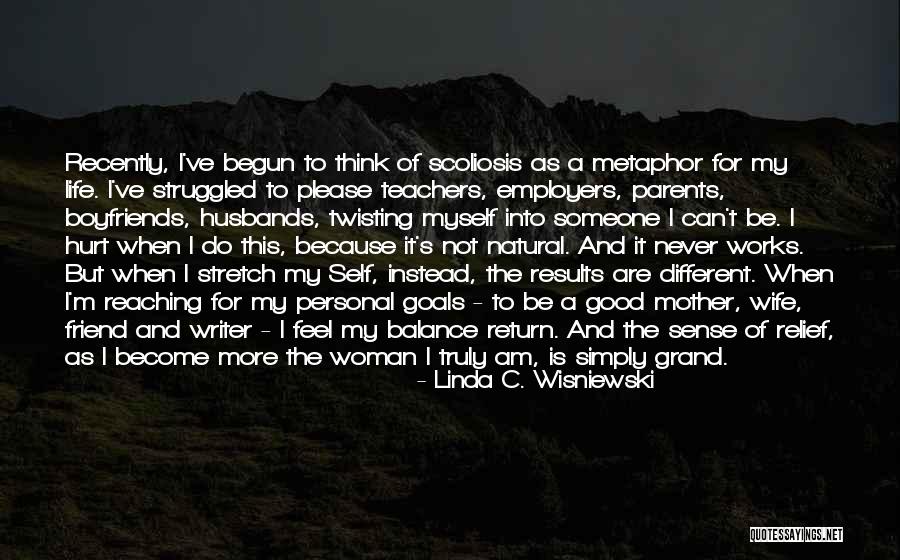 Recently, I've begun to think of scoliosis as a metaphor for my life. I've struggled to please teachers, employers, parents, boyfriends, husbands, twisting myself into someone I can't be. I hurt when I do this, because it's not natural. And it never works. But when I stretch my Self, instead, the results are different. When I'm reaching for my personal goals - to be a good mother, wife, friend and writer - I feel my balance return. And the sense of relief, as I become more the woman I truly am, is simply grand. — Linda C. Wisniewski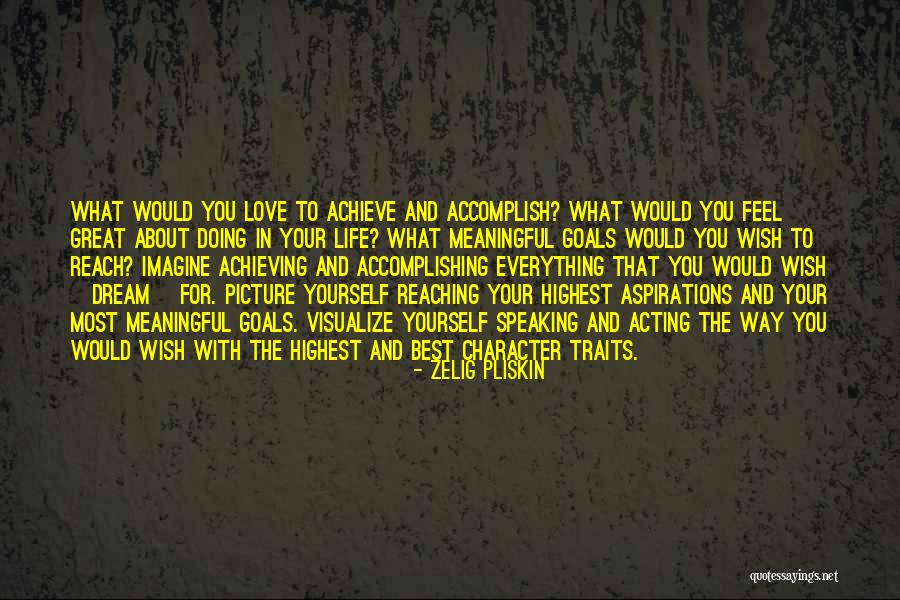 What would you love to achieve and accomplish? What would you feel great about doing in your life? What meaningful goals would you wish to reach? Imagine achieving and accomplishing everything that you would wish [dream] for. Picture yourself reaching your highest aspirations and your most meaningful goals. Visualize yourself speaking and acting the way you would wish with the highest and best character traits. — Zelig Pliskin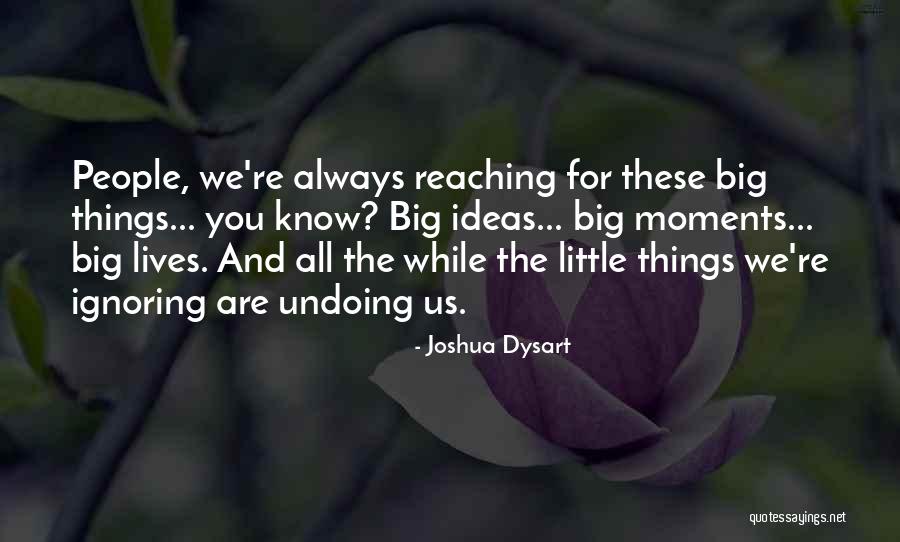 People, we're always reaching for these big things... you know? Big ideas... big moments... big lives. And all the while the little things we're ignoring are undoing us. — Joshua Dysart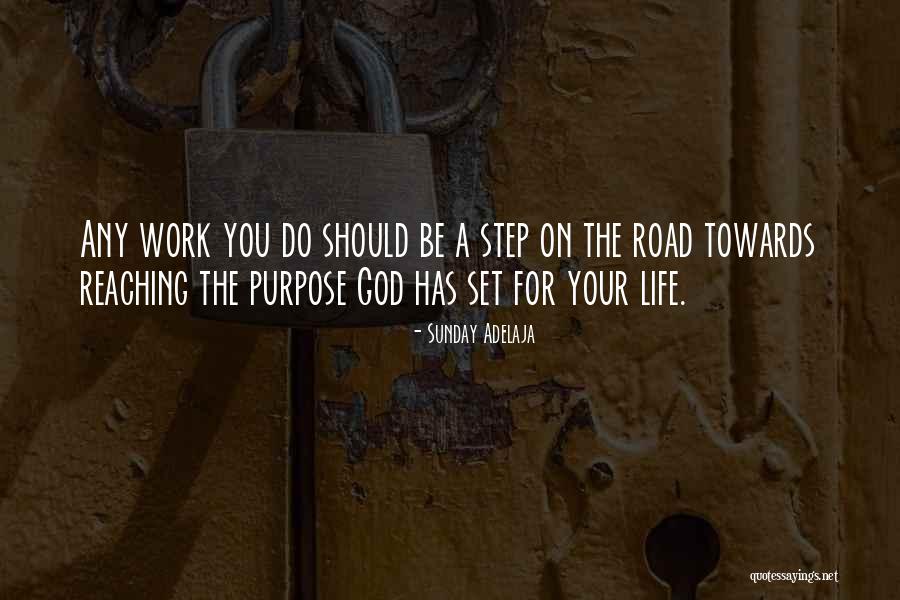 Any work you do should be a step on the road towards reaching the purpose God has set for your life. — Sunday Adelaja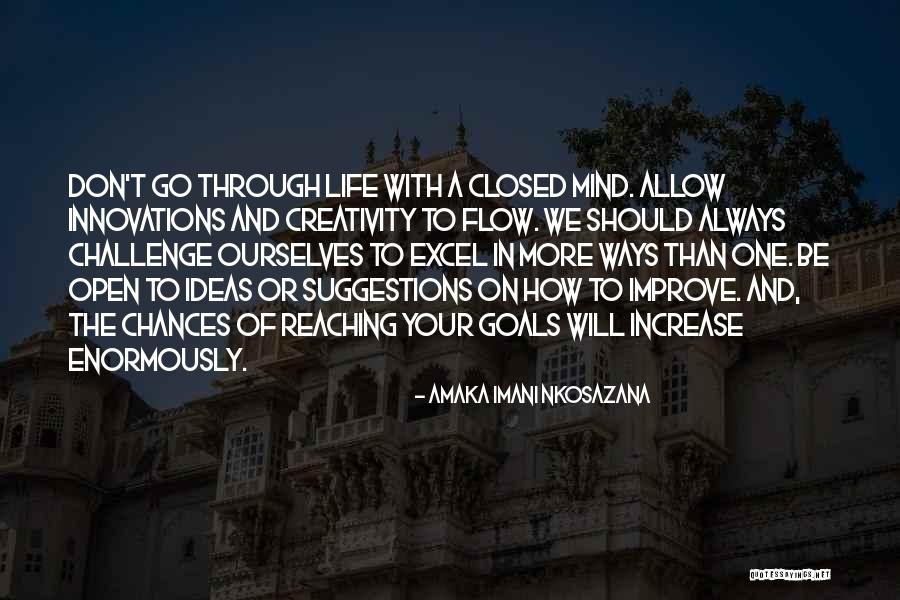 Don't go through life with a closed mind. Allow innovations and creativity to flow. We should always challenge ourselves to excel in more ways than one. Be open to ideas or suggestions on how to improve. And, the chances of reaching your goals will increase enormously. — Amaka Imani Nkosazana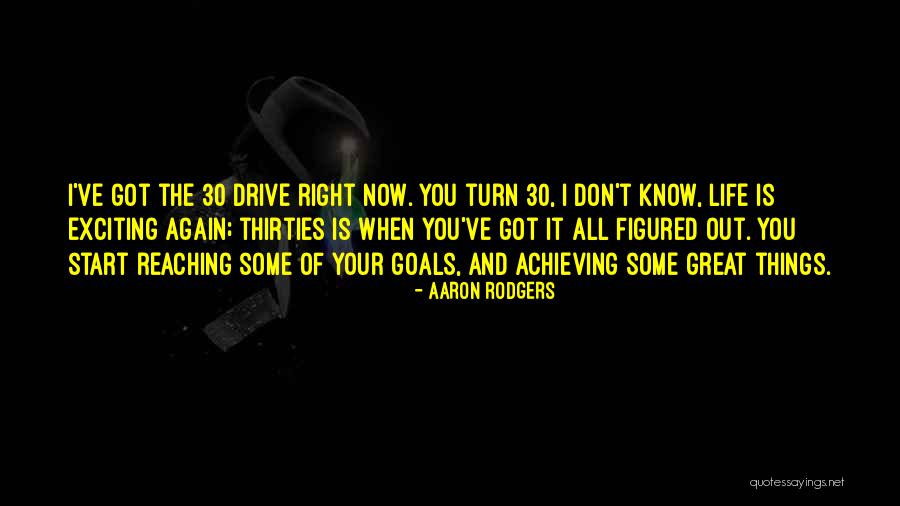 I've got the 30 drive right now. You turn 30, I don't know, life is exciting again; thirties is when you've got it all figured out. You start reaching some of your goals, and achieving some great things. — Aaron Rodgers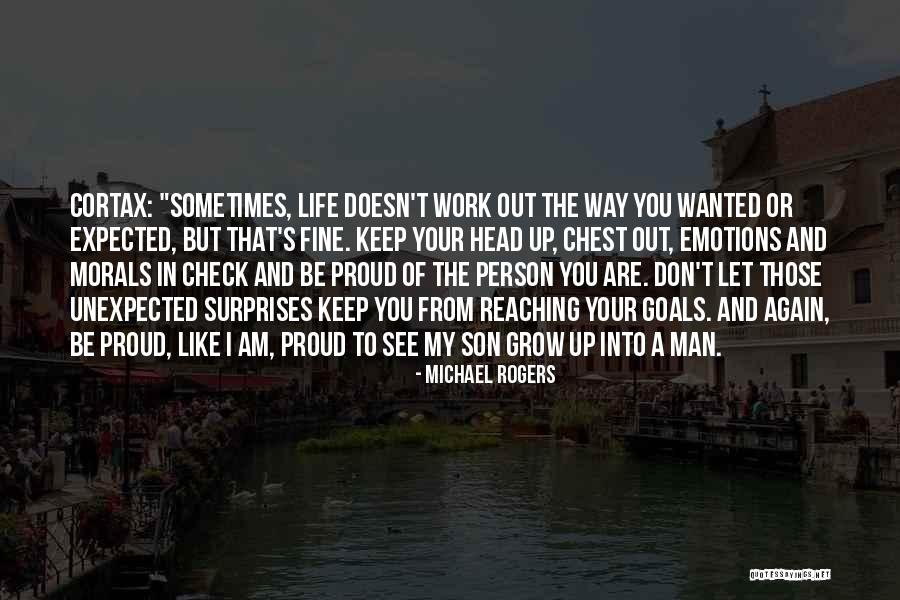 Cortax: "Sometimes, life doesn't work out the way you wanted or expected, but that's fine. Keep your head up, chest out, emotions and morals in check and be proud of the person you are. Don't let those unexpected surprises keep you from reaching your goals. And again, be proud, like I am, proud to see my son grow up into a man. — Michael Rogers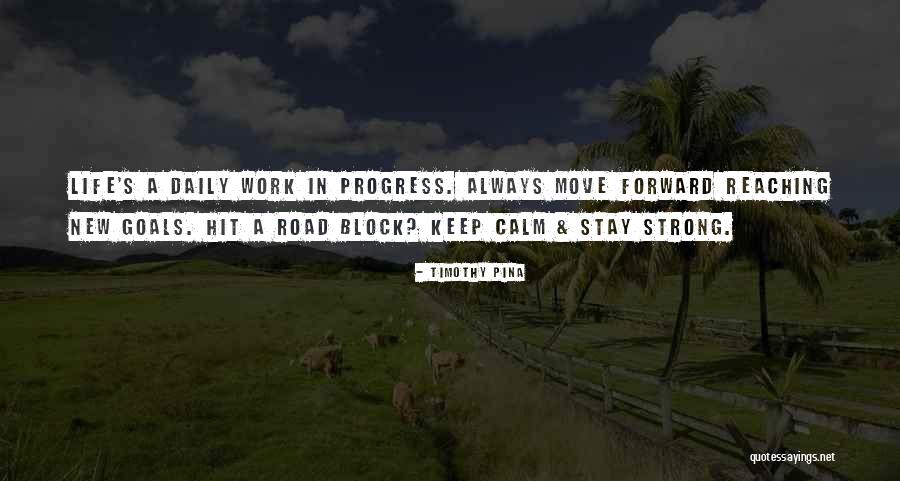 Life's a daily work in progress. Always move forward reaching new goals. Hit a road block? Keep calm & stay strong. — Timothy Pina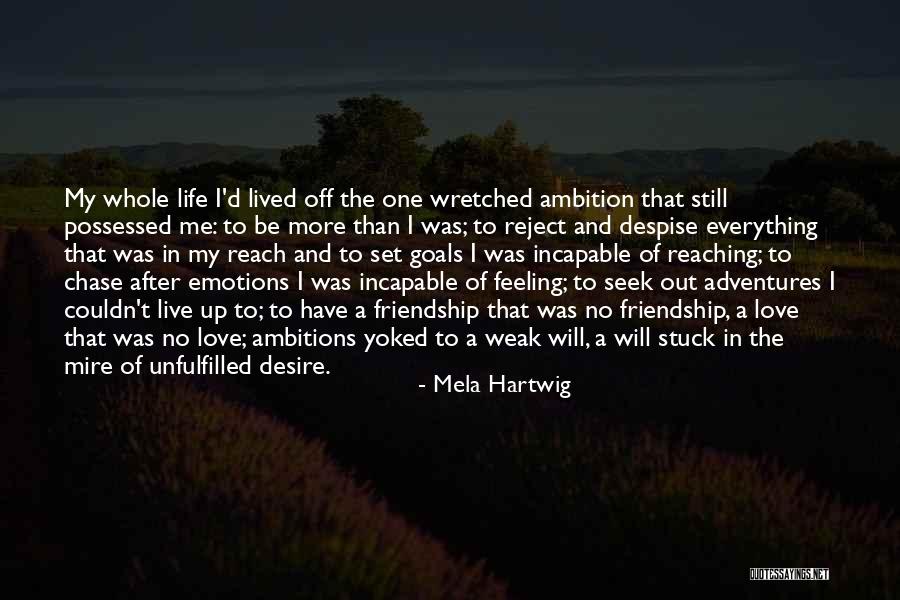 My whole life I'd lived off the one wretched ambition that still possessed me: to be more than I was; to reject and despise everything that was in my reach and to set goals I was incapable of reaching; to chase after emotions I was incapable of feeling; to seek out adventures I couldn't live up to; to have a friendship that was no friendship, a love that was no love; ambitions yoked to a weak will, a will stuck in the mire of unfulfilled desire. — Mela Hartwig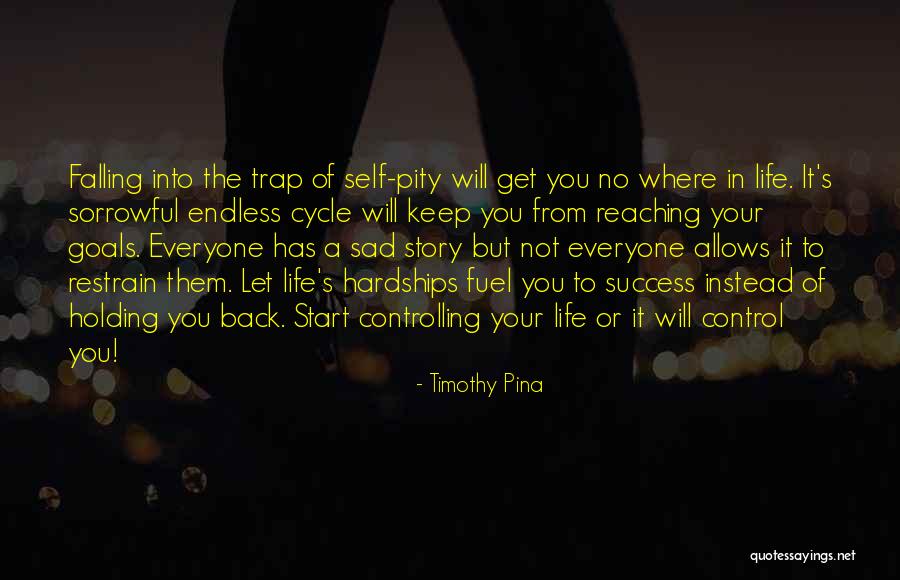 Falling into the trap of self-pity will get you no where in life. It's sorrowful endless cycle will keep you from reaching your goals. Everyone has a sad story but not everyone allows it to restrain them. Let life's hardships fuel you to success instead of holding you back. Start controlling your life or it will control you! — Timothy Pina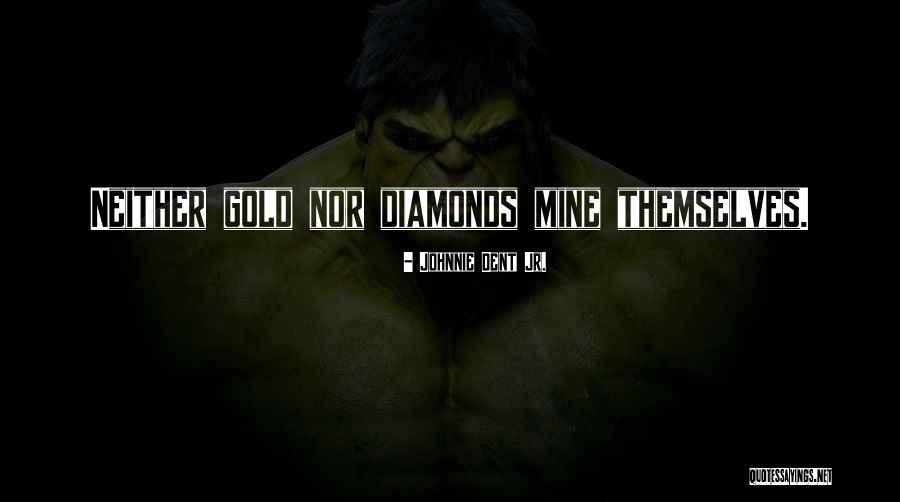 Neither gold nor diamonds mine themselves. — Johnnie Dent Jr.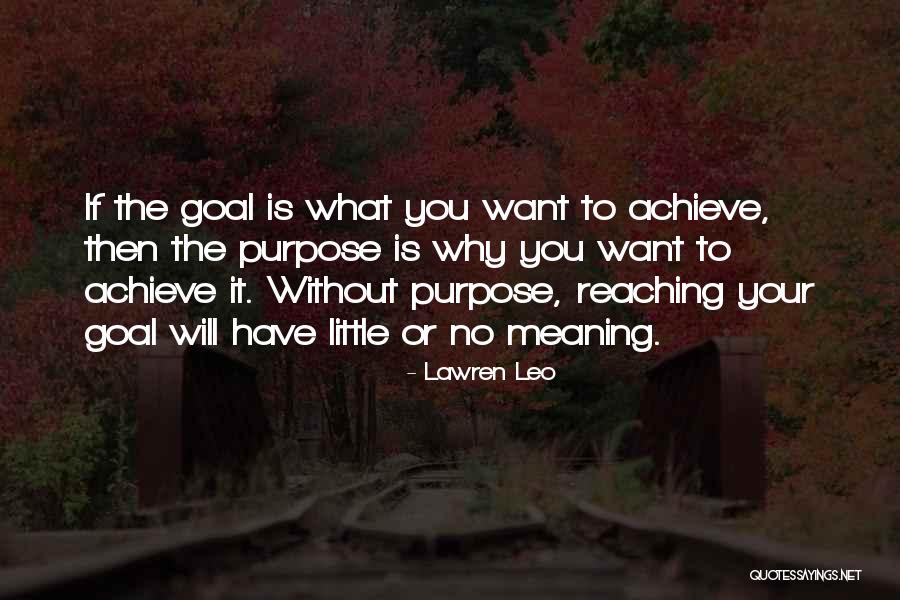 If the goal is what you want to achieve, then the purpose is why you want to achieve it. Without purpose, reaching your goal will have little or no meaning. — Lawren Leo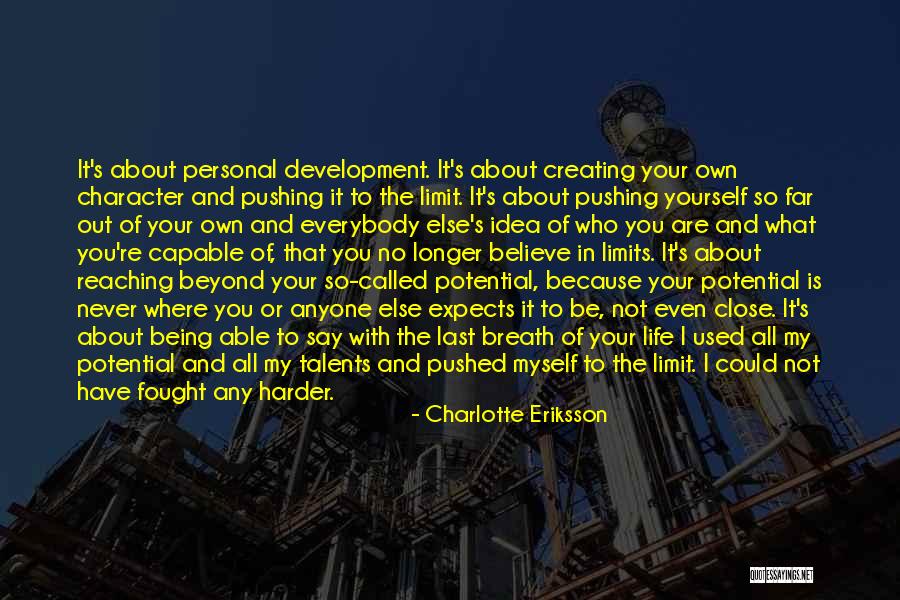 It's about personal development. It's about creating your own character and pushing it to the limit. It's about pushing yourself so far out of your own and everybody else's idea of who you are and what you're capable of, that you no longer believe in limits. It's about reaching beyond your so-called potential, because your potential is never where you or anyone else expects it to be, not even close. It's about being able to say with the last breath of your life I used all my potential and all my talents and pushed myself to the limit. I could not have fought any harder. — Charlotte Eriksson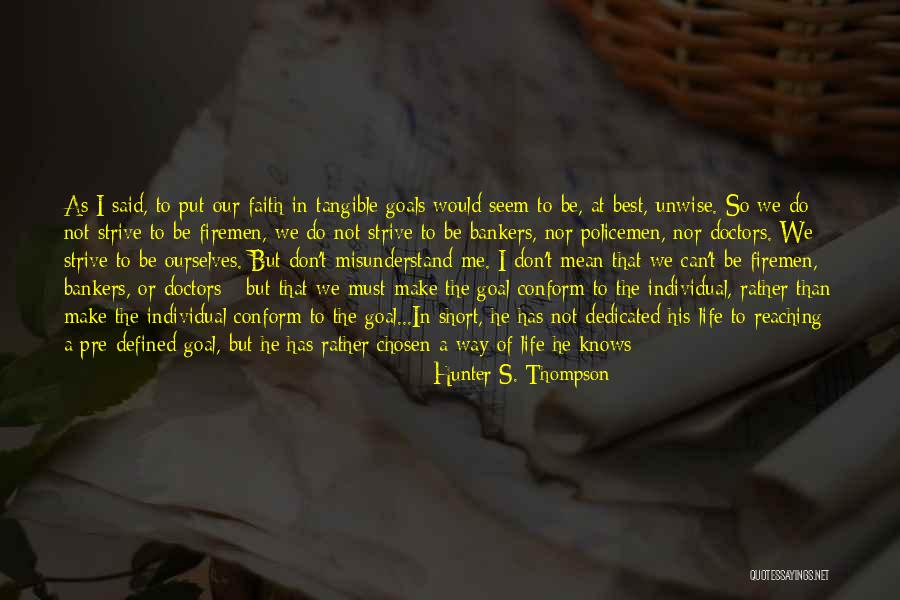 As I said, to put our faith in tangible goals would seem to be, at best, unwise. So we do not strive to be firemen, we do not strive to be bankers, nor policemen, nor doctors. We strive to be ourselves. But don't misunderstand me. I don't mean that we can't be firemen, bankers, or doctors - but that we must make the goal conform to the individual, rather than make the individual conform to the goal...In short, he has not dedicated his life to reaching a pre-defined goal, but he has rather chosen a way of life he knows he will enjoy. The goal is absolutely secondary: it is the functioning toward the goal which is important. — Hunter S. Thompson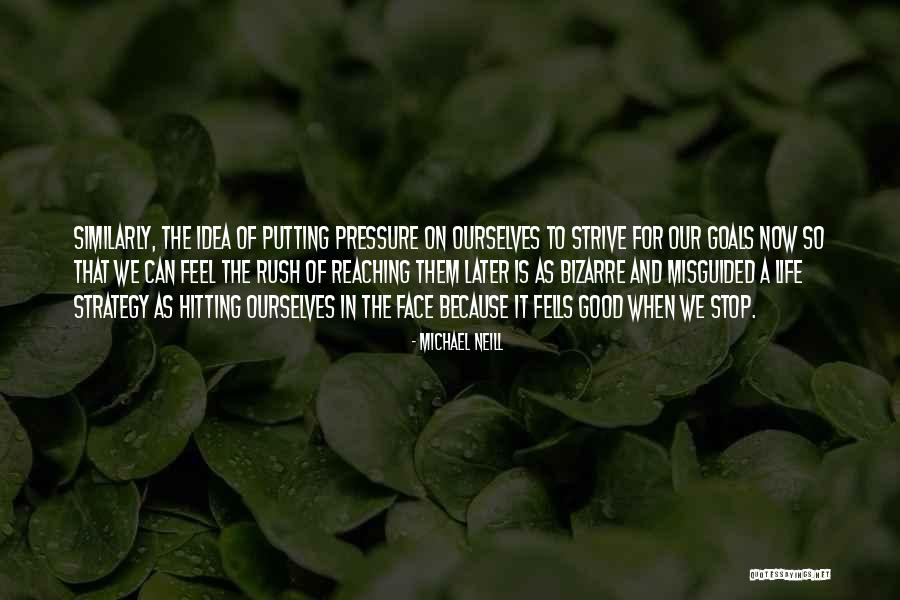 Similarly, the idea of putting pressure on ourselves to strive for our goals now so that we can feel the rush of reaching them later is as bizarre and misguided a life strategy as hitting ourselves in the face because it fells good when we stop. — Michael Neill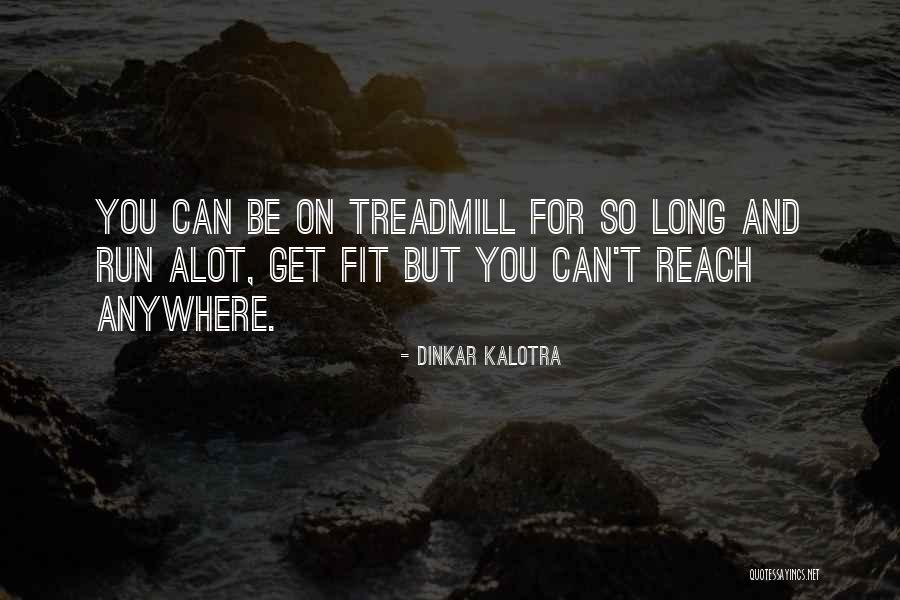 You can be on treadmill for so long and run alot, get fit but you can't reach anywhere. — Dinkar Kalotra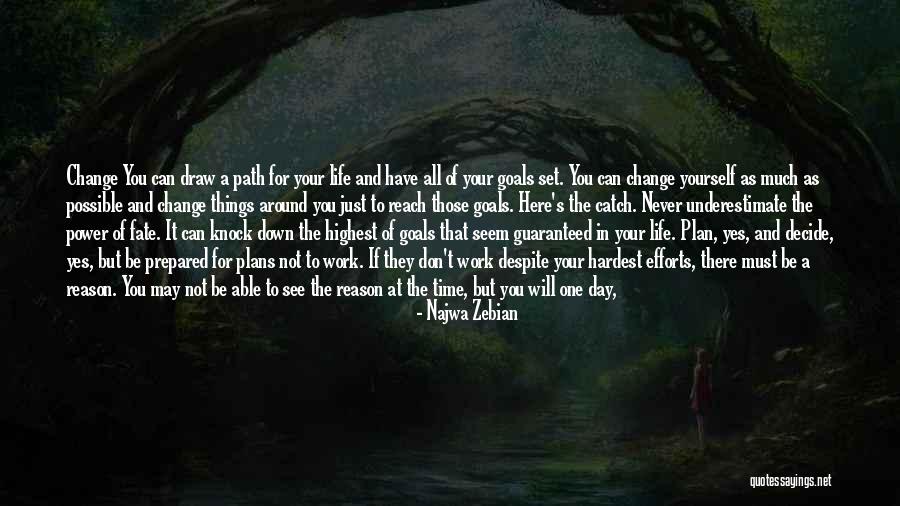 Change You can draw a path for your life and have all of your goals set. You can change yourself as much as possible and change things around you just to reach those goals. Here's the catch. Never underestimate the power of fate. It can knock down the highest of goals that seem guaranteed in your life. Plan, yes, and decide, yes, but be prepared for plans not to work. If they don't work despite your hardest efforts, there must be a reason. You may not be able to see the reason at the time, but you will one day, maybe even years later. Did your efforts go to waste? If you don't learn from them, then yes, they did go to waste. Even after changing yourself and your surroundings for the sake of reaching that one goal, you may realize that it was waiting for you at the place where you started, when you were the true you who did not need to change or be changed. Change for yourself, not just for a goal. — Najwa Zebian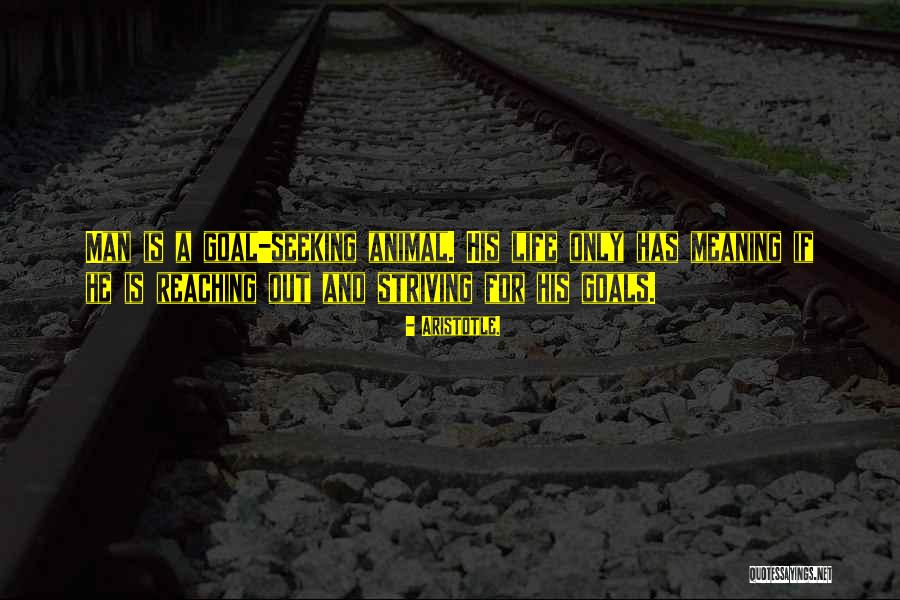 Man is a goal-seeking animal. His life only has meaning if he is reaching out and striving for his goals. — Aristotle.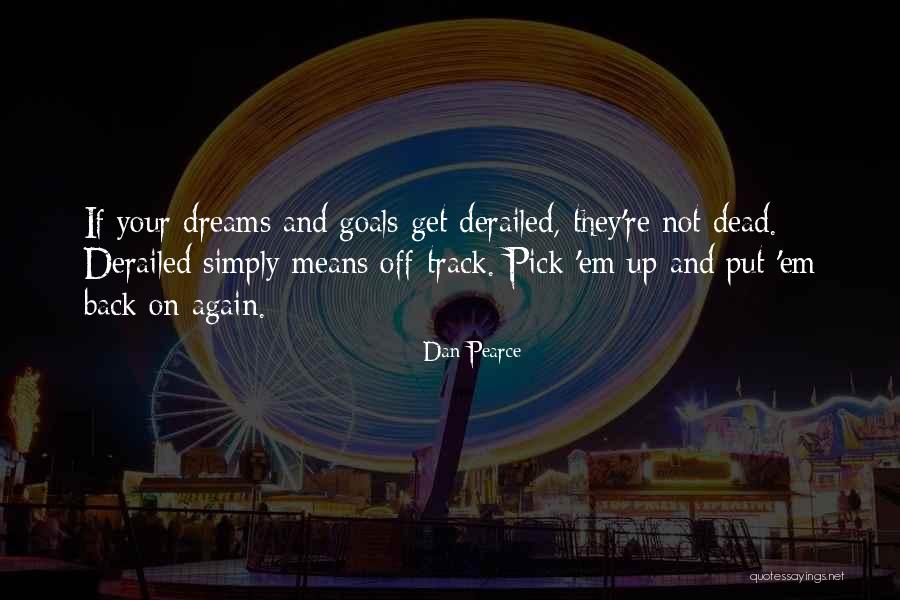 If your dreams and goals get derailed, they're not dead. Derailed simply means off-track. Pick 'em up and put 'em back on again. — Dan Pearce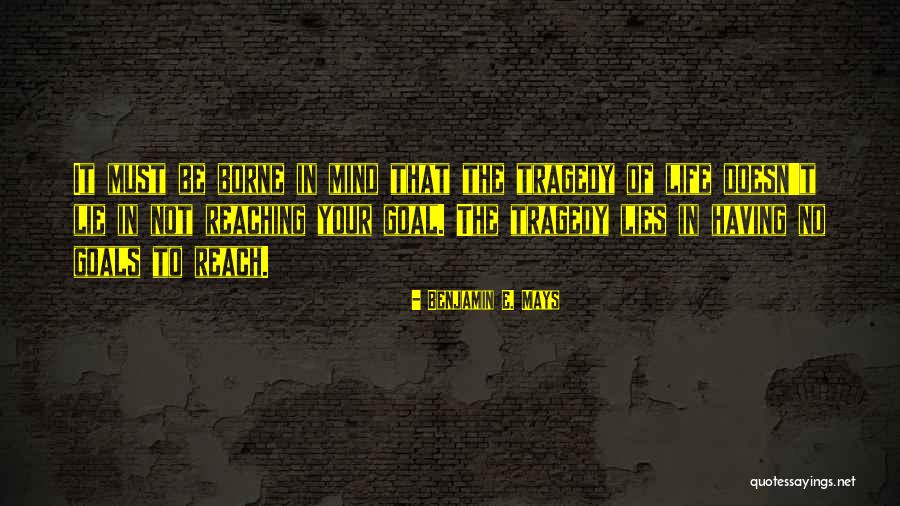 It must be borne in mind that the tragedy of life doesn't lie in not reaching your goal. The tragedy lies in having no goals to reach. — Benjamin E. Mays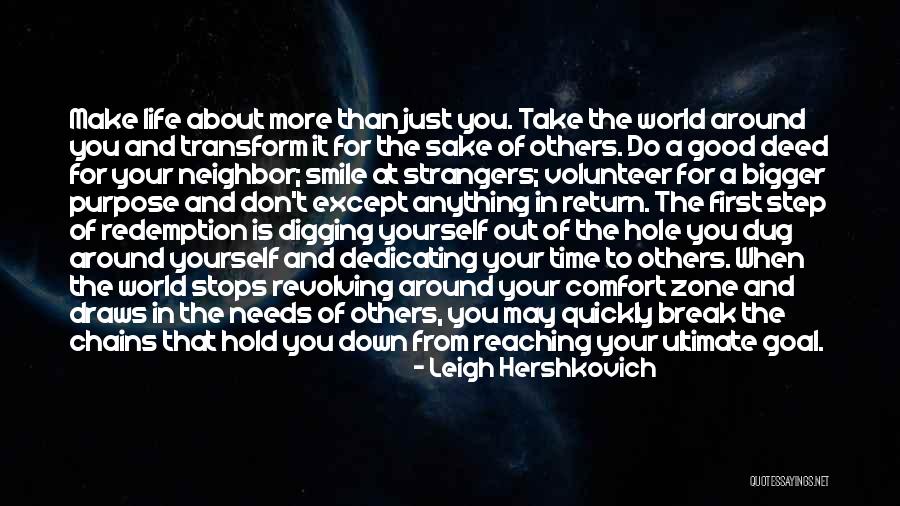 Make life about more than just you. Take the world around you and transform it for the sake of others. Do a good deed for your neighbor; smile at strangers; volunteer for a bigger purpose and don't except anything in return. The first step of redemption is digging yourself out of the hole you dug around yourself and dedicating your time to others. When the world stops revolving around your comfort zone and draws in the needs of others, you may quickly break the chains that hold you down from reaching your ultimate goal. — Leigh Hershkovich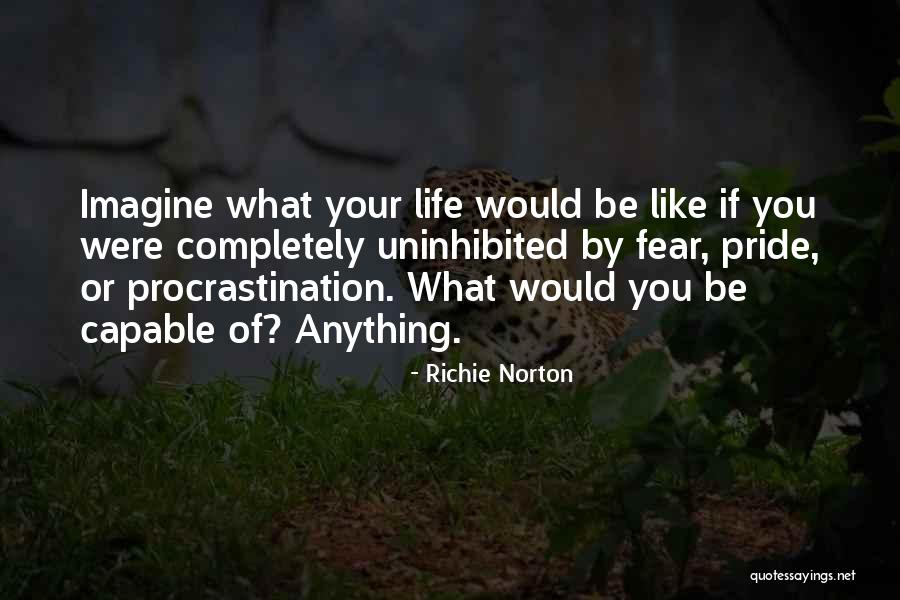 Imagine what your life would be like if you were completely uninhibited by fear, pride, or procrastination. What would you be capable of? Anything. — Richie Norton