Quotes & Sayings About Potential In Business
Enjoy reading and share 59 famous quotes about Potential In Business with everyone.
Top Potential In Business Quotes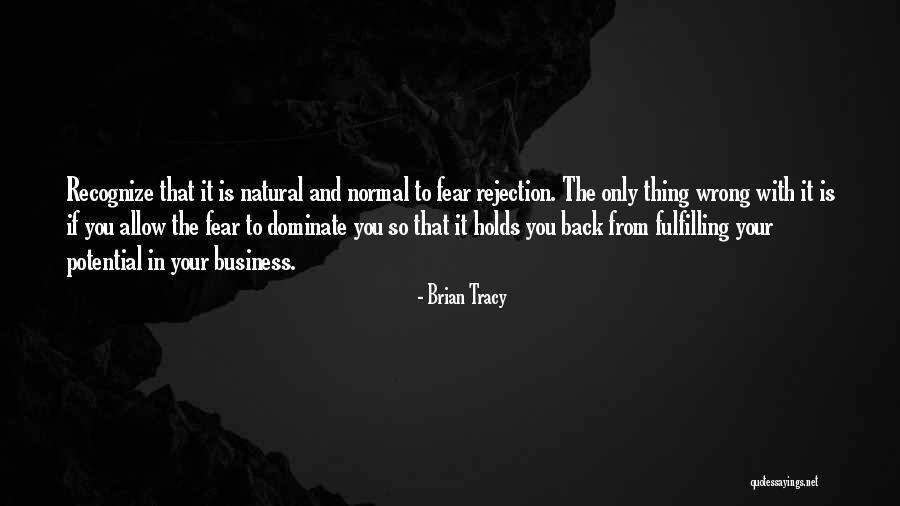 Recognize that it is natural and normal to fear rejection. The only thing wrong with it is if you allow the fear to dominate you so that it holds you back from fulfilling your potential in your business. — Brian Tracy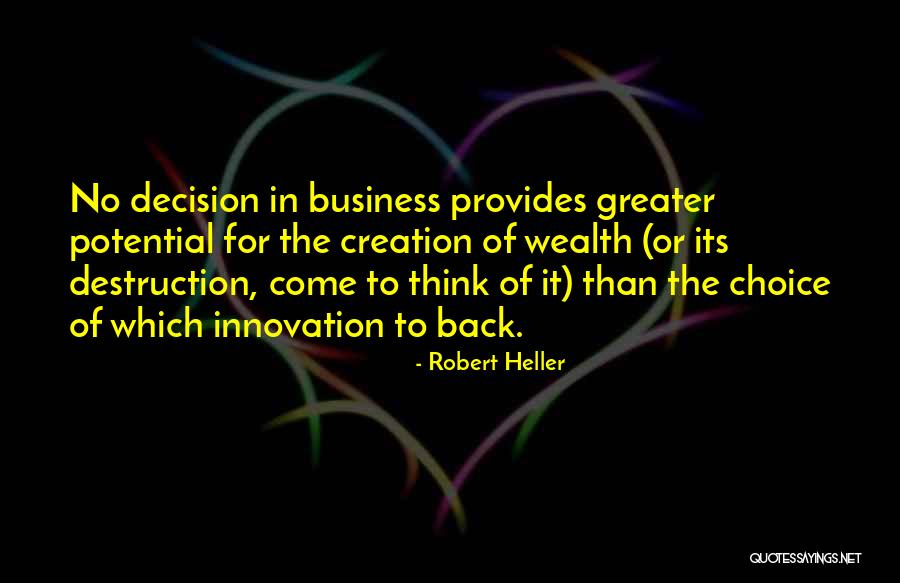 No decision in business provides greater potential for the creation of wealth (or its destruction, come to think of it) than the choice of which innovation to back. — Robert Heller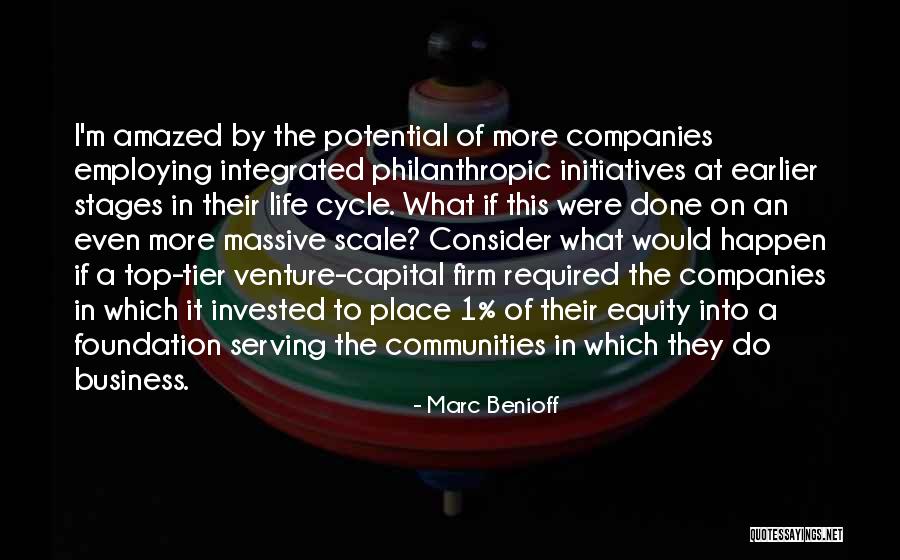 I'm amazed by the potential of more companies employing integrated philanthropic initiatives at earlier stages in their life cycle. What if this were done on an even more massive scale? Consider what would happen if a top-tier venture-capital firm required the companies in which it invested to place 1% of their equity into a foundation serving the communities in which they do business. — Marc Benioff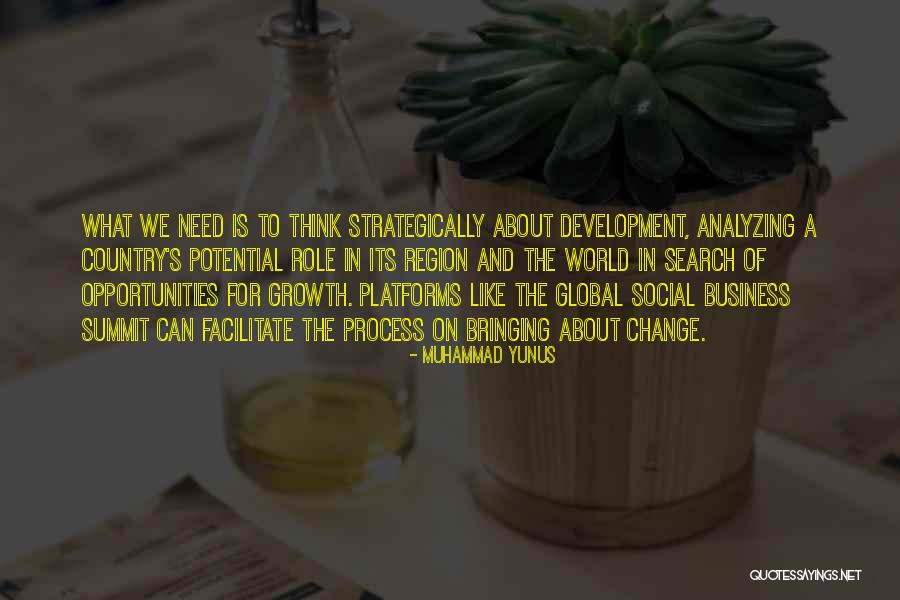 What we need is to think strategically about development, analyzing a country's potential role in its region and the world in search of opportunities for growth. Platforms like the Global Social Business Summit can facilitate the process on bringing about change. — Muhammad Yunus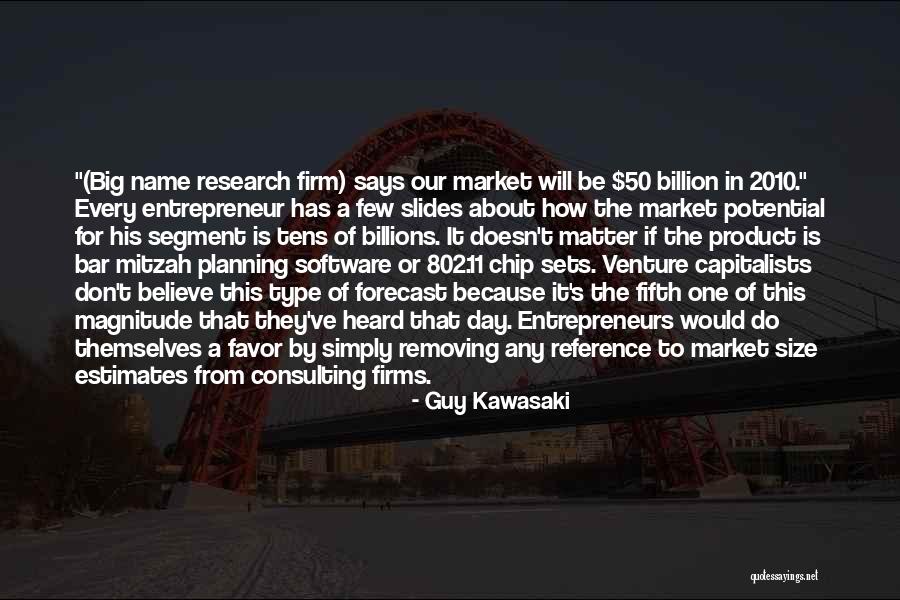 "(Big name research firm) says our market will be $50 billion in 2010." Every entrepreneur has a few slides about how the market potential for his segment is tens of billions. It doesn't matter if the product is bar mitzah planning software or 802.11 chip sets. Venture capitalists don't believe this type of forecast because it's the fifth one of this magnitude that they've heard that day. Entrepreneurs would do themselves a favor by simply removing any reference to market size estimates from consulting firms. — Guy Kawasaki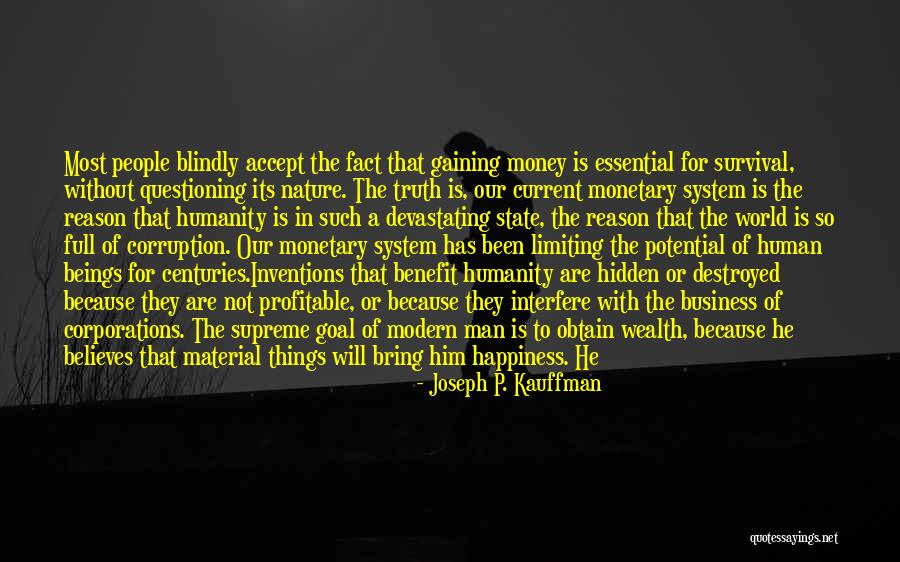 Most people blindly accept the fact that gaining money is essential for survival, without questioning its nature. The truth is, our current monetary system is the reason that humanity is in such a devastating state, the reason that the world is so full of corruption. Our monetary system has been limiting the potential of human beings for centuries.
Inventions that benefit humanity are hidden or destroyed because they are not profitable, or because they interfere with the business of corporations. The supreme goal of modern man is to obtain wealth, because he believes that material things will bring him happiness. He invests the majority of his time and energy into gaining money at any cost. The accumulation of wealth has contributed to man's greed and selfishness. Earning money is more important to him than being a good person, benefiting humanity, and even life itself. — Joseph P. Kauffman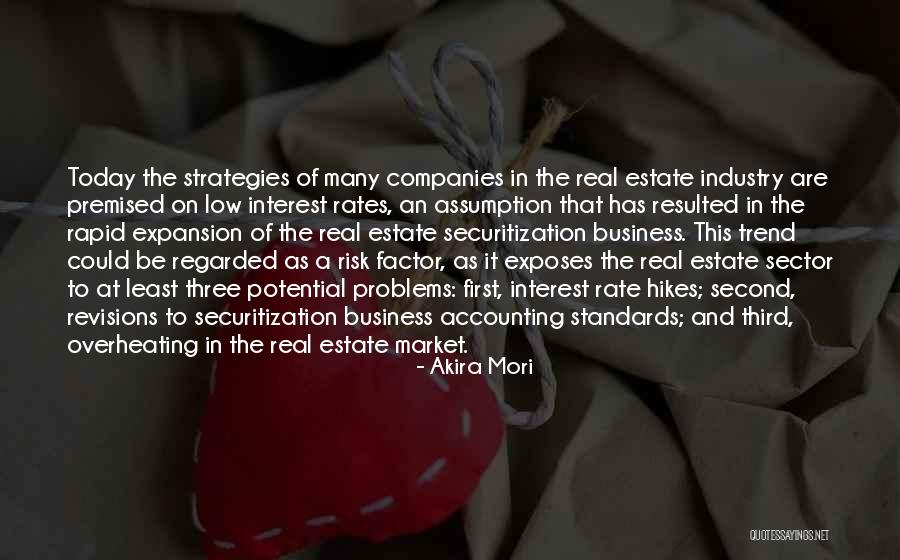 Today the strategies of many companies in the real estate industry are premised on low interest rates, an assumption that has resulted in the rapid expansion of the real estate securitization business. This trend could be regarded as a risk factor, as it exposes the real estate sector to at least three potential problems: first, interest rate hikes; second, revisions to securitization business accounting standards; and third, overheating in the real estate market. — Akira Mori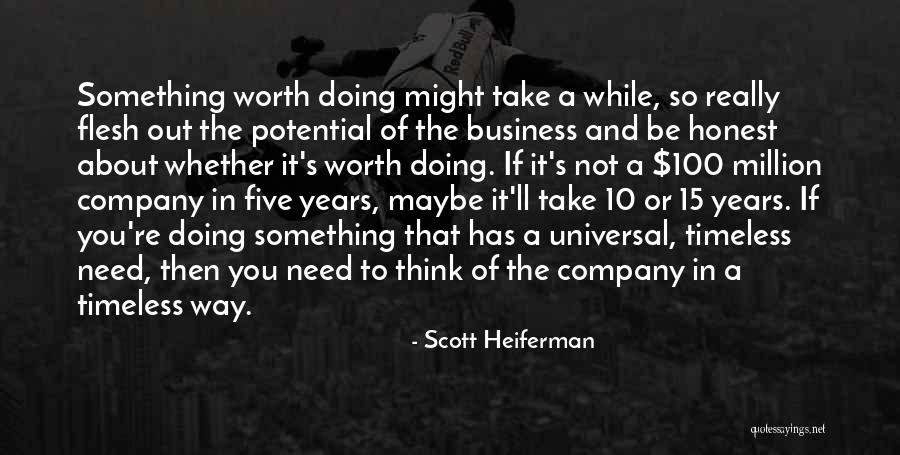 Something worth doing might take a while, so really flesh out the potential of the business and be honest about whether it's worth doing. If it's not a $100 million company in five years, maybe it'll take 10 or 15 years. If you're doing something that has a universal, timeless need, then you need to think of the company in a timeless way. — Scott Heiferman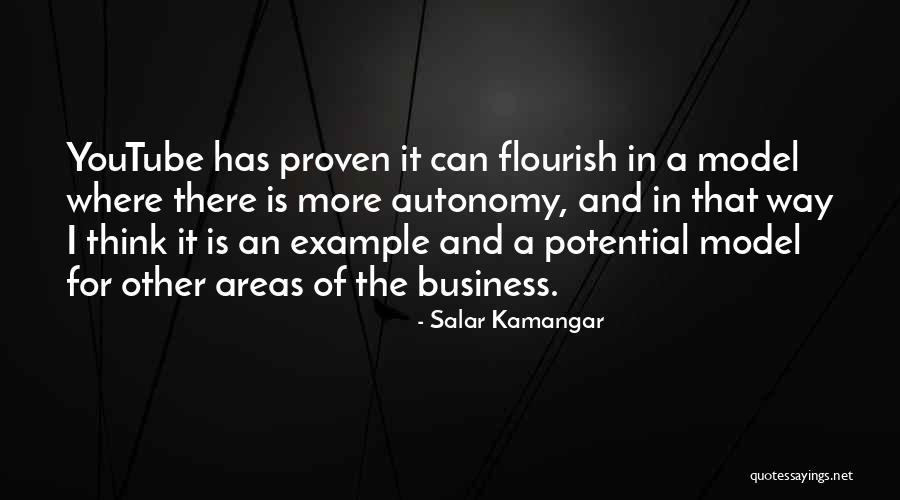 YouTube has proven it can flourish in a model where there is more autonomy, and in that way I think it is an example and a potential model for other areas of the business. — Salar Kamangar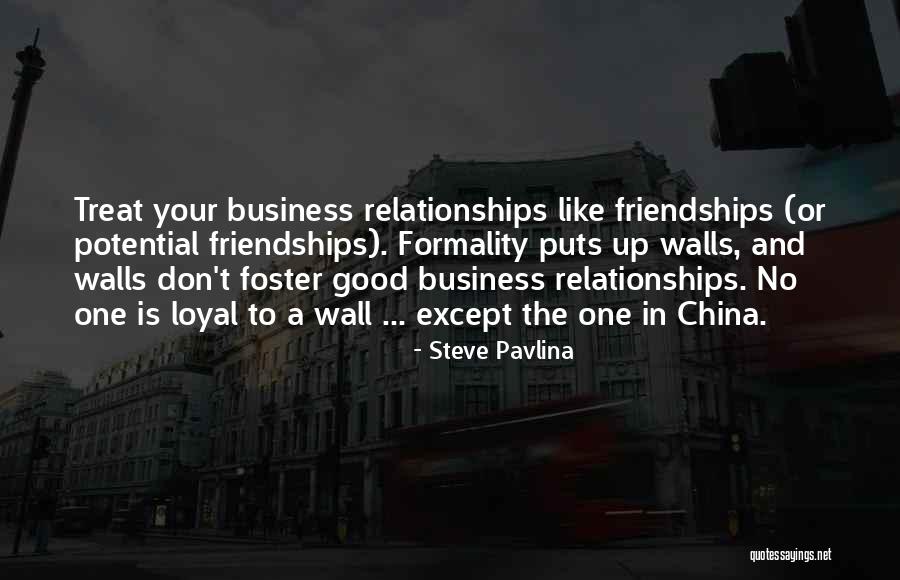 Treat your business relationships like friendships (or potential friendships). Formality puts up walls, and walls don't foster good business relationships. No one is loyal to a wall ... except the one in China. — Steve Pavlina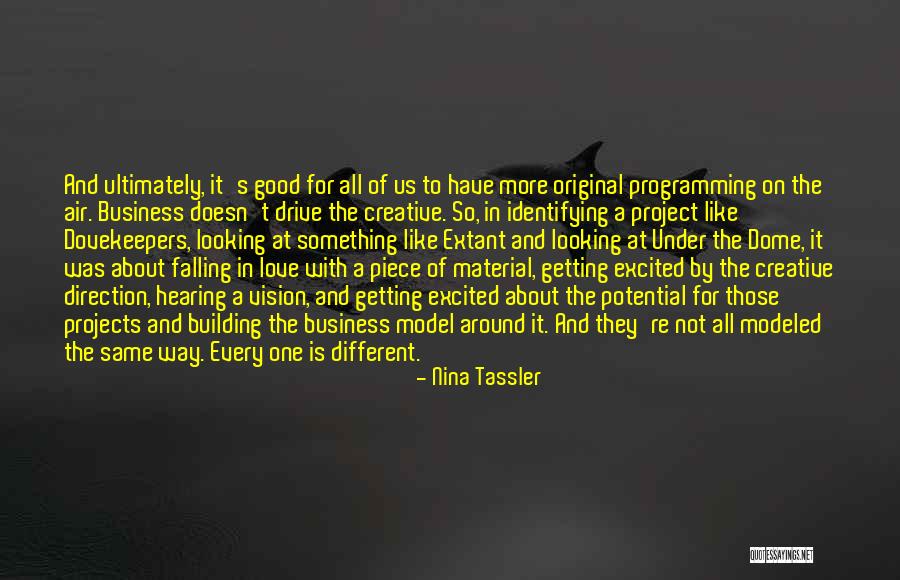 And ultimately, it's good for all of us to have more original programming on the air. Business doesn't drive the creative. So, in identifying a project like Dovekeepers, looking at something like Extant and looking at Under the Dome, it was about falling in love with a piece of material, getting excited by the creative direction, hearing a vision, and getting excited about the potential for those projects and building the business model around it. And they're not all modeled the same way. Every one is different. — Nina Tassler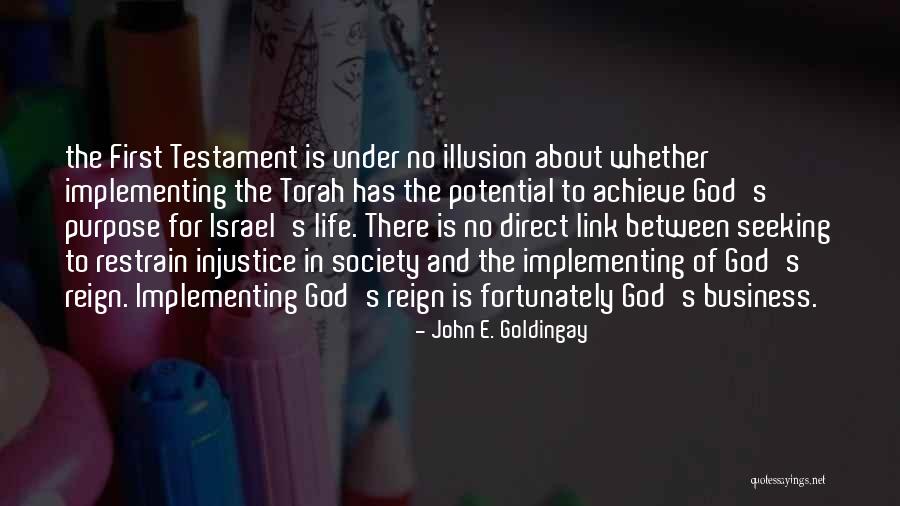 the First Testament is under no illusion about whether implementing the Torah has the potential to achieve God's purpose for Israel's life. There is no direct link between seeking to restrain injustice in society and the implementing of God's reign. Implementing God's reign is fortunately God's business. — John E. Goldingay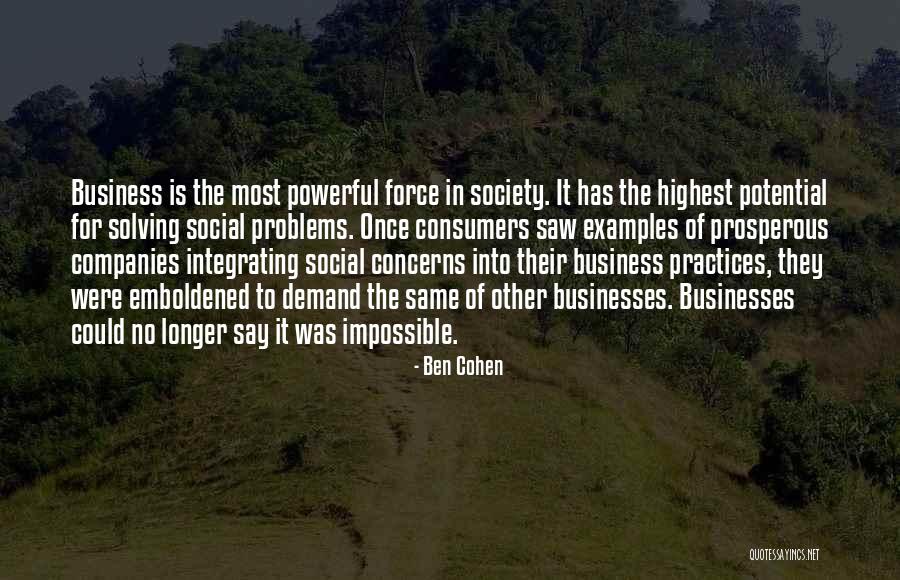 Business is the most powerful force in society. It has the highest potential for solving social problems. Once consumers saw examples of prosperous companies integrating social concerns into their business practices, they were emboldened to demand the same of other businesses. Businesses could no longer say it was impossible. — Ben Cohen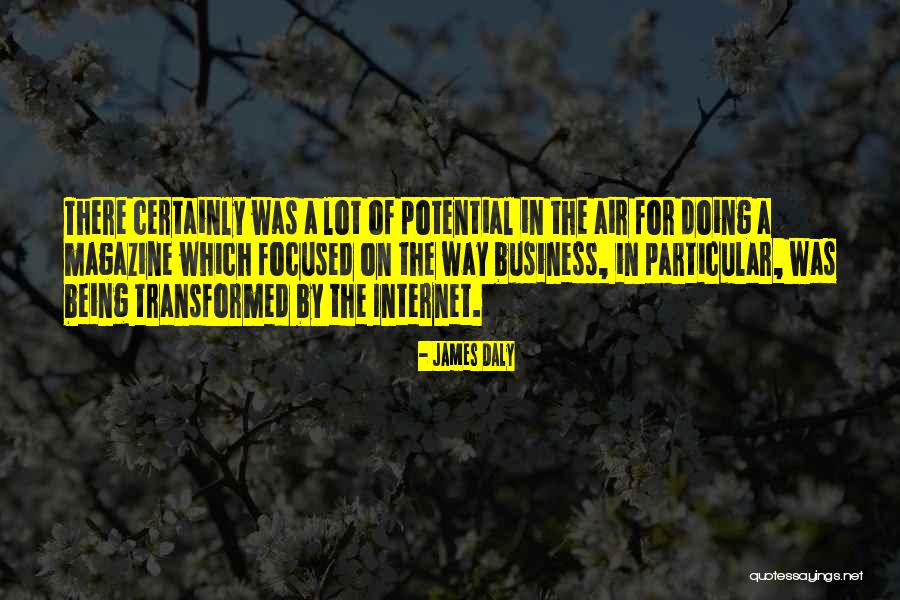 There certainly was a lot of potential in the air for doing a magazine which focused on the way business, in particular, was being transformed by the Internet. — James Daly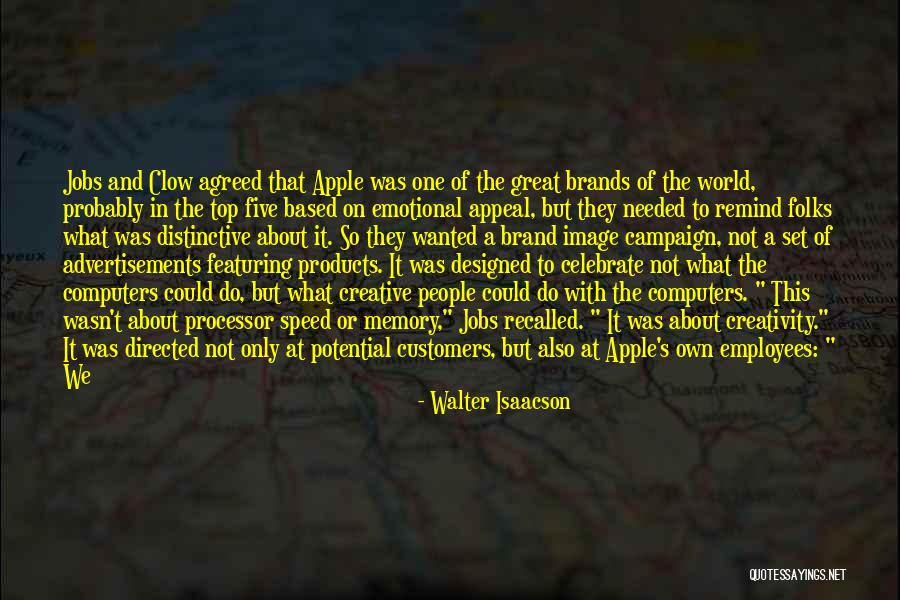 Jobs and Clow agreed that Apple was one of the great brands of the world, probably in the top five based on emotional appeal, but they needed to remind folks what was distinctive about it. So they wanted a brand image campaign, not a set of advertisements featuring products. It was designed to celebrate not what the computers could do, but what creative people could do with the computers. " This wasn't about processor speed or memory," Jobs recalled. " It was about creativity." It was directed not only at potential customers, but also at Apple's own employees: " We at Apple had forgotten who we were. One way to remember who you are is to remember who your heroes are. That was the genesis of that campaign. — Walter Isaacson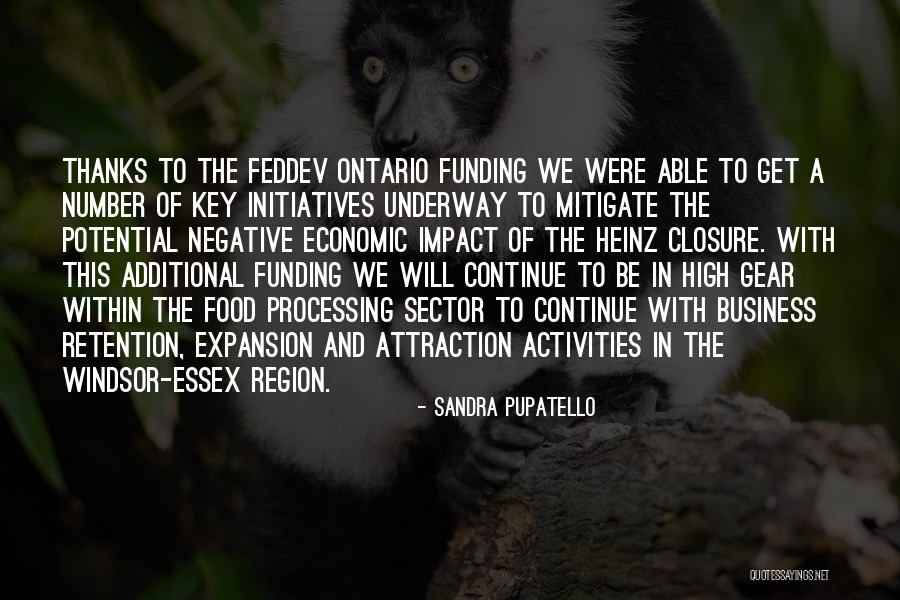 Thanks to the FedDev Ontario funding we were able to get a number of key initiatives underway to mitigate the potential negative economic impact of the Heinz closure. With this additional funding we will continue to be in high gear within the food processing sector to continue with business retention, expansion and attraction activities in the Windsor-Essex region. — Sandra Pupatello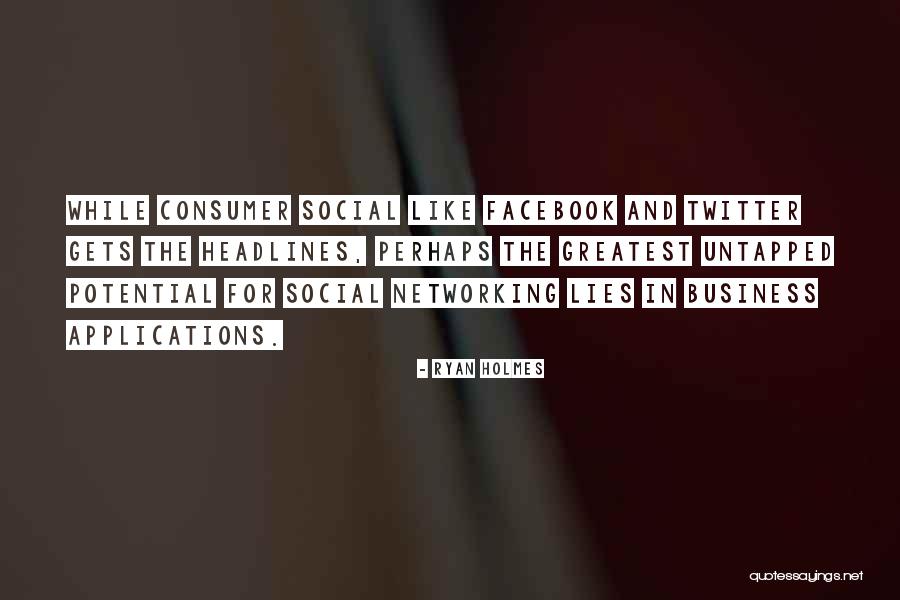 While consumer social like Facebook and Twitter gets the headlines, perhaps the greatest untapped potential for social networking lies in business applications. — Ryan Holmes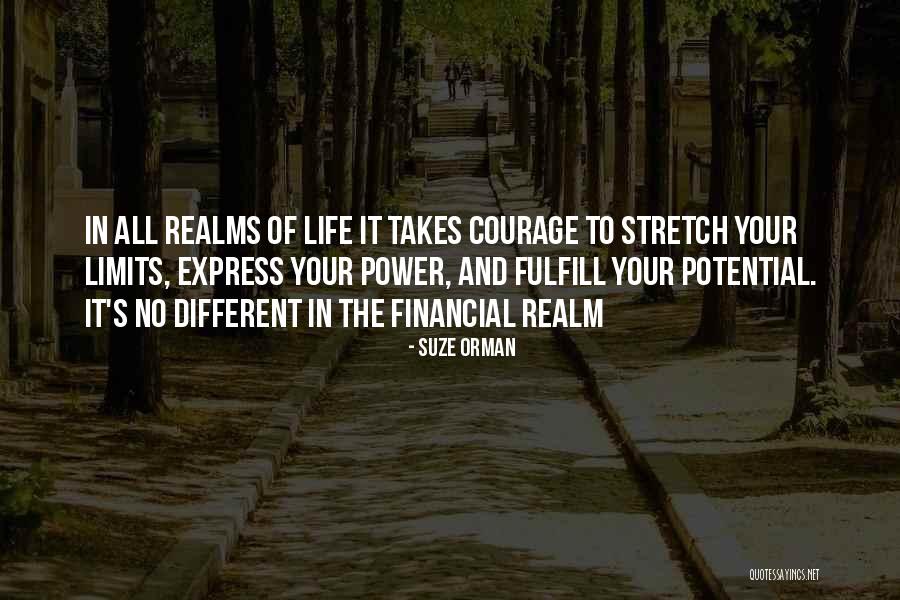 In all realms of life it takes courage to stretch your limits, express your power, and fulfill your potential. It's no different in the financial realm — Suze Orman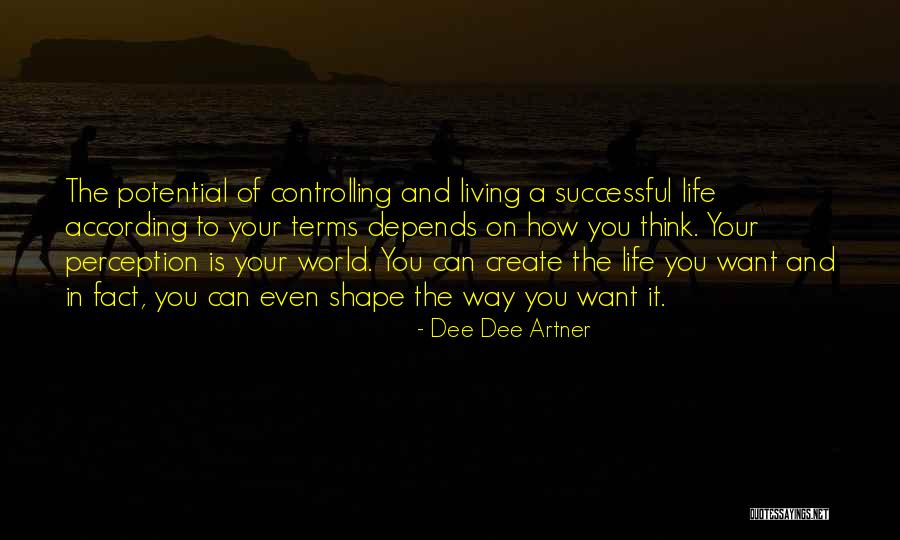 The potential of controlling and living a successful life according to your terms depends on how you think. Your perception is your world. You can create the life you want and in fact, you can even shape the way you want it. — Dee Dee Artner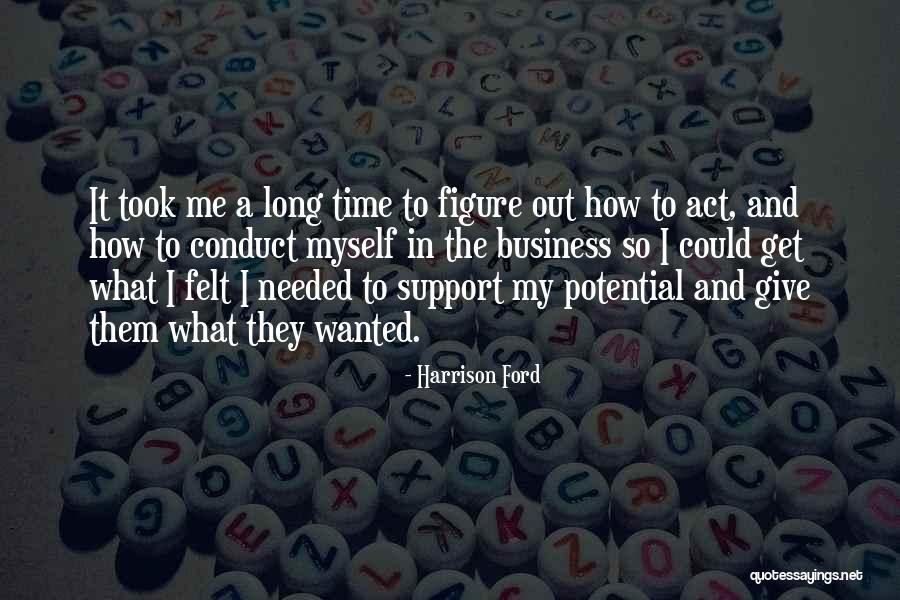 It took me a long time to figure out how to act, and how to conduct myself in the business so I could get what I felt I needed to support my potential and give them what they wanted. — Harrison Ford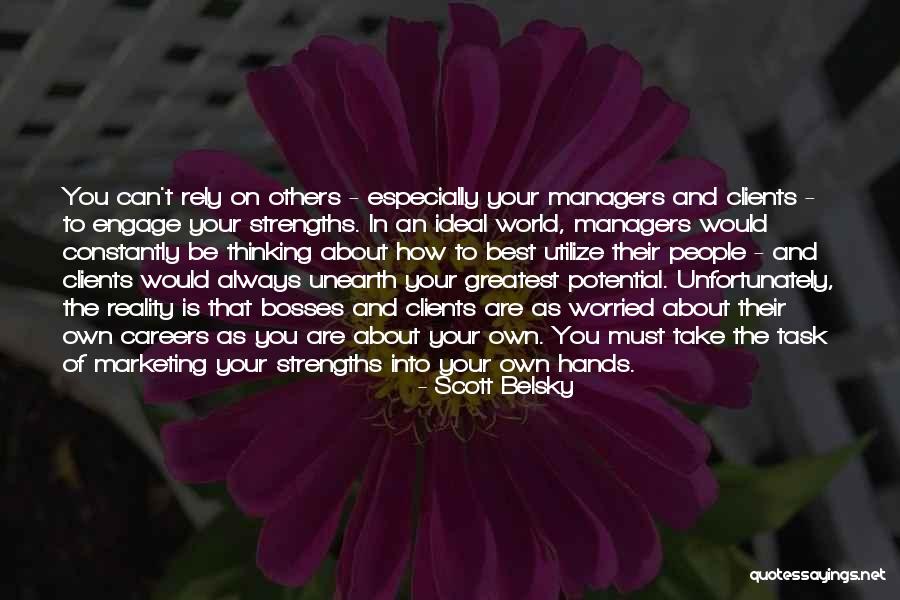 You can't rely on others - especially your managers and clients - to engage your strengths. In an ideal world, managers would constantly be thinking about how to best utilize their people - and clients would always unearth your greatest potential. Unfortunately, the reality is that bosses and clients are as worried about their own careers as you are about your own. You must take the task of marketing your strengths into your own hands. — Scott Belsky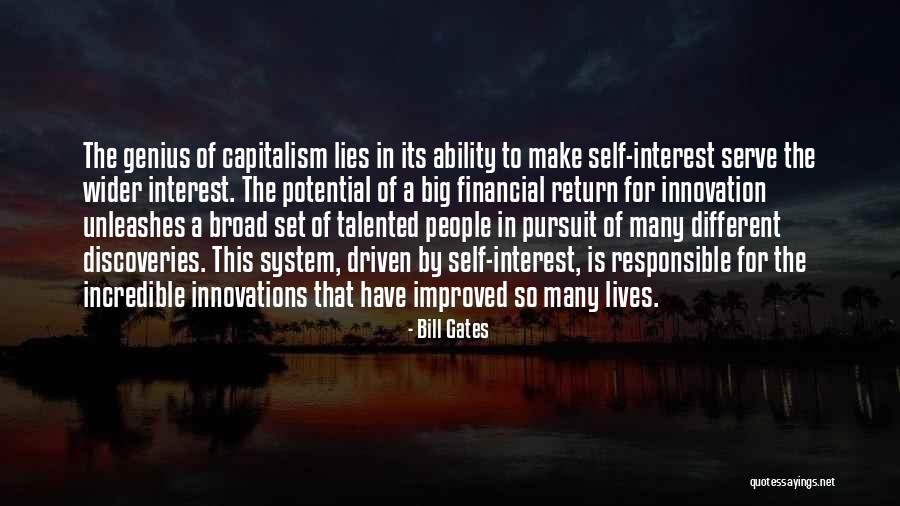 The genius of capitalism lies in its ability to make self-interest serve the wider interest. The potential of a big financial return for innovation unleashes a broad set of talented people in pursuit of many different discoveries. This system, driven by self-interest, is responsible for the incredible innovations that have improved so many lives. — Bill Gates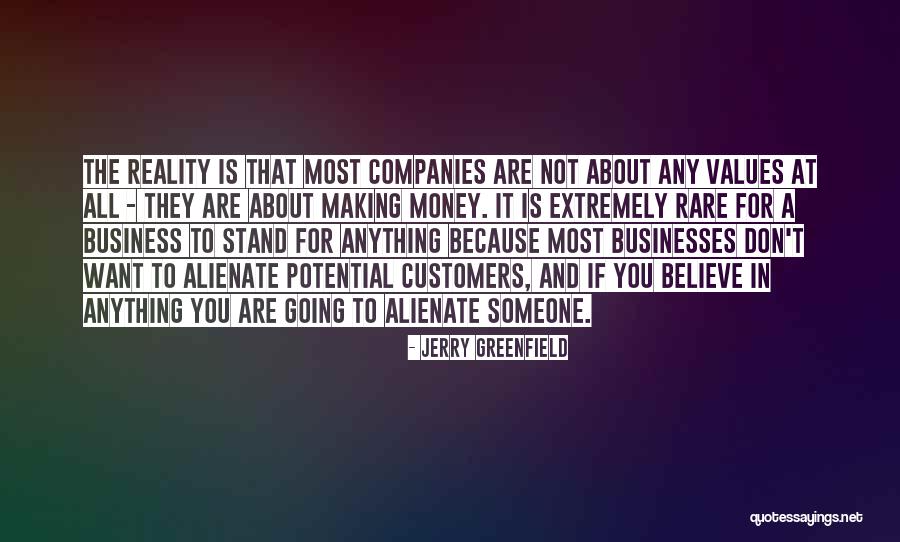 The reality is that most companies are not about any values at all - they are about making money. It is extremely rare for a business to stand for anything because most businesses don't want to alienate potential customers, and if you believe in anything you are going to alienate someone. — Jerry Greenfield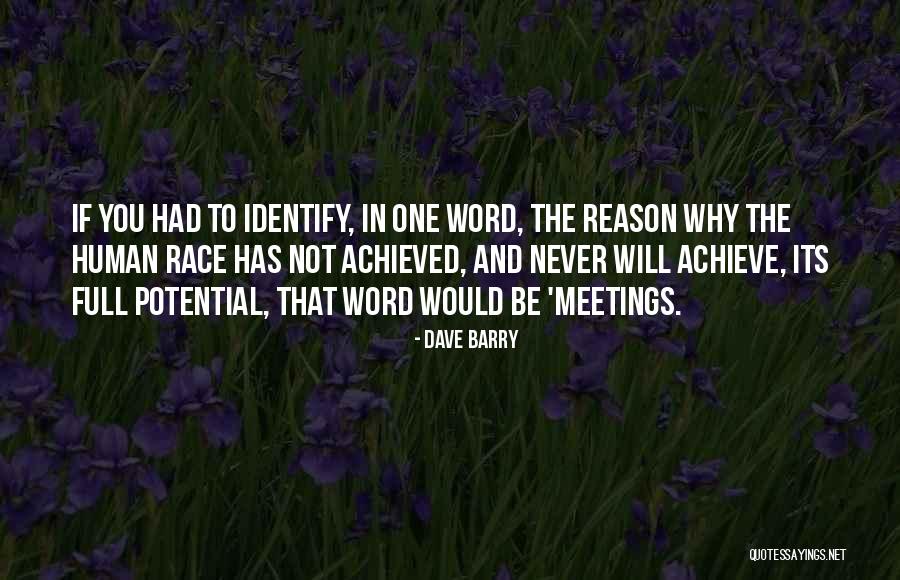 If you had to identify, in one word, the reason why the human race has not achieved, and never will achieve, its full potential, that word would be 'meetings. — Dave Barry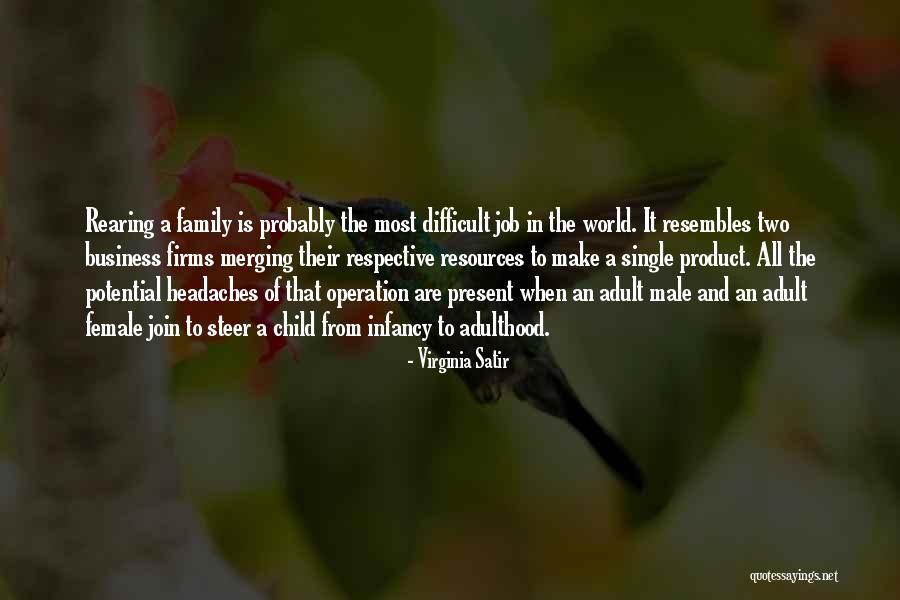 Rearing a family is probably the most difficult job in the world. It resembles two business firms merging their respective resources to make a single product. All the potential headaches of that operation are present when an adult male and an adult female join to steer a child from infancy to adulthood. — Virginia Satir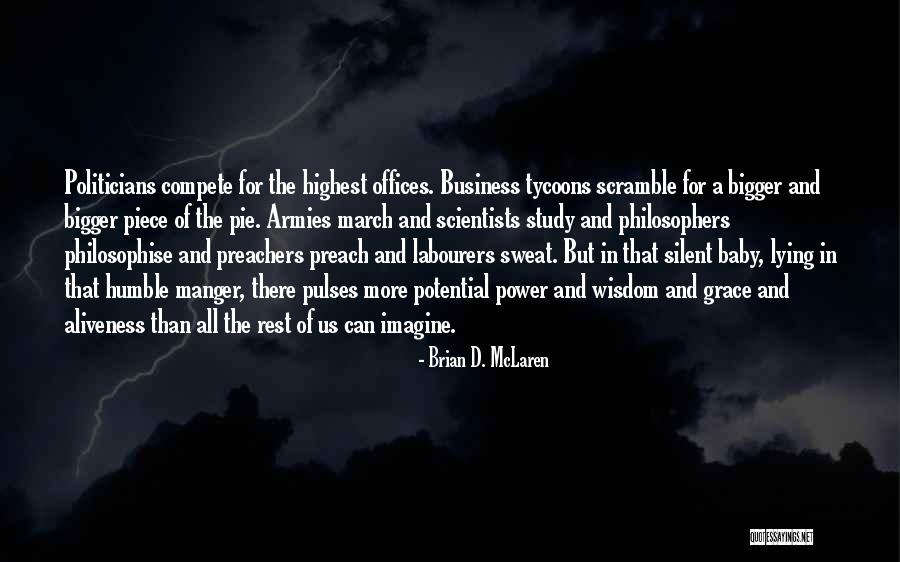 Politicians compete for the highest offices. Business tycoons scramble for a bigger and bigger piece of the pie. Armies march and scientists study and philosophers philosophise and preachers preach and labourers sweat. But in that silent baby, lying in that humble manger, there pulses more potential power and wisdom and grace and aliveness than all the rest of us can imagine. — Brian D. McLaren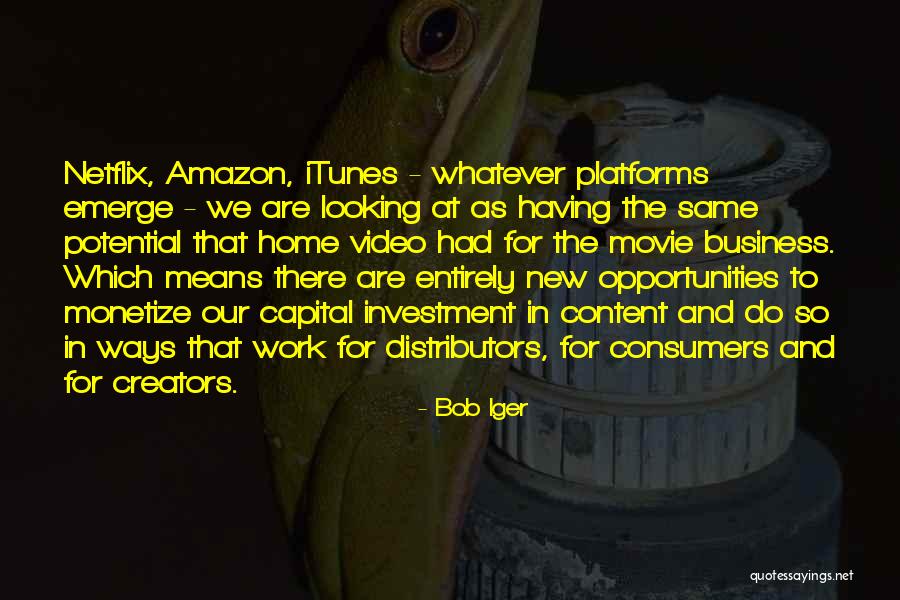 Netflix, Amazon, iTunes - whatever platforms emerge - we are looking at as having the same potential that home video had for the movie business. Which means there are entirely new opportunities to monetize our capital investment in content and do so in ways that work for distributors, for consumers and for creators. — Bob Iger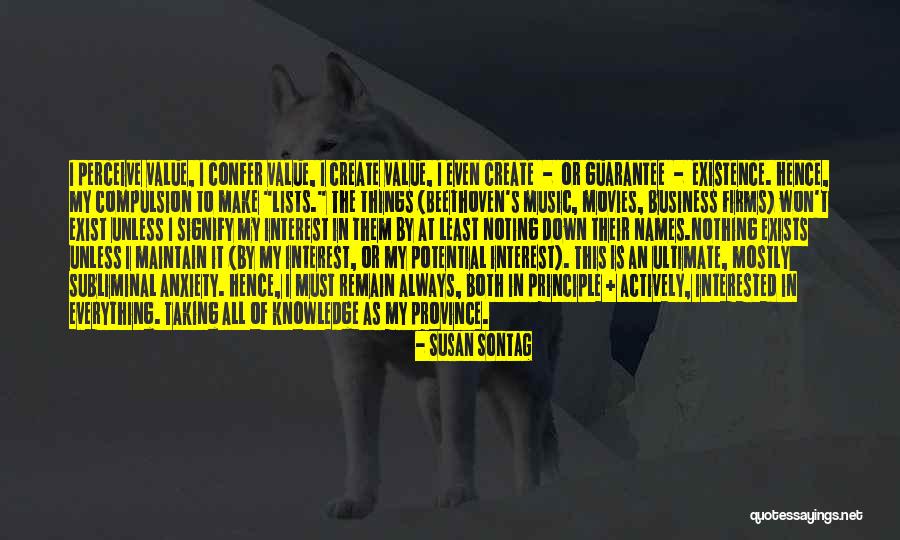 I perceive value, I confer value, I create value, I even create - or guarantee - existence. Hence, my compulsion to make "lists." The things (Beethoven's music, movies, business firms) won't exist unless I signify my interest in them by at least noting down their names.
Nothing exists unless I maintain it (by my interest, or my potential interest). This is an ultimate, mostly subliminal anxiety. Hence, I must remain always, both in principle + actively, interested in everything. Taking all of knowledge as my province. — Susan Sontag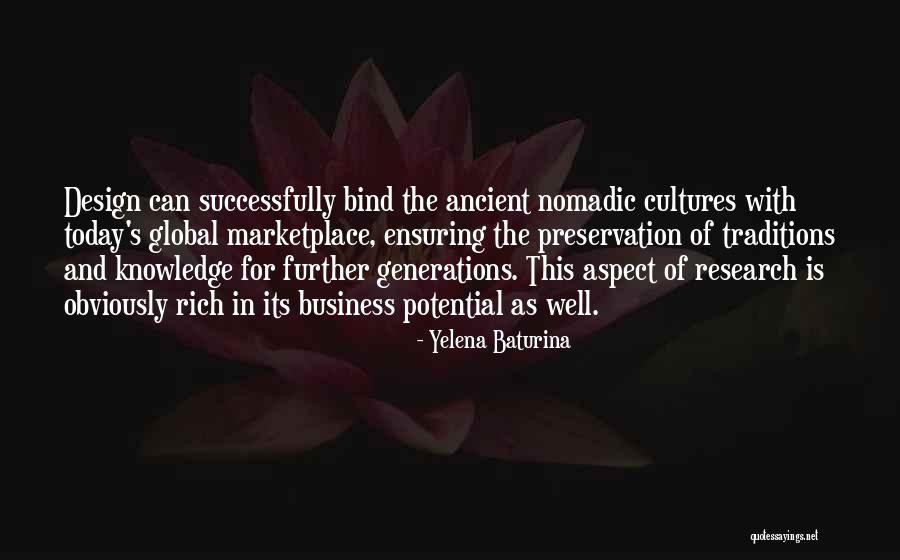 Design can successfully bind the ancient nomadic cultures with today's global marketplace, ensuring the preservation of traditions and knowledge for further generations. This aspect of research is obviously rich in its business potential as well. — Yelena Baturina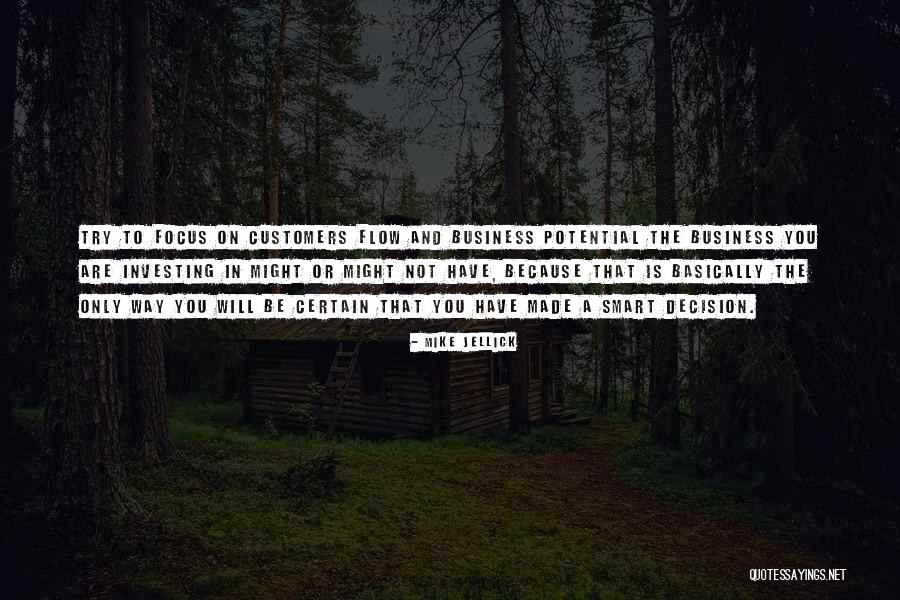 Try to focus on customers flow and business potential the business you are investing in might or might not have, because that is basically the only way you will be certain that you have made a smart decision. — Mike Jellick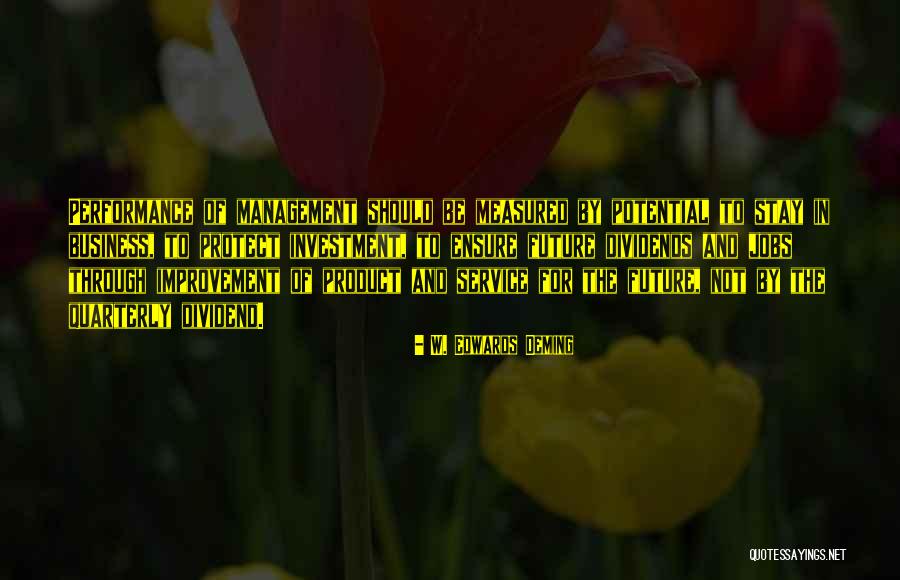 Performance of management should be measured by potential to stay in business, to protect investment, to ensure future dividends and jobs through improvement of product and service for the future, not by the quarterly dividend. — W. Edwards Deming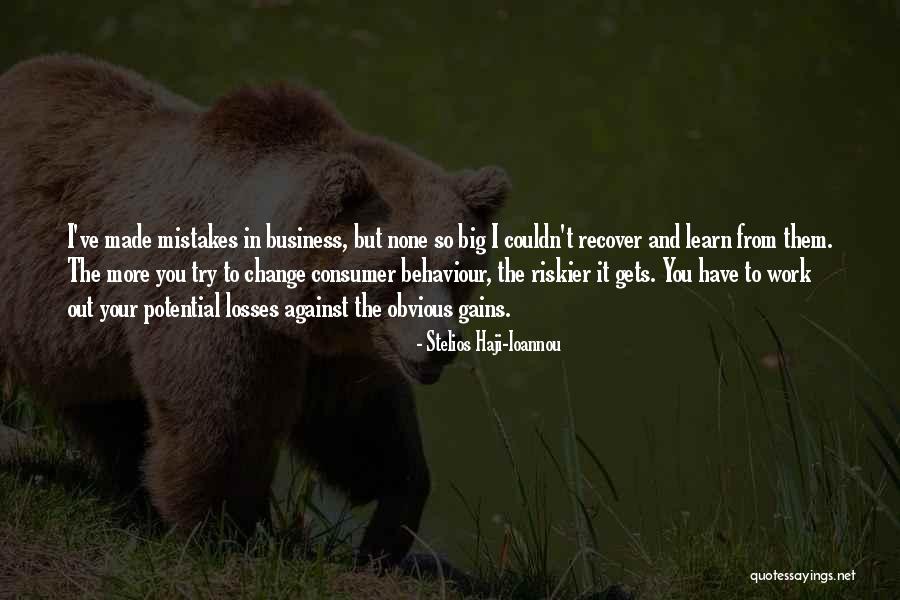 I've made mistakes in business, but none so big I couldn't recover and learn from them. The more you try to change consumer behaviour, the riskier it gets. You have to work out your potential losses against the obvious gains. — Stelios Haji-Ioannou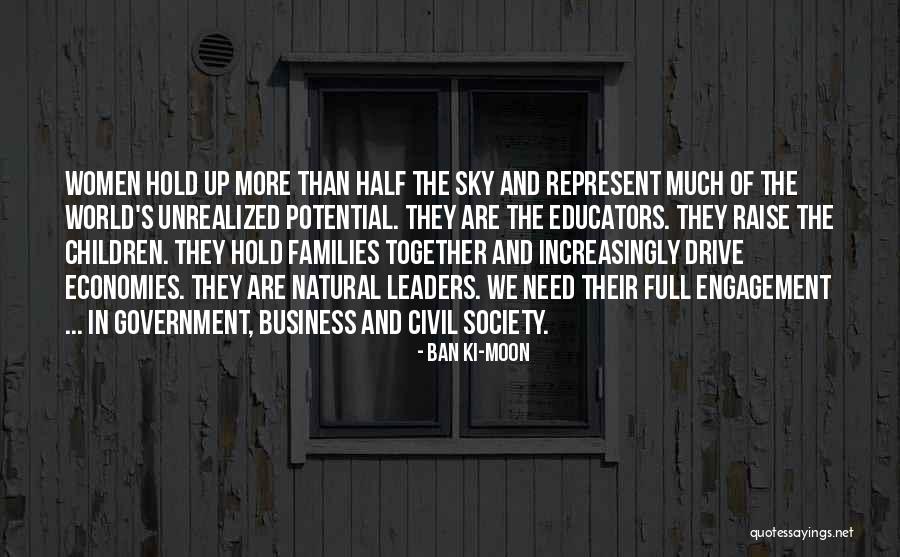 Women hold up more than half the sky and represent much of the world's unrealized potential. They are the educators. They raise the children. They hold families together and increasingly drive economies. They are natural leaders. We need their full engagement ... in government, business and civil society. — Ban Ki-moon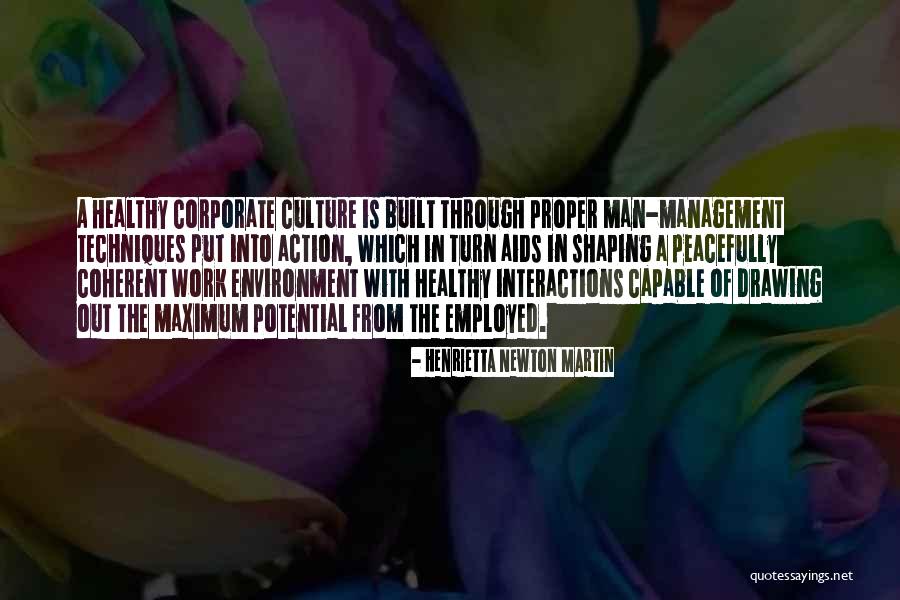 A healthy corporate culture is built through proper man-management techniques put into action, which in turn aids in shaping a peacefully coherent work environment with healthy interactions capable of drawing out the maximum potential from the employed. — Henrietta Newton Martin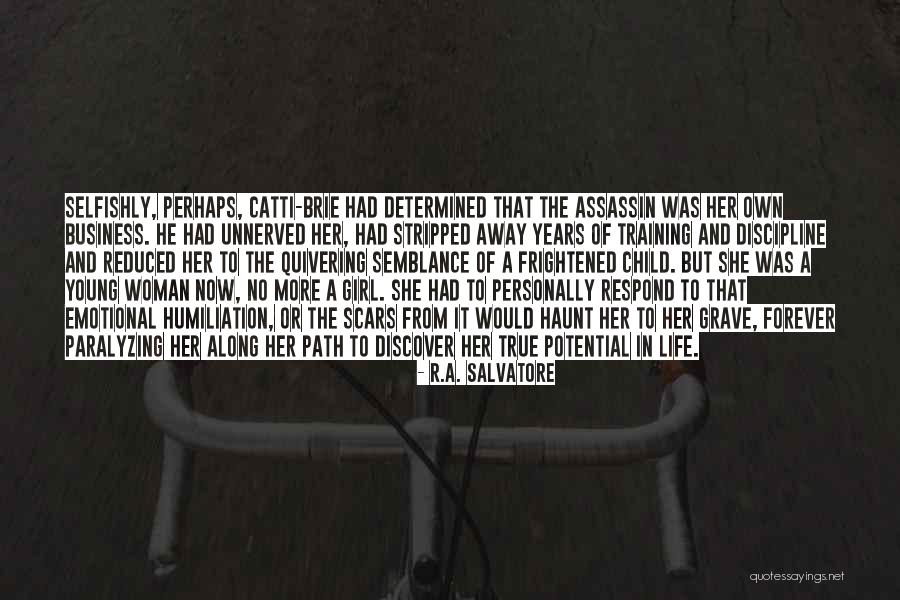 Selfishly, perhaps, Catti-brie had determined that the assassin was her own business. He had unnerved her, had stripped away years of training and discipline and reduced her to the quivering semblance of a frightened child. But she was a young woman now, no more a girl. She had to personally respond to that emotional humiliation, or the scars from it would haunt her to her grave, forever paralyzing her along her path to discover her true potential in life. — R.A. Salvatore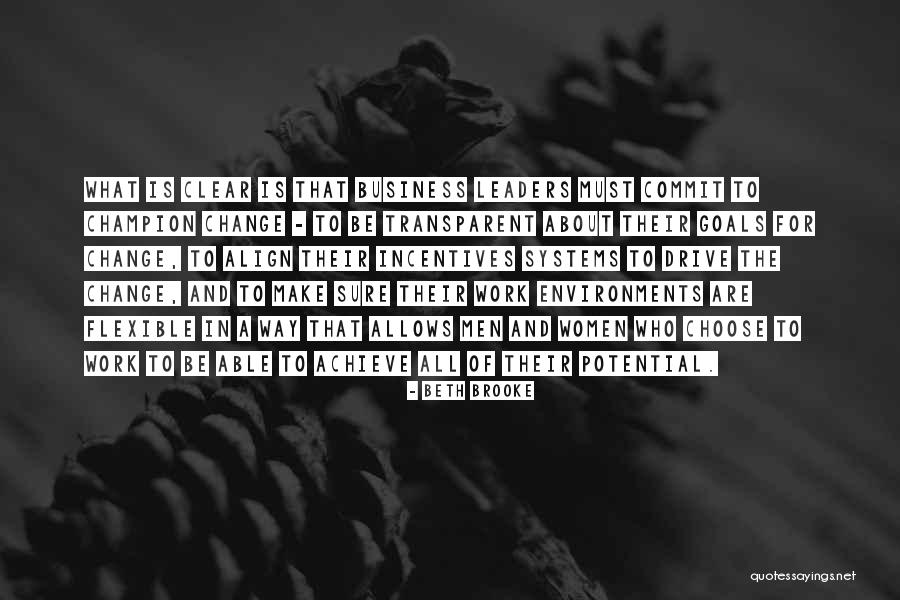 What is clear is that business leaders must commit to champion change - to be transparent about their goals for change, to align their incentives systems to drive the change, and to make sure their work environments are flexible in a way that allows men and women who choose to work to be able to achieve all of their potential. — Beth Brooke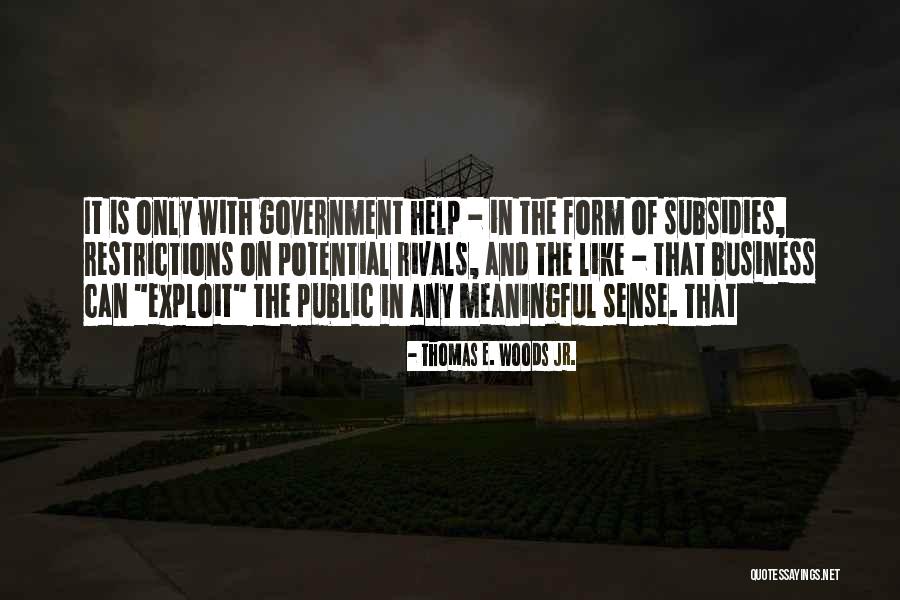 It is only with government help - in the form of subsidies, restrictions on potential rivals, and the like - that business can "exploit" the public in any meaningful sense. That — Thomas E. Woods Jr.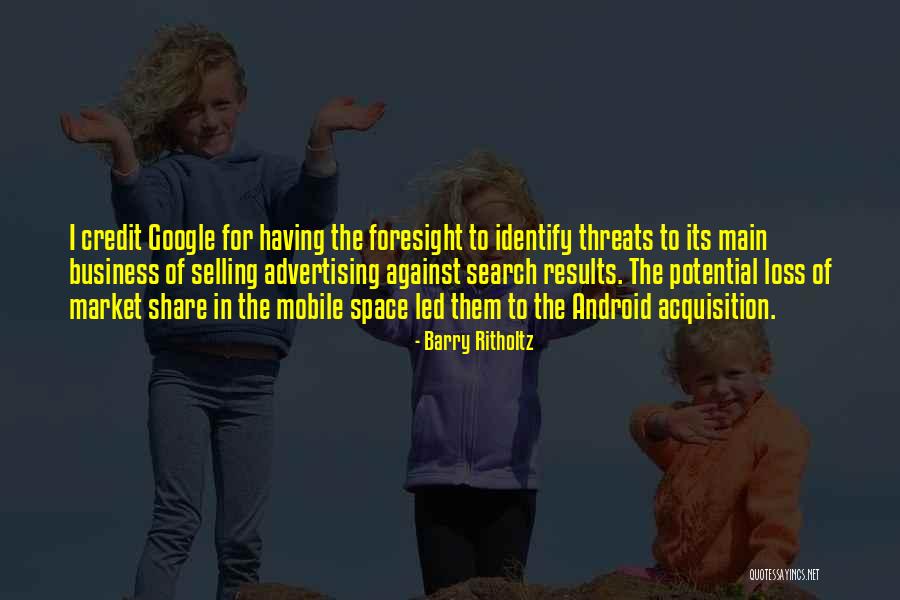 I credit Google for having the foresight to identify threats to its main business of selling advertising against search results. The potential loss of market share in the mobile space led them to the Android acquisition. — Barry Ritholtz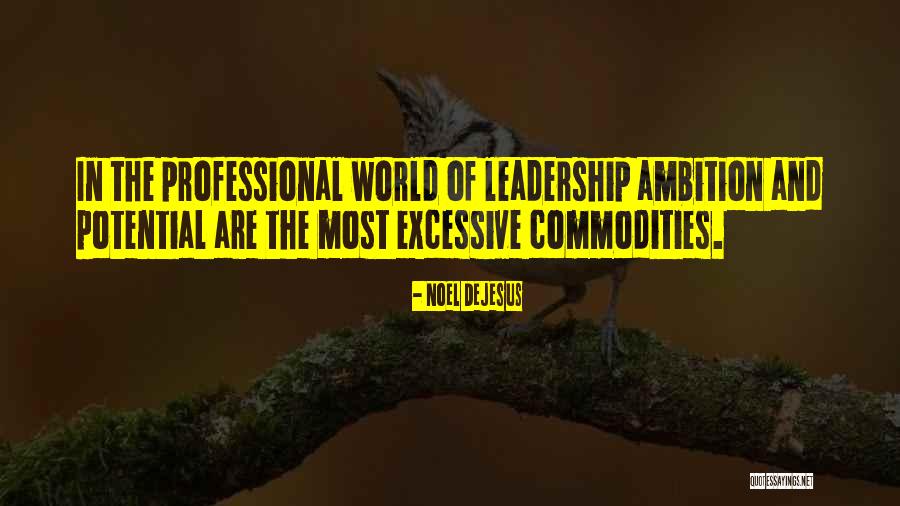 In the professional world of leadership ambition and potential are the most excessive commodities. — Noel DeJesus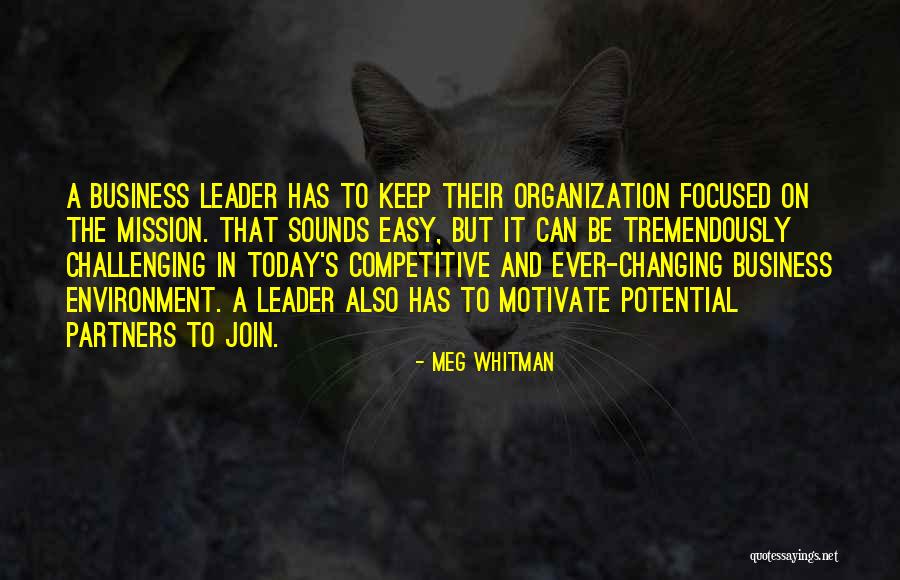 A business leader has to keep their organization focused on the mission. That sounds easy, but it can be tremendously challenging in today's competitive and ever-changing business environment. A leader also has to motivate potential partners to join. — Meg Whitman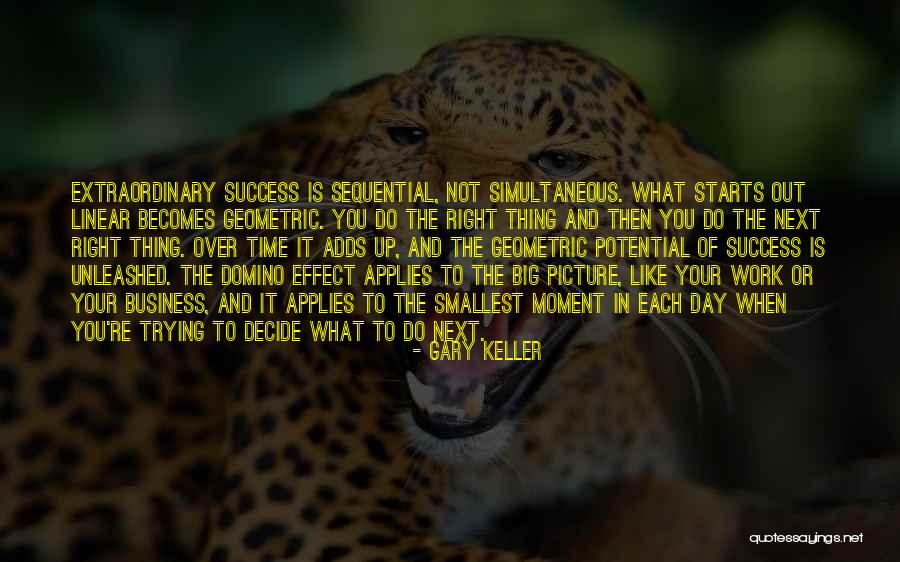 Extraordinary success is sequential, not simultaneous. What starts out linear becomes geometric. You do the right thing and then you do the next right thing. Over time it adds up, and the geometric potential of success is unleashed. The domino effect applies to the big picture, like your work or your business, and it applies to the smallest moment in each day when you're trying to decide what to do next. — Gary Keller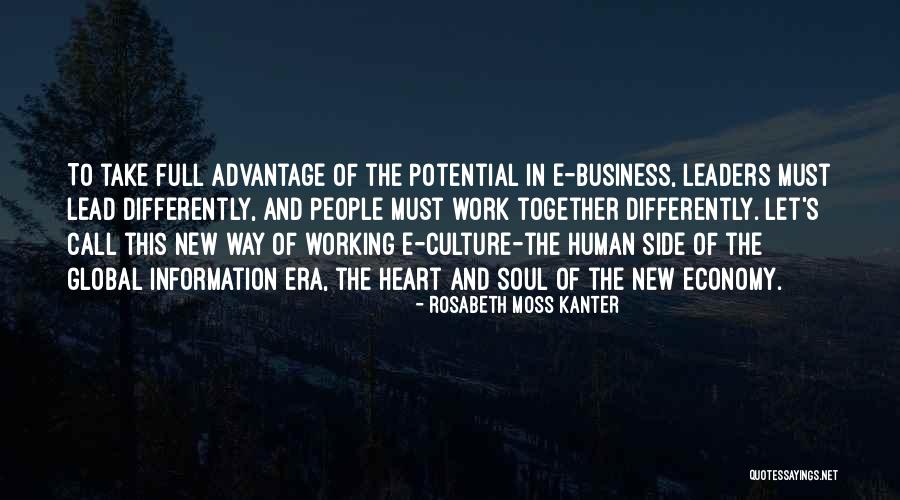 To take full advantage of the potential in e-business, leaders must lead differently, and people must work together differently. Let's call this new way of working e-culture-the human side of the global information era, the heart and soul of the new economy. — Rosabeth Moss Kanter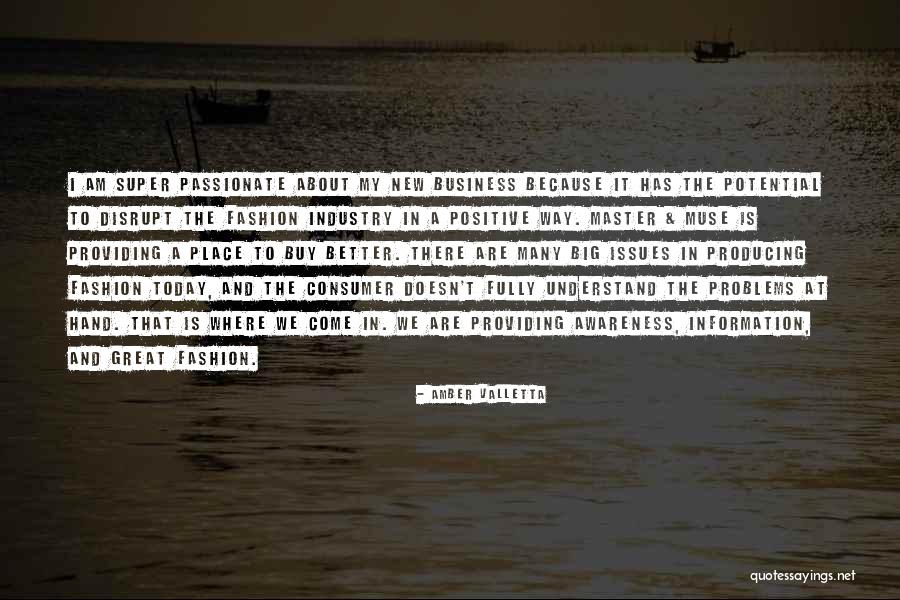 I am super passionate about my new business because it has the potential to disrupt the fashion industry in a positive way. Master & Muse is providing a place to buy better. There are many big issues in producing fashion today, and the consumer doesn't fully understand the problems at hand. That is where we come in. We are providing awareness, information, and great fashion. — Amber Valletta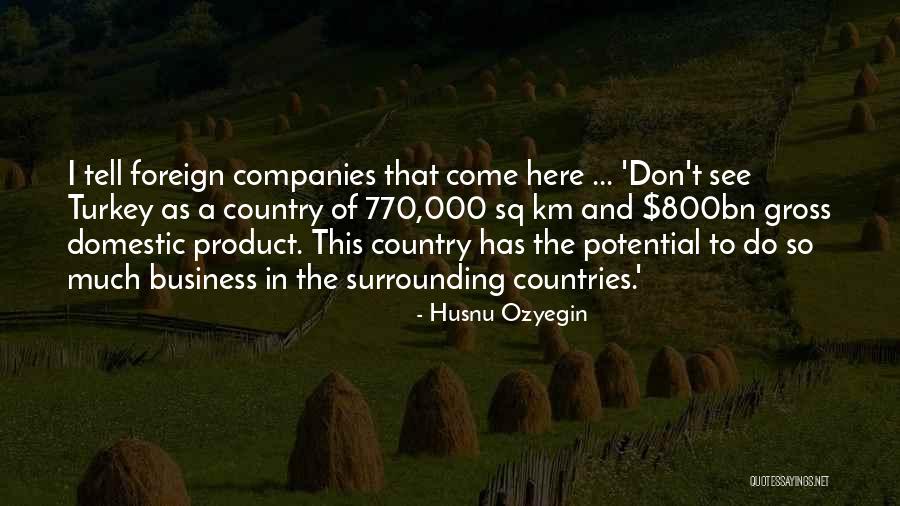 I tell foreign companies that come here ... 'Don't see Turkey as a country of 770,000 sq km and $800bn gross domestic product. This country has the potential to do so much business in the surrounding countries.' — Husnu Ozyegin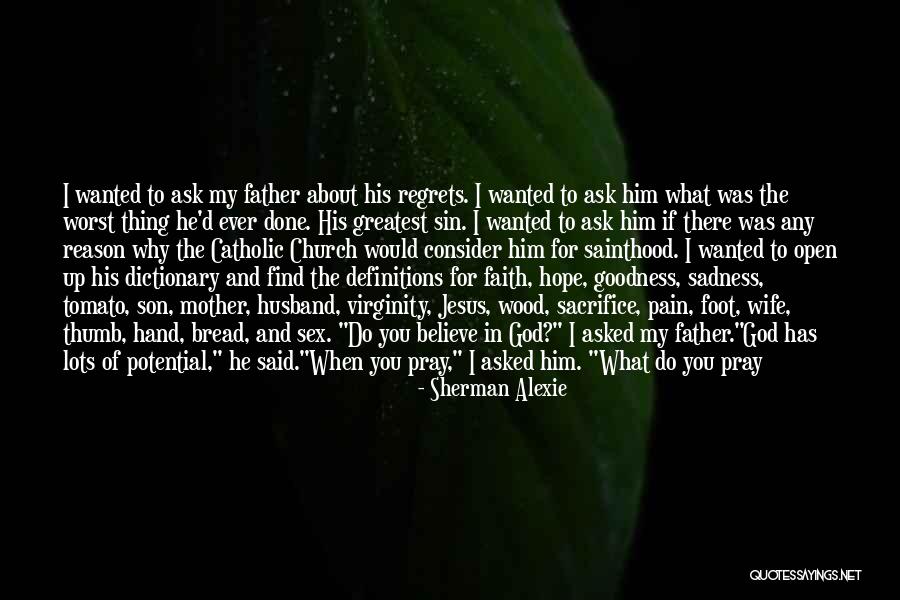 I wanted to ask my father about his regrets. I wanted to ask him what was the worst thing he'd ever done. His greatest sin. I wanted to ask him if there was any reason why the Catholic Church would consider him for sainthood. I wanted to open up his dictionary and find the definitions for faith, hope, goodness, sadness, tomato, son, mother, husband, virginity, Jesus, wood, sacrifice, pain, foot, wife, thumb, hand, bread, and sex.
"Do you believe in God?" I asked my father.
"God has lots of potential," he said.
"When you pray," I asked him. "What do you pray about?"
"That's none of your business," he said.
We laughed. We waited for hours for somebody to help us. What is an Indian? I lifted my father and carried him across every border. — Sherman Alexie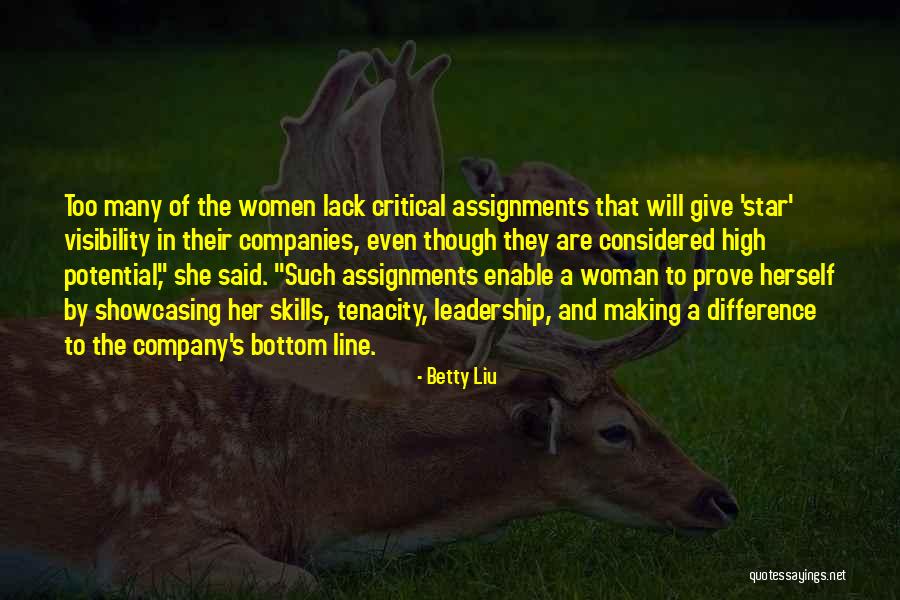 Too many of the women lack critical assignments that will give 'star' visibility in their companies, even though they are considered high potential," she said. "Such assignments enable a woman to prove herself by showcasing her skills, tenacity, leadership, and making a difference to the company's bottom line. — Betty Liu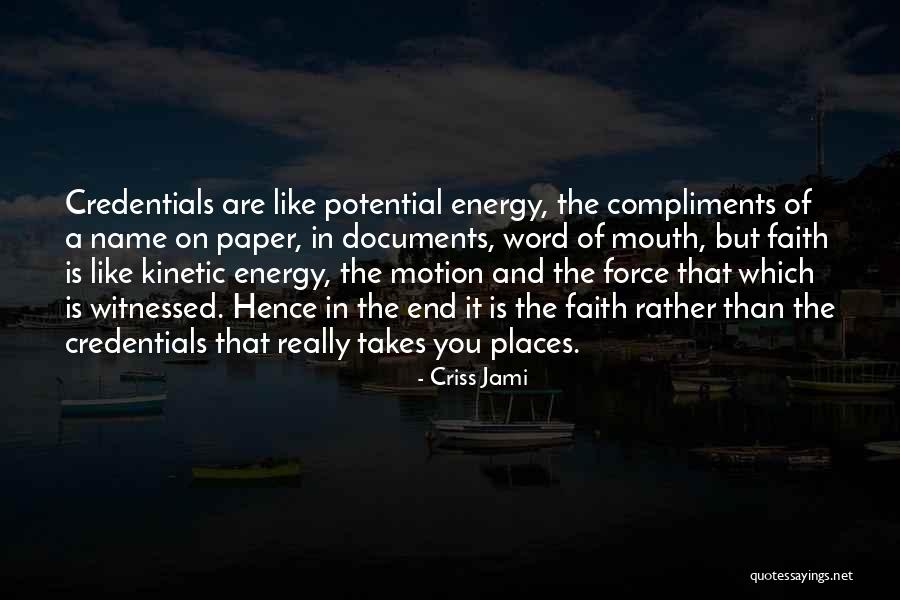 Credentials are like potential energy, the compliments of a name on paper, in documents, word of mouth, but faith is like kinetic energy, the motion and the force that which is witnessed. Hence in the end it is the faith rather than the credentials that really takes you places. — Criss Jami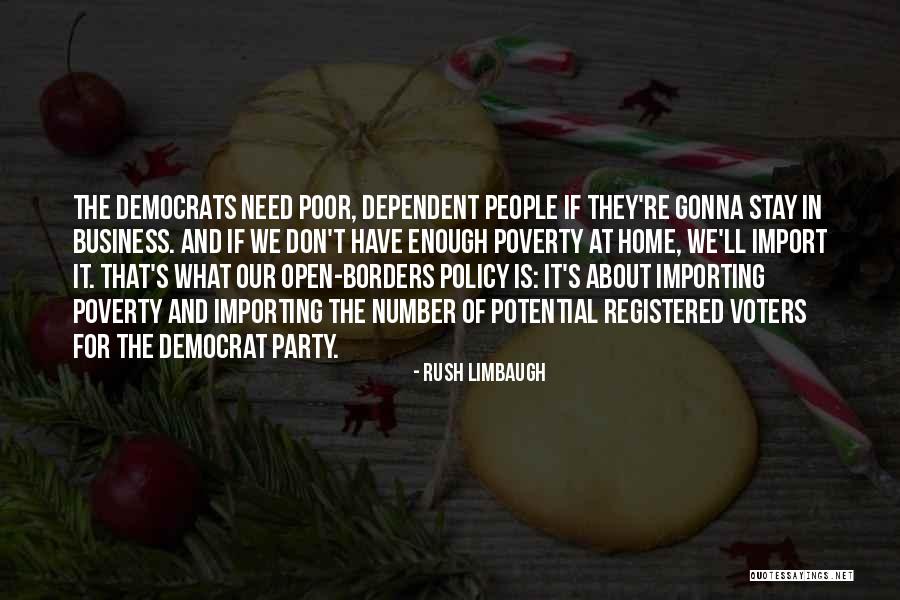 The Democrats need poor, dependent people if they're gonna stay in business. And if we don't have enough poverty at home, we'll import it. That's what our open-borders policy is: It's about importing poverty and importing the number of potential registered voters for the Democrat party. — Rush Limbaugh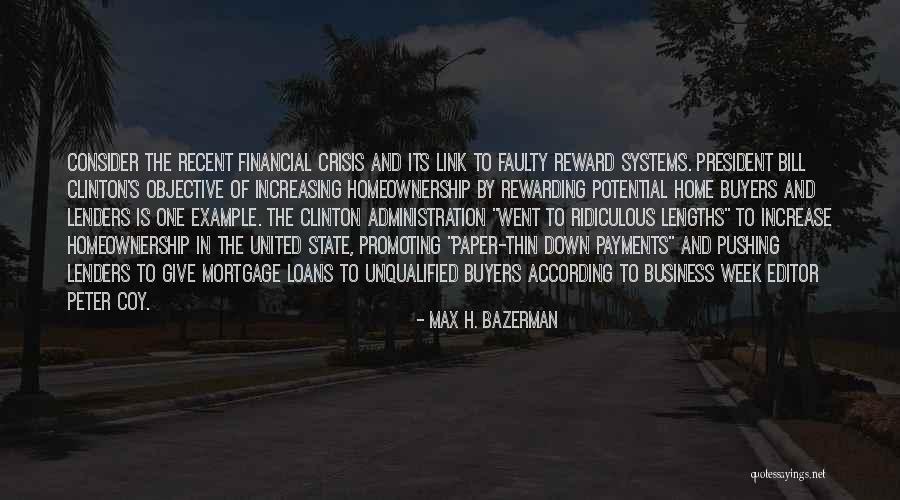 Consider the recent financial crisis and its link to faulty reward systems. President Bill Clinton's objective of increasing homeownership by rewarding potential home buyers and lenders is one example. The Clinton administration "went to ridiculous lengths" to increase homeownership in the United State, promoting "paper-thin down payments" and pushing lenders to give mortgage loans to unqualified buyers according to Business Week editor Peter Coy. — Max H. Bazerman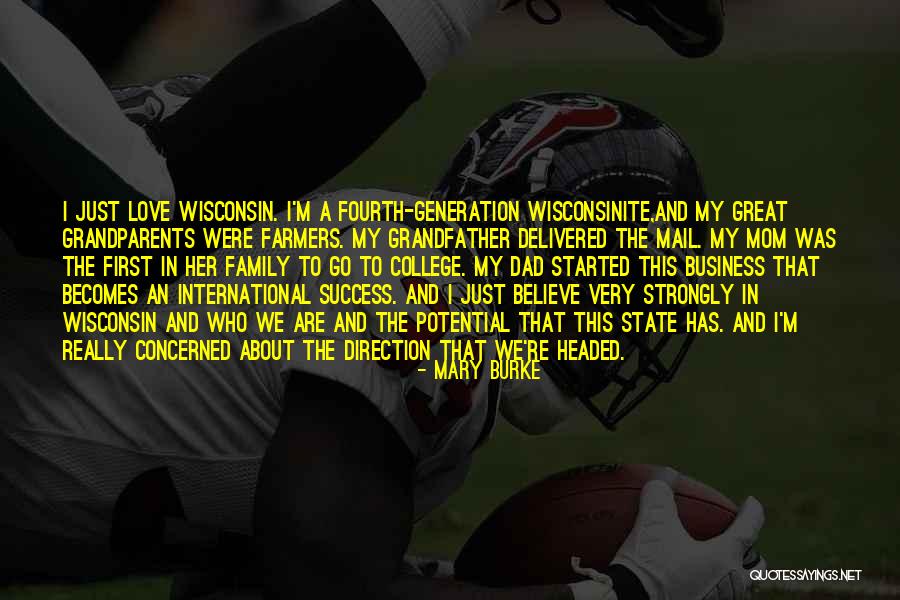 I just love Wisconsin. I'm a fourth-generation Wisconsinite,and my great grandparents were farmers. My grandfather delivered the mail. My mom was the first in her family to go to college. My dad started this business that becomes an international success. And I just believe very strongly in Wisconsin and who we are and the potential that this state has. And I'm really concerned about the direction that we're headed. — Mary Burke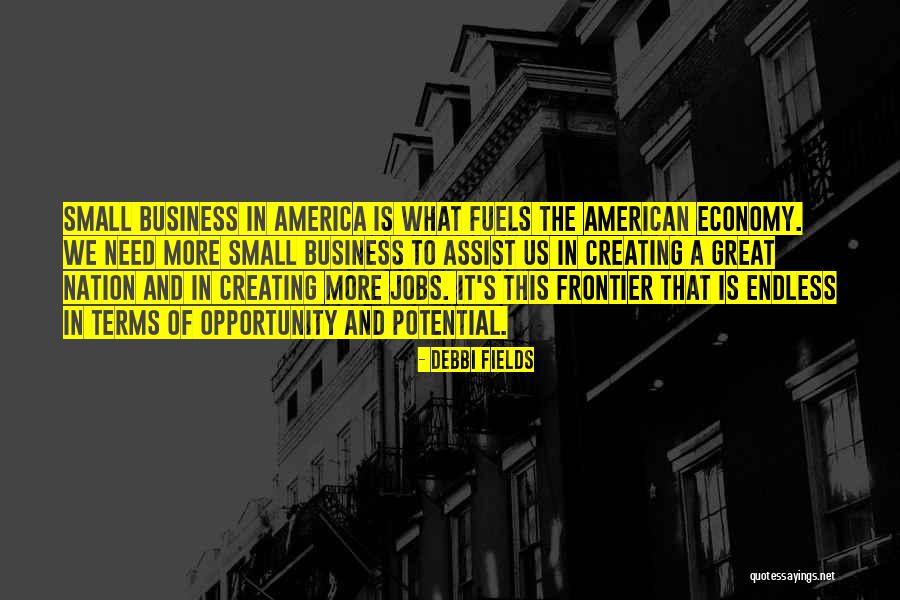 Small business in America is what fuels the American economy. We need more small business to assist us in creating a great nation and in creating more jobs. It's this frontier that is endless in terms of opportunity and potential. — Debbi Fields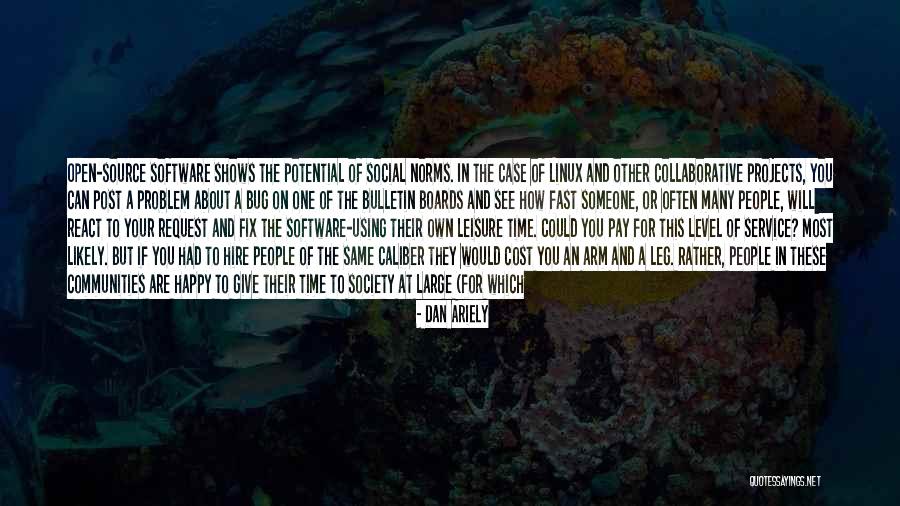 Open-source software shows the potential of social norms. In the case of Linux and other collaborative projects, you can post a problem about a bug on one of the bulletin boards and see how fast someone, or often many people, will react to your request and fix the software-using their own leisure time. Could you pay for this level of service? Most likely. But if you had to hire people of the same caliber they would cost you an arm and a leg. Rather, people in these communities are happy to give their time to society at large (for which they get the same social benefits we all get from helping a friend paint a room). What can we learn from this that is applicable to the business world? There are social rewards that strongly motivate behavior-and one of the least used in corporate life is the encouragement of social rewards and reputation. — Dan Ariely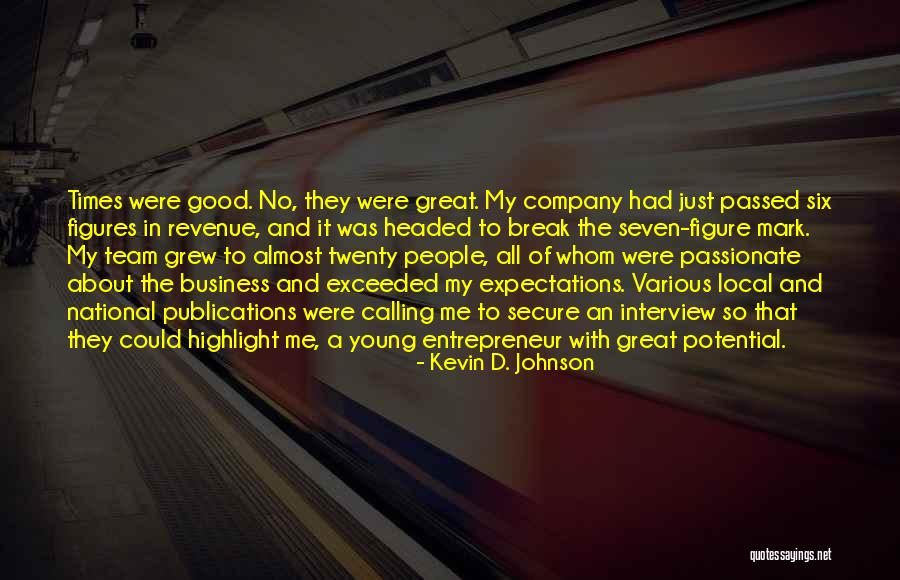 Times were good. No, they were great. My company had just passed six figures in revenue, and it was headed to break the seven-figure mark. My team grew to almost twenty people, all of whom were passionate about the business and exceeded my expectations. Various local and national publications were calling me to secure an interview so that they could highlight me, a young entrepreneur with great potential. — Kevin D. Johnson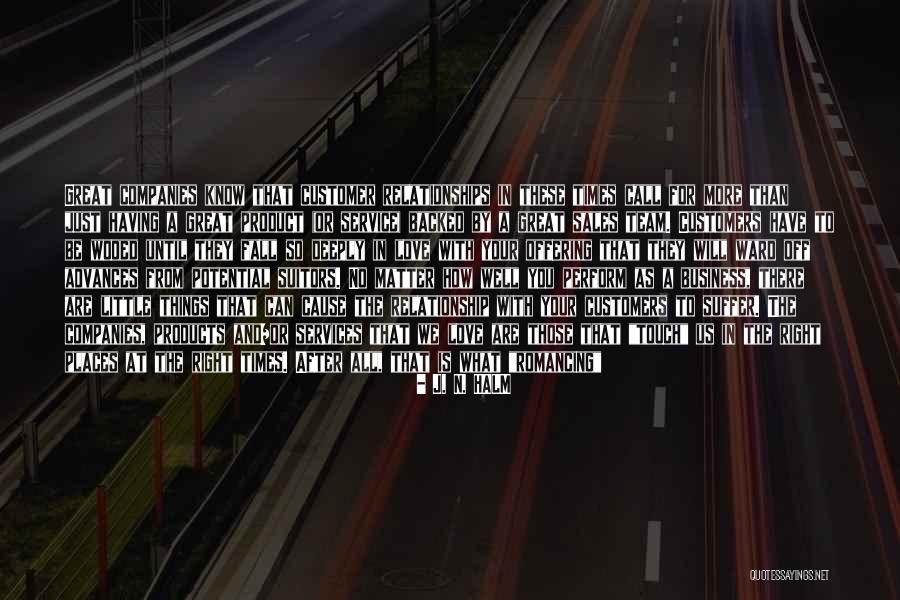 Great companies know that customer relationships in these times call for more than just having a great product (or service) backed by a great sales team. Customers have to be wooed until they fall so deeply in love with your offering that they will ward off advances from potential suitors. No matter how well you perform as a business, there are little things that can cause the relationship with your customers to suffer. The companies, products and/or services that we love are those that "touch" us in the right places at the right times. After all, that is what "romancing" the customer is all about - feeing your way to the customer's heart. — J. N. HALM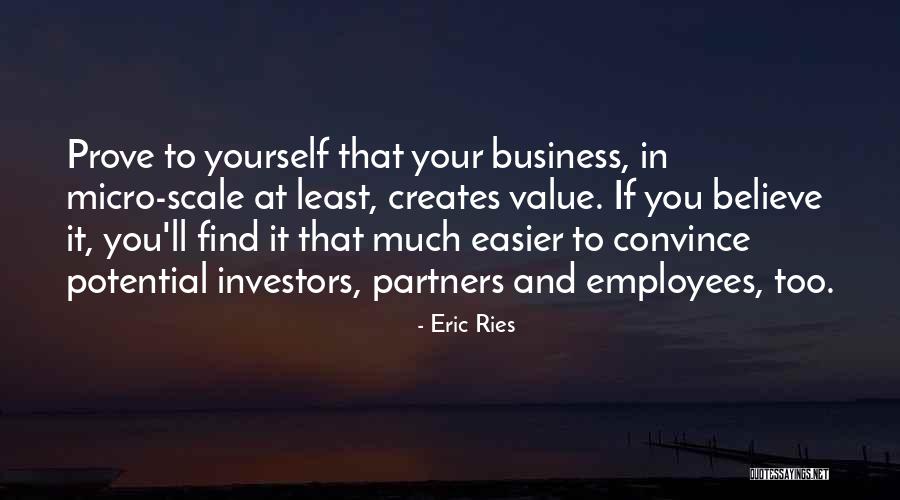 Prove to yourself that your business, in micro-scale at least, creates value. If you believe it, you'll find it that much easier to convince potential investors, partners and employees, too. — Eric Ries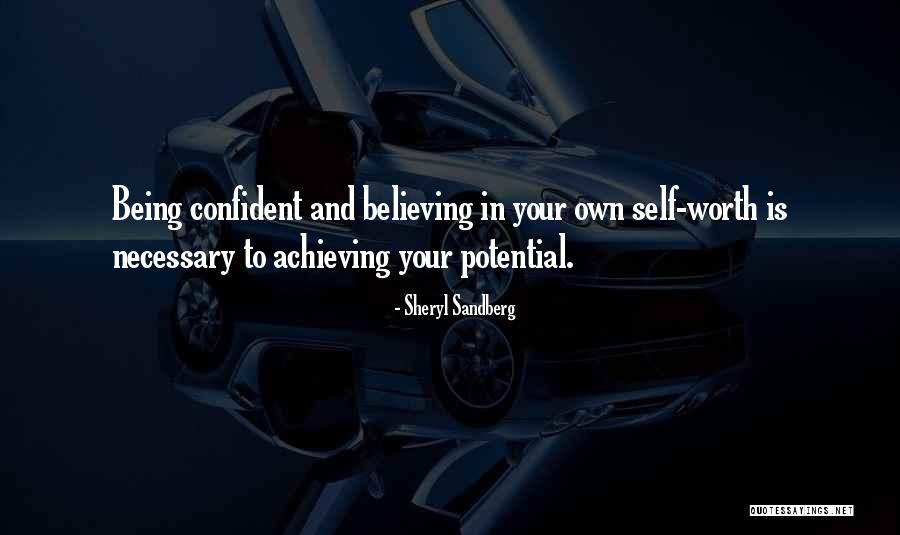 Being confident and believing in your own self-worth is necessary to achieving your potential. — Sheryl Sandberg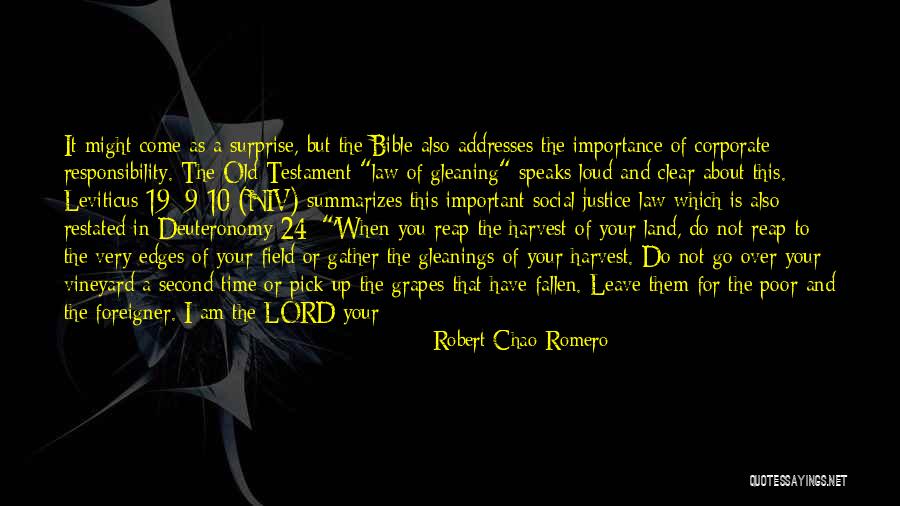 It might come as a surprise, but the Bible also addresses the importance of corporate responsibility. The Old Testament "law of gleaning" speaks loud and clear about this. Leviticus 19: 9-10 (NIV) summarizes this important social justice law which is also restated in Deuteronomy 24: "'When you reap the harvest of your land, do not reap to the very edges of your field or gather the gleanings of your harvest. Do not go over your vineyard a second time or pick up the grapes that have fallen. Leave them for the poor and the foreigner. I am the LORD your God." This law from God Himself, commanded landowners, business owners in our language today, to leave some of their potential profits for immigrants and the poor. — Robert Chao Romero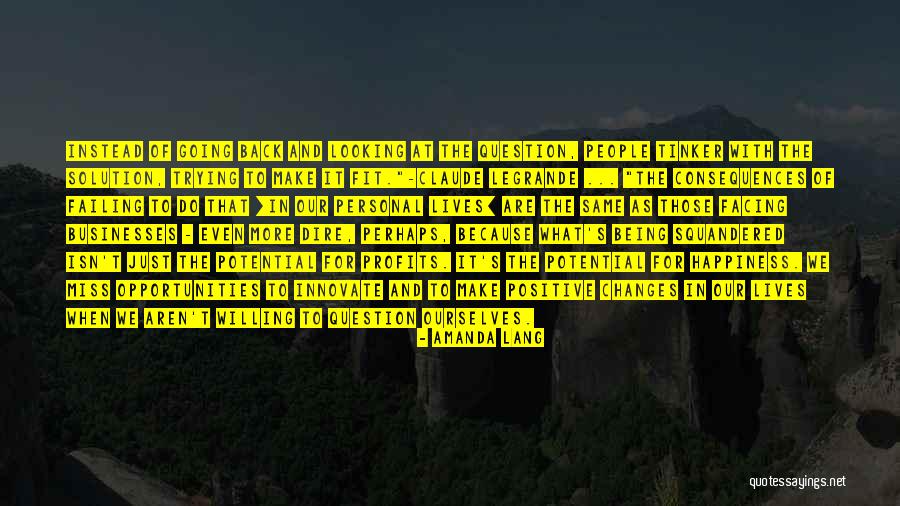 Instead of going back and looking at the question, people tinker with the solution, trying to make it fit."-Claude Legrande ... "The consequences of failing to do that [in our personal lives] are the same as those facing businesses - even more dire, perhaps, because what's being squandered isn't just the potential for profits. It's the potential for happiness. We miss opportunities to innovate and to make positive changes in our lives when we aren't willing to question ourselves. — Amanda Lang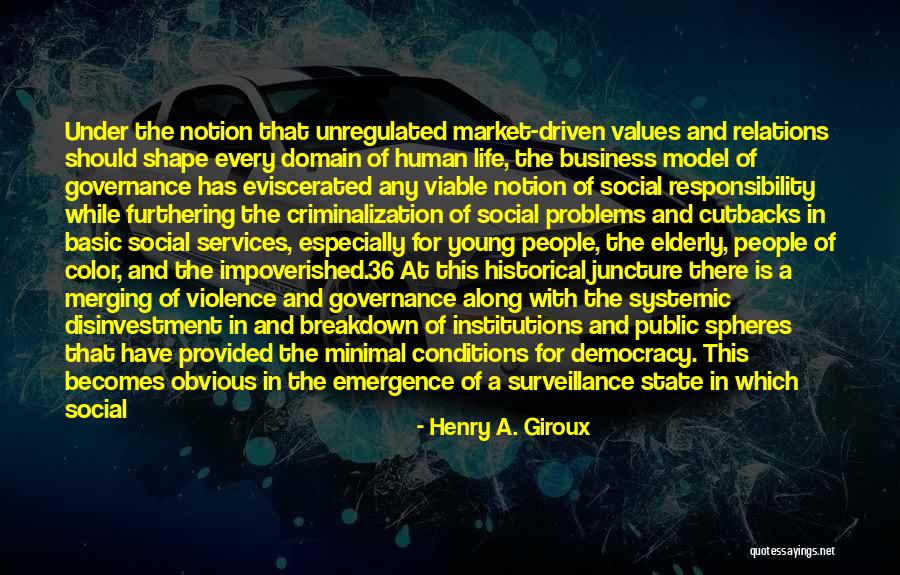 Under the notion that unregulated market-driven values and relations should shape every domain of human life, the business model of governance has eviscerated any viable notion of social responsibility while furthering the criminalization of social problems and cutbacks in basic social services, especially for young people, the elderly, people of color, and the impoverished.36 At this historical juncture there is a merging of violence and governance along with the systemic disinvestment in and breakdown of institutions and public spheres that have provided the minimal conditions for democracy. This becomes obvious in the emergence of a surveillance state in which social media not only become new platforms for the invasion of privacy but further legitimate a culture in which monitoring functions are viewed as both necessary and benign. Meanwhile, the state-sponsored society of hyper-fear increasingly regards each and every person as a potential terrorist suspect. — Henry A. Giroux