Please Be Gentle Quotes & Sayings
Enjoy reading and share 60 famous quotes about Please Be Gentle with everyone.
Top Please Be Gentle Quotes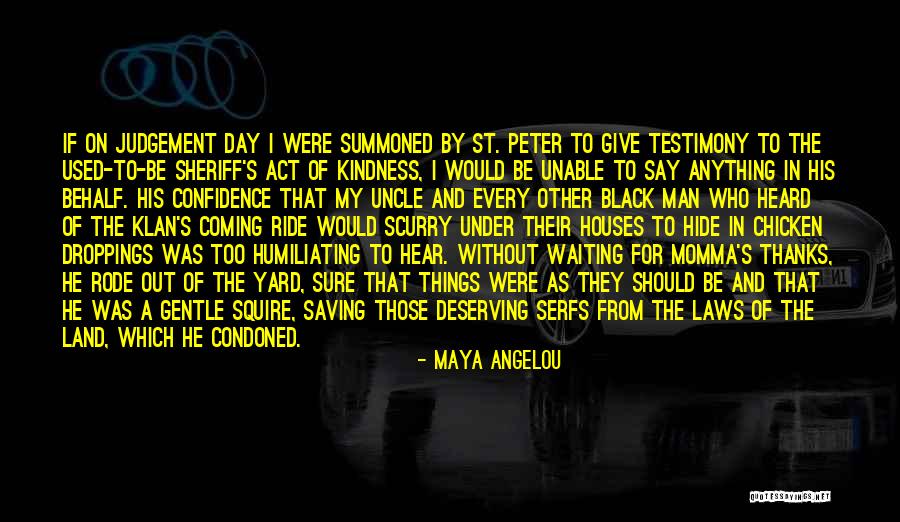 If on Judgement Day I were summoned by St. Peter to give testimony to the used-to-be sheriff's act of kindness, I would be unable to say anything in his behalf. His confidence that my uncle and every other Black man who heard of the Klan's coming ride would scurry under their houses to hide in chicken droppings was too humiliating to hear. Without waiting for Momma's thanks, he rode out of the yard, sure that things were as they should be and that he was a gentle squire, saving those deserving serfs from the laws of the land, which he condoned. — Maya Angelou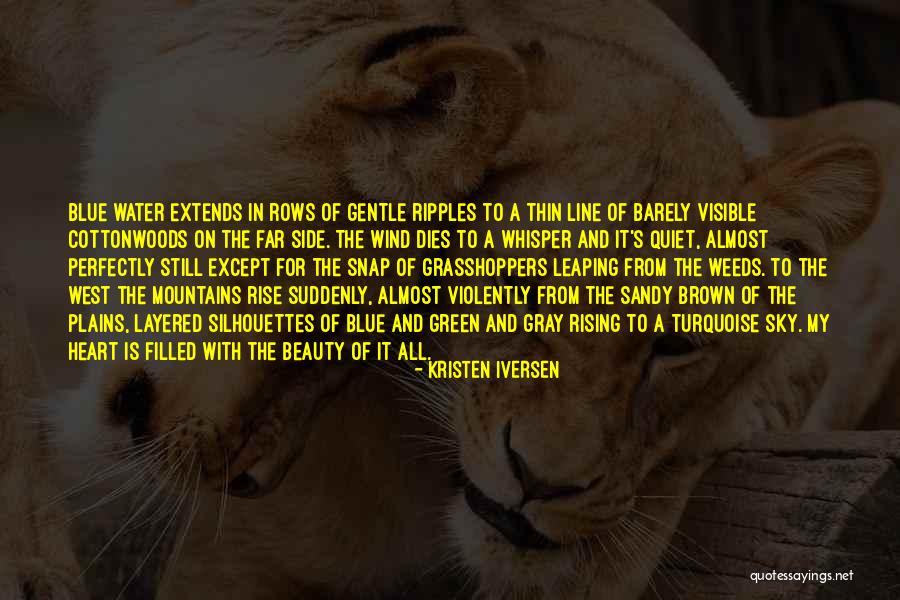 Blue water extends in rows of gentle ripples to a thin line of barely visible cottonwoods on the far side. The wind dies to a whisper and it's quiet, almost perfectly still except for the snap of grasshoppers leaping from the weeds. To the west the mountains rise suddenly, almost violently from the sandy brown of the plains, layered silhouettes of blue and green and gray rising to a turquoise sky. My heart is filled with the beauty of it all. — Kristen Iversen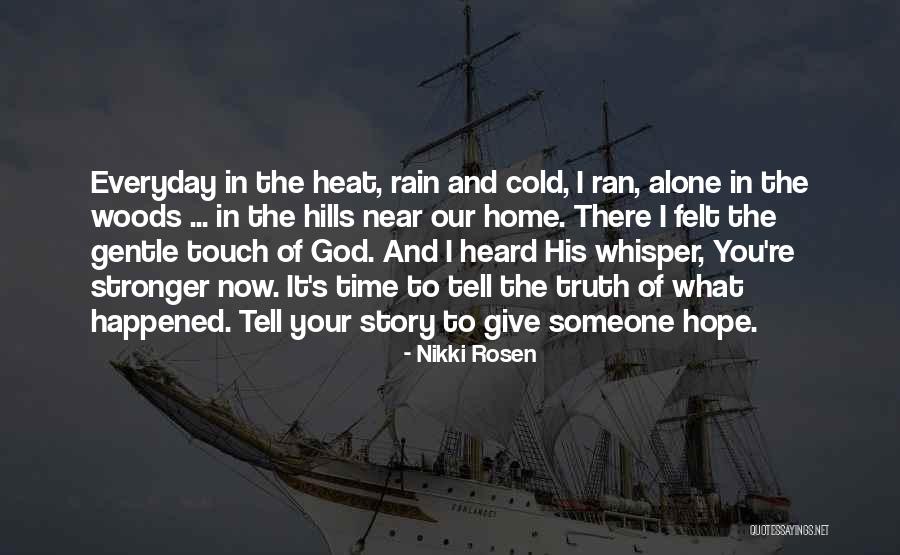 Everyday in the heat, rain and cold, I ran, alone in the woods ... in the hills near our home. There I felt the gentle touch of God. And I heard His whisper, You're stronger now. It's time to tell the truth of what happened. Tell your story to give someone hope. — Nikki Rosen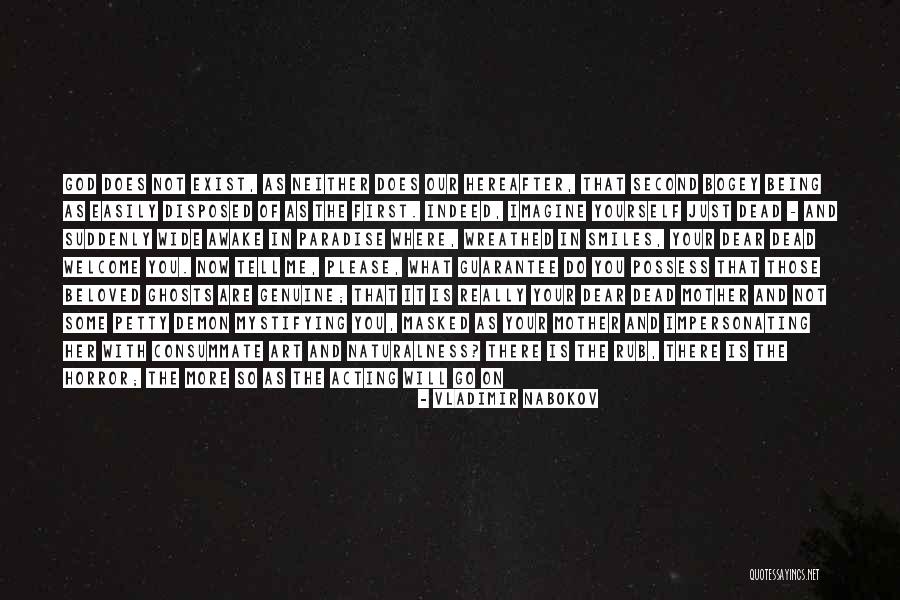 God does not exist, as neither does our hereafter, that second bogey being as easily disposed of as the first. Indeed, imagine yourself just dead - and suddenly wide awake in Paradise where, wreathed in smiles, your dear dead welcome you.
Now tell me, please, what guarantee do you possess that those beloved ghosts are genuine; that it is really your dear dead mother and not some petty demon mystifying you, masked as your mother and impersonating her with consummate art and naturalness? There is the rub, there is the horror; the more so as the acting will go on and on, endlessly; never, never, never, never, never will your soul in that other world be quite sure that the sweet gentle spirits crowding about it are not fiends in disguise, and forever, and forever, and forever shall your soul remain in doubt, expecting every moment some awful change, some diabolical sneer to disfigure the dear face bending over you. — Vladimir Nabokov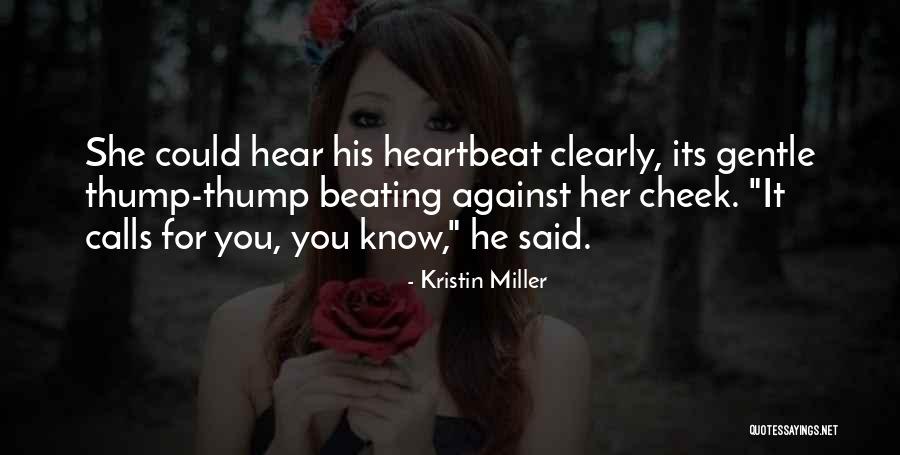 She could hear his heartbeat clearly, its gentle thump-thump beating against her cheek.
"It calls for you, you know," he said. — Kristin Miller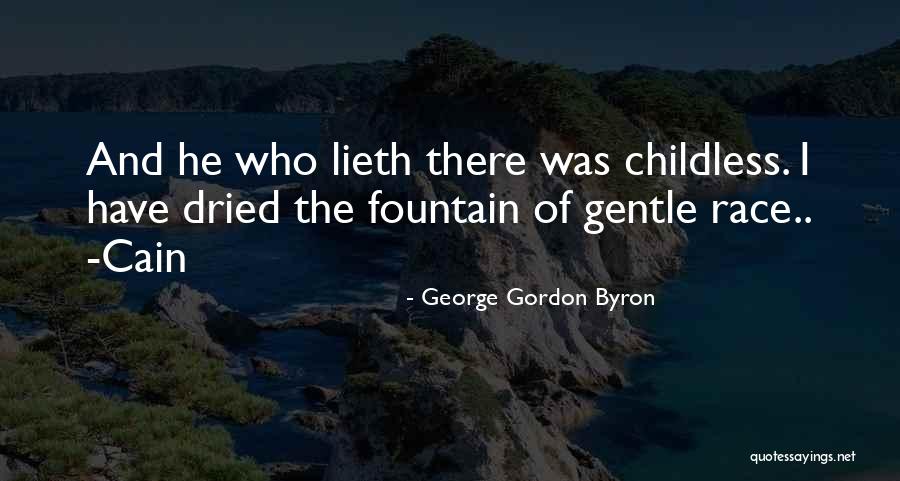 And he who lieth there was childless. I have dried the fountain of gentle race..
-Cain — George Gordon Byron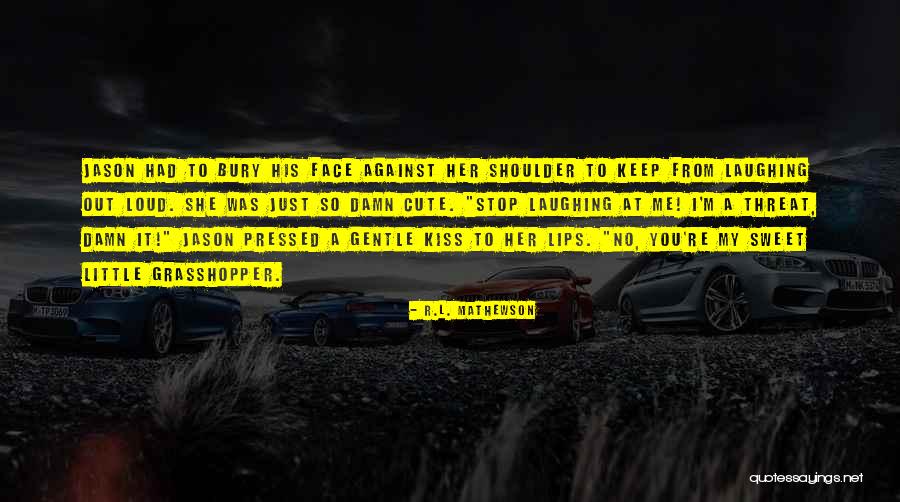 Jason had to bury his face against her shoulder to keep from laughing out loud. She was just so damn cute. "Stop laughing at me! I'm a threat, damn it!"
Jason pressed a gentle kiss to her lips. "No, you're my sweet little grasshopper. — R.L. Mathewson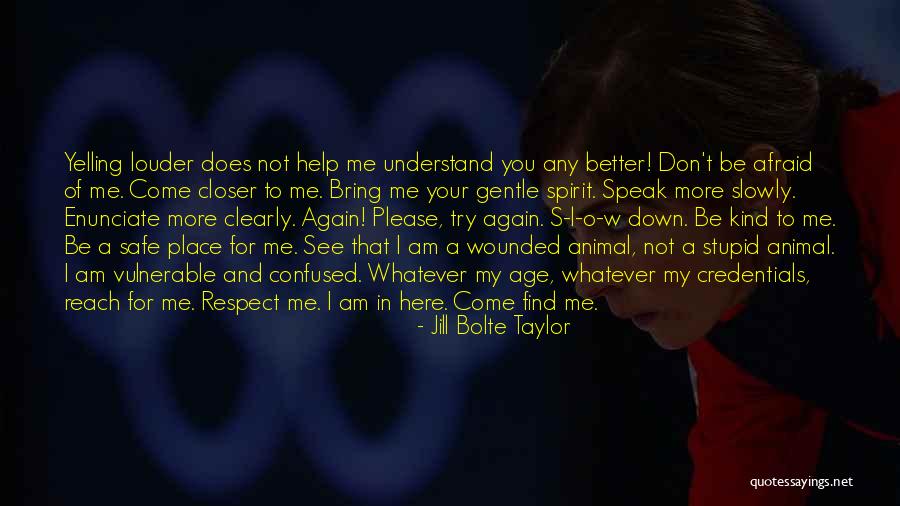 Yelling louder does not help me understand you any better! Don't be afraid of me. Come closer to me. Bring me your gentle spirit. Speak more slowly. Enunciate more clearly. Again! Please, try again. S-l-o-w down. Be kind to me. Be a safe place for me. See that I am a wounded animal, not a stupid animal. I am vulnerable and confused. Whatever my age, whatever my credentials, reach for me. Respect me. I am in here. Come find me. — Jill Bolte Taylor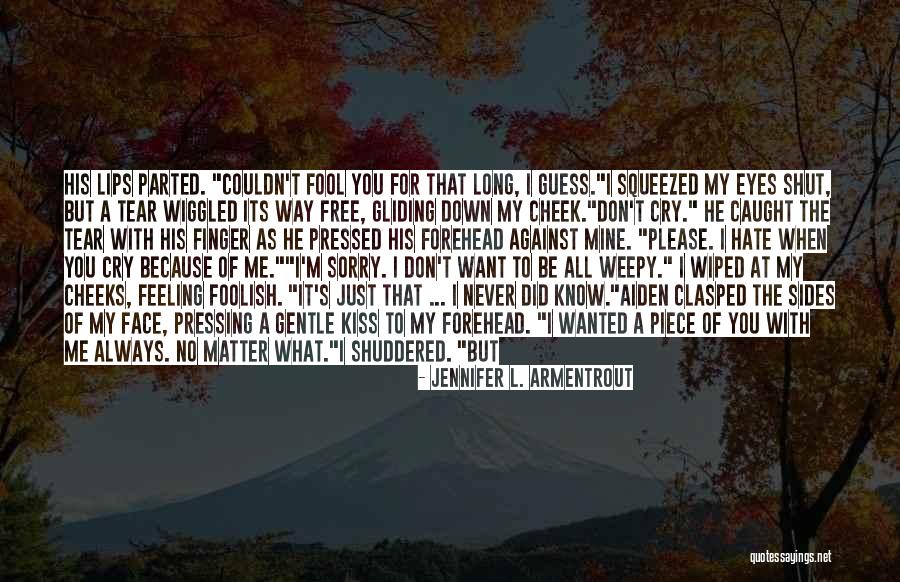 His lips parted. "Couldn't fool you for that long, I guess."
I squeezed my eyes shut, but a tear wiggled its way free, gliding down my cheek.
"Don't cry." He caught the tear with his finger as he pressed his forehead against mine. "Please. I hate when you cry because of me."
"I'm sorry. I don't want to be all weepy." I wiped at my cheeks, feeling foolish. "It's just that ... I never did know."
Aiden clasped the sides of my face, pressing a gentle kiss to my forehead. "I wanted a piece of you with me always. No matter what."
I shuddered. "But I don't ... I don't have anything of you."
"Yes, you do." Aiden brushed his lips over my damp cheek. A soft smile filled his voice. "You'll have a piece of my heart - all of it, really. Forever. Even if your heart belongs to someone else. — Jennifer L. Armentrout
We were dandelion seeds released to the wind, she asked for no return. We are saplings now. With gentle hands. — Sarah Kay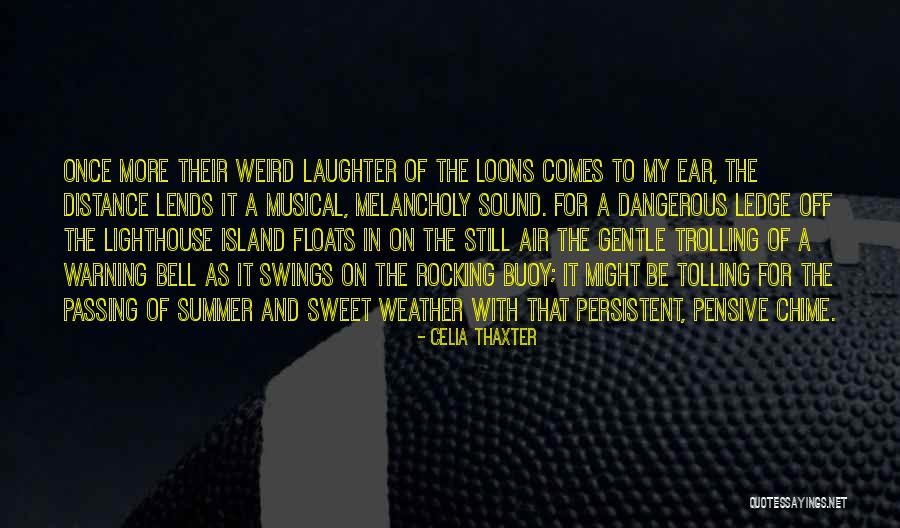 Once more their weird laughter of the loons comes to my ear, the distance lends it a musical, melancholy sound. For a dangerous ledge off the lighthouse island floats in on the still air the gentle trolling of a warning bell as it swings on the rocking buoy; it might be tolling for the passing of summer and sweet weather with that persistent, pensive chime. — Celia Thaxter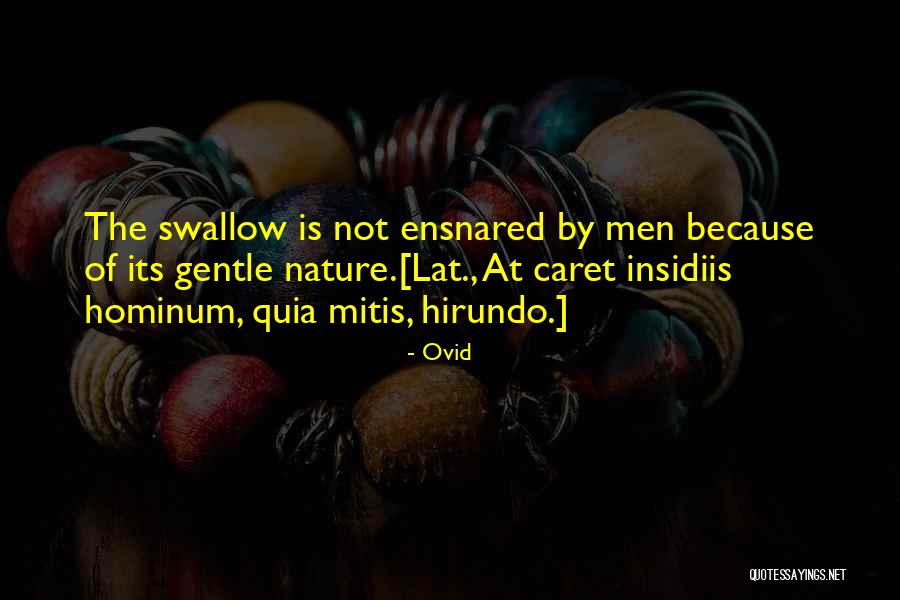 The swallow is not ensnared by men because of its gentle nature.
[Lat., At caret insidiis hominum, quia mitis, hirundo.] — Ovid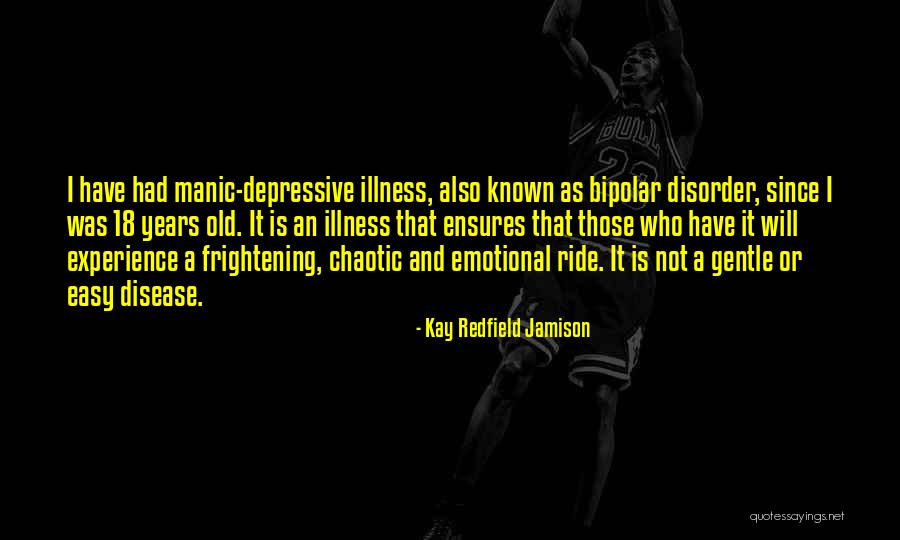 I have had manic-depressive illness, also known as bipolar disorder, since I was 18 years old. It is an illness that ensures that those who have it will experience a frightening, chaotic and emotional ride. It is not a gentle or easy disease. — Kay Redfield Jamison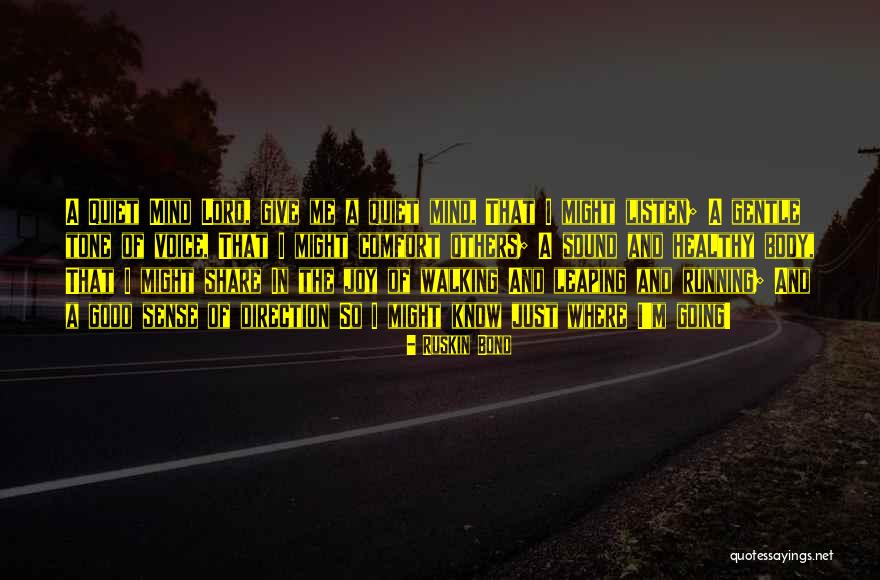 A Quiet Mind Lord, give me a quiet mind, That I might listen; A gentle tone of voice, That I might comfort others; A sound and healthy body, That I might share In the joy of walking And leaping and running; And a good sense of direction So I might know just where I'm going! — Ruskin Bond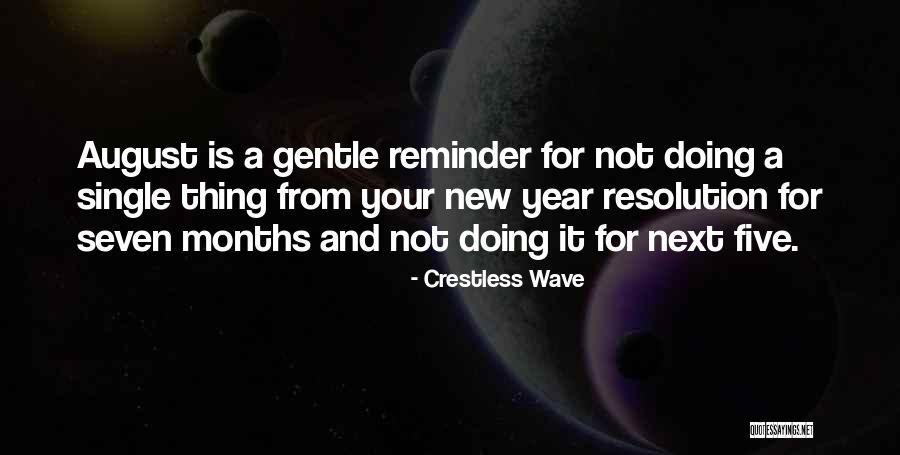 August is a gentle reminder for not doing a single thing from your new year resolution for seven months and not doing it for next five. — Crestless Wave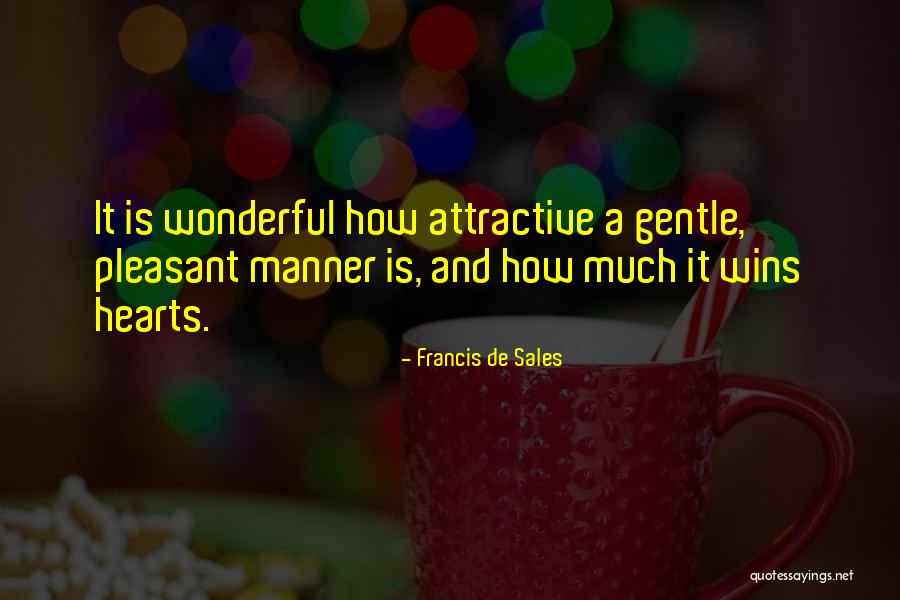 It is wonderful how attractive a gentle, pleasant manner is, and how much it wins hearts. — Francis De Sales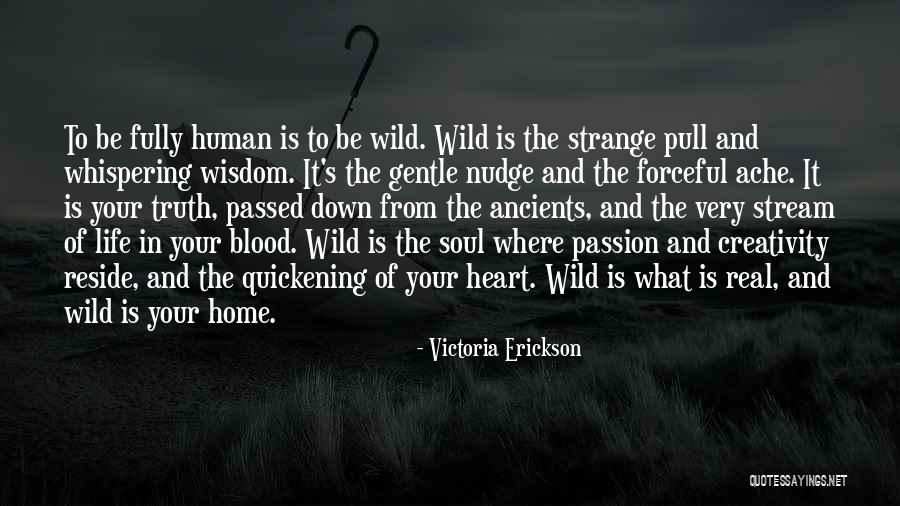 To be fully human is to be wild. Wild is the strange pull and whispering wisdom. It's the gentle nudge and the forceful ache. It is your truth, passed down from the ancients, and the very stream of life in your blood. Wild is the soul where passion and creativity reside, and the quickening of your heart. Wild is what is real, and wild is your home. — Victoria Erickson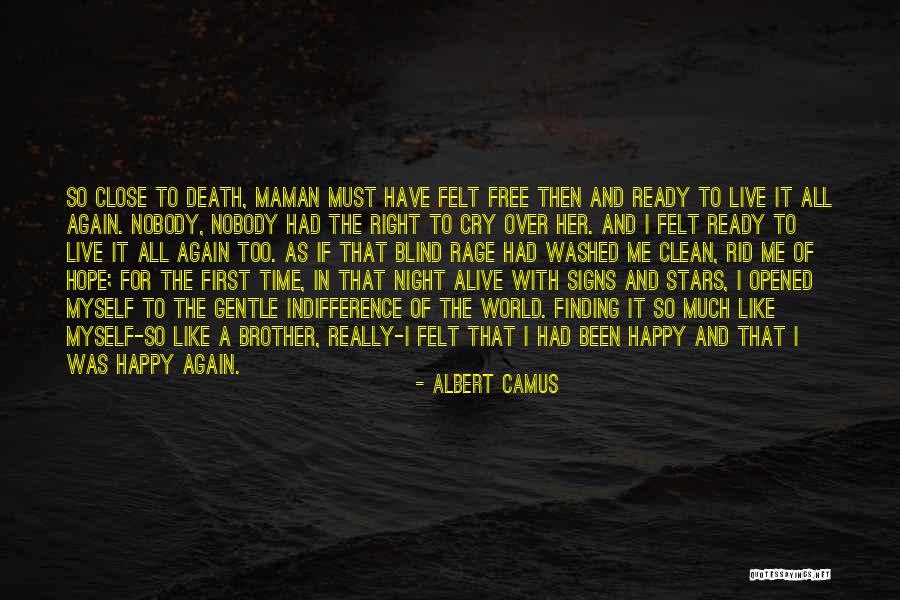 So close to death, Maman must have felt free then and ready to live it all again. Nobody, nobody had the right to cry over her. And I felt ready to live it all again too. As if that blind rage had washed me clean, rid me of hope; for the first time, in that night alive with signs and stars, I opened myself to the gentle indifference of the world. Finding it so much like myself-so like a brother, really-I felt that I had been happy and that I was happy again. — Albert Camus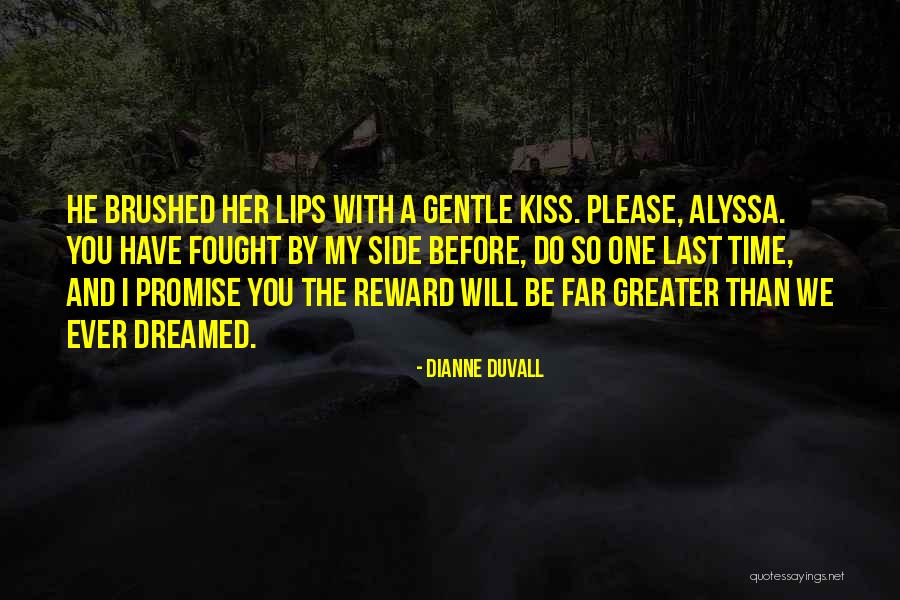 He brushed her lips with a gentle kiss. Please, Alyssa. You have fought by my side before, do so one last time, and I promise you the reward will be far greater than we ever dreamed. — Dianne Duvall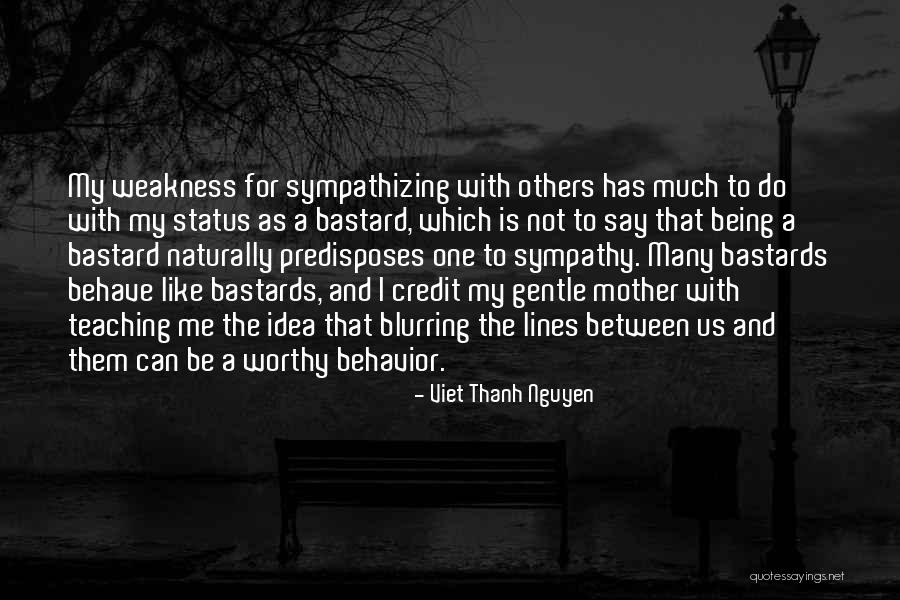 My weakness for sympathizing with others has much to do with my status as a bastard, which is not to say that being a bastard naturally predisposes one to sympathy. Many bastards behave like bastards, and I credit my gentle mother with teaching me the idea that blurring the lines between us and them can be a worthy behavior. — Viet Thanh Nguyen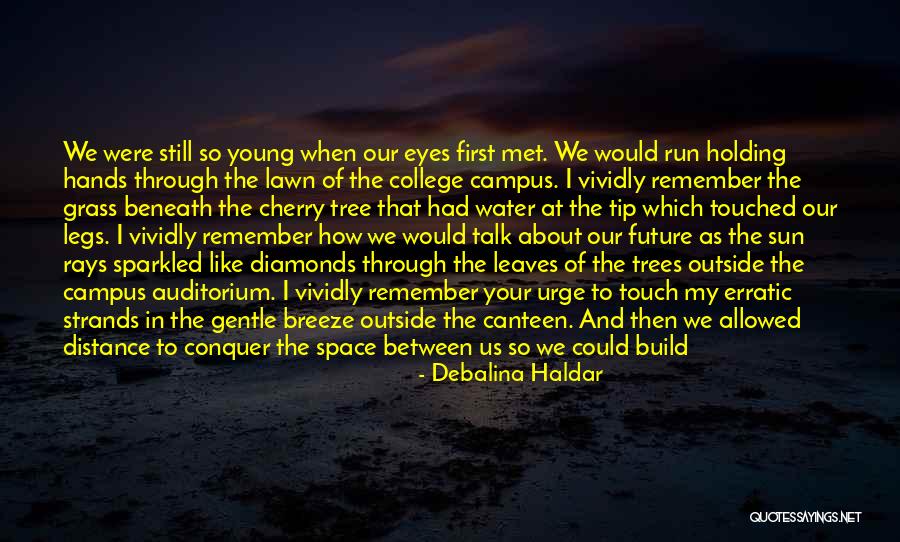 We were still so young when our eyes first met. We would run holding hands through the lawn of the college campus. I vividly remember the grass beneath the cherry tree that had water at the tip which touched our legs. I vividly remember how we would talk about our future as the sun rays sparkled like diamonds through the leaves of the trees outside the campus auditorium. I vividly remember your urge to touch my erratic strands in the gentle breeze outside the canteen. And then we allowed distance to conquer the space between us so we could build a career, sculpt a life and keep the promises. And did we not do well! — Debalina Haldar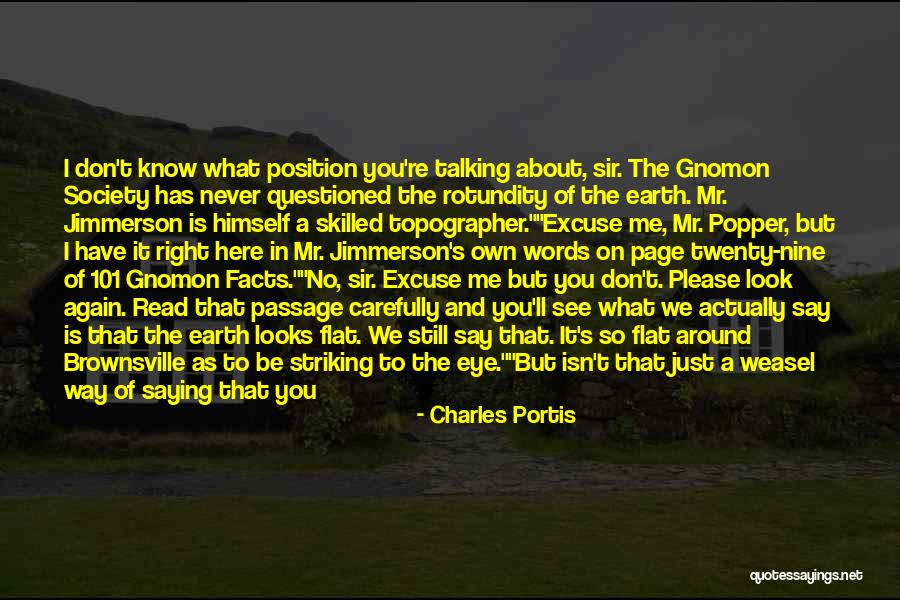 I don't know what position you're talking about, sir. The Gnomon Society has never questioned the rotundity of the earth. Mr. Jimmerson is himself a skilled topographer."
"Excuse me, Mr. Popper, but I have it right here in Mr. Jimmerson's own words on page twenty-nine of 101 Gnomon Facts."
"No, sir. Excuse me but you don't. Please look again. Read that passage carefully and you'll see what we actually say is that the earth looks flat. We still say that. It's so flat around Brownsville as to be striking to the eye."
"But isn't that just a weasel way of saying that you really believe if to be flat?"
"Not at all. What we're saying is that the curvature of the earth is so gentle, relative to our human scale of things, that we need not bother or take it into account when going for a stroll, say, or laying out our gardens. — Charles Portis
A death-like sleep,
A gentle wafting to immortal life. — John Milton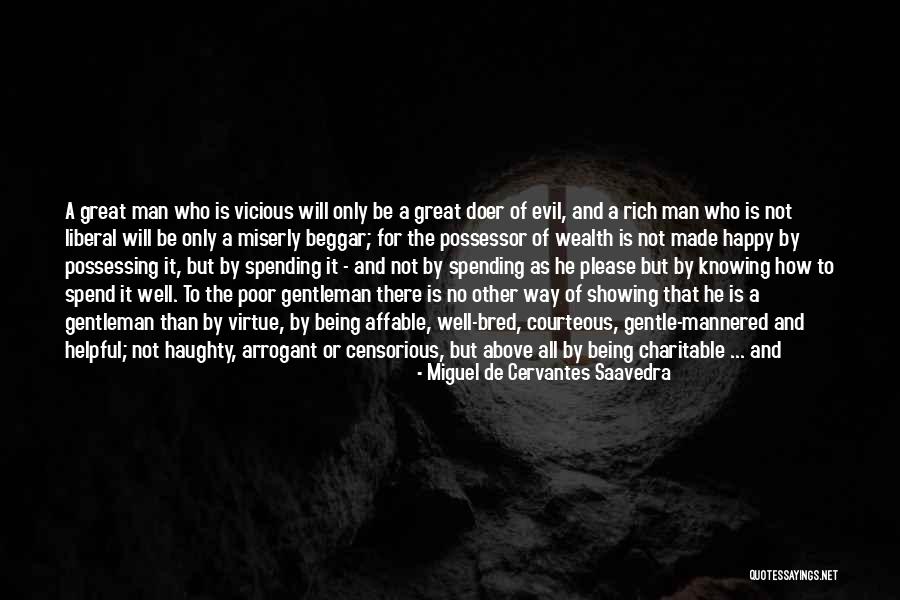 A great man who is vicious will only be a great doer of evil, and a rich man who is not liberal will be only a miserly beggar; for the possessor of wealth is not made happy by possessing it, but by spending it - and not by spending as he please but by knowing how to spend it well. To the poor gentleman there is no other way of showing that he is a gentleman than by virtue, by being affable, well-bred, courteous, gentle-mannered and helpful; not haughty, arrogant or censorious, but above all by being charitable ... and no one who sees him adorned with the virtues I have mentioned, will fail to recognize and judge him, though he know him not, to be of good stock. — Miguel De Cervantes Saavedra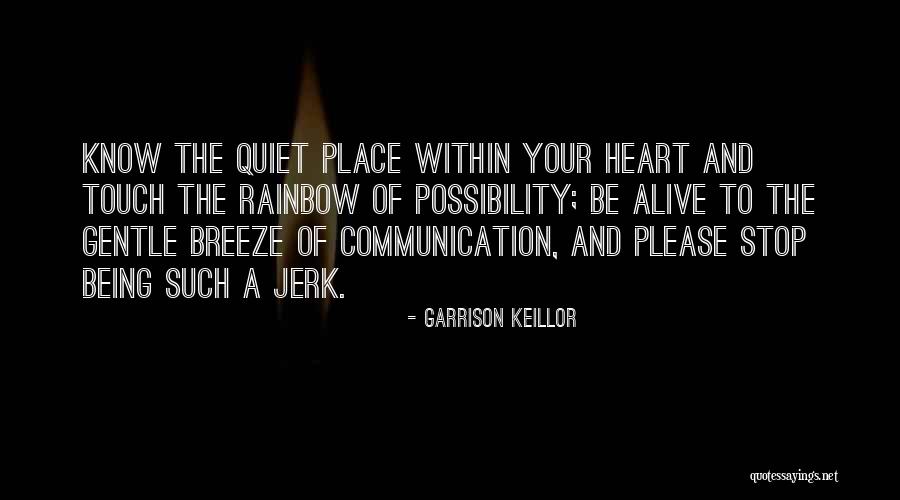 Know the quiet place within your heart and touch the rainbow of possibility; be alive to the gentle breeze of communication, and please stop being such a jerk. — Garrison Keillor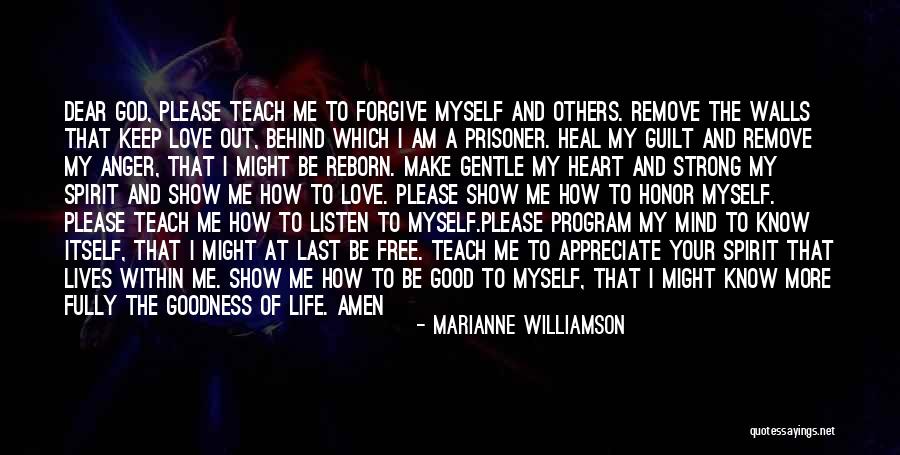 Dear God, Please teach me to forgive myself and others. Remove the walls that keep love out, behind which I am a prisoner. Heal my guilt and remove my anger, that I might be reborn. Make gentle my heart and strong my spirit and show me how to love. Please show me how to honor myself. Please teach me how to listen to myself.
Please program my mind to know itself, that I might at last be free. Teach me to appreciate your spirit that lives within me. Show me how to be good to myself, that I might know more fully the goodness of life. Amen — Marianne Williamson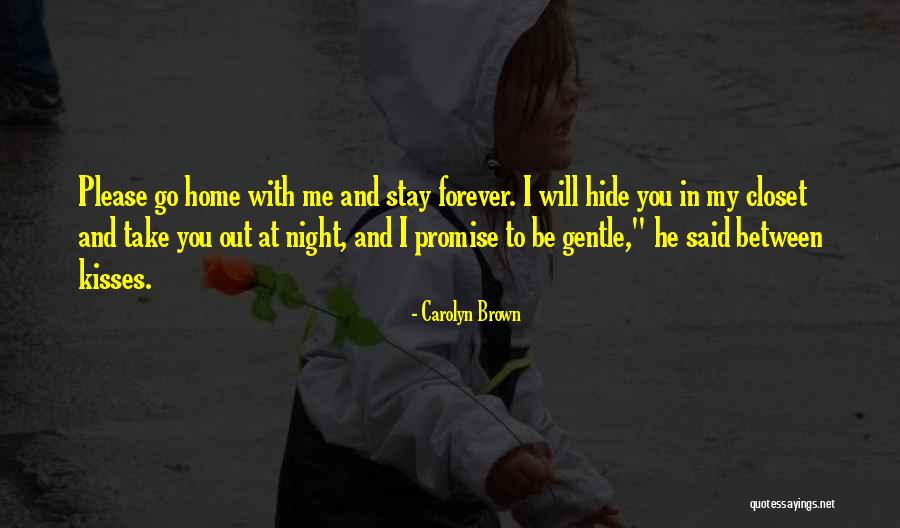 Please go home with me and stay forever. I will hide you in my closet and take you out at night, and I promise to be gentle," he said between kisses. — Carolyn Brown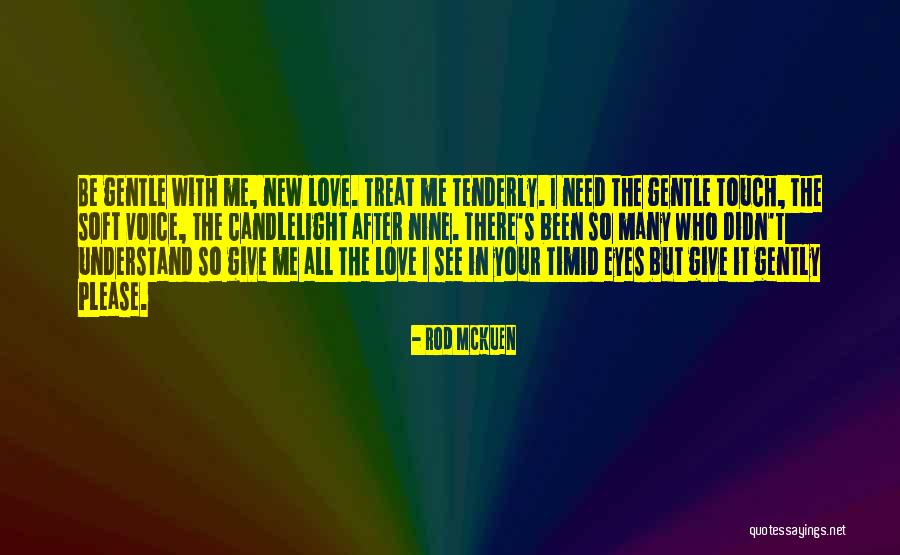 Be gentle with me, new love. Treat me tenderly. I need the gentle touch, the soft voice, the candlelight after nine. There's been so many who didn't understand so give me all the love I see in your timid eyes but give it gently Please. — Rod McKuen
Father, You are calling upon me to be completely humble and gentle; to be patient, bearing with others in love. (Eph. 4:2) Please empower me with Your Spirit to be obedient to this command. — Beth Moore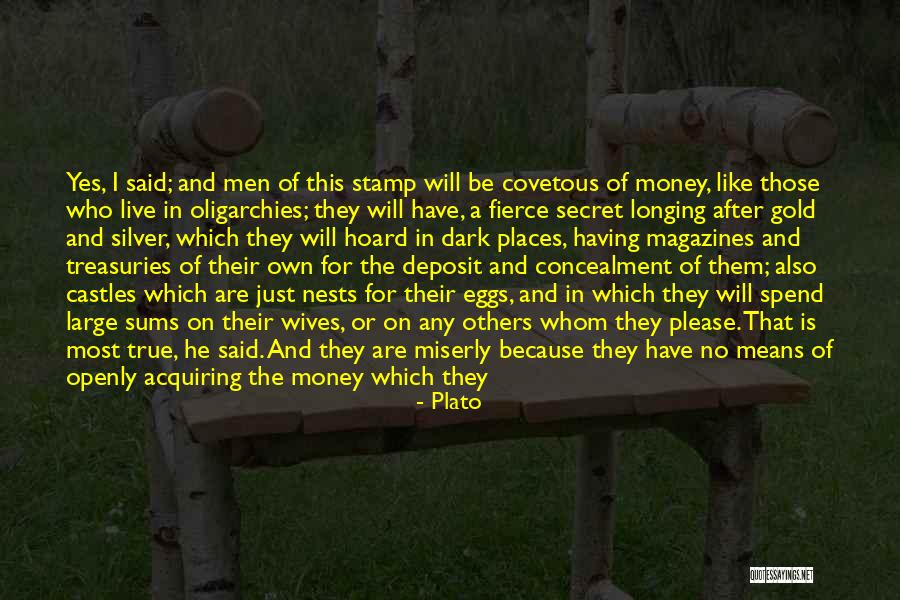 Yes, I said; and men of this stamp will be covetous of money, like those who live in oligarchies; they will have, a fierce secret longing after gold and silver, which they will hoard in dark places, having magazines and treasuries of their own for the deposit and concealment of them; also castles which are just nests for their eggs, and in which they will spend large sums on their wives, or on any others whom they please. That is most true, he said. And they are miserly because they have no means of openly acquiring the money which they prize; they will spend that which is another man's on the gratification of their desires, stealing their pleasures and running away like children from the law, their father: they have been schooled not by gentle influences but by force, for they have neglected her who is the true Muse, the companion of reason and philosophy, and have honoured gymnastic more than music. Undoubtedly, — Plato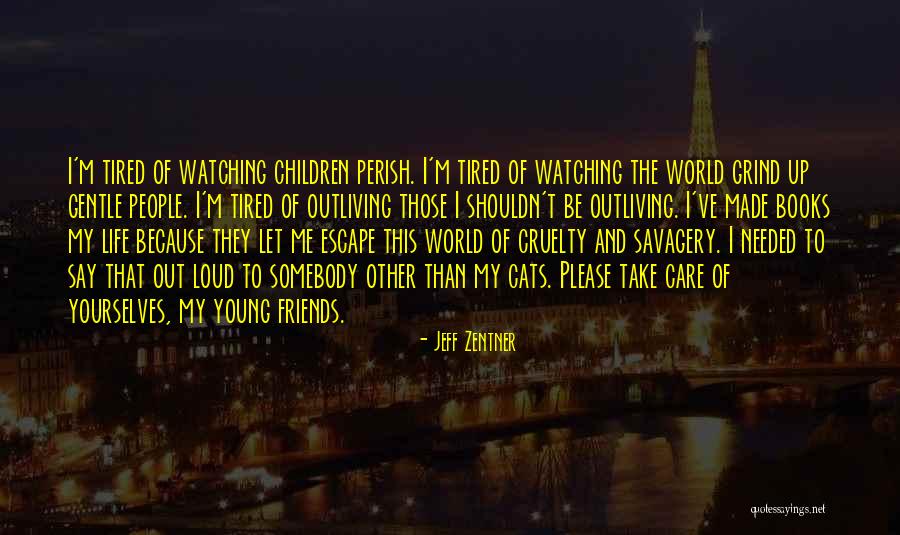 I'm tired of watching children perish. I'm tired of watching the world grind up gentle people. I'm tired of outliving those I shouldn't be outliving. I've made books my life because they let me escape this world of cruelty and savagery. I needed to say that out loud to somebody other than my cats. Please take care of yourselves, my young friends. — Jeff Zentner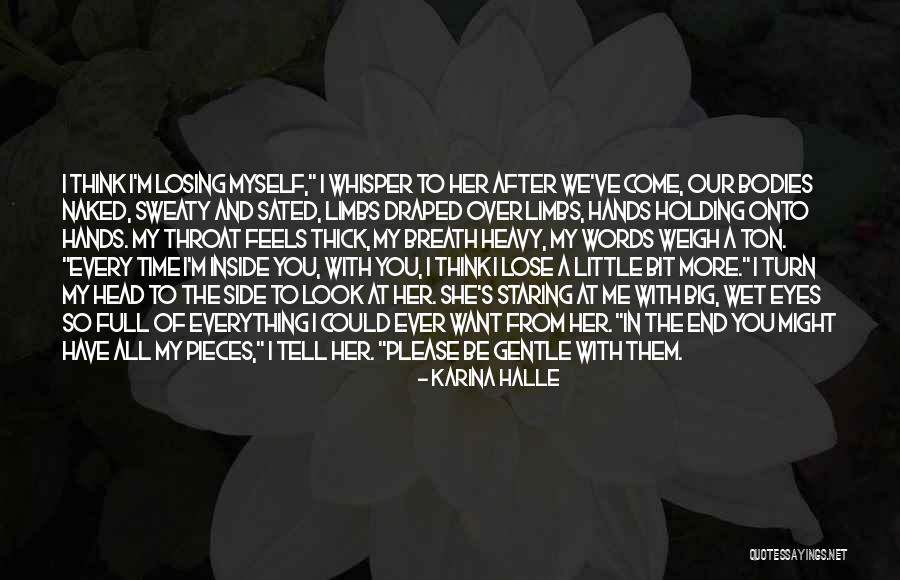 I think I'm losing myself," I whisper to her after we've come, our bodies naked, sweaty and sated, limbs draped over limbs, hands holding onto hands. My throat feels thick, my breath heavy, my words weigh a ton. "Every time I'm inside you, with you, I think I lose a little bit more." I turn my head to the side to look at her. She's staring at me with big, wet eyes so full of everything I could ever want from her. "In the end you might have all my pieces," I tell her. "Please be gentle with them. — Karina Halle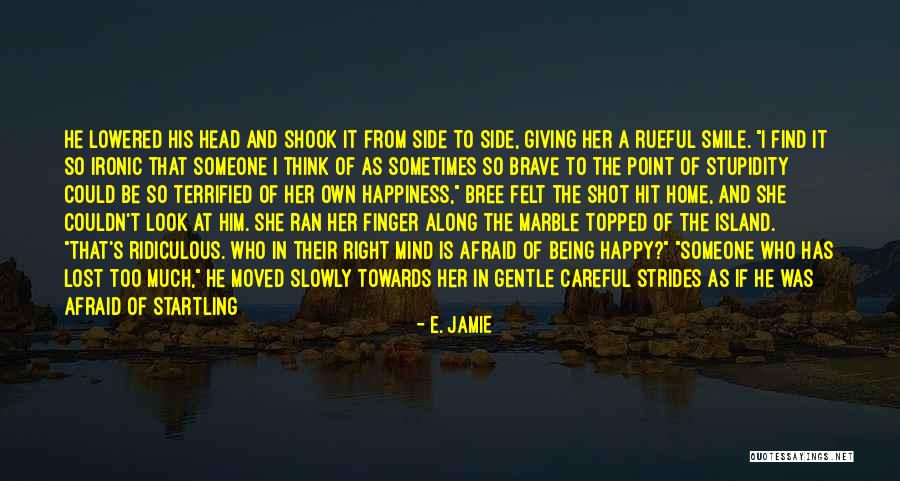 He lowered his head and shook it from side to side, giving her a rueful smile. "I find it so ironic that someone I think of as sometimes so brave to the point of stupidity could be so terrified of her own happiness,"
Bree felt the shot hit home, and she couldn't look at him. She ran her finger along the marble topped of the island. "That's ridiculous. Who in their right mind is afraid of being happy?"
"Someone who has lost too much," he moved slowly towards her in gentle careful strides as if he was afraid of startling her.
Fair enough, she did tend to attack him when he tried to corner her, but for some reason, Bree just couldn't tonight. The much too relaxing bubble bath must be making her sluggish.
"Someone who is so used to being told she caused too much pain to others to ever be worthy of happiness herself,"
Bree closed her eyes. "Shut up. Please, Alessandro. — E. Jamie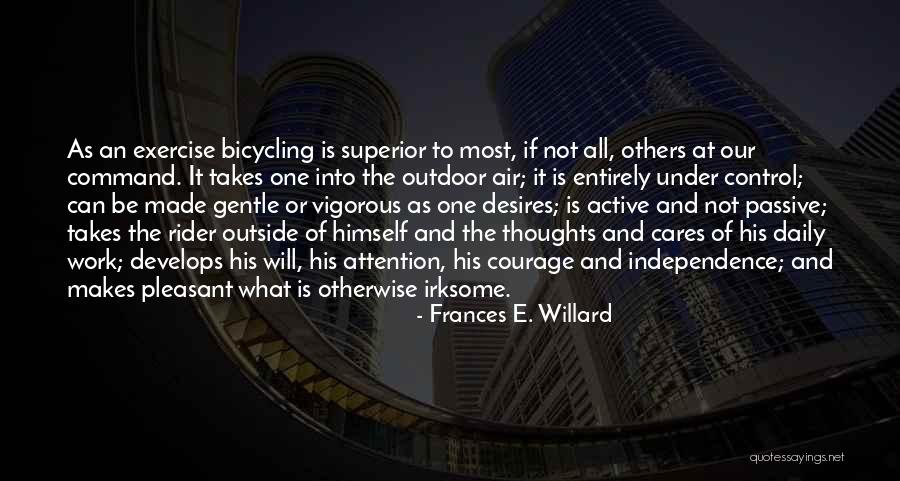 As an exercise bicycling is superior to most, if not all, others at our command. It takes one into the outdoor air; it is entirely under control; can be made gentle or vigorous as one desires; is active and not passive; takes the rider outside of himself and the thoughts and cares of his daily work; develops his will, his attention, his courage and independence; and makes pleasant what is otherwise irksome. — Frances E. Willard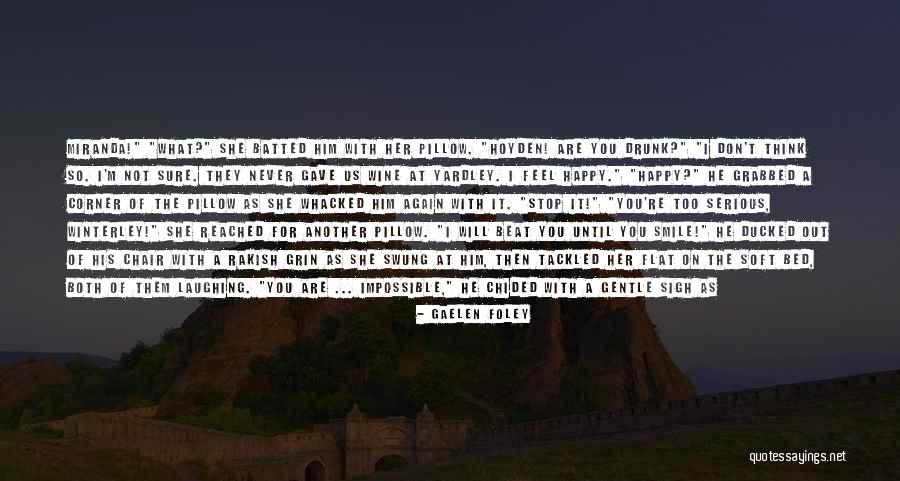 Miranda!"
"What?" She batted him with her pillow.
"Hoyden! Are you drunk?"
"I don't think so. I'm not sure. They never gave us wine at Yardley. I feel happy."
"Happy?" He grabbed a corner of the pillow as she whacked him again with it. "Stop it!"
"You're too serious, Winterley!" She reached for another pillow. "I will beat you until you smile!"
He ducked out of his chair with a rakish grin as she swung at him, then tackled her flat on the soft bed, both of them laughing.
"You are ... impossible," he chided with a gentle sigh as he braced his elbows on either side of her head. He traced her cheekbones with the pads of his thumbs.
"Difficult, but not impossible." She wrapped her arms around him, relishing the weight of him atop her, the smoothness of his bare chest against her bodice. "It all depends on who's trying."
"That sounded distinctly like an invitation," he murmured. — Gaelen Foley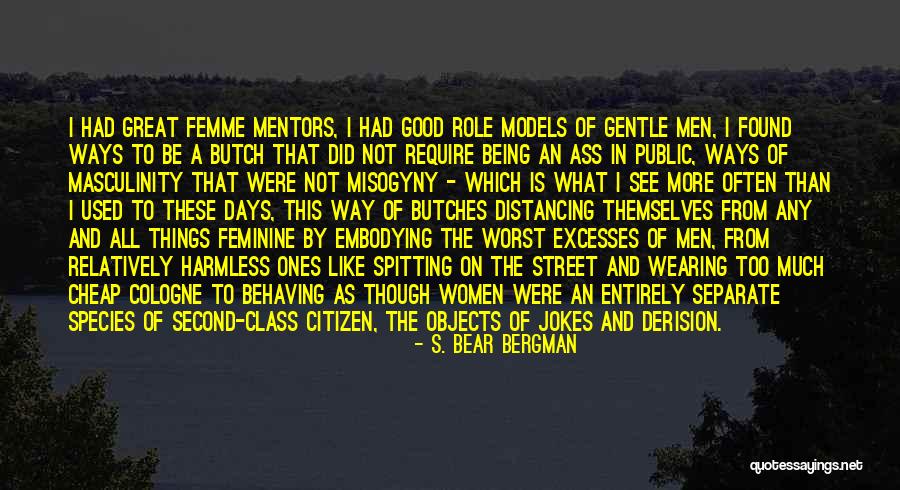 I had great femme mentors, I had good role models of gentle men, I found ways to be a butch that did not require being an ass in public, ways of masculinity that were not misogyny - which is what I see more often than I used to these days, this way of butches distancing themselves from any and all things feminine by embodying the worst excesses of men, from relatively harmless ones like spitting on the street and wearing too much cheap cologne to behaving as though women were an entirely separate species of second-class citizen, the objects of jokes and derision. — S. Bear Bergman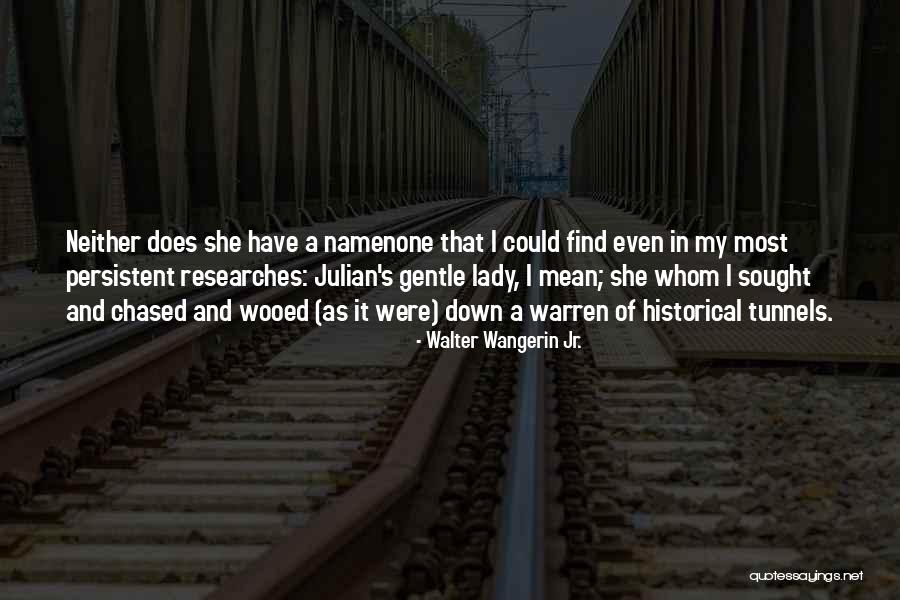 Neither does she have a name
none that I could find even in my most persistent researches: Julian's gentle lady, I mean; she whom I sought and chased and wooed (as it were) down a warren of historical tunnels. — Walter Wangerin Jr.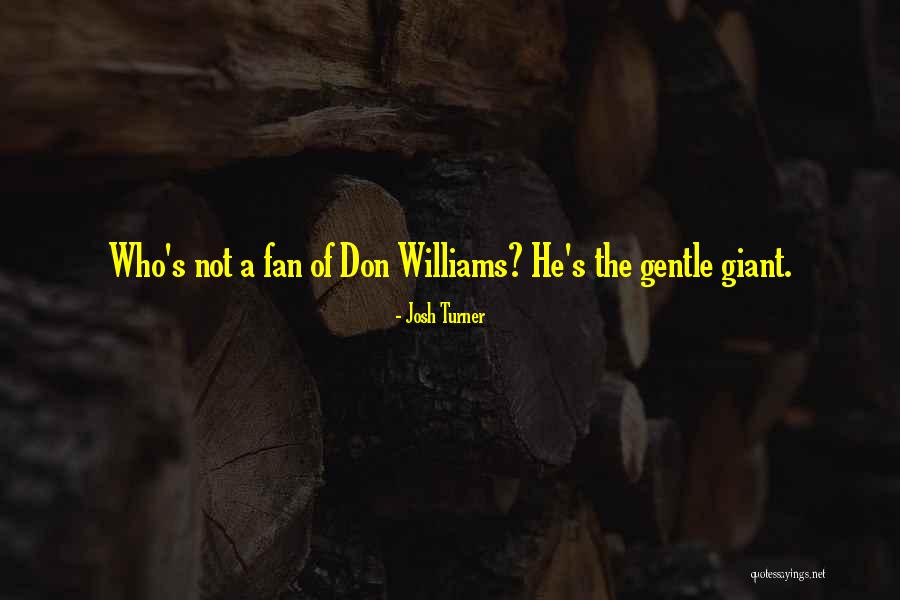 Who's not a fan of Don Williams? He's the gentle giant. — Josh Turner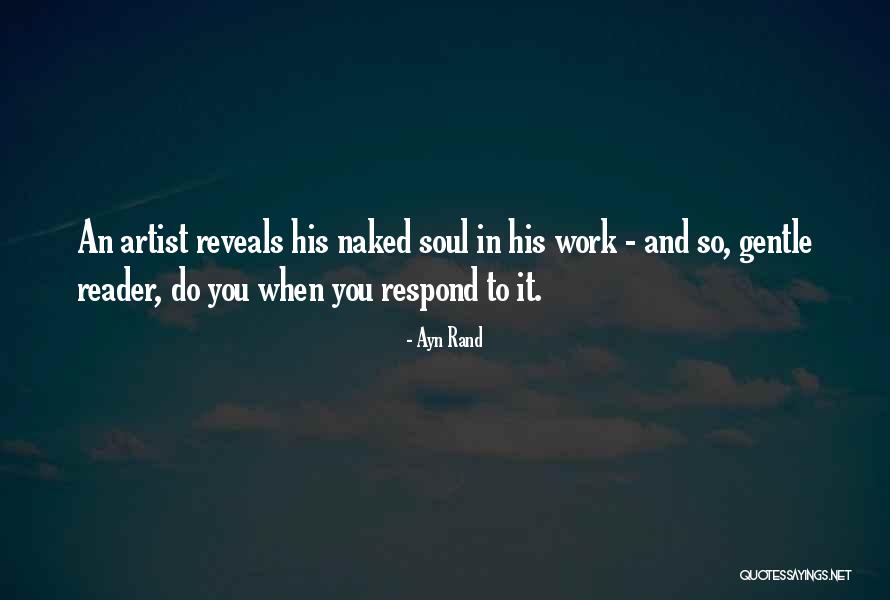 An artist reveals his naked soul in his work - and so, gentle reader, do you when you respond to it. — Ayn Rand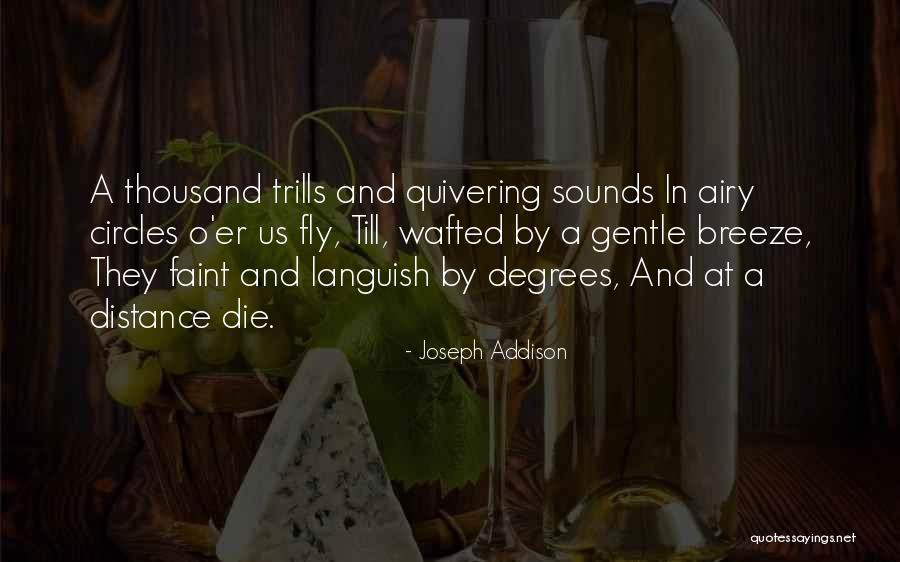 A thousand trills and quivering sounds In airy circles o'er us fly, Till, wafted by a gentle breeze, They faint and languish by degrees, And at a distance die. — Joseph Addison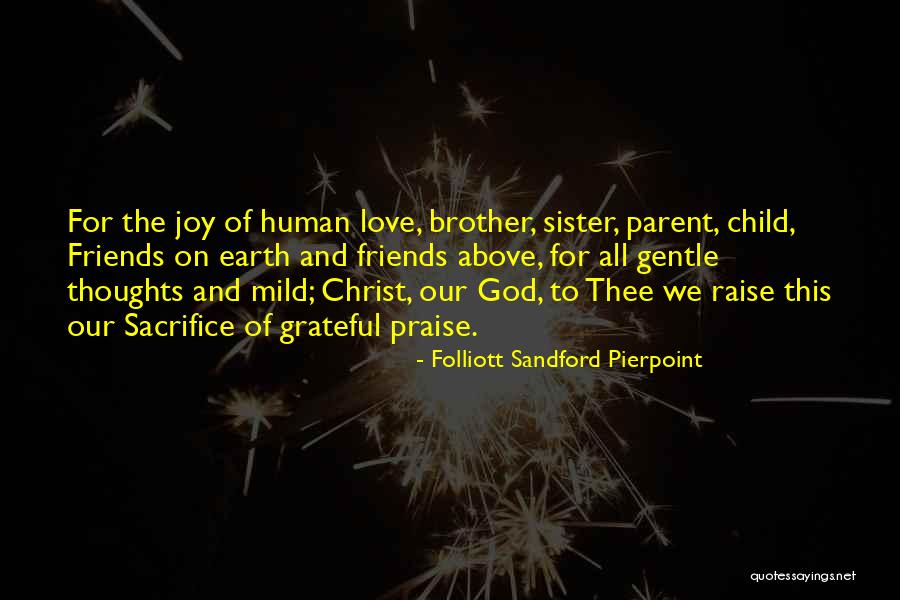 For the joy of human love, brother, sister, parent, child,
Friends on earth and friends above, for all gentle thoughts and mild;
Christ, our God, to Thee we raise this our Sacrifice of grateful praise. — Folliott Sandford Pierpoint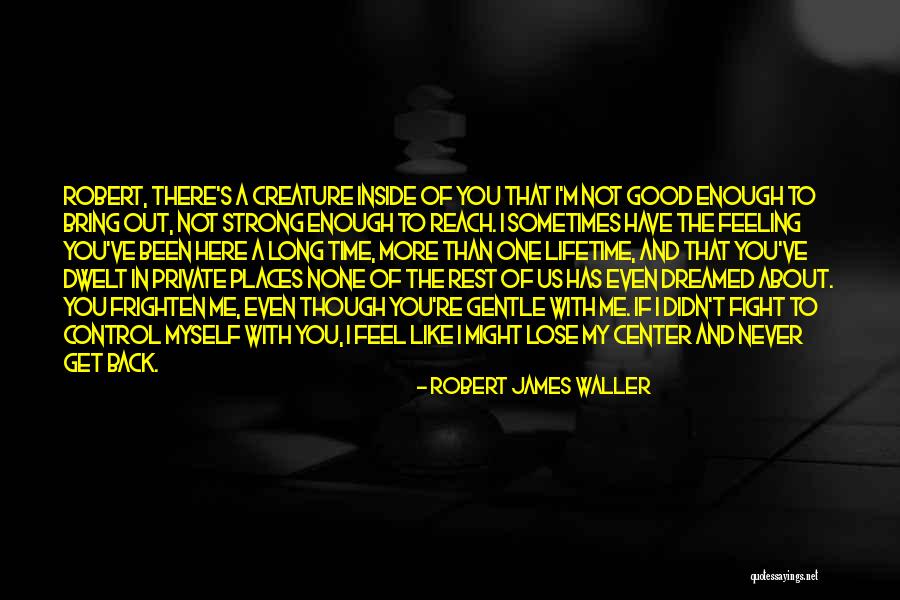 Robert, there's a creature inside of you that I'm not good enough to bring out, not strong enough to reach. I sometimes have the feeling you've been here a long time, more than one lifetime, and that you've dwelt in private places none of the rest of us has even dreamed about. You frighten me, even though you're gentle with me. If I didn't fight to control myself with you, I feel like I might lose my center and never get back. — Robert James Waller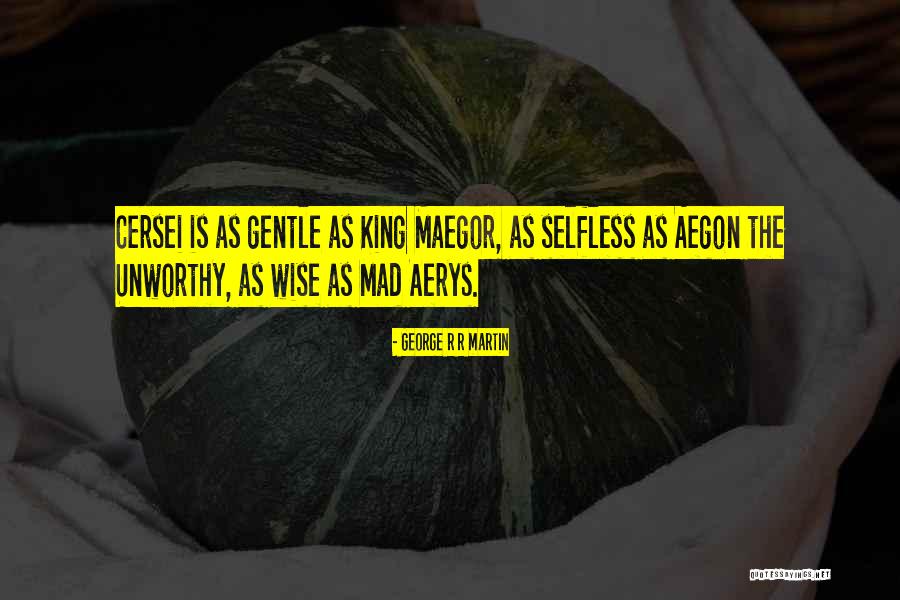 Cersei is as gentle as King Maegor, as selfless as Aegon the Unworthy, as wise as Mad Aerys. — George R R Martin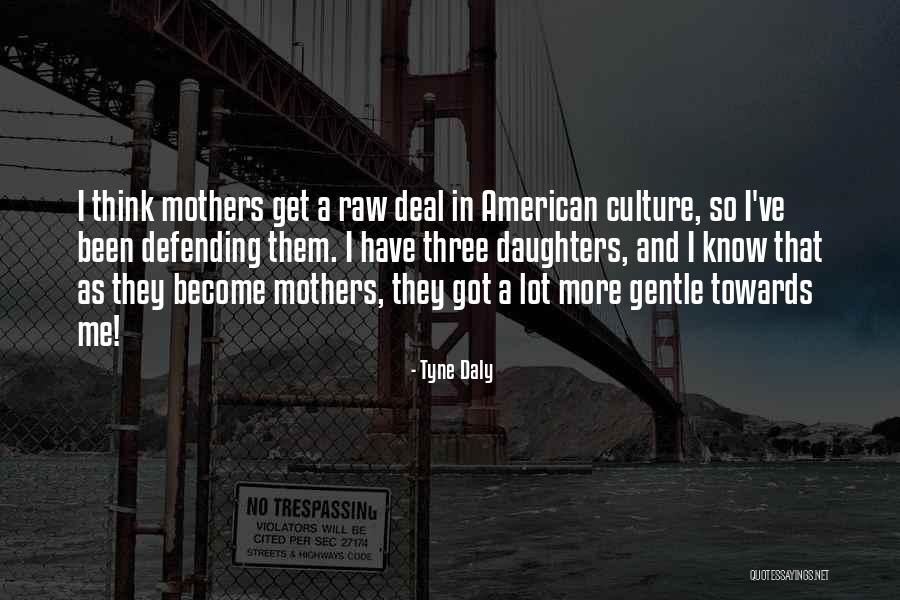 I think mothers get a raw deal in American culture, so I've been defending them. I have three daughters, and I know that as they become mothers, they got a lot more gentle towards me! — Tyne Daly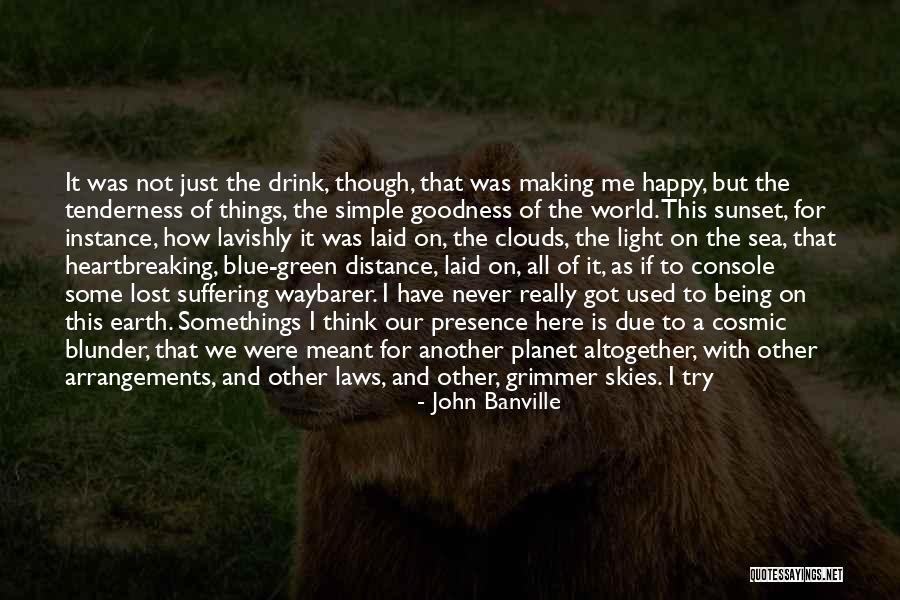 It was not just the drink, though, that was making me happy, but the tenderness of things, the simple goodness of the world. This sunset, for instance, how lavishly it was laid on, the clouds, the light on the sea, that heartbreaking, blue-green distance, laid on, all of it, as if to console some lost suffering waybarer. I have never really got used to being on this earth. Somethings I think our presence here is due to a cosmic blunder, that we were meant for another planet altogether, with other arrangements, and other laws, and other, grimmer skies. I try to imagine it, our true place, off on the far side of the galaxy, whirling and whirling. And the ones who were meant for here, are they out there, baffled and homesick, like us? No, they would have become extinct long ago. How could they survive, these gentle earthlings, in a world that was meant to contain us? — John Banville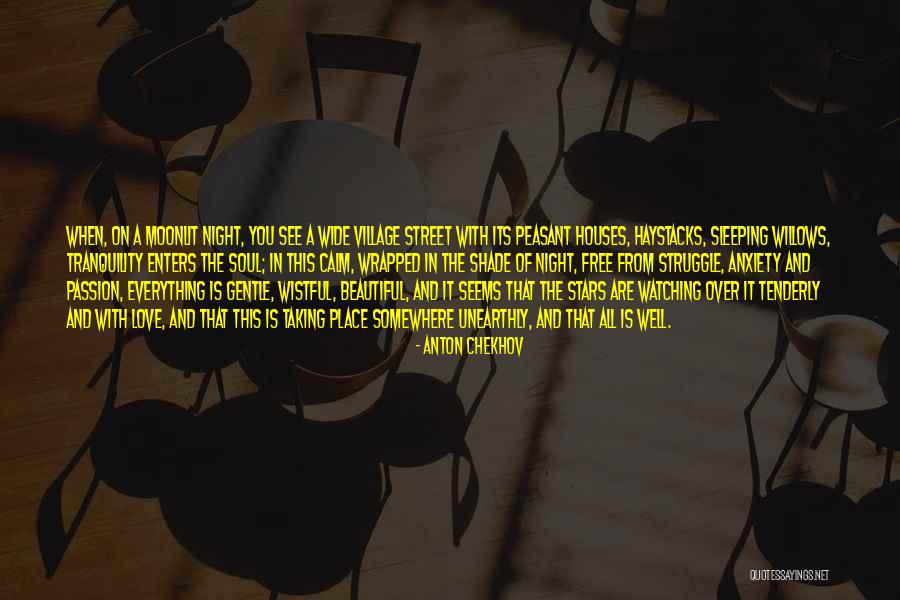 When, on a moonlit night, you see a wide village street with its peasant houses, haystacks, sleeping willows, tranquility enters the soul; in this calm, wrapped in the shade of night, free from struggle, anxiety and passion, everything is gentle, wistful, beautiful, and it seems that the stars are watching over it tenderly and with love, and that this is taking place somewhere unearthly, and that all is well. — Anton Chekhov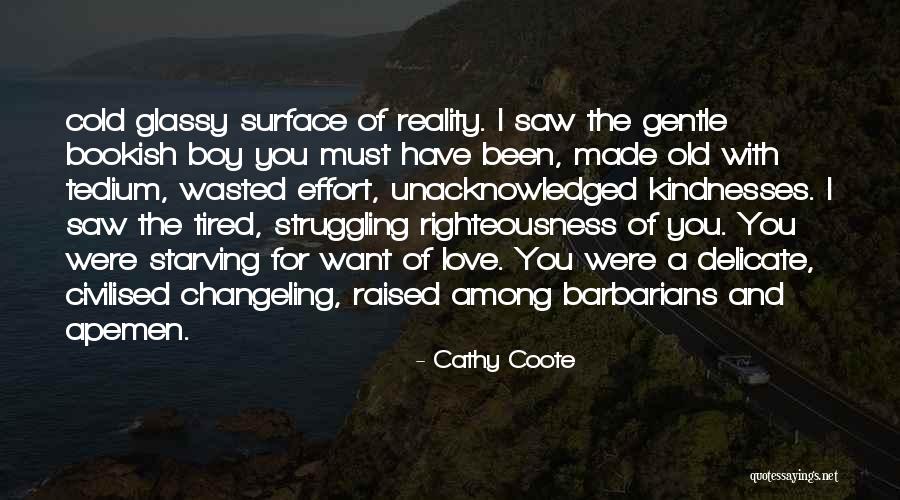 cold glassy surface of reality. I saw the gentle bookish boy you must have been, made old with tedium, wasted effort, unacknowledged kindnesses. I saw the tired, struggling righteousness of you. You were starving for want of love. You were a delicate, civilised changeling, raised among barbarians and apemen. — Cathy Coote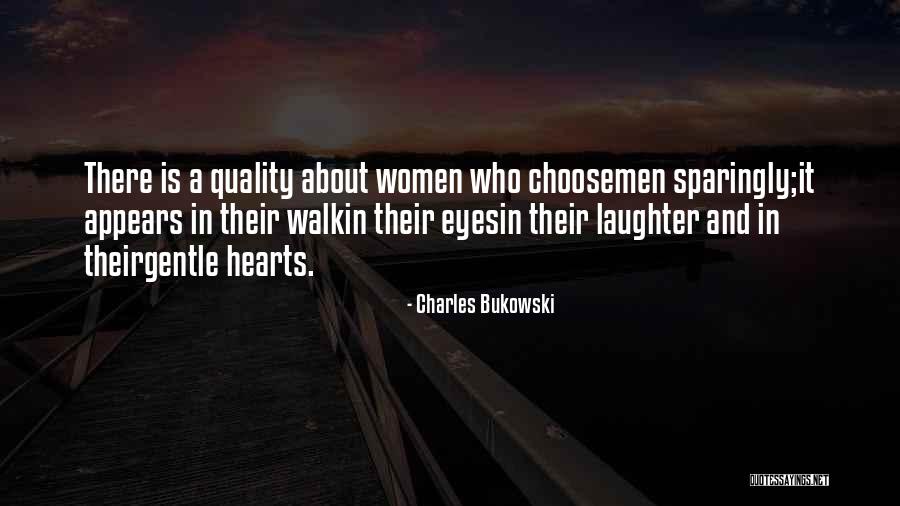 There is a quality about women who choose
men sparingly;
it appears in their walk
in their eyes
in their laughter and in their
gentle hearts. — Charles Bukowski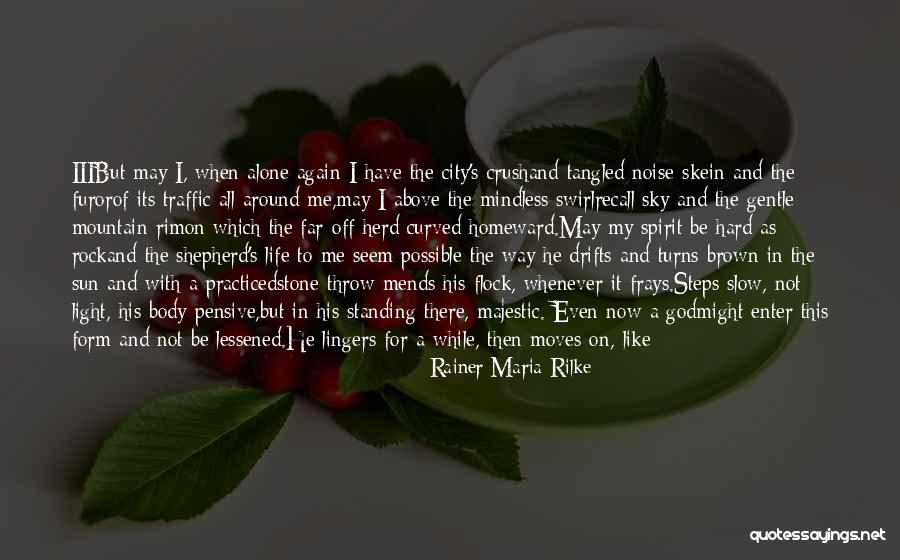 III
But may I, when alone again I have the city's crush
and tangled noise-skein and the furor
of its traffic all around me,
may I above the mindless swirl
recall sky and the gentle mountain rim
on which the far-off herd curved homeward.
May my spirit be hard as rock
and the shepherd's life to me seem possible-
the way he drifts and turns brown in the sun and with a practiced
stone-throw mends his flock, whenever it frays.
Steps slow, not light, his body pensive,
but in his standing there, majestic. Even now a god
might enter this form and not be lessened.
He lingers for a while, then moves on, like the day itself,
and shadows of the clouds
pass through him, as though space were slowly
thinking thoughts for him. — Rainer Maria Rilke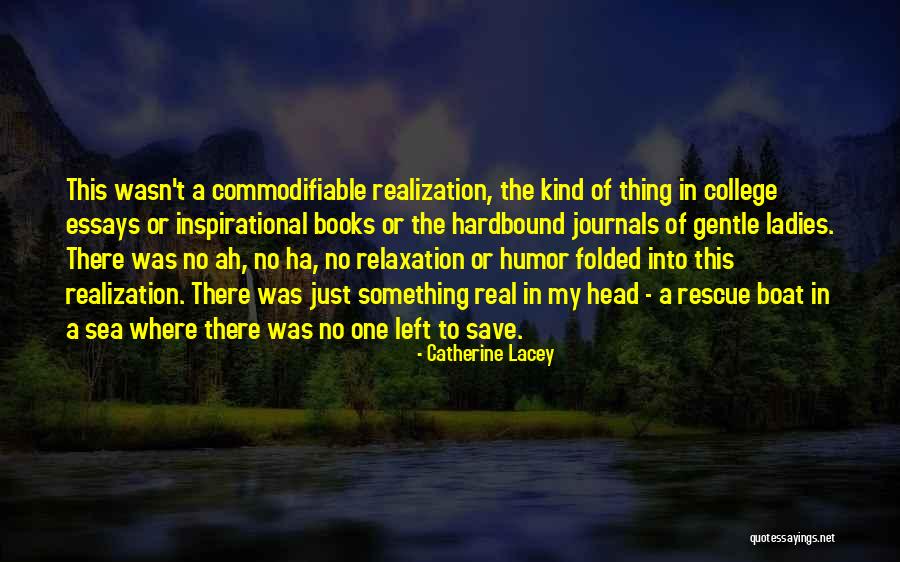 This wasn't a commodifiable realization, the kind of thing in college essays or inspirational books or the hardbound journals of gentle ladies. There was no ah, no ha, no relaxation or humor folded into this realization. There was just something real in my head - a rescue boat in a sea where there was no one left to save. — Catherine Lacey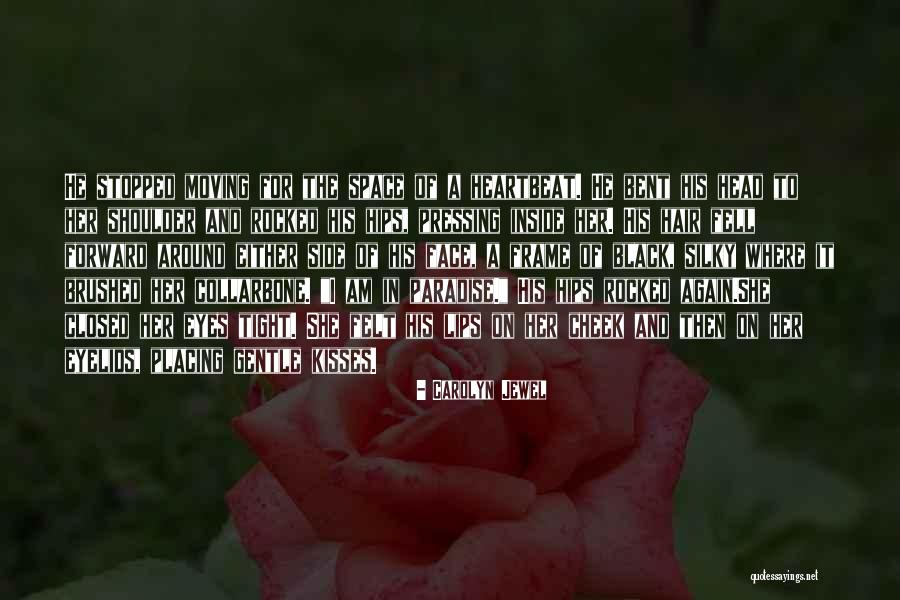 He stopped moving for the space of a heartbeat. He bent his head to her shoulder and rocked his hips, pressing inside her. His hair fell forward around either side of his face, a frame of black, silky where it brushed her collarbone. "I am in paradise." His hips rocked again.
She closed her eyes tight. She felt his lips on her cheek and then on her eyelids, placing gentle kisses. — Carolyn Jewel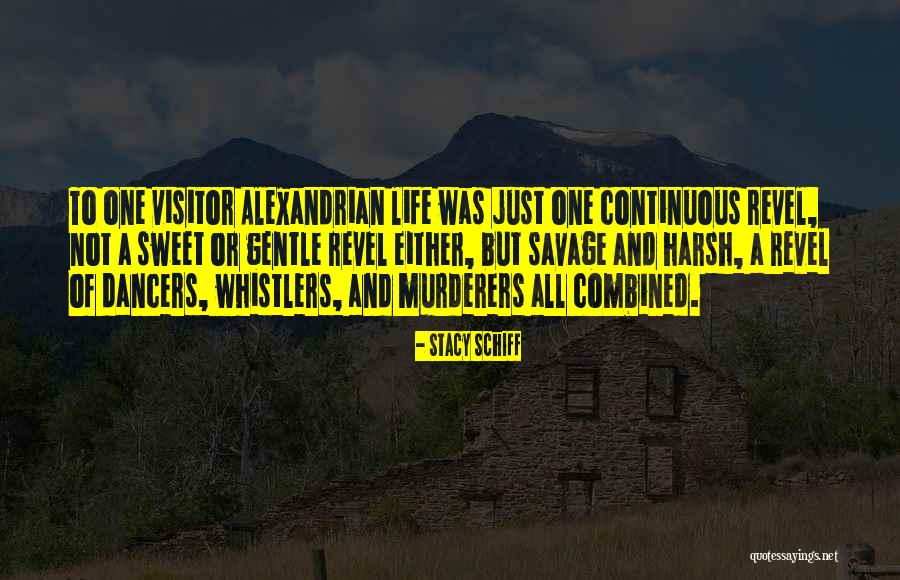 To one visitor Alexandrian life was just one continuous revel, not a sweet or gentle revel either, but savage and harsh, a revel of dancers, whistlers, and murderers all combined. — Stacy Schiff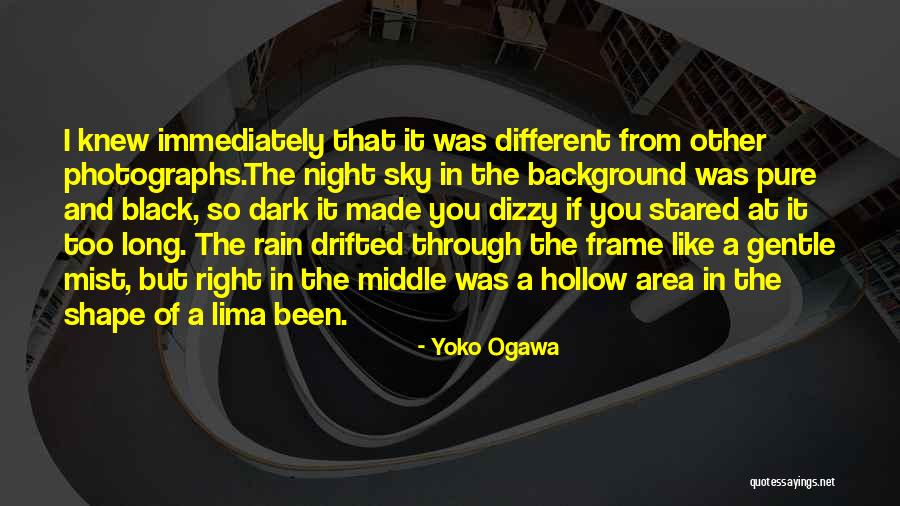 I knew immediately that it was different from other photographs.
The night sky in the background was pure and black, so dark it made you dizzy if you stared at it too long. The rain drifted through the frame like a gentle mist, but right in the middle was a hollow area in the shape of a lima been. — Yoko Ogawa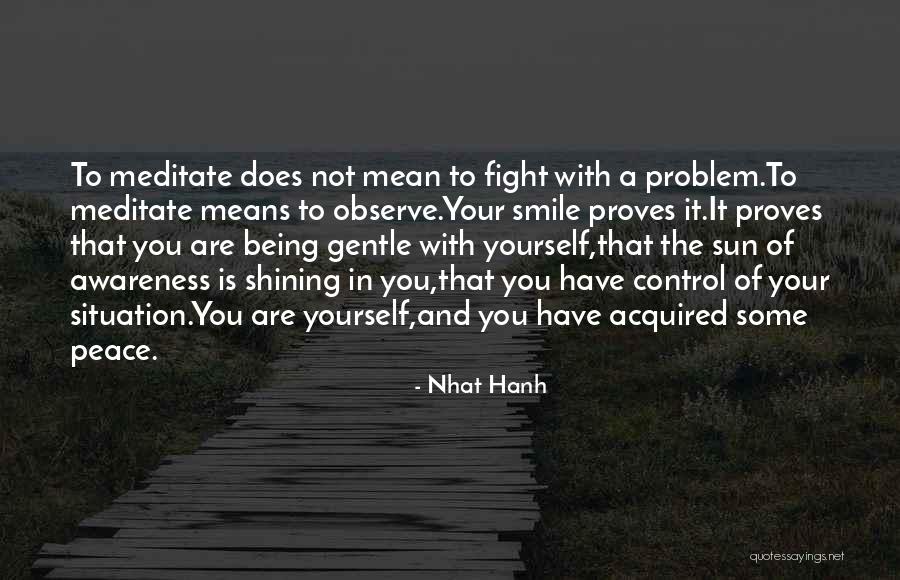 To meditate does not mean to fight with a problem.
To meditate means to observe.
Your smile proves it.
It proves that you are being gentle with yourself,
that the sun of awareness is shining in you,
that you have control of your situation.
You are yourself,
and you have acquired some peace. — Nhat Hanh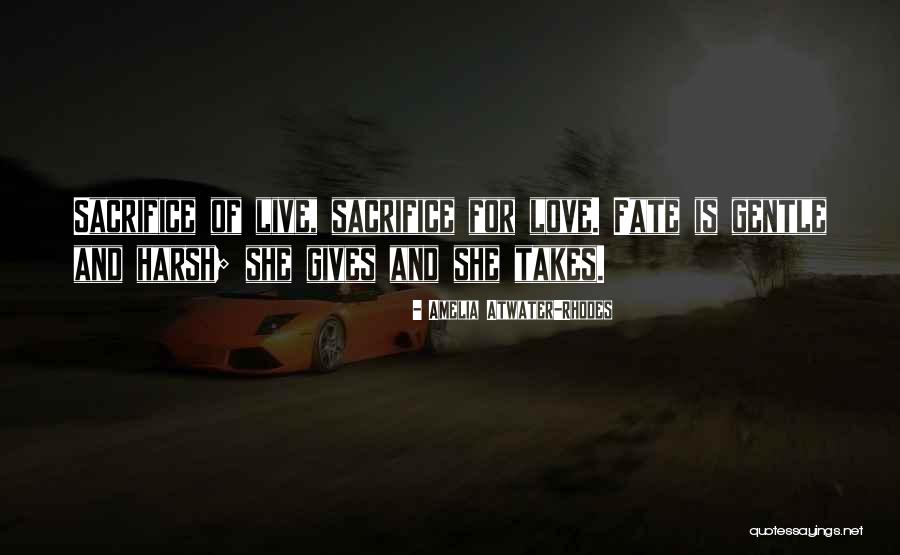 Sacrifice of live, sacrifice for love. Fate is gentle and harsh; she gives and she takes. — Amelia Atwater-Rhodes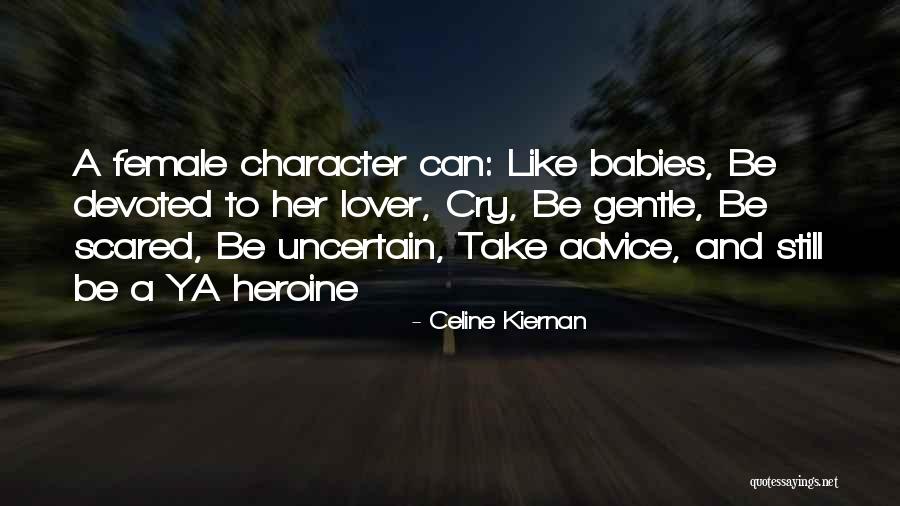 A female character can: Like babies, Be devoted to her lover, Cry, Be gentle, Be scared, Be uncertain, Take advice, and still be a YA heroine — Celine Kiernan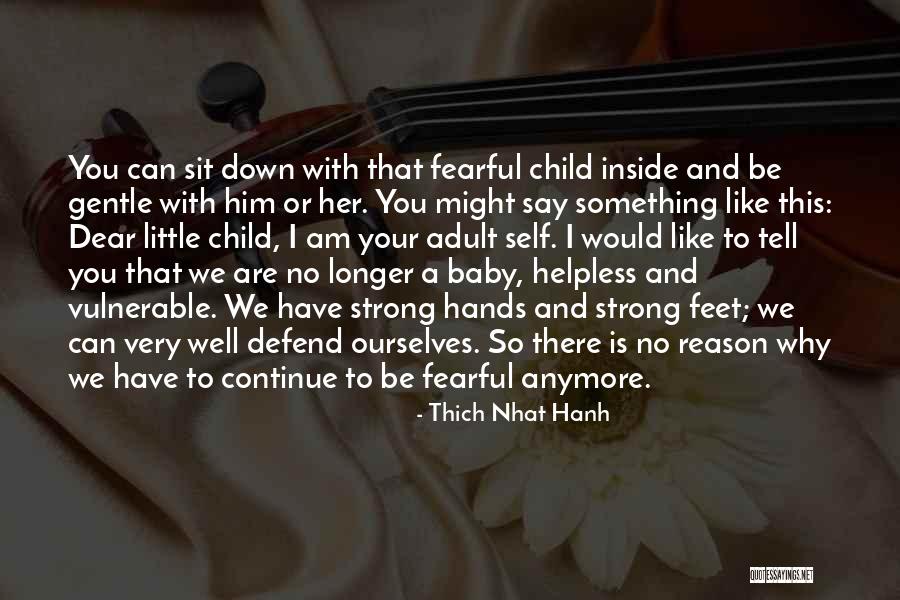 You can sit down with that fearful child inside and be gentle with him or her. You might say something like this: Dear little child, I am your adult self. I would like to tell you that we are no longer a baby, helpless and vulnerable. We have strong hands and strong feet; we can very well defend ourselves. So there is no reason why we have to continue to be fearful anymore. — Thich Nhat Hanh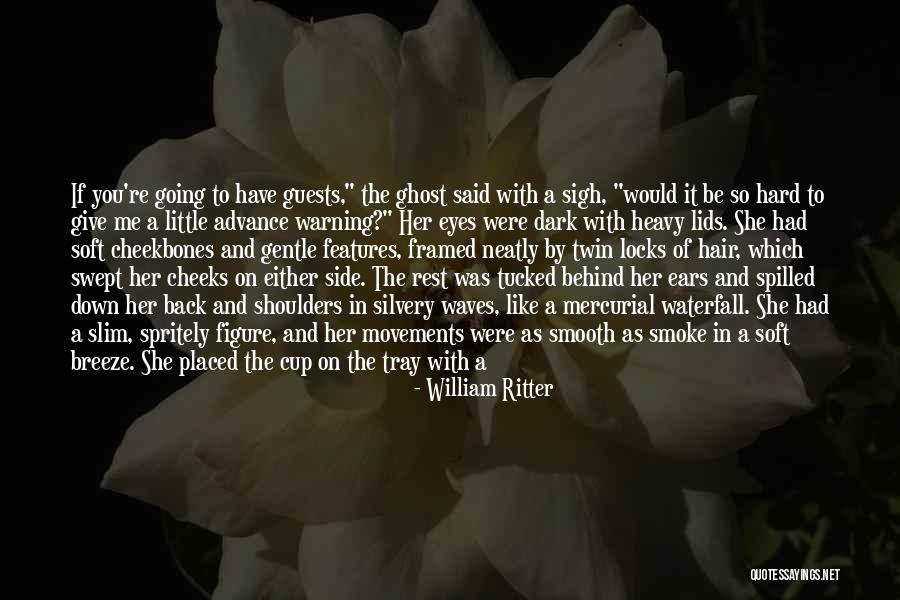 If you're going to have guests," the ghost said with a sigh, "would it be so hard to give me a little advance warning?" Her eyes were dark with heavy lids. She had soft cheekbones and gentle features, framed neatly by twin locks of hair, which swept her cheeks on either side. The rest was tucked behind her ears and spilled down her back and shoulders in silvery waves, like a mercurial waterfall. She had a slim, spritely figure, and her movements were as smooth as smoke in a soft breeze. She placed the cup on the tray with a gentle clink, and drifted to a seat on the windowsill. Through her opaque figure, I could see the swaying branches of a weeping willow in the yard. "How — William Ritter