Peace Within Your Heart Quotes & Sayings
Enjoy reading and share 34 famous quotes about Peace Within Your Heart with everyone.
Top Peace Within Your Heart Quotes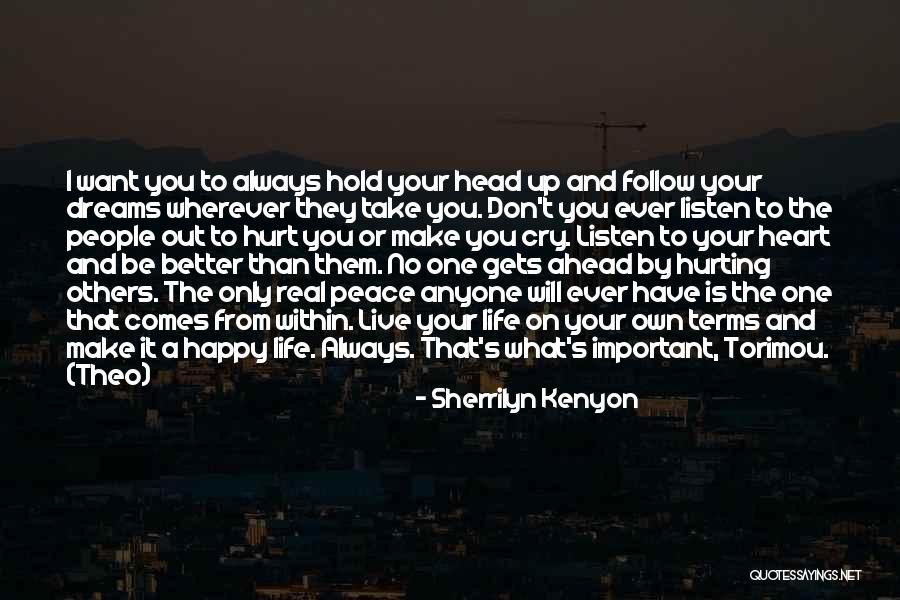 I want you to always hold your head up and follow your dreams wherever they take you. Don't you ever listen to the people out to hurt you or make you cry. Listen to your heart and be better than them. No one gets ahead by hurting others. The only real peace anyone will ever have is the one that comes from within. Live your life on your own terms and make it a happy life. Always. That's what's important, Torimou. (Theo) — Sherrilyn Kenyon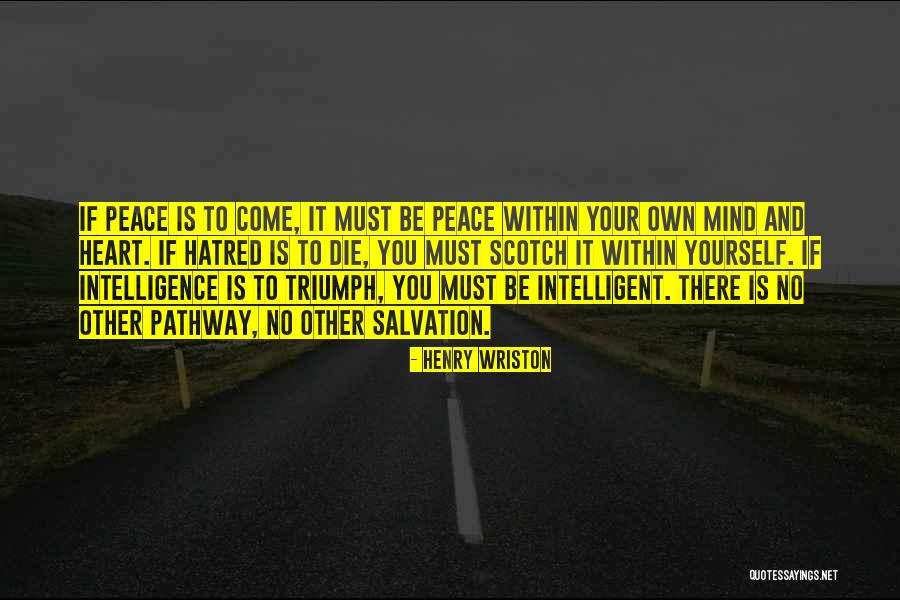 If peace is to come, it must be peace within your own mind and heart. If hatred is to die, you must scotch it within yourself. If intelligence is to triumph, you must be intelligent. There is no other pathway, no other salvation. — Henry Wriston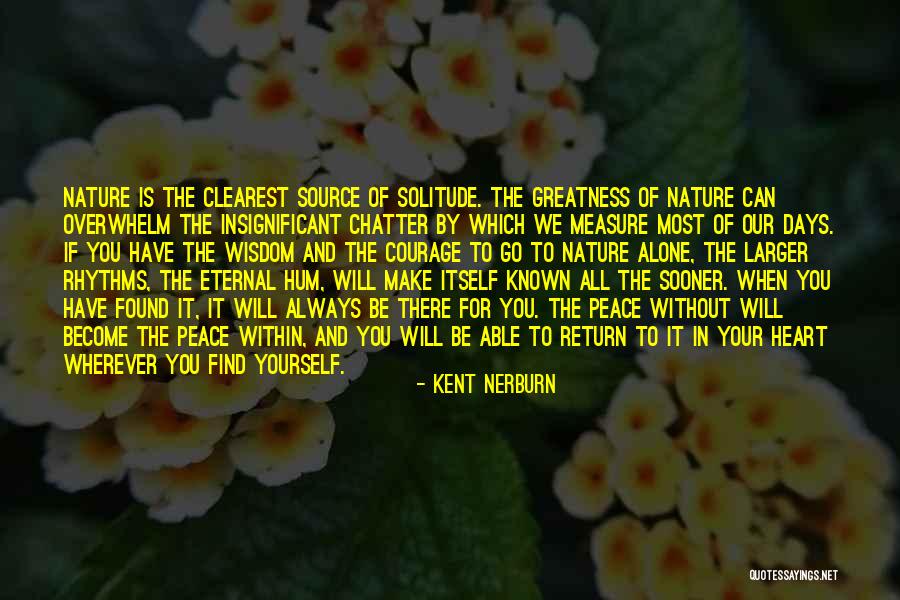 Nature is the clearest source of solitude. The greatness of nature can overwhelm the insignificant chatter by which we measure most of our days. If you have the wisdom and the courage to go to nature alone, the larger rhythms, the eternal hum, will make itself known all the sooner. When you have found it, it will always be there for you. The peace without will become the peace within, and you will be able to return to it in your heart wherever you find yourself. — Kent Nerburn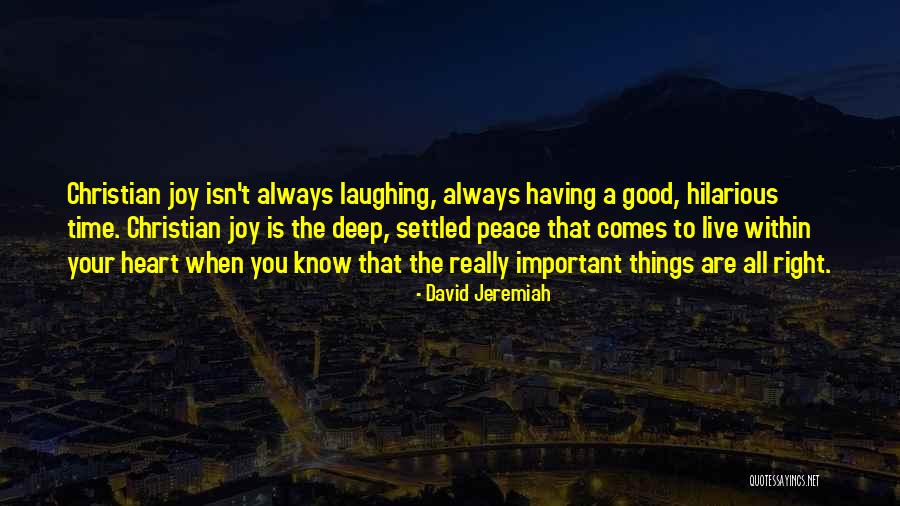 Christian joy isn't always laughing, always having a good, hilarious time. Christian joy is the deep, settled peace that comes to live within your heart when you know that the really important things are all right. — David Jeremiah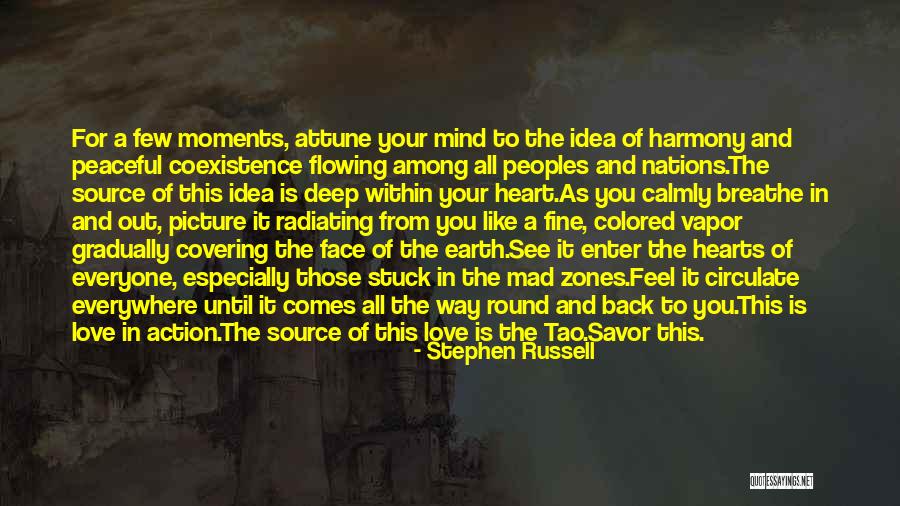 For a few moments, attune your mind to the idea of harmony and peaceful coexistence flowing among all peoples and nations.
The source of this idea is deep within your heart.
As you calmly breathe in and out, picture it radiating from you like a fine, colored vapor gradually covering the face of the earth.
See it enter the hearts of everyone, especially those stuck in the mad zones.
Feel it circulate everywhere until it comes all the way round and back to you.
This is love in action.
The source of this love is the Tao.
Savor this. — Stephen Russell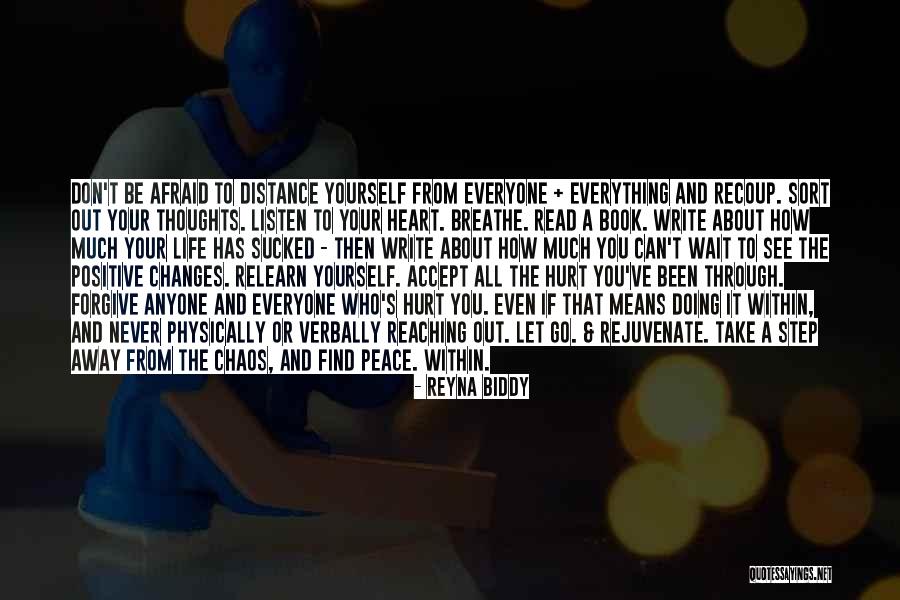 Don't be afraid to distance yourself from everyone + everything and recoup. sort out your thoughts. listen to your heart. breathe. read a book. write about how much your life has sucked - then write about how much you can't wait to see the positive changes. relearn yourself. accept all the hurt you've been through. forgive anyone and everyone who's hurt you. even if that means doing it within, and never physically or verbally reaching out. let go. & rejuvenate. take a step away from the chaos, and find peace. within. — Reyna Biddy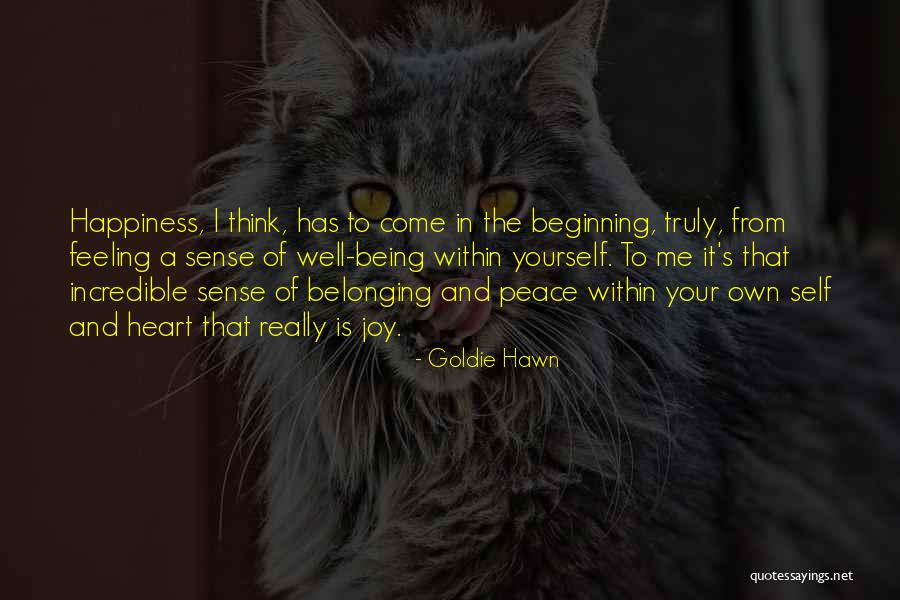 Happiness, I think, has to come in the beginning, truly, from feeling a sense of well-being within yourself. To me it's that incredible sense of belonging and peace within your own self and heart that really is joy. — Goldie Hawn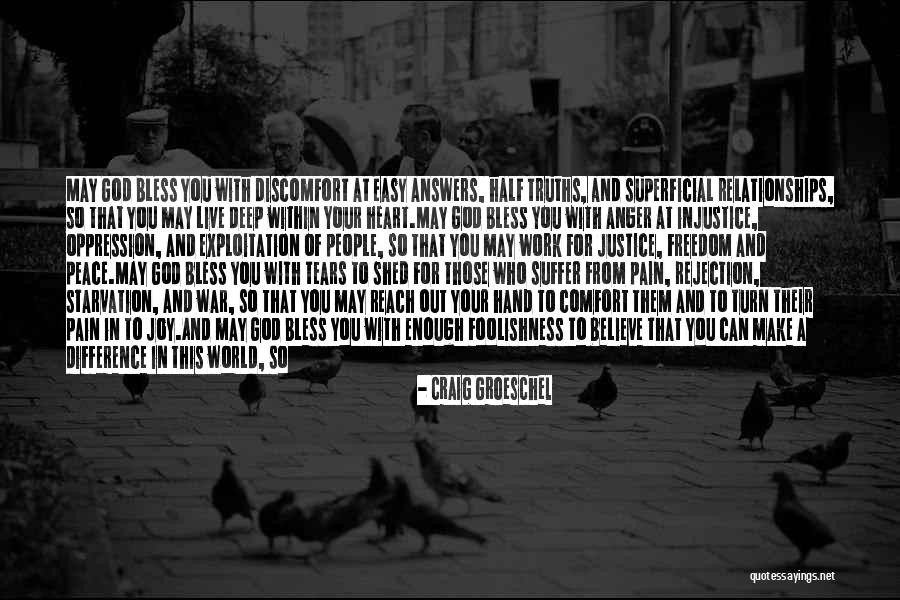 May God bless you with discomfort at easy answers, half truths, and superficial relationships, so that you may live deep within your heart.
May God bless you with anger at injustice, oppression, and exploitation of people, so that you may work for justice, freedom and peace.
May God bless you with tears to shed for those who suffer from pain, rejection, starvation, and war, so that you may reach out your hand to comfort them and to turn their pain in to joy.
And may God bless you with enough foolishness to believe that you can make a difference in this world, so that you can do what others claim cannot be done. To bring justice and kindness to all our children and the poor.
Amen. — Craig Groeschel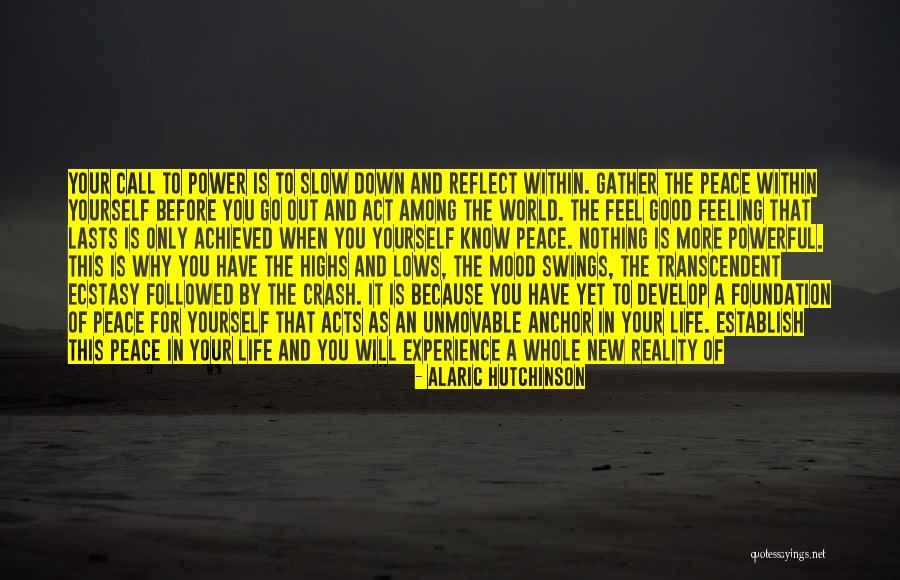 Your call to power is to slow down and reflect within. Gather the peace within yourself before you go out and act among the world. The feel good feeling that lasts is only achieved when you yourself know peace. Nothing is more powerful. This is why you have the highs and lows, the mood swings, the transcendent ecstasy followed by the crash. It is because you have yet to develop a foundation of peace for yourself that acts as an unmovable anchor in your life. Establish this peace in your life and you will experience a whole new reality of the world that flows with you in every way possible, rather than against you. — Alaric Hutchinson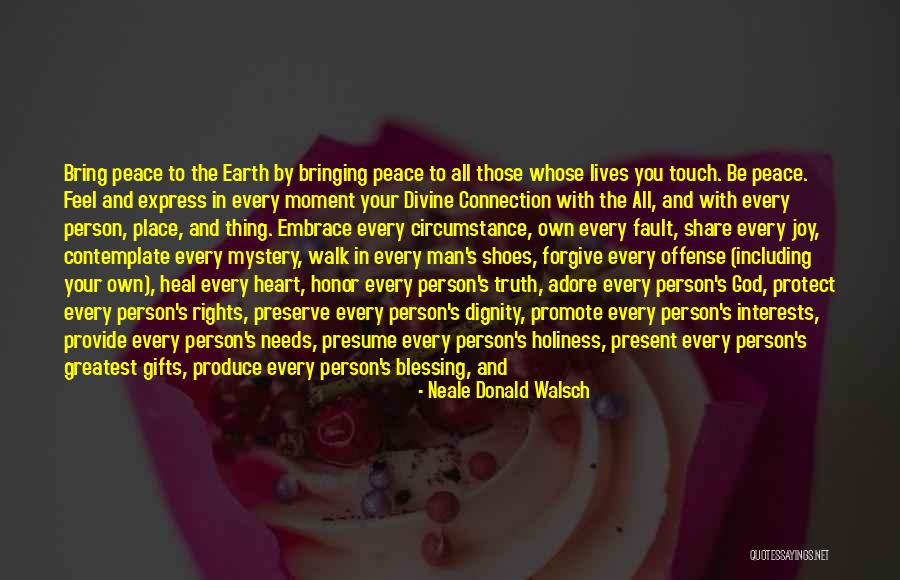 Bring peace to the Earth by bringing peace to all those whose lives you touch. Be peace. Feel and express in every moment your Divine Connection with the All, and with every person, place, and thing. Embrace every circumstance, own every fault, share every joy, contemplate every mystery, walk in every man's shoes, forgive every offense (including your own), heal every heart, honor every person's truth, adore every person's God, protect every person's rights, preserve every person's dignity, promote every person's interests, provide every person's needs, presume every person's holiness, present every person's greatest gifts, produce every person's blessing, and pronounce every person's future secure in the assured love of God. Be a living, breathing example of the Highest Truth that resides within you. — Neale Donald Walsch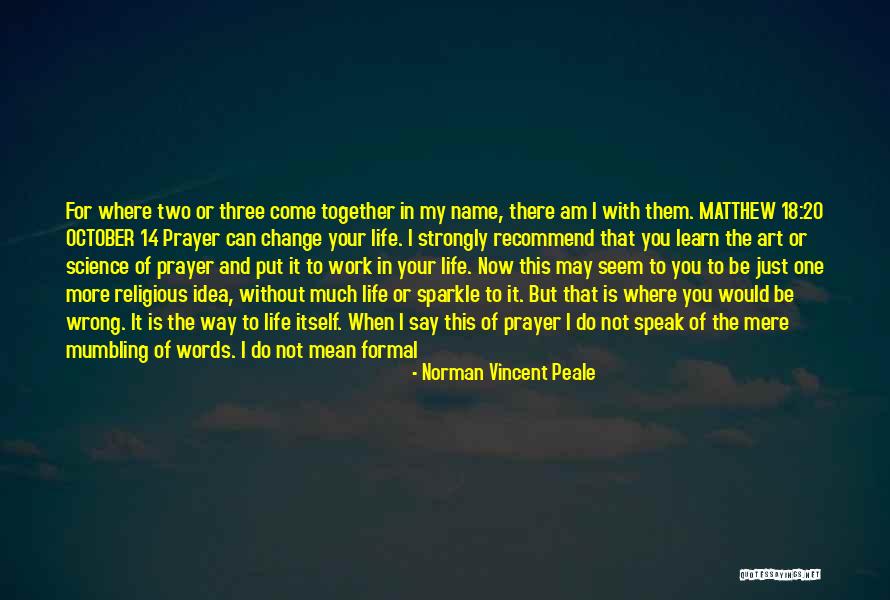 For where two or three come together in my name, there am I with them. MATTHEW 18:20 OCTOBER 14 Prayer can change your life. I strongly recommend that you learn the art or science of prayer and put it to work in your life. Now this may seem to you to be just one more religious idea, without much life or sparkle to it. But that is where you would be wrong. It is the way to life itself. When I say this of prayer I do not speak of the mere mumbling of words. I do not mean formal affirmations either, although formal prayers sometimes help and some formal prayers are touched with the glory of God. What I mean is a deep, fundamental, powerful relationship of the individual to God, whereby his whole mind and heart become changed and he receives power from God within himself. I have seen such prayer change the lives of many. God's peace deeply imbedded in your mind can often have a more tranquilizing and healing effect upon nerves and tension than medicine. God's peace is itself medicinal. — Norman Vincent Peale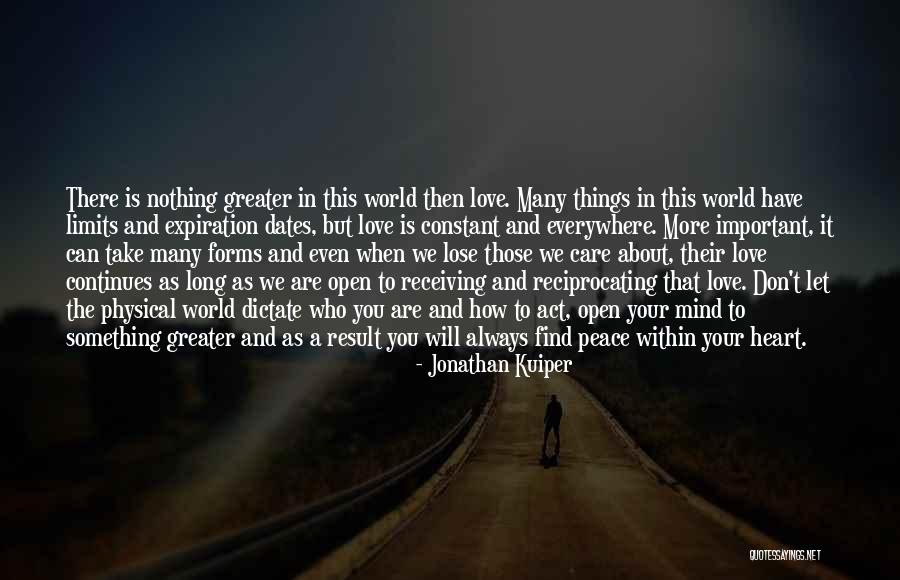 There is nothing greater in this world then love. Many things in this world have limits and expiration dates, but love is constant and everywhere. More important, it can take many forms and even when we lose those we care about, their love continues as long as we are open to receiving and reciprocating that love. Don't let the physical world dictate who you are and how to act, open your mind to something greater and as a result you will always find peace within your heart. — Jonathan Kuiper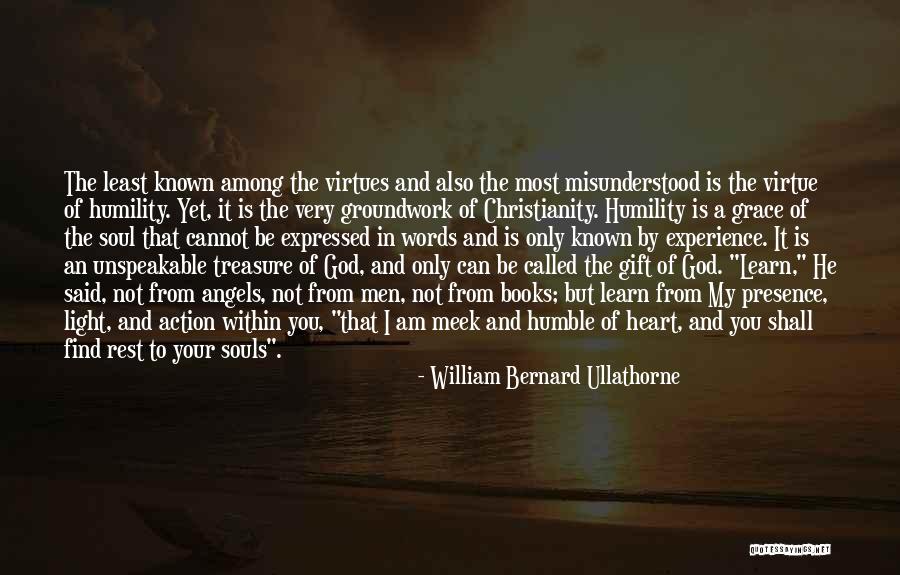 The least known among the virtues and also the most misunderstood is the virtue of humility. Yet, it is the very groundwork of Christianity. Humility is a grace of the soul that cannot be expressed in words and is only known by experience. It is an unspeakable treasure of God, and only can be called the gift of God. "Learn," He said, not from angels, not from men, not from books; but learn from My presence, light, and action within you, "that I am meek and humble of heart, and you shall find rest to your souls". — William Bernard Ullathorne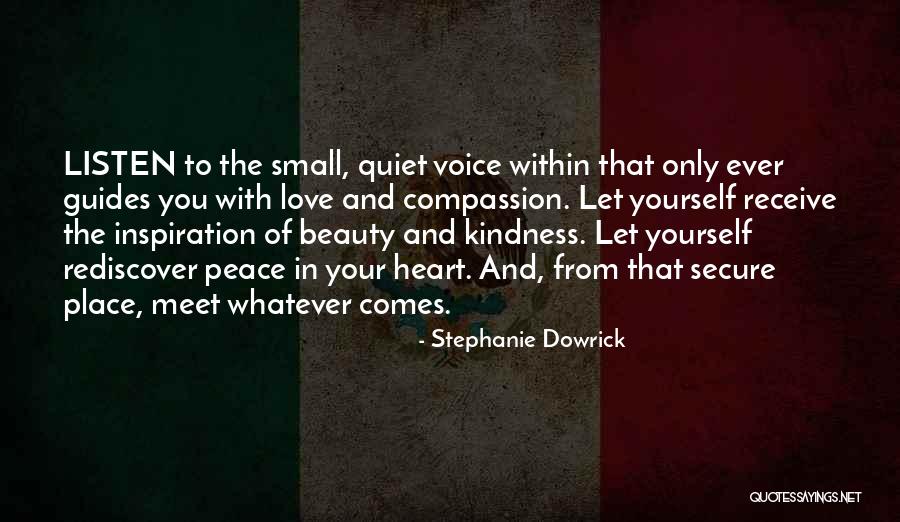 LISTEN to the small, quiet voice within that only ever guides you with love and compassion. Let yourself receive the inspiration of beauty and kindness. Let yourself rediscover peace in your heart. And, from that secure place, meet whatever comes. — Stephanie Dowrick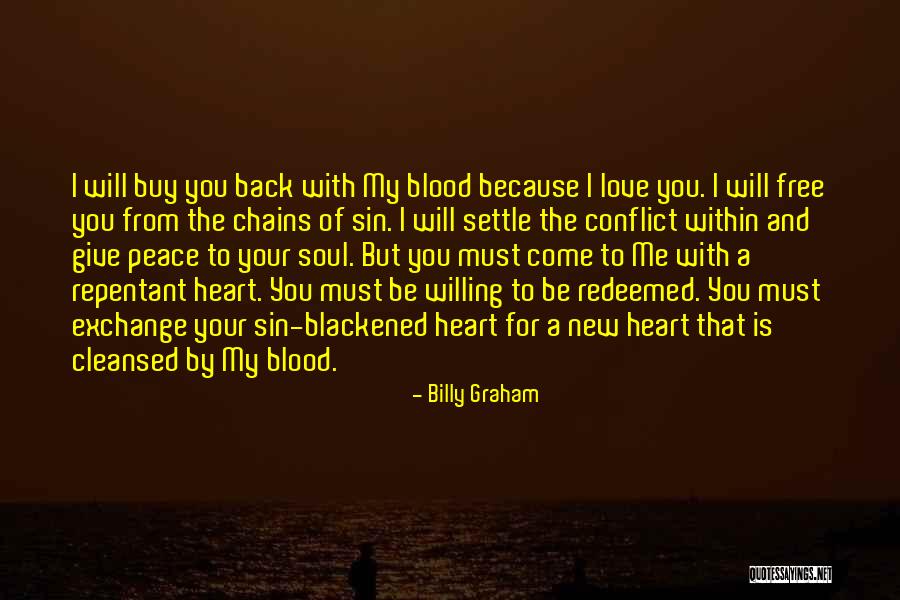 I will buy you back with My blood because I love you. I will free you from the chains of sin. I will settle the conflict within and give peace to your soul. But you must come to Me with a repentant heart. You must be willing to be redeemed. You must exchange your sin-blackened heart for a new heart that is cleansed by My blood. — Billy Graham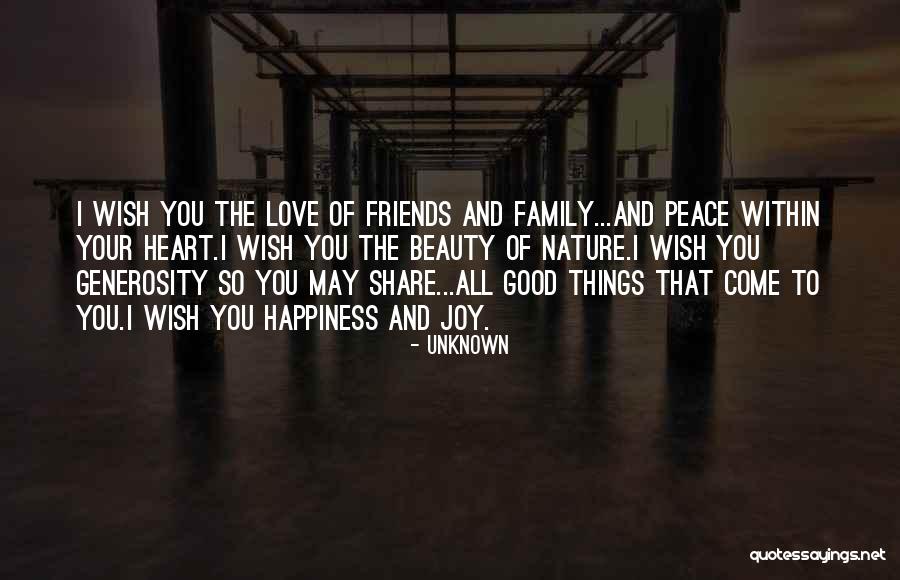 I wish you the Love of friends and family...And Peace within your heart.
I wish you the Beauty of nature.
I wish you Generosity so you may share...All good things that come to you.
I wish you Happiness and Joy. — Unknown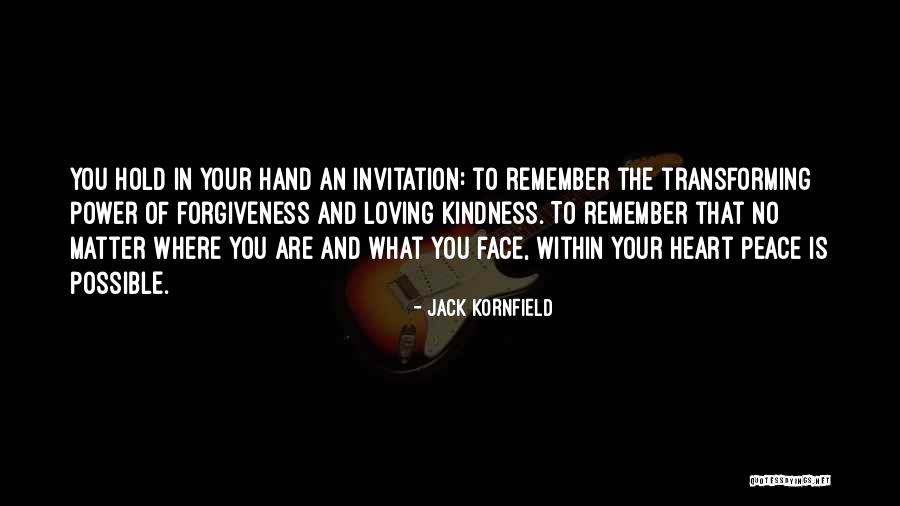 You hold in your hand an invitation: to remember the transforming power of forgiveness and loving kindness. To remember that no matter where you are and what you face, within your heart peace is possible. — Jack Kornfield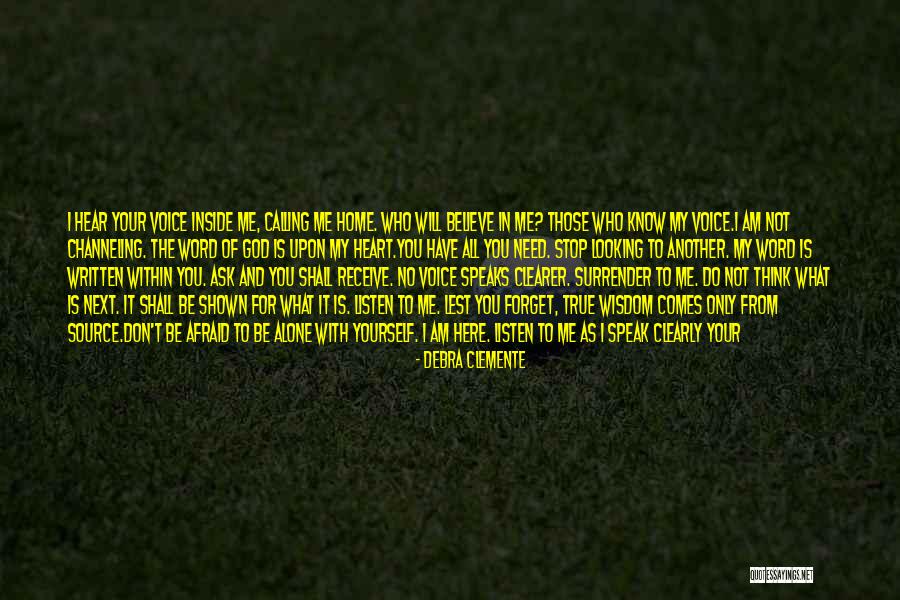 I hear Your voice inside me, calling me home. Who will believe in me?

Those who know My voice.

I am not channeling. The word of God is upon my heart.

You have all you need. Stop looking to another. My Word is written within you. Ask and you shall receive. No Voice speaks clearer. Surrender to Me. Do not think what is next. It shall be shown for what it is. Listen to Me. Lest you forget, true wisdom comes only from Source.

Don't be afraid to be alone with yourself. I am here. Listen to Me as I speak clearly your name. Must you always seek to drown Me out? I am here. Hear Me now. I give you rest. Rest in Me, not in what you think. You are more than that. Oh, so much more you are. Listen to Me, listen up My dear. Hear Me clear. My words ring true like a bell. Yes, clear as a bell I speak unto you. Give Me room. Move over. Get out of your way, I say. I speak peace and love unto your heart. — Debra Clemente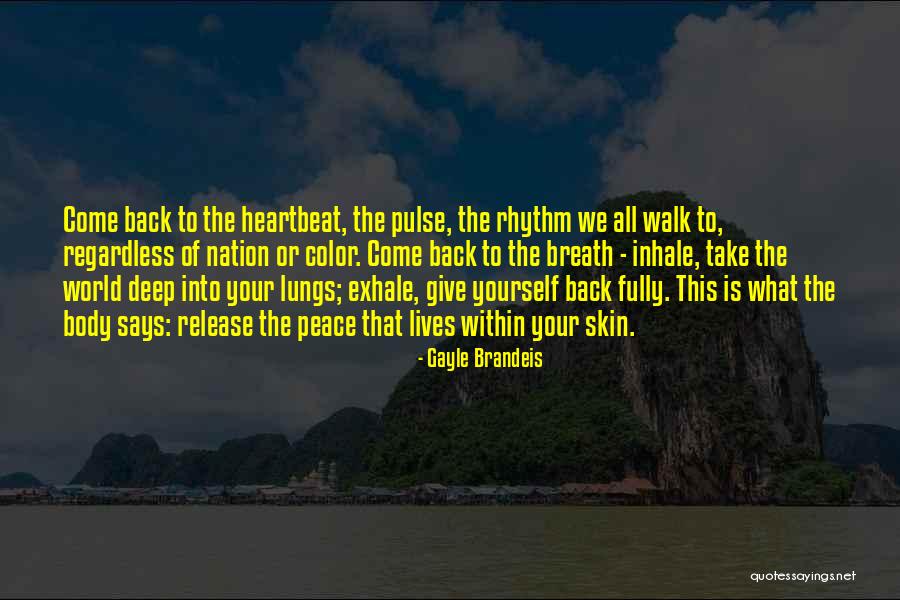 Come back to the heartbeat, the pulse, the rhythm we all walk to, regardless of nation or color. Come back to the breath - inhale, take the world deep into your lungs; exhale, give yourself back fully. This is what the body says: release the peace that lives within your skin. — Gayle Brandeis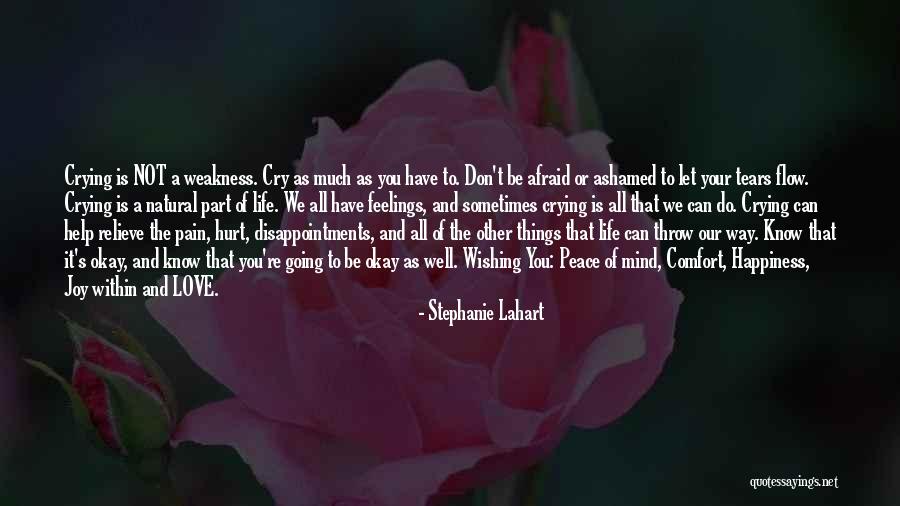 Crying is NOT a weakness. Cry as much as you have to. Don't be afraid or ashamed to let your tears flow. Crying is a natural part of life. We all have feelings, and sometimes crying is all that we can do. Crying can help relieve the pain, hurt, disappointments, and all of the other things that life can throw our way. Know that it's okay, and know that you're going to be okay as well. Wishing You: Peace of mind, Comfort, Happiness, Joy within and LOVE. — Stephanie Lahart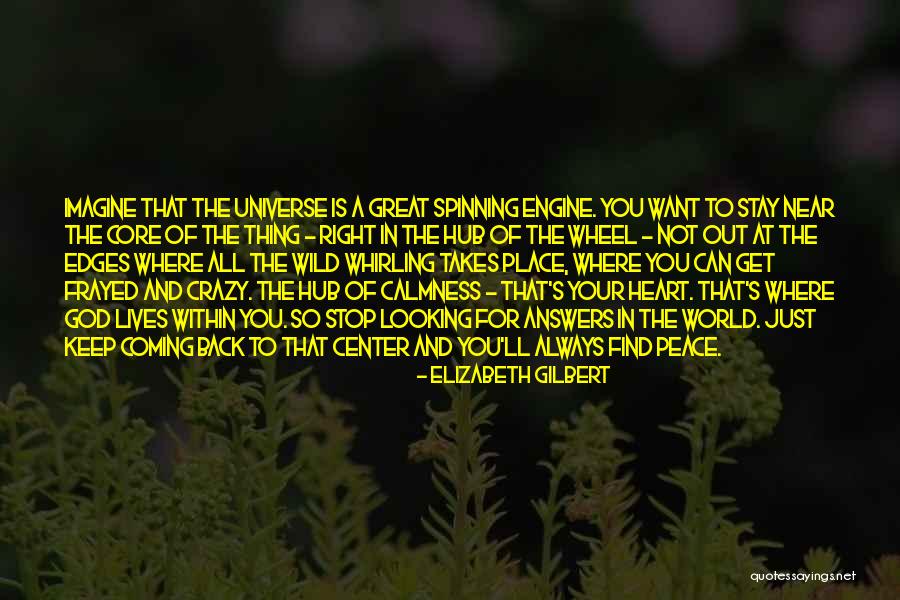 Imagine that the universe is a great spinning engine. You want to stay near the core of the thing - right in the hub of the wheel - not out at the edges where all the wild whirling takes place, where you can get frayed and crazy. The hub of calmness - that's your heart. That's where God lives within you. So stop looking for answers in the world. Just keep coming back to that center and you'll always find peace. — Elizabeth Gilbert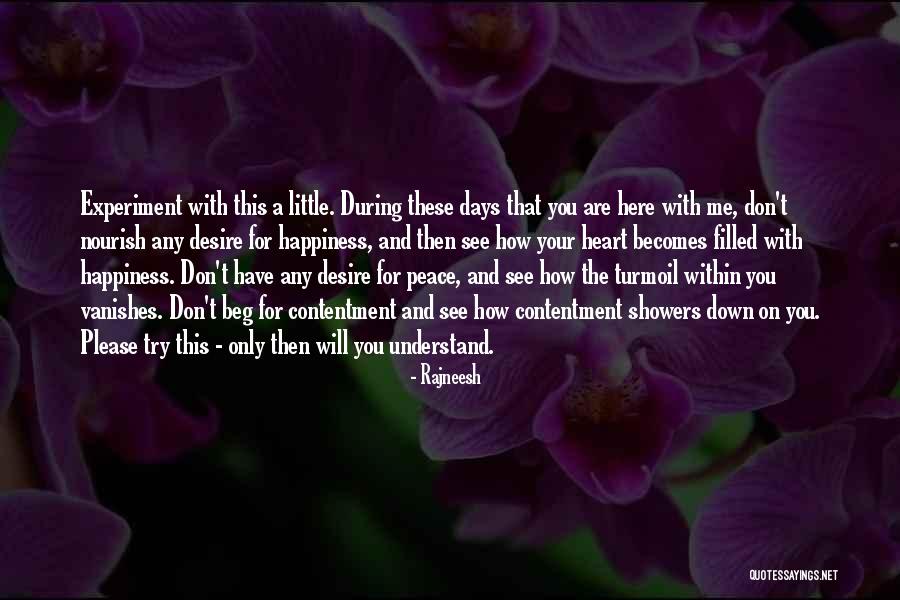 Experiment with this a little. During these days that you are here with me, don't nourish any desire for happiness, and then see how your heart becomes filled with happiness. Don't have any desire for peace, and see how the turmoil within you vanishes. Don't beg for contentment and see how contentment showers down on you. Please try this - only then will you understand. — Rajneesh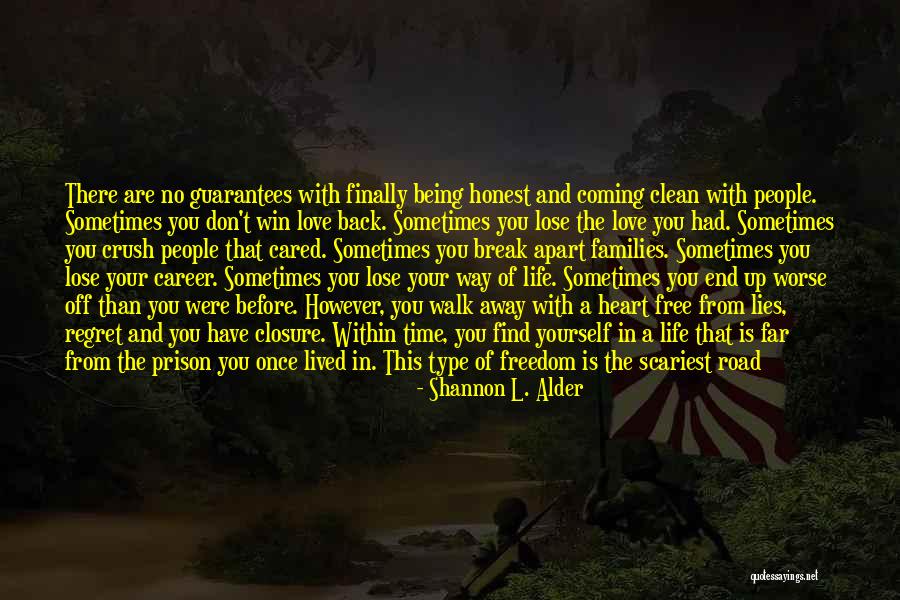 There are no guarantees with finally being honest and coming clean with people. Sometimes you don't win love back. Sometimes you lose the love you had. Sometimes you crush people that cared. Sometimes you break apart families. Sometimes you lose your career. Sometimes you lose your way of life. Sometimes you end up worse off than you were before. However, you walk away with a heart free from lies, regret and you have closure. Within time, you find yourself in a life that is far from the prison you once lived in. This type of freedom is the scariest road you will ever travel. However, it is the road God will never let you travel alone. — Shannon L. Alder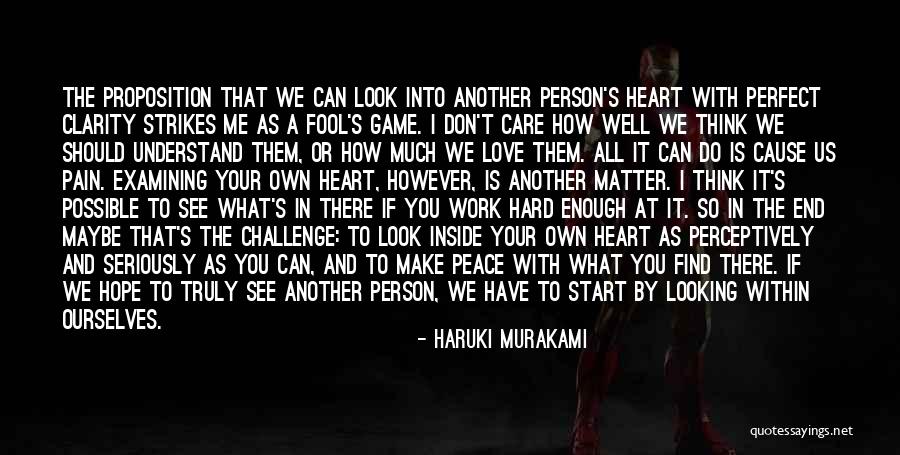 The proposition that we can look into another person's heart with perfect clarity strikes me as a fool's game. I don't care how well we think we should understand them, or how much we love them. All it can do is cause us pain. Examining your own heart, however, is another matter. I think it's possible to see what's in there if you work hard enough at it. So in the end maybe that's the challenge: to look inside your own heart as perceptively and seriously as you can, and to make peace with what you find there. If we hope to truly see another person, we have to start by looking within ourselves. — Haruki Murakami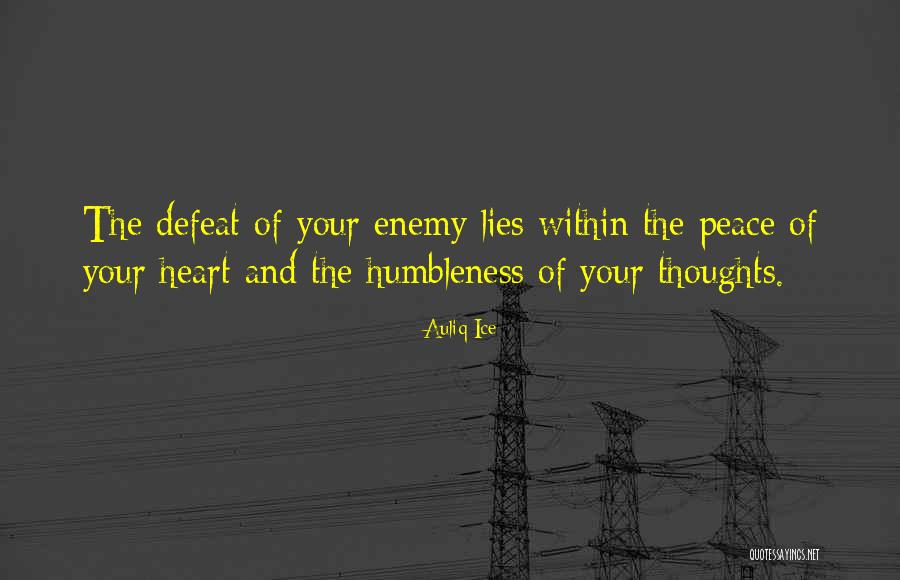 The defeat of your enemy lies within the peace of your heart and the humbleness of your thoughts. — Auliq Ice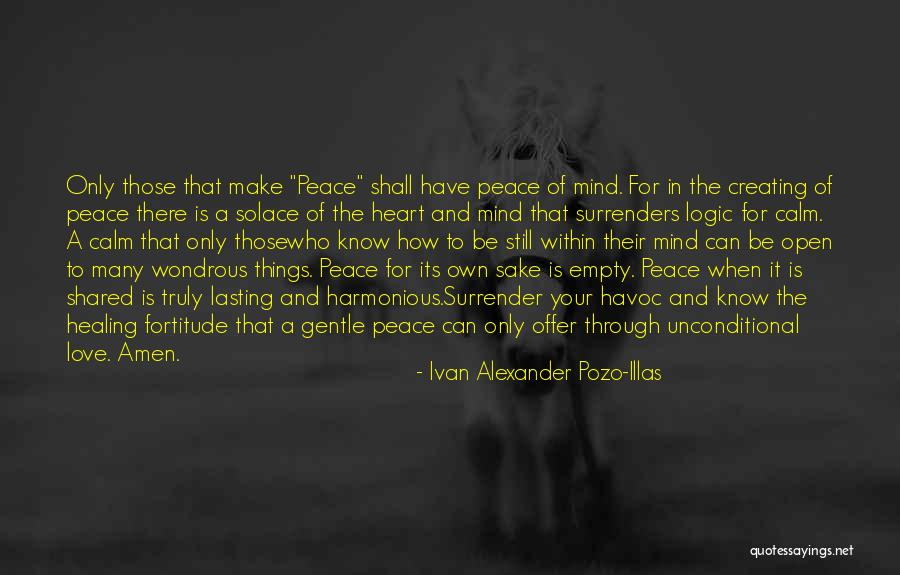 Only those that make "Peace" shall have peace of mind. For in the creating of peace there is a solace of the heart and mind that surrenders logic for calm. A calm that only those
who know how to be still within their mind can be open to many wondrous things. Peace for its own sake is empty. Peace when it is shared is truly lasting and harmonious.
Surrender your havoc and know the healing fortitude that a gentle peace can only offer through unconditional love. Amen. — Ivan Alexander Pozo-Illas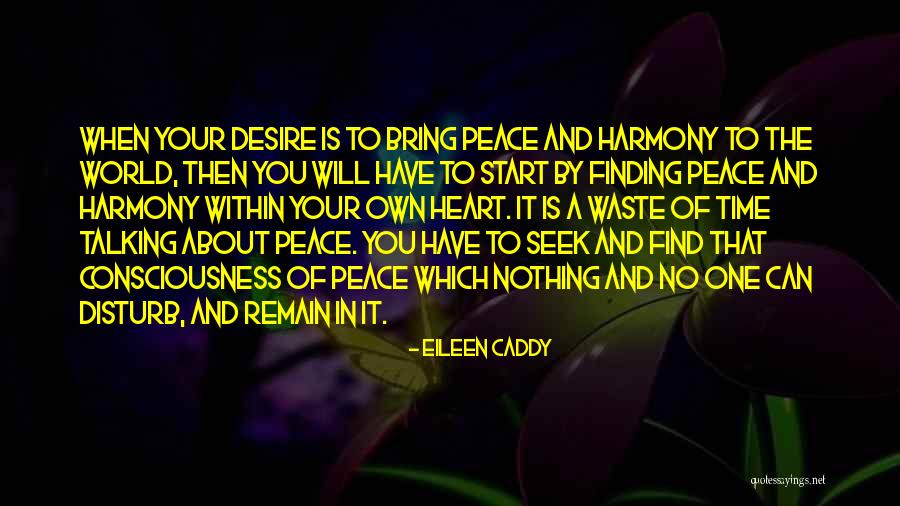 When your desire is to bring peace and harmony to the world, then you will have to start by finding peace and harmony within your own heart. It is a waste of time talking about peace. You have to seek and find that consciousness of peace which nothing and no one can disturb, and remain in it. — Eileen Caddy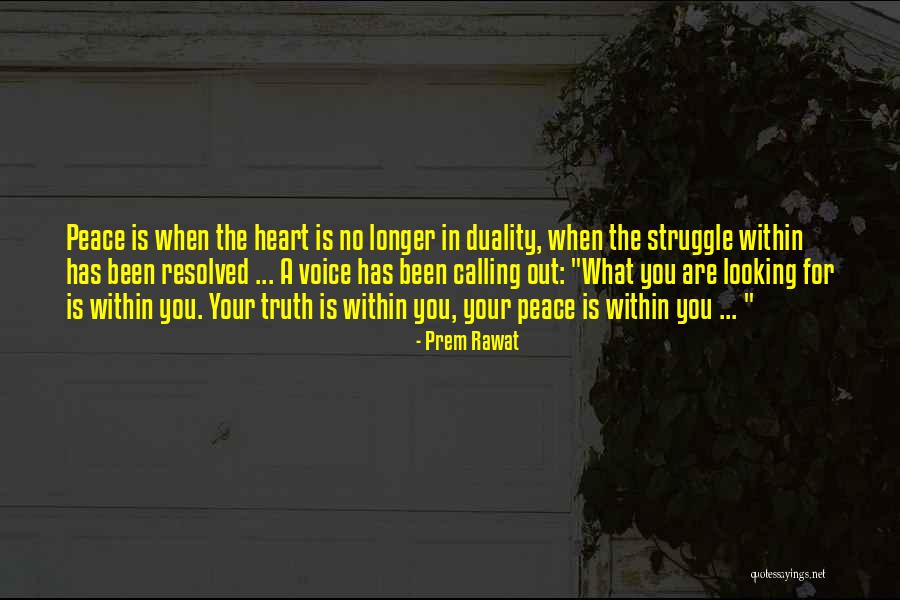 Peace is when the heart is no longer in duality, when the struggle within has been resolved ... A voice has been calling out: "What you are looking for is within you. Your truth is within you, your peace is within you ... " — Prem Rawat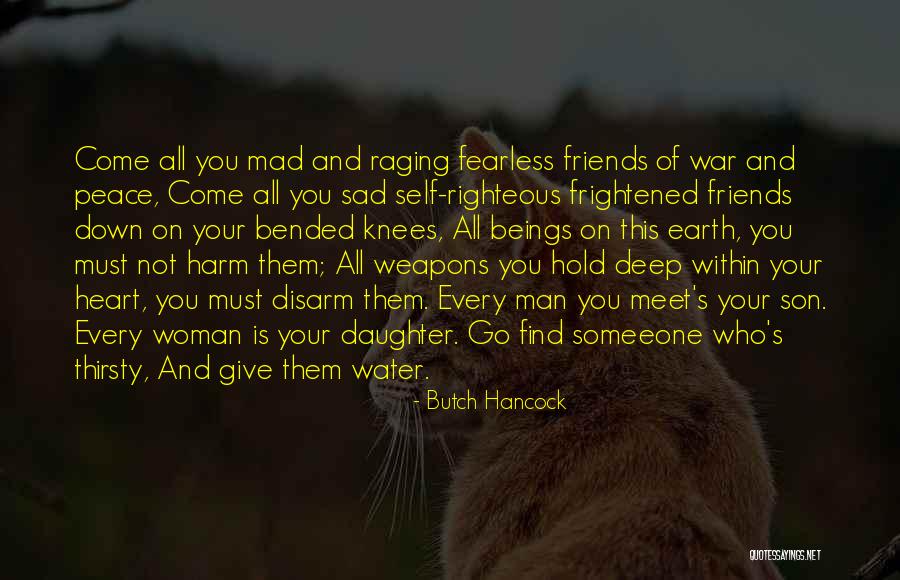 Come all you mad and raging fearless friends of war and peace,
Come all you sad self-righteous frightened friends down on your bended knees,
All beings on this earth, you must not harm them;
All weapons you hold deep within your heart, you must disarm them.
Every man you meet's your son.
Every woman is your daughter.
Go find someeone who's thirsty,
And give them water. — Butch Hancock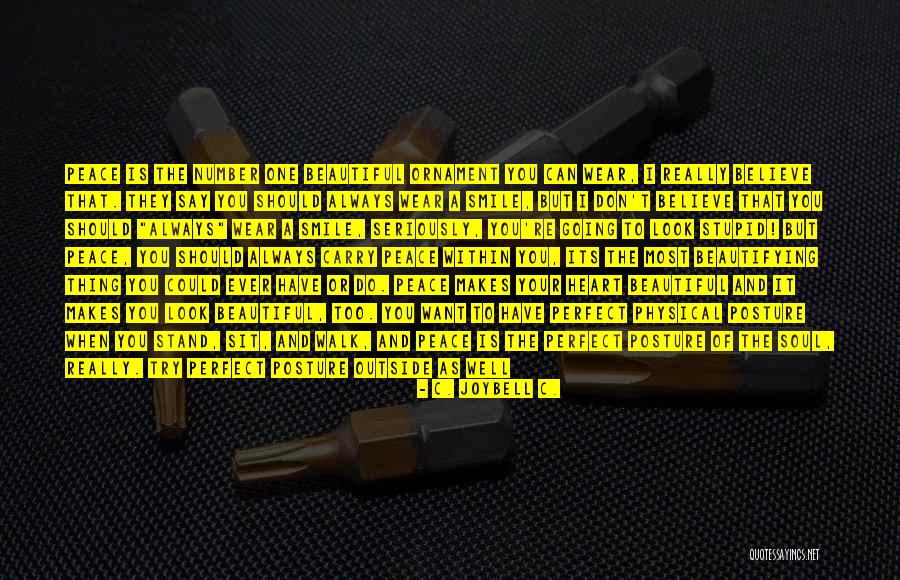 Peace is the number one beautiful ornament you can wear, I really believe that. They say you should always wear a smile, but I don't believe that you should "always" wear a smile, seriously, you're going to look stupid! But peace, you should always carry peace within you, its the most beautifying thing you could ever have or do. Peace makes your heart beautiful and it makes you look beautiful, too. You want to have perfect physical posture when you stand, sit, and walk, and peace is the perfect posture of the soul, really. Try perfect posture outside as well as inside. Peace creates grace and grace gives peace. — C. JoyBell C.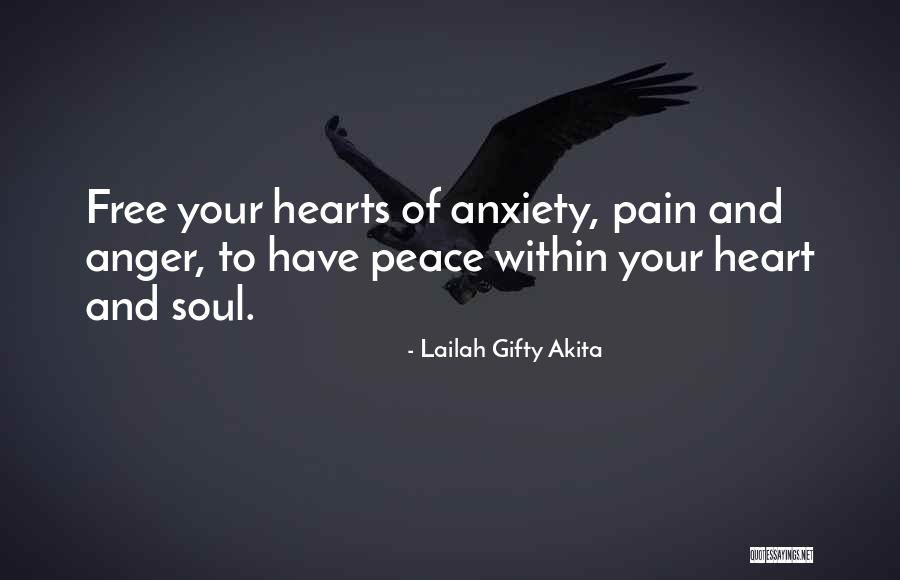 Free your hearts of anxiety, pain and anger, to have peace within your heart and soul. — Lailah Gifty Akita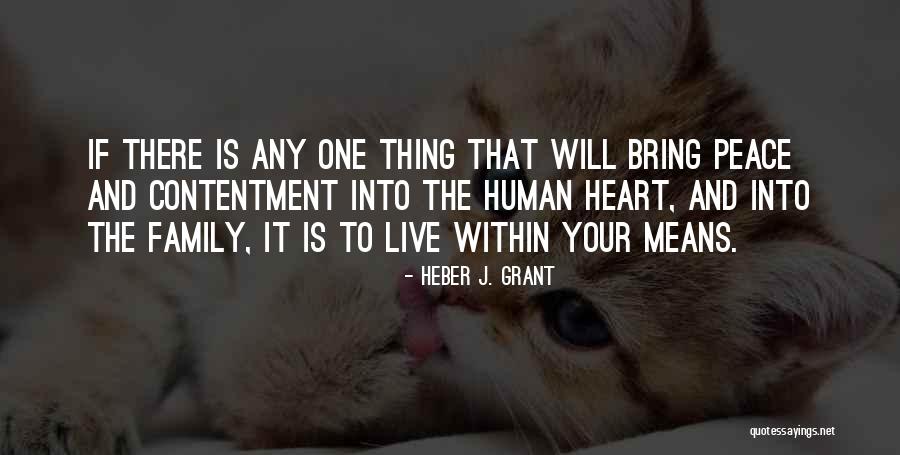 If there is any one thing that will bring peace and contentment into the human heart, and into the family, it is to live within your means. — Heber J. Grant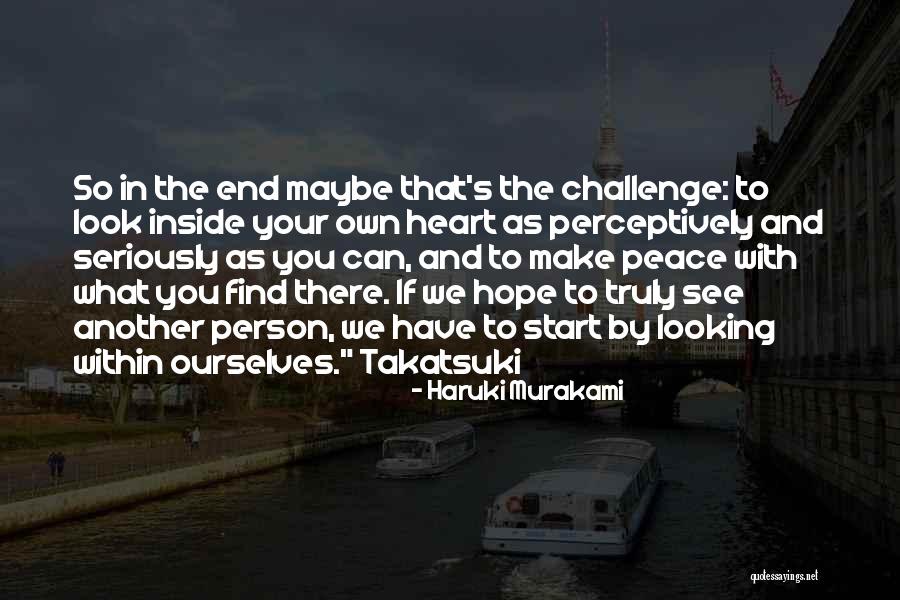 So in the end maybe that's the challenge: to look inside your own heart as perceptively and seriously as you can, and to make peace with what you find there. If we hope to truly see another person, we have to start by looking within ourselves." Takatsuki — Haruki Murakami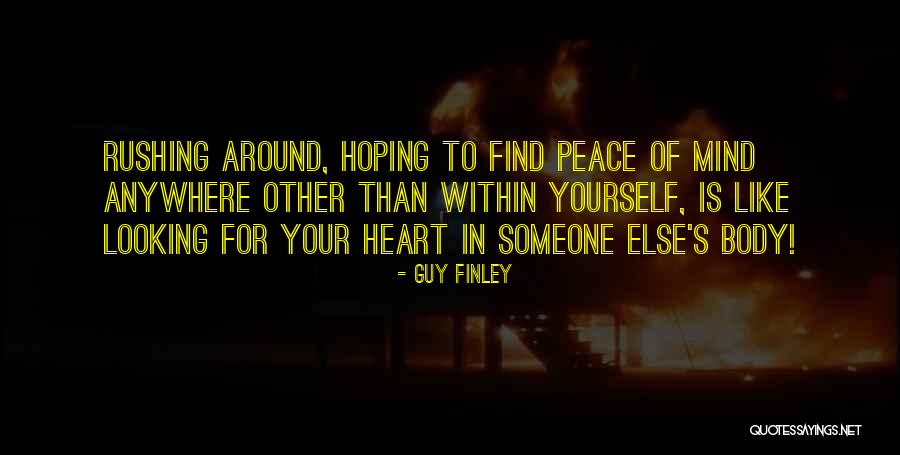 Rushing around, hoping to find peace of mind anywhere other than within yourself, is like looking for your heart in someone else's body! — Guy Finley