Quotes & Sayings About Not Making Judgements
Enjoy reading and share 12 famous quotes about Not Making Judgements with everyone.
Top Not Making Judgements Quotes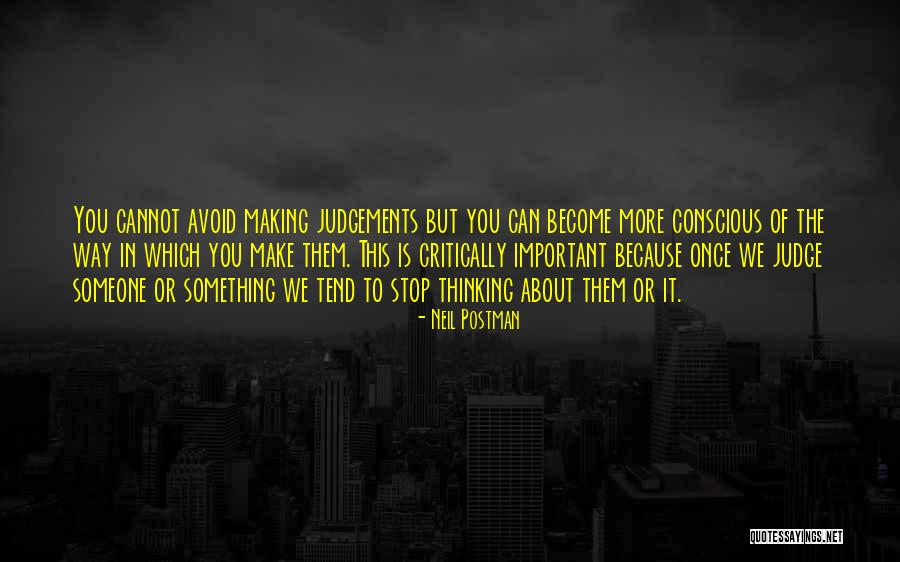 You cannot avoid making judgements but you can become more conscious of the way in which you make them. This is critically important because once we judge someone or something we tend to stop thinking about them or it. — Neil Postman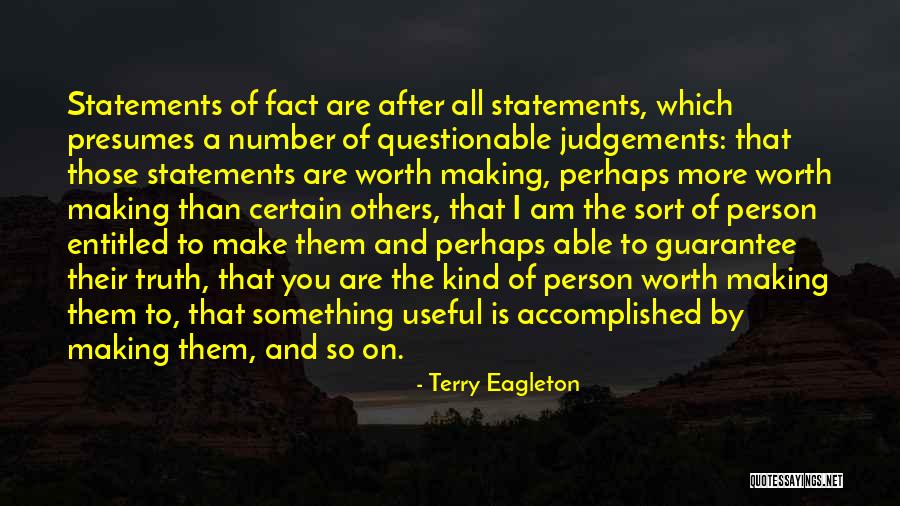 Statements of fact are after all statements, which presumes a number of questionable judgements: that those statements are worth making, perhaps more worth making than certain others, that I am the sort of person entitled to make them and perhaps able to guarantee their truth, that you are the kind of person worth making them to, that something useful is accomplished by making them, and so on. — Terry Eagleton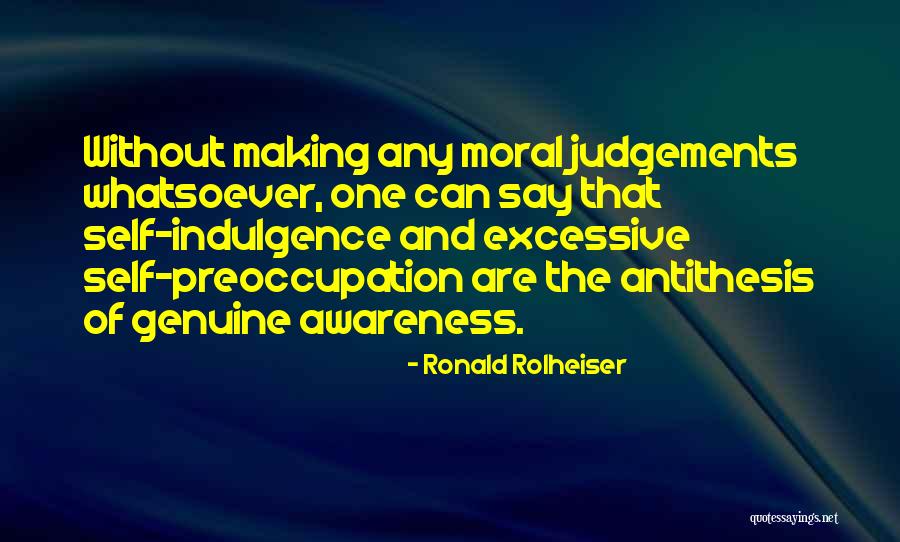 Without making any moral judgements whatsoever, one can say that self-indulgence and excessive self-preoccupation are the antithesis of genuine awareness. — Ronald Rolheiser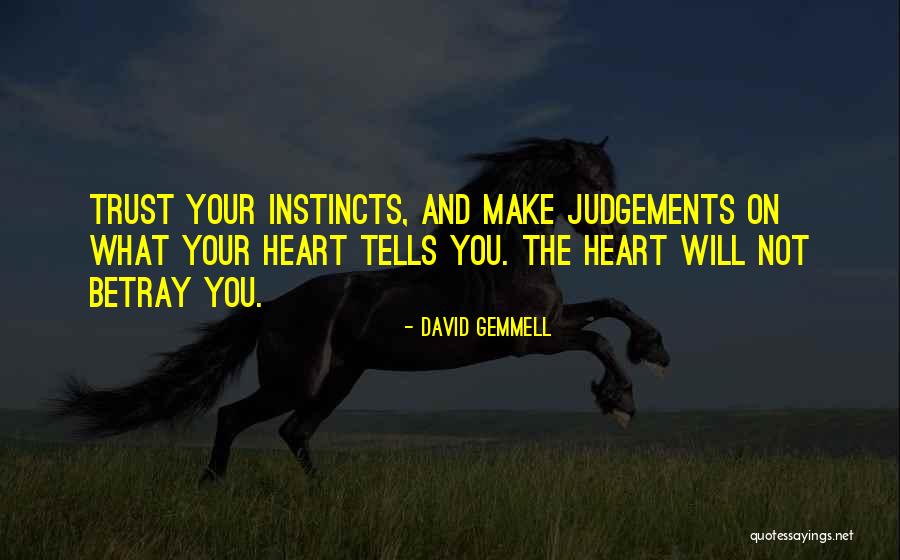 Trust your instincts, and make judgements on what your heart tells you. The heart will not betray you. — David Gemmell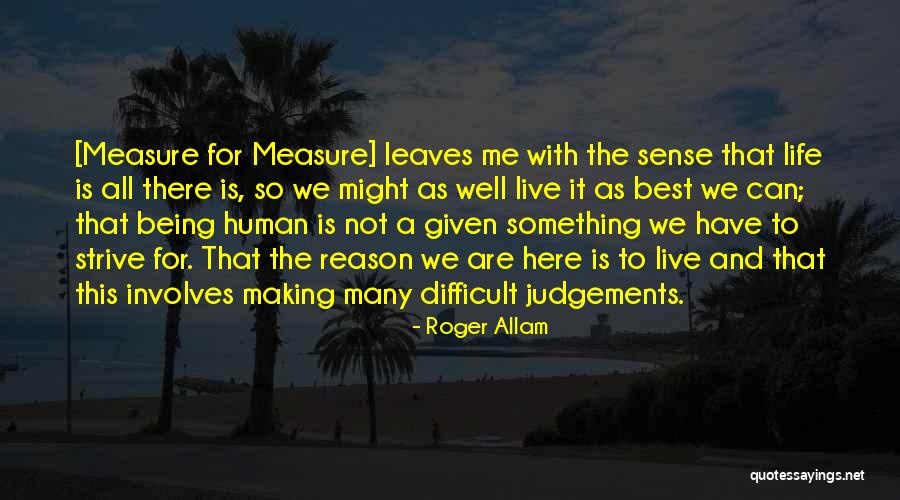 [Measure for Measure] leaves me with the sense that life is all there is, so we might as well live it as best we can; that being human is not a given something we have to strive for. That the reason we are here is to live and that this involves making many difficult judgements. — Roger Allam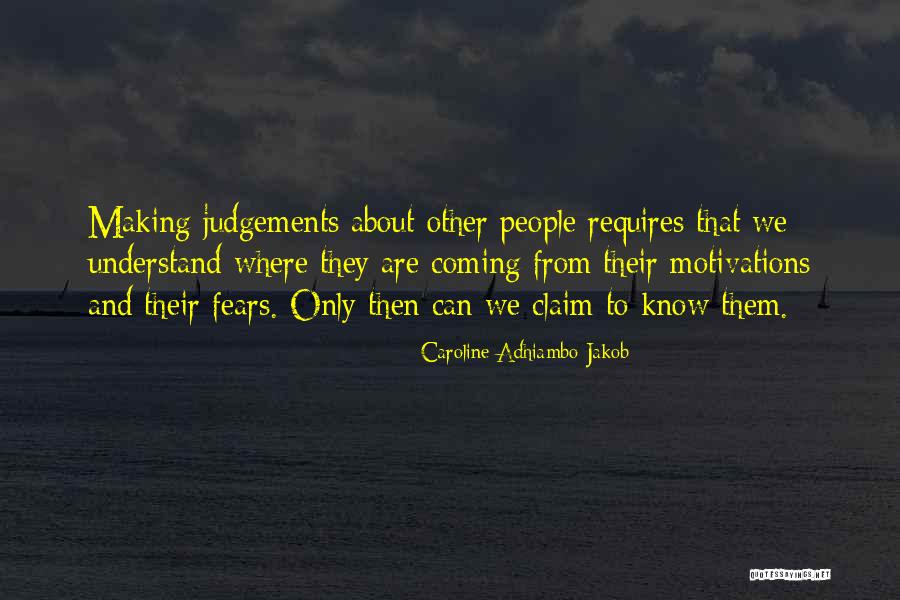 Making judgements about other people requires that we understand where they are coming from;their motivations and their fears. Only then can we claim to know them. — Caroline Adhiambo Jakob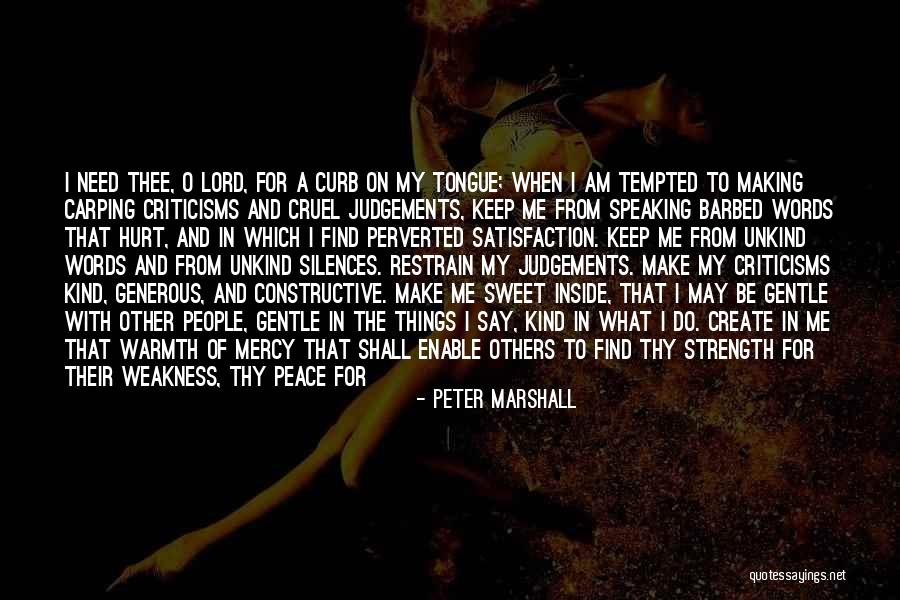 I need Thee, O Lord, for a curb on my tongue; when I am tempted to making carping criticisms and cruel judgements, keep me from speaking barbed words that hurt, and in which I find perverted satisfaction. Keep me from unkind words and from unkind silences. Restrain my judgements. Make my criticisms kind, generous, and constructive. Make me sweet inside, that I may be gentle with other people, gentle in the things I say, kind in what I do. Create in me that warmth of mercy that shall enable others to find Thy strength for their weakness, Thy peace for their strife, Thy joy for their sorrow, Thy love for their hatred, Thy compassion for their weakness. In thine own strong name, I pray. Amen. — Peter Marshall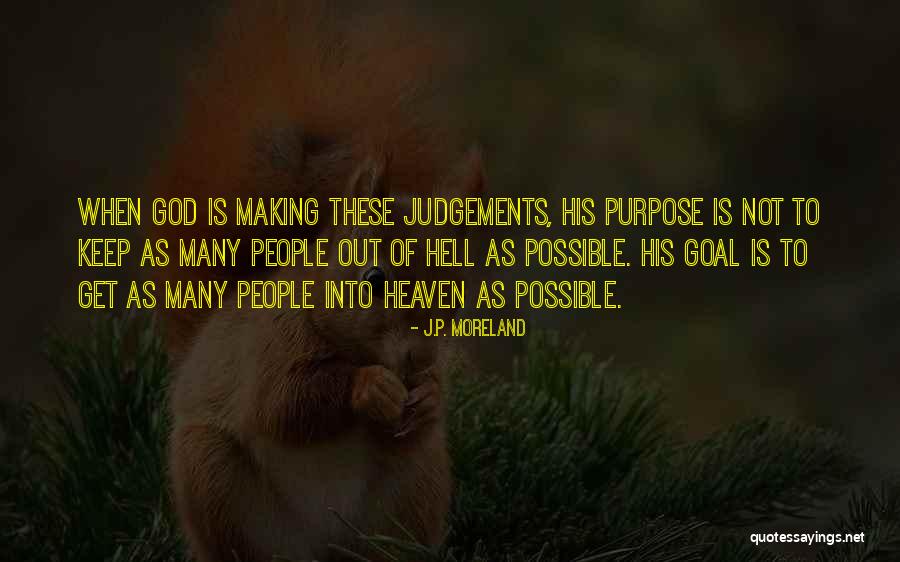 When God is making these judgements, his purpose is not to keep as many people out of hell as possible. His goal is to get as many people into heaven as possible. — J.P. Moreland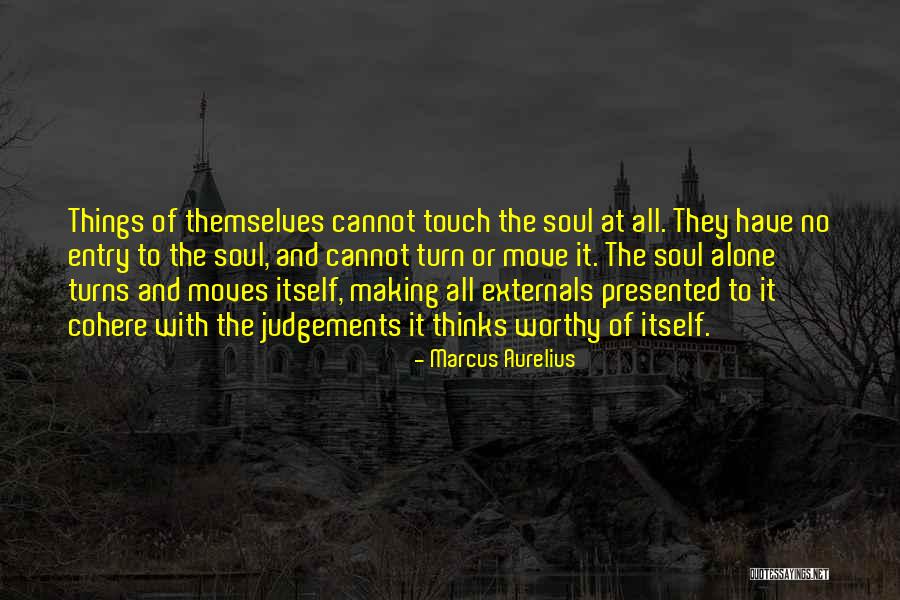 Things of themselves cannot touch the soul at all. They have no entry to the soul, and cannot turn or move it. The soul alone turns and moves itself, making all externals presented to it cohere with the judgements it thinks worthy of itself. — Marcus Aurelius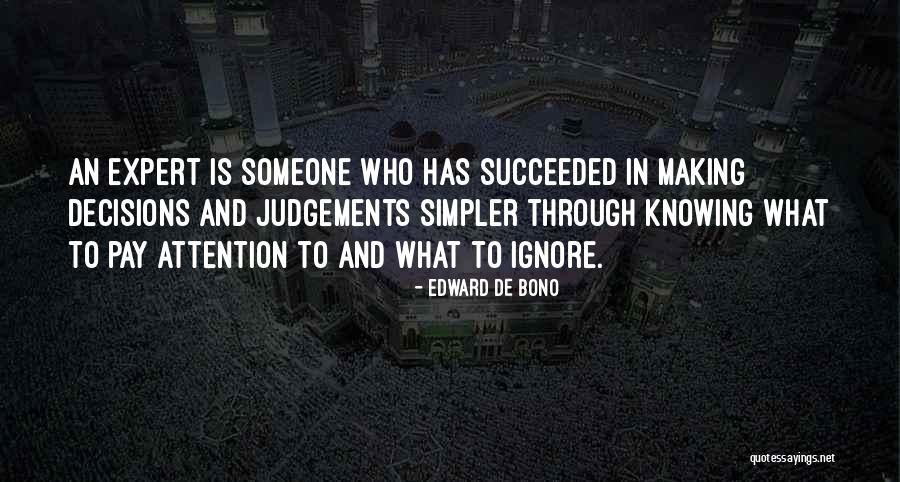 An expert is someone who has succeeded in making decisions and judgements simpler through knowing what to pay attention to and what to ignore. — Edward De Bono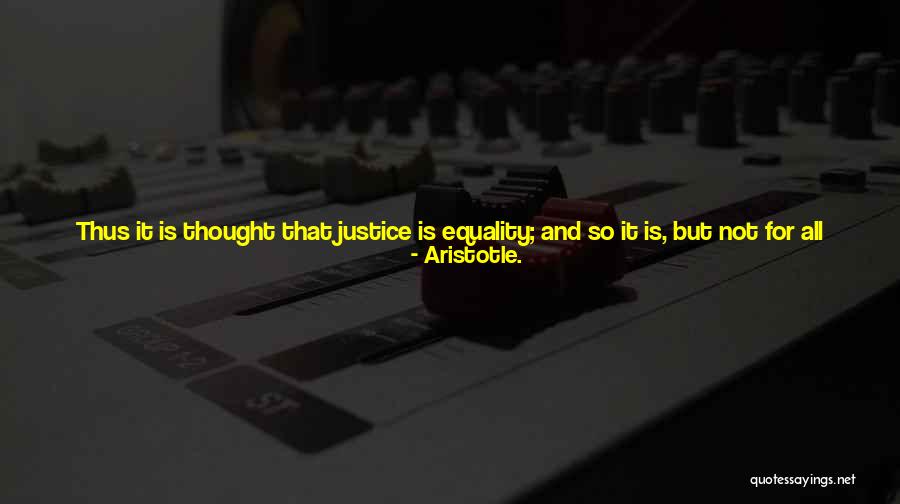 Thus it is thought that justice is equality; and so it is, but not for all persons, only for those that are equal. Inequality also is thought to be just; and so it is, but not for all, only for the unequal. We make bad mistakes if we neglect this for whom when we are deciding what is just. The reason is that we are making judgements about ourselves, and people are generally bad judges where their own interests are involved. — Aristotle.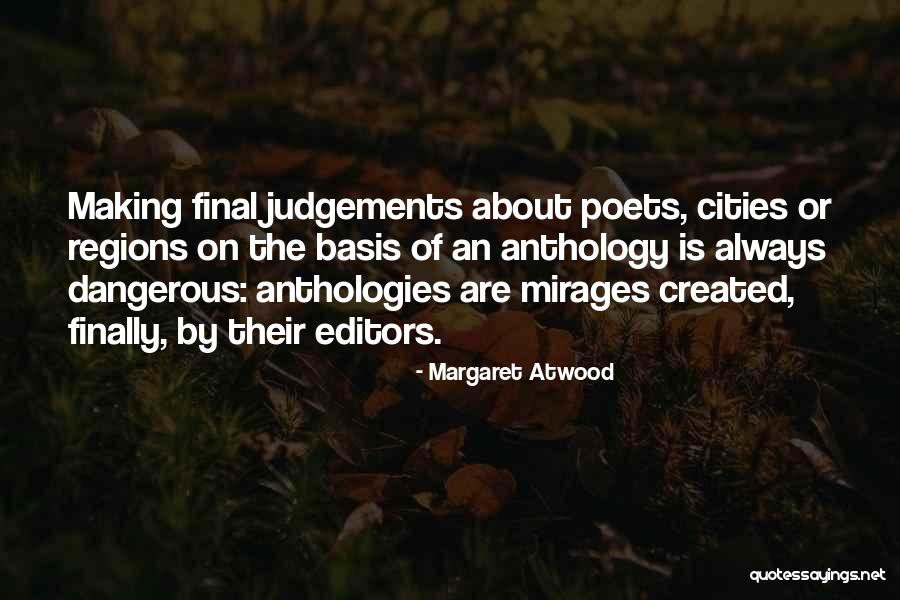 Making final judgements about poets, cities or regions on the basis of an anthology is always dangerous: anthologies are mirages created, finally, by their editors. — Margaret Atwood