Not Knowing The Unknown Quotes & Sayings
Enjoy reading and share 46 famous quotes about Not Knowing The Unknown with everyone.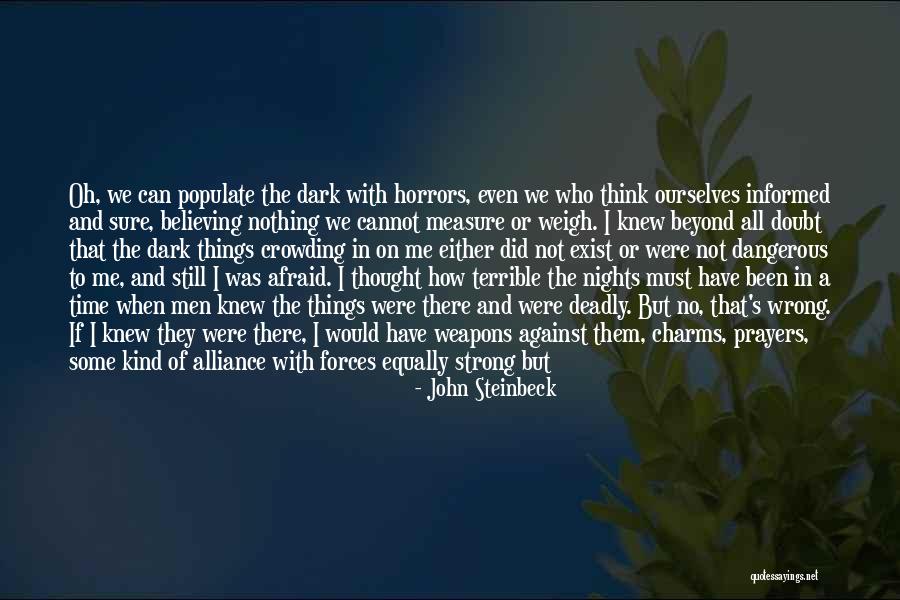 Oh, we can populate the dark with horrors, even we who think ourselves informed and sure, believing nothing we cannot measure or weigh. I knew beyond all doubt that the dark things crowding in on me either did not exist or were not dangerous to me, and still I was afraid. I thought how terrible the nights must have been in a time when men knew the things were there and were deadly. But no, that's wrong. If I knew they were there, I would have weapons against them, charms, prayers, some kind of alliance with forces equally strong but on my side. Knowing they were not there made me defenseless against them and perhaps more afraid. — John Steinbeck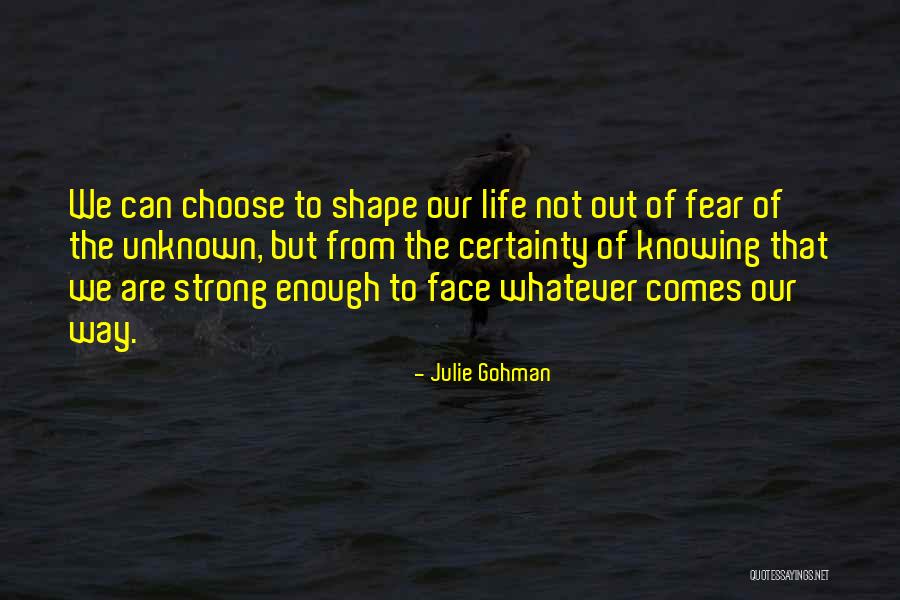 We can choose to shape our life not out of fear of the unknown, but from the certainty of knowing that we are strong enough to face whatever comes our way. — Julie Gohman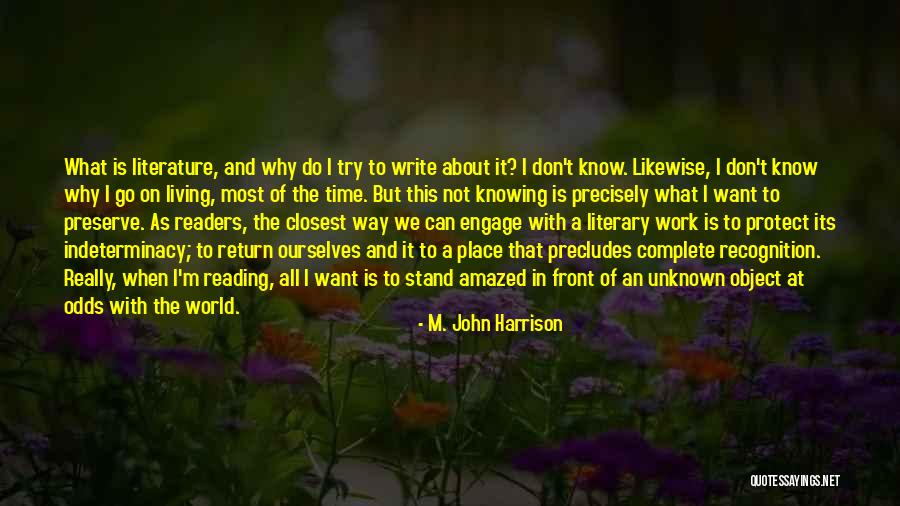 What is literature, and why do I try to write about it? I don't know. Likewise, I don't know why I go on living, most of the time. But this not knowing is precisely what I want to preserve. As readers, the closest way we can engage with a literary work is to protect its indeterminacy; to return ourselves and it to a place that precludes complete recognition. Really, when I'm reading, all I want is to stand amazed in front of an unknown object at odds with the world. — M. John Harrison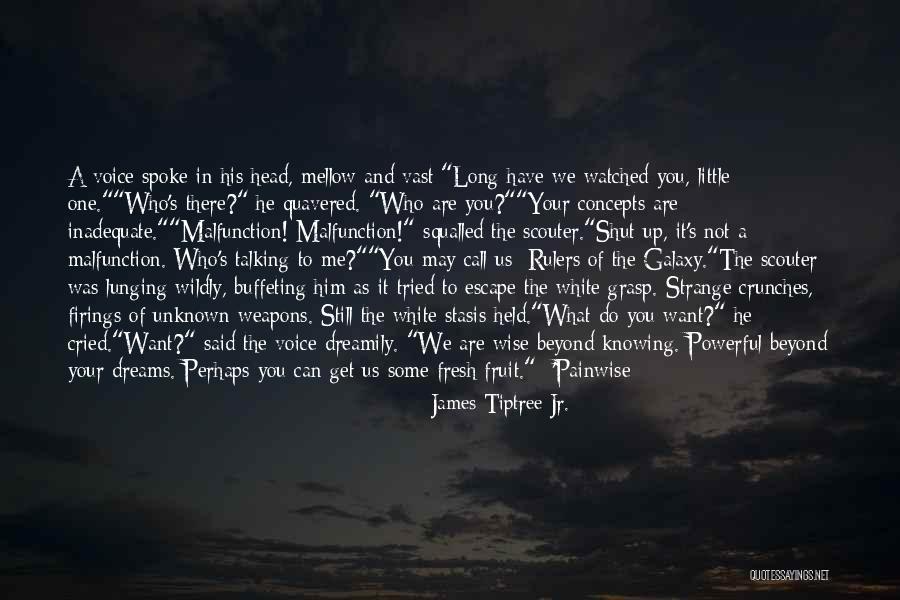 A voice spoke in his head, mellow and vast:

"Long have we watched you, little one."

"Who's there?" he quavered. "Who are you?"

"Your concepts are inadequate."

"Malfunction! Malfunction!" squalled the scouter.

"Shut up, it's not a malfunction. Who's talking to me?"

"You may call us: Rulers of the Galaxy."

The scouter was lunging wildly, buffeting him as it tried to escape the white grasp. Strange crunches, firings of unknown weapons. Still the white stasis held.

"What do you want?" he cried.

"Want?" said the voice dreamily. "We are wise beyond knowing. Powerful beyond your dreams. Perhaps you can get us some fresh fruit."

- 'Painwise — James Tiptree Jr.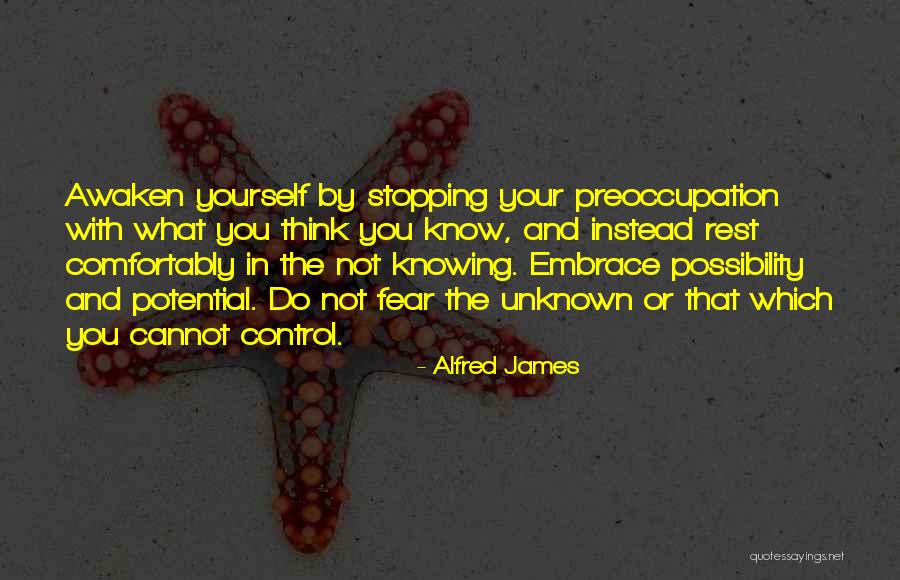 Awaken yourself by stopping your preoccupation with what you think you know, and instead rest comfortably in the not knowing. Embrace possibility and potential. Do not fear the unknown or that which you cannot control. — Alfred James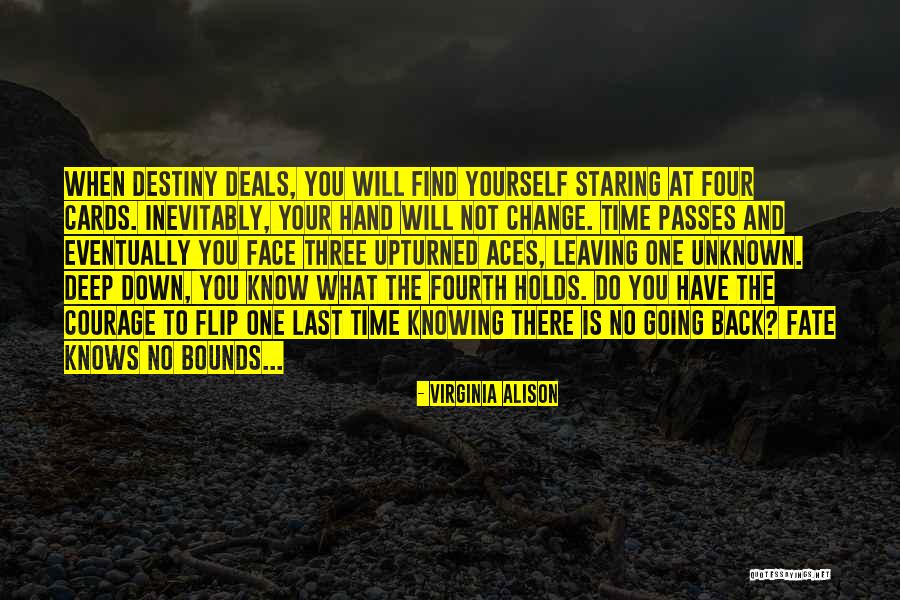 When destiny deals, you will find yourself staring at four cards. Inevitably, your hand will not change. Time passes and eventually you face three upturned aces, leaving one unknown. Deep down, you know what the fourth holds. Do you have the courage to flip one last time knowing there is no going back? Fate knows no bounds... — Virginia Alison
My religion is searching for the truth in life and life in the truth, though knowing that I do not have to find it while I live; my religion is fighting incessantly and tirelessly with the unknown. — Miguel De Unamuno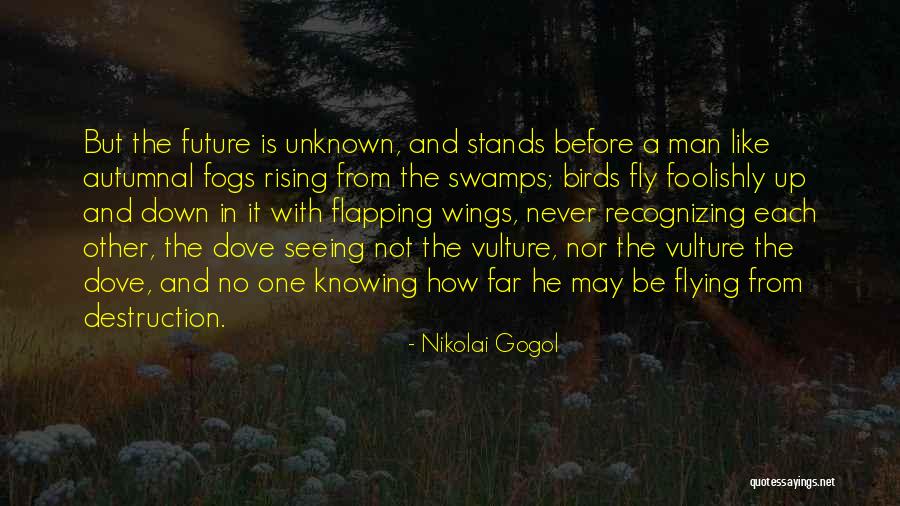 But the future is unknown, and stands before a man like autumnal fogs rising from the swamps; birds fly foolishly up and down in it with flapping wings, never recognizing each other, the dove seeing not the vulture, nor the vulture the dove, and no one knowing how far he may be flying from destruction. — Nikolai Gogol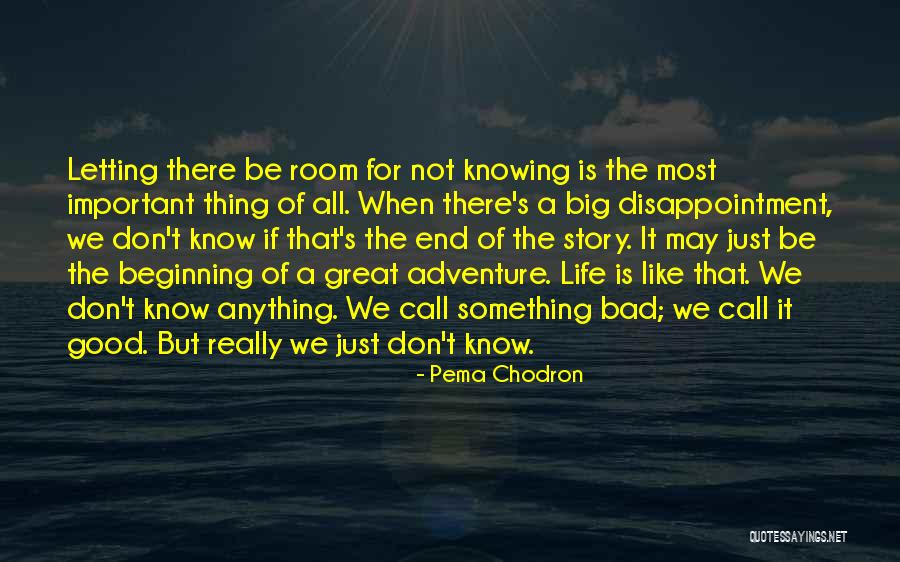 Letting there be room for not knowing is the most important thing of all. When there's a big disappointment, we don't know if that's the end of the story. It may just be the beginning of a great adventure. Life is like that. We don't know anything. We call something bad; we call it good. But really we just don't know. — Pema Chodron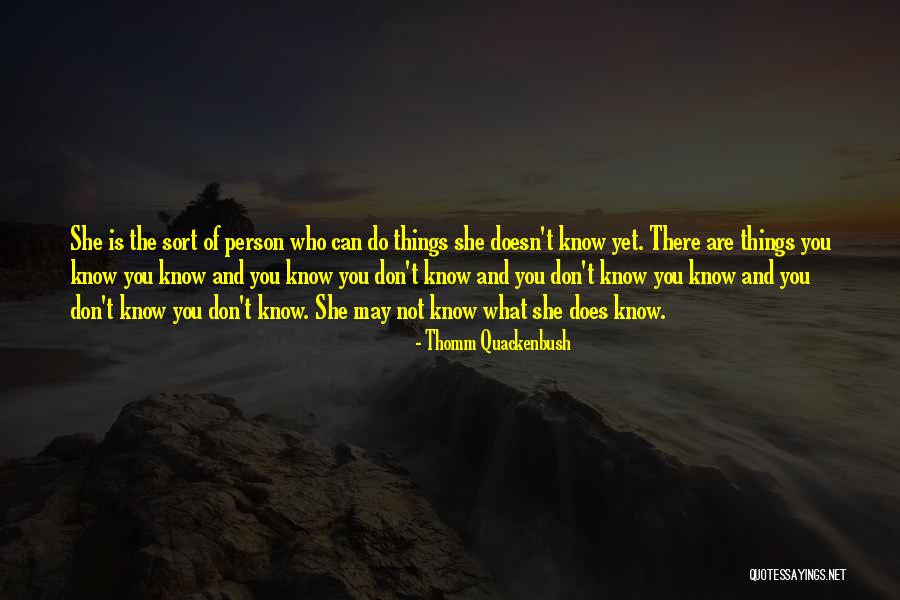 She is the sort of person who can do things she doesn't know yet. There are things you know you know and you know you don't know and you don't know you know and you don't know you don't know. She may not know what she does know. — Thomm Quackenbush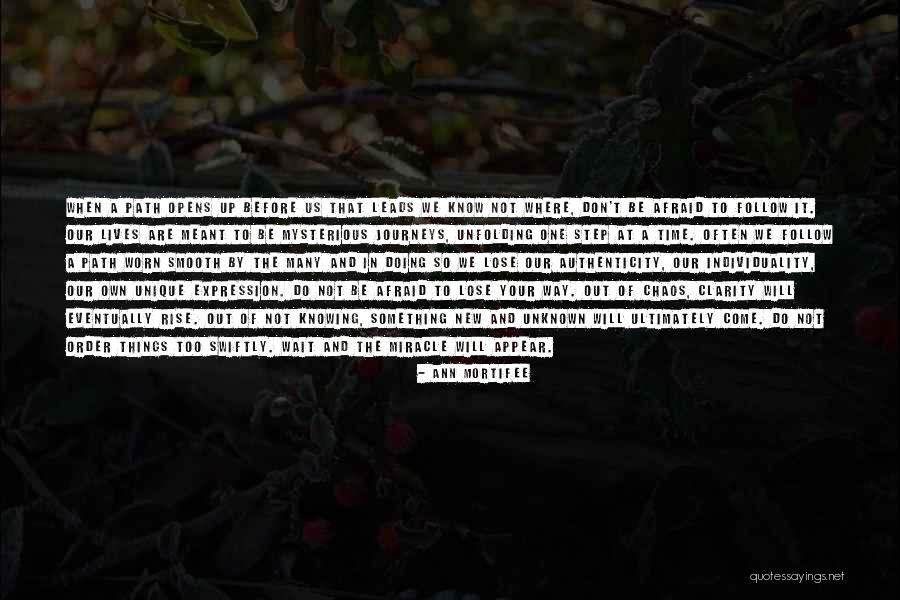 When a path opens up before us that leads we know not where, don't be afraid to follow it. Our lives are meant to be mysterious journeys, unfolding one step at a time. Often we follow a path worn smooth by the many and in doing so we lose our authenticity, our individuality, our own unique expression. Do not be afraid to lose your way. Out of chaos, clarity will eventually rise. Out of not knowing, something new and unknown will ultimately come. Do not order things too swiftly. Wait and the miracle will appear. — Ann Mortifee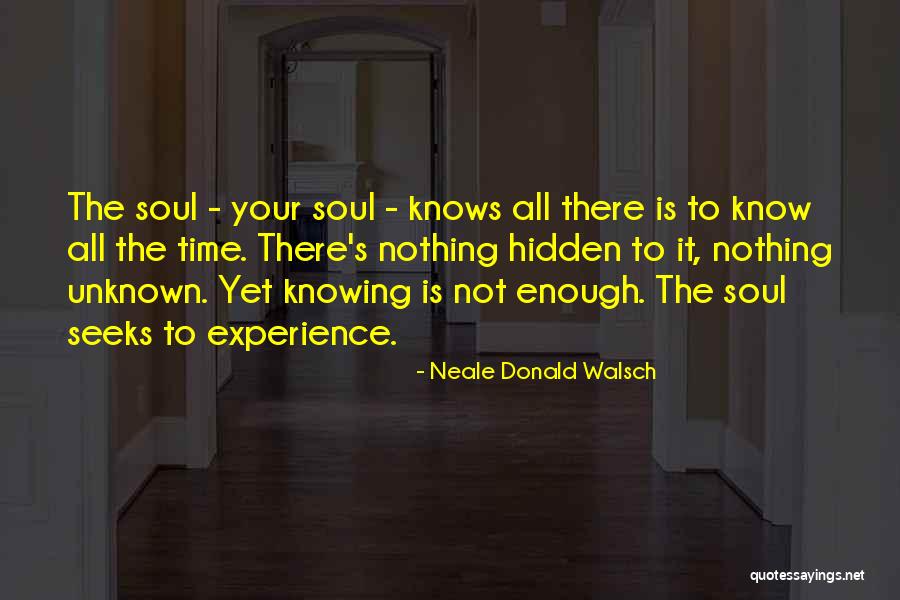 The soul - your soul - knows all there is to know all the time. There's nothing hidden to it, nothing unknown. Yet knowing is not enough. The soul seeks to experience. — Neale Donald Walsch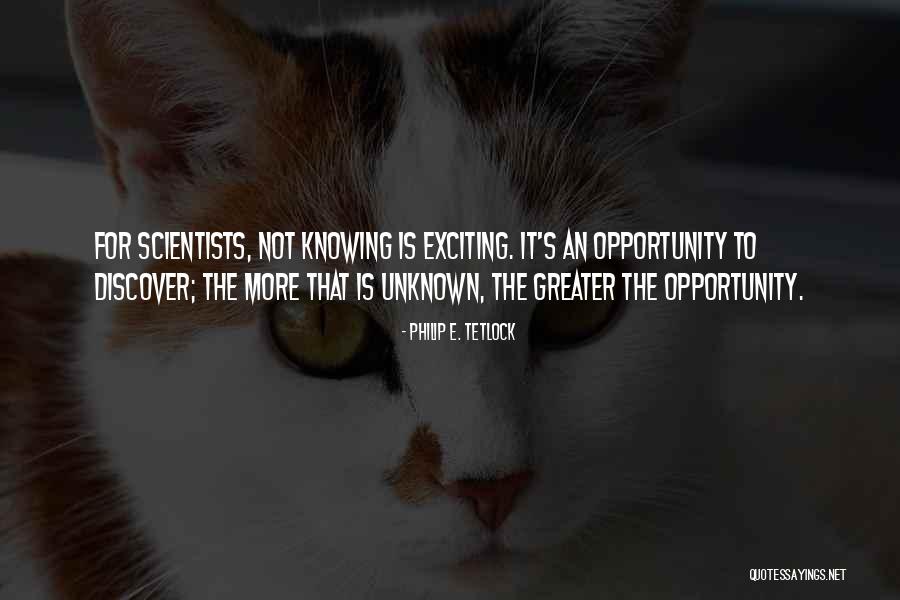 For scientists, not knowing is exciting. It's an opportunity to discover; the more that is unknown, the greater the opportunity. — Philip E. Tetlock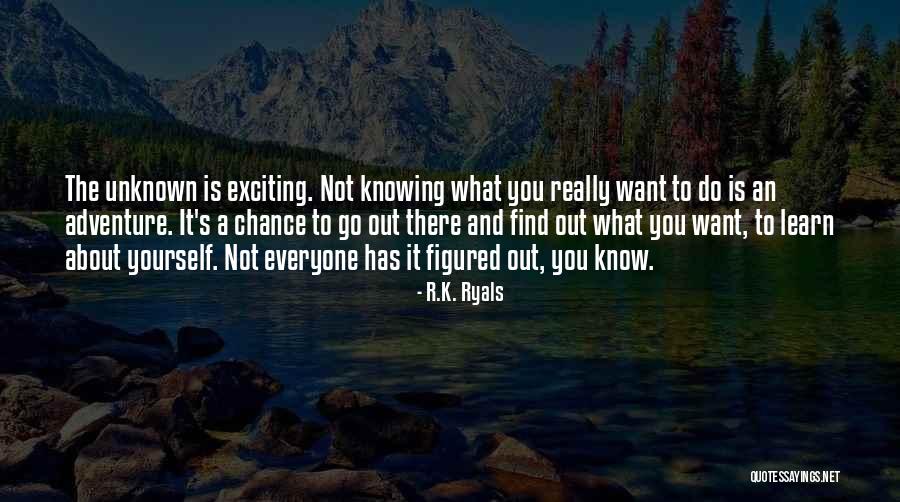 The unknown is exciting. Not knowing what you really want to do is an adventure. It's a chance to go out there and find out what you want, to learn about yourself. Not everyone has it figured out, you know. — R.K. Ryals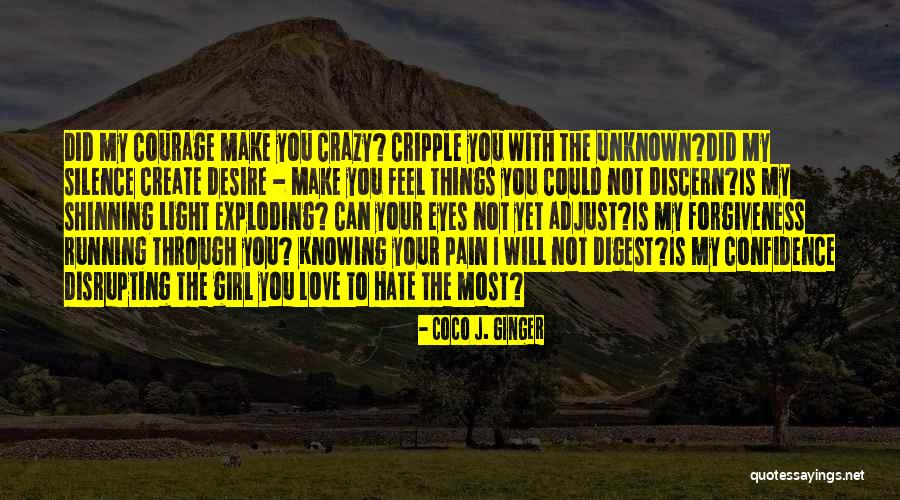 Did my courage make you crazy? Cripple you with the unknown?
Did my silence create desire - make you feel things you could not discern?
Is my shinning light exploding? Can your eyes not yet adjust?
Is my forgiveness running through you? Knowing your pain I will not digest?
Is my confidence disrupting the girl you LOVE to HATE the most? — Coco J. Ginger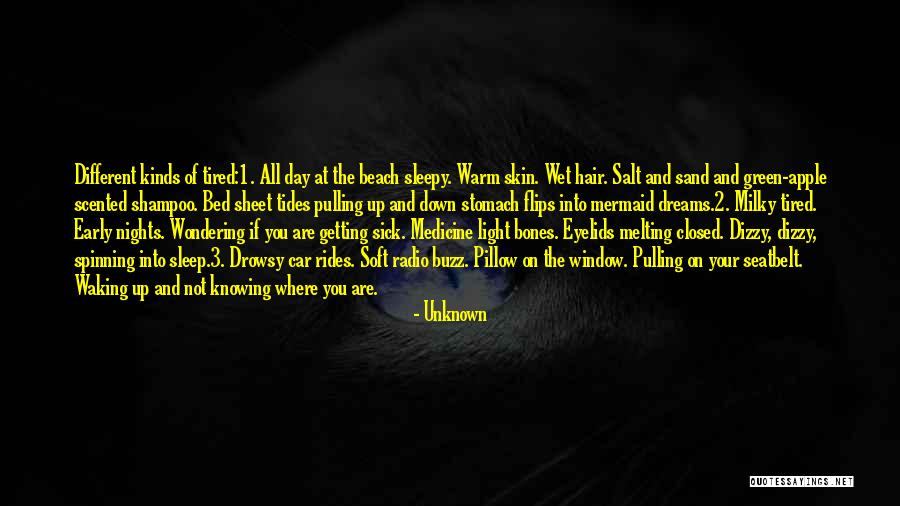 Different kinds of tired:

1. All day at the beach sleepy. Warm skin. Wet hair. Salt and sand and green-apple scented shampoo. Bed sheet tides pulling up and down stomach flips into mermaid dreams.

2. Milky tired. Early nights. Wondering if you are getting sick. Medicine light bones. Eyelids melting closed. Dizzy, dizzy, spinning into sleep.

3. Drowsy car rides. Soft radio buzz. Pillow on the window. Pulling on your seatbelt. Waking up and not knowing where you are. — Unknown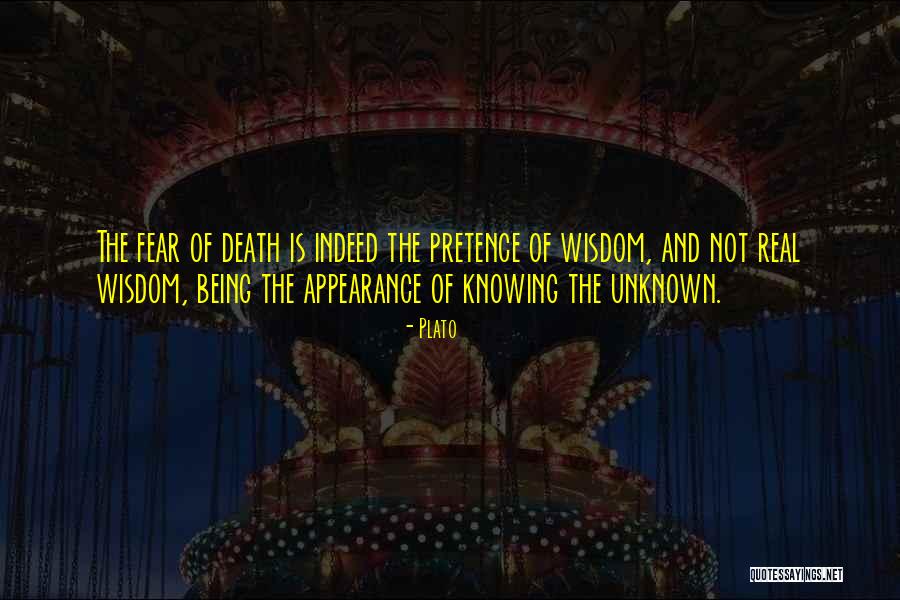 The fear of death is indeed the pretence of wisdom, and not real wisdom, being the appearance of knowing the unknown. — Plato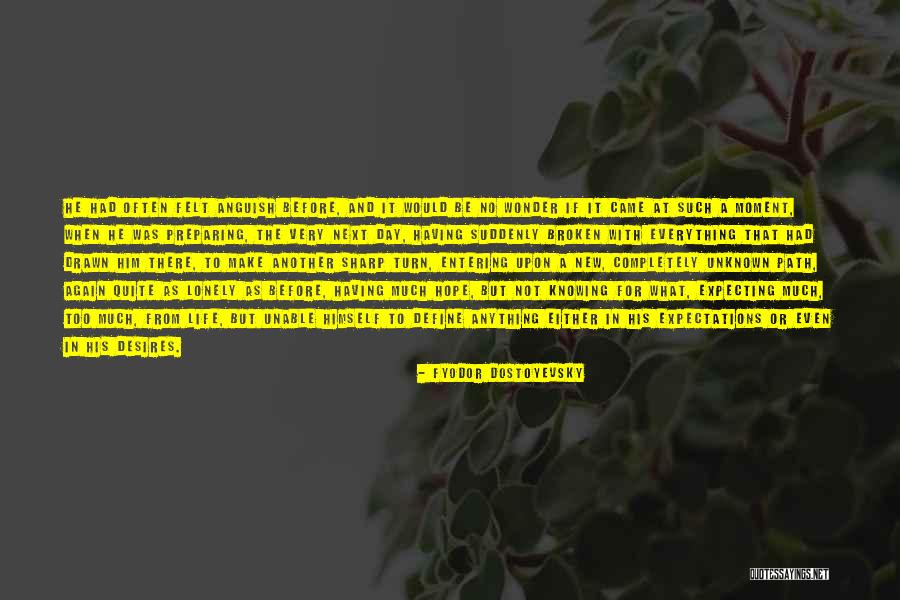 He had often felt anguish before, and it would be no wonder if it came at such a moment, when he was preparing, the very next day, having suddenly broken with everything that had drawn him there, to make another sharp turn, entering upon a new, completely unknown path, again quite as lonely as before, having much hope, but not knowing for what, expecting much, too much, from life, but unable himself to define anything either in his expectations or even in his desires. — Fyodor Dostoyevsky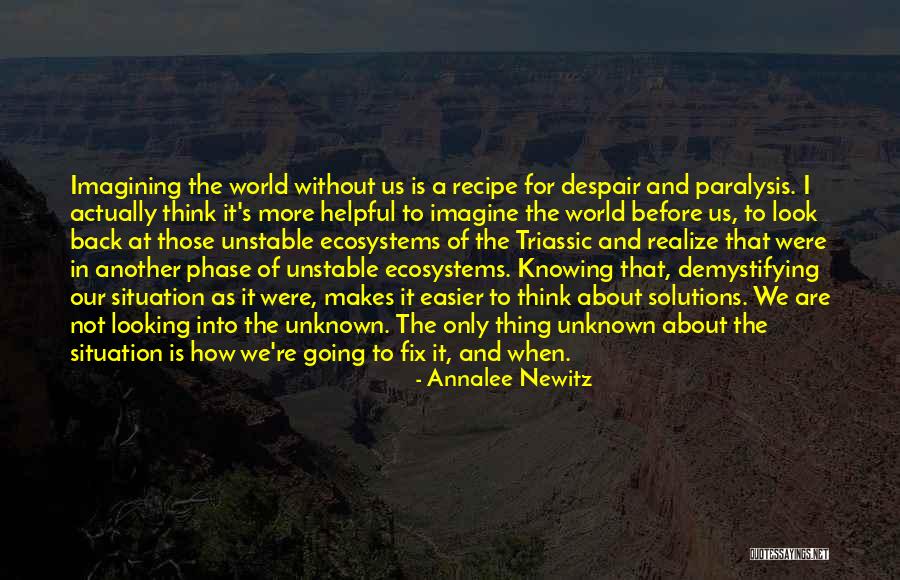 Imagining the world without us is a recipe for despair and paralysis. I actually think it's more helpful to imagine the world before us, to look back at those unstable ecosystems of the Triassic and realize that were in another phase of unstable ecosystems. Knowing that, demystifying our situation as it were, makes it easier to think about solutions. We are not looking into the unknown. The only thing unknown about the situation is how we're going to fix it, and when. — Annalee Newitz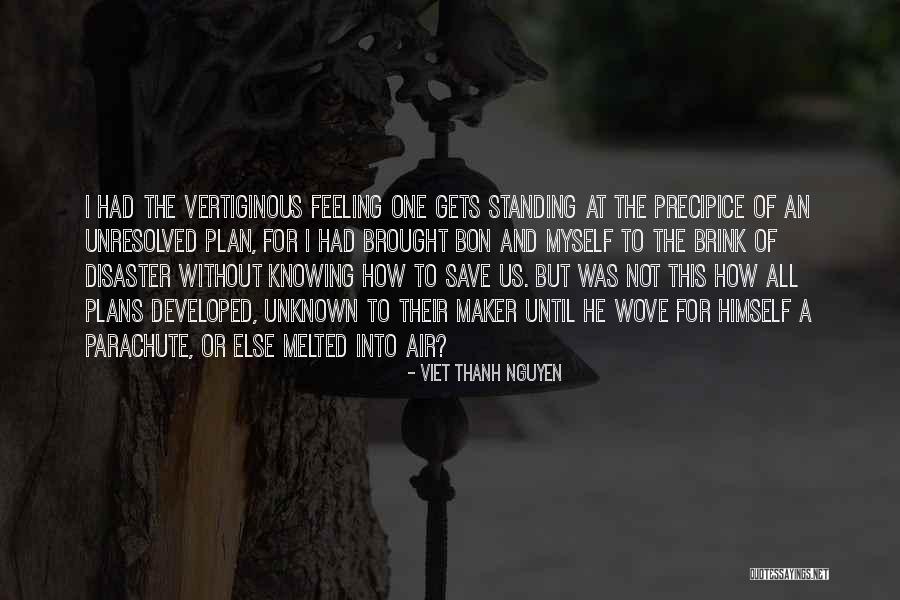 I had the vertiginous feeling one gets standing at the precipice of an unresolved plan, for I had brought Bon and myself to the brink of disaster without knowing how to save us. But was not this how all plans developed, unknown to their maker until he wove for himself a parachute, or else melted into air? — Viet Thanh Nguyen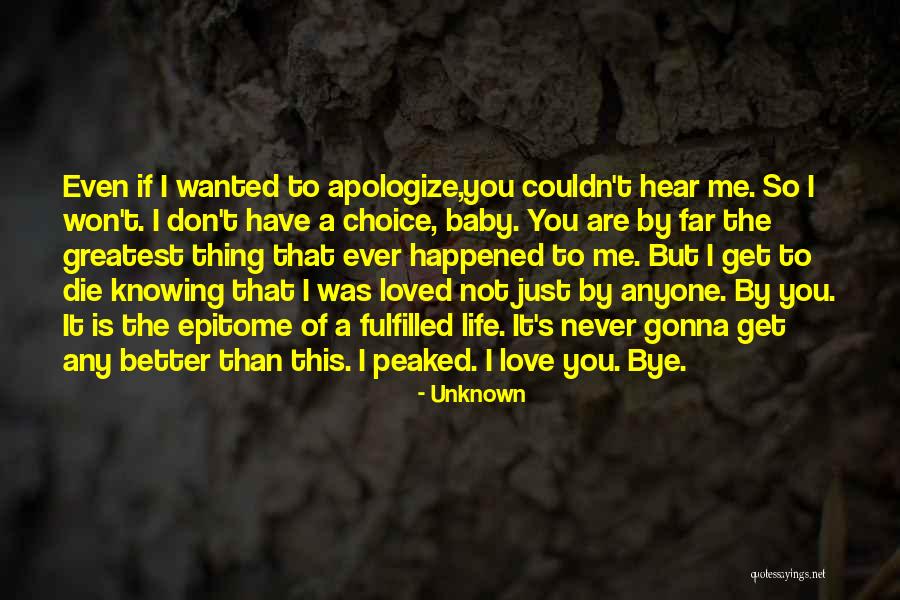 Even if I wanted to apologize,you couldn't hear me. So I won't. I don't have a choice, baby. You are by far the greatest thing that ever happened to me. But I get to die knowing that I was loved not just by anyone. By you. It is the epitome of a fulfilled life. It's never gonna get any better than this. I peaked. I love you. Bye. — Unknown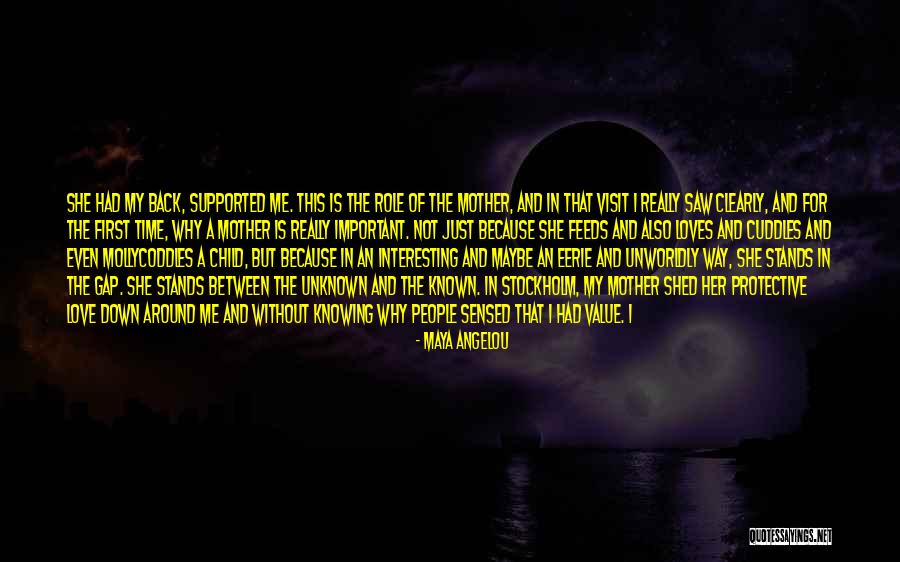 She had my back, supported me. This is the role of the mother, and in that visit I really saw clearly, and for the first time, why a mother is really important. Not just because she feeds and also loves and cuddles and even mollycoddles a child, but because in an interesting and maybe an eerie and unworldly way, she stands in the gap. She stands between the unknown and the known. In Stockholm, my mother shed her protective love down around me and without knowing why people sensed that I had value. I — Maya Angelou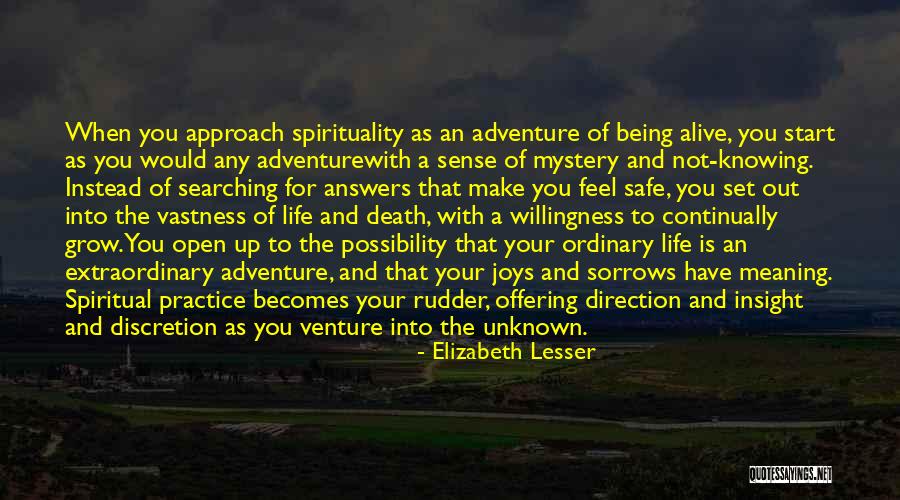 When you approach spirituality as an adventure of being alive, you start as you would any adventure
with a sense of mystery and not-knowing. Instead of searching for answers that make you feel safe, you set out into the vastness of life and death, with a willingness to continually grow. You open up to the possibility that your ordinary life is an extraordinary adventure, and that your joys and sorrows have meaning. Spiritual practice becomes your rudder, offering direction and insight and discretion as you venture into the unknown. — Elizabeth Lesser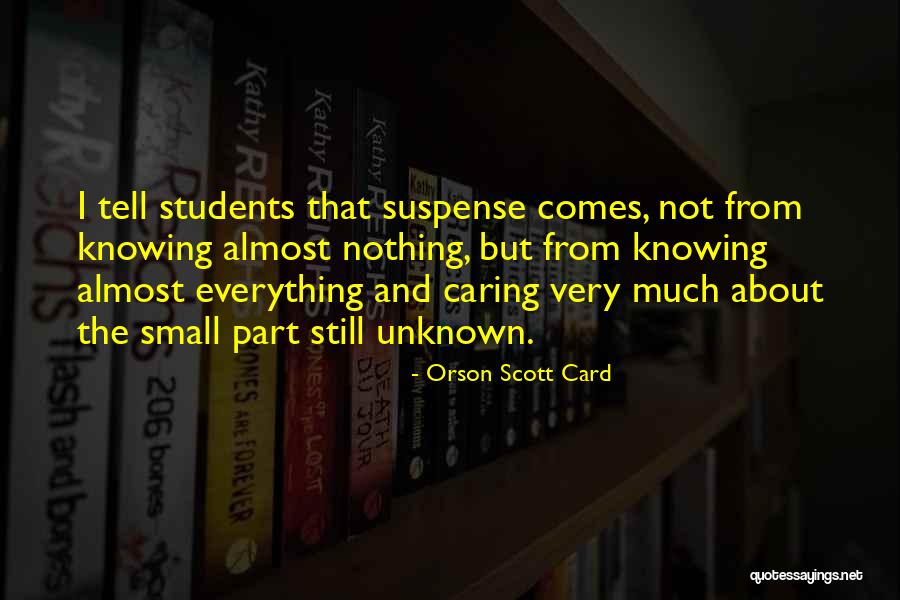 I tell students that suspense comes, not from knowing almost nothing, but from knowing almost everything and caring very much about the small part still unknown. — Orson Scott Card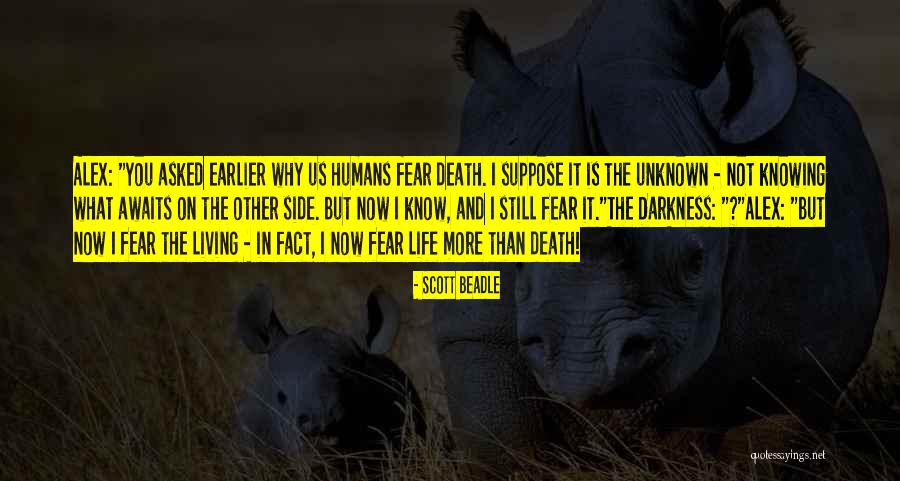 Alex: "You asked earlier why us humans fear death. I suppose it is the unknown - not knowing what awaits on the other side. But now I know, and I still fear it."
The Darkness: "?"
Alex: "But now I fear the living - in fact, I now fear life more than death! — Scott Beadle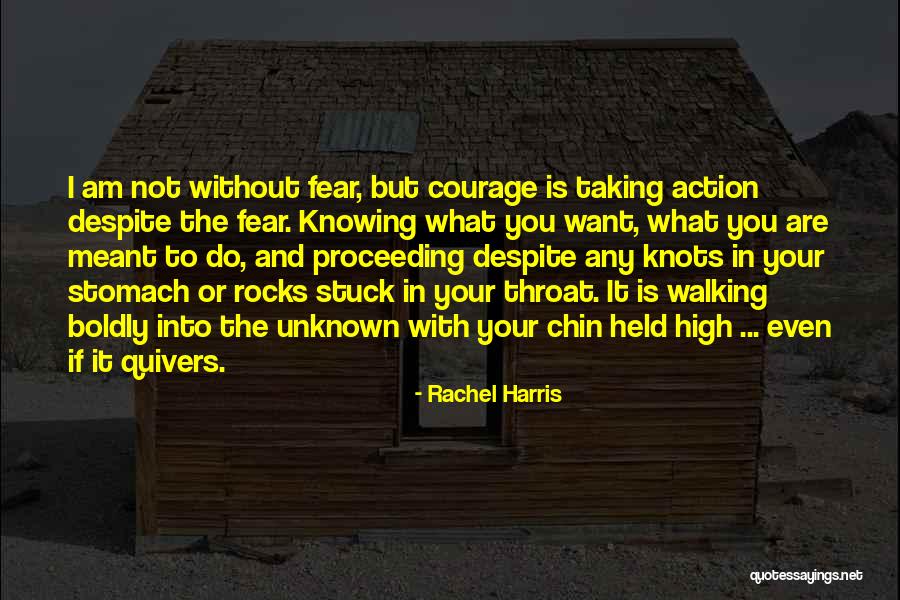 I am not without fear, but courage is taking action despite the fear. Knowing what you want, what you are meant to do, and proceeding despite any knots in your stomach or rocks stuck in your throat. It is walking boldly into the unknown with your chin held high ... even if it quivers. — Rachel Harris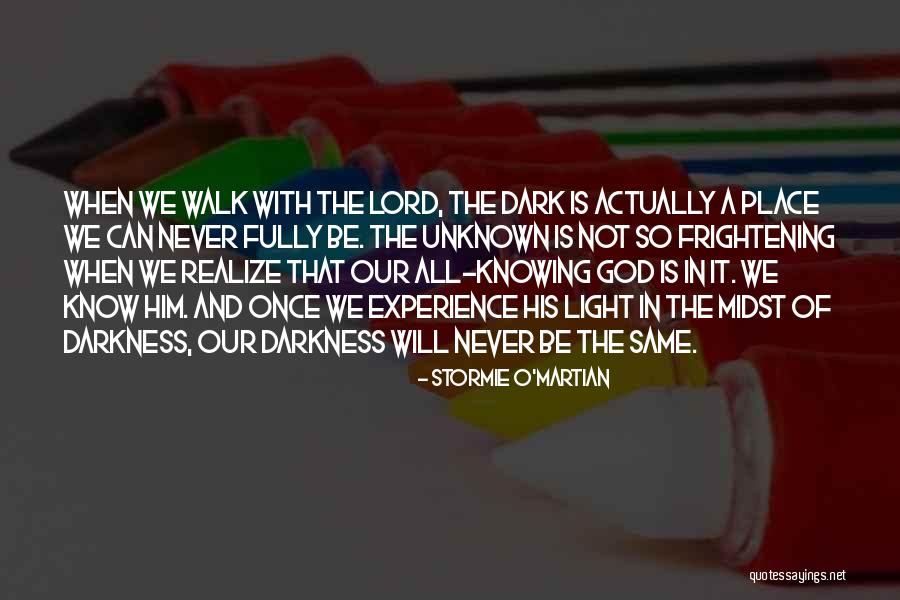 When we walk with the Lord, the dark is actually a place we can never fully be. The unknown is not so frightening when we realize that our all-knowing God is in it. We know Him. And once we experience His light in the midst of darkness, our darkness will never be the same. — Stormie O'martian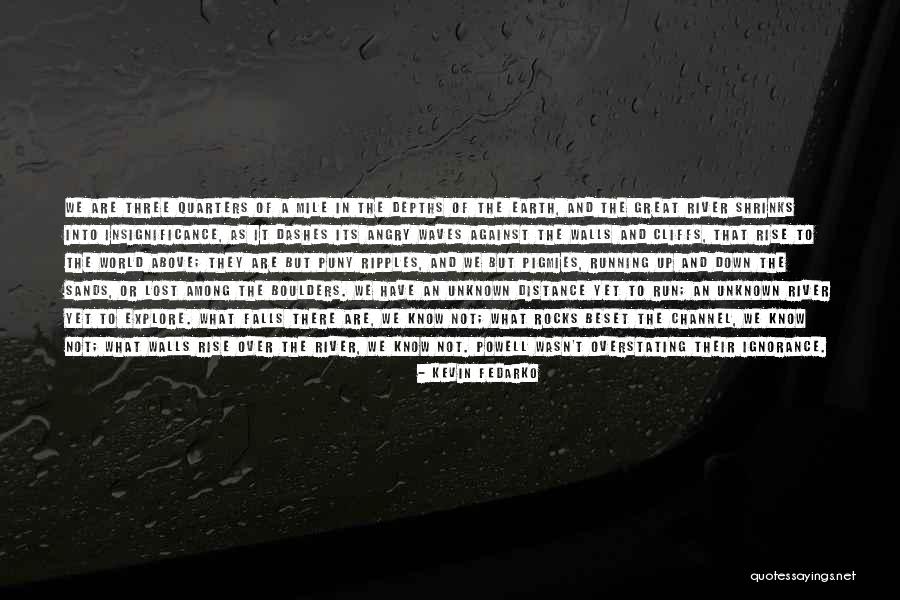 We are three quarters of a mile in the depths of the earth, and the great river shrinks into insignificance, as it dashes its angry waves against the walls and cliffs, that rise to the world above; they are but puny ripples, and we but pigmies, running up and down the sands, or lost among the boulders. We have an unknown distance yet to run; an unknown river yet to explore. What falls there are, we know not; what rocks beset the channel, we know not; what walls rise over the river, we know not. Powell wasn't overstating their ignorance. At this point, they had no clear idea how far they had come or how much canyon lay ahead of them. They did not know how many turns the river would make, how many rapids there might be, or whether their supplies would sustain them through the time it would take to negotiate these obstacles. And they had no way of knowing that their most serious challenges lay ahead. Just — Kevin Fedarko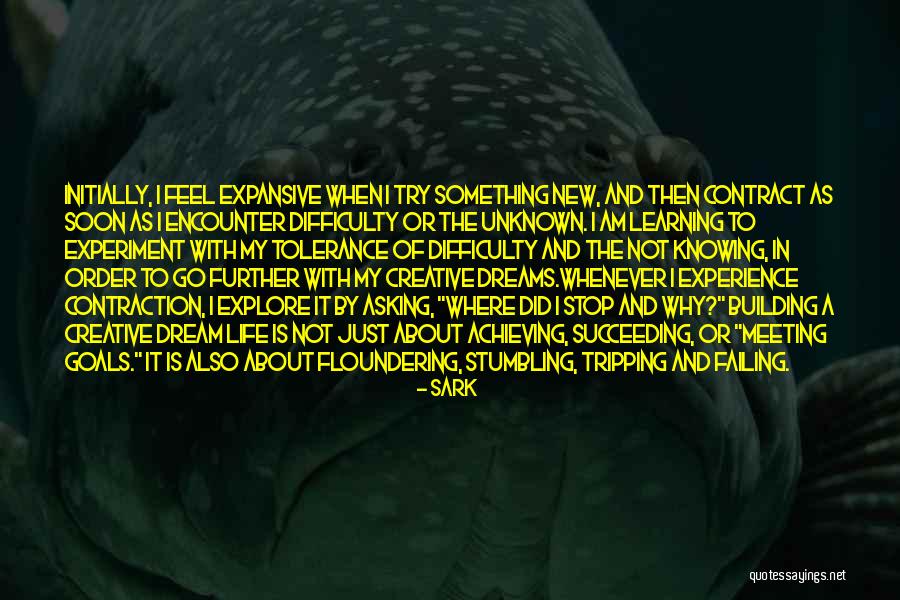 Initially, I feel expansive when I try something new, and then contract as soon as I encounter difficulty or the unknown. I am learning to experiment with my tolerance of difficulty and the not knowing, in order to go further with my creative dreams.
Whenever I experience contraction, I explore it by asking, "Where did I stop and why?"
Building a creative dream life is not just about achieving, succeeding, or "meeting goals." It is also about floundering, stumbling, tripping and failing. — SARK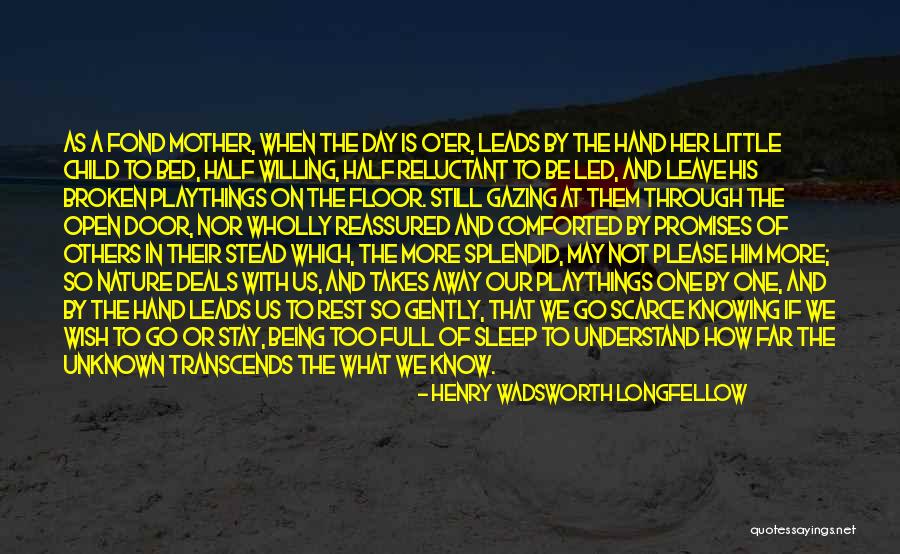 As a fond mother, when the day is o'er, Leads by the hand her little child to bed, Half willing, half reluctant to be led, And leave his broken playthings on the floor. Still gazing at them through the open door, Nor wholly reassured and comforted By promises of others in their stead Which, the more splendid, may not please him more; So Nature deals with us, and takes away Our playthings one by one, and by the hand Leads us to rest so gently, that we go Scarce knowing if we wish to go or stay, Being too full of sleep to understand How far the unknown transcends the what we know. — Henry Wadsworth Longfellow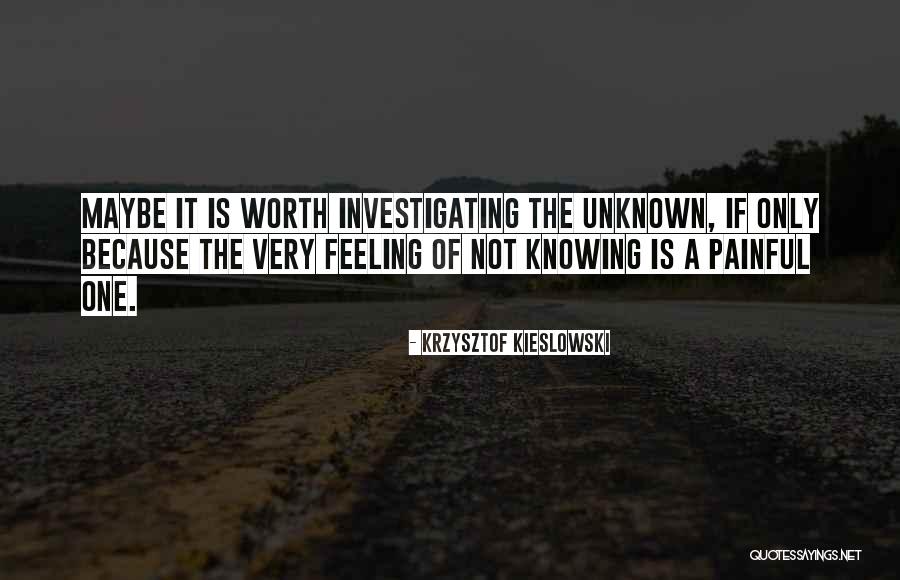 Maybe it is worth investigating the unknown, if only because the very feeling of not knowing is a painful one. — Krzysztof Kieslowski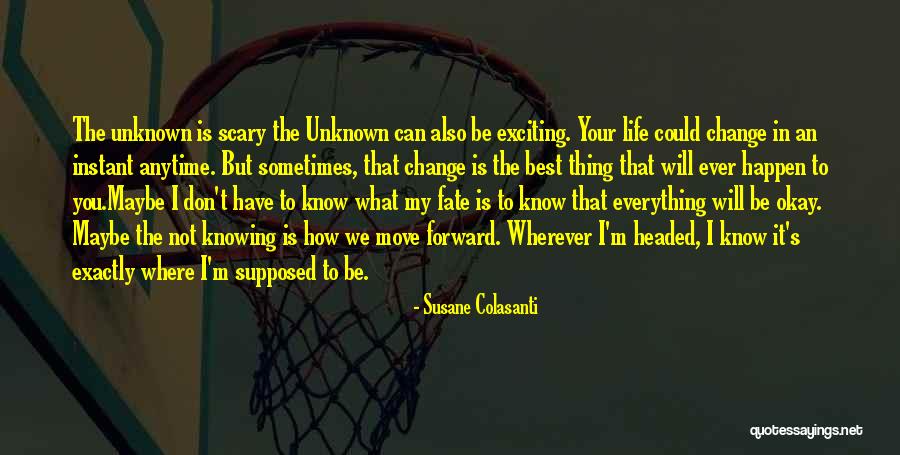 The unknown is scary the Unknown can also be exciting. Your life could change in an instant anytime. But sometimes, that change is the best thing that will ever happen to you.Maybe I don't have to know what my fate is to know that everything will be okay. Maybe the not knowing is how we move forward. Wherever I'm headed, I know it's exactly where I'm supposed to be. — Susane Colasanti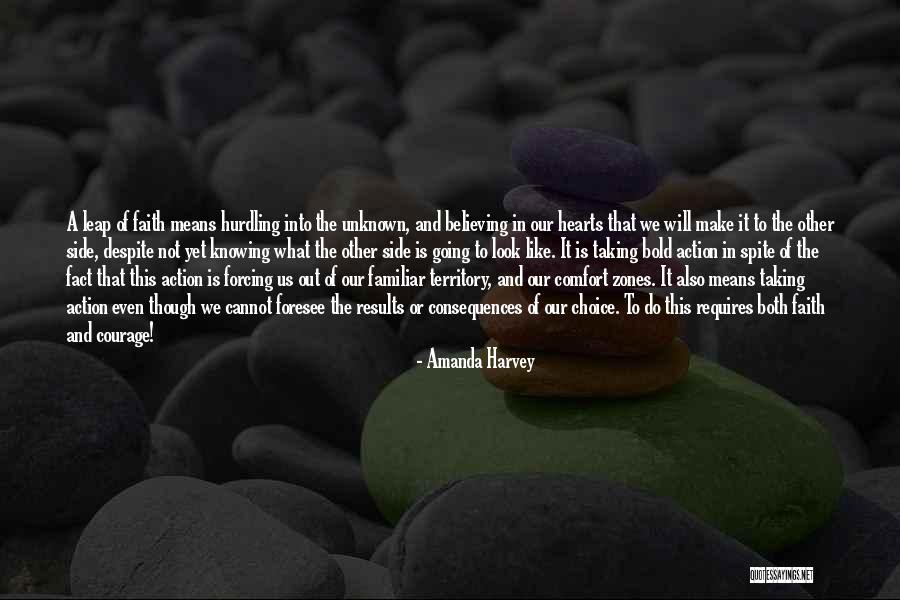 A leap of faith means hurdling into the unknown, and believing in our hearts that we will make it to the other side, despite not yet knowing what the other side is going to look like. It is taking bold action in spite of the fact that this action is forcing us out of our familiar territory, and our comfort zones. It also means taking action even though we cannot foresee the results or consequences of our choice. To do this requires both faith and courage! — Amanda Harvey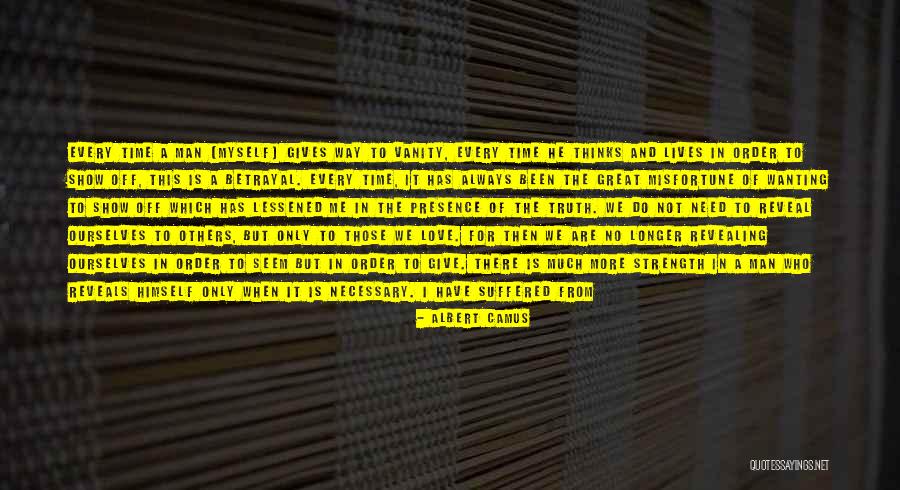 Every time a man (myself) gives way to vanity, every time he thinks and lives in order to show off, this is a betrayal. Every time, it has always been the great misfortune of wanting to show off which has lessened me in the presence of the truth. We do not need to reveal ourselves to others, but only to those we love. For then we are no longer revealing ourselves in order to seem but in order to give. There is much more strength in a man who reveals himself only when it is necessary. I have suffered from being alone, but because I have been able to keep my secret I have overcome the suffering of loneliness. To go right to the end implies knowing how to keep one's secret. And, today, there is no greater joy than to live alone and unknown. — Albert Camus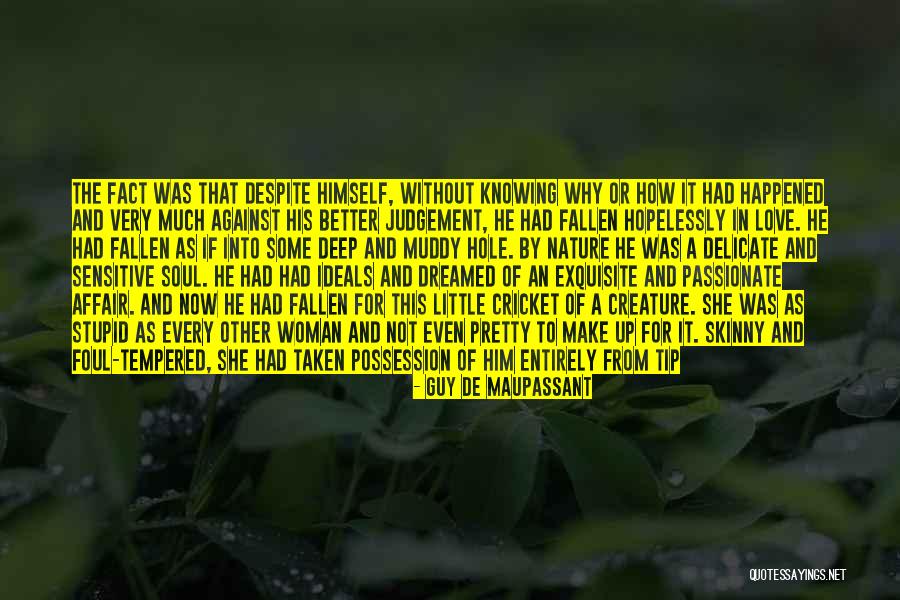 The fact was that despite himself, without knowing why or how it had happened and very much against his better judgement, he had fallen hopelessly in love. He had fallen as if into some deep and muddy hole. By nature he was a delicate and sensitive soul. He had had ideals and dreamed of an exquisite and passionate affair. And now he had fallen for this little cricket of a creature. She was as stupid as every other woman and not even pretty to make up for it. Skinny and foul-tempered, she had taken possession of him entirely from tip to toe, body and soul. He had fallen under the omnipotent and mysterious spell of the female. He was overwhelmed by this colossal force of unknown origin, the demon in the flesh capable of hurling the most rational man in the world at the feet of a worthless harlot. There was no way he could explain its fatal and total power. — Guy De Maupassant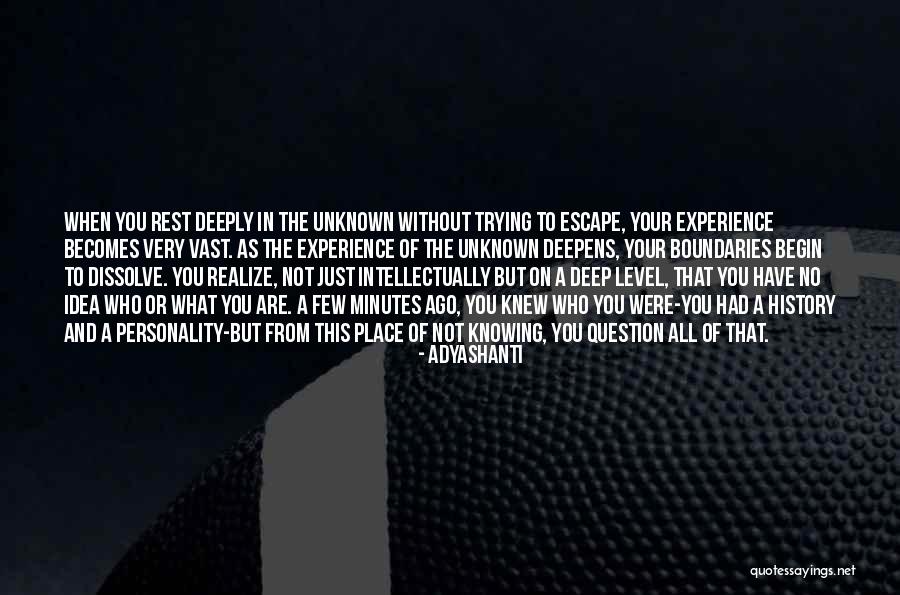 When you rest deeply in the Unknown without trying to escape, your experience becomes very vast. As the experience of the Unknown deepens, your boundaries begin to dissolve. You realize, not just intellectually but on a deep level, that you have no idea who or what you are. A few minutes ago, you knew who you were-you had a history and a personality-but from this place of not knowing, you question all of that. — Adyashanti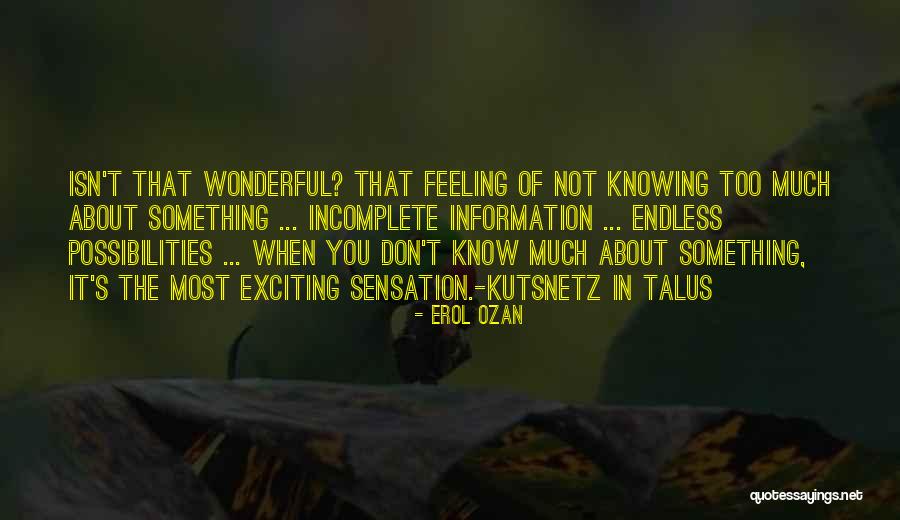 Isn't that wonderful? That feeling of not knowing too much about something ... Incomplete information ... Endless possibilities ... When you don't know much about something, it's the most exciting sensation.
-Kutsnetz in TALUS — Erol Ozan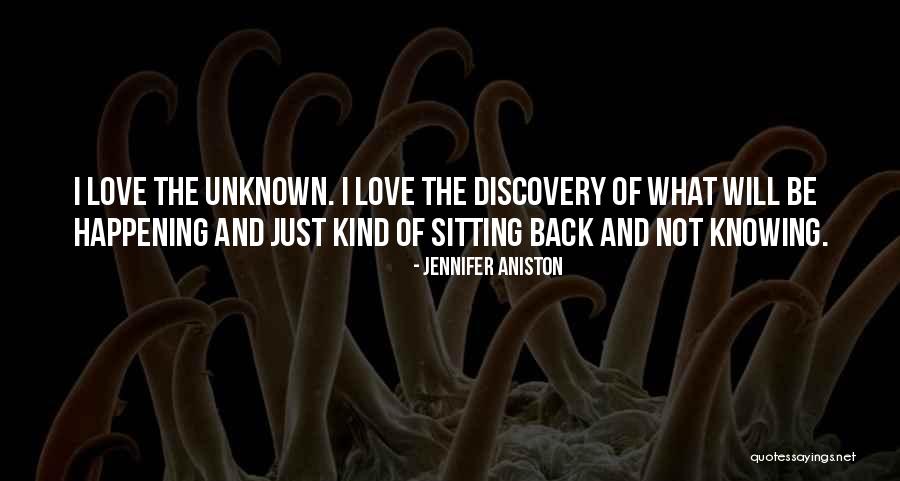 I love the unknown. I love the discovery of what will be happening and just kind of sitting back and not knowing. — Jennifer Aniston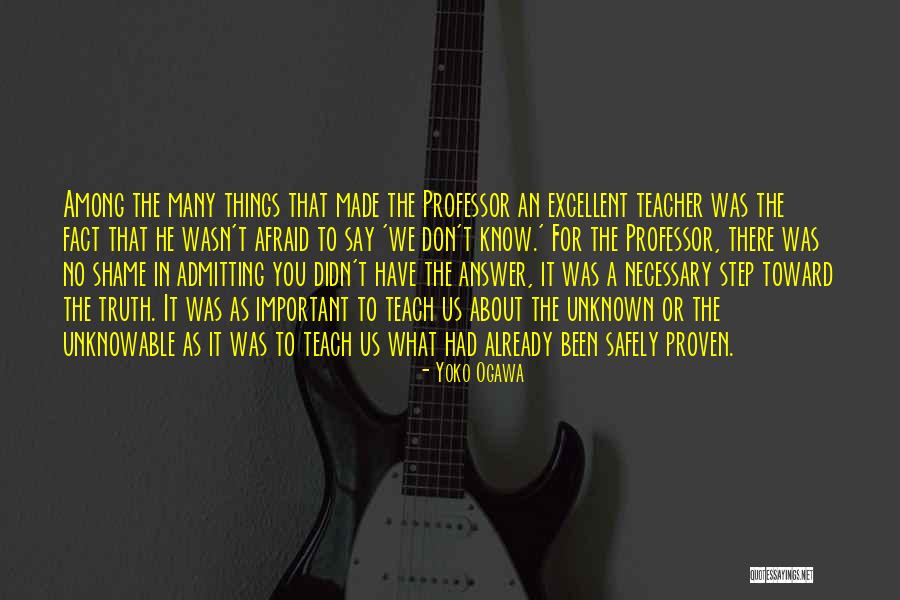 Among the many things that made the Professor an excellent teacher was the fact that he wasn't afraid to say 'we don't know.' For the Professor, there was no shame in admitting you didn't have the answer, it was a necessary step toward the truth. It was as important to teach us about the unknown or the unknowable as it was to teach us what had already been safely proven. — Yoko Ogawa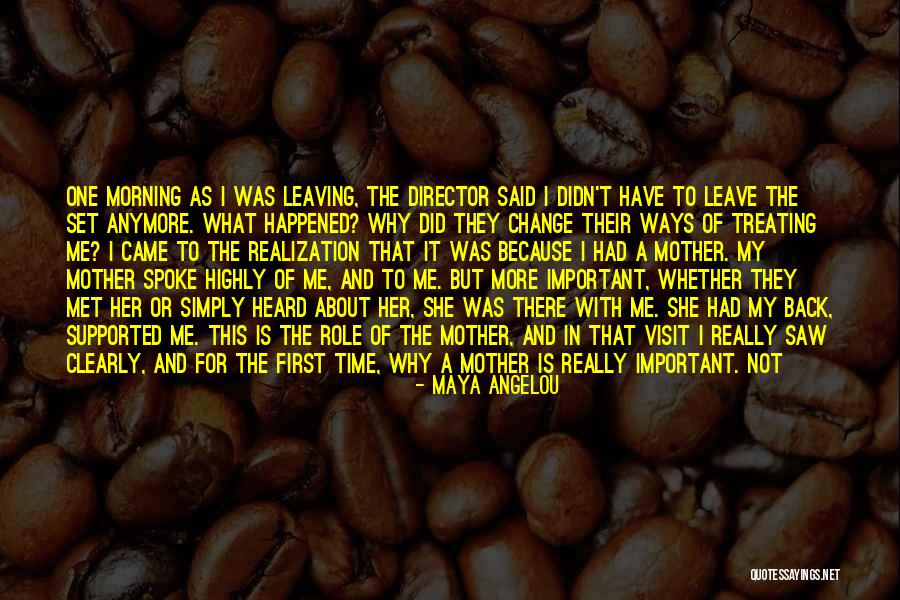 One morning as I was leaving, the director said I didn't have to leave the set anymore. What happened? Why did they change their ways of treating me? I came to the realization that it was because I had a mother. My mother spoke highly of me, and to me. But more important, whether they met her or simply heard about her, she was there with me. She had my back, supported me. This is the role of the mother, and in that visit I really saw clearly, and for the first time, why a mother is really important. Not just because she feeds and also loves and cuddles and even mollycoddles a child, but because in an interesting and maybe an eerie and unworldly way, she stands in the gap. She stands between the unknown and the known. In Stockholm, my mother shed her protective love down around me and without knowing why people sensed that I had value. — Maya Angelou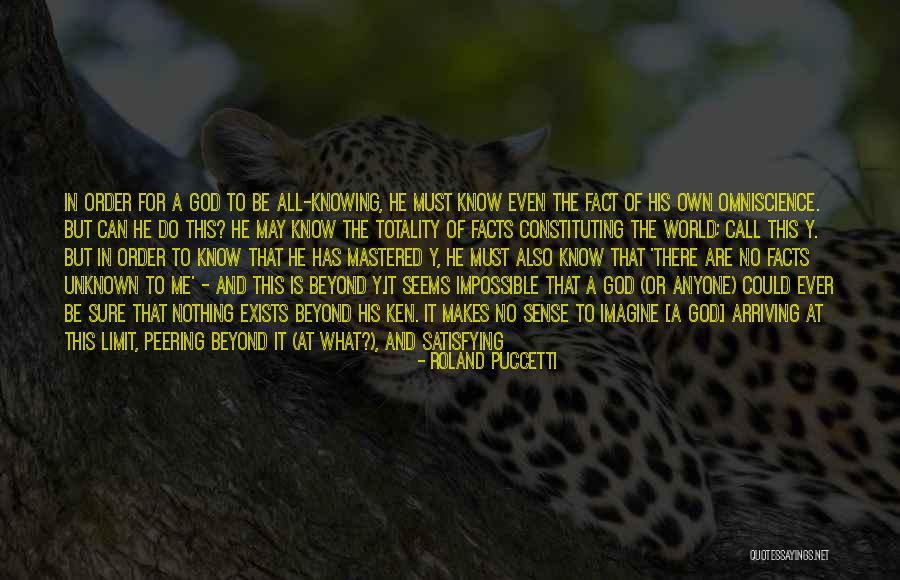 In order for a god to be all-knowing, he must know even the fact of his own omniscience. But can he do this? He may know the totality of facts constituting the world; call this Y. But in order to know that he has mastered Y, he must also know that 'There are no facts unknown to me' - and this is beyond Y.
It seems impossible that a god (or anyone) could ever be sure that nothing exists beyond his ken. It makes no sense to imagine [a god] arriving at this limit, peering beyond it (at what?), and satisfying himself no further facts exist. But without this certainty he cannot be sure of his own omniscience, and so does not know everything.
A theist might argue that his god has created all the facts in existence. But an omniscient god would have to be sure of even this - that he is the sole creator, and that there are no facts unknown to him. And how could he come to this knowledge? — Roland Puccetti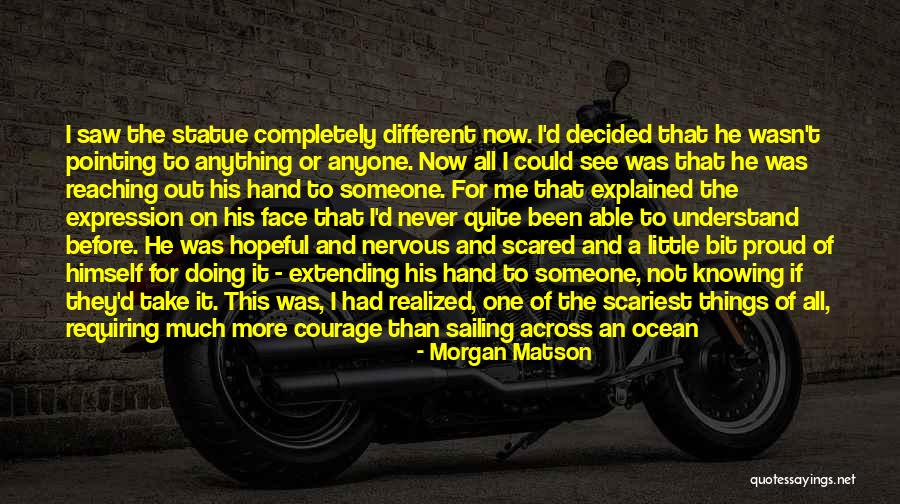 I saw the statue completely different now. I'd decided that he wasn't pointing to anything or anyone. Now all I could see was that he was reaching out his hand to someone. For me that explained the expression on his face that I'd never quite been able to understand before.

He was hopeful and nervous and scared and a little bit proud of himself for doing it - extending his hand to someone, not knowing if they'd take it. This was, I had realized, one of the scariest things of all, requiring much more courage than sailing across an ocean and landing on an unknown shore

At least that's what I saw. Clark and Tom's new theory was that he was a time traveler who'd somehow been transported to the past and was just trying to hail a cab. — Morgan Matson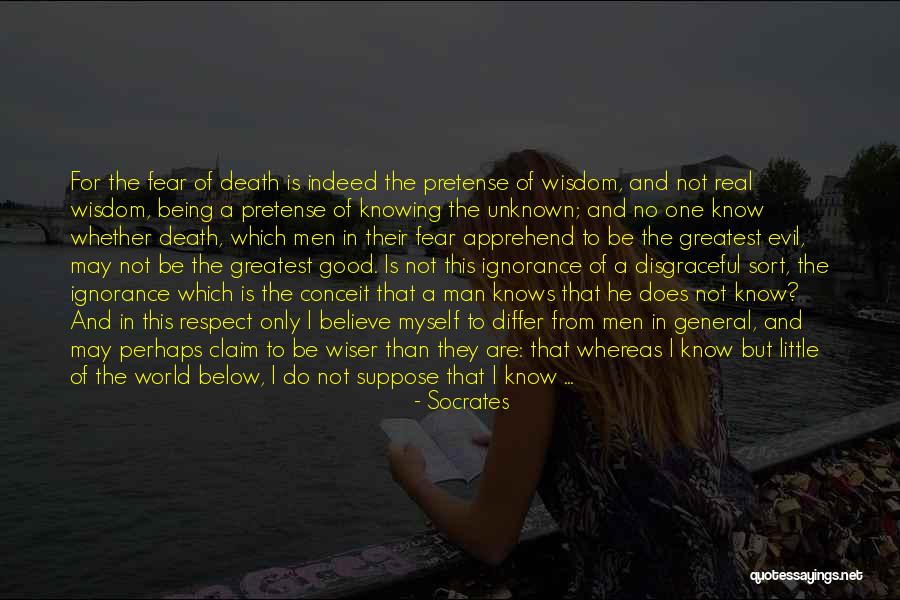 For the fear of death is indeed the pretense of wisdom, and not real wisdom, being a pretense of knowing the unknown; and no one know whether death, which men in their fear apprehend to be the greatest evil, may not be the greatest good. Is not this ignorance of a disgraceful sort, the ignorance which is the conceit that a man knows that he does not know? And in this respect only I believe myself to differ from men in general, and may perhaps claim to be wiser than they are: that whereas I know but little of the world below, I do not suppose that I know ... — Socrates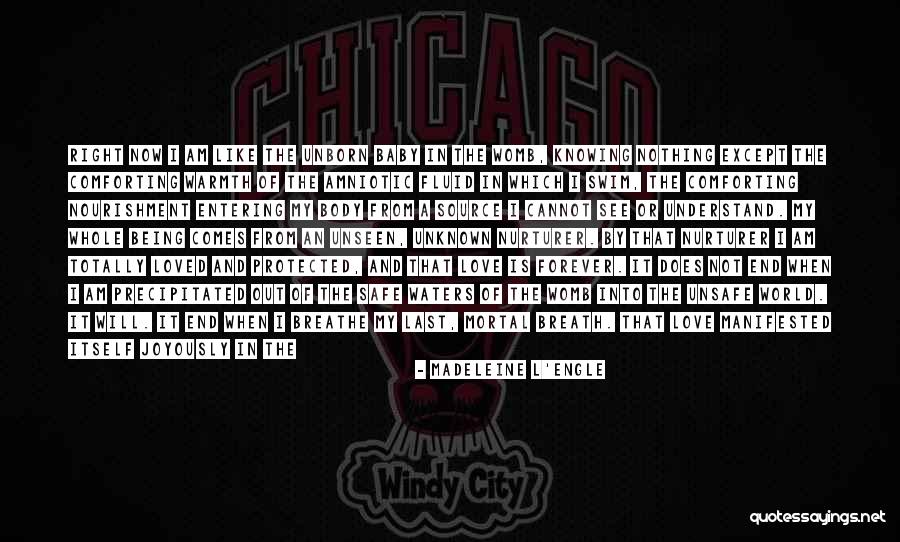 Right now I am like the unborn baby in the womb, knowing nothing except the comforting warmth of the amniotic fluid in which I swim, the comforting nourishment entering my body from a source I cannot see or understand. My whole being comes from an unseen, unknown nurturer. By that nurturer I am totally loved and protected, and that love is forever. It does not end when I am precipitated out of the safe waters of the womb into the unsafe world. It will. It end when I breathe my last, mortal breath. That love manifested itself joyously in the creation of the universe, became particular for us in Jesus, and will show itself most gloriously in the Second Coming. We need not fear. — Madeleine L'Engle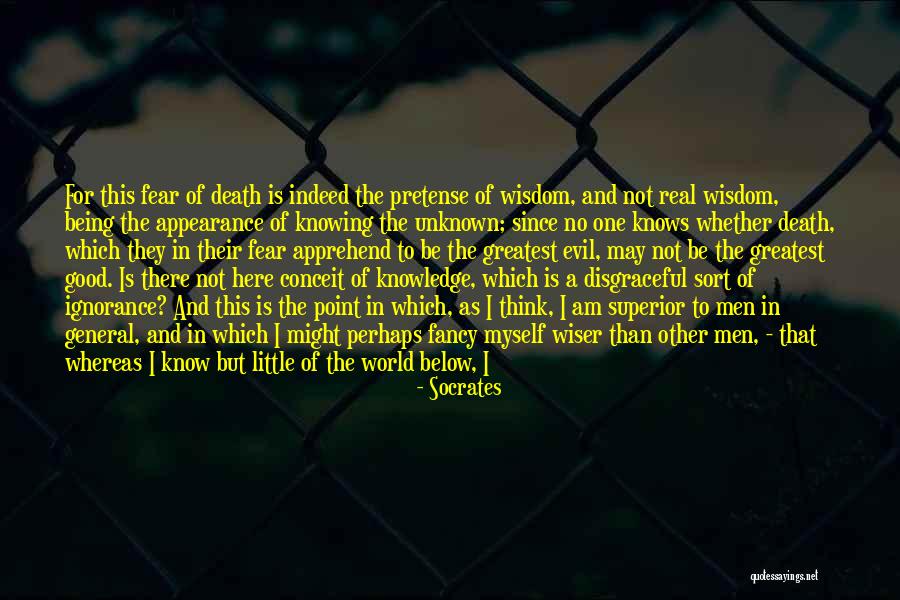 For this fear of death is indeed the pretense of wisdom, and not real wisdom, being the appearance of knowing the unknown; since no one knows whether death, which they in their fear apprehend to be the greatest evil, may not be the greatest good. Is there not here conceit of knowledge, which is a disgraceful sort of ignorance? And this is the point in which, as I think, I am superior to men in general, and in which I might perhaps fancy myself wiser than other men, - that whereas I know but little of the world below, I do not suppose that I know: but I do know that injustice and disobedience to a better, whether God or man, is evil and dishonorable, and I will never fear or avoid a possible good rather than a certain evil. — Socrates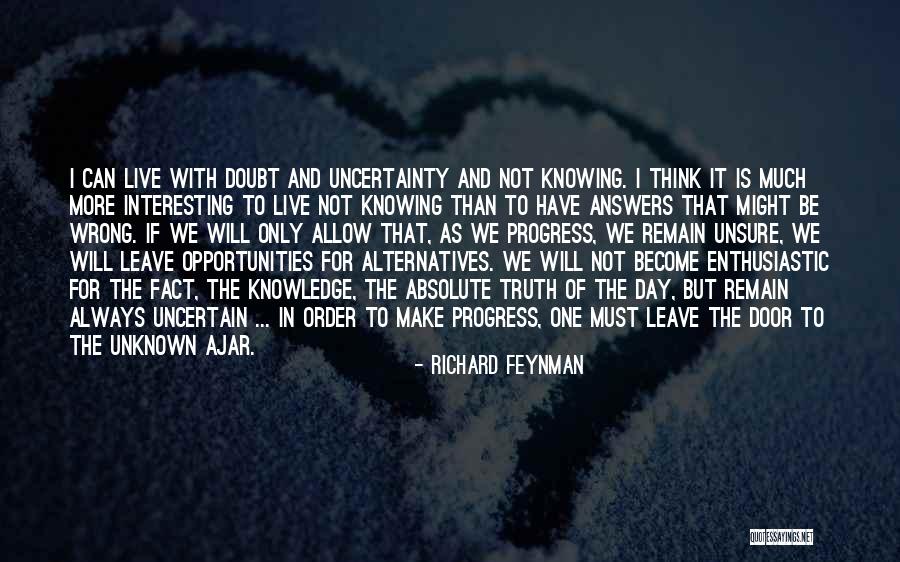 I can live with doubt and uncertainty and not knowing. I think it is much more interesting to live not knowing than to have answers that might be wrong. If we will only allow that, as we progress, we remain unsure, we will leave opportunities for alternatives. We will not become enthusiastic for the fact, the knowledge, the absolute truth of the day, but remain always uncertain ... In order to make progress, one must leave the door to the unknown ajar. — Richard Feynman