Quotes & Sayings About Not Committing Adultery
Enjoy reading and share 13 famous quotes about Not Committing Adultery with everyone.
Top Not Committing Adultery Quotes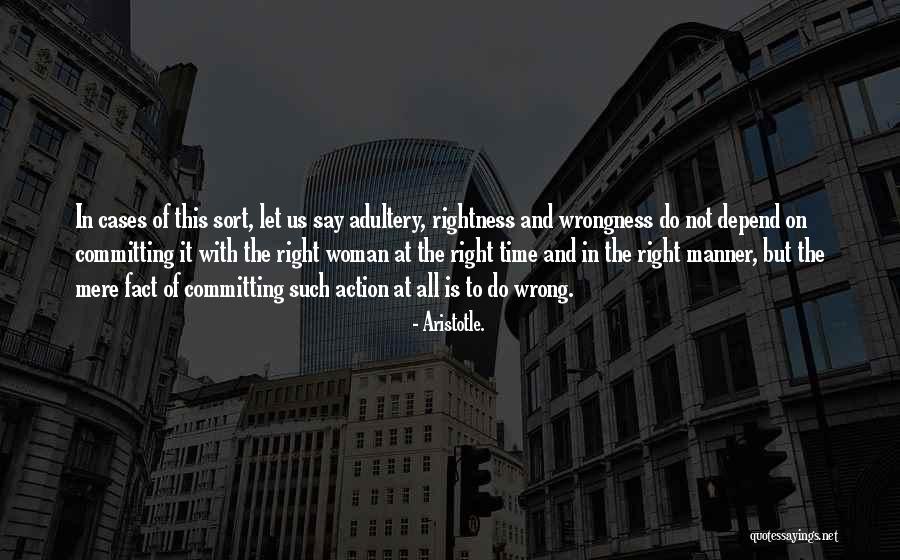 In cases of this sort, let us say adultery, rightness and wrongness do not depend on committing it with the right woman at the right time and in the right manner, but the mere fact of committing such action at all is to do wrong. — Aristotle.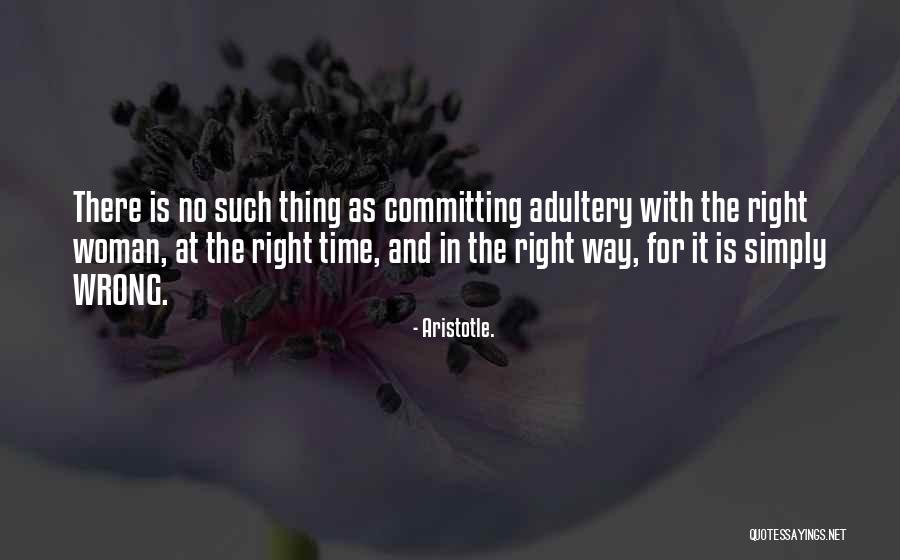 There is no such thing as committing adultery with the right woman, at the right time, and in the right way, for it is simply WRONG. — Aristotle.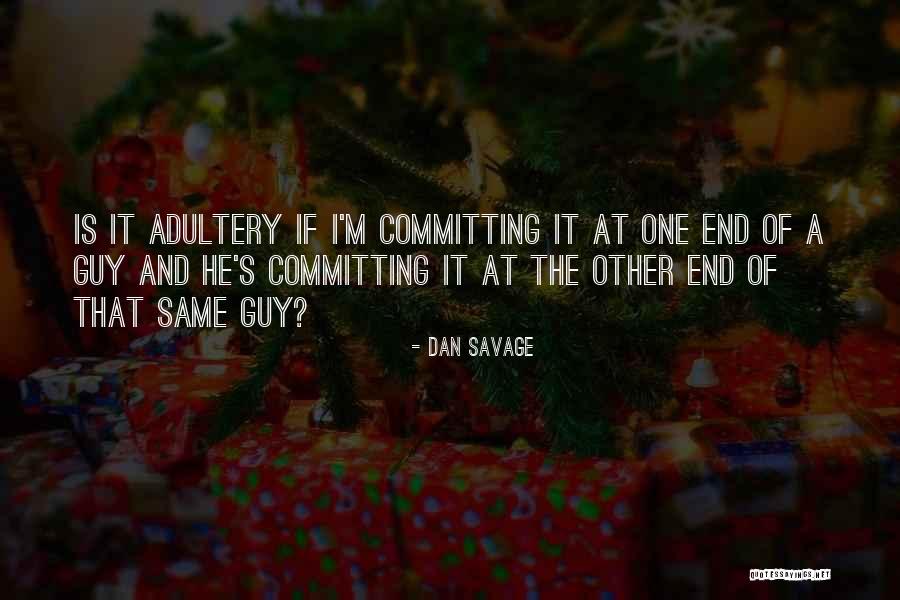 Is it adultery if I'm committing it at one end of a guy and he's committing it at the other end of that same guy? — Dan Savage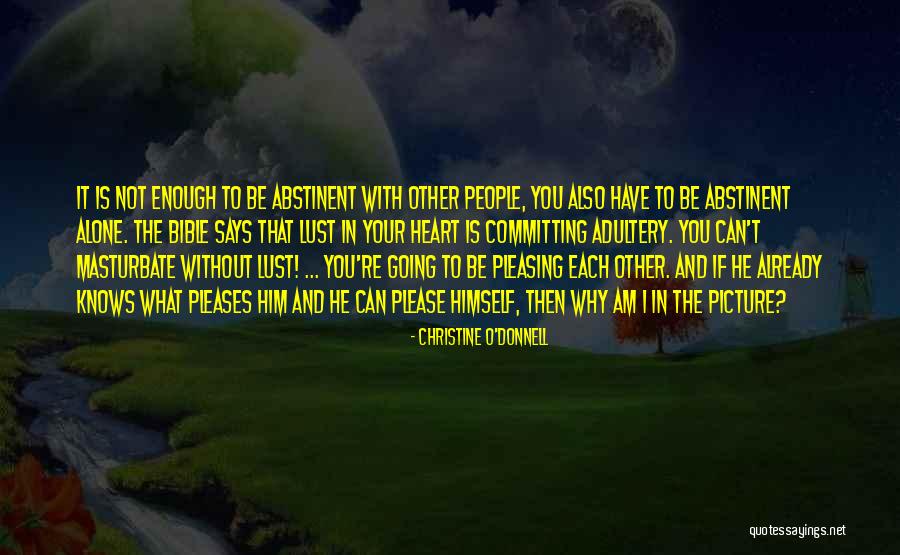 It is not enough to be abstinent with other people, you also have to be abstinent alone. The Bible says that lust in your heart is committing adultery. You can't masturbate without lust! ... You're going to be pleasing each other. And if he already knows what pleases him and he can please himself, then why am I in the picture? — Christine O'Donnell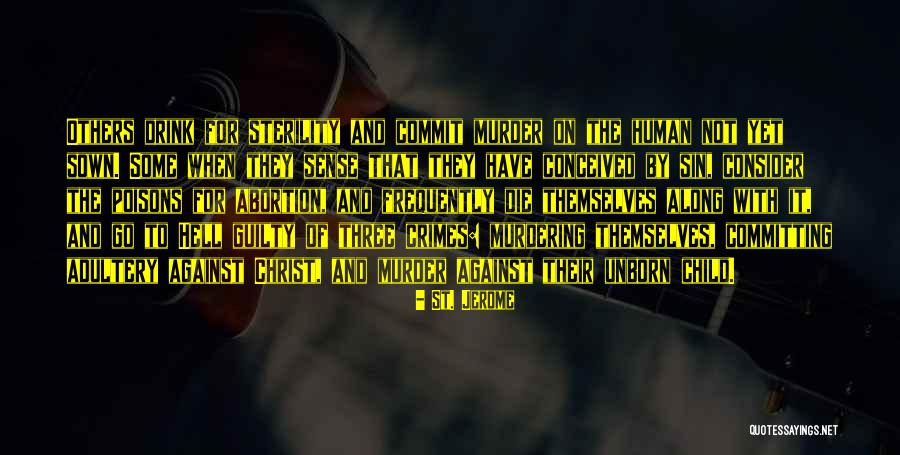 Others drink for sterility and commit murder on the human not yet sown. Some when they sense that they have conceived by sin, consider the poisons for abortion, and frequently die themselves along with it, and go to Hell guilty of three crimes: murdering themselves, committing adultery against Christ, and murder against their unborn child. — St. Jerome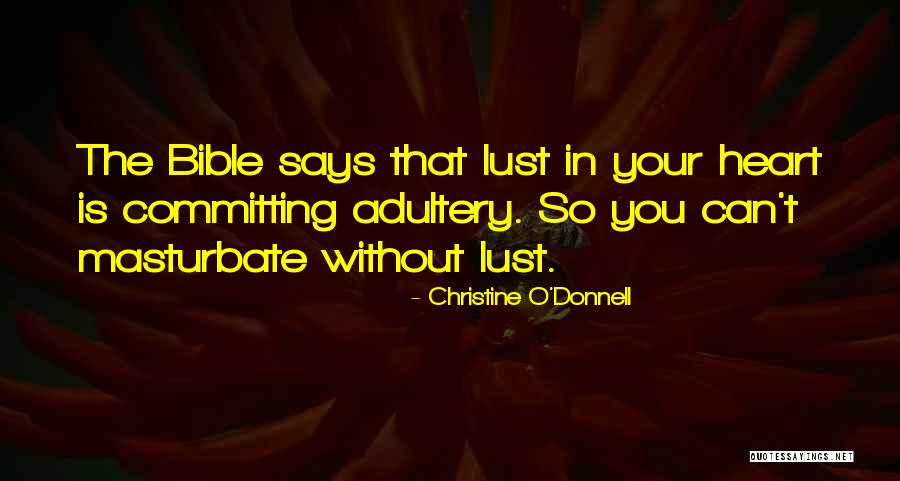 The Bible says that lust in your heart is committing adultery. So you can't masturbate without lust. — Christine O'Donnell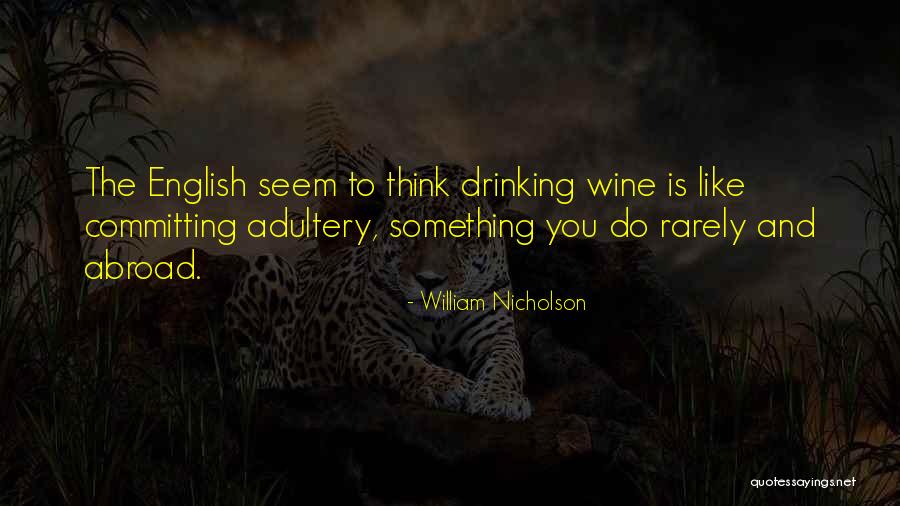 The English seem to think drinking wine is like committing adultery, something you do rarely and abroad. — William Nicholson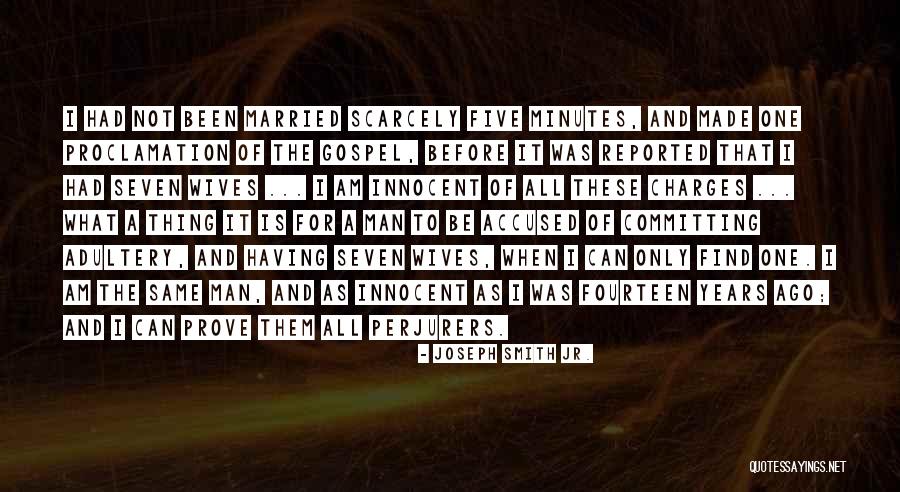 I had not been married scarcely five minutes, and made one proclamation of the Gospel, before it was reported that I had seven wives ... I am innocent of all these charges ... What a thing it is for a man to be accused of committing adultery, and having seven wives, when I can only find one. I am the same man, and as innocent as I was fourteen years ago; and I can prove them all perjurers. — Joseph Smith Jr.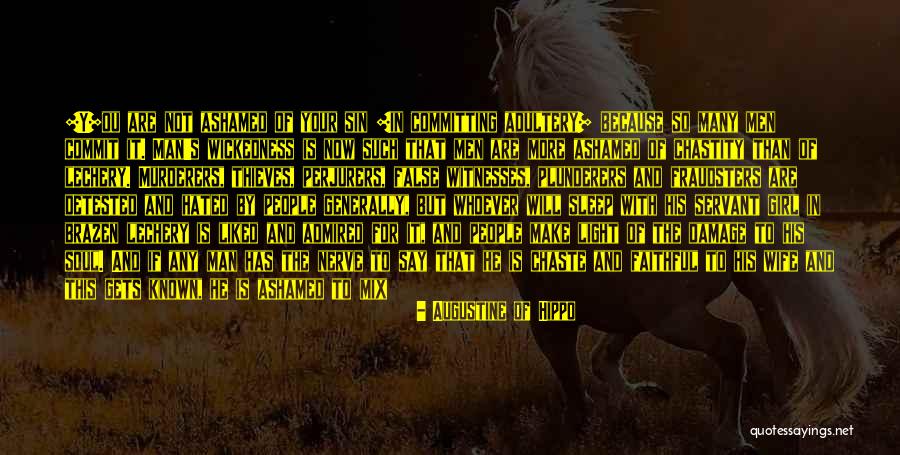 [Y]ou are not ashamed of your sin [in committing adultery] because so many men commit it. Man's wickedness is now such that men are more ashamed of chastity than of lechery. Murderers, thieves, perjurers, false witnesses, plunderers and fraudsters are detested and hated by people generally, but whoever will sleep with his servant girl in brazen lechery is liked and admired for it, and people make light of the damage to his soul. And if any man has the nerve to say that he is chaste and faithful to his wife and this gets known, he is ashamed to mix with other men, whose behaviour is not like his, for they will mock him and despise him and say he's not a real man; for man's wickedness is now of such proportions that no one is considered a man unless he is overcome by lechery, while one who overcomes lechery and stays chaste is considered unmanly. — Augustine Of Hippo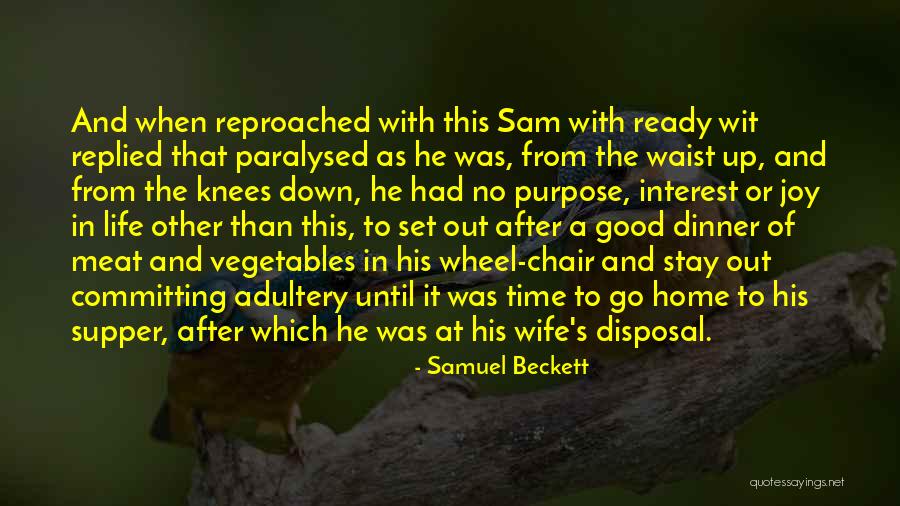 And when reproached with this Sam with ready wit replied that paralysed as he was, from the waist up, and from the knees down, he had no purpose, interest or joy in life other than this, to set out after a good dinner of meat and vegetables in his wheel-chair and stay out committing adultery until it was time to go home to his supper, after which he was at his wife's disposal. — Samuel Beckett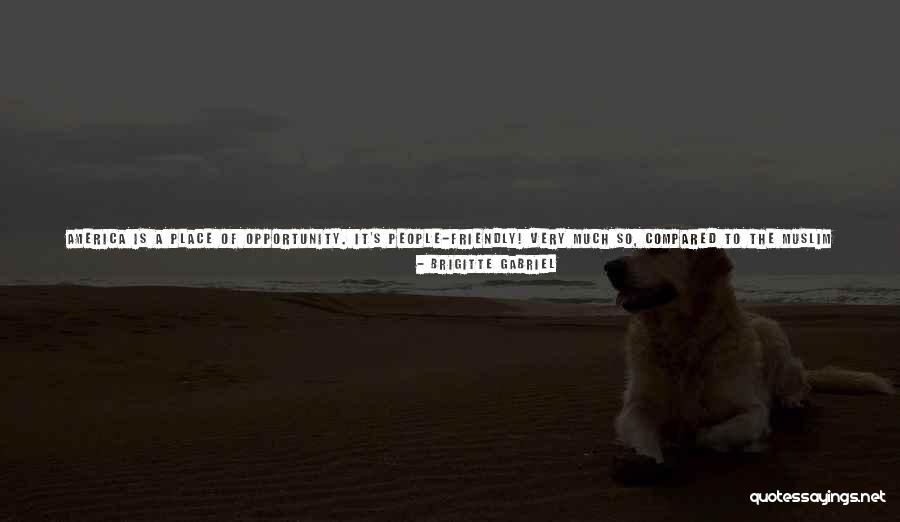 America is a place of opportunity. It's people-friendly! Very much so, compared to the Muslim countries in the world. People looking for better lives flock to America because we as a society do not mutilate young girls' genitals, do not cut off people's hands for stealing. We do not stone people to death for committing adultery. We do not rape women and men for speaking up against our government. We do not forbid people to go to school and to learn because of their gender. We assume people are innocent until proven guilty. We give people the freedom to criticize our government and even burn our flag as an expression of speech. This is but a partial list of why America is superior in culture and values to many other countries in the world. This type of culture also thrives in Israel, the only Western-style nation in the Middle East, one that Arabs despise, feel threatened by, and vow to destroy. — Brigitte Gabriel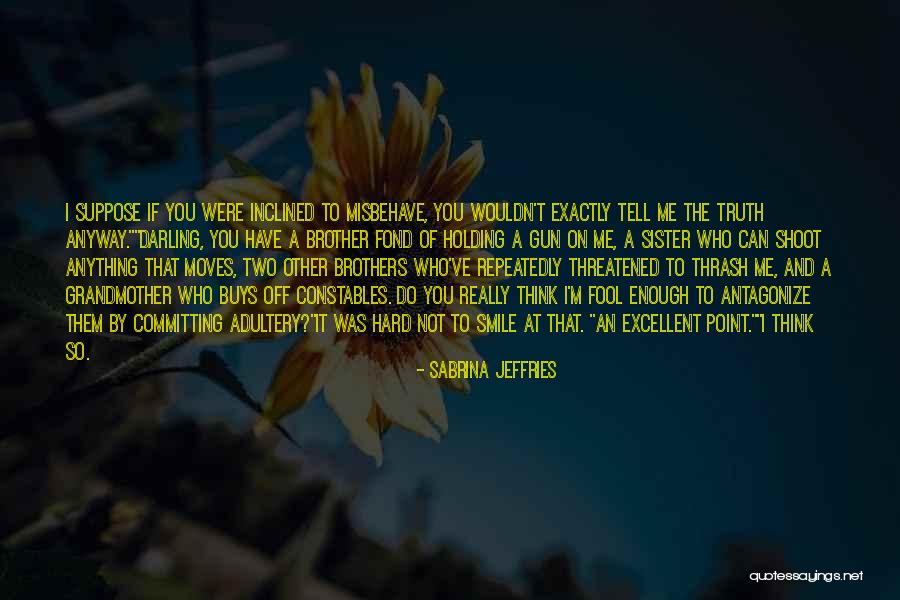 I suppose if you were inclined to misbehave, you wouldn't exactly tell me the truth anyway."
"Darling, you have a brother fond of holding a gun on me, a sister who can shoot anything that moves, two other brothers who've repeatedly threatened to thrash me, and a grandmother who buys off constables. Do you really think I'm fool enough to antagonize them by committing adultery?"
It was hard not to smile at that. "An excellent point."
"I think so. — Sabrina Jeffries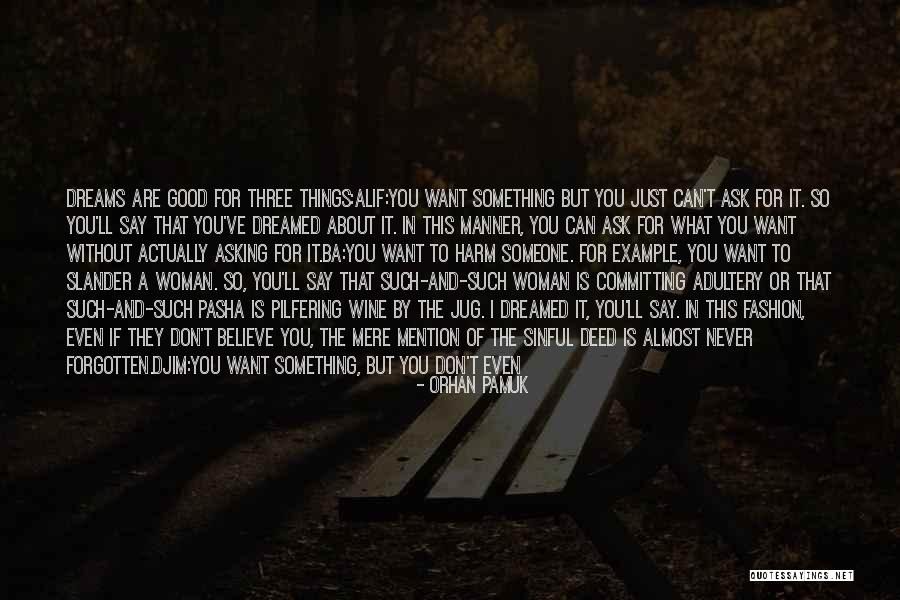 Dreams are good for three things:
ALIF:
You want something but you just can't ask for it. So you'll say that you've dreamed about it. In this manner, you can ask for what you want without actually asking for it.
BA:
You want to harm someone. For example, you want to slander a woman. So, you'll say that such-and-such woman is committing adultery or that such-and-such pasha is pilfering wine by the jug. I dreamed it, you'll say. In this fashion, even if they don't believe you, the mere mention of the sinful deed is almost never forgotten.
DJIM:
You want something, but you don't even know what it is. So, you'll describe a confusing dream. Your friends or family will immediately interpret the dream and tell you what you need or what they can do for you. For example, they'll say: You need a husband, a child, a house ... — Orhan Pamuk