Quotes & Sayings About Not Being Pretty Enough
Enjoy reading and share 35 famous quotes about Not Being Pretty Enough with everyone.
Top Not Being Pretty Enough Quotes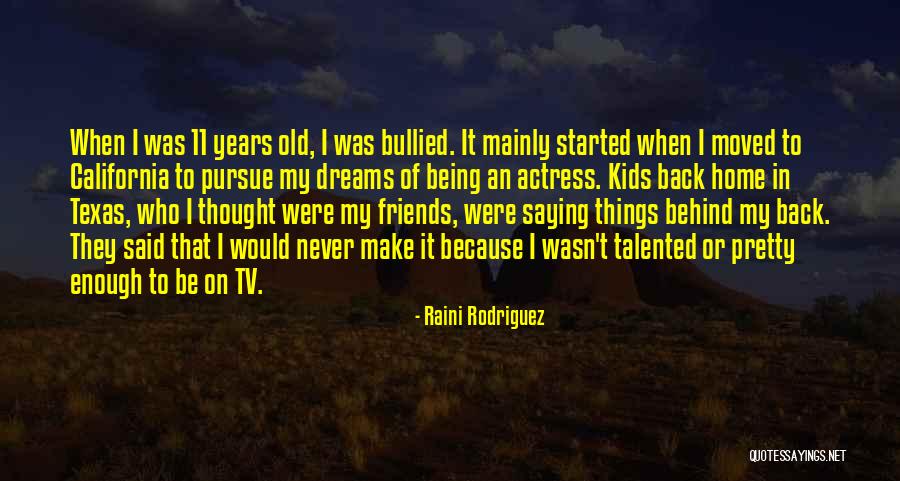 When I was 11 years old, I was bullied. It mainly started when I moved to California to pursue my dreams of being an actress. Kids back home in Texas, who I thought were my friends, were saying things behind my back. They said that I would never make it because I wasn't talented or pretty enough to be on TV. — Raini Rodriguez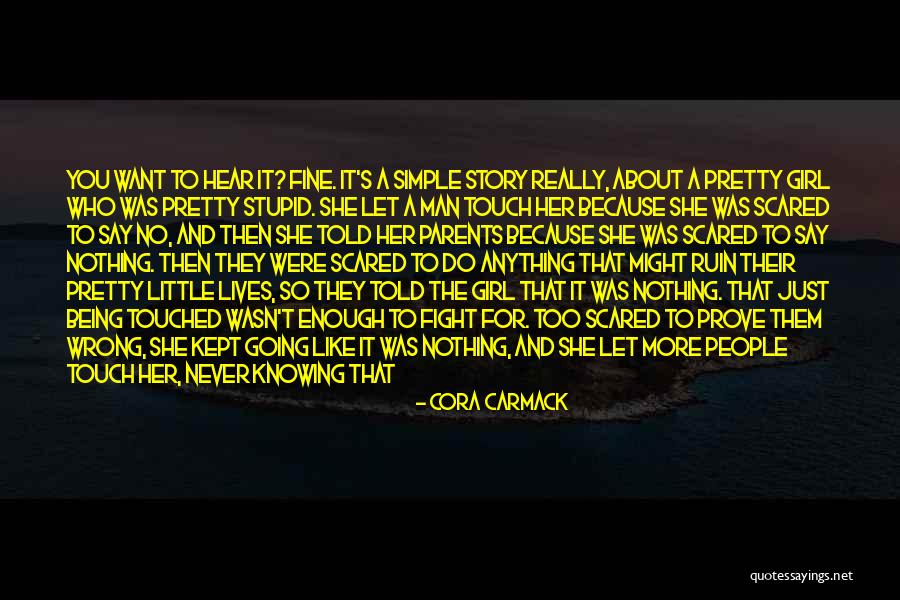 You want to hear it? Fine. It's a simple story really, about a pretty girl who was pretty stupid. She let a man touch her because she was scared to say no, and then she told her parents because she was scared to say nothing. Then they were scared to do anything that might ruin their pretty little lives, so they told the girl that it was nothing. That just being touched wasn't enough to fight for. Too scared to prove them wrong, she kept going like it was nothing, and she let more people touch her, never knowing that she was handing out pieces of herself. Or, hell, maybe she knew deep down, and she just hated herself so much that she was glad to be rid of them. And life wasn't pretty, but it also wasn't scary until she met a man with two names who touched her without taking and made her miss the pieces she had lost. And now things aren't just scary, they're fucking terrifying, and I can't do it. I can't live like this, knowing all that I've ruined and that it can't be fixed. — Cora Carmack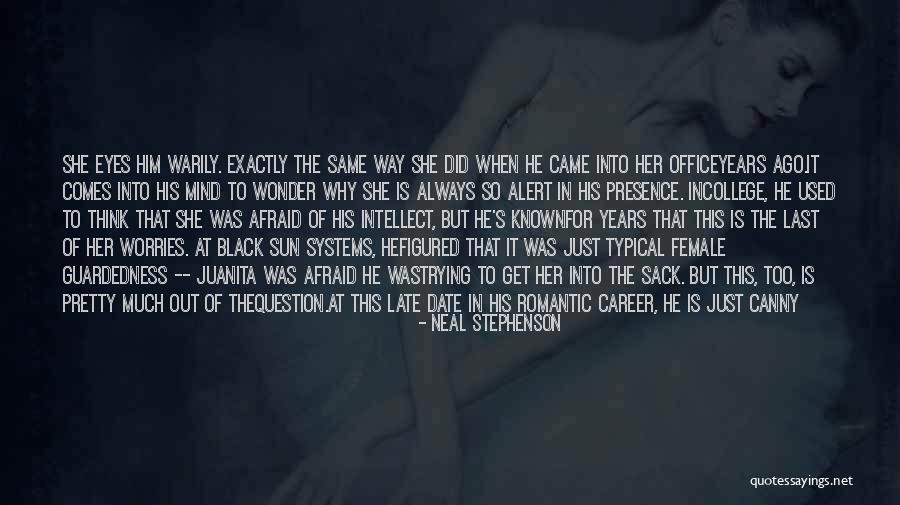 She eyes him warily. Exactly the same way she did when he came into her office
years ago.
It comes into his mind to wonder why she is always so alert in his presence. In
college, he used to think that she was afraid of his intellect, but he's known
for years that this is the last of her worries. At Black Sun Systems, he
figured that it was just typical female guardedness -- Juanita was afraid he was
trying to get her into the sack. But this, too, is pretty much out of the
question.
At this late date in his romantic career, he is just canny enough to come up
with a new theory: She's being careful because she likes him. She likes him in
spite of herself. He is exactly the kind of tempting but utterly wrong romantic
choice that a smart girl like Juanita must learn to avoid.
That's definitely it. There's something to be said for getting older. — Neal Stephenson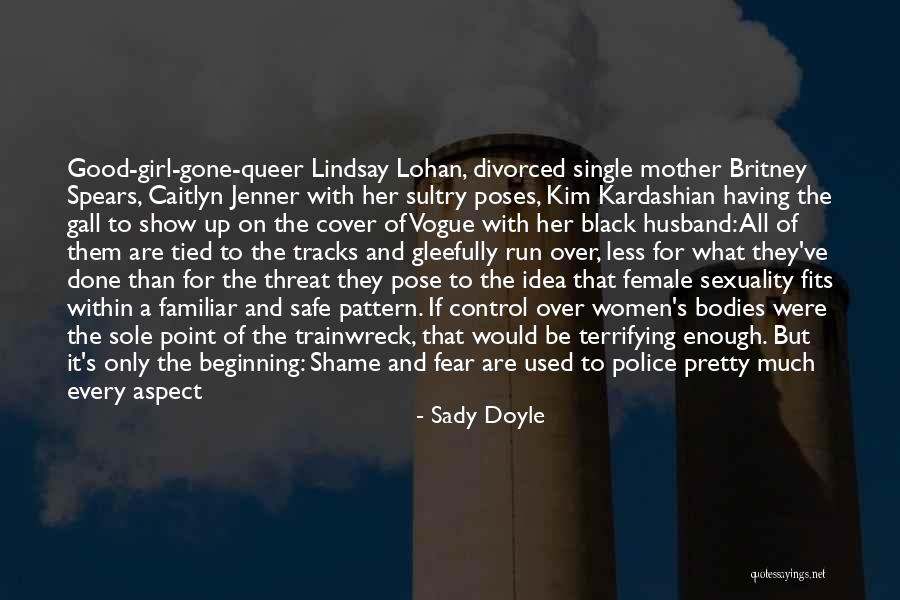 Good-girl-gone-queer Lindsay Lohan, divorced single mother Britney Spears, Caitlyn Jenner with her sultry poses, Kim Kardashian having the gall to show up on the cover of Vogue with her black husband: All of them are tied to the tracks and gleefully run over, less for what they've done than for the threat they pose to the idea that female sexuality fits within a familiar and safe pattern. If control over women's bodies were the sole point of the trainwreck, that would be terrifying enough. But it's only the beginning: Shame and fear are used to police pretty much every aspect of being female. After you've told someone what to do with her body, you need to tell her what to do with her mind. — Sady Doyle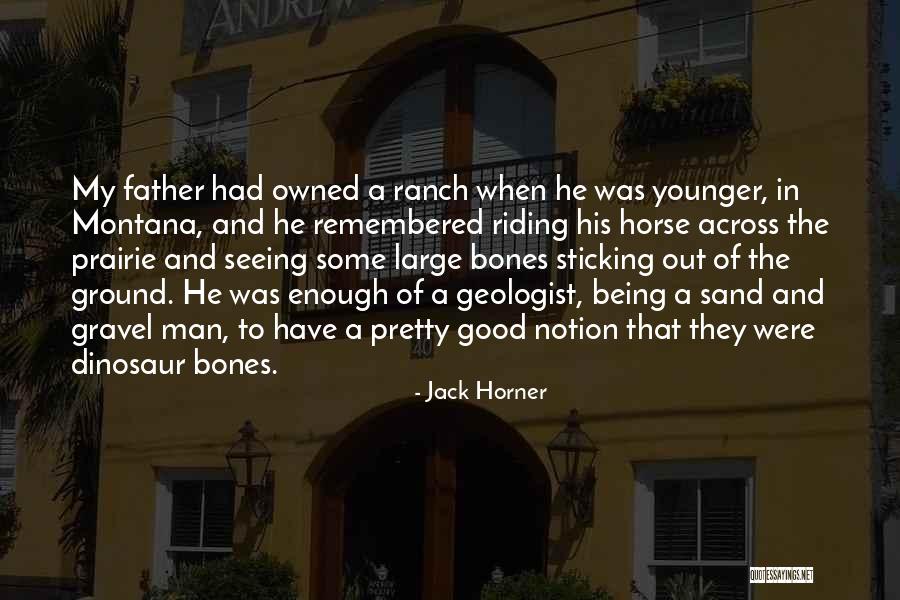 My father had owned a ranch when he was younger, in Montana, and he remembered riding his horse across the prairie and seeing some large bones sticking out of the ground. He was enough of a geologist, being a sand and gravel man, to have a pretty good notion that they were dinosaur bones. — Jack Horner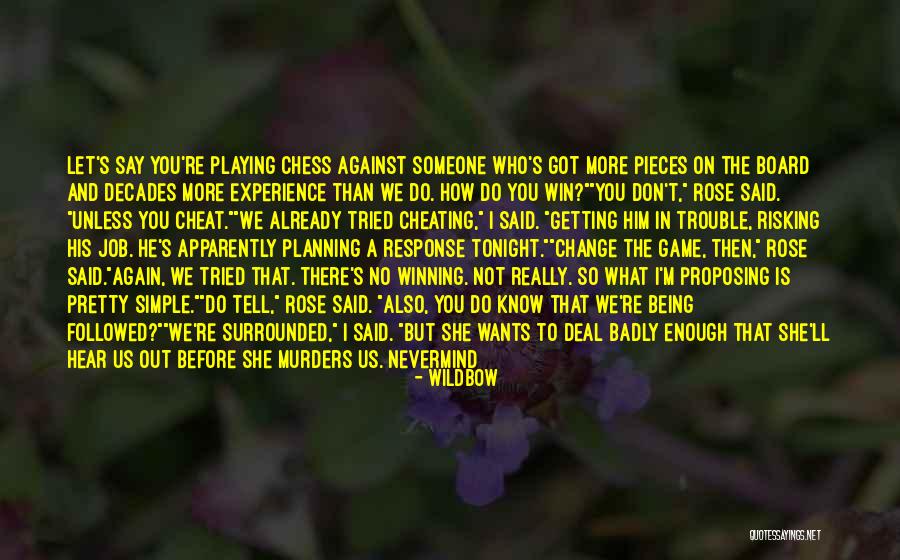 Let's say you're playing chess against someone who's got more pieces on the board and decades more experience than we do. How do you win?"

"You don't," Rose said. "Unless you cheat."

"We already tried cheating," I said. "Getting him in trouble, risking his job. He's apparently planning a response tonight."

"Change the game, then," Rose said.

"Again, we tried that. There's no winning. Not really. So what I'm proposing is pretty simple."

"Do tell," Rose said. "Also, you do know that we're being followed?"

"We're surrounded," I said. "But she wants to deal badly enough that she'll hear us out before she murders us. Nevermind that. Our analogy here. I'm proposing the pigeon strategy. Knock over all of the pieces, shit on the board, and then strut around like we're the victors. — Wildbow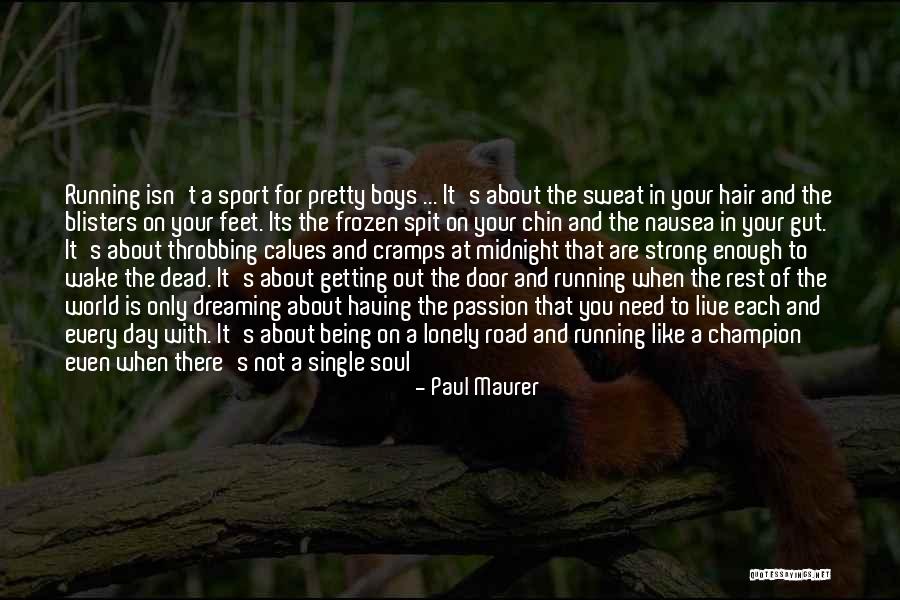 Running isn't a sport for pretty boys ... It's about the sweat in your hair and the blisters on your feet. Its the frozen spit on your chin and the nausea in your gut. It's about throbbing calves and cramps at midnight that are strong enough to wake the dead. It's about getting out the door and running when the rest of the world is only dreaming about having the passion that you need to live each and every day with. It's about being on a lonely road and running like a champion even when there's not a single soul in sight to cheer you on. Running is all about having the desire to train and persevere until every fiber in your legs, mind, and heart is turned to steel. And when you've finally forged hard enough, you will have become the best runner you can be. And that's all that you can ask for. — Paul Maurer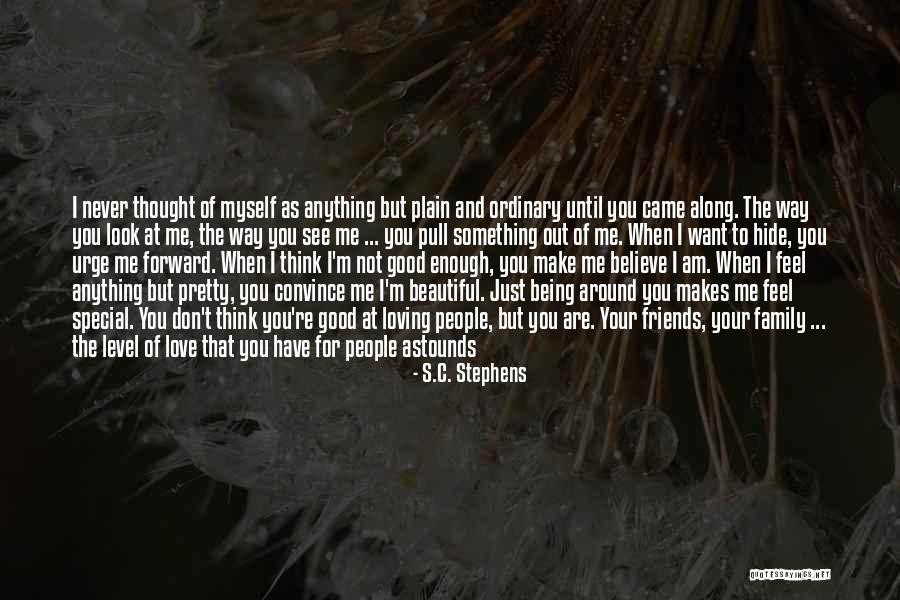 I never thought of myself as anything but plain and ordinary until you came along. The way you look at me, the way you see me ... you pull something out of me. When I want to hide, you urge me forward. When I think I'm not good enough, you make me believe I am. When I feel anything but pretty, you convince me I'm beautiful. Just being around you makes me feel special. You don't think you're good at loving people, but you are. Your friends, your family ... the level of love that you have for people astounds me. You don't think people love you back, but they do. They fiercely love you. I fiercely love you. I've never met anyone as passionate as you, as kindhearted as you ... as amazing as you. You love with every fiber of your soul. You inspire me every day. And if you'll agree to be my husband, I'll do my best to make you proud of me, to inspire you. — S.C. Stephens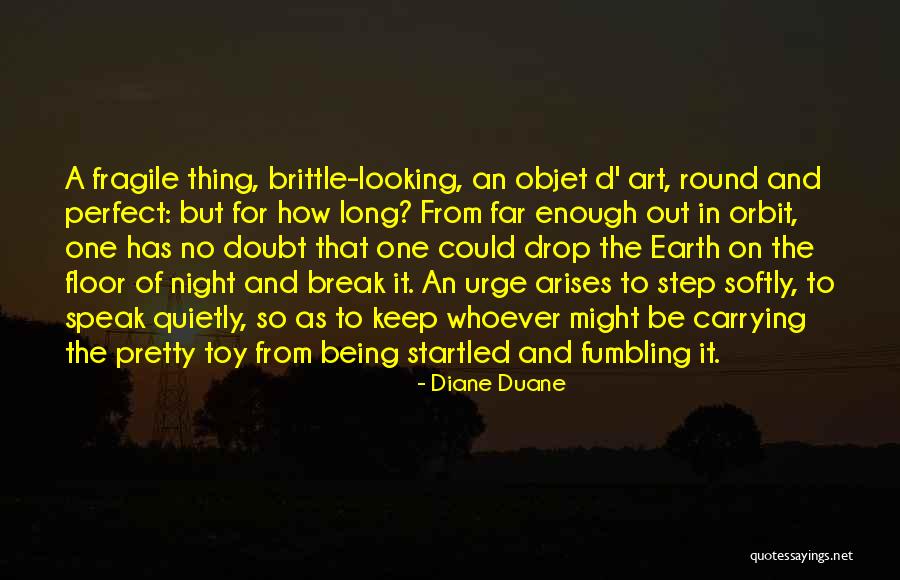 A fragile thing, brittle-looking, an objet d' art, round and perfect: but for how long? From far enough out in orbit, one has no doubt that one could drop the Earth on the floor of night and break it. An urge arises to step softly, to speak quietly, so as to keep whoever might be carrying the pretty toy from being startled and fumbling it. — Diane Duane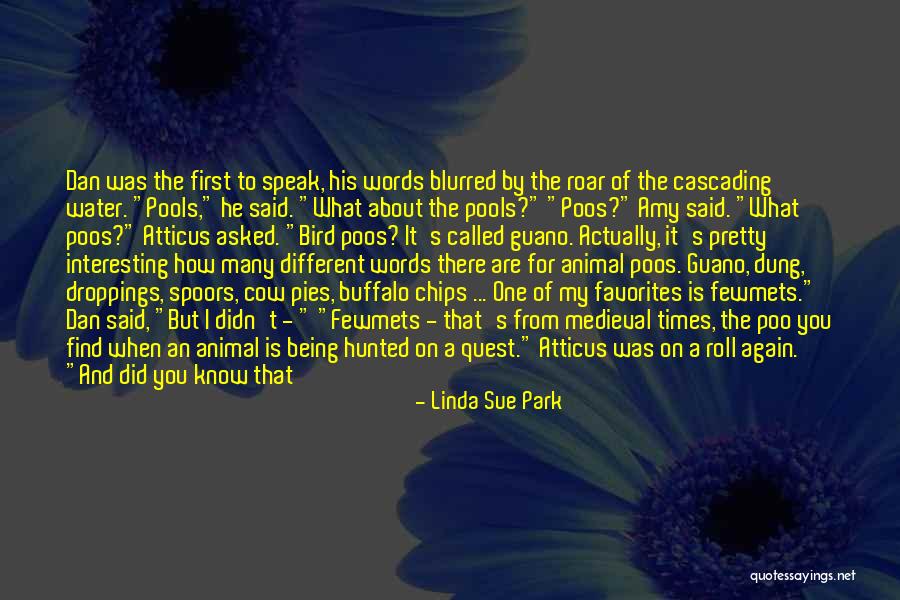 Dan was the first to speak, his words blurred by the roar of the cascading water. "Pools," he said. "What about the pools?" "Poos?" Amy said. "What poos?" Atticus asked. "Bird poos? It's called guano. Actually, it's pretty interesting how many different words there are for animal poos. Guano, dung, droppings, spoors, cow pies, buffalo chips ... One of my favorites is fewmets." Dan said, "But I didn't - " "Fewmets - that's from medieval times, the poo you find when an animal is being hunted on a quest." Atticus was on a roll again. "And did you know that otter poo is called spraints?" "Why do otters get their own word for poo?" Jake wondered. "I love otters, they're so playful," Amy said. "Spraints - what a funny word." "Enough with the poos!" Dan yelled. Then he looked at Atticus. "I mean, it's cool - especially about the spraints, I didn't know that before - but I didn't say poos. — Linda Sue Park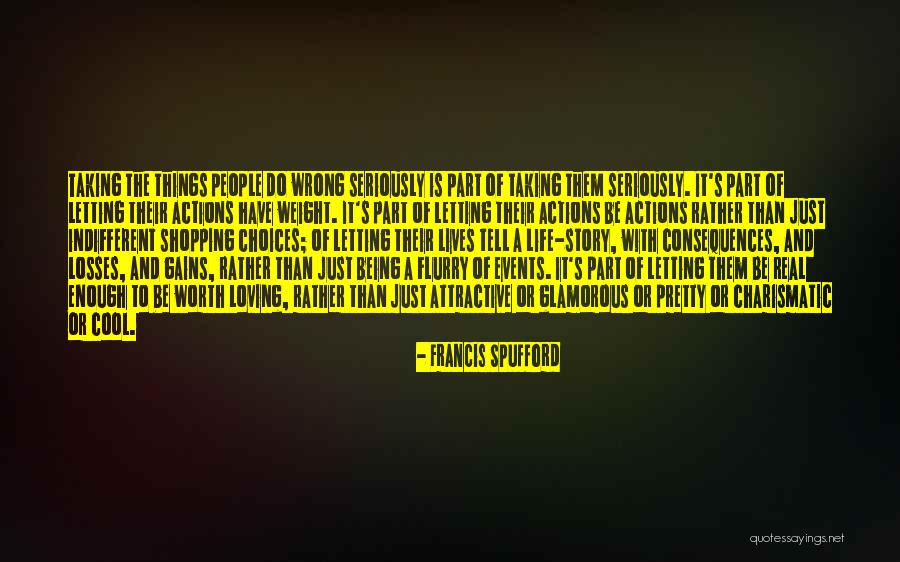 Taking the things people do wrong seriously is part of taking them seriously. It's part of letting their actions have weight. It's part of letting their actions be actions rather than just indifferent shopping choices; of letting their lives tell a life-story, with consequences, and losses, and gains, rather than just being a flurry of events. It's part of letting them be real enough to be worth loving, rather than just attractive or glamorous or pretty or charismatic or cool. — Francis Spufford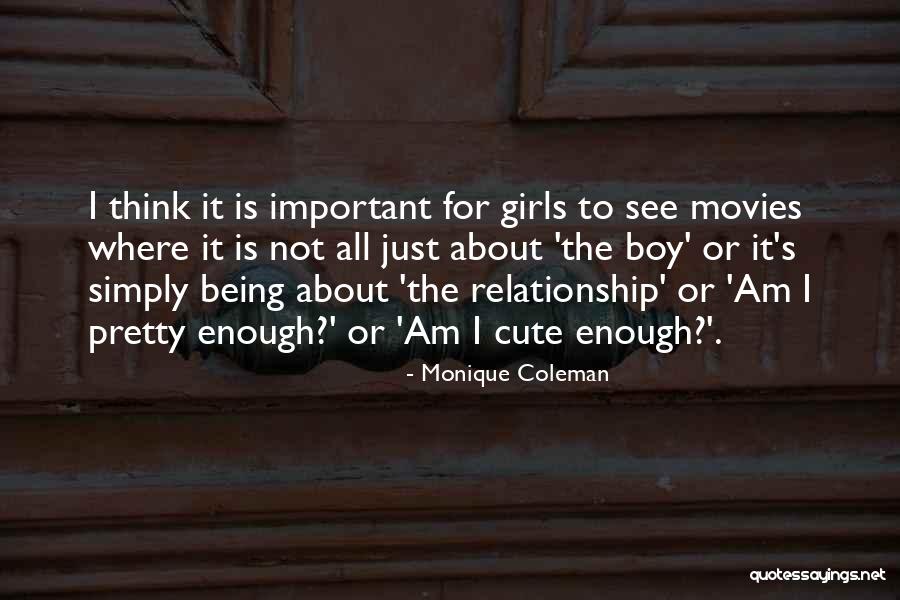 I think it is important for girls to see movies where it is not all just about 'the boy' or it's simply being about 'the relationship' or 'Am I pretty enough?' or 'Am I cute enough?'. — Monique Coleman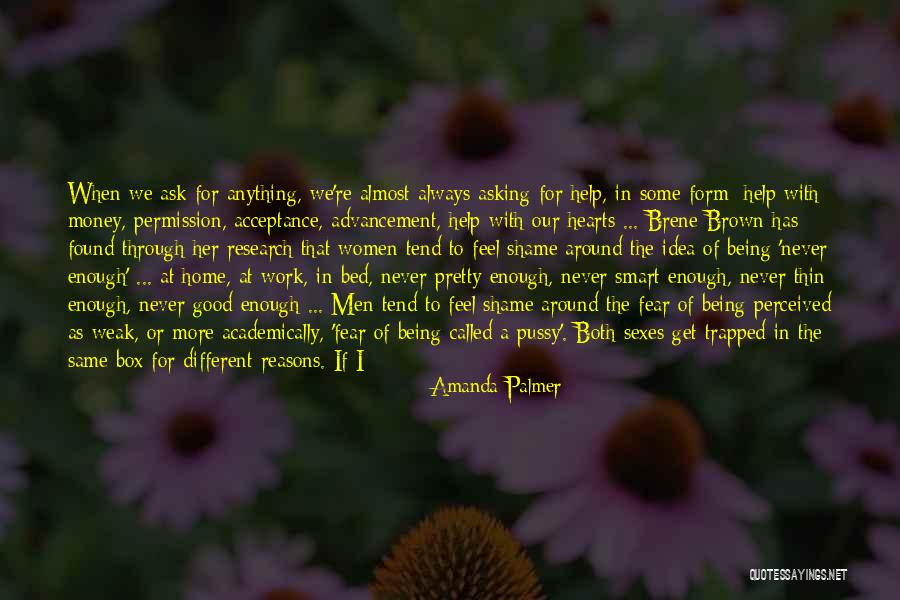 When we ask for anything, we're almost always asking for help, in some form; help with money, permission, acceptance, advancement, help with our hearts ...
Brene Brown has found through her research that women tend to feel shame around the idea of being 'never enough' ... at home, at work, in bed, never pretty enough, never smart enough, never thin enough, never good enough ...
Men tend to feel shame around the fear of being perceived as weak, or more academically, 'fear of being called a pussy'.
Both sexes get trapped in the same box for different reasons.
If I ask for help ...
I am not enough.
If I ask for help ...
I'm weak.
It's no wonder so many of us don't bother to ask, it's too painful. — Amanda Palmer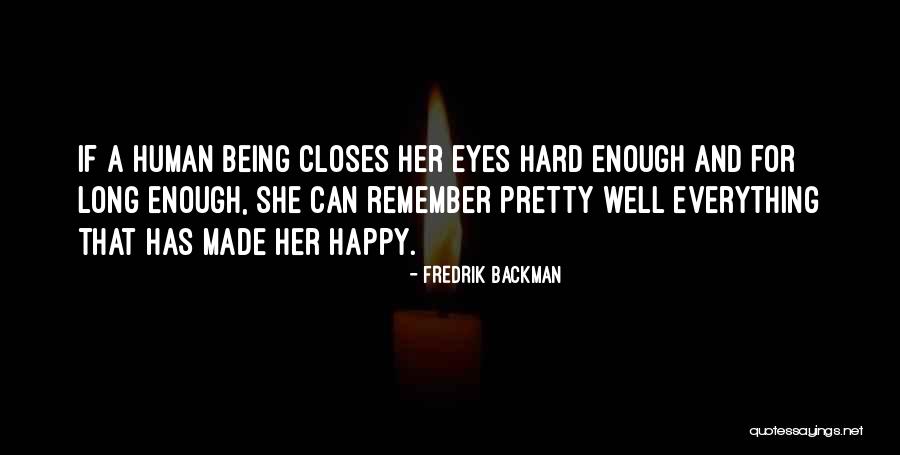 If a human being closes her eyes hard enough and for long enough, she can remember pretty well everything that has made her happy. — Fredrik Backman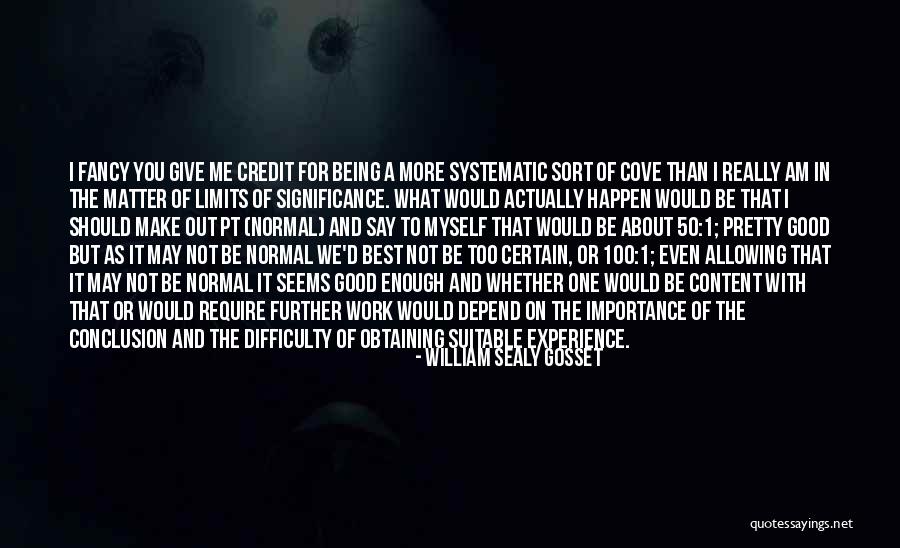 I fancy you give me credit for being a more systematic sort of cove than I really am in the matter of limits of significance. What would actually happen would be that I should make out Pt (normal) and say to myself that would be about 50:1; pretty good but as it may not be normal we'd best not be too certain, or 100:1; even allowing that it may not be normal it seems good enough and whether one would be content with that or would require further work would depend on the importance of the conclusion and the difficulty of obtaining suitable experience. — William Sealy Gosset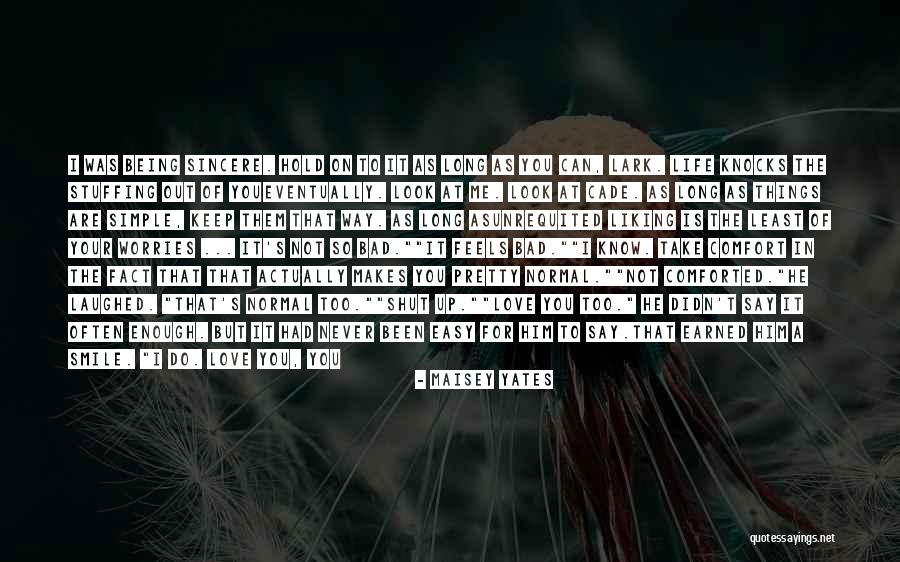 I was being sincere. Hold on to it as long as you can, Lark. Life knocks the stuffing out of you
eventually. Look at me. Look at Cade. As long as things are simple, keep them that way. As long as
unrequited liking is the least of your worries ... it's not so bad."
"It feels bad."
"I know. Take comfort in the fact that that actually makes you pretty normal."
"Not comforted."
He laughed. "That's normal too."
"Shut up."
"Love you too." He didn't say it often enough. But it had never been easy for him to say.
That earned him a smile. "I do. Love you, you know. Thanks for trying. And thanks for ... being
willing to kill someone for me."
"It's what brothers are for. 'Night — Maisey Yates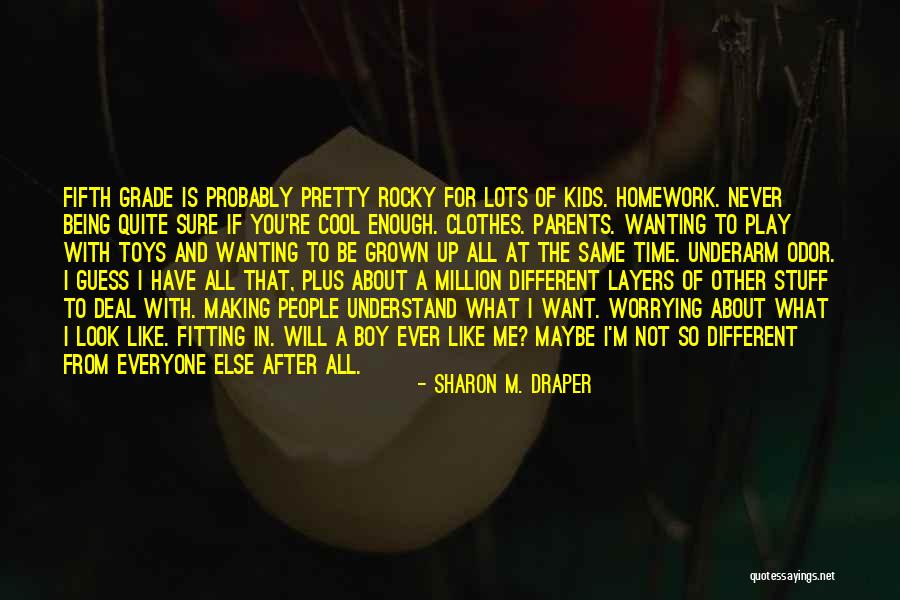 Fifth grade is probably pretty rocky for lots of kids. Homework. Never being quite sure if you're cool enough. Clothes. Parents. Wanting to play with toys and wanting to be grown up all at the same time. Underarm odor. I guess I have all that, plus about a million different layers of other stuff to deal with. Making people understand what I want. Worrying about what I look like. Fitting in. Will a boy ever like me? Maybe I'm not so different from everyone else after all. — Sharon M. Draper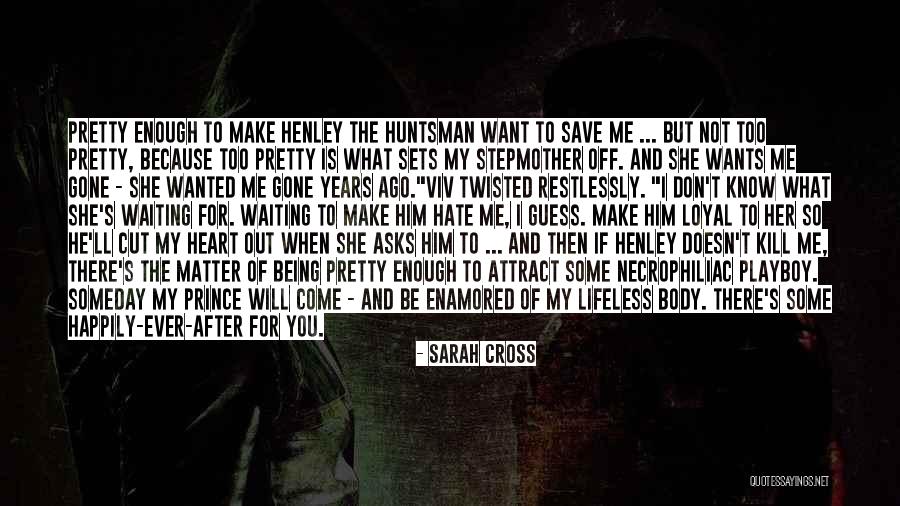 Pretty enough to make Henley the Huntsman want to save me ... but not too pretty, because too pretty is what sets my stepmother off. And she wants me gone - she wanted me gone years ago."
Viv twisted restlessly. "I don't know what she's waiting for. Waiting to make him hate me, I guess. Make him loyal to her so he'll cut my heart out when she asks him to ... And then if Henley doesn't kill me, there's the matter of being pretty enough to attract some necrophiliac playboy. Someday my prince will come - and be enamored of my lifeless body. There's some happily-ever-after for you. — Sarah Cross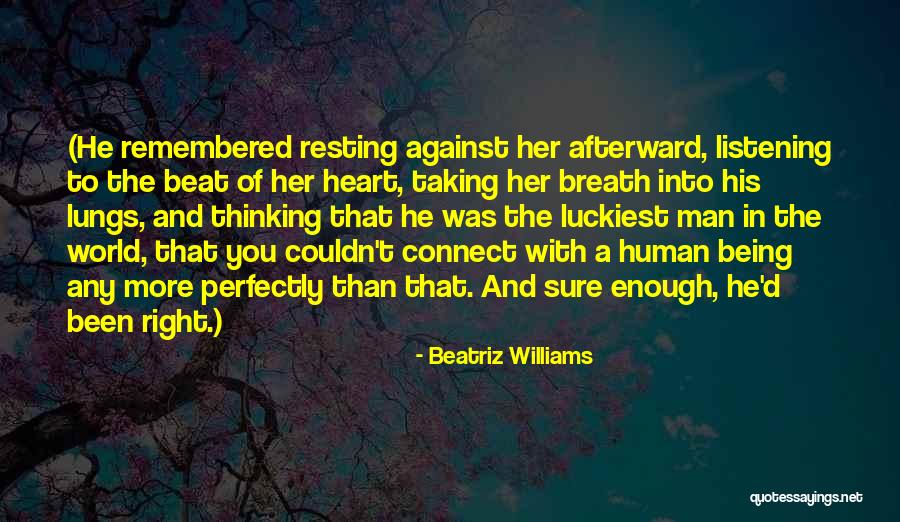 (He remembered resting against her afterward, listening to the beat of her heart, taking her breath into his lungs, and thinking that he was the luckiest man in the world, that you couldn't connect with a human being any more perfectly than that. And sure enough, he'd been right.) — Beatriz Williams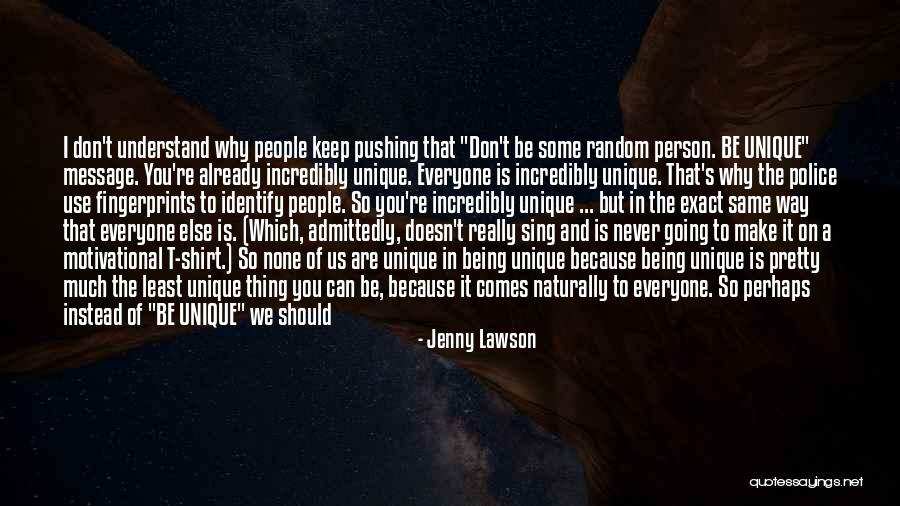 I don't understand why people keep pushing that "Don't be some random person. BE UNIQUE" message. You're already incredibly unique. Everyone is incredibly unique. That's why the police use fingerprints to identify people. So you're incredibly unique ... but in the exact same way that everyone else is. (Which, admittedly, doesn't really sing and is never going to make it on a motivational T-shirt.) So none of us are unique in being unique because being unique is pretty much the least unique thing you can be, because it comes naturally to everyone. So perhaps instead of "BE UNIQUE" we should be saying, "Be as visibly fucked up as you want to be because being unique is already taken." By everyone, ironically enough. Or maybe we should change the message to "Don't just be some random person. Be the MOST random person. — Jenny Lawson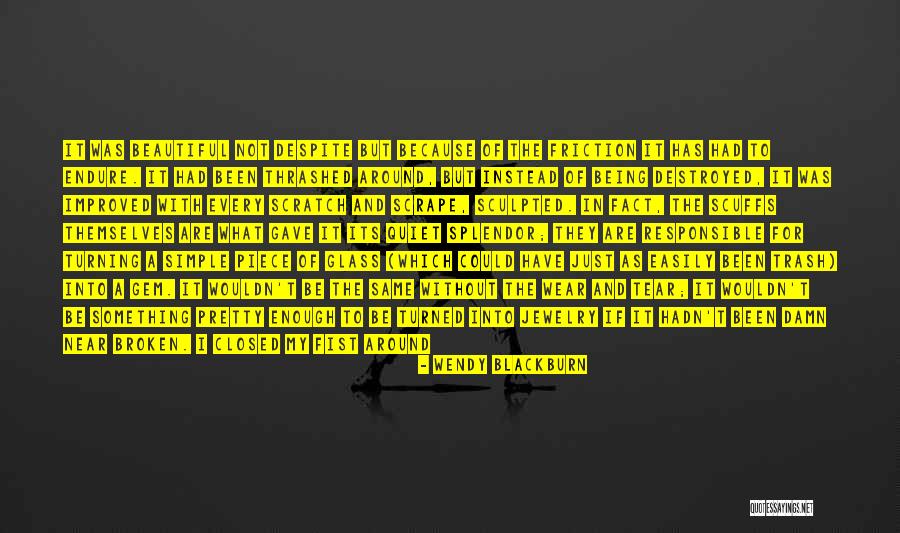 It was beautiful not despite but because of the friction it has had to endure. It had been thrashed around, but instead of being destroyed, it was improved with every scratch and scrape, sculpted. In fact, the scuffs themselves are what gave it its quiet splendor; they are responsible for turning a simple piece of glass (which could have just as easily been trash) into a gem. It wouldn't be the same without the wear and tear; it wouldn't be something pretty enough to be turned into jewelry if it hadn't been damn near broken. I closed my fist around this tear-shaped gem and thought about my own uneven edges, my own abrasions, and things I have endured that have, instead of breaking me, completed me, prepared me for the next tumble. Its odd beauty was hard-won. It came from reinventing itself. From having risen to the top of the discard pile. Like a phoenix, from victim to victor. (325) — Wendy Blackburn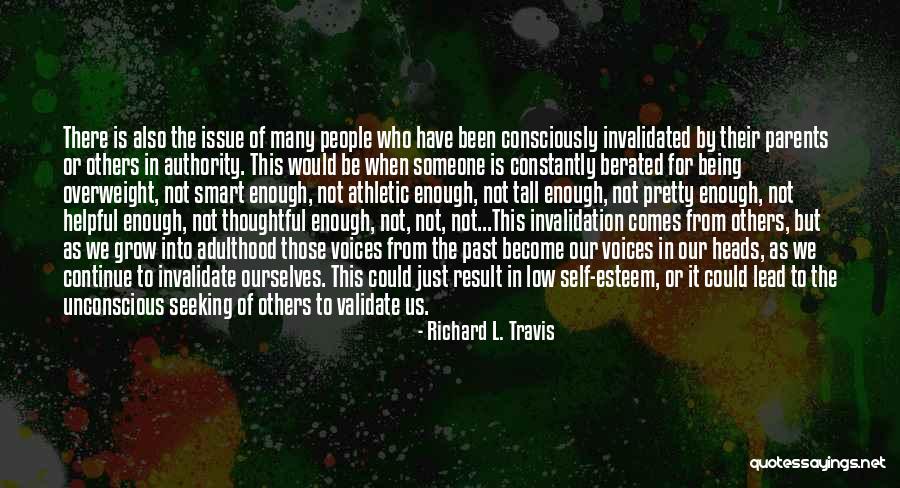 There is also the issue of many people who have been consciously invalidated by their parents or others in authority. This would be when someone is constantly berated for being overweight, not smart enough, not athletic enough, not tall enough, not pretty enough, not helpful enough, not thoughtful enough, not, not, not...This invalidation comes from others, but as we grow into adulthood those voices from the past become our voices in our heads, as we continue to invalidate ourselves. This could just result in low self-esteem, or it could lead to the unconscious seeking of others to validate us. — Richard L. Travis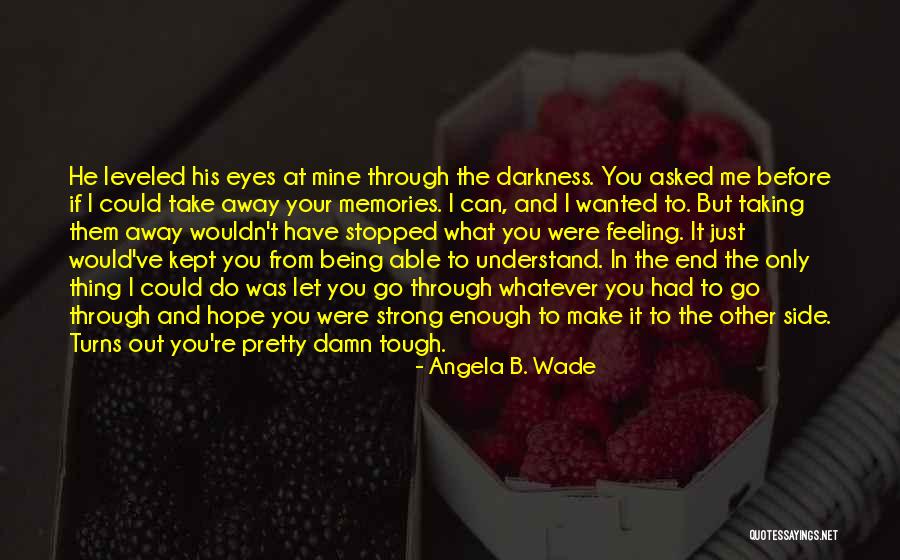 He leveled his eyes at mine through the darkness. You asked me before if I could take away your memories. I can, and I wanted to. But taking them away wouldn't have stopped what you were feeling. It just would've kept you from being able to understand. In the end the only thing I could do was let you go through whatever you had to go through and hope you were strong enough to make it to the other side. Turns out you're pretty damn tough. — Angela B. Wade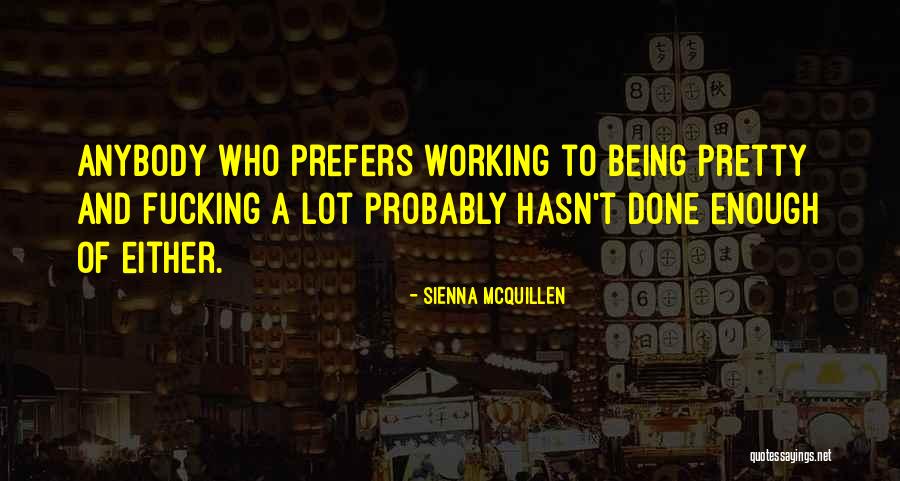 Anybody who prefers working to being pretty and fucking a lot probably hasn't done enough of either. — Sienna McQuillen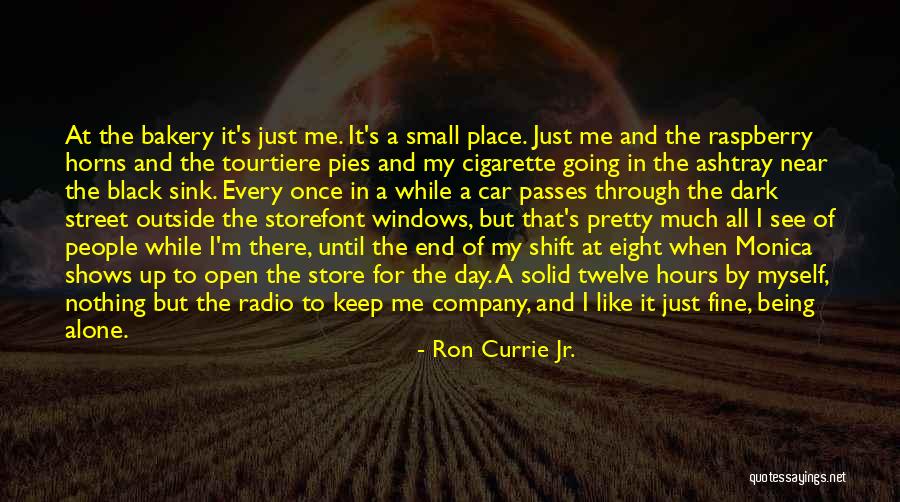 At the bakery it's just me. It's a small place. Just me and the raspberry horns and the tourtiere pies and my cigarette going in the ashtray near the black sink. Every once in a while a car passes through the dark street outside the storefont windows, but that's pretty much all I see of people while I'm there, until the end of my shift at eight when Monica shows up to open the store for the day. A solid twelve hours by myself, nothing but the radio to keep me company, and I like it just fine, being alone. It's even better in the winter, during a storm, when the snow piles up outside and no cars come by at all. Inside the bakery it's warm and there's plenty to keep my hands busy. Times like that, for all I can tell I'm the only person left on earth. I could go on making pies and watching the snow pile up until the end of time, so long as there was enough coffee on hand. I don't need company like some people seem to. — Ron Currie Jr.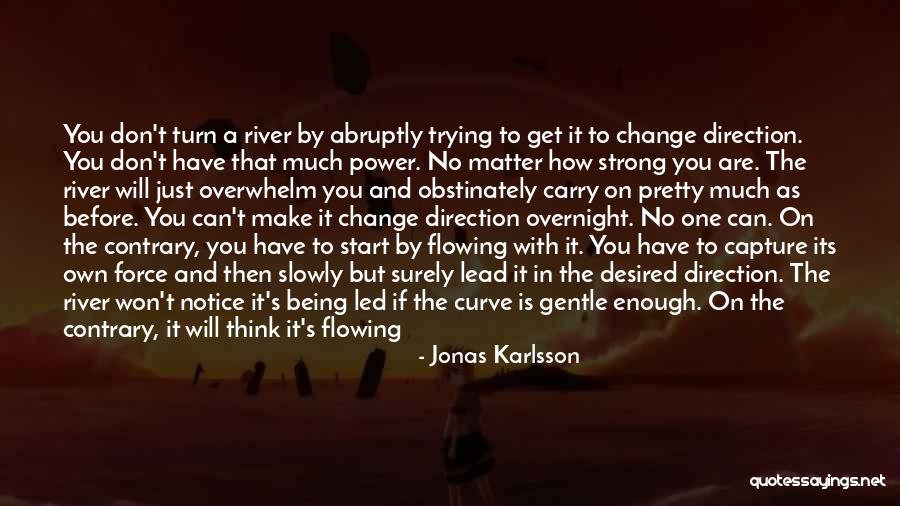 You don't turn a river by abruptly trying to get it to change direction. You don't have that much power. No matter how strong you are. The river will just overwhelm you and obstinately carry on pretty much as before. You can't make it change direction overnight. No one can. On the contrary, you have to start by flowing with it. You have to capture its own force and then slowly but surely lead it in the desired direction. The river won't notice it's being led if the curve is gentle enough. On the contrary, it will think it's flowing just the same as usual, seeing as nothing seems to have changed. — Jonas Karlsson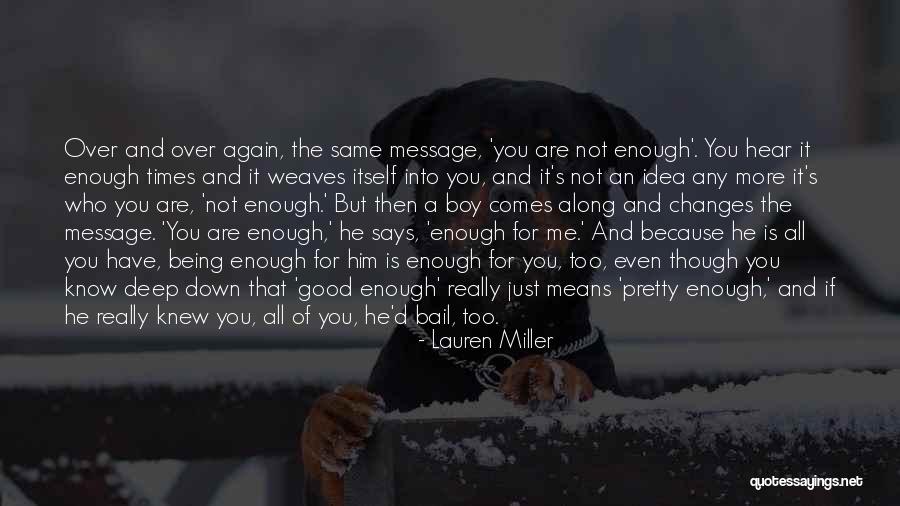 Over and over again, the same message, 'you are not enough'. You hear it enough times and it weaves itself into you, and it's not an idea any more it's who you are, 'not enough.' But then a boy comes along and changes the message. 'You are enough,' he says, 'enough for me.' And because he is all you have, being enough for him is enough for you, too, even though you know deep down that 'good enough' really just means 'pretty enough,' and if he really knew you, all of you, he'd bail, too. — Lauren Miller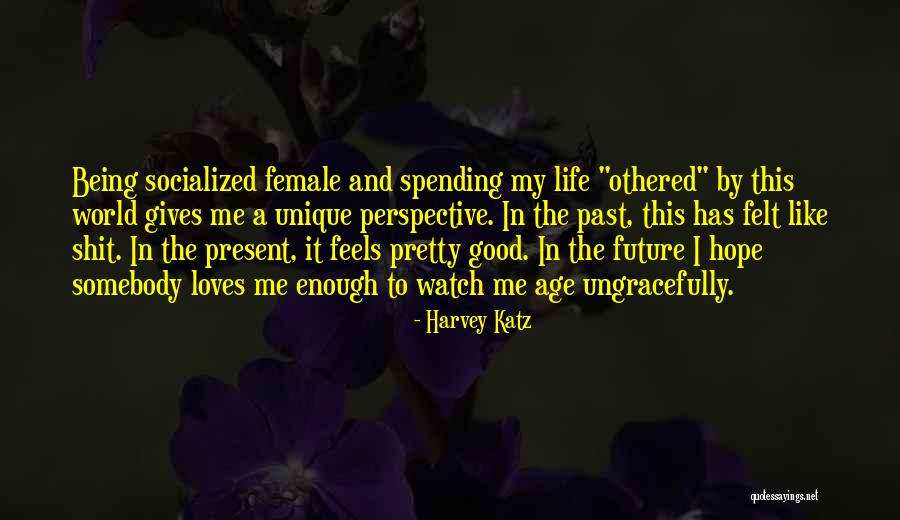 Being socialized female and spending my life "othered" by this world gives me a unique perspective. In the past, this has felt like shit. In the present, it feels pretty good. In the future I hope somebody loves me enough to watch me age ungracefully. — Harvey Katz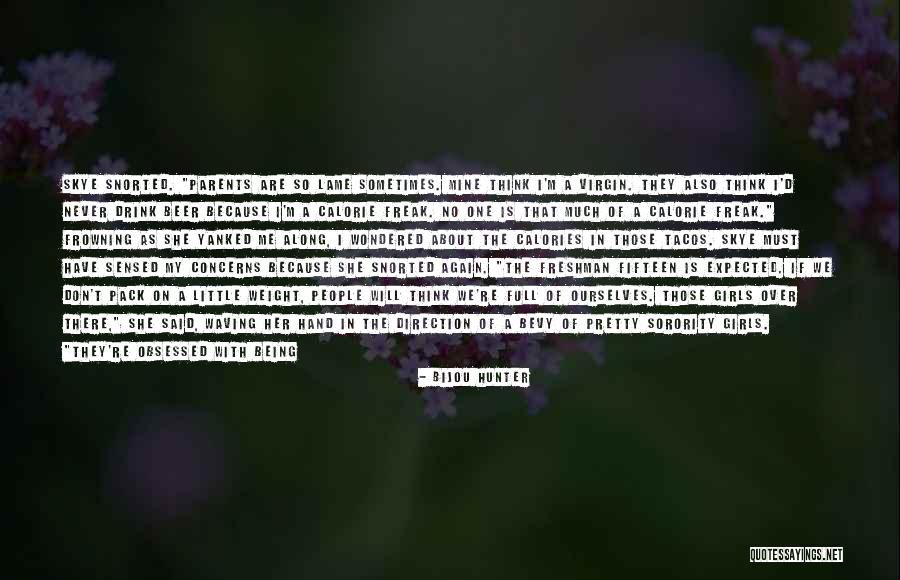 Skye snorted. "Parents are so lame sometimes. Mine think I'm a virgin. They also think I'd never drink beer because I'm a calorie freak. No one is that much of a calorie freak."
Frowning as she yanked me along, I wondered about the calories in those tacos. Skye must have sensed my concerns because she snorted again.
"The freshman fifteen is expected. If we don't pack on a little weight, people will think we're full of ourselves. Those girls over there," she said, waving her hand in the direction of a bevy of pretty sorority girls. "They're obsessed with being hot. Unfortunately, while you can snag a man by being hot, you can't keep him. To keep them, you have to be confident and I am. I'm just confident enough to pack on a few pounds from eating tacos. I'm a keeper — Bijou Hunter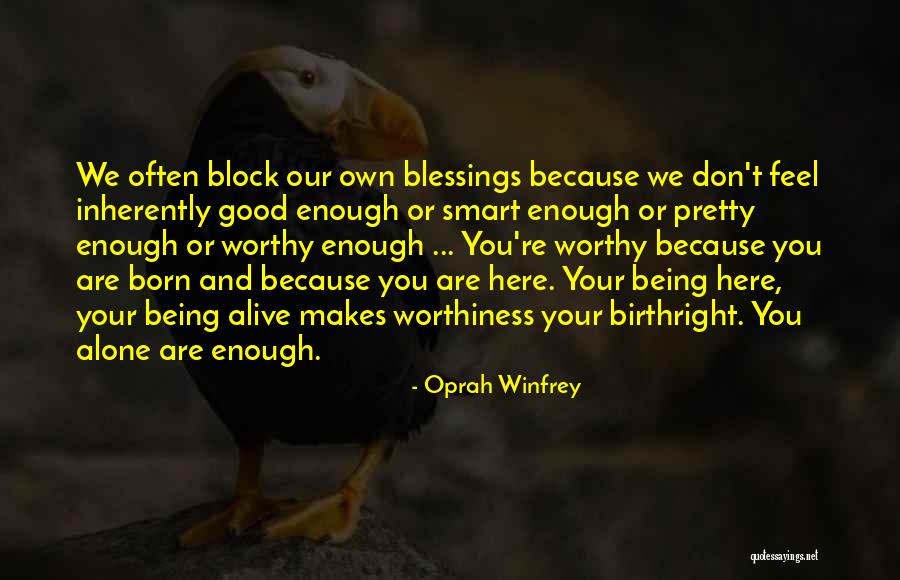 We often block our own blessings because we don't feel inherently good enough or smart enough or pretty enough or worthy enough ... You're worthy because you are born and because you are here. Your being here, your being alive makes worthiness your birthright. You alone are enough. — Oprah Winfrey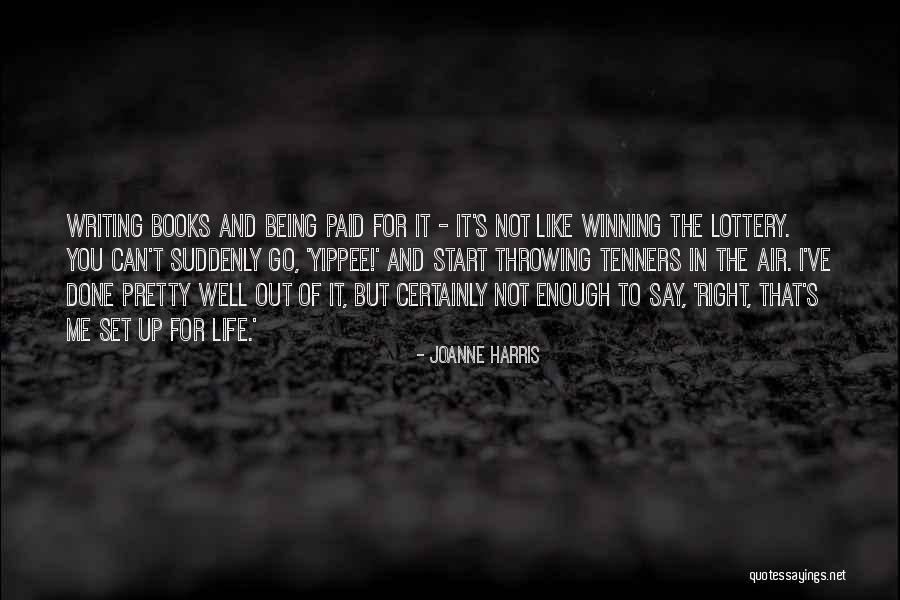 Writing books and being paid for it - it's not like winning the Lottery. You can't suddenly go, 'Yippee!' and start throwing tenners in the air. I've done pretty well out of it, but certainly not enough to say, 'Right, that's me set up for life.' — Joanne Harris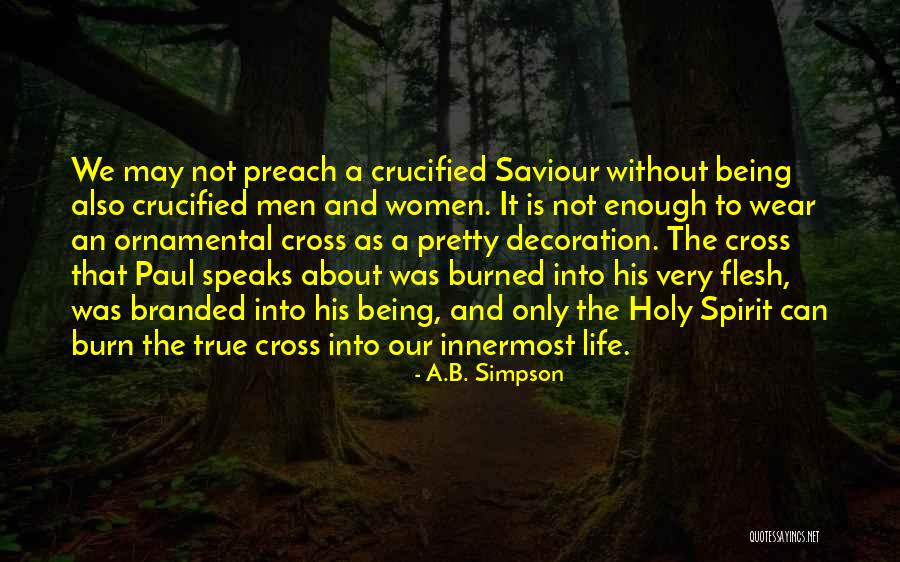 We may not preach a crucified Saviour without being also crucified men and women. It is not enough to wear an ornamental cross as a pretty decoration. The cross that Paul speaks about was burned into his very flesh, was branded into his being, and only the Holy Spirit can burn the true cross into our innermost life. — A.B. Simpson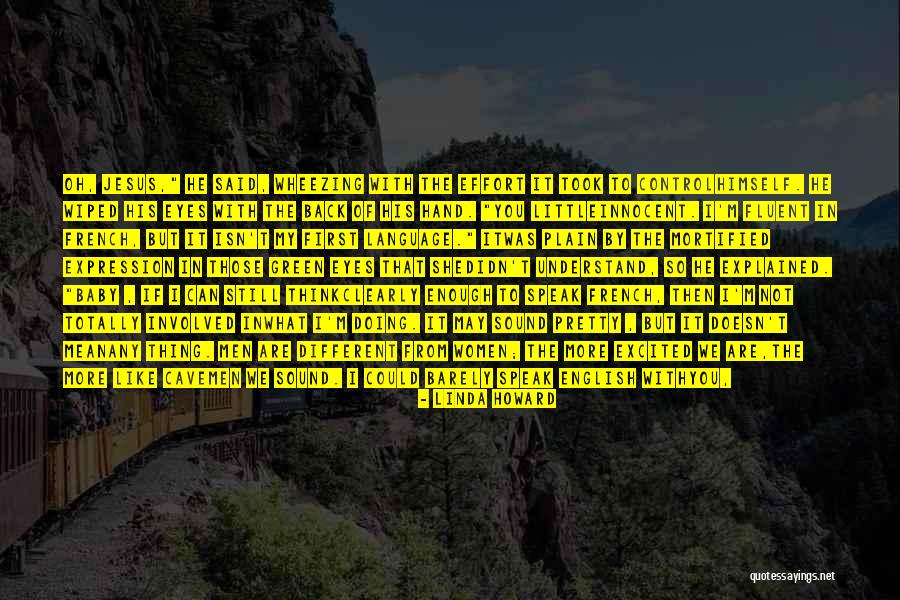 Oh, Jesus," he said, wheezing with the effort it took to control
himself. He wiped his eyes with the back of his hand. "You little
innocent. I'm fluent in French, but it isn't my first language." It
was plain by the mortified expression in those green eyes that she
didn't understand, so he explained. "Baby , if I can still think
clearly enough to speak French, then I'm not totally involved in
what I'm doing. It may sound pretty , but it doesn't mean
any thing. Men are different from women; the more excited we are,
the more like cavemen we sound. I could barely speak English with
you, much less French. As I remember, my vocabulary
deteriorated to a few short, explicit words, 'fuck' being the most
prominent."
To his amazement, she blushed, and he smiled at this further
evidence of her charming prudery. "Go to sleep," he said gently.
"Lindsey didn't even rate a replay. — Linda Howard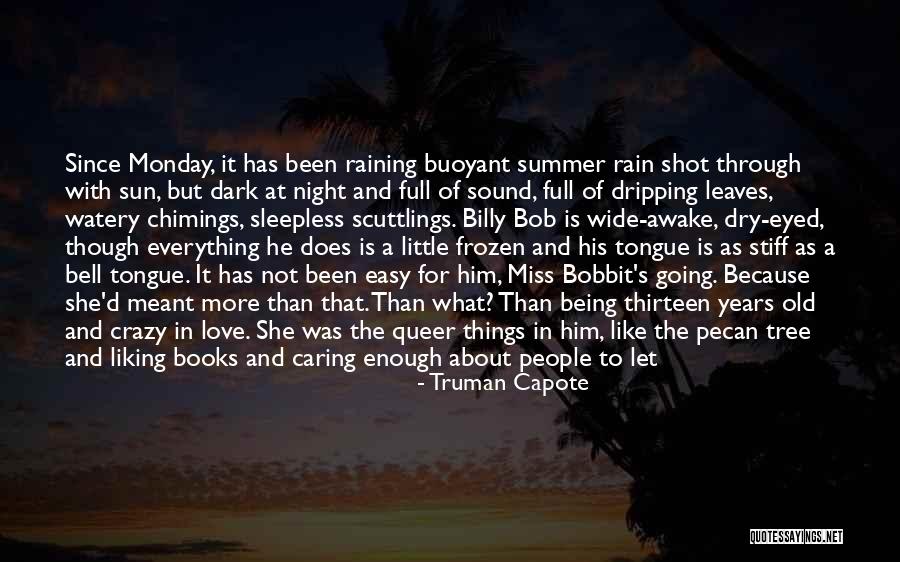 Since Monday, it has been raining buoyant summer rain shot through with sun, but dark at night and full of sound, full of dripping leaves, watery chimings, sleepless scuttlings. Billy Bob is wide-awake, dry-eyed, though everything he does is a little frozen and his tongue is as stiff as a bell tongue. It has not been easy for him, Miss Bobbit's going. Because she'd meant more than that. Than what? Than being thirteen years old and crazy in love. She was the queer things in him, like the pecan tree and liking books and caring enough about people to let them hurt him. She was the things he was afraid to show anyone else. And in the dark the music trickled through the rain: won't there be nights when we will hear it just as though it were really there? And afternoons when the shadows will be all at once confused, and she will pass before us, unfurling across the lawn like a pretty piece of ribbon? — Truman Capote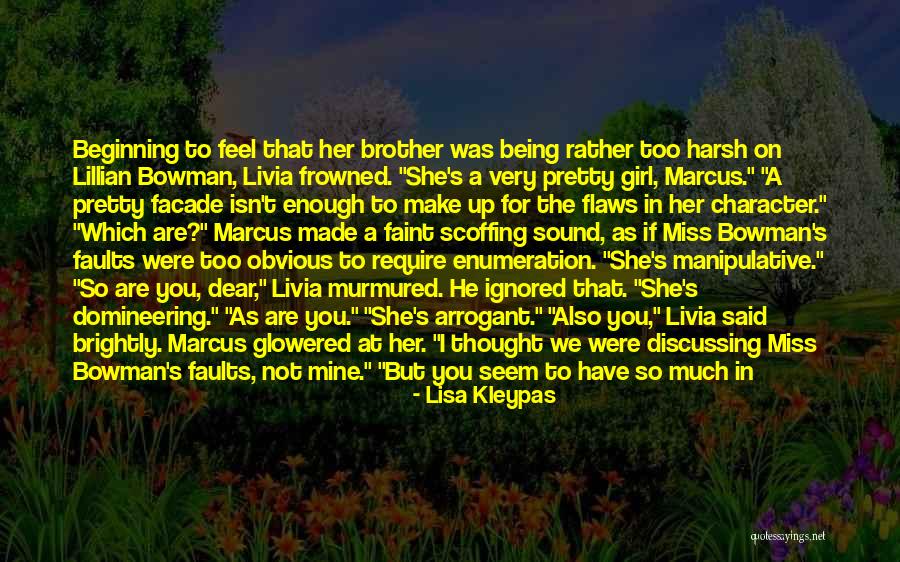 Beginning to feel that her brother was being rather too harsh on Lillian Bowman, Livia frowned. "She's a very pretty girl, Marcus."
"A pretty facade isn't enough to make up for the flaws in her character."
"Which are?"
Marcus made a faint scoffing sound, as if Miss Bowman's faults were too obvious to require enumeration. "She's manipulative."
"So are you, dear," Livia murmured.
He ignored that. "She's domineering."
"As are you."
"She's arrogant."
"Also you," Livia said brightly.
Marcus glowered at her. "I thought we were discussing Miss Bowman's faults, not mine."
"But you seem to have so much in common," Livia protested, rather too innocently. — Lisa Kleypas