Quotes & Sayings About Flourishing Love
Enjoy reading and share 18 famous quotes about Flourishing Love with everyone.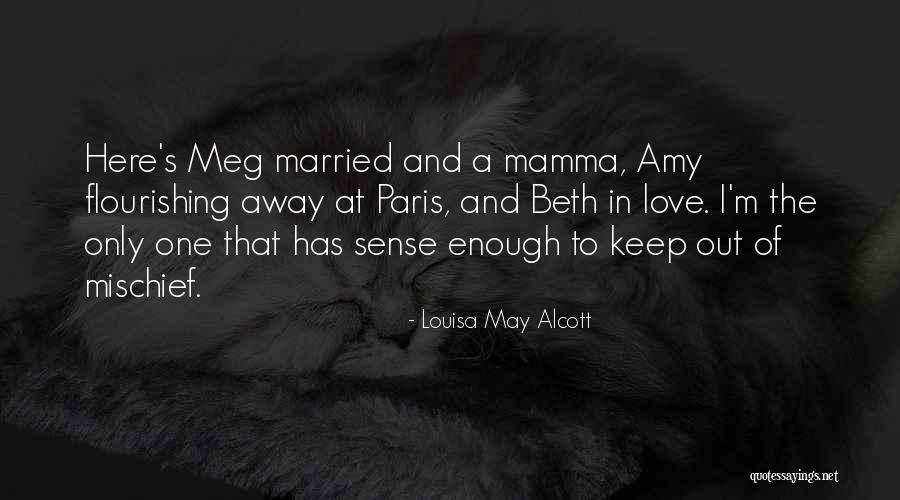 Here's Meg married and a mamma, Amy flourishing away at Paris, and Beth in love. I'm the only one that has sense enough to keep out of mischief. — Louisa May Alcott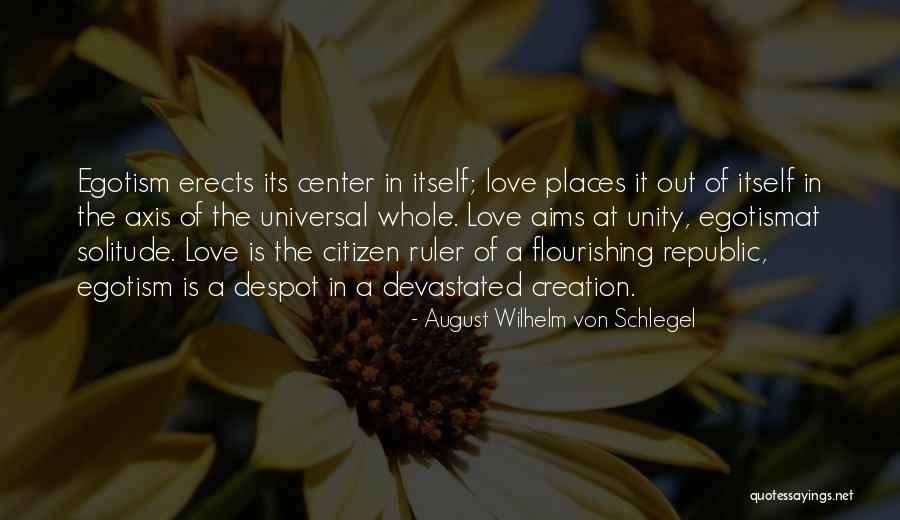 Egotism erects its center in itself; love places it out of itself in the axis of the universal whole. Love aims at unity, egotismat solitude. Love is the citizen ruler of a flourishing republic, egotism is a despot in a devastated creation. — August Wilhelm Von Schlegel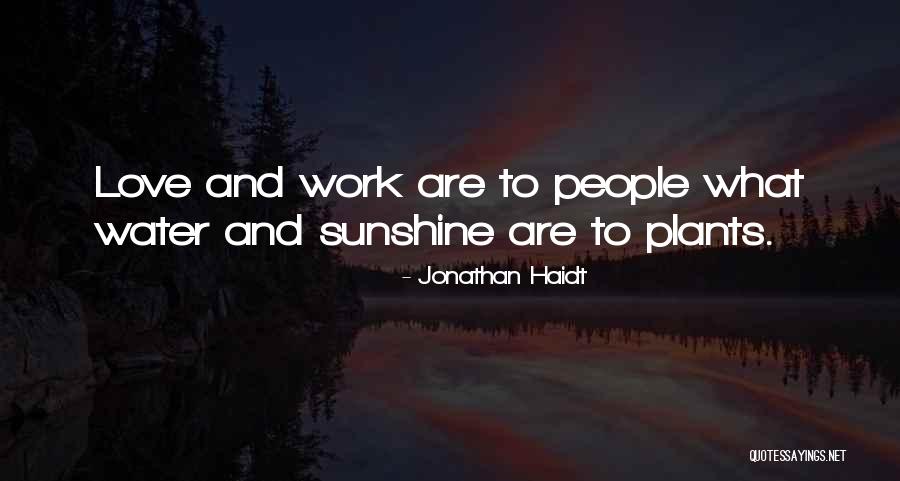 Love and work are to people what water and sunshine are to plants. — Jonathan Haidt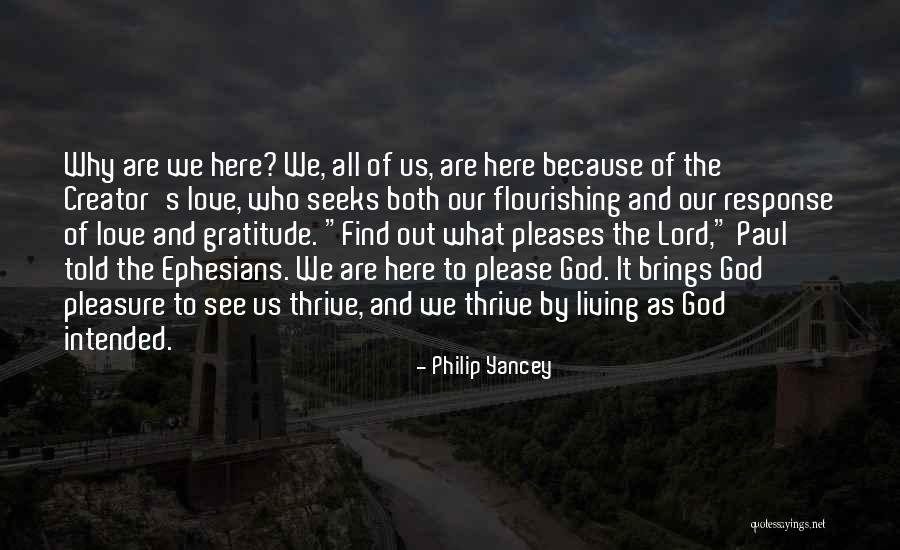 Why are we here? We, all of us, are here because of the Creator's love, who seeks both our flourishing and our response of love and gratitude. "Find out what pleases the Lord," Paul told the Ephesians. We are here to please God. It brings God pleasure to see us thrive, and we thrive by living as God intended. — Philip Yancey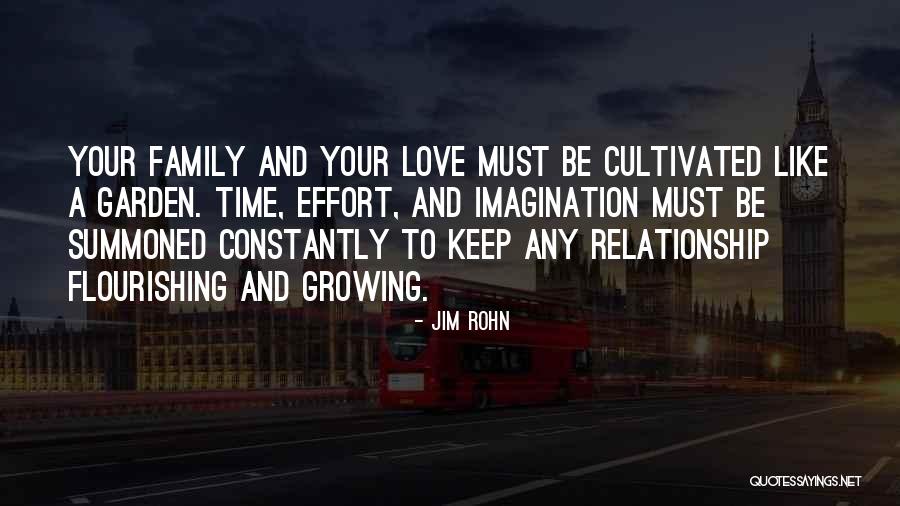 Your family and your love must be cultivated like a garden. Time, effort, and imagination must be summoned constantly to keep any relationship flourishing and growing. — Jim Rohn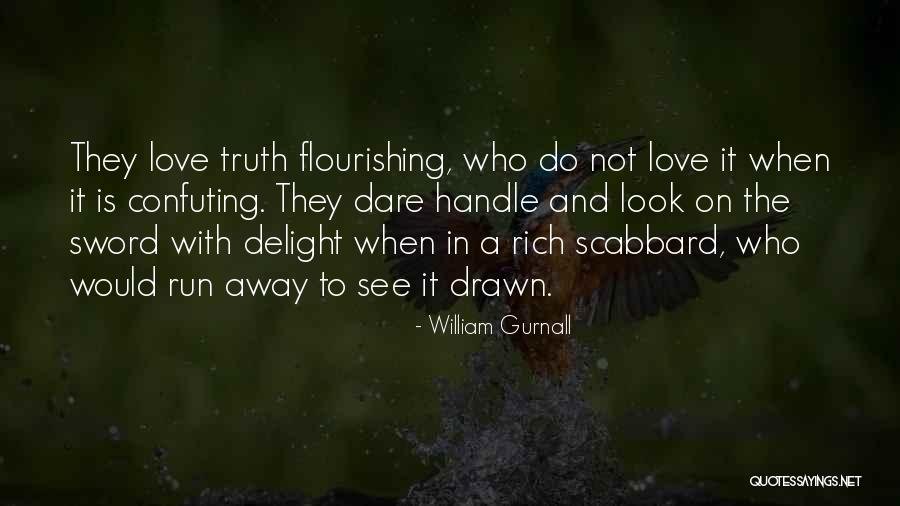 They love truth flourishing, who do not love it when it is confuting. They dare handle and look on the sword with delight when in a rich scabbard, who would run away to see it drawn. — William Gurnall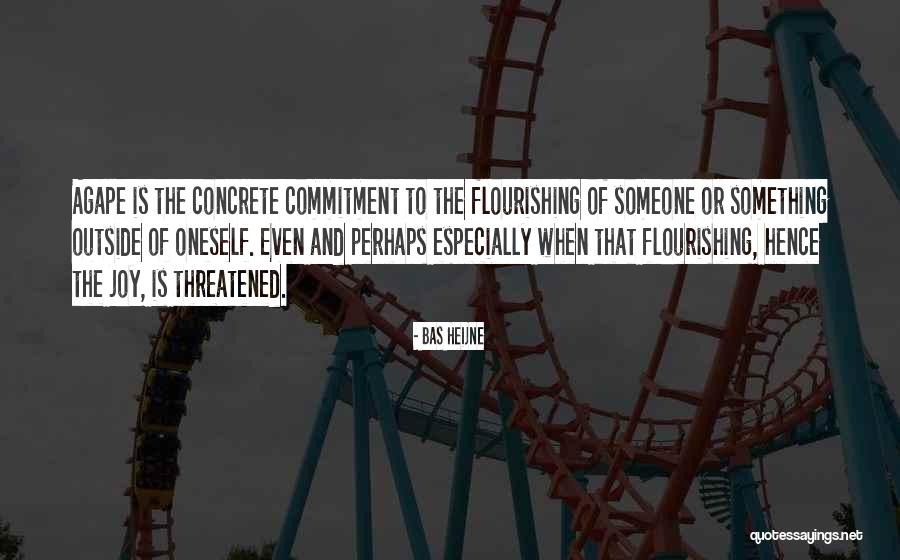 Agape is the concrete commitment to the flourishing of someone or something outside of oneself. Even and perhaps especially when that flourishing, hence the joy, is threatened. — Bas Heijne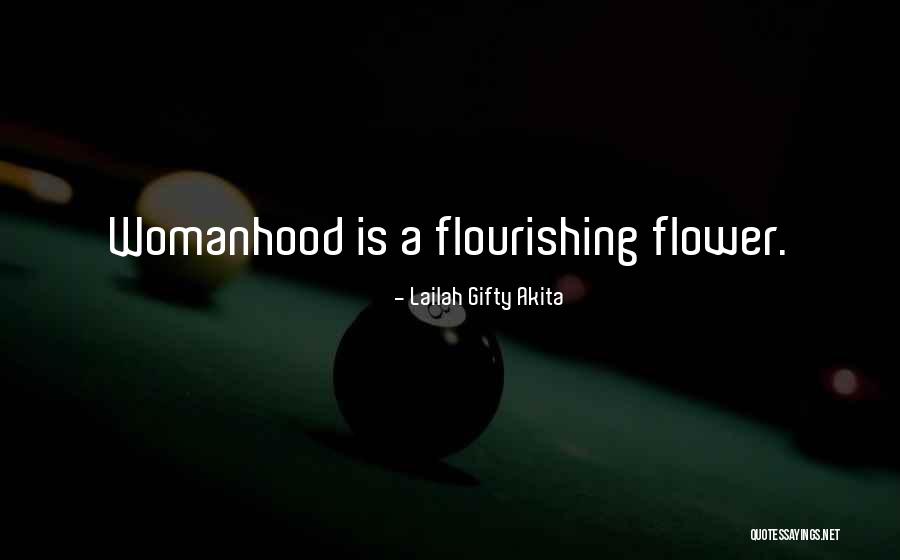 Womanhood is a flourishing flower. — Lailah Gifty Akita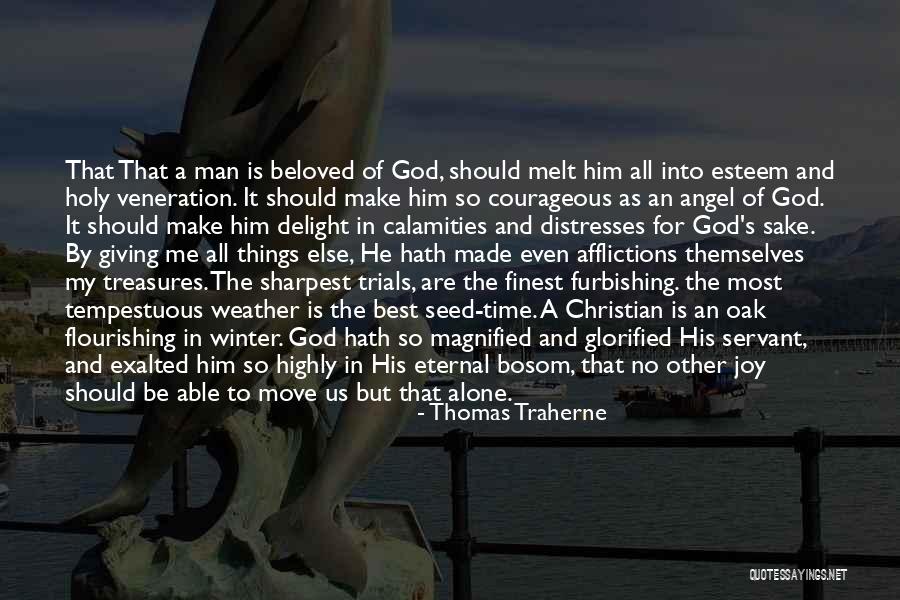 That That a man is beloved of God, should melt him all into esteem and holy veneration. It should make him so courageous as an angel of God. It should make him delight in calamities and distresses for God's sake. By giving me all things else, He hath made even afflictions themselves my treasures. The sharpest trials, are the finest furbishing. the most tempestuous weather is the best seed-time. A Christian is an oak flourishing in winter. God hath so magnified and glorified His servant, and exalted him so highly in His eternal bosom, that no other joy should be able to move us but that alone. — Thomas Traherne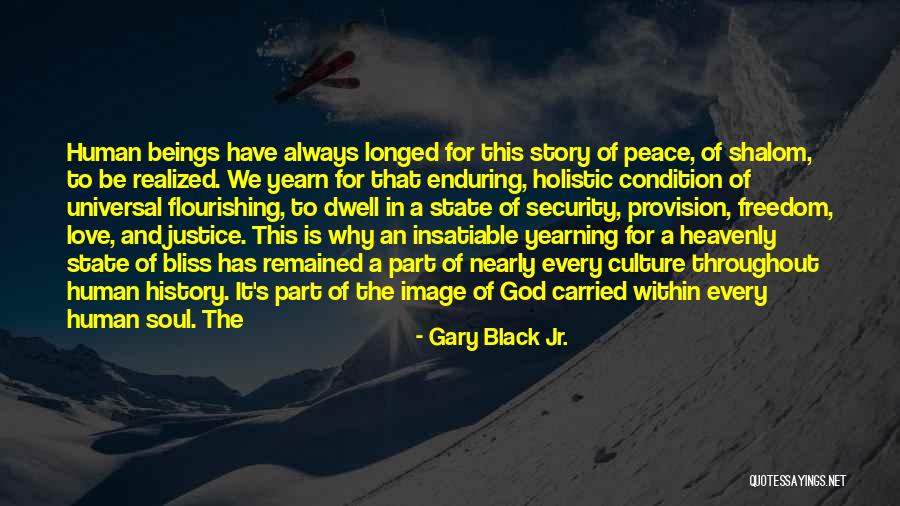 Human beings have always longed for this story of peace, of shalom, to be realized. We yearn for that enduring, holistic condition of universal flourishing, to dwell in a state of security, provision, freedom, love, and justice. This is why an insatiable yearning for a heavenly state of bliss has remained a part of nearly every culture throughout human history. It's part of the image of God carried within every human soul. The — Gary Black Jr.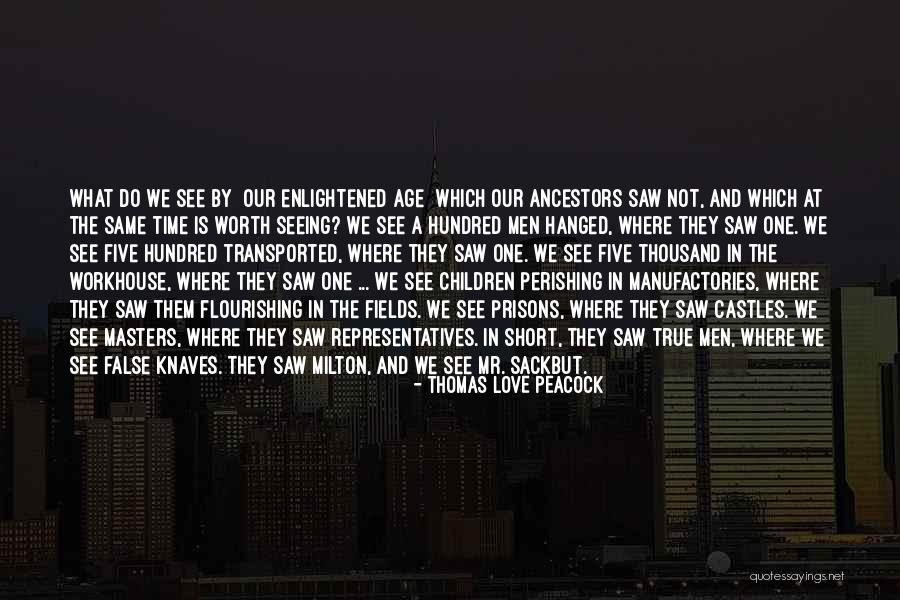 What do we see by [our enlightened age] which our ancestors saw not, and which at the same time is worth seeing? We see a hundred men hanged, where they saw one. We see five hundred transported, where they saw one. We see five thousand in the workhouse, where they saw one ... We see children perishing in manufactories, where they saw them flourishing in the fields. We see prisons, where they saw castles. We see masters, where they saw representatives. In short, they saw true men, where we see false knaves. They saw Milton, and we see Mr. Sackbut. — Thomas Love Peacock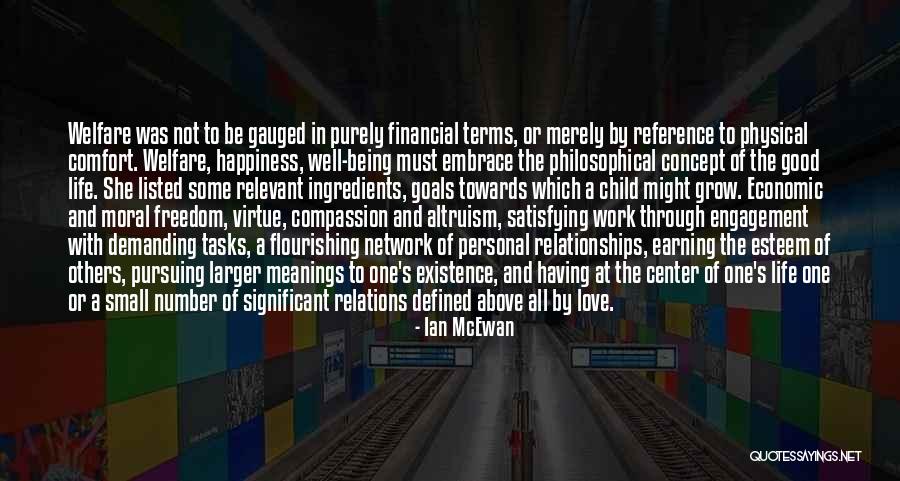 Welfare was not to be gauged in purely financial terms, or merely by reference to physical comfort. Welfare, happiness, well-being must embrace the philosophical concept of the good life. She listed some relevant ingredients, goals towards which a child might grow. Economic and moral freedom, virtue, compassion and altruism, satisfying work through engagement with demanding tasks, a flourishing network of personal relationships, earning the esteem of others, pursuing larger meanings to one's existence, and having at the center of one's life one or a small number of significant relations defined above all by love. — Ian McEwan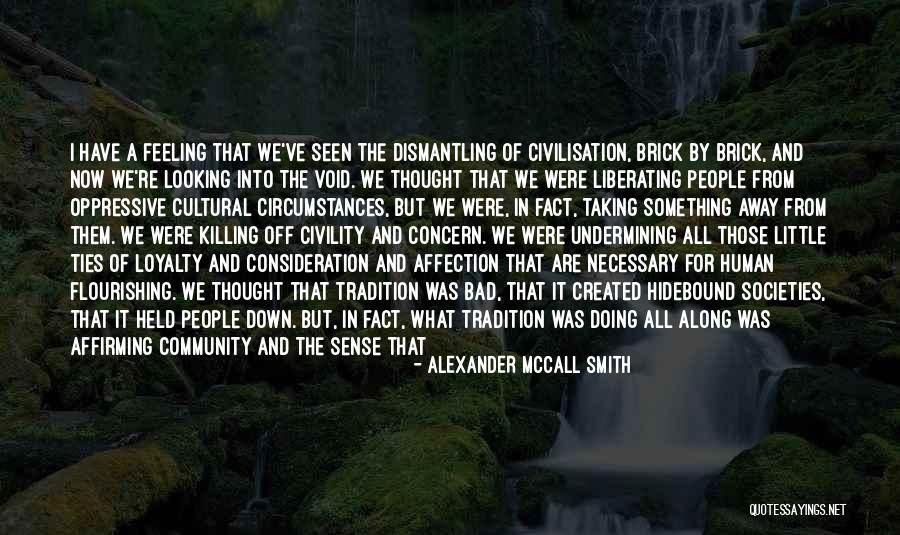 I have a feeling that we've seen the dismantling of civilisation, brick by brick, and now we're looking into the void. We thought that we were liberating people from oppressive cultural circumstances, but we were, in fact, taking something away from them. We were killing off civility and concern. We were undermining all those little ties of loyalty and consideration and affection that are necessary for human flourishing. We thought that tradition was bad, that it created hidebound societies, that it held people down. But, in fact, what tradition was doing all along was affirming community and the sense that we are members of one another. Do we really love and respect one another more in the absence of tradition and manners and all the rest? Or have we merely converted one another into moral strangers - making our countries nothing more than hotels for the convenience of guests who are required only to avoid stepping on the toes of other guests? — Alexander McCall Smith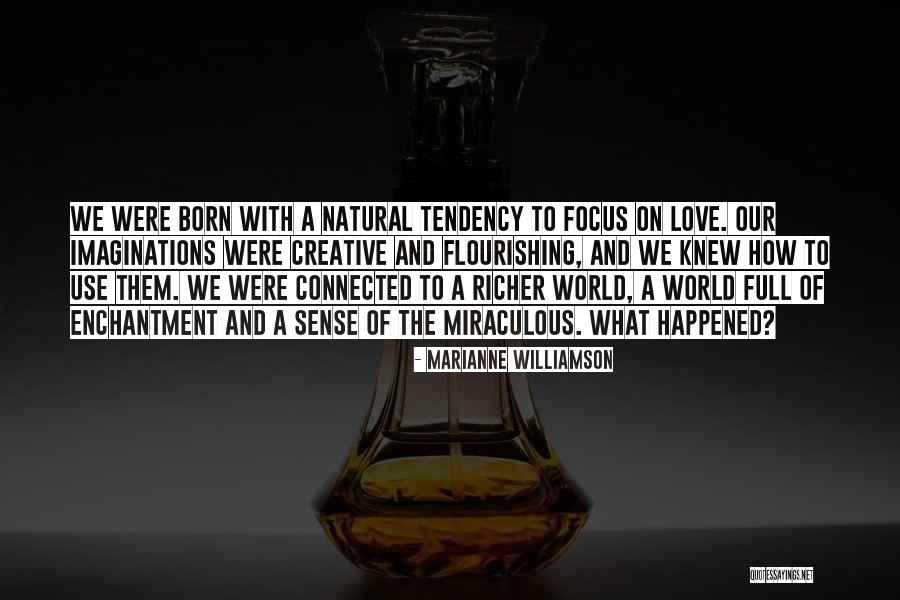 We were born with a natural tendency to focus on love. Our imaginations were creative and flourishing, and we knew how to use them. We were connected to a richer world, a world full of enchantment and a sense of the miraculous. What happened? — Marianne Williamson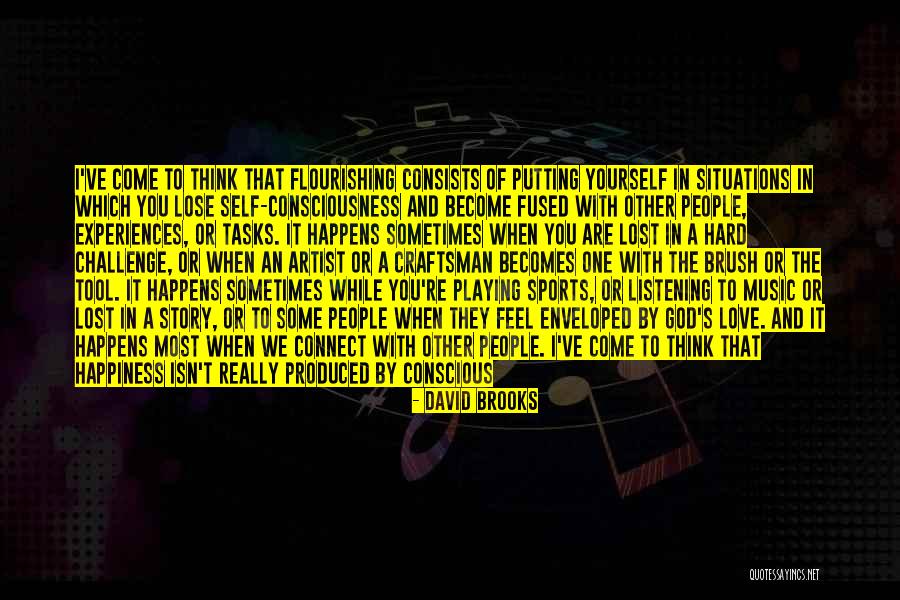 I've come to think that flourishing consists of putting yourself in situations in which you lose self-consciousness and become fused with other people, experiences, or tasks. It happens sometimes when you are lost in a hard challenge, or when an artist or a craftsman becomes one with the brush or the tool. It happens sometimes while you're playing sports, or listening to music or lost in a story, or to some people when they feel enveloped by God's love. And it happens most when we connect with other people. I've come to think that happiness isn't really produced by conscious accomplishments. Happiness is a measure of how thickly the unconscious parts of our minds are intertwined with other people and with activities. Happiness is determined by how much information and affection flows through us covertly every day and year. — David Brooks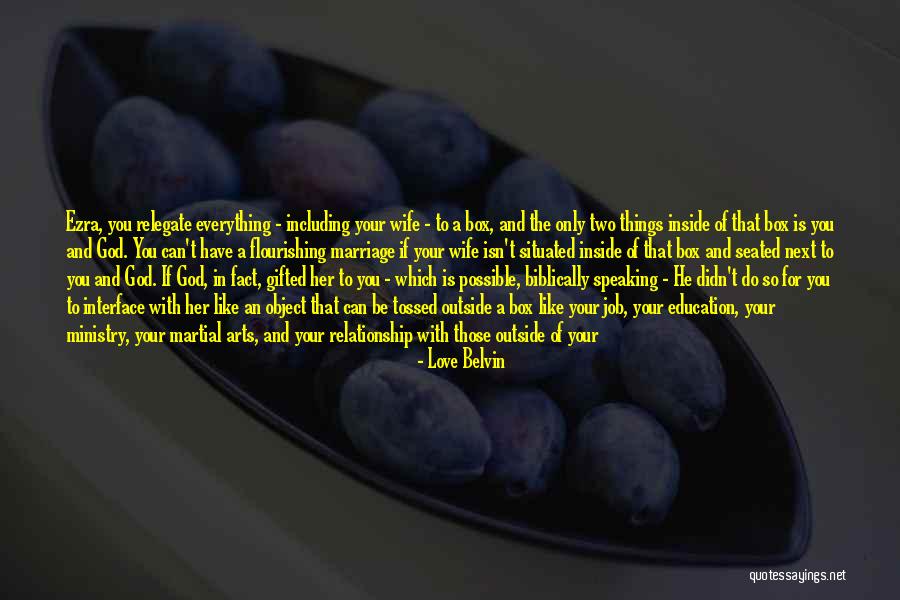 Ezra, you relegate everything - including your wife - to a box, and the only two things inside of that box is you and God. You can't have a flourishing marriage if your wife isn't situated inside of that box and seated next to you and God. If God, in fact, gifted her to you - which is possible, biblically speaking - He didn't do so for you to interface with her like an object that can be tossed outside a box like your job, your education, your ministry, your martial arts, and your relationship with those outside of your home. That's a good practice to manage all those things, and not have them overtake you. But your wife is your equal. You — Love Belvin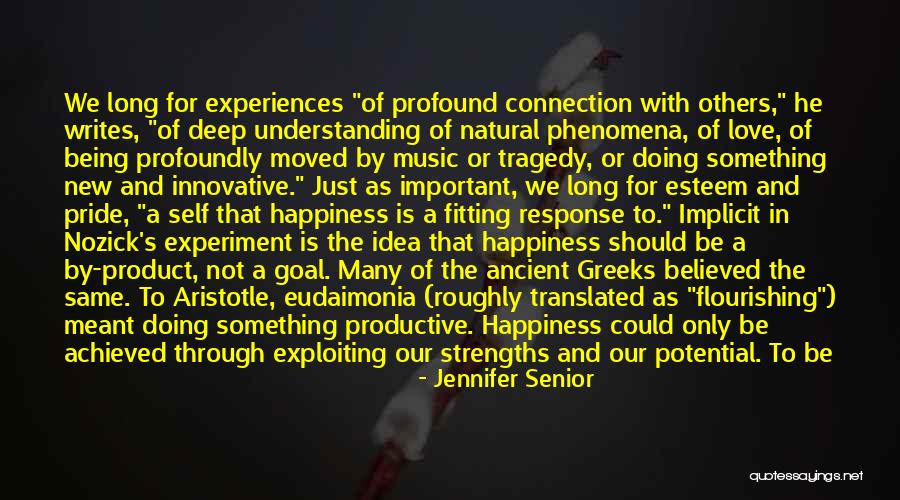 We long for experiences "of profound connection with others," he writes, "of deep understanding of natural phenomena, of love, of being profoundly moved by music or tragedy, or doing something new and innovative." Just as important, we long for esteem and pride, "a self that happiness is a fitting response to." Implicit in Nozick's experiment is the idea that happiness should be a by-product, not a goal. Many of the ancient Greeks believed the same. To Aristotle, eudaimonia (roughly translated as "flourishing") meant doing something productive. Happiness could only be achieved through exploiting our strengths and our potential. To be happy, one must do, not just feel. — Jennifer Senior